When a big party is top of the bride and grooms wish list for their wedding day, you know it's going to be a good time, and today's wedding looked to be just that.
The bride chose a dress which reflected her personality perfectly, and the idea for the day was simple; gathering friends and family for some good pub grub and fun on the dance floor. So, let's meet today's happy couple shall we? Content manager Mica and account manager Sam chose The Prince Albert in Camden, London as the place to celebrate their becoming husband and wife on 16th June 2018. To capture the cosy and fun feel on camera was wedding photographer Claudia Rose Carter, who we are incredibly proud to recommend through our Little Book Wedding Directory.
"We both knew we wanted a laid back, relaxed wedding where we'd feel like ourselves and our friends and family would also be comfortable. Very early on in our search for the perfect venue, we visited a very formal classic wedding place and it just didn't feel like us."
Photography by Claudia Rose Carter
 "After some searching online we came across The Prince Albert and liked that they also held a wedding licence, so we could have the ceremony on the premises as well as the reception. We visited it, loved it and booked it the next day! It's a really traditional London pub with a really cosy feel."Mica chose a stunning embellished maxi dress with floral embroidery from Needle & Thread, via ASOS, for the day, accessorising with a pair of ASOS mule heels and a vintage style hair comb from Claire's.
"I'd always loved how beautiful Needle & Thread dresses are! In my everyday wardrobe I love prints and embellishments, so my inner magpie was really drawn to the beading and sequins in this dress. I couldn't imagine myself in a big white dress and I really liked that this one was a subtle blush colour. Also, my mum's wedding dress was a very subtle pink shade too so I liked the tradition of that. This was one of the very first dresses I was drawn to online. I ordered it and it's the only dress I ever tried on. I instantly loved it and felt like myself in it."
"I'm obsessed with beauty and love perfumes. Scent is so powerful at evoking memories so I knew that I wanted to have a new fragrance for our wedding that would always remind me of the day and chose Biblioteque by Byredo. Byredo are a super luxurious brand that I would never normally splurge on."
"We did our wedding on a fairly tight budget so this was one of my indulgences! As an avid reader (and fan of) old books, I loved the story behind this fragrance too. It's inspired by leather-bound books and dark wood shelves and is a lovely warm and sultry scent."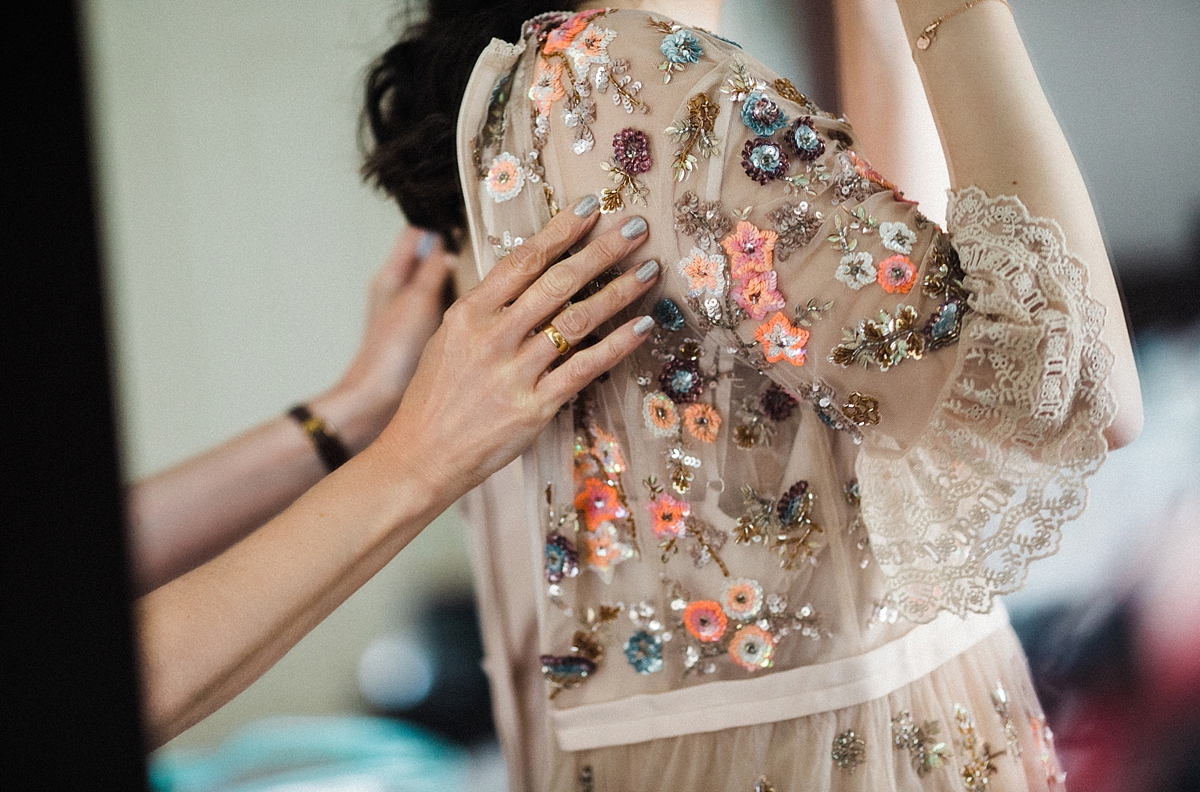 "My other accessories included an Alex Monroe gold-plated little bluebell necklace, a present from my parents on the morning of the wedding, Accessorize earrings, and a personalised Lisa Angel rose gold bracelet. I also bought myself and my two bridesmaids bracelets with our birthstones in them and engraved with 'Kelly sisters forever', as a keepsake for us after I became a Ricketts!"
"I did a bridal beauty lesson at the Bobbi Brown store in Soho , purchased some of the bits that they used on me, and did my make up myself on the day."
"I had my hair blow dried the day before at the Trevor Sorbie salon on Hampstead High Street and then just went over it with some curling irons on the morning of the wedding."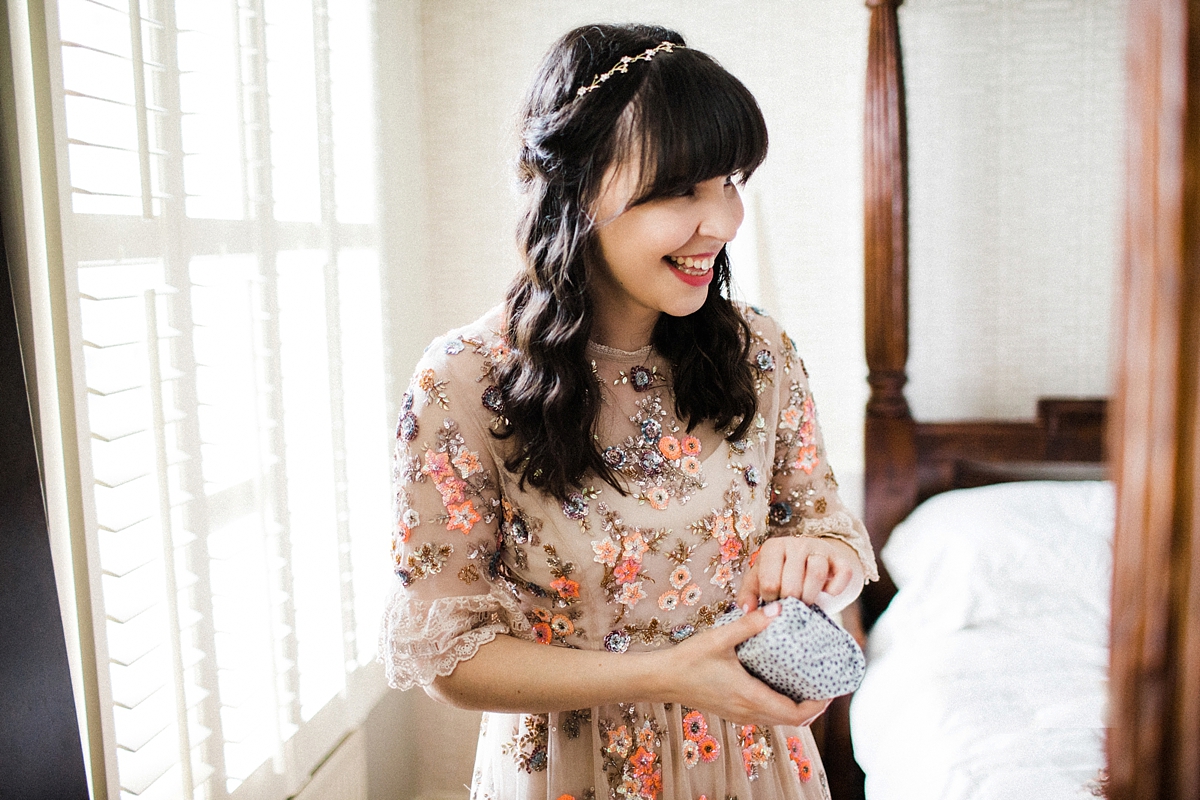 "My aunty does lots of floristry for events and weddings and kindly offered her services for the wedding. In all honestly, flowers weren't initially high up on my list of wants. I kind of feel that they can be an uneccesary expense. However, I'm so glad that we did go for them as they really helped to make the pub feel special."
"I knew that I wanted roses and lots of greenery in pastel colours to compliment my dress. We went for roses in shades of pale pink, peach, ivory and lilac, lots of eucalyptus and mint, and poppy heads which I've never seen before but added a really unusual touch! My bouquet was a wild arrangement with a relaxed shape, and my bridesmaids bouquets were smaller versions. The flowers in the jam jars on the tables matched too."
"After the venue, the photographer was the next thing we booked back in January 2017. I instantly fell in love with Claudia's style of photography. Her images are super relaxed, effortlessly beautiful and really capture those moments that you aren't aware of."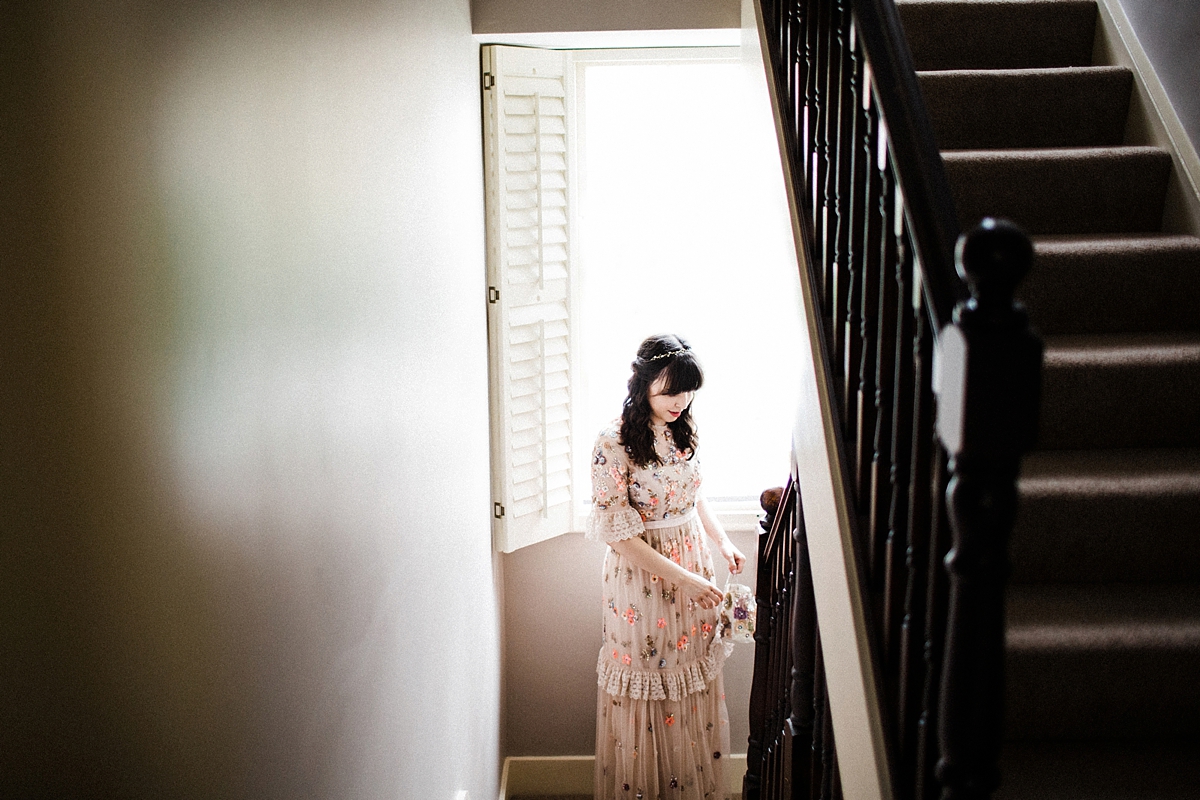 "I dropped her a line and we got something booked in really quickly. We also met up in Brighton for a super casual engagement shoot in August 2017 and we immediately clicked. The photos were something I was quite nervous about as I don't really enjoy having my photo taken, so it was great to have someone with us on the day that we both felt genuinely comfortable around."
"I still look at our wedding photos on a weekly basis as they bring such a smile to my face. Claudia did an amazing job capturing the warmth of our wedding day, the smiles on everyone's faces, and we will always treasure them."
Mica's gorgeous bridesmaids wore similar but not matching dresses and two-pieces from ASOS as well as hair pieces from Claire's.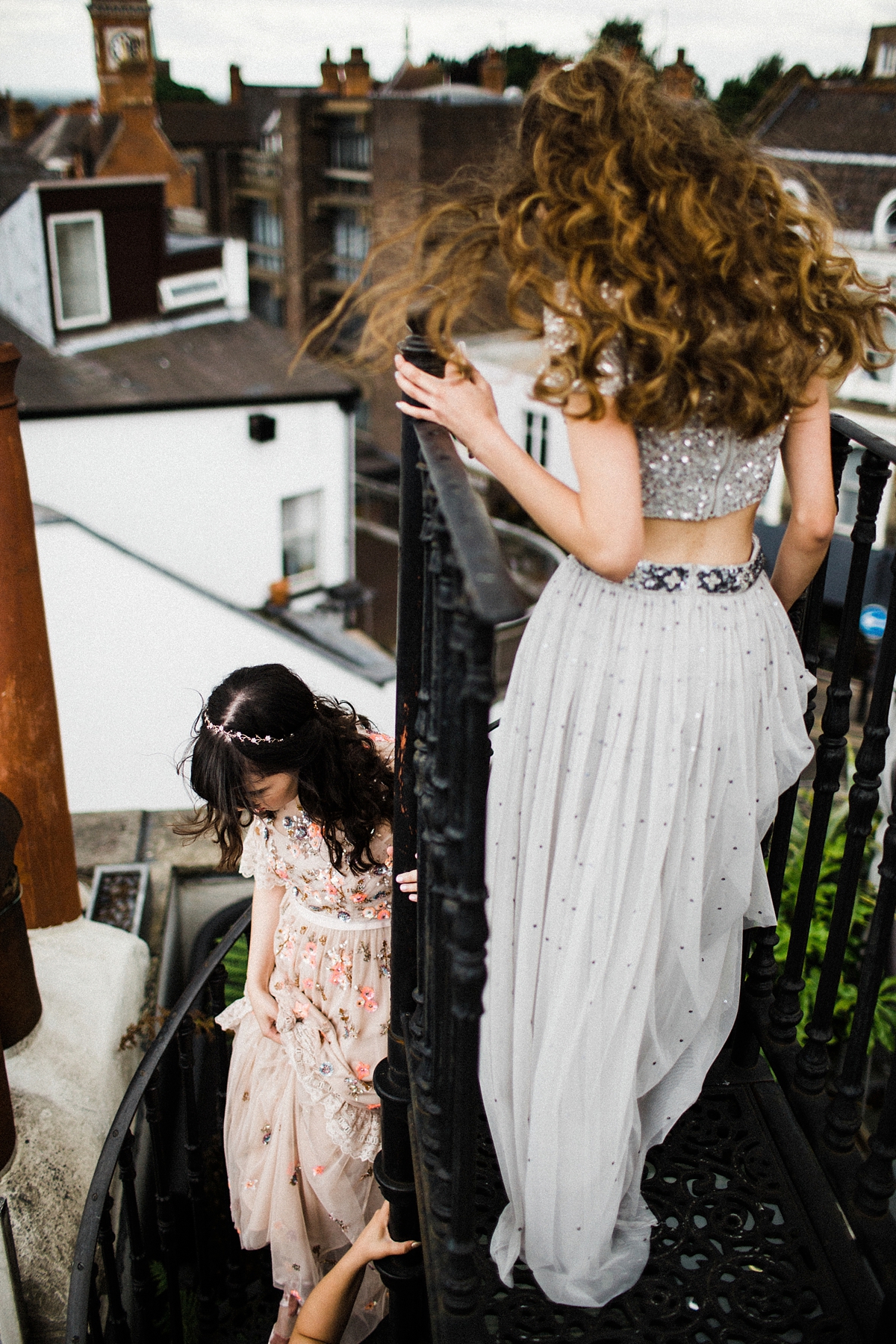 "I can't recommend Claire's and Accessorize enough for accessories. Both myself and my bridesmaids wore hair accessories from them. They're super cheap, good quality and look just as lovely as some more expensive alternatives I've seen."
"My dad accompanied me down the aisle to Best Of My Love by The Emotions. It's one of those traditions that is completely out of date and old-fashioned when you think about what it means, but it really meant a lot to me for him to walk me down it. It's one of my favourite memories of the day."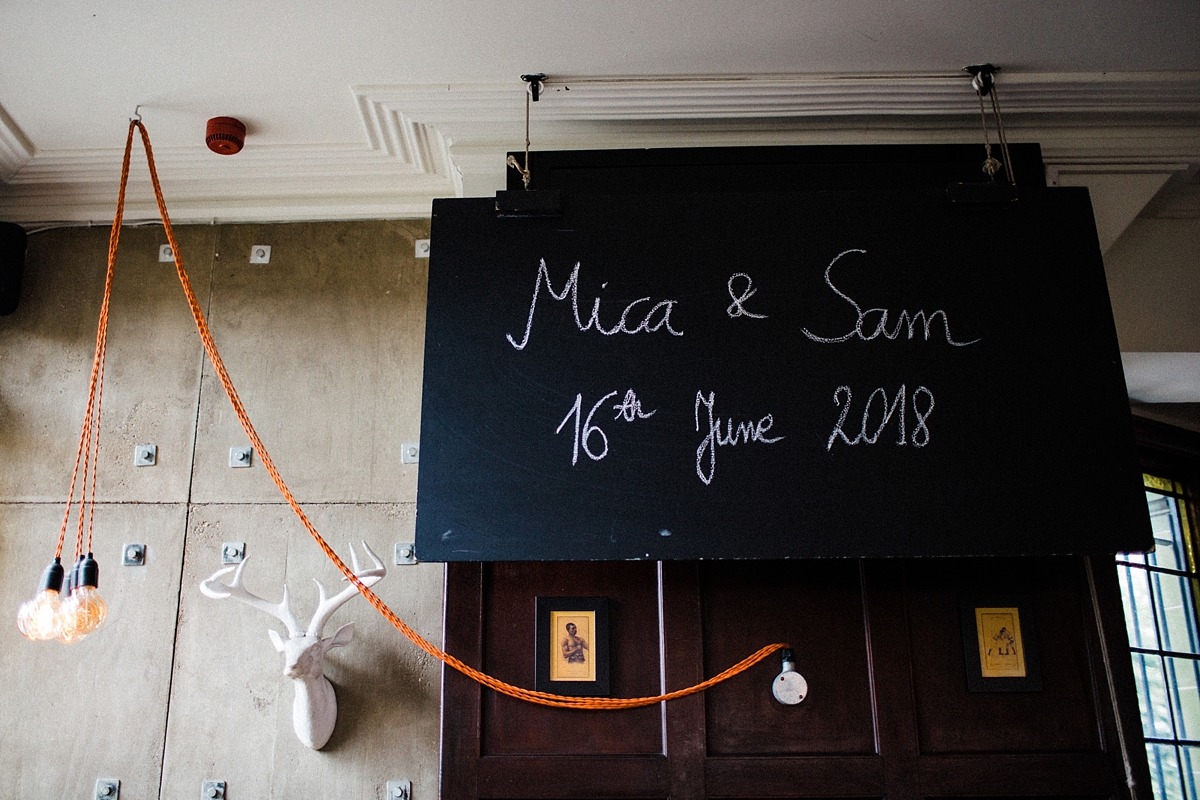 "We opted for the traditional vows with no changes made and had some readings to add some personality to the ceremony and keep it upbeat and happy. We each had one of our friends do a reading of some song lyrics, which definitely caused some laughs during the ceremony."
The groom perfectly complimented Mica's bridal look in an ASOS Plus super skinny suit in wine herringbone, accessorising with a red floral tie and pocket square, and a beautiful corsage made by Mica's talented aunty.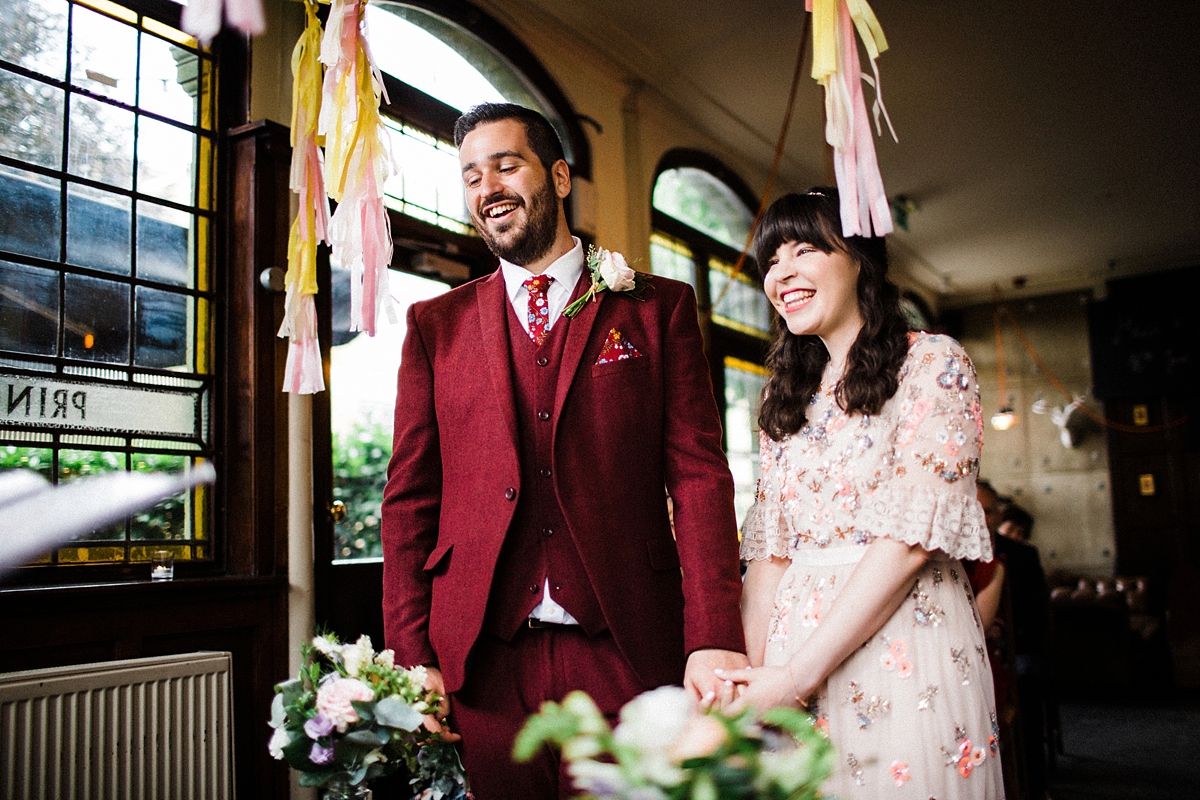 "Sam and I first met way back in 2004 at a friends party when we were both still at school. Sam was 16 and I was 15. We officially got together in March the following year (just before my 16th birthday) and we've been together ever since."
"I know that for a lot of people, that must seem completely crazy – I don't think either of us ever expected then that we'd meet the person we'd spend the rest of our lives with at that age."
"But, amazingly, it just worked! Despite that, we didn't get engaged until August 2016 and we married after 13 years together."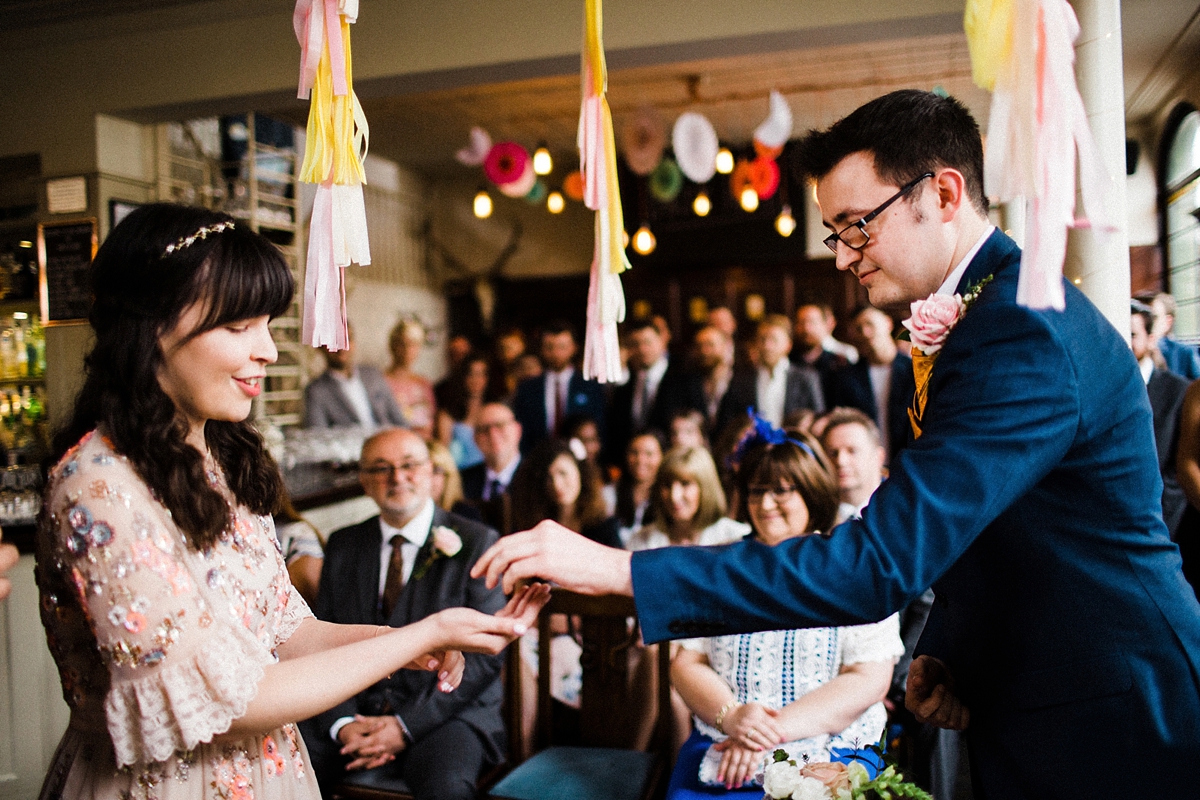 "We didn't really have a particular theme in mind or style for the day. The most important thing to us was having a big party with all of our friends and family. Neither of us are religious so we knew that a church wedding wasn't an option."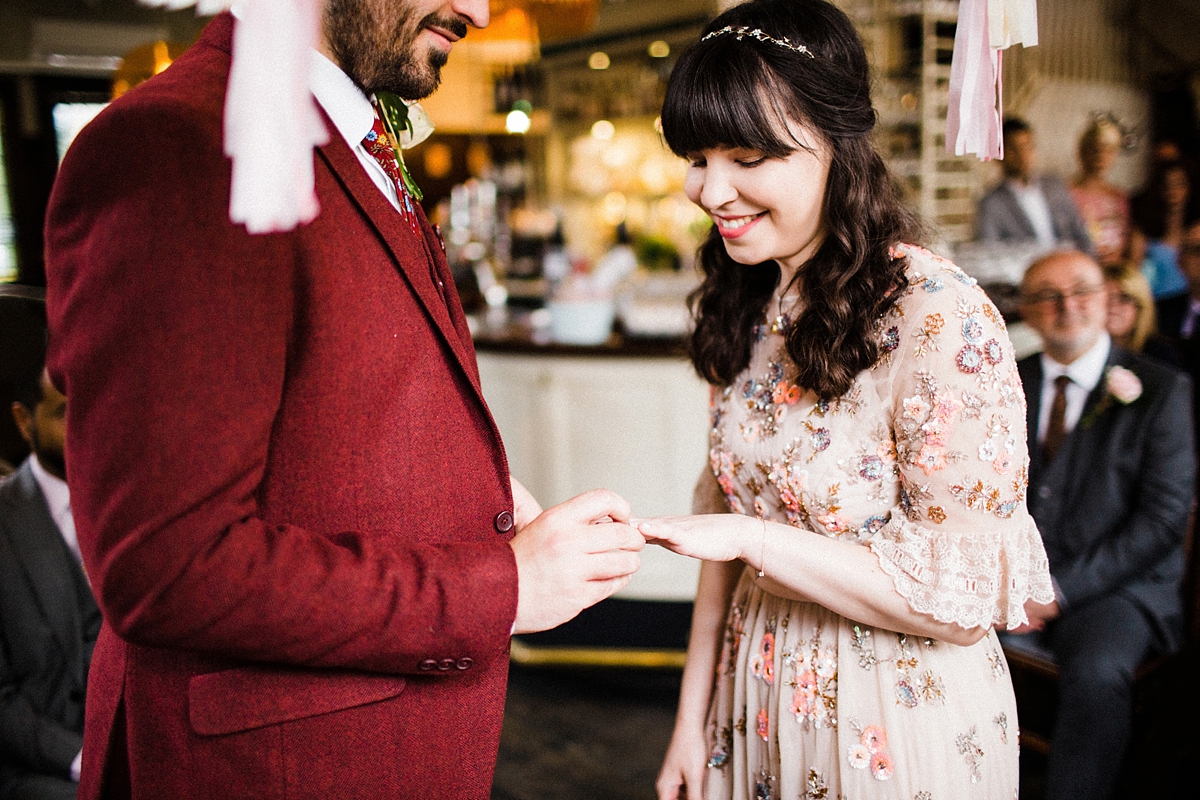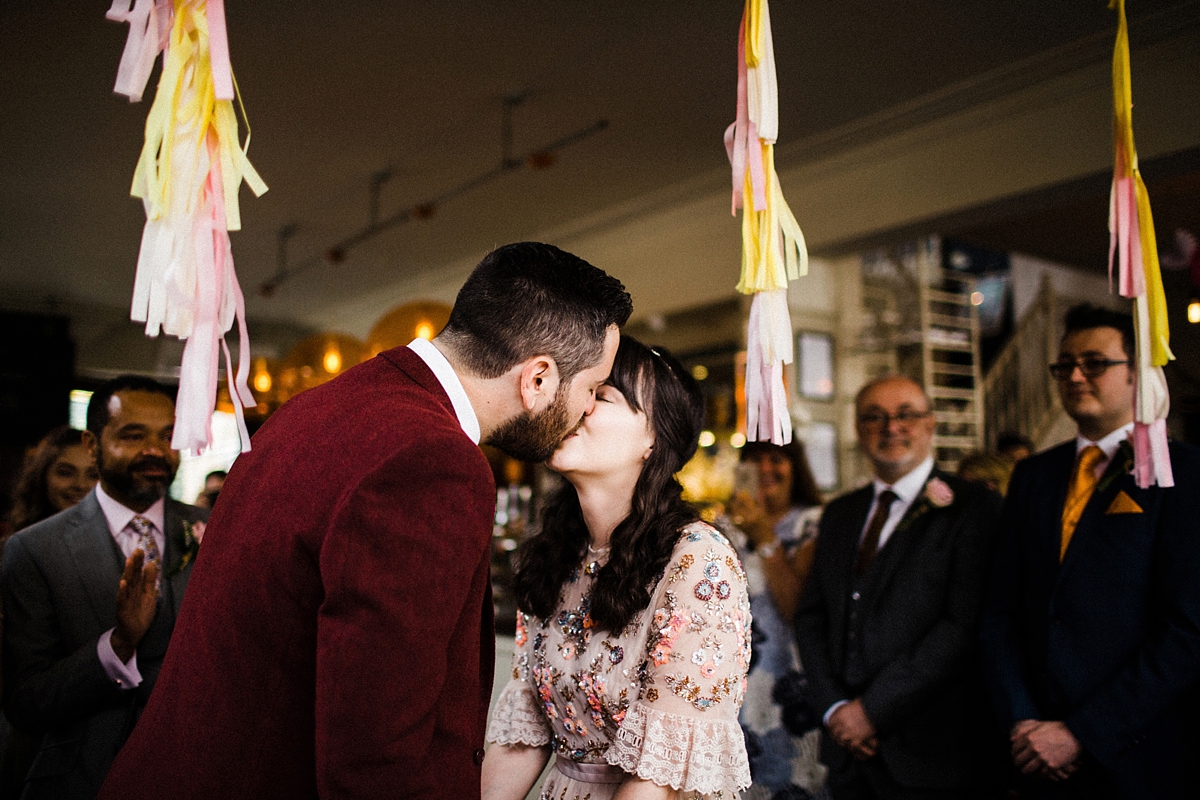 "We had a lovely registrar from Camden Council oversee our wedding ceremony. We wanted the day to feel really relaxed but fun, so we had giant balloons as our main decorations and jars of fresh flowers and candles dotted around the venue."
"For the entertainment, Sam and I wrote and hosted a pub quiz after the wedding breakfast. The winning team won a bottle of Apple Sourz (which didn't last long!) and some transfer tattoos. In the evening we had a DJ 'til about 10pm and then switched over to our own playlists once the party had really got going."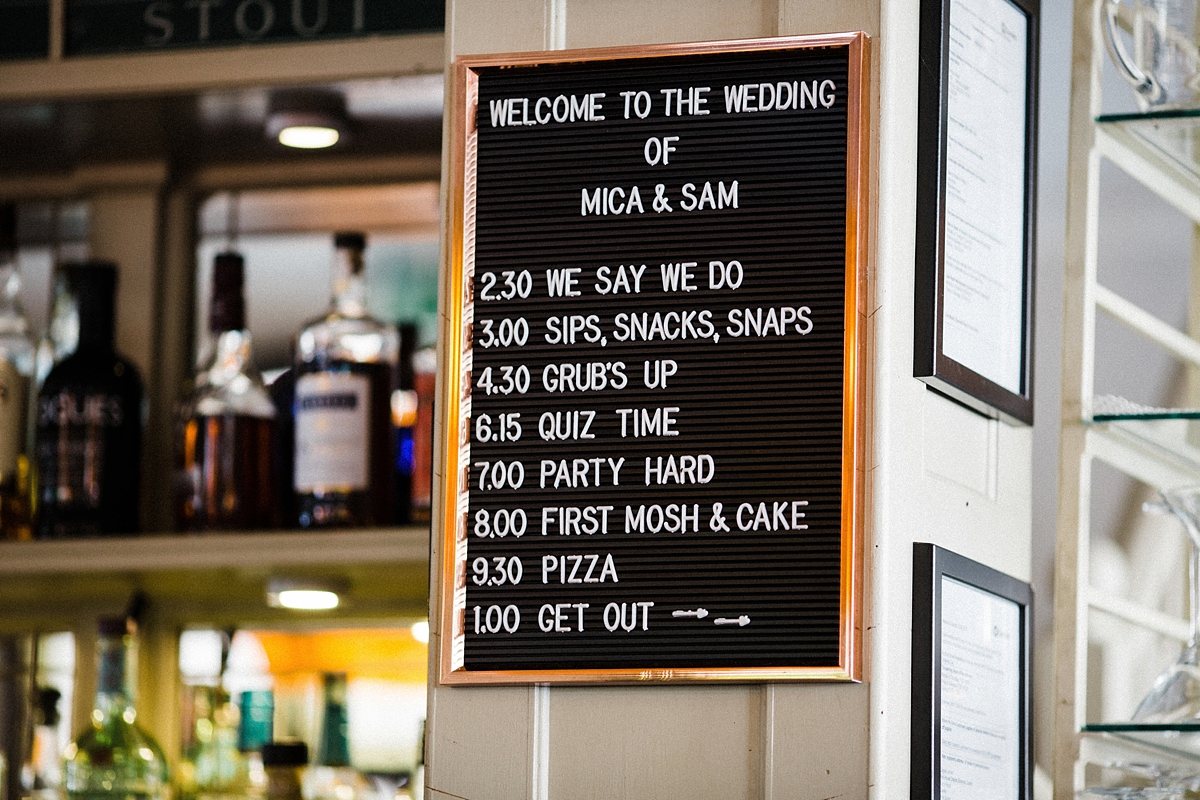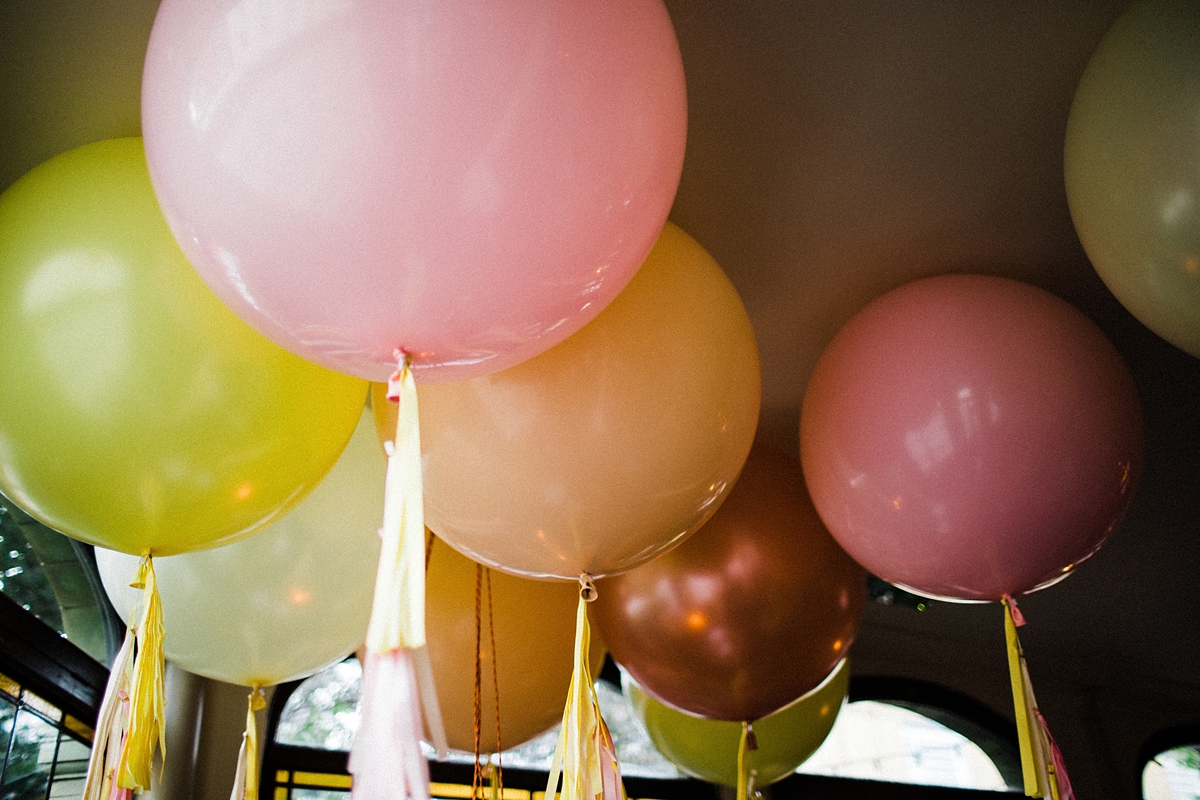 "We used Paperless Post for the vast majority of our save the dates, invites and thank you cards. We also used Papier for a few printed versions for immediate family and our older relatives who aren't online. My sister made our table plan – I printed out the list of names and she backed them and found a frame for us to prop up on the day."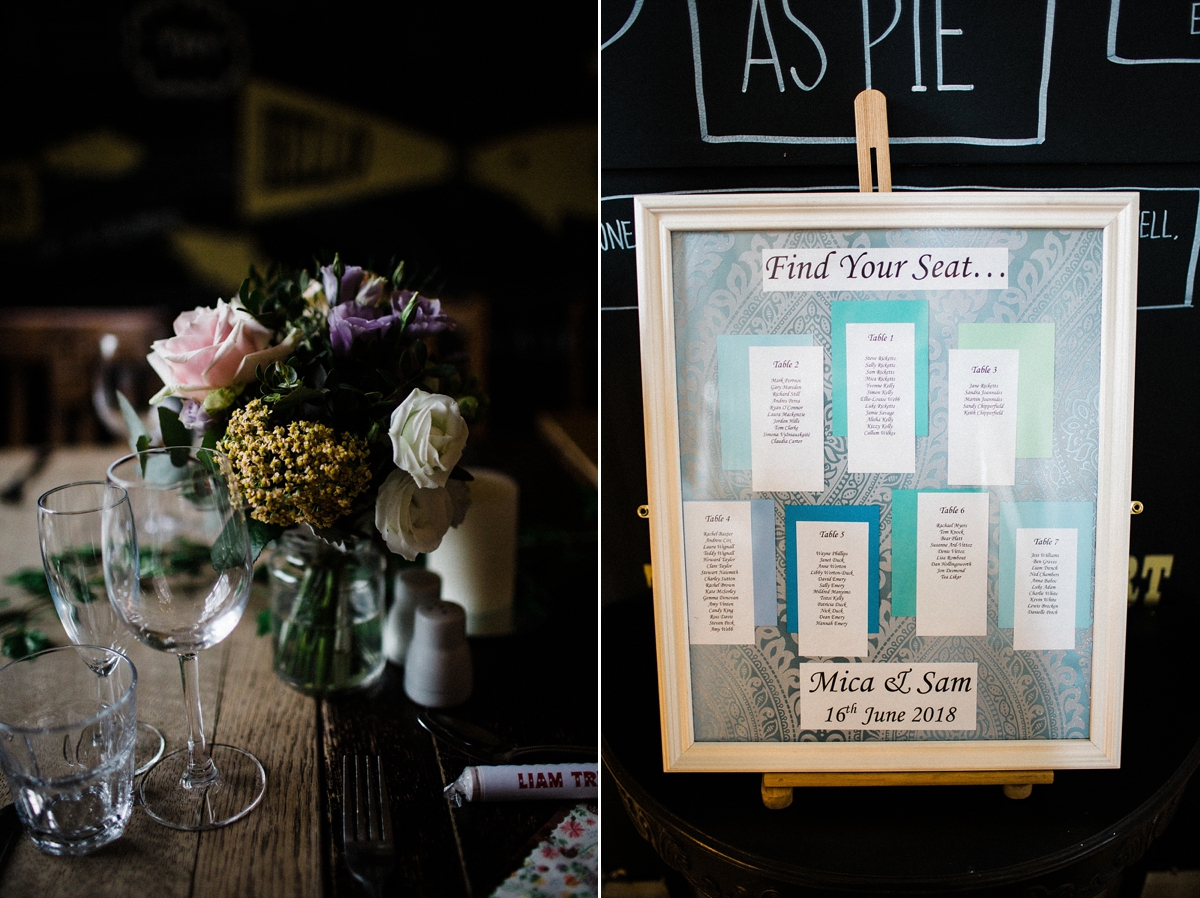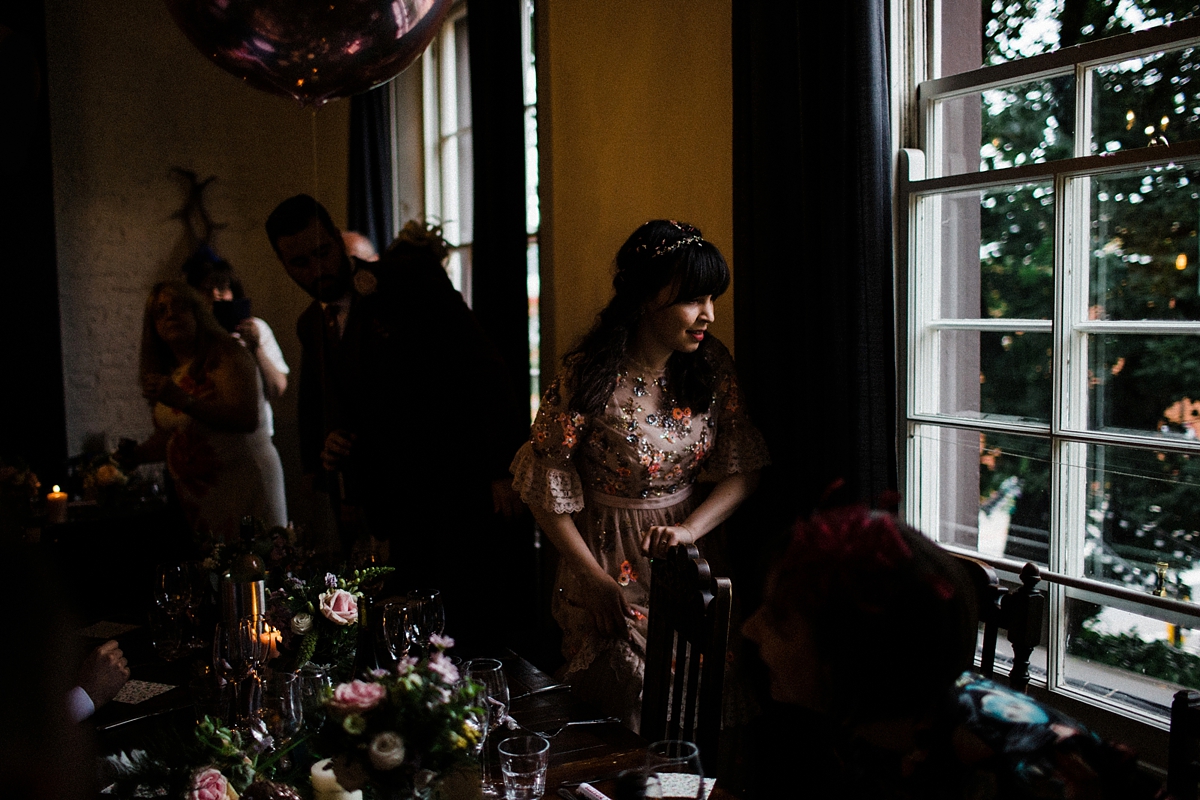 "All of the food was provided by The Prince Albert. We had smoked salmon blini's and baby beetroot and red pepper tarts as our canapés. We skipped starters and guests had a choice of fish and chips or pie (either chicken and mushroom or vegan sweet potato) and mash for the wedding breakfast. We then had a build your own Eton mess and brownies for dessert. At about 9pm the pub brought out pizzas, potato salad, cous cous and the cake for everyone to tuck into."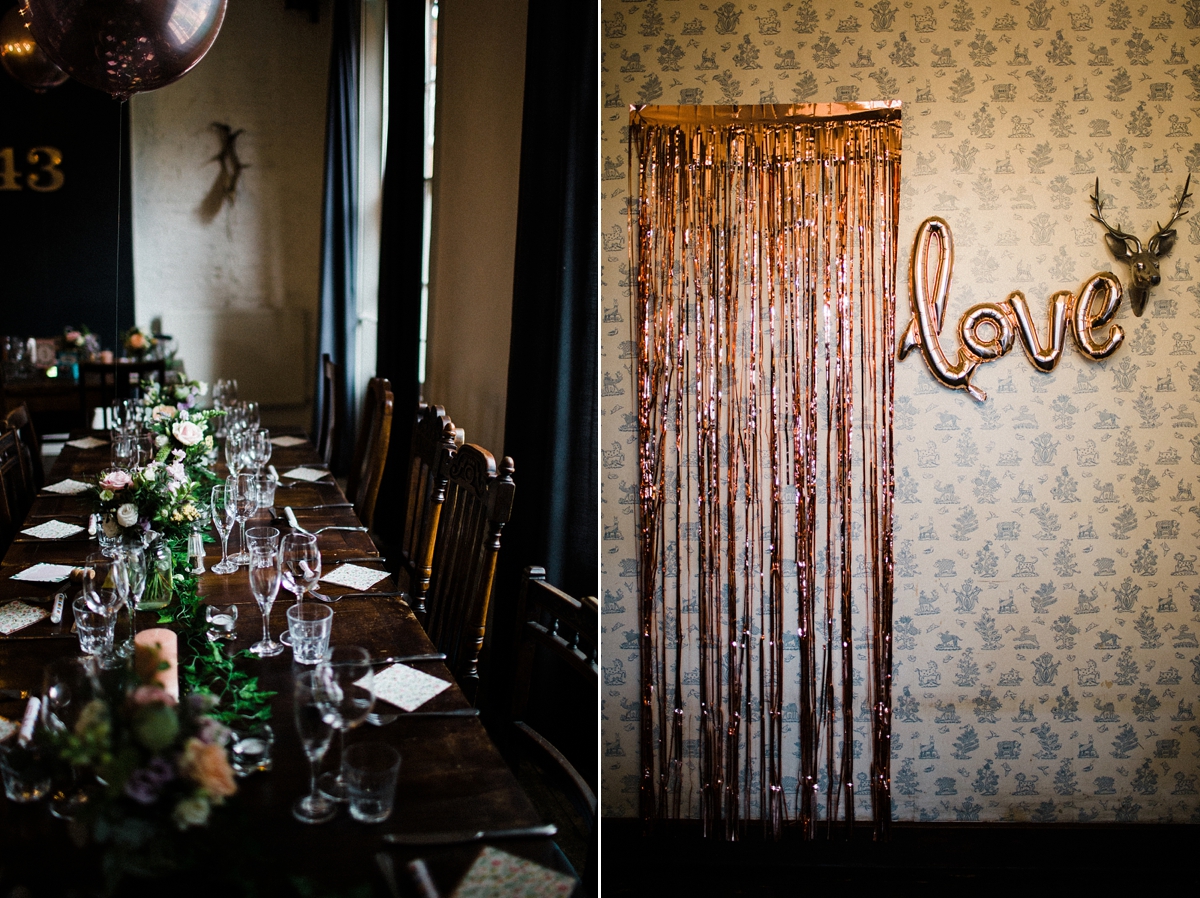 "Our wedding favours were Swizzels personalised love hearts which we also doubled up as place names. We used Bubblegum Balloons for floating balloons on the tables upstairs and giant orbs on the ceiling of the pub downstairs where we held the ceremony. We also used a rose gold curtain from Ginger Ray to create a photo booth area by the guest book."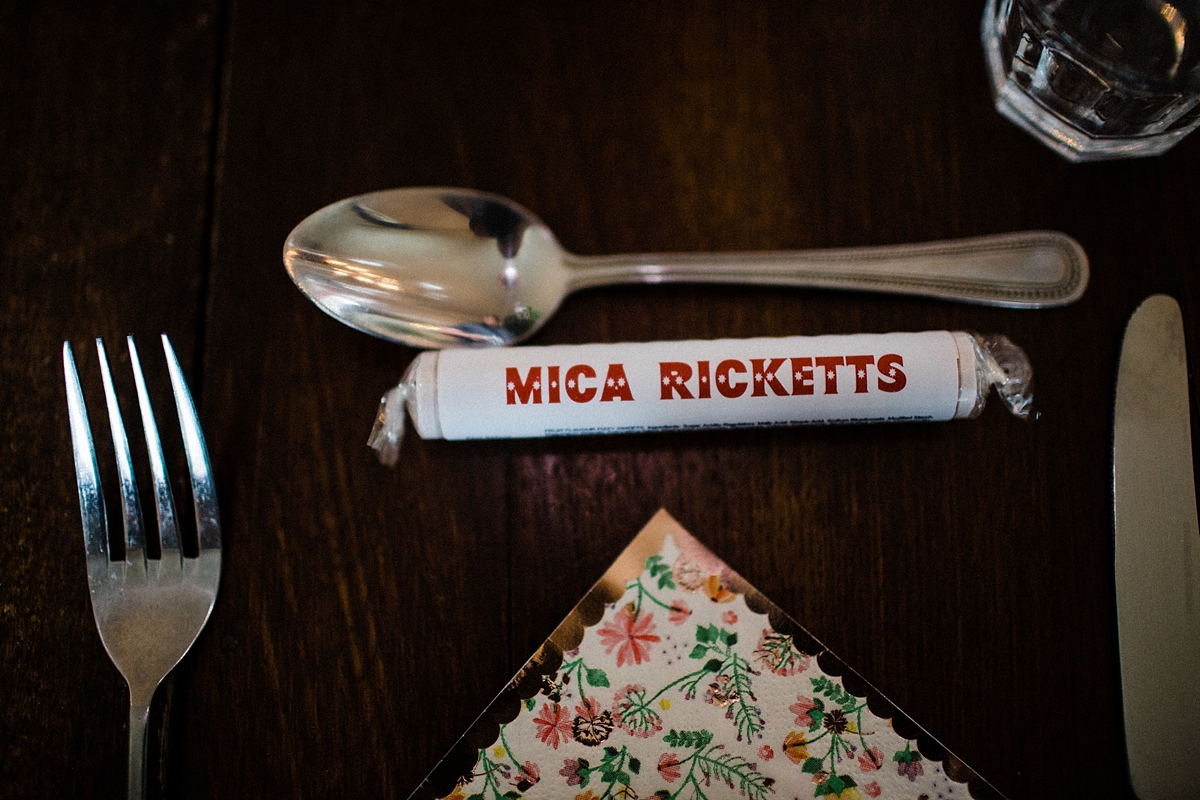 "The cake was made by Crumbs and Doilies and was a triple stacked cake. The top-tier was lemon meringue pie, the middle was pistachio and rose, and the bottom was raspberry ripple. The outside was pastel coloured with pastel rainbow meringues on top and sprinkles on the bottom layer. We wanted something that looked fun and colourful but would also taste amazing and this ticked all the boxes!"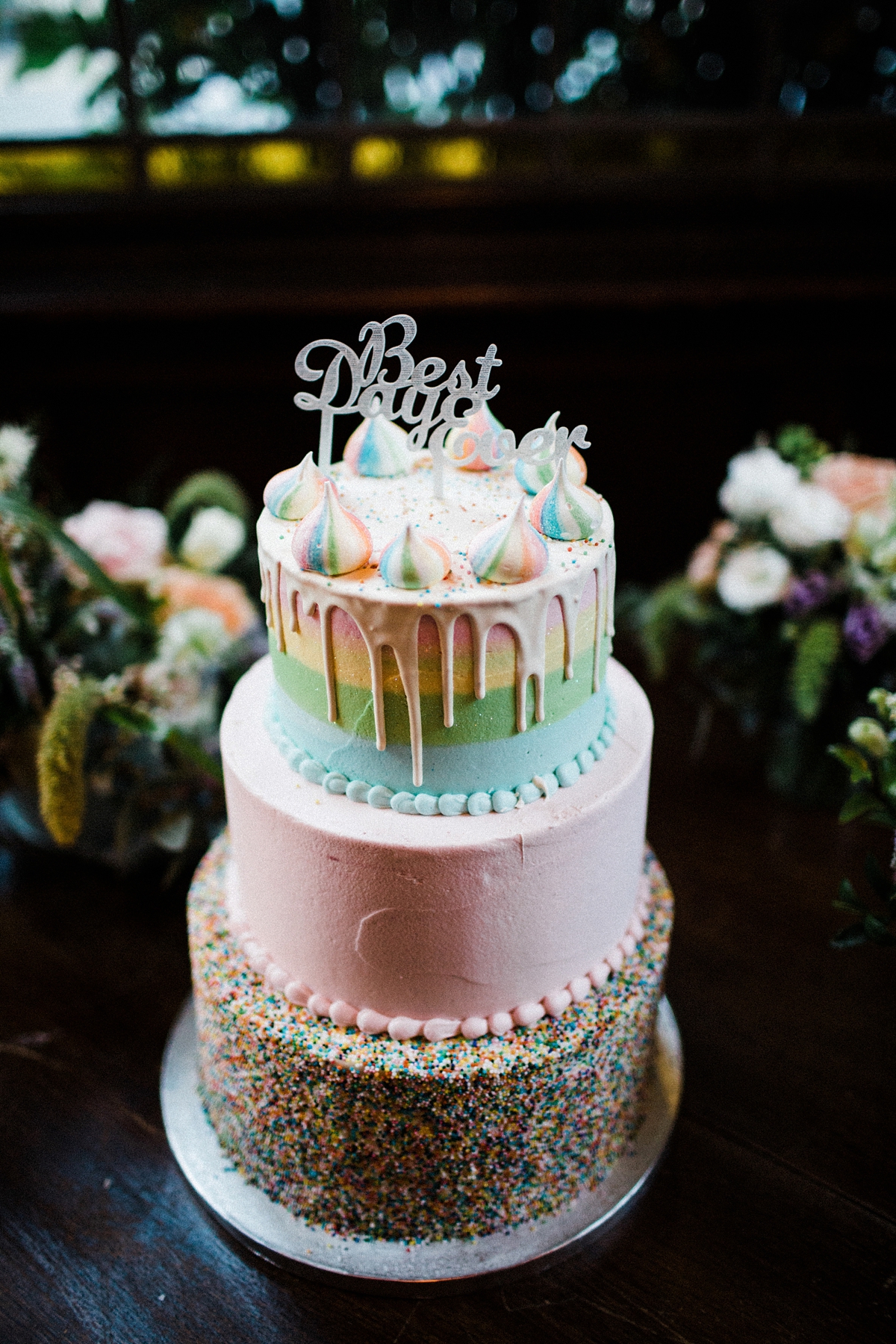 "Our first dance track was The End Of Heartache by Killswitch Engage. Neither of us were that keen on the concept of a first dance and this is definitely not your traditional first dance wedding song. It's a track that first came out not long before we first met. Sam was really into metal music and Killswitch Engage were one of the first heavier bands I got into."
"It's a bit of a crowd pleaser amongst our friends too so we knew we could get everyone onto the dance floor quickly with it and take the pressure off us!"
"We both love music – I love any excuse for a party and Sam has played in bands since we met – so we spent a lot of time making sure we got the playlists just right. The best thing about the pub was that it really didn't need much decorating as it already had the feel we both wanted."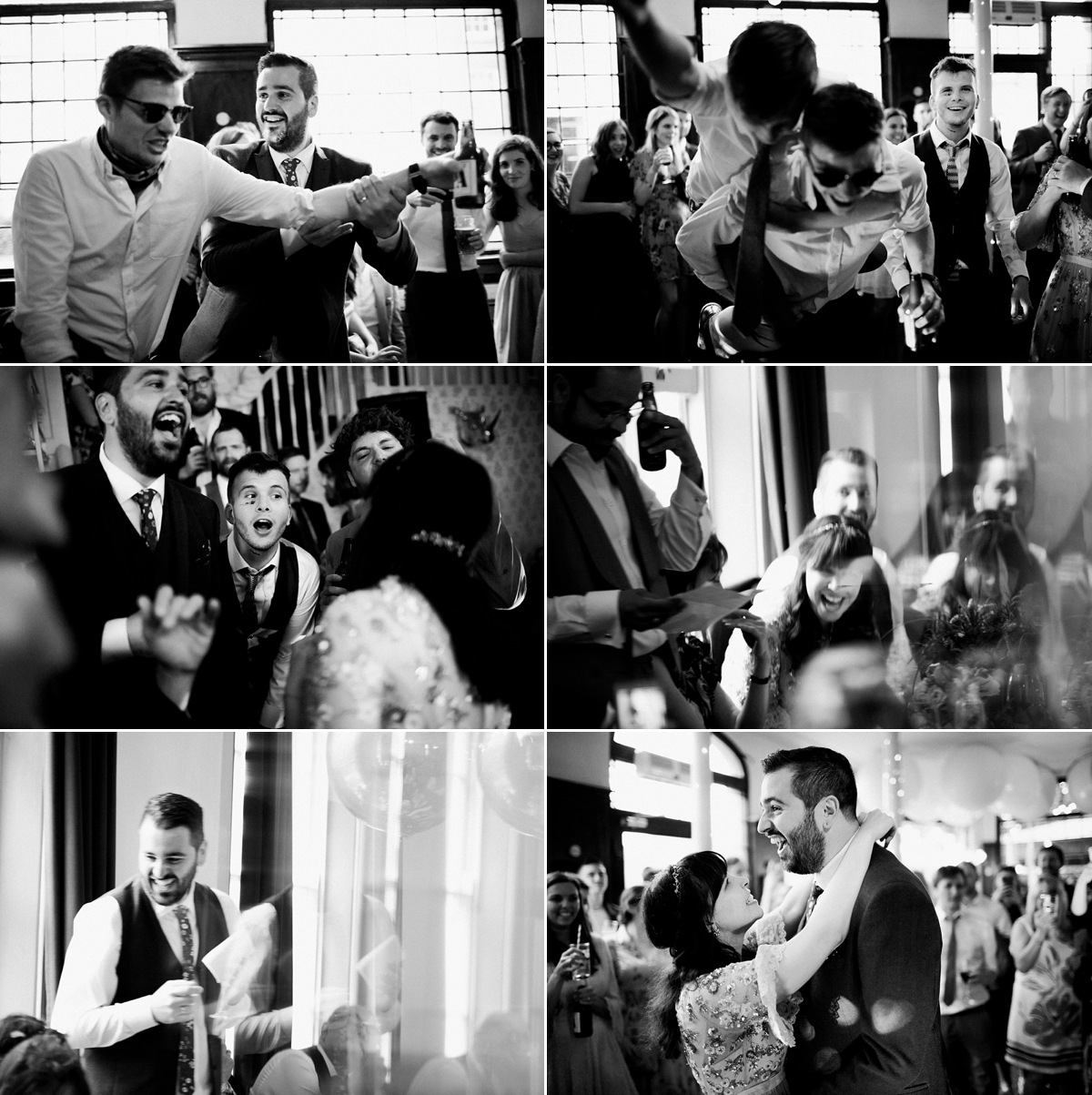 "It's so hard to pick just one favourite part of the day. Everyone says that their wedding is the best day of their lives and beforehand, it's hard to believe that would be true but it really is! The day went so fast. I loved after the ceremony when we got to sneak off for a short while to get some photos by the canal just the two of us."
"I think both of us had such a great time partying in the evening too. I barely left the dance floor, which is definitely the sign of a good night! The only thing I might have done differently in hindsight, is apply for the late pub licence. We could have carried on until 3am instead of wrapping up at 1am."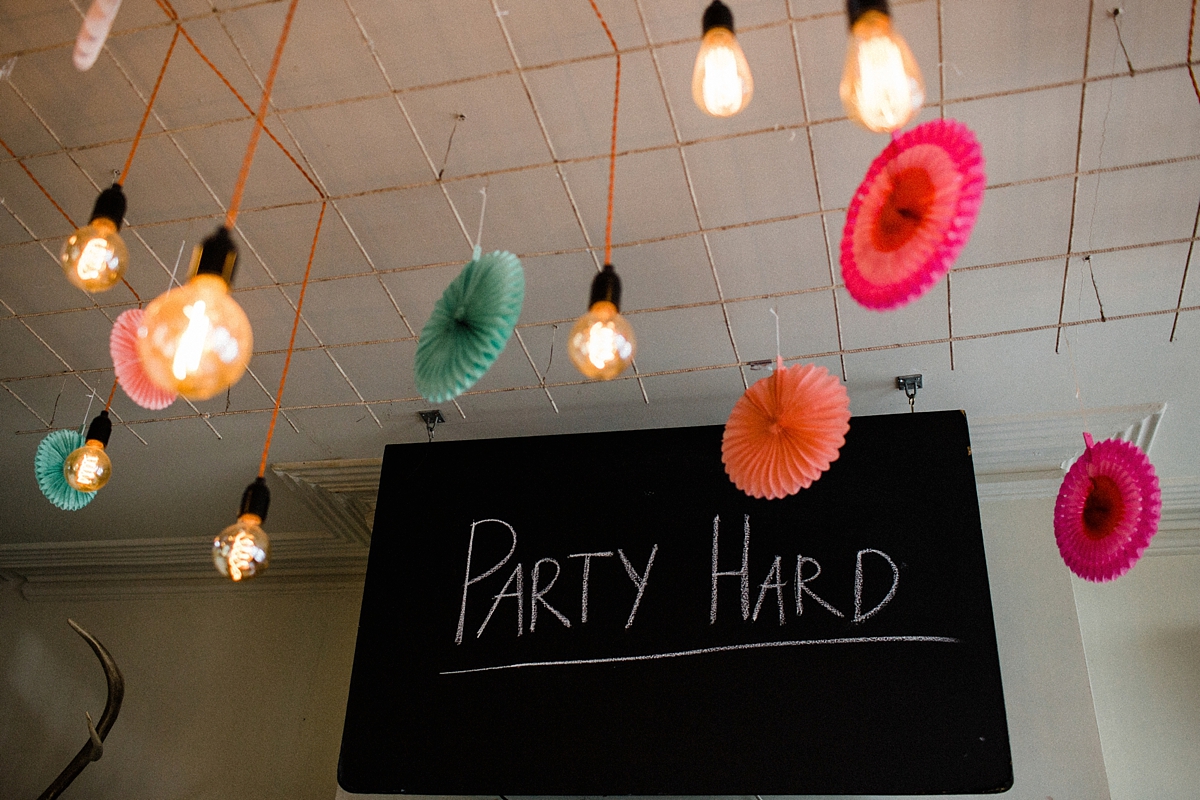 Words Of Wedded Wisdom
"Try and keep the day in perspective. Yes, it's an important day in both of your lives but it is just one day – you have a whole life together after that! We were both quite relaxed about little details, particularly in terms of how specific things like flowers or table settings should look."
"I think this really helped us to go into the day with the focus purely being on getting married, rather than whether tiny details of the day were going to be as we expected."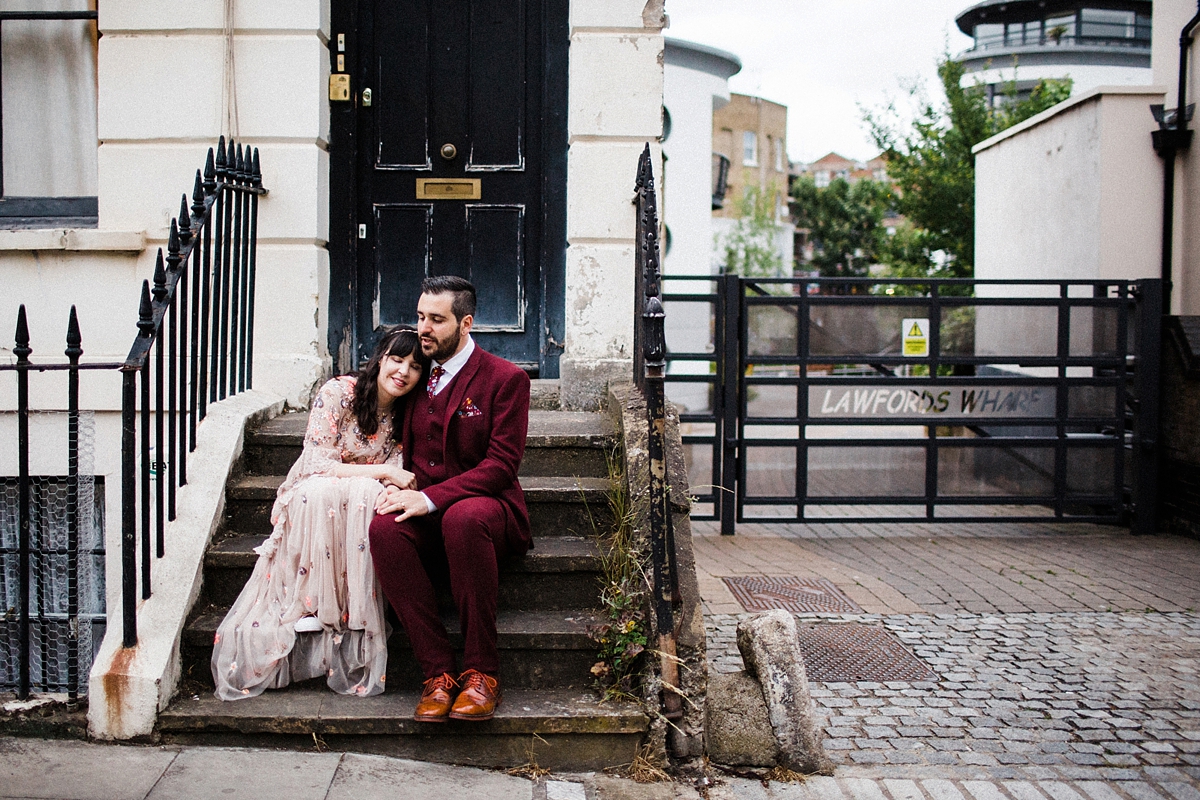 A big thank you to Mica and Sam for sharing their special day with us – it looked like a lot of fun! Special thanks also to Claudia Rose Carter for the wonderful imagery.
Until next time…
Much love,
Holly x