Louisa Grace Interiors is one of those hidden gems that you only get to know when someone takes you there.
Located in unprepossessing farm buildings, high on the Epsom Downs,  it is home to kitsch, clutter, antiques, objet-trouve and twinkling French lighting that is a magnet for interior designers and stylists alike.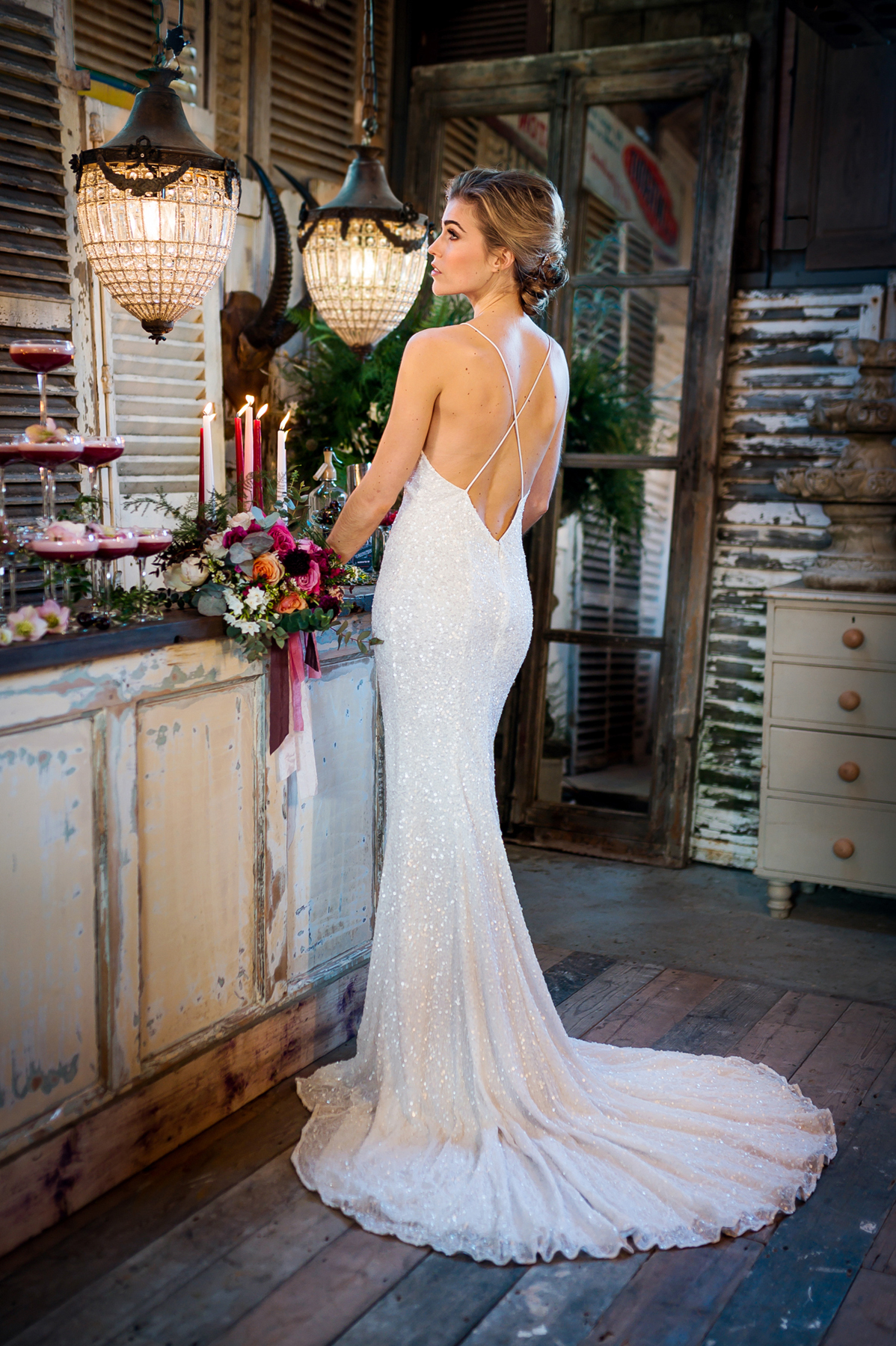 As soon as Wedding Planner Susie Evans visited, she was certain she needed to return to shoot there. The venue speaks of the enduring love for high-low style, eclectic curiosities and out and out glamour. Huddled in the one warm space, the hair and make up team, TWIA winner Sharon Roberts and Tania Stephenson-Oliver worked with Susie's brief to update the ever popular sparkling vintage theme.
Much how Louisa Grace mixes high glamour with insouciant style Susie asked for 'wow' dresses with artfully undone hair and polished make up. Cocktails that would have looked at home in a Speakeasy and flowers that answered the brief to darken the usual romantic look completed Susie's vision.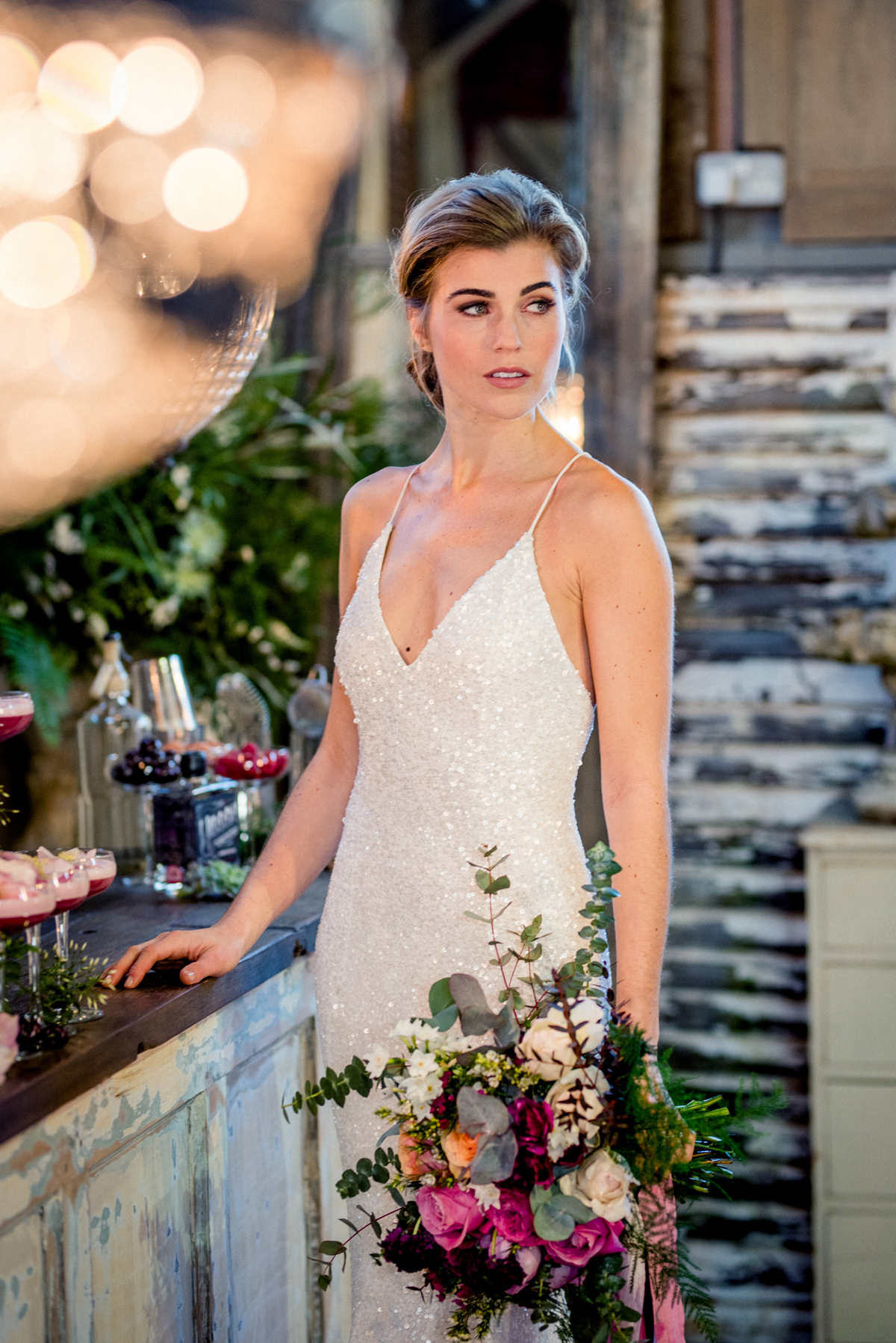 Hair
Prep hair by curling with the Hot Tools Curl Bar to create bend, then treat with Kenra Dry Texture Spray to enable grip. Use Evo Hair shebang-a-bang Dry Wax Spray and Evo Haze Volumizing Powder then light backcombing before pinning hair into a low bun.  After a little controlled 'messing up' the look is finished with both Maria Nila Finishing Spray and Bedhead by TiGi Headrush Shine Spray.
Make Up
To achieve a subtle elegant smoky eye start with lash extensions. Lash clusters were applied to frame model Clare's blue eyes , built gradually to avoid the false look. Brows are gently defined, foundation is Bobbi Brown and Charlotte Tilbury's Pillow Talk range is used on eye, cheeks and lips.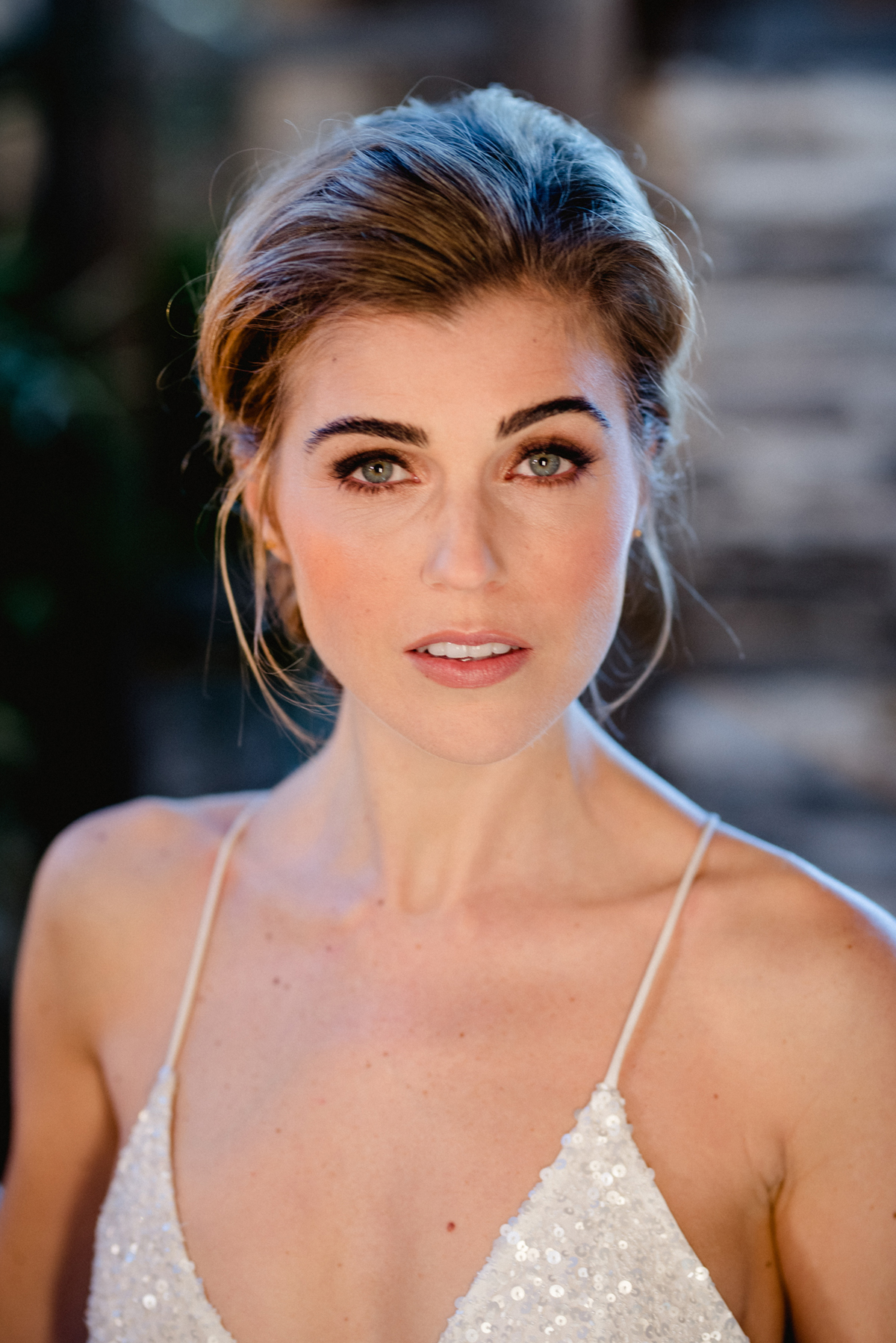 Fashion
As the brief was all about vintage and sparkle, Emma, from Miss Bush, wanted to appeal to the magpie and the showgirl that lives within a vintage loving bride.
For the ivory look an Eliza Jane Howell take on a 90s slip dress gives a late 20th century vibe to traditional vintage. Celestial inspo' from Miss Clemmie completes an easy take on an 'up all night' decadent look.
The incredible black ensemble is created by blending a red carpet look from Suzanne Neville and a press piece from Jesus Peiro.  A black crepe strapless jumpsuit from Neville is teamed with  an editorial treasure from Jesus Peiro's  Heritage collection. The silk top hat was hanging on the wall at Louisa Grace Interiors!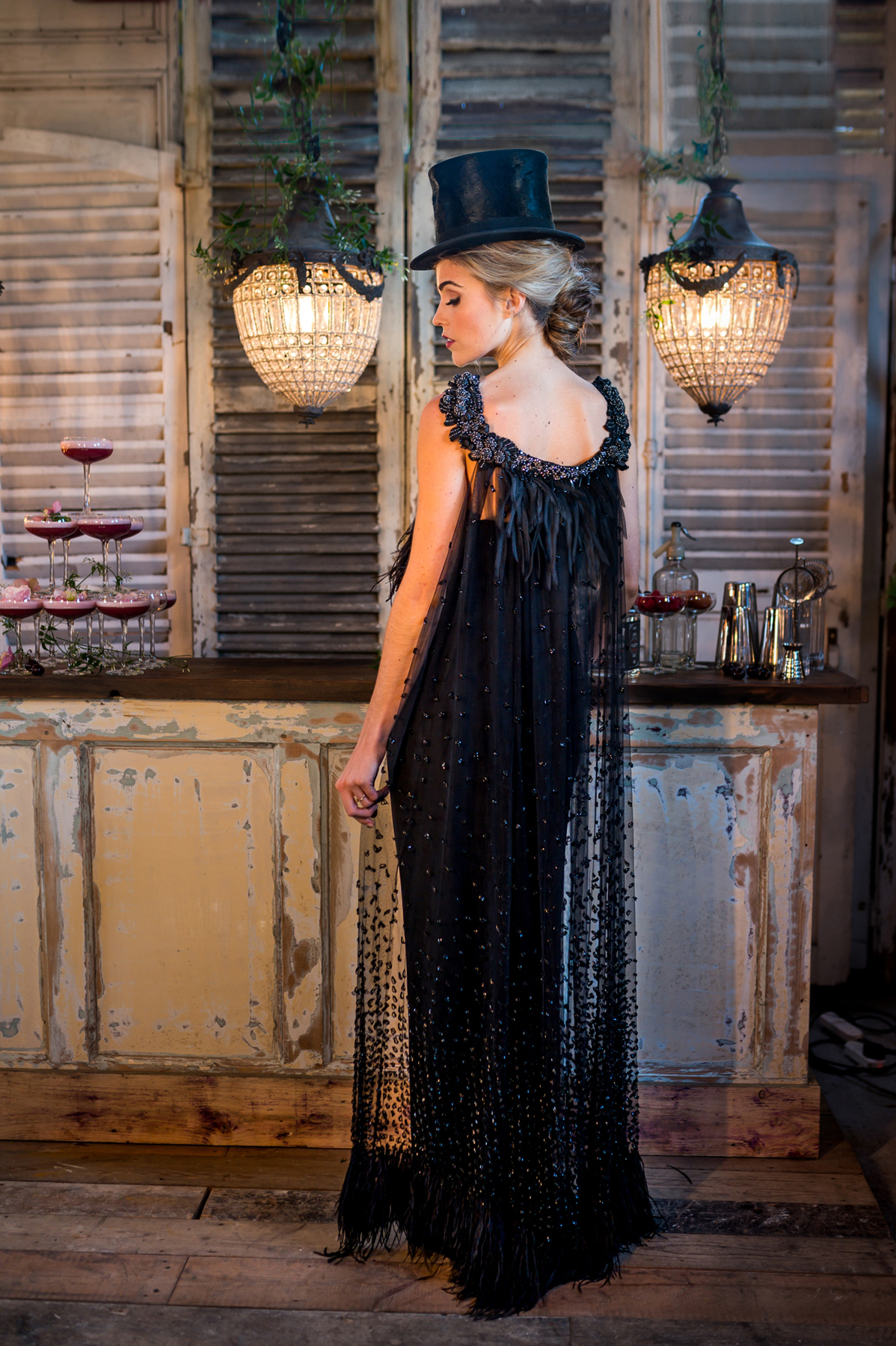 Flowers
A luxurious free-form bouquet was created with a palette of rich plums, hot pinks complemented with white highlights and sage green foliage. Designed using roses as the main flower for a blowsy look with smaller headed flowers to create a sense of softness and movement.
Flowers used included: All 4 Love Roses, Gravity Roses, Scented O'Hara Pink Roses, Hot Pink Majolica Tea Roses, Plum Scabiosa, Plum Anemones, Waxflower, Paperwhites Cinerea Eucalyptus, Asparagus Fern and Eucalyptus.