For those who are new to Love My Dress today, welcome. I hope that you find these pages full of love and inspiration during your engagement just like Jen, whose wedding we're sharing today. Come with me to Worcestershire for this home-spun wedding in the garden.
The couple are Jen, an export sales executive and Rob, a market analyst who married on 28 July 2018 at St Gregory's Church, Castlemorton, Worcestershire with a marquee reception at the bride's family home. For Jen, getting married where she grew up was of prime importance and it gave the pair free rein with their planning and styling. Cue a relaxed day whose style and feel evolved organically, with plenty of fresh flowers and allusions to the ducks and wild birds which visit the millpond next door.
Photography Richard Skins Photography + second shooter Harry Michael Photography
Photographer Richard Skins, who we are so proud to number amongst our Little Book photographers, and second shooter Harry Michael captured every single detail of this gloriously sunny and showery day. His style is natural and modern, with a wonderful timeless quality and aptitude for catching light in the most perfect way. If you love his work then please don't hesitate to pop over to our Little Book to find out more.
"Richard was the very first supplier we booked. I saw his work from a family friend's wedding before we even got engaged and thought to myself that when we got married we had to book him. Happiness just seems to radiate from every photo he takes and I just had a gut feeling about booking him, which in my experience you shouldn't ignore!"
"Despite enjoying one of the sunniest summers ever naturally when it came to our wedding day the heavens opened just as we were coming out of the church. It must be so frustrating as a photographer to be restricted like that when the weather takes a turn for the worse but he was so committed to making sure we got some beautiful photos, literally working his socks off as Rob had to lend him a pair as he got that soaking!"
"He managed to grab us at just the right moment for photos following the meal and the results are beyond anything I could have imagined. I would recommend him to anyone. As we had a large number of guests Richard suggested Harry Michael Photography as our second photographer. He was amazing and dealt with the chaos of the guys getting ready brilliantly and is just an all round great egg!."
Have you ever wished you could design your own pair of wedding shoes? Jen did just that, with Elizabeth Rose London, to create her hand-painted heels.
"I found the wonderful Elizabeth Rose via Etsy and was so lucky to be able to design my own pair of shoes with her. She creates the most beautiful bespoke designs by hand-painting your choice of flowers and can add it any little touches that you like. I requested a wren as my nickname is 'Jenny Wren' and a little bee as a nod to our Mancunian romance. I love how you could catch glimpses of colour from the pink ranunculus and foxgloves that she added onto the shoes from under the dress. It was amazing to be able to have my own unique design and I'm looking forward to displaying them in the house."
On the morning of the wedding, the girls spent happy hours relaxing together and getting their hair and make-up done styled. The bride opted for a soft and elegant bun adorned with nigella and roses.
"Chris Fordham styled our hair. I chose him as he had styled my sister-in-law's hair on her wedding day and she had said how much fun he was to have around (she wasn't wrong!). I loved having my hair trial at his 'Secret Salon'; he set aside lots of time to listen to exactly what I was looking for and I was so happy with the updo he created for me."
"Elle Hitchens did our make-up and was such a lovely calming presence. I get a bit sick of the word 'stunning' being used to describe brides but I had so many people telling me I looked 'radiant' which I much preferred – partly down to how happy I was all day but I think mostly thanks to Elle's work!"
"My mum treated me to a Jo Malone scent consultation where I chose one of the intense colognes called Tuberose Angelica, it smells exactly like a Body Shop moisturiser I used to be obsessed with in my teens."
I have to talk about the beautiful stationery which revolved around hand-drawn illustrations of ducks and birds.
"I used Caroline Dowsett, an illustrator based in Manchester. I have a slight mallard obsession and she came up with a save the date of a duck holding a balloon in its beak with 'Rob and Jen are getting married!' which we then incorporated into the Orders of Service and menus on each table and I also drew the design free hand onto a welcome easel which was put in front of the church."
"She also created beautiful invitations with a floral design and a pair of mallards on the back in the reeds. I like how we got some photos up near the pond with the reeds in the background. For the table names I decided to use collective nouns for groups of birds ('a flamboyance of flamingos' for example) and Caroline created illustrations for each bird for us to use on each table which we are planning to frame and display in the house. It was lovely to be able to have something totally unique to us and support a small business at the same time."
I totally agree that Jen looks radiant and glowing with her natural but elegant make-up. What do you think of her opulent bouquet? It's a true celebration of English summertime with its big, blowsy blooms. Jen and her bridesmaids put together the floral decorations – more on that later – but handed over to Alexandra Rose Weddings for the bouquet itself.
"I didn't want to be rushing around trying to do our bouquets and buttonholes in the morning and when I saw that our wedding coordinator Alexandra could sort this out for us I was so happy. She made the most stunning bouquets for us girls and a beautiful flower crown for our niece Maddie who stole the show as our flower girl. I gave her a pretty loose brief of pinks and blues and the names of a couple of flowers that I liked and I couldn't believe what she came up with; it was like she knew exactly what I wanted before I knew it myself. There were only a few moments in the day where I got emotional and seeing my bouquet for the first time was one of them."
Whilst Jen and the girls prepared, Rob stayed in a local hotel with his groomsmen. He chose to wear a suit and bow-tie from Moss Bros along with a charming pair of Raccoon cufflinks, a gift from Jen.
"Rob bought all the suits from Moss Bros in the pre-Christmas sales and ordered grey waistcoats from Burton and navy bow ties from Dobell."
Rob and Jen met at uni and were engaged five years later, overlooking the magical Croatian city of Dubrovnik.
"We met on a night out for a mutual friend's birthday whilst I was in my final year at uni. I remember clocking Rob at the pre-drinks and thinking he was quite cute but I didn't actually speak to him until later on in the night when we were out. He cracked out his patented 'accidentally on purpose' move of backing into groups of girls on the dance floor (this makes him sound like a sleaze-bag but I'm assured his success rates were pretty low). We got talking and he offered to buy me a drink but by this point in the night all I wanted was tap water."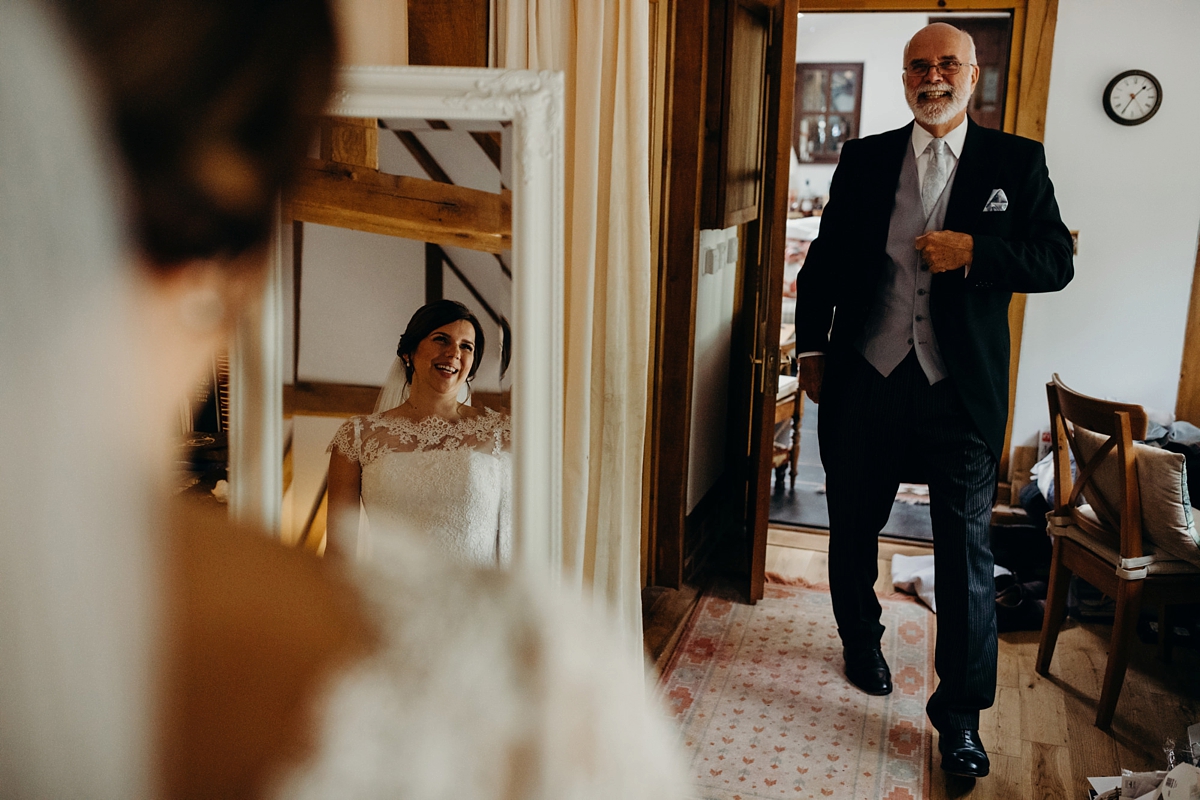 "His interest was piqued even further when, after a few drinks on our first date, I suggested that we grabbed some food. He admitted he was quite cash-strapped so I suggested a Waitrose Two Dine In for £10 deal back at his flat. I have no doubt the reason that he fell for me is because he realised early on that I was such a cheap date! I didn't believe him when he said that he used to do hurdles so he decided to prove it by hurdling a dining chair right then and there. I have been laughing with and at him ever since!"
"Five years later Rob proposed whilst we were on holiday in Croatia. On our last full day we took a day trip to Dubrovnik but our tour guide was very enthusiastic and keen to show us as many sights as possible meaning we didn't have a lot of time to explore on our own. We took the cable car up to the top of the mountain overlooking the city. Rob was pretty quiet all the way up but I took that as him being annoyed at how much the guide had been waffling on and us having to rush – I now realise it was nerves!"
"I was busy finding a spot that wasn't too crowded to get some decent photos and turned around to find Rob down on one knee asking me to marry him which was a total shock (and must have been pretty painful as it was quite rocky up there!). I like to think I'm quite perceptive but I'm clearly not as I didn't have a clue anything was going on. He had consulted my best friend for the choice of ring and spoken to my dad beforehand. We were engaged for just under two years which gave us plenty of time to save and meant we had first pick of the suppliers we wanted."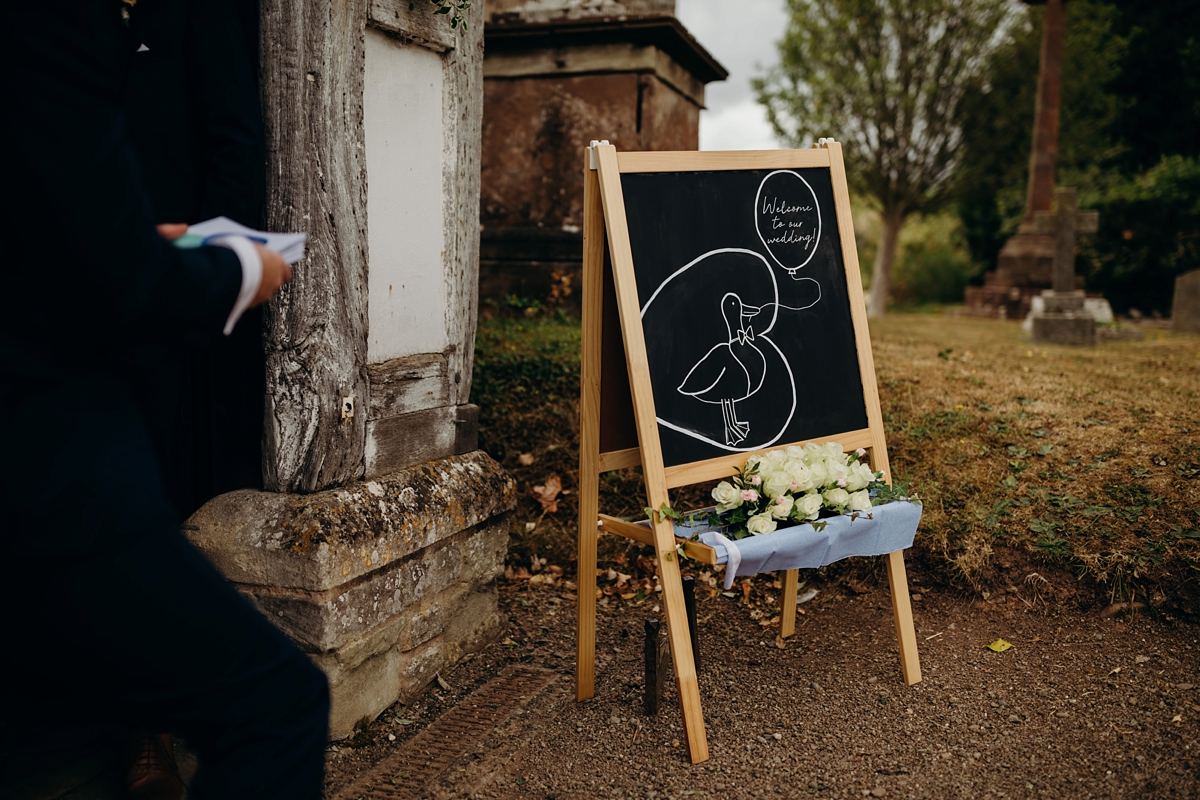 Jen was a regular visitor to Love My Dress throughout her engagement, and a very active member of our lovely community of brides and brides-to-be in the Love My Dress Facebook group. Not a member? Head here to request to join.
"I got so much inspiration from the Love My Dress blog and would open up the Real Weddings section to read at lunchtime every day. I also joined the Facebook group which is such an amazing resource for wedding tips and just generally a lovely community of brides to be and newly-weds like me who can't quite let go just yet."
When the time came, a family friend took the bride and her father to the church – just as the rain started to fall.
"Neither of us were particularly bothered about cars on the way to the church. Rob and the boys took taxis from their hotel and I got a lift over with a family friend who had added a white ribbon to his car. I was a bit early so we ended up having to drive really slowly which was the first time I started to feel nervous!"
A soft blue shade was chosen for Jen's grown-up bridesmaids, who found their gowns at different stores.
"I wanted the girls to pick something they felt comfortable and happy in so just gave them the colour and they each chose their own dresses from Coast, ASOS and Monsoon. The dresses all looked perfect together and the girls looked amazing in them."
"My dad made beautiful silver bangles for the girls and I bought them a pair of pearl earrings to wear on the day. As their dresses were quite detailed I wanted to keep the accessories simple."
Carina and her fantastic team at Carina Baverstock Couture – another supplier who we are delighted to recommend on our Little Book – helped Jen choose her gown; something completely different from what she envisioned. She chose the strapless 'Crazy Love' gown by Stewart Parvin, a designer renowned for his exquisite, luxurious dresses and another valued Little Book member, topped with a lace bolero jacket. I love its simple, fitted silhouette and how it looks completely different come evening.
"I made the appointment on a bit of a whim. I was staying at my sister's nearby and it was a case of heart over head as I live in Manchester which is about four hours away which meant a bit of a trek for fitting appointments. During my appointment Carina asked me to describe how I wanted to feel as I walked down the aisle in three words."
"I had always said the last thing that I wanted was a strapless dress with images of back fat and having to hoick the dress up every five minutes in my mind. I had previously tried on more modern, unstructured designs which weren't really doing anything for me. My mum was angling for some lace and the final dress of the appointment was a very fitted style in corded lace with a delicate lace bolero over the top."
"I couldn't believe how tiny it made my waist look and I loved how it made me feel. There was no big 'this is my dress' moment but I fell in love with it more over time. Once I had picked it up I had to put it in another bedroom in the house as I got too excited looking at it. It was great to be able to remove the bolero in the evening to change the look of the dress."
"There was never any doubt that I wanted to get married in the local church and have our reception back at the house I had grown up in, and luckily both Rob and my parents were 100% on board with this plan. It meant that we had the freedom to invite lots of guests and could make our own decisions regarding suppliers and timings."
"The flipside was that it meant that there was a lot more organisation involved but I was in my element planning everything – I think the groomsmen were pretty terrified when I briefed them on my sixteen page 'Master Plan' the day before!"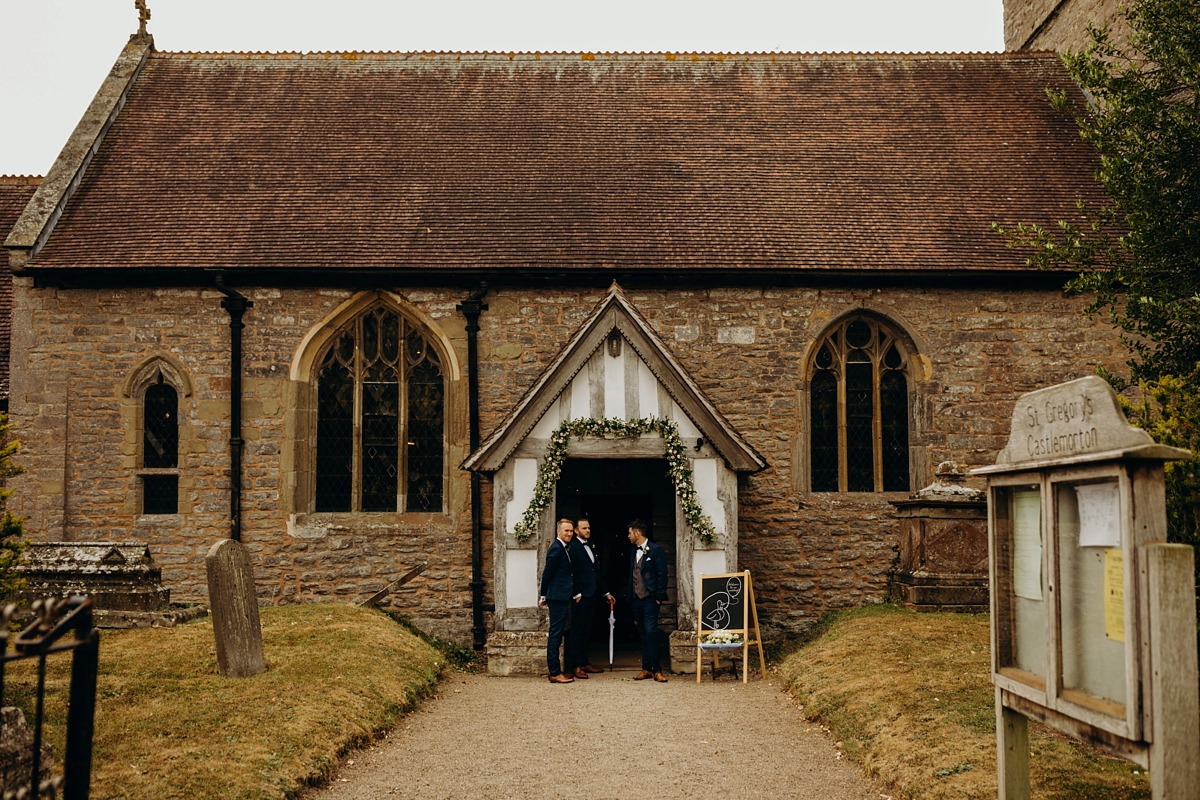 I couldn't believe it when I heard that the flowergirl's dress was run up by Jen's mum. Jen's dad displayed his own silversmith talents too, to create bracelets as thank you gifts.
"My mum is an absolute whizz on the sewing machine and made Maddie's dress for her with a sash to coordinate with the bridesmaids. She was in her element and I absolutely loved her being with us all to get ready. I even managed to find a tiny version of the dressing gowns that the girls wore for her so that she felt like part of our girl gang."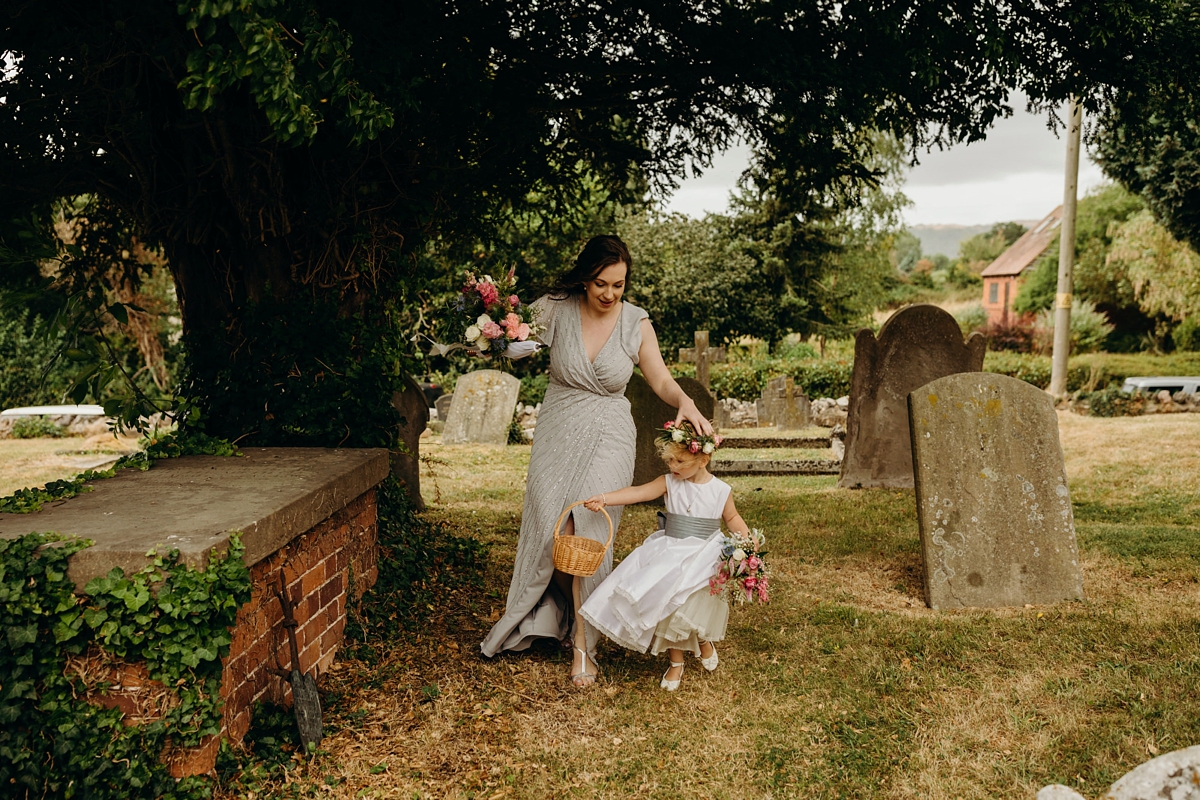 St Gregory's Church had been lovingly dressed with flowers for the summer wedding, and the bride entered to a version of 'The Luckiest' by Ben Folds played by Capriccio Quartet.
"A lovely team of ladies we have known for years led by our family friend Maggi put the church flowers together. The only thing I really wanted was to have lilies as I love the way the smell hits you as you walk into a room. Our lovely neighbour Yvonne designed the floral arch over the porch which was absolutely stunning. I only wish we had been able to get more photos with it in the background. After the service Maggi had the great idea of putting the pew ends onto the fence posts back at the house so we could enjoy them for a bit longer."
"My dad walked me down the aisle. Just before we went through the door there was a massive gust of wind meaning my veil got trapped on the side of the church so we had to quickly reverse whilst I freed myself! As a result I was a bit panicky about having messed up the timing of the entrance song (that I forced everyone to practice countless times the night before) and rushed down the aisle a bit faster than necessary."
The couple were married in a traditional Church Of England ceremony made personal by their choice of readings and poems.
"We used the standard Church of England vows. I don't think I would have been able to cope with having to read our own as I would have totally lost it and ruined my make up! It felt more natural to us to say the words we wanted to say to each other during our speeches."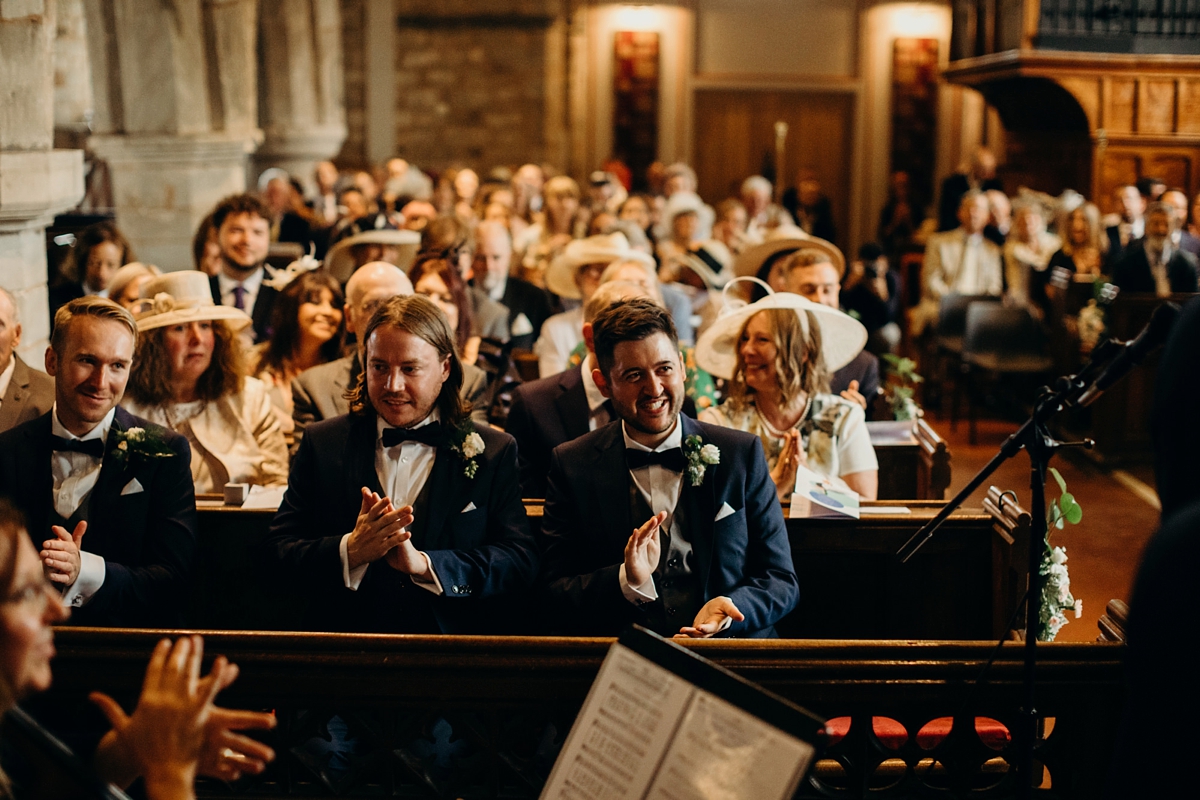 "Our friend Emily read 'Union' by Robert Fulgham. I know it's becoming a popular reading but I wasn't too bothered about being unoriginal; I thought it is such an apt reading for a couple who have been together for quite a few years before getting married. It talks about all the informal discussions and commitments that a couple makes over the years are part of the real process of a marriage and that the vows are a way of reaffirming this."
"The Bible reading was from 'Song of Songs' and read by our friend Mary. We liked all the animal references in there and that it still reads well to modern audiences." 
"We had lots of people telling us that the whole service felt very personal which was exactly what we wanted."
Once again, the bride's father used his talents as a silversmith to design and make the Rob's wedding band.
"My dad is a dab hand at silversmithing and made Rob's ring for him (after several attempts as Rob has pretty dainty fingers!). He was always unsure if he would actually end up wearing a ring day-to-day but he absolutely loves it and it makes me so proud to know that my dad made it for him. For my wedding ring we returned to Phillip Stoner in Manchester where Rob bought my engagement ring where we chose a thin diamond and platinum half-eternity band."
Just as the newly-weds walked out of the church, the heavens opened. I'm still in awe of these wonderful photos which totally make the most of the downpour.
"My dad pulled a few strings with his friend from the pub and arranged for us to travel in his beautiful steam car. It had open sides so it ended up being a bit of a damp trip back to the house! The bridesmaids were originally going to travel on the back of one of my dad's tractors but unfortunately because of the rain we had to abandon this plan."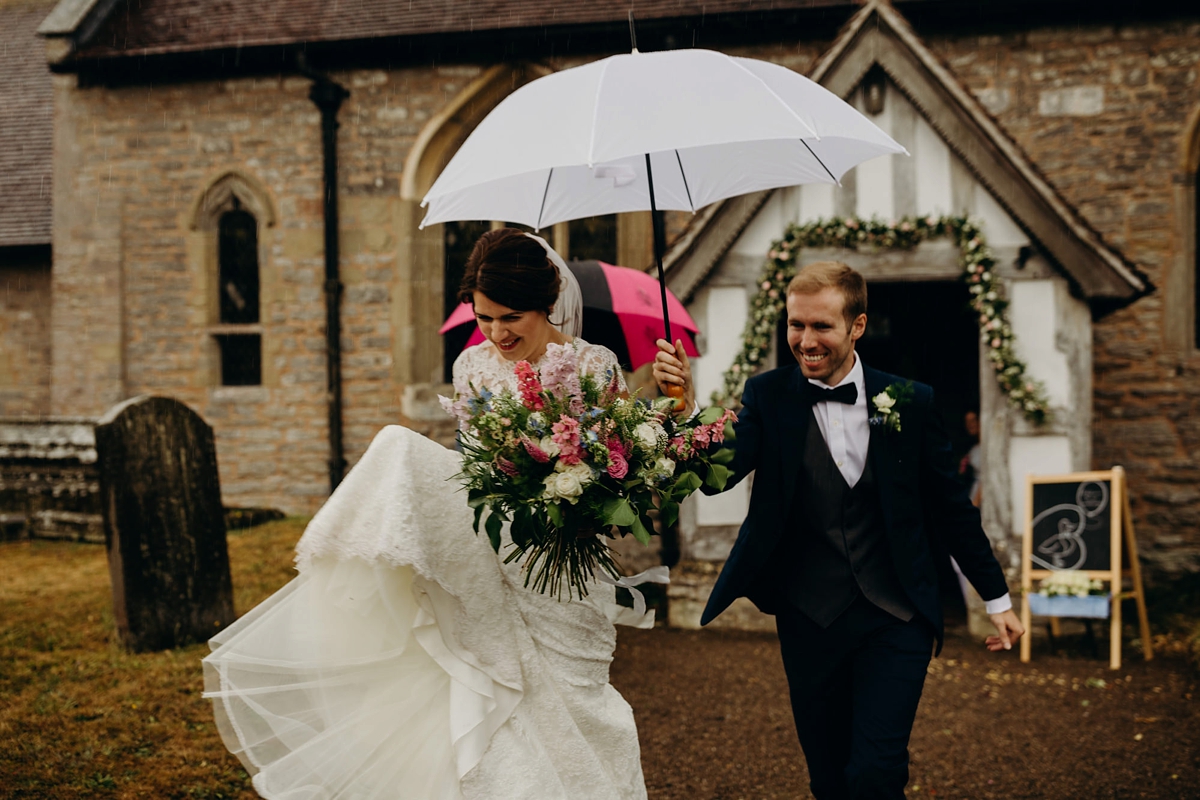 The couple had all bases covered when it came to entertainment.
"I arranged a surprise petting zoo from Oreo and Friends during the drinks reception. My pet name for Rob has pretty much always been 'Raccoon' as he is practically nocturnal and we both find raccoons super-cute!"
"I managed to find a company who would bring a selection of animals including a meerkat and a python to entertain our guests and couldn't believe that I managed to keep it a secret from Rob. It was worth those months of me keeping my mouth shut to see his reaction!"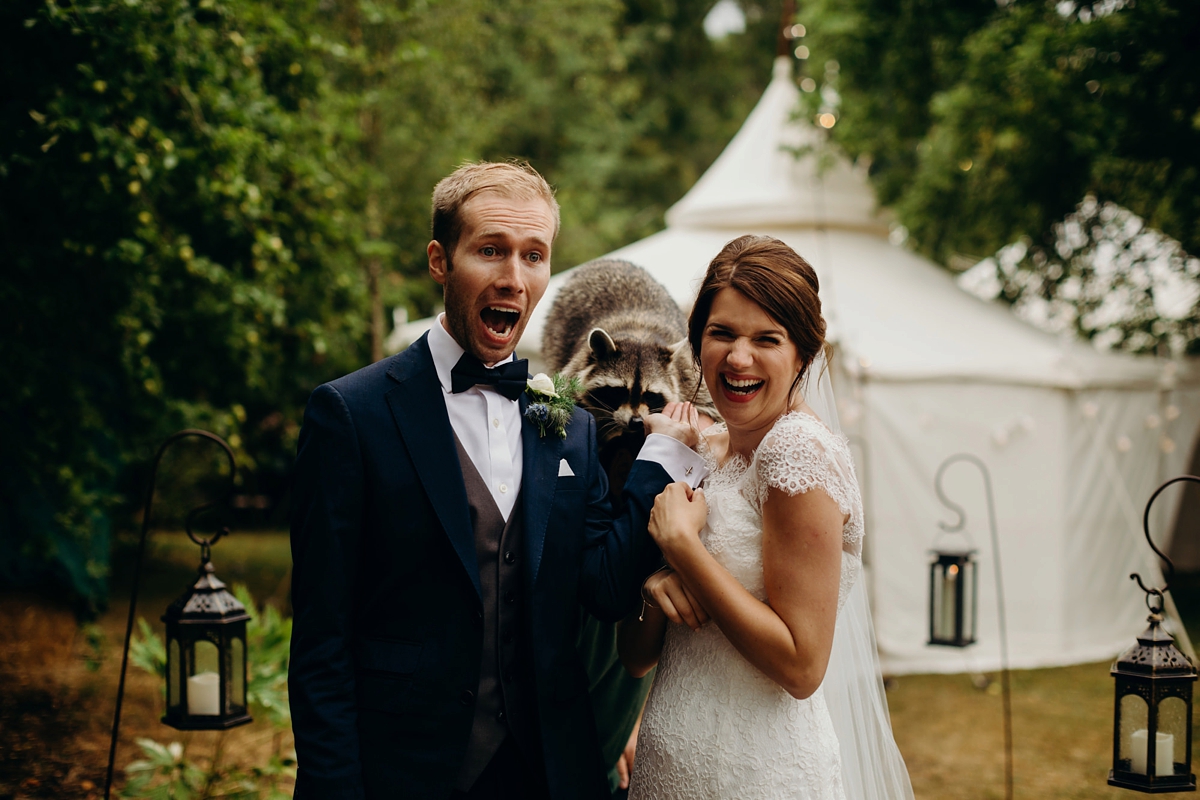 Her sheer veil, also by Stewart Parvin, had extra character added to make it totally unique and meaningful.
"I chose to have our initials and wedding date as well as some of the flowers from my bouquet embroidered onto it by Daisy Sheldon who creates the most beautiful designs. She adapted her design to feature some of the flowers from my bouquet."
"As the neckline of the lace jacket was quite high I didn't feel the dress needed a necklace so I just wore a simple pair of pearl earrings from Love & Lilah and a Monica Vinader diamond bracelet that Rob gifted to me. In the evening I changed into some more sparkly earrings from Liberty In Love."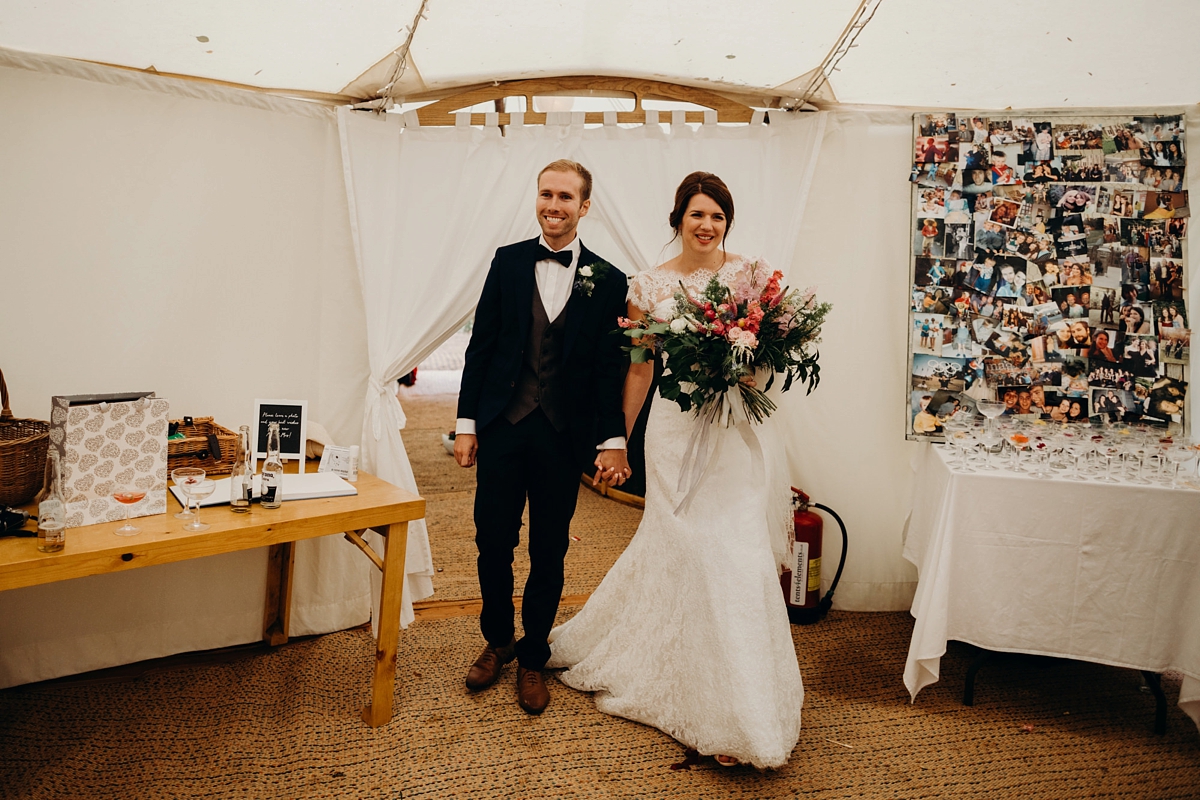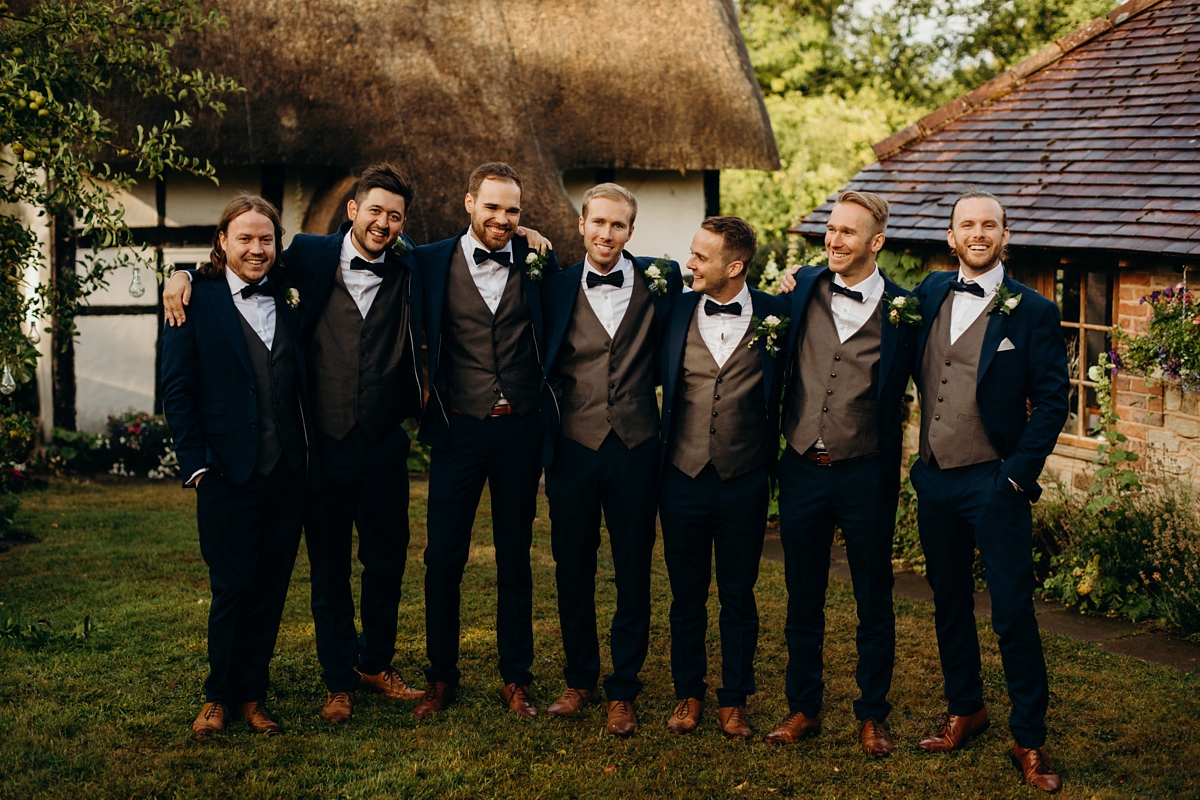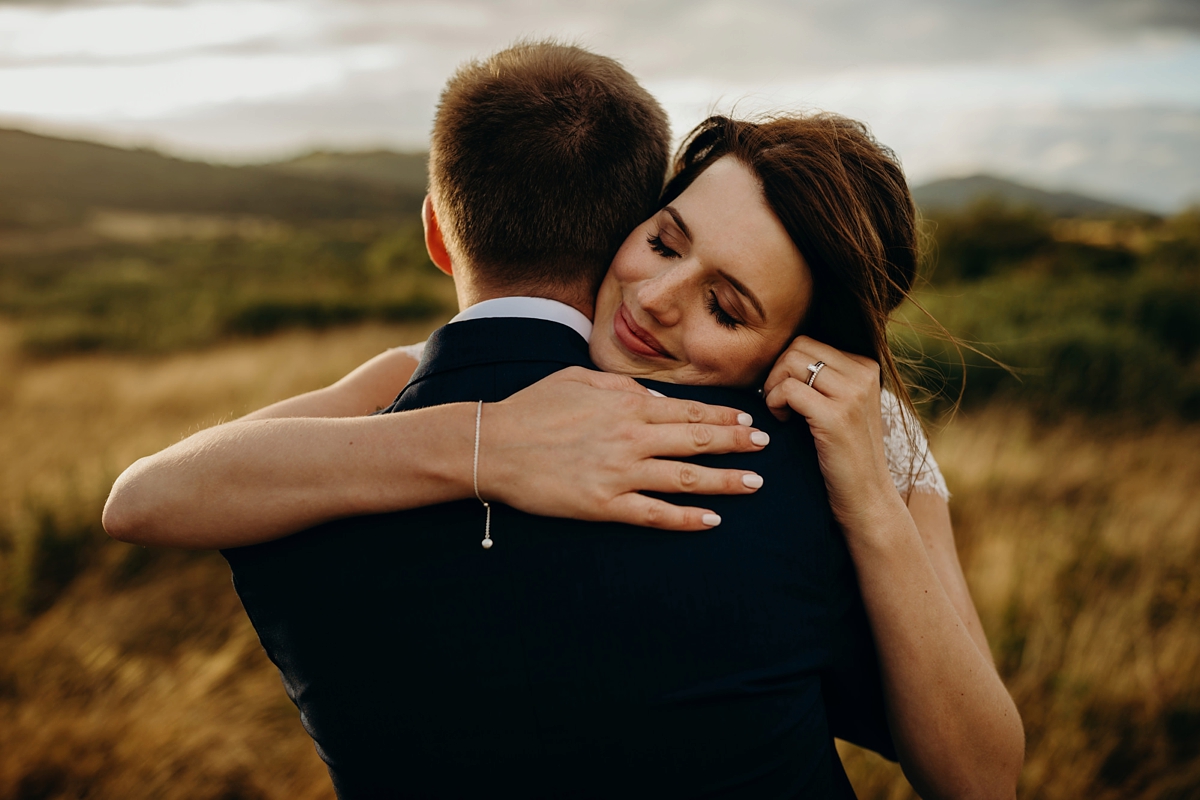 The couple planned the day themselves but worked with Alexandra Rose Weddings so that they could kick back on the day and fully enjoy every moment.
"I loved wedding planning but I knew that I wanted to hand over responsibility to somebody else on the day itself so that we could all properly relax and enjoy ourselves. I found the wonderful Alexandra to act as an on the day coordinator and she executed our plans perfectly and worked so hard to keep everything running smoothly, even when the weather messed with our timings."
"I didn't have any particular plan or colour in mind when it came to styling the day, I just chose things that I was drawn to and would fit in with the relaxed feel of the day and anything that caught my eye as I'm a bit of a magpie! I didn't want the day to look too stylised and wanted it to feel like we had just invited everyone back for a bit of a party rather than trying to make it look like a Pinterest board."
"My most extravagant purchase was the neon 'The Cahills' sign which we had up on the dance floor and which now takes pride of place in our house, I loved the idea of having something we could keep and something that was a bit different from the LOVE light up letters that seem to be everywhere these days!"
"The house is next to a millpond and we often get ducks wandering in and lots of birds in the garden so the table names were all after different groups of birds and the ducks and birds featured on a lot of our stationery. I was also really happy to find that the Royal Mail were doing a set of garden birds stamps at the time so we could put these on our invite envelopes. To be honest I doubt anyone else noticed this but I was pretty chuffed anyway."
"We found a beautiful and unique marquee from Tents 4 Elements and had so many compliments from guests who said that looked like it had been made for the space in the garden. My dad turned 70 on the Monday following the wedding; he managed to fit another two parties in to make the most of it which meant that we got to see lots of guests the next day, although I was a bit of an emotional wreck."
Back at Jen's parent's house, the marquee was ready to shelter the guests. Over to Jen to explain how she created the relaxed, totally beautiful look.
"We wanted our day to feel relaxed and didn't want big expensive table arrangements where none of our guests could see each other behind them! In the days leading up to the wedding we bought up stocks and roses from various supermarkets and my bridesmaid Rachael arranged them with foliage from the garden in vases I found in Hobbycraft."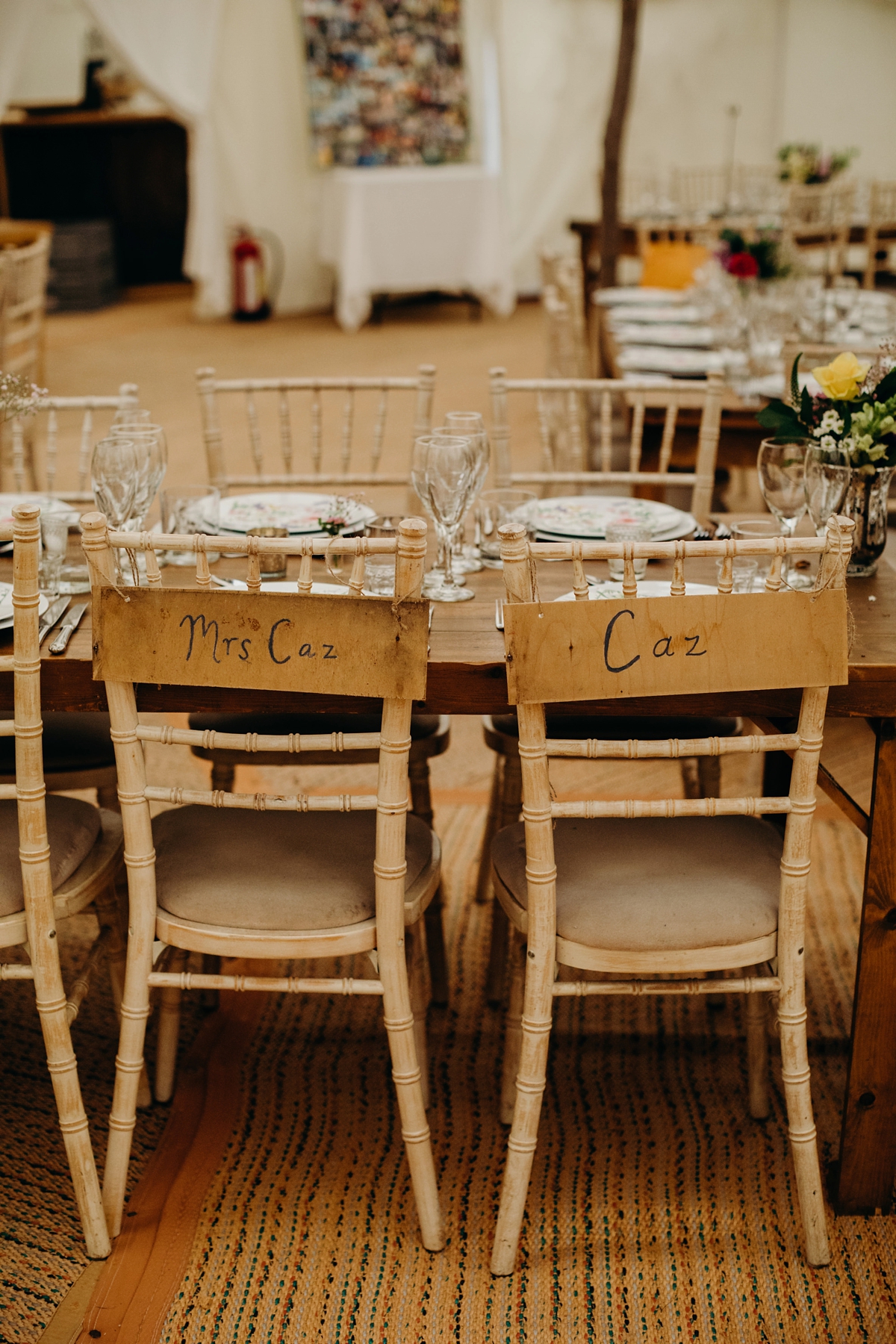 "I loved DIY-ing a lot of the décor. Lots of evenings and weekends were spent on little projects such as signage and making confetti. For the table plan I found a window-style mirror with twenty panes which I used a chalk pen to write the names on (as they say in the Love My Dress Facebook group, have you even planned a wedding if you've not bought yourself a Posca pen?)."
"Unfortunately it's too big to fit in the back of my car so it's still at my parents' but we're hoping to get it back somehow. I ordered so many different bits and pieces it was a bit like Christmas opening up all the packages that arrived in the run-up as I'd forgotten what I'd ordered!"
"I bought shot glasses from Ikea and wrote each guests name on them to act as a place setting. I gave a speech after the meal and left a bottle of Limoncello on each table to raise a toast at the end. Some guests didn't quite get the memo and drank theirs beforehand but it meant I had a far easier crowd to speak to!"
"For the kids I filled them up with jelly beans and for our pregnant guests I filled up mini bottles of Limoncello for them to take home and enjoy once their babies have arrived."
"The marquee was such a beautiful structure that I found I didn't need that much decoration and I tried not to get too caught up in buying things for the sake of it and tried to focus on including things for our guests such as flip flops for when the high heels got too much and I also made up some hangover kits for people to take away with them including water, ibuprofen and cereal bars to help make their journeys home the next day a little bit easier."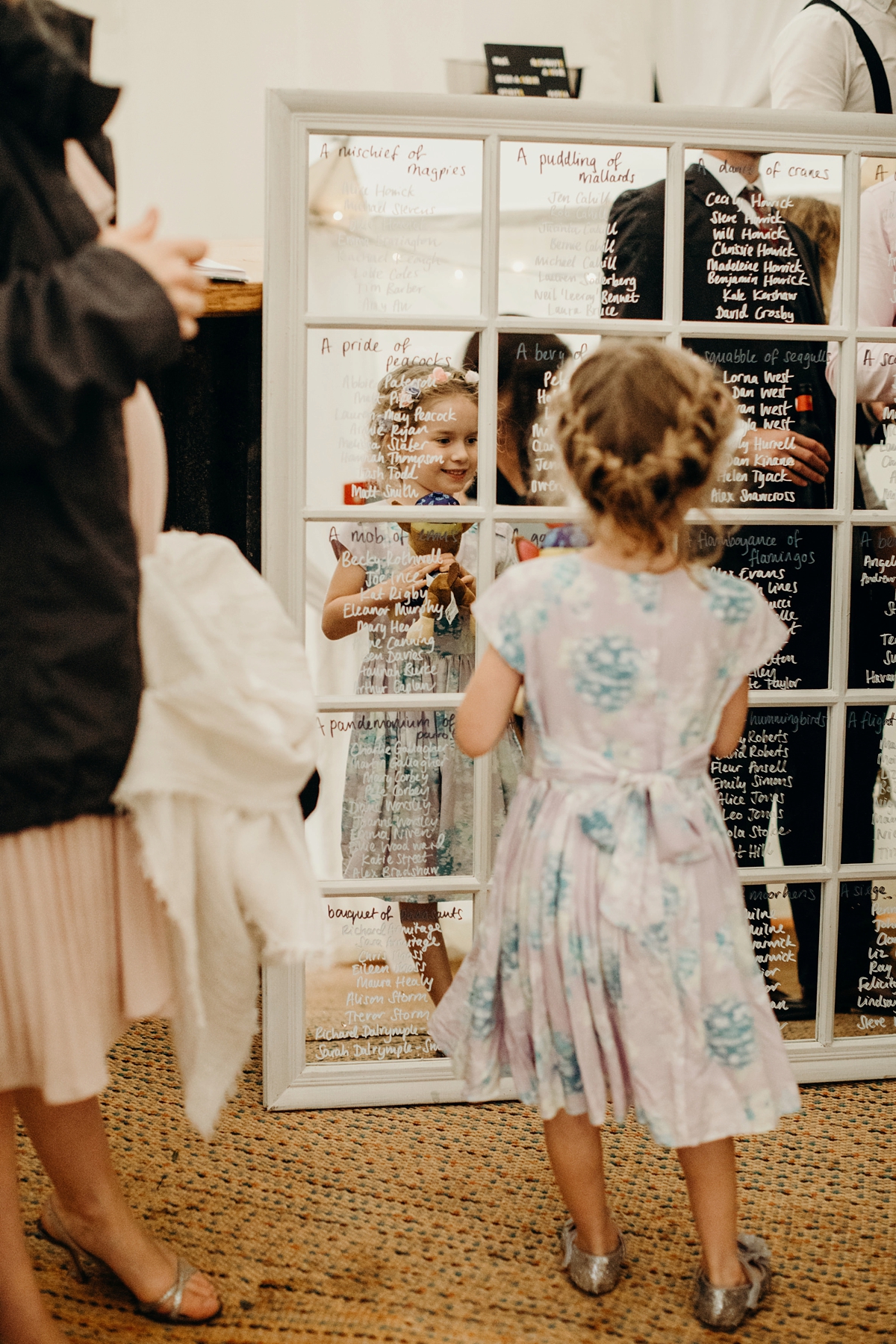 "Our beautiful semi-naked elderflower and lemon cake was made by my bridesmaid Lotte. She decorated it with homemade rose-flavoured macarons, white roses and foliage and added the cake toppers of a raccoon bride and groom (one of my first wedding purchases. We all got too drunk and forgot to serve the cake on the night but it made a great birthday cake for my dad the following day!"
In keeping with the relaxed feel of the day, Jen and Rob chose a pizza sharing feast for their wedding breakfast.
"Originally we had been looking to have pizzas as our evening food but when we came across The Wild Oven we thought why not have it for the wedding breakfast seeing as pizza is one of our favourite meals – Pizza Friday is religiously observed in our house each week."
"The canapés were delicious and for the sit down meal we had a sharing board of antipasti, cheese and lamb koftas to start, various wood-fired pizzas and salads for the main course and then delicious brownies for dessert."
"The food all looked and tasted incredible and we loved the fact that serving the meal to the centre of the tables for everybody to share allowed us to have a relaxed meal."
The afternoon evolved into the evening party. The couple's friend Anna DJ's, after a first dance to 'I Like the Way This is Going' by Eels.
"We didn't want to be swaying awkwardly for too long and chose 'I Like the Way This is Going' as it's short and the lyrics are about simple, everyday things."
"We had the old wedding classic 'September' by Earth, Wind & Fire as our second dance to get everyone on the dance floor and had our bridesmaids and groomsmen stationed to let off confetti cannons at the start, so we got our confetti moment in the end!"
"Our friend Anna did an incredibly job DJing for us and played our favourites from a playlist carefully curated by Rob as well as adding some extras in too. I will always smile whenever I hear 'Ironic' by Alanis Morrisette thinking of us all belting out 'It's like raiiiiiinnnn on your wedding day'!"
"The music was so good that we struggled to kick everyone out at the end of the night with the best men and several others missing the coach that they were supposed to be getting everyone onto."
It looks as if the day was full of so many special moments for Jen and Rob.
"It's so difficult to pick out a favourite moment as there were just so many standout moments. Getting ready with the girls and having my family around in the morning was amazing, especially my niece buzzing around in the background whilst I put my dress on."
"Arriving at the church and seeing a crowd of people from the village who had known me since I was a little girl all gathered to watch us go into the church was so touching. For some reason singing 'Jerusalem' really got me as it was the first time I had properly looked round the church and really taken in how many people were there and it all finally felt real and there was a big sense of relief. Rob's reaction to seeing the extra furry guests that had been invited."
"I suppose if I have to pick an absolute favourite moment it would have to be the speeches (who doesn't love people saying nice things about them?) – they were so funny and also so touching, I was particularly proud of Rob as I wasn't sure if his particular brand of dry sense of humour would quite translate but he had us all in stitches, especially when he proposed a moment's silence to all of our family's deceased guinea-pigs which is about twenty in total as we have had so many over the years. He had got in touch with my sister beforehand to get the full list. I've got to be honest – even I had forgotten about a few of them!"
Words of Wedded Wisdom
"Sit down and prioritise what is important to you both. For us the things we remember from a wedding are always the food and the party and generally having a good time so this is where we spent our effort and money."
"Choose a photographer you love even if it means compromising on other things. When it's all over you are left with your memories and your photos and you'll be glad that you have the beautiful images to bring out bore everyone else with for the rest of your life!"
"Embrace whatever the day throws at you. Some of the best things that I can remember laughing my head off at weren't the ones that were in the plan. For example mid-way through my hair being styled my dad entered the room in a pair of blue latex gloves and proceeded to pull a dead mouse out from behind the sofa. It's hardly the glamorous morning that most brides dream of but I remember thinking how typical of my family it was that something like that would happen and I love thinking back to the day even more for those moments and our perfectly imperfect day."
If you love Jen's choice of gown then please take a look at the Love My Dress Style Files to see more of Stewart Parvin's pieces. Are any of you brides-to-be planning your own DIY wedding at home? You can get a lot more inspiration and advice from these weddings here.
It just remains for me to say a massive thank you to Jen and Rob and their photographers Richard Skins and Harry Michael for letting us share these wonderful pictures today. It's been such a pleasure to read about your celebrations, and I'm so glad that you and your family were able to make full use of the marquee.
Ele xx