Hello lovelies, I hope you're having a great week so far and have something lovely to look forward to this weekend. I'll be heading down to visit my sister and meet her new little baby who's just arrived. So exciting.
Before I leave though, I have the most chic, elegant celebration to share, inspired by a love of Ancient Greek and Roman history. I have to admit I'm pretty obsessed with the colour scheme in today's wedding. Pure white roses and green foliage, Chinese blue and a splash of orange look simply wonderful in the light-filled Orangery at Kew Gardens. I hope you love it as much as I do.
Photography Charlie Dailey + Imogen Xiana
Laura, who is studying her PhD in early modern drama and Rando, a construction solicitor, married on 7 July 2018. Their Church of England service was held in the magnificent St Mary Abbots Church in Kensington, London before a chic reception in the Orangery at Royal Botanic Gardens Kew.
"Stationery was inspired by a favourite Italian fresco of the bride and groom, and that central image became the backbone of the overall design. Ash from Pale Press London designed all the stationery."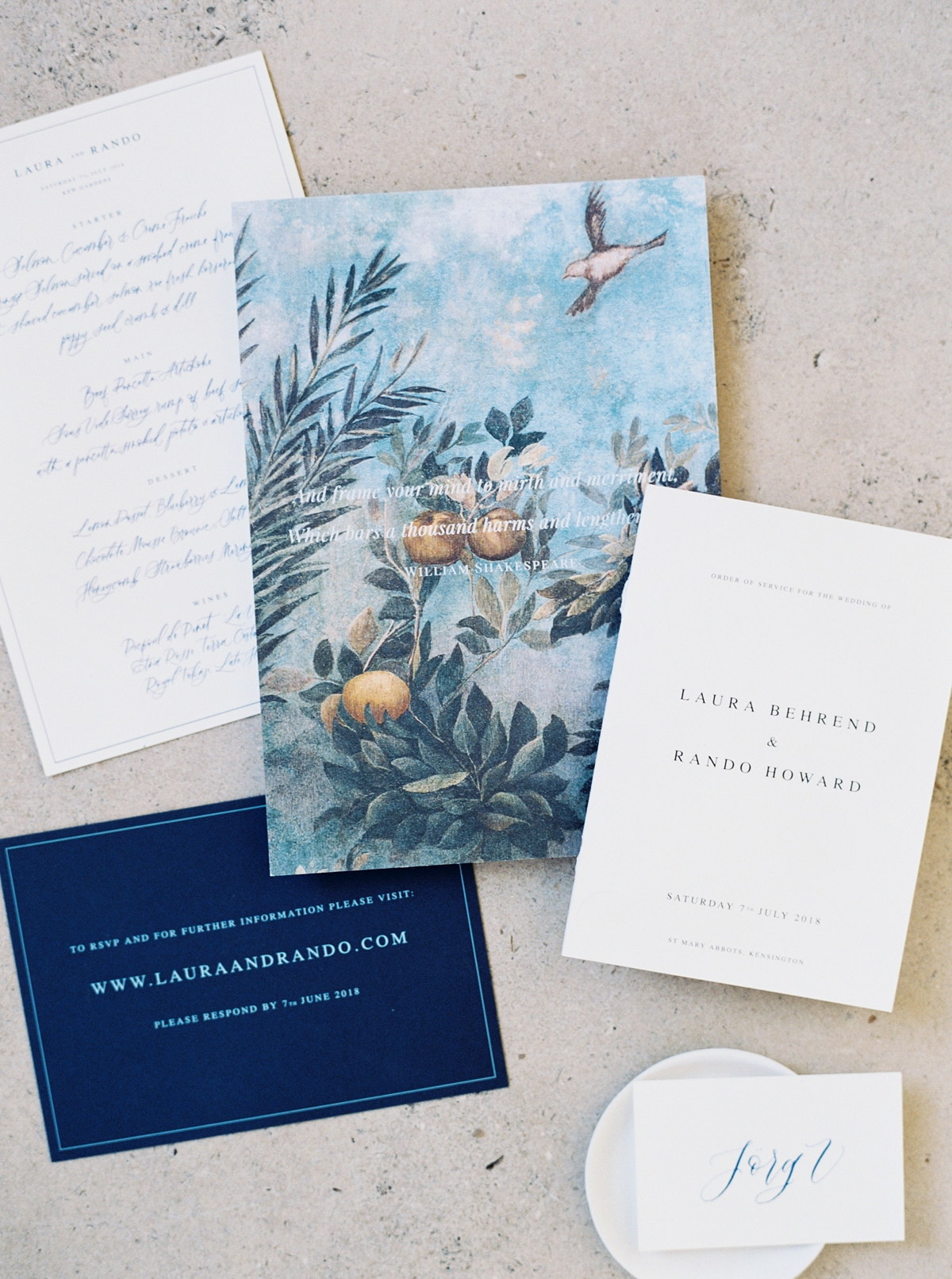 Before we take a closer look at the detail and decor, let's find out more about the Laura and Rando.
"We met through my ex-boyfriend. Enough said. We had been together for a little bit over two and a half years when we got engaged. Rando had intended to propose during our stay in Rome in April 2017. I was more or less aware of this and we had been talking openly about it for a while."
"When we found our dream house in February 2017, Rando got so excited and since he knew that I knew that he wanted to propose in Rome anyway, decided to propose on the same day that we made the offer for the house. We'd already gone to bed and were about to go to sleep when he put the light back on, sat me up and asked me to marry him."
The couple were engaged for eighteen months before their wedding, which gave the bride plenty of time to find her perfect gown. She worked with Phillipa Lepley to create this timeless yet modern gown. I love its clean lines and sumptuous skirt. Look closely and you can see a delicate pattern of florals and foliage embroidered across the bodice.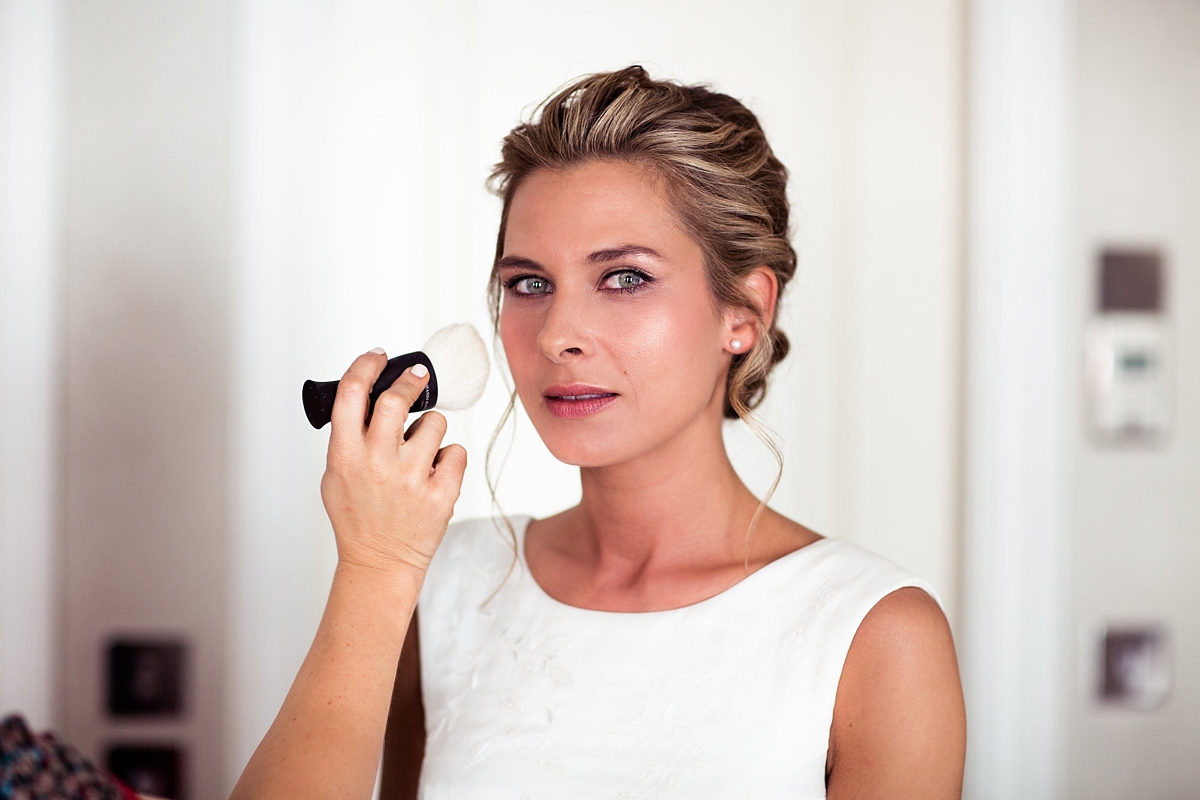 Laura carried a simple bouquet of pure white flowers, designed by Kitten Grayson Flowers and finished with a spritz of Chanel No 5 L'eau all-over body spray.
"It's lighter than the original No 5 perfume; you can spray it all over your body, even hair, and it smells just as divine."
The six grown-up bridesmaids wore a variety of gowns from Needle & Thread, The Reformation, The Suite and Fame & Partners, loosely tied together by the deep green colour palette.
"We decided on the colour scheme together but they were free to choose their type of dress according to their personal style to emphasise their individuality."
A tulle stole embroidered with flowers acted as a modern kind of veil for the ceremony, and on her feet she wore classic ivory Romy satin pumps from Jimmy Choo. Accessories were kept simple; pearl studs and her engagement ring and a bespoke hairpiece.
"I wore a handmade hairpiece made of golden filament and pearls, designed by Phillipa Lepley."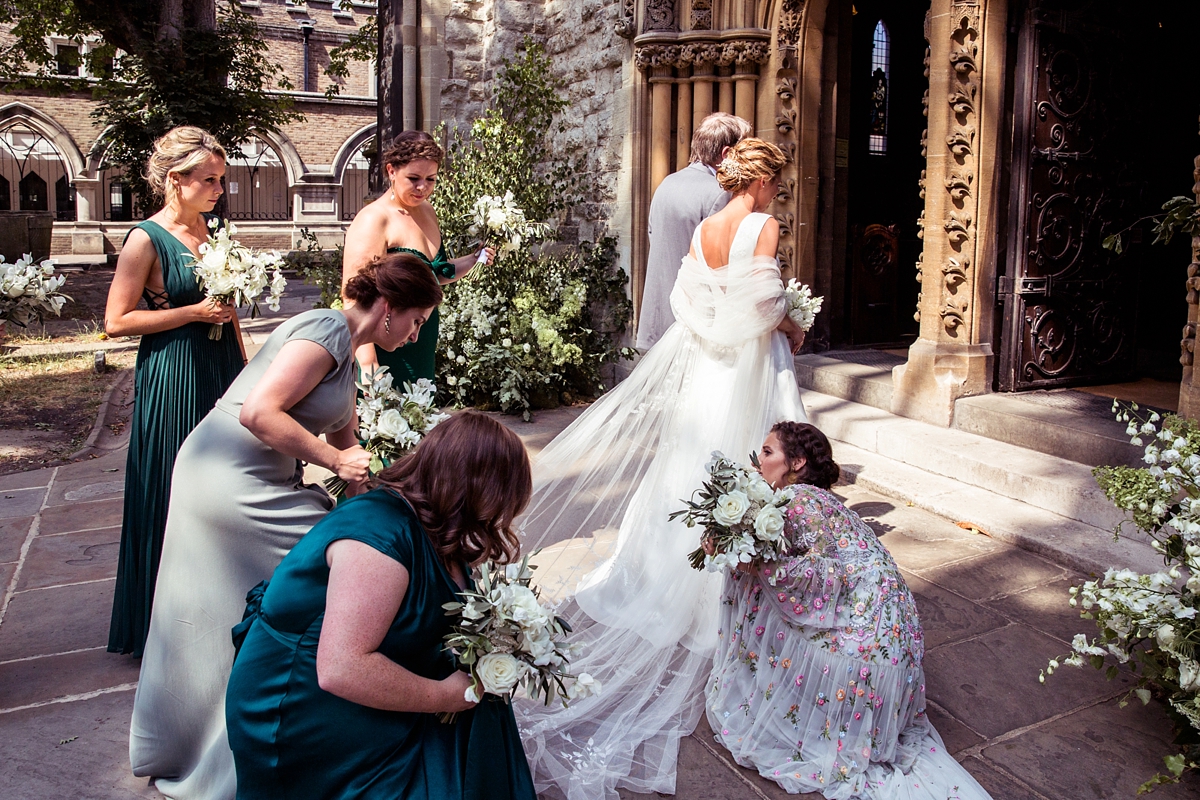 "We were married by the Reverend Gillean Craig, Vicar of St. Mary Abbots (funnily enough – and I should add we weren't aware of this when we first asked him to marry us – he was featured in the Tatler's 2018 wedding issue as one of the five most prominent vicars in England…)."
The bride and groom exchanged the standard Anglican vows, as well as classic, elegant rings from De Beers.
"Rando's father read from 'The Song of Solomon, 2.10-13 and 8.5-7' and my bridesmaid Laura read C. P. Cavafy's poem 'Ithaka'.  Rando's father, who is a lay preacher, chose the Bible reading and the poem is one of my favourite poems which I've known for a long time."
"It felt most fitting and beautiful in this context as it is about the journey of life, reminding you to enjoy the beauty of it with high spirits and curiosity."
I love the details captured during the church ceremony by photographer Charlie Dailey, and I'm totally obsessed with the bridal portraits too which are just so beautiful. My favourites, though, have to be those of Kew Gardens dressed ready for the wedding breakfast.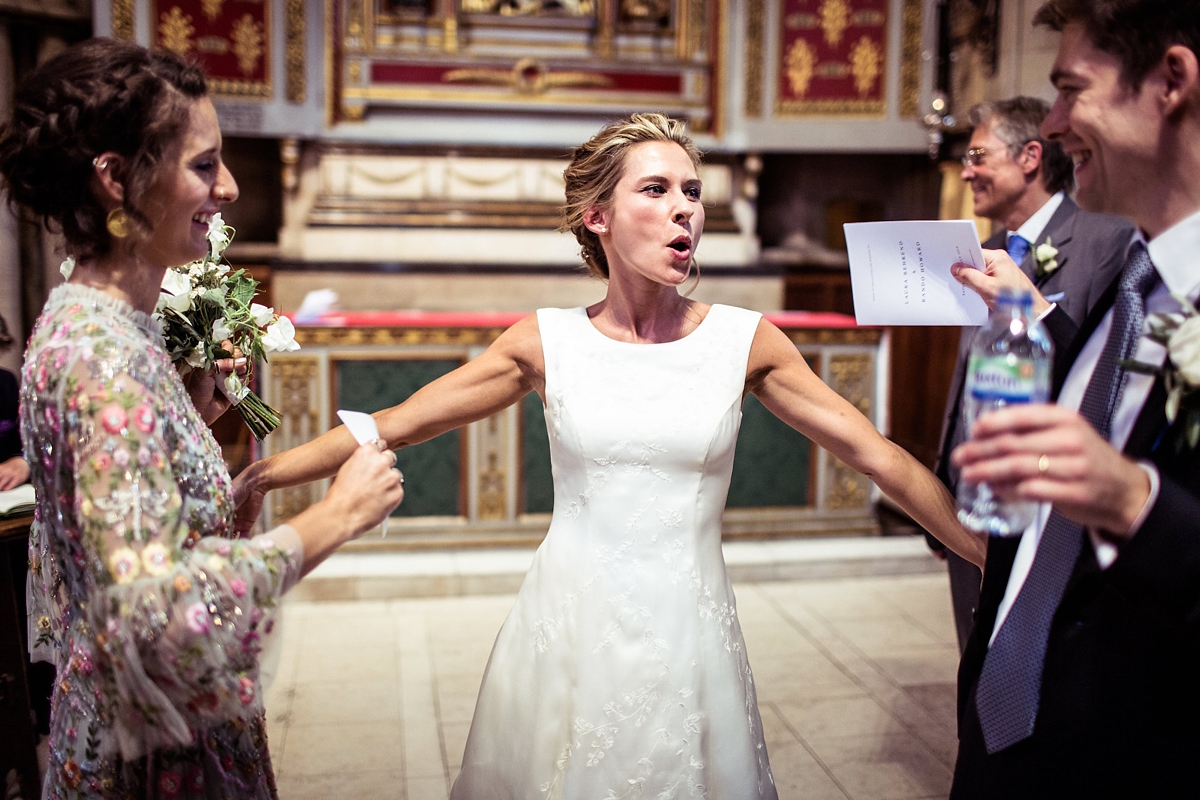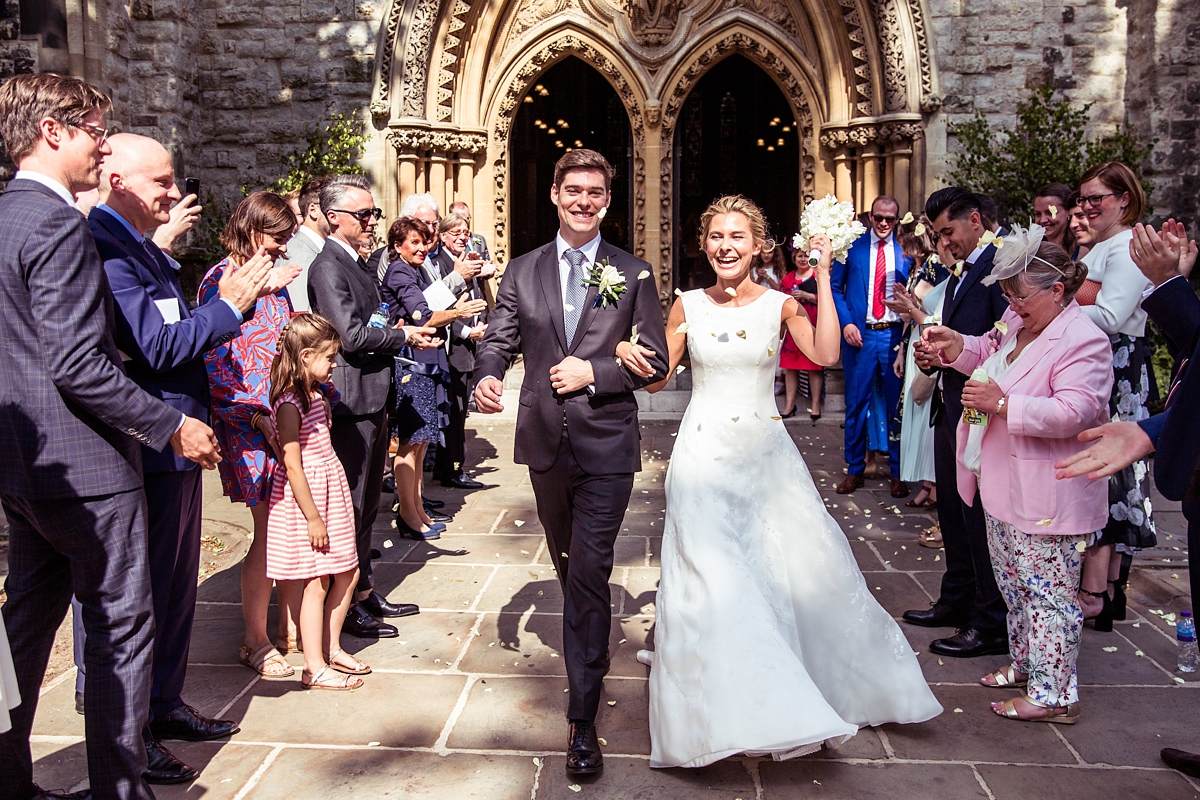 After the pair were married, the wedding party piled in to iconic red Routemaster buses to travel to Kew Gardens. I have to let these beautiful photographs speak for themselves; the venue was styled so wonderfully by Liz Linkleter and Kitten Grayson Flowers. Liz has shared details about the inspiration behind the look and how she achieved it.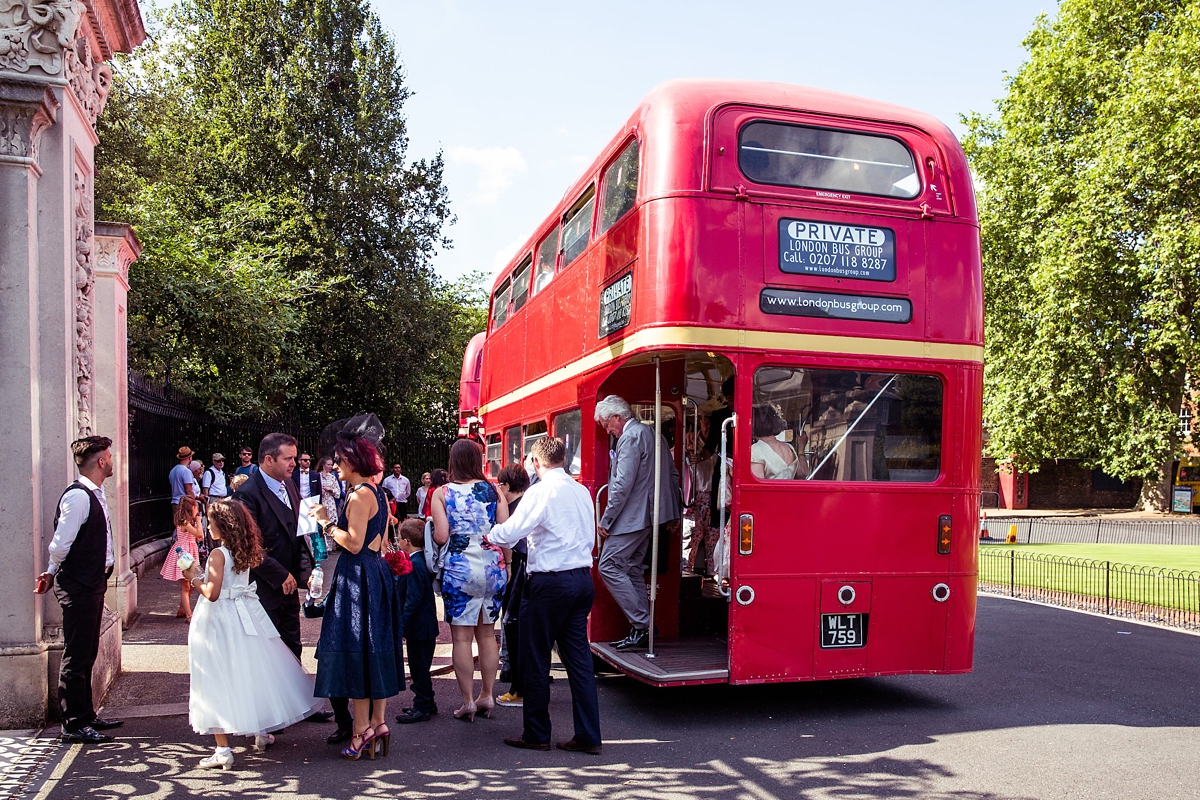 "The design of the dress was a continuous work in progress. I changed my mind several times about the sleeves and neckline in particular. The biggest source of inspiration came from my love for simplicity and practicality (the dress had pockets and a concealed zip for ease and comfort)."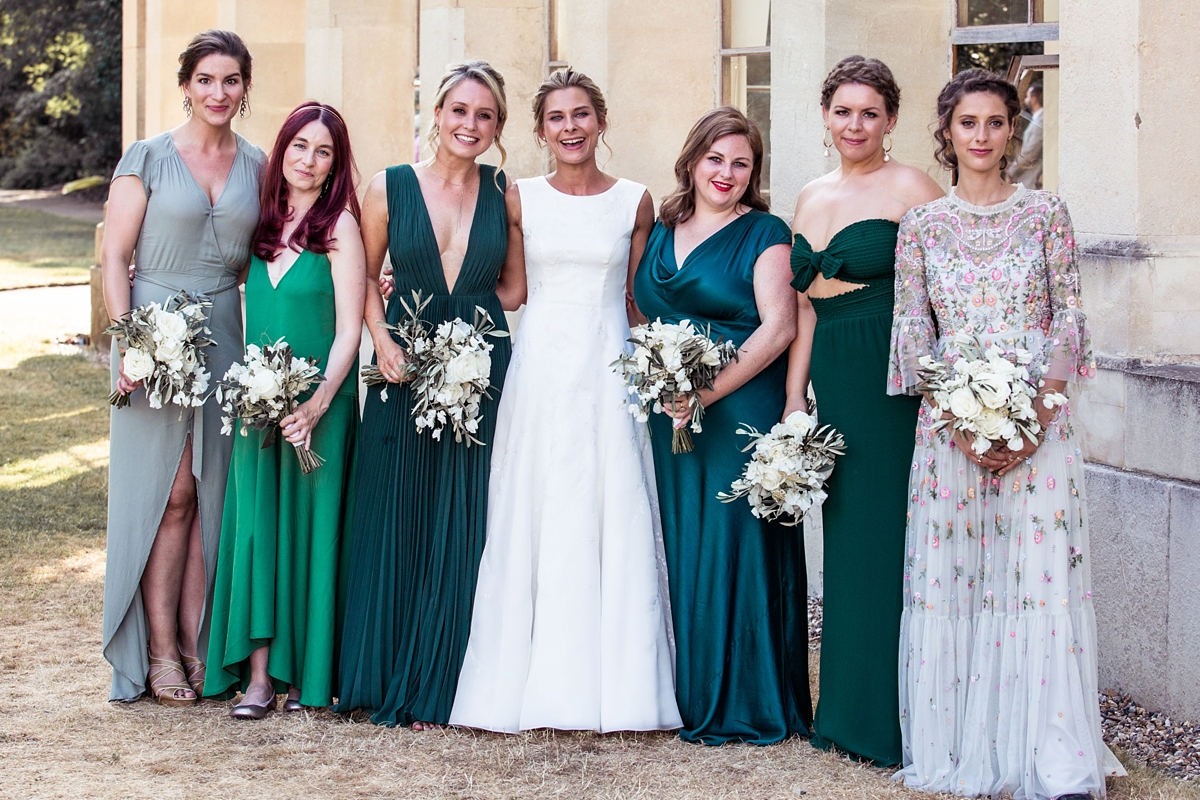 Rando wore a Brioni suit and tie with Church's shoes and a shirt and belt from Burberry.
On arrival at their reception venue, the newly-weds spent precious time together to capture these wonderful portrait shots, before enjoying a drinks reception with their guests.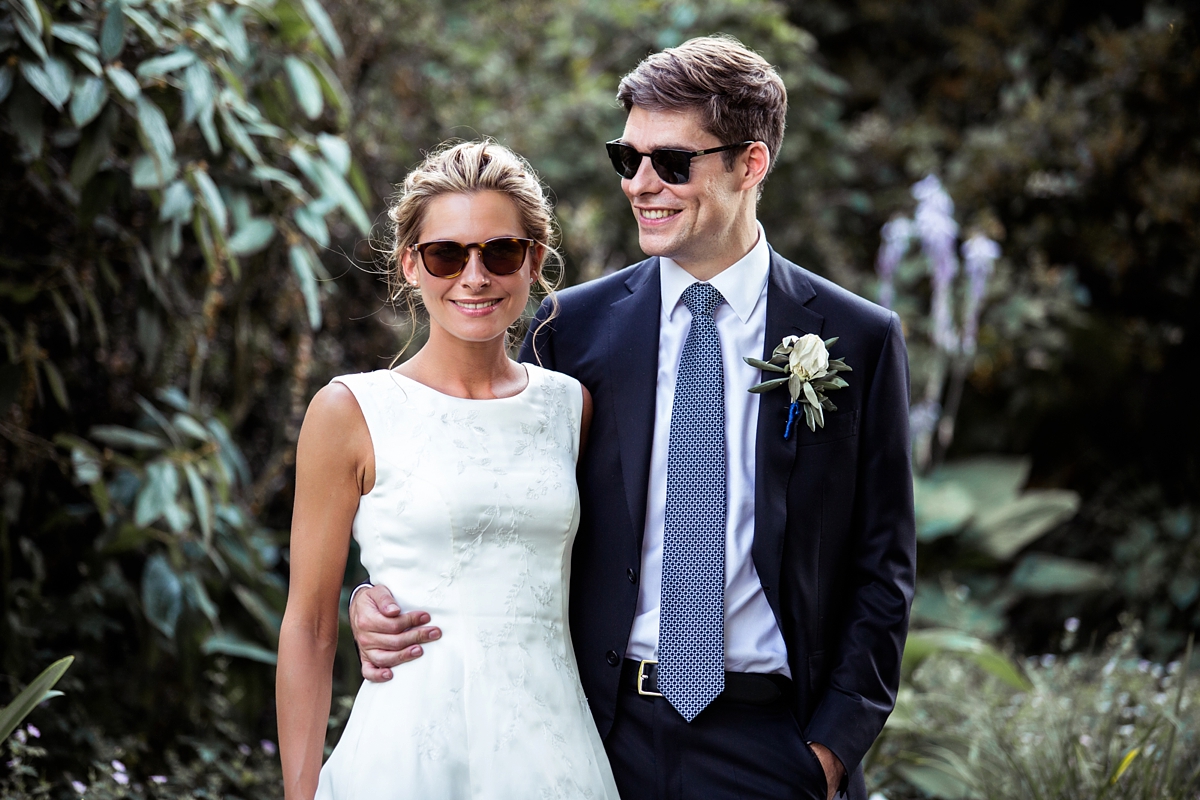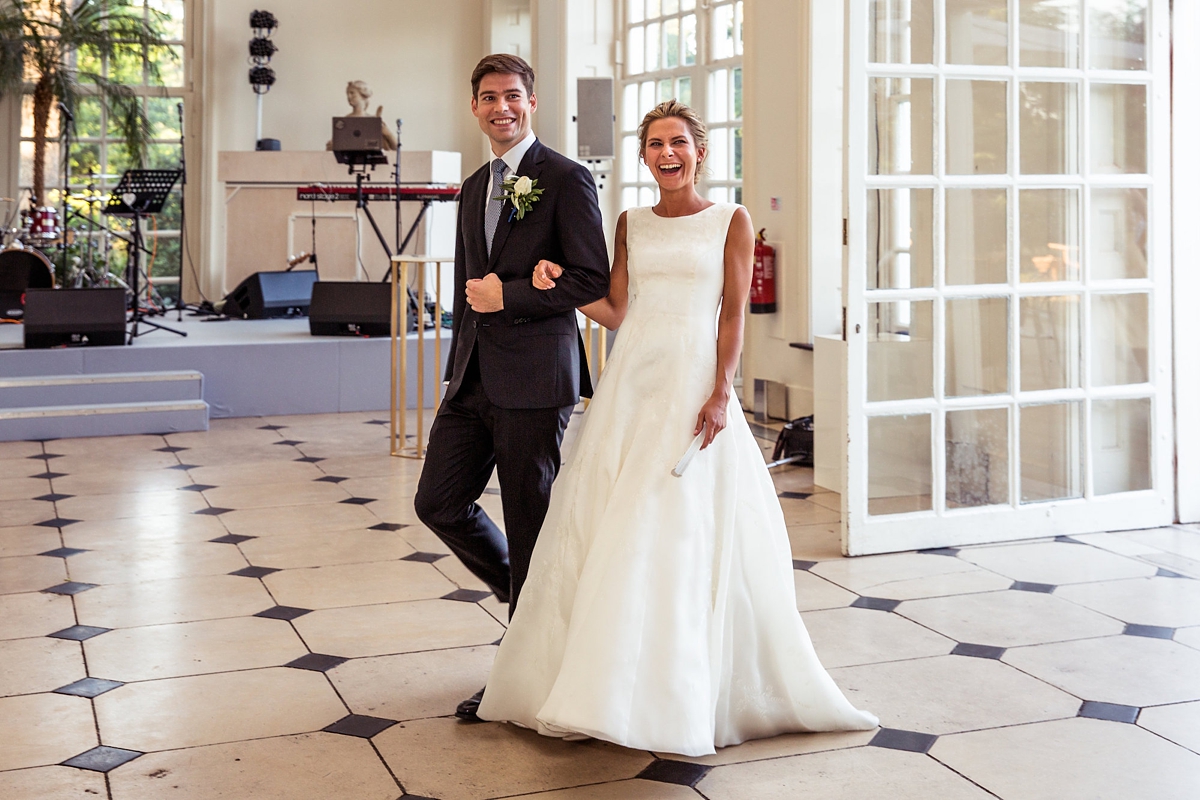 "We chose the reception venue for its beautiful botanic surroundings and the stunning buildings (Nash Conservatory and Orangery). The floor-to-ceiling windows provided abundant light and its classic architectural style provided the ideal setting for our wedding, the theme of which was inspired by the groom's love of ancient Greek and Roman history and philosophy."
"I studied, and am still studying, early modern drama. The entire wedding was influenced by the interests in these particular eras which were particularly reflected in the invitations, the flower decorations, the bar set-up and the photo-booth."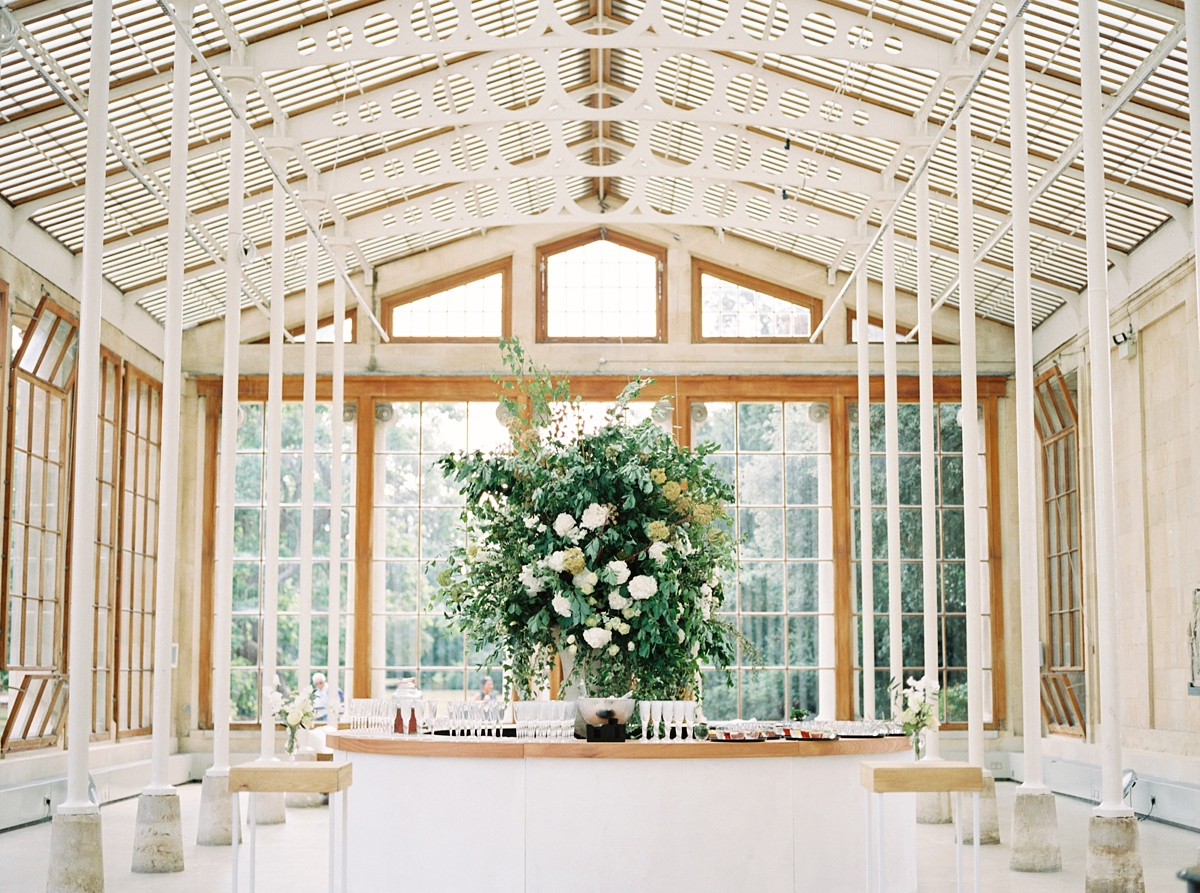 "We hired the Sloane Street Piano Quartet for the drinks reception, a great jazz band. We hired a baby grand piano for them to use and they really added to the refined atmosphere of the day."
"The table-scape and flowers were the focus of the design of the Orangery. Along the tables we wanted to go for dramatic and opulent yet elegant arrangements in white and green – with kumquats to add a flash of colour – all brought to life beautifully by Kitten Grayson."
"The arrangements were in blue and white printed Chinese vases and small urns to reflect the theme, with blue glasses adding a bold accent."
"We also had elegant bespoke bars made – a dramatic circular bar as the centrepiece for the drinks reception and a classic cream wooden bar for the Orangery."
The wedding breakfast was provided by Caper & Berry, served on long dinner tables.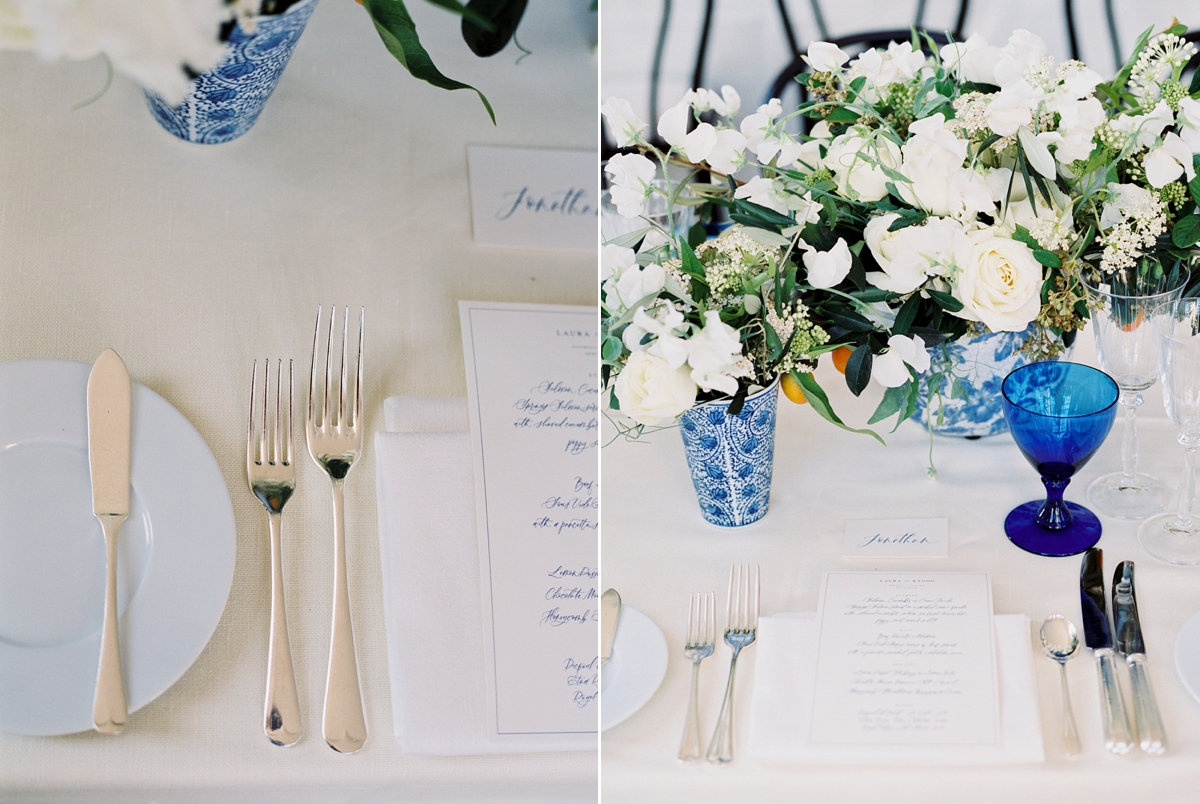 The couple worked with event planner Liz Linkleter to style their day, which was inspired by their interests in Ancient Greek and Roman history and early modern drama. Cue theatrical props, a stationery suite featuring the couple's favourite Italian fresco, classic urns and a history-themed photo booth.
THIS is how to do elegant wedding day styling. Fabulous work Liz!
I love how the couple gifted the opulent floral decorations to their guests; such a wonderful idea.
"We gave out the flower decorations at the end as they were so lovely and we didn't want them to go to waste (an idea from our planners) and guests could print off the pictures they took in the photo booth."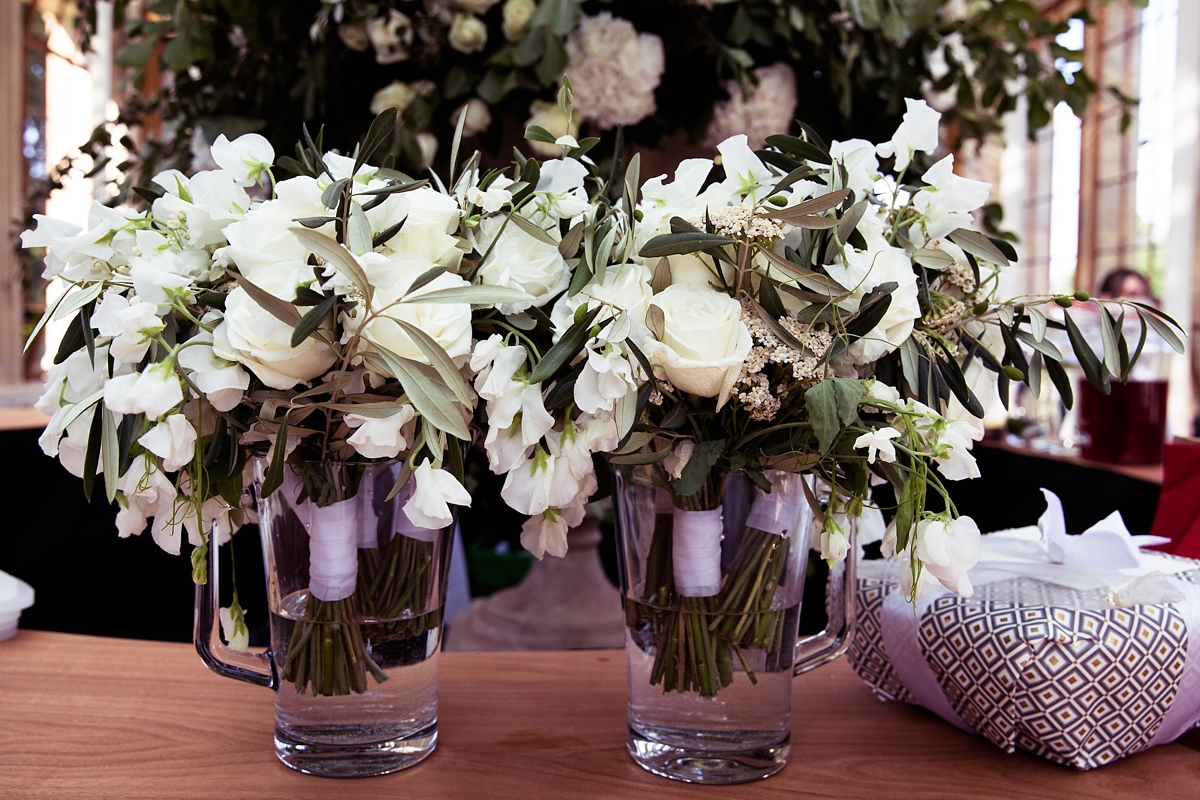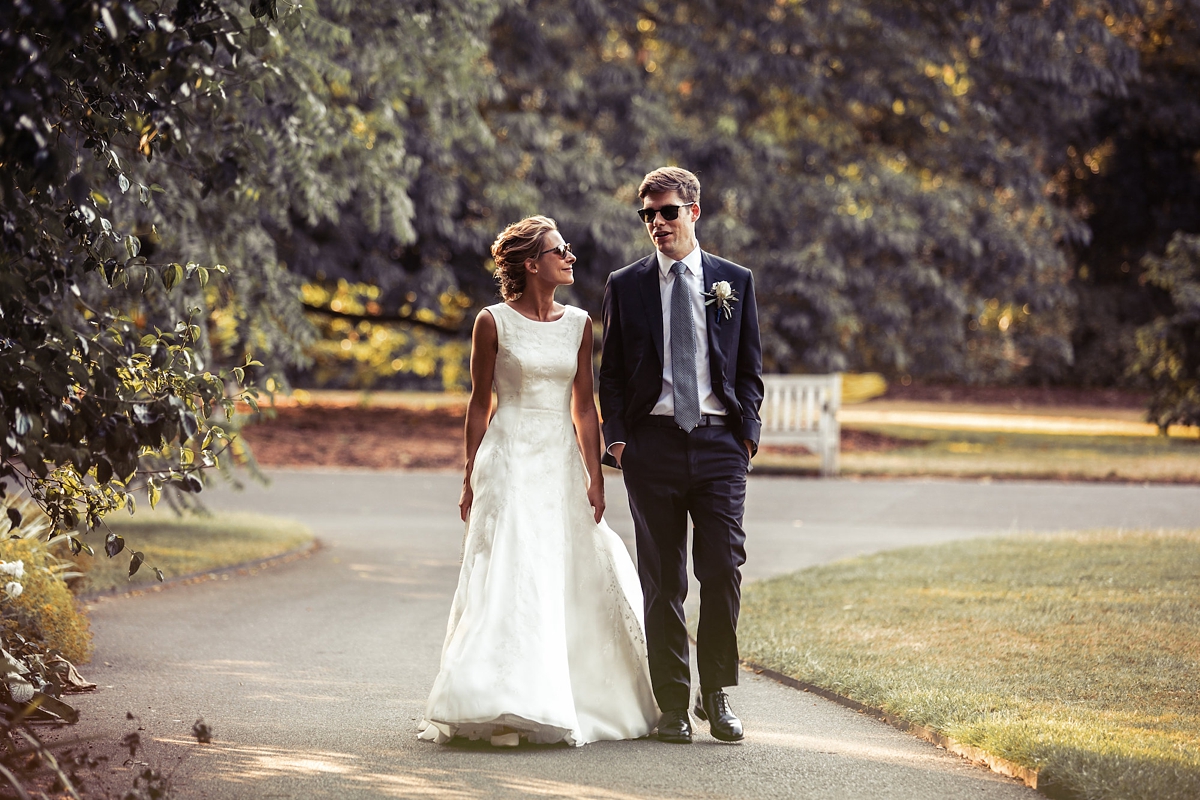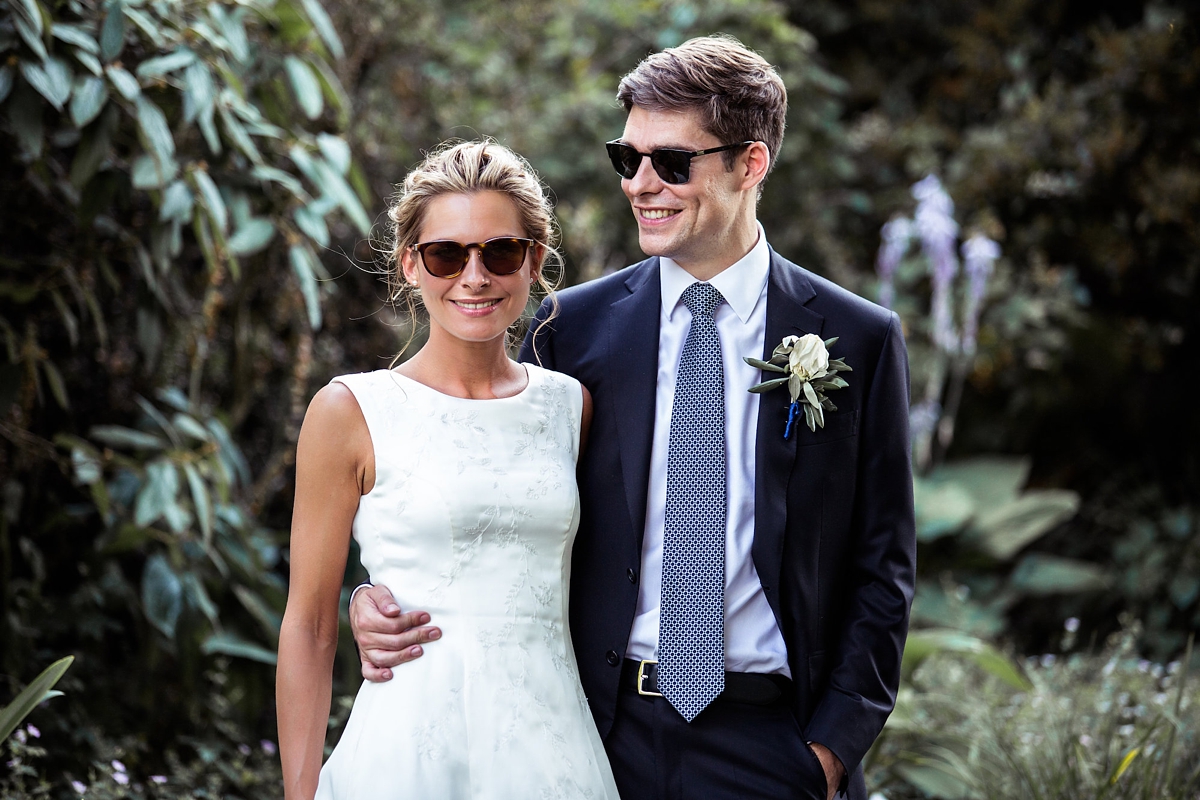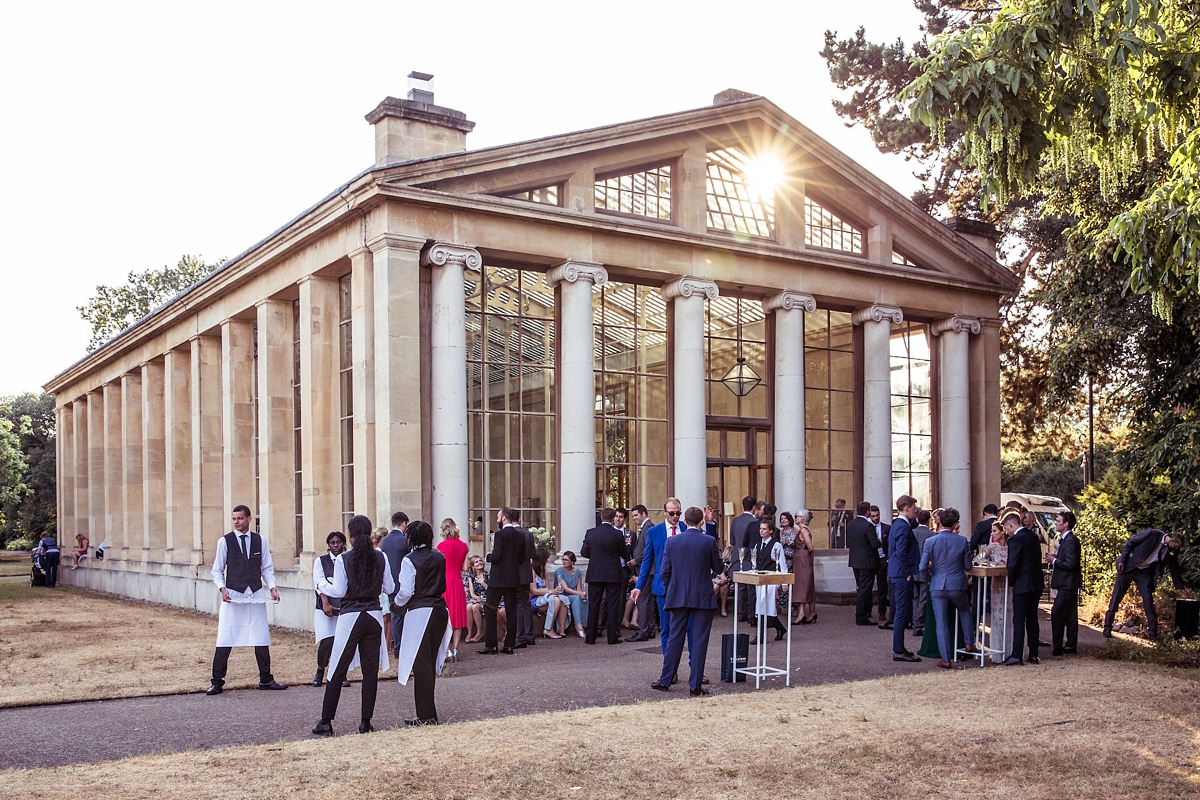 "The Black Hat Band performed for the dancing and we had Wedding Smashers to DJ. We also had an Ancient History-themed photo booth created by our planners complete with columns and Greek busts."
Words of Wedded Wisdom
"Once you have announced the engagement, you may find that an awful lot of people around you have an awful lot of opinions on wedding planning; what you should definitely have, when you should have definitely organised what by, what is definitely outdated and what is definitely en vogue this year (or next year for that matter because you're likely to be planning this for a while…), etc. Try not to let this stress you out."
"You don't want a cake? Scratch the cake! You want to spend the night before the wedding with your husband-to-be? Do it! We actually did this and it took the edge off hugely and gave us a wonderful sense of calming normality in between all the craziness."
"Surround yourself with those who ask you what you want and don't be afraid to put your foot down or simply drown out the noise when you get pieces of advice or opinions that are not helpful to you whatsoever (and you will probably get those a lot!)."
"Finally, when everything seems to be getting too much, try to put things into perspective and remember the truly important things about this whole spectacle: your husband-to-be, your family and friends and, last but not least, you."
Such wise words, Laura; thank you so much for sharing your advice and indeed your entire wedding day today. It's been really wonderful to see these photographs and see how yours and Rando's interests had such an influence on your wedding. Thank you, and congratulations to you both. Please join me too in sending many thanks to photography Charlie Dailey for these fine art photographs.
For more classic and elegant inspiration we have so many weddings here to get your creative juices flowing.
Ele xx