Well lovelies, how are you? I'm heading off for a long weekend break in Malaga, which I really hope will be a touch warmer than it is here in blustery Lincolnshire right now; brr!
Before I set off I have a wonderful task to complete; sharing today's colourful Oxford wedding with its luxuriously-draped gown in oyster silk, dainty tulle cape and a bright blue suit. Just gorgeous. It's a pleasure to introduce you to Sofia and Dan, who married on 3 June 2017 in a humanist ceremony at Holywell Music Room with a reception afterwards at The Jam Factory, both in central Oxford.
Photography ByGarazi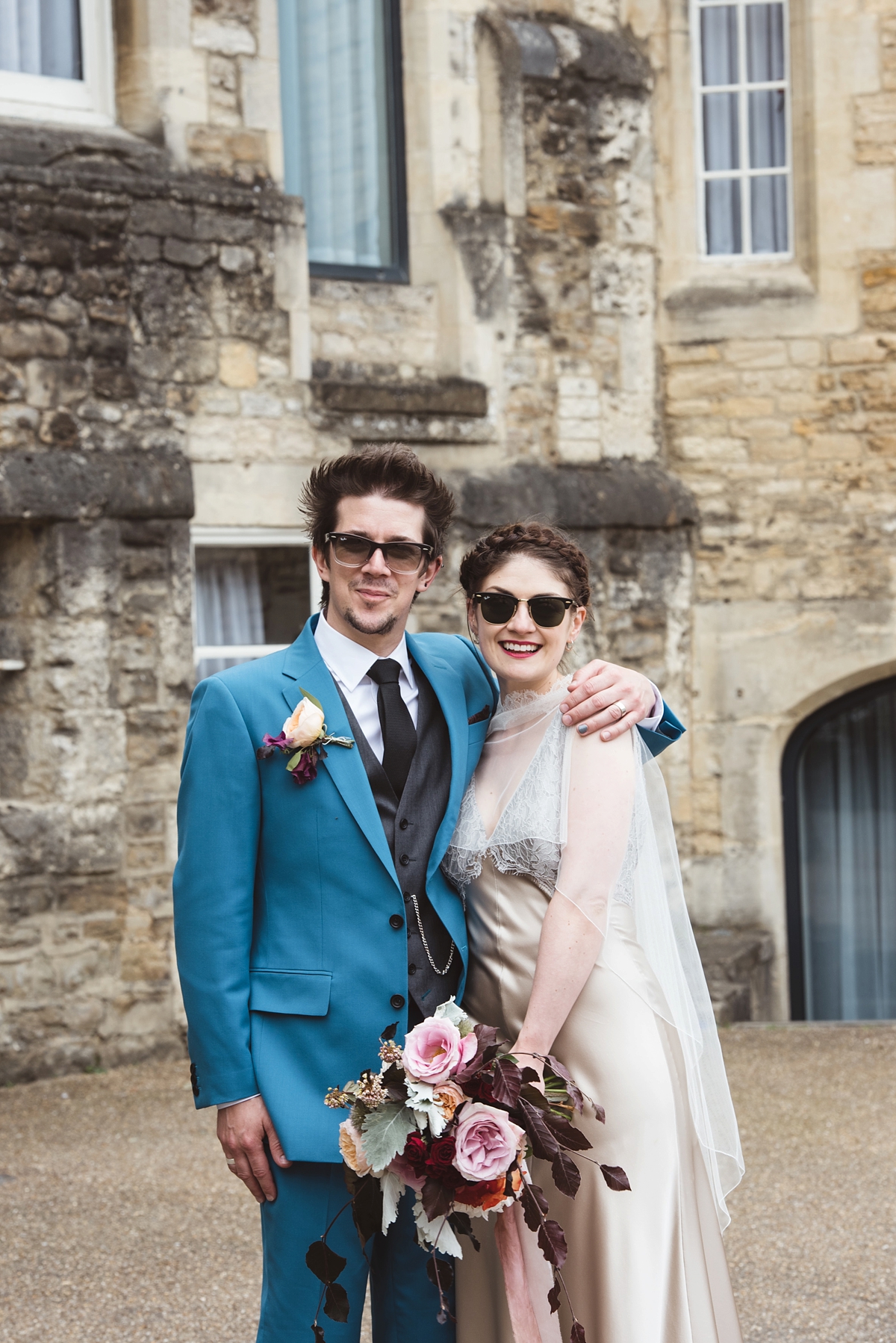 Sofia, a florist and Dan, who is a drummer had music as a central theme for their day, with colourful flowers and personal touches for an alternative and ethereal vibe. Holywell Music Room was the perfect venue for this music-loving couple, as it's the oldest venue in Europe purpose-built for live music performances.
The couple always knew they wanted to get married, and Dan chose a vintage ring for his proposal.
"We had talked about getting engaged for a couple of years and did quite a bit of ring browsing but it took Dan quite a while to actually propose. I had assured him that we could just 'decide' to get married if he'd rather not get down on one knee but he stressed that he really wanted to ask me, so I left it at that. One cold February evening he took me out for a lovely surprise date to a restaurant by the river, after dinner, we walked back through the old part of Oxford towards home and as we passed a church he pulled me into its garden, held me and told me how much I meant to him as he got down on one knee. It was simple and lovely."
"The ring was my favourite vintage one that we'd seen months beforehand. He'd had it ages and was waiting for the 'perfect' time to ask. I never doubted that he wanted to get married but I think he got himself in a bit of a state about the proposal being perfect. Our wedding was 18 months later."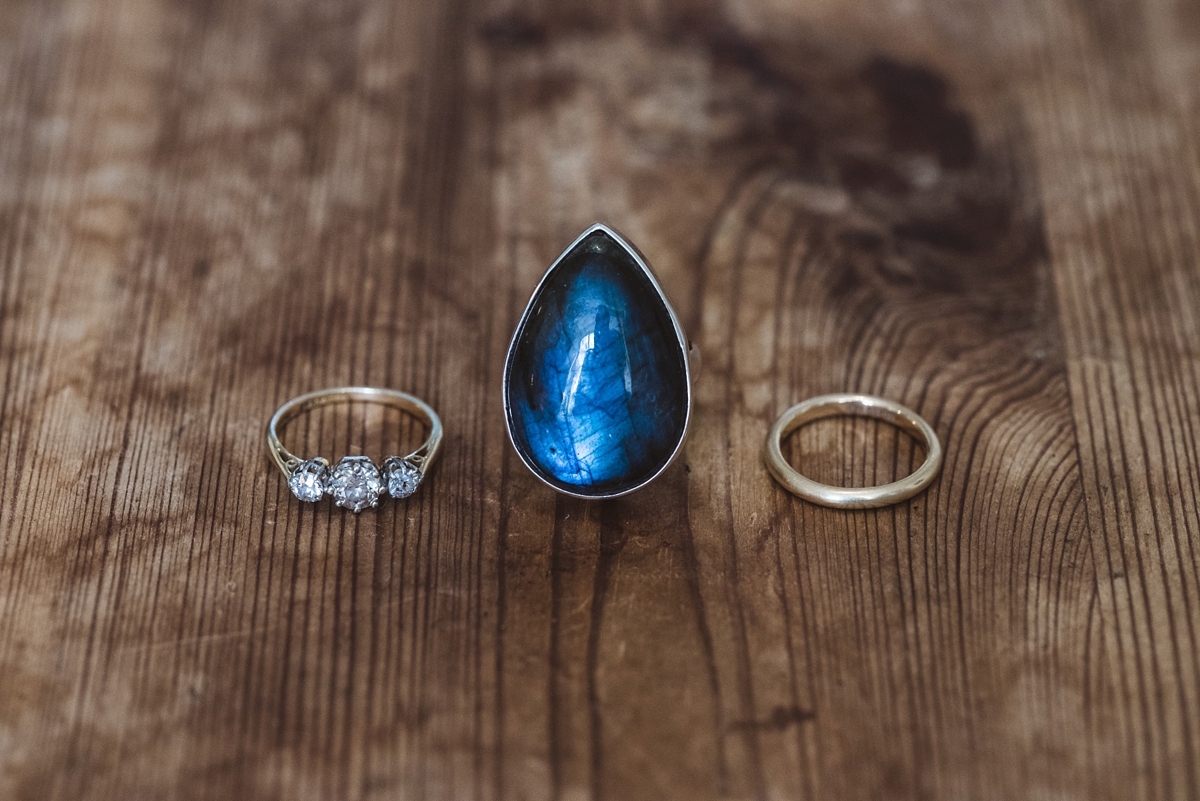 "We met a couple of years before we got together at a friend's Halloween Party. I was a black cat and Dan had gone to the effort of putting in black contact lenses… but to be fair he had come straight from playing a gig. We hit it off straight away but I was with someone else at the time. Flash forward two years and I was back up in Birmingham visiting the same friend who had let Dan know that I was newly-single and visiting. He got straight in touch! We had a casual afternoon walking and talking around Birmingham together which we refer to as our 'unofficial first date'."
"We were both completely smitten and pretty much together from then on. As we lived an hour apart at the time (him near Wolverhampton and me near Banbury), we moved in together six months later; in Cheltenham for the first year, then onto Oxford, where we've been for the last six."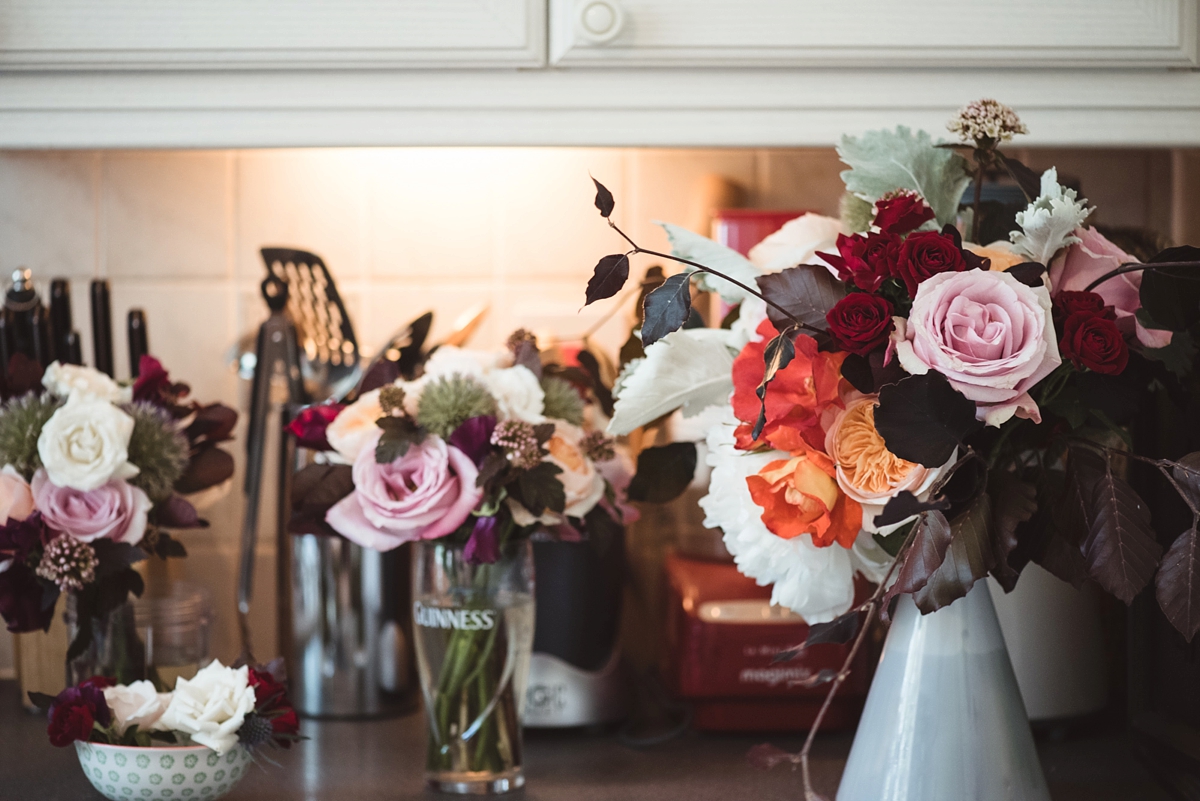 Sofia's hair was styled into a fun, pretty plaited up-do.
"I did my make-up myself using Charlotte Tilbury, Becca, Nars, Benefit and Clinique products."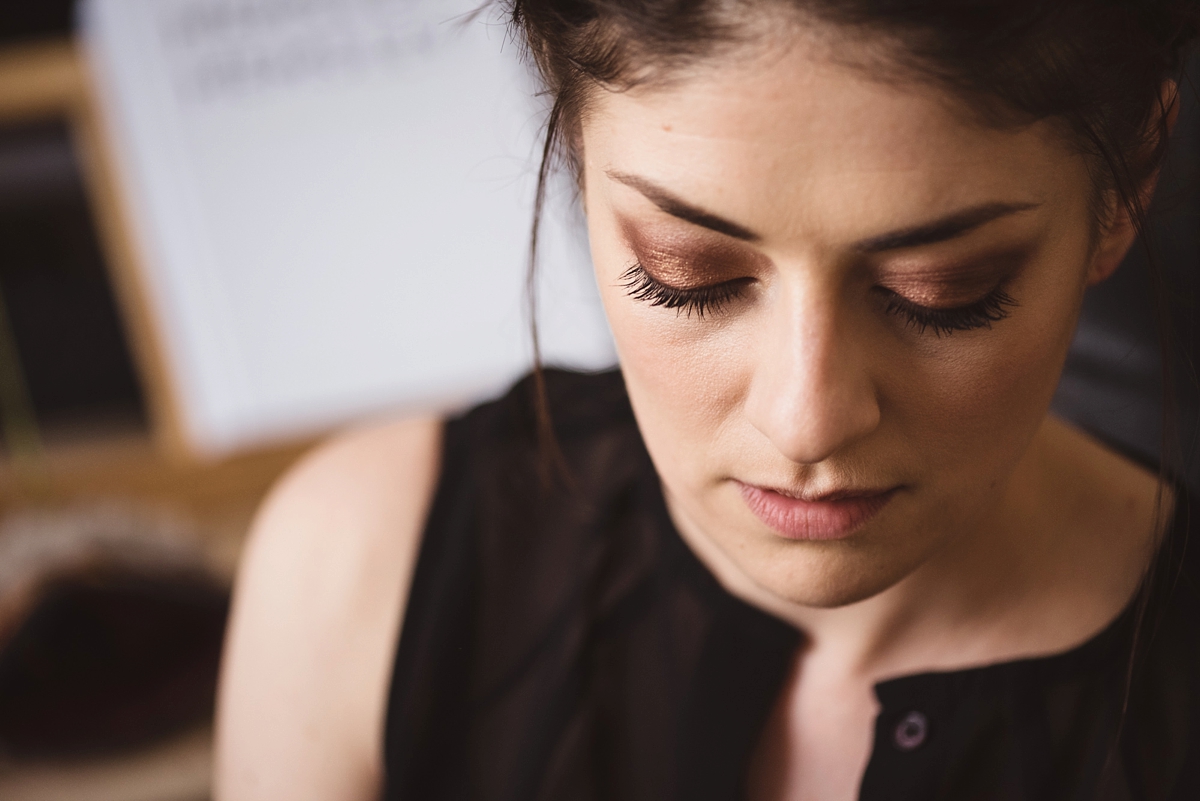 Flowers had to be a big part of Sofia and Dan's day and I wasn't surprised to discover that the bride made her own bouquet using a variety of colourful blooms.
"I made my own bouquet, Char and Alex's and the buttonholes for Dan and the boys with some of my favourite flowers; sweetpeas, 'Secret Garden' roses and peonies and roses from my dad's garden. The flowers at both venues were by Fabulous Flowers, whom I used to work with."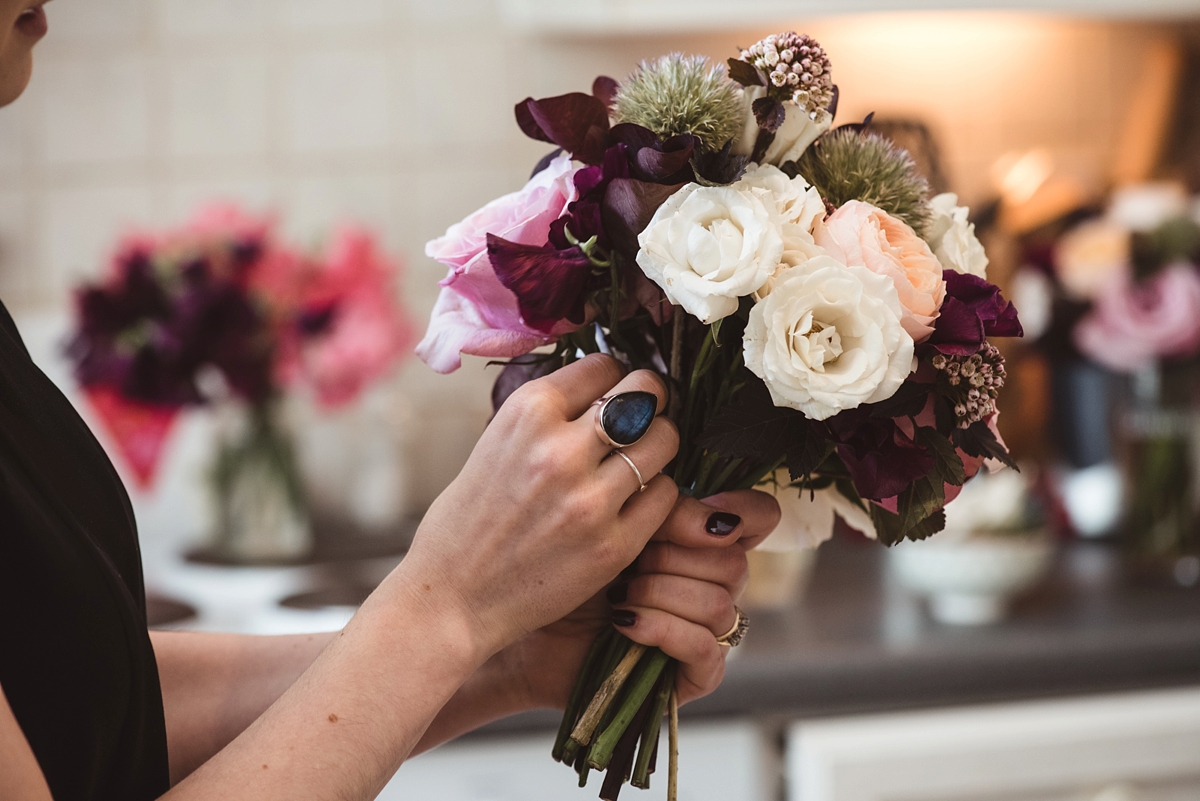 Sofia had clear ideas about her wedding outfit and had her two-part bridal clogs custom-made by Bryr in San Francisco.
"Bryr are a small brand I've always loved who make all of their clogs to order and it took me months to choose which style and colour I'd like as they're all beautiful. I opted for white gold leather and 'Cement' nubuck. Both my bridesmaids, Alex and Charlotte, chose different styles in 'Flint' grey. We were so excited when they arrived."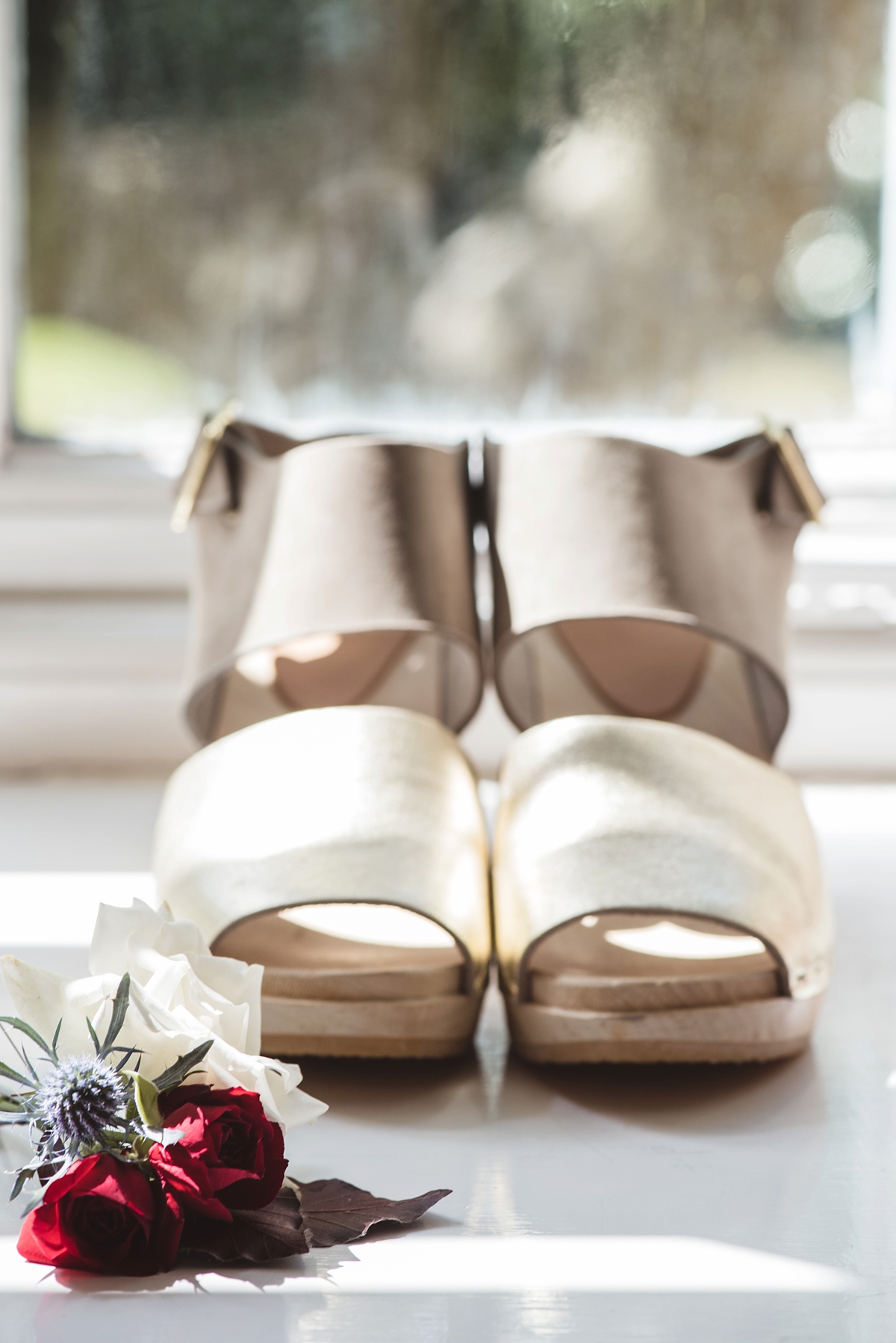 The bridesmaids look elegant and relaxed in their mis-matched gowns from ASOS, which mirror the vintage feel of the bride's own dress. Their looks were tied together by their Bryr clogs and silver Labradorite rings.
"The girls wore their own jewellery and accessories, but I gave them both matching silver Labradorite rings as thank you gifts on the morning of the wedding, from Nothing in Oxford's Covered Market."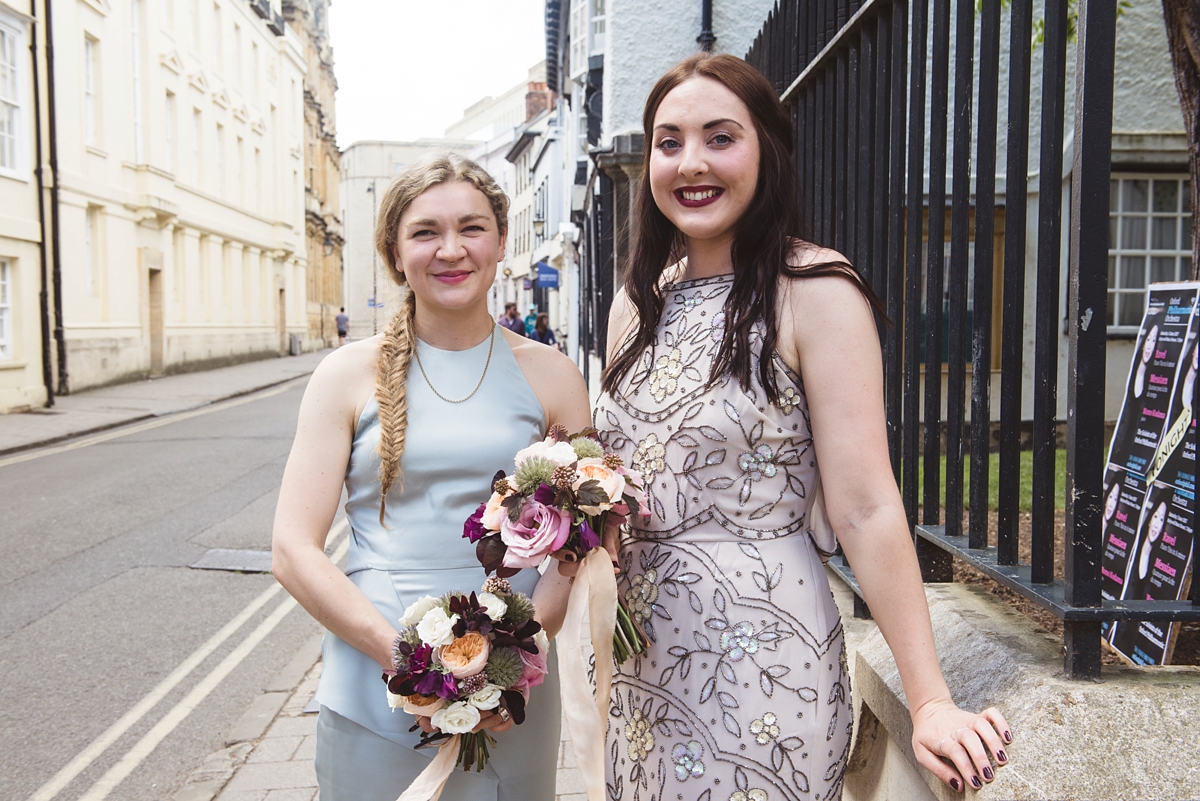 The ethereal vibes certainly flow through Sofia's beautiful choice of gown; the 'Foxglove' design by independent designer Kate Beaumont whose gowns are exquisitely cut and reminiscent of days gone by.
"As soon as I found Kate on Instagram I headed straight to her website and fell head over heels in love with her dresses. I knew I had to go up to Sheffield to meet her. As soon as I met her and tried them on I was certain I wanted her to make mine. I just fell in love with her style, her warmth and humour and that timeless, ethereal style of her dresses. I didn't know what I wanted initially; I just knew I'd find it there."
"After a bit of trying on, I chose her 'Foxglove' style because it felt most 'me'. It's a cliché but you do know when you put it on! I knew I didn't want Ivory so we changed the colours to Oyster silk on the main body of the dress, with a beautiful steel grey underneath silver corded lace on the bust. I get so excited about colour and when we put those fabric samples together I cried! It was exactly what I wanted."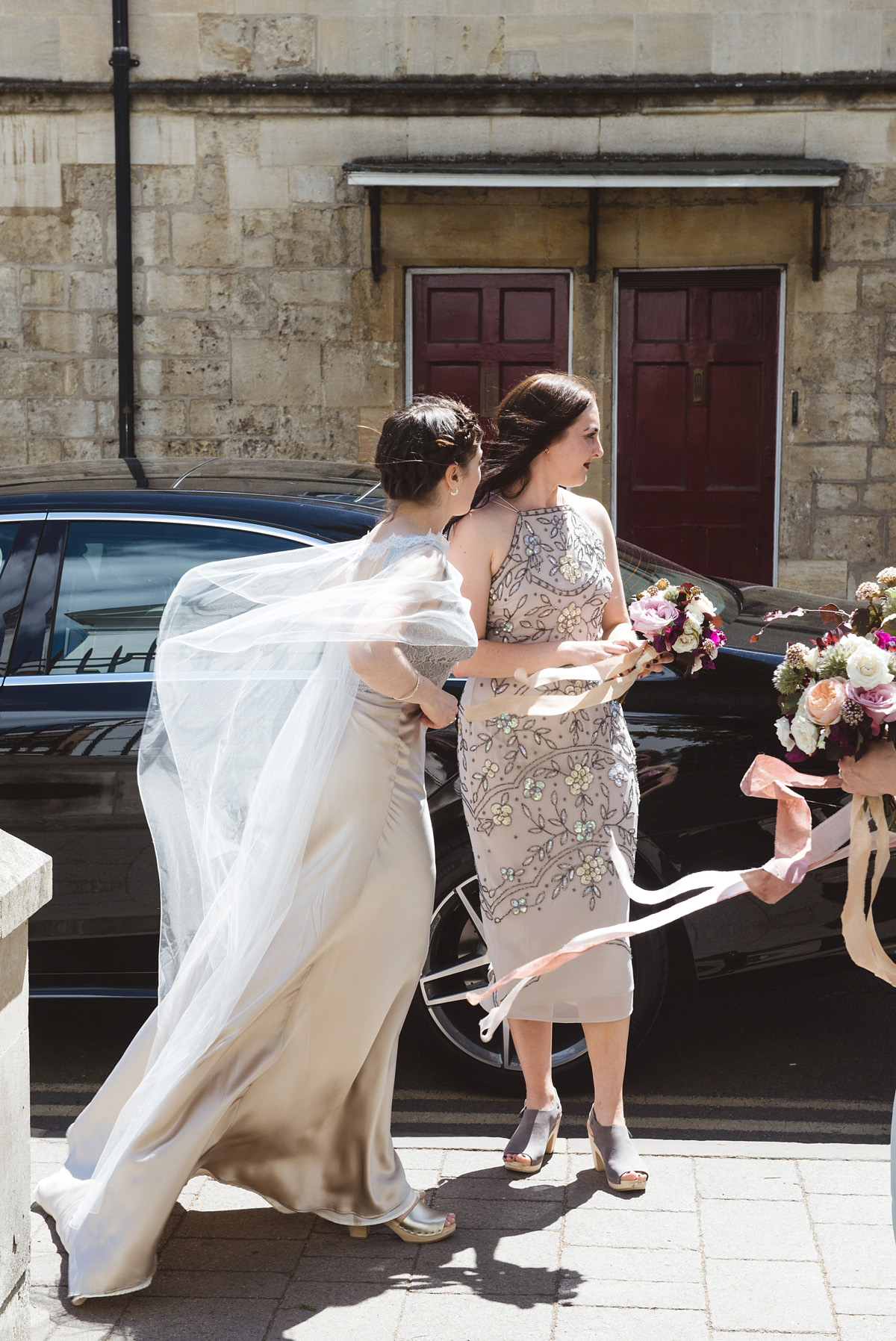 For a modern, alternative feel, Dan chose a custom-made suit in bright blue from Walters of Oxford. It looks fantastic with his colourful buttonhole.
"Dan's shoes were Dr Martens and his vintage silver pocket watch was a gift from me on the morning of our wedding."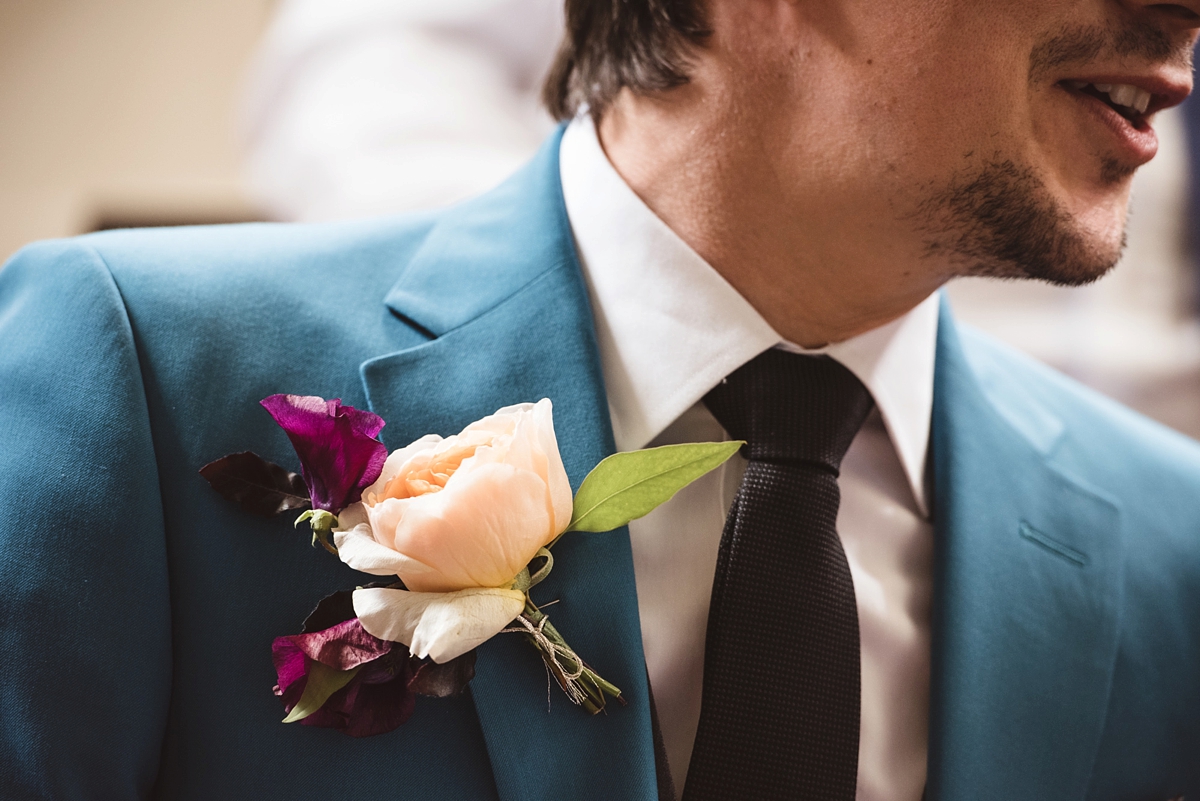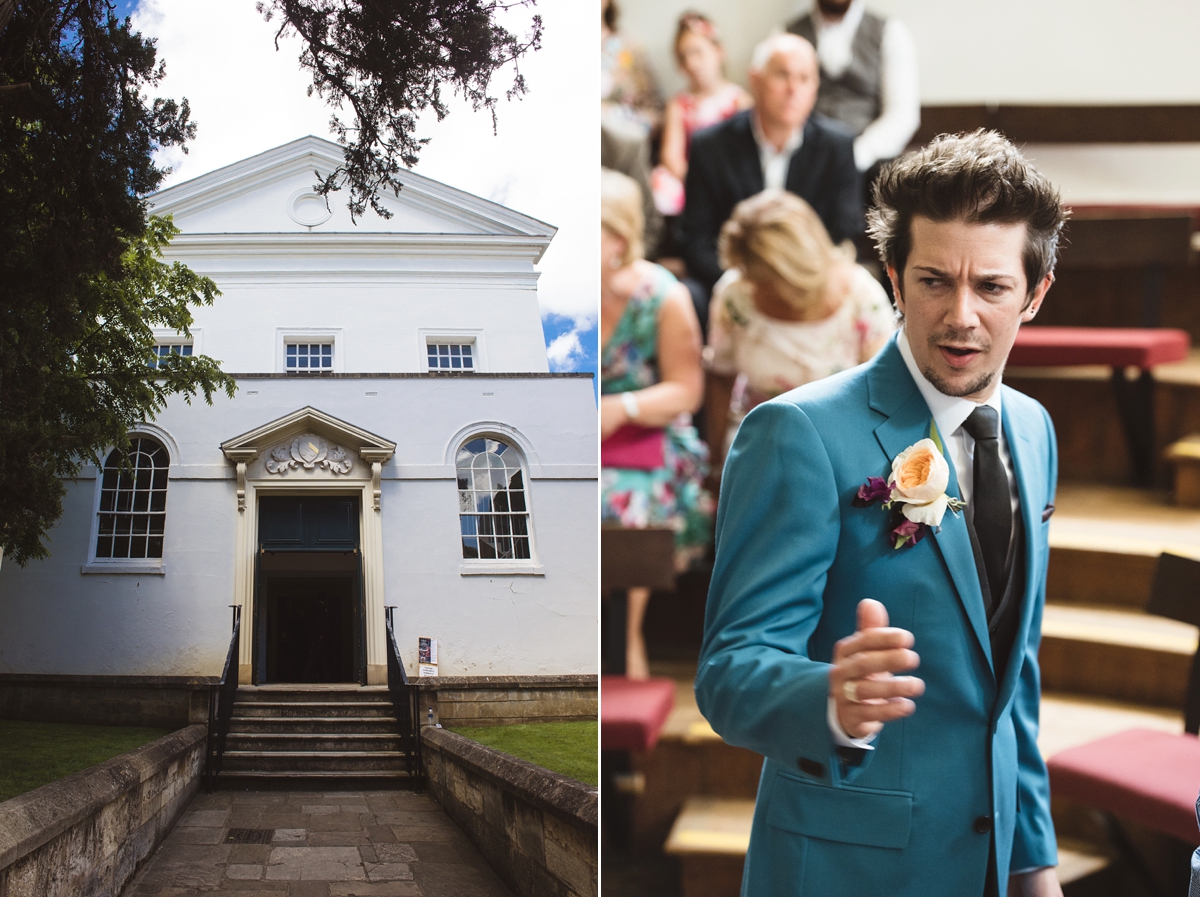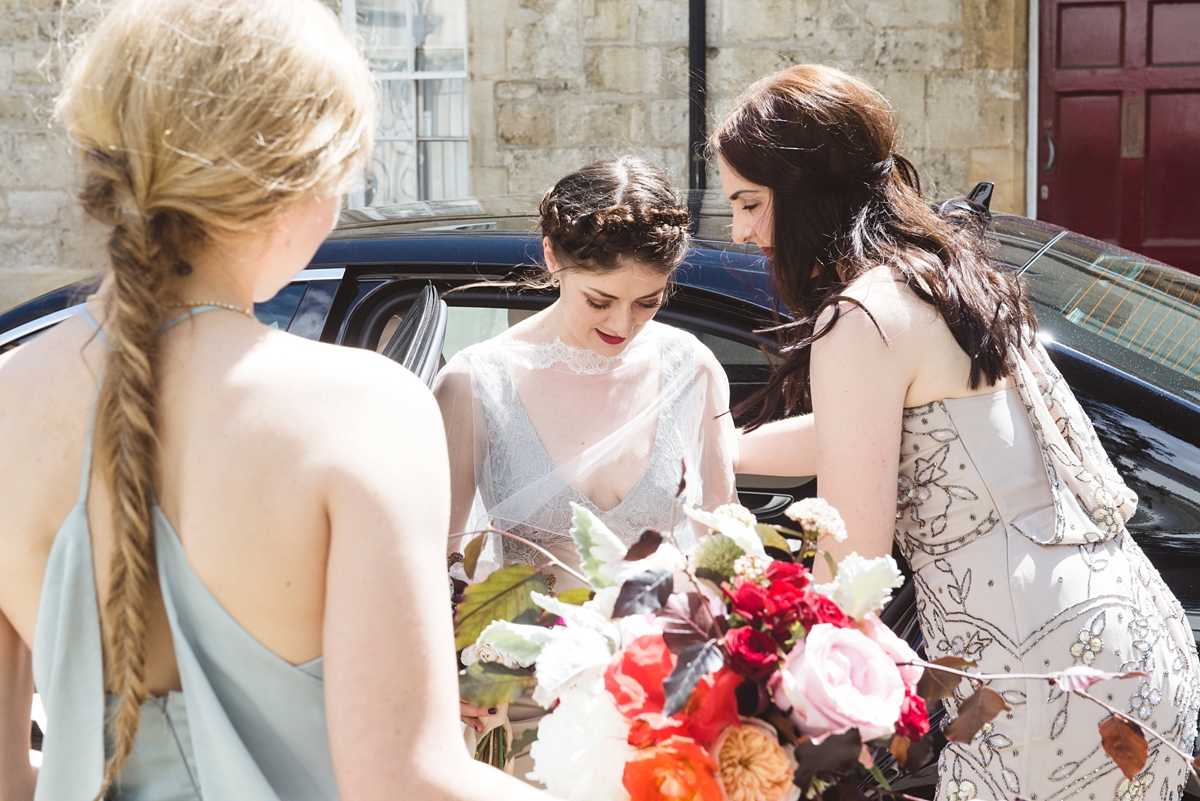 Sofia's non-traditional veil takes the form of a delicate cape which allows the dress to shine through beneath. It's by Helen Martin Veils, who Sofia first found at Kate Beaumont's studio.
"Kate had a couple of traditional sample veils which I tried on during my first visit. I was fairly against a veil at first but my Mum and two bridesmaids strongly disagreed. A couple of months later Helen Martin Veils posted (again, thanks Instagram) a photo of their new 'Cape' style which I loved. They kindly sent Kate a sample for me to try on and I was sold. We just changed the lace trim at the neck for a slightly more delicate weight."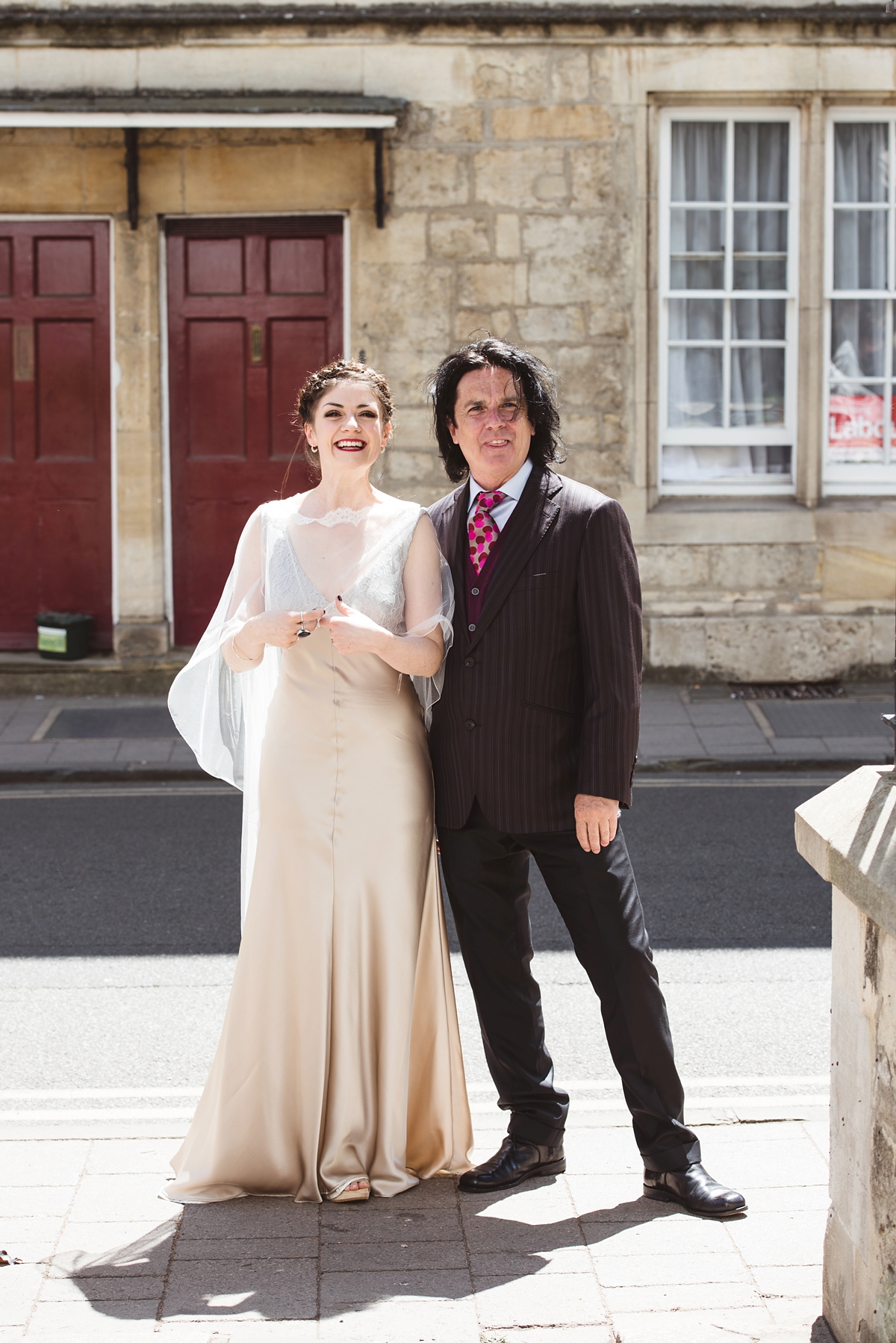 The bride's jewellery was delicate and simple.
"I wore a silver bangle that my dad gave me from Mexico years ago and a beautiful teardrop Labradorite ring that Dan gave me on the morning of the wedding. Garazi got a gorgeous shot of it in between my engagement and wedding rings on our kitchen table."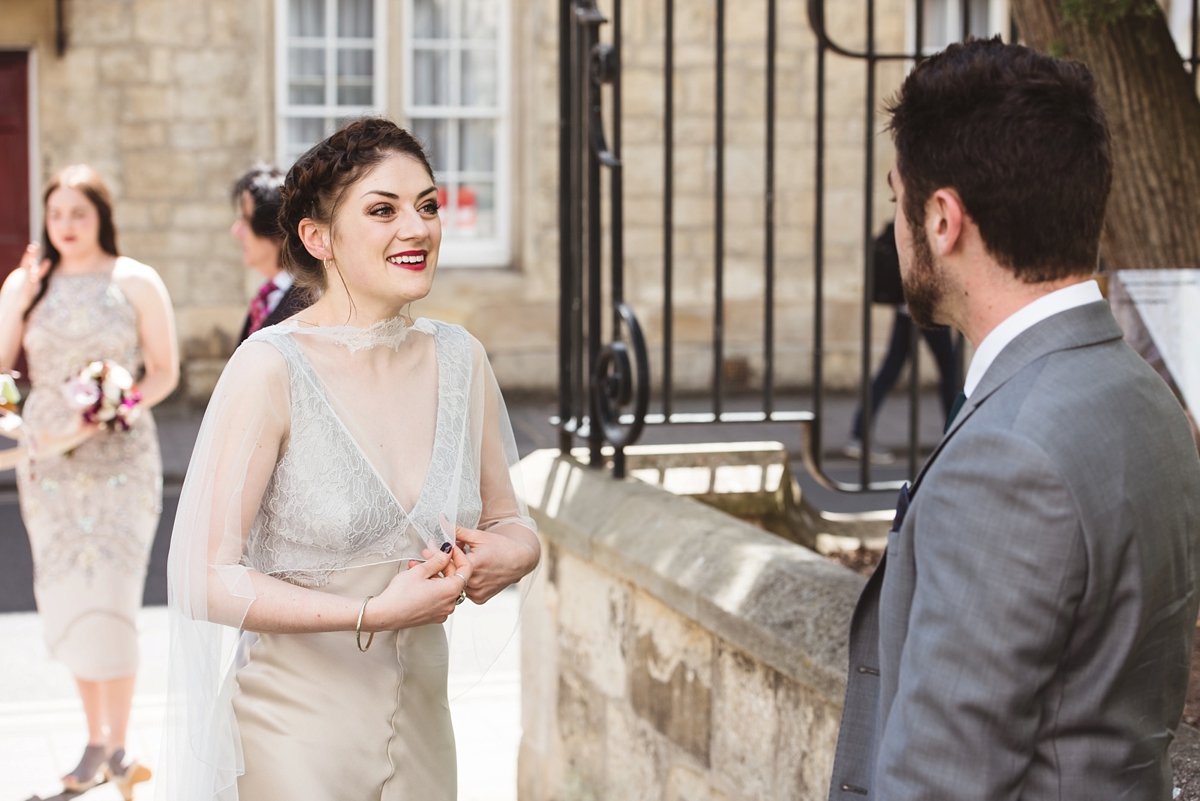 "Our ceremony was at the Holywell Music Room and our reception was at The Jam Factory, both in central Oxford. Music is a big part of our lives so we certainly wanted that to be a theme. We wanted the overall 'look' of the day to be quite natural, and a bit alternative and ethereal."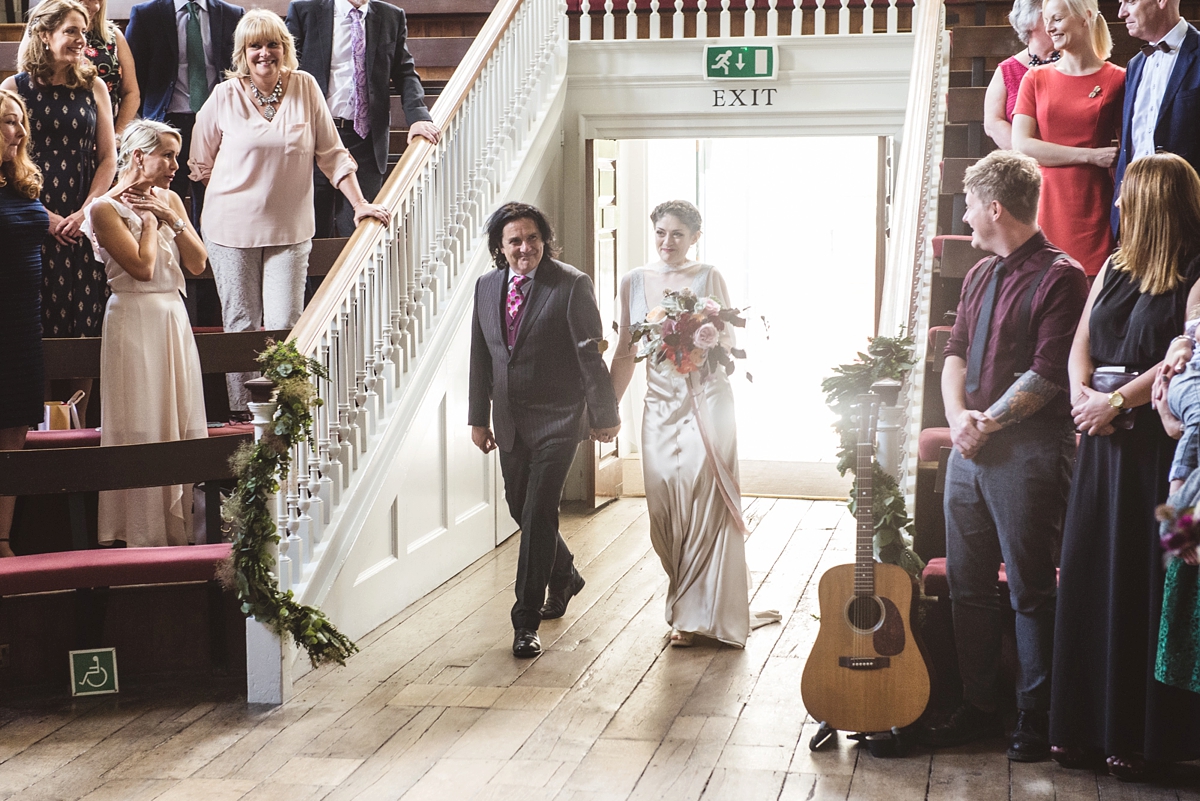 Sofia and Dan chose to marry in a humanist ceremony which included a Celtic handfasting. A close family friend drove the bride and her dad to Holywell in his beautiful, black Jaguar.
"We were actually early, which has never happened in my entire life. I couldn't believe it."
"My dad walked me down the aisle. We managed not to blub too much then he gave me a big cuddle and said to Dan, "I've brought you one of these". Our friend Peter (whose Halloween party we met at) played 'Moments of Pleasure' by Kate Bush on Holywell's grand piano, a favourite song of ours."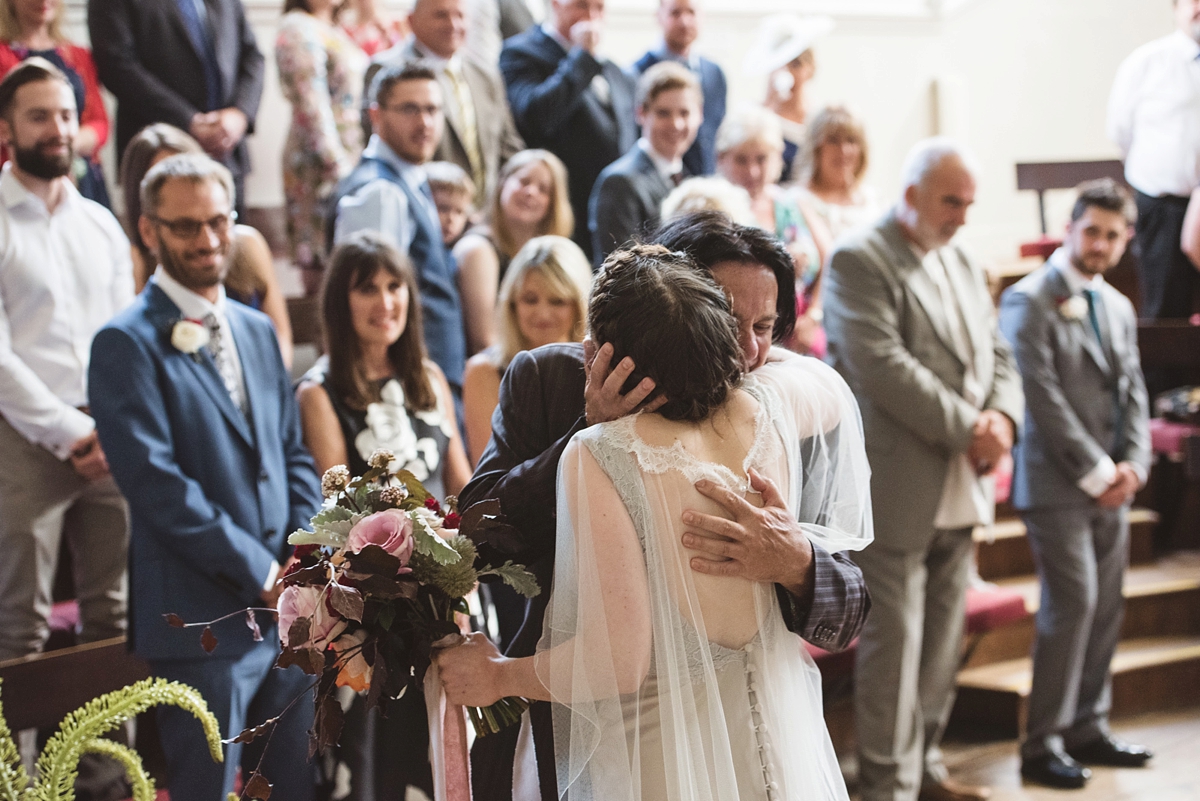 Finding a humanist celebrant they clicked with was important to the couple. Daniel Glastonbury travelled from Manchester to marry the pair in a very personal ceremony.
"We searched for a while for someone who felt right for us, then we had a few Skype calls and just clicked with him."
Sofia has shared more details about their marriage with us.
"Humanist ceremonies are naturally tailored to you and your relationship. It was quite important to us that the day was as personal as possible so it was the perfect choice for us. We each filled in a long questionnaire provided by Daniel, telling our sides of our story, and he put together our ceremony based on all the information we gave him. We were then able to make some tweaks to it to make sure we were happy with it all. He was fantastic on the day and just an all-round lovely guy."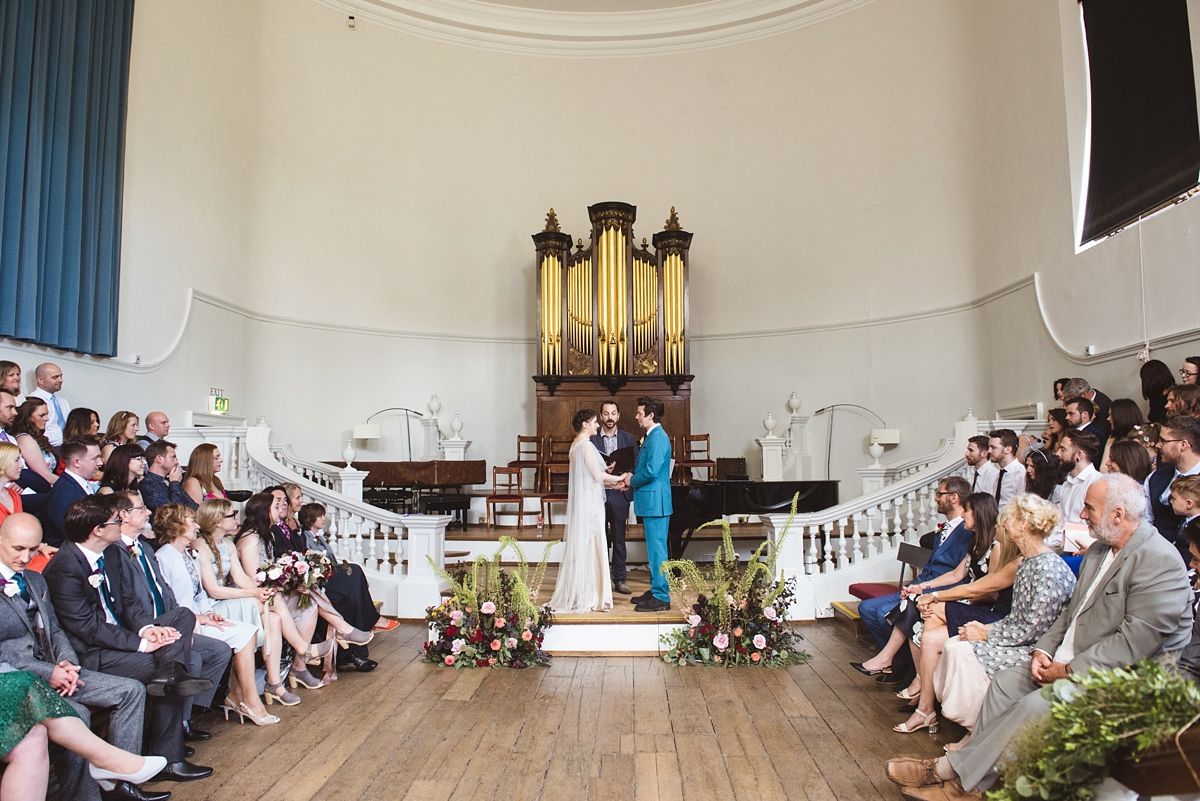 "We had a short legal ceremony at the Registry Office two days beforehand with just our immediate family and bridal party, followed by a barbecue at The Fishes pub near Oxford. We loved that day – we were much more moved by the legal vows than we thought we'd be, our Registrar was so lovely and it meant that we could have some quality time with our families. We didn't really get to speak to them much on the 'big' day – you're pulled in so many directions. "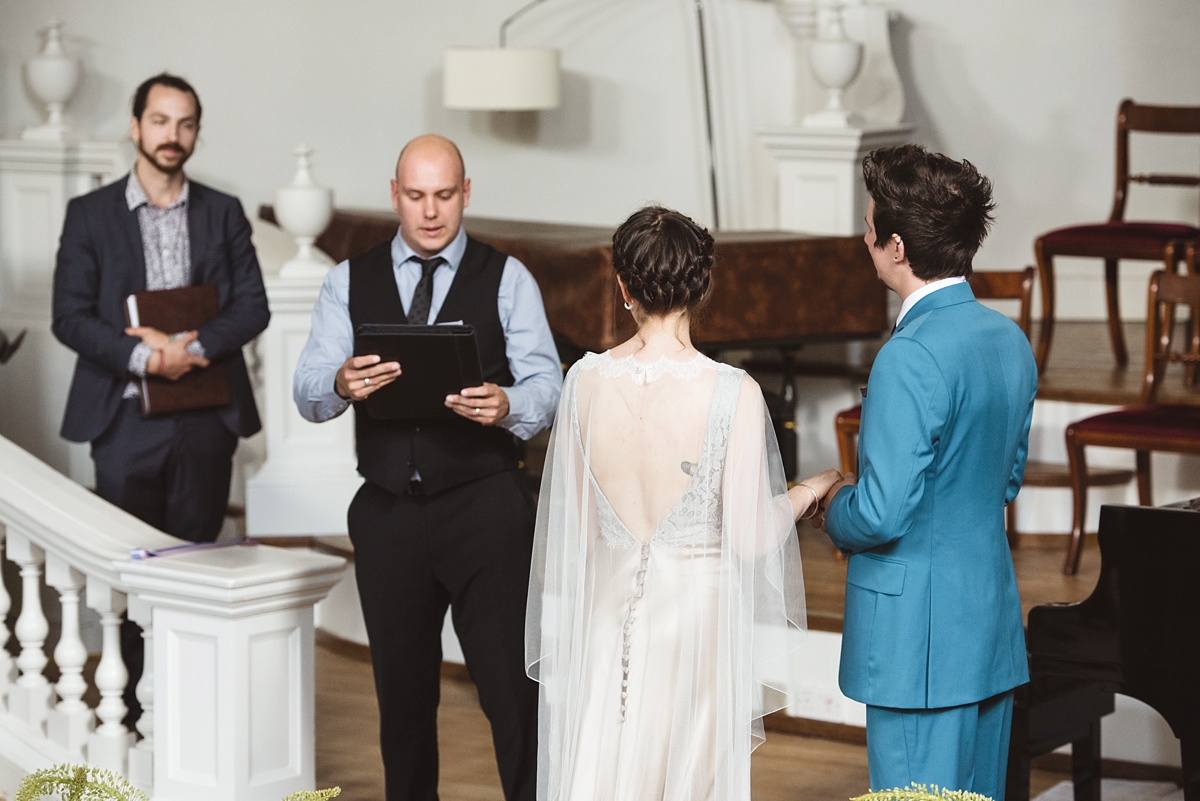 "We had two readings given by two of Dan's oldest friends. One was an excerpt from 'The Road' by Cormack McCarthy, Dan's favourite book, which was suggested by Daniel Glastonbury. The other was a passage quoted from the Dalai Llama about love that a friend had sent us. We just loved them and they suited the ceremony perfectly."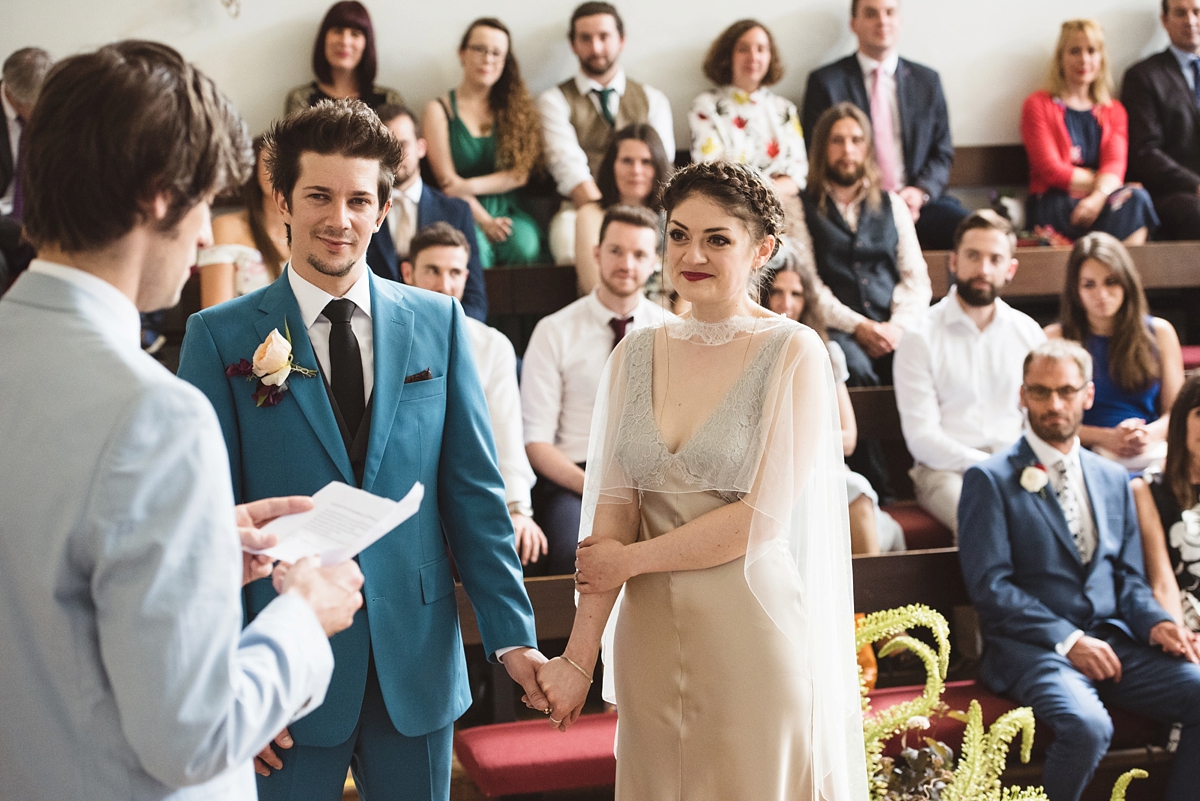 "We also decided to have a hand-fasting incorporated into the ceremony, where each of the women closest to us (our mums, my step-mum, my aunties and our sister-in-law) stepped up to the altar and tied a ribbon around our hands as Daniel said a verse. There were a few tears! "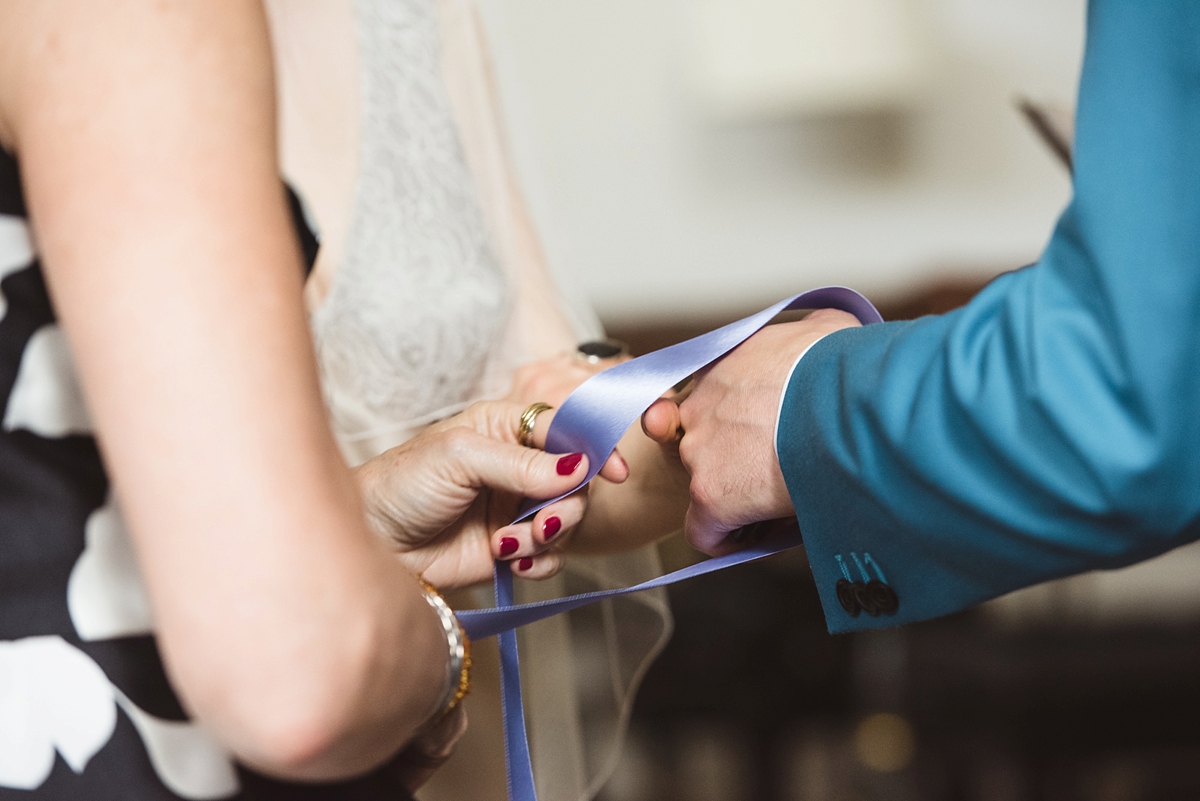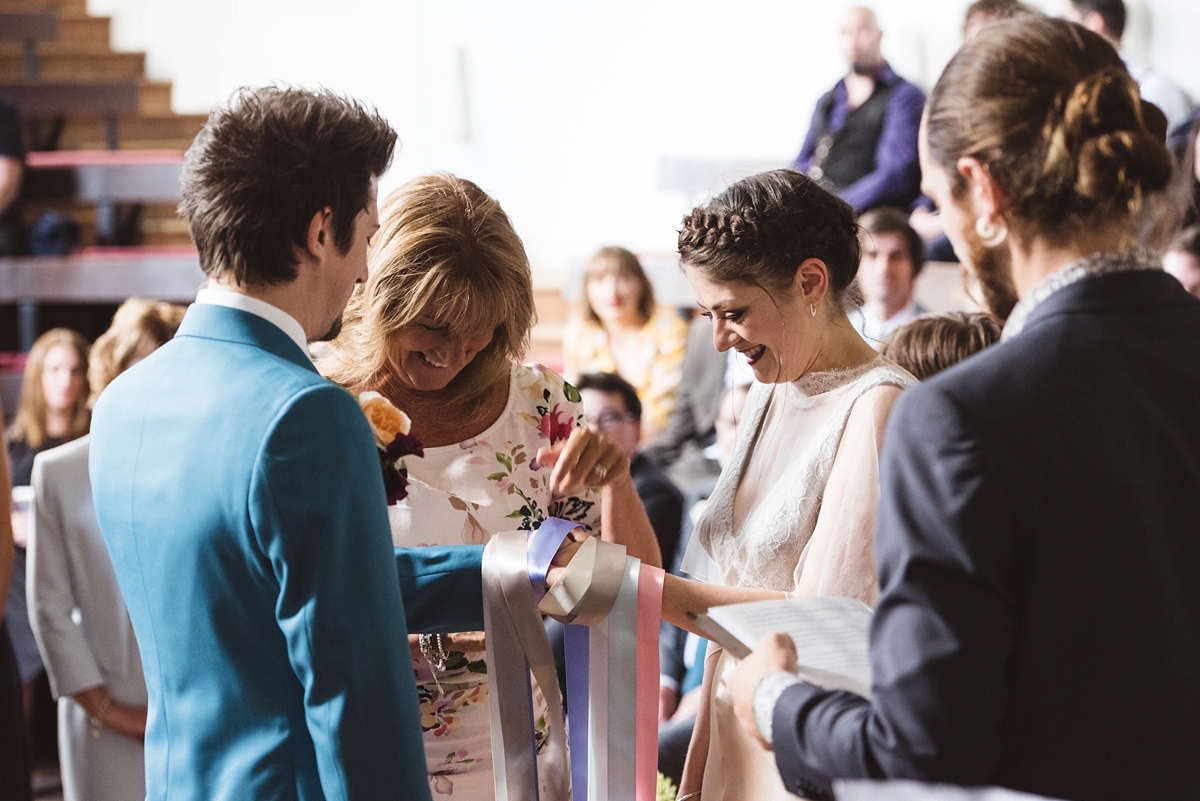 The bride and groom actually made their own wedding rings together at The Quarter Workshop in Birmingham. We are so proud to recommend this jeweller through our Little Book, and love the idea of this truly-meaningful jewellery and a day of creating memories.
"We made each other's wedding rings with Victoria's expert guidance at The Quarter Workshop. It was a really special and fun day together that we'll never forget. I'd heartily recommend it to anyone and Victoria takes photos throughout the day for you to keep too. It was one of our favourite elements of the planning."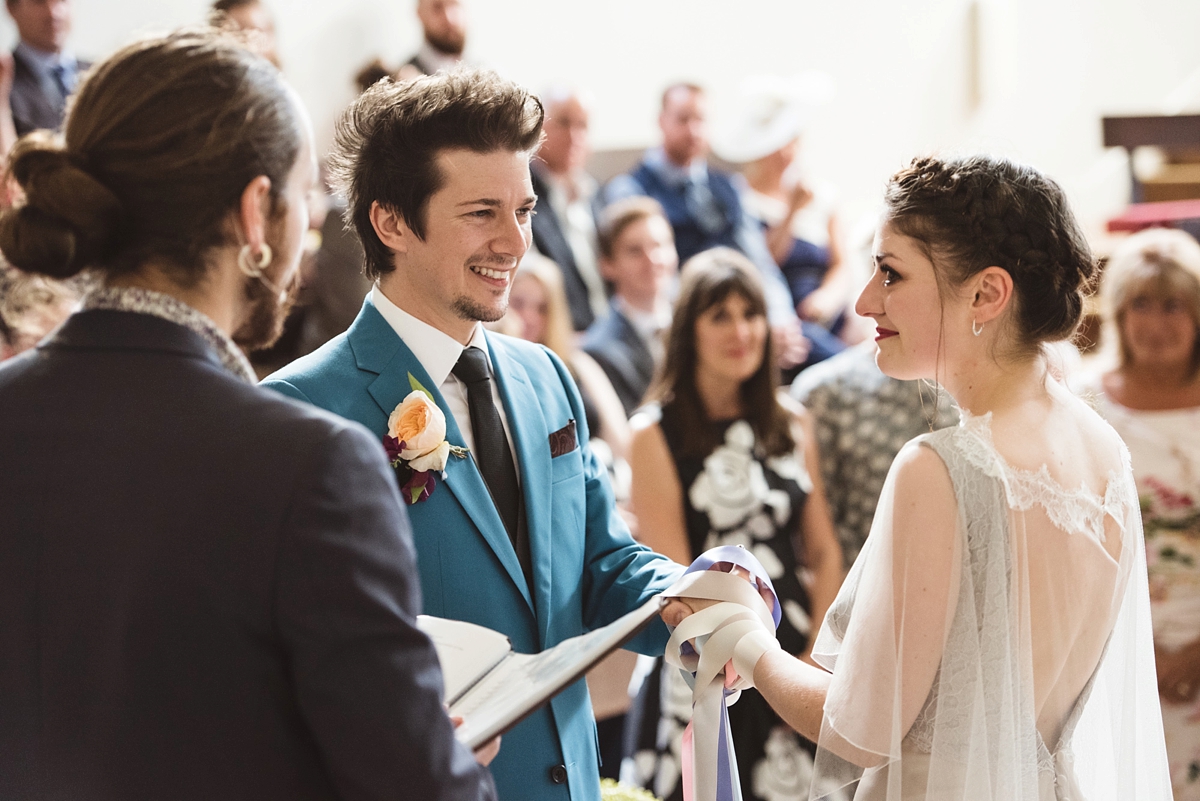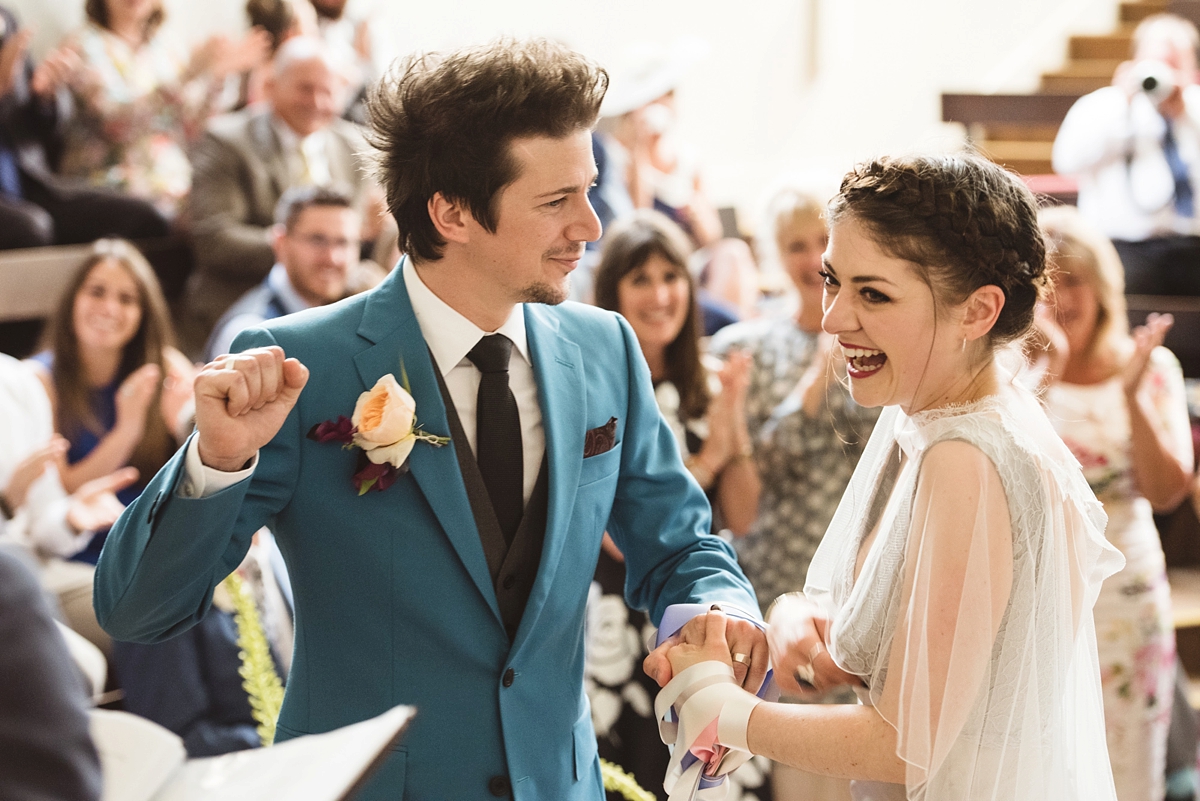 "My good friend Harry Pane played us out of The Holywell Music Room after the ceremony with 'Be Your Husband' by Jeff Buckley."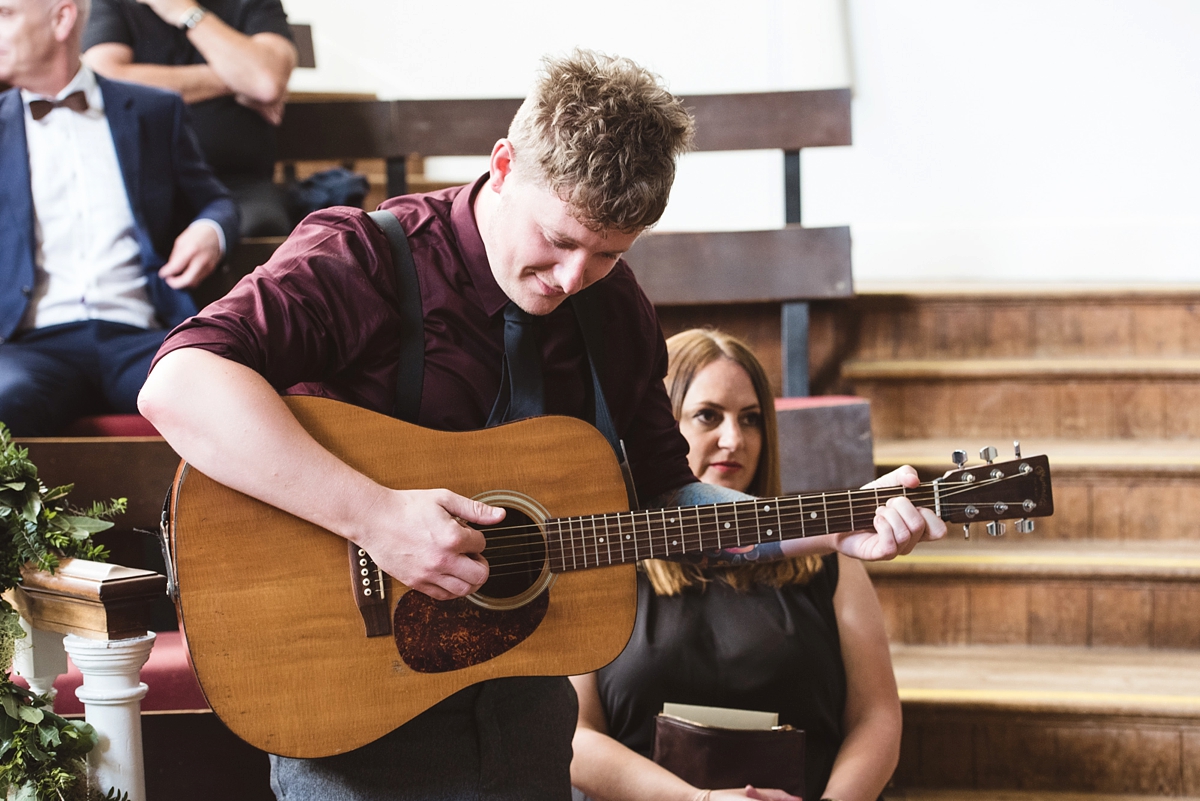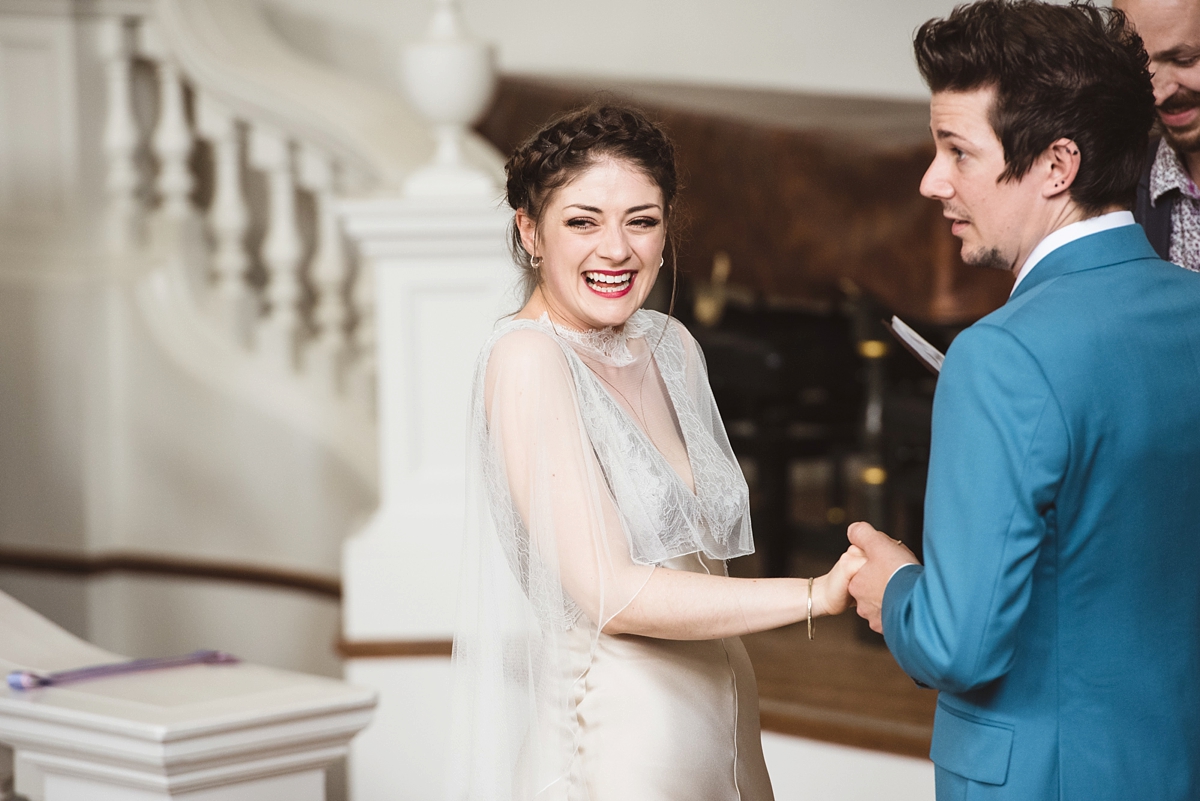 The entire day was captured by ByGarazi, whose work makes vivid use of colour and has a wonderfully relaxed documentary style. I love her focus on unexpected details. Are any of you asking friends to capture your special day like Sofia and Dan did?
"We've known Garazi for years and love her work. We also really liked the idea of someone we know shooting the day for us. She nailed it and we're delighted with the images."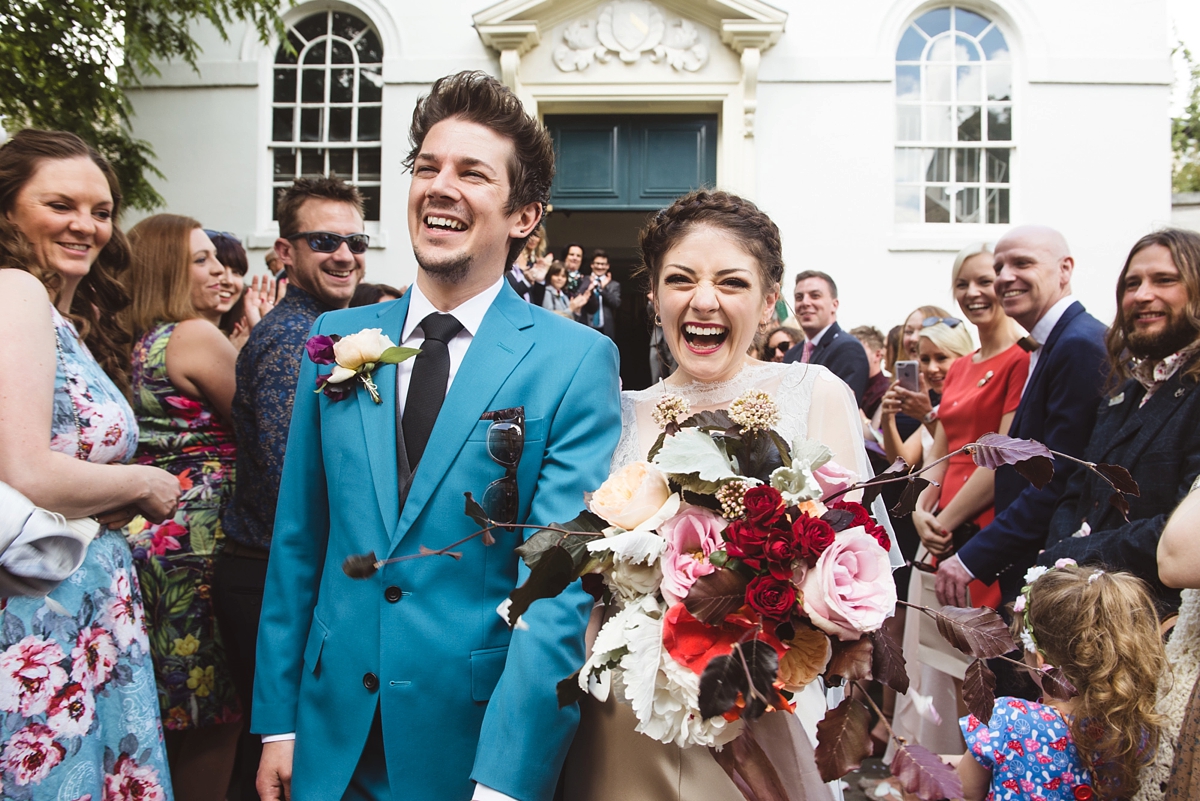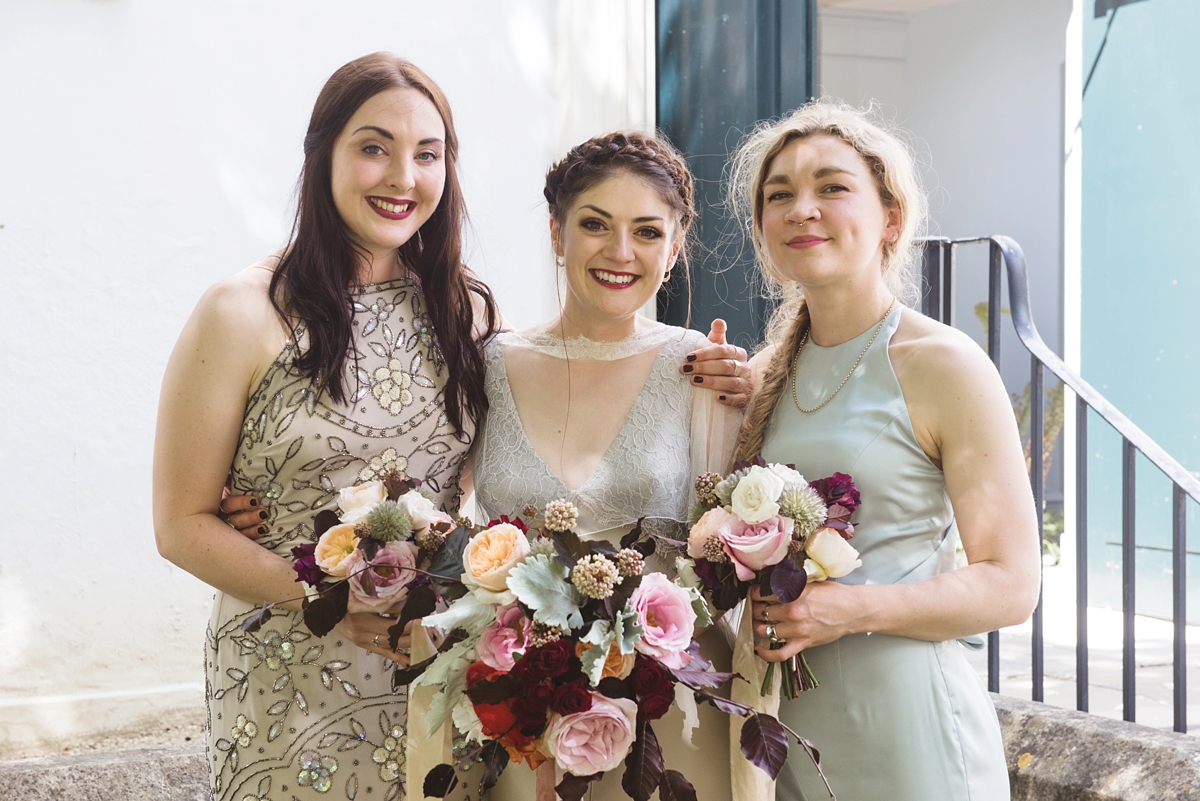 It was just a short walk to the reception venue – The Jam Factory – and ByGarazi made the most of the city's architecture for some wonderful newly-wed shots.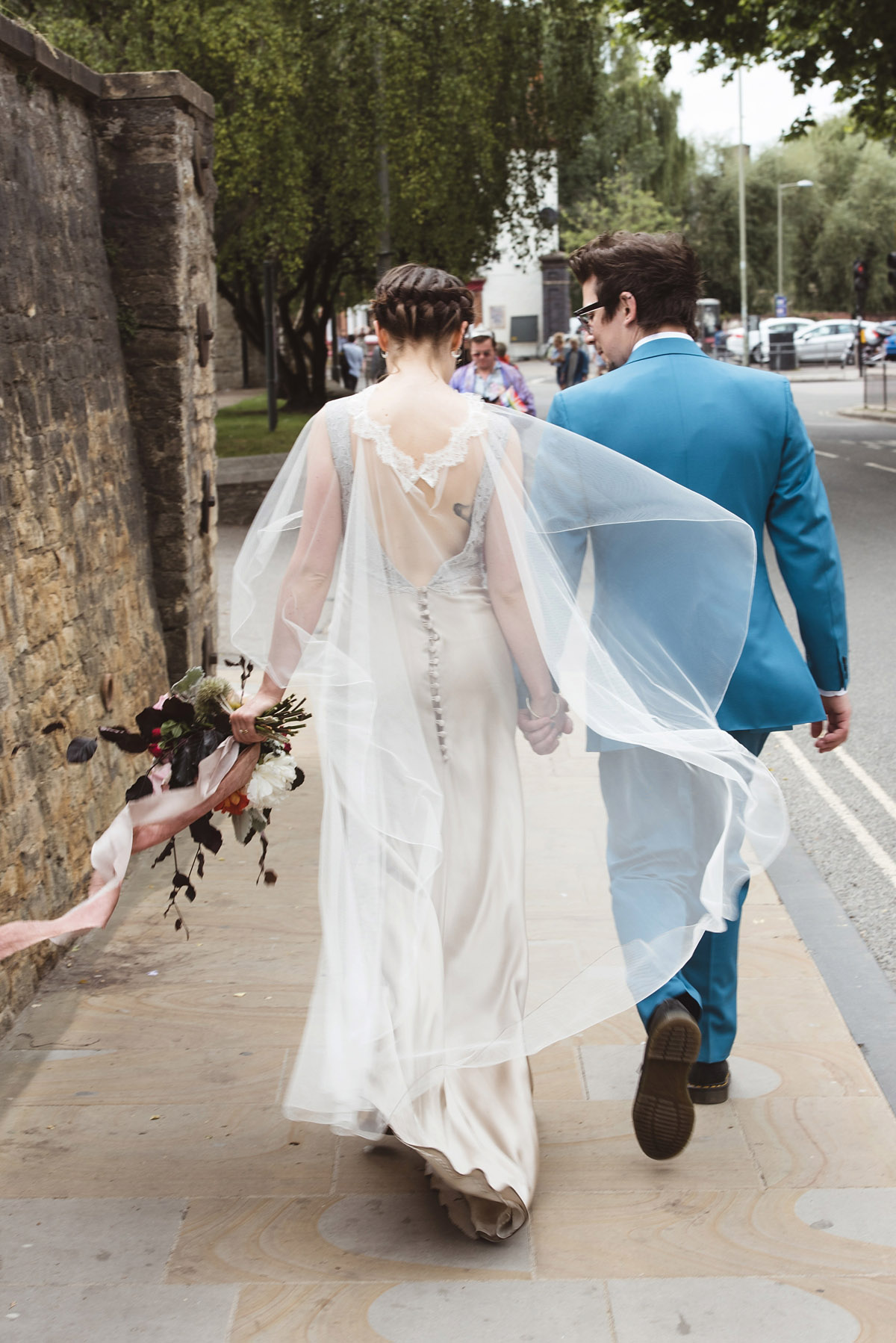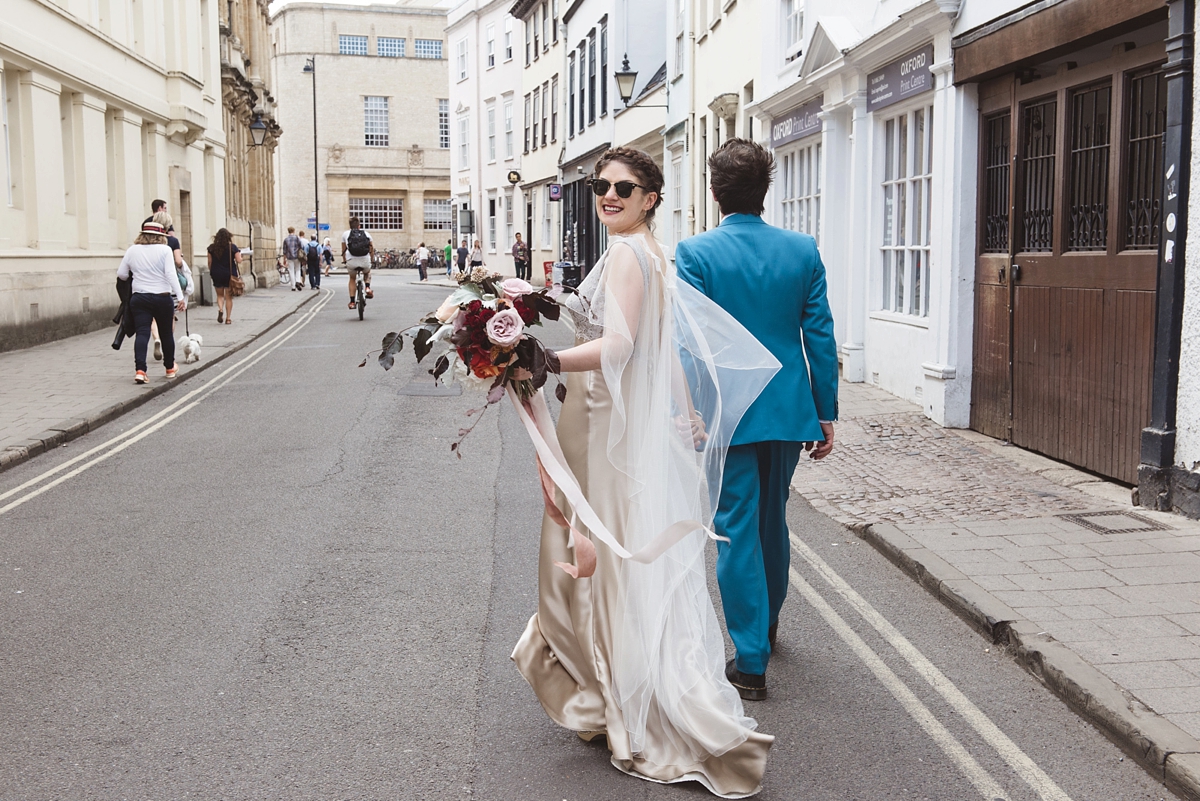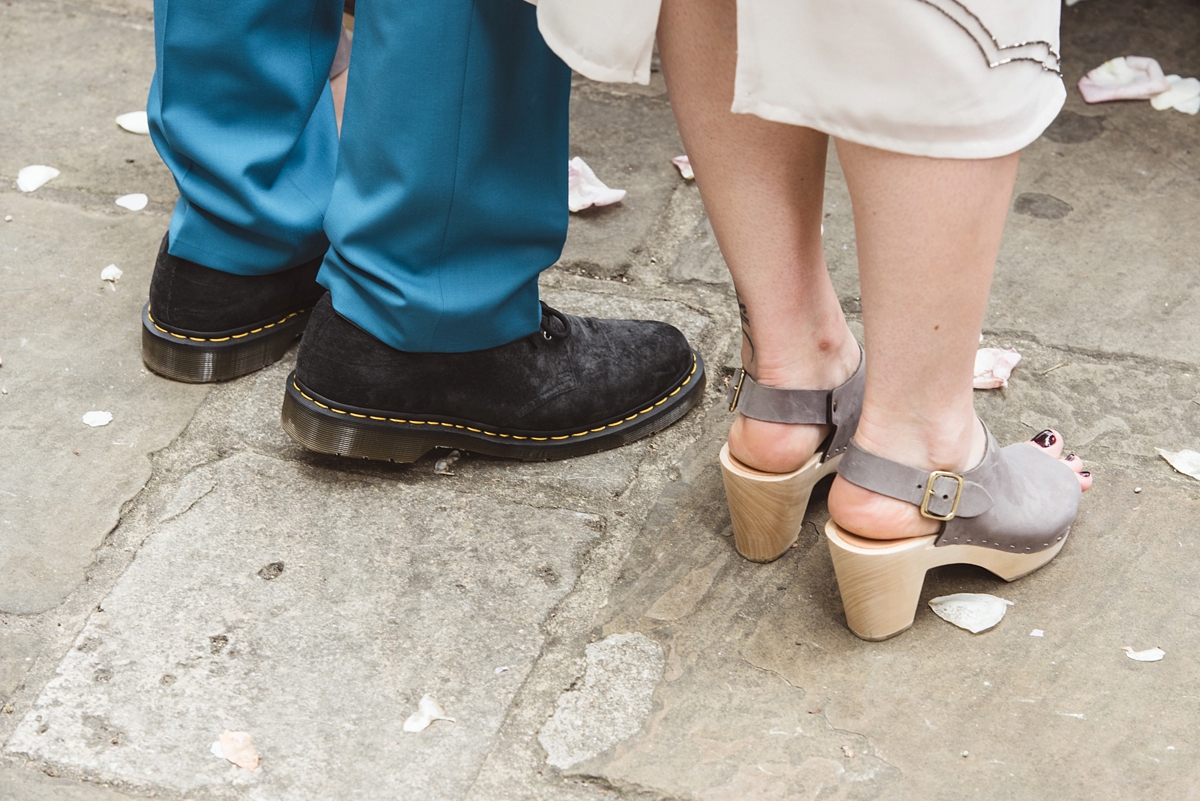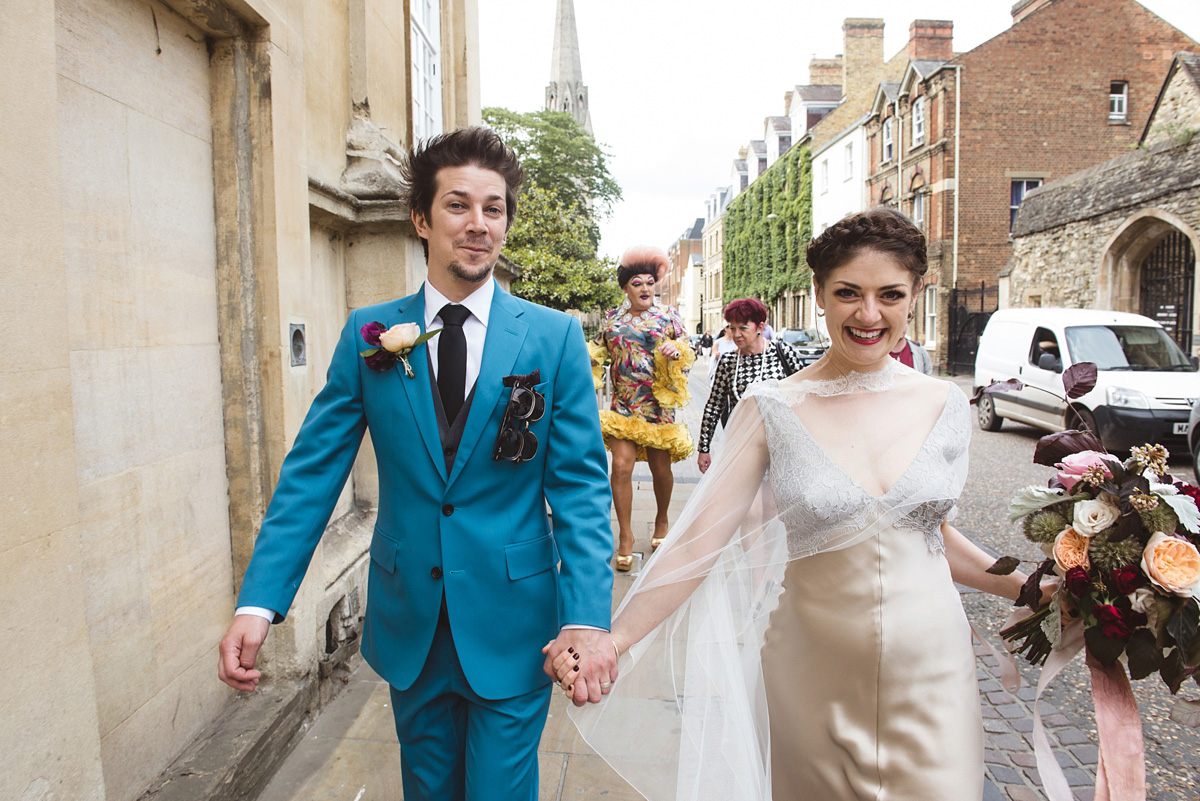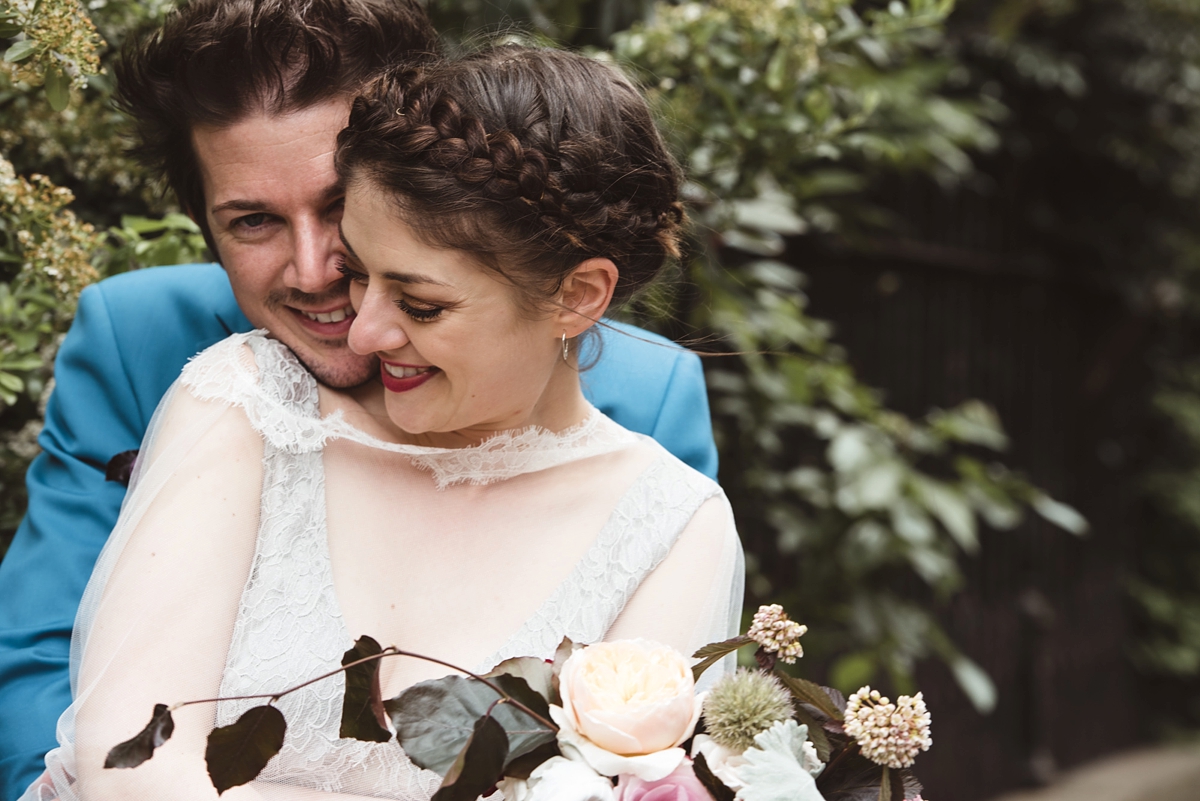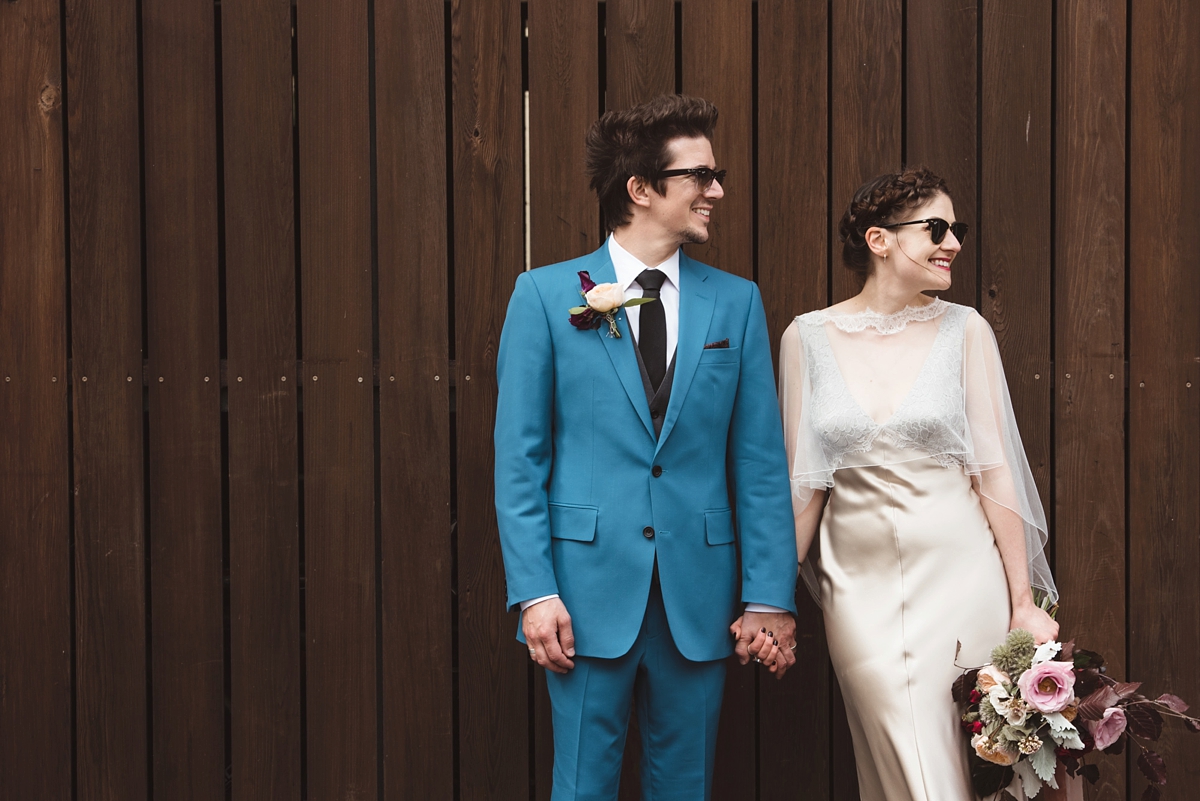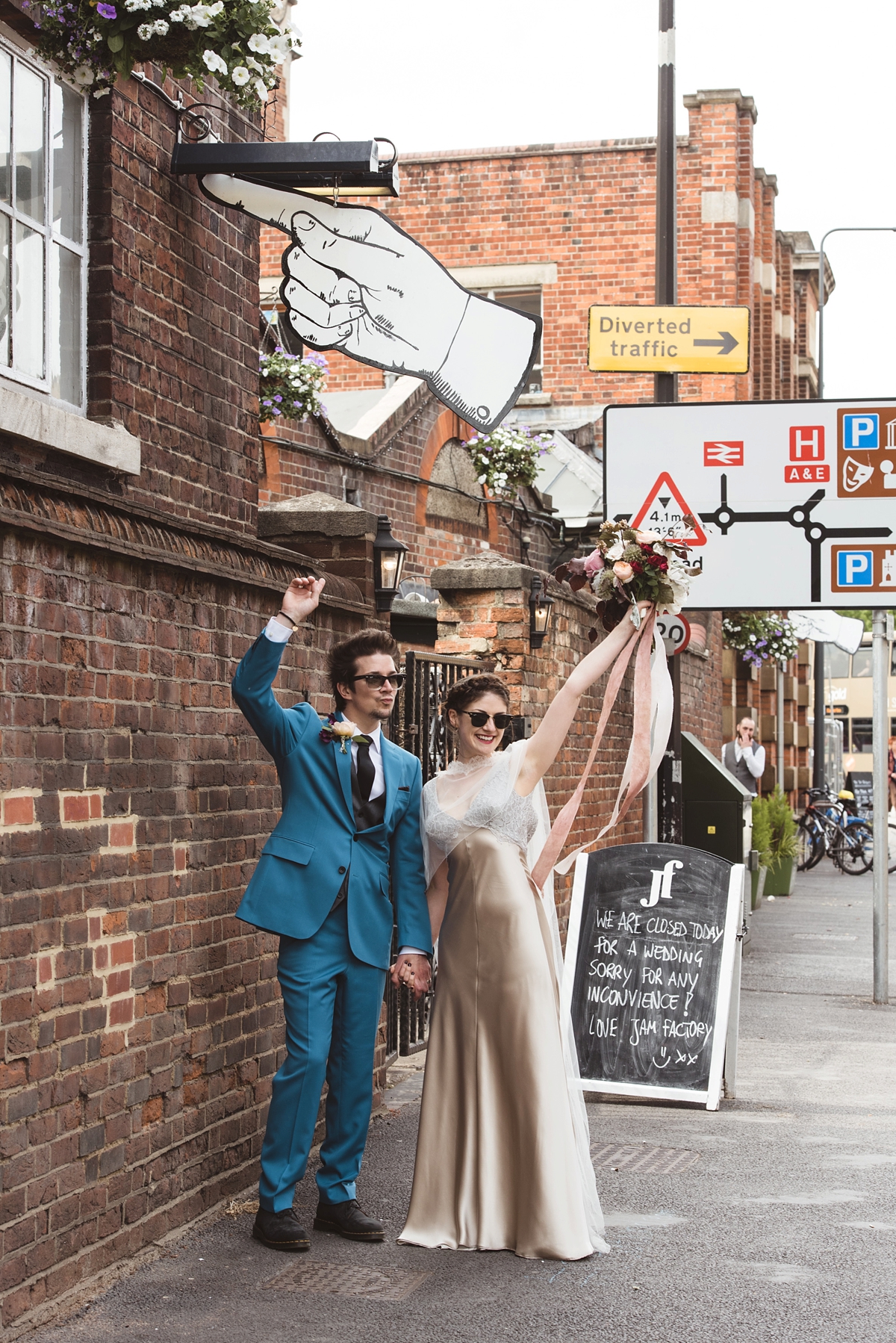 At The Jam Factory, Sofia and Dan had put a lot of thought and care into decorating its light, airy spaces.
"The decor was all pretty DIY with tapered candles stuck in bottles, branches hung from the ceiling, incense burning around the venue and framed photos of the people who couldn't be with us – plus one of the time I made my younger brother Nial marry me. He was four and I was seven, wearing my mum's wedding dress. "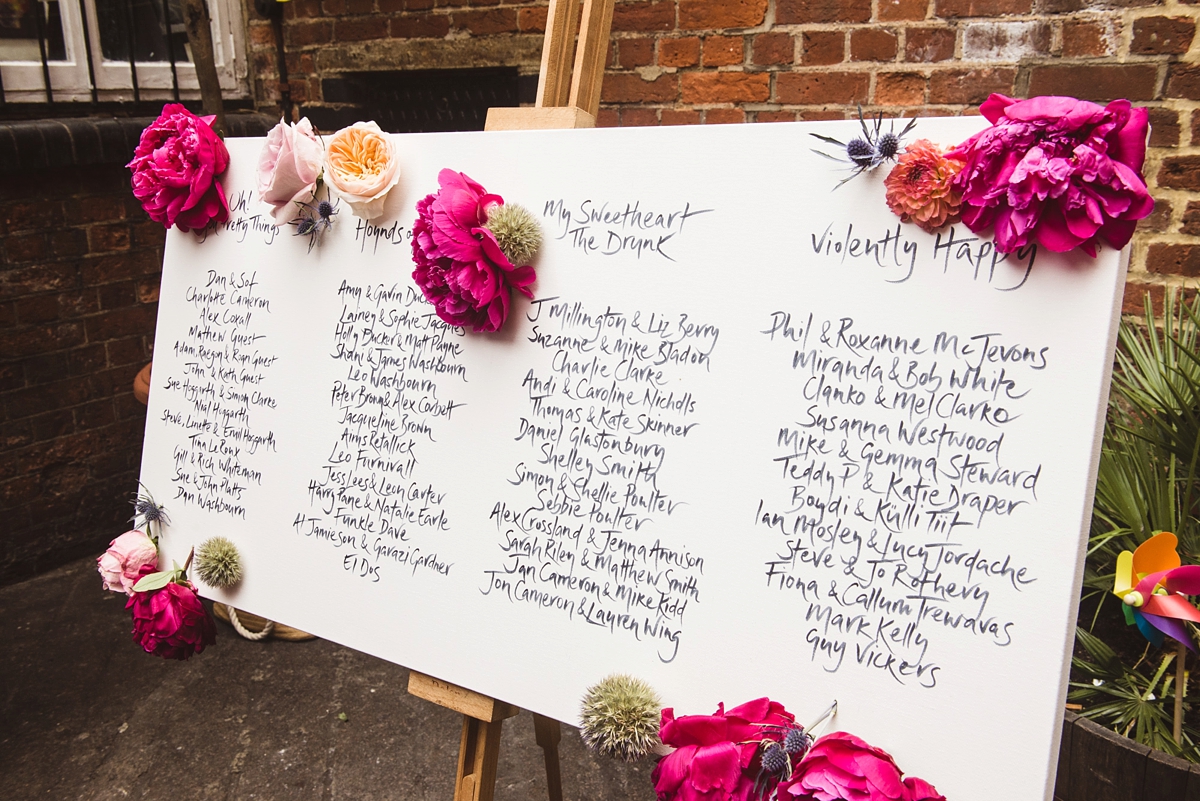 "We put an Instax Mini Polaroid camera and some rolls of Washi tape with our guestbook too, which was hilarious to look through the next day. The most successful (and most time-consuming) thing we did was put an Oxford postcard on everyone's place with three daft 'challenges' to complete throughout the evening for each person (e.g. dance like a T-Rex to 'Africa' by Toto, squeeze Dan's bum etc.)."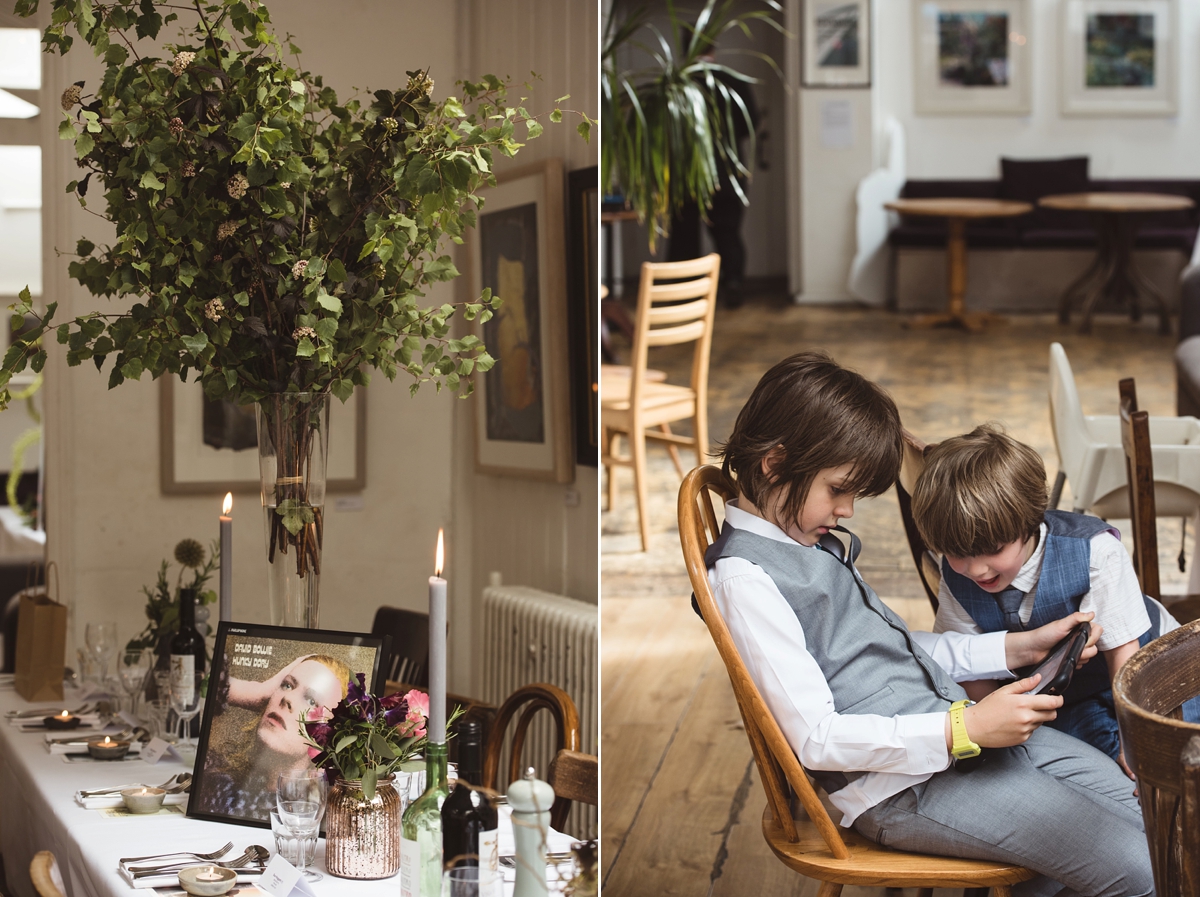 "They all included locating a specific person we knew they hadn't met before but had a bit in common with, and an ice-breaker question to ask them. We were so worried it wouldn't work but it got everyone up out of their seats making new friends. It was brilliant!"
"Our good friend Charlie is a potter and she made everyone a beautiful little ceramic tea light holder in grey and copper colours, which we put on each place setting to decorate the table – they looked beautiful!"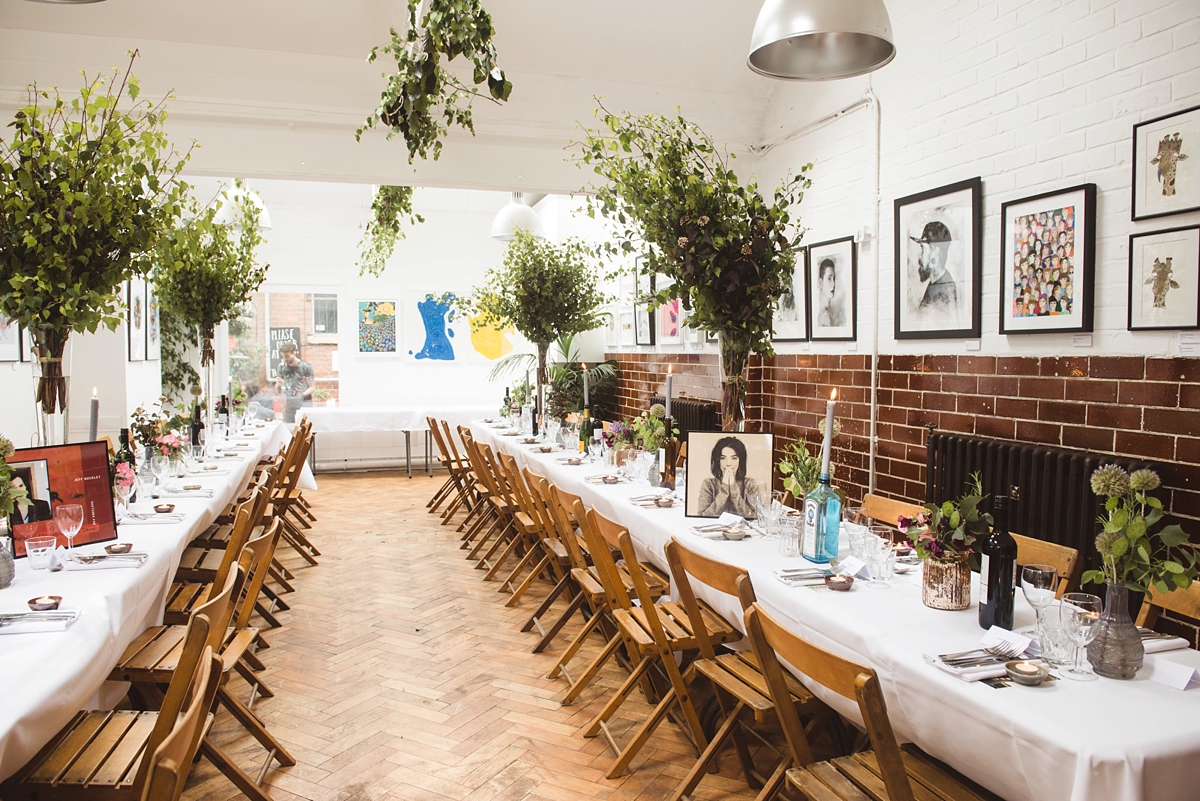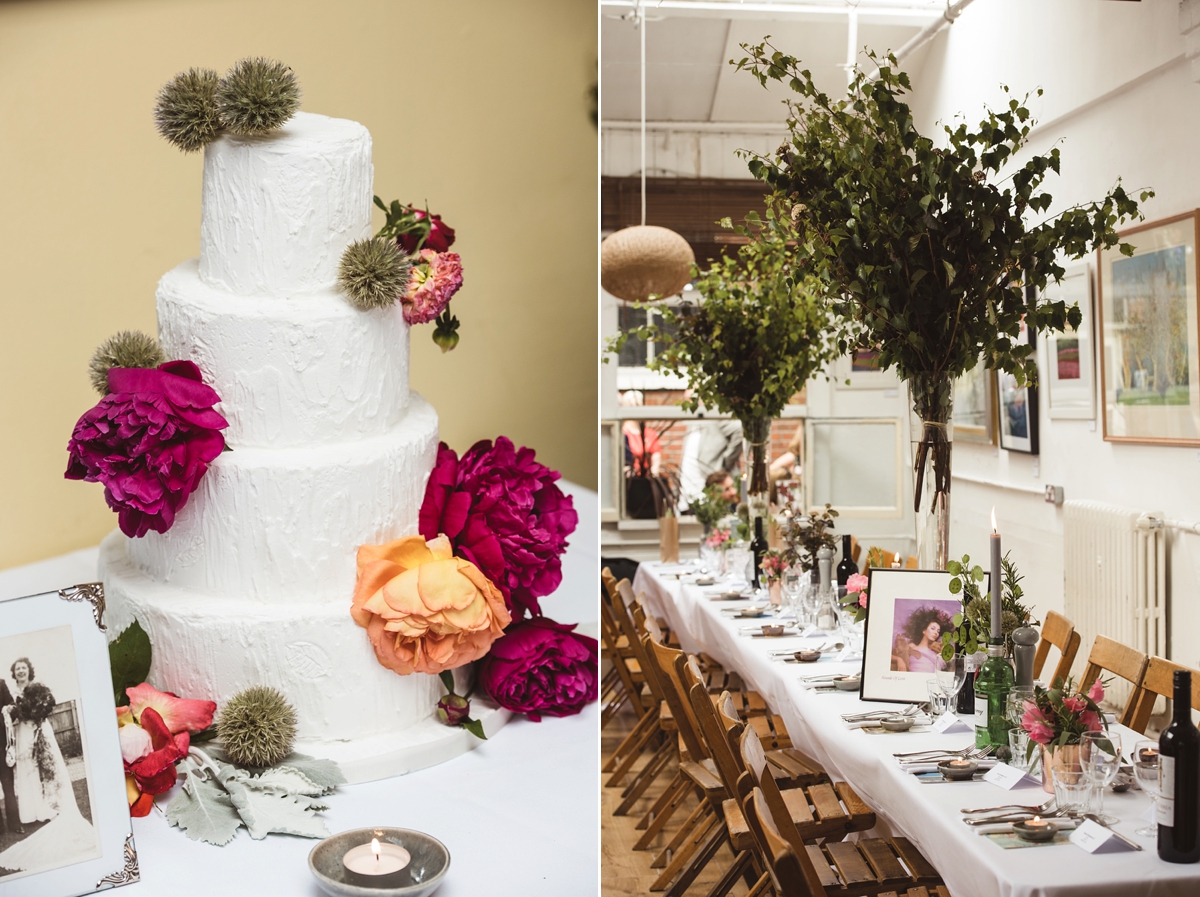 The pure white, four-tier-high cake was made by the groom's mum with four tiers of chocolate, carrot, lemon and fruit. Delicious.
"The main thing we'd have done differently was to make sure Dan's mum was present for the cutting of the cake. Somehow she wasn't there for it and we didn't realise until afterwards. We were gutted that she missed it, having made it for us. We felt awful about that."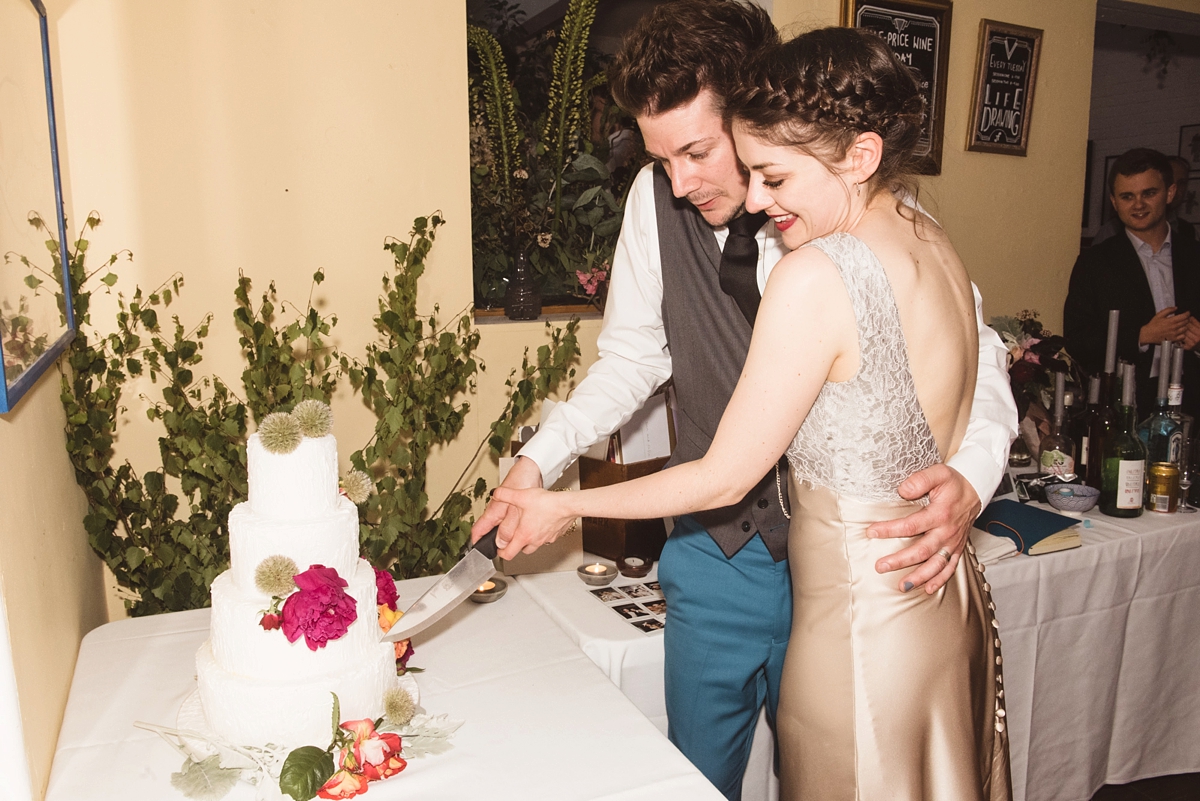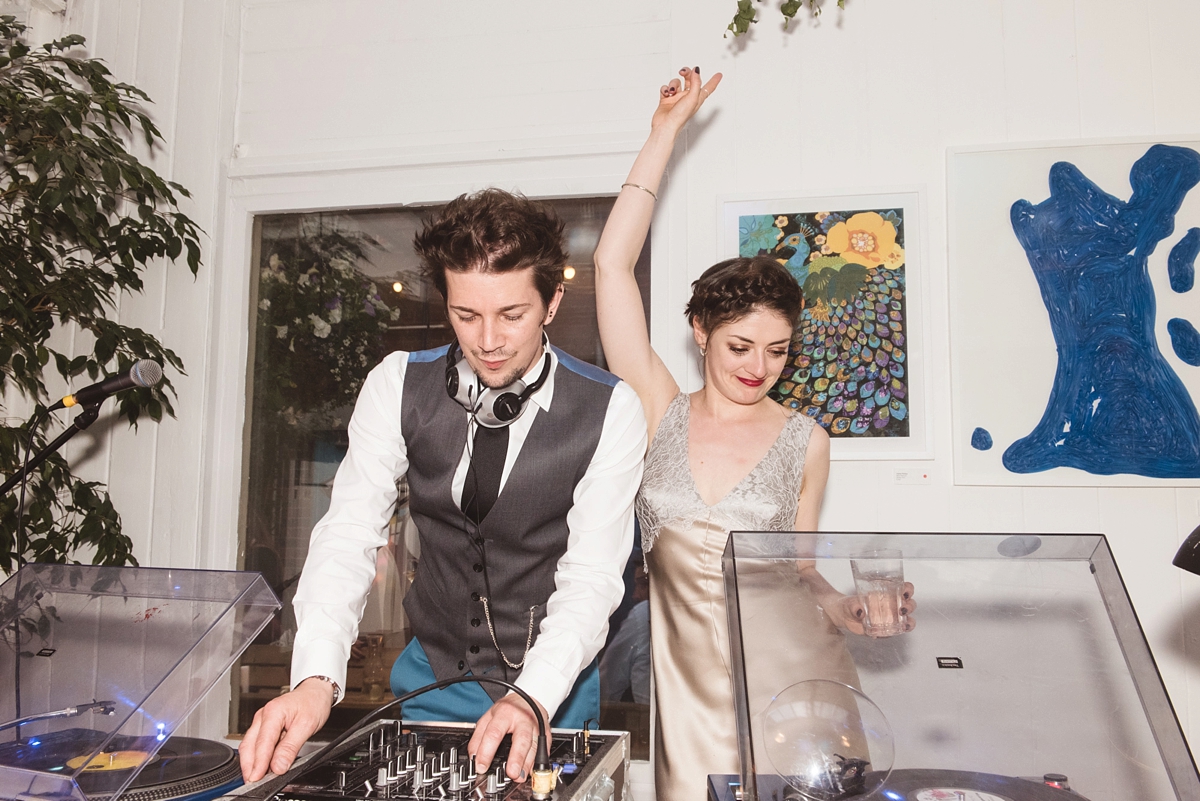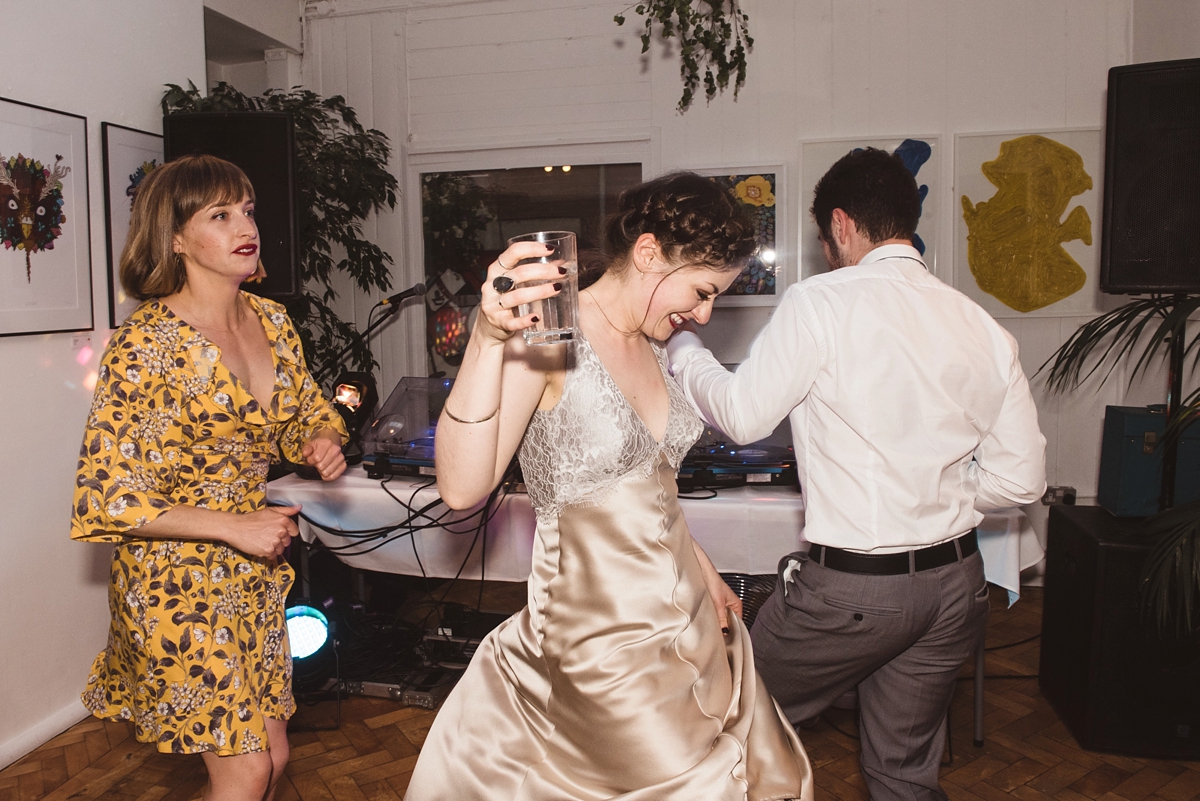 The newly-weds decided to take to the decks to DJ their own wedding party; such an epic idea.
"We didn't fancy a first dance but we did a DJ set together instead. We had strictly vinyl-only music for the whole day. For the evening's entertainment we asked a selection of friends and family to each put together a half an hour or so playlist of upbeat tracks that reminded them of us or would get people on the dance floor."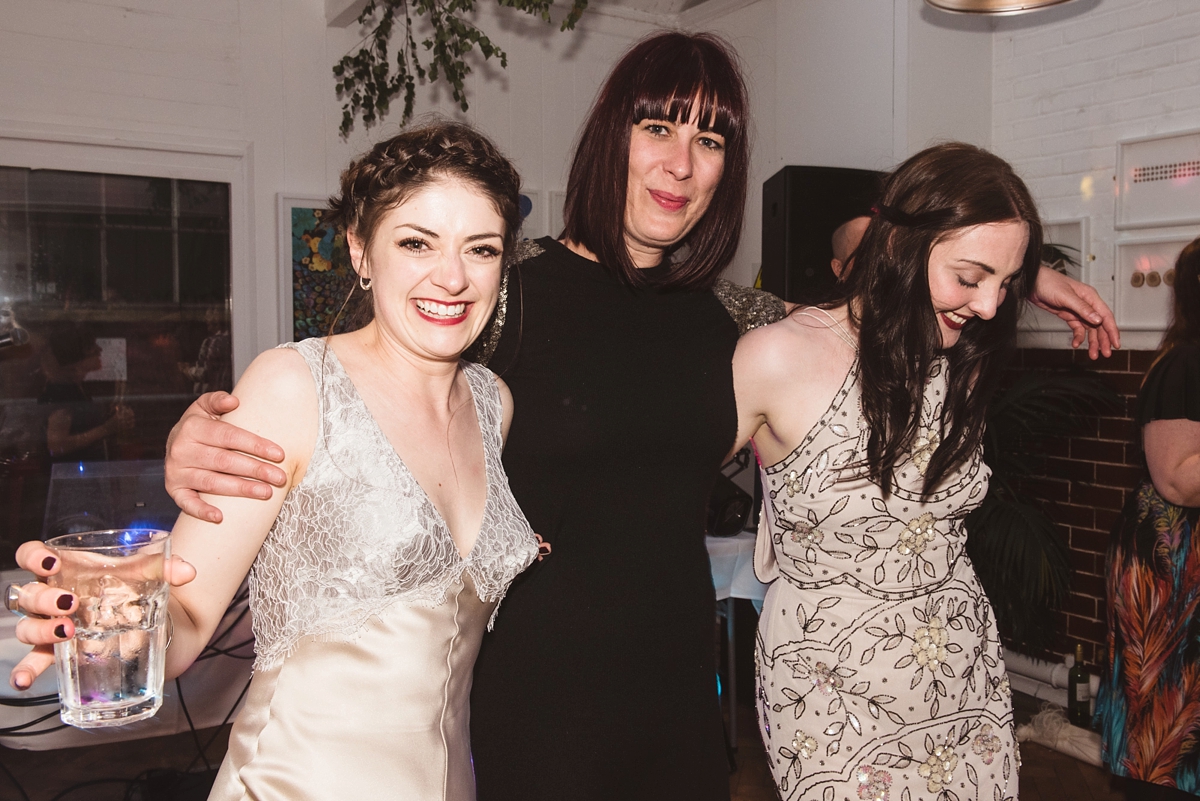 "Then we bought (and got to keep) all the vinyl required. It was a bit of work to sort out but we LOVED watching our loved ones playing songs that they'd chosen."
"We kicked things off with 'Let's Go Crazy' by Prince because it has that amazing, ceremonious intro, then followed it with some of 'our' songs by Interpol, Peter Gabriel, Nirvana and Bombay Bicycle Club to name a few."
Words of Wedded Wisdom
"DELEGATE! Please, delegate some stuff. My one regret is trying to do too much and spending the day before running around, a complete anxious wreck. It's so hard if you're creative and you have all these amazing ideas for decor, seating plans and flowers to ask someone else to do it for you because you have a vision of how you want it to be. I wish I had let some of that go so that I could relax more the day before and enjoy the run up with the girls and my mum. Lovely Char ended up doing my nails in front of 'Bridesmaids' with a G&T before bed, because I'd forgotten to book manicures."
"Try not to sweat the small stuff and keep it fun and personal to you. The people who know and love you will love that, and if everyone is having a great time you will too because the atmosphere will be lovely. Decide on a 'vision' of what your priorities are for the day and try to focus on them, because things can definitely snowball as you go along!"
"Most of all – ENJOY IT! It's all over before you know it."
Do you love Sofia's slinky gown? Over the years we've had so much joy from Kate Beaumont's designs which you can find out more about in our interview with the designer here. It just remains for me to say thank you so much, Sofia and Dan, for sharing your day with us and thank you to you too, ByGarazi, for your beautiful work.
Wishing you all a lovely weekend!
Ele xx