There are two reasons why this wedding completely and utterly grabbed my attention at first glance. Firstly, the breathtaking simplicity and elegance of the bride's silk separates and secondly, the fact that the couple tried to use as many independent suppliers as possible who are local to their Cardiff home.
Please come with me to Wales for today's beautiful summer wedding. Mr and Mrs Bayley married on 4 August 2018 at the bride's family church of St Mary's of the Angels in Cardiff with a reception afterwards at Victorian country house Miskin Manor, Miskin. The couple's day was influenced by their shared love of history – the 1920s period in particular – and the historic house was a wonderful backdrop for a day which was loosely influenced by 'The Great Gatsby'. Watch out for the beautiful mix and match vintage crockery and 20s headpiece glamour. 
Photography + Film When Charlie Met Hannah
https://vimeo.com/287886152
Supporting local Welsh businesses was also important to the pair, so as many local, independent suppliers as possible were recruited to create this gorgeous summer celebration.
It was pretty much love at first sight for the bride and groom, who met at university and became engaged just six months after their first date. Mrs Bayley now works for Cardiff University whilst the groom is a secondary school teacher.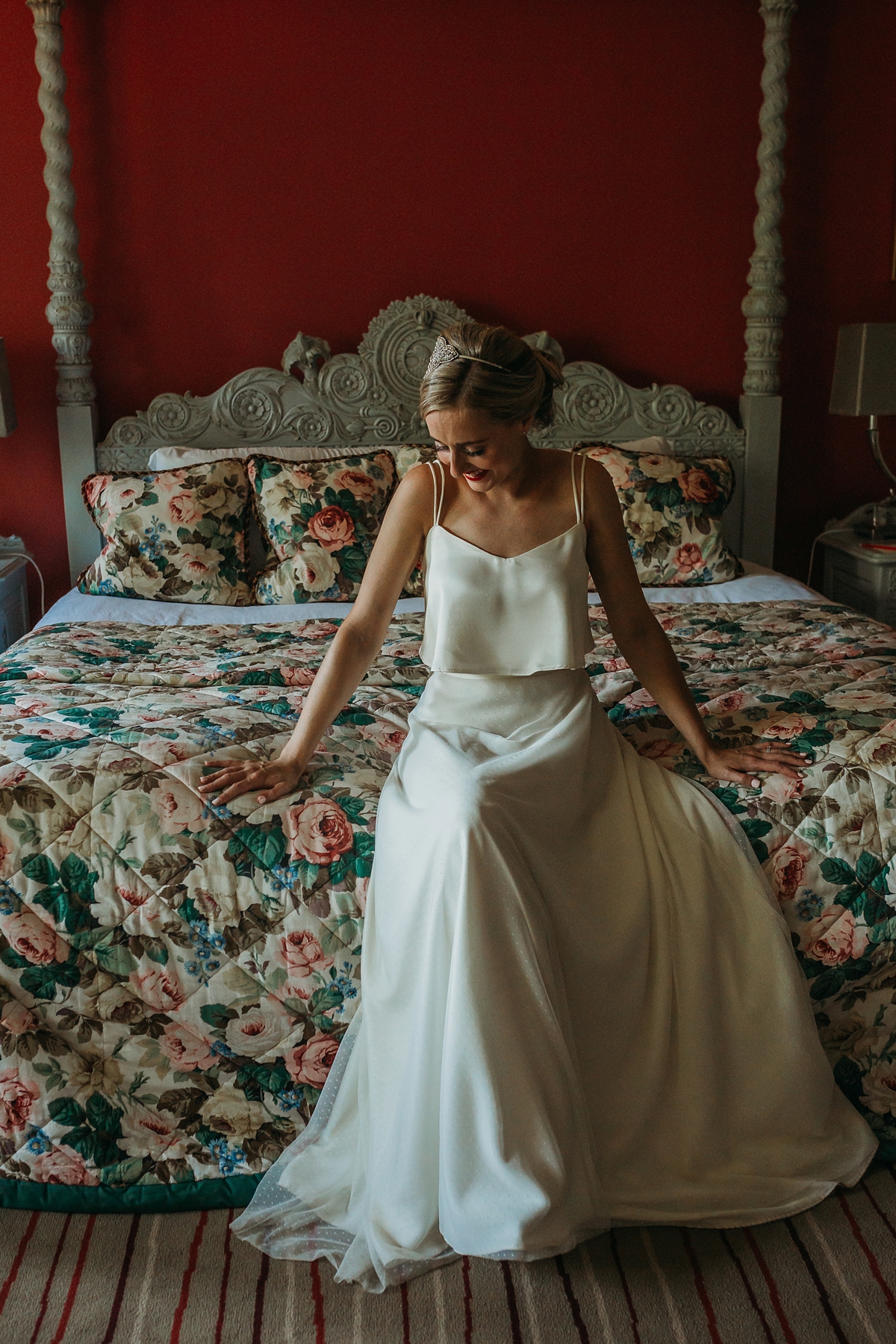 "One thing I really wanted to do for my wedding was to support local Welsh businesses. Where possible I sourced Welsh brands for my wedding and besides a few items, the majority of items were from Welsh or independent companies. This is something I support through my own blog and so I wanted to make it a big part of my wedding."
It's time to talk about one of my very favourite aspects of this wedding – the bride's divine bridal separates. I'm blown away by the elegance and gracefulness of the skirt and the demure crop top which she swapped for a fun, flirty vest for the evening party. They look super-cool to wear on the hot August day, too. The separates were designed by local Welsh designer E&W Couture and were picked out for Mrs Bayley by Rachel who owns Rachel Burgess Bridal Boutique.
"I really fancied a 1950s Audrey Hepburn dress but when Rachel picked out the wonderful Frankie two-piece I fell in love. I wore the Frankie two-piece for the day and for the evening I changed into the Cleo top. It flattered my figure and it really fitted my shape. I was a bit conscious of my figure after having a baby but this dress really suited my shape."
"I don't like glitz, bling or overstated clothes so this dress was so simple yet it allowed me to accessorise up, which I really loved. I felt like a cross between Kate Moss and Daisy Buchanan."
The bride's blonde locks were swept up into a chic low bun whilst her make-up helped her to look so radiant. Mrs Bayley has some wonderful words to share about her talented hair and make-up artists. I love how the bride was able to glam up her look for the evening with a slick of red lipstick.
"My hair was styled by my beautiful hairdresser Sophie Jones from Hendersøn & Co. She created a style that suited me; she has such a talent for up-dos. Sophie has been prepping my hair ready for the wedding for the last two years. She has taken me from brunette to blonde slowly to not damage my hair. I was an awful bride and didn't really have a clear idea of how I wanted my hair. All I had were Blair from 'Gossip Girl' screenshots. What Sophie created was completely unique."
"Even on my wedding day when I was a sack of nerves, just hearing Sophie rock up with her 'hello' made me feel so relaxed. She didn't even have a picture; she just created the hair from her mind and my goodness, did it look good. I will say that to achieve the perfect bridal hair you need to prepare well in advance – especially if you dye your hair. I worked on my colour for two years and made sure I used good quality shampoo and conditioner and resisted heat for six months before."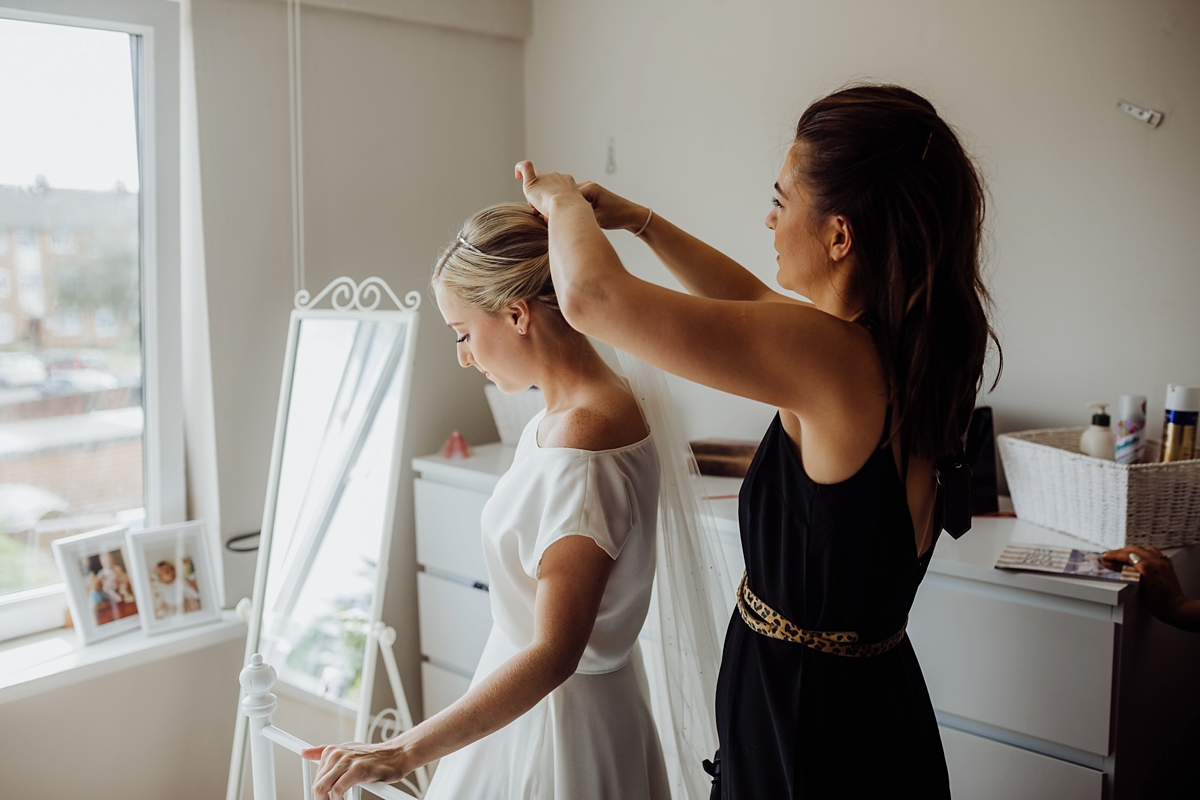 Mrs Bayley wore Chanel No 5 on her wedding day, a gift from her maid of honour.
"She bought it for me as a present because every girl needs to wear Chanel on her wedding day."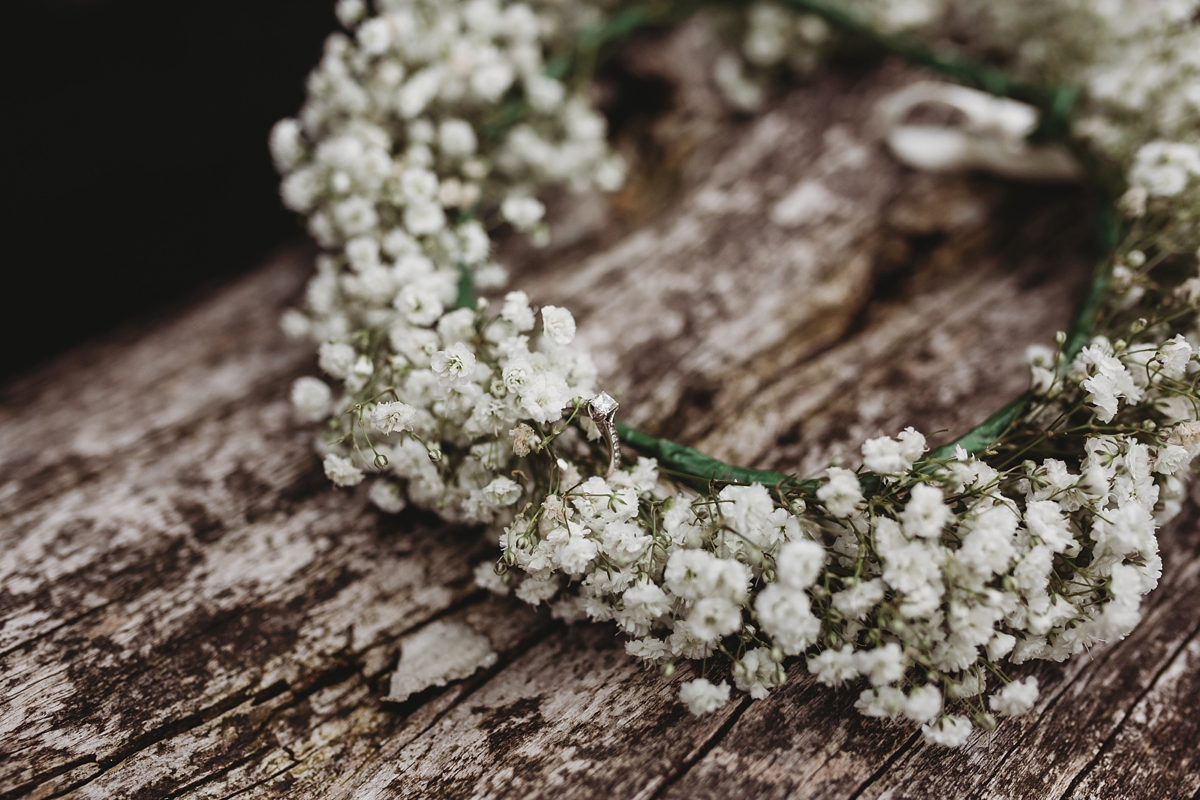 As the bride says, having a simple gown allowed her to accessorise exactly as she wished. For a 1920s vibe she added a gorgeous silver headband from Claire Hill and a bespoke floor-length veil from Rachel Burgess Bridal Boutique. The silver glamour of the headband was mirrored in her embellished belt and glitzy Kurt Geiger heels.
"I worked for Kurt Geiger for over seven years so the brand holds a lot of good memories for me."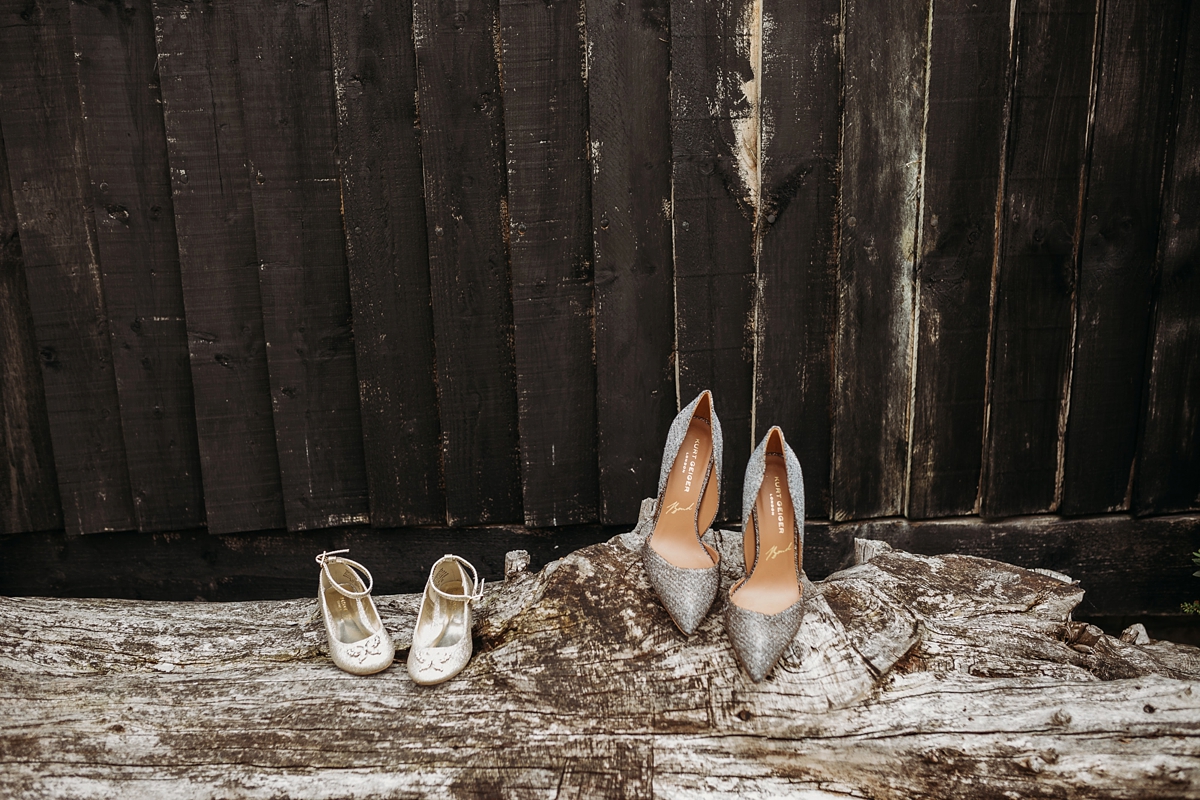 The couple's daughter Nancy is so incredibly sweet in these photos of her and her mother before the ceremony. For the day she and the other flower girl wore pure white bridesmaid dresses from Marks & Spencer . Nancy also had a pretty floral crown of gypsophila and greenery, finished off with a cute floral wand.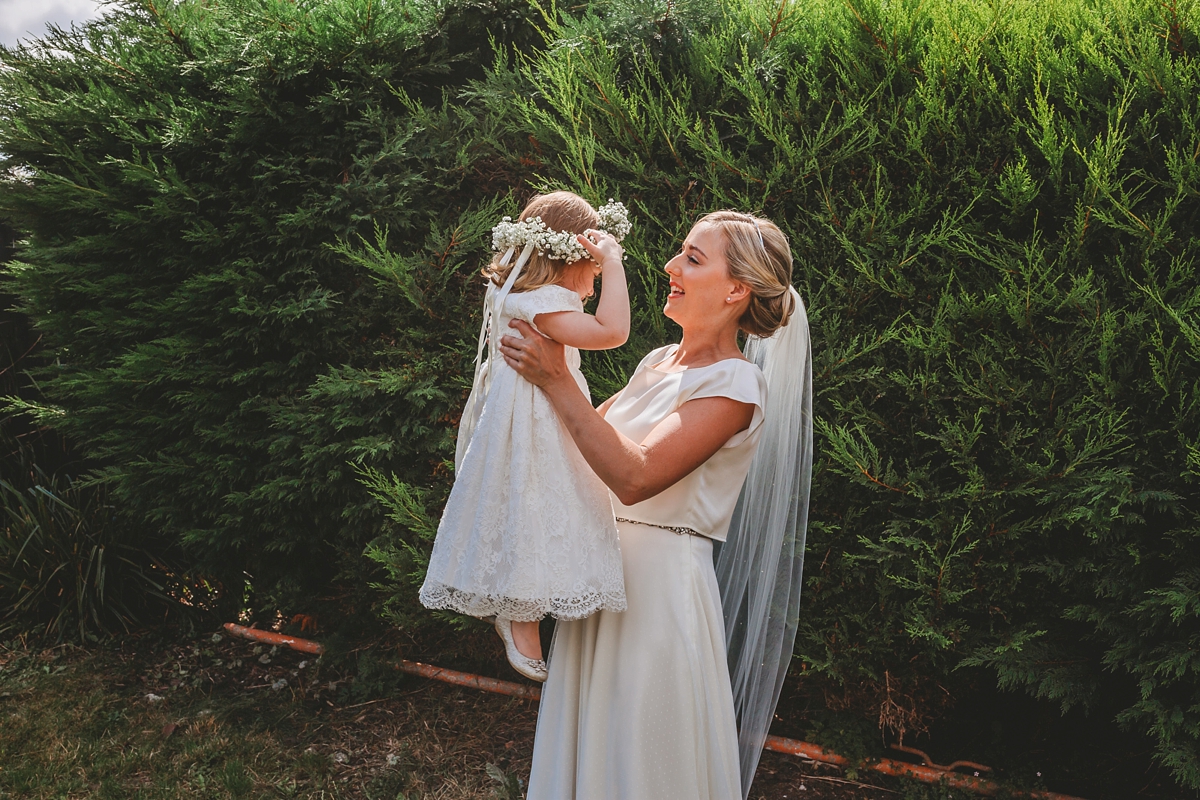 The maid of honour and grown-up bridesmaid both wore long, sophisticated gowns from Rewritten. This brand is epic at creating elegant and timeless pieces with a modern twist – just look at the fun racer-back and flowy sleeves of these gowns. We're so proud to support them on our Little Book and you can see more of their contemporary and flattering designs here.
The bride gifted the bridesmaid and flower girl Thomas Sabo friendship bracelets on the morning which they wore for the rest of the celebrations.
"The Florence in concrete was worn by the maid of honour and the bridesmaid wore the Vienna in concrete. The maid of honour wore vintage shoes and bridesmaid Caitlin wore Kurt Geiger.
The flowers were a true era-inspired celebration of hand-tied bouquets – full of roses and statice in mute tones of whites, pinks and purples. They were put together by Rachael at Sweet Peony in Penarth.
"The shop was recommended by Rachel from Rachel Burgess Bridal Boutique and I fell in love with the work florist Rachael had done. Rachael was able to capture my ideas and even had some fabulous ideas for our daughter Nancy who had a flower crown and a wonderful wand to match. I may have had to bribe Nancy with prospect of McDonalds in the wedding car to wear it and it may have only made it down the aisle but it was beautiful."
"We were both studying to become history teachers and shared a love of similar aspects of history including the Chartist and Suffragette movements. We started dating in December 2013 and were engaged by June 2014. We both felt like we had truly met the one and our relationship grew quickly but in a way that was natural to us both. We had been engaged for four years before we were married."
"This was because after getting engaged in June we found out we were pregnant in October so decided to hold off the wedding until our daughter Nancy was three."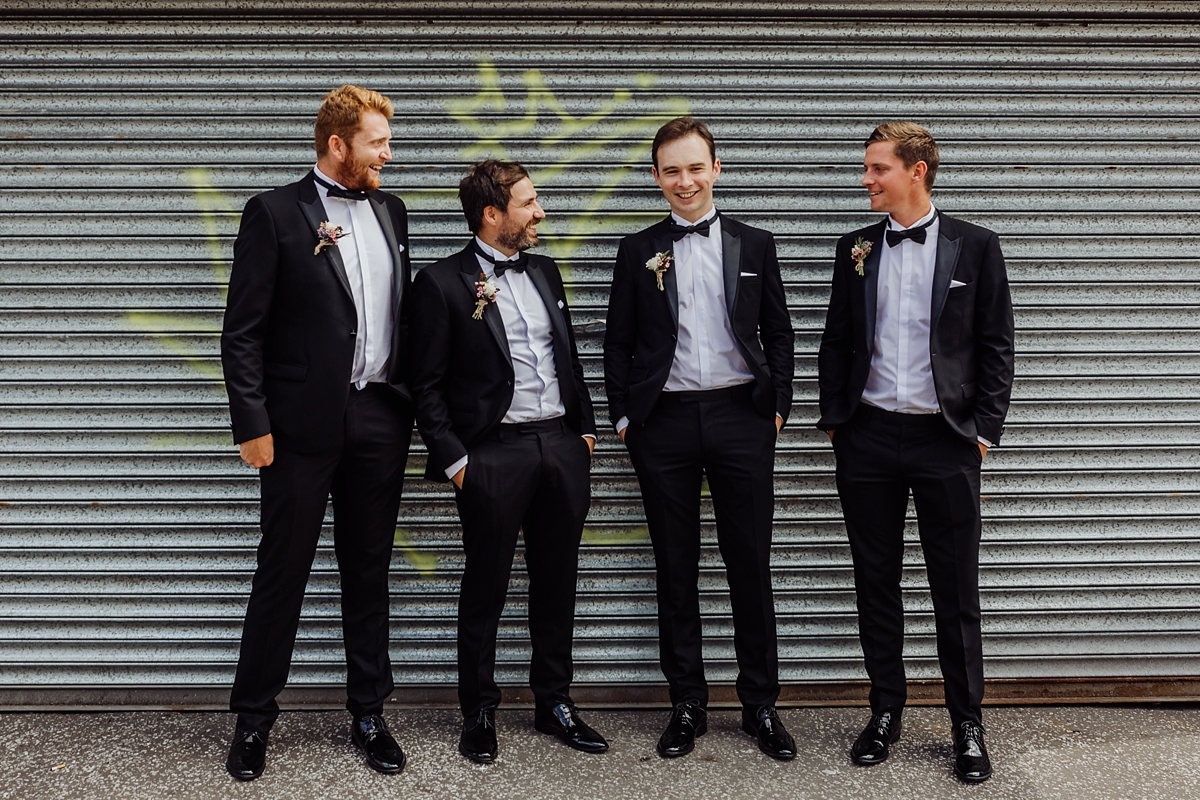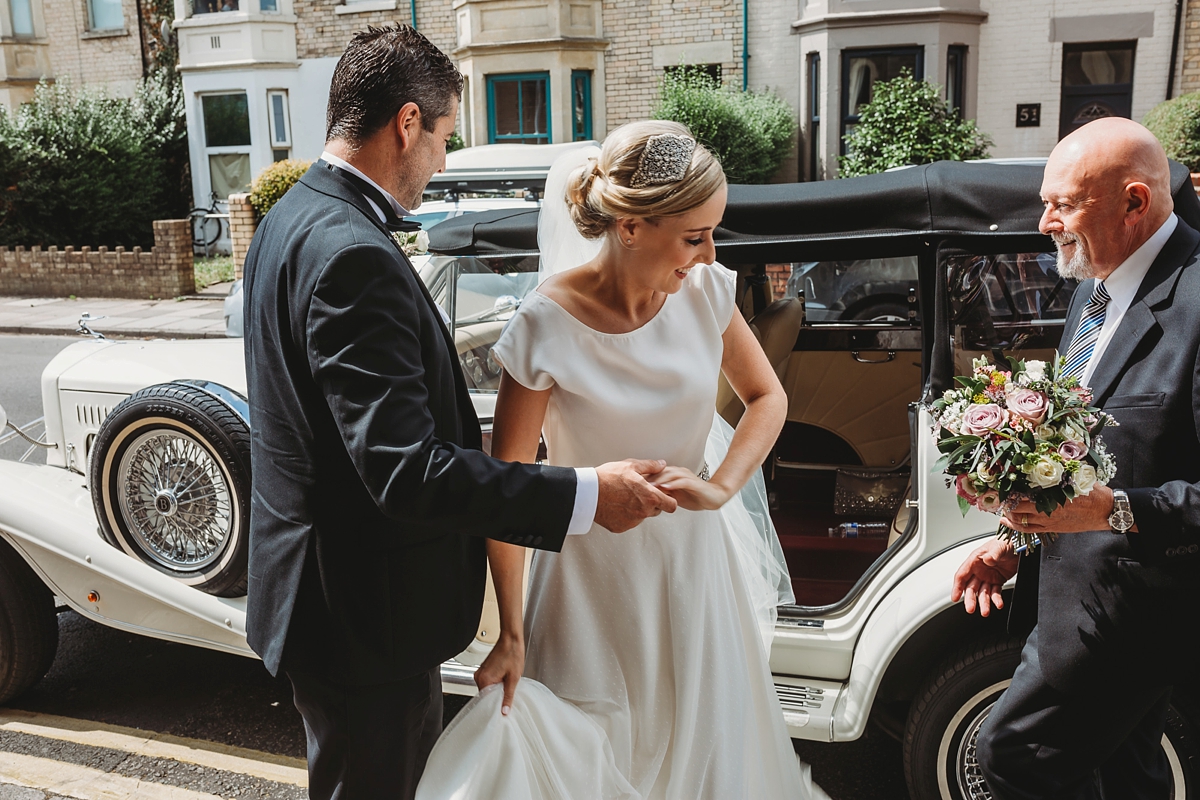 Marrying in the bride's family church – St Mary of the Angels – in a traditional Catholic service felt very right for the couple.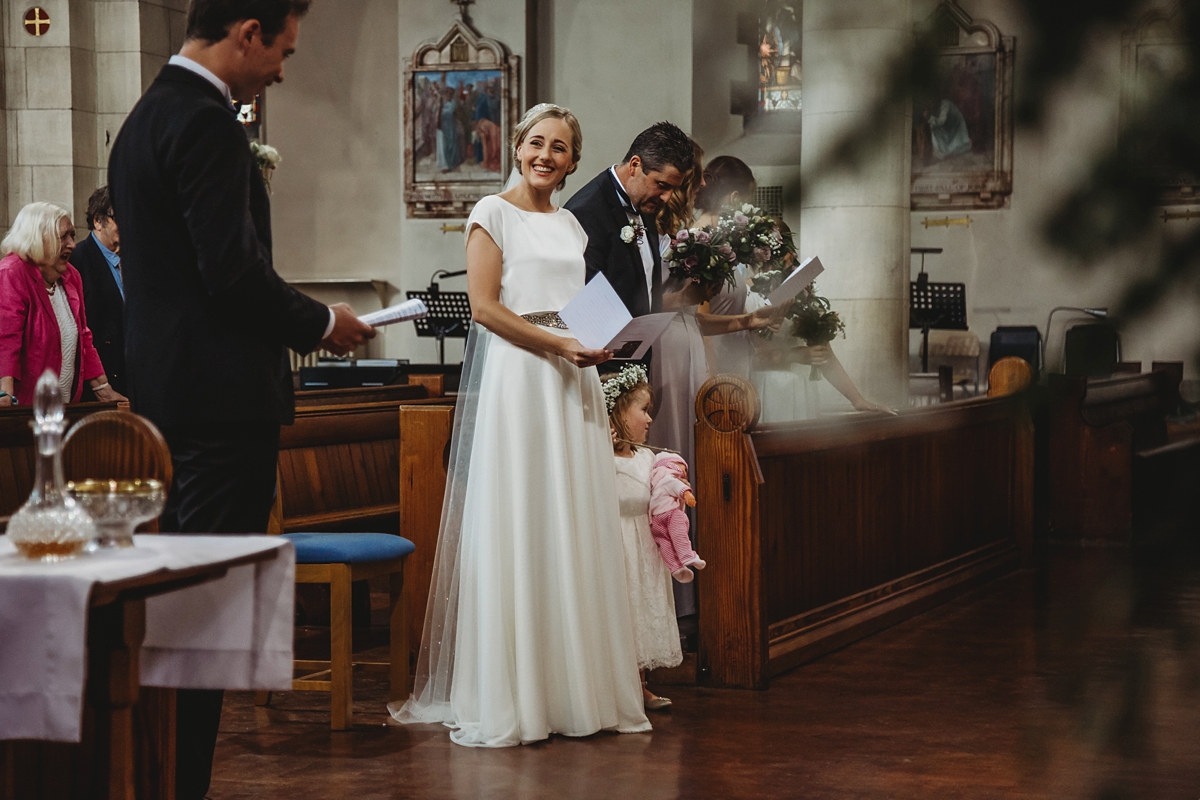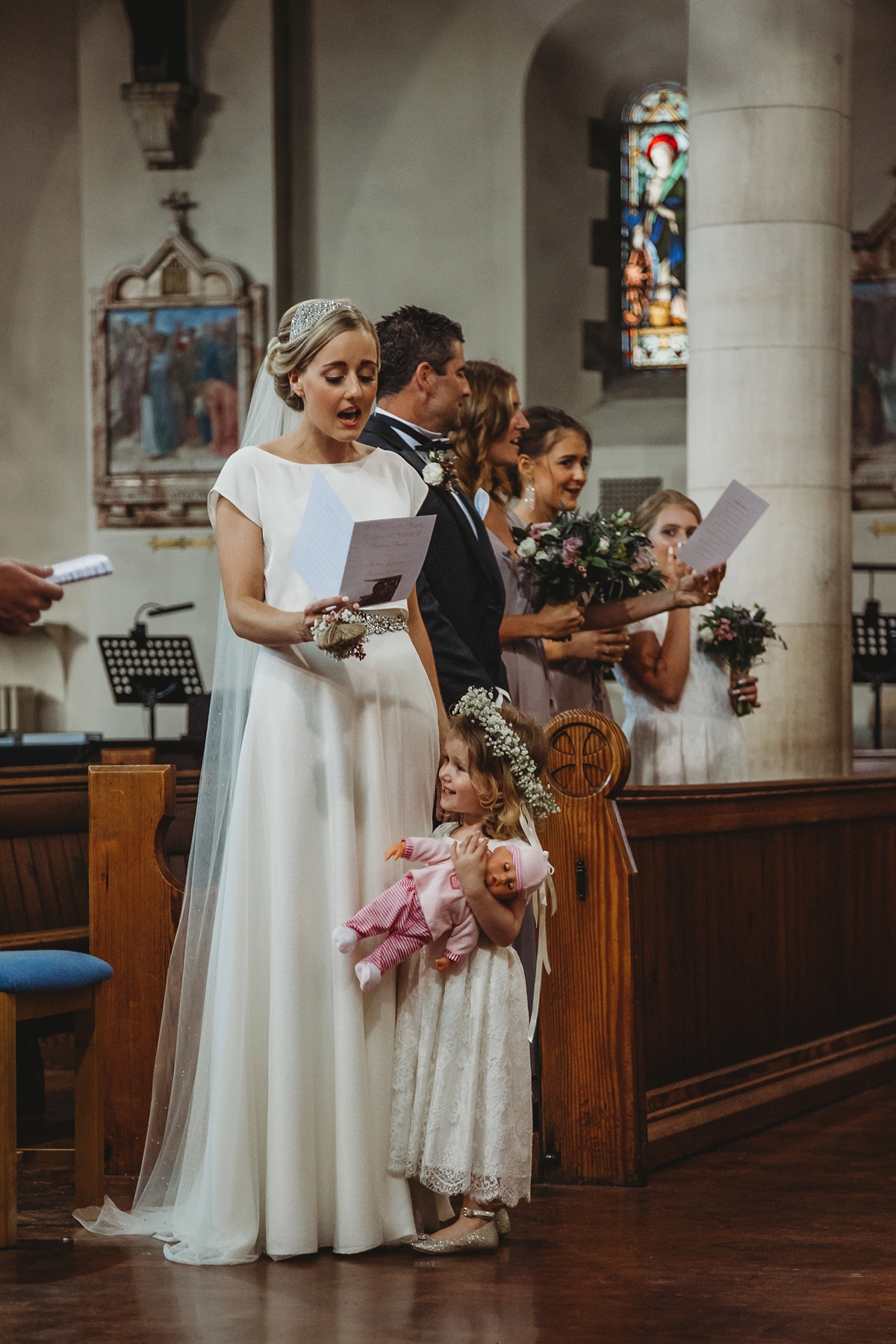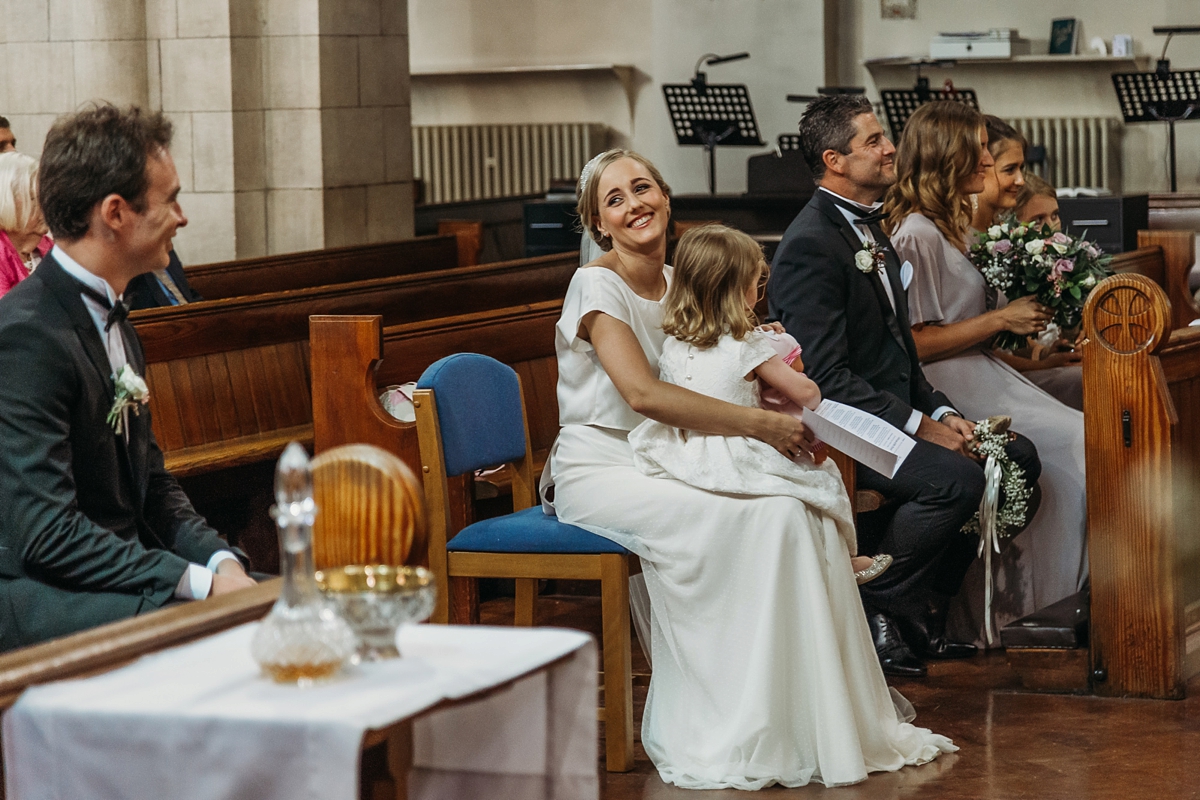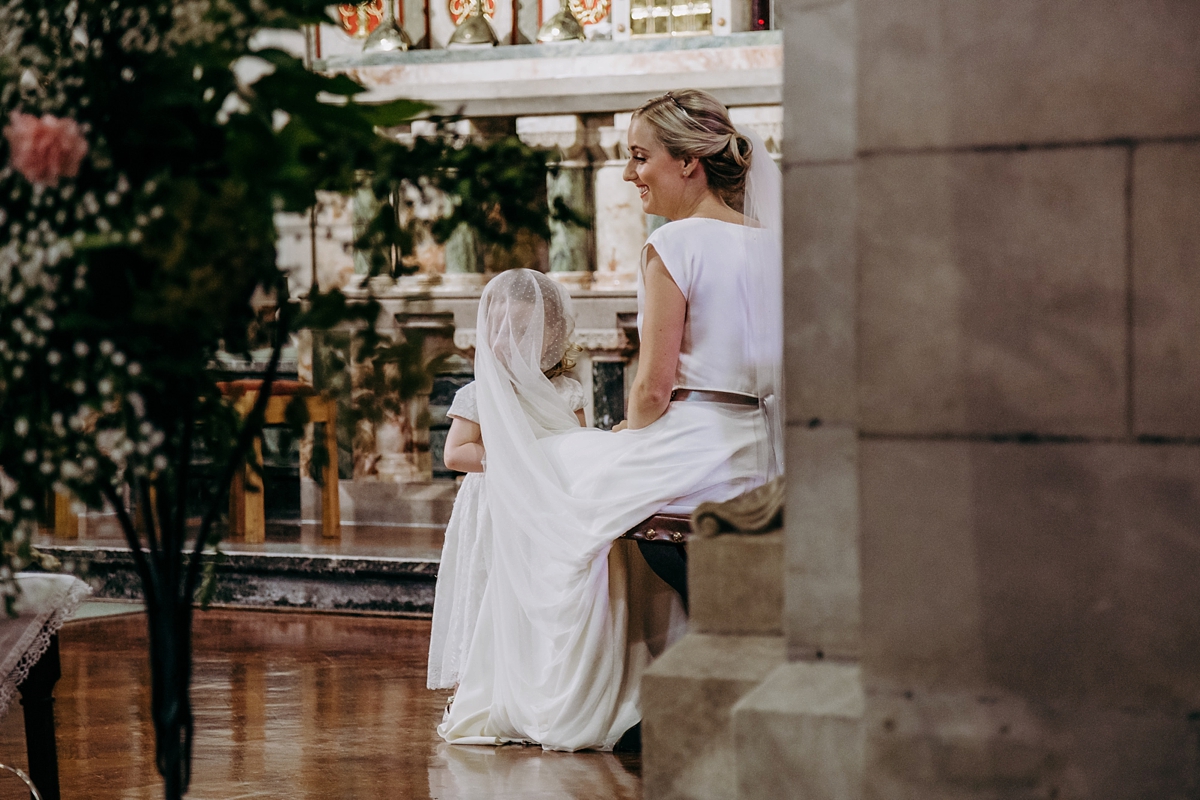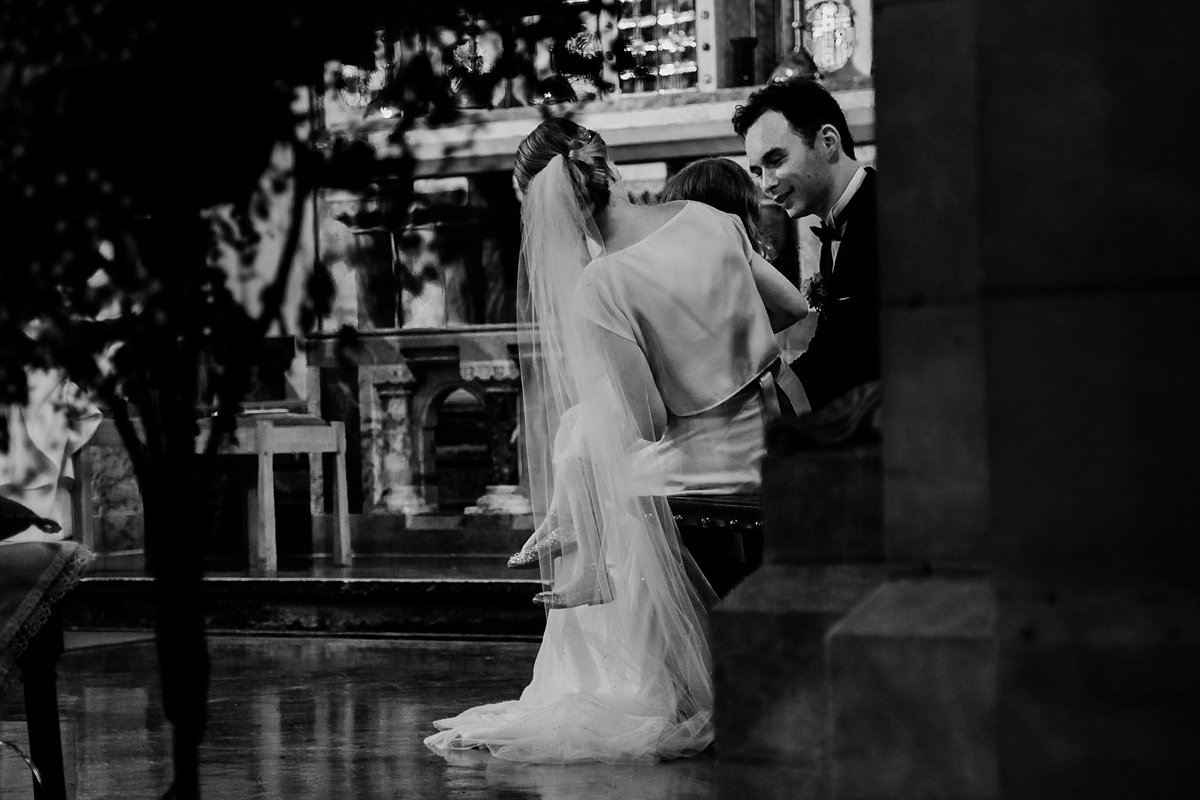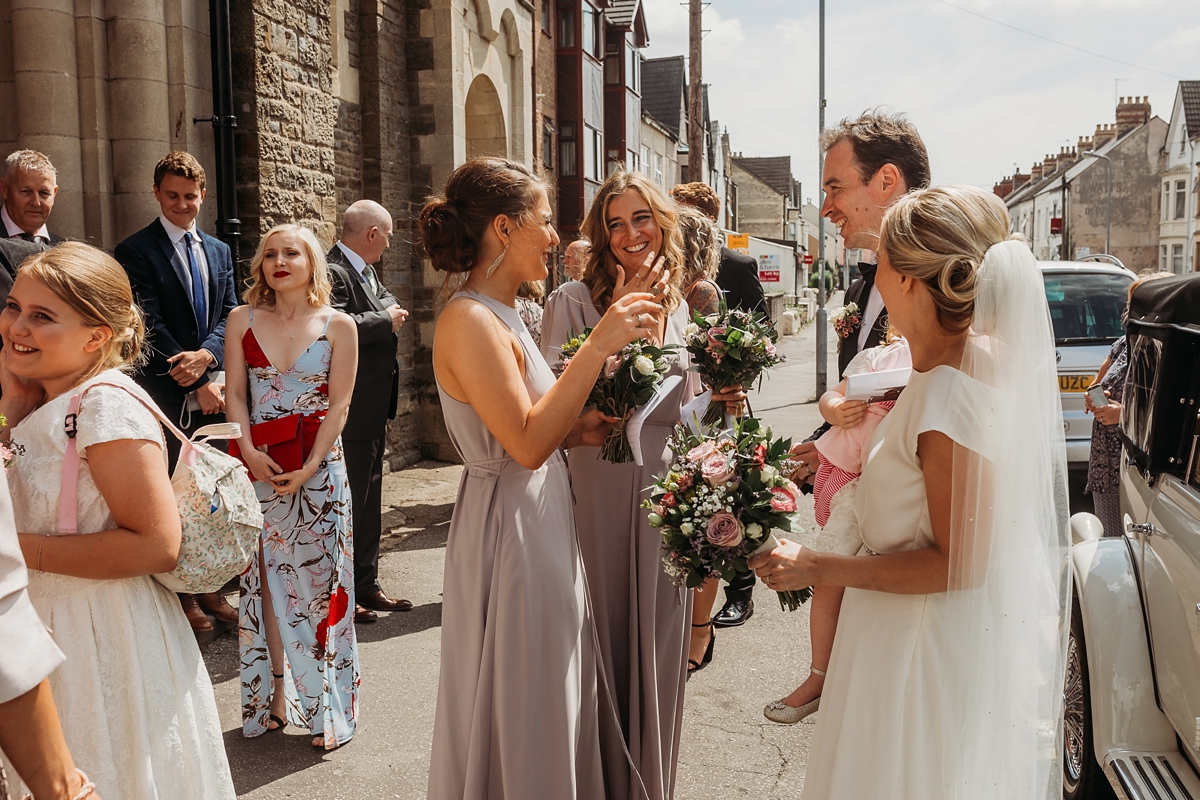 The couple were drawn to Miskin Manor for its historical connotations.
"The Manor room was called Owain Glyndwr after the last Welsh Prince. As historians we felt this was a sign that this was the perfect place to get married. It was a Victorian manor house, Tudor-style, and fitted in with our love of beautiful gardens and wonderful grand rooms – again a nod to our love of history."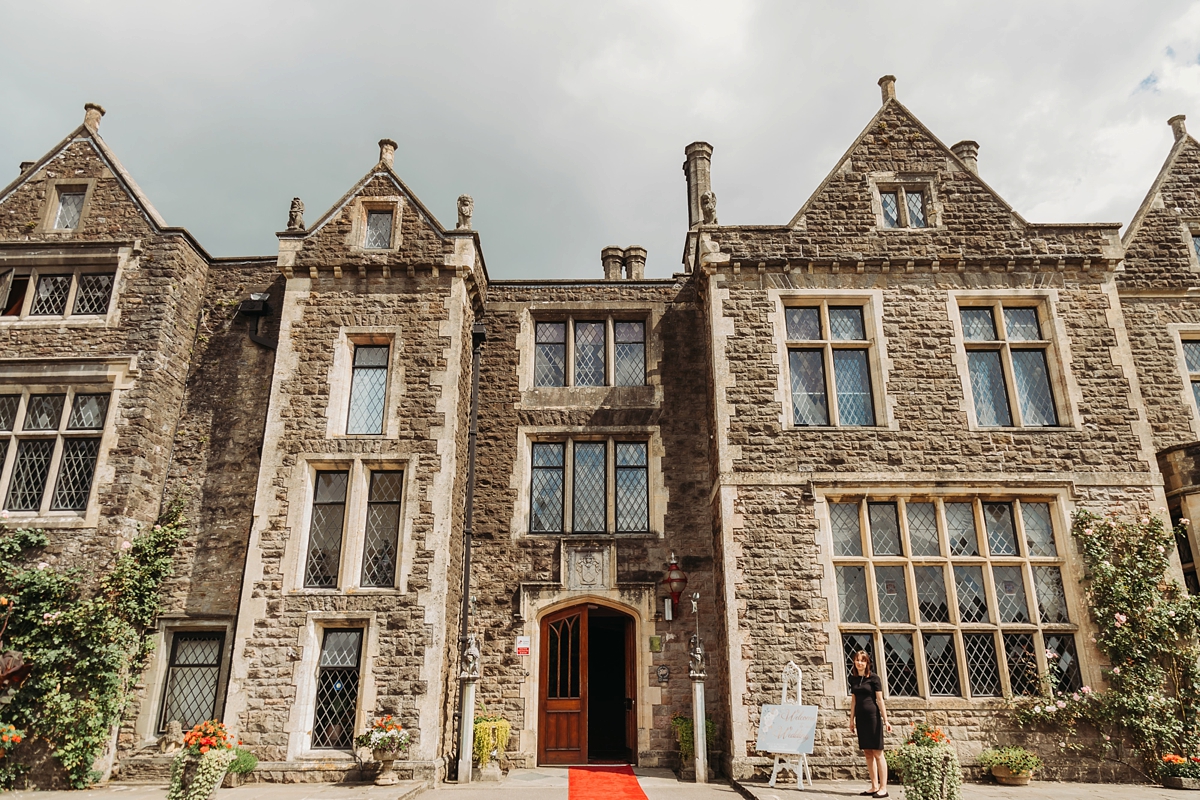 "I love the 1920s. I love the glamour, the style, the beautiful accessories and the elegance. We both also love the novel 'The Great Gatsby' and although we didn't want a theme the wedding was loosely inspired by this marvellous novel. Throughout the wedding there were nods to the 1920s including my headpiece and bridal gown. I also have a love of vintage crockery and the groom of books, so this inspired our centrepieces to reflect both of our personalities."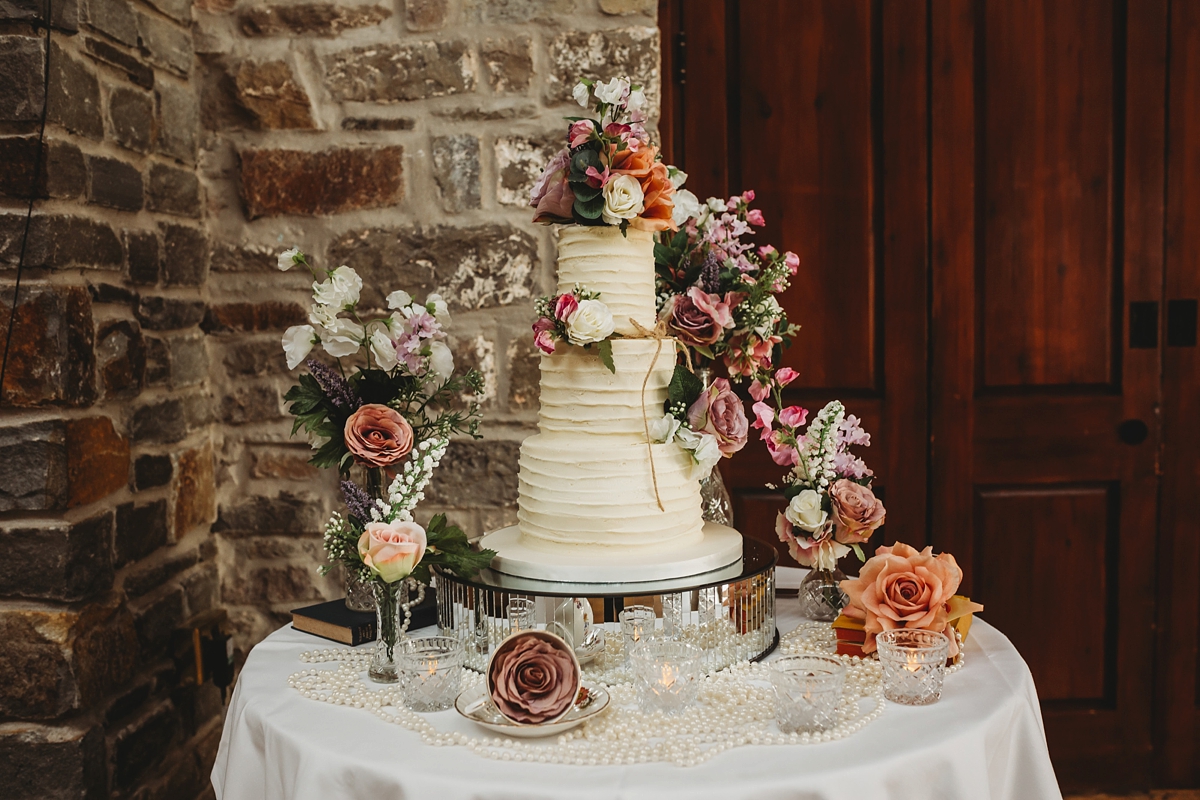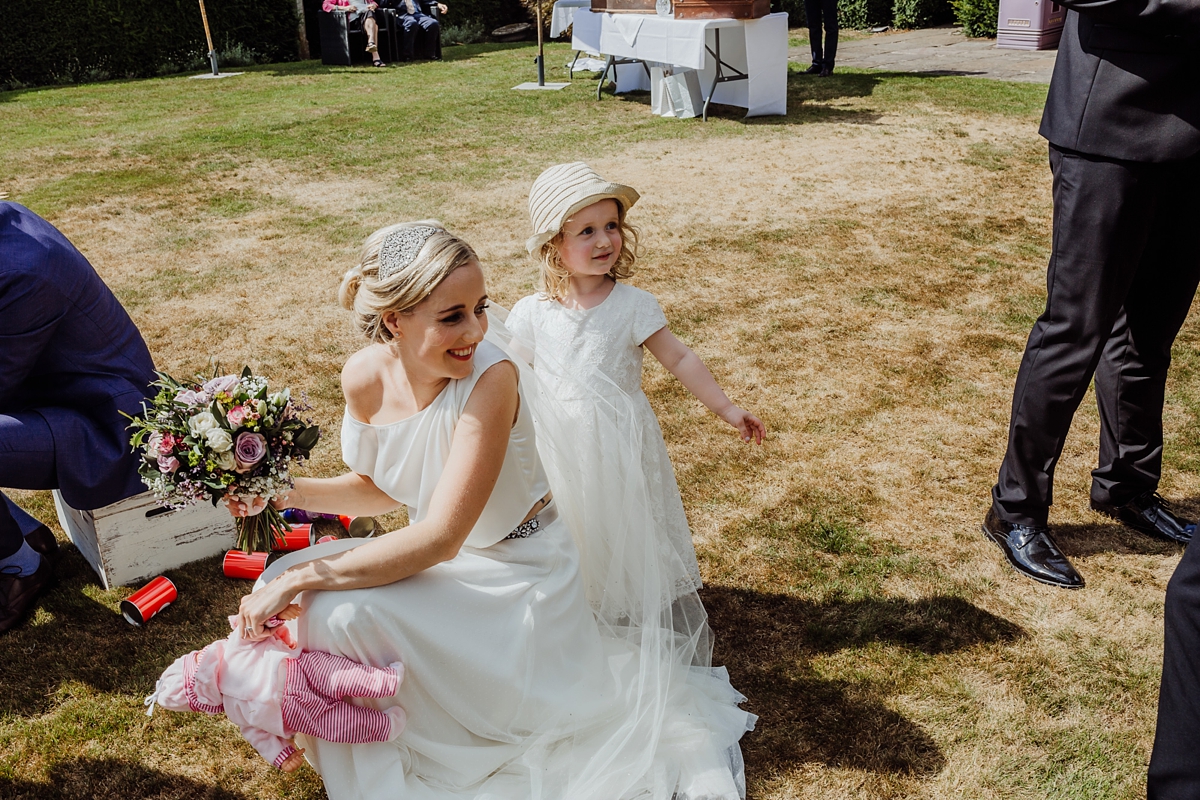 These crisp, clean, light-filled photographs are by photography duo When Charlie Met Hannah, who also created this lovely wedding film. I love the contemporary and relaxed feel of the images which are so vivid in their use of colour. Mrs Bayley really sums up how getting a photography team you bond with is so important.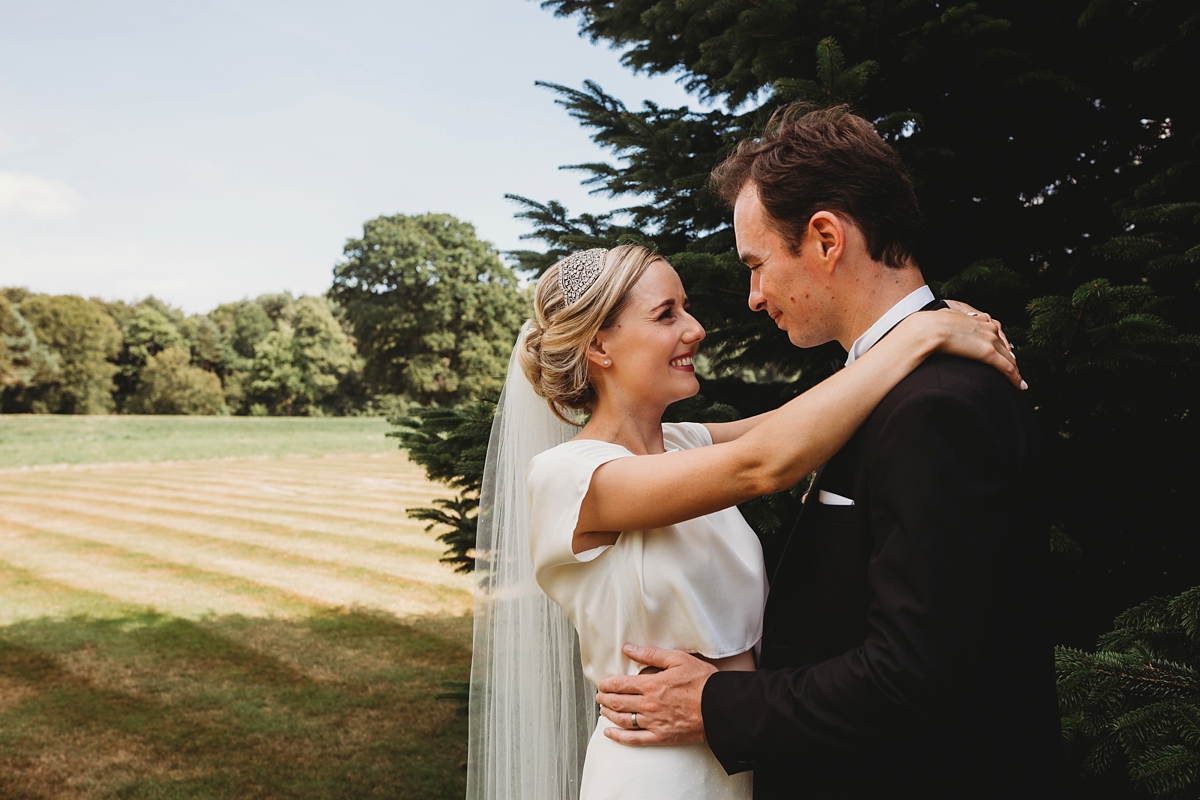 "These two are beyond fantastic. They are so personal and make every effort to make your day perfect. They even helped me dress my daughter – I forgot to put pants on her would you believe! I would recommend these two and from the photos you can see why. I would also say that if you have a family then you must book these two – as mothers themselves they know exactly how to capture your little one."
"The video they did made me cry. I can't stop watching it. It captures our personalities so truly and I will treasure that forever."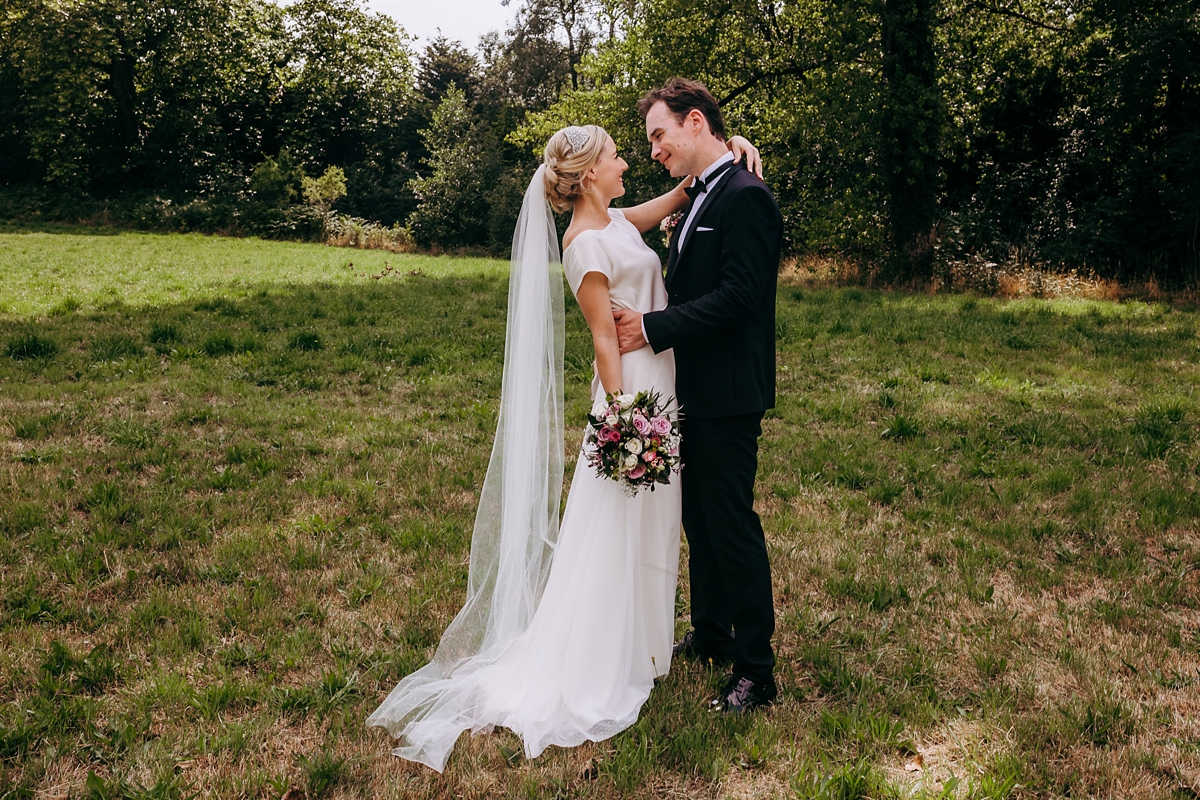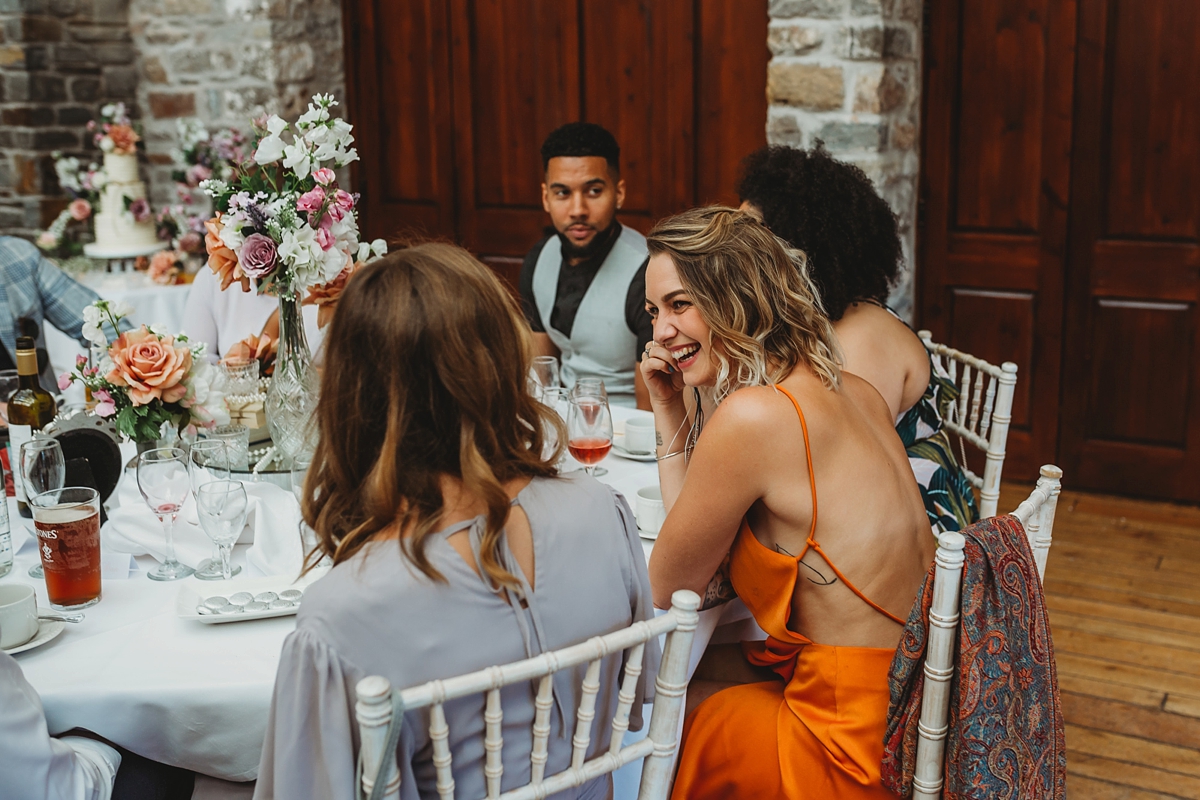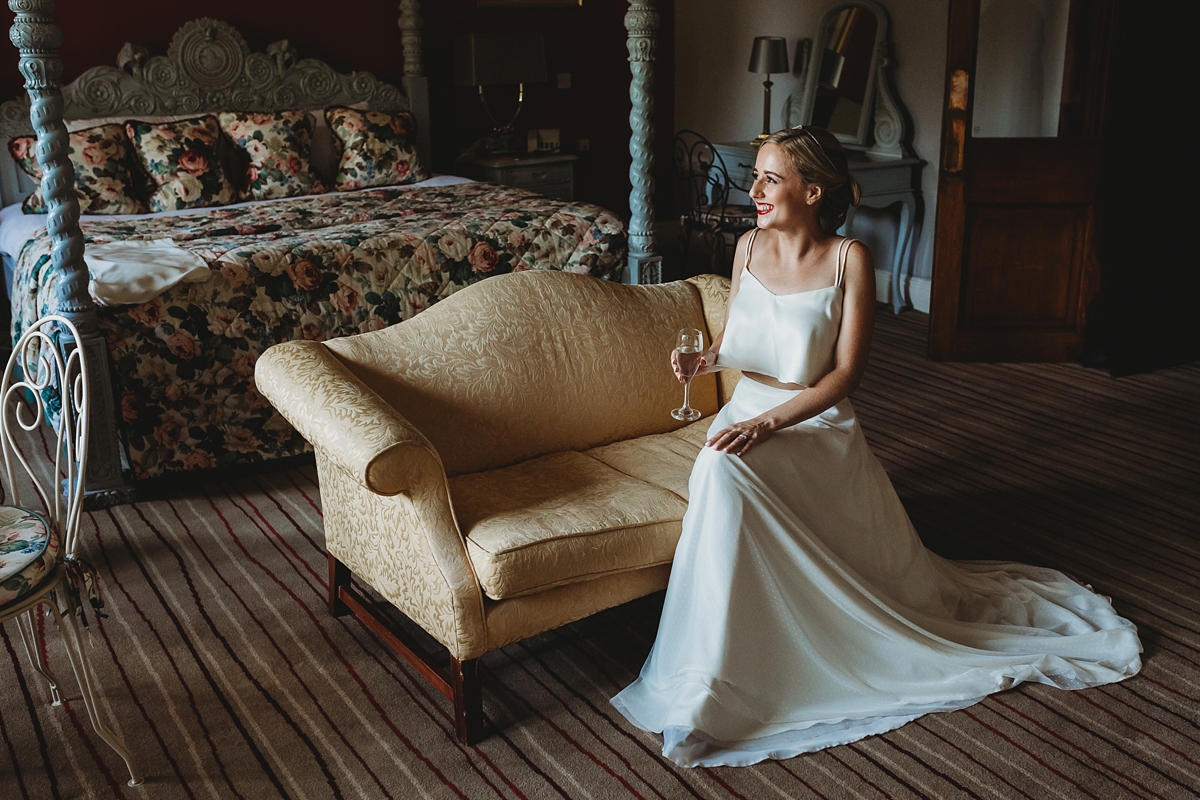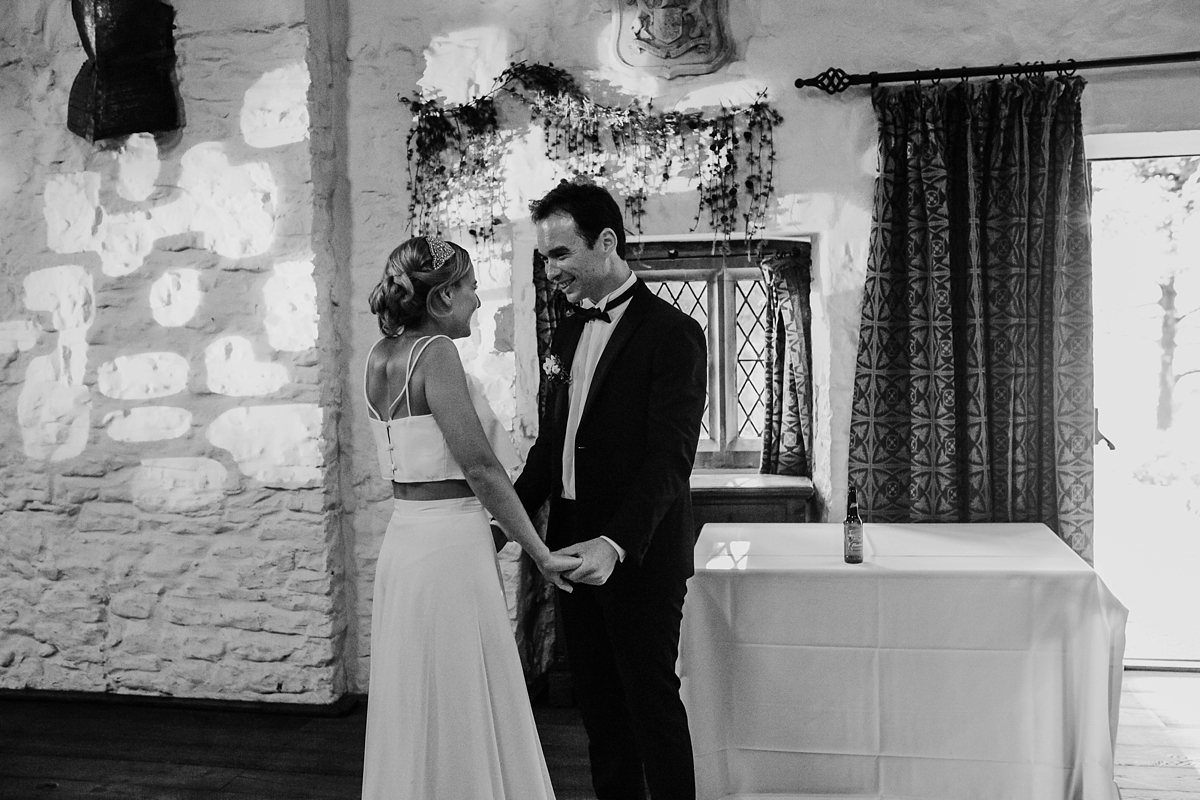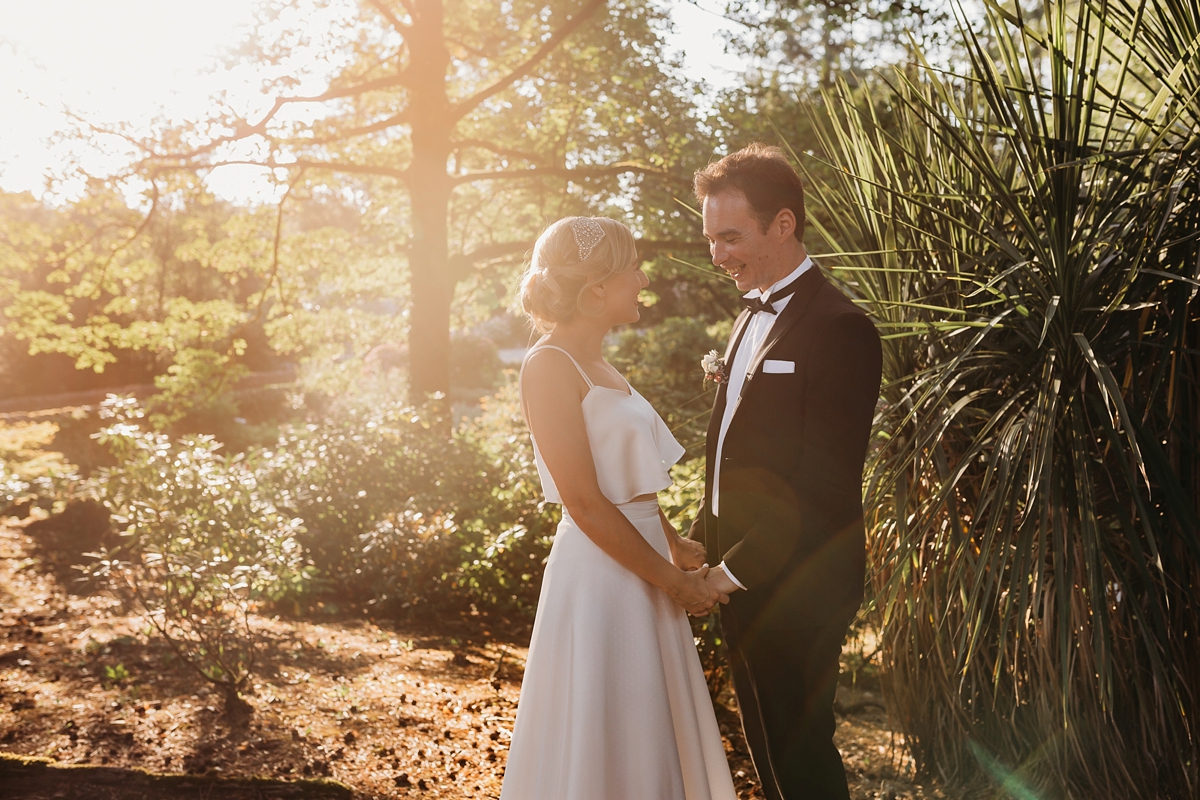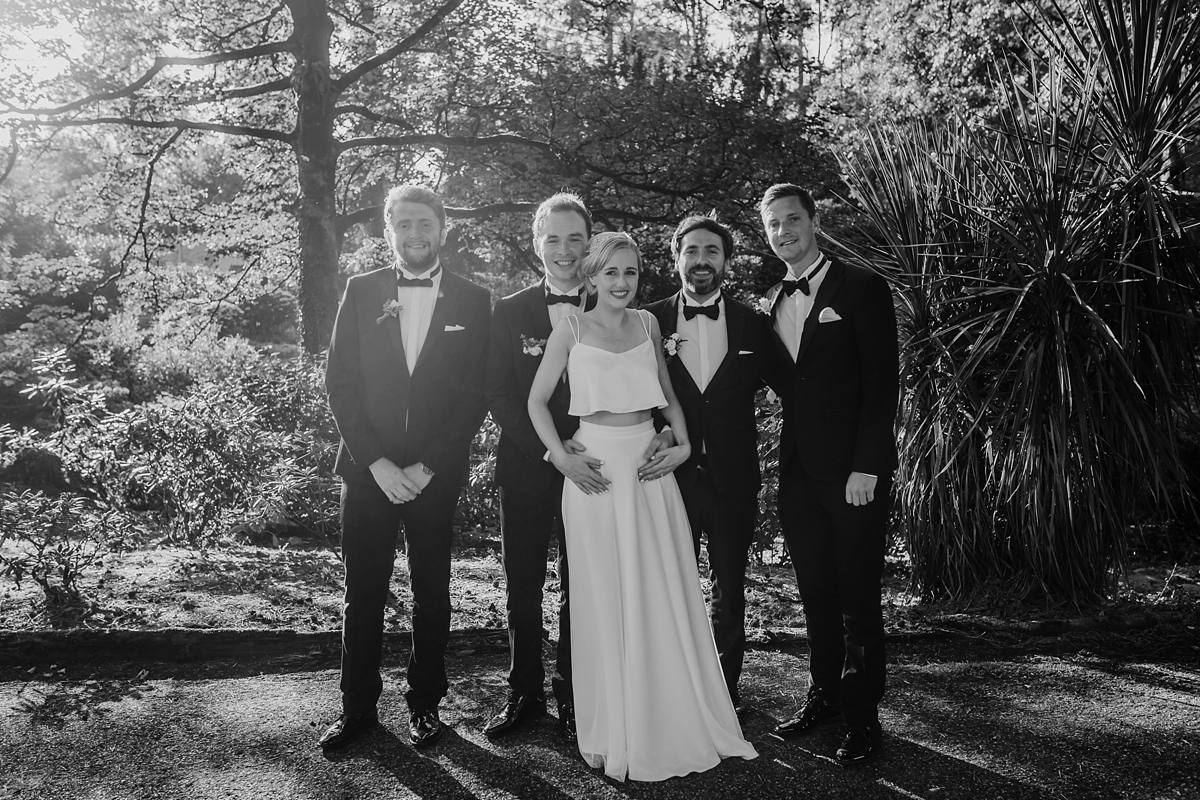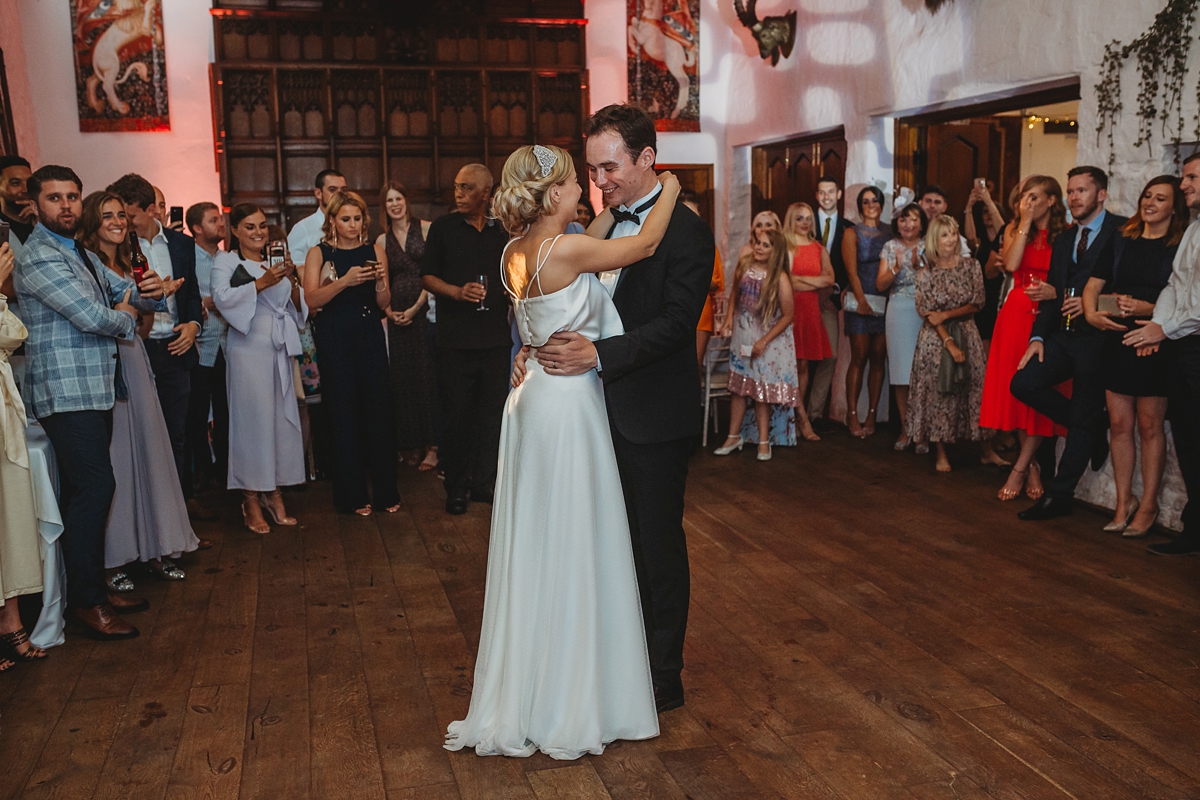 Words of Wedded Wisdom
"Do what you want to do. Don't listen to what everyone else wants and do what you want. If you want to get married abroad just the two of you, do that. If you want a big party in a barn, do that. Don't feel pressure to do what someone else wants. I didn't and I had the perfect day because of that."
"On the day I would not get too stressed by capturing the mantelpiece photographs and focus on capturing the day which your photographers will do. These are the best photos."
"Pack plasters! I had the world's biggest blister and I couldn't wear shoes for a week because if it. Don't do it, brides!"
"Make sure you enjoy your day. Don't starve yourself for three months beforehand, don't stress about the favours or how happy everyone is."
 
"On the day be with your husband and enjoy him rather than chatting to your great auntie about the weather."
"If you have to delay the wedding like we did (we found out we were expecting) don't worry about it. When it happens it will honestly be the most perfect day and you will appreciate it more."
Ah Mrs Bayley, thank you so much for your wonderful words of advice. Your personality really has shone through your words and I can imagine you just had the best time together. I really love and admire your passion for supporting local suppliers, too so thank you for sharing this wish with us. Finally, so many thanks to When Charlie Met Hannah for your gorgeous, vibrant photographs; I've so loved sharing them today.
Bride's Instagram millennial__mother/
Ele xx