I've been instantly drawn to the beautiful vintage, 1920s style waves in the hair of today's bride – she's just a vision.
This is a rustic Scottish byre wedding with a vintage spin, reflected not only in our bride's fabulous hair but also in her gown, as well as the groom's sartorial choices, too. There's a modern twist for our bride though; as you'll see, she wears a super-cool embroidered leather jacket as well!
Let's meet our couple; Jenny, a journalist and press photographer Chris, who were married on the 22 September 2018 at The Byre at Inchyra in Perthshire. Jenny wore the beautiful and romantic 'Marianne' gown, paired with the 'Iris Rose' slip underneath by the brilliant Halfpenny London. The embellishment and dropped waist give gorgeous vintage style paired with the lightest of tulle skirts.
Images by Ian Forsyth Photography
"I tried loads of dresses on in various shops but none felt very me. I had come across Halfpenny London at a wedding fair and it was always in the back of my mind, but the dresses were above my budget. So when I was emailed about a sample sale I put my name down straight away. The dress was the first one I tried on. It was the perfect fit, was very comfortable, and I felt a million dollars."

Jenny wore shoes from No. 1 Jenny Packham and for jewellery, stud earrings from Etsy, a bracelet from Thomas Sabo, and earrings and a glittering, era-inspired hairband from Gillian Million. All that remained was for a little perfume, and Jenny chose Oud and Bergamot from Jo Malone.
"I sniffed it out during a bridal experience, it is gorgeous!"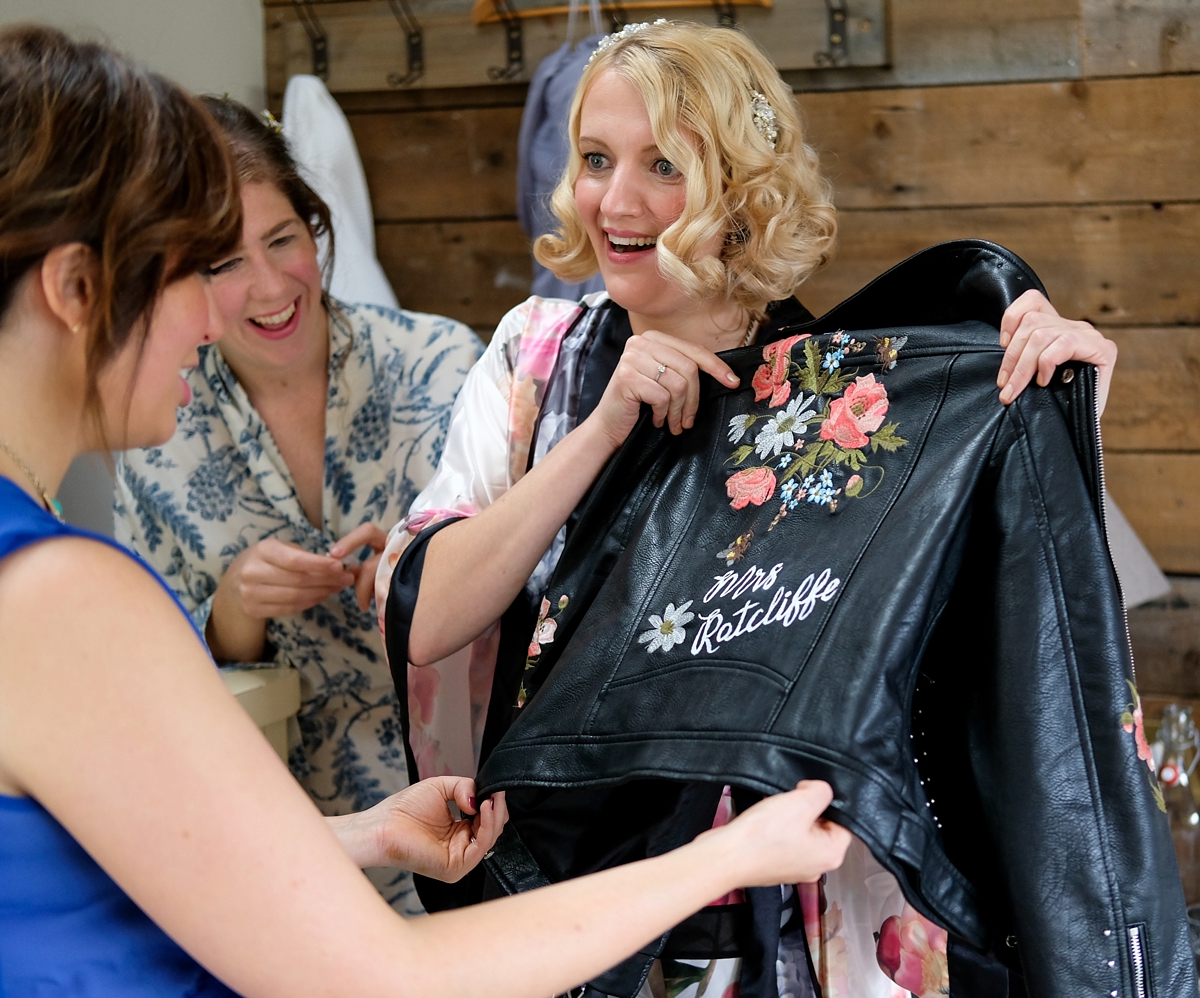 Let's talk about that hair – the most perfect finger waves by Ariana Marcantonio from Vanity Thrills Hair and Make-Up in Edinburgh, with make-up by Jenny's friend Kate Atkinson.
There were glorious flowers from Adelaide Knott of Adelaide's Secret Garden, and what's brilliant about her approach is that she uses seasonal flowers, which have mostly been grown in her very own garden. I love the fresh and bright colours used in these gorgeous arrangements.
"She totally got the wild, rustic theme and added all the elements we were after to the bouquets–the thistles and roses for the Scottish/English theme and the daisies in memory of my dad's mum, Daisy. She absolutely blew us away with the floral installations in the ceremony room, above the top table and around the entrance to the venue, they all looked fabulous!"
"I grew up in Perthshire and wanted to get married in Scotland. We decided that a hotel or a marquee wasn't for us and started to look at barns. There are plenty of options in Perthshire, but when we went up to view the Byre we knew it was the one."
"I actually went up only my own for the first visit, but luckily Chris agreed and loved it as much as I did when he came to visit! It's so enchanting and romantic, and a clean slate for designing it how we wanted it."
Chris wore a handsome Scottish tweed suit with cufflinks from Walker Slater, which he wore with a fantastic pair of vintage style brogues (sadly no details supplied) and a pocket watch sourced from eBay.
"We met at university in 2007, and started dating just before we graduated.We lived in different towns and cities for 8 years before moving to London together and going freelance. Chris proposed on holiday in Wales, overlooking Druidstone Bay, and we got married a year later."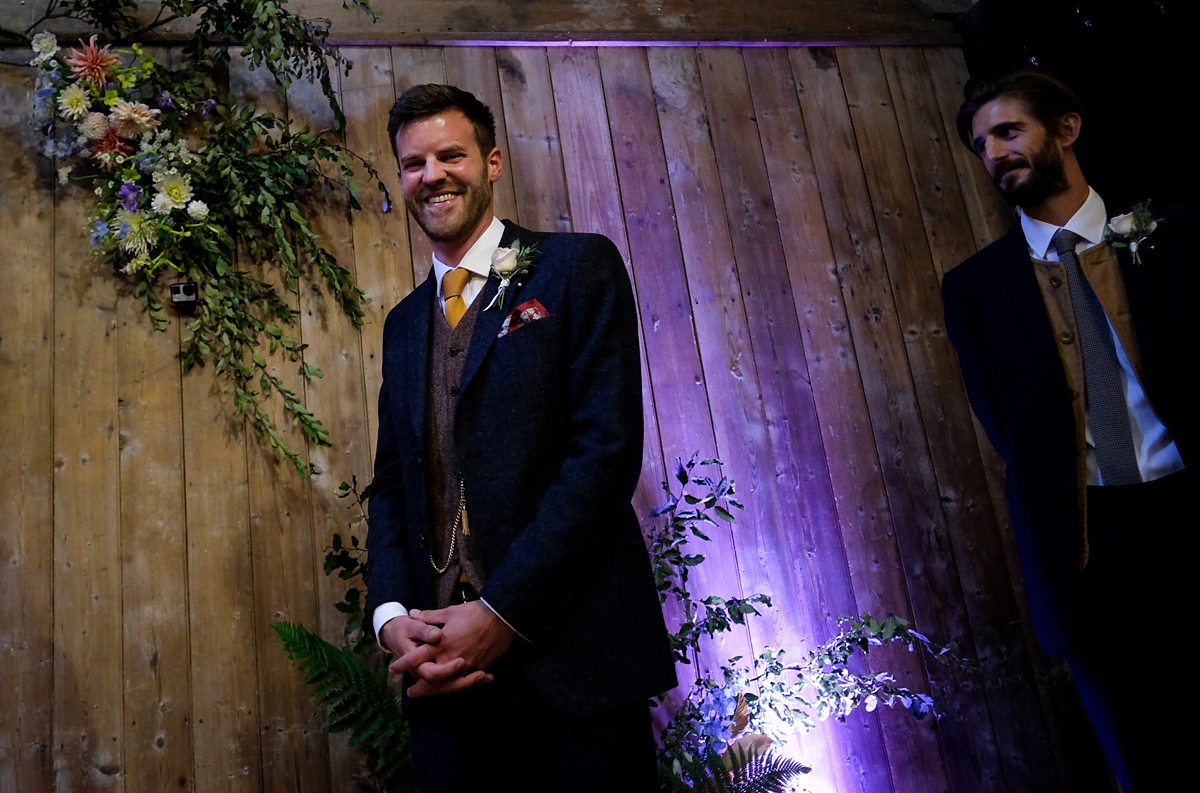 It was an incredibly touching and special moment for Jenny to be able to walk down the aisle with her dad, and she chose a cracking song to make her entrance to – God Only Knows by The Beach Boys.
"We found our vows online and changed them a little to suit us. We also decided to have a Lord of the Rings reading before we exchanged rings, Chris is a huge fan, and it caused a lot of laughter!"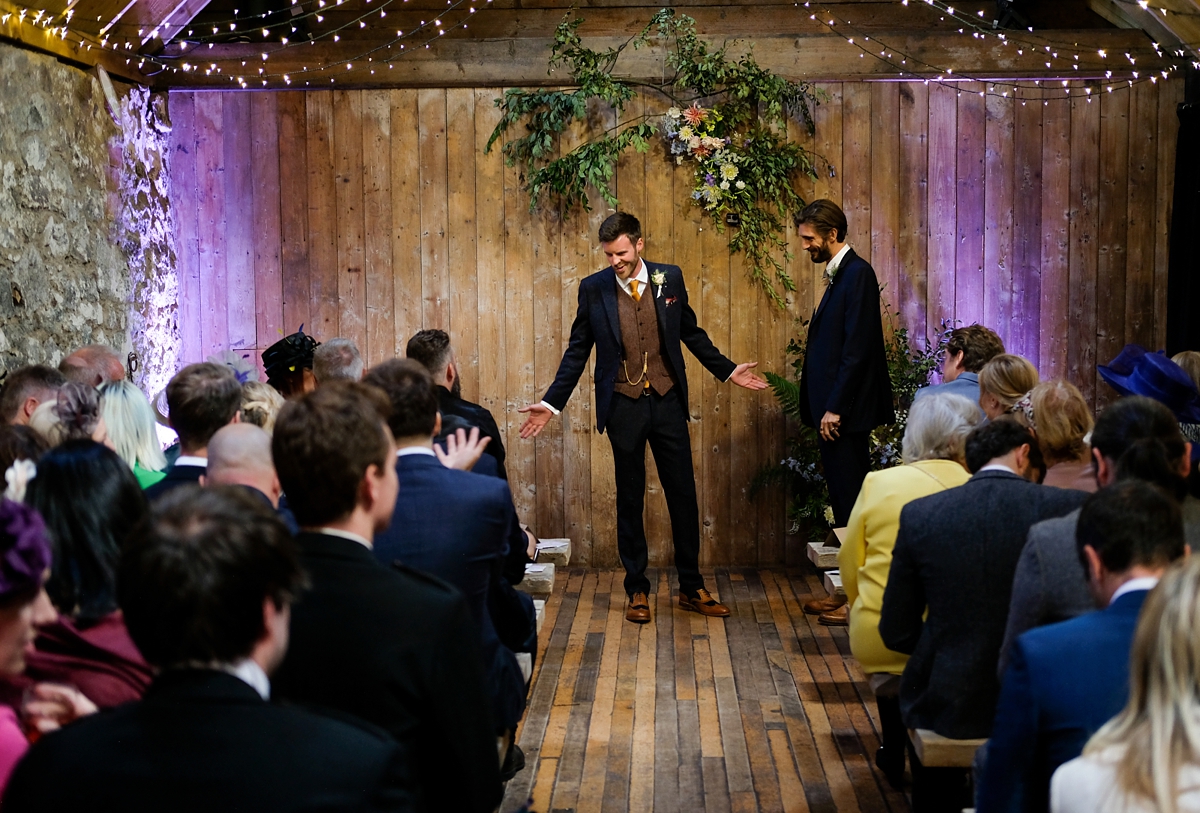 There were other readings, too; Chris' sister Liz read the anonymous poem I Am Yours, and as their second reading Jenny and Chris chose the lyrics from Metallica's song Nothing Else Matters.
"We chose 'I Am Yours', because it totally spoke to us and our relationship, and it made us really emotional hearing it! We bonded over our love of metal, but thought it wouldn't work as a first dance, so incorporated the lyrics of Nothing Else Matters into the ceremony as a reading by my brother, Ben."
As well as saying their vows to one another, Jenny and Chris exchanged rings. Jenny chose a band with a twist from Harper Tait in Hatton Garden, choosing it because it complemented her antique engagement ring perfectly.
"Chris wanted something chunky, but not too polished. The antique gold was a bit too expensive, and he came across the perfect ring in sterling silver from Jewel Thief in Brighton."
"I loved the ceremony, surprisingly! We were so nervous but it was such a lovely experience saying our vows in front of our friends and family. I will never forget walking down the aisle with my dad either, it was such a special moment."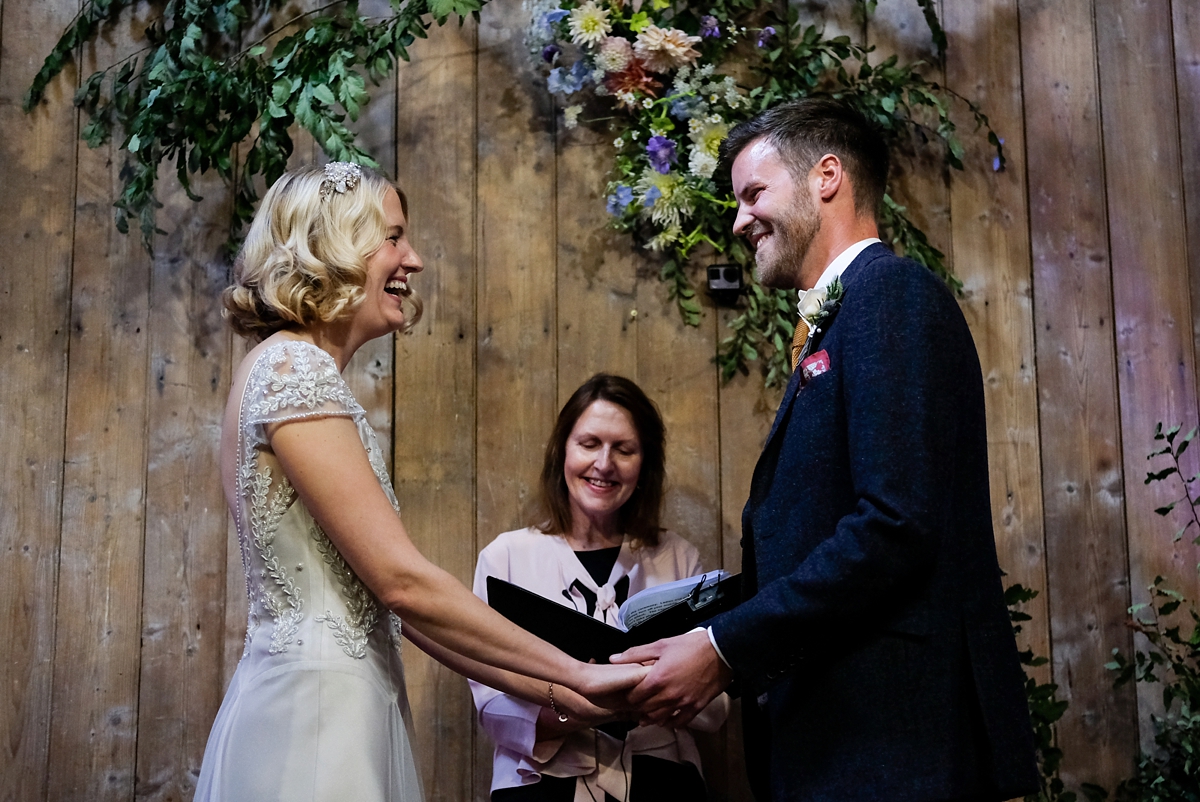 The sweetest little flowergirls wore floaty tulle dresses from Monsoon and flower garlands in their hair from Wild & Gorgeous, whilst the bridesmaids wore beautiful draped blue gowns from Adriana Papell and earrings from Accessorize.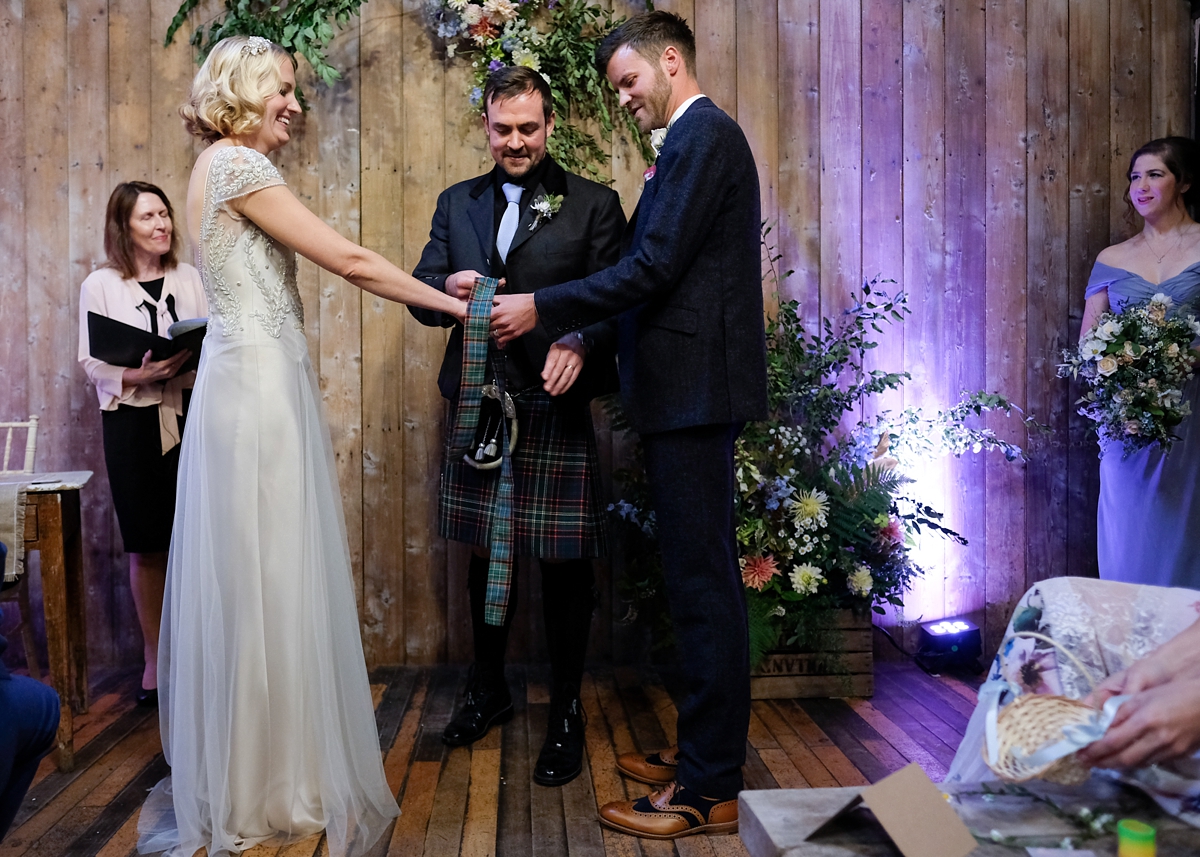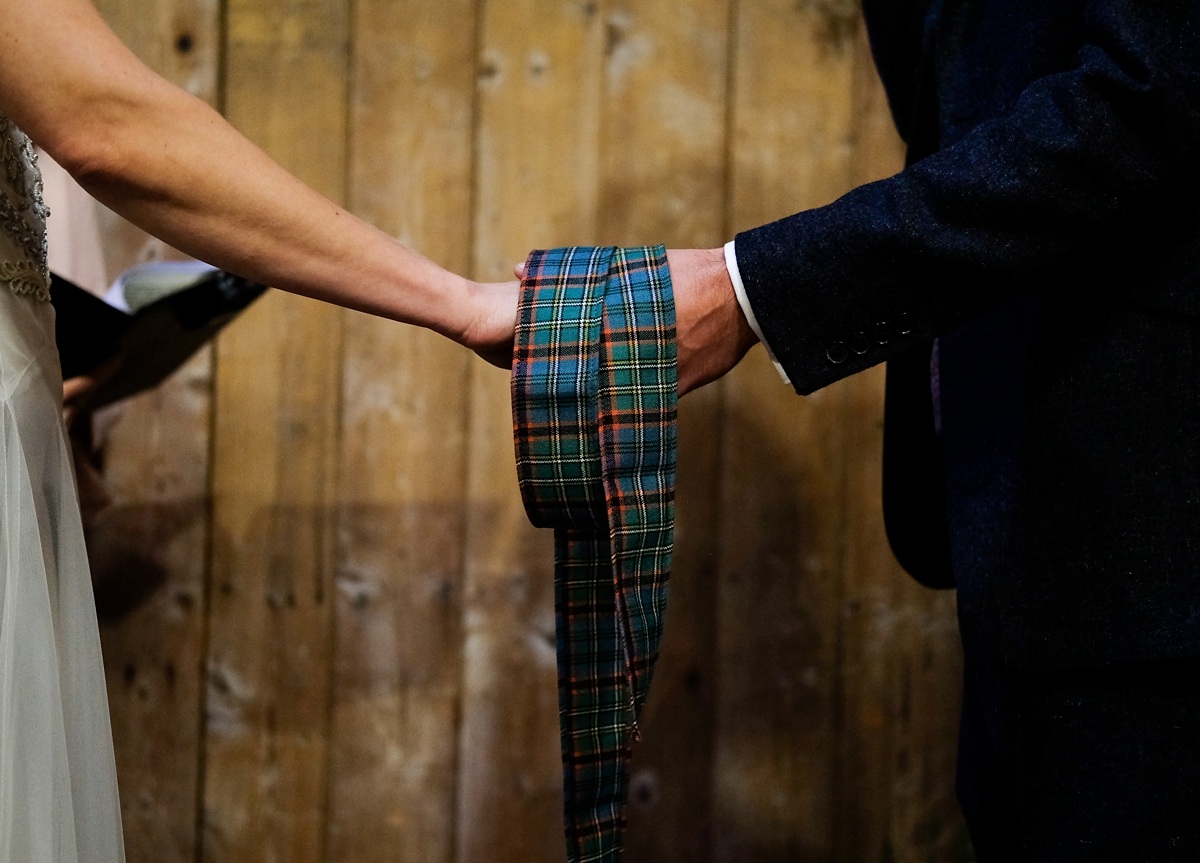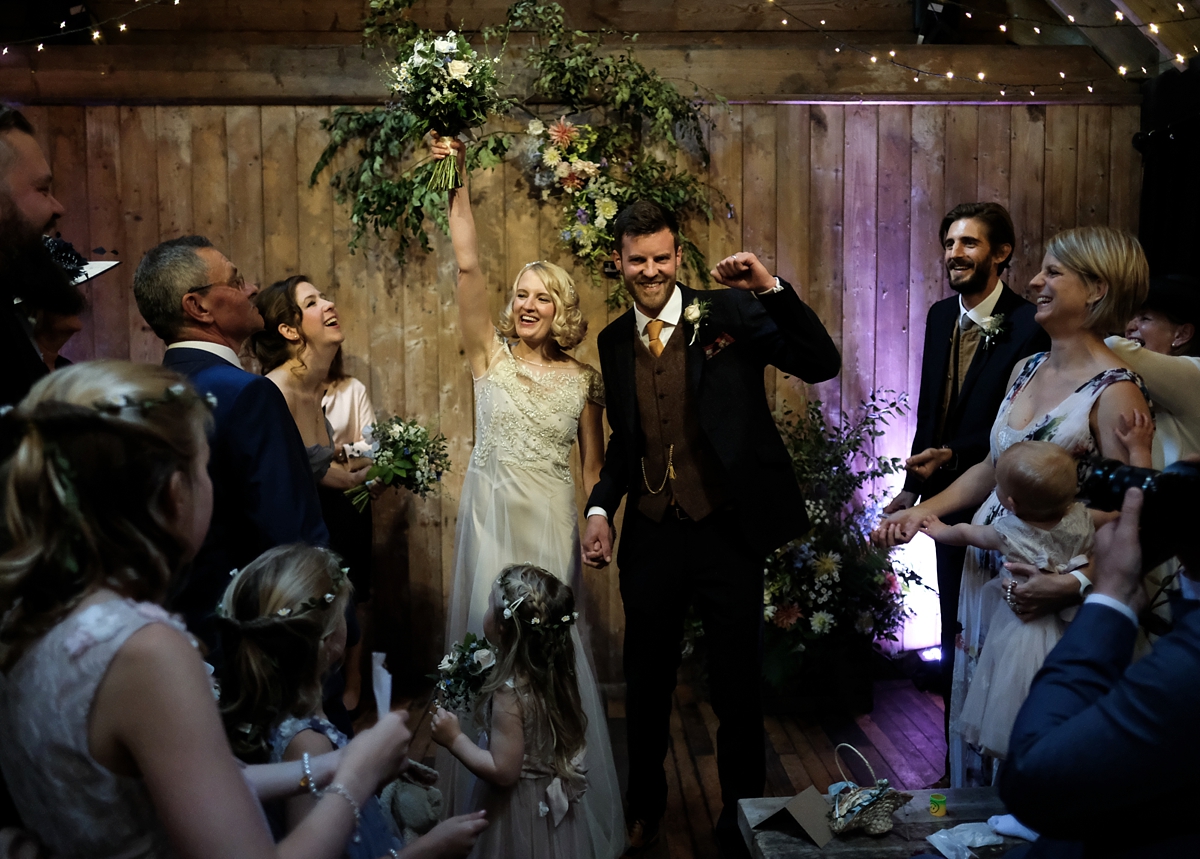 During the post-ceremony drinks reception, Jenny arranged a fantastic surprise for Chris, in the shape of a vintage Ford Capri Laser, courtesy of Fiona from the Capri Club Scotland.
"We didn't actually need a wedding car as we stayed at the venue, but Chris loved Ford Capris, and I contacted the Capri Club Scotland to see if anyone would be able to turn up as a surprise. Luckily, the lovely Fiona lived in the nearby village and has a stunning Ford Capri Laser, Chris' favourite!"
"She brought it to take us for a short drive round the venue for photographs and it looked amazing; she'd spent ages shining it up and putting ribbons and a 'just married' sign on the back. Chris says it was his favourite part of the day, and it was also a huge hit with the guests!"
"The barn obviously lends itself to a rustic style, and we wanted to add a Scottish and English theme. We both like vintage styling and that was definitely a theme of the day –I added a 1920's hairstyle to my vintage style dress, and Chris had a vintage-esque tweed suit."
Along with the spectacular flower garlands from florist Adelaide, Jenny and Chris added to the rustic beauty of the Byre by adding tealight chandeliers hired from the venue, as well as lots of twinkling fairylights.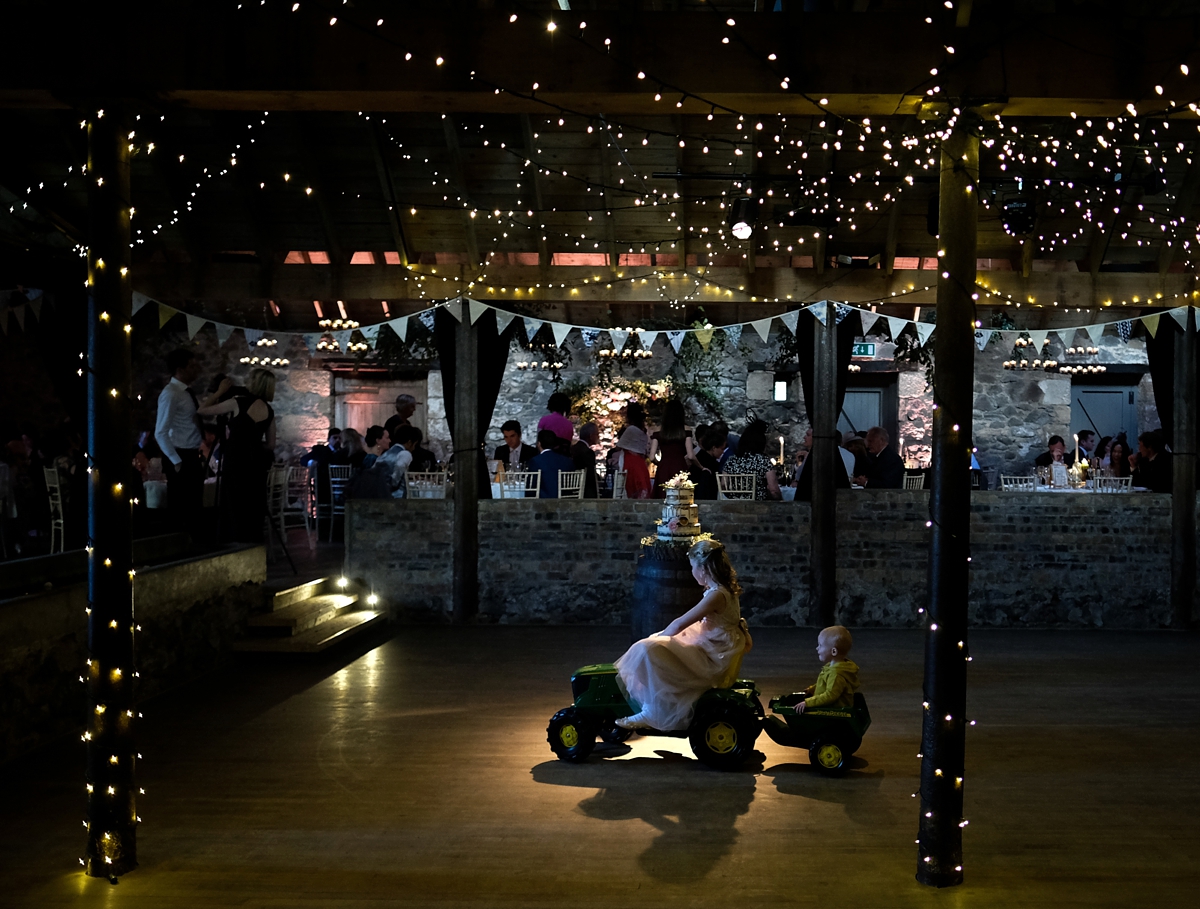 Bunting and table runners were made by the groom's mum, and Chris made the menus to go with the table place settings by using his old typewriter with kraft paper luggage tags. Favours were the ever-delicious Tunnock's Teacakes. A wedding feast was prepared by Season Catering.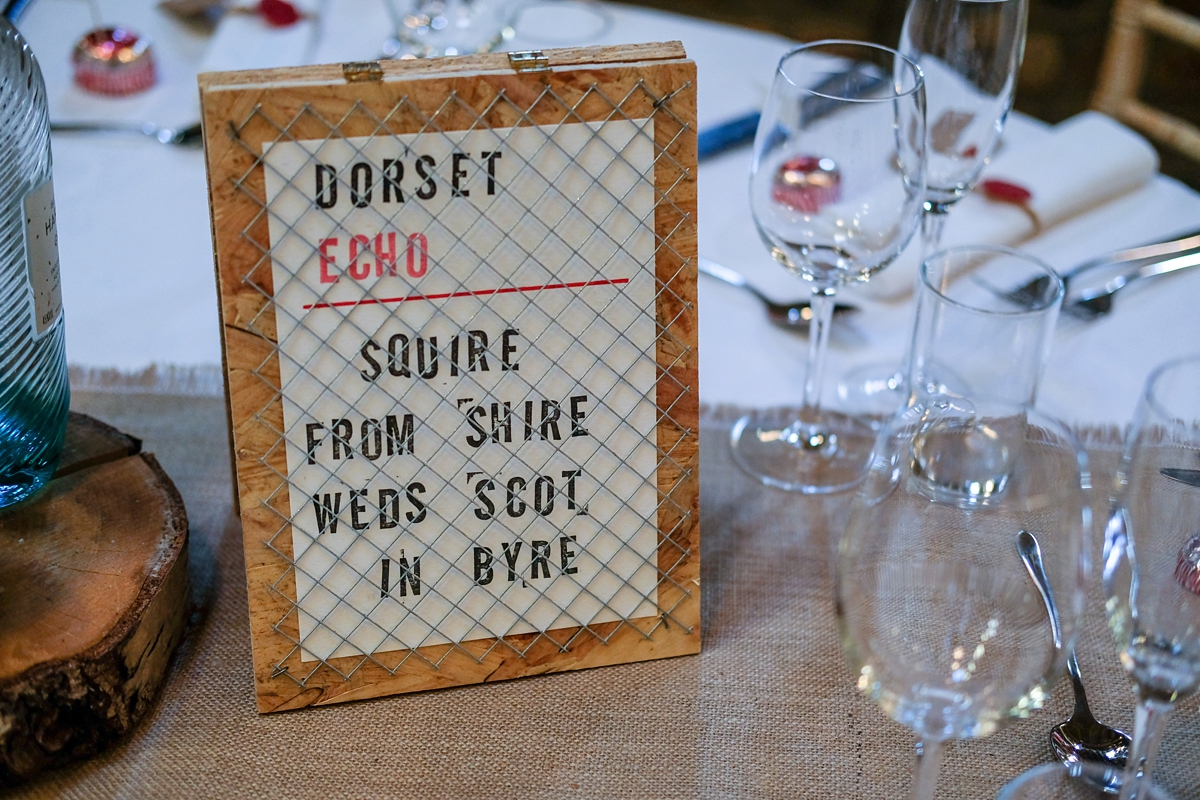 "We wanted a three course menu and Aaron at Season Catering was so open to chopping and changing the menu to exactly what we wanted. The food was delicious and exceeded expectations, loads of our guests said it was the best wedding food they'd ever had."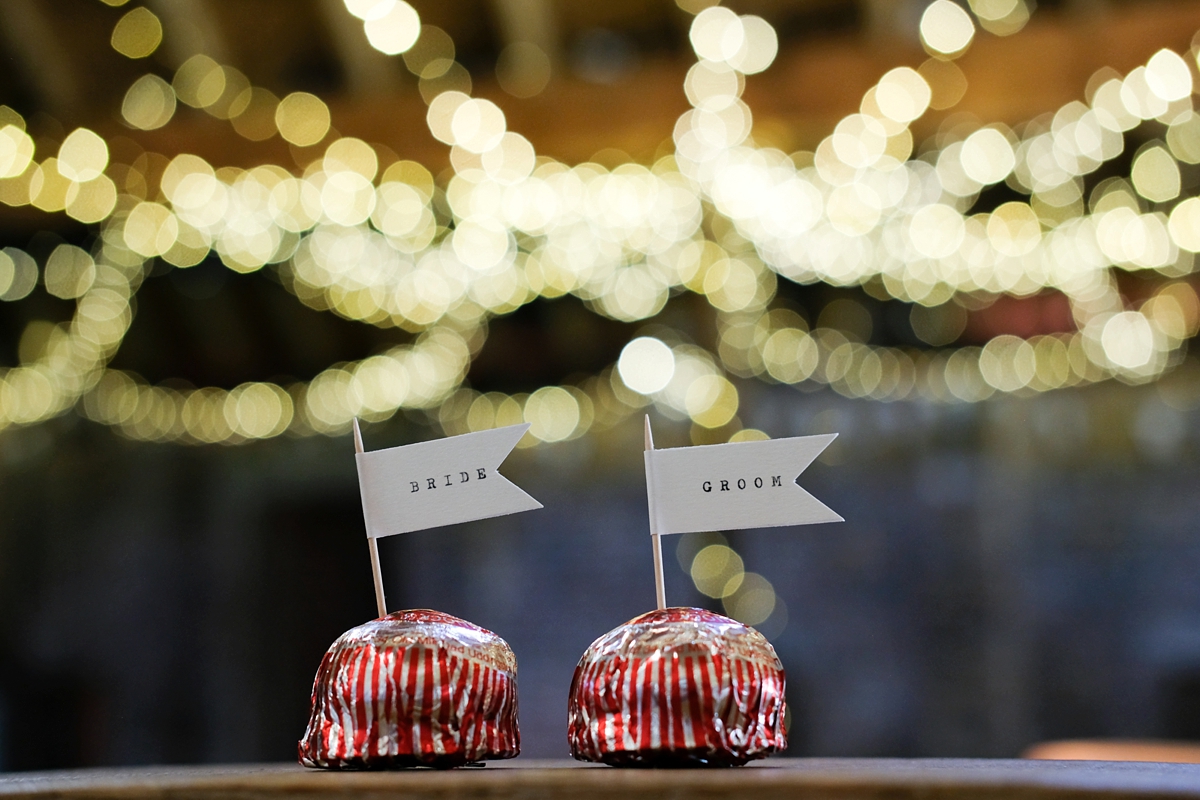 Lesley from The Occasional Cake Company made a stunning three-tier semi-naked drip cake; one tier of gluten free carrot cake (Chris' favourite), another of lemon and a third of chocolate.
"Our cake was wow! We wanted a semi-naked style in keeping with the rustic theme, and we found a local supplier who did them. Lesley from The Occasional Cake company in St Andrews was such a professional and we got to sample the flavours."
"It was decorated beautifully and caused quite a stir –especially with the flowergirls!"
After cake cutting it was time for dancing, and band The Honey Moons ensured everyone wanted to be on the dancefloor.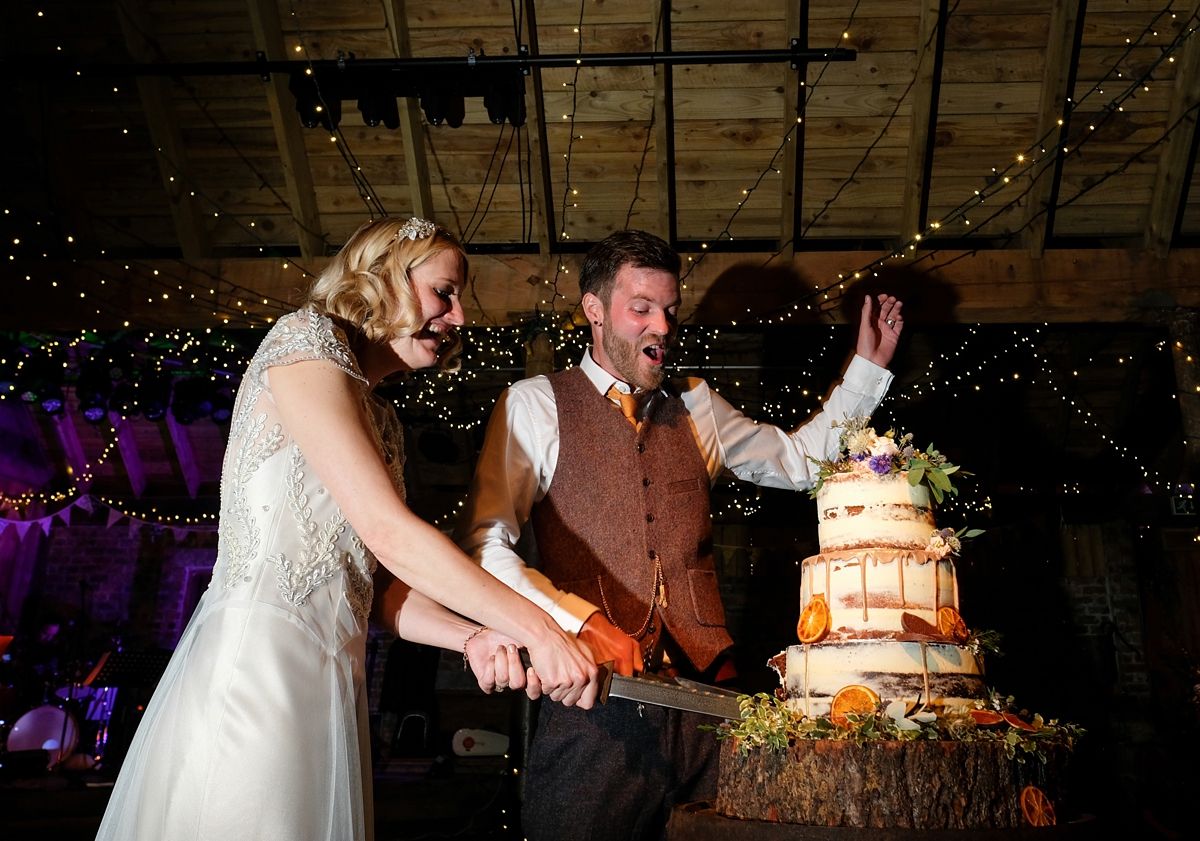 "We wanted a band that would do ceilidh music and a bit of pop/rock. Chris and I love our heavy rock and they seemed to play songs that everyone in the wedding party loved! They had people dancing all night, and there was a saxophonist, which was fab."
"Our first dance was All Day And All Of The Night by the Kinks, played by our band. The lyrics are lovely, it's the right amount of rock and it's not slow!"
Words of Wedded Wisdom
"Set a budget and try to stick to it. It is so easy to start chucking money at stuff you don't need. We paid a lot for our venue and extended our florist budget, but saved on stationery, my shoes, bridesmaid dress and other bits and bobs. We didn't get groomsmen ties, a friend did my make-up. "
"Try not to say 'sod it, it's my wedding' to everything – unless you can afford to, of course! My husband did a lot of DIY in the weeks running up to the wedding, which felt like it was unnecessary extra stress, but was so worth it and added his stamp (quite literally!) to the day."
"Think outside the box. We didn't really need wheels, but I wanted to surprise my husband with a short drive in his favourite car. I found someone who lived nearby with one through the local car club, and she turned up and drove us round for free."
"On the day, it's impossible to give every guest the time they want, but it's nice to try to speak to as many guests as you can. We also managed to spend a lot of time together. Give groomsmen a list of timings for the day, and put one of them in charge of shepherding people."
"Get a good band – ours had everyone dancing all night, and really reflected our musical style. After the wedding, book somewhere lovely to go to for a few nights so you can recover and talk through the day together. We went on honeymoon to Greece after a two day break near our venue and I'm so glad we did."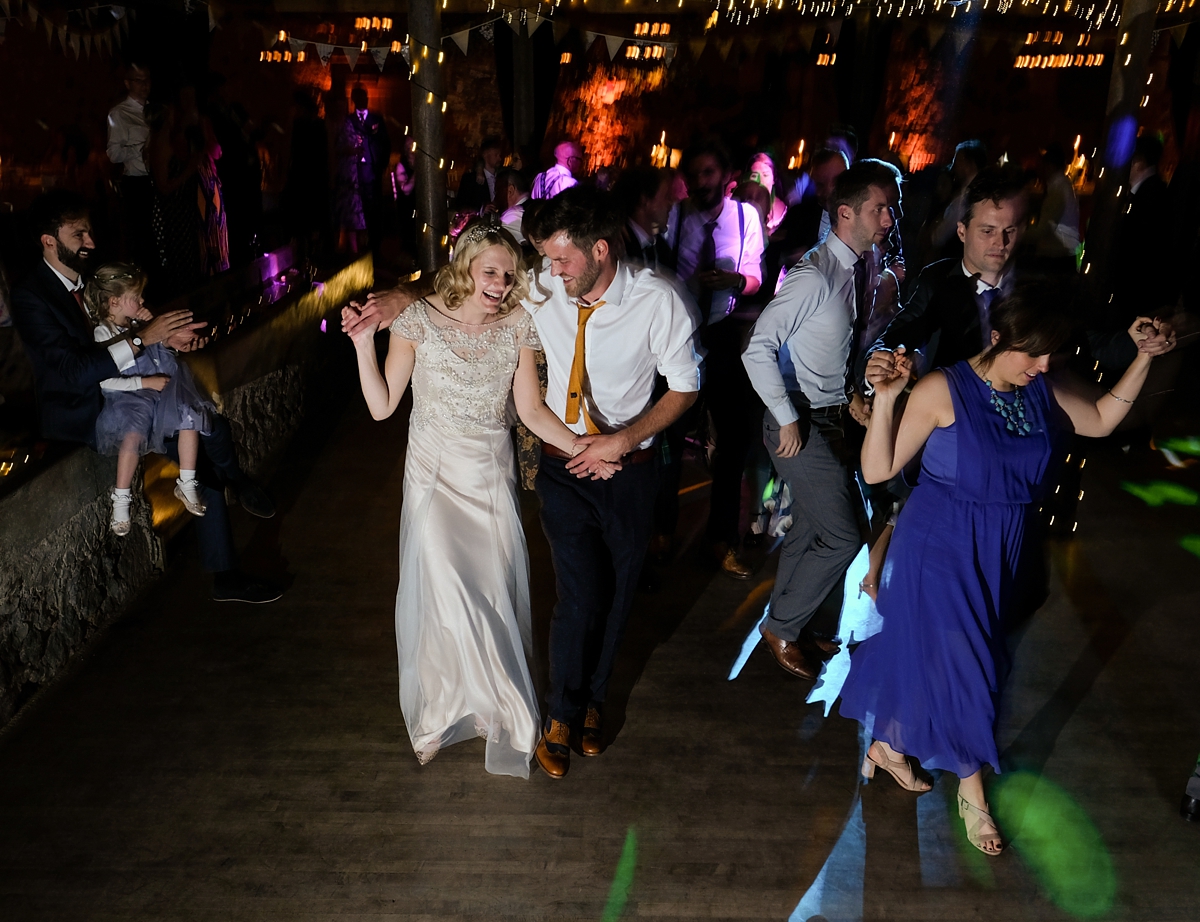 Jenny and Chris, congratulations and huge thanks for sharing your day with us, it's been amazing. Many thanks also to Ian Forsyth for this beautiful photography. If The Byre at Inchyra has blown you away, do take a look at other lovely weddings we've featured there, too!
With love,
Laura