Happy weekend lovely ones – I've made a new bridal wear designer discovery in the shape of the fantastic dress worn by the lovely bride in today's feature, which I'm very pleased about.
This cool and stylish East London wedding took place at two iconic venues, with lots of lovingly handmade and DIY items, and one very sweet family cat, too!  Lauren, a freelance advertising creative, and Jon, a creative media tutor, married on the 21 July 2018 at the beautiful Hackney Town Hall, followed by a reception at Hoxton Arches, a brilliant dry venue space inside a sensitively restored and converted railway arch.
Images by Marni V Photography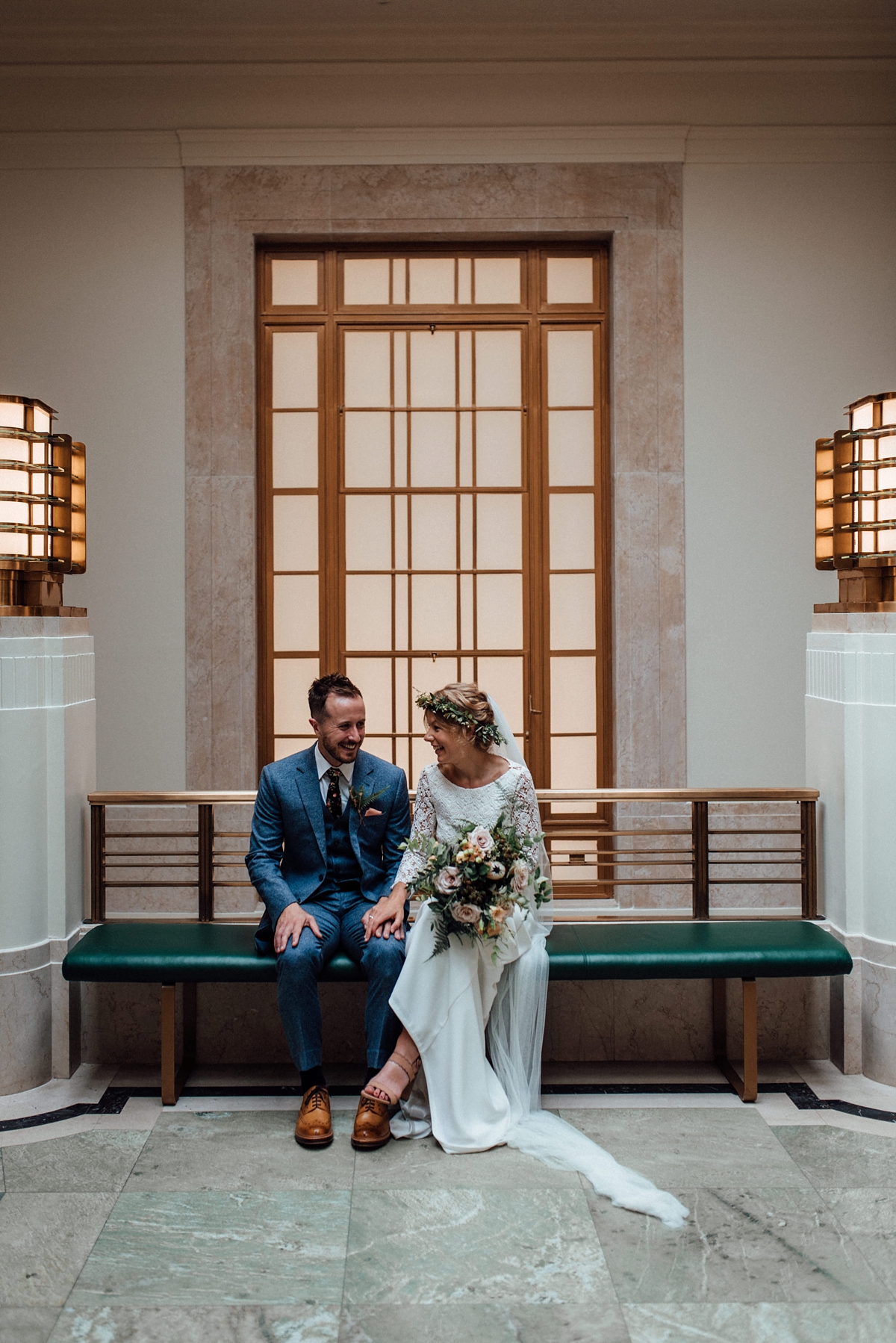 "I'd love to say it all just fell seamlessly into place, but no; there were many moodboards, endless nights of tab-surfing and far too many discussions about colour. Despite looking at all the package options, we found it really hard to hand over the control, so went for the dry-hire DIY route. Everything just seemed cheaper, better or more fun to do ourselves."
Love My Dress was part of those late-night tab surfing sessions, and not only that, Lauren discovered her dress designer at the coolest wedding fair around, A Most Curious Wedding Fair. It's no secret that we're big fans of this lovingly curated, boutique indie event, and it's lovely to read how Lauren found designers Story of My Dress there.
"Having tried loads, I was starting to doubt what I wanted but then came across Cara's stall at A Most Curious wedding Fair and was immediately drawn to the rails."
"When I found out she had a little boutique down in Kent and could do bespoke dresses too, I managed to convince my mum to drive me down one Saturday and never looked back. Best decision ever."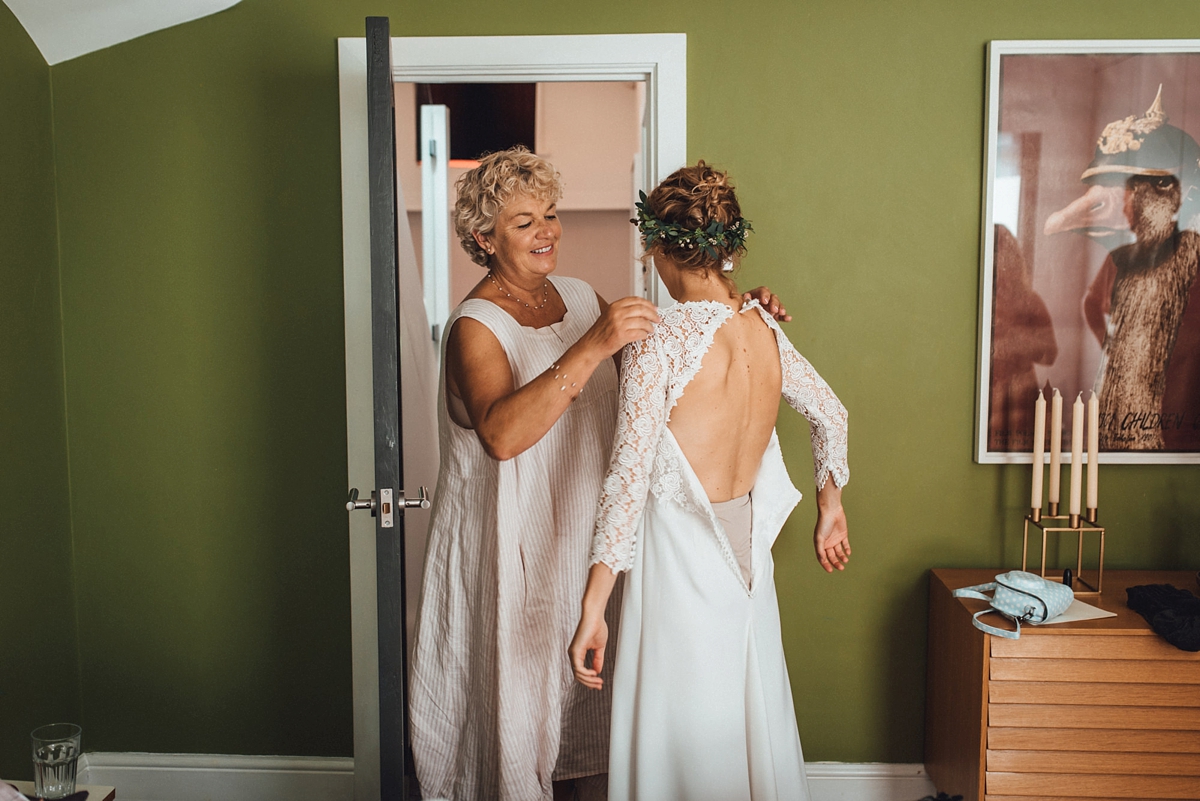 Lauren had a bespoke dress made, and the end result was so beautiful – backless with a guipure lace bodice and long sleeves and a simple and stylish skirt, complete with embroidery on the back, too.
"I miss my little jaunts on the train to West Malling for fittings with Gill and Cara. We used pieces from their current in-house collection as the basis for designing a dress, which meant I had something to start with but could then make the details completely my own, including handwriting the embroidery for the back of the waistband."
"The whole process was so much fun, which at the end of the day is what it's all about -'Story of My Dress' exactly."
Make-up Artist Jurga Sidagyte worked with Lauren to create a wonderfully natural look – just what she was hoping for.
"I don't really do make-up so this was a tough ask. I wanted the 'make-up but no make-up look', which Jurga did perfectly and patiently."
"Hair was by Ashley at Kennaland, London. The salon was my Saturday hang-out for several weeks before the wedding. Colour, cut, trial and then the day. It's only round the corner so we all went in on the morning, had a great time and then came out looking fab, it was perfect. Plus no ridiculous 7am start!"
I love the contrast between the bridesmaid's bouquets of fresh greenery (made by Lauren) and their pretty peach dresses from our directory members, Rewritten.
"The rest was a bit of an adventure into floristry! I did a lot of pinning, Googling and number crunching before making a wholesale flower order."
"Two days before, our tiny flat turned into a full blown florist. I didn't quite realise what was involved – a whole load of trimming and soaking before they were even ready to be worked with. Thankfully at the venue I had a crack team of mums, sisters and friends helping me with the arrangements – even the groomsmen got stuck in."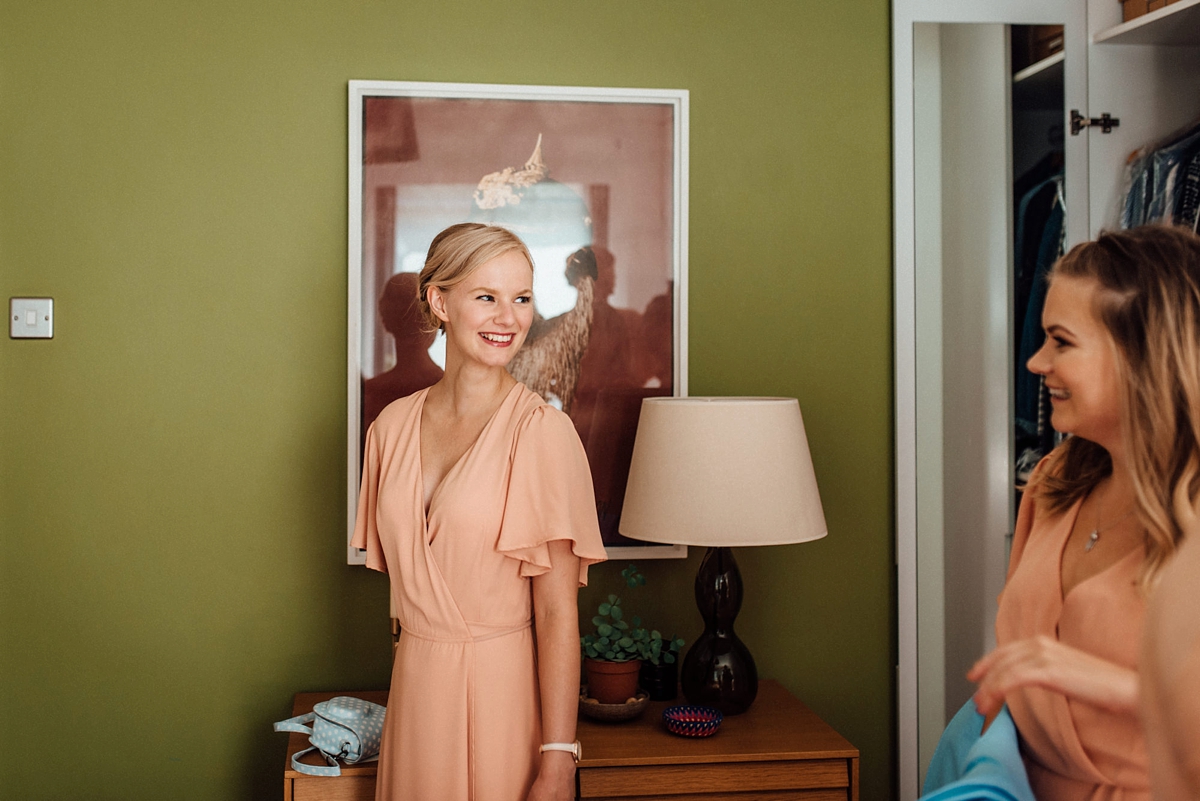 In her hair Lauren wore a foliage crown with sprigs of delicate waxflower by florist Edie Rose, a veil from Story of My Dress, and for jewellery, earrings by Clarice Price Thomas via Parla.
"I'm lucky to have many talented friends, including a bridesmaid with an incredible jewellery boutique that stocks a beautifully curated collection of designers."
"I fell for the romance of popping into a Chanel shop a couple of days before the wedding and somehow came out with his and hers scents. I chose Gabrielle."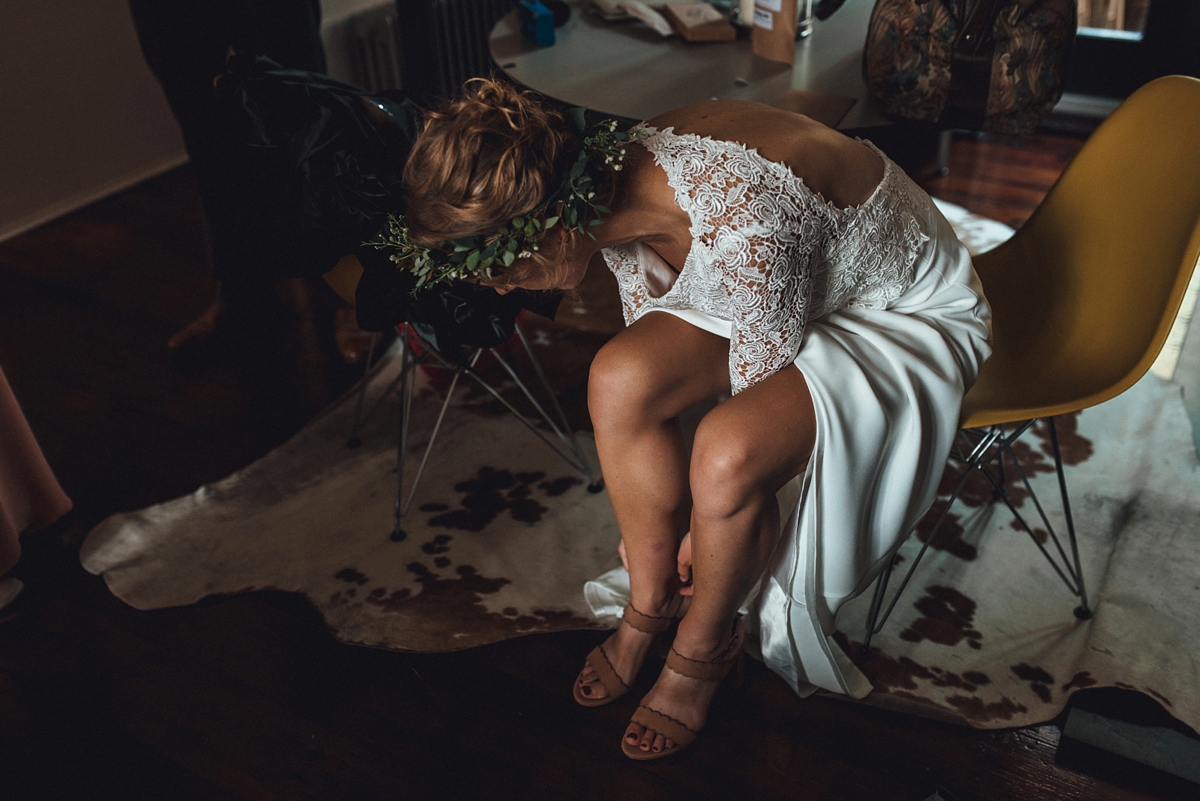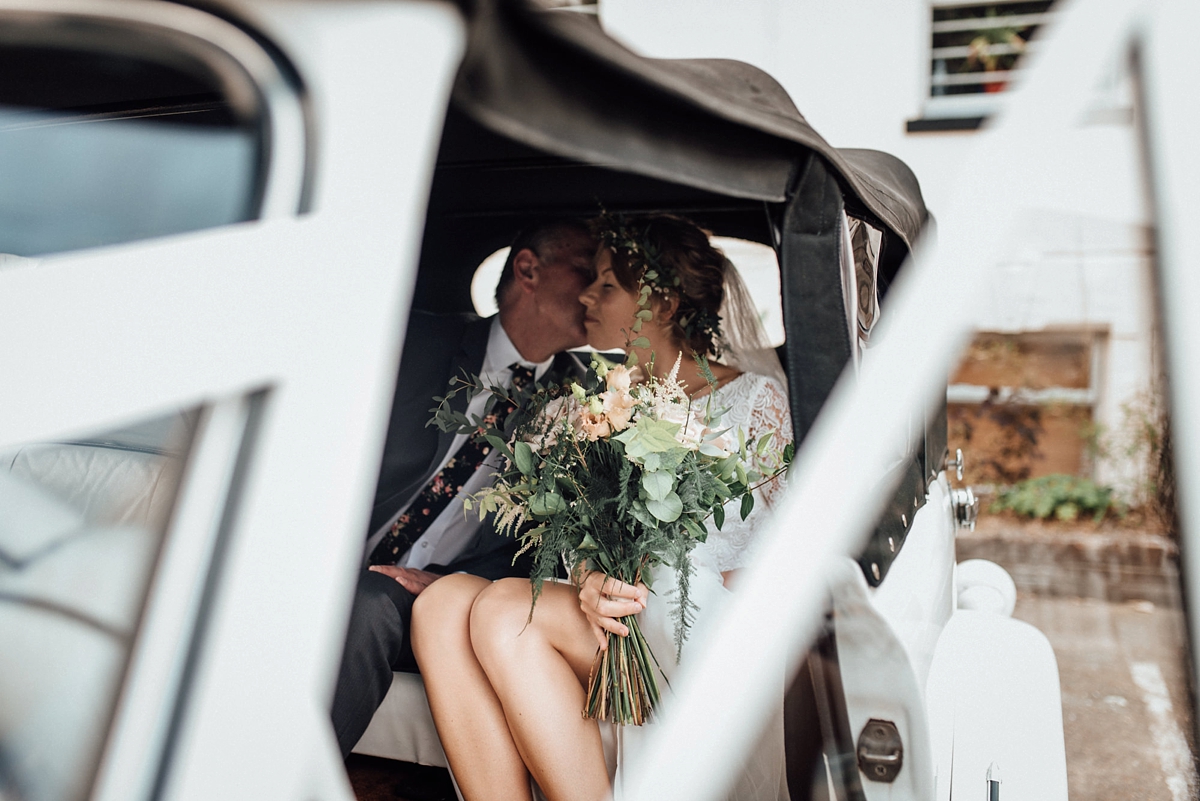 "We first met working on the aisles of Morrisons in Ripon, North Yorkshire but despite the glamorous setting it took 7 eventful years of uni and moving to a different end of the country to take things more seriously. One cat and several London homes later, Jon popped the question in Stockholm."
Jon wore a fabulous blue tweed three-piece suit from Beggars Run together with a dark floral print tie and a pair of classic brogues (no details provided about these), and had a brilliant time putting together his outfit.
"Samir was incredible throughout the whole process. They have such an amazing range of suits to pick from, I cannot recommend them enough!"
"My brother arranged for his mate, the Well Groomed Barber to come round and have a bit of grooming session a couple of days before the big day. Lauren wasn't too pleased to come back to a flat full of lads, pizza, beer and hair."
"I'm eternally grateful for my Best Man – my bro and all my groomsmen for supporting me through the whole thing. My oldest buddy, Barrie, flew all the way over from Australia to be with us, which was incredible. All the lads chipped in and did their bit, we wouldn't have been able to pull it off without them."
Lauren had planned to take a taxi over to Hackney Town Hall, but was surprised by her dad's arrival in a lovely vintage car hired for the occasion (no details provided). Together they walked down the aisle to the song Little Person by Jon Brion.
"Ever since we saw the film Synecdoche New York, this song has us tearing up. The lyrics are beautiful. Jon had it inscribed on my engagement ring and I surprised him by getting it embroidered into the waistband of my dress."
"After ploughing so much meaning and personality into every other element of the wedding, we wanted to keep our vows as official as possible and make sure the importance of that moment was felt."
Whilst exchanging those vows, Lauren and Jon also gave one another rings by designer Clarice Price Thomas.
"Bespoke jewellery designer Clarice Price Thomas (who now also has her shop on Francis Road!) completely saved the day and made our rings two weeks before the wedding. They're beautifully crafted and she helped me concoct a plan to add diamonds when future budgets allow."
During the ceremony there were also three carefully chosen readings; an extract from Agnes Martin's essay, Beauty Is The Mystery Of Life, Spot Your Flower from the film Adaptation by Charlie Kaufman and the lyrics to the song In The Aeroplane Over The Sea by Neutral Milk Hotel.
"These were really important to us and funnily enough, the quickest thing to agree on. We aren't religious so our choice of readings were centred around messages of positivity, beauty, love, life, and acknowledging the preciousness and daftness (may have invented that word!) of it all."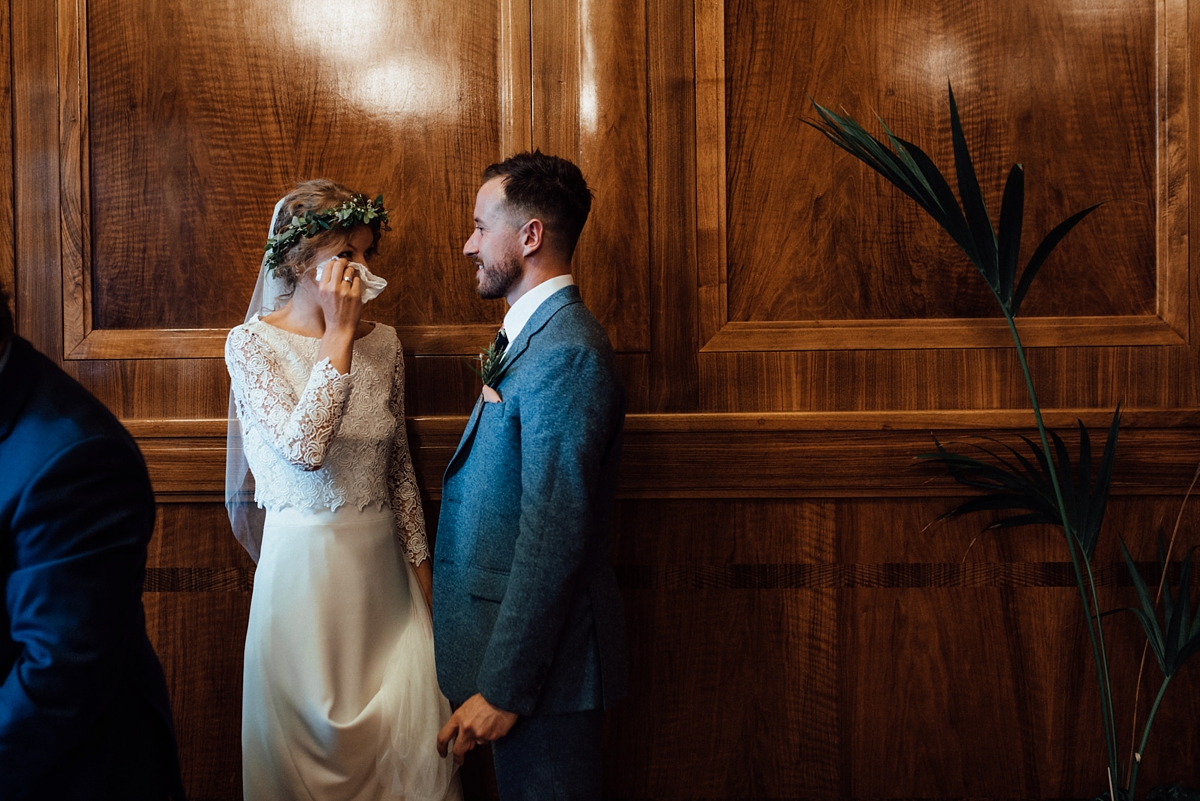 It's great to feature more work by photographer Marni V here on these blog pages, and I love how she has so thoughtfully and creatively captured Lauren and Jon's day.
"Not only were the photos exactly what we'd hoped for, but having Marni at the wedding was a highlight too. She showed us the ropes, stashed bridesmaids shoes in her bag, kept me calm and still managed to capture every moment perfectly. We hoped for the kind of gems you don't get in group photos and we just got photo after photo of magic. Still can't stop smiling at them."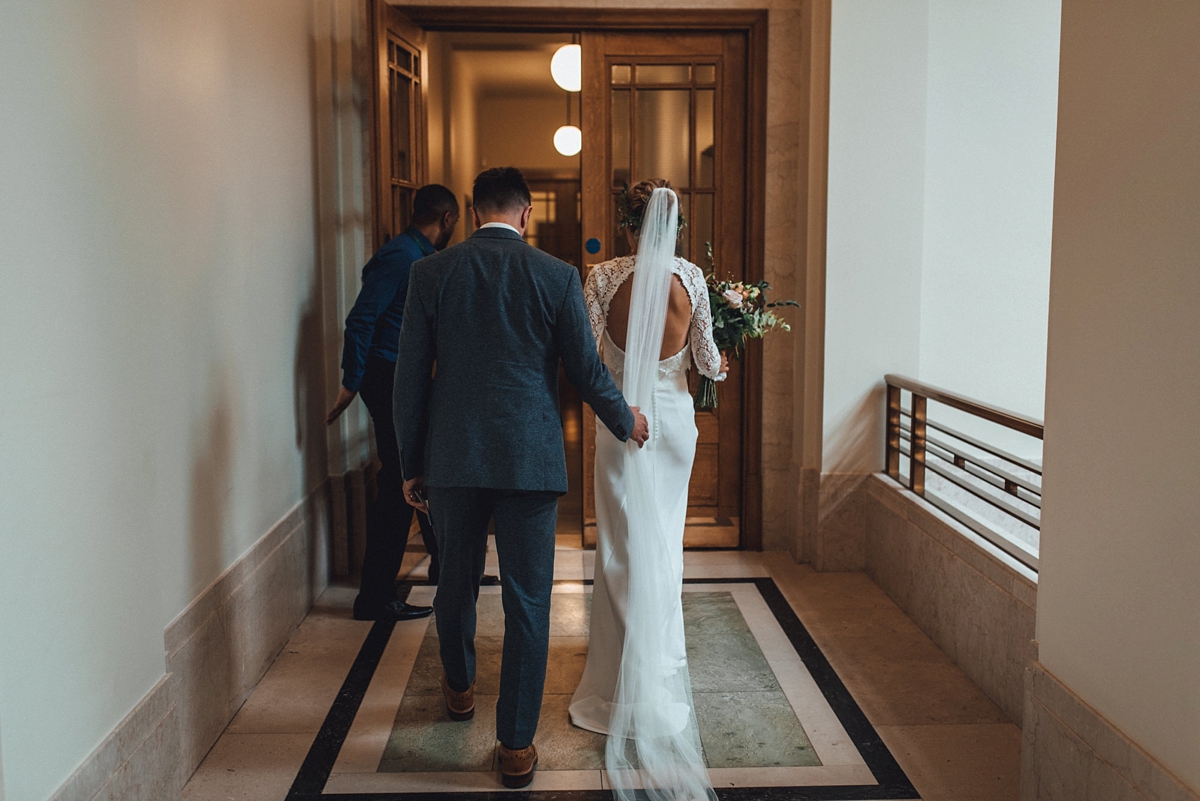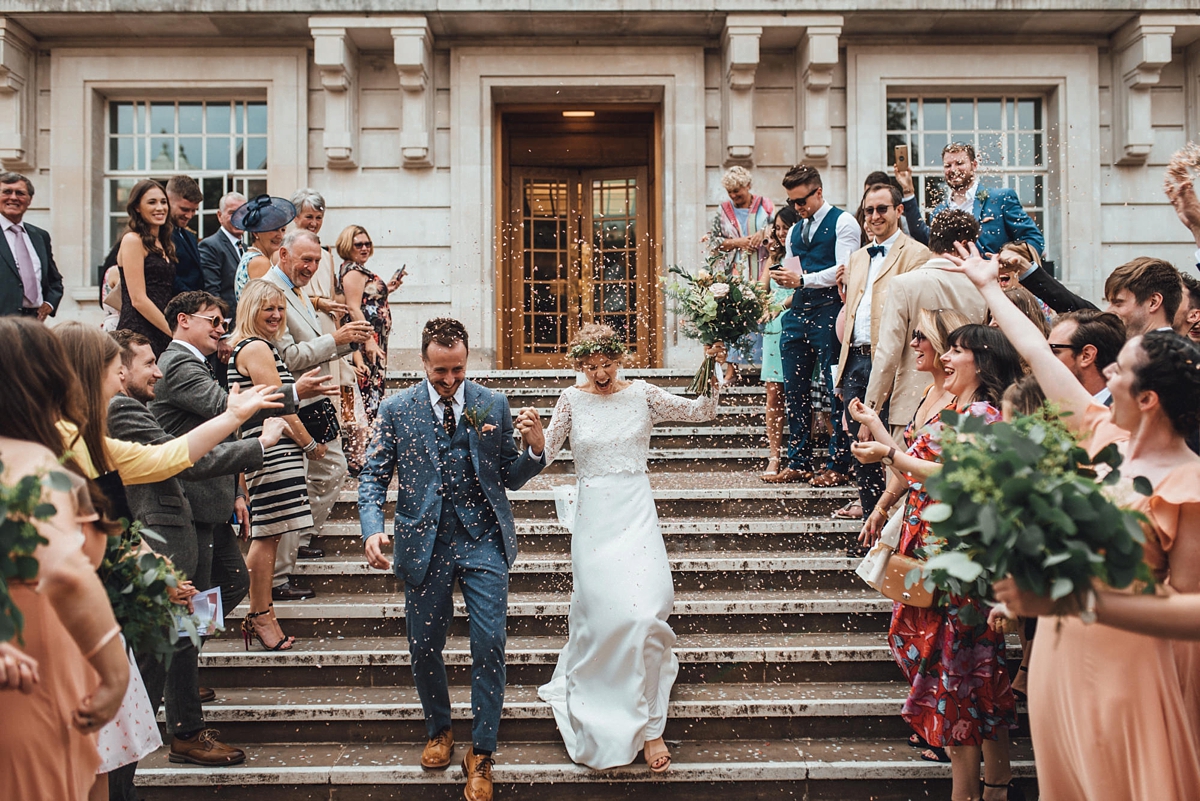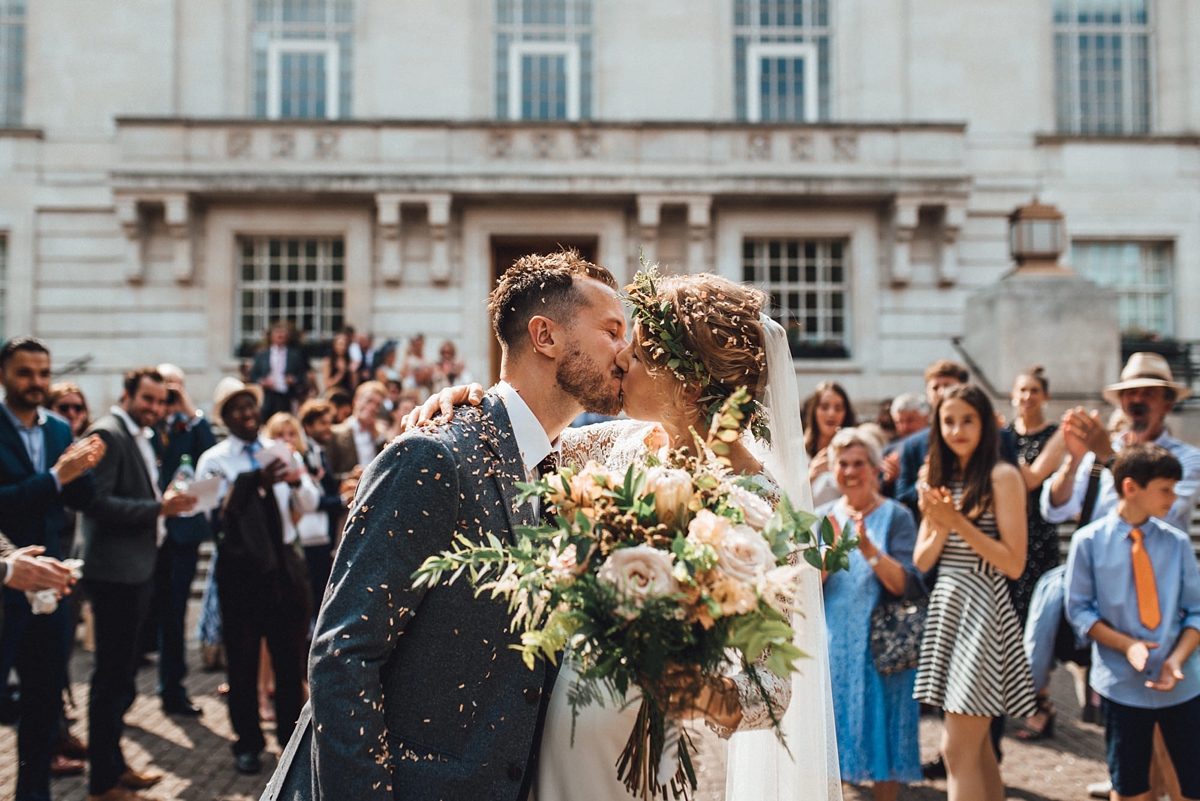 Immediately after the ceremony, Lauren and Jon took some time to enjoy that just married joy by taking a ride in the vintage car Lauren's dad had supplied, this time with the top down!
"Jon and I drove around the same streets we've been up and down a million times over the years, yet this time we were just married, with the top down, as strangers cheered us along – I'll never forget it."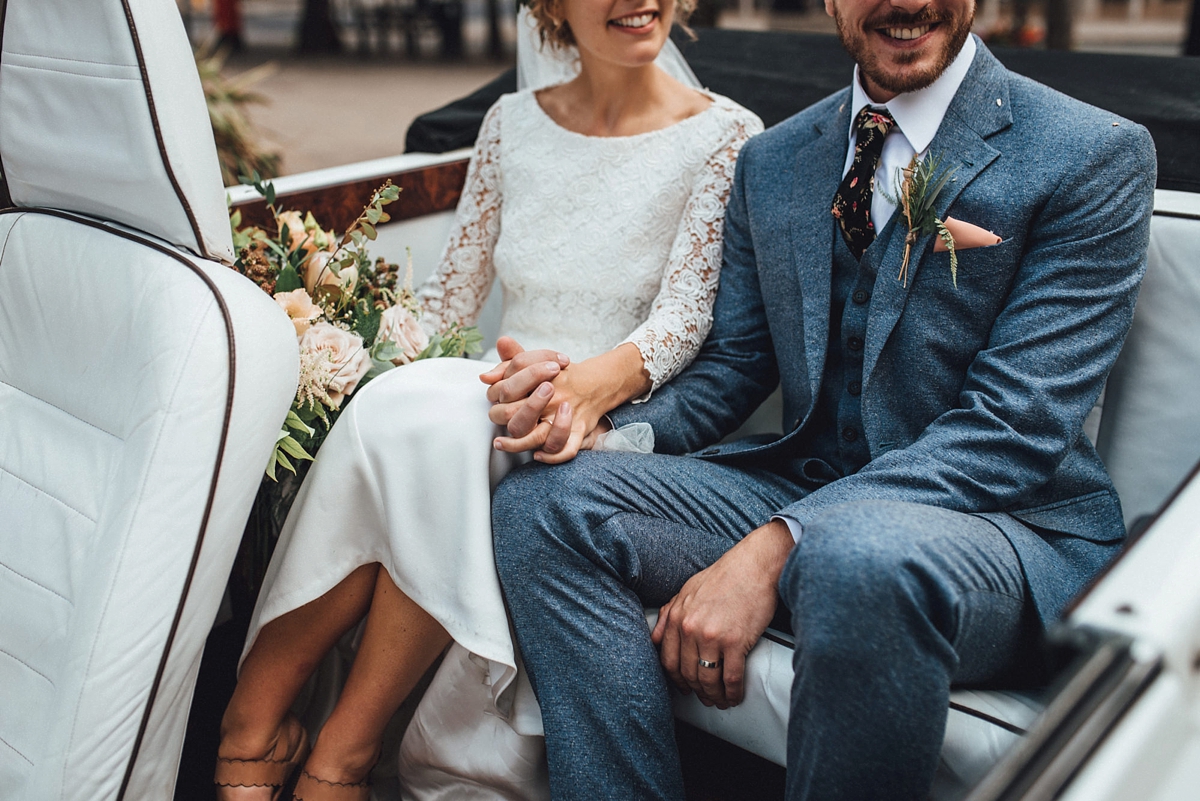 As well as making Lauren's lovely crown, florist Edie Rose also made the beautiful blush pink bouquets filled with roses, lisianthus and ethereal astilbe (also called Prince of Wales feathers, and you can see why!).
"Edie Rose is my lovely local flower shop down on Francis Road in Leyton. I had to get strategic with the budget so could only use them for the important bits – my bouquet, head garland and one big arrangement."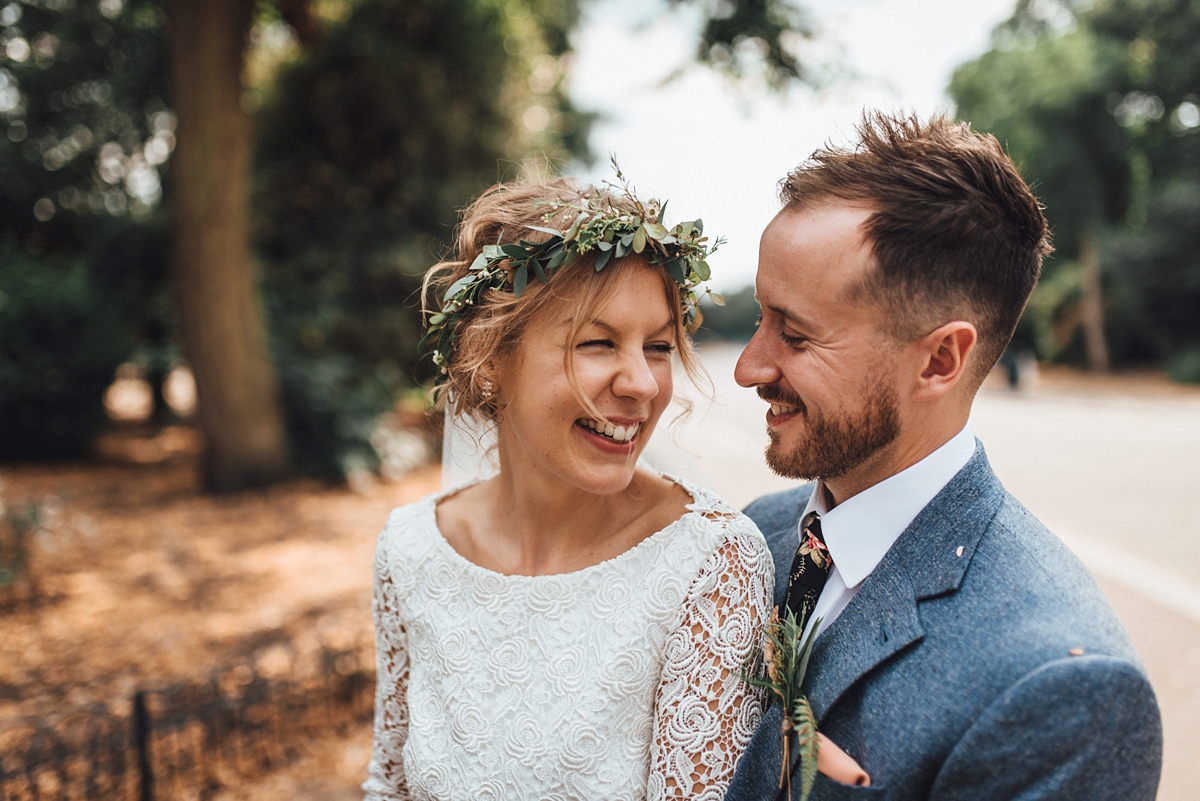 With her creative and design background, Lauren took the decision to create all of the wedding stationery herself, and over at the reception venue, Hoxton Arches, a gorgeously wild and natural floral table arrangement by florist Edie Rose was complemented by lots more DIY blooms in glass bottles, as well as strung from the walls in bunches (such a lovely idea!) and dried alliums and other seed heads and grasses spilling from an old milk churn outside.
"We hired pine trestles from Rustic Hire, made from the floor of an old cheese factory in Holland. With Jon's dutch family background, it was a must. The tables were all a combination of Amazon, the fabric shop on Ridley Road market and crockery hired from Enfield."
An amazing array of Italian food and gorgeous local produce was served up by Bombetta London.
"It's a chef's deli that imports amazing Italian produce for a lot of top London restaurants and then serves up a sample of it all next door. They also have a little Italian Ape grill for doing outside catering."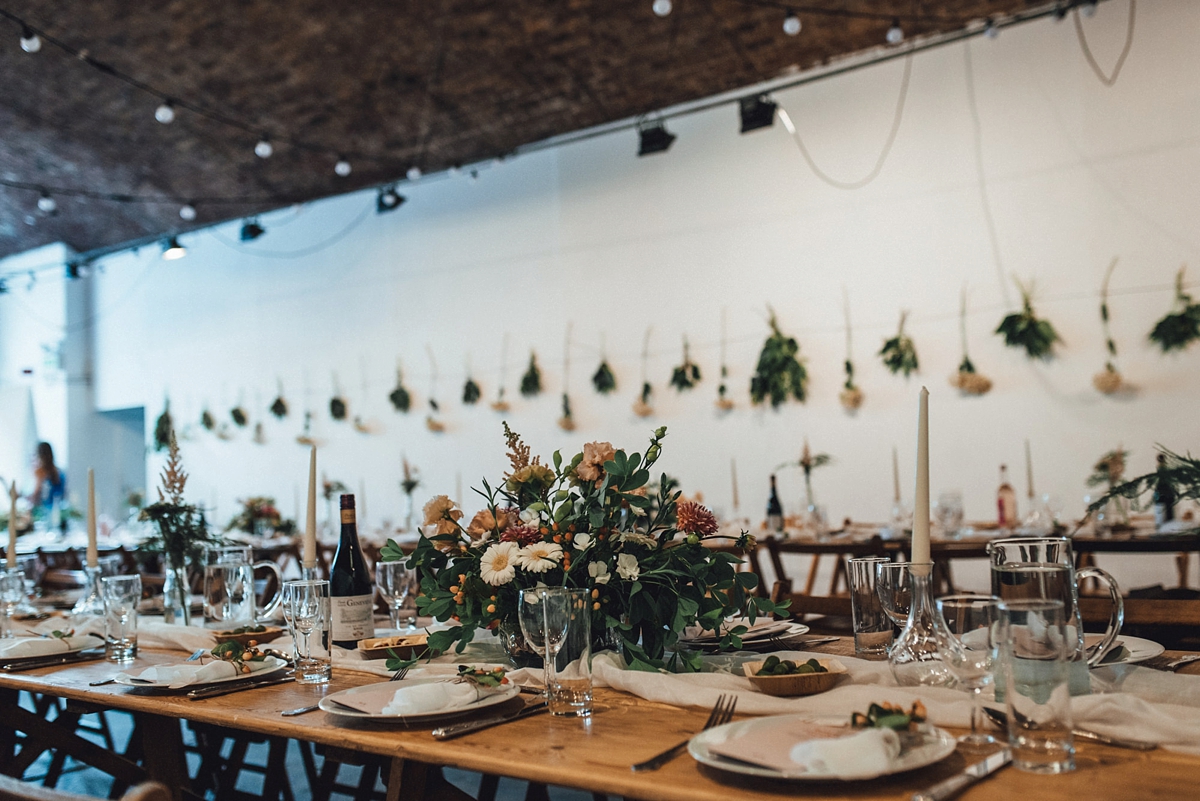 "If we weren't eating cheeses and charcuterie straight from Puglia, we were eating amazing local produce – lettuce from Chingford or bread from one of our favourite bakeries in London Fields, Bread Station. It was a dream."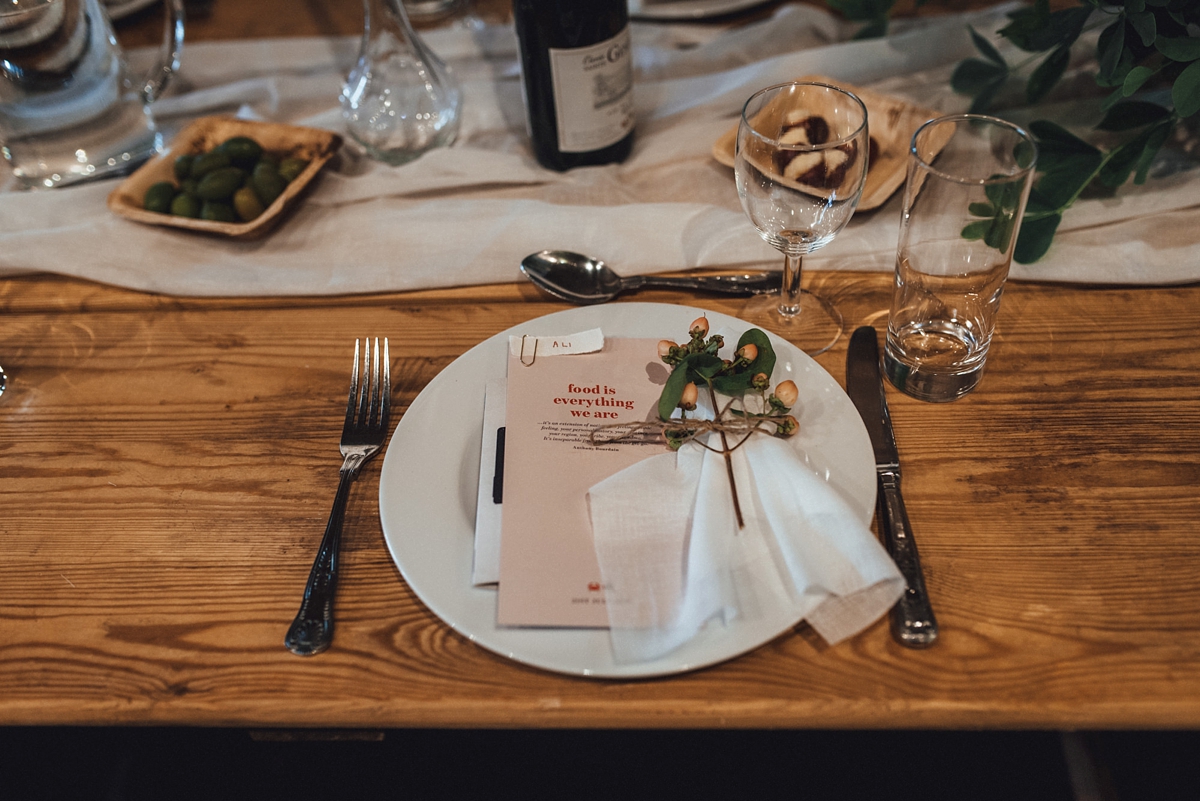 "We both nominated songs for a mixtape as favours, creating a little booklet explaining the story behind each choice. This was a bit of a passion project for Jon, designing it all up and then creating the mix – complete with a recording of my nine year old self reciting Alice in Wonderland over Kendrick Lamar. Pretty special."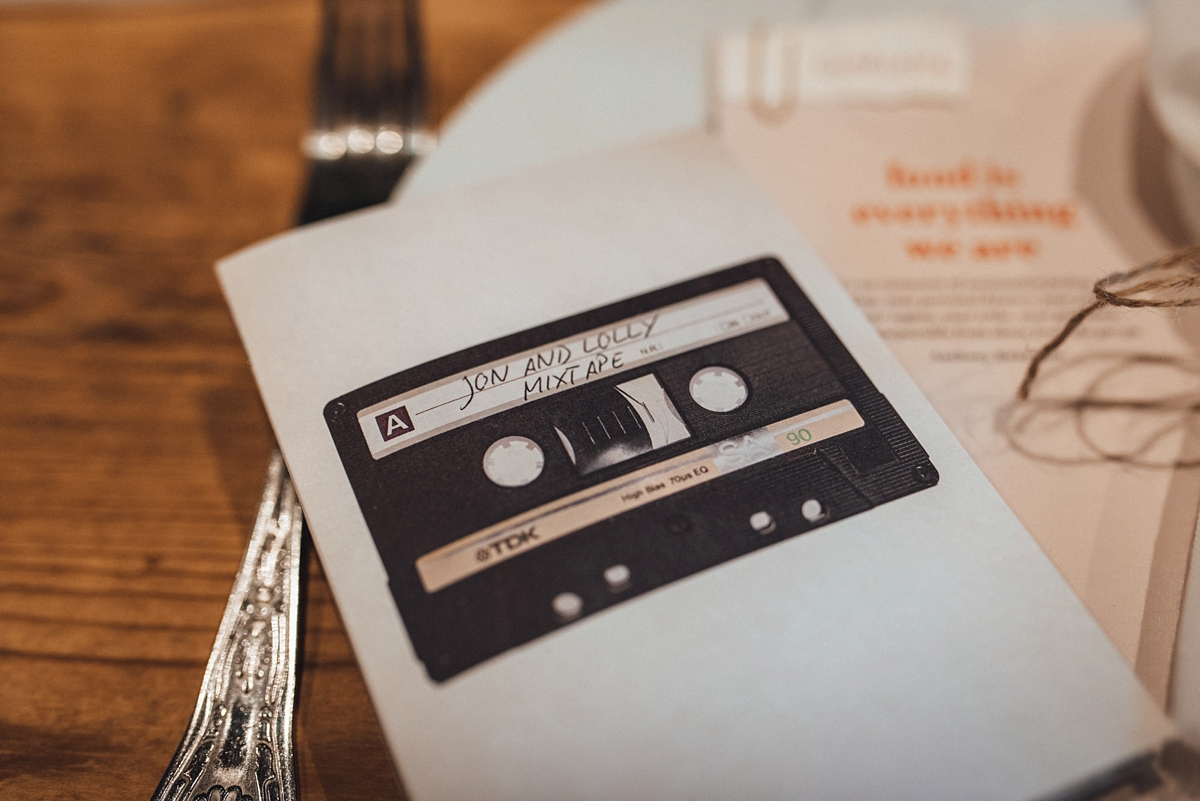 There was delicious cake, too, which Lauren beautifully describes as 'Two generations of Victoria sponge', made by her mum and gran, and decorated with fruit and ivy.
"Jon is a producer so entertainment was always going to be easier/more difficult – whichever way you like to look at it! We wanted to make sure it was great music but also had a relaxed house party vibe so Jon created a great set up that meant friends (and himself for a lot of the evening) could jump behind the desk without sacrificing their own turn on the dance floor. We danced to 'Baby' by Donnie and Joe Emerson. There was no real reason, it just felt right."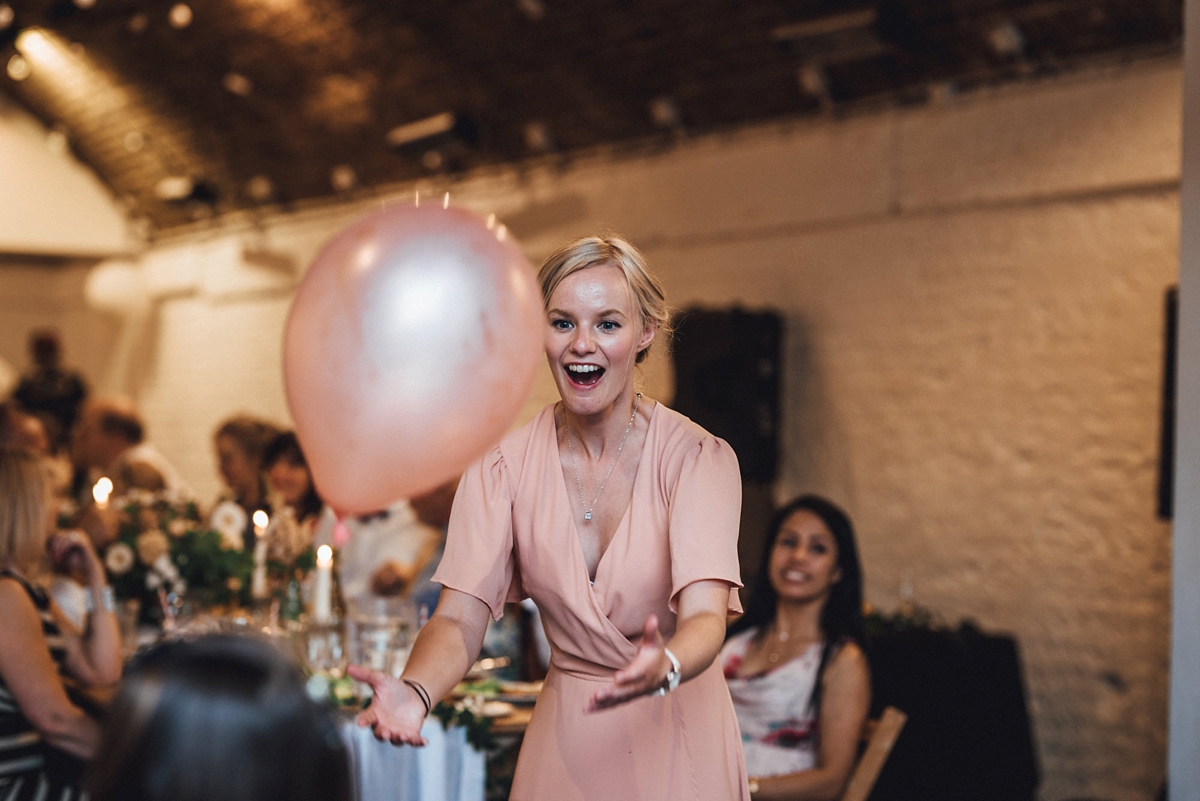 "It's such a cliche and I didn't quite believe it until I experienced it myself, but it truly was the best day of my life. Every minute."
Words of Wedded Wisdom
"Don't try to do everything yourself, but remember it feels so much more personal when you do."
"It's easy to let tradition take over when it comes to speeches – ignore the fear, this is your opportunity, no one else's. Own it, and encourage others to do the same."
"If you pay for one 'luxury', hire a coordinator for the day. Shoulda, woulda, coulda!"
"Scrap the mini-moon and just go straight for the full shebang, whatever or wherever – everything feels 'mega' at that point."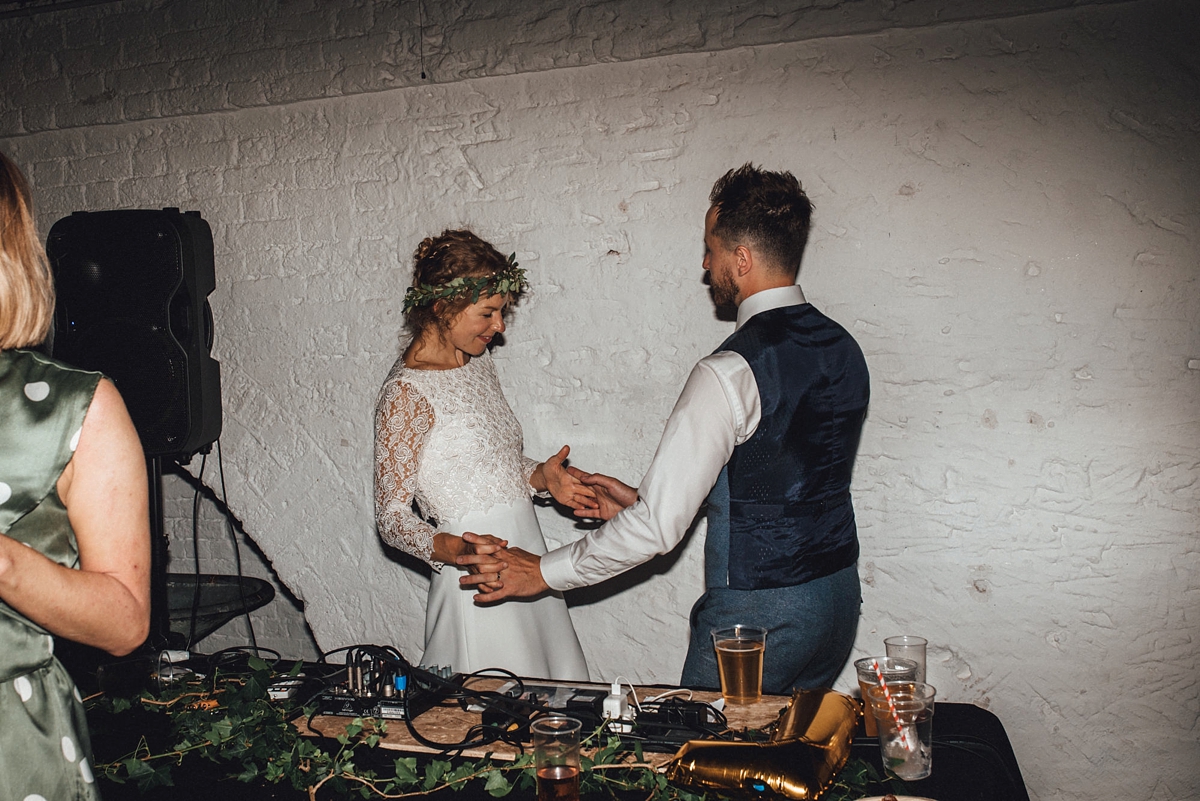 Lauren and Jon, thank you so much! This has been such a brilliant glimpse into your wonderful day. Marni V, thanks also go to you for these magical images. If you're smitten by Lauren's lovely bespoke dress, you can find out more about Story of My Dress' carefully curated vintage pieces as well as their own collection on our blog pages here.
Until next time!
With love,
Laura