Craving an injection of energy after winter? You are most definitely in the right place today, as we're sharing a Californian wedding bursting with vibrant, intense colours that cannot fail to help you feel alive and joyful.
The bride and groom are Andi, a post-production supervisor in the TV industry and Seb, who works at a French restaurant in LA. They married at The Unique Space in Los Angeles, California on 16 June 2018. Their day was inspired by the bright, intense colours of confetti, and a wish to make the wedding into an incredible cocktail-party style celebration to reflect their own fun, energetic personalities. The venue, an open warehouse decorated with cool, quirky detail and lots and lots of colour, was a great backdrop for this couple's theme.
Photograph Mary Costa Weddings
I'm delighted to read that Andi found inspiration from the Love My Dress Instagram feed, even across the ocean.
"I found Love My Dress via Instagram while I was searching for the perfect wedding dress and I loved the interesting and diverse brides featured. All of the photos were unique and interesting, unlike a lot of other blogs. I love reading about why each person chose their dress and why it made them feel special."
Andi asked her personal hair stylist and friend Ray Salazar from Nelson J Salon in Beverly Hills, to style her auburn locks into a full and bouncy swept-over-the-shoulder style. Her pretty make-up, complete with a gorgeous silvery eye and dramatic lashes, was applied by Tina Castor from Girl Meets Bongga.
"I wish I had thought more about hair accessories! Luckily my sister had some extra silver pins so my hairdresser, Ray, used a few of those to sweep my hair to the side!"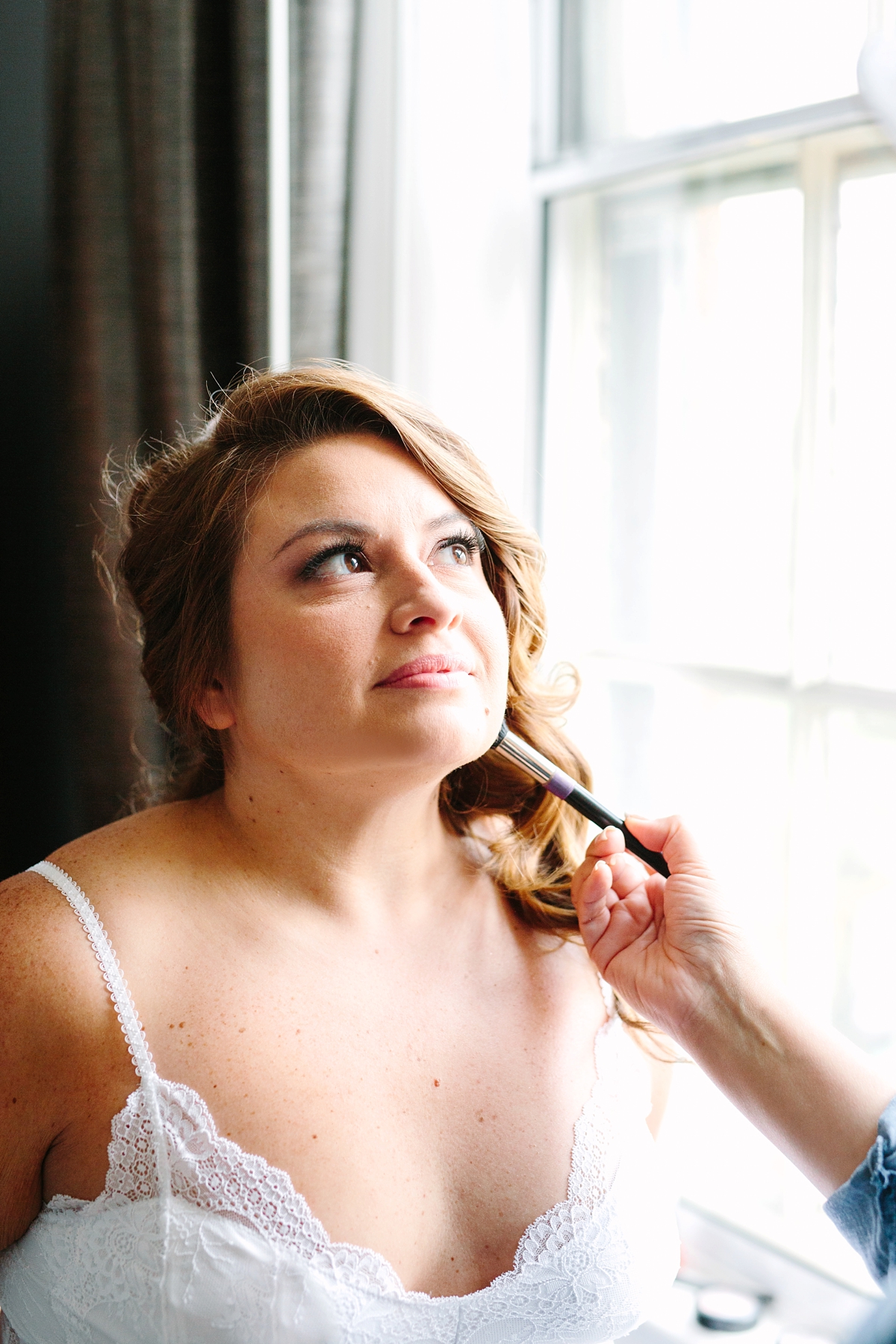 "I'm obsessed with Jo Malone Dark Amber & Ginger Lily – a recommendation from one of my oldest friends, Noelle. I wore that because I love the way it smells and it stays on me all day."
It sounds as if Andi had a wonderful wedding dress shopping experience, selecting her flowing and funky strappy gown with the help of its designer, Lazaro Perez, himself. She found it at the JLM Couture Flagship Boutique in West Hollywood and teamed it with low matching silver sandals, ideal for dancing.
"As a larger gal I was worried about wedding dress shopping, assuming that the sample sizes would never even slip over my head but I was so surprised that almost every dress I tried on actually looked great. I was so relieved to be able to try on so many dresses and get a good feel for what I actually wanted in a dress."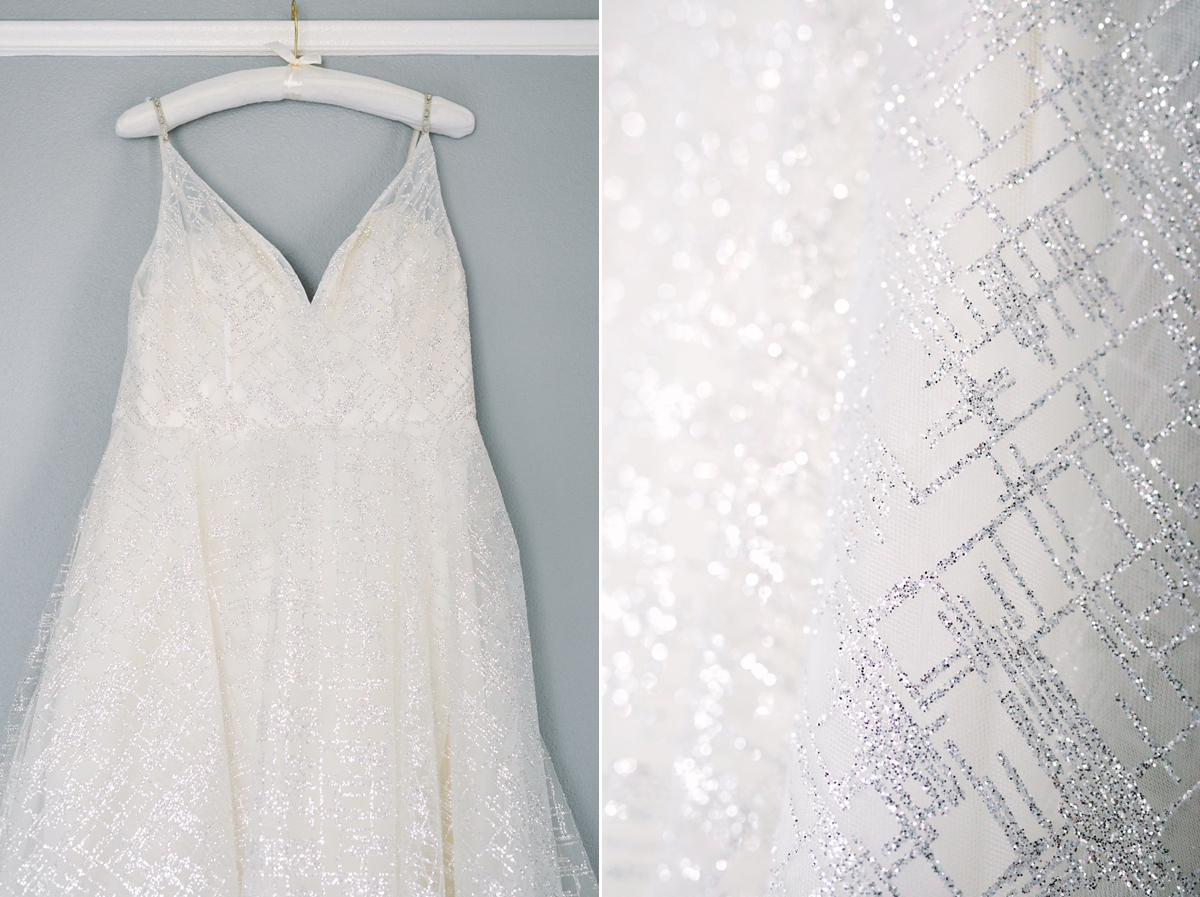 "I went to JLM in Beverly Hills to try on a glitter strapless Lazaro ballgown I saw online. After talking to my consultant about what I was looking for she suggested another sparkly gown with a cool plaid pattern, deep V neckline and thin straps to elongate my neckline."
"It happened to be the weekend of the Lazaro trunk show and Lazaro Perez was actually in the store. I didn't end up loving the initial strapless dress that pulled me into the store, but I was intrigued by the patterned dress with the beaded straps. The liner was designed very straight, so it wouldn't fit over my hips and the consultant called Lazaro himself into the dressing room to cut the liner so I could try it on! I was so embarrassed, but he was amazing and told me he knew the dress was right for me."
"It really was perfect. Just like everyone tells you – I instantly knew it was THE ONE. I love how unique yet classic it is. The plaid pattern is such an interesting and unexpected detail. I've always loved a lot of sparkle but I never dreamed I would find a gown that was head to toe glitter. It is so over the top and matches my outgoing personality perfectly."
"It was so special to have the designer in the store to walk me through the design of the dress and where on my body it would fit better when ordered in my size. He sketched a beautiful drawing of my gown and gave it to my mom. She was in bridal heaven!"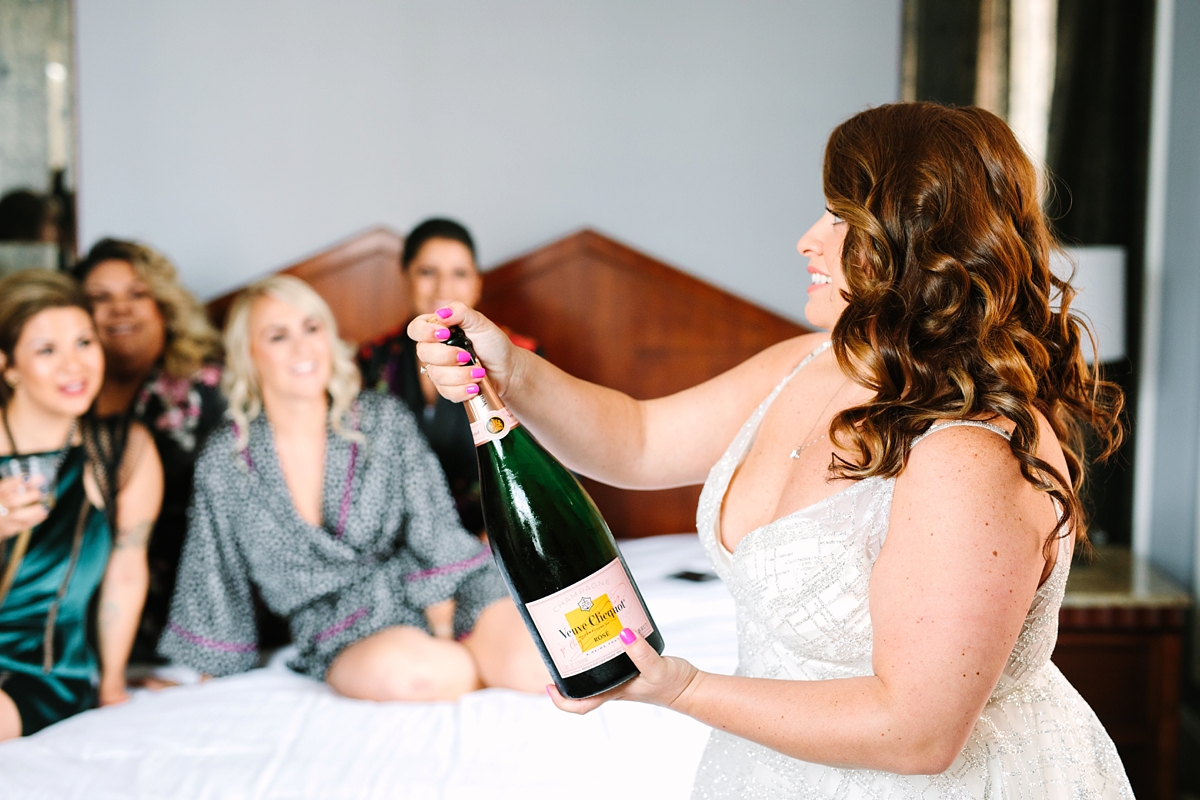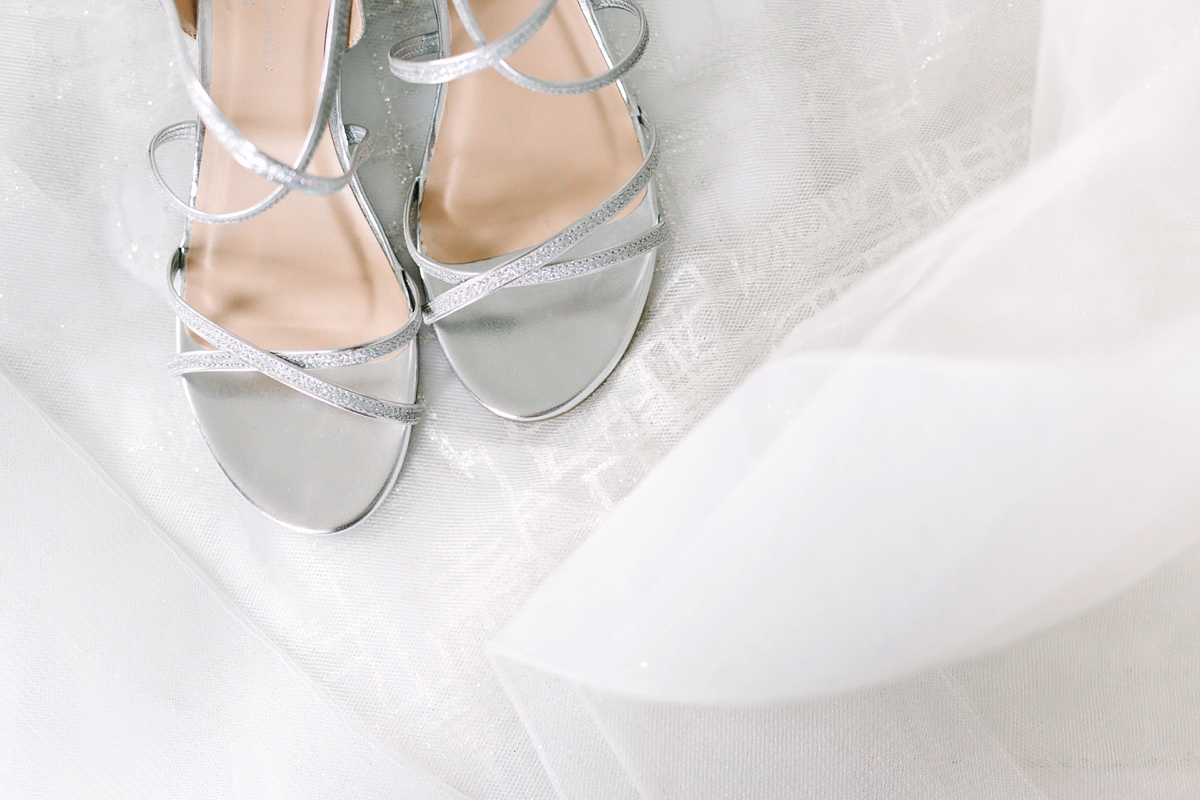 Seb dressed in a dapper tux and bow-tie, worn with super-cool velvet shoes.
"Since Seb isn't into fashion at all, one of my best friends Paul took him to Groom Studio in Downtown LA. I loved the classy tux they chose."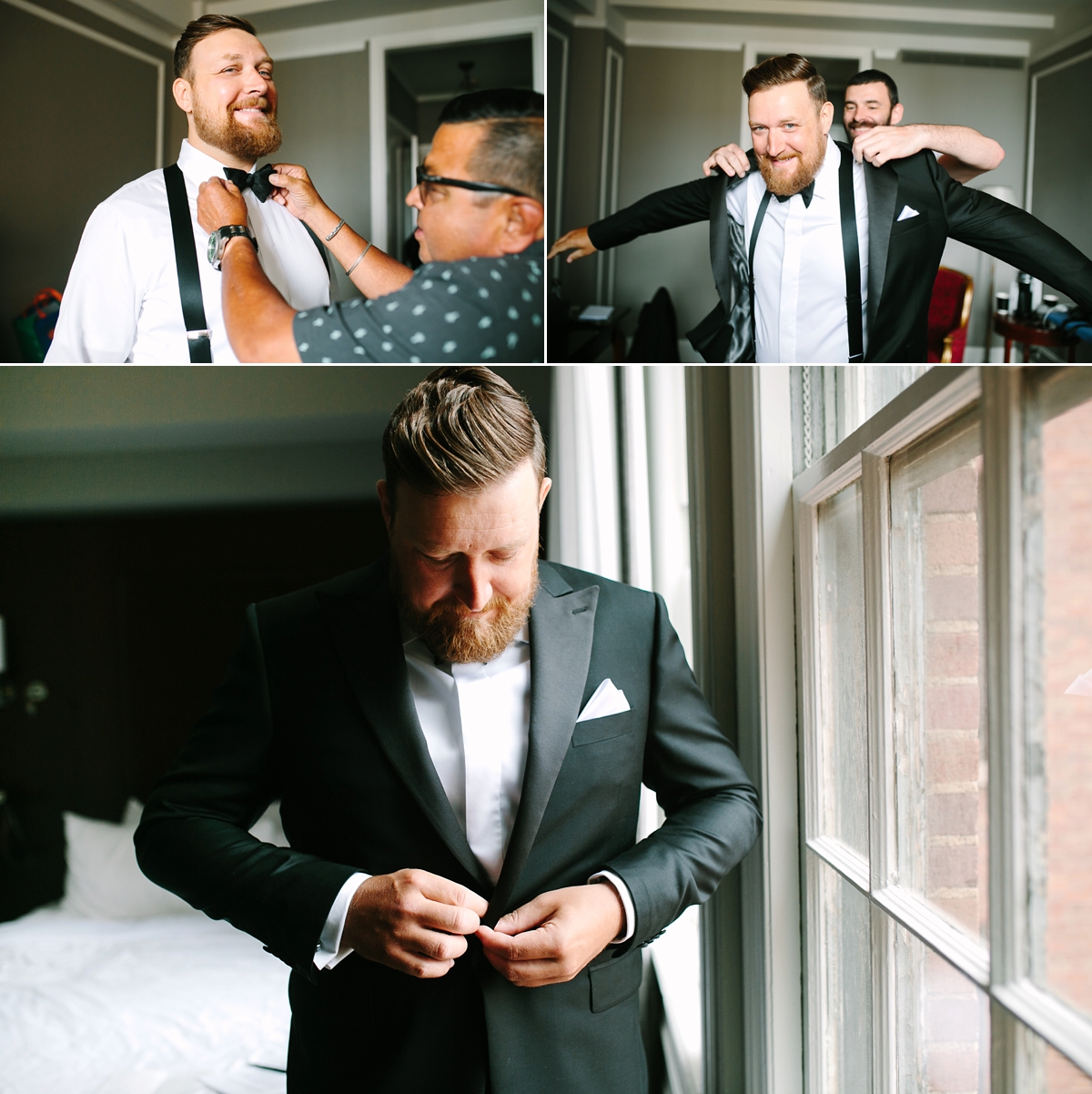 Andi and Seb are a real-life online dating love story. They met on Tinder in 2015 and got engaged in Autumn 2017, planning their wedding for the following summer.
"I was his first date and he was probably my hundredth. I spent so long looking for someone I actually could connect with so when I met Seb I knew he was different. He's from France and super-intense and romantic, which was instantly attractive."
"I fell in love with his tenderness and honesty but the accent is a major plus. He is passionate and emotional and I am practical and assertive, so we have a good balance. In October 2017 Seb COMPLETELY surprised me and proposed while we were away for the weekend in Santa Barbara."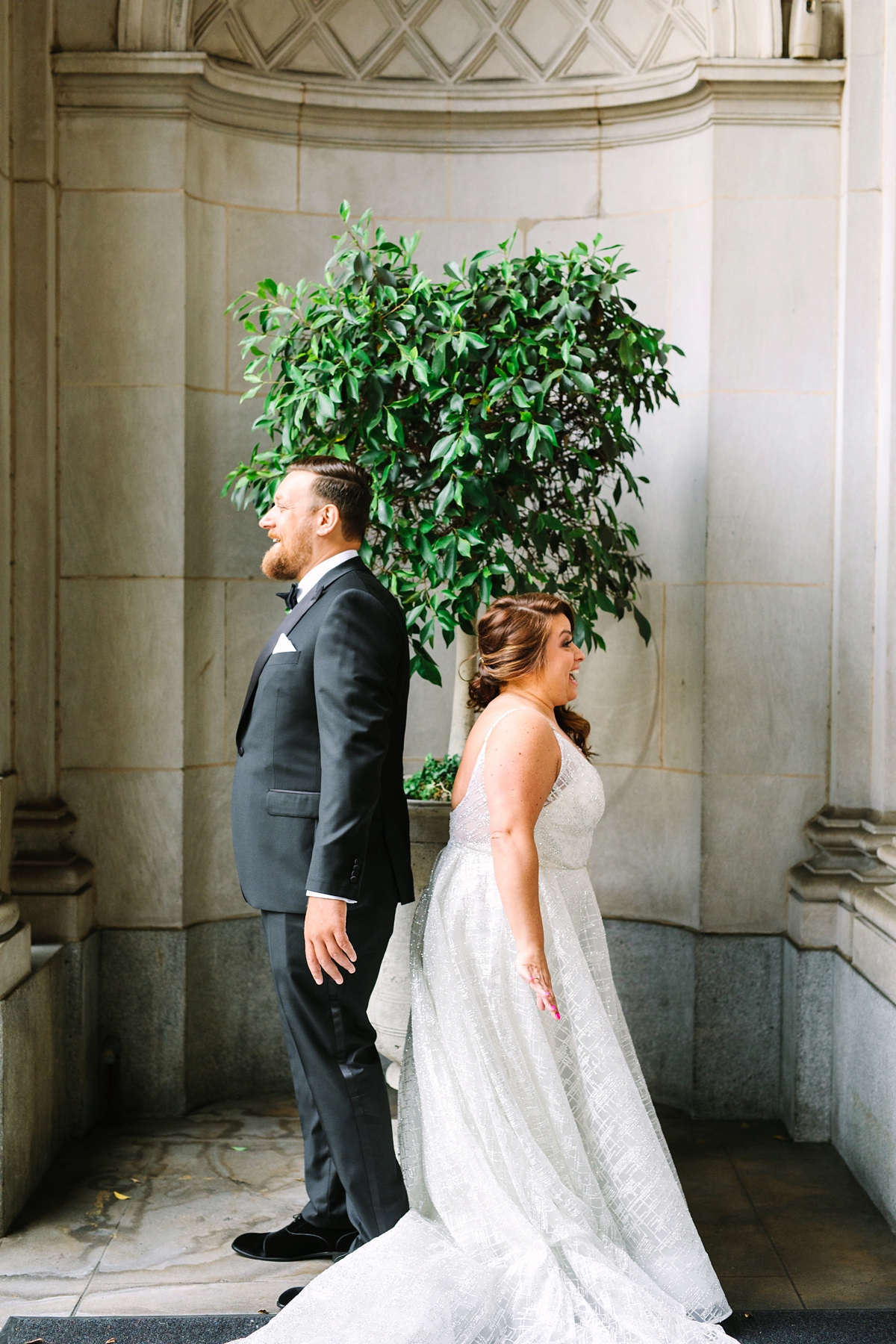 "We decided to plan our wedding quickly because both of us are impatient and we booked our venue a month or two after we got engaged. Within about five months the whole party for 150 people was planned!"
Andi and Seb chose to have a first look before their marriage ceremony, and how gorgeous are the resulting photos? The ceremony was led by the bride's father against a fabulous backdrop of fairy lights and rainbow helium balloons.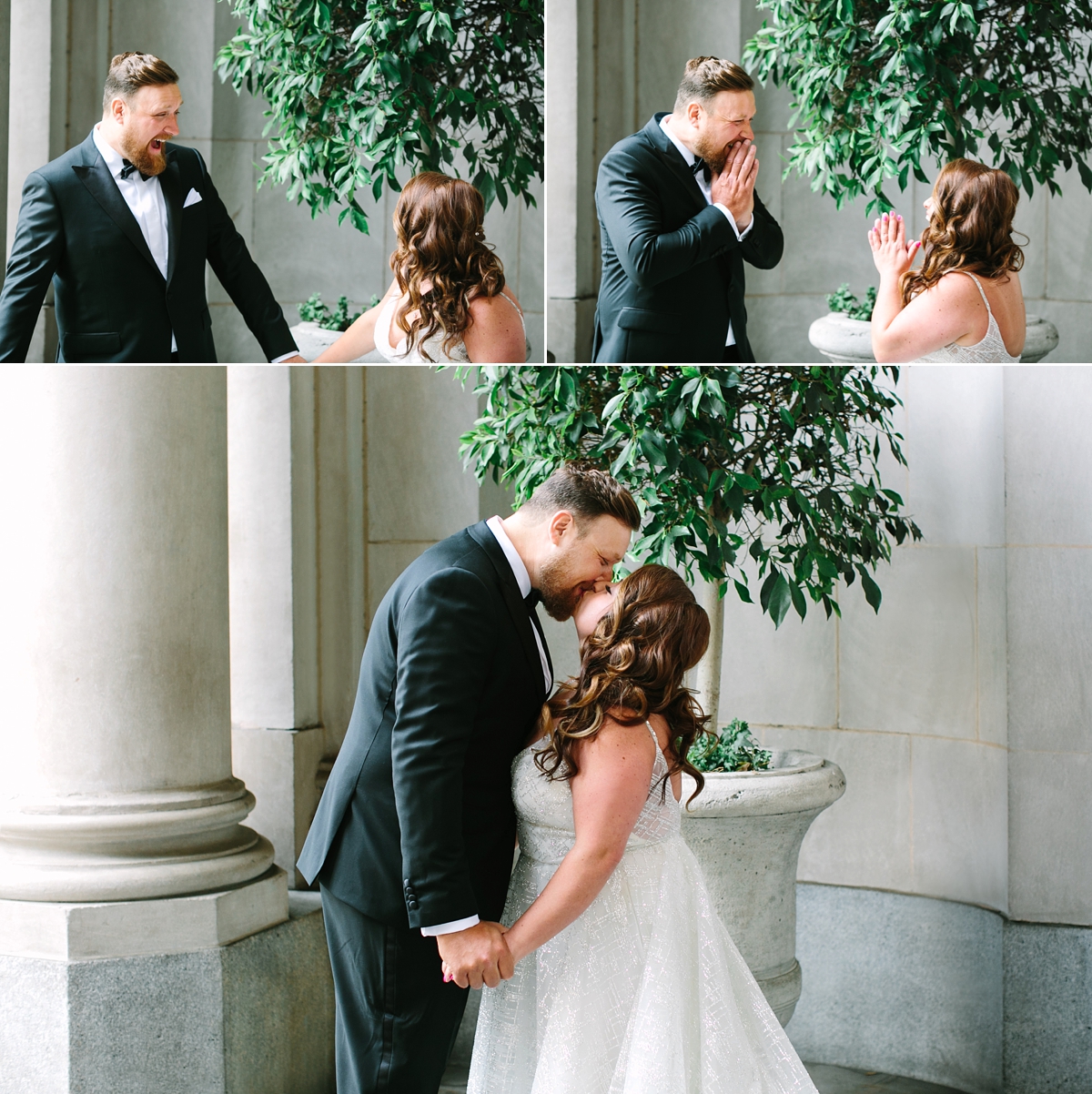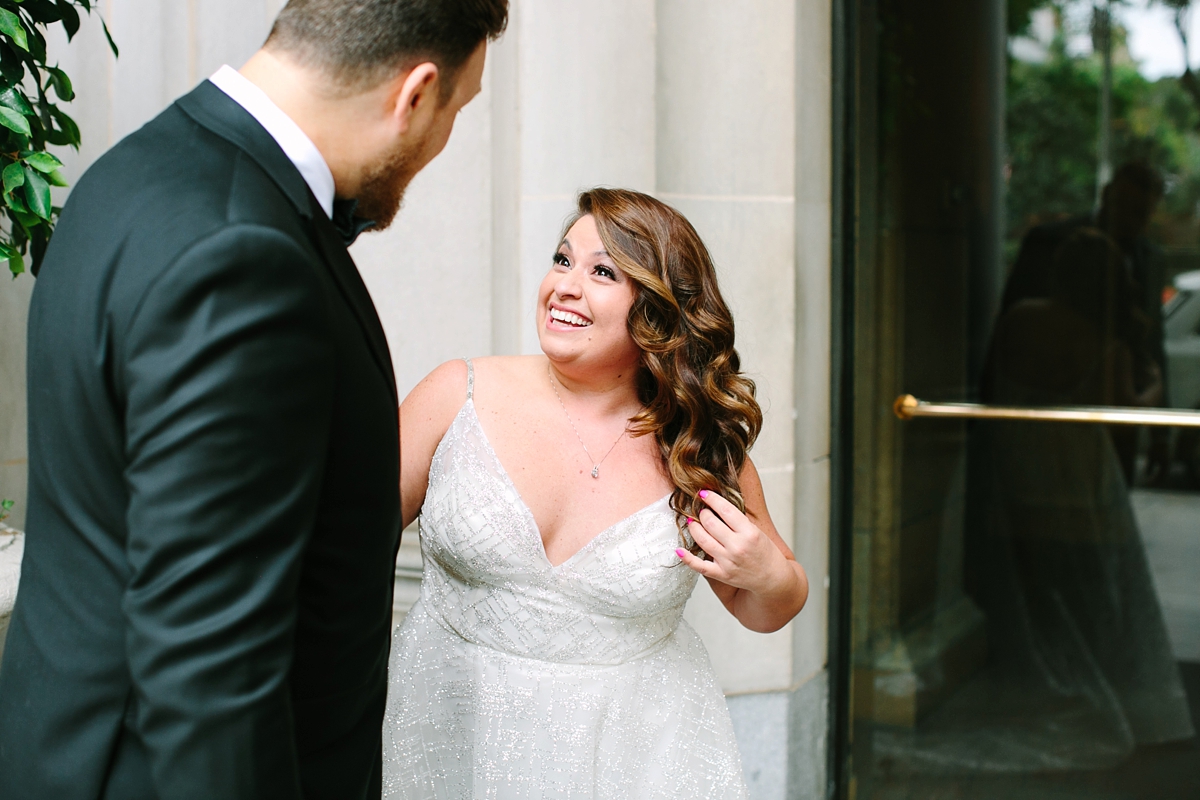 The first step for the bride was to engage a wedding co-ordinator.
"Kari Dirksen of Feathered Arrow Events was so organised, calm and easy to work with. Kari went above and beyond for us. I didn't worry about a single thing on our wedding day."
"I was in so many weddings that I had a pretty good idea of what I didn't want to do for my own wedding. Pinning down exactly what I did want was a bit harder! I think that getting married at an older age allowed me to think outside the box a lot more; I definitely did not feel any pressure at all to stick to any traditions."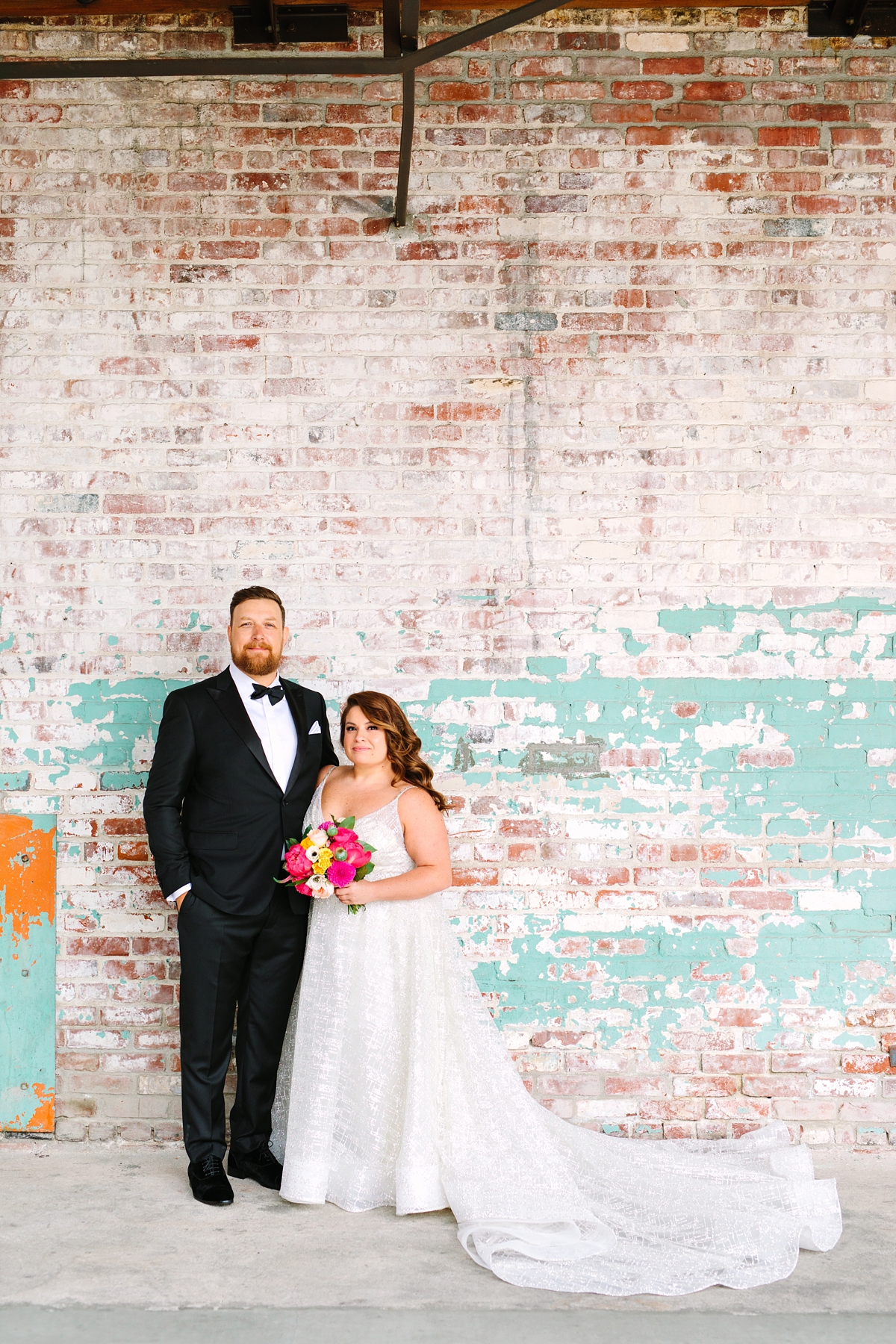 "Seb is much more traditional than me so he wanted things a little more formal, but we decided early on that we just wanted to throw a fancy, cocktail-style party with tons of booze and food flowing and we tried to make decisions based on that idea."
"My personal style is so all over the place and I love bright colors and patterns, so naturally I gravitated towards a brighter affair. I firmly knew I wanted a giant party that felt less like a wedding and more like a celebration. And what says celebration more than CONFETTI so that became our theme."
"With the help of my wedding planner, everything turned out better than I could have dreamed. The night was filled with all of the things I love about weddings and none of the stuff that I dread."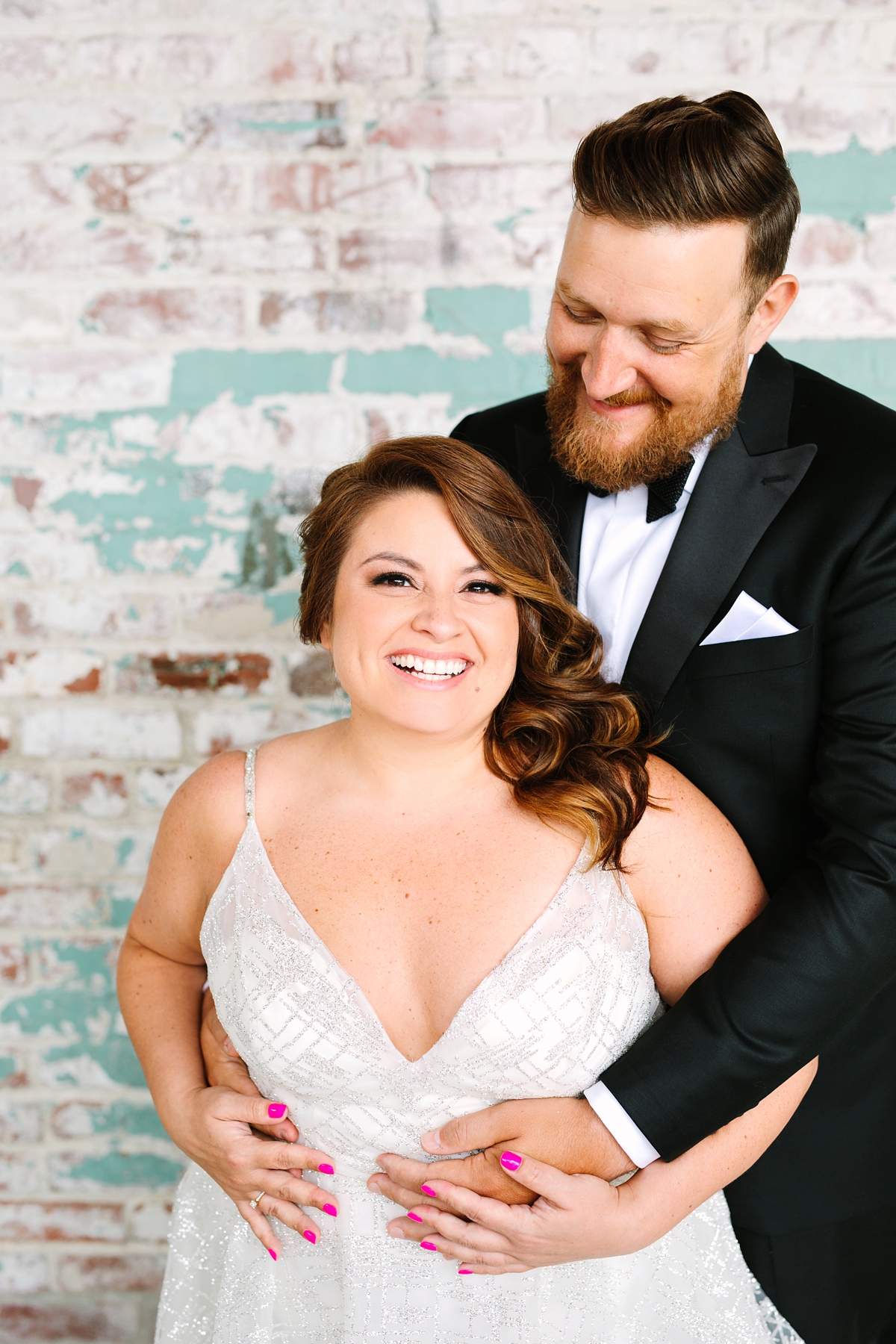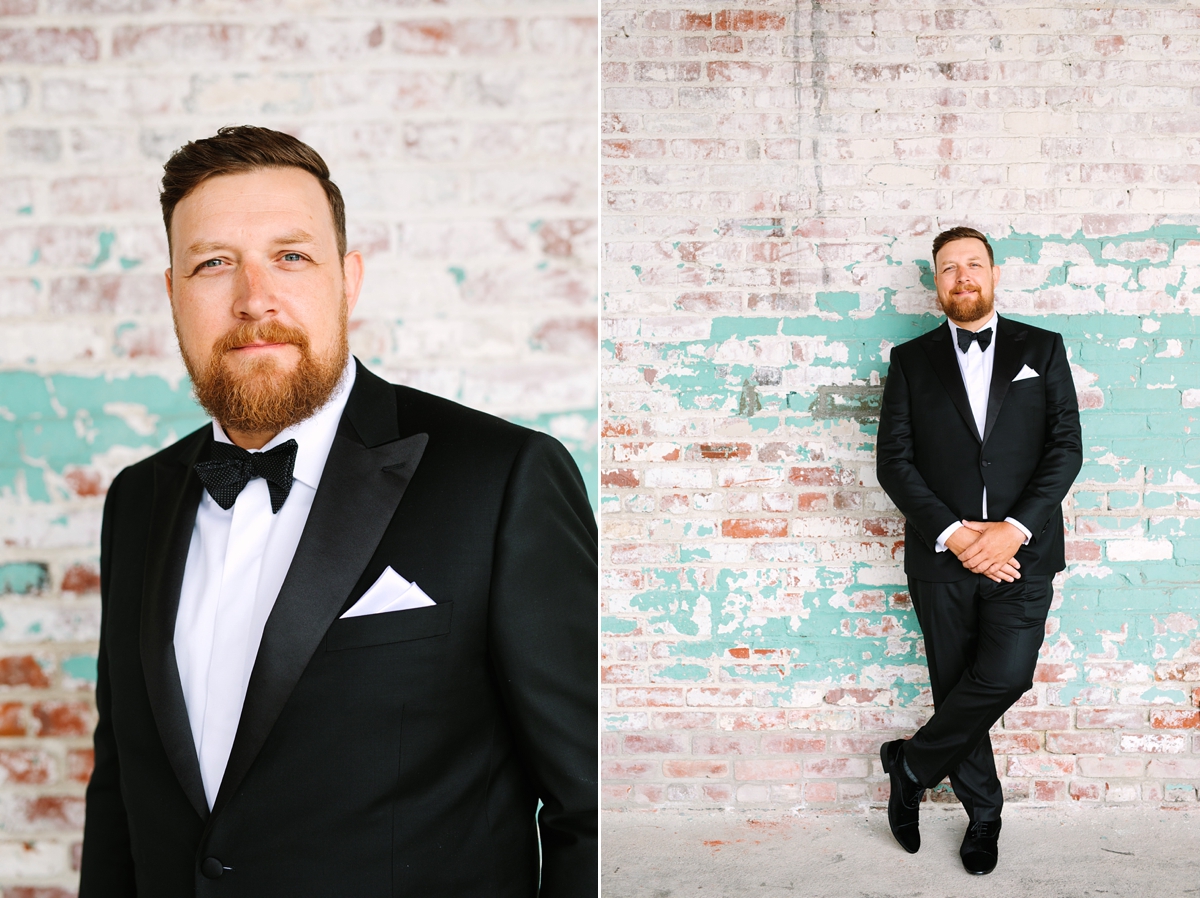 More rainbow colours came from Andi's fun and vibrant bouquet, a Primary Petals creation.
"Flowers were the very last thing I wanted to spend any money on, but I knew they make a room pop if done correctly and could potentially bring together all of my crazy colours. I spoke with Carly, the owner of Primary Petals, and told her my dream was to have arrangements in confetti-filled vases. I also gave her the long list of flowers I dislike and just put all my trust in her work."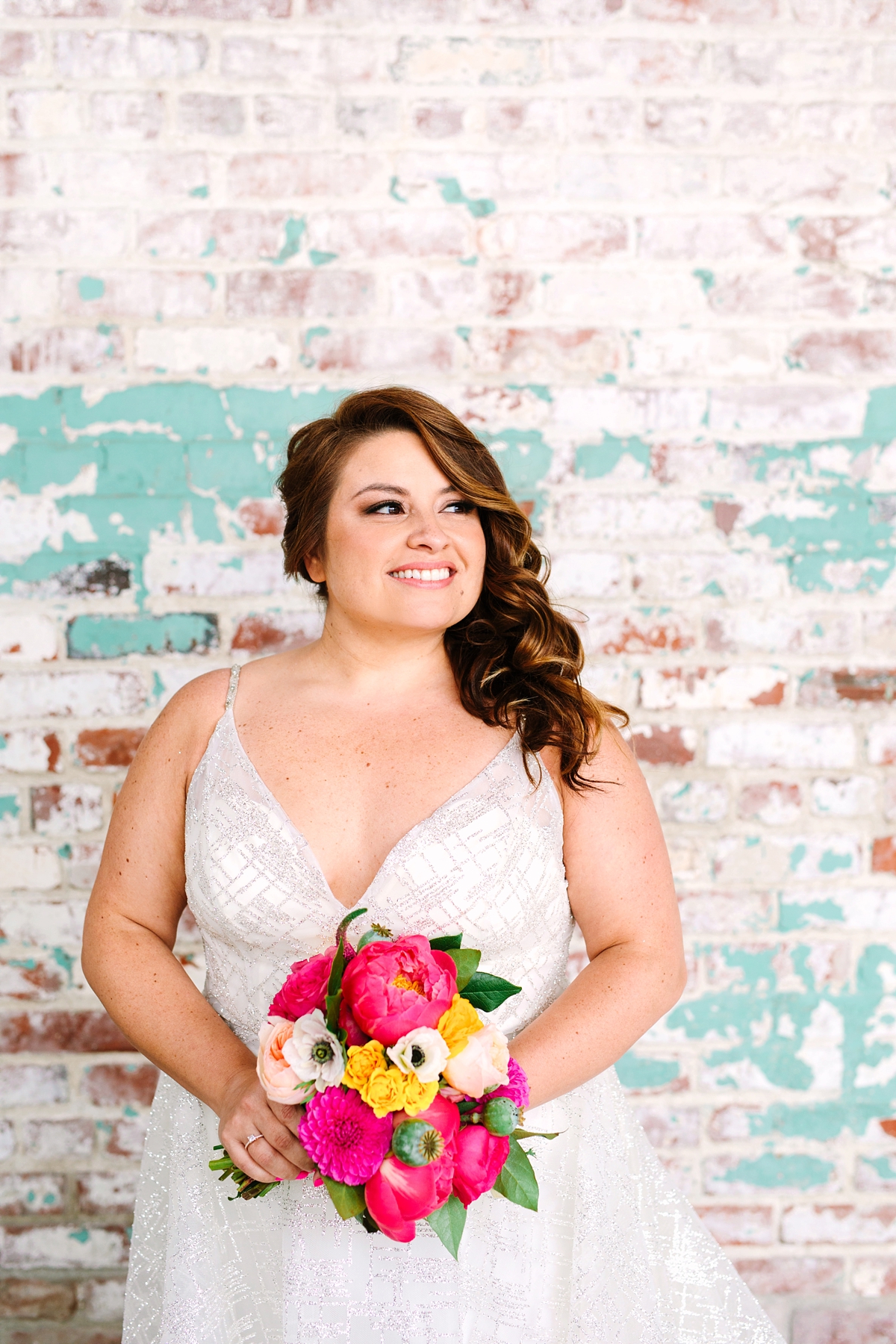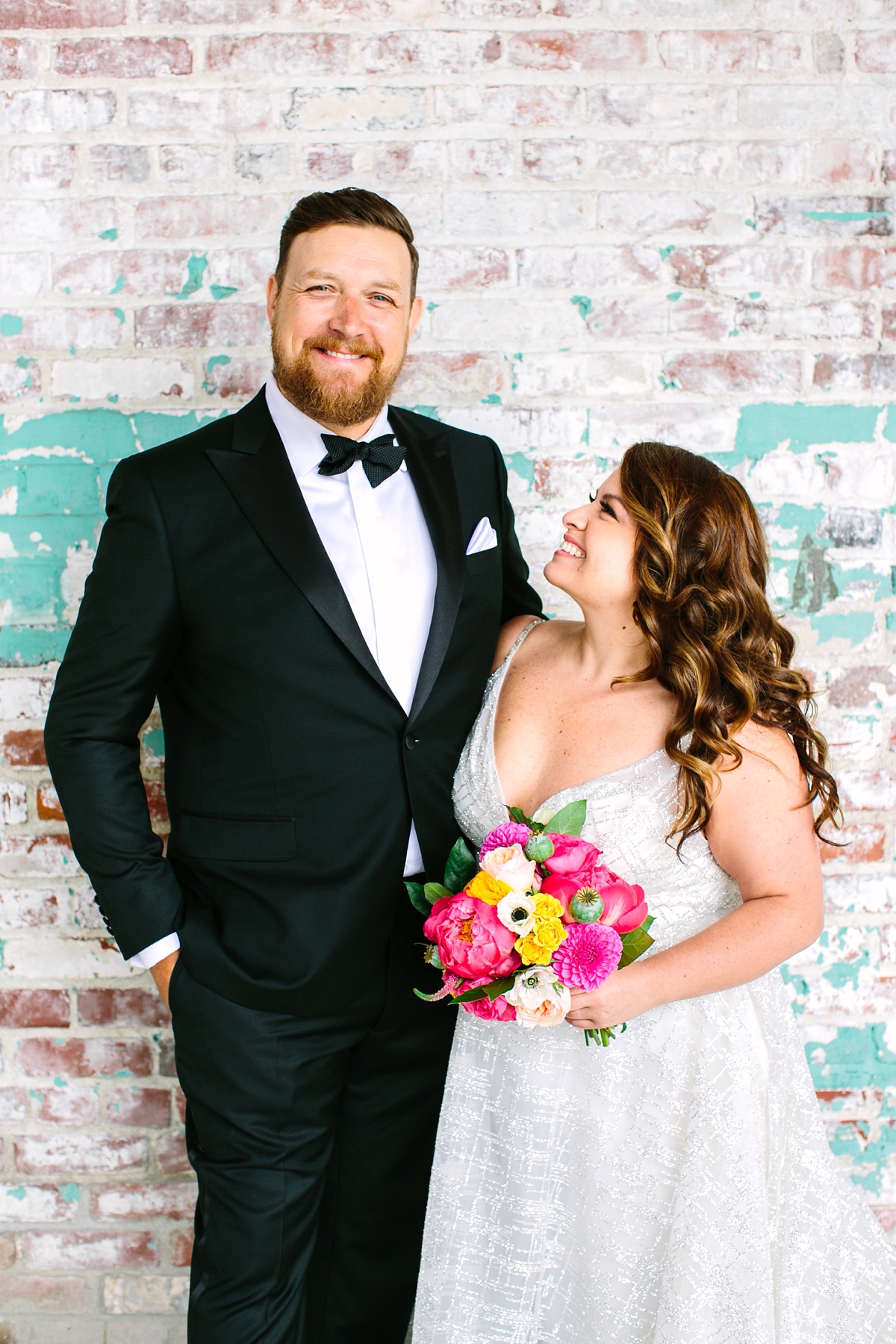 "I really had no idea what anything would look like and I truthfully wasn't worried about it. I didn't really want a bouquet but decided on a small one at the last minute and I'm glad I did because it really made our photos pop. On the day of the party I was blown away by the stunning arrangements that Carly and her team created. They were so vibrant and diverse."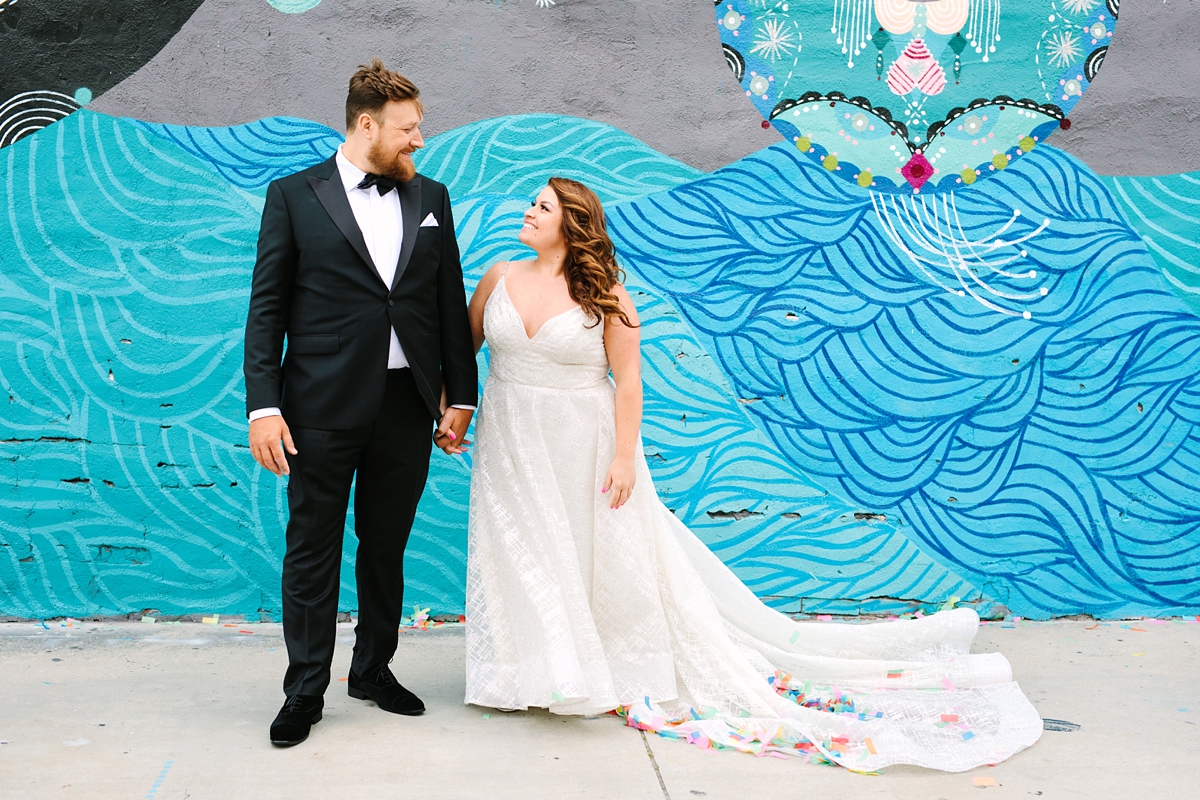 "The idea of my dad 'giving me away' seemed a bit outdated. Since Seb and I already started building a life together, it just seemed appropriate to walk out as a family with our dog-son Leon. To stay in the party theme we came out to Beyonce's 'Love on Top'."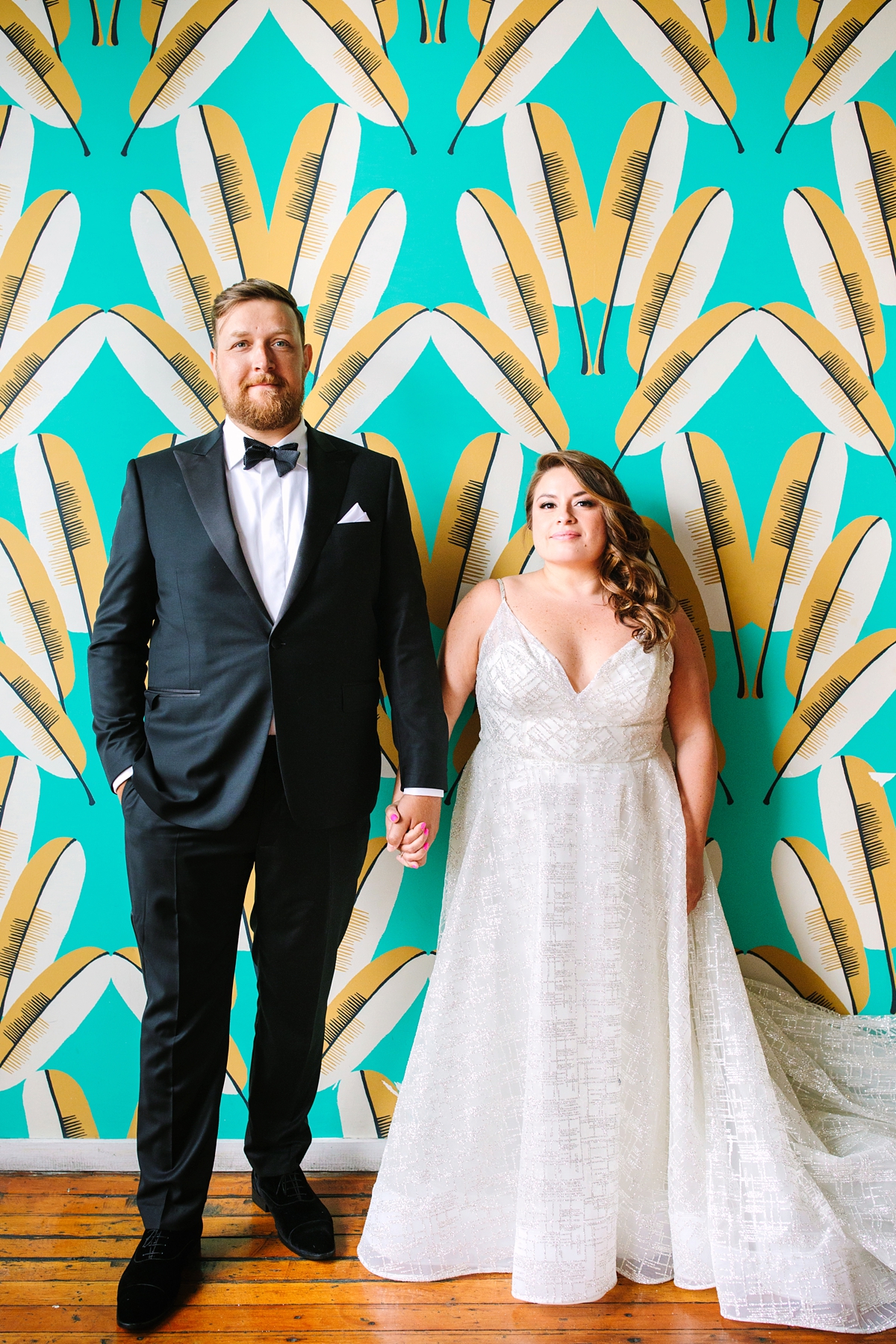 "Since my dad didn't walk me down the aisle, I still wanted to find a way for him to be involved so we decided to ask him to get ordained to marry us. He did so well and followed the outline perfectly. It was really special to have him standing with Seb and me while we made our life together official."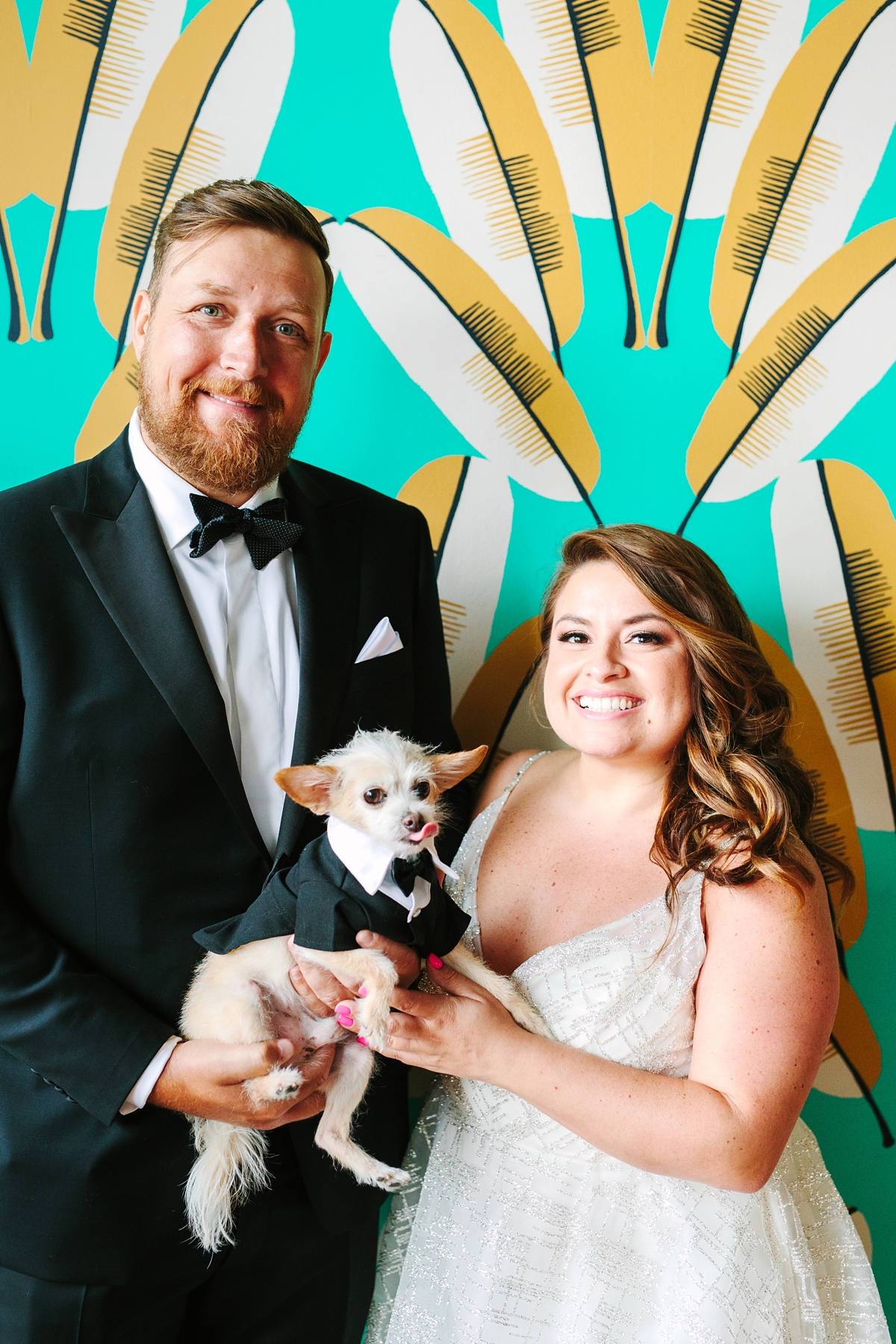 "Truthfully I didn't even want a ceremony and Seb, who is much more traditional, explained that's the whole point of the party. I knew I didn't want any readings or definitions of what love means or really any of the classic wedding ceremony 'checklist'."
"For the ceremony we just had my dad welcome the guests then toss the mic to us and we read love letters to each other."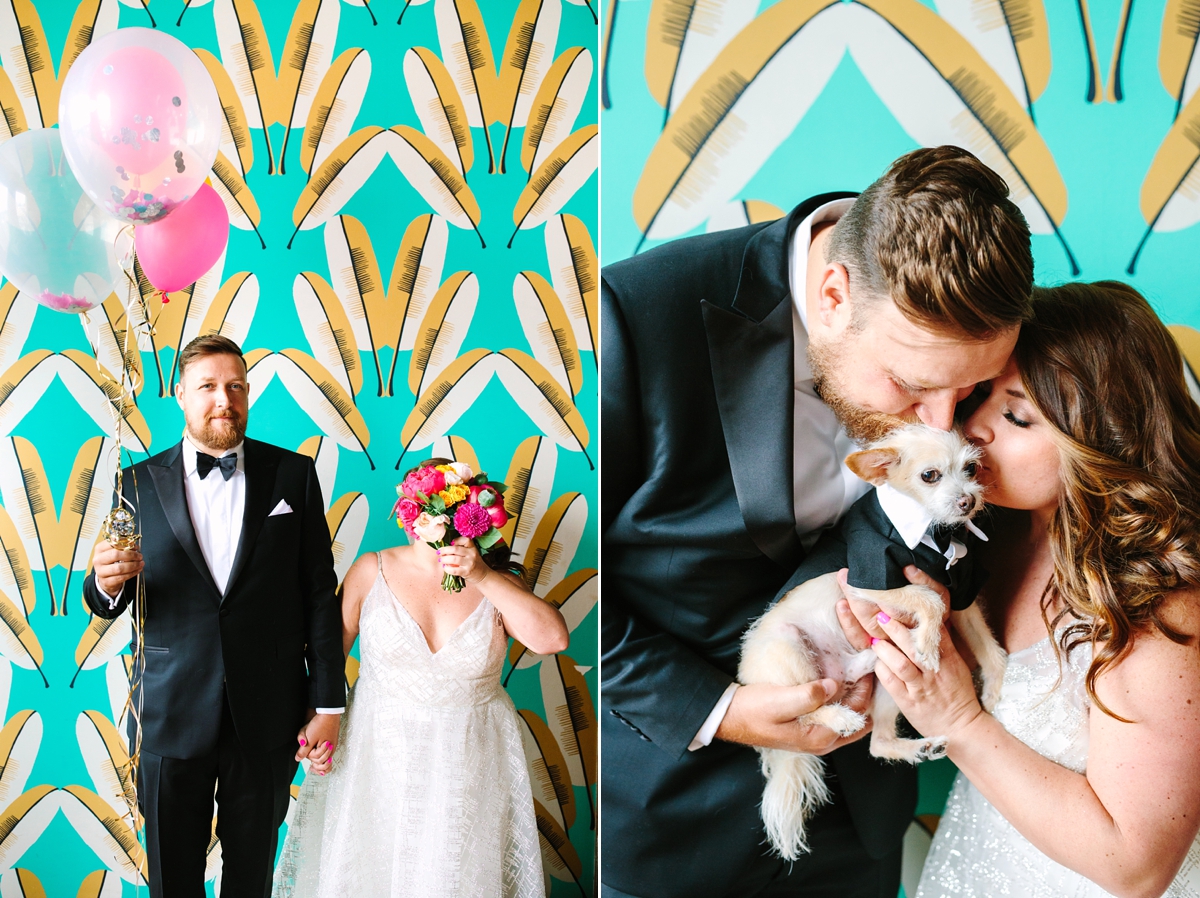 "We didn't promise anything to one another, we just said all the reasons why we love each other and all the things we're excited to do with our lives. It was pretty emotional, there wasn't a dry eye in the joint!"
As well as love letters, Seb and Andi exchanged rings from Robbins Brothers, the same jewellers where Seb had chosen a rose gold engagement ring.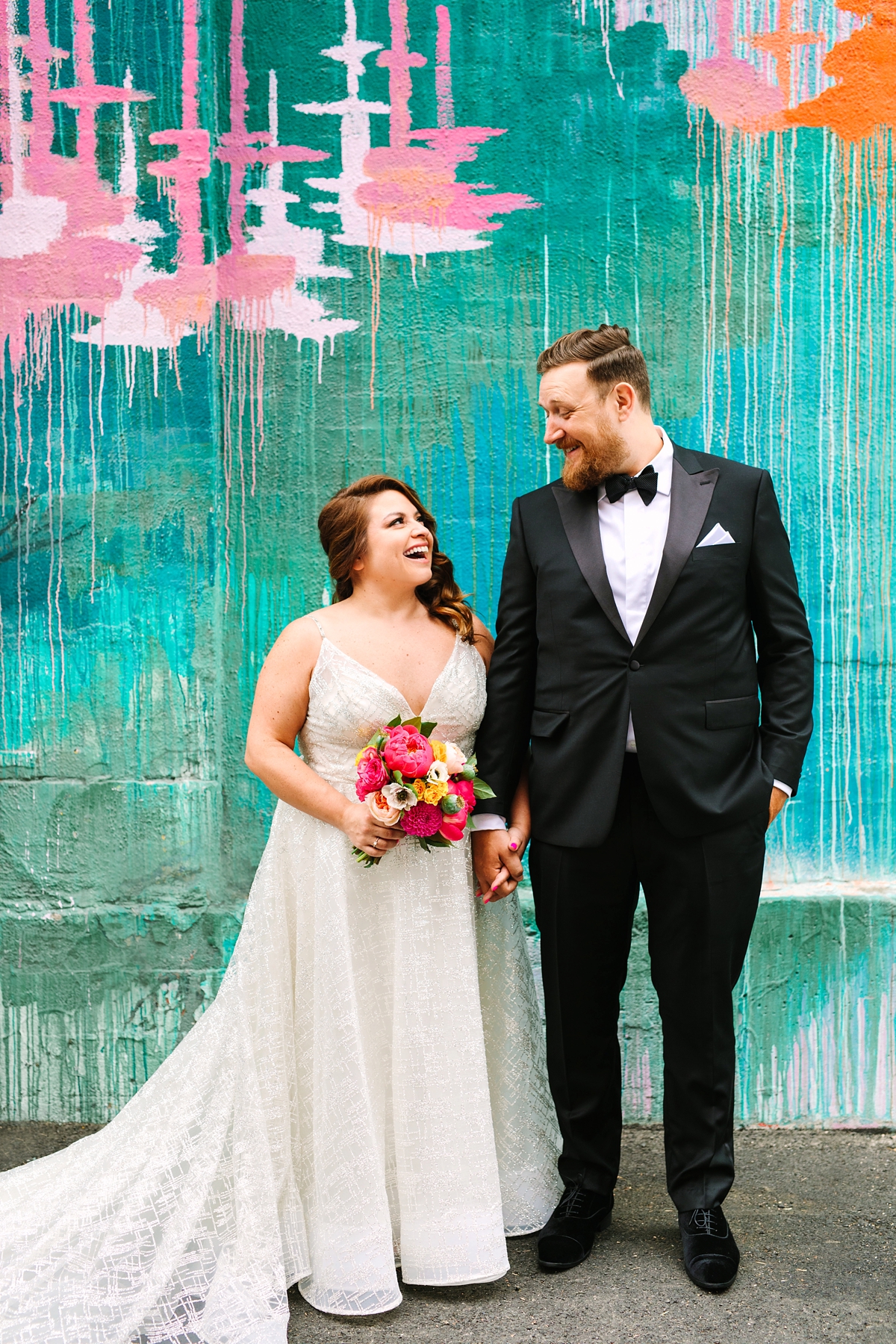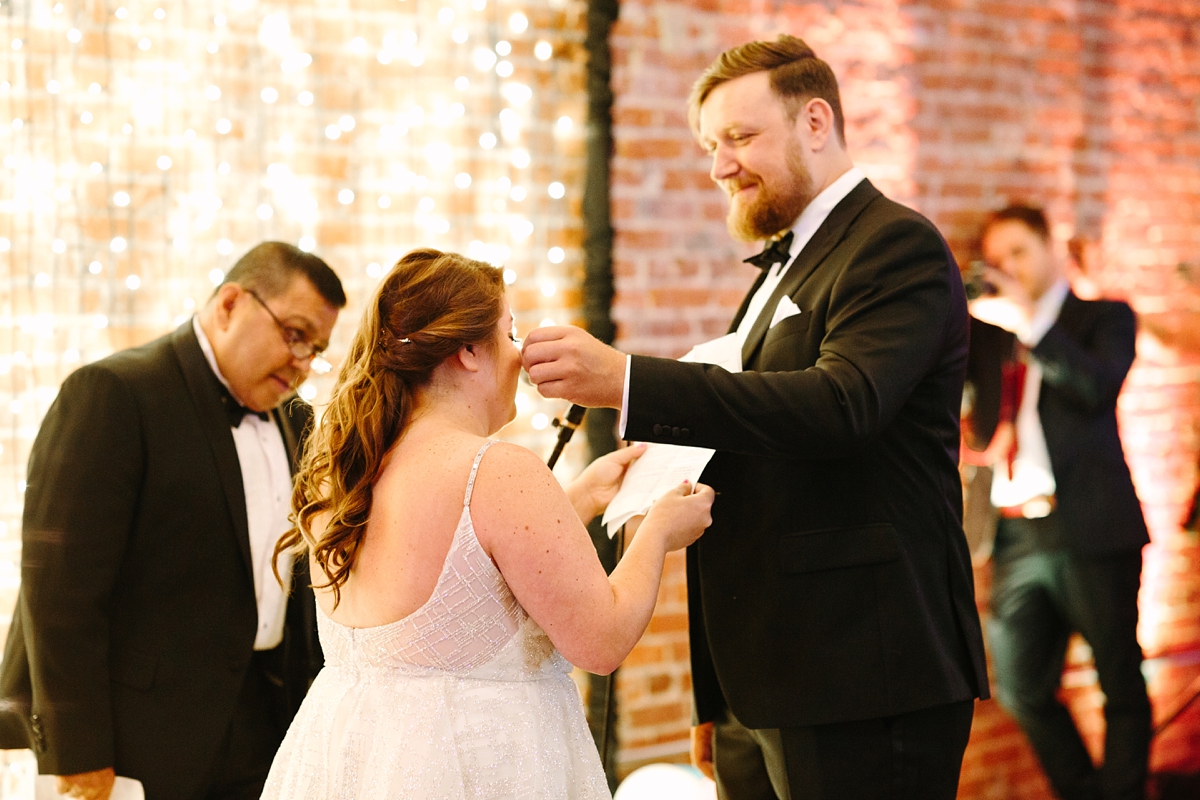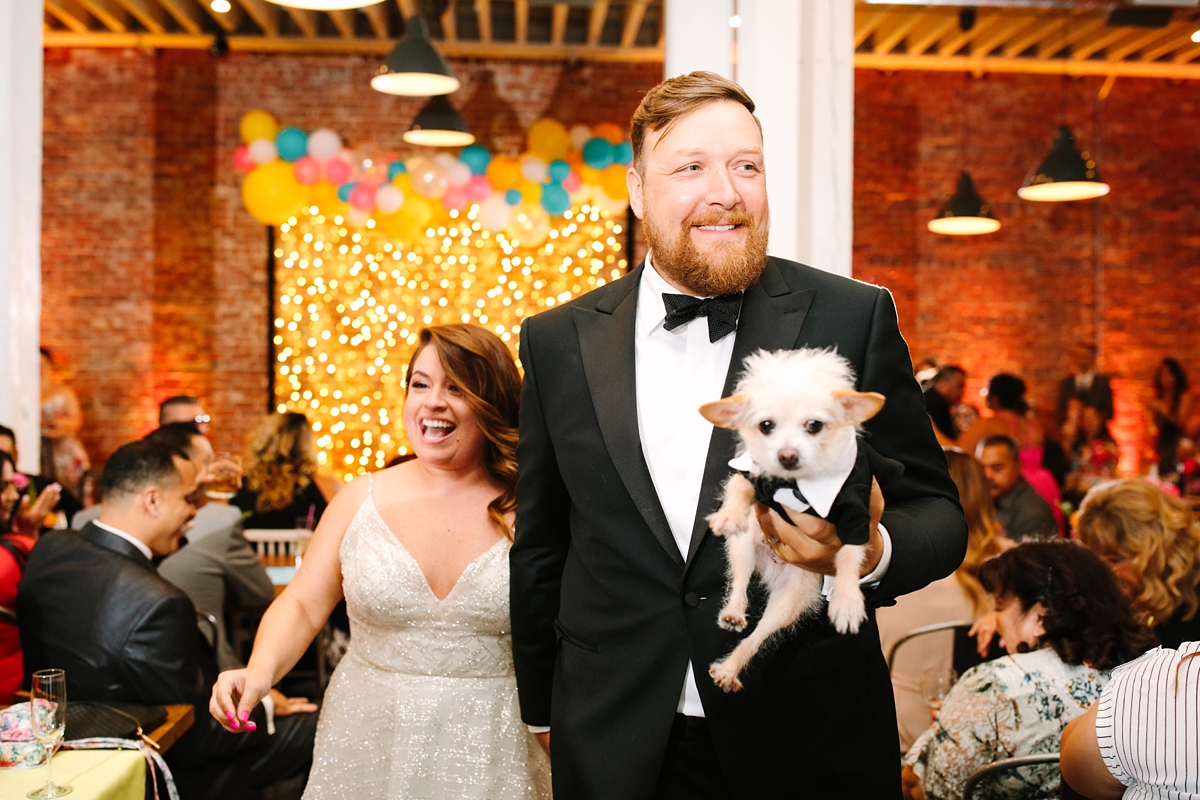 The venue looks incredible with bright, colourful and personal touches here and there.
"We chose The Unique Space because it was technically an open warehouse but had so much more personality than all the other warehouse-style venues. They allowed us to bring in any vendors that we wanted and it was so stylish with cool wallpaper and exposed brick. There was already so much cool and colourful décor, it made the wedding styling so much easier. The Downtown LA skyline view from the rooftop really sealed the deal!"
"Above the lit backdrop we had Wild Child Party make a giant balloon garland mixed with neon pink, yellow, orange and teal accented with confetti-filled balloons. Wild Child also draped a balloon garland over our welcome table and over the doorway outside."
"The Unique Space was a pretty blank canvas, but it did have a lot of ambience with contemporary wall paper and exposed brick walls and a little bit of hipster furniture. We brought in an incredible lighting company called Ambiance AV, who had lit the space before. They up-lit the walls with lights that changed colours all night, so it kept the place exciting."
"They strung bistro lights outside where we set up the food and lounge areas. They lit the stage for the band – and hung a disco ball, of course! And they made us a super sparkly light wall backdrop for our ceremony."
"Even though we weren't having a sit-down dinner, we still wanted to provide enough seating for all of our guests. I found the coolest ombre table runners at  Etsy shop QTs Pretty Lil Things. Joanna makes subtle ombre items, which worked perfect with the multiple bright colours of our party. They made the tables look simple yet festive."
"She made us the coolest acrylic card box with our names laser cut in pink – which I now use for all my keepsakes. Marcela printed the stickers with our names in pink foil for the glass noodle boxes and we used the same stickers on our thank you card envelopes. We printed coasters and plastic cups with our names for late night drinks. But I think my favourite item was the neon pink acrylic welcome sign."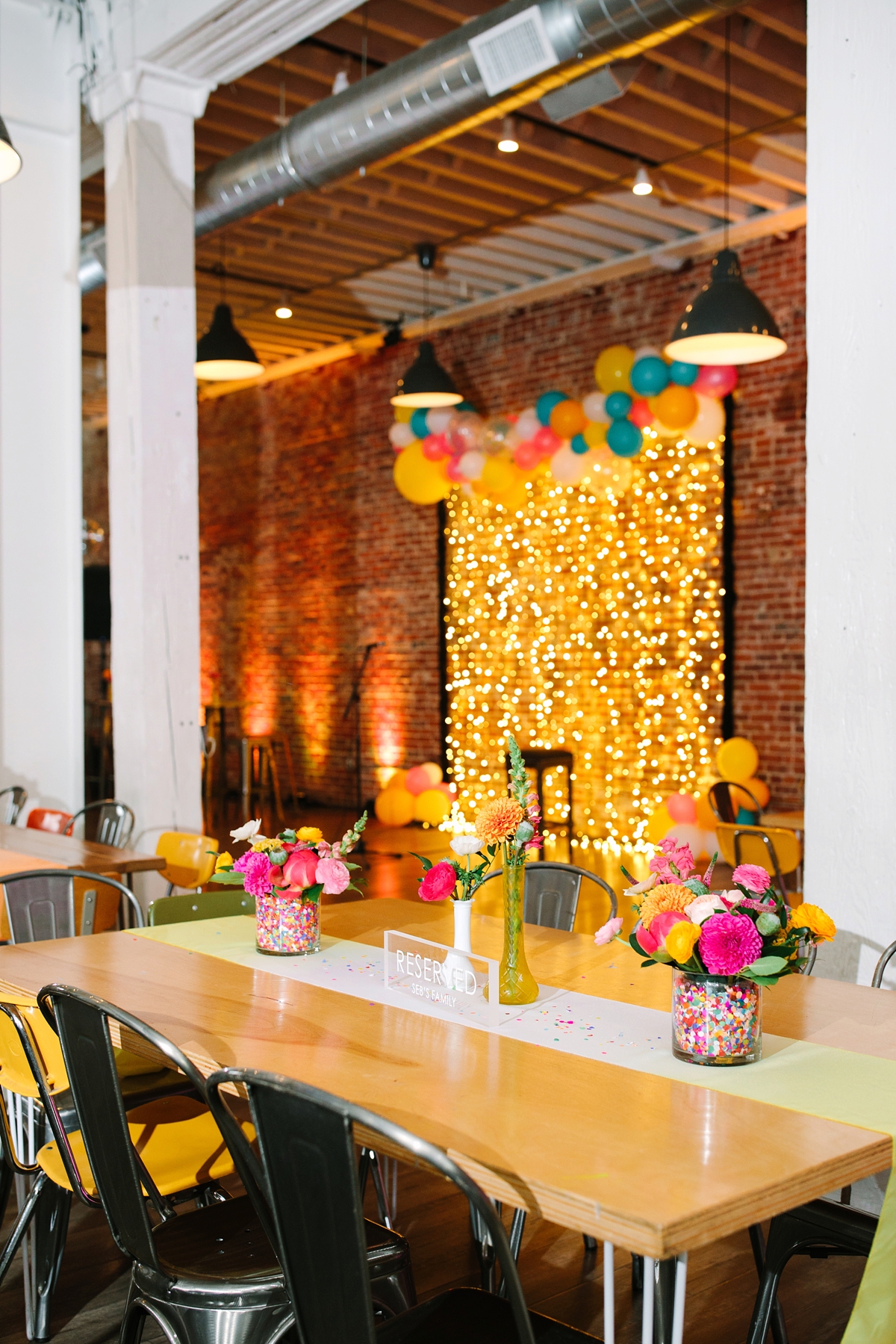 "We worked with Marcela Baretto at Simply Stated Stationery to create day-of signage. She printed teal napkins with silver foil that said 'C'est la Fete', clear acrylic bar menus, along with an acrylic 'Bonjour' sign to hang over the hedge bar at the guest entrance."
I'm head over heels for these fun, modern neon pink invitations with silver foil and orange lettering which set the tone of the day so incredibly well.
"Invitations were the hardest part of planning. I am not creative at all and I only knew what I didn't want, but didn't have much direction for what I did envision, other than something fun and unique!"
"I found Nic Roc Designs on Instagram. Our invitations are simple but super lively and distinctive. We packed it all in there with neon pink edge painting, silver hologram foil confetti, neon pink and bright orange letterpress, and bright teal envelopes. We stuffed the envelopes with confetti so it was a celebration explosion when guests opened them. I love our invitations so much, they really set the tone for a raging party!"
Food was a major element for the couple, who wanted a cocktail-style party with plenty of delicious food.
"I found Bites & Bashes on Instagram. They're a wonderful company owned and run by a mother/daughter team, Julie and Crystal Coser. We practically booked them on the spot at our tasting because their food was so flavorful and they both were so warm and sincere."
"I love miniatures so I knew I wanted a bunch of teeny tiny appetisers. They serve all their food in really creative ways, which I loved and our guests noticed that special touch. Chef Julie made her famous glass noodles served in tiny take-out boxes and I got stickers with our names printed for the boxes."
"They were a hit! I always told myself I'd serve hot dogs at my wedding, so we served those as a late night snack. We were blown away by the amazing quality and full-flavoured food and the creativity that the Bites & Bashes provided for our party. The service was on point and all of our guests raved about our menu."
"We bought our own alcohol at BevMo! and Bites & Bashes provided bartenders. We provided a full bar with red, white and my favourite Cala Rose wine, a few kinds of beer and all the liquor and mixers you can think of. I was so worried about running out of booze so we over-prepared. We have a ton left over but I'd rather be safe than sorry."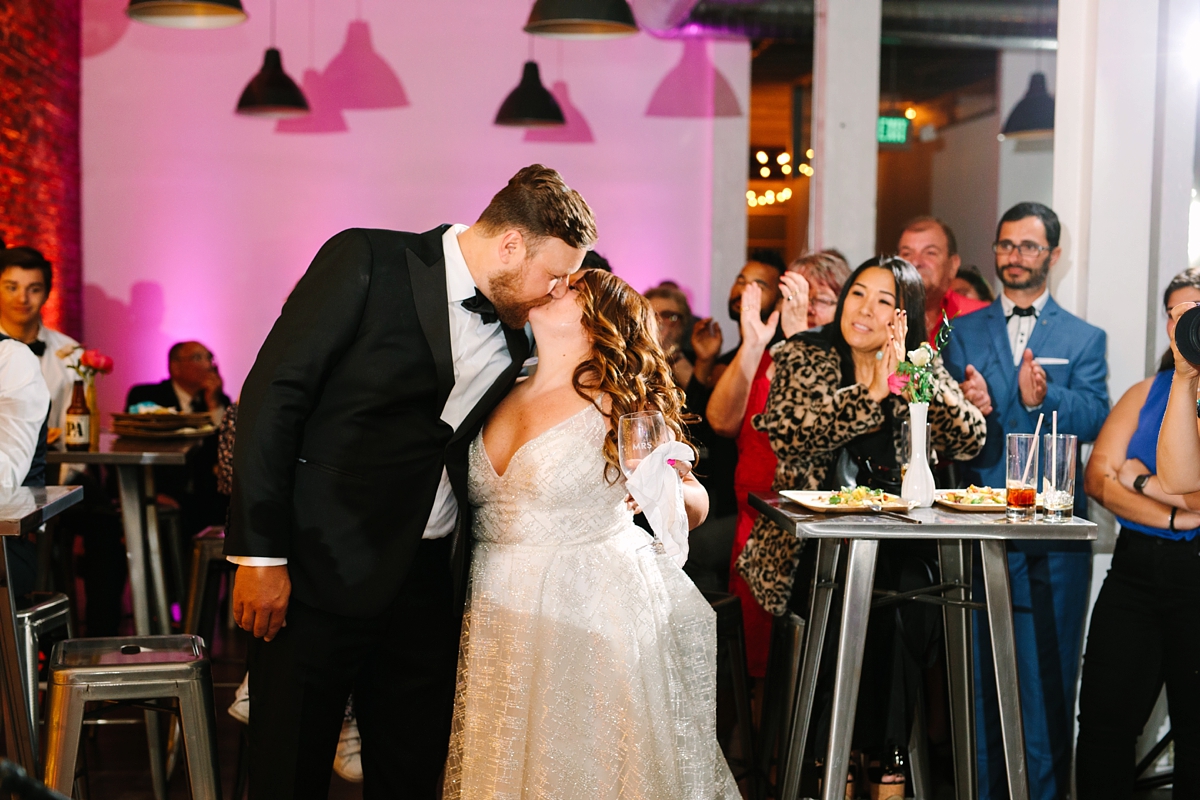 In a nod to Seb's heritage, half of the wedding cake was a traditional French croquembouche.
"My mom really wanted me to have a wedding cake and since I was indifferent about the idea, I let her be in charge of the task. We fell in love with the buttercream frosting at Sweet E's Bake Shop. The bakers are super-creative with design and made a yummy funfetti cake – which went perfectly with our confetti theme."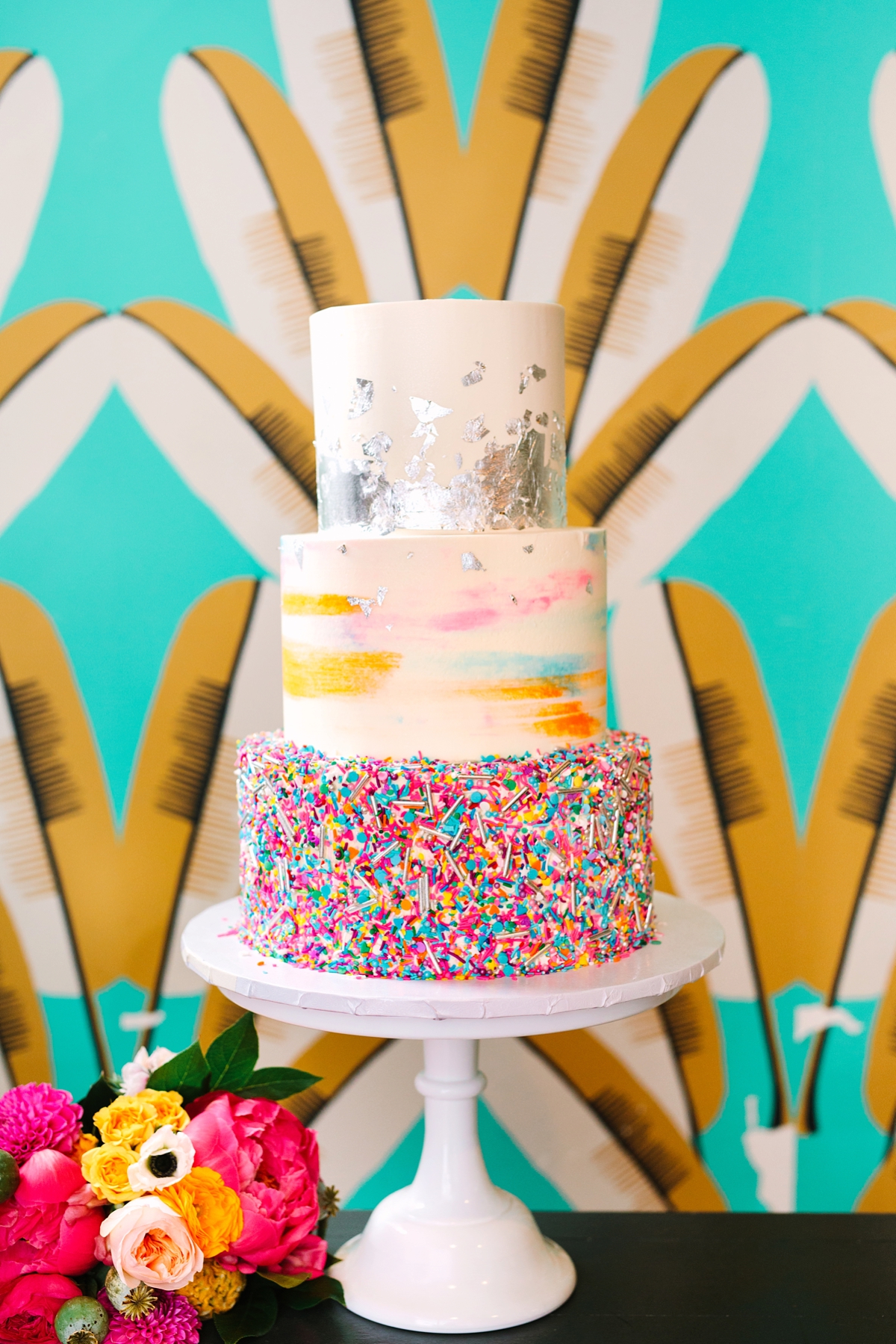 "I didn't want it to look like a typical white wedding cake and I had a bunch of ideas so they basically took all my ideas and morphed them into one cohesive cake. The top layer was white with silver foil accents. The middle layer had a gorgeous multi-coloured water colour design and the big bottom layer was entirely covered in Fancy Sprinkles. Our cake ended up being one of my favourite décor pieces, it was sophisticated yet lively!"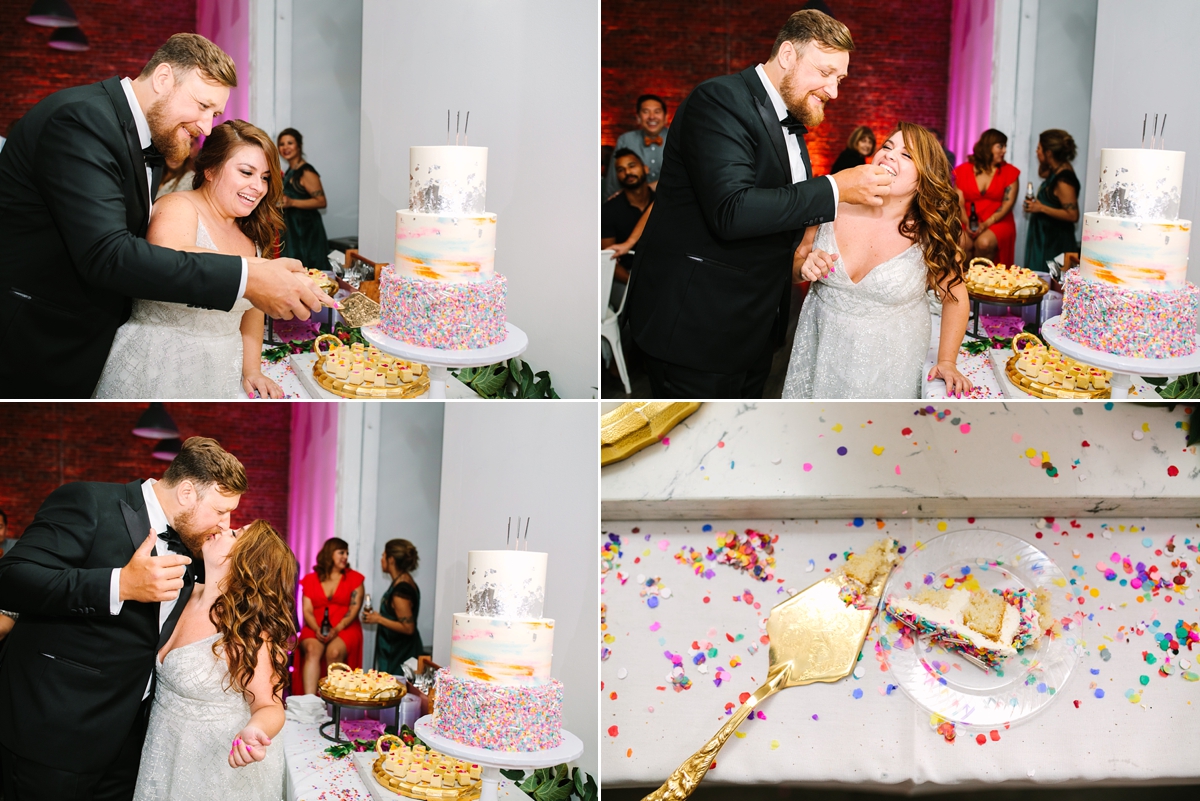 "Seb was adamant about a traditional French wedding cake, so his friend at the Pastry Lab made us a gorgeous croquembouche. Our guests absolutely gushed about it!"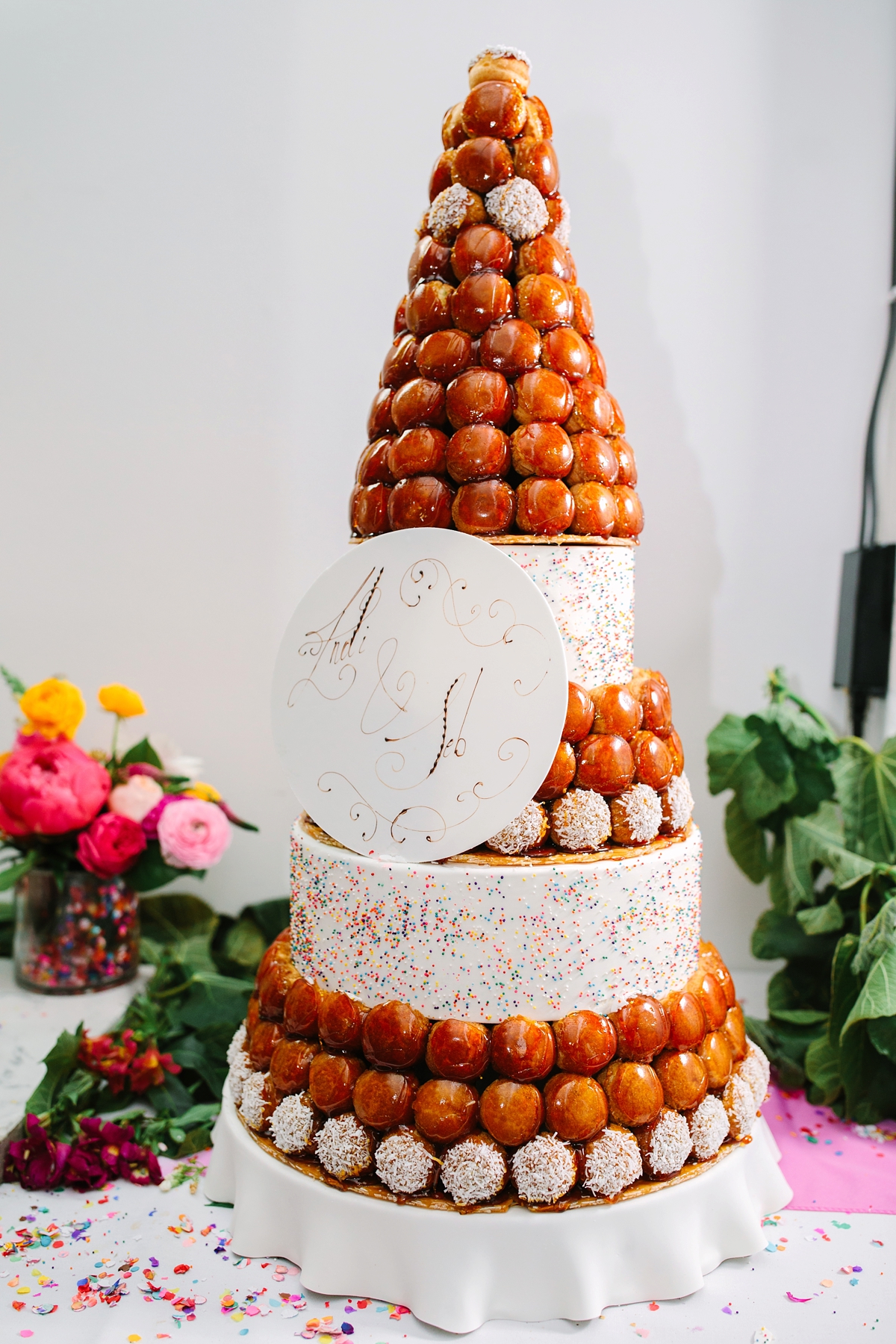 These photographs from Mary Costa Weddings totally speak for themselves; her bright, fresh modern style is the perfect complement for the couple's quirky, vibrant take on the day.
"We chose Mary Costa because we loved her bright photography style. I loved that even her logo had confetti in it, which matched our wedding theme."
"Not only did I want a different kind of wedding, I also wanted it documented differently. I love how Mary colour-corrects her photos to be bright, fun and crisp. Her work doesn't look like typical 'wedding' photos, which I love."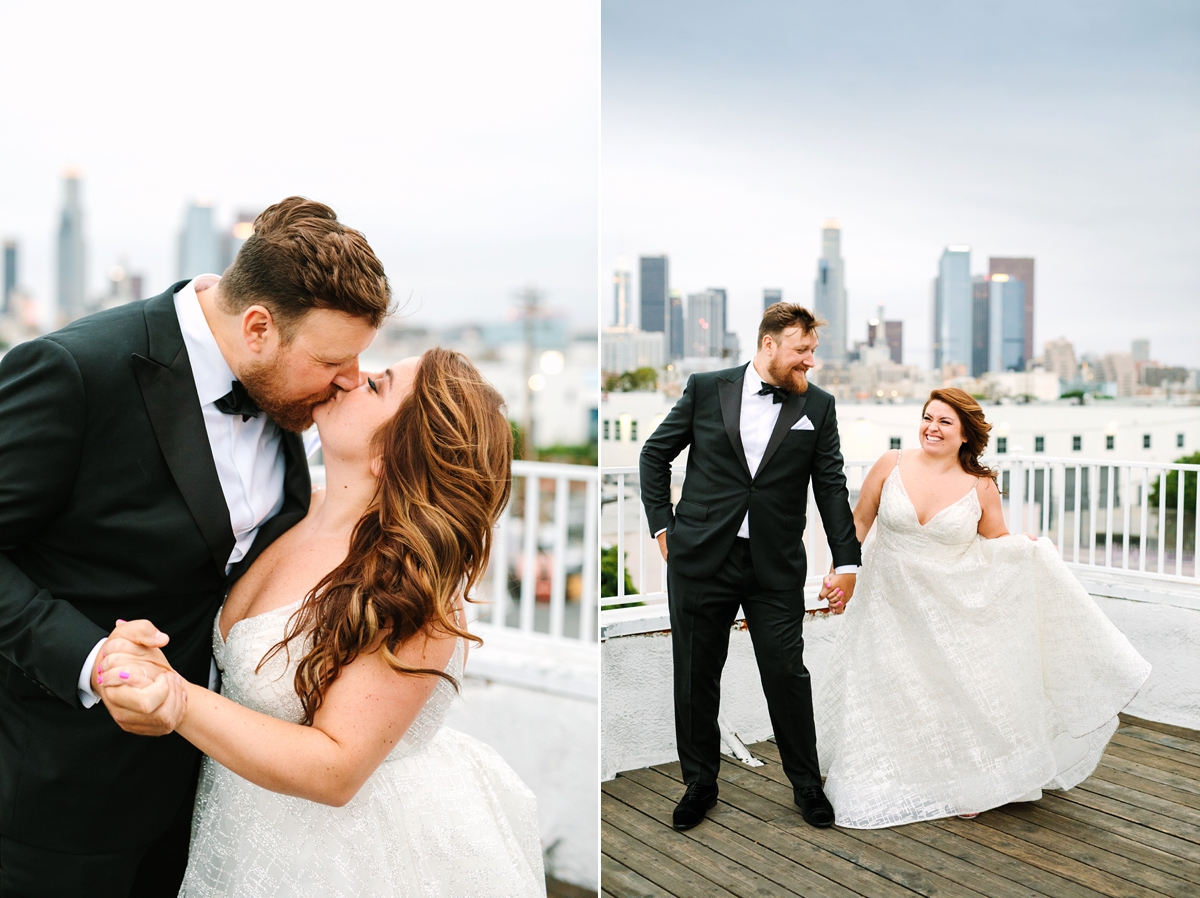 "When we met Mary in person she seemed to understand our feisty dynamic as a couple and what we were looking for in our photos. She's extremely talented and creative and I LOVE our final photos!"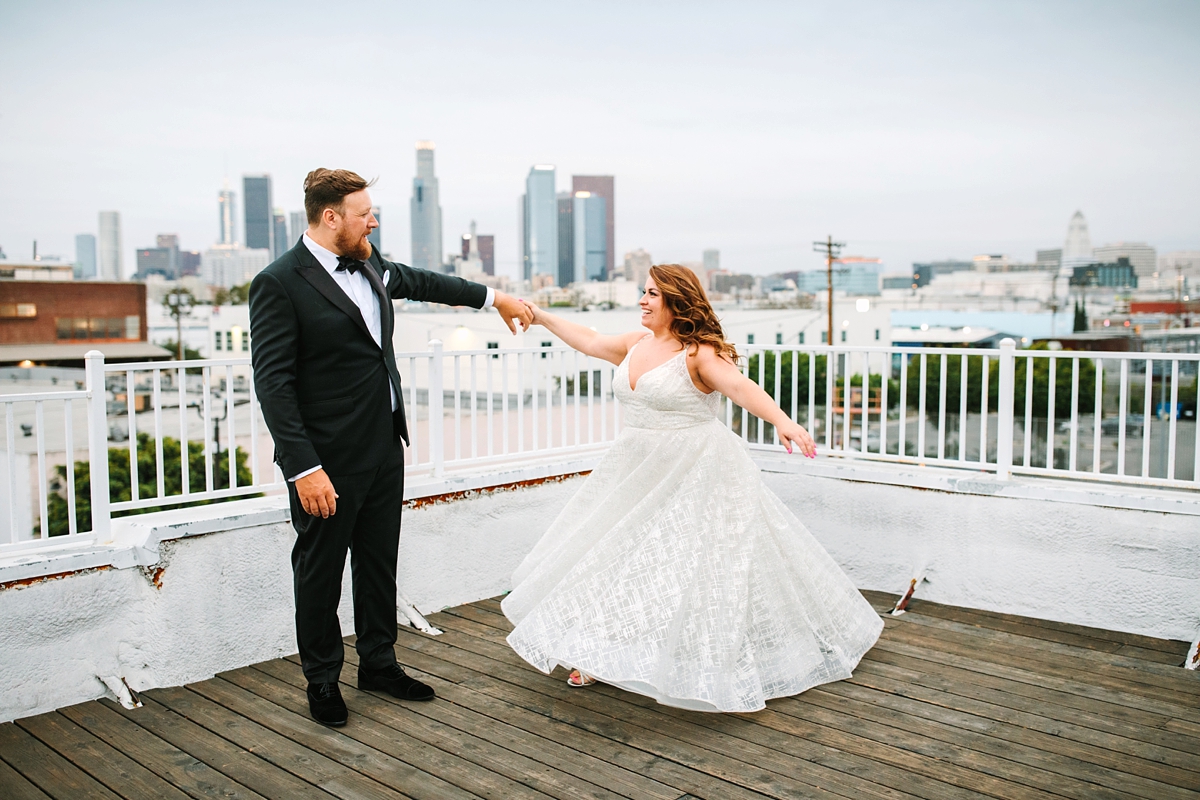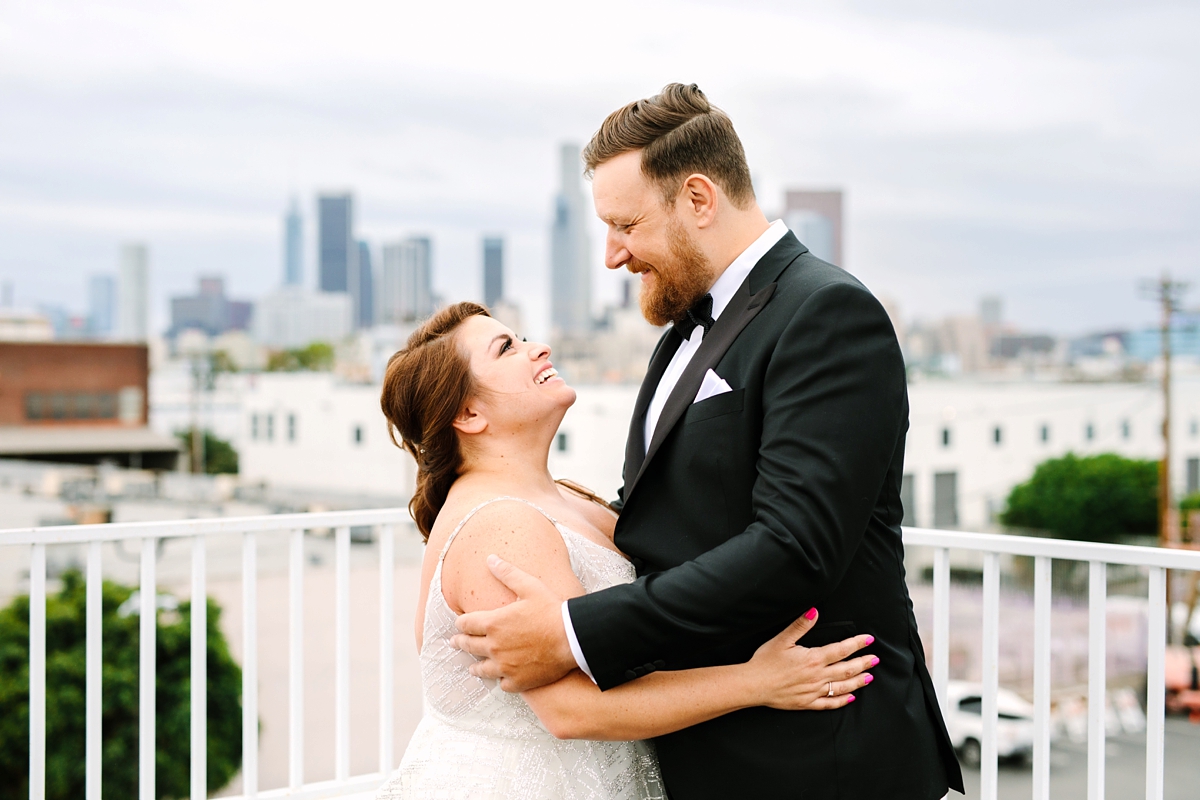 For Andi, the live band created an incredible festival atmosphere.
"Right from the start of planning I knew I wanted a live band. We booked Entourage from De Bois Entertainment without hearing them live so I was super worried they would be a cheesy wedding band. I saw on their website that Oprah hired them, so I told myself if they're good enough for Oprah, they're good enough for me."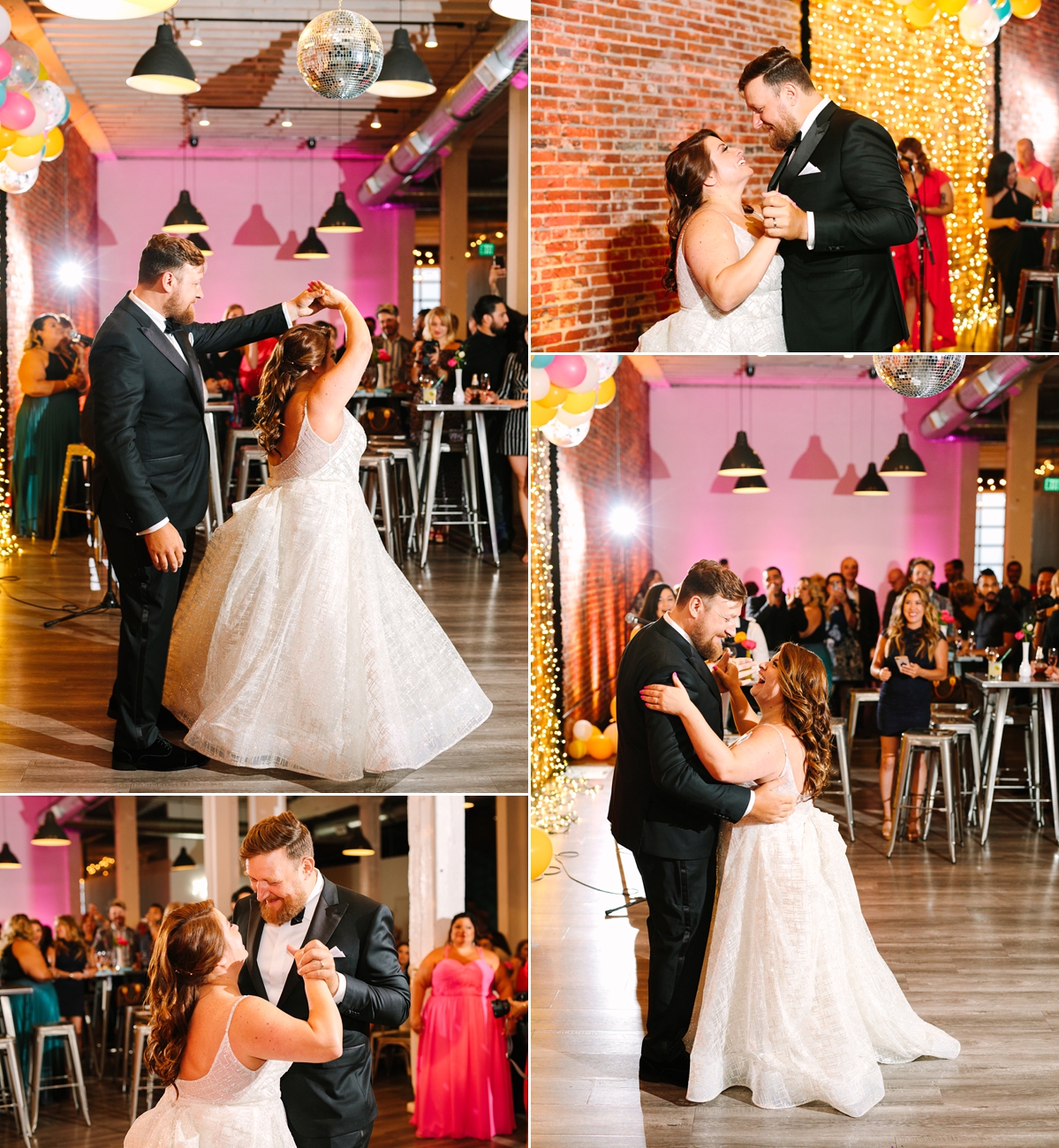 "One of my favourite American Idol contestants, Vonzell Solomon, was actually in the band, so that was a fun surprise. I can't even put into words how incredible they sounded live. Entourage played all of our favourite songs and even learned a few new ones just for us. The dance floor was packed and it added so much excitement to the night. It felt like we were at a real concert."
The first dance was a romantic favourite, 'At Last'.
"Seb and I could not have more different tastes in music. All of the songs throughout the years that I could always envision dancing to at my wedding meant nothing to him or to us as a couple. It was hard to decide which song to dance to, but ultimately we had the band play 'At Last' because we're both a little older and it feels like it took us forever to find each other."
The couple didn't have any bridesmaids but Andi asked her close female friends and sister to dress in bright, rainbow colours.
"I wanted my sister and girlfriends to feel special and involved in our wedding, but I've also been in six weddings and I know it's a lot of work – so I didn't want anyone to have to actually DO anything, which is why I decided against bridesmaids. As I got into the planning process a few of them asked what colour I wanted them to wear so kind of as a joke, I assigned each of them a colour of the rainbow. They all looked so stunning in bright dresses of their own choosing."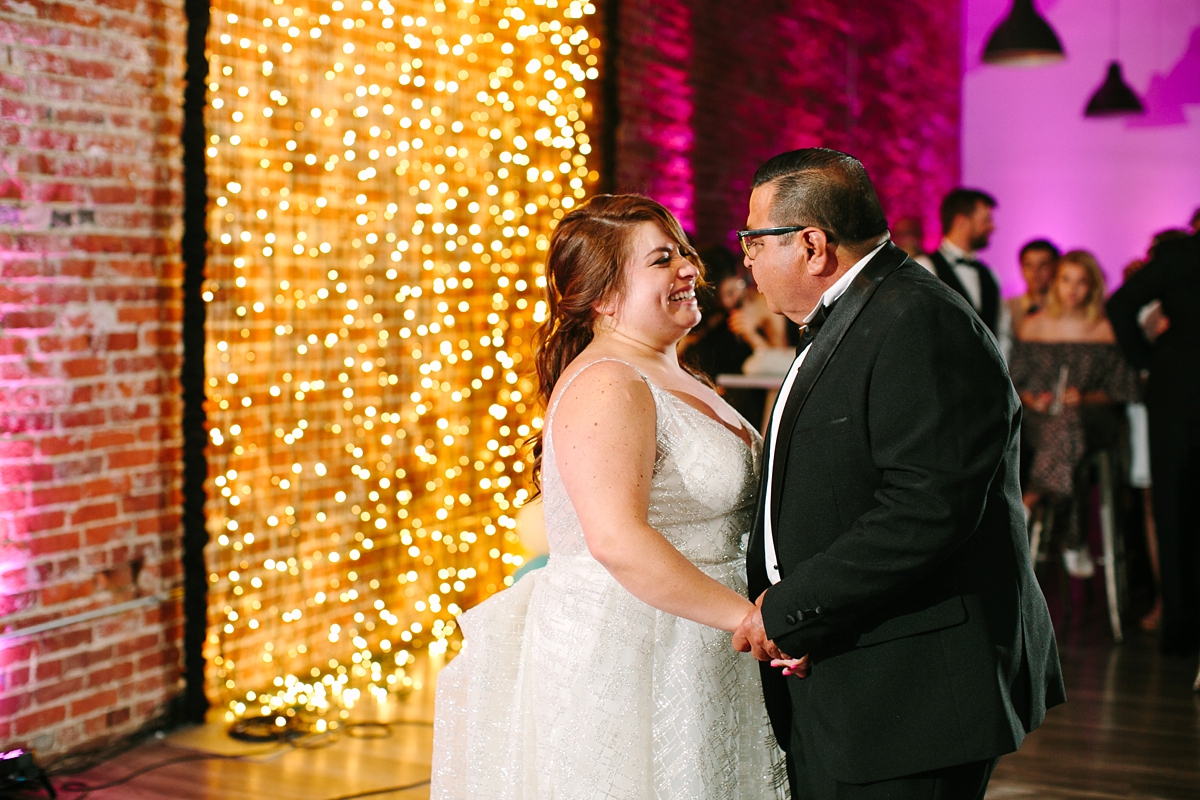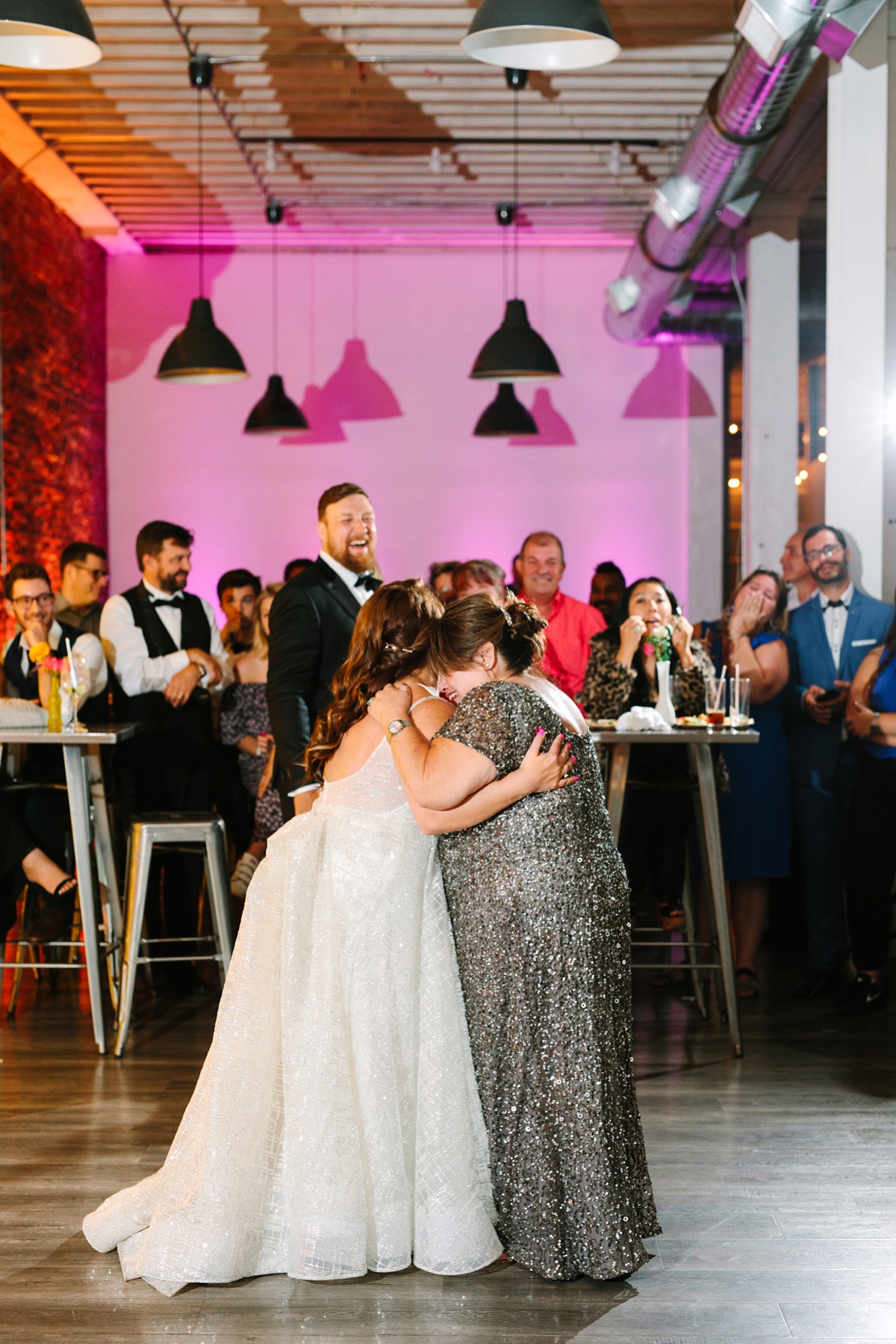 With so much going on, and a fantastic party to boot, what was Andi's favourite part of the day?
"It was pretty remarkable to have so many of Seb's friends and family travel all the way from France, all of whom I had never met before, and loved ones from all over the US, in one place to celebrate with us. My favourite part of the day was just seeing everyone mingling together in the relaxed way that I envisioned. I'm a party girl at heart, so dancing the night away with all of the people that I love the most was a dream come true. That night I felt like the luckiest girl in the world."
"My second favourite part of the day was taking photos around the Arts District near the venue with Seb before the party started. Our photographer, Mary, found a rad mural for a backdrop for us – to not only capture our excitement of the day, but also to document the wonderful city where we met and fell in love. We felt so glamorous and it was fun to just hang out and laugh about how great we looked!"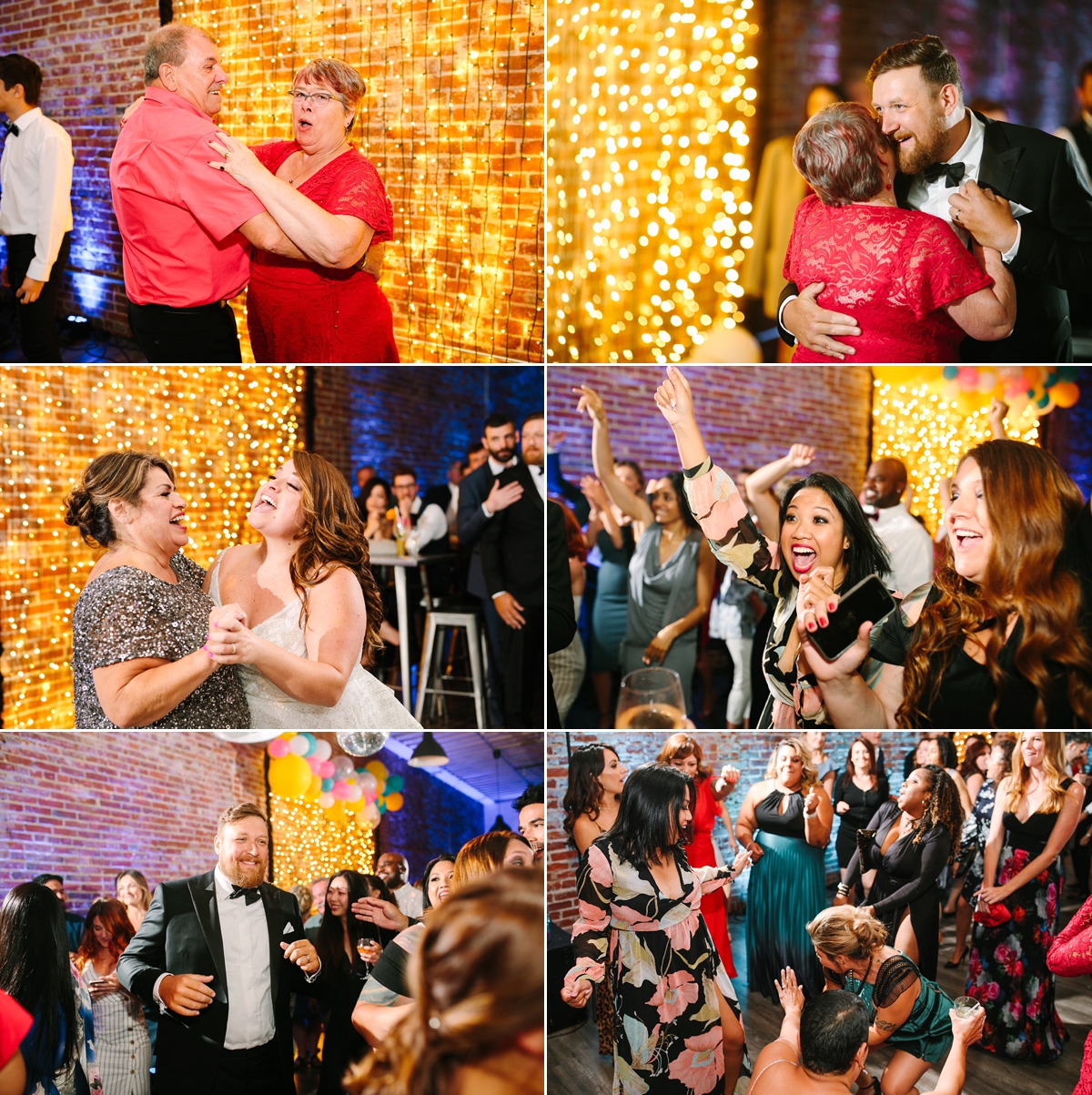 I must mention that Andi added in a mother and daughter dance too at the last minute; this must have been a special moment for them both.
"Why do dads get all the glory at weddings? In my family my mom took the lead with raising me and my sister (and I love that my dad gives her all of the credit for it too!). I thought it would be nice to not only dance with my dad, but also show my mom some love and dance to her favourite song by Carole King, 'You've Got a Friend'. We both got pretty emotional and I know my mom was so surprised and really loved the sentiment."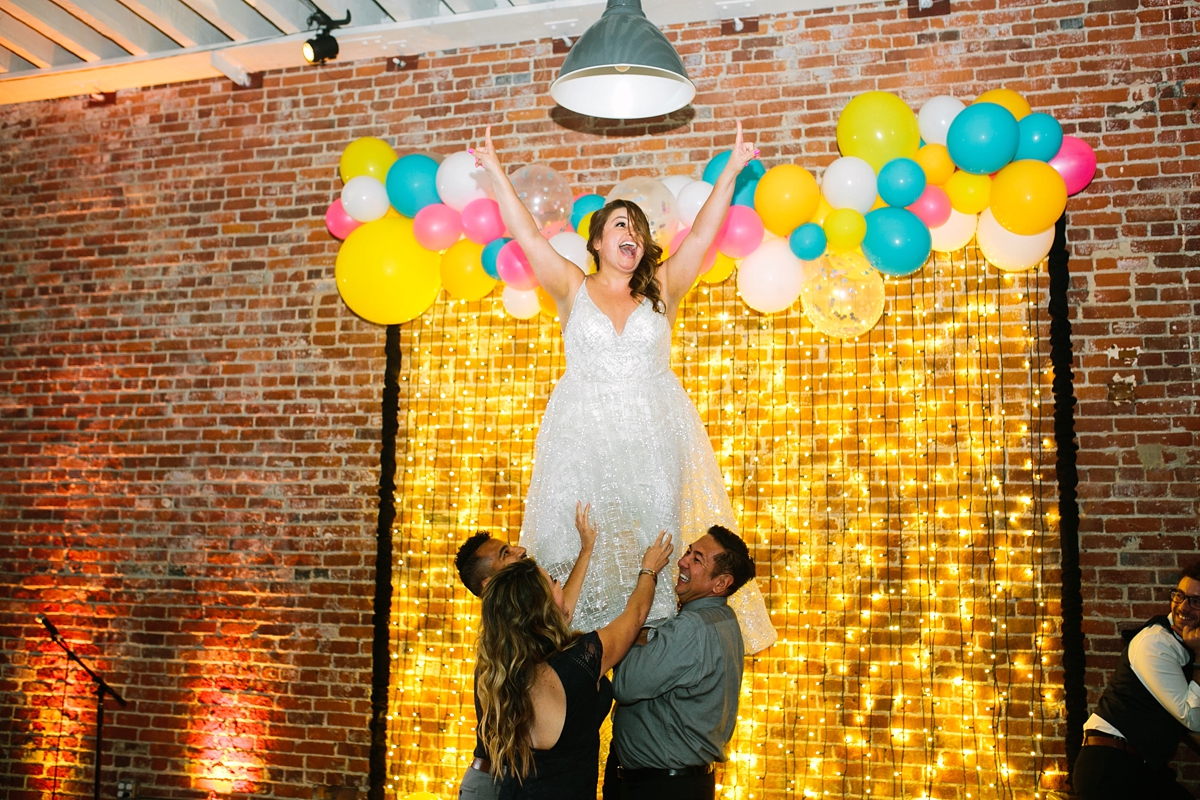 Words of Wedded Wisdom
"My number one piece of advice is to make room in your budget for a wedding coordinator. My planner made the most difference the week before when she confirmed all the vendors and handling everything on the day of the wedding. So if you can swing it, I think hiring someone for at least the week before or day of is priceless. I can't tell you how nice it was to just relax and drink Champagne with my girls all day before our wedding started and not worry about little things like if the florist arrived on time!"
"I loved all of the vendors we ended up choosing, but I didn't really get the hang of researching vendors on Instagram until after almost everything was booked. Instagram is so great because you can see an impressive photo and then be linked to all of the vendors that contributed to creating the image. I would recommend to all new brides to use Instagram and blogs to research vendors that have created weddings that you love."
I've been blown away by the riot of colour and sheer and utter happiness from these photographs. Just wow! Thank you so much Mary Costa for your work and thank you also Andi and Seb for sharing them with us. There is so much beautiful, gorgeous inspiration for doing things a little differently, and getting an amazing boost of colour into a wedding here, so I hope all of you lovelies have enjoyed this day.
Ele xx