As I sit down to write this piece, we're finally, officially heading into spring and I couldn't be happier about that! I'm longing for lighter evenings and welcoming the sight of seasonal blossoms and flowers.
Today's enchanting wedding is a late summer affair, and filled with flowers, too, adorning the already beautiful Scottish country estate and castle the celebration takes place at, for the wedding of a couple who have known one another since childhood. This is the wedding of Mr and Mrs Lee, who work in business development for an IT company, and as a financial analyst respectively. They celebrated their marriage on the 18 August 2018 at Murthly Castle on the Murthly Estate, overlooking the River Tay in Perthshire, Scotland.
Photography by The Gibsons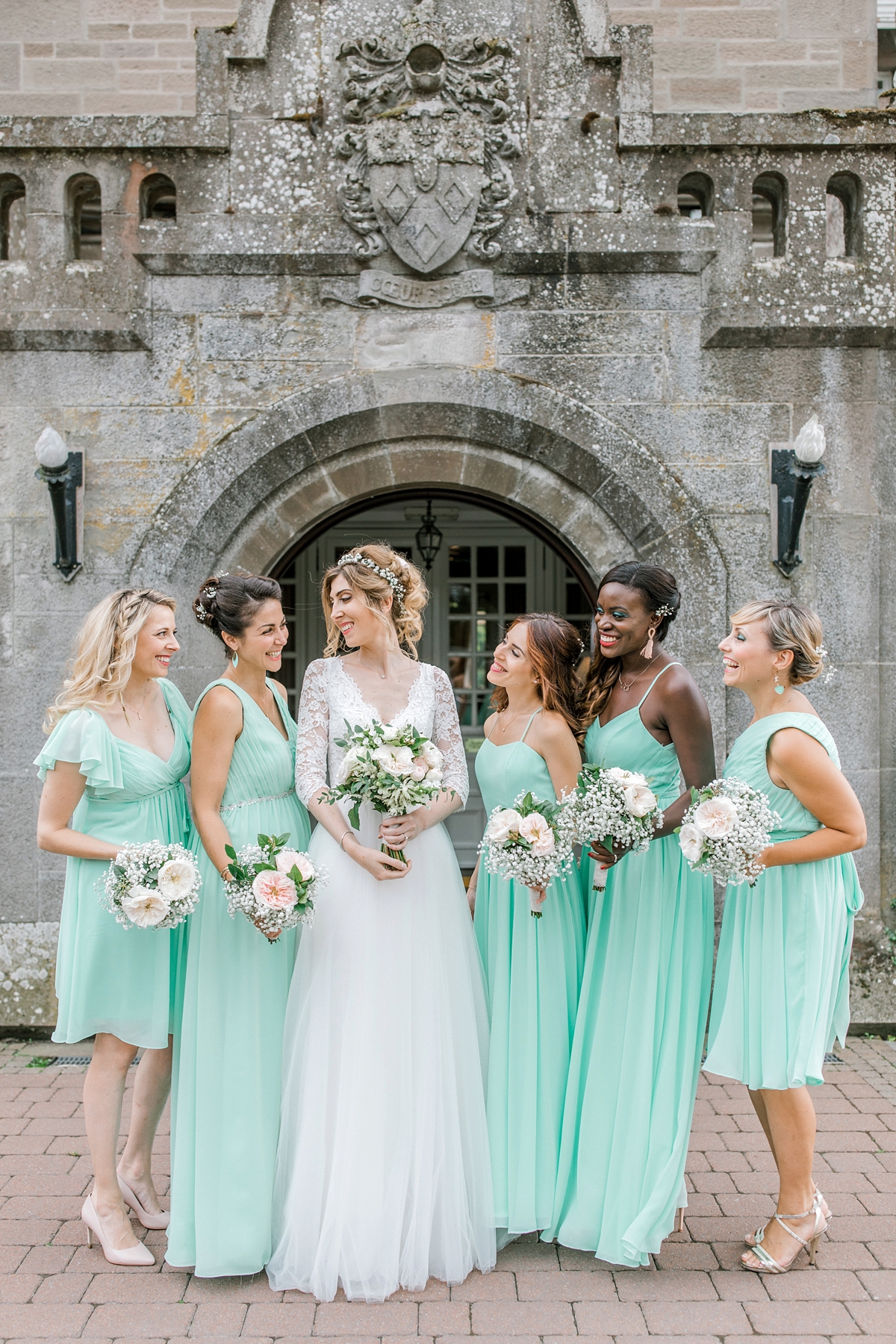 Theirs was a day inspired by vintage and rustic style, and with a colour scheme chosen by one of the bridesmaids – water green, or vert d'eau, and as you'll see, it's a beautiful choice.
"We wanted a venue that felt intimate, while accommodating our 130 guests, and of course, one that was beautiful. The fact that Murthly Castle also had a stunning chapel where we could celebrate the wedding was a wonderful plus. We are so glad that we chose this venue, and the owner Thomas was very supportive throughout the whole process."
We have fantastic photography duo The Gibsons to thank for these wonderful, light and bright images. They are also members of our directory of superb wedding suppliers, Little Book, so do take a look!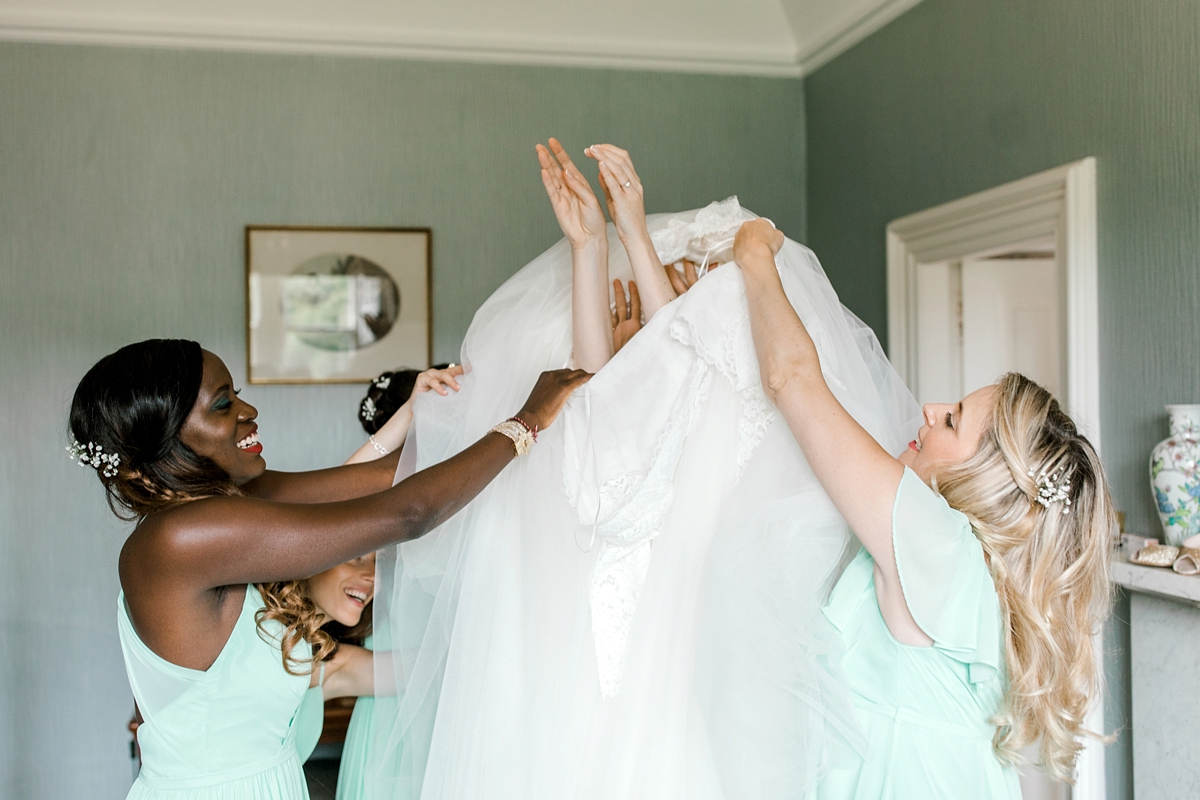 "We highly recommend The Gibsons. They combined professionalism, easily guiding us through the day in order to get the best shots in a minimal amount of time, and friendliness, always smiling and in a great mood. We also discovered that because they are a couple they could spread out to capture the best photos, for example with Chantal following the bride before the wedding, while Scott was shadowing the groom."
"Many of our friends, including some who work in photography, have since commented on how great the photos have turned out. My husband and I absolutely love them, and I look at them on a daily basis."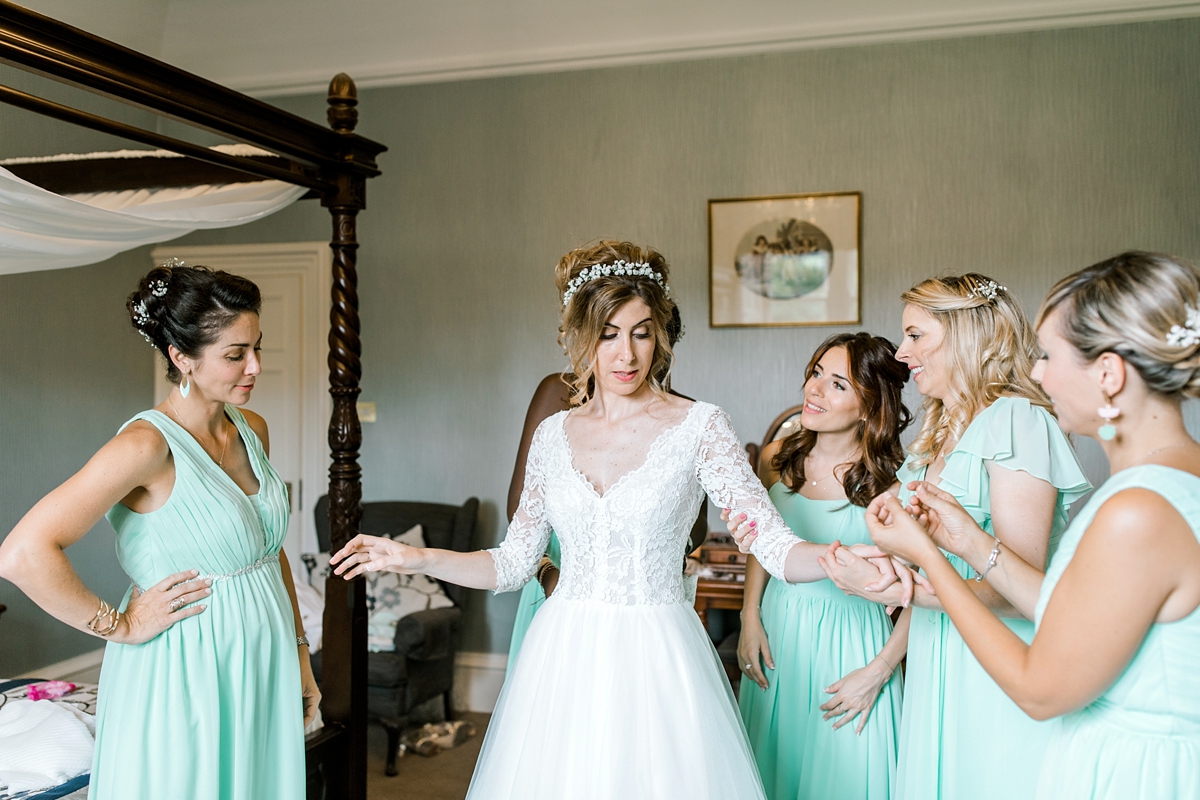 The bride wore a timelessly elegant long-sleeved lace and tulle gown by French designer Marie Laporte, with a fitted bodice falling to a full skirt.
"I was worried about the notorious Scottish weather, so I wanted to wear a dress with sleeves, and lace and tulle. I wanted to have something simple and elegant, and I tried on at least 50 dresses (across Barcelona, London and France) before finding my wedding dress. It was like they say, as soon as I wore it I knew this one was the one for me, and it was such an emotional moment!"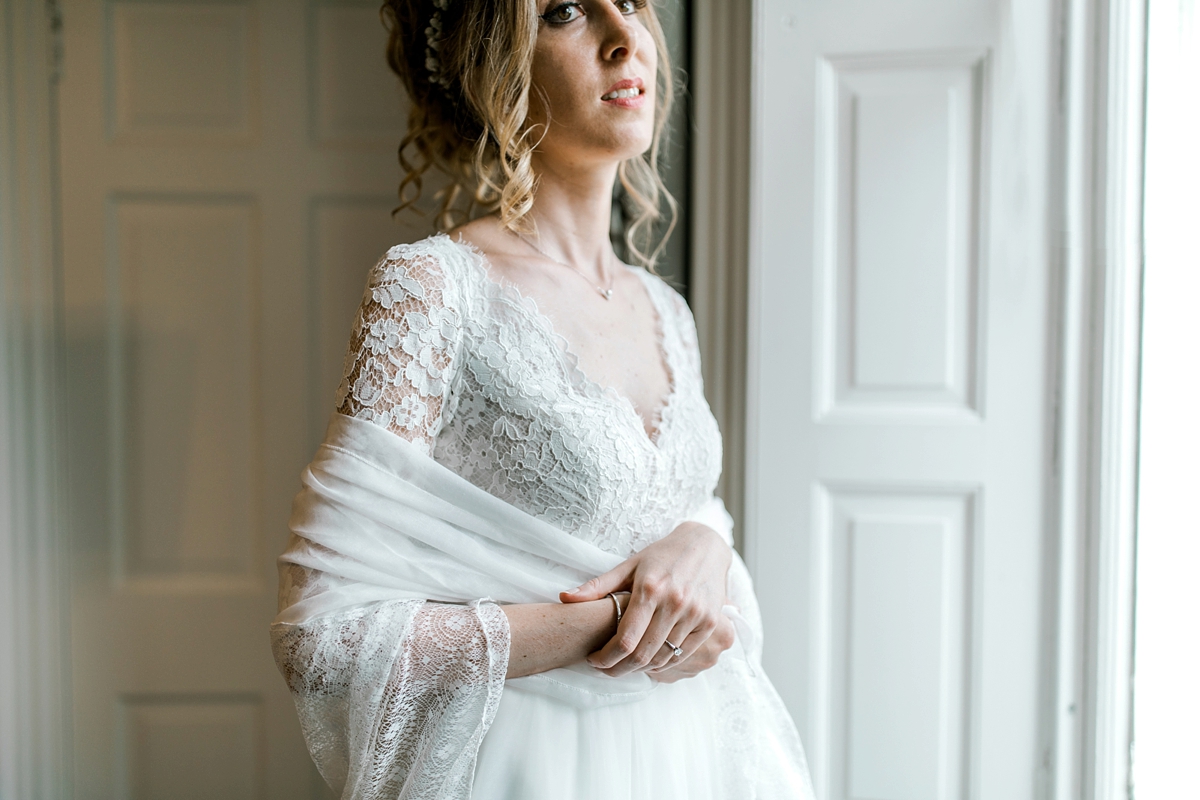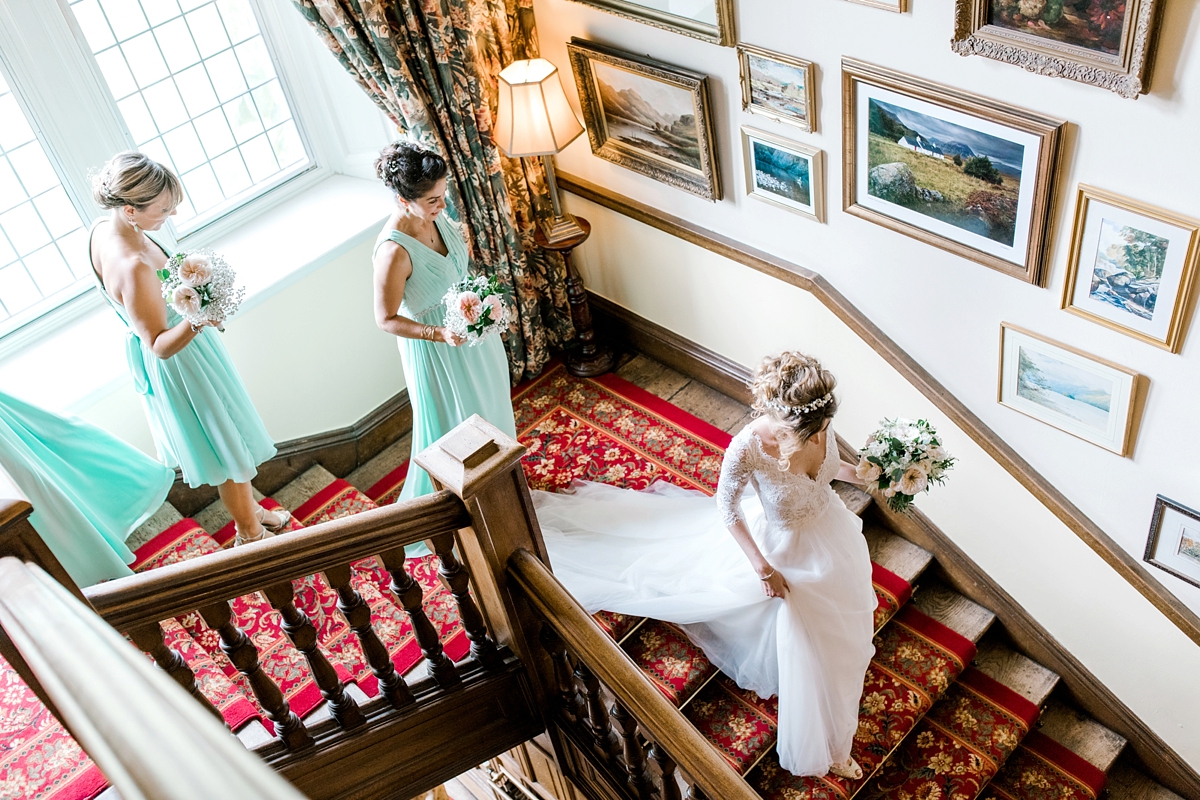 The bridesmaids looked lovely in a variety of dress styles from JJ's House in that lovely, fresh shade of water green I mentioned at the start of this post, which they wore with their own choice of footwear and fresh sprigs of gypsophila in their hair.
"I wanted their wonderful personalities to have free rein to be expressed. I know they also coordinated by buying the same golden shawl from the Parisian store Printemps Lafayette." The flowergirl was my niece. She wore a beautiful white dress with tulle."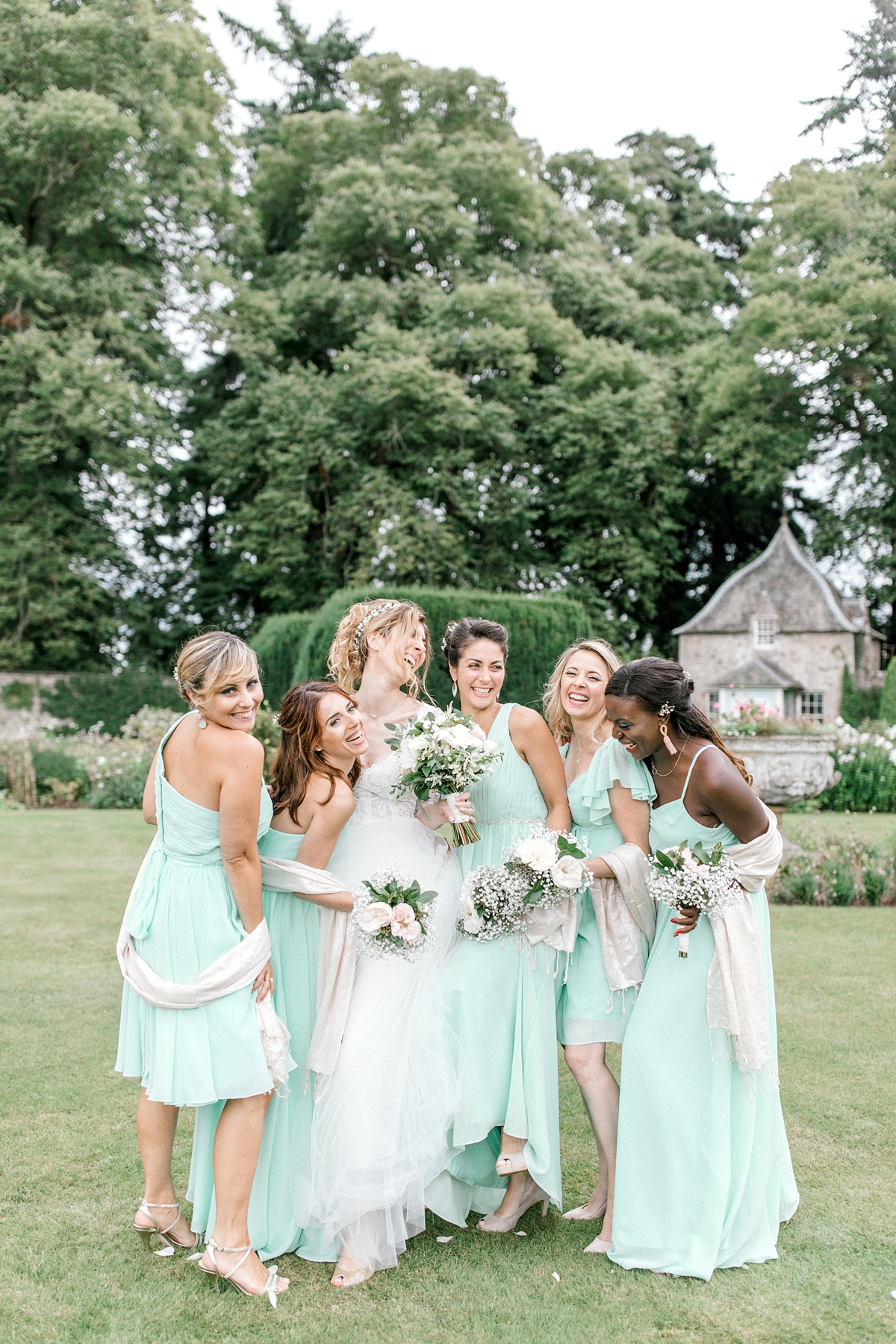 On her feet, Mrs Lee wore sparkling gold peep-toe heels from Patricia Blanchet and pretty jewellery – earrings, a bracelet and necklace – given to her by her bridal party.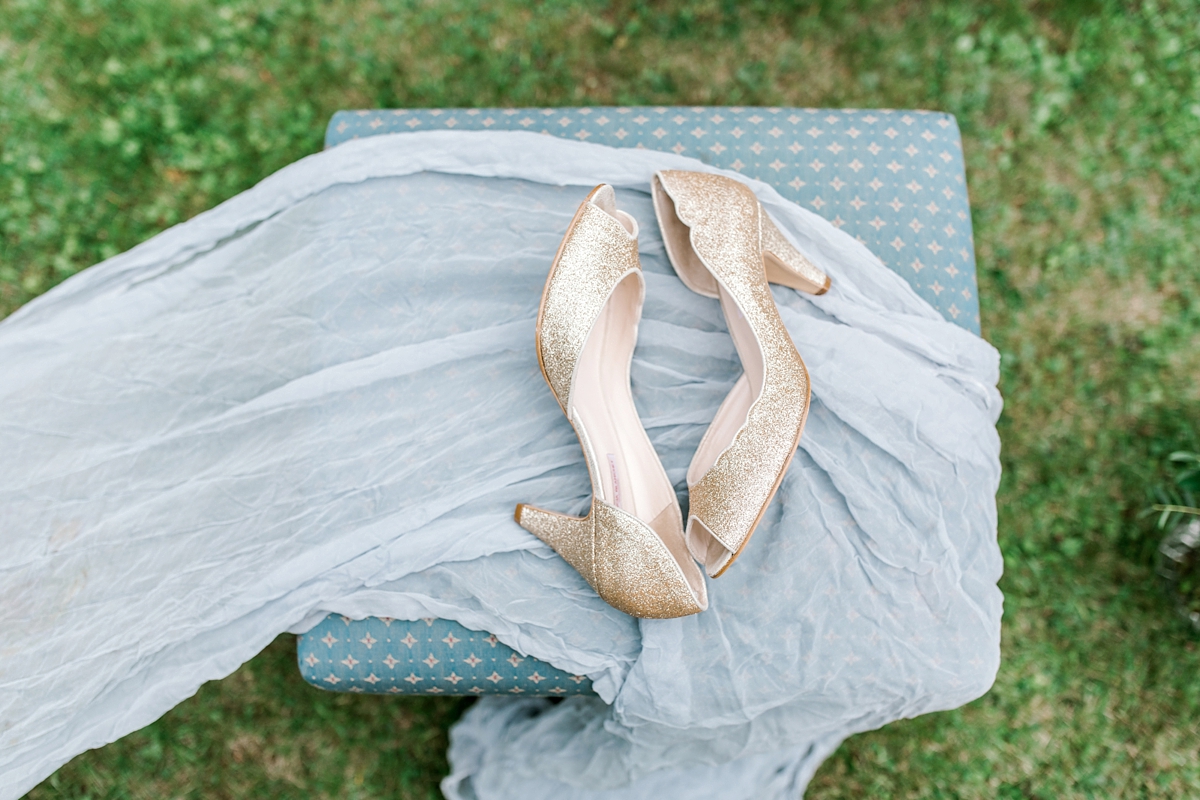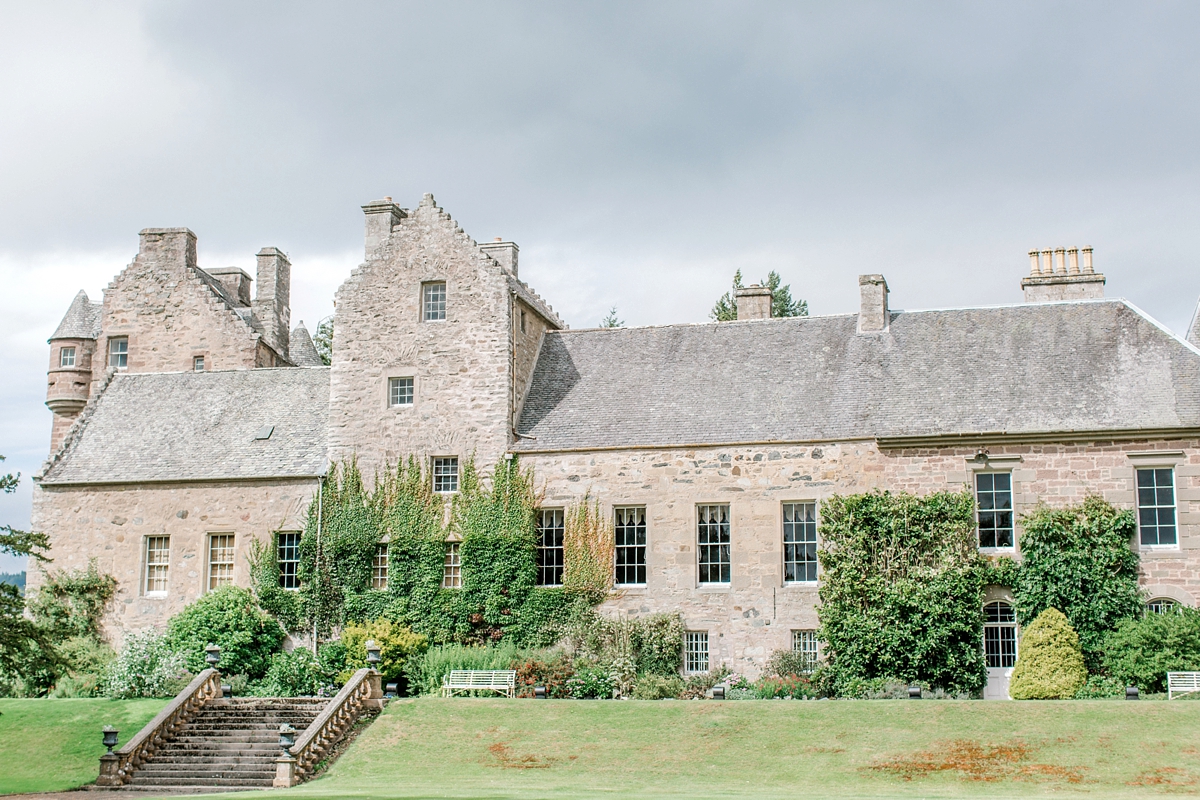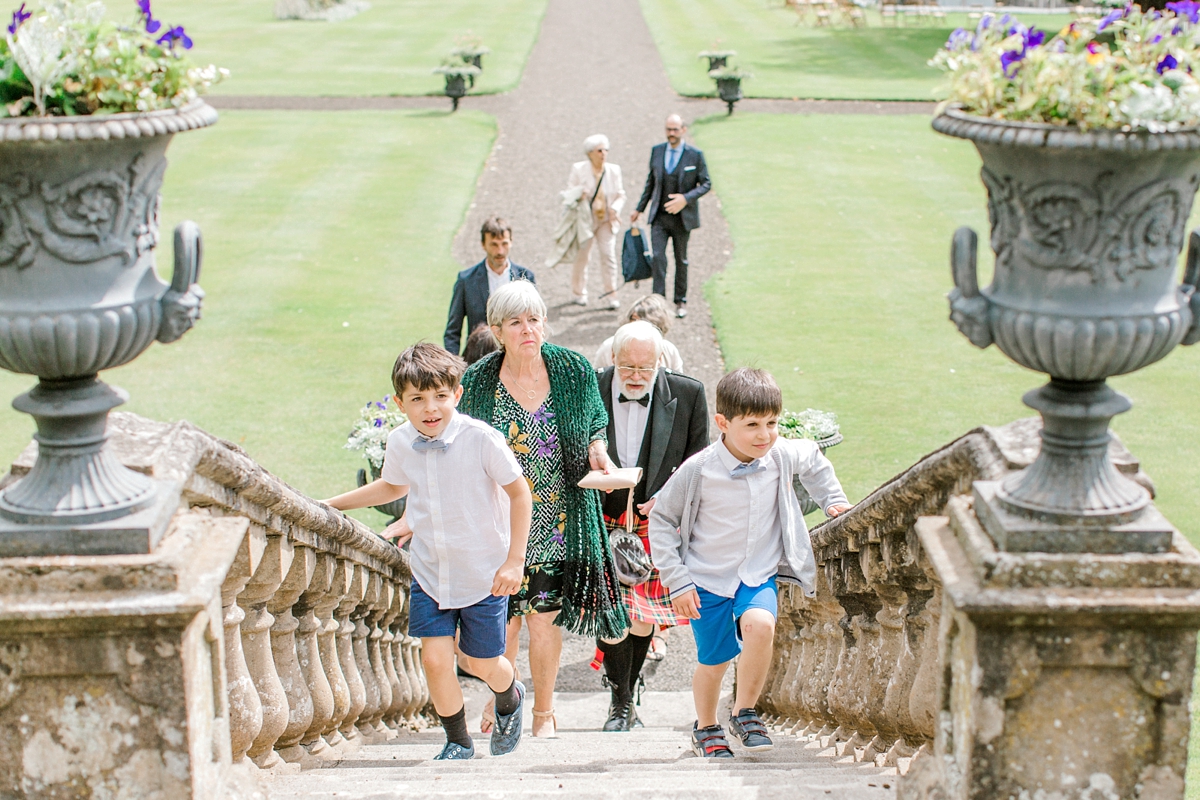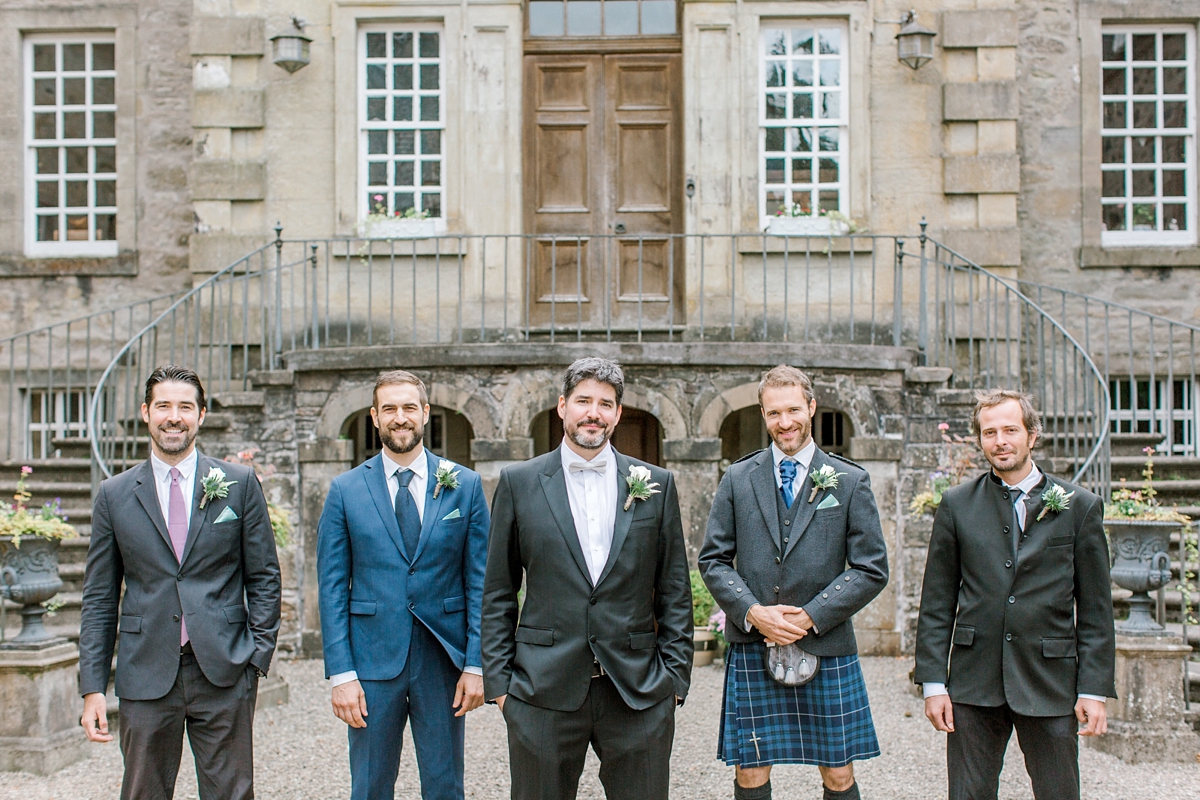 Mr Lee wore classic white tie from Dolce & Gabbana, whilst the groomsmen wore their own choice of suit, each with a matching water green pocket square.
"We have known each other since we were children, growing up in the same apartment block. My husband is in fact one of my brother's best friends. We ended up in the rather unique situation of knowing all about each other and our families when we started dating around 3 and a half years ago. We got engaged in Edinburgh where we went to celebrate our 2 year anniversary."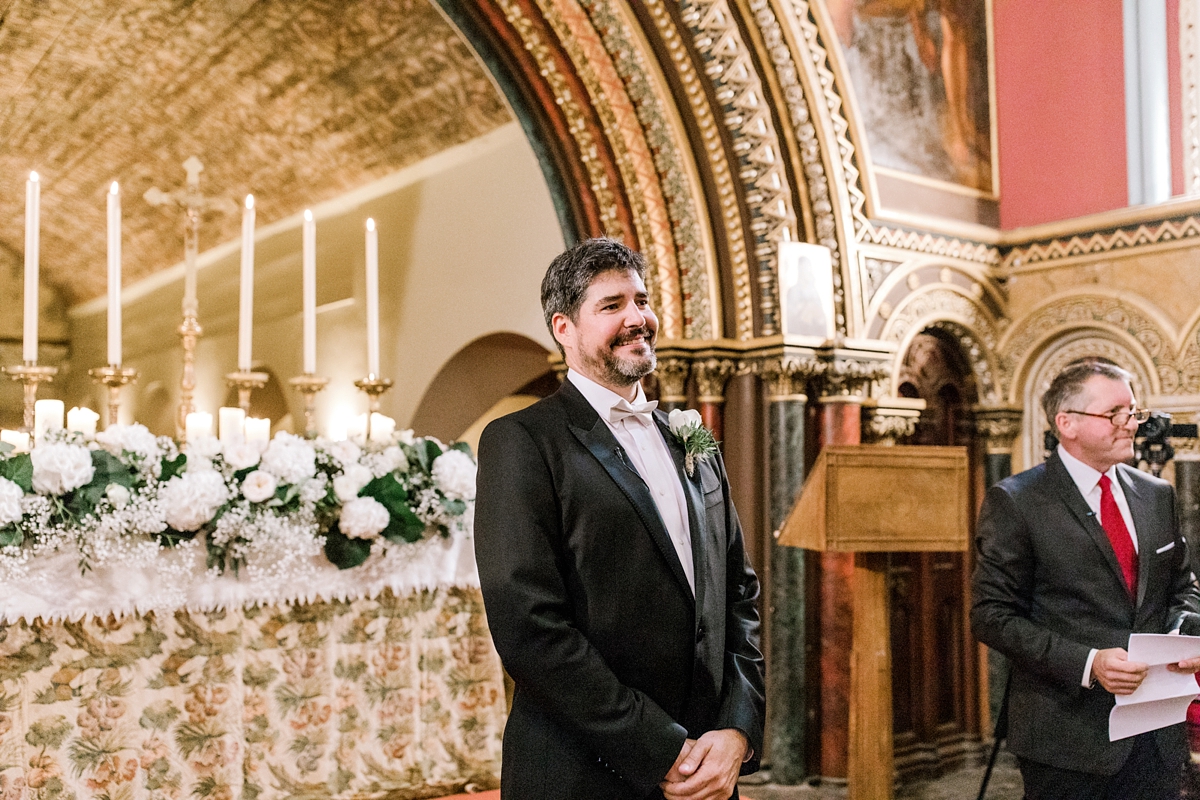 There are so many lovely floral details to delight in, from hoops threaded with blooms and greenery to wreaths of seasonal foliage hanging from doors and adorning the castle's chapel.
"My parents divorced when I was very young, and I now have a very good relationship with both my biological dad and my step dad who basically raised me. I could not choose one over the other, and the aisle was too narrow to walk down with both, thus I decided walk down the aisle alone, where I was met by them both. They then accompanied me the final steps and passed me over to my future husband. It turned out perfectly and was a very emotional moment for me."
JD Bridal Hair and Make-up did a fantastic job with hair and make-up, and I especially love the bride's gloriously romantic curled hair, pinned and adorned with a crown of delicate gypsophila.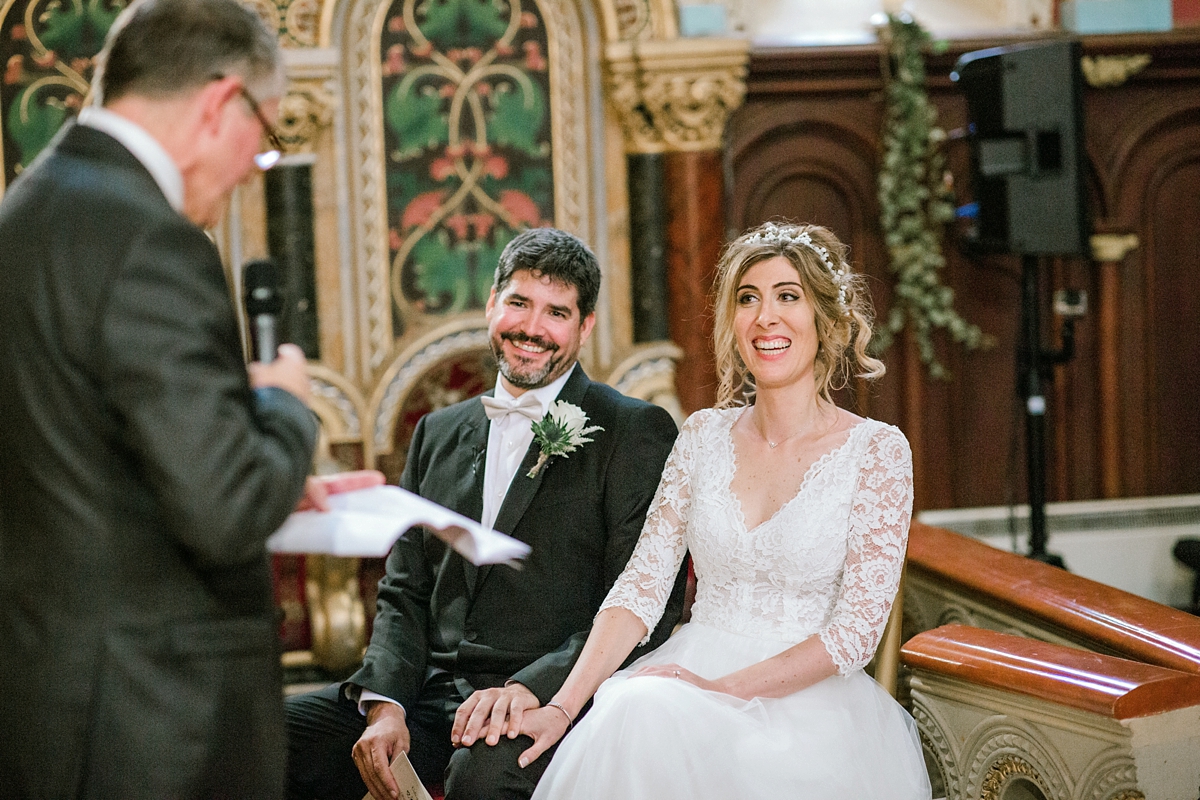 Talented loved ones provided the music during the bride's entrance – one of the witnesses and his wife and a bridesmaid played Canon in D by Pachelbel. The ceremony was conducted by a friend of the groom, who is also an officiant in the USA, and Mr and Mrs Lee also exchanged rings from French designer MADIM (sadly unable to find a link).
"He guided us throughout the process for over a year and we loved the end result. In fact we decided to do the exchange of vows in two languages. The groom's native language is English while for me it is French. It was a bilingual ceremony, and our officiant moved between French and English during the whole ceremony."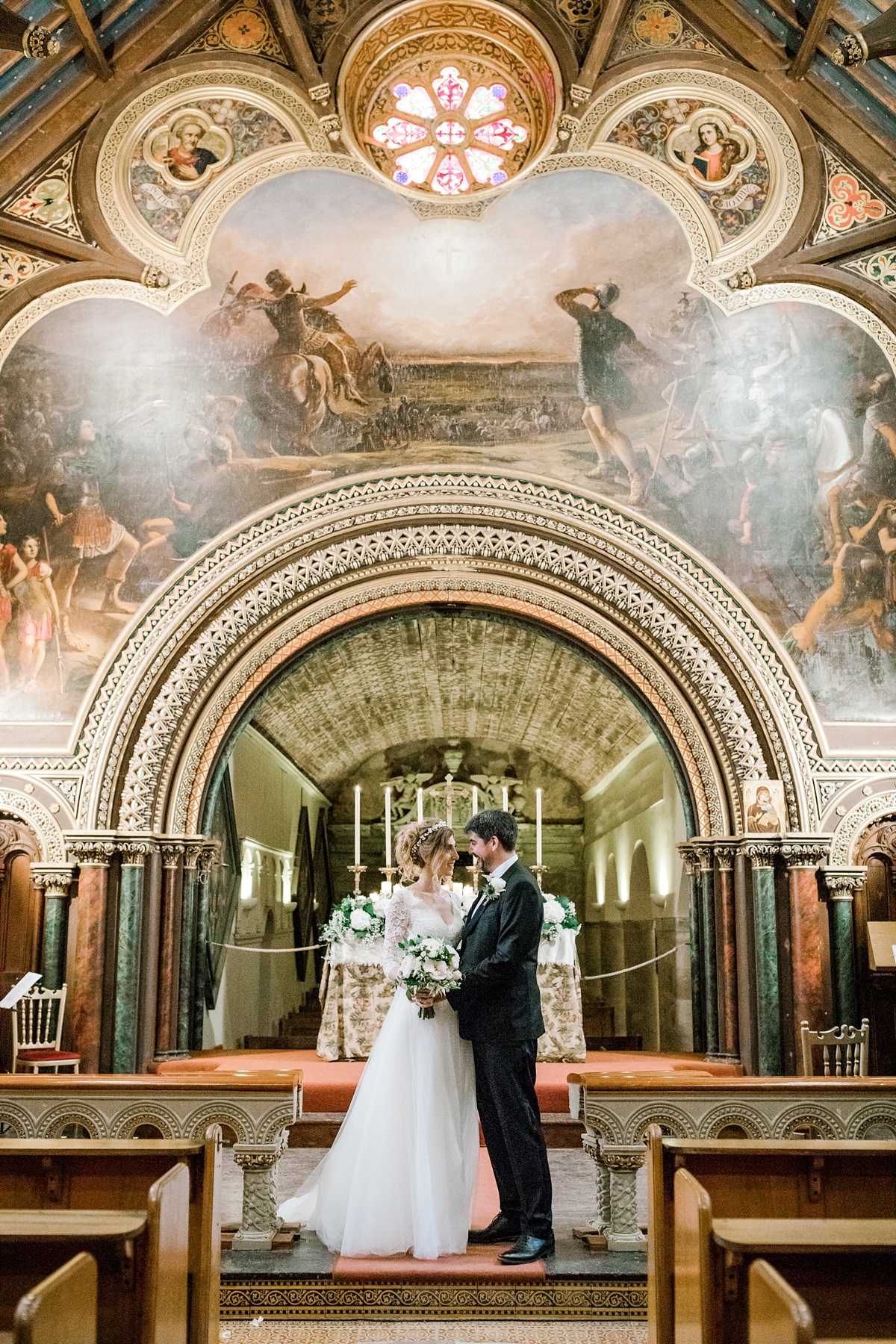 One of the couple's witnesses wrote an emotional and heartfelt speech to deliver during the ceremony, and it's wonderful to be able to share part of it here.
"Love, it is true, is very powerful. Let us remember that we ourselves were created through the power of love and we should lead our lives with love.This is why we are present here today. We are gathered together in this chapel to celebrate the marriage of the Lees. Love has, once again, exercised its magic."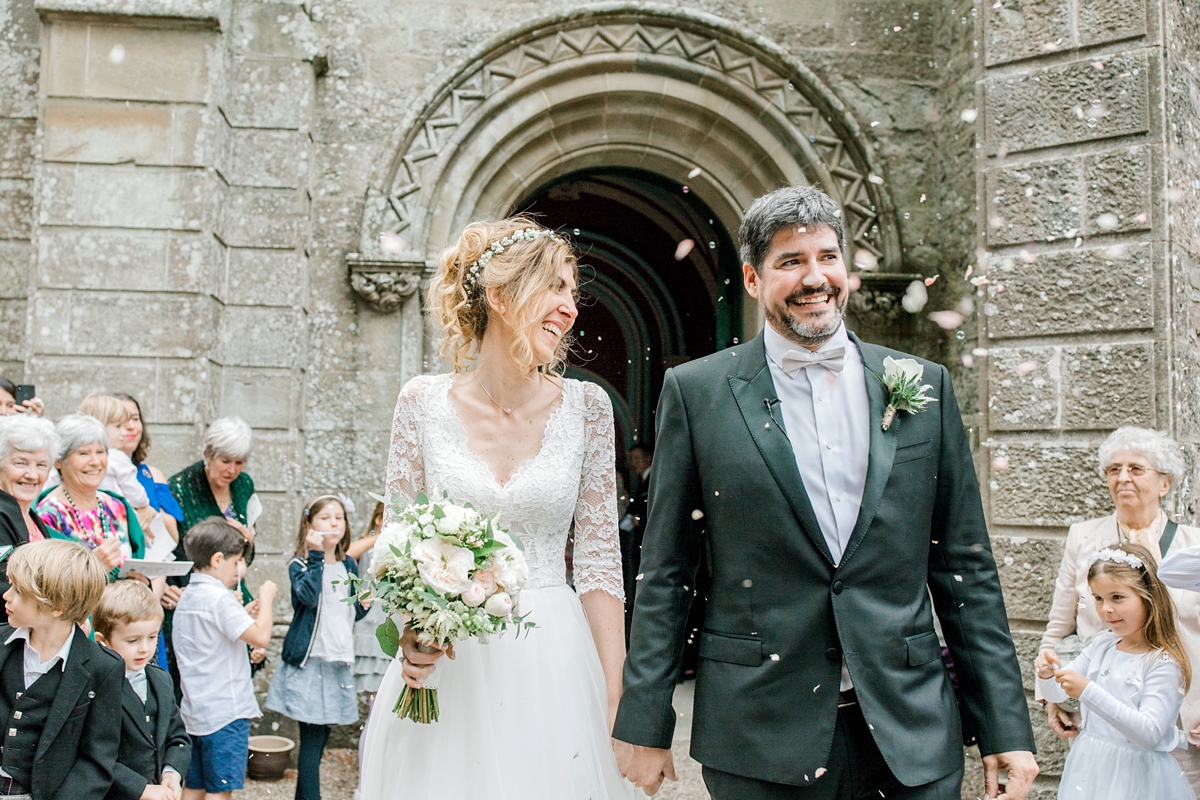 "Without hesitation the ceremony was the favourite part for us. The whole ceremony was personalised and felt like a very good reflection of our personalities. For over a year and a half, each first Sunday of the month we spoke with our officiant to prepare it, and we love how it all came together."
"It was also important for us as our friends participated and even provided some surprises: the song, the poems, the speeches. And of course it was wonderful to get married in front of our close friends and family. I was so touched by it all, and it will remain one of the best memories of my life."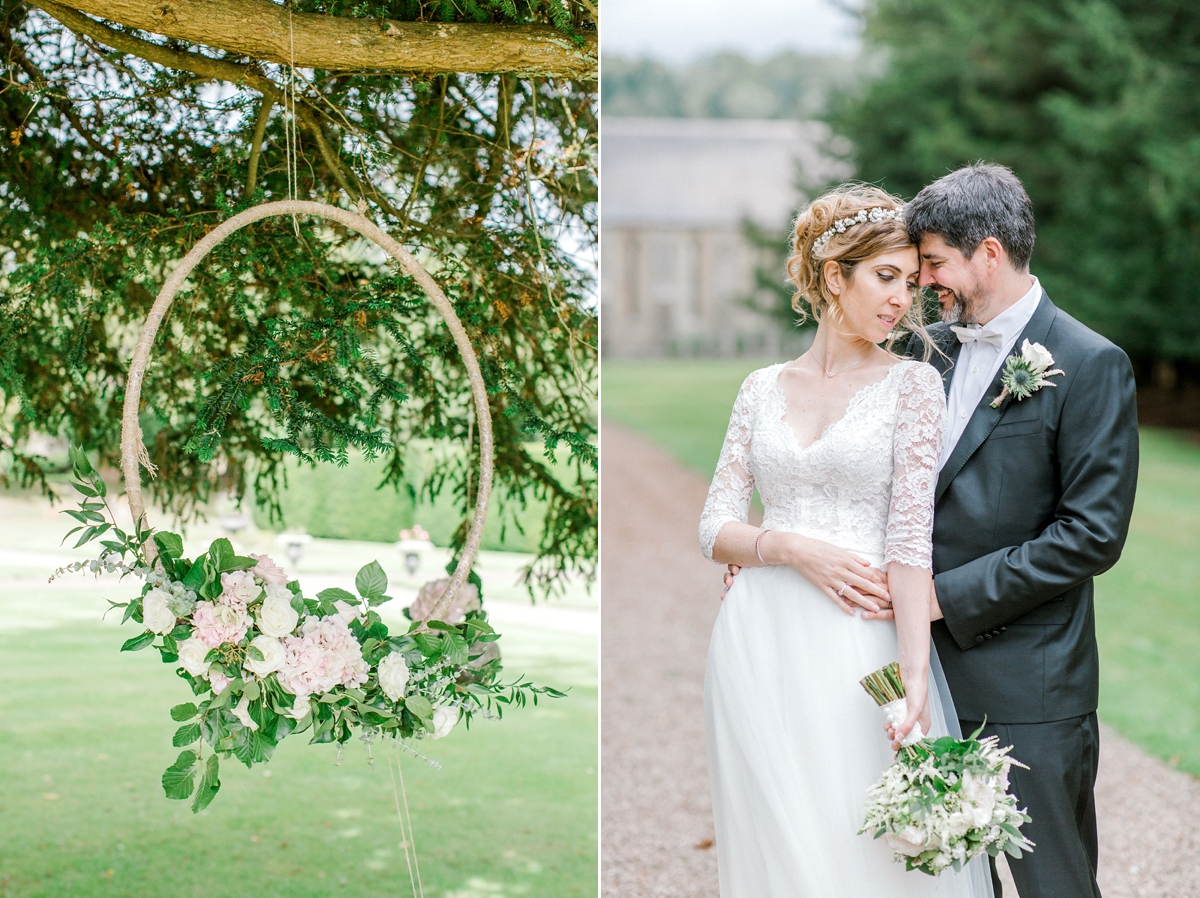 After the ceremony ended, a piper played as Mr and Mrs Lee and their loved ones walked from the chapel through the spectacular castle grounds, while the couple took some time away to themselves and guests enjoyed drinks on the lawn.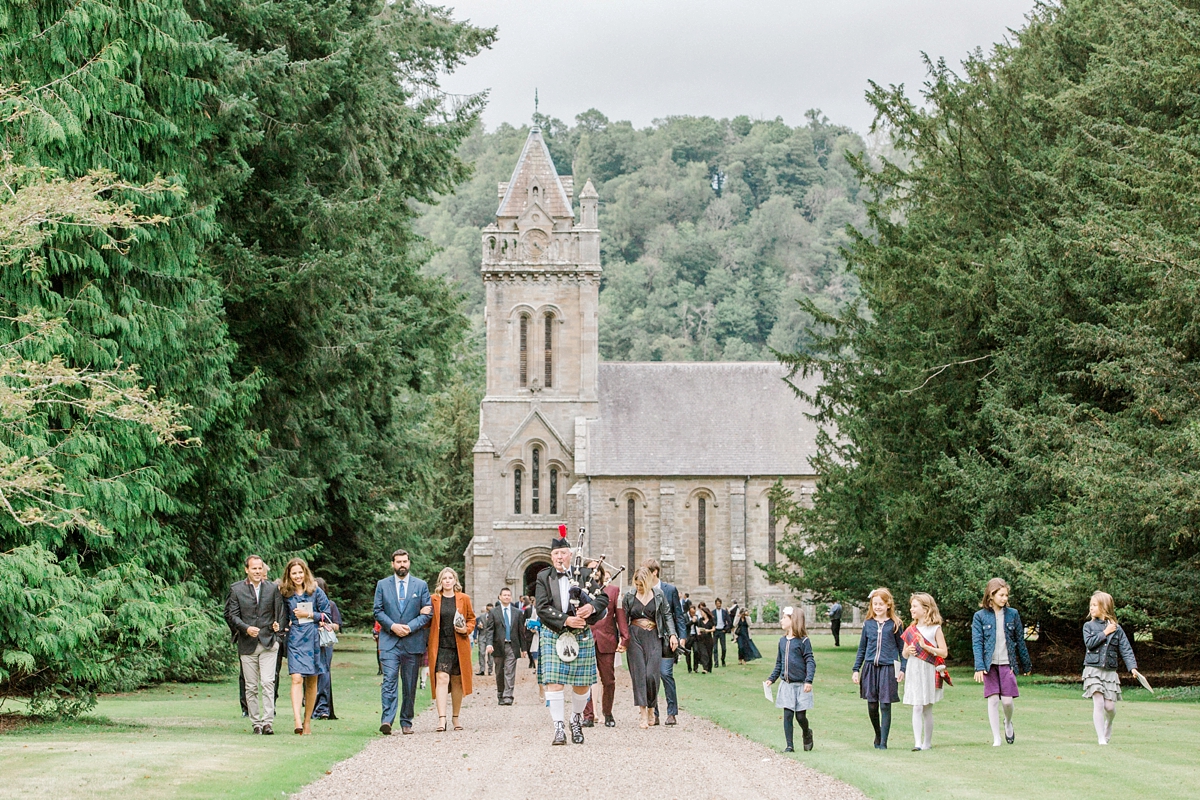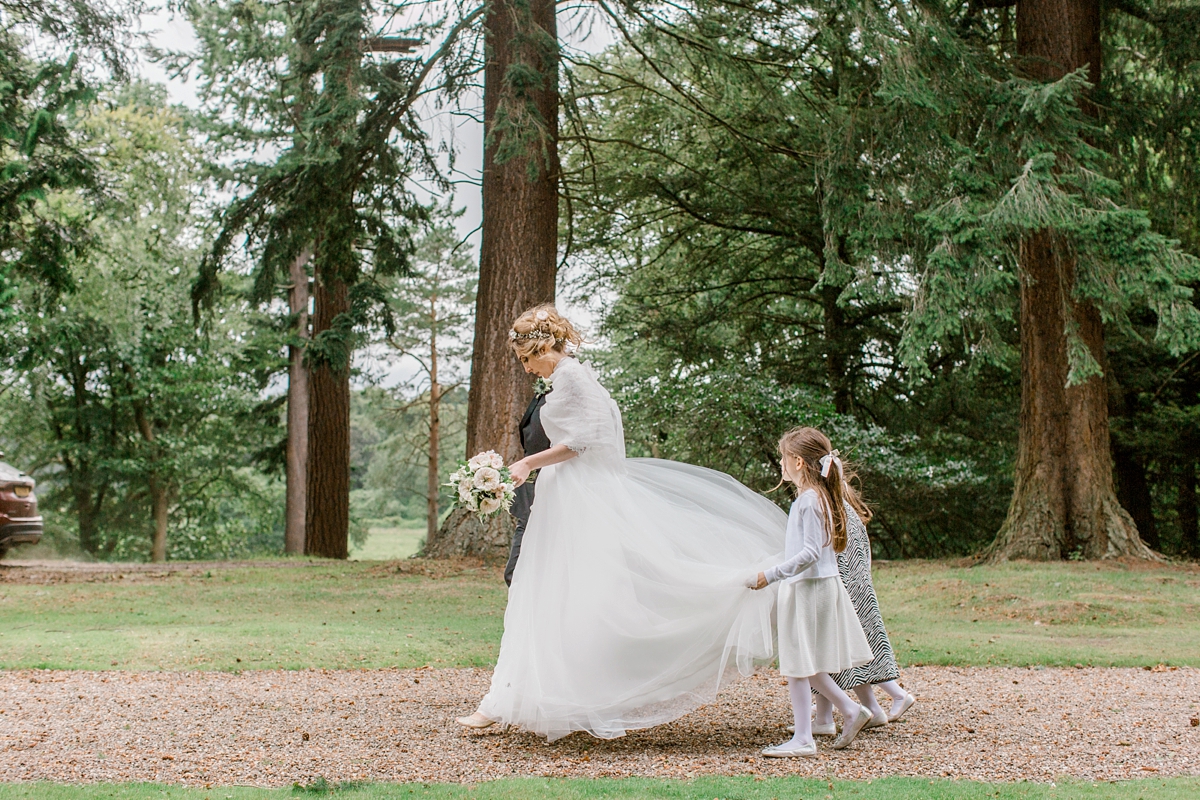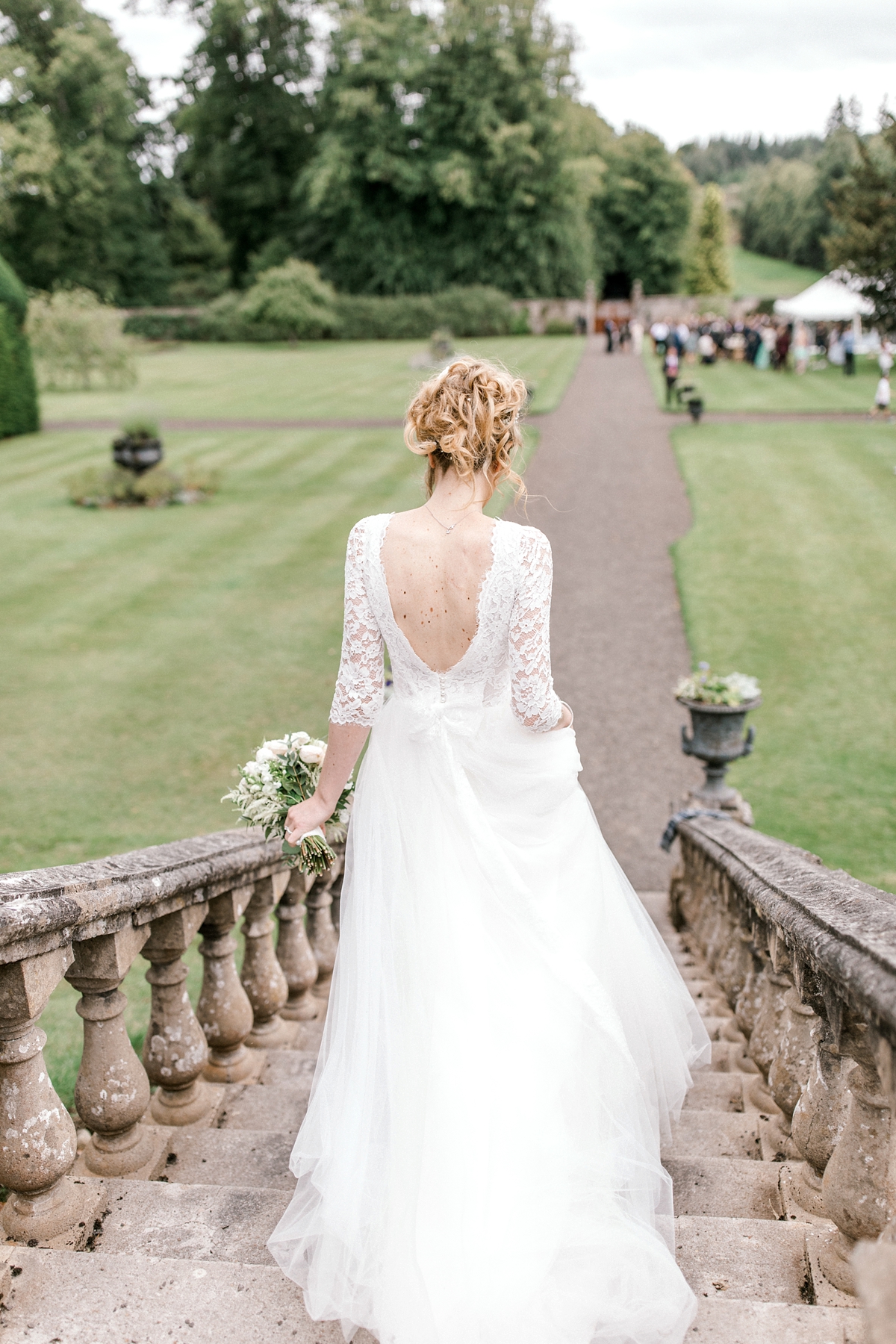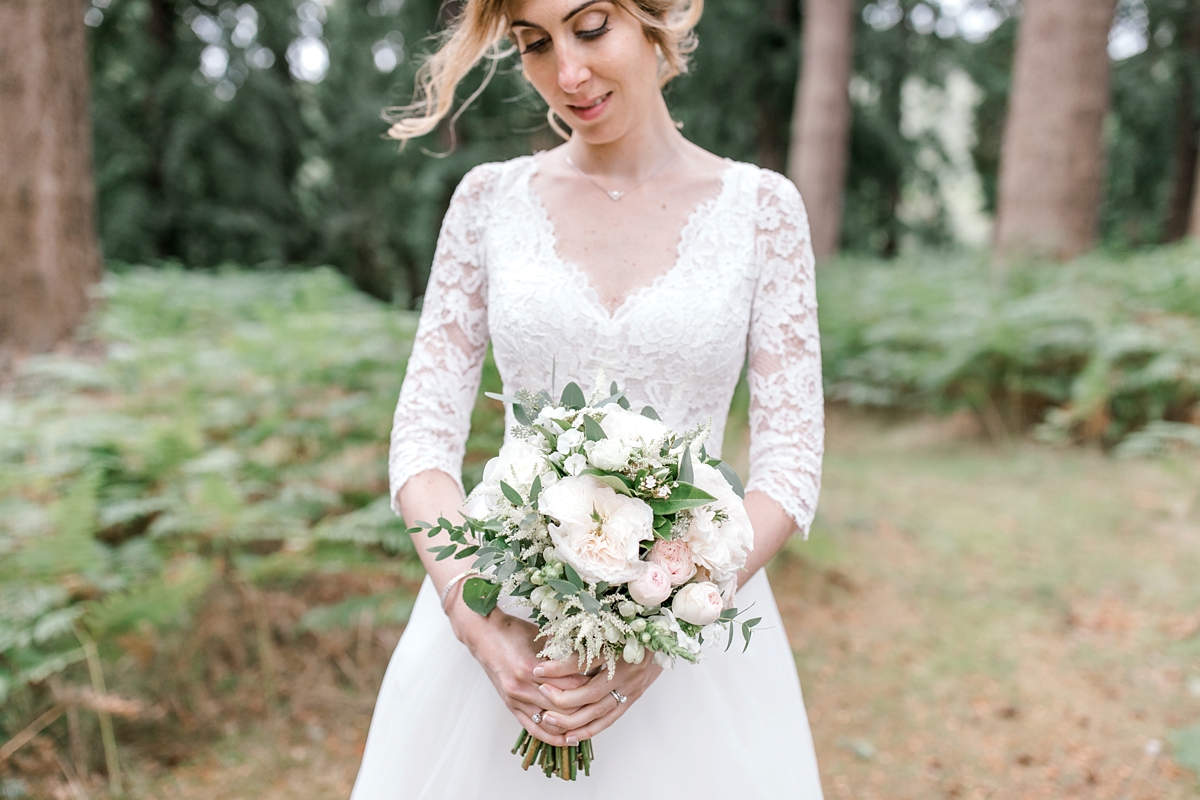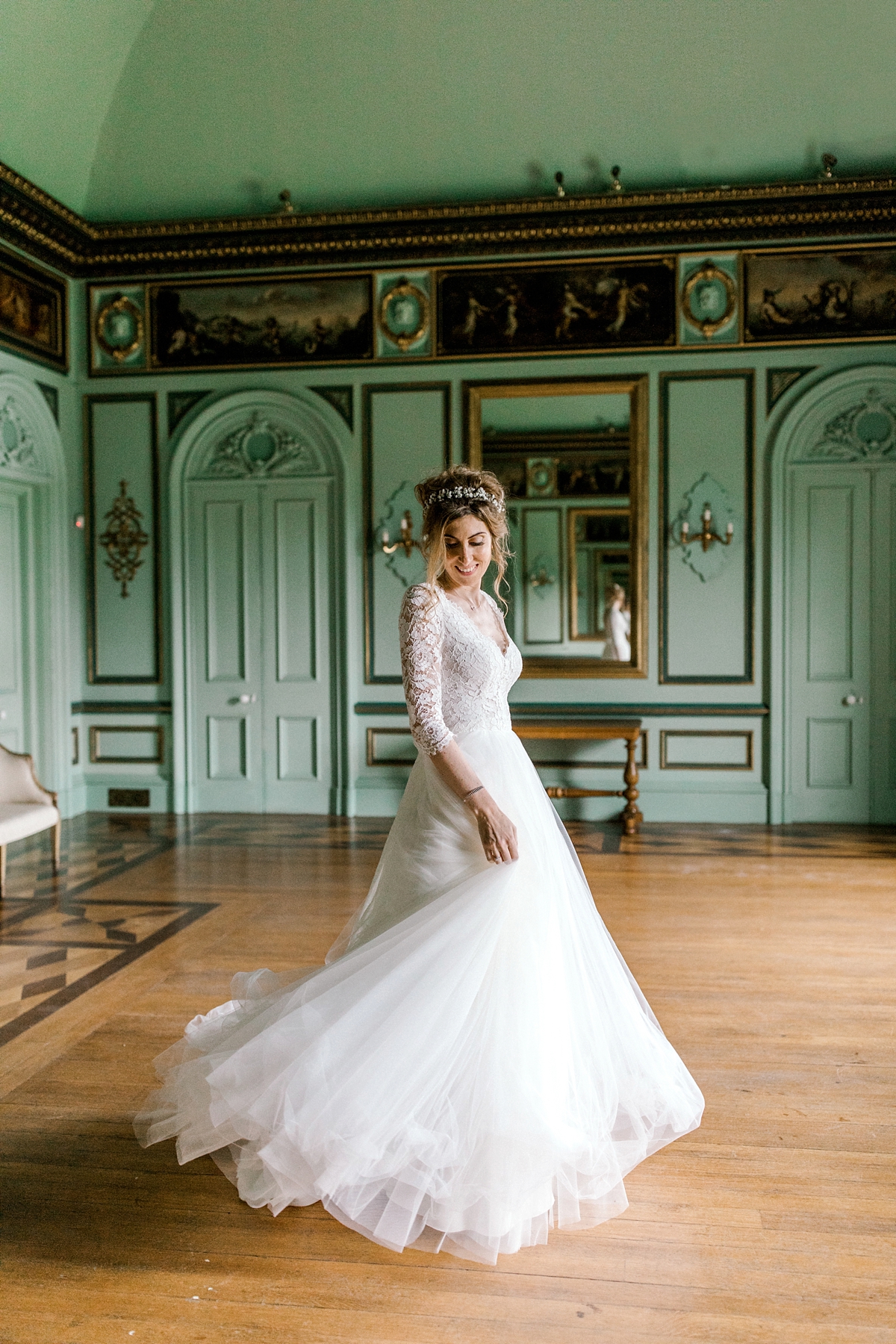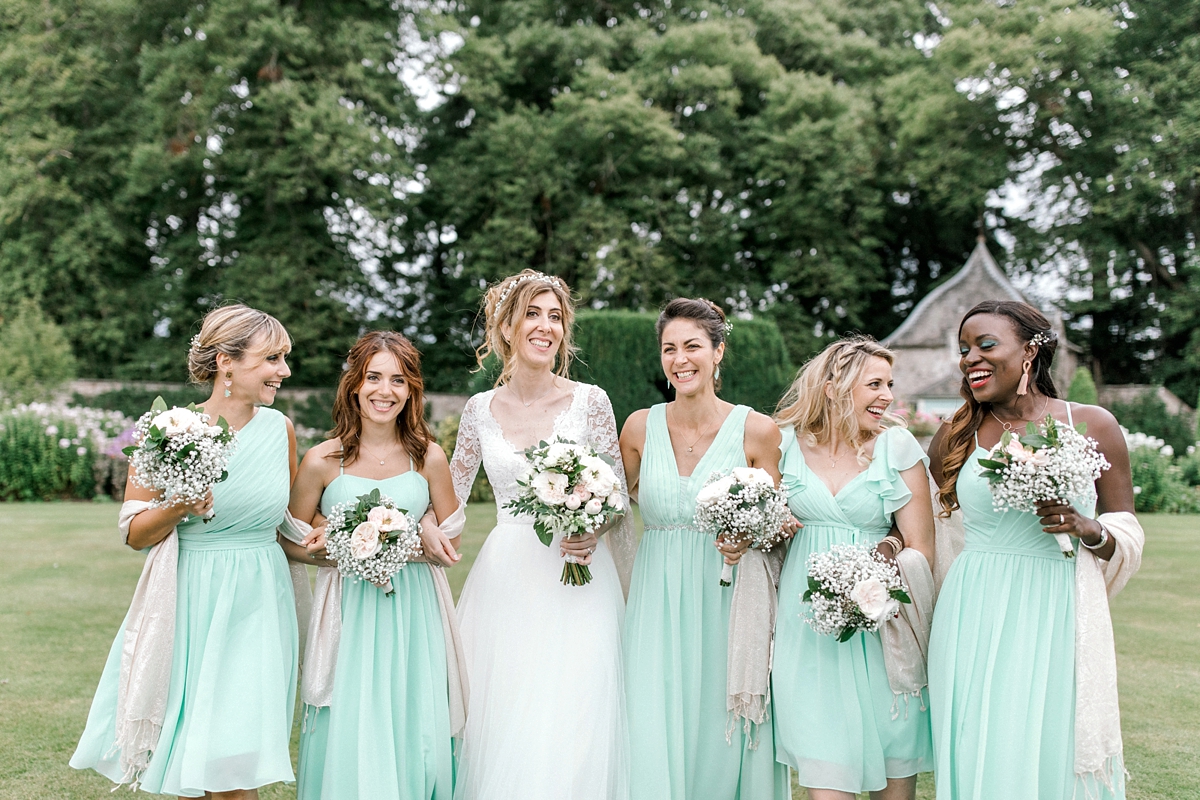 The reception marquee was surrounded by more magical flowers, spilling from whisky barrels, crates and wheelbarrows, and inside, a wooden ladder was likewise adorned, placed beside an elegant table plan designed by the bride's friend (sadly no further details provided).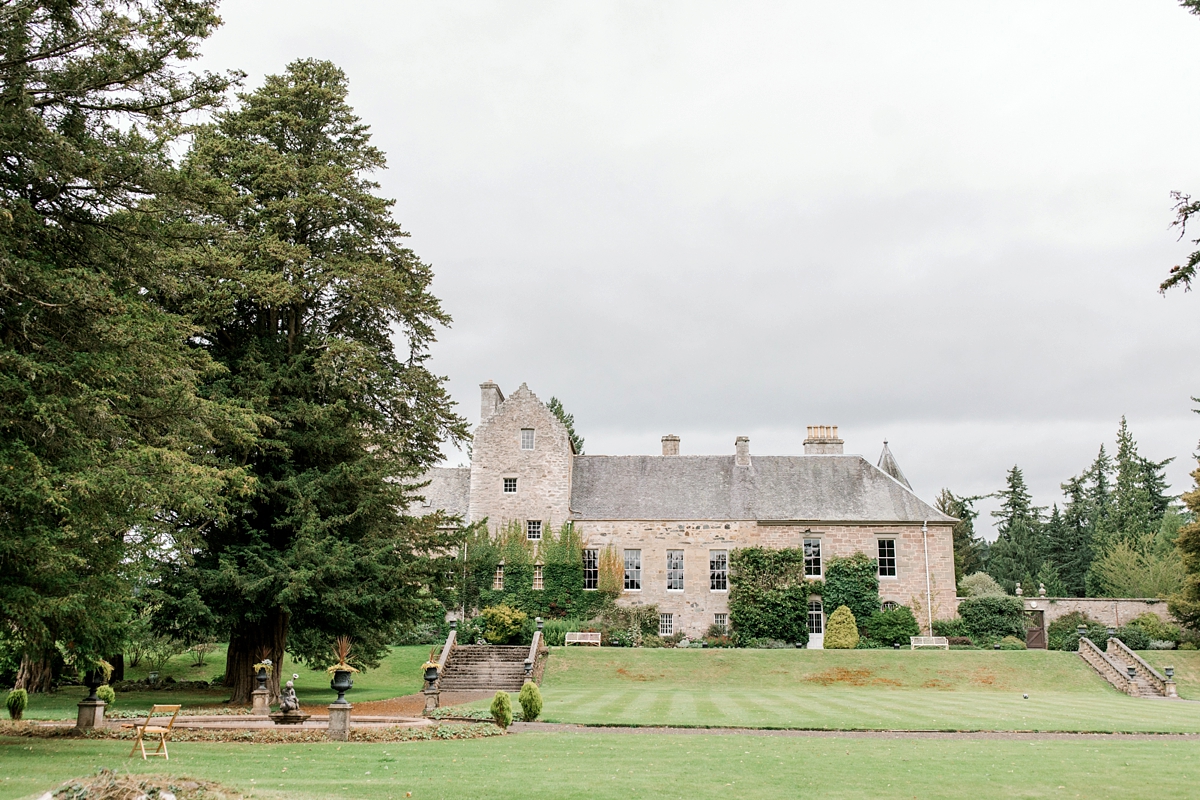 Planner Janice from Blue Thistle Weddings worked with the couple to bring their vision to life, finding the best suppliers for them to work with. This included the romantic, pastel-hued flowers from Coach House Flowers.
"Emma was a great help in choosing the flowers. We wanted something that looked simple, fresh and beautiful. With this rough framework, she managed to conjure the beautiful décor, which exceeded our expectations."
Twinkling fairy lights were strung from the pea canopy above, and on the tables there were tall vases of hydrangea flowers and trailing ivy and vintage candlesticks. Favours were miniature boxes of delicious Scottish tablet from Six Penny Blue.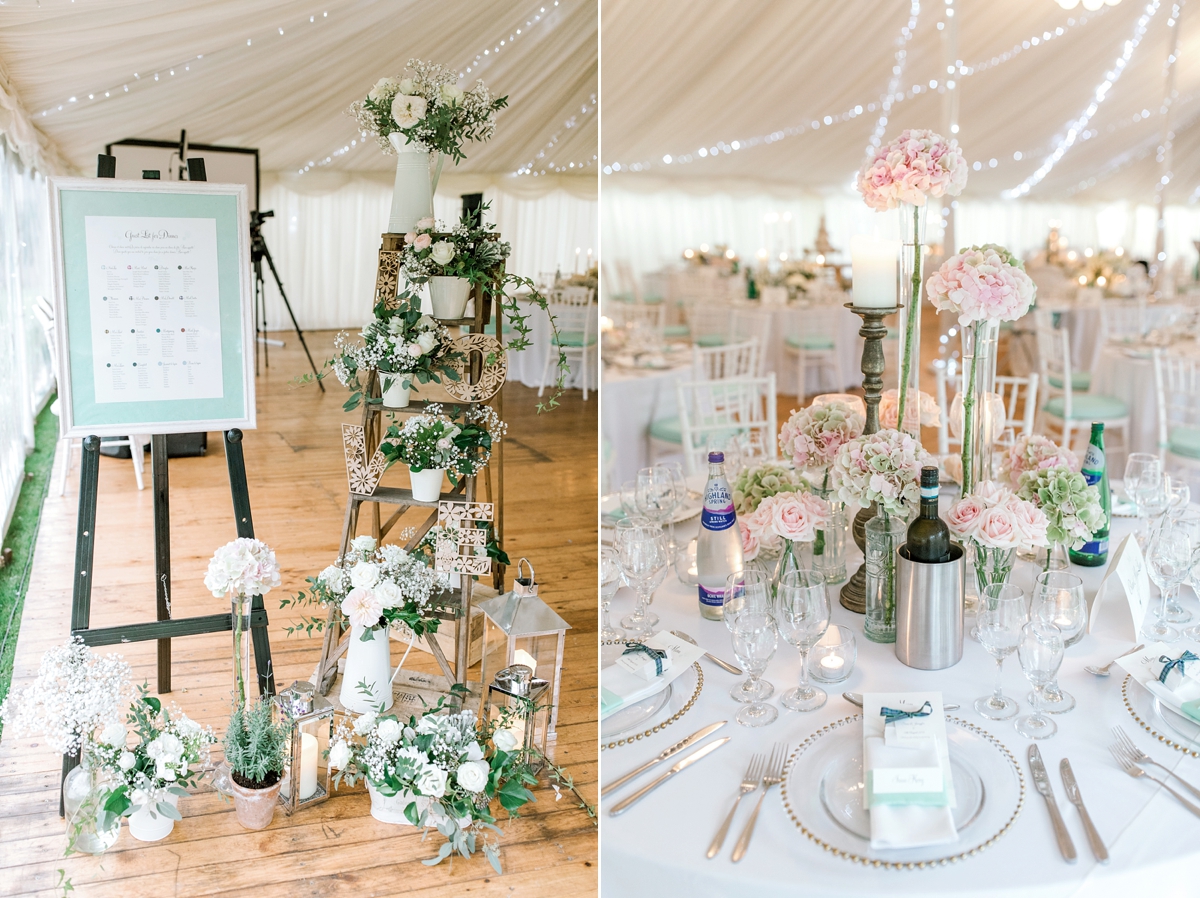 There was also a whisky bar filled with different scotches to try, and after the drinks reception, everyone sat down to a fantastic wedding meal from Season Catering.
"We want to highlight that Aaron did an amazing job, and that we would happily recommend him for any catering needs!"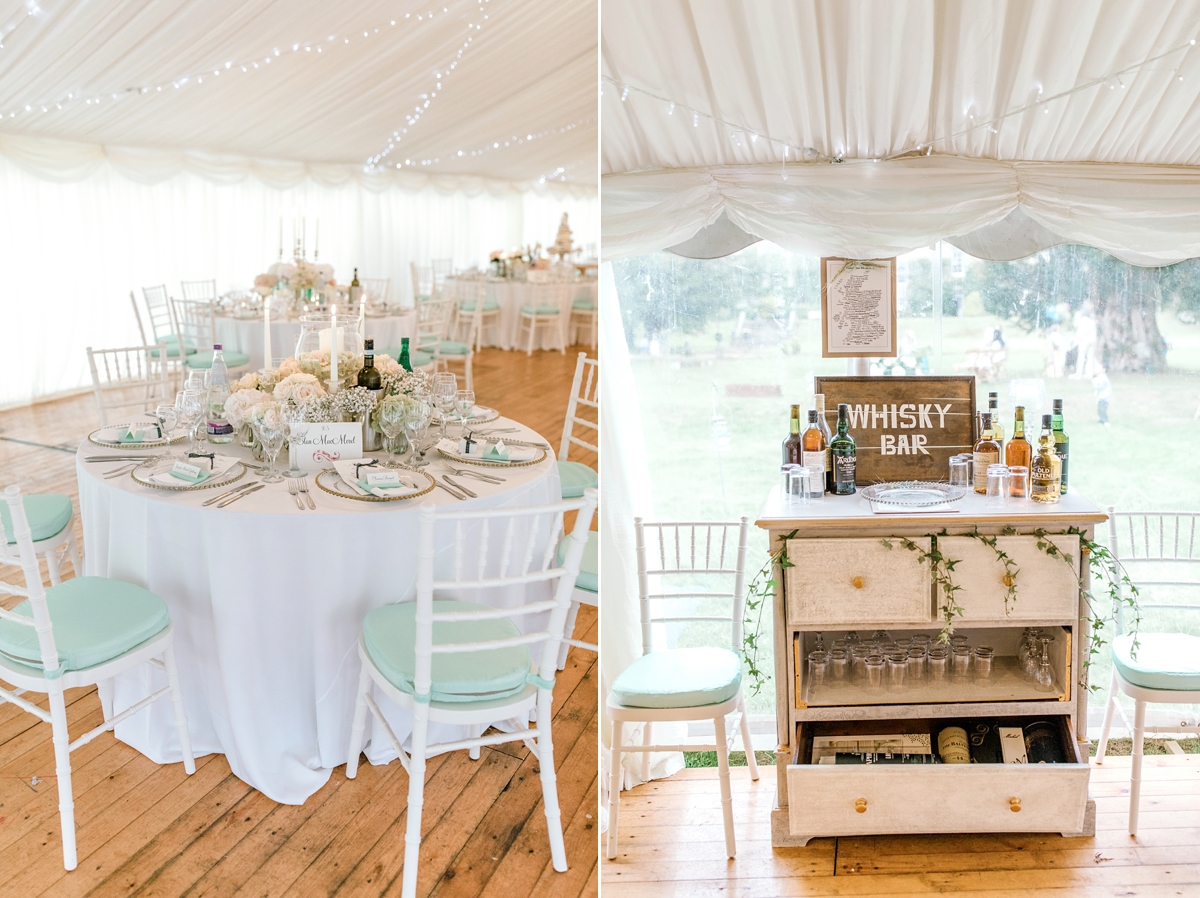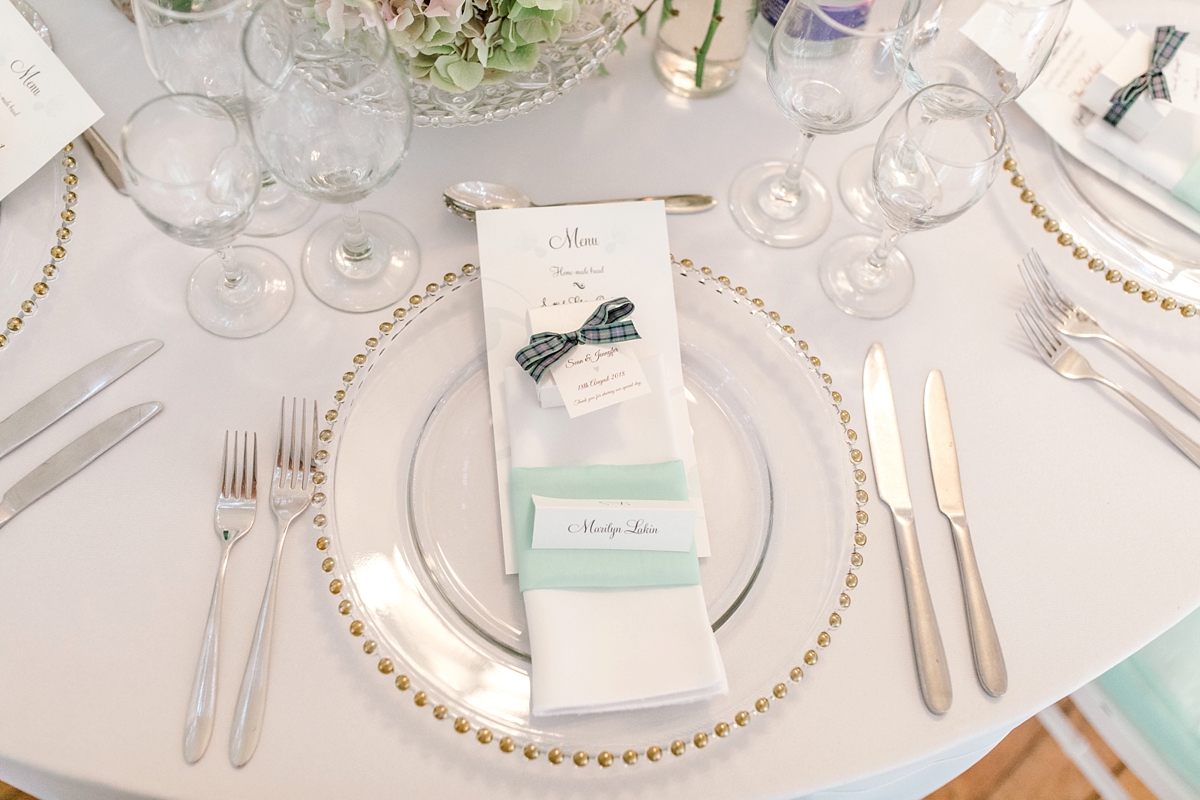 Later in the evening, Mr and Mrs Lee took to the dancefloor to enjoy their first dance together as husband and wife. They chose James Horner's theme music to the film Braveheart.
"We made this choice because we do enjoy the song, and because it is one that we do strongly associate with Scotland (no offence!). It was also the song chosen by one of the groomsmen in a video he kindly created for us for our save the date, well before we had even begun to think about a first dance. Our live band was The Trueloves, who clearly knew how to electrify a room"
Words of Wedded Wisdom
"Our officiant told us towards the beginning of the process to never forget the following: 'One team, One Dream !' Life can be hard, and when times are tough, as sometimes they will be, try to remind each other that you are the same team and that you have the same dream. This clearly bore out during the wedding planning, as there were times that were quite stressful, especially when planning a wedding remotely in a different country."
"When things got a little crazy, we would say the mantra, which would typically make us laugh and remind us that we were indeed aiming for the same goal. Also key for us to remember throughout the process was that all that was truly necessary was to have an officiant, a location, food/drinks, and all our friends and family. With those simple elements together, it was already certain to be an amazing event, surrounded by our loved ones. In a sense all the extra planning, while crucial, was really icing on the cake."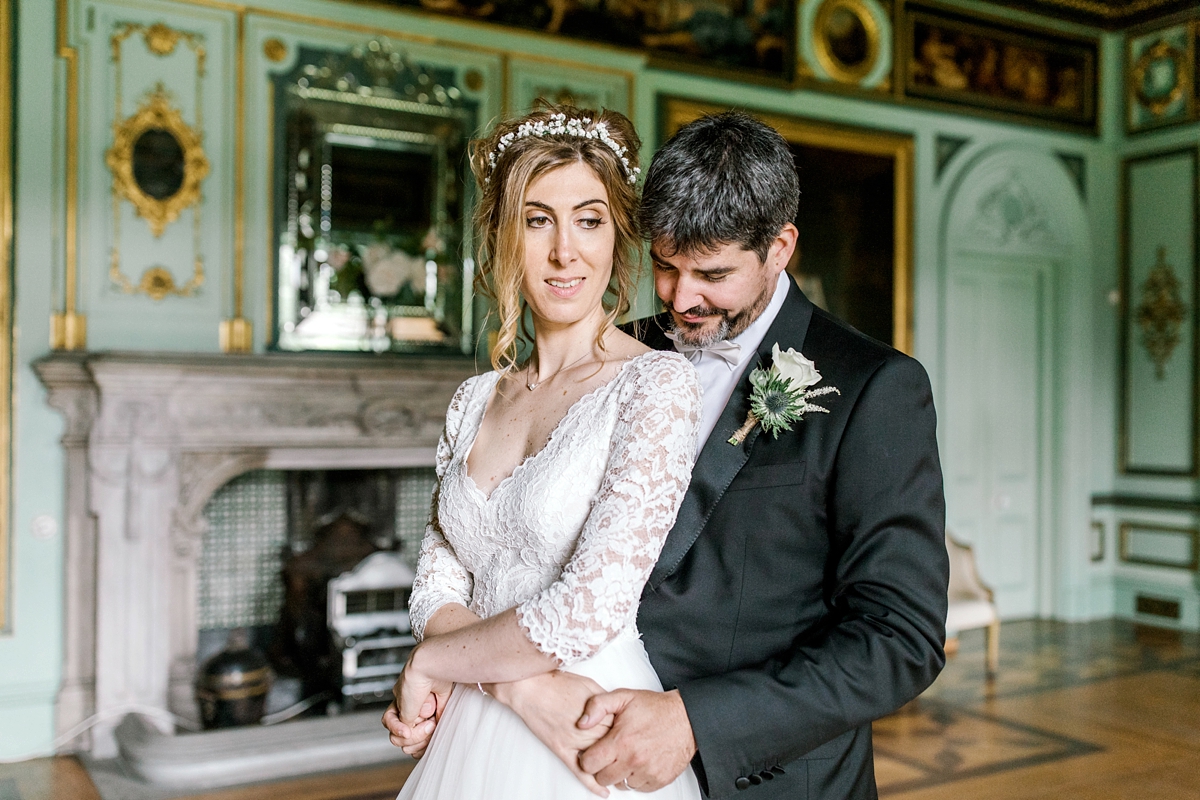 Congratulations Mr and Mrs Lee, and thank you. What a treat this has been and what a spectacular venue, not to mention such a dreamily beautiful wedding dress. Many thanks to The Gibsons for their lovely images – and if you'd like to see more of their work on our blog pages, then do take a look here.
Until next time!
With love,
Laura