Lovelies, have you discovered our Little Book yet? We're so proud of this online directory which features some of the best, most dedicated suppliers out there, including some truly wonderful bridal gown designers.
One of these is Jesús Peiró, whose gowns are always the perfect blend of exquisite styling, modern influences and beautifully-detailed material. Today's bride is wearing one of his designs and I hope you love it as much as we do.
Come with me up to Northumberland for the summer wedding of Nicola, a tax advisor, and Daniel, a manager in his family business, who married on 7 July 2018. After a Church of England ceremony at St Cuthbert's Church in Elsdon, they travelled to the wonderful estate of Woodhill Hall in Otterburn where they held their reception. The exclusive-use Hall, with its gorgeous countryside views, airy Orangery and wooded hideaways, inspired their styling which was full of lush foliage and full-blown summer blooms in a subtle, neutral colour palette.
Film Absolute Media North East
The couple, who met through mutual friends, have such a romantic engagement story to share.
"Dan's parents have a holiday home in Barbados and on our first holiday together we went to a place called the flower forest. We carved our names into one of the trees, alongside others who had visited. On our most recent holiday we went back and found the tree. I was looking for our names and when I turned around Dan was on one knee with a ring. We were engaged for just over two years before our wedding day."
Photography Helen Russell Photography
The team at Marrime Bridalwear in Jesmond, Newcastle went above and beyond to help the bride find her Jesús Peiró gown. I'm so glad they did; I love this sophisticated dress. The fitted bodice is elegant and the full skirt is classic but the unusual lace has such a modern feel that really elevates the look.
"I initially thought that I wanted a relaxed, boho-style dress but when I tried dresses in that style they just didn't suit me. I ended up trying on a lot of different dresses and having no luck. I came across Jesús Peiró online and there was something about the style of dresses I really liked."
Hair stylist Cheryl Rippon swept the bride's hair up into an elegant, twisted chignon which was adorned with a Laurel Lime hairpiece. With soft, subtle make-up applied by makeup artist Sarah Stonehouse, Nicola looks so serene and calm; what a beauty.
"I had already been to Marrime a couple of times but they didn't stock Jesús Peiró in Newcastle. I contacted the owner, Honey who arranged to have a couple of dresses sent up. Although the dress was much bigger than I'd initially had in mind it just felt so much better than everything else I'd tried on. I felt like the shape of the dress suited me much more and I loved the lace on the sleeves."
If you love this gown then please visit Jesús Pieró's Style File on Love My Dress here, and take a look at the Little Book listing where you can see more gowns and find a stockist near you.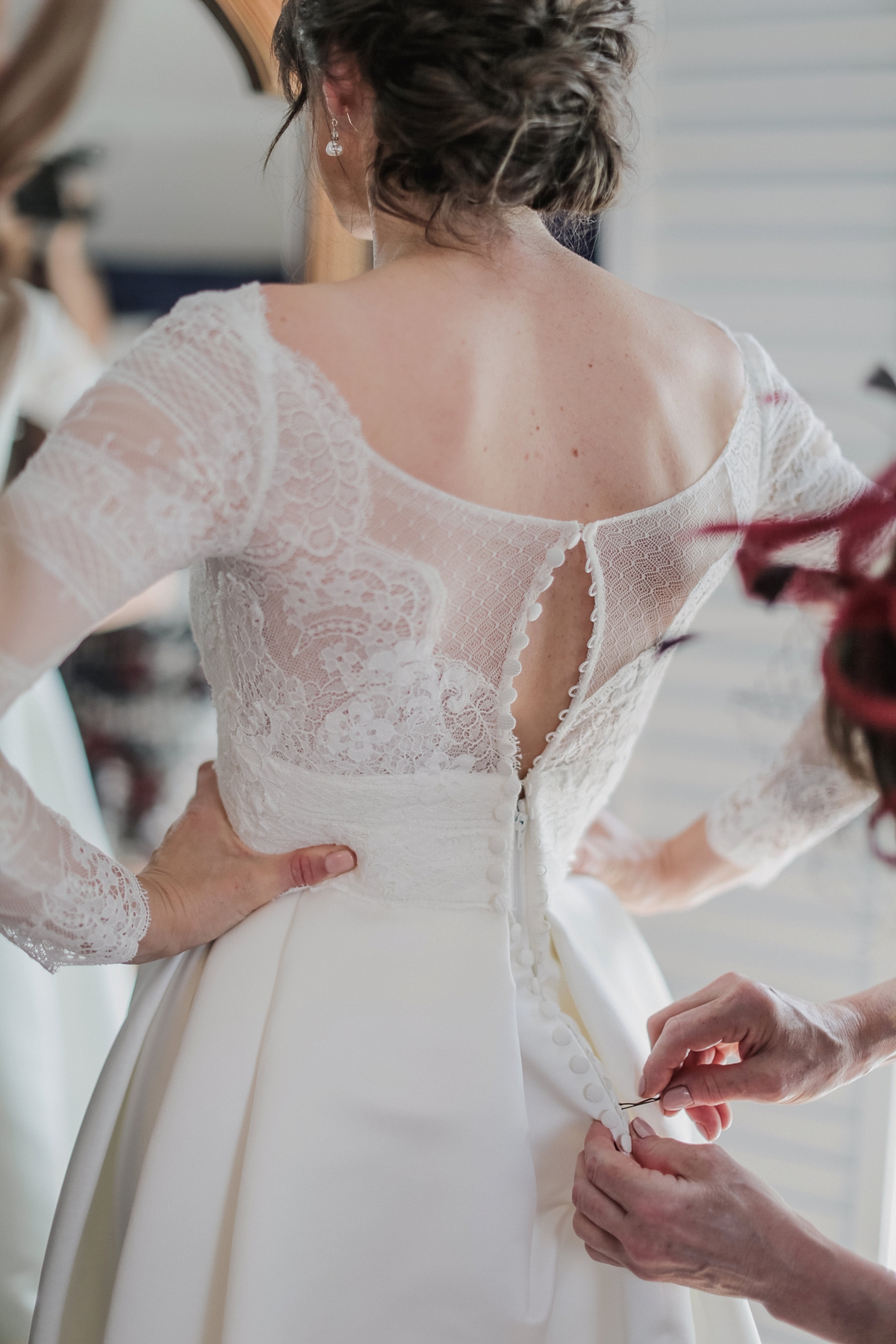 In keeping with the neutral colour scheme, the bridesmaids dressed in sleeveless maxi dresses from Oasis with New Look shoes and Bloom Boutique bracelets.
The bride and her father Graeme travelled to St Cuthbert's Church in a striking red classic Mercedes.
"He's loved it since he was a child so we used that as our wedding car."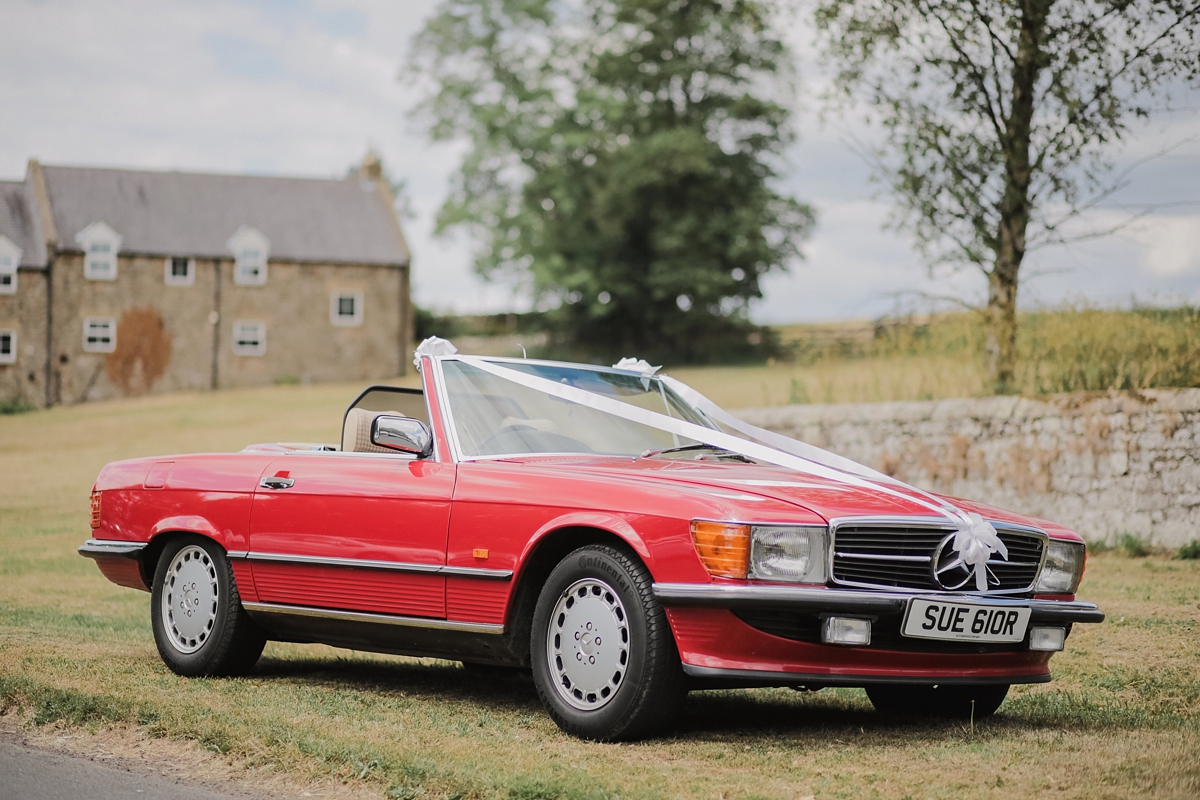 I think perhaps that I've fallen in love with Daniel's bow-tie and pocket square from Otaa. How cute is this ditsy floral print? It adds such a lovely touch of lightness to the rest of his dapper Marks & Spencer suit.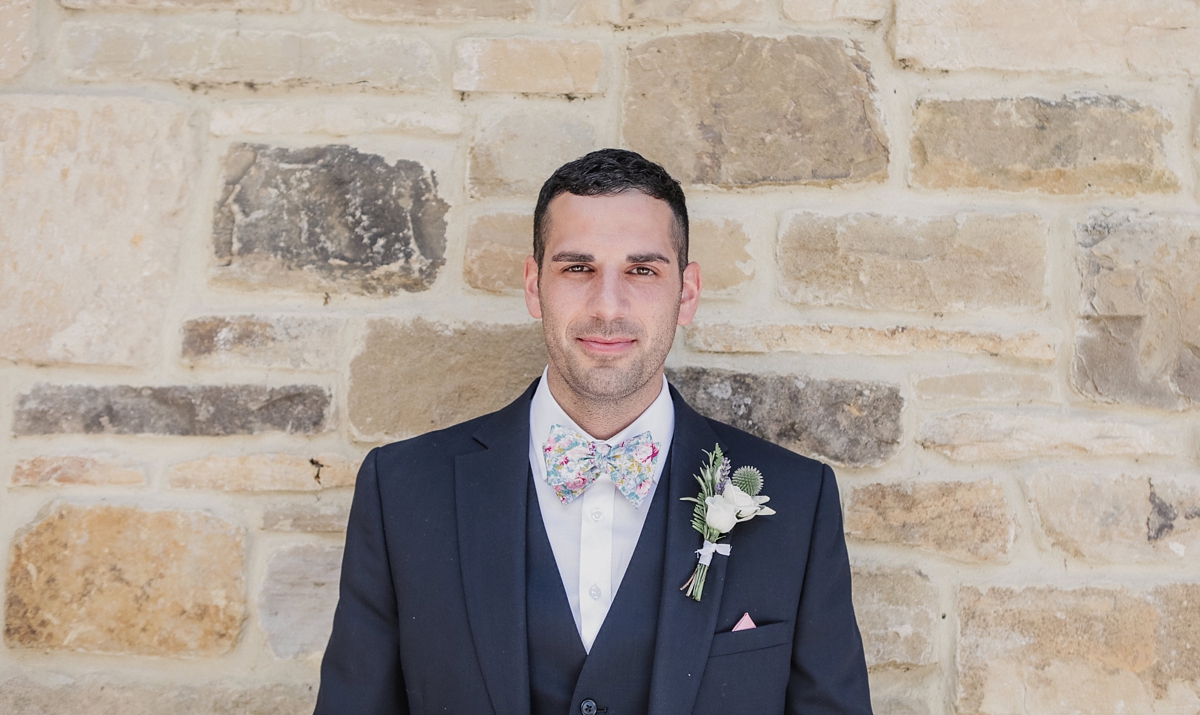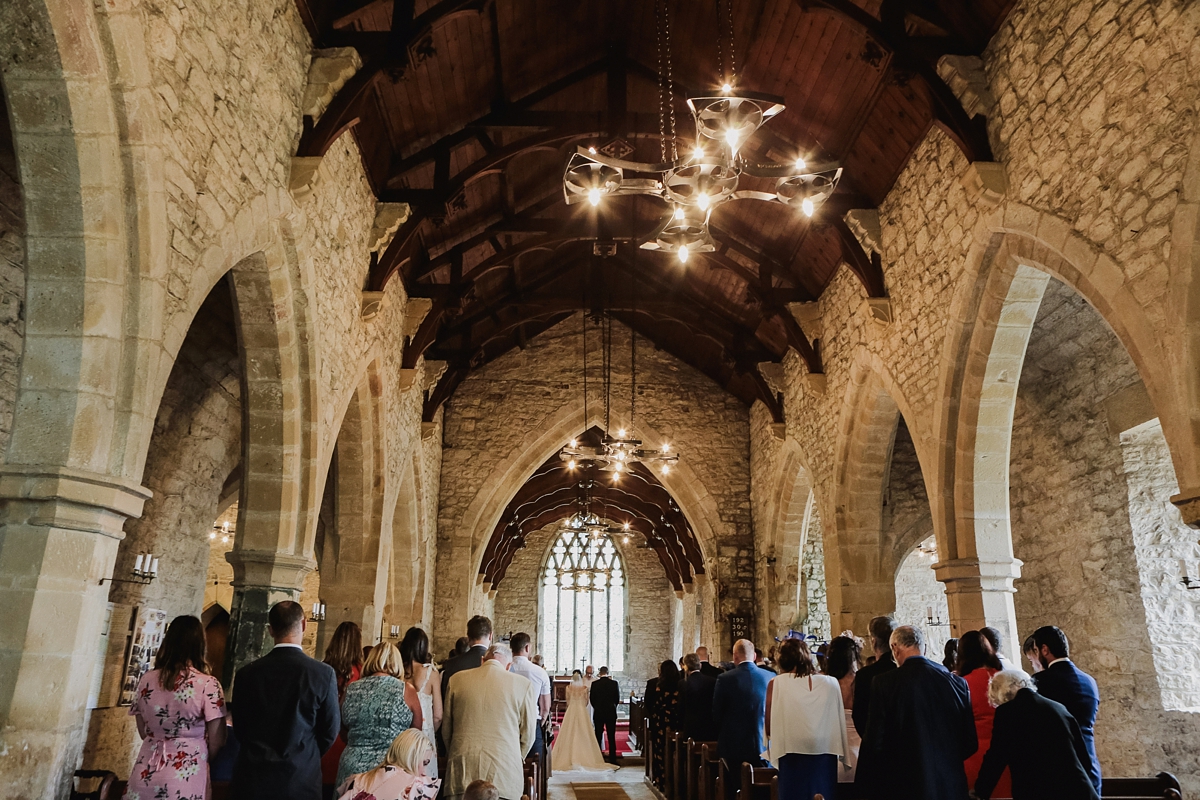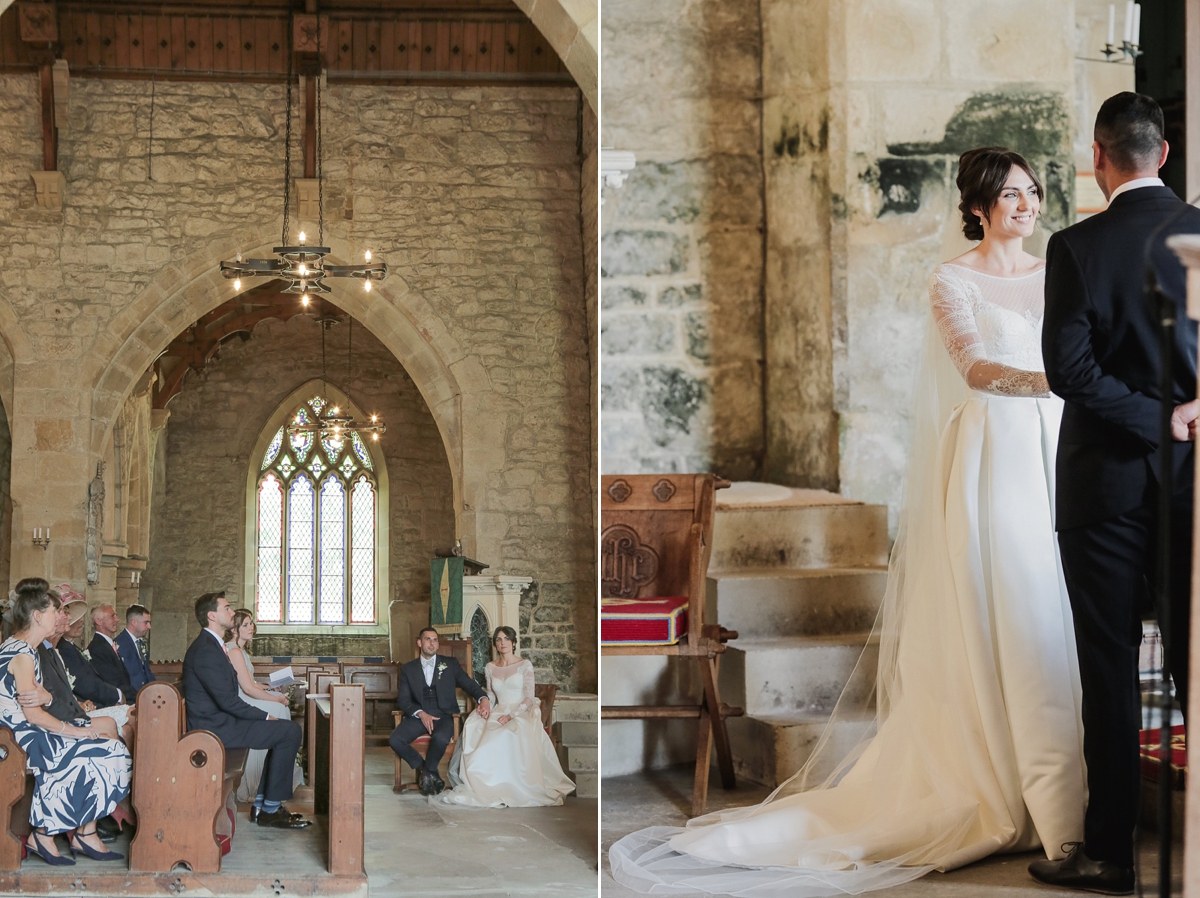 A sheer, long veil added an ethereal vibe but the rest of the accessories were super-simple. Nicola added pearl drop earrings from Liberty in Love and pale blue heels from Rachel Simpson Shoes along with a spritz of Jo Malone Wild Bluebell.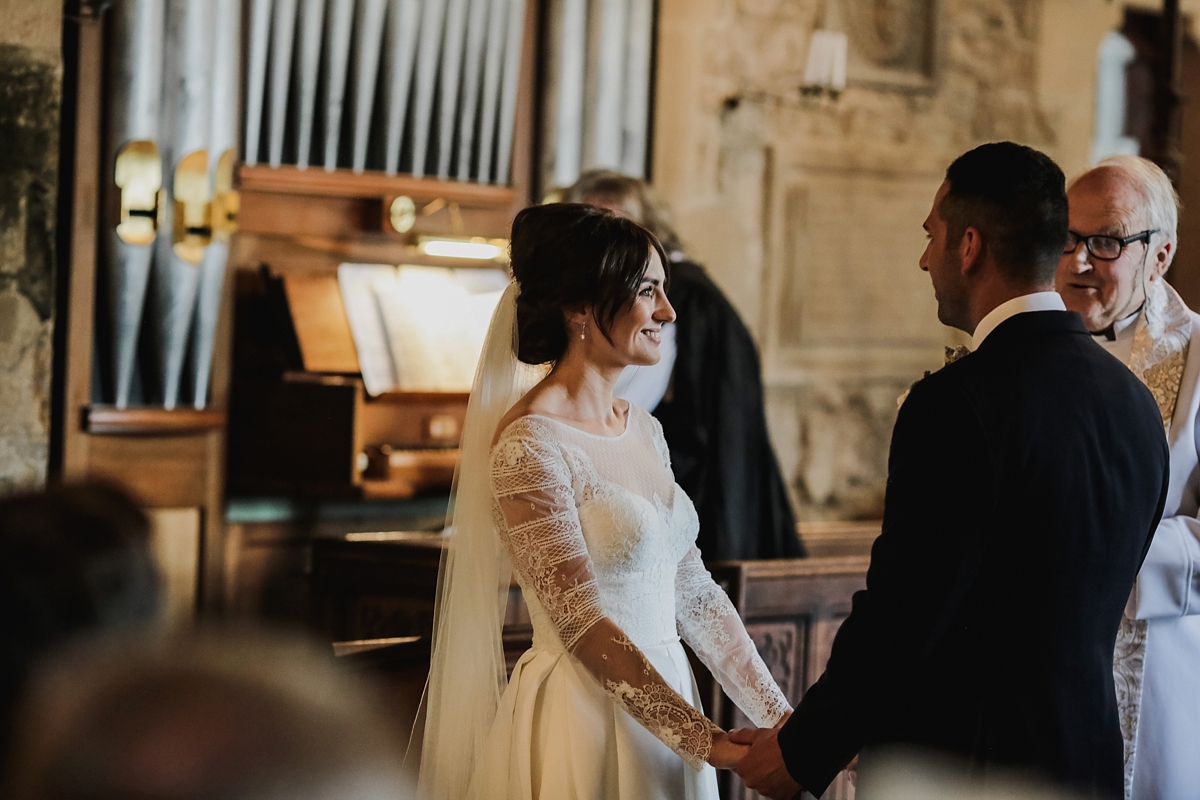 Nicola and her dad entered to Pachelbel's 'Canon in D Major' and she and Dan married in a traditional Church of England ceremony.
"The vicar read '1 Corinthians 13'. We did not have any other readings."
The bride's bespoke ring was from Bramwells Jewellers in Durham whilst Dan found his online.
"I struggled to find something that sat well with my engagement ring. I found something I liked that was no longer in stock so Bramwells arranged to have one made exactly as I wanted it."
"Daniel just wanted a simple band and found someone online who handmade the ring. They even sent him a video of it being made."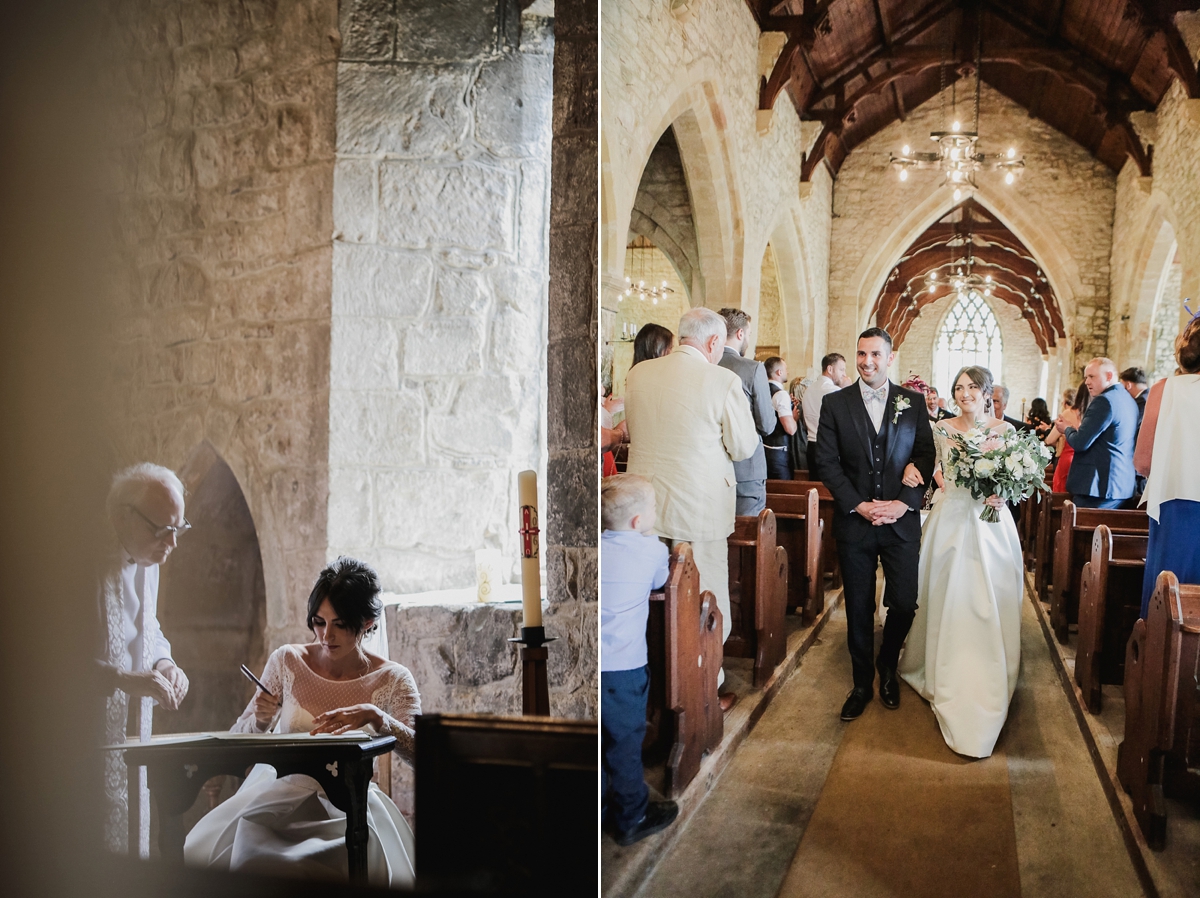 The newly-weds emerged from the church into a shower of pastel confetti, and had time to relax and have photographs in front of the beautiful floral arch by Pip & Hatty Bloom. After travelling back to Woodhill in the Mercedes, there was time for some intimate couple shots with Helen Russell before the wedding breakfast, speeches and time in the Hall's wonderful grounds.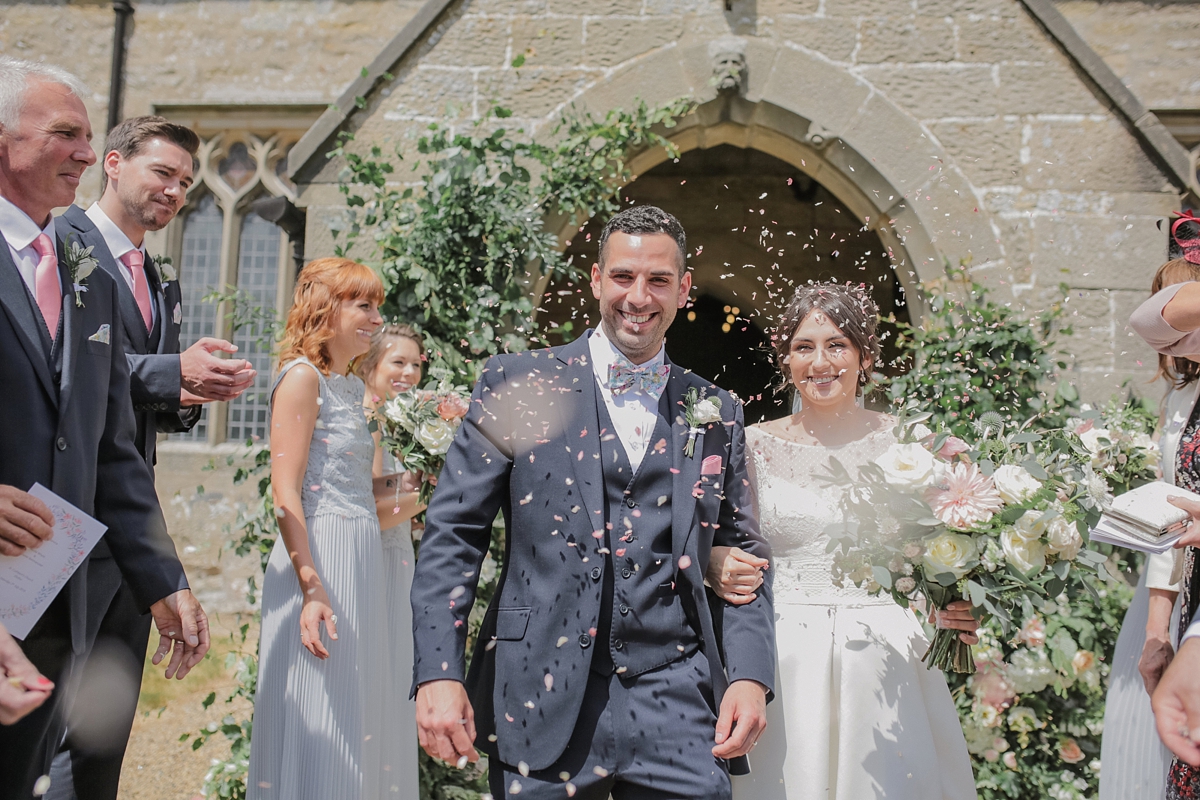 What do you think about these beautiful wild, hand-tied flowers? They are the epitome of summer with their full-blown blooms and opulent style. They were created by Pip & Hatty Bloom, who Nicola found through her photographer.
"I already knew that I wanted my flowers to be in a loose and less formal style than traditional bouquets. I came across a photoshoot that Helen had done for a wedding magazine with Pip & Hatty Bloom."
"The flowers were exactly the sort of style I wanted. Karen was lovely and had great ideas, she asked the right questions and understood exactly what I was looking for."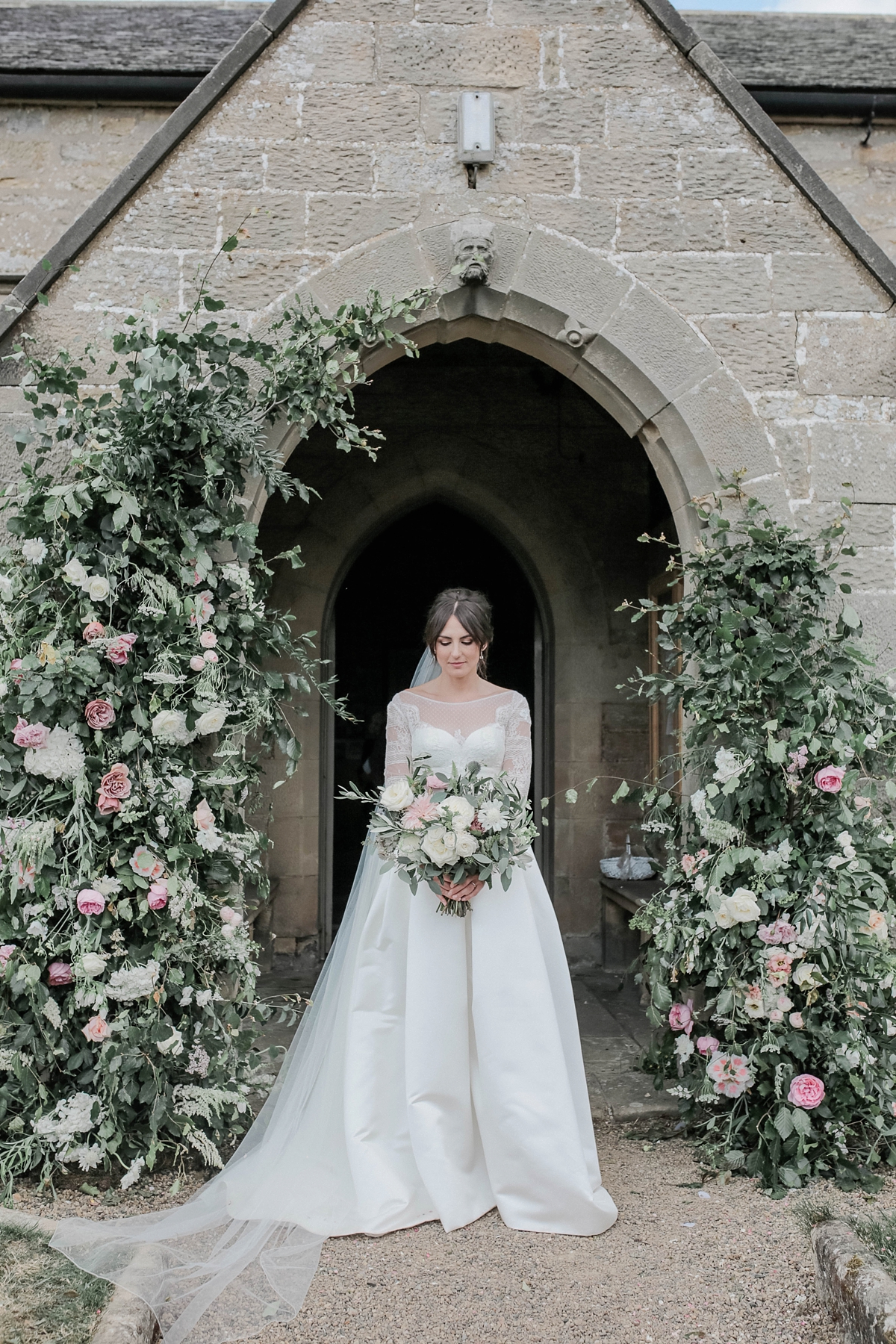 "For the centrepieces I'd seen something Karen had done previously where the flowers were bursting out of a lantern which I loved so we decided to go with that. The arch at the church was a last-minute decision but I'm so pleased we went ahead with it as it was amazing."
"The church was beautiful and didn't need decoration inside so the arch set it off perfectly. Karen was great and hung around until after the ceremony to move some of the flowers to create displays behind the top table. It was a great way to get the most from them."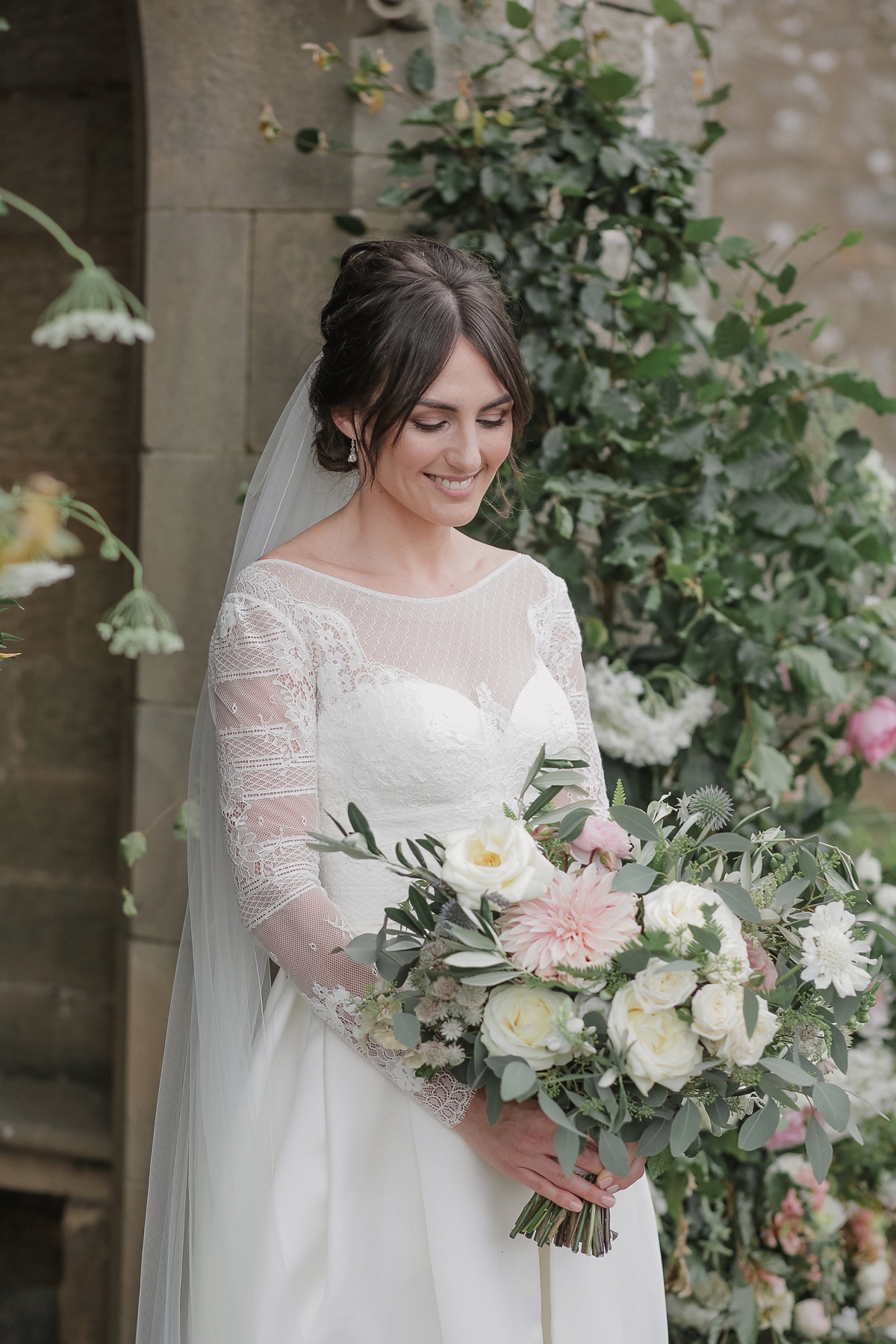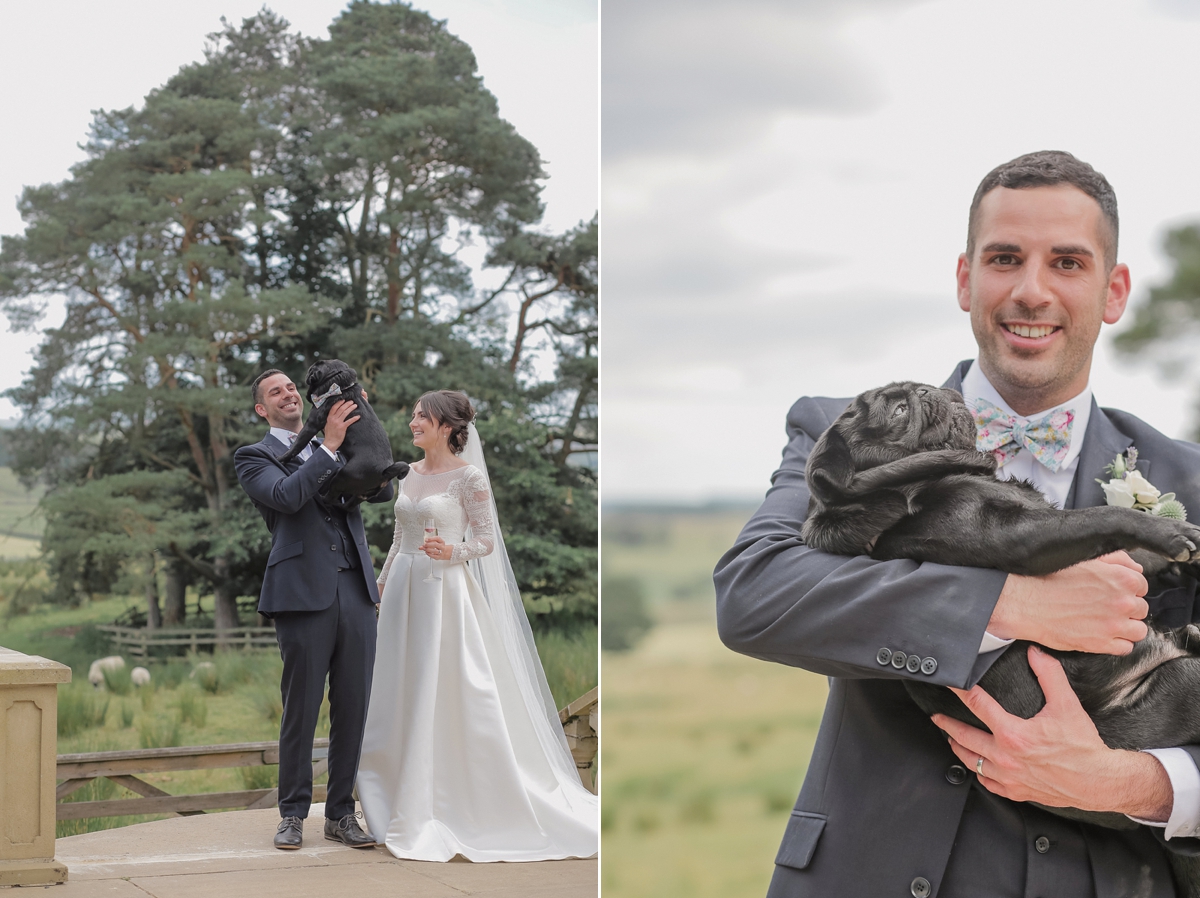 The photographer for the day was Helen Russell, who was recommended by one of Nicola's bridesmaids as she had photographed her cousin's wedding. Her fine art style is so timeless and romantic, and I love the clarity and emotion of her work.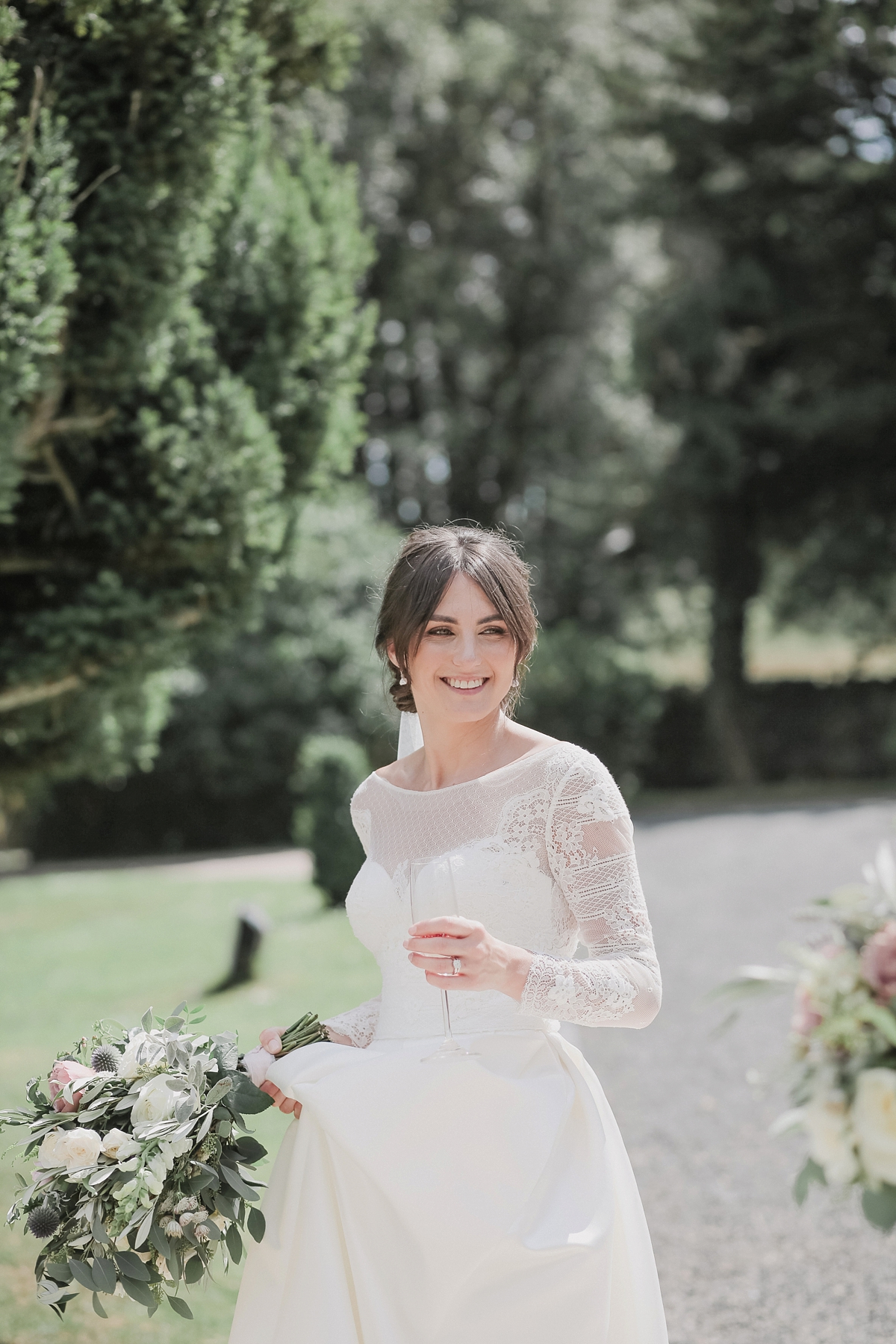 "I loved Helen's light and natural style; it had a romantic feel. I looked for other photographers who had a similar style and there was something that always drew me back to Helen. On the day she was great and made everyone feel at ease."
"I don't usually like having photographs taken! We are both so happy with the final pictures. She captured the atmosphere and feel of the day perfectly. It's a lovely way to be able to look back and remember the day."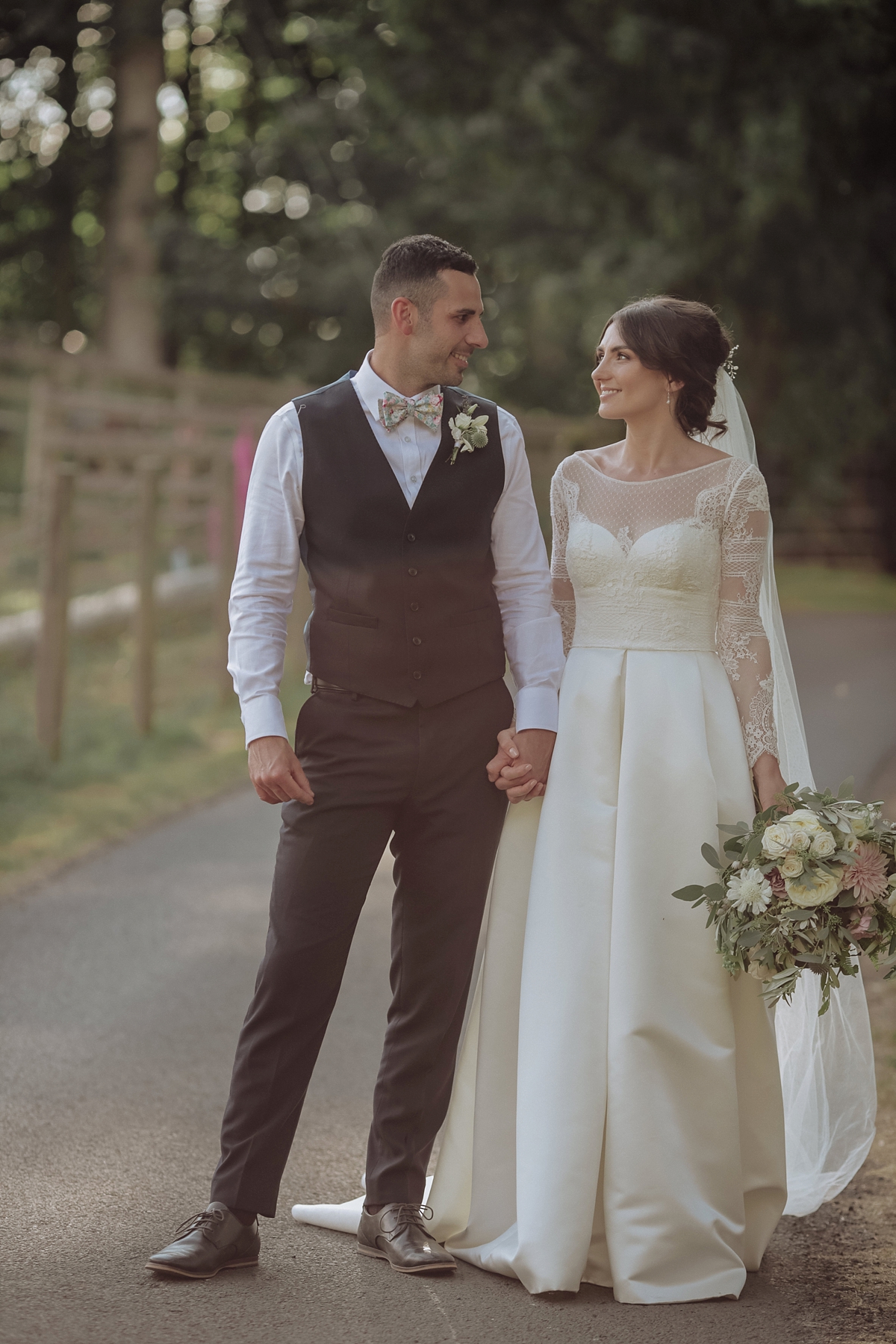 Daniel and Nicola have some really special memories to cherish from the day.
"Daniel enjoyed seeing the pride of his parents and the feeling of excitement for the future. He said he hadn't expected to feel so emotional on the day. He enjoyed doing his speech. Although he was nervous at first, after he got a couple of laughs he just wanted to keep going."
"He enjoyed having people all together in one place that we maybe hadn't seen in a while. It was nice to think that our big day had brought everyone together. He wishes he'd spent more time practising how to tie his bow-tie!"
"The day seemed to go by so quickly but I really did enjoy every part of it. We have the best family and friends; they just made the day perfect. Everyone was so happy and relaxed and it was a lovely atmosphere. I would have liked to have spent a bit more time with some of my guests but that can't be helped as weddings are such busy days."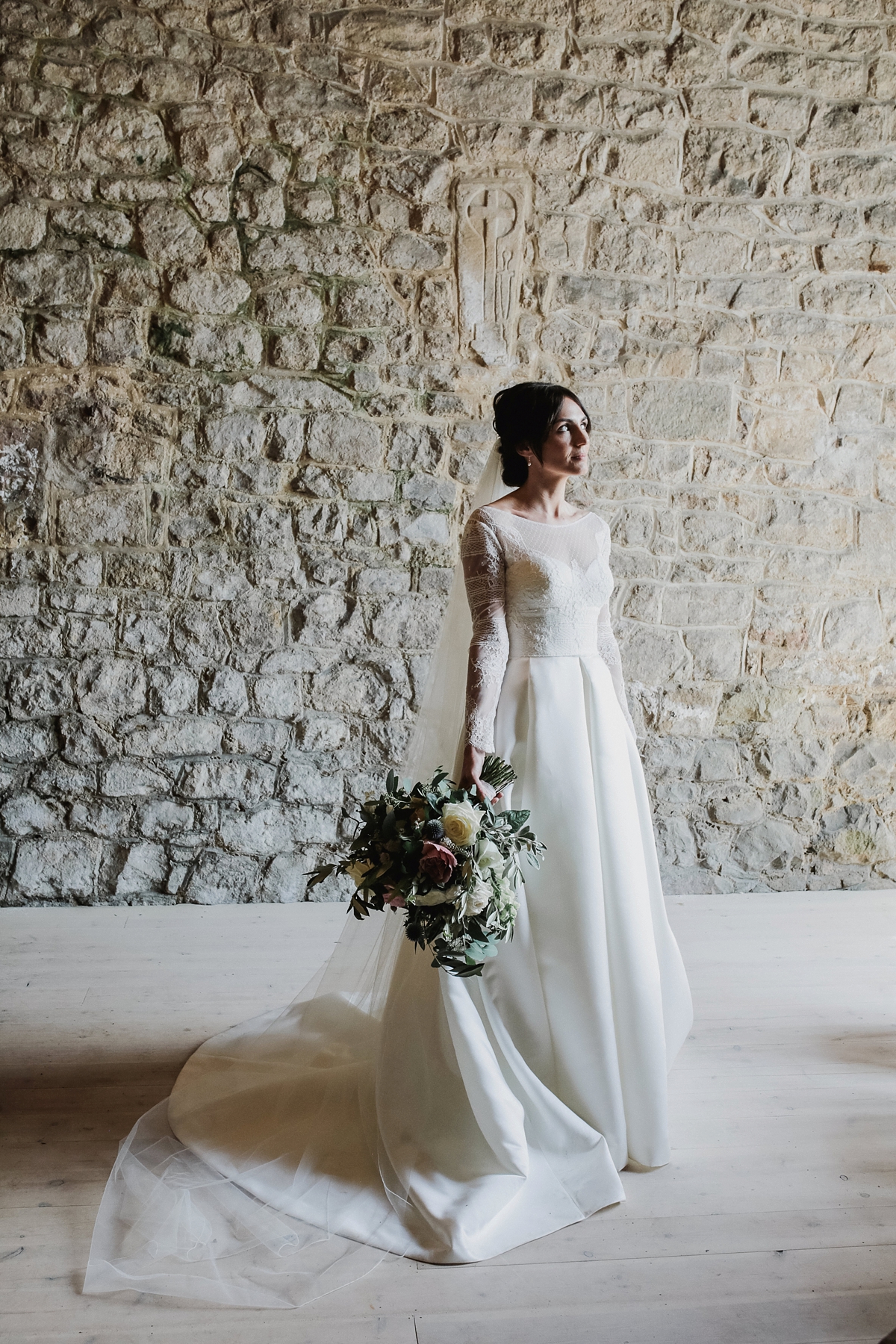 "My favourite part of the day was arriving back at the venue for the drinks reception. After the ceremony was over I felt like I could relax and enjoy spending time with all of our guests. I really enjoyed the wedding breakfast too. It was nice to have everyone in one room and the atmosphere was amazing, so full of love and happiness."
The couple were keen to find an exclusive-use venue which had a relaxed, laid-back vibe.
"We fell in love with Woodhill because of its beautiful scenery; the views from the Orangery were amazing and provided a lovely backdrop for the wedding breakfast. It also had a lovely laid-back atmosphere which is exactly what we wanted."
"As the venue itself was quite quirky we decided to keep our flowers neutral. When I was looking online and in magazines, I found that they tended to be the colours I was drawn to most. There was no set theme; we mainly just picked what we liked and luckily it all went well together."
The Orangery was beautifully decorated with heaps of flowers, white linen and soft gold lanterns. The charming table plan made by Nicola's mum using pressed flowers whilst Dan's mother wrote out the place cards and added sprigs of dried lavender as decoration. The rest of the wedding stationery was designed via Papier.
"We ordered macarons as our wedding favours from Le Mini Macaron. We boxed them and added ribbons ourselves. Each guest had one rose and one white chocolate-flavoured macaron"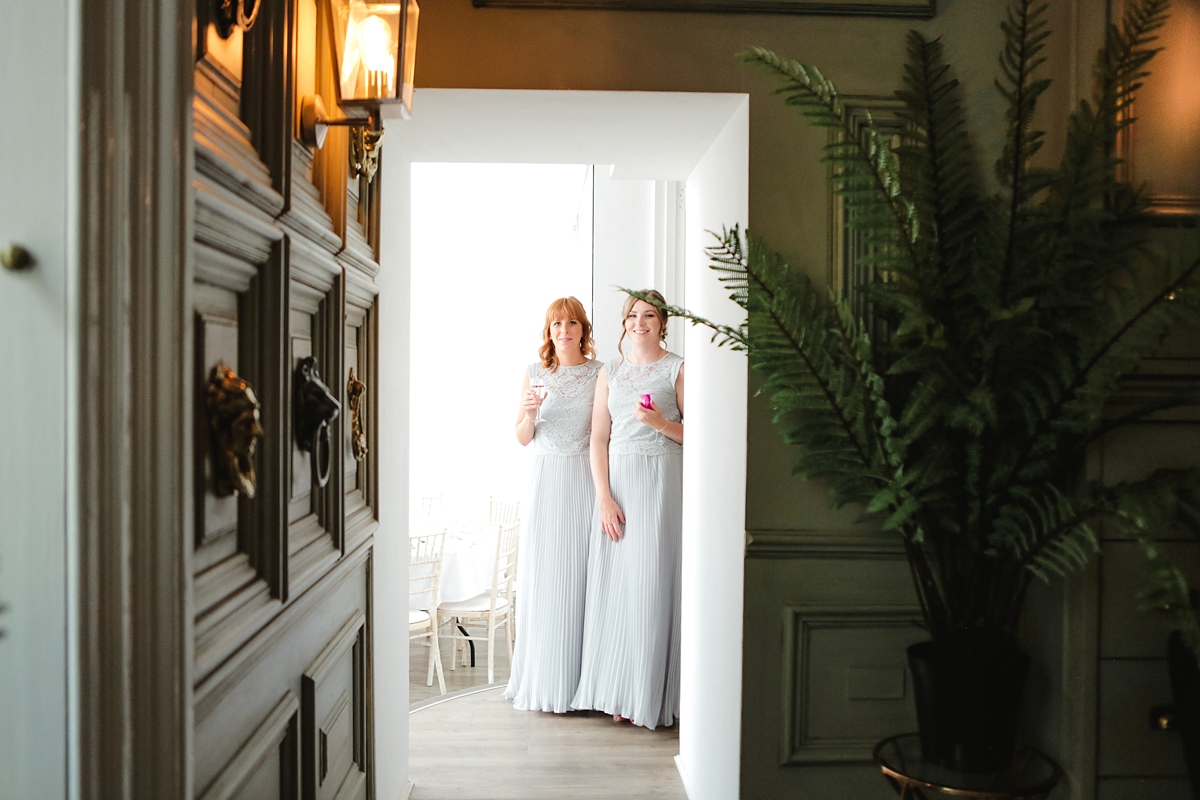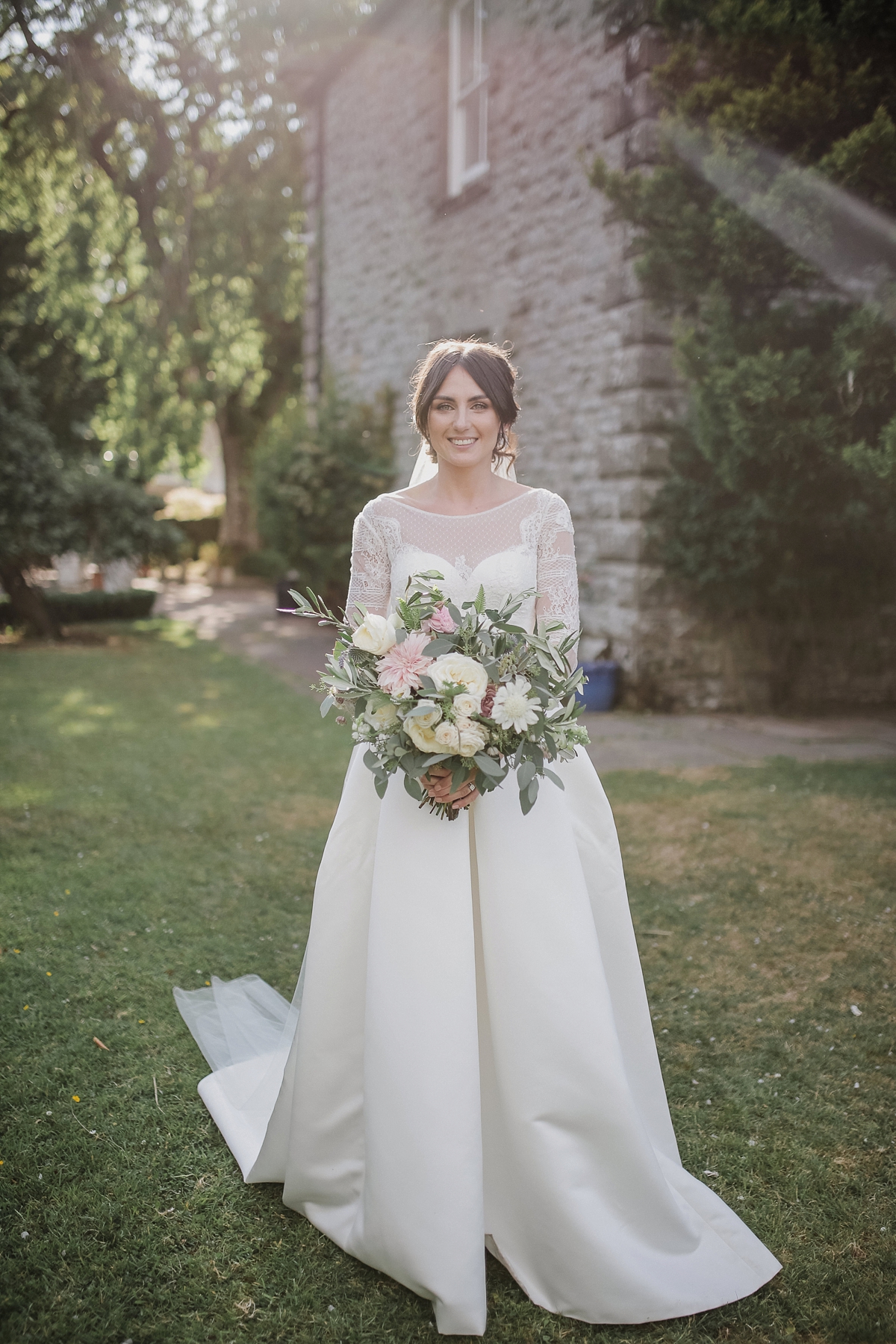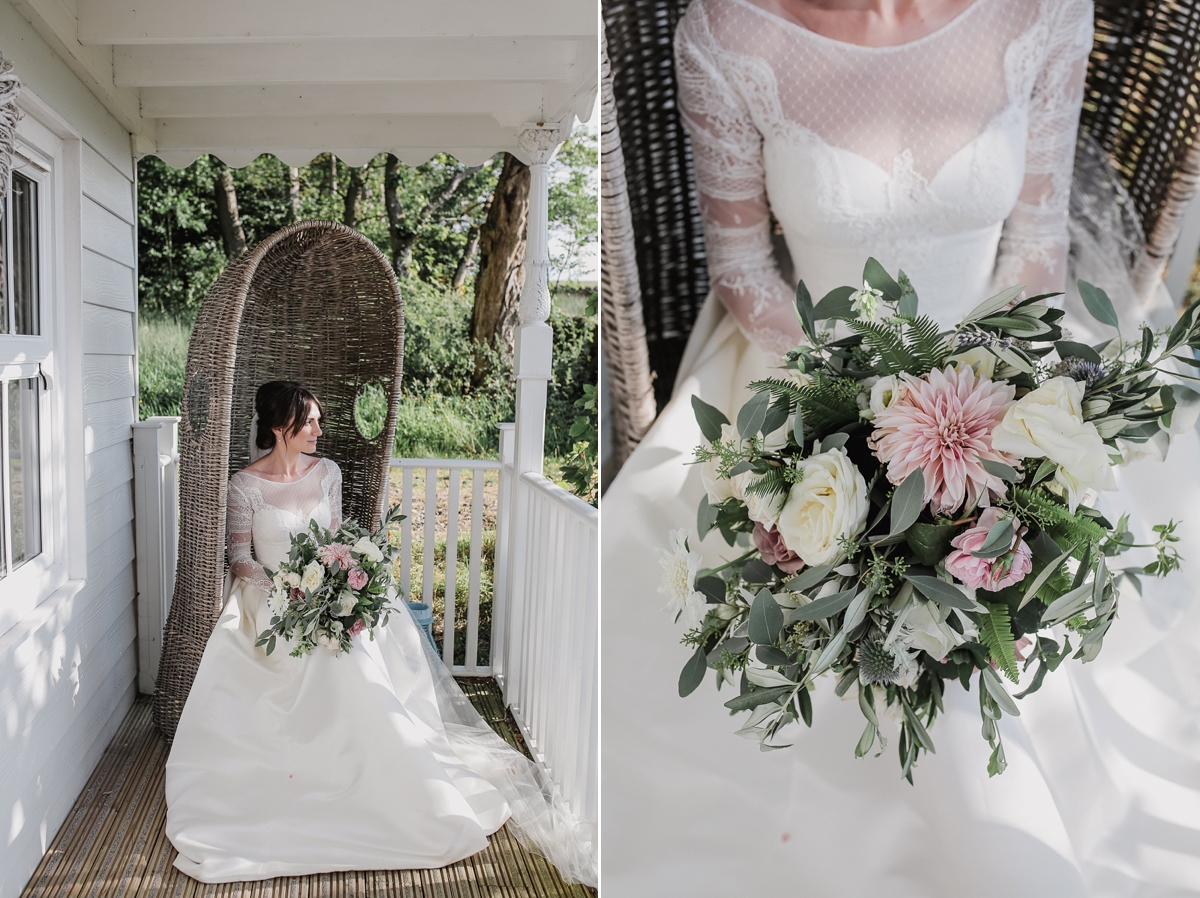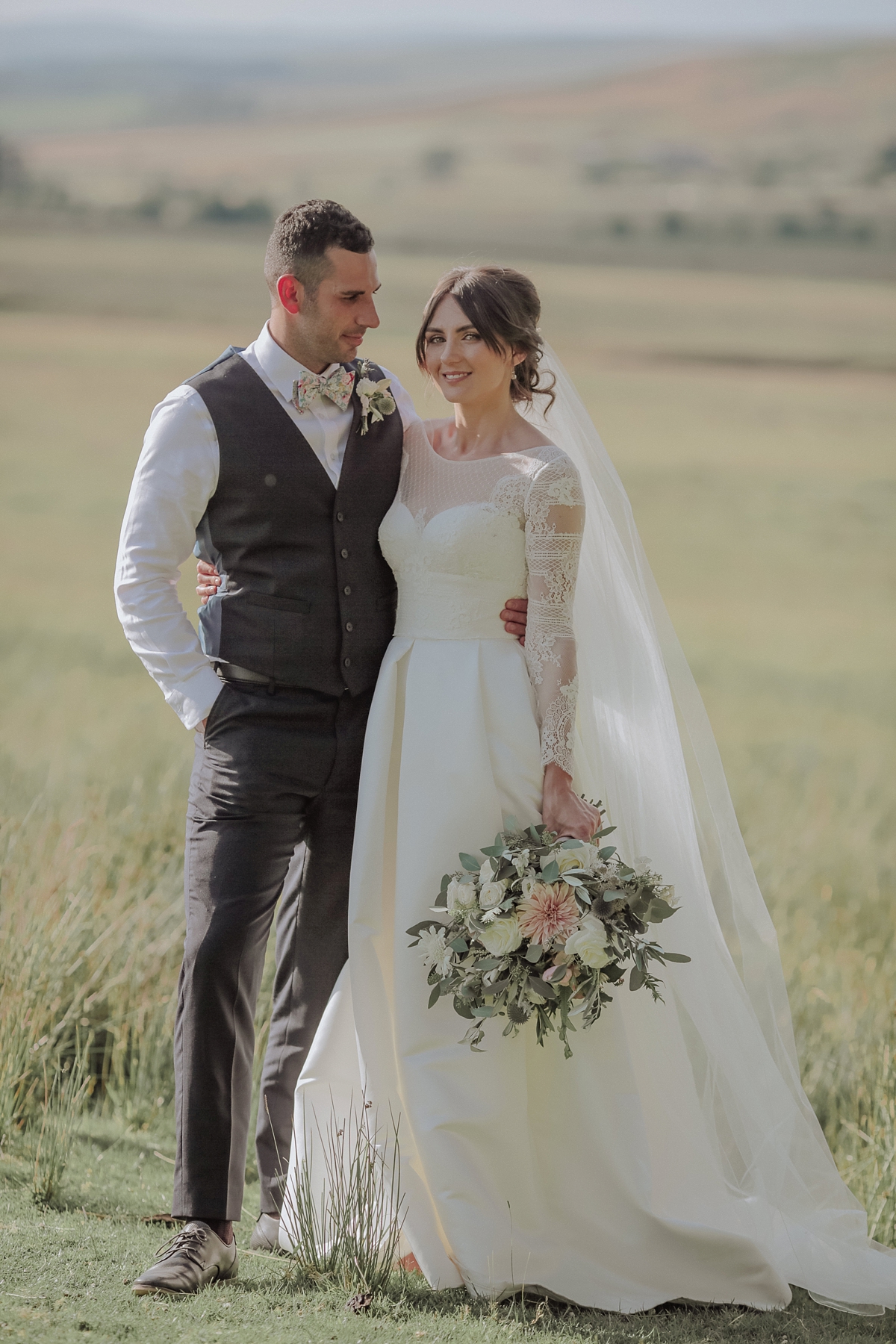 More flowers decorated the simple, tiered wedding cake.
"We wanted to keep the cost of the cake down to leave room in the budget for other items so we chose one from M&S and asked the florist to add flowers to it. We had two tiers of vanilla and one red velvet."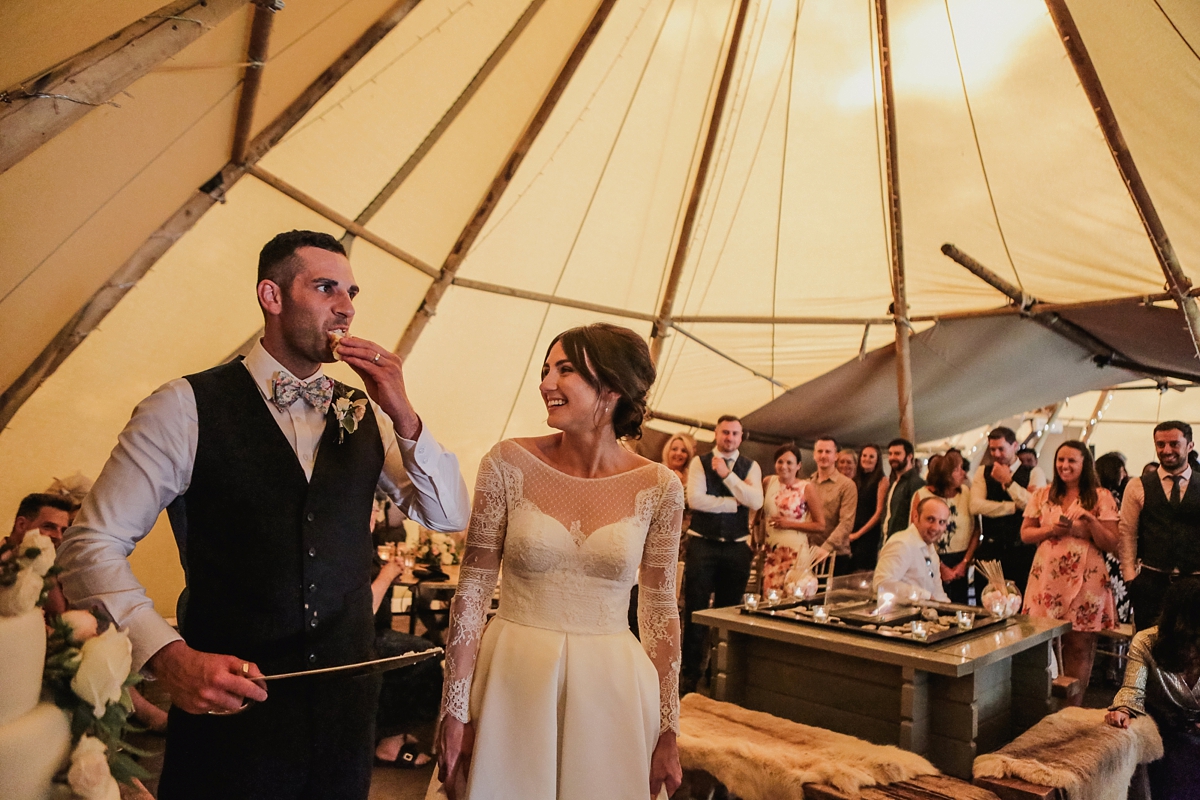 The romantic first dance was to a cover of 'All Of Me' by John Legend played by Los Amigos Band.
"We didn't have a 'song' so we spent a lot of time looking for something we both liked and that suited the day. One day Los Amigos put up a cover of 'All Of Me' on YouTube and it seemed like the perfect choice. We loved their version of it."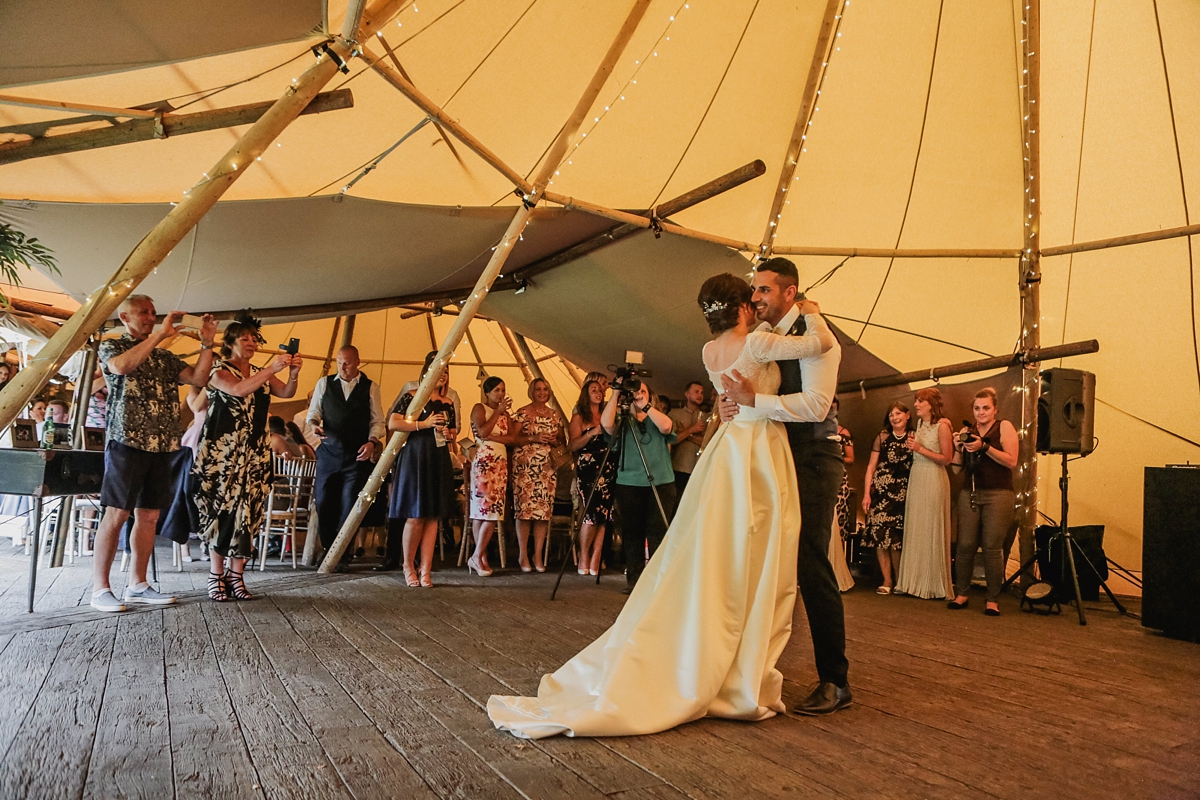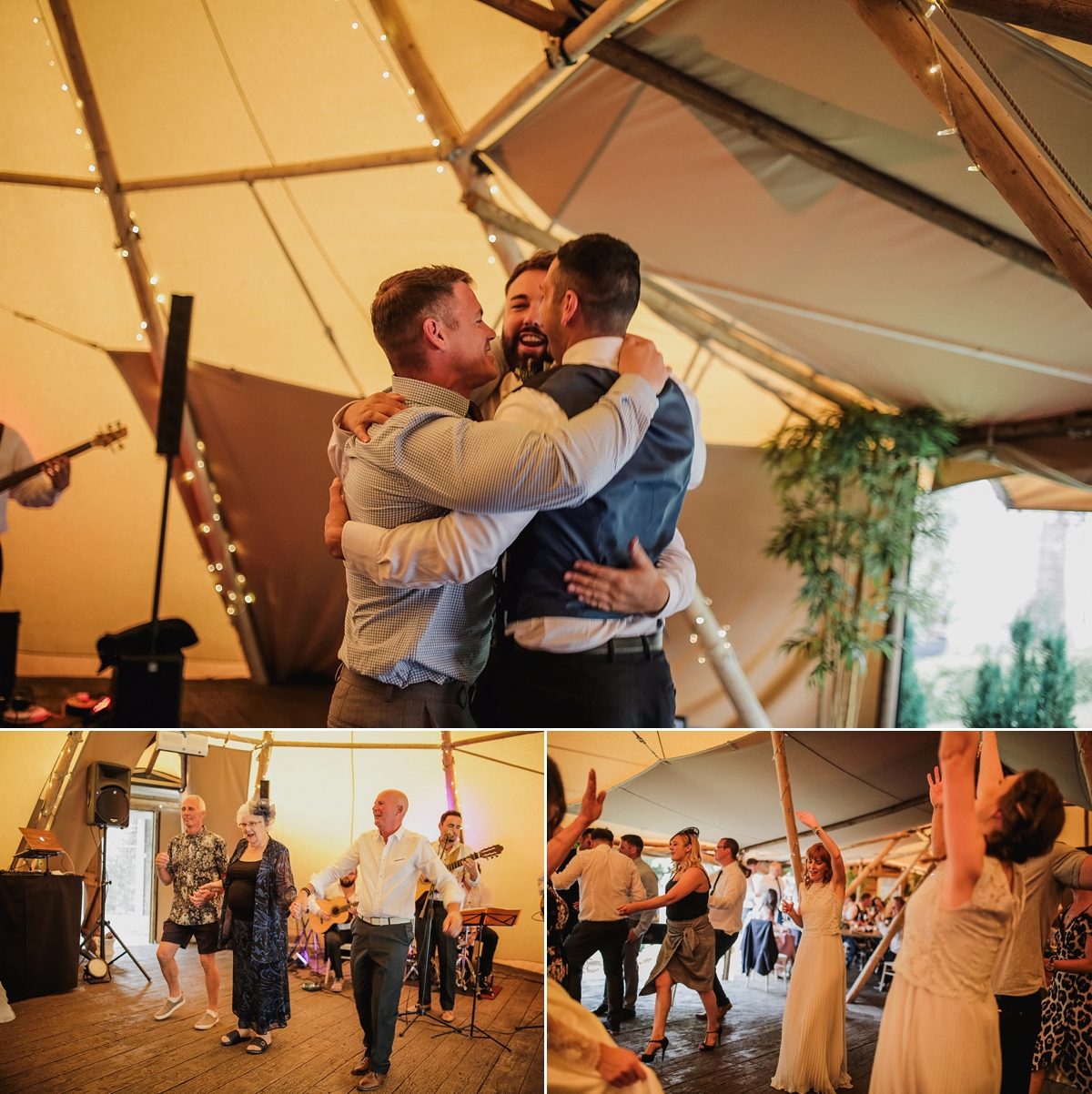 Woodhill Hall has so many beautiful areas to discover, including the forest tipi where the evening party was held.
"We booked Los Amigos Band for our evening entertainment. We also had a DJ from AMV Live Music between sets and at the end of the evening."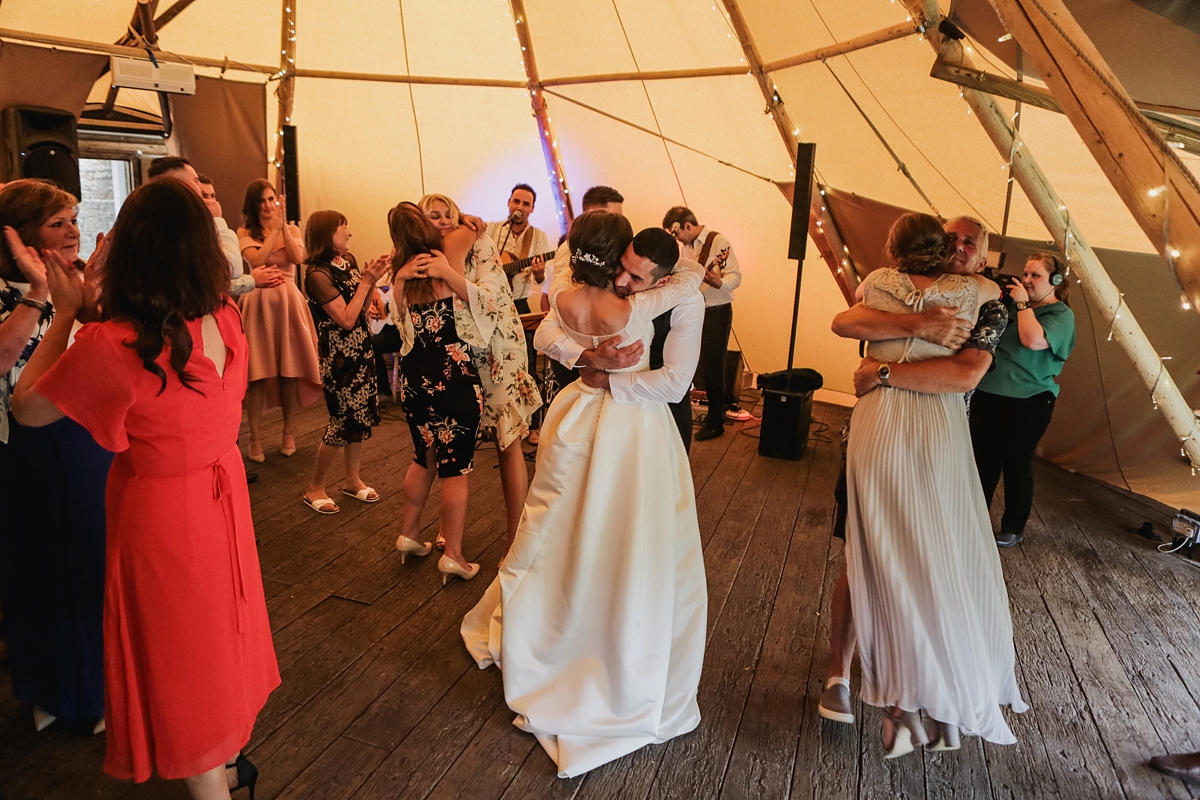 Words of Wedded Wisdom
"I know it's what everyone says but I wish I'd listened. Don't worry about all of the details, they seem like a big deal to you but often nobody notices."
"We spent so long deciding on our favours; what to have, which flavours, how to decorate them and as it was a hot day a lot of them were left on the tables after the meal. We also spent a lot of time creating a playlist to have on during the drinks reception and wedding breakfast."
"However we forgot to delegate the job of actually putting it on. We didn't notice and neither did our guests. It certainly didn't impact the day. Everyone is just happy for you and wants to share your special day – the small things really don't really matter that much in the end."
"Our original budget was £20,000. However we did exceed it and the overall cost was closer to £27,000, excluding the honeymoon."
So, so beautiful! Thank you firstly to Helen Russell Photography for these romantic, elegant photographs. And many thanks and congratulations Nicola and Dan on your marriage. It looks like such a happy and beautiful day and we've loved sharing it here.
Lovelies, I'm going to leave you with a link to these other Love My Dress brides in their own glorious Jesús Peiró gowns. I hope they inspire you.
Ele xx