Today we have the very great pleasure of enjoying not one, but two wedding ceremonies; one civil and one Indian ceremony, in a spectacular celebration beautifully combining elements of British and Indian culture in the most joyful and heartfelt way.
Book and paper conservator Emma married Krishan, an advertising sales manager on the 20 August in the Georgian country house splendour of Chippenham Park, Ely Cambridgeshire. The couple first met at university in Aberystwyth in 2007, and began dating in 2009. They became engaged in July 2016 at the top of Ben Lomond in Scotland in the middle of a gale!
Film by Veiled Productions
"We knew we wanted a day that embraced both of our backgrounds, our favourite things and our personalities. I'm half English and half Scottish; Krishan was born in England but with Indian ancestry. We knew we wanted to have both an English and Indian wedding, and ideally to have both ceremonies on the same day! We both love the outdoors and our favourite time of year is summer, so we were keen to have our wedding in the summer and our ceremonies outside."
Images by Bloom Weddings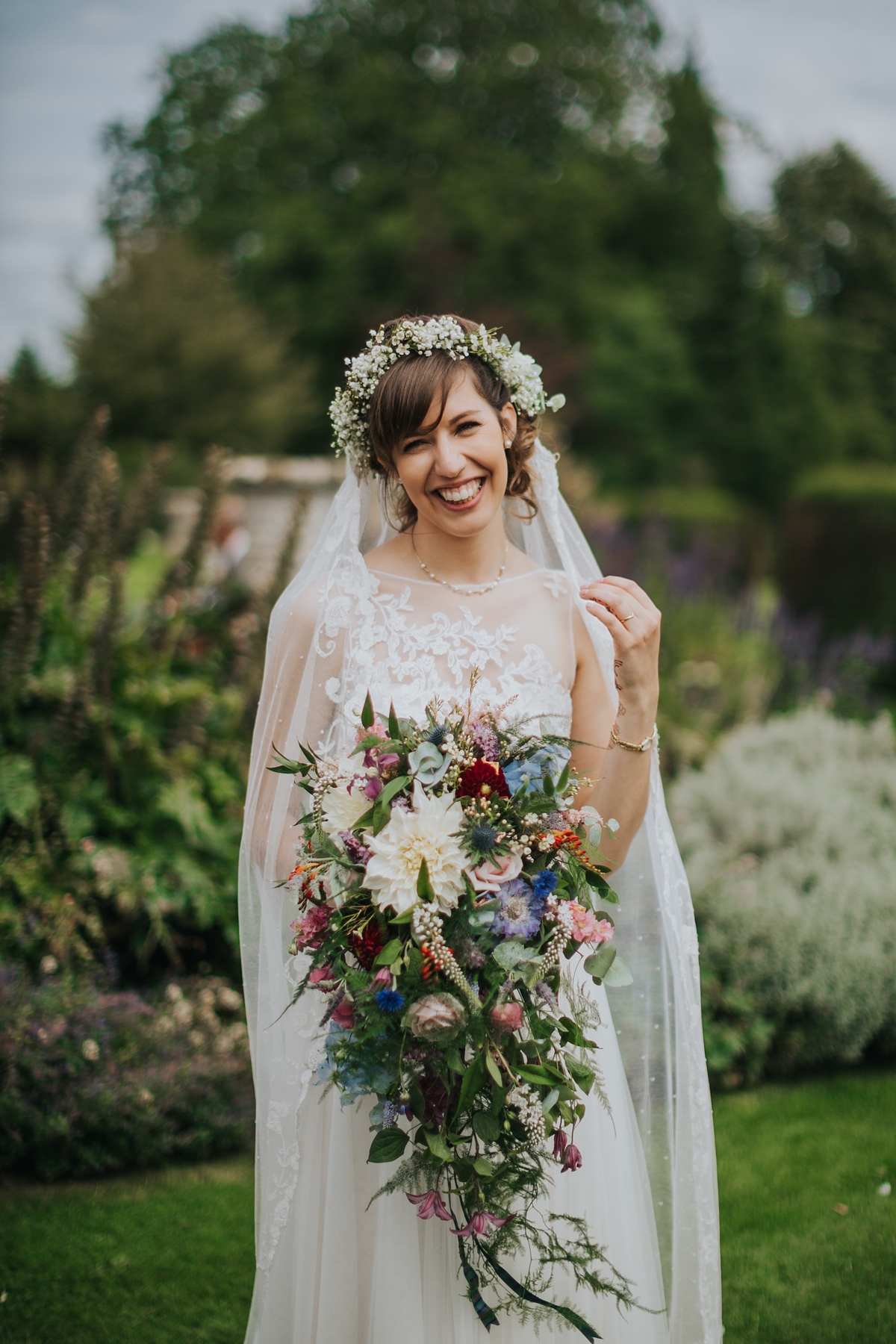 "We hadn't considered a wedding video at first, but then after a bit of research, thought it would be nice to have a film to remind us of the day and to share with family who were unable to make it due to distance, age or ill health. We had a few conversations with the ones on the list, but Rachel from Veiled Productions was the perfect fit for us."
"The final film was edited beautifully, and Rachel was great in keeping us up to date with the progress of the film, whilst also asking for our recommendations for music to include. We love the footage they got of the Ceilidh and Bollywood dancing, even if we did make them dizzy all spinning around them! Again, highly recommend."
With a busy day ahead and the prospect of a ceilidh / Bollywoood dance-off to come later on, Emma opted for gold glitter ballet flats by Butterfly Twists via Soletrader.
"My necklace was pearl and gold; a christening gift to my Mum when she was a baby from her paternal grandparents. She wore it at her wedding and lent it to me for mine!"
Emma also wore antique pearl and gold earrings gifted to her by Krishan for their wedding day, as well as a gold watch she had been given by her grandparents for her 18th birthday.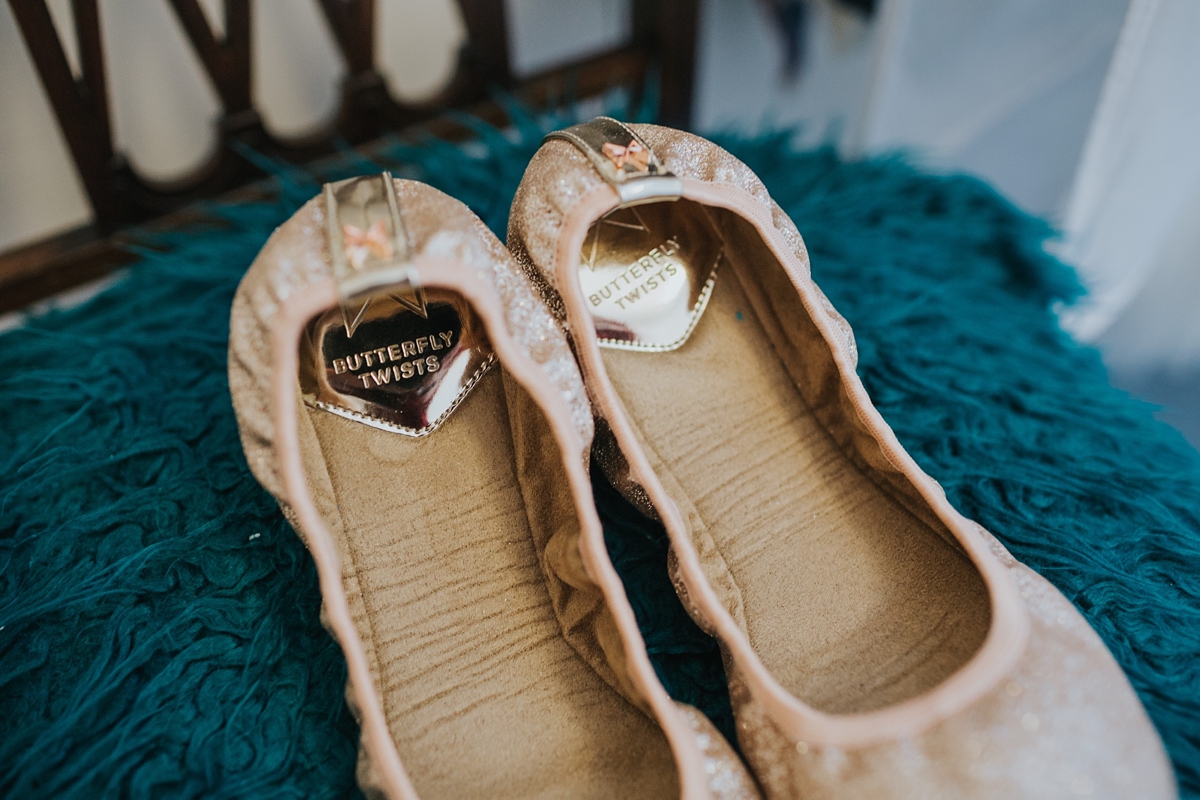 The gorgeous, wild and natural flowers were by Wild Poppies. Emma and Krishan wanted lots of greenery but also flowers and colours to reflect their respective heritage, too, and the results are incredible.
"We knew we wanted wild flowers with lots of greenery and a delicately and naturally arranged feel to reflect the grounds of Chippenham Park and our personalities. There were thistles and roses in the flowers to reflect my English and Scottish heritage and splashes of dark pinks, reds and oranges to reflect Krishan's Indian heritage."
Hair stylist Eileen Hanley provided her expertise for the whole day, and for Emma and Krishan's civil ceremony, she swept Emma's hair up elegantly, adding a pretty flower crown by florist Wild Poppies.
"My mum had worn flowers in her hair at their wedding and I knew I was keen to do the same. I loved the idea of simple greens and whites so asked our florist Sam if she could make a crown made of delicate white flowers, white roses and leaves."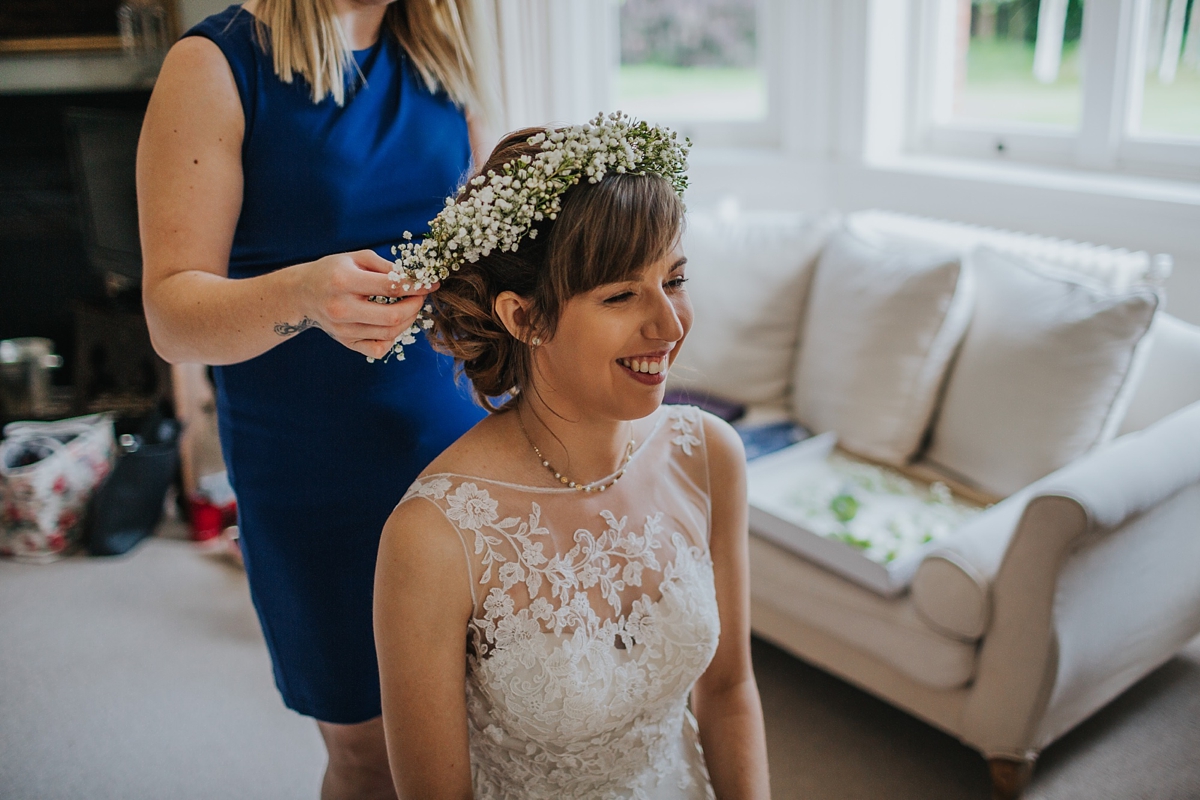 Emma looked like a dream in the romantic 'Arie' dress, with a lace illusion bodice and tulle skirt and train from Willowby by Watters, which she chose at The Tailor's Cat Bridal Boutique in Cambridge.
"My two friends Ellie and Rhiannon picked my wedding dress! I had had no preconceived ideas about what type or shape of dress I wanted so when we first went dress shopping, I just tried on one of every different style!"
"My best friends Ellie, Rhi and Jo had come with me dress shopping and Ellie and Rhi went to help the lady choose the next dresses to try on, and came back with my one. I instantly loved it, it was so light and free and flowing that I felt immediately comfortable and like I was wearing the dress, not the dress wearing me! I'm quite an active person and so announced that I was happy as I felt I could run in it if I wanted to, however then had to reassure the lady in the shop that I wasn't planning on running away on our wedding day!"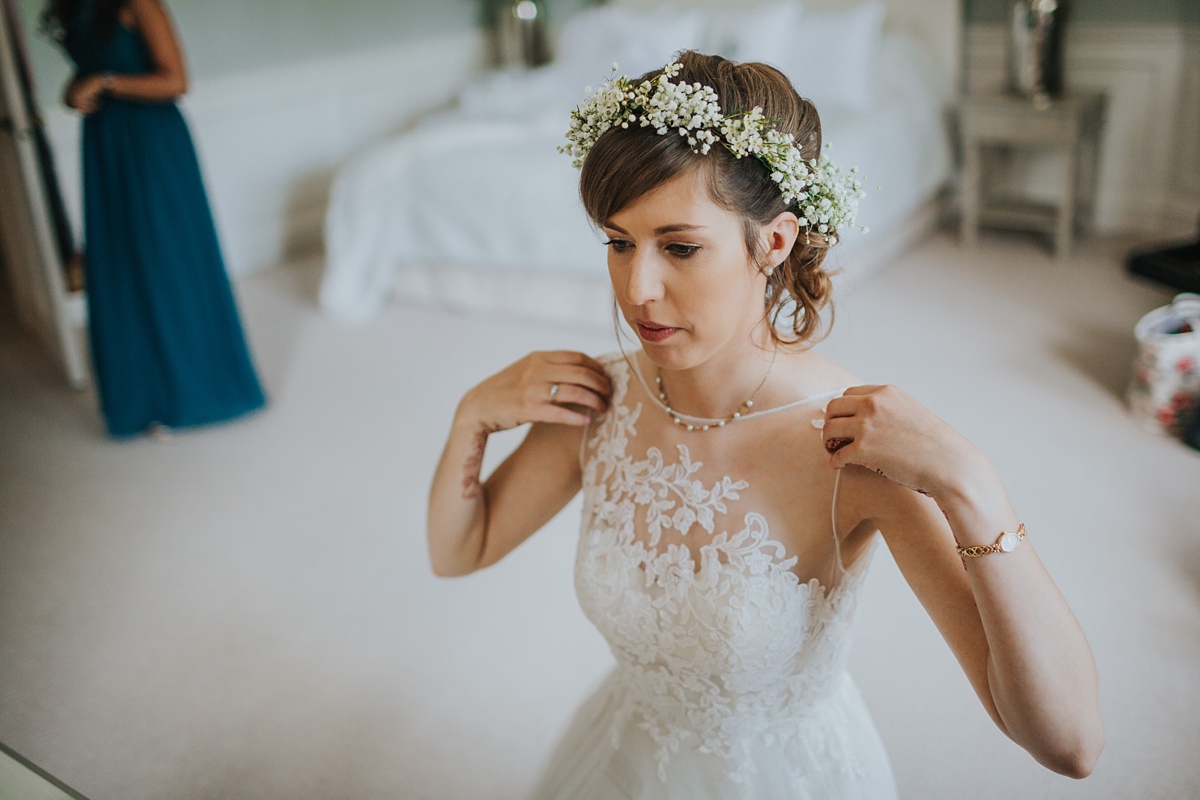 Lucy-Anne Make-up Artist was on hand to take care of make-up for Emma and her bridesmaids, and a couple of days before the wedding they had all enjoyed a spa day before heading home, where Shachi from Miss Elegant arrived to do some exquisite Mehndi.
"Shachi was amazing and spent around 4 hours with us doing my palms and feet and the bridesmaid's palms. I was keen to only have our palms done and not the back of our hands so that the Mehndi was not obvious during the English ceremony as it would be hidden by our flowers."
Emma's two bridesmaids were her cousin Helen and Krishan's sister Isla, and together they wore pretty teal coloured lace and chiffon dresses from JJ's House.
"Isla and Helen had never met until a few days before the wedding yet are only a month apart in age. For both of their 18th birthdays we had given them a silver necklace with their birthstone in it; garnet for Isla and amethyst for Helen. On the day before the wedding I gave both Helen and Isla a matching silver and birthstone bracelet to go with their necklaces as a thank you gift. They both wore these on the day with their necklaces."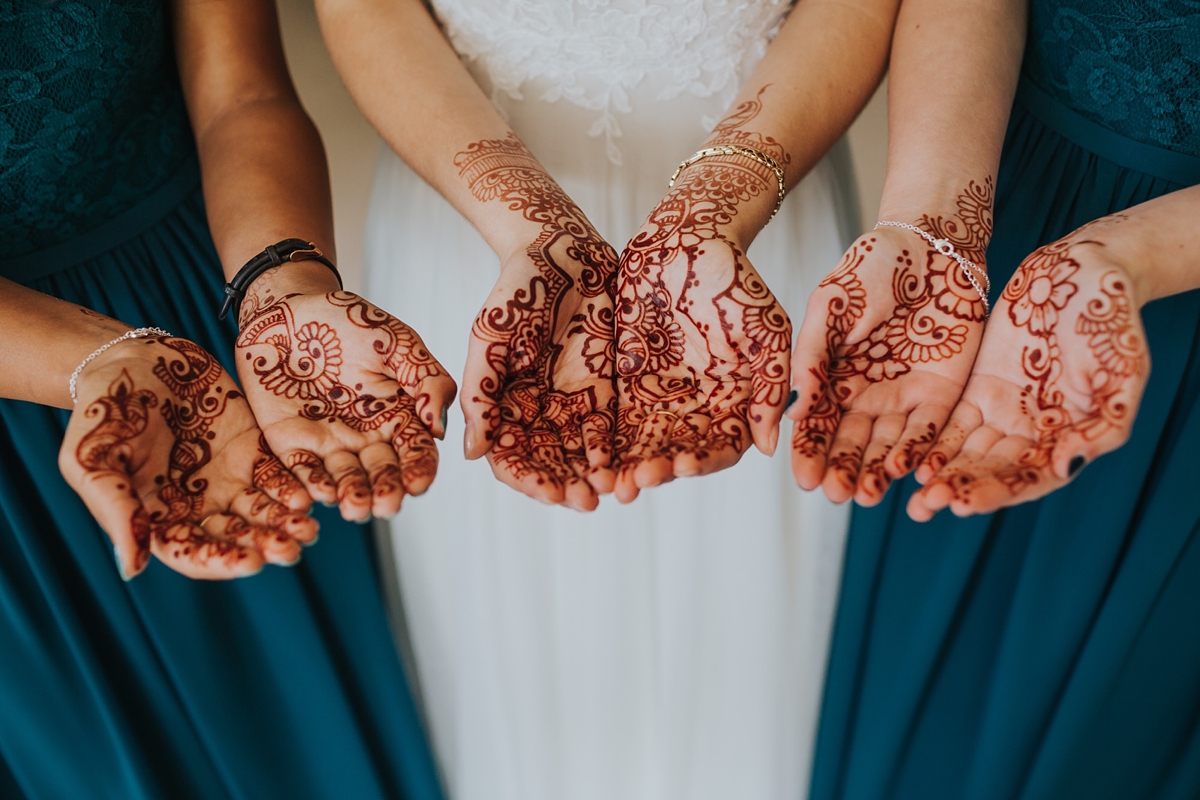 Krishan wore a faded blue three-piece Ted Baker suit, which he chose at Savoy Tailors Guild. He also wore a pale pink tie and pocket square from Next, shoes from Clarks and a belt from Cambridge Craft Market.
"The suits worn by the Best Man and our fathers were the same as Krishan's. My brothers were the ushers and wore full Highland wear with dark tweed jackets to reflect my mum's family's Scottish heritage. They wore kilts as close to the Galbraith clan tartan as we could get hold of and wore the same ties, shirts and pocket squares as the rest of the bridal party. The ushers were given Galbraith clan kilt pins as thank you gifts."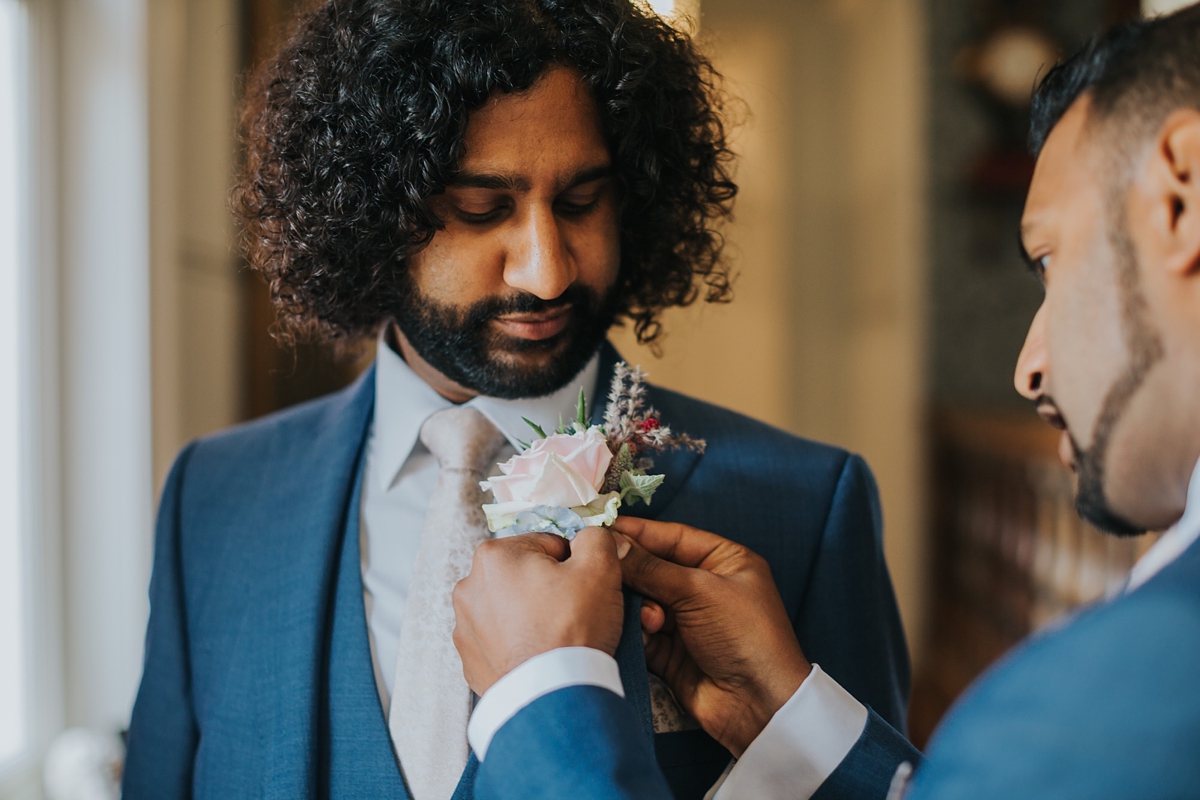 The beautiful and thoughtful wedding stationery, with its mixture of Indian, English and Scottish motifs was designed by Emma's cousin Charlotte of I Illustrate It.
"My dad did the calligraphy for our wedding invites, and also made our wedding guest book. He is a book and paper conservator (like me!) and a talented bookbinder."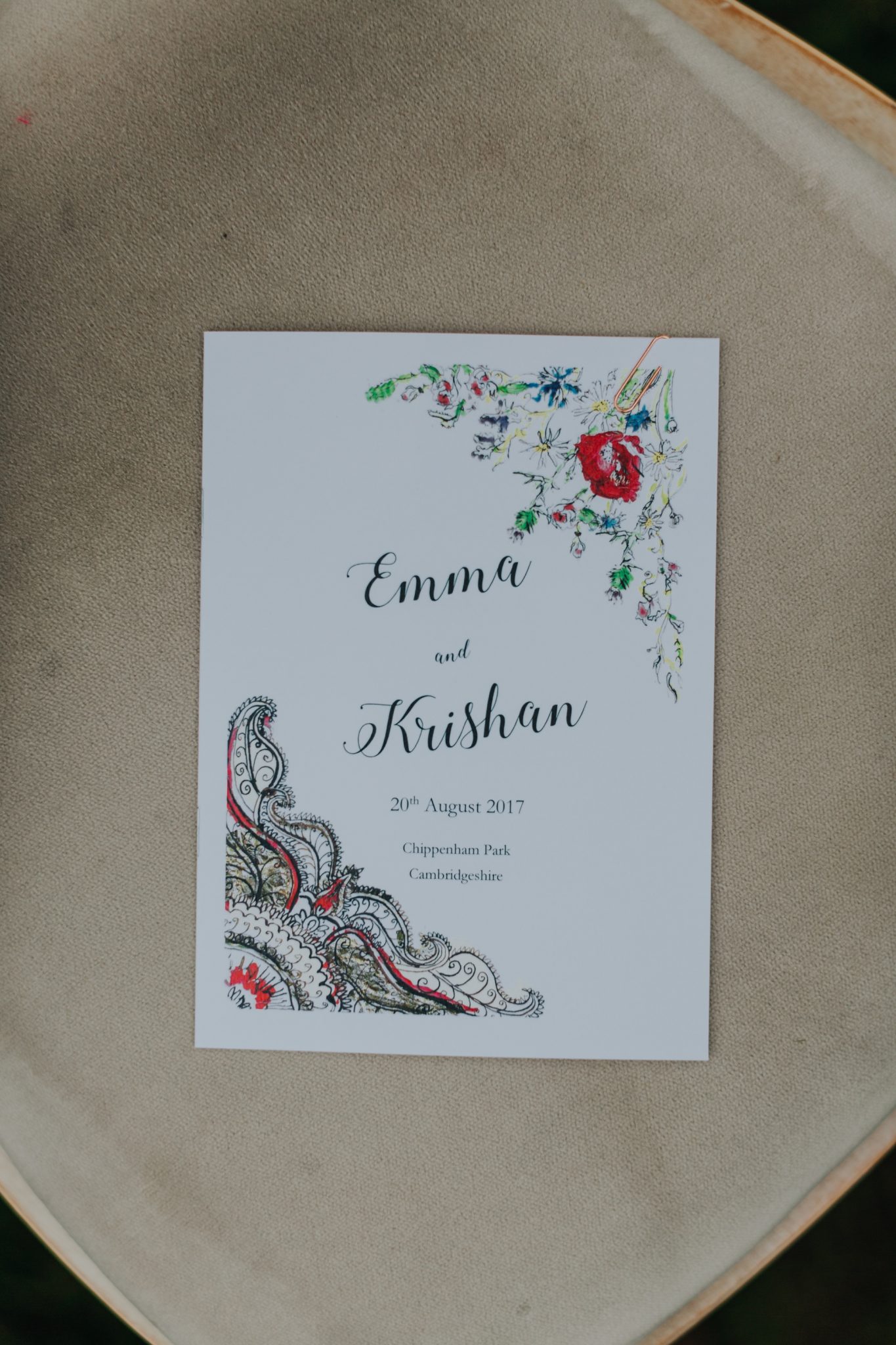 "When we were hunting for venues we knew we'd like somewhere that could cater for the type of day we wanted. We knew our day would not be your typical wedding day, so wanted somewhere that could host everything and help us feel relaxed, happy and ourselves. Somewhere that had the ability to host two ceremonies, one licensed civil ceremony and one homemade abridged Indian one. We were keen to have each ceremony at a different location within the same place."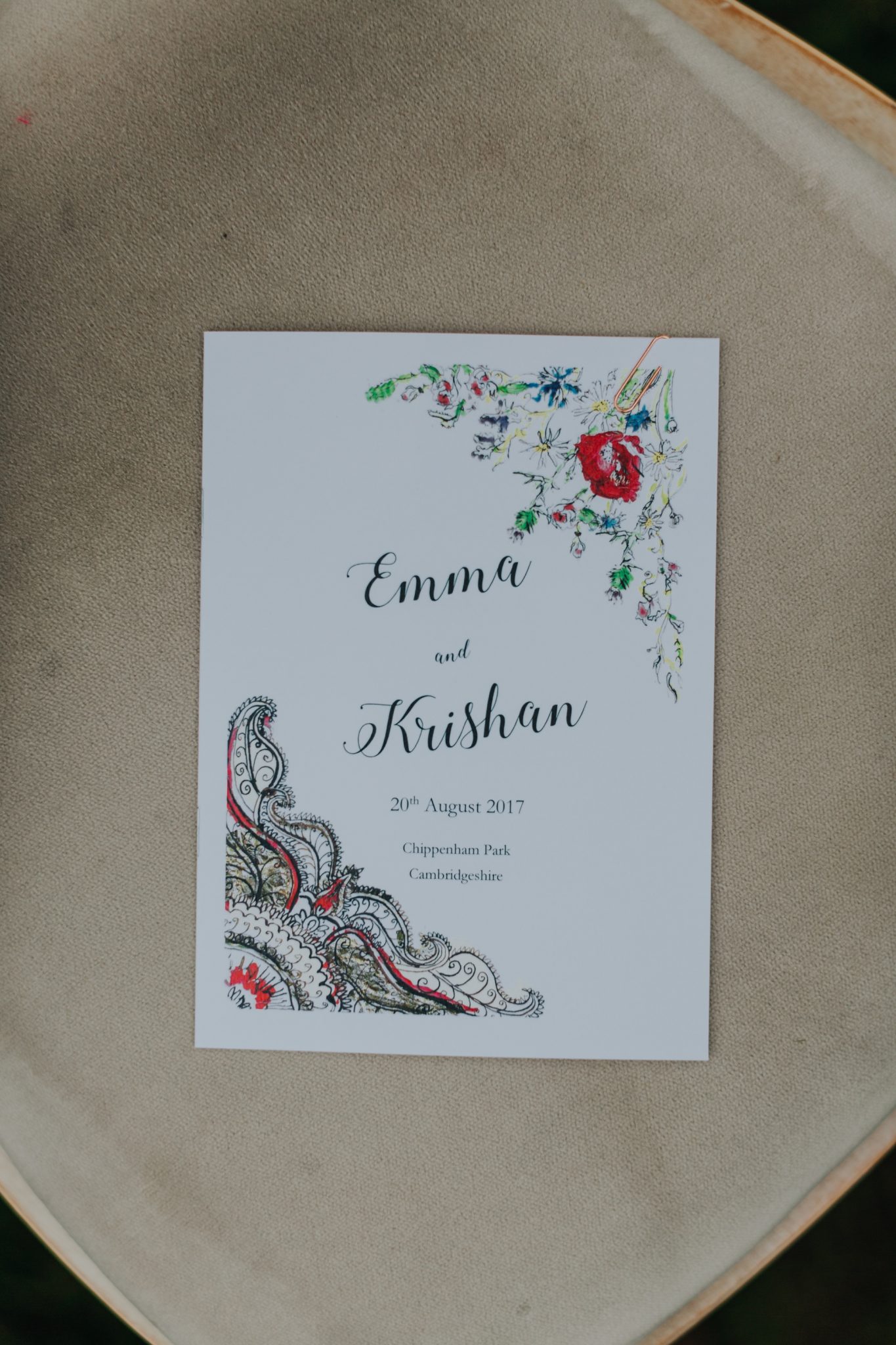 Out in the gardens at Chippenham Park, everything was set for the first ceremony, with seating arranged around a lovely gazebo decorated with flower garlands weaving around its pillars. Emma was accompanied down the aisle by her dad, to Highland Cathedral played by her auntie on the violin.
"For the English ceremony I asked my auntie/godmother if she would play her violin. I've played violin since I was 8 and my auntie is an amazing musician and someone who always helped me when I was learning to play. I used to play all my music exam pieces to her down the phone! We chose the music together and went for a mixture of classics and pieces I have always loved."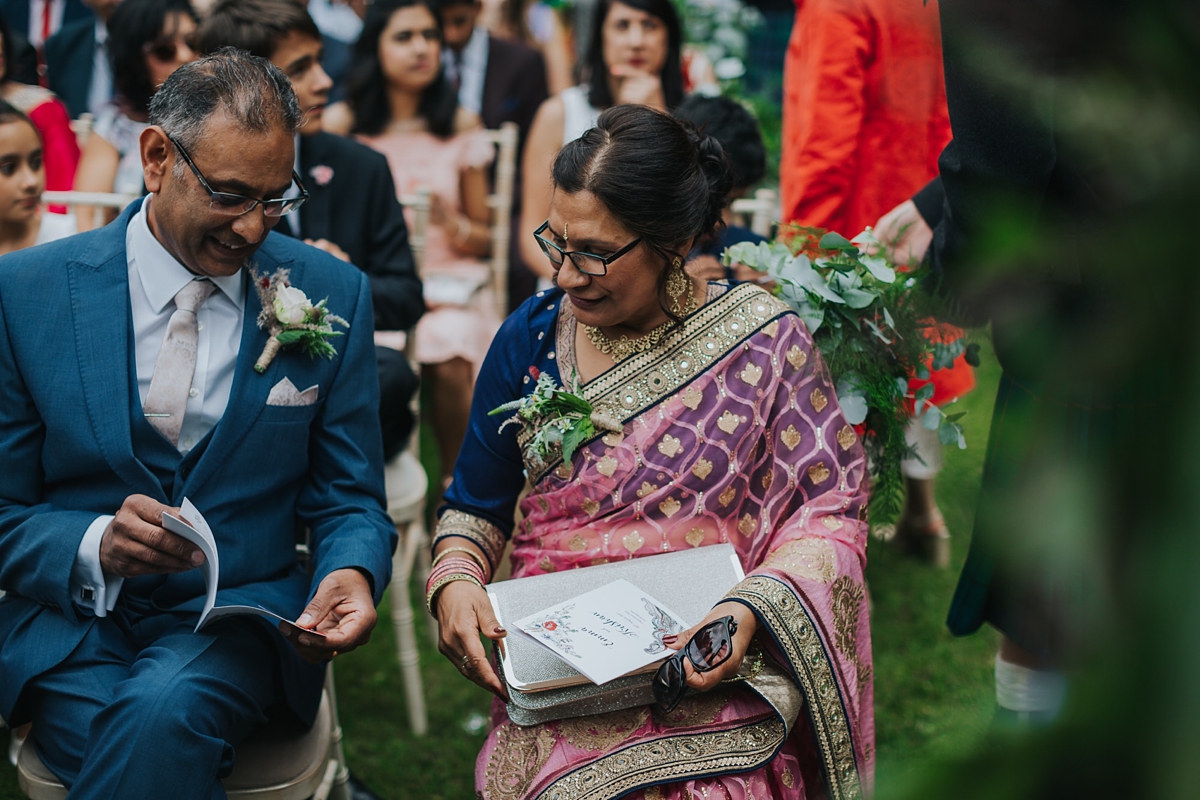 Emma and Krishan decided to write their vows to one another, but kept them secret until the ceremony.
"We both mentioned our journey as a couple, from when we first met at university as friends, to becoming a couple, our engagement, and finishing with our hopes for a happy future life together."
During the ceremony, there were readings too. Aled Davies read Shakespeare's beautiful Sonnet 116 as a nod to the fact that Krishan studied drama at university (and has performed and directed many Shakespeare plays), and also the fact that the sonnet is used throughout one of Emma's favourite film adaptations of Sense & Sensibility with Emma Thompson (mine too, Emma, mine too!).
There were also quotes read from Jane Eyre by Charlotte Bronte and Adam Bede by George Eliot, read by Jo Mifsud.
"We felt very strongly that one of our readings be by male author/s and one by female. For our second reading we chose a combination of Jane Eyre by Charlotte Bronte, one of Emma's favourite books, and Adam Bede, written by the female author George Eliot. George Eliot, aka Mary Anne Evans, was also born in the West Midlands near to where Emma grew up. We knew we wanted classical works for our readings and were keen to have readings that were evocative, romantic and fortifying without being too soppy!"
Emma's engagement ring is a Victorian crossover ring belonging to her great-great grandmother, and to go with it, she and Krishan chose their wedding rings at Cambridge Bespoke Jewellery Services (formerly Trinity Street Jewellers).
"TSJ were the most relaxed and reassuring about what we wanted, making it an easy choice to use them. Luis was very welcoming, helpful in choosing designs, and as you'd expect, very knowledgeable about the best materials to work with the engagement ring. Their service was very smooth from start to finish."
Emma had taken along a family heirloom veil when choosing her dress, and was pleased to discover that it went with her chosen gown perfectly.
"It took our breath away how well they looked together. The veil is Spanish lace and was bought for and worn by my great-grandmother in the 1920's, my grandmother in the 1950's, and then my mum in the 1980's, so it was important to me that I would be able to wear it at our wedding, and it was amazing that it went so well with my dress! They worked so well together people couldn't believe the dress and veil were almost 100 years apart in age!"
Capturing Emma and Krishan's day on camera were Anii and Chris from Bloom, and the resulting collection of images are just magical.
"Krishan works for photography magazines, one of which regularly includes interviews with wedding photographers. Through speaking with his colleagues, he was recommended to check out Bloom. We then Skyped the now married couple Chris & Anii, and knew instantly they would be the perfect fit to document our day."
"Their style was to capture the day and emotions as naturally as possible, so half the time we didn't notice them at all, which was fantastic for us as we were left to enjoy the day. Neither of us are particularly used to being photographed but they immediately put us at ease. When we did have our couples and group shots with them, they were brilliant in finding great locations for our photos and capturing special moments that we can treasure."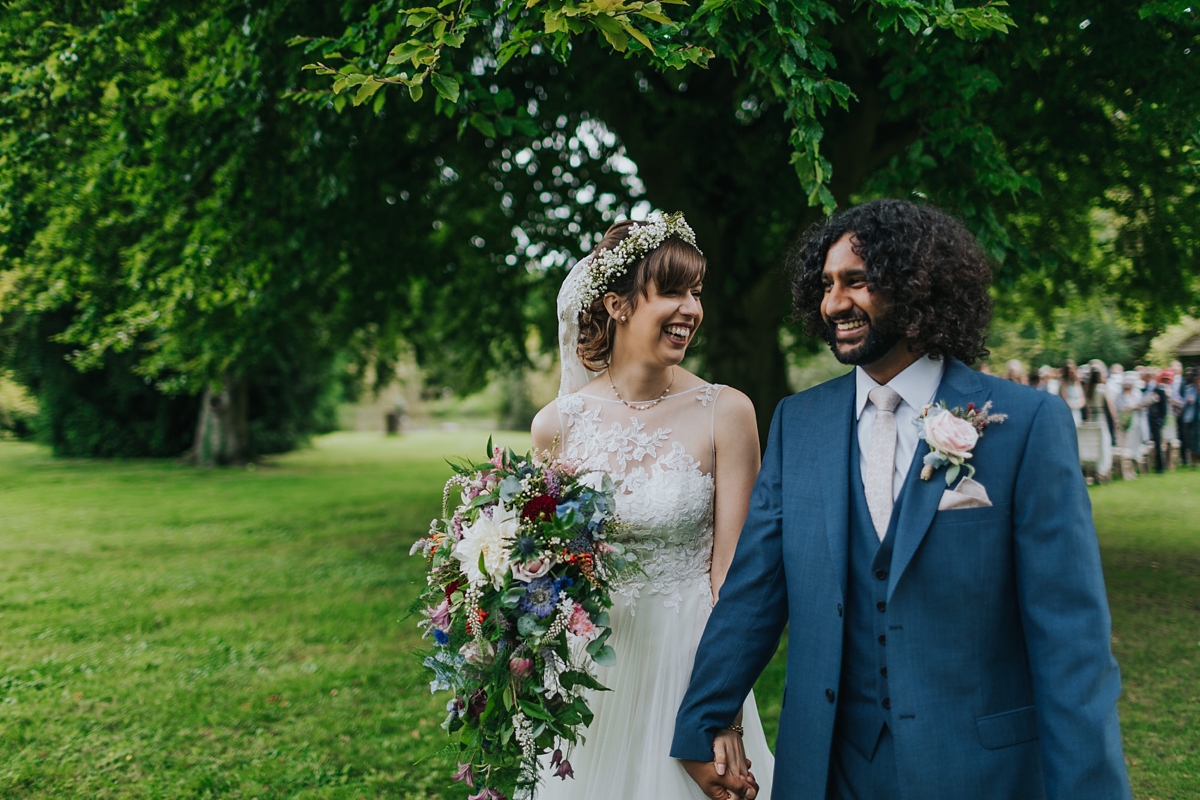 There was also time for a spin around the park grounds in a rickshaw from Outspoken Cycles! during the drinks reception.
"We knew the company as they were responsible for distributing Krishan's company's local magazines around the city, and discovered they could also be hired for special events."
"Outspoken were great and loaned us some of their decorations and let us add some more of our own to make the rickshaw wedding ready. The rickshaw was a complete surprise for our guests, and we made little tickets for 'One free rickshaw ride' that we put in our programs for people to use. As rickshaws are big in India, this was another great way of incorporating the country into our day."
The newly married couple walked back up the aisle to more music from Emma's violinist aunt, this time playing the traditional Mairi's Wedding.
"Hearing her playing under the tree amongst the birdsong and the blowing of the leaves in the gentle breeze was beautiful. We had garden games in the grounds for guests to play during the reception in-between ceremonies."
"Our wedding confetti was made from the petals from the rose tree we planted at the place where we scattered our beloved family dog Molly's ashes in my parent's garden a couple of years ago. This poignant touch was thanks to my mum who gathered the petals as they came into bloom throughout the summer and dried them ready to use in the confetti."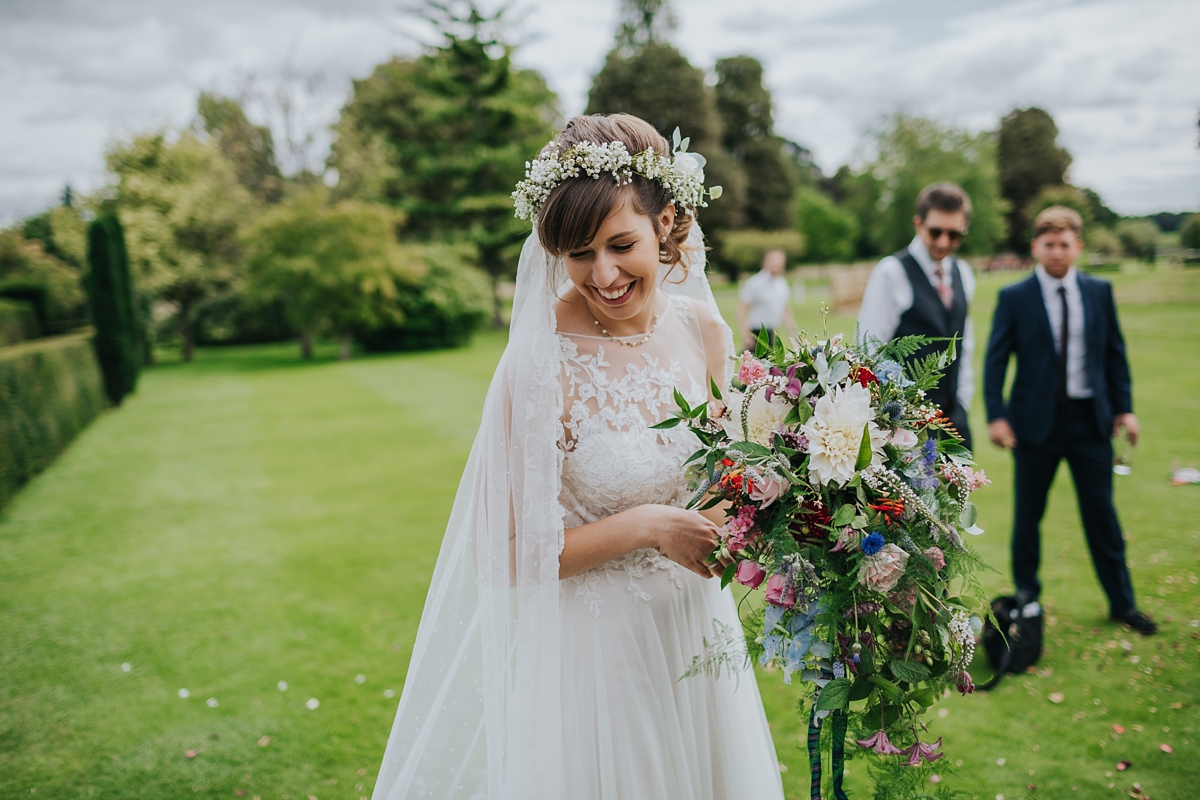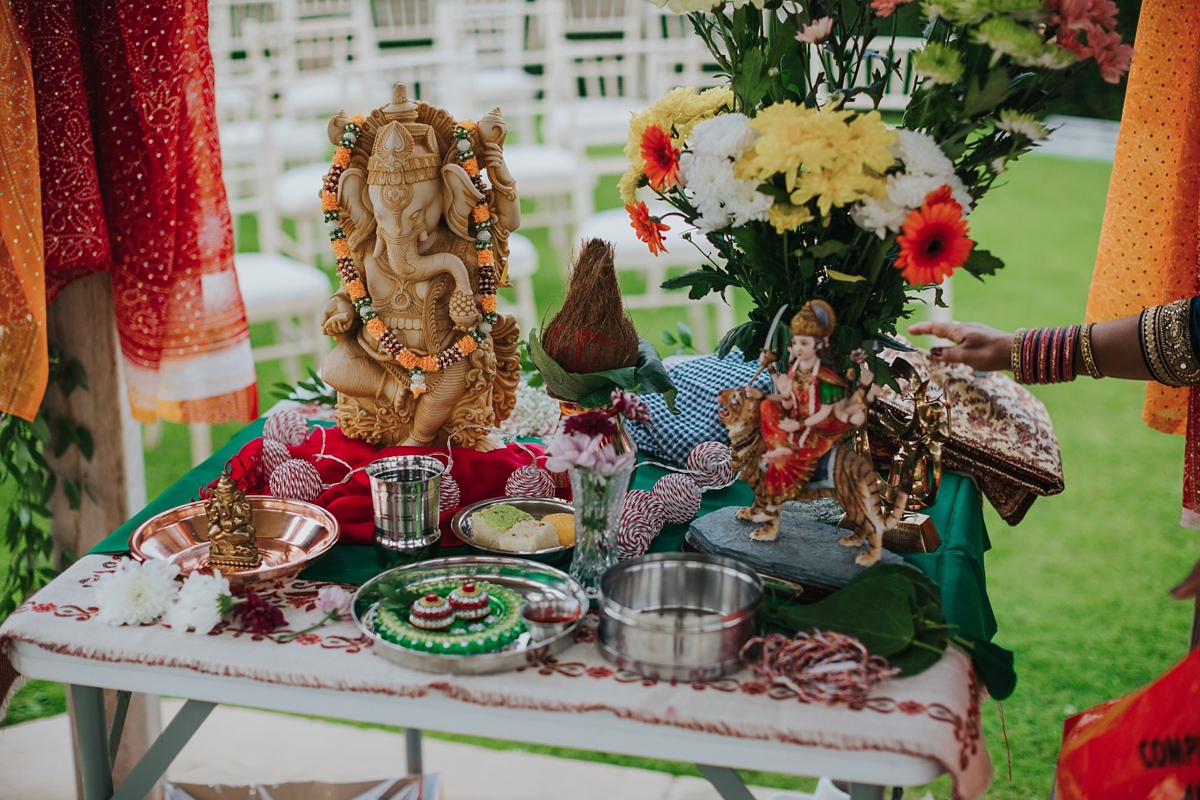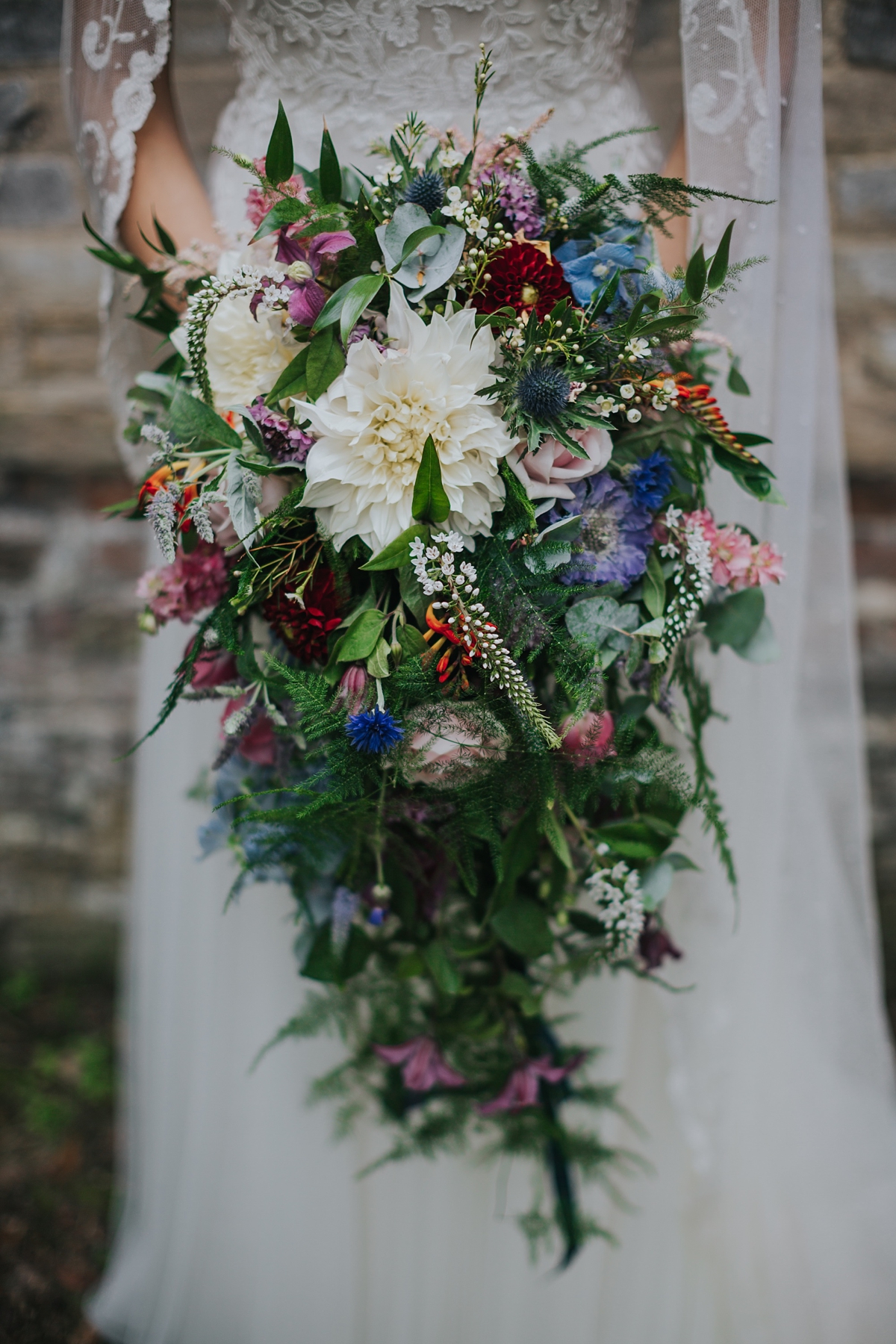 Guests were welcomed by the sight of Emma's beloved bike decorated with bunting and filled with flowers, and dotted around there were photos of the couple's parents and grandparents on their wedding days.
"None of our grandparents were at the wedding; all of mine have passed away and Krishan only has one of his grandmothers left and she was too frail to travel. It meant a lot to us to have photographs of them there so had a table set up with pictures of them on their wedding days on a table in the marquee next to the cake. We also had photos of ourselves on the tables aged 1-15 to correspond with the table numbers!"
The tables inside the marquee were filled with more flowers, and there were also lovely hanging hoops of flowers and foliage from florists Wild Poppies.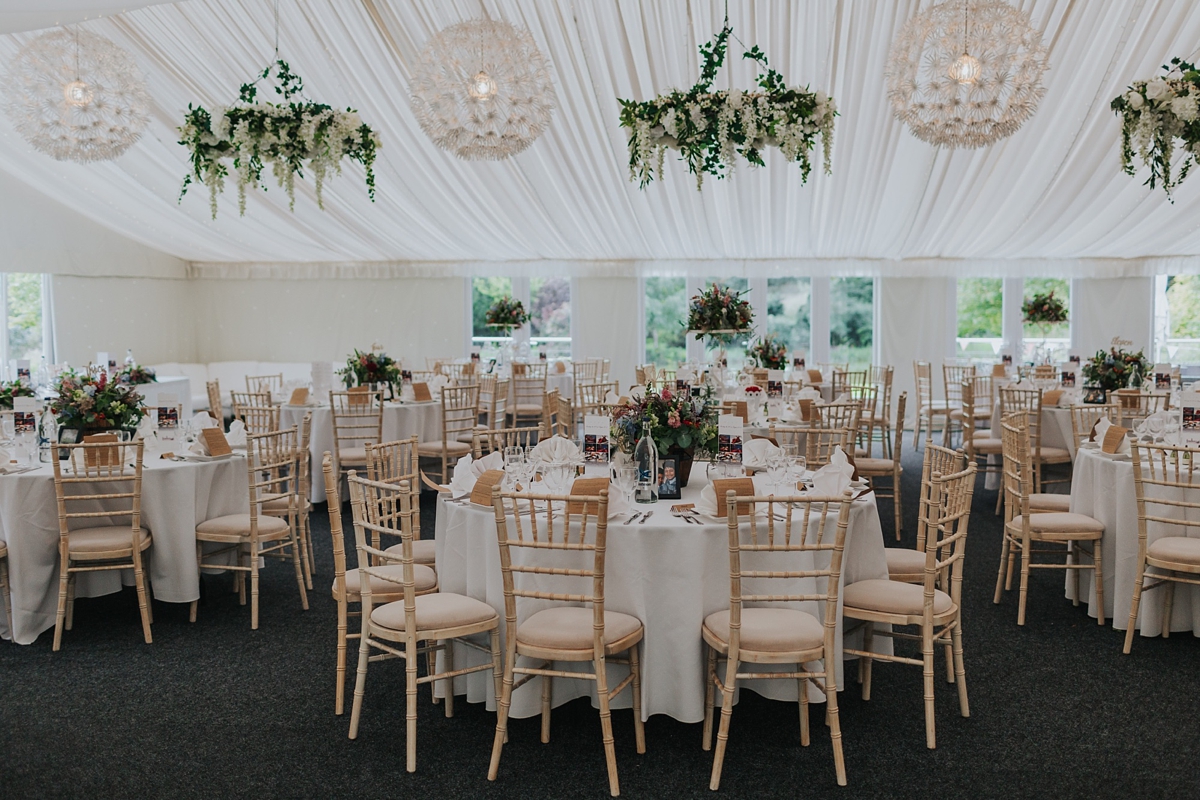 As favours, Emma and Krishan put together recipes representing two important foods from the regions they grew up in – Melton Mowbray pork pies for Krishan and Staffordshire Oatcakes for Emma (having also grown up in North Staffordshire, I can fully attest to their significance and their deliciousness!).
"Finally, we had a table in the marquee where people could leave their cards in a basket. We also made a postbox which we suggested guests post us a postcard with a message for us to read on our 1st anniversary. We bought classic postcards with scenery of Aberystwyth (where we met), Ben Lomond (where we got engaged) and Cambridge (where we were getting married)."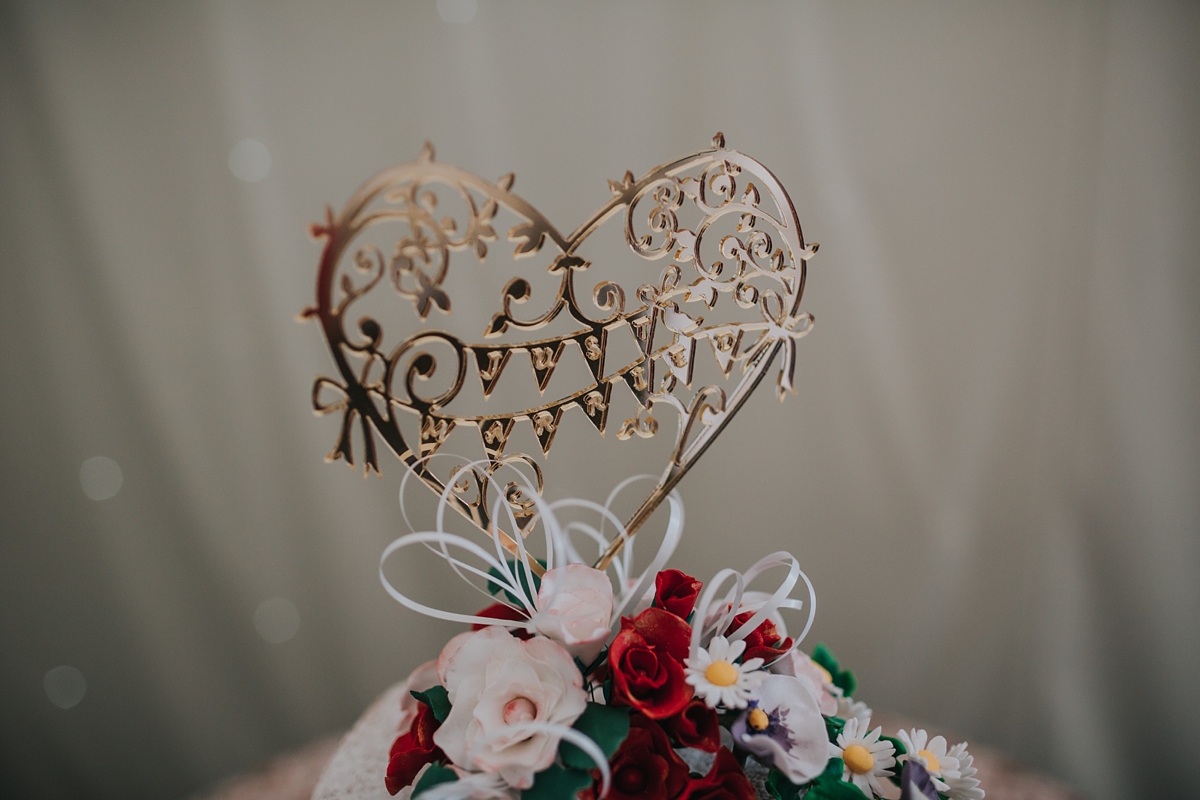 High on the couple's list of priorities for their day was to have traditional Indian food for their wedding breakfast, and Indus Catering came recommended by Chippenham Park.
"We really liked the idea of a served-to-table-buffet, as we were keen on their being a large variety and choice of dishes but didn't want people to have to get up and queue for food. We built a menu that was a range of spiciness, a combination of meat and vegetarian options, and lots of amazing starters, sides and incredible puddings."
"Everyone loved it and we had so much feedback that it was not only the best wedding food people had ever had, but that it was the best Indian food people had ever had! Even senior members of Krishan's family were impressed, so we knew we had done well!"
"Indus were always willing to accommodate our requests, including providing English finger sandwiches, and preparing Pimms, beers and amazing exotic mocktails for the drinks reception inbetween our two ceremonies. They also served the prosecco pre-speeches."
The wedding cake was made by Emma's Auntie Valerie – a four tier sponge cake with one layer of Victoria sponge, one of lemon, one of coffee and one tier of chocolate – with a topper from Funky Laser.
"Val made Indian and British flowers from icing, English and Scottish roses, daisies, pansies, and thistles, and Indian lotus flowers, lilies, orchids. She also did some delicate icing Mehndi henna type lace work for the bottom tier. It was incredible!"
For the Indian ceremony, another lovely gazebo in the venue's grounds was used as the Mandap and decorated with flowers and swathes of colourful silks. Emma changed into her spectacular saree, which she chose at Milans in Leicester.
"When it came to finding a saree I knew I wanted to go for the traditional red and gold so Krishan's mum and sister Isla took me shopping in Leicester to Melton Road, which has lots of Indian clothing and food shops (shopping is so much more fun when interspersed with cups of Indian chai and delicious snacks!)."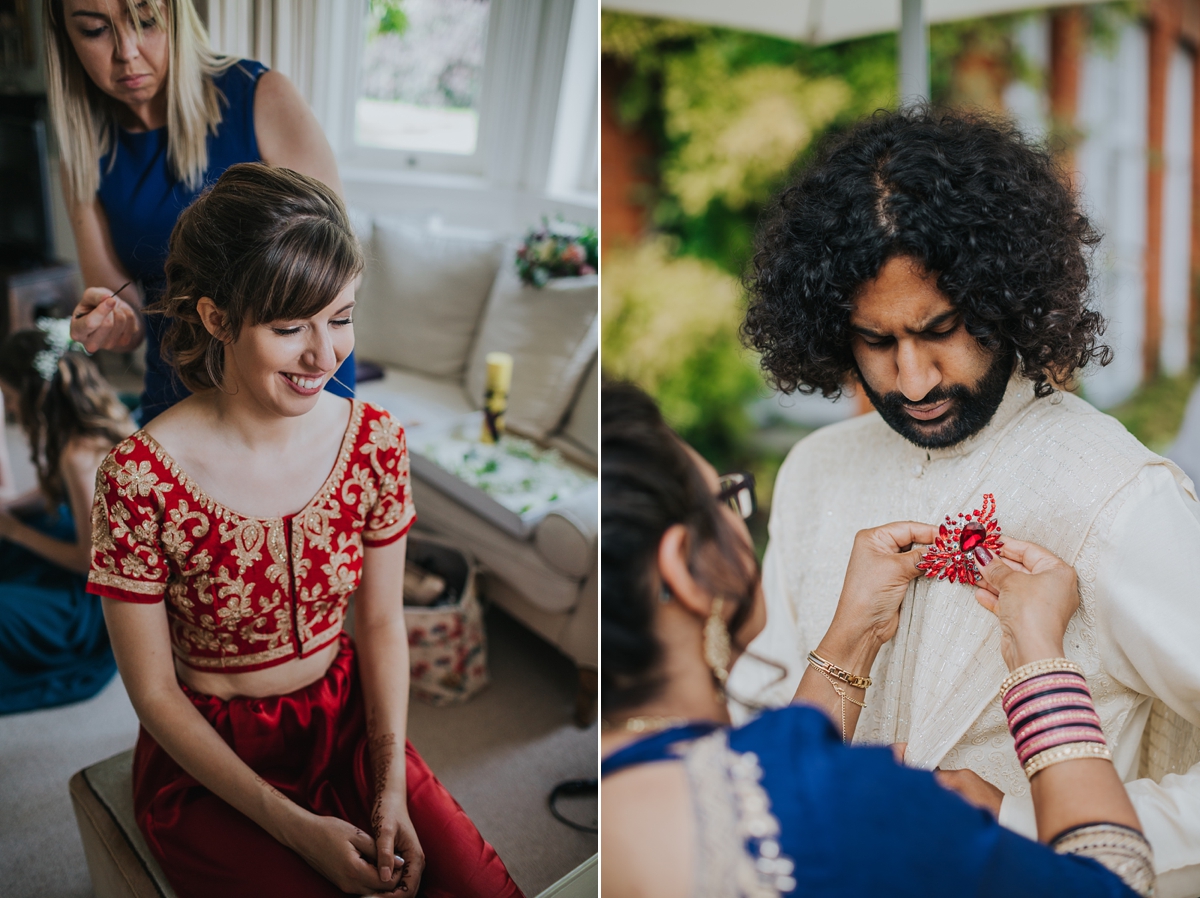 "Having been looking all day, and being amazed at how many different shades of red it is possible to find, we instantly fell in love with this one. It is a lehenga style saree, which means although it is a full one piece of fabric like a saree, the skirt section isn't folded into pleats but instead tucked into the petticoat all round which means as much of the design as possible is on show."
"Unlike my wedding dress it was very heavy with all the embellishment but so, so gorgeous! When you buy a traditional saree the bodice isn't prepared but just embellished into the main fabric ready to cut out."
Emma's veil and bindi were also sourced at Melton Road in Leicester, along with a necklace, bracelets, anklets and earrings.
"However my hand jewellery (all the rings and joining chains) was borrowed from Krishan's mum and was what she wore at her wedding in the 1980's."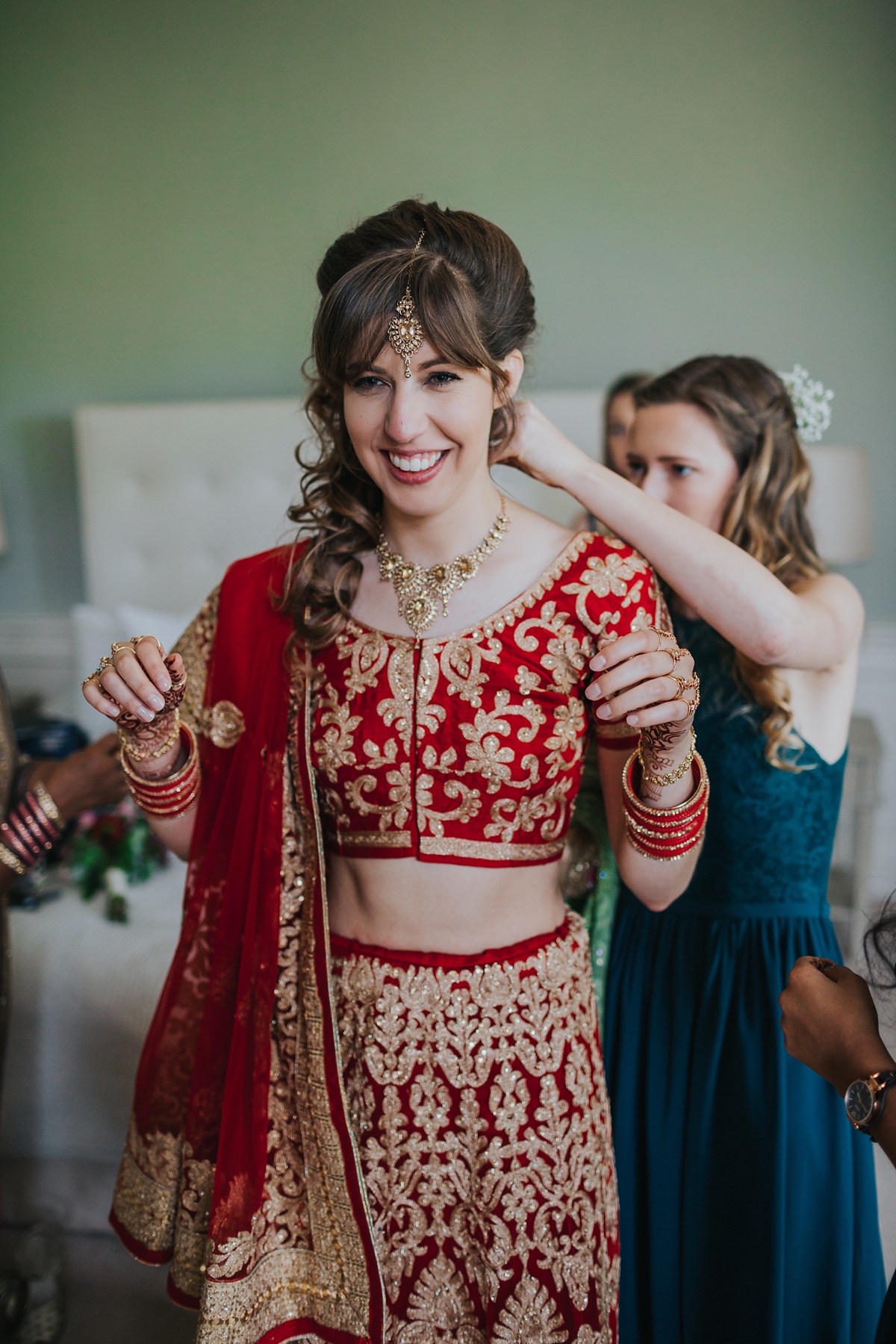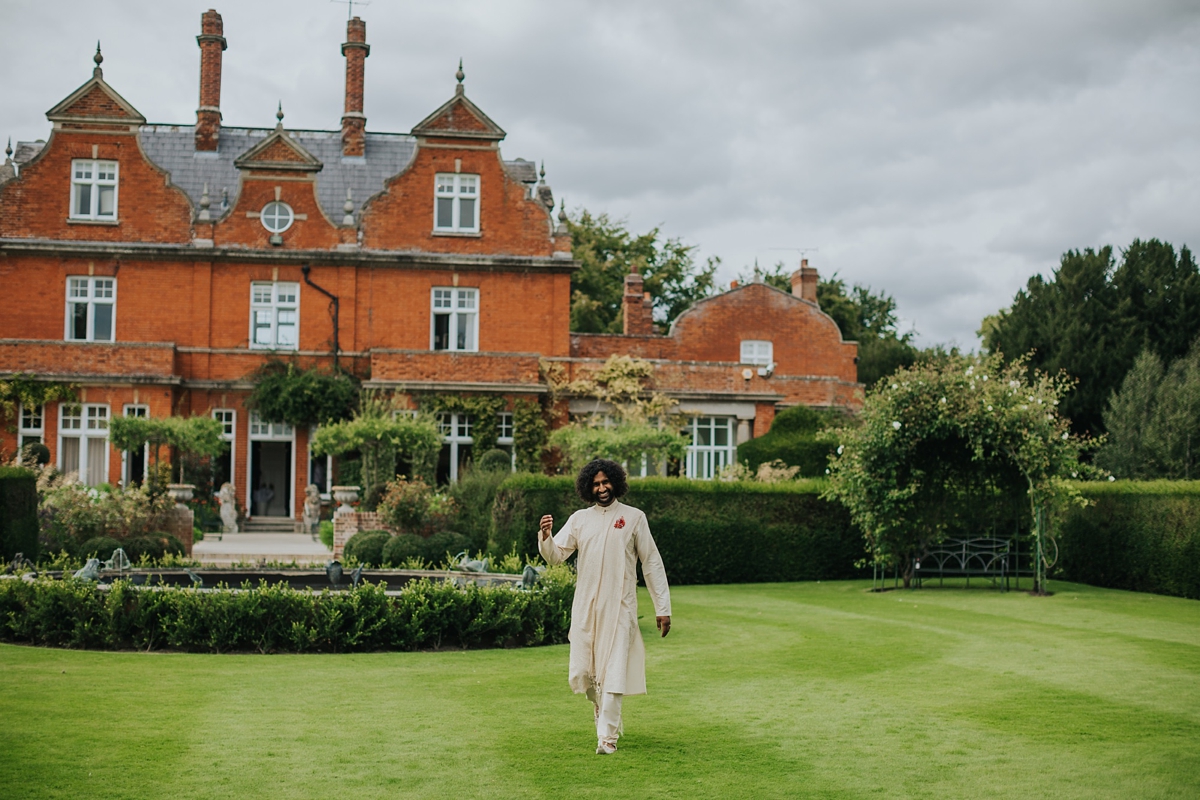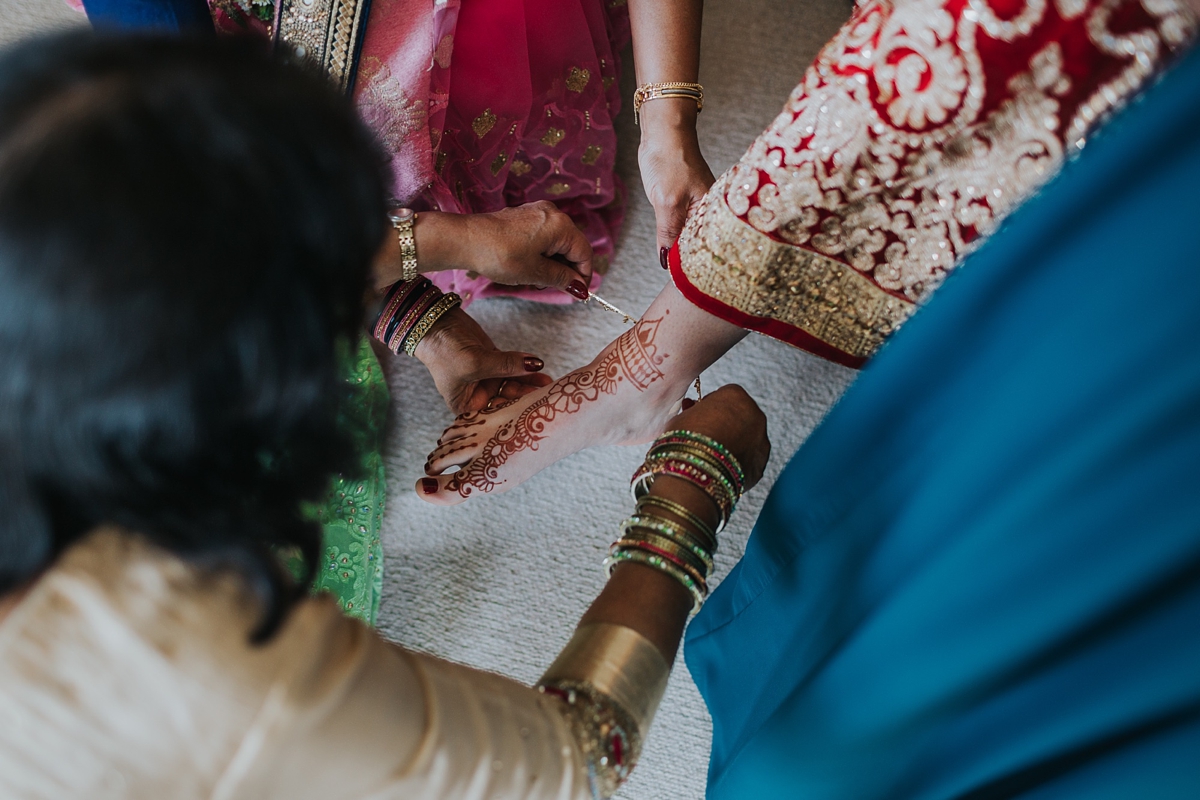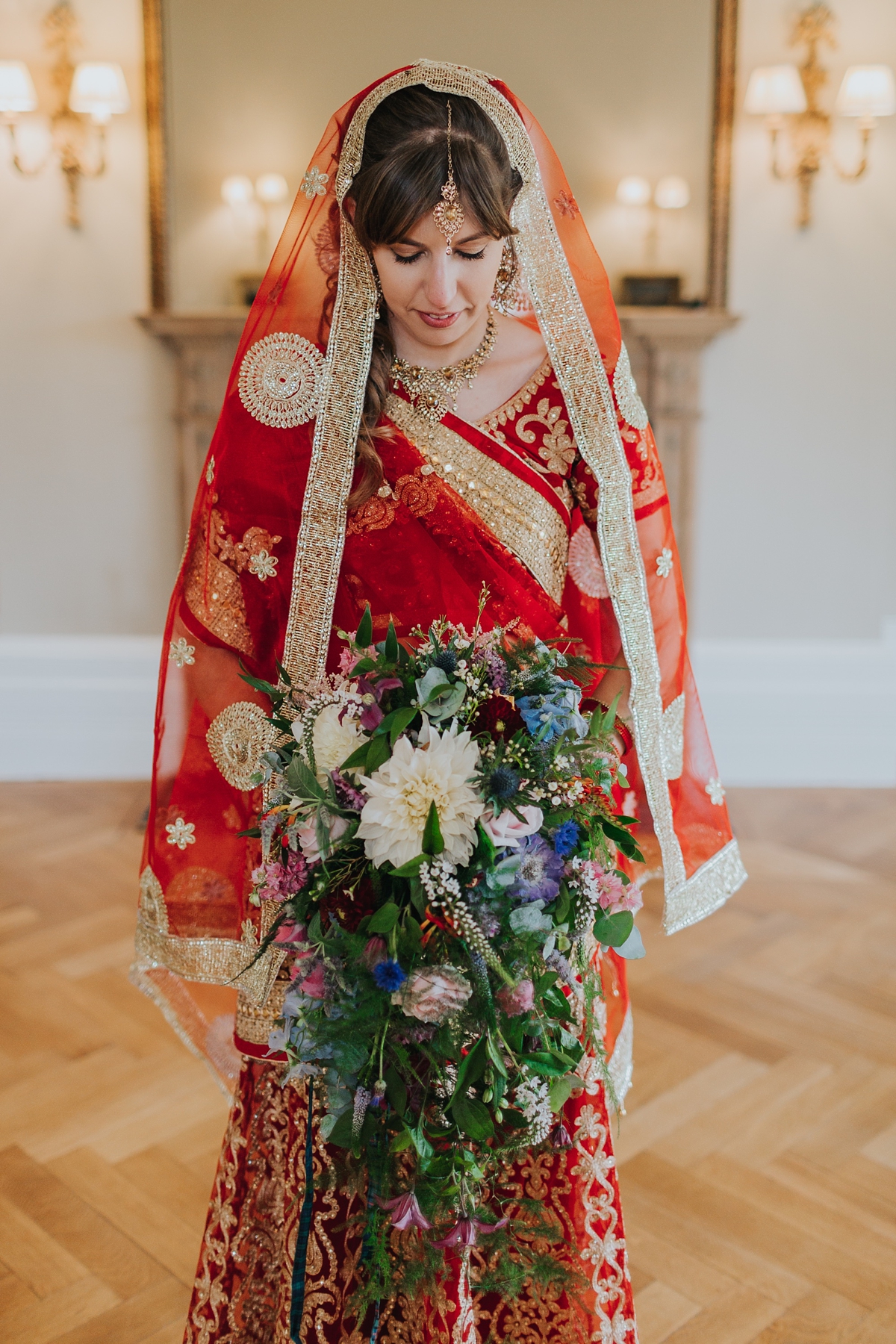 Krishan's suit was a gift from his mum, bought in India about six years prior to the wedding. Krishan had never worn it before and the colours were perfect, so it seemed like the perfect time for its debut! For his ceremony entrance, Krishan walked to the Gayati Mantra, followed by Emma accompanied by her Uncle Angus to Jai Ganesh Deva.
"It is traditional that the bride's mum's brothers walk the bride down the aisle as the bride's father is already waiting in the mandap with the bride's family, having greeted the groom."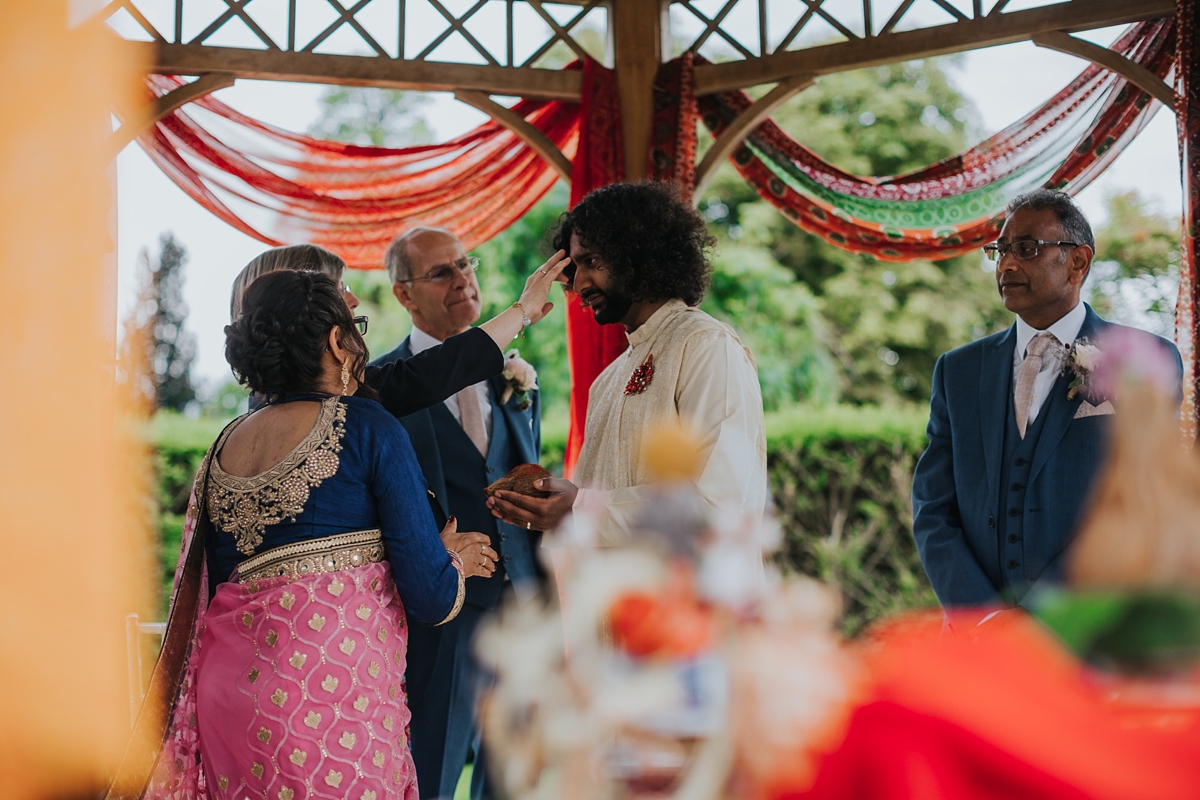 Emma and Krishan's second ceremony was a shortened version of a full Hindu wedding ceremony, and was not conducted by a Brahman.
"Neither of us are particularly religious and though we were keen to celebrate our cultures, we did not want to feel that we were foisting our birth religion onto the other, so having ceremonies that were more about the traditions of our cultures and about love than about God was important to us."
Krishan's cousin Priya oversaw the ceremony, which the couple had put together themselves with her help and guidance.
"Also, she had the perfect personality for the role, making sure we were relaxed during the ceremony, but also explaining what was going on to all our guests, most of whom had not witnessed an Indian wedding before."
"We put together detailed descriptions of the ceremony in our programmes so that people could follow what was happening, and everything was done in English, or if it had Indian names these were explained. We felt for us it hit the perfect balance between being relaxed and yet honouring the formal Indian ceremony."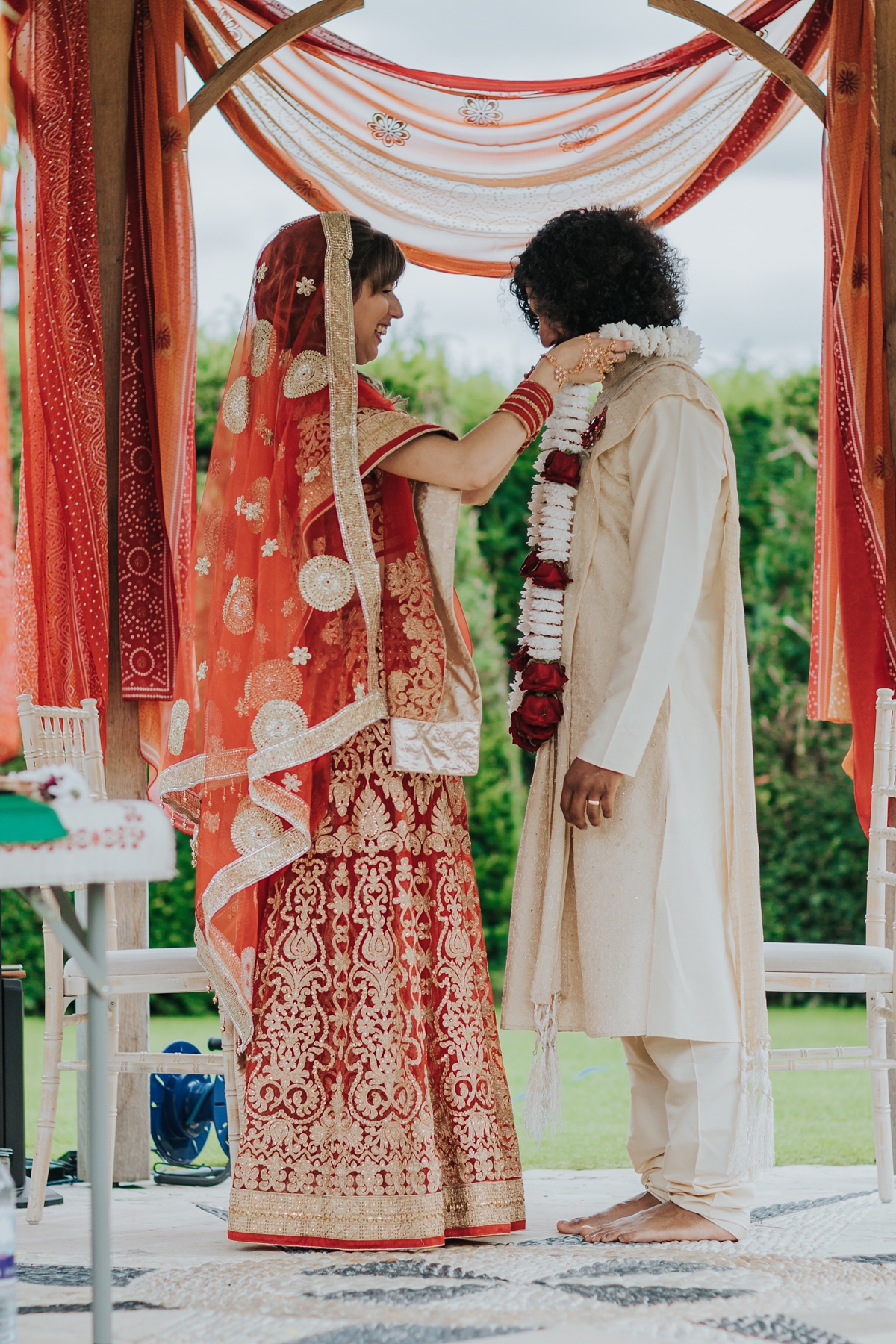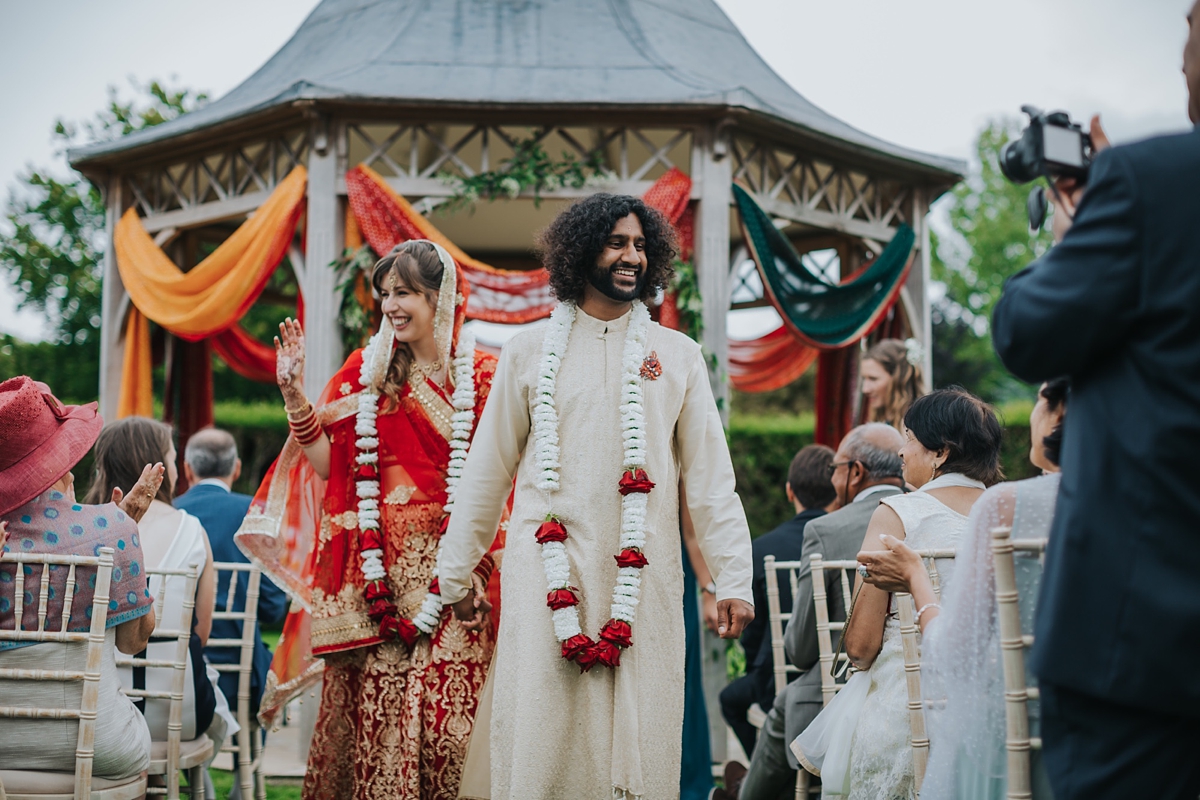 After dinner, Emma changed back into her Willowby dress for an action-packed evening of dancing, beginning with her first dance with Krishan to Mumford & Sons After The Storm followed by You Make My Dreams by Hall & Oates.
"Then all the guests had a ceilidh lesson from my mum and auntie to the Dashing White Sargent and the Gay Gordons, and then a Bollywood lesson from Krishan's brother, the Best Man."
"We decided on a DJ for our evening entertainment. We both have broad tastes in music and as we knew we wanted to have popular English and Indian songs throughout the evening, and to teach people to ceilidh and do Indian dancing, a DJ was more suitable than a band."
"Marcus from Soundfest was very familiar with the venue and the Chippenham Park team, so it was reassuring for us having someone who knew the place well and would be able to set-up without any issues. He was also great with all our requests."
"The fact we managed to do it all in one day, that the sun shone so both our ceremonies were outside, and that all our family and friends were with us meant we both just felt ecstatic all day (apart from Krishan crying both times he saw me in each ceremony!). Looking back, we were very ambitious with our timings and put a lot of faith in there being good weather, but our optimism paid off and everything was amazing!"
Words of Wedded Wisdom
"Don't be worried about achieving your dream and being ambitious! People thought we were mad planning two ceremonies in one day, but we knew that was the way we wanted to do it and it worked brilliantly! We found using spreadsheets to keep on track of costs and contacts was essential!"
"Don't underestimate how well your friends and family know you, my friends picked my perfect dress, my auntie knew the perfect music to play during the ceremony and my mum helped find the perfect readings."
"When you're stressed and busy and worried about giving your guests as good day it's easy to forget about you as the bride and groom and your personalities! It is so important to weave yourselves into your day and family and friends can help you achieve this!"
"Don't forget to feed your guests and give them things to do! We knew this would be key in our planning from experiencing being starving and hanging around at some of the previous weddings we had been to. As we knew it would be a long day and we (bride and groom) would to rush off and get changed twice, have photos done, etc. we made sure our guests would always be happily occupied, and fed and watered and with places to sit and activities to do."
"We're really glad we seized the opportunity to make our way around the tables in the marquee and speak to our guests. We didn't have a line-up to greet our guests after the 1st ceremony as we knew we wouldn't have time with our scheduling! And as we weren't that hungry due to the adrenaline we used the meal as an opportunity to ensure we spoke to absolutely every guest."
"The bride spoke during the speeches! We know it's not traditional but I felt really strongly that I wanted to thank everyone for coming and for all their help in making the day a success! Just standing up and reading a brief list of personal thank yous in the speeches was great. It gave me a voice to the guests and enabled me to thank them equally with the other speech givers for all their support."
Emma and Krishan, thank you so, so much for sharing your spectacular day with us, I've had so much fun! Many thanks also to Veiled Productions for their film and to Bloom for their exquisite images. If you'd like to explore more weddings which beautifully fuse different cultures, do have a look through these celebrations on the blog here.
With love,
Laura