I'm whisking you up to Scotland today for an outdoor celebration in the spring. If a wedding resplendent with festival vibes, seasonal wildflowers and a relaxed, laid-back feel is up your street then keep on scrolling.
The bride and groom are festival manager Katt and doctor Jamie, who wed on 5 May 2018 at DIY venue Comrie Croft, Crieff, Scotland. The day was inspired by the Scottish nature and scenery surrounding the venue, and a desire to create a laid-back and relaxed atmosphere for their guests. With an outdoor ceremony including a 'tying of the tartans' and a wedding feast and ceilidh in the evening, this is one beautiful day.
Photography Photography 78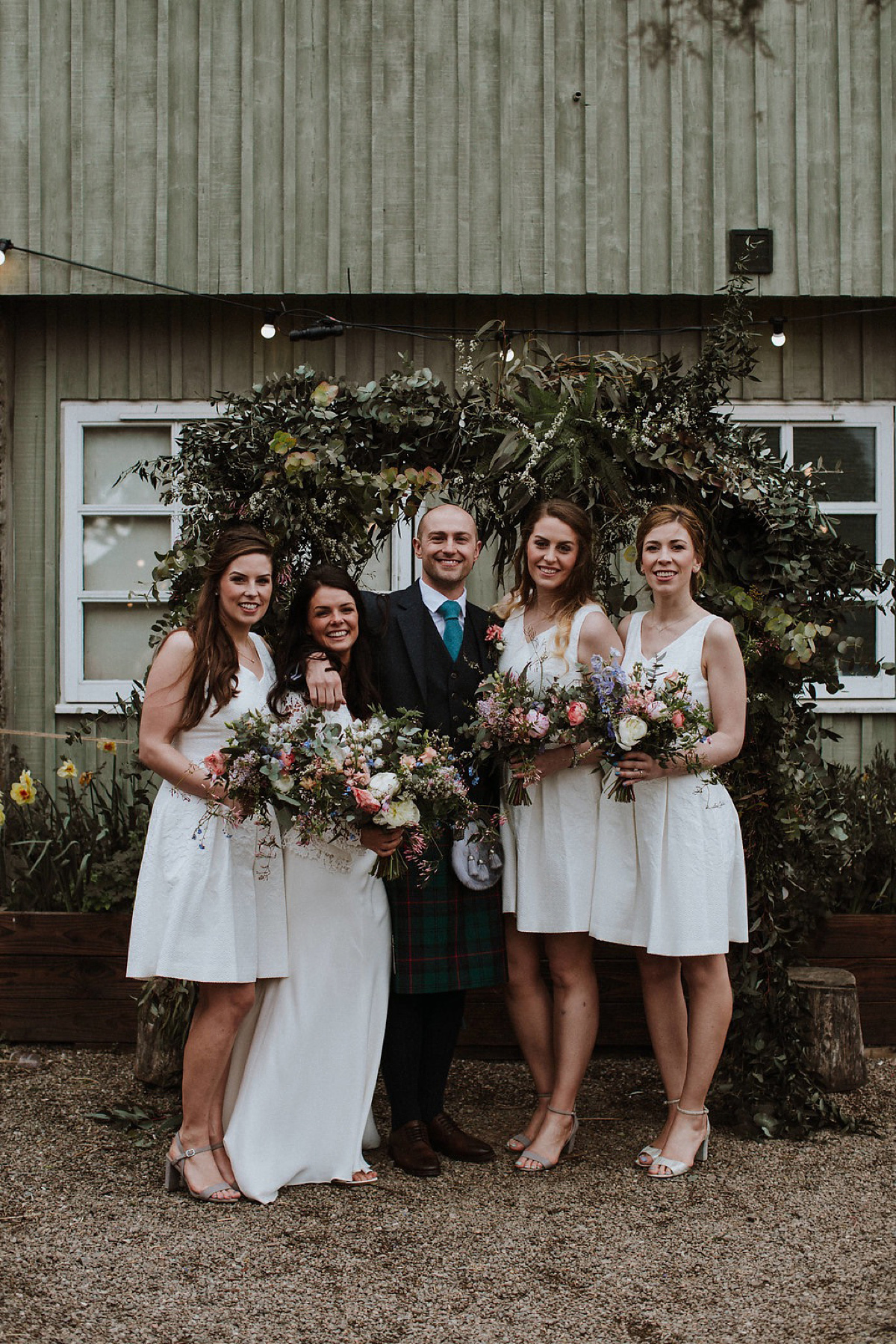 "Comrie Croft is a laid-back DIY barn in the Perthshire hills with lochs, mountain biking and hiking on the doorstep. We wanted the wedding to be laid-back, full of fun, good food, wine and all our friends. We love the outdoors so we used seasonal flowers and greenery to decorate the space and kept the rest relaxed and colourful."
Katt asked designer Susanna Greening to create a bespoke gown for her. With simple lines in heavy, sand-washed silk edged with lace, it feels luxe yet laid-back. For the outdoor ceremony, the bride wore a loose-fitting jacket of heavy lace, inspired by her favourite leather jacket.
"Susie designed the dress completely for me, from sketching it over a coffee to fitting me into it on my wedding morning. She made the perfect dress that made me feel comfortable, confident and completely myself. I loved every minute of wearing it."
Susanna also designed the flowergirls' pretty white dresses whilst the page boys wore mini-kilts. I'm such a fan of bridesmaids in white, and the bride found the perfect mini dress from Hobbs which complimented her own. Both Katt and her bridesmaids wore bracelets from Kate Spade as the final touch.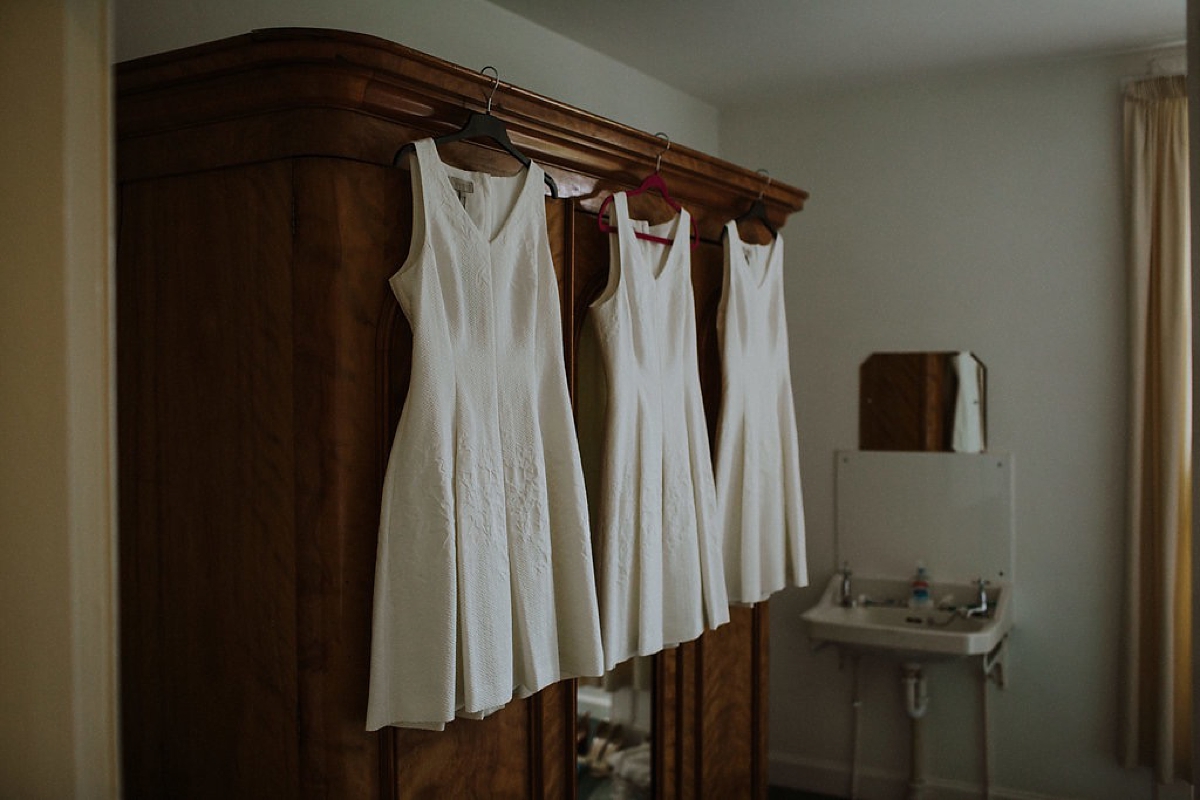 Designer Susie has explained more about the dress design.
"Katt got in touch with me to make her wedding dress as she was worried about what to wear and admitted she would feel most comfortable walking down the aisle in her jeans and leather jacket! I loved designing and creating Katt's dress. I wanted to make sure she felt comfortable and confident and, most of all, like herself."
On the day, two of Katt's friends styled her long hair into a relaxed down-do and applied natural make-up.
"Silver Lilly – two friends of mine from school – did hair and make-up for eight of us in four hours!"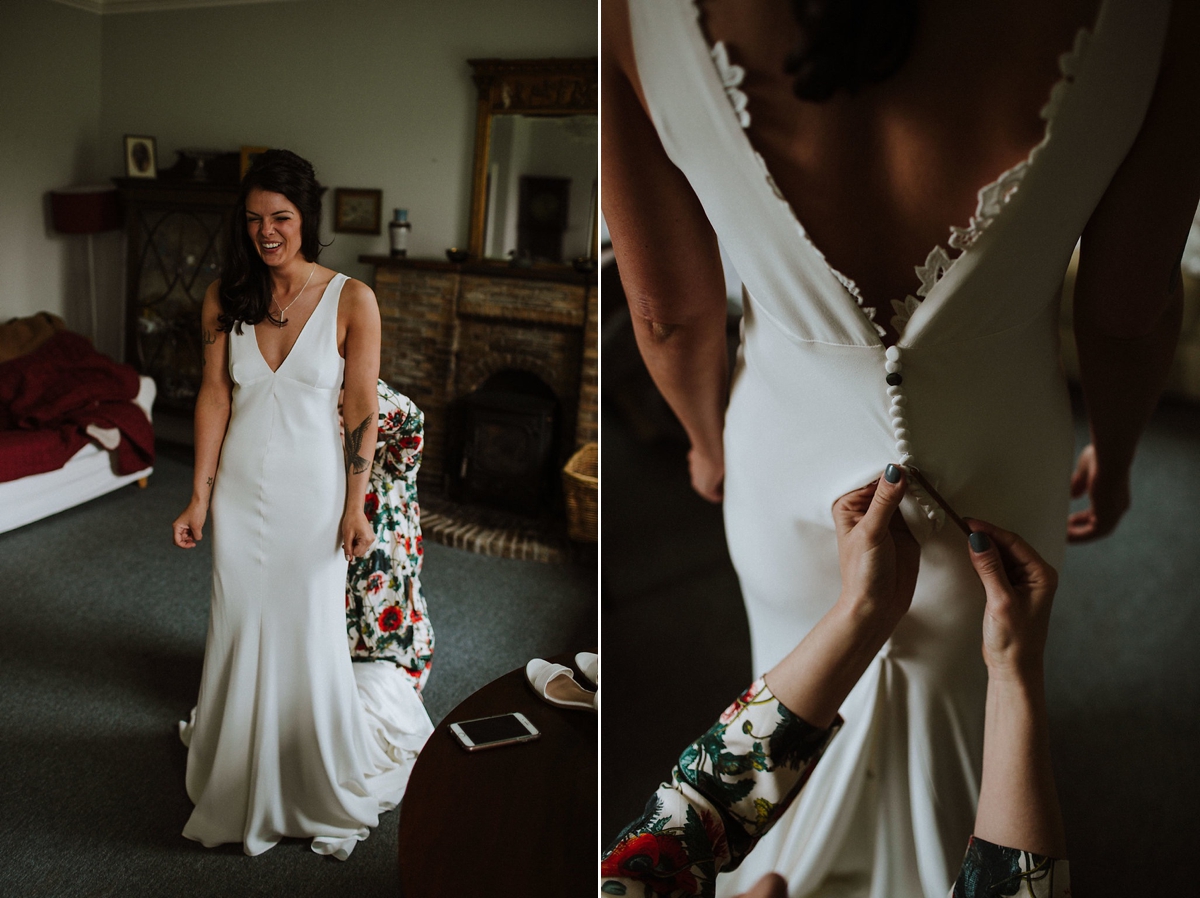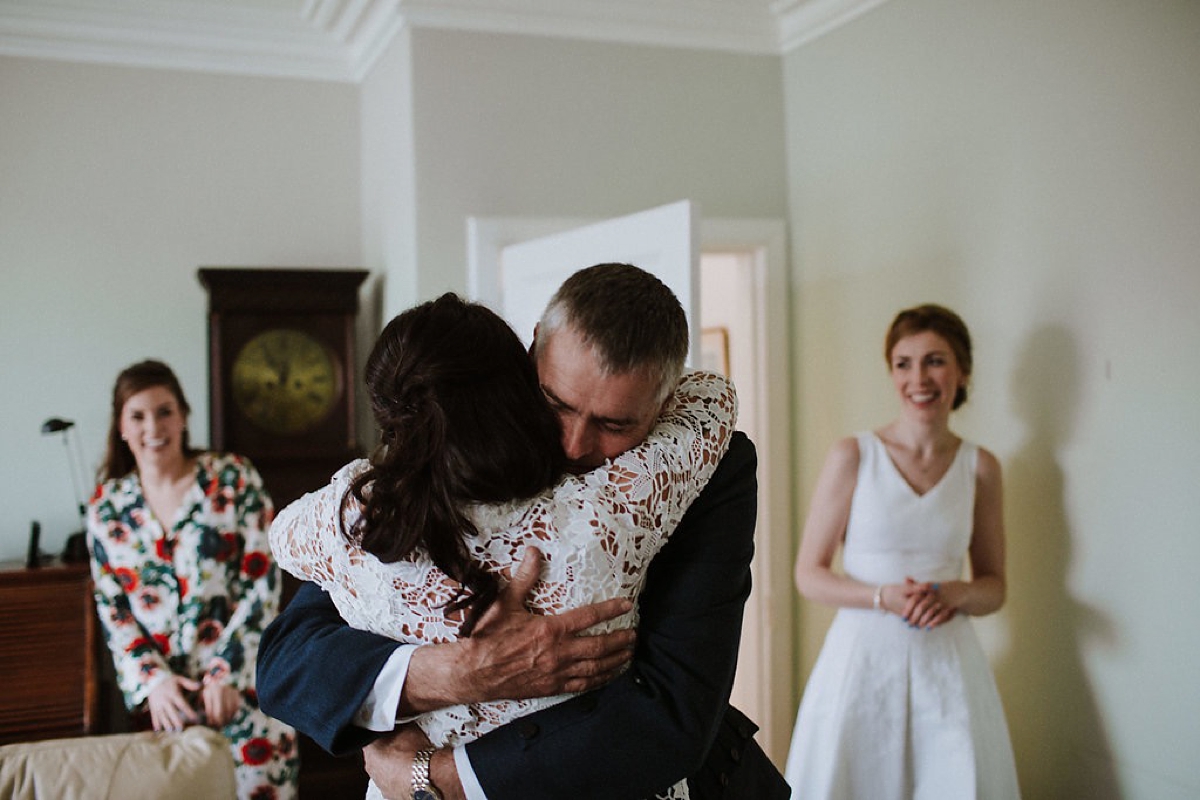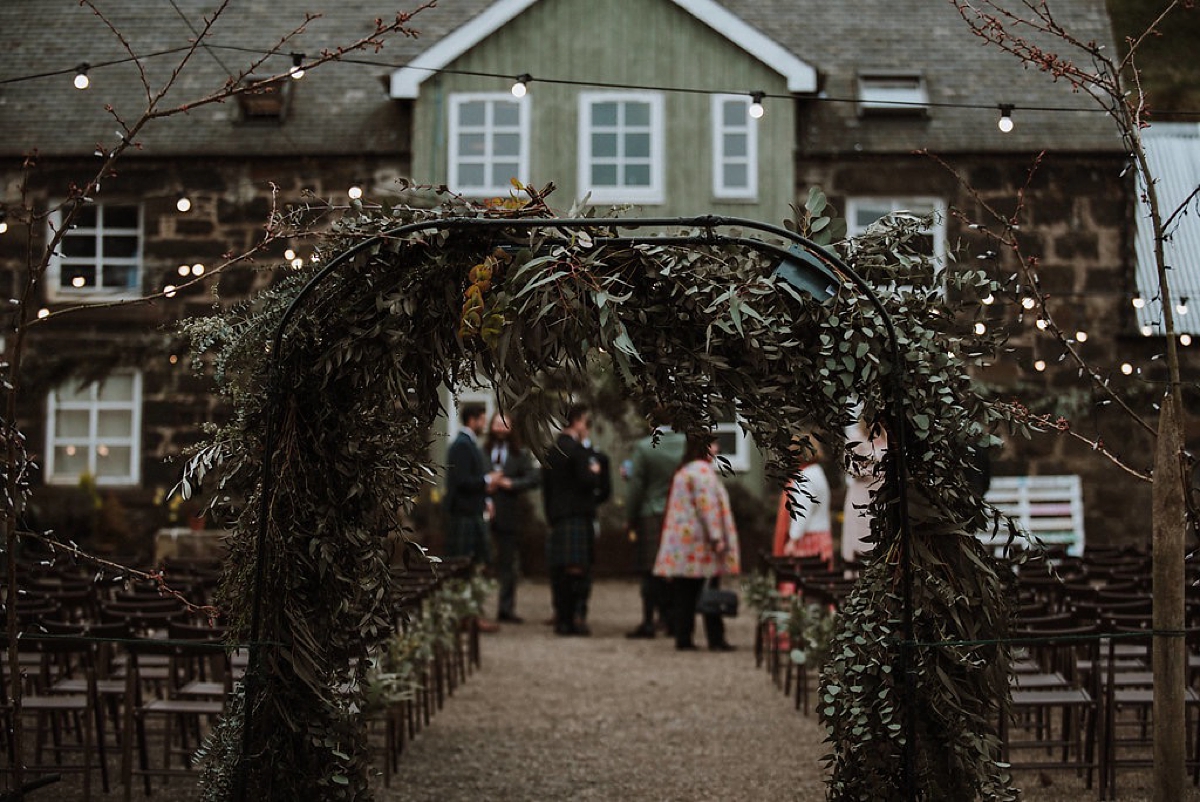 The couple married exactly a year after Jamie's proposal.
"We met through a friend, who had a spare ticket to 6 Music Festival in Newcastle. We took the train down together from Edinburgh and instantly hit it off. We moved in together after six months and got engaged after two years."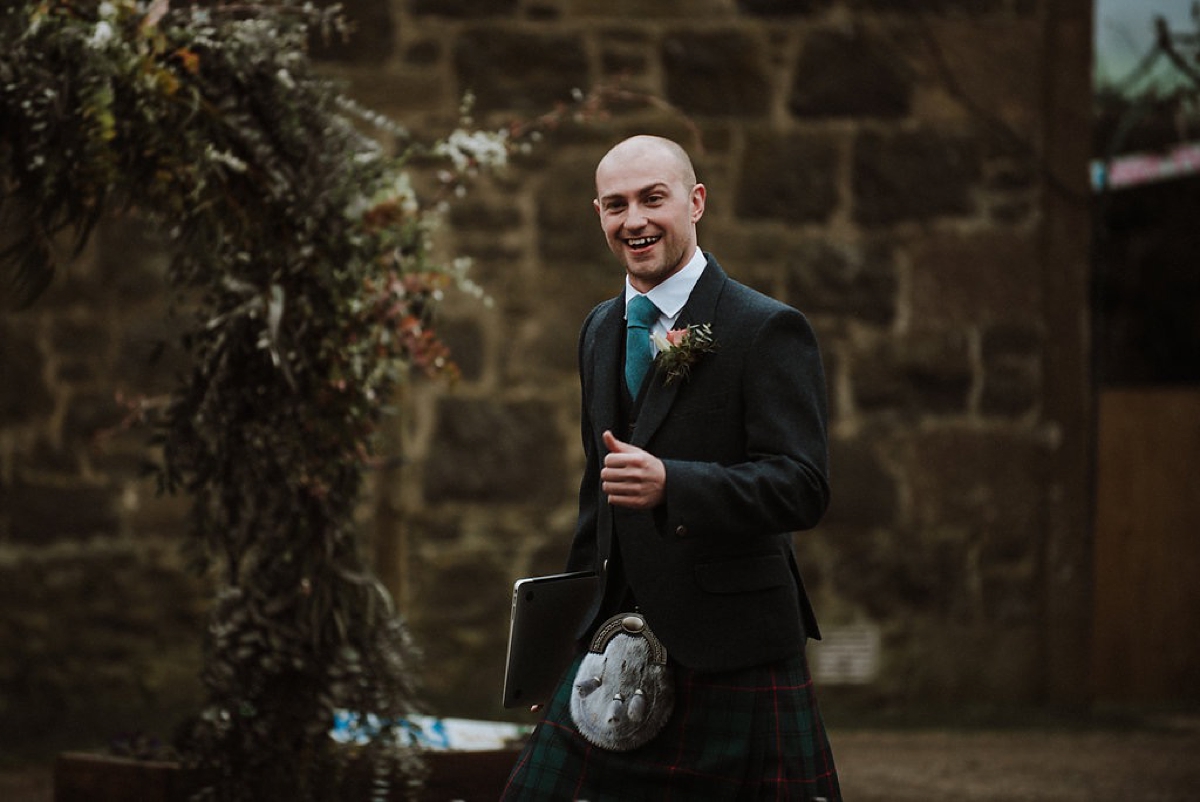 The day was fine and dry, so the couple's ceremony and tartan-tying could take place outdoors in the venue's courtyard. The furniture was simple and rustic with wooden pallet signage and, with its decoration of fairy lights and garlands of foliage, it has such a magical feel.
Katt's dad Douglas walked her down the aisle as a bagpiper played 'Highland Cathedral'.
"Jamie's uncle Kenneth Armstrong is a minister so he performed the ceremony. We used traditional vows but added the 'tying of the tartans'. We made our own vows and tied our family tartans together in the original 'tying of the knot' which was led by Jamie's mum Fiona."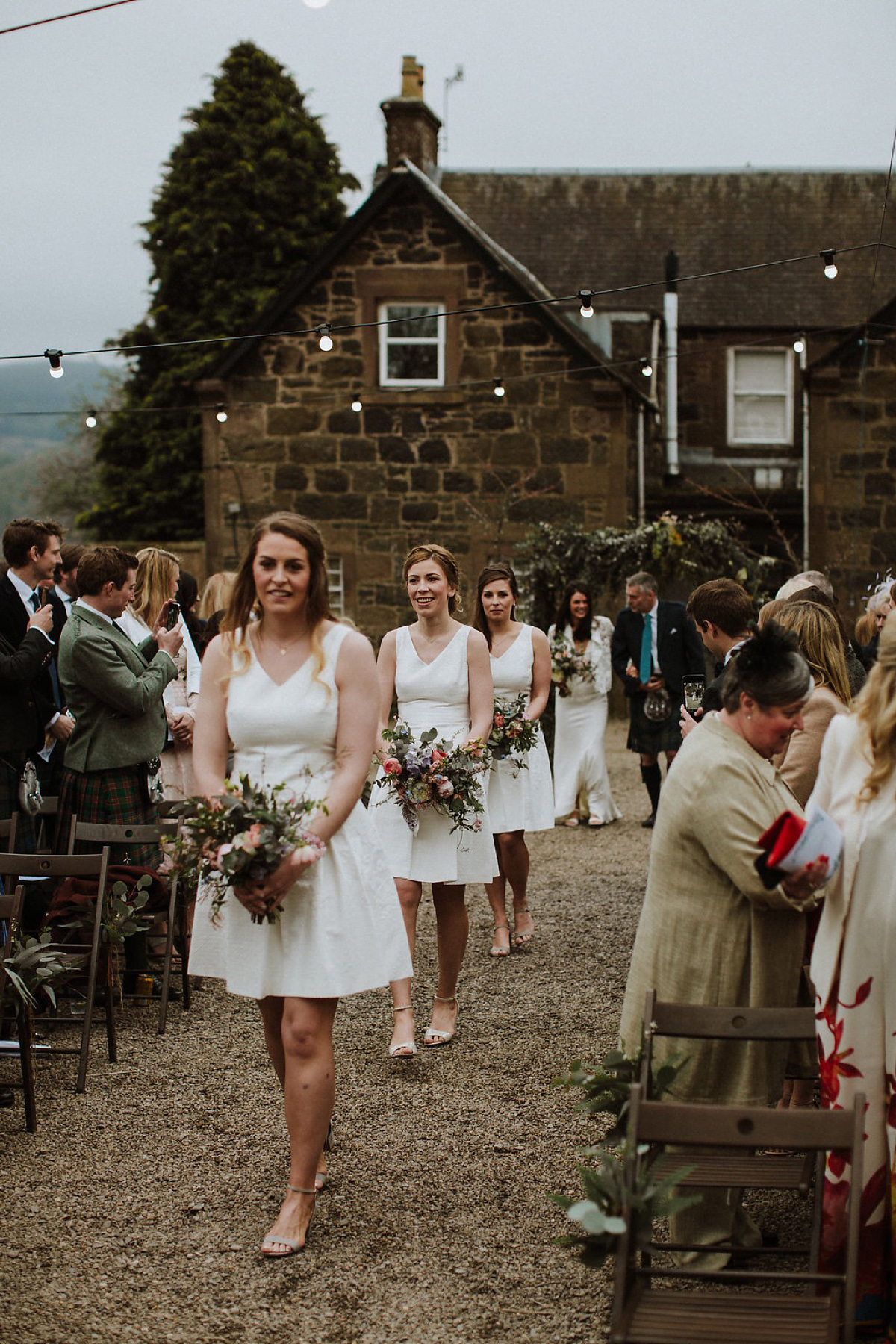 "We had a reading of lyrics by Wolf Alice:
'When we grow older, we'll still be friends. We'll still be lovers and won't fear the end'
It's a song we both love, delicate lyrics with incredible Indie composition."
Katt's wedding band was made by The Ringmaker in Edinburgh to match her engagement ring.
"Jamie proposed with my grandmother's ring which is diamond and emerald Art Deco. Jamie had a platinum band made from The Ringmaker too."
The simplicity of the girls' outfits let the flowers really shine through. Flowers by Lisa Hodgens of Sparrow & Rose combined plenty of fresh foliage with colourful spring wildflowers.
"We wanted lots of greenery and the 'outside in' at our wedding. Lisa took note about us as people and a couple over coffee and took it from there. She transformed the place."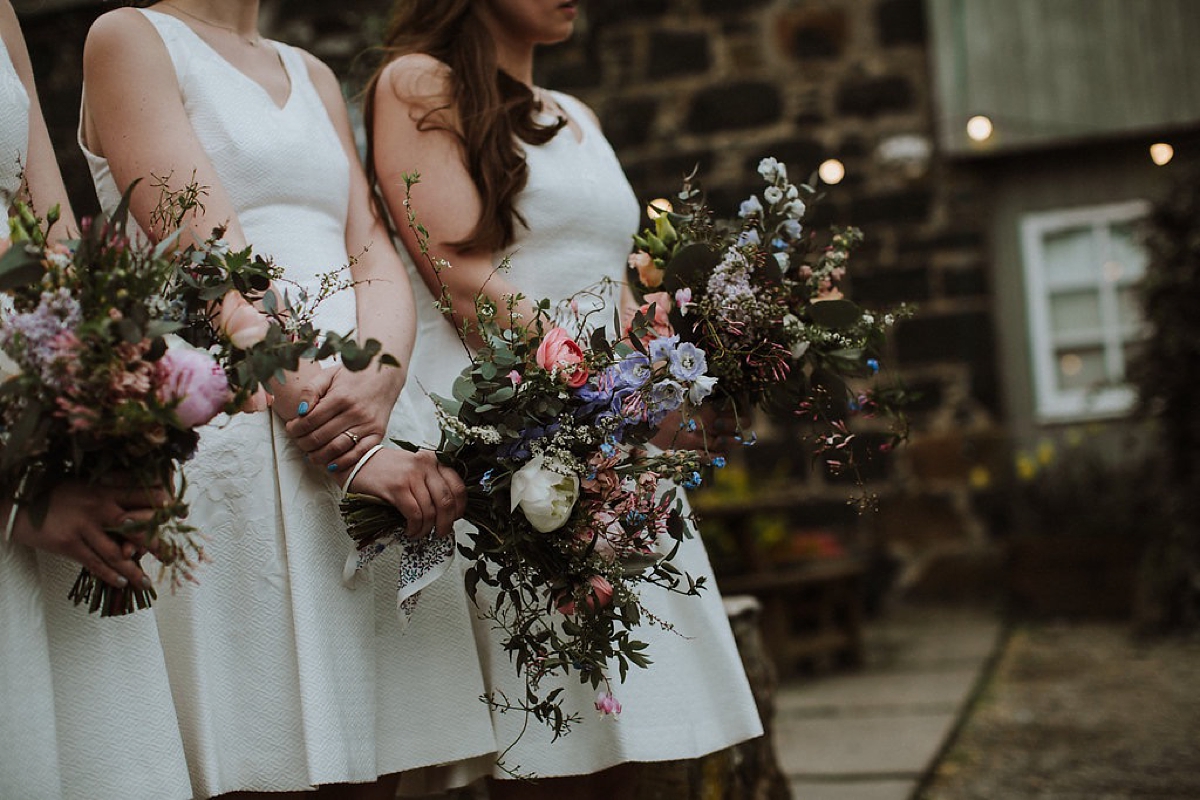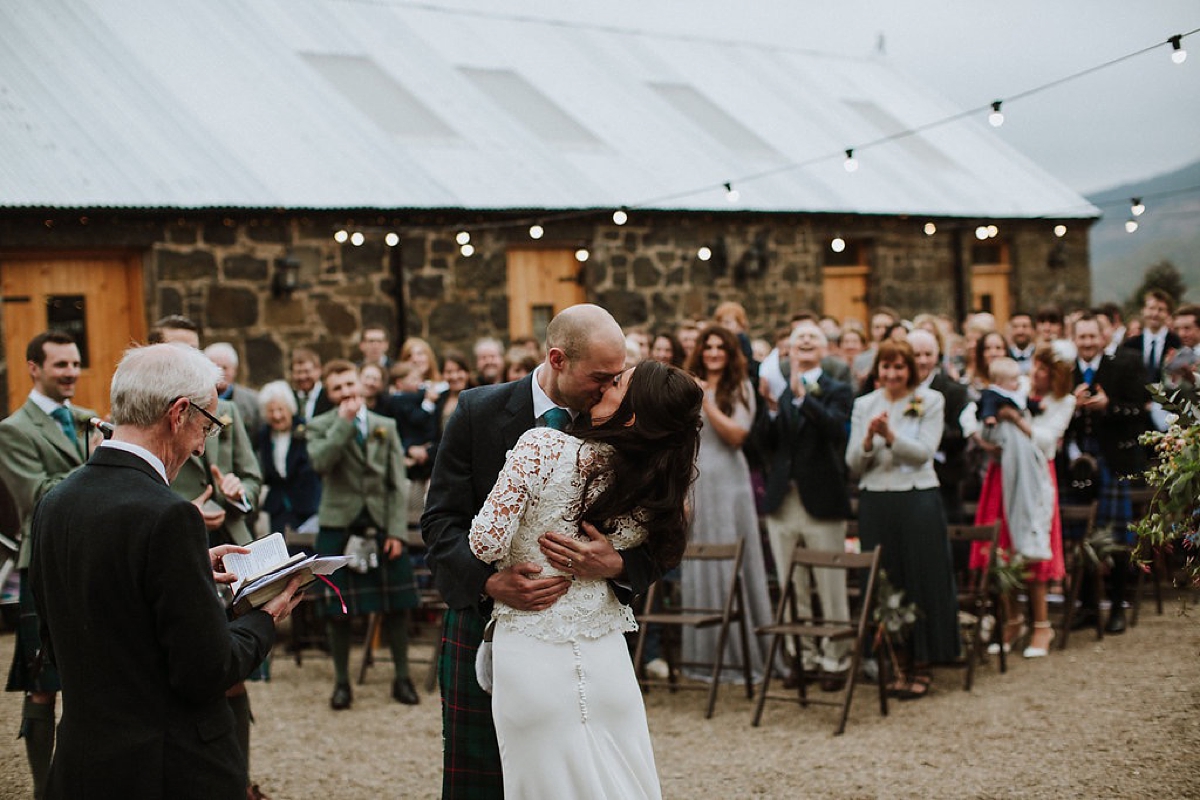 These sensational photographs are by Lynn at Photography 78. She's totally captured the beauty of the Scottish countryside, and I love the timeless feel and emotive style of her work.
"Lynn was absolutely amazing and, even after meeting only once. felt like another friend on the day. She stayed far after she was supposed to because she just couldn't miss out. Our friends filmed the ceremony and made us a video as a gift."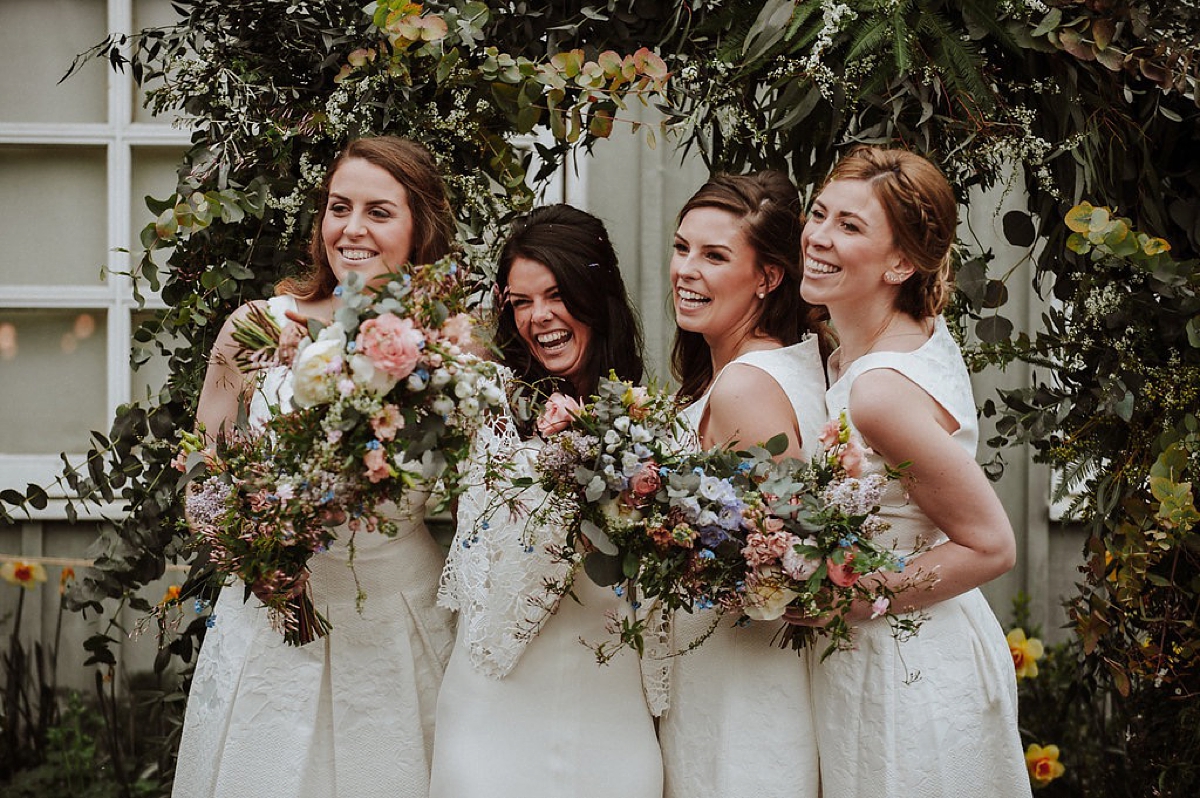 "Once her dress design had been finalised Katt decided she wanted to add a bespoke jacket to finish off her outfit. I created a lace jacket in beautiful guipure heavy lace that was influenced by her own leather jacket. It finished off her outfit perfectly and she rocked it for most of the day."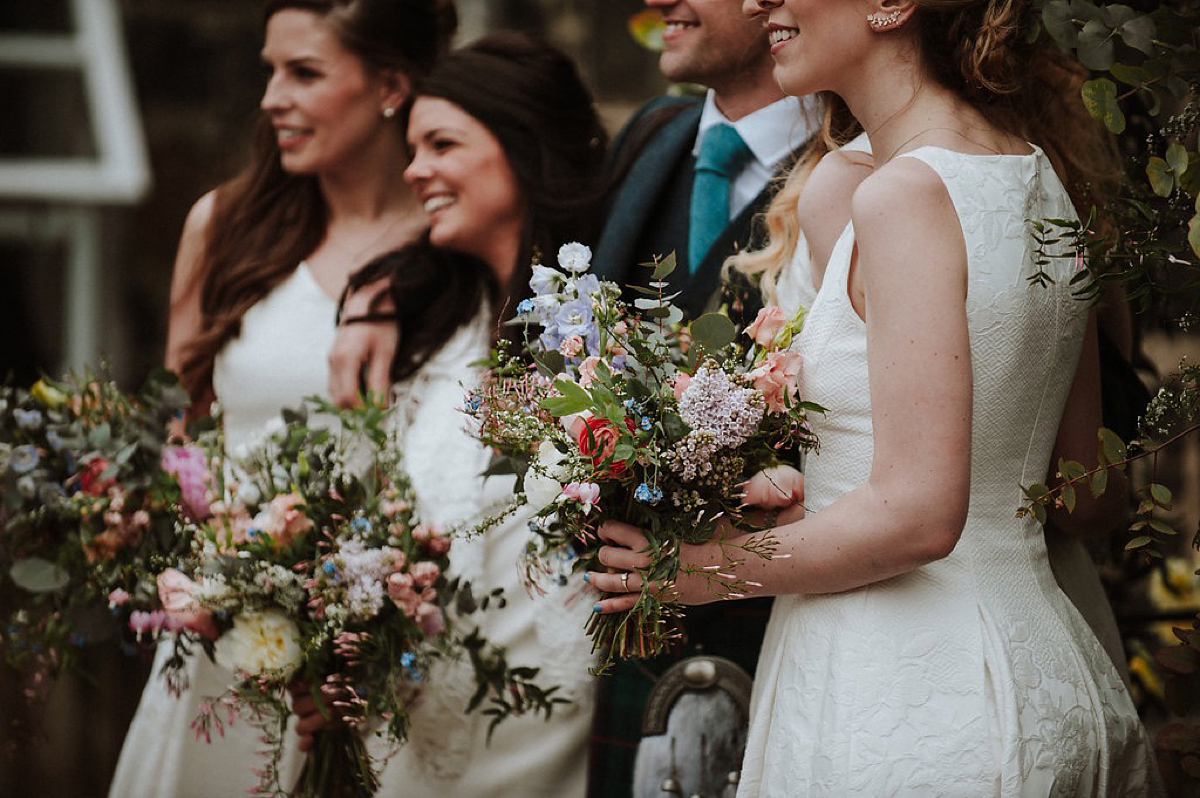 "Her dress was a bias-cut gown in 100% sand-washed silk that has a lovely, soft, buttery feel to it. Her dress had a deep V neck and a plunging back which was trimmed with the lace from her jacket and it was finished off with covered buttons down the back."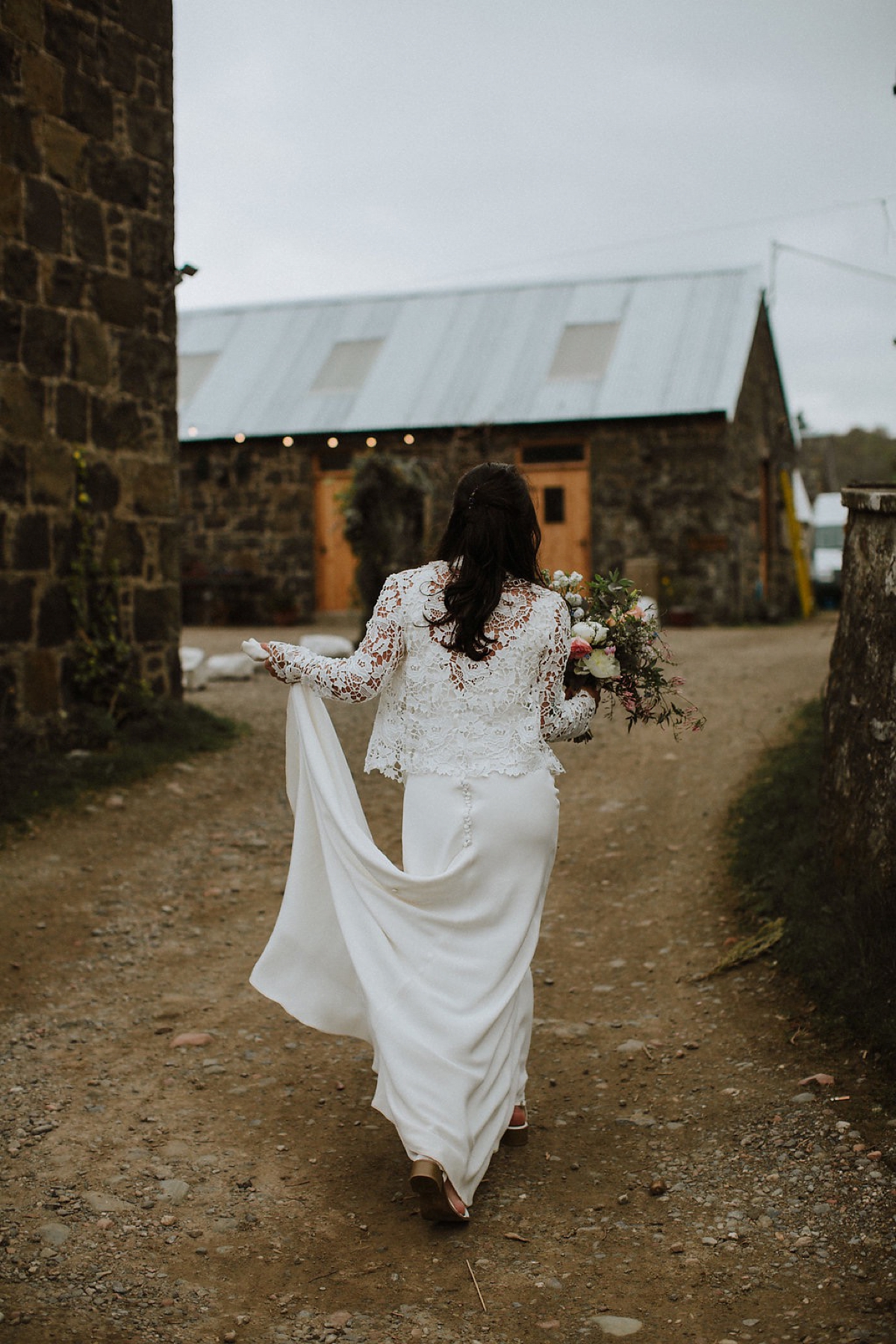 The groom also wore a bespoke outfit, a handmade kilt and tweed jacket made for the day in Edinburgh with a gorgeous pop of colour from his kingfisher blue tie.
"Jamie wore a sporran as a gift from my dad, and ties and flashes made for the whole groom's party by Susanna Greening."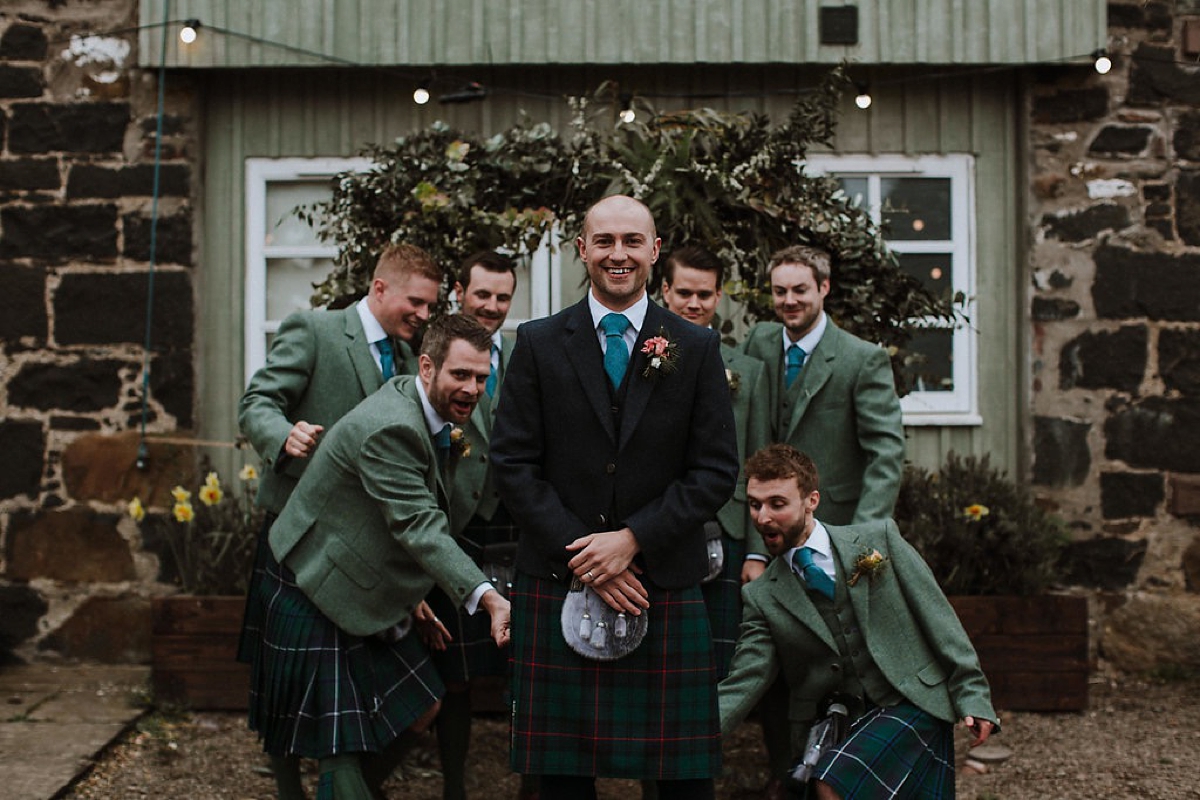 For a really sociable party, the wedding breakfast by Lazy Sunday was served on long trestle tables in the barn. It looks gorgeous simply dressed with lots of hanging greenery, pretty pots of plants and scented candles.
"We had long banquet tables with sharing food and wine so everyone got to know each other. It was amazing looking at a room of 200 of your favourite people all getting to know each other. It was very noisy and full of laughter!"
"We had Ferrero Rocher name places, home-made plum rum for during the speeches and sofas, throws and cushions from home."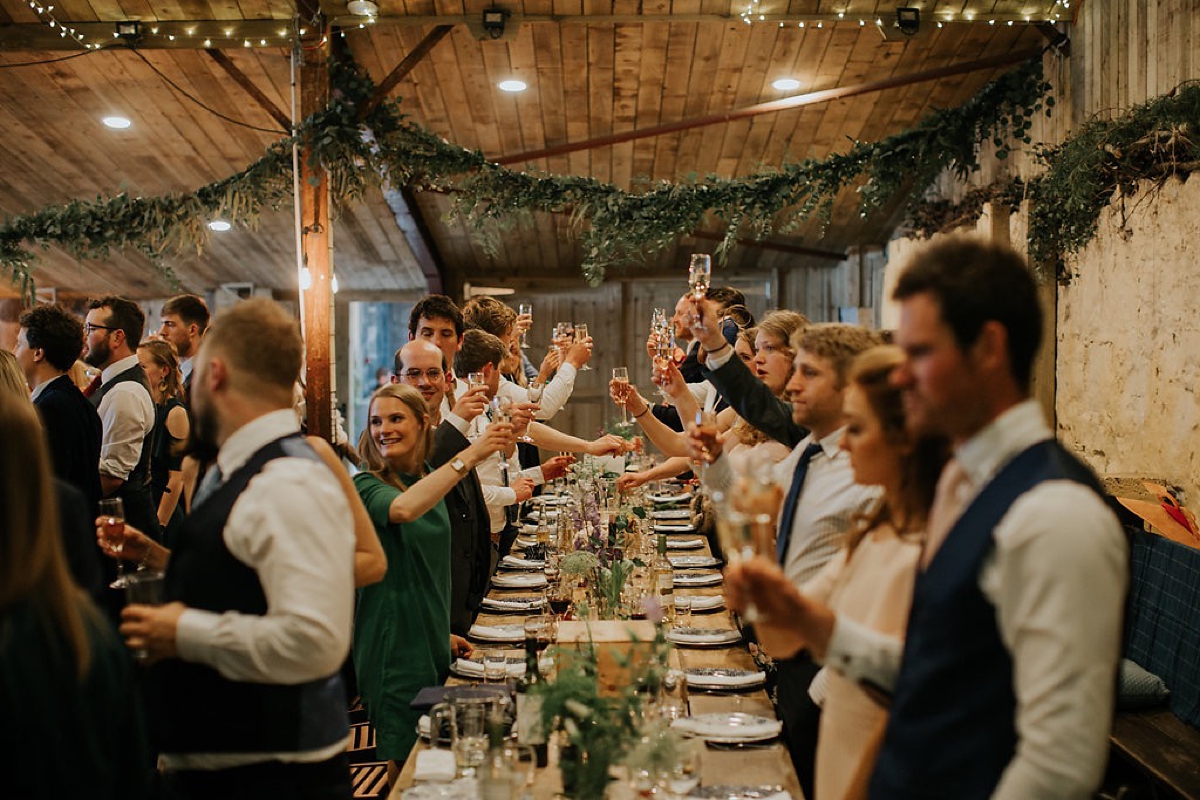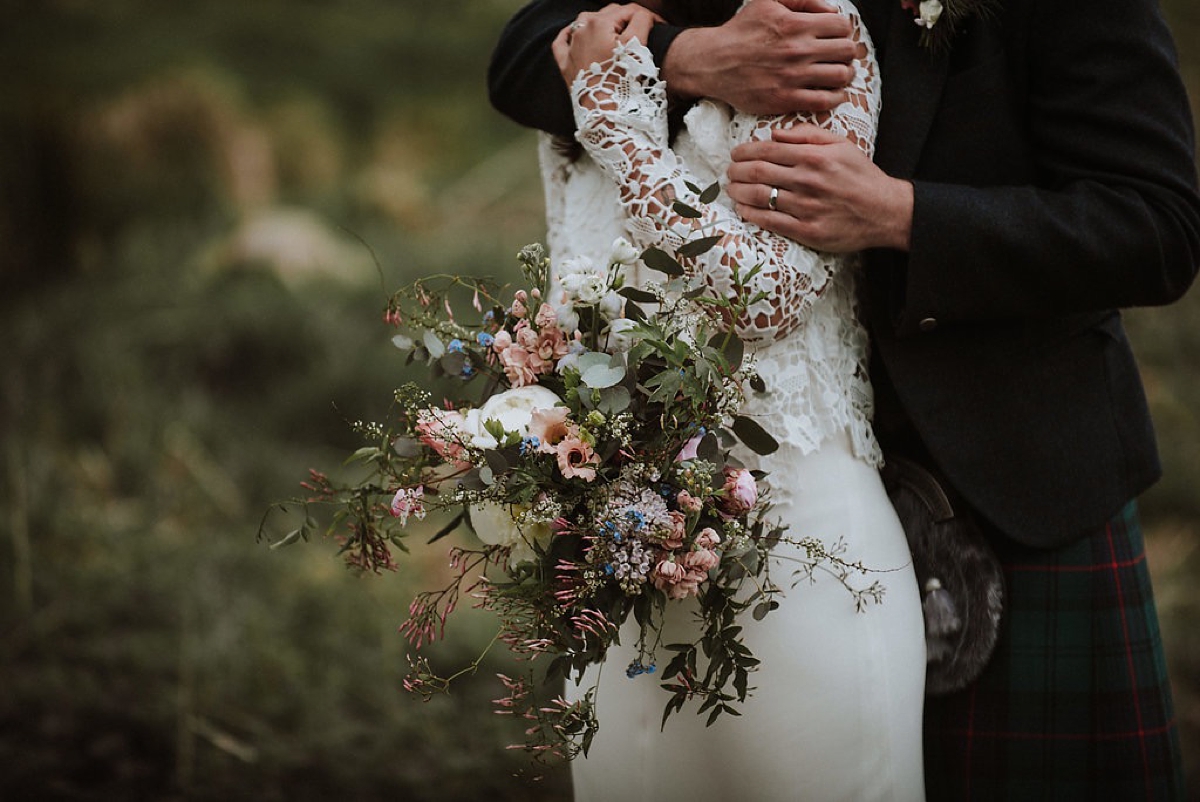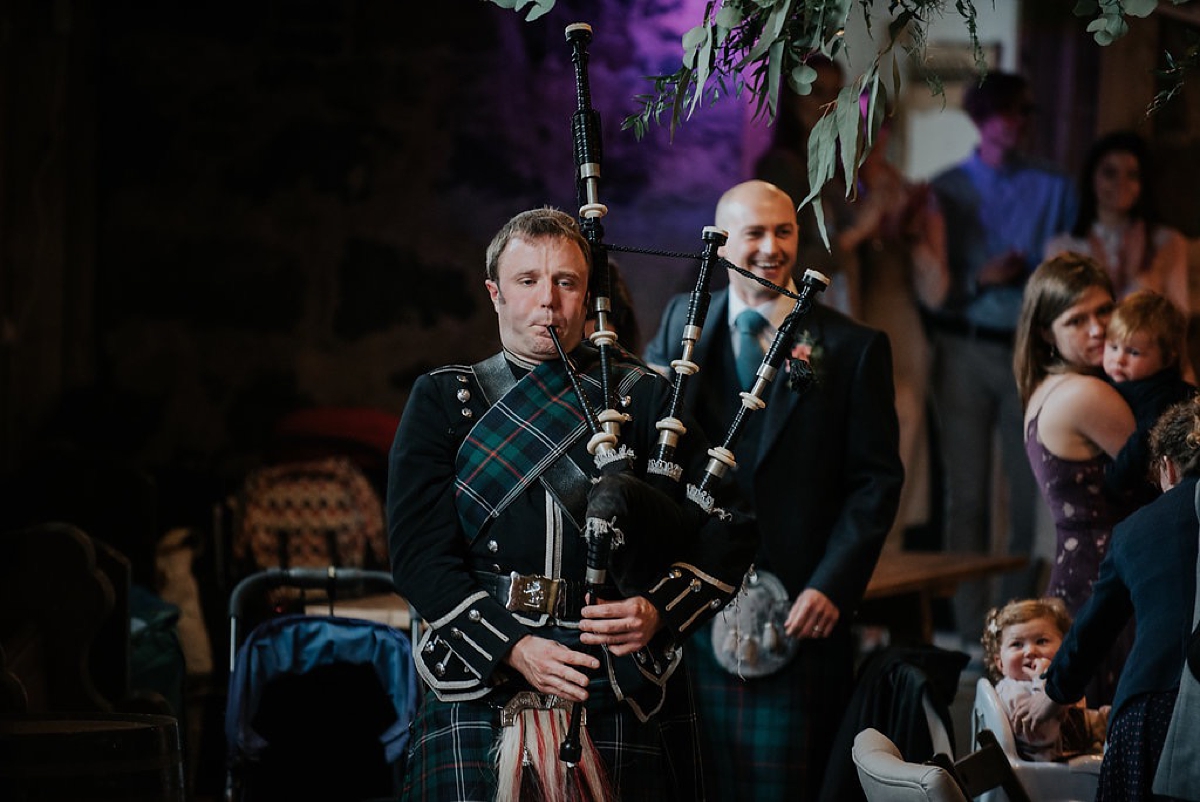 The show-stopping wedding cake was made by Jamie's mum – three tiers of chocolate Guinness cake, lemon drizzle and carrot cake layers.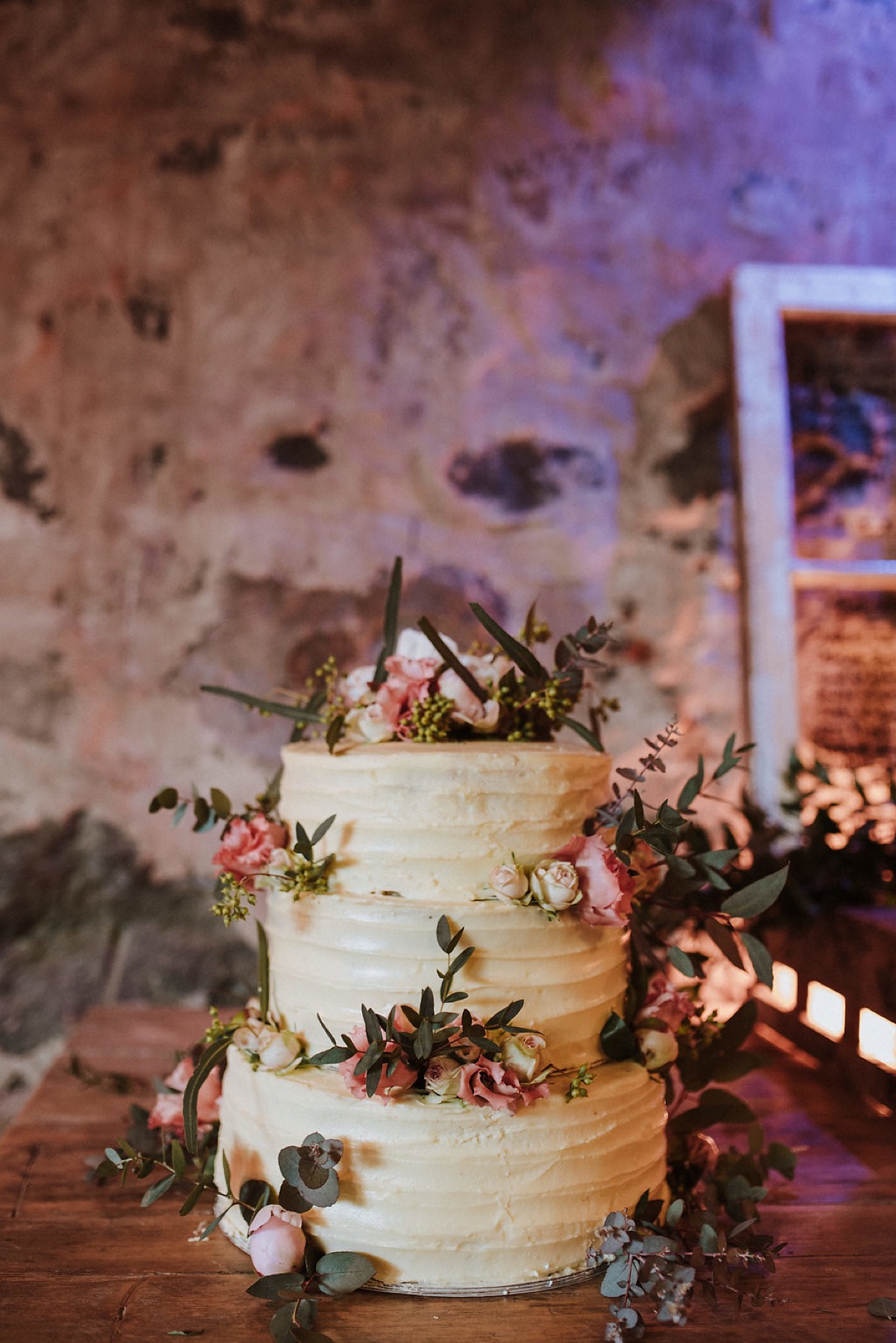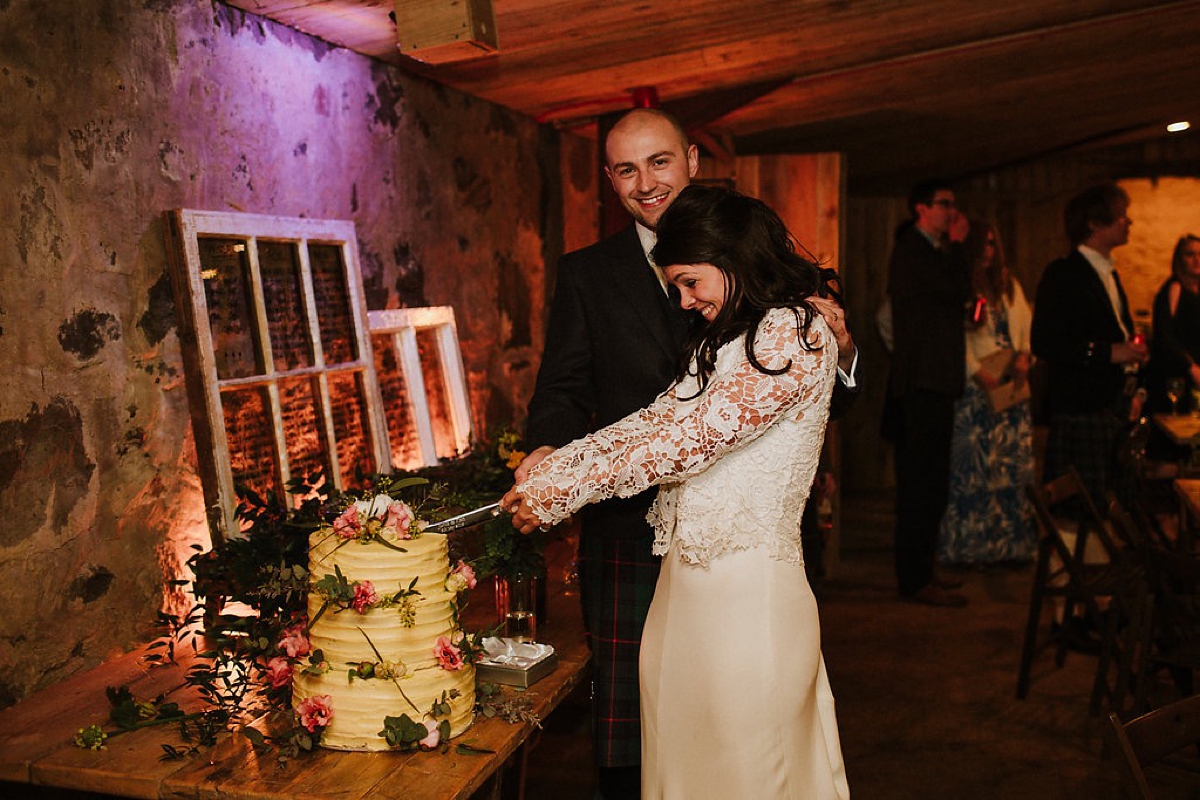 The evening entertainment was a traditional ceilidh by Awry Ceildih Band followed by a silent disco.
"We did a traditional dance, 'Strip The Willow', with our friends and bridal/groom party."
Words of Wedded Wisdom
"If you love food, get the food right. If you love music, prioritise that. If you want lots of friends and family there, find a venue where you can do that without worrying about fitting them all in."
Katt and Jamie, many congratulations on your wedding, and thank you so much for sharing it with us all today. Thanks also have to go to Photography 78 – your images of the day are truly beautiful. Lovelies, if you are planning an outdoor wedding and want a little more inspiration then please head here to see more.
Ele xx