Today's super wedding celebration in an old converted textile mill has all the cool, industrial vibes you could ever wish for, and its edges softened and made brighter with beautiful and creative styling.
We're talking technicolour dream flowers, lots of glitter and sparkle and an abundance of pom poms, as you'll see! Our bride also looks incredible in an amazing fringed skirt full of movement from the most fantastic designer. Meet Rachael, community manager for a co-working space, and Joe, who is a senior account manager for a marketing solutions company.
They were married on the 7 September at Holmes Mill in Clitheroe, Lancashire. The 8 September is the couple's anniversary, and so they wanted to have a whole weekend of celebrating both their wedding and their 12th year together.
Videography by Bouncing Ball Films.
"I love weddings and had a pretty good idea of what I didn't want already. I knew I wanted colour and glitter with lots of beautiful flowers. We didn't have a set theme or colour scheme I just hoped it would all come together."
"I really wanted a videographer and Dom from Bouncing Ball Films didn't disappoint. We are in love with the video and so glad we made the investment."
Images by Dan Hough Wedding Photography
From our fantastic Little Book member, White Closet Studios in Liverpool, Rachael chose the brilliantly fun, fringed 'Ivy' skirt by Halfpenny London. There's gorgeous contrast between the dynamism of the skirt and the classic Bardot top Rachael wore, made for her by a Liverpool dressmaker (no further details provided).
"I had seen the Halfpenny London skirt on the White Closet's Instagram and instantly loved it. I tagged my friend and her reaction was 'OMG this is it'. I kept going back to look at it over and over until finally making the appointment. When trying on the dresses I saved the 'Ivy' skirt until very last and I instantly fell in love. I was obsessed with the fringing, the movement; I just felt it was so me! The doors opened and they both said 'that's the one'; it was that easy."
"I'm lucky enough to have been able to call in two friends for hair and makeup. They are both professionals who were free on my wedding to come in and get us all ready."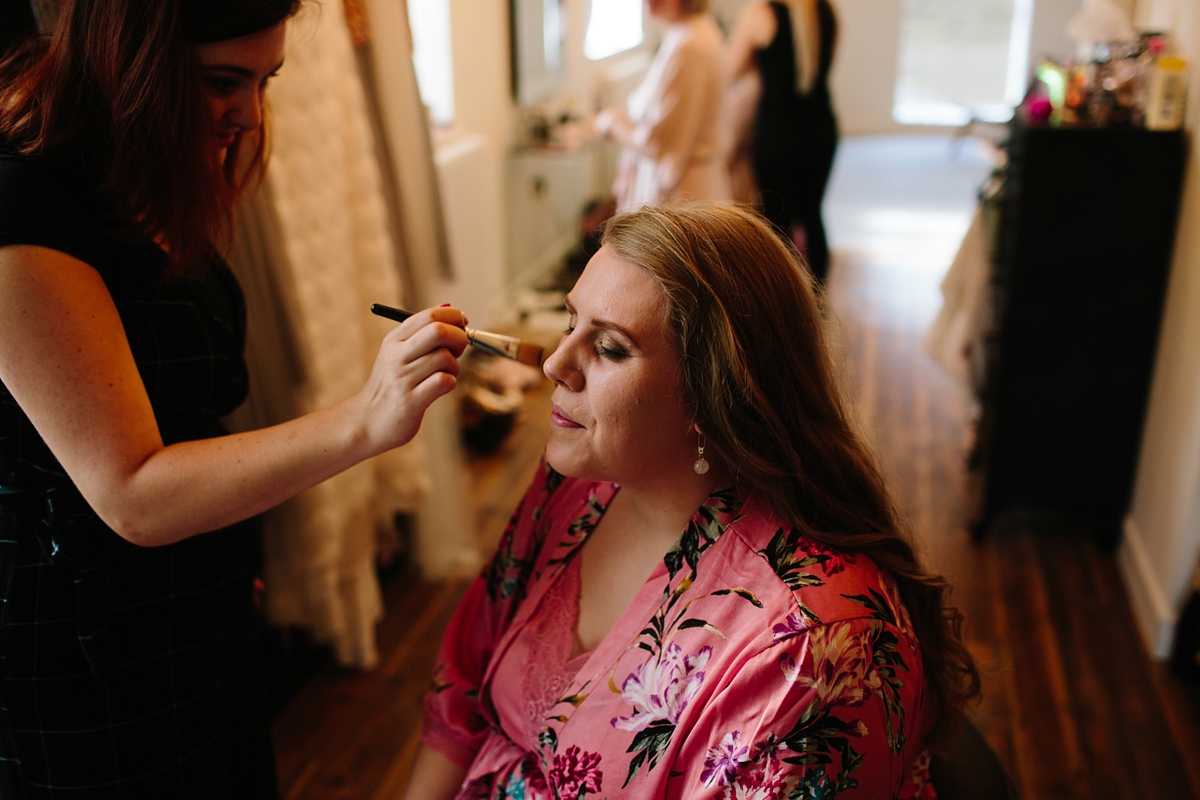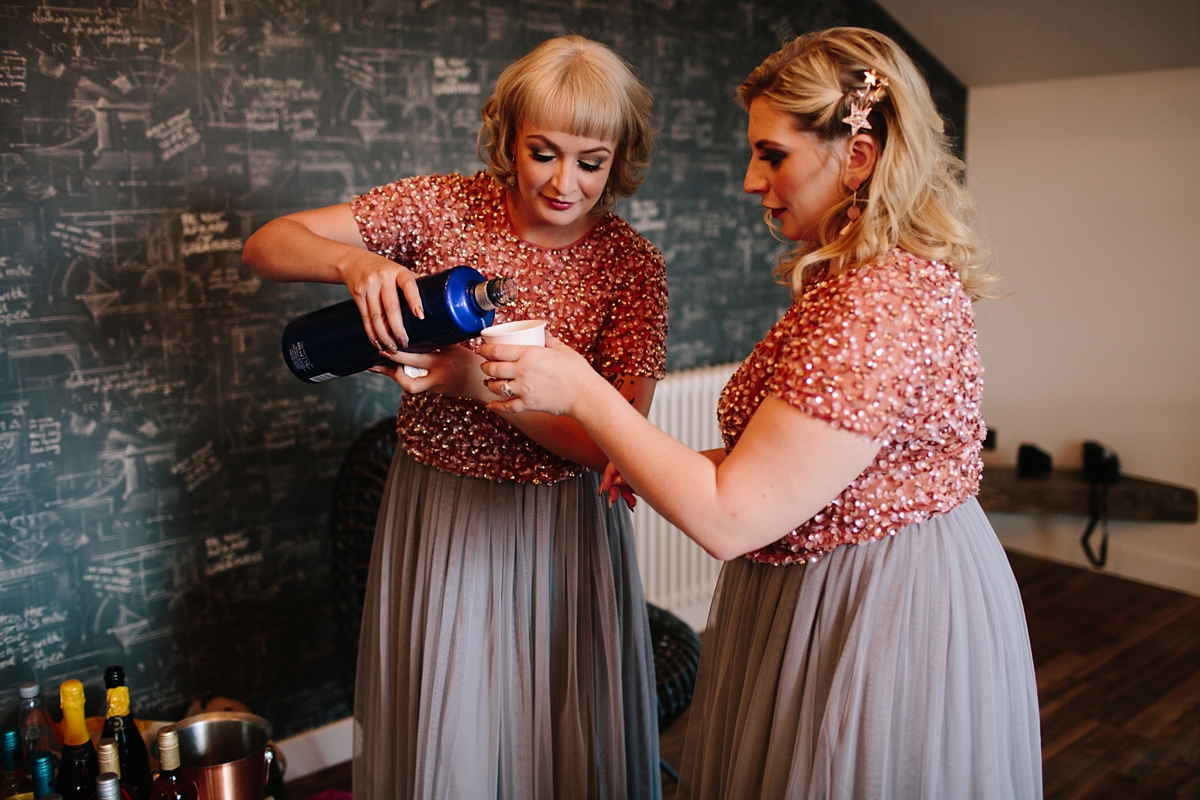 Rachael wore a chapel length ivory veil in very soft tulle from the brilliant Sian, of Blossom and Bluebird (who is also one of our trusted Little Book members).
"I knew I wanted a long simple veil from the very beginning. I bought it from Blossom and Bluebird after hearing so many amazing things about Sian. It was sewn onto a metal gold comb that sat perfectly in my hair. It was so light and soft, I loved wearing during the day."
On the morning of the wedding, Joe gifted Rachael a new bottle of her signature fragrance, Vivienne Westwood's Boudoir, and there was another lovely gift from one of Rachael's bridesmaids; a pair of gold safety pin earrings with a pale pink marbled ball hanging from them, from Perre.
"I had a couple of pairs of shoes, the first being a glitter block heel mule with pink pom pom straps. Ridiculous but comfy and I wore these during the day. I also had a gold pair of block heels from River Island and switched to these for the evening. To me I didn't need to spend £500 on a pair of shoes you couldn't see. It wasn't a priority, and High Street suited me just fine."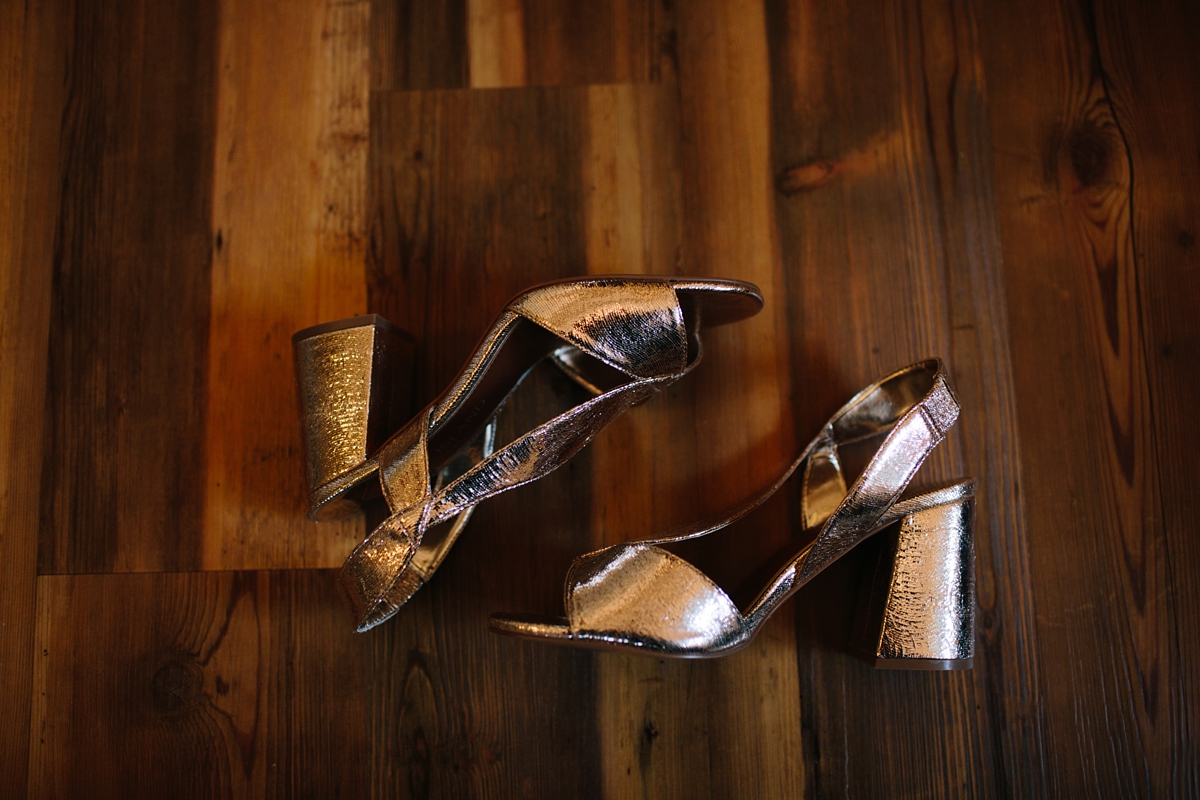 The bridesmaids looked spectacular in dove grey tulle midi skirts and rose gold sequin tops from ASOS,which they wore with their own choice of shoes, settling on a variety of rose gold and silver block heels.
"I had five bridesmaids in total: Four close friends and my younger sister. I had a firm idea of what I wanted my girls to wear, which was a skirt and a top, not a dress."
"My sister is only 16 and the skirt / top combo felt a bit old for her and I thought it would be nice for her to be in something different. She ended up wearing a gorgeous grey tulle midi dress with sequin and pearl detailing, which suited her perfectly!"
The bridesmaids also wore a mixture of rose gold star and leaf slides from H&M and Claire's, which Rachael found just two days before the wedding!
"I bought the girls different earrings each as they wouldn't have suited all the same style. I went to Lovisa, which is an Australian brand, but they have a shop in Manchester. They have wall to wall earrings and I spent ages choosing each girl a pair. I bought my sister a delicate silver bracelet with a charm attached for her to keep as she isn't as fussed on earrings. I bought this from a boutique near to our wedding venue."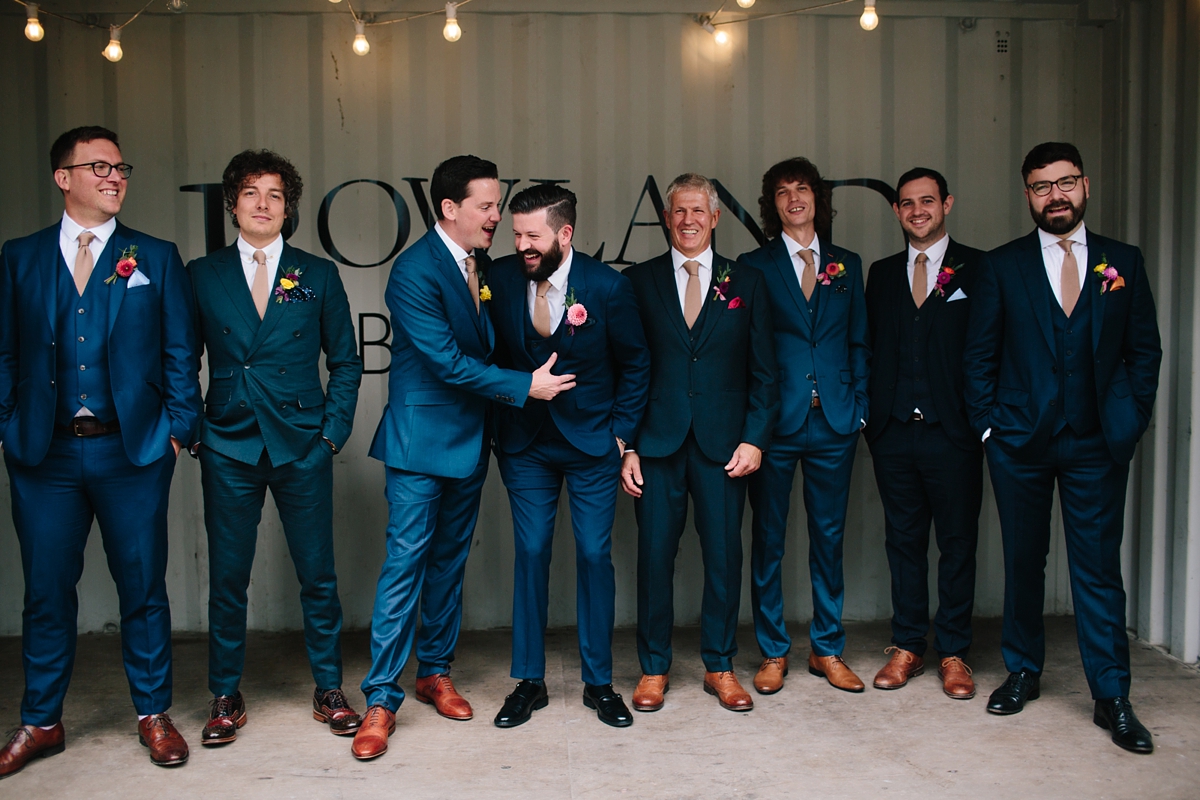 The bright and colourful flowers from Sassflower give me such joy to look at, with a glorious array of roses and dahlias mixed with craspedia, snapdragons, alliums and greenery.
"The flowers were the thing I cared about the most out of all the details. I knew I wanted bold, bright colours and a lot of them. That's exactly what I got from our amazing florist Sassflower who totally understood me from the word go."
"I loved her style and had stalked her Instagram for quite some time, so when she told me she was available I knew I was in safe hands. I had a list of flowers and foliage that I wanted they included dahlias and roses. I love pom poms and wanted to include them into the day as much as I could. My mum made 250 giant wool pom poms and I glued them onto wooden sticks to go among the bouquets and arrangements."
"I found Holmes Mill on Instagram and saw they were having a wedding open day that weekend. We went along, and they had our chosen date available, so we booked it on the spot. Holmes Mill has the industrial vibe we wanted without it being an old warehouse that needed a lot of work to make it into a wedding venue. The bar downstairs is home to the longest bar in Europe (perfect for my beer loving husband!)."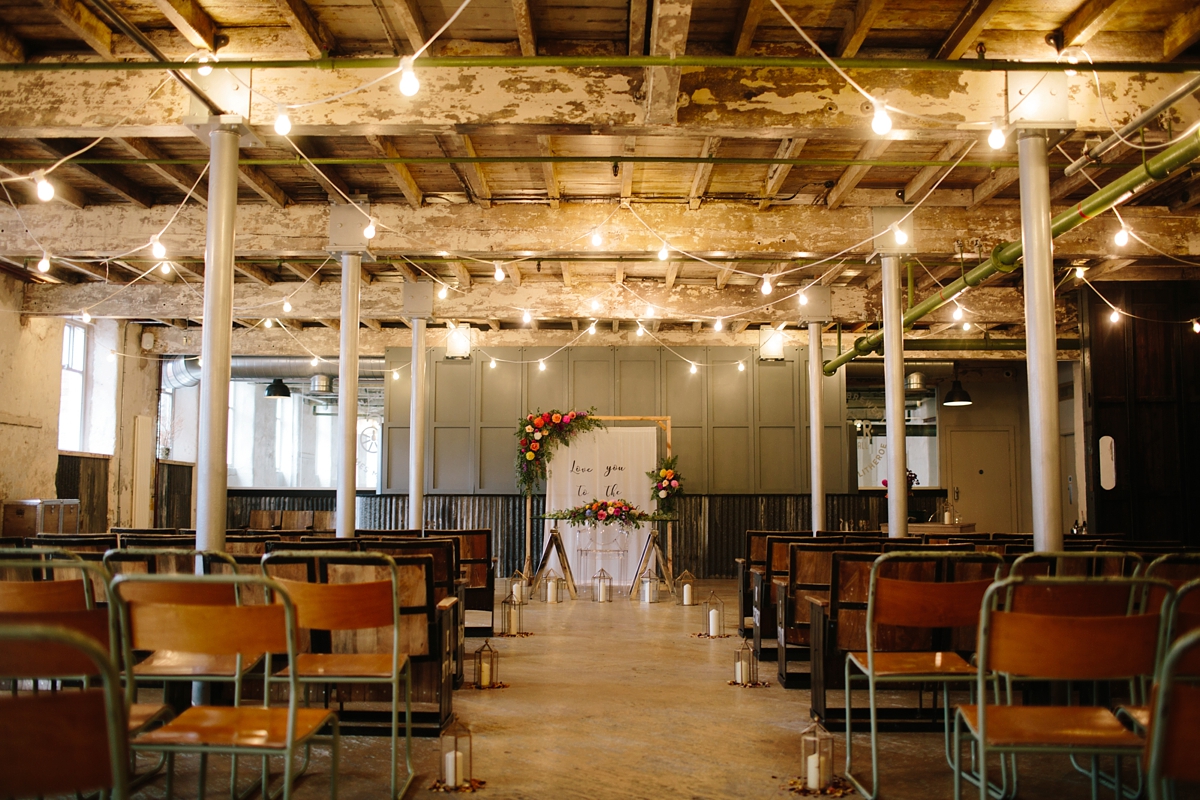 Joe wore a handsome French navy suit from ASOS with a white Oxford shirt from French Connection,  toffee coloured knitted tie from Noose & Monkey and black monk strap shoes from Dune.
"Joe had six groomsmen who all wore their own blue suits. We wanted them to be a little mismatching and we bought all of their matching ties the same as Joe's from Noose & Monkey. They all wore mismatching polka dot pocket squares too. I really struggled with the idea of mismatching colours but it worked!"
\
The couple first met via Myspace and have been together ever since, with Joe proposing after 11 years together on Rachael's 28th birthday.
"We were out with friends that afternoon in a sunny beer garden before we headed home to go out for a surprise dinner. We were getting ready and Joe asked to if we could take an Instax picture on the new camera he bought me."
"I went back up stairs to grab my bag and Joe said I should look at the picture as it was a good one. As I headed over to the sofa where he had placed it up side down, I turned it over to find he had taken another Instax and it read 'Marry me'. I turned around and he was on one knee with the ring. It was a genuine surprise. I was in shock as I hadn't seen it coming. We headed out as he had booked dinner and we celebrated just the two of us all evening.It was the best birthday ever!"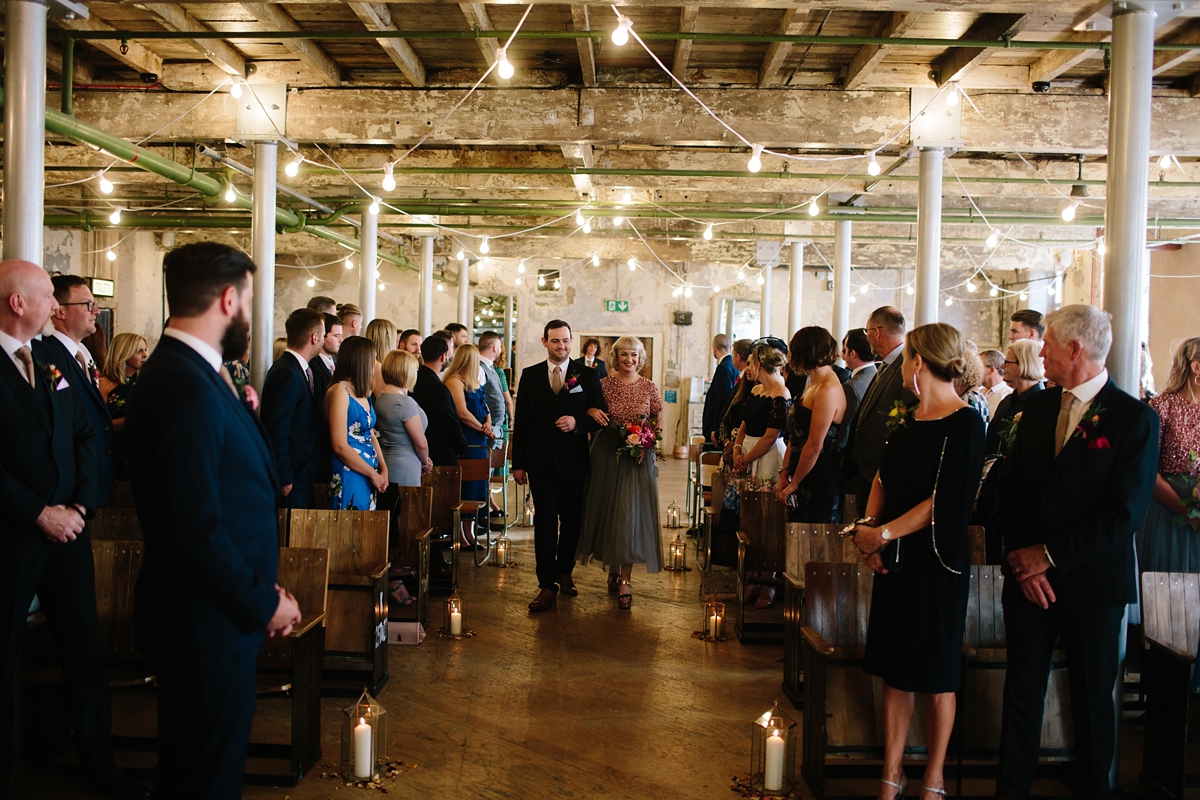 It was a short walk over from the next door hotel where Rachael and her party had got ready, and then it was time for Rachael and her mum to walk down the aisle together, to an acoustic version of the Yeah Yeah Yeahs song, Maps.
"My mum walked me down the aisle and it was one of my favourite moments of the whole day. She was more nervous than me at this point. It was a really special moment for the both of us."
Whilst Rachael very kindly completed our real wedding questionnaire so we could share their day with you all, she handed over to Joe, who really wanted to answer our question about a favourite part (or parts!) to the day.
"My favourite parts of the day were: Seeing Rachael walk down the aisle towards me; the big cheer as we walked back out while being covered in confetti, and later on, the dancefloor being full and everyone just looking like they were having the best time."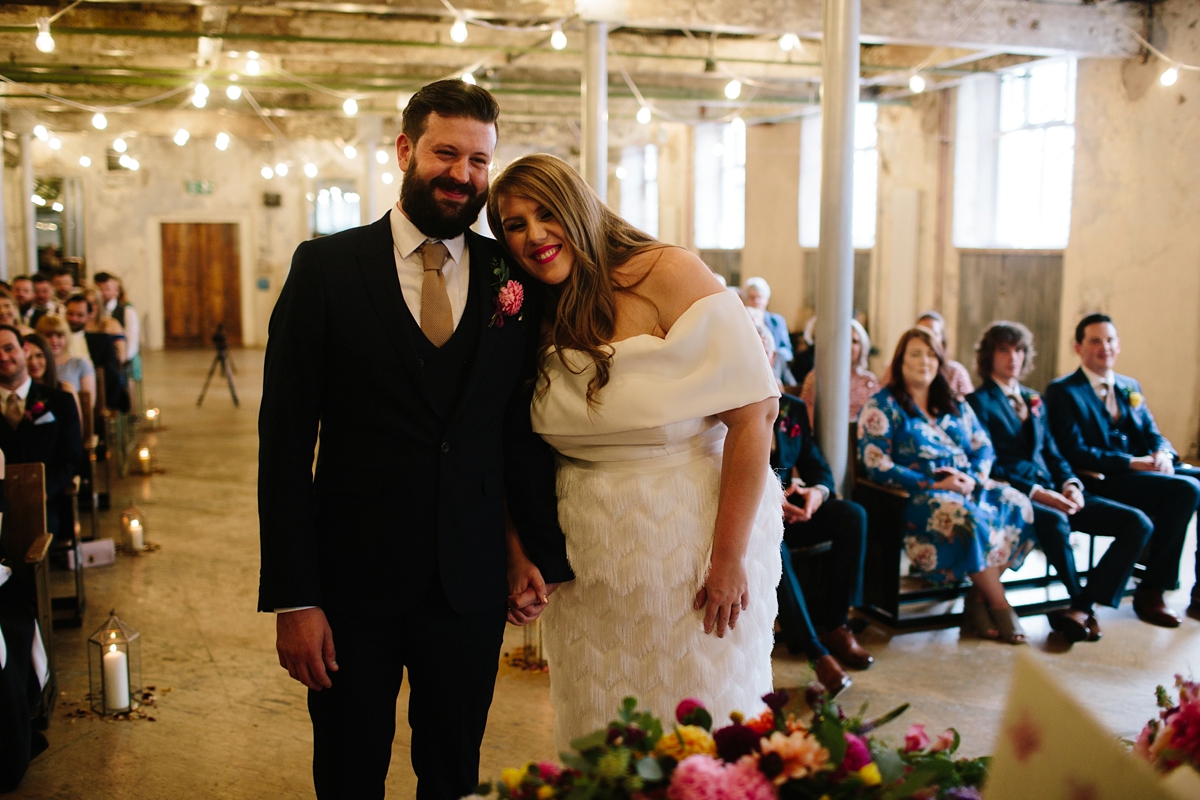 "We had three readings as we wanted to include as many friends as possible and thought this was a good way to involve them.The first reading was a poem – John Cooper Clarke, I Wanna Be Yours. I just love this poem and loved the song version by Arctic Monkeys. We had our friend Stewart read this as it suited his thick Mancunian accent perfectly!"
The couple's second reading were lyrics to the song Islands by The xx, and for their final reading, Rachael and Joe chose the poem The Art Of A Good Marriage by Wilferd Arlan Peterson.
Rachael and Joe said their vows to one another in front of a sweet and colourful backdrop made by The Soiree Stylists, a wooden frame hung with fabric and decorated with lovely fresh flowers.
"I wanted a statement backdrop to get married in front of and lucky for us Soiree created just what I was after. We hired the wooden frame from them and she created a cloth backdrop handwritten with the quote 'Love you to the moon and back'. It's my mum's favourite quote and something we say to each other still."
Rachael and Joe also gave one another rings, which they chose at Manchester jeweller Fraser Hart, which is also where Joe chose Rachael's engagement ring.
"Fraser Hart in Manchester city centre were amazing. The women working there were super helpful."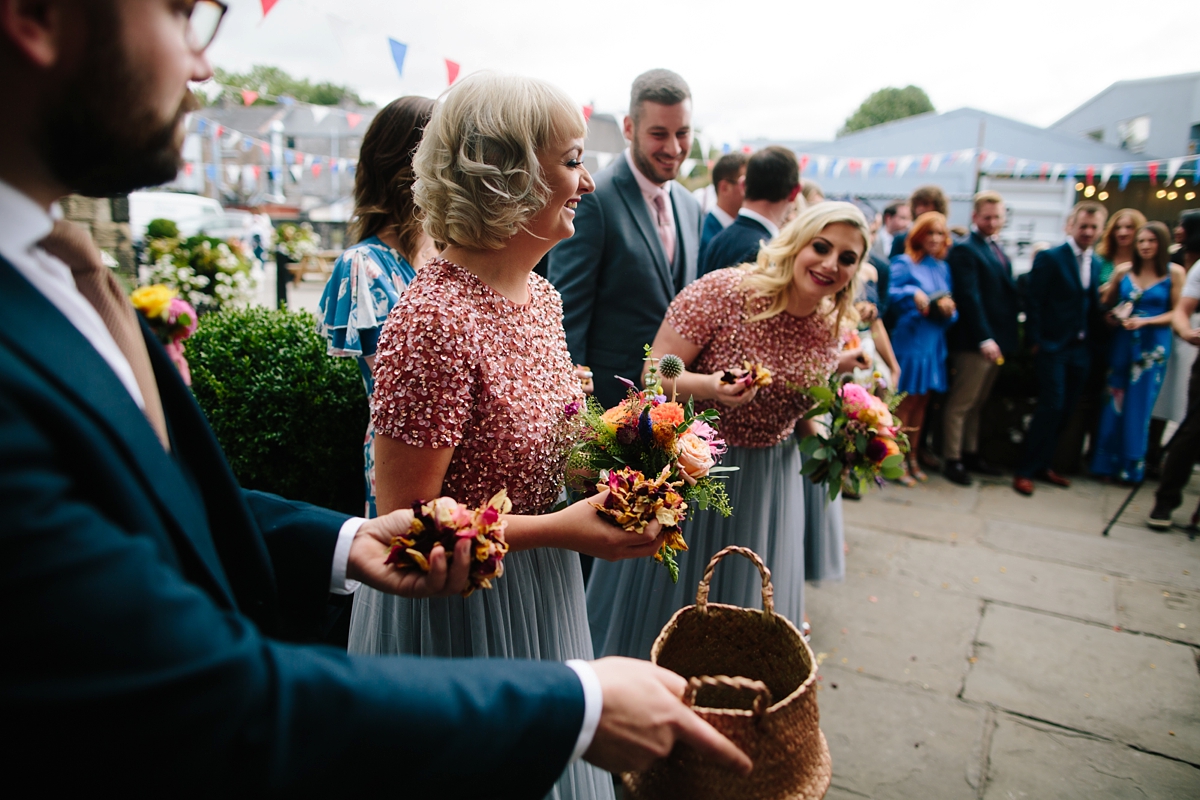 After the ceremony, there was Prosecco in vintage style champagne saucers, which guests could make their own with edible flowers, fruits and purees, and lots of ice cold beer. I love that the drinks table and so many of the surfaces around Holmes Mill were filled with colourful pom poms!
"Joe's cousin David is a professional saxophonist who kindly said yes to playing for us during the drinks reception. It was great to involve family and have him play for our guests."

These lovely, colourful images by Dan Hough Wedding Photography are full of character and so thoughtfully done.
"Our photographer Dan is one of the nicest guys you'll ever meet. So friendly and easy going I just knew we had to have him capture our day. I met Dan a few years back when I was helping plan photoshoots in Manchester and got to see him firsthand and work with him, which was amazing."
"I loved his style and felt it matched us really well. Everyone at the wedding loved him and the compliments came flooding in once Dan posted a couple of sneak peeks online."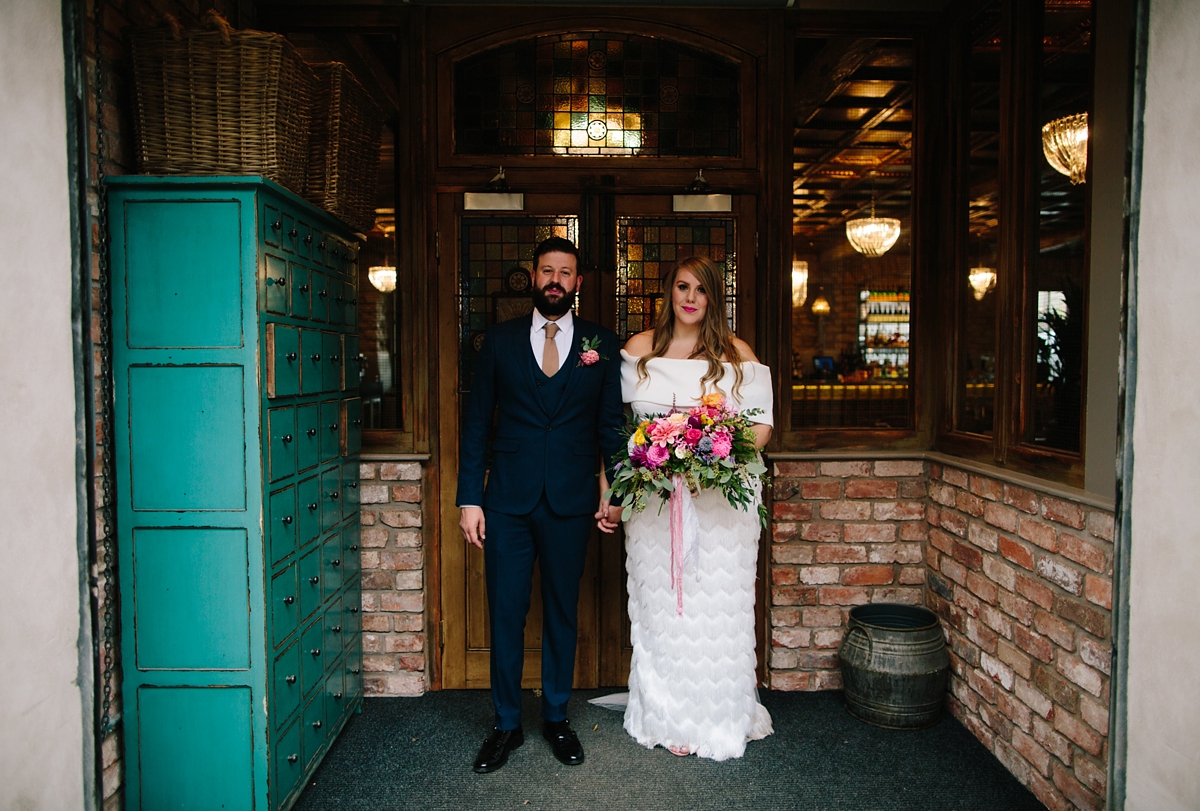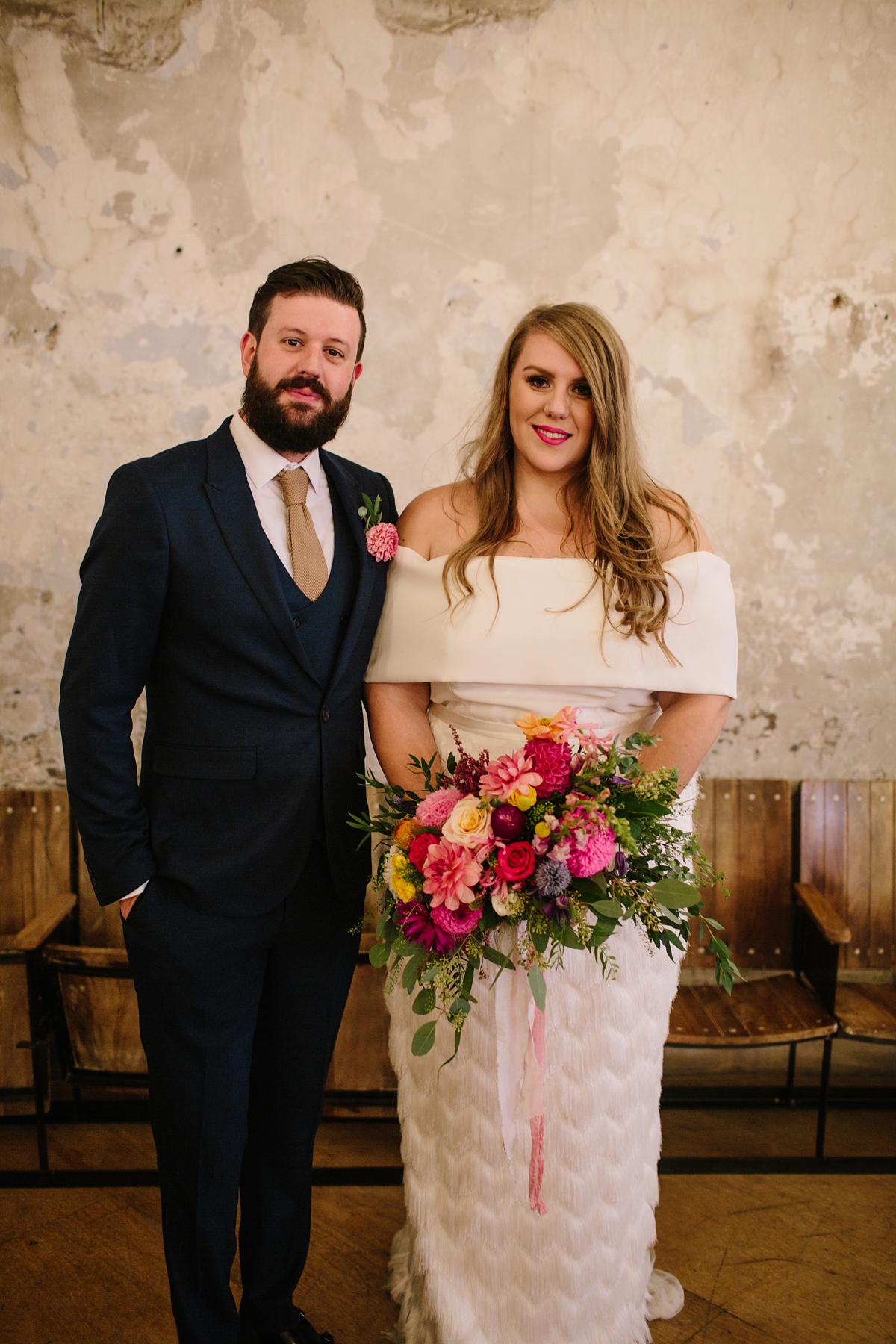 The Soiree Stylists did an incredible job of interpreting the industrial style of the old mill with fun, modern twists, from the table plan hung from a copper pipe frame and decorated with foliage from Sassflower, to beautiful calligraphy place settings on grey card with copper ink.
"Coz also set up all of our items too and styled everything for us. Coz was amazing to work with, super relaxed and organised."
"Our Save the Dates were beer mats made by Rose Press. As we were getting married in a brewery we thought this was a fun way to tie it together. We used a different supplier for our invites and created them with Rachel of Rachel Emma Studio. I worked with Rachel each step of the way to create them. We went for copper foil, dark grey and white. Industrial and simple combined."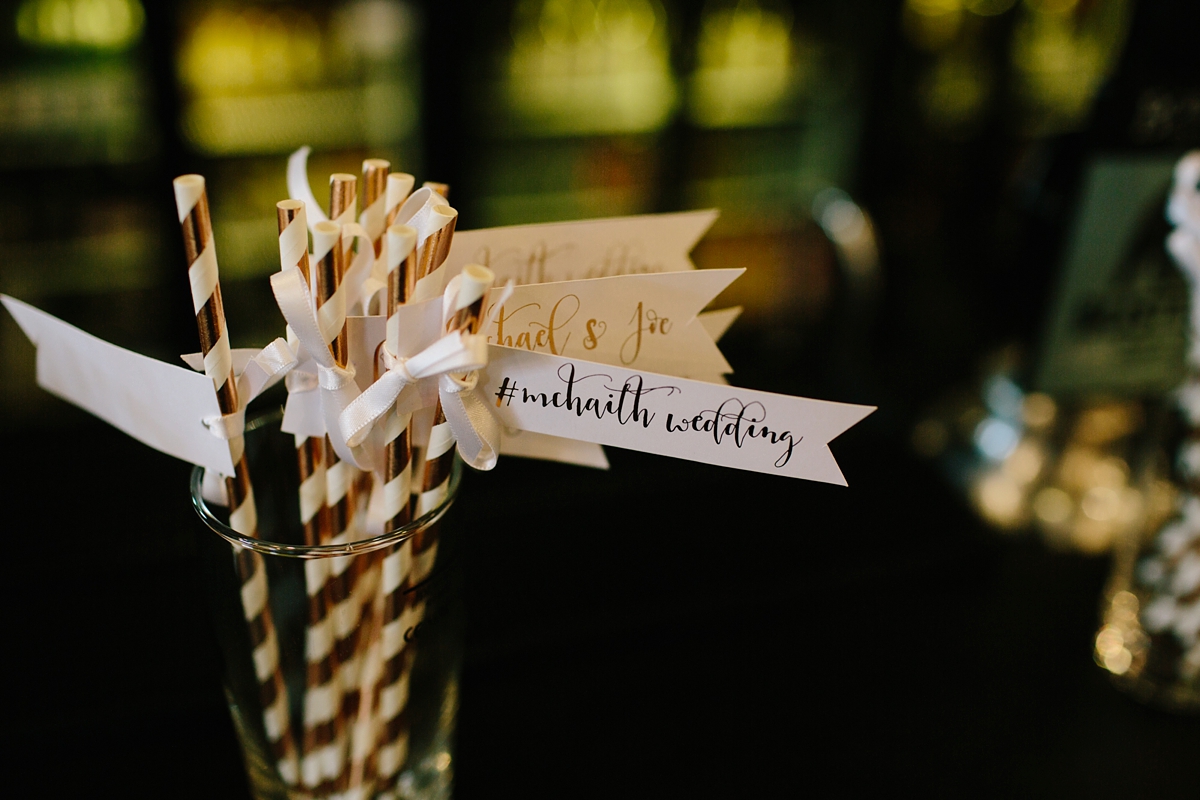 Long dining tables were covered in white cloths, with napkins artfully knotted and flower garlands weaving their way down the centre, and lots of candles in copper lanterns and holders.
"Holmes Mill looked after all the food! We decided on canapes that included wild mushroom arancini, mini veggie club sandwiches and lamb sliders."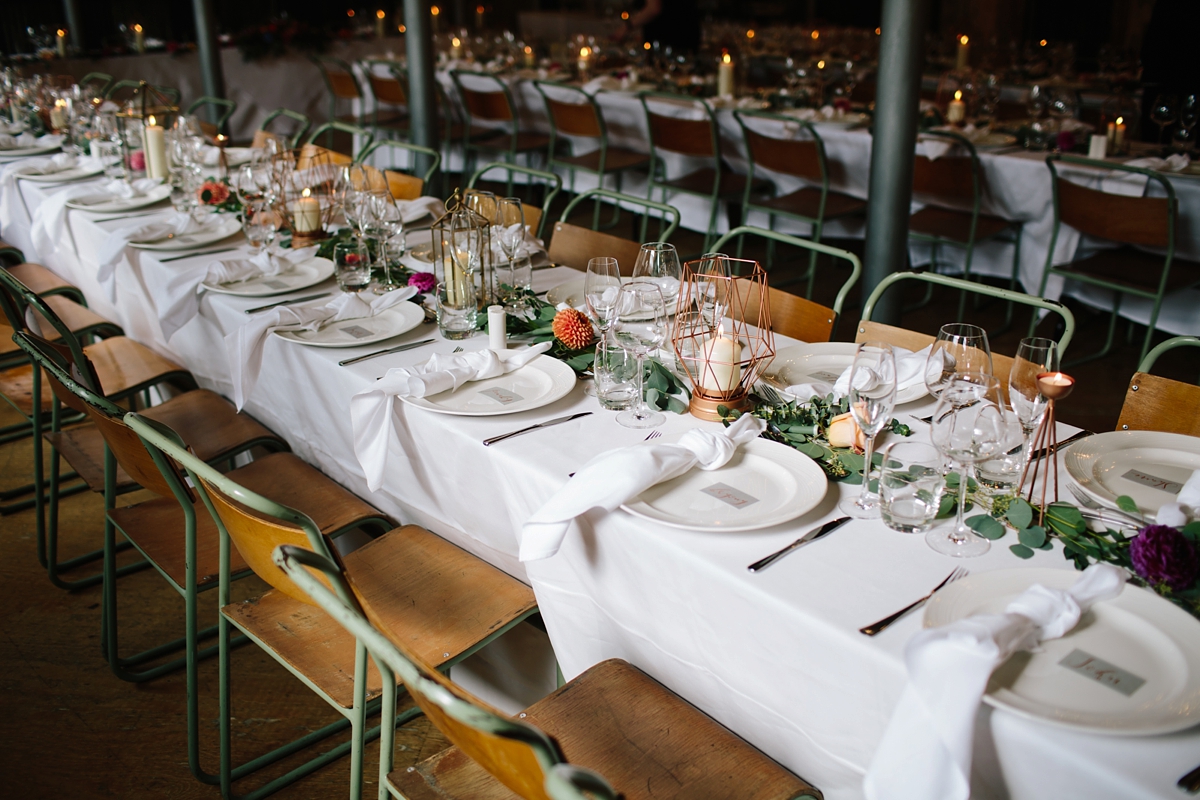 "In keeping with the informal theme of our day we had a buffet, which included halloumi and eggplant with masala cream sauce, roasted chicken and halibut with chilli and mango dressing."

Rachael and Joe decided on a selection of delicious cheese rather than a sweet cake, which they chose from the food hall that's also inside Holmes Mill.
"We are both massive lovers of cheese. Holmes Mill has an amazing food hall and we had to purchase the cheese wedding cake from there. Luckily Jan who runs the cheese counter was amazing, and we tried lots of cheese and crackers and left the rest up to her. We had cheese every night for a week afterwards. It was great!"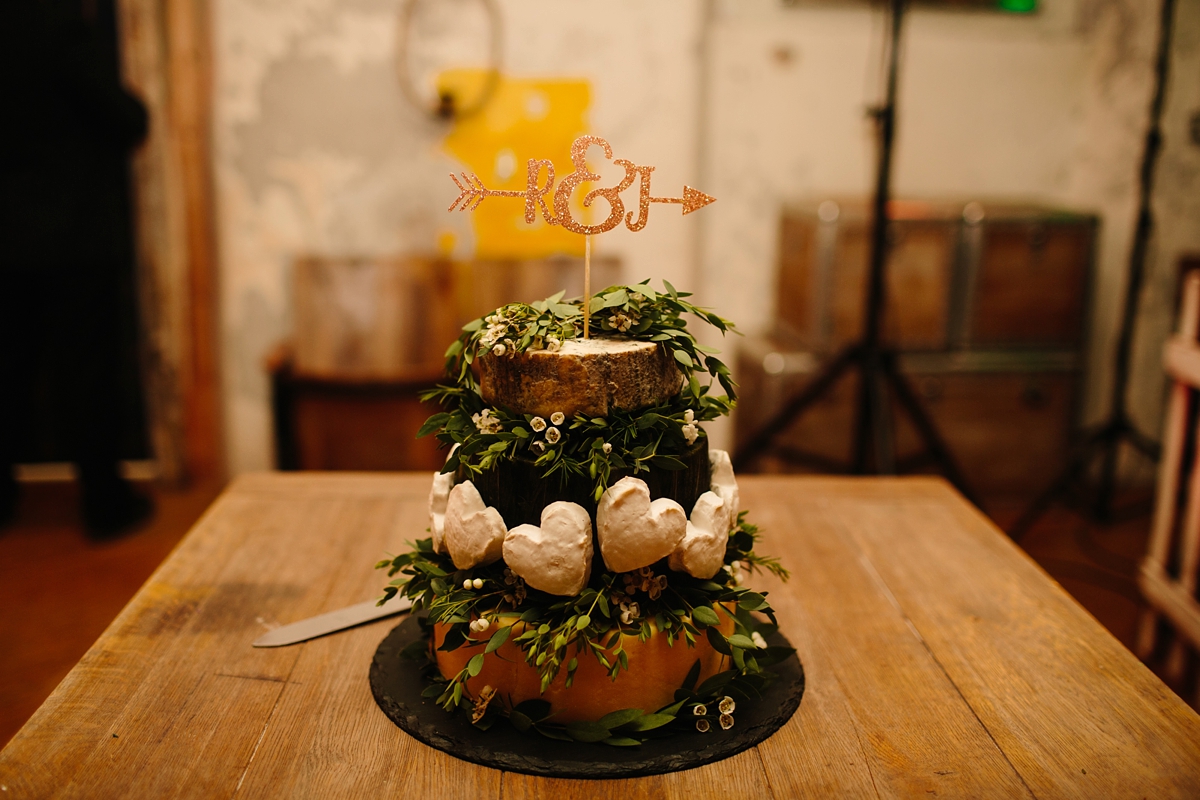 After dinner and speeches, it was time for the evening's revelry, which also featured some great photobooth action and a whole host of props from masks and glasses to giant animal heads!
"I didn't want the job of making a lengthy playlist, so we asked our DJ from Bear Hug Events if he could come and set up and play from the wedding breakfast onwards. It was great to have live music and him having already set up so we could get straight into dancing!"
"We had The xx – Angels as our first dance. They are a band we both love and have seen together live at various occasions so it felt really suitable for the moment. The lyrics are also very much about love and an important relationship with someone."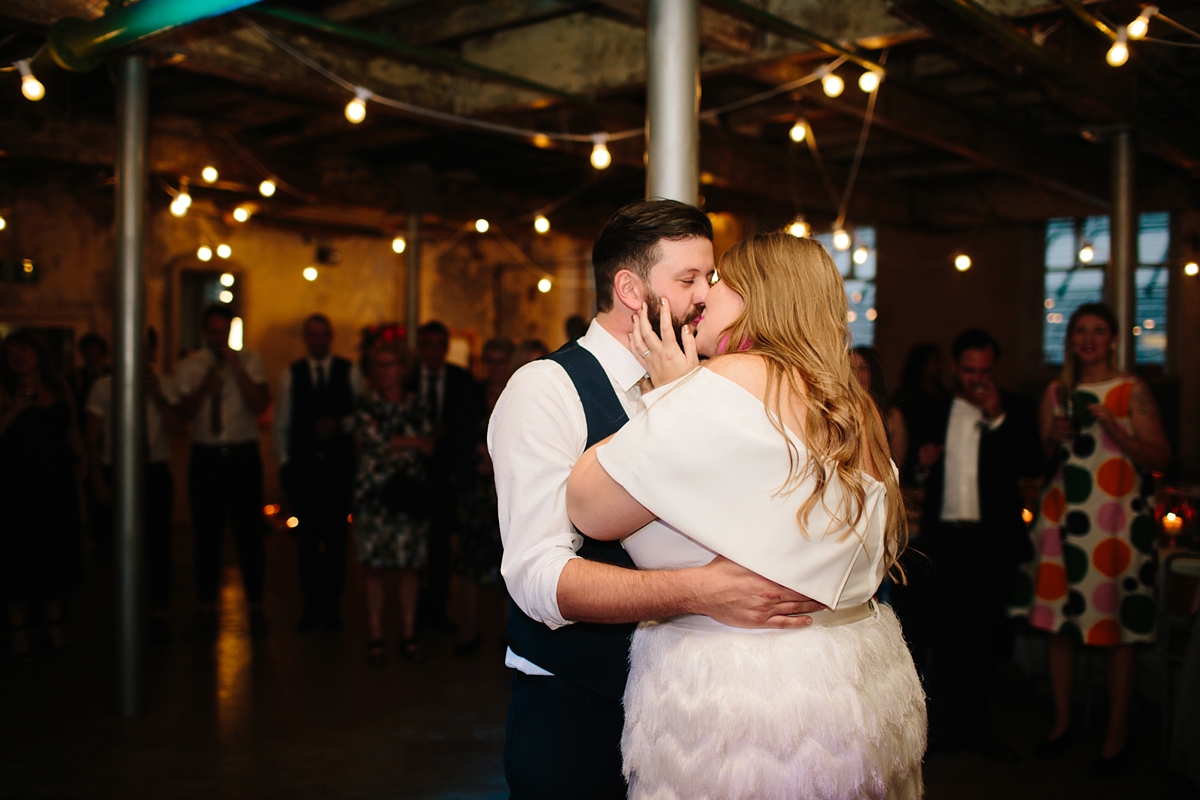 "We were really happy with everything we chose for our day, it all came together how we wanted! I wouldn't have changed anything apart from my worry over the silliest of things, like 'Will people like the colours?' or 'Will they like the flowers?'. I was so worried about what everyone else would think."
Words of Wedded Wisdom
"Ask for help and don't take it all on yourself because people want to help you. The morning of the wedding I felt like I had jobs to do (I really didn't) and I asked for help and people were more than willing to."
"Be yourself, and what I mean by that is, if you want giant wool pom poms in your flowers and on the tables then do it. Why not? Who said you can't? I am pom pom obsessed so I did just that. Your day, your way and your guests will embrace it!"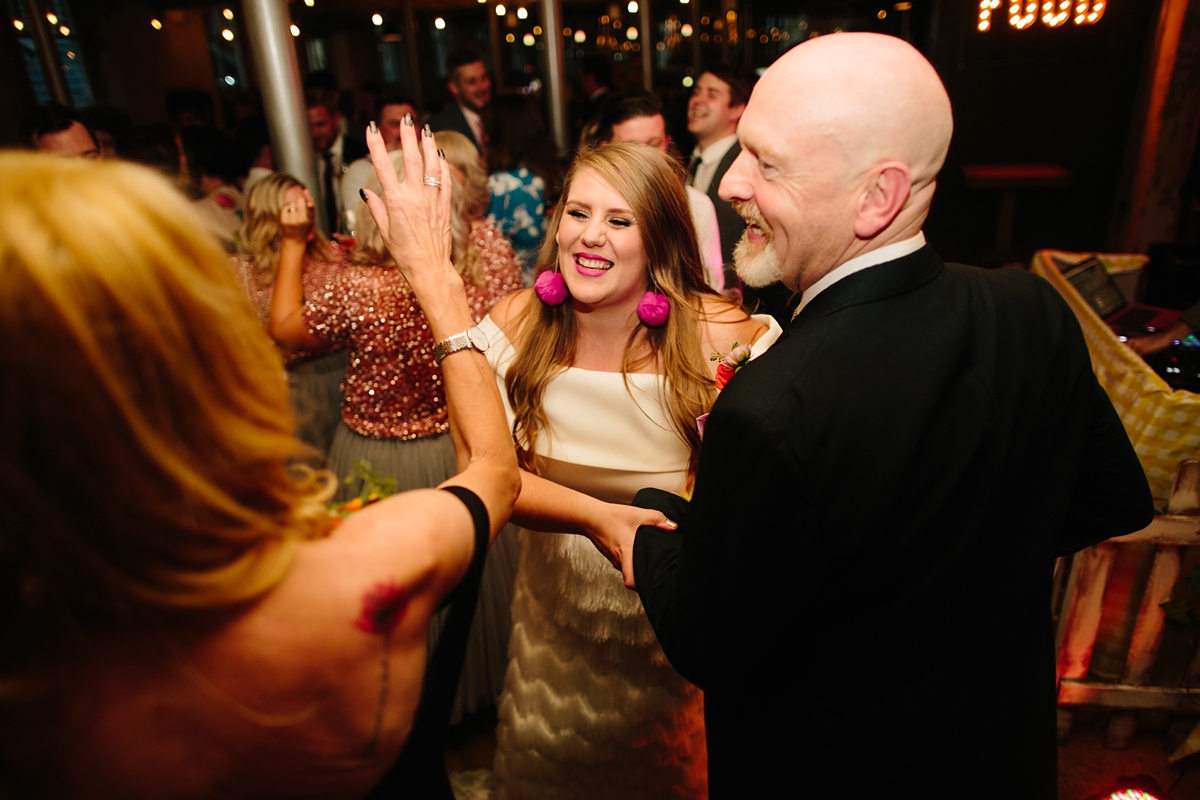 Rachael and Joe, many congratulations and huge thanks for sharing your lovely, vibrant day with us. Thank you very much to videographers Bouncing Ball Films and to Dan Hough for his fantastic images. You can see more of his work on Love My Dress right here, as well as more wonderful Halfpenny London brides here, too.
With love,
Laura