I have the very great pleasure of not only sharing a beautiful, ethereal wedding celebration today, but I can also say – I know the bride! Well, a little bit at any rate, virtually through the Love My Dress closed Facebook group.
I found the Love My Dress group to be an invaluable source of support whilst planning my own wedding, and I know today's lovely bride did, too. Let's meet our couple; High school English and Classics teacher Kirsty and Adam, a system administrator for the NHS were married on the 23 June 2018 at The Byre at Inchyra in Perthshire, Scotland.
Images by Jo Donaldson Photography
Initially inspired by woodland, as time went on, they found their mutual love of literature weaving its merry way throughout the day, too.
Kelly Tall styled Kirsty's magnificent red hair, adding beautiful fresh flowers courtesy of the couple's florist, and Kirsty is full of praise for Kelly's approach.
"I was worried about finding a hairdresser who could work with curly hair (most hairdressers I spoke to recommended straightening it – why?! My curly hair is my defining feature!) but Kelly totally understood what I was going for. And some of the magic she worked on the bridesmaids' hair was unreal!"
Kelly, together with Make-up Artist Sophie Alexis, helped to keep the morning relaxed and fun, as well as being brilliant at what they do!
"They really helped make the morning of our wedding one of my favourite parts of the day, to be honest; getting ready with them, my four best pals and my mum, with my daft cheesy tunes blaring and munching on pastries and sipping champagne."
"They felt like old pals and really helped to create a chilled vibe! We spent most of the morning in fits of laughter!"
"I've never felt as beautiful as I did when Sophie got her hands on me, and my eyebrows. My eyebrows have never looked so good and never will again!"
Kirsty chose the most magical gown, the 'Kylie' by Maggie Sottero, from Emma Roy of Edinburgh. Everything about this gown is gorgeous, from the warm champagne colour to the sparkling embellishment running all the way over the cap sleeves, down the bodice and over the soft tulle skirt.
"I actually found the whole process of finding the dress really difficult! As a size 18, chunky yet funky bride, I discovered that most of the bridal shops I visited only had sample dresses in a size 10 or 12 to try on. This meant squeezing my body into teeny dresses that simply weren't designed for my body, and I ended up looking like sausage meat squeezing out of sparkly chainmail."
"I actually quite like my chubby body and didn't want to lose weight for the wedding – I wanted to look like me, after all – but this meant I just couldn't envision what I would look like in any wedding dress, as I had to use my imagination to picture it fitting me properly and pretend that the various clips and straining buttons the bridal shop ladies had to use to allow me to try dresses on weren't there."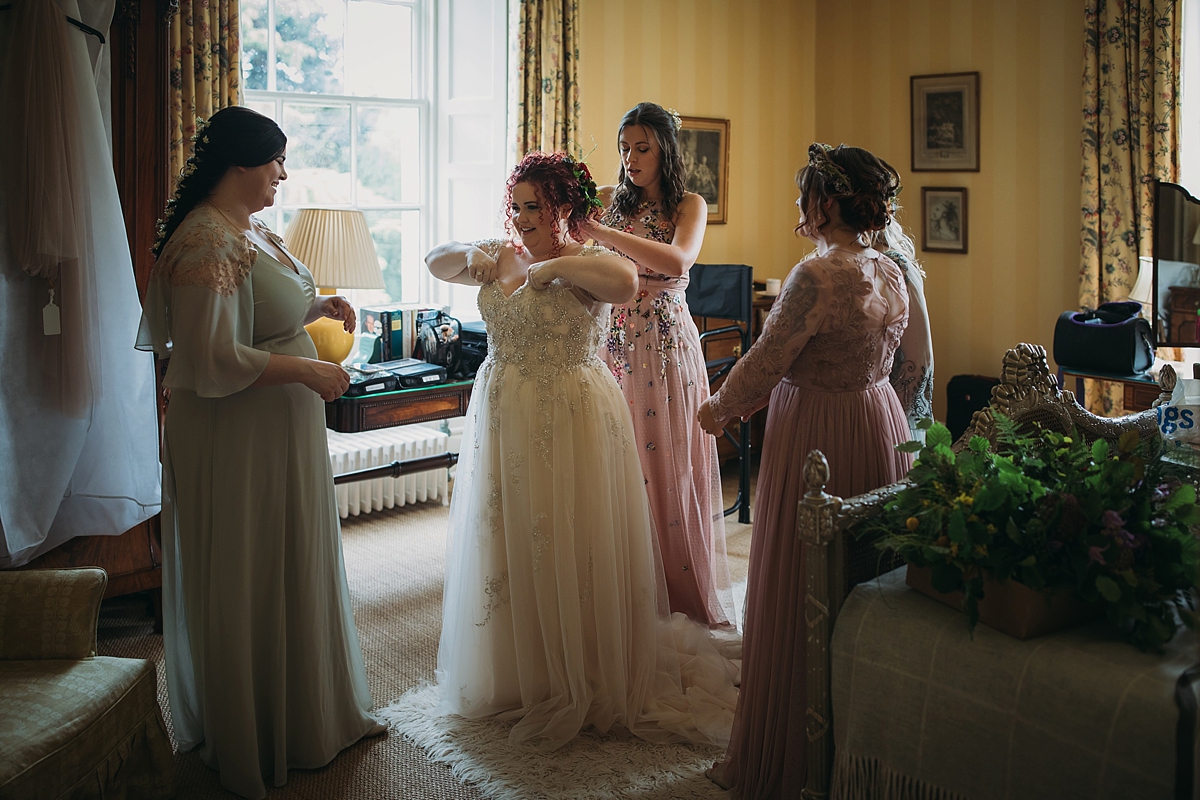 "I knew I wanted something fairly ethereal, relaxed and slightly boho, but at only 5'1" and a size 18 I struggled to find something suitable. I was recommended Maggie Sottero as their corsetry is super supportive for larger boobs, but still relaxed enough to fit my 'ethereal' vibe."
"The 'Kylie' gown by Maggie Sottero was perfect. I fell in love pretty much immediately! I loved the champagne/ gold colour, and the wee sparkles twinkling all over. I felt super confident and very 'me'."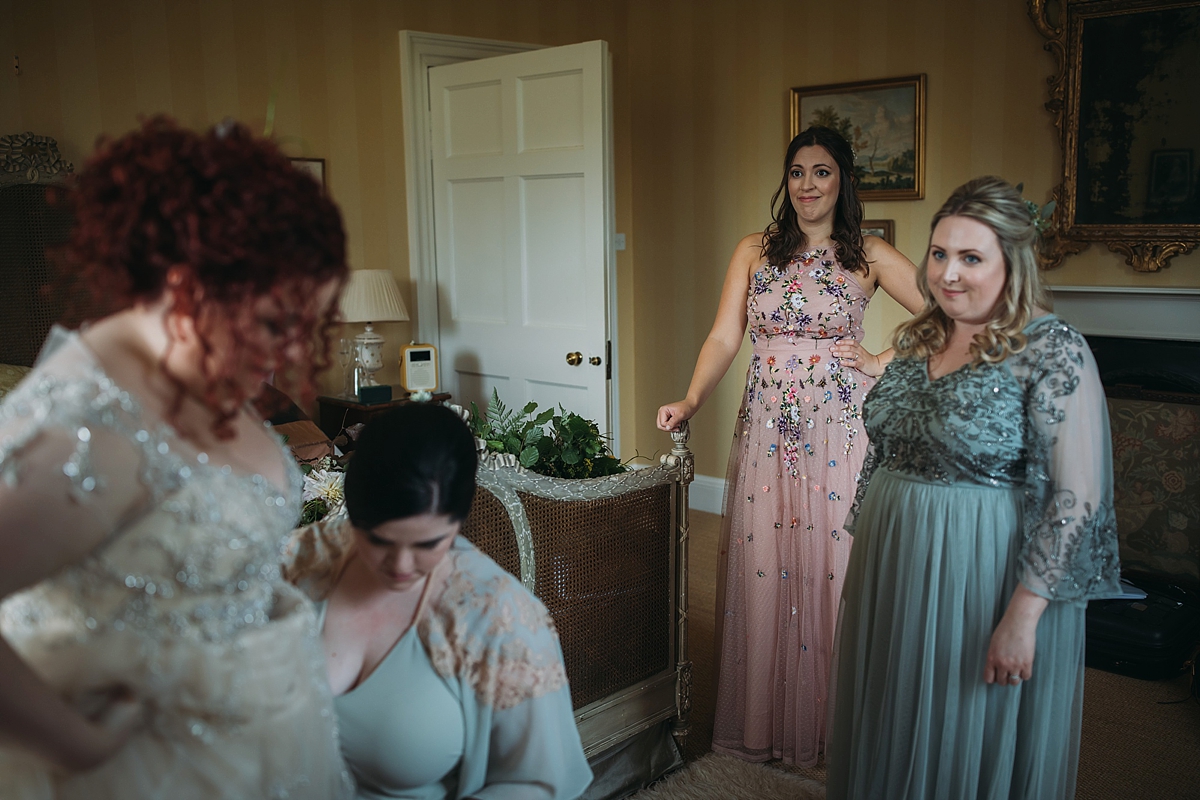 For jewellery, Kirsty wore a pair of rose gold crystal earrings from Etsy seller Rachel Chaprunne, which were a wedding day gift from Adam.
"I wore nude/ pink New Look heels on the day and sparkly ASOS flats in the evening. I didn't want to splurge on shoes as I'm not a fan of heels and knew I would never wear them again. My New Look heels were super comfy and a total bargain too!"
In her hair Kirsty wore a dreamy draped tulle veil by Little Book member Blossom and Bluebird following recommendations from other brides on the Love My Dress Facebook group. I have to mention here that I did, too, and my own veil was also draped. Like Kirsty, I can fully attest to the love, care and attention Sian puts into each of her exquisite creations.
"Other brides spoke very highly of Sian and how beautiful her veils were, so I had to get in touch! I loved my veil on the day and felt like a woodland queen, it was absolutely huge! I loved the pale blush colour and it really tied the whole look together."
"Our amazing florist Natasha from Tupelo Tree made my hair clasp. It was the perfect mixture of wild and beautiful, and I loved the bright punch of red colour in my hair."
After a joint 'Scent my wedding' appointment at the Jo Malone store in Edinburgh, both Kirsty and Adam came away with fragrances to wear for their day. Adam chose Dark Amber and Ginger Lily and Kirsty went for Black Cedarwood and Juniper.
"We decanted some to take with us on honeymoon, which brought back so many happy memories of our wedding day, and we've decided to only wear these scents on special occasions to try and keep the wedding-association alive. Smelling my perfume now puts me right back to the morning of the wedding, waiting so excitedly to finally walk down that aisle!"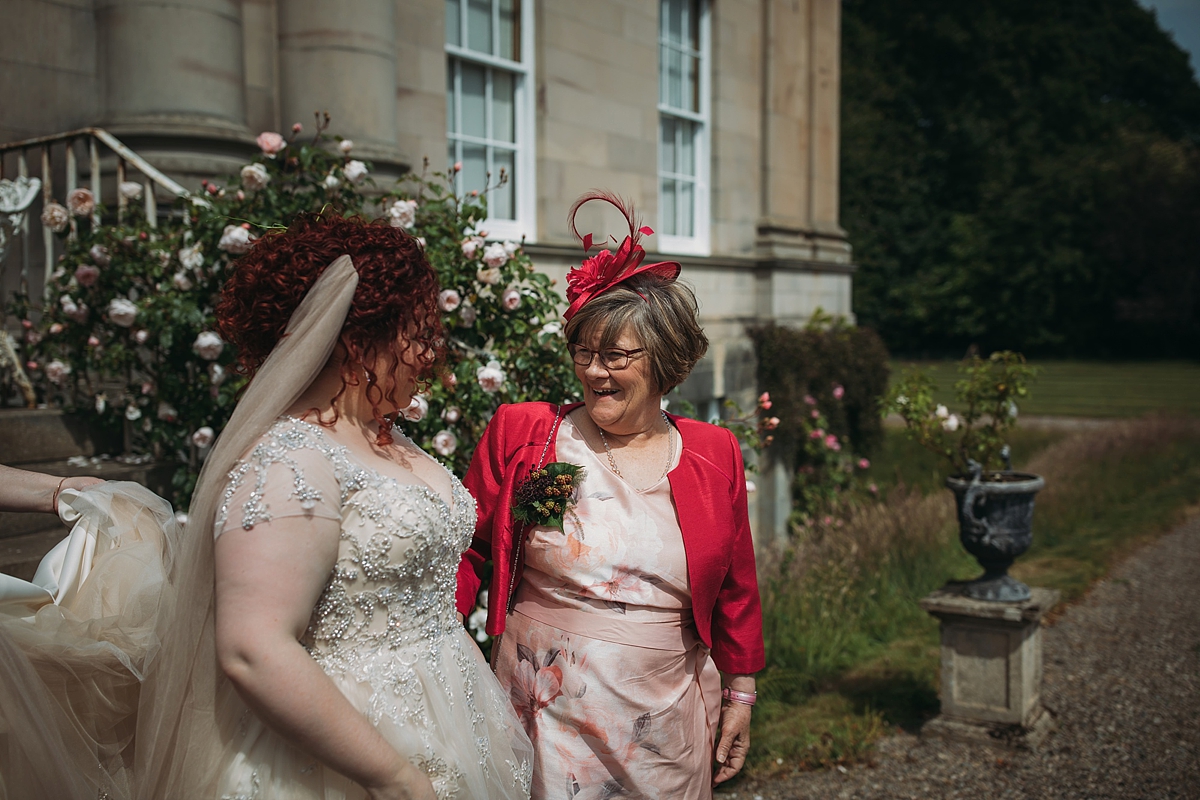 The bridesmaids looked fantastic in an array of embellished and embroidered gowns in shades of pale blue and pink, all from ASOS.
"They each looked utterly beautiful and each dress was so individual. I loved them!"
The bridesmaids also wore their own choice of shoes, and each adorned their hair with something different, from a dried flower crown, to petals and greenery. Kirsty also gave them two pieces of jewellery as thank you gifts.
"I bought personalised rose gold bangles from Not On The High Street, which had each bridesmaid's initial and birthstone carved into a charm on it. I also gave them a simple rose gold circle necklace from Etsy (I swear everything I bought for the wedding was from Etsy!). A few of the girls have worn their necklaces in the months after the wedding whenever we've met up which made my heart swell a wee bit. I think I might have to buy myself one, too, just to feel that wee bit more connected to them!"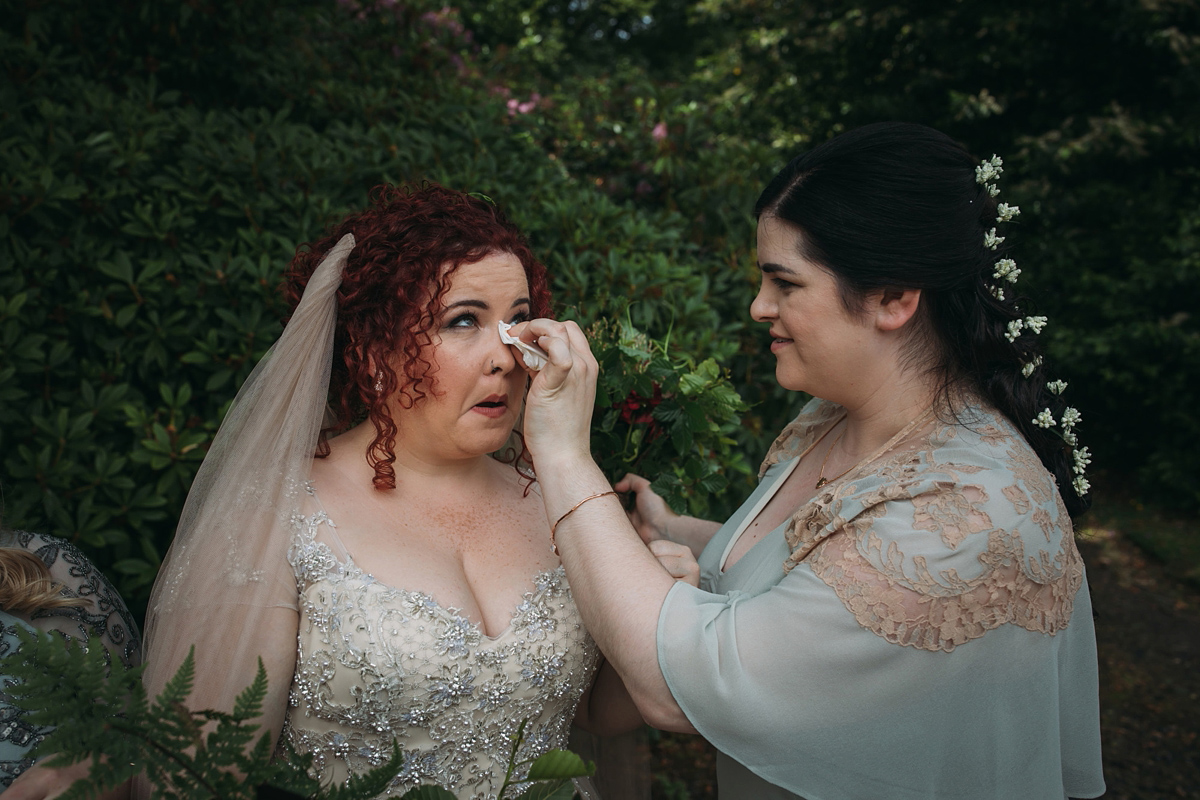 I love the spectacular wild drama of Kirsty's bouquet, by Natasha of Tupelo Tree – the huge fern leaves and masses of greenery mixed with brightly coloured dahlias and other beautiful blooms.
"Natasha describes her floristry as woodland and rustic, foraged and wild, which was exactly what we wanted."
Adam and his groomsmen were resplendent in smart kilts hired from McCalls Highlandwear in Edinburgh, and as a sci-fi fan, Adam was pleased to find a pair of robot cufflinks in House of Fraser.
"The service at McCalls was great and made five Englishmen feel very confident in their full Scottish regalia!"
Kirsty and Adam first met on a night out in 2007 when Kirsty went to visit a university (and mutual) friend in her hometown of Chesterfield. The couple entered into a long distance relationship between Derbyshire and Edinburgh for a year and a half before Adam moved to Scotland.
"Our proposal was so, so special. He planned a treasure hunt across Edinburgh of important places from our relationship, like having lunch in the same restaurant we'd gone for our first anniversary all those years before."
"We had the best day of reliving fun memories, retracing adventures from our past and having fun together. The last clue led to our flat – our first home we'd bought, and he asked me to marry him over a cup of tea and a doughnut. It was just the best, best day. So much laughter and happy tears! He'd spent weeks writing the clues, and staining the paper and envelopes (and burning the edges) to make them look old."
"The next day, we flew to Fussen in the Bavarian Alps and spent the weekend exploring, still on a high. It was amazing! We were engaged for twenty months before we married. It really flew by!"
Kirsty was accompanied down the aisle by her mum to the theme to the TV show, Detectorists, by Johnny Flynn.
"This was a hugely special part of our day. My mum has Alzheimer's and it's fairly advanced, but she was so excited in the lead-up to the wedding, and walking me down the aisle was something for her to focus on. She was an absolute star on the morning of the wedding."
"One of my favourite memories of the day is holding onto her arm, hiding together as we watched my bridesmaids disappear to walk down the aisle, grinning like mad at each other, before racing down the aisle together."
Kirsty and Adam opted for a Humanist ceremony, which was conducted by Jane Bechtel. This meant they were able to write their own vows, something that was incredibly important to them both.
"We wrote the whole ceremony together (with a lot of help from our legend of a celebrant, Jane Bechtel) and it was very personal. Our vows mirrored each other's pretty tightly, with a few tweaks here and there."
The couple also exchanged rings during the ceremony, choosing them from Etsy (sadly no shop details). Kirsty chose a twisted rope design with diamonds, and Adam went for a hammered silver band.
"We then had a traditional Scottish handfasting where we pledged to accept each other as husband/ wife and equal. For us, it was perfect."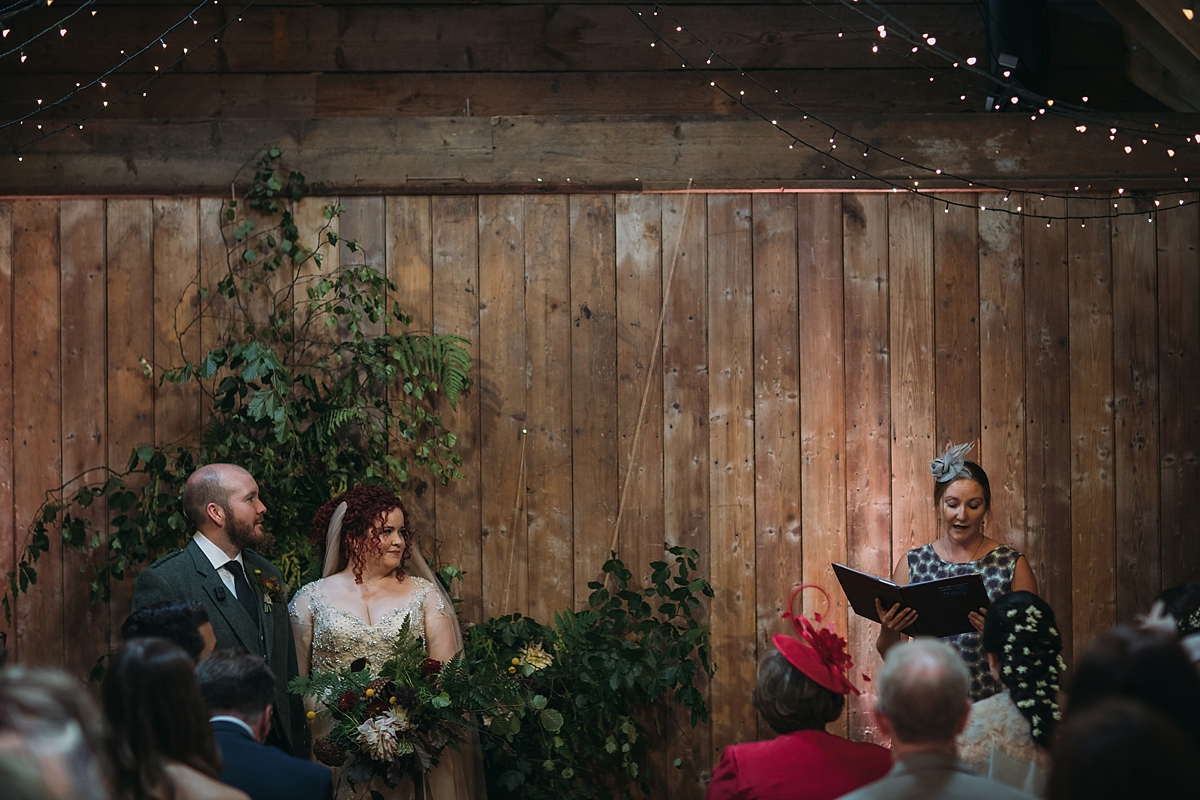 "We had two readings during our ceremony. Adam's sister Maddy read an extract from 'The Amber Spyglass', which is from one of our favourite trilogies of all time."
For their second reading, Kirsty's best friend Sam read the beautiful poem Union by Robert Fulghum.
"It was genuinely the only moment during the entire day I felt tearful! It's such a beautiful piece and Sam's reading was perfect."
"The actual ceremony was the best part of the day, by far. It was very us! There was so much laughter and lots of guests commented on how relaxed and happy we were. Our ceremony was pretty informal and really helped set the tone for the rest of our day."
"I even managed to stumble over Adam's name during my vows. I couldn't stop laughing myself, never mind Adam nor the entire room! Embarrassing, but so very 'us'. Pledging to love each other in front of all the people who mean the most to us was magic."
"The Byre really did just have it all; accommodation on site, beautiful grounds, totally flexible and a bit of a blank canvas.We booked it two days after getting engaged in 2016 as there was only one weekend still available in 2018. It's certainly a popular wedding spot in Scotland!"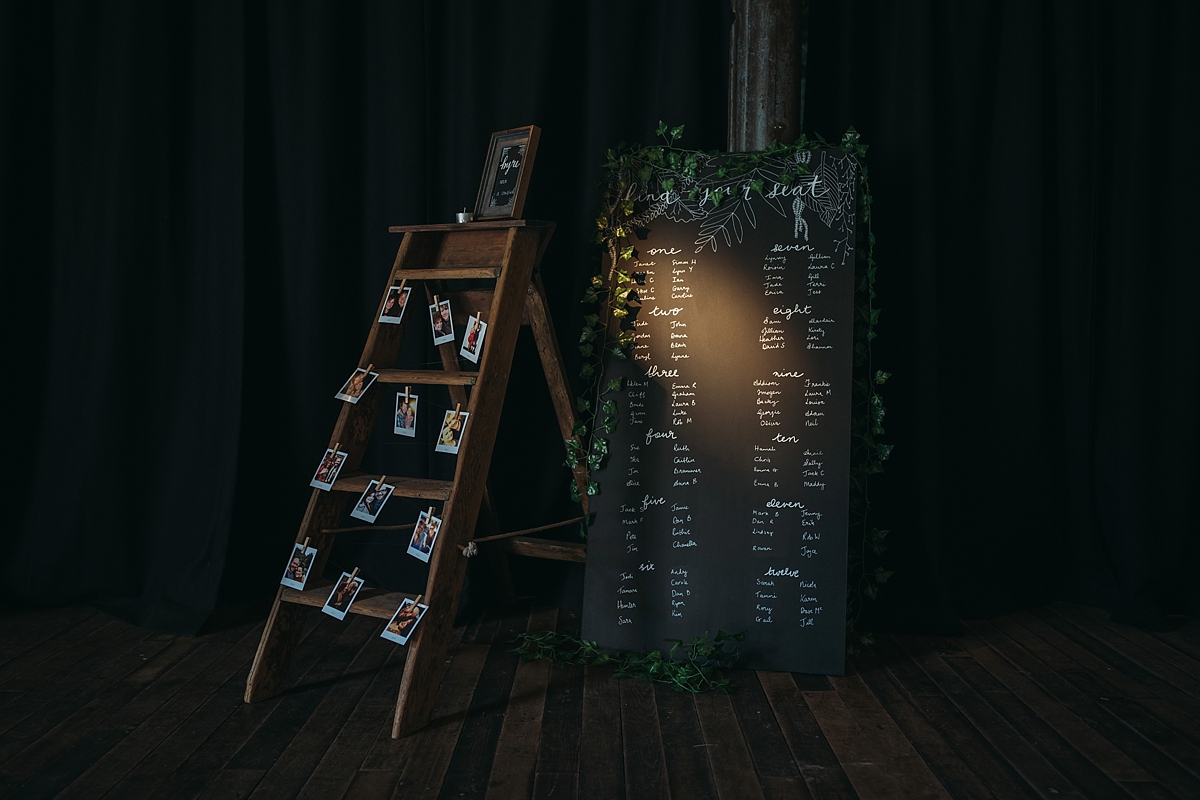 The beautifully textured wood and brick inside the Byre was strung with lights, as well as lots of photos of loved ones. Florist Natasha from the Tupelo Tree also created breathtaking hanging arrangements of foliage to be suspended over the long dining tables to dramatic effect.
"Natasha had also suspended hanging candles and flickering lights. Honestly, it was magical. It felt like we were dining in the middle of the forest, or maybe somewhere from Lord of the Rings!"
"In the end we had a perfect mixture of woodland wildness and literature! I guess this isn't surprising given that I'm an English teacher and we're both avid readers, but I didn't want it to become too 'theme-led', so I didn't want to make the day too bookish!"
"I think having so much wildness in the Byre helped to break this up; from the stunning foliage dripping with candles hanging over our tables (created by our genius florist Natasha) to the flowers brought all the way up from Adam's mum's garden in Derbyshire in the boot of her car the day before the wedding!"
Wedding stationery was hand illustrated by Katie Barnes Studio, with on-the-day signage made by Kirsty. She bought pieces of MDF, which she painted with chalkboard paint and then wrote on with chalk based pens. Funky retro peg boards came courtesy of Primark.
"We collected jam jars from friends and family for the full twenty months before the wedding and had close to three hundred by the end. We decoupaged these with pages from our favourite books (His Dark Materials trilogy by Philip Pullman) and used them for candles and vases for flowers. We also had book art with our initials, bookish readings, and lots of framed quotations and book art throughout the venue."
Other items of decor were hired from Just Vintage Hire to further create the relaxed and retro look Kirsty and Adam wanted.
"Initially, we decided not to provide wedding favours, but our place settings became accidental favours when the guests all loved them and took them home! Each guest had a wild animal, spray painted gold with a Polaroid of the guest slotted into the back."

The Byre was also filled with lovely flowers from Adam's mum's garden in Derbyshire, which she transported in her car the day before the wedding.
"Adam's grandad had died the year before our wedding, and he was a really important person in Adam's life. Adam and I inherited a mirror from his house after his death which we decided to incorporate into the wedding decor so we could still feel like he was there! I wrote a quotation using chalk pen on the mirror and displayed it pride of place in the Byre."
The day of the wedding was one of those extremely hot days we had in the UK in the summer of 2018, and so lots of guests spent time outdoors enjoying the lawn games that Kirsty and Adam had thoughtfully provided. They also hired a photobooth from Bygone Booth, which also served as their guestbook.
"A few of my ex-pupils were our ceilidh band, and they stayed to do a few sets of golden oldie indie, rock and cheese hits before the DJ took over for the party! It was a lovely touch to have former pupils as our ceilidh band-they're so talented and it was lovely to see them again."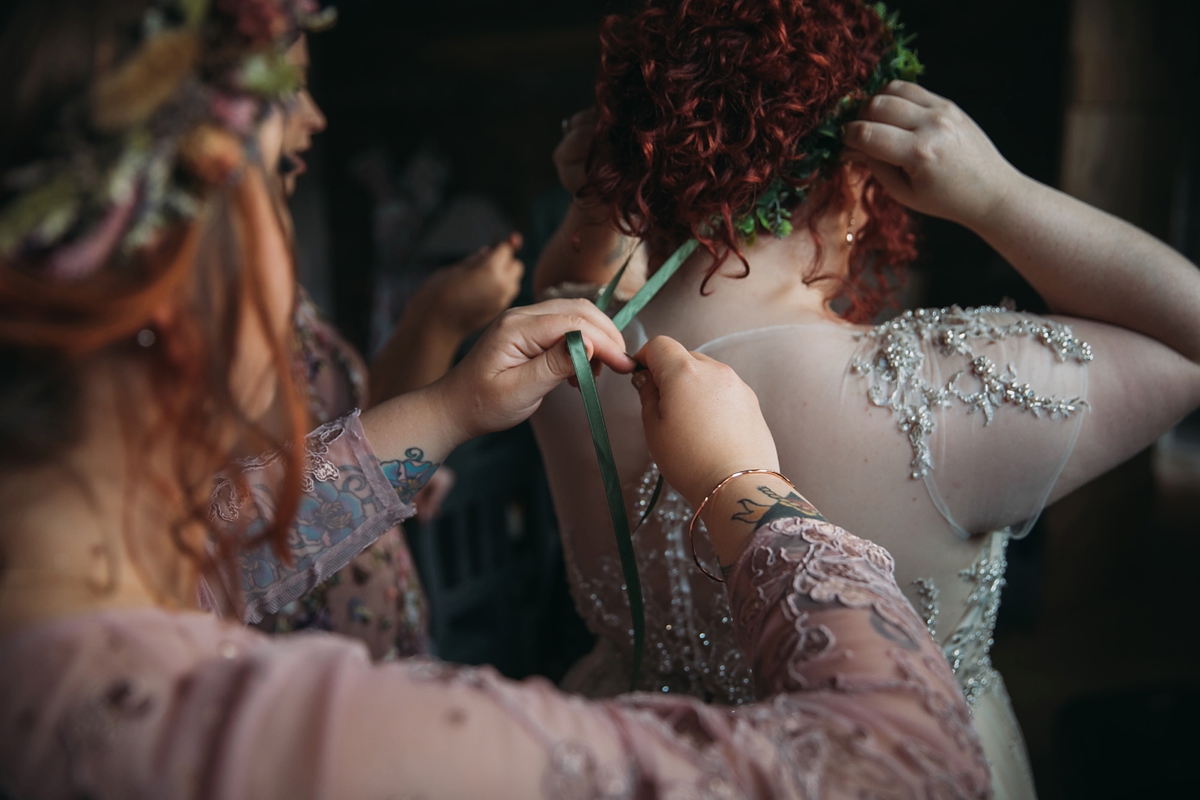 Wild Rover Food made just the kind of relaxed, sharing, family-style feast Kirsty and Adam wanted for their wedding meal.
"We liked the idea of food bringing everyone together and our guests just getting really stuck in! Wild Rover cook everything from a field kitchen from their Land Rover, and their food is all local, ethical and delicious. Plus, our evening food included macaroni cheese pies. Need I say more?"
Jennifer Willgerod, who works with Wild Rover, made the couple's delicious wedding cake, which had three incredible flavours: vanilla and raspberry sponge with white chocolate buttercream, lemon sponge with blueberries, lemon curd and buttercream and and coffee and walnut with coffee buttercream.
"The whole thing had a white chocolate buttercream skim and gold metallic drip, with decoration using herbs from Jen's garden. It was delicious. We tried to keep a few slices in the freezer to save for our first anniversary, but we kept craving them and now we only have a teeny slice of each flavour left! I might have to buy a padlock to ensure they last until next June."
"It's safe to say we're pretty obsessed with our cat, Fitz. We needed to include him in the day somehow! Adam brewed his own beer with his best men and ushers at Stewart Brewing just outside Edinburgh. We named it "Fitz's Brew" in honour of our cat, and Adam designed a label complete with Fitz wearing a wee witch's hat and the beer in the cauldron!"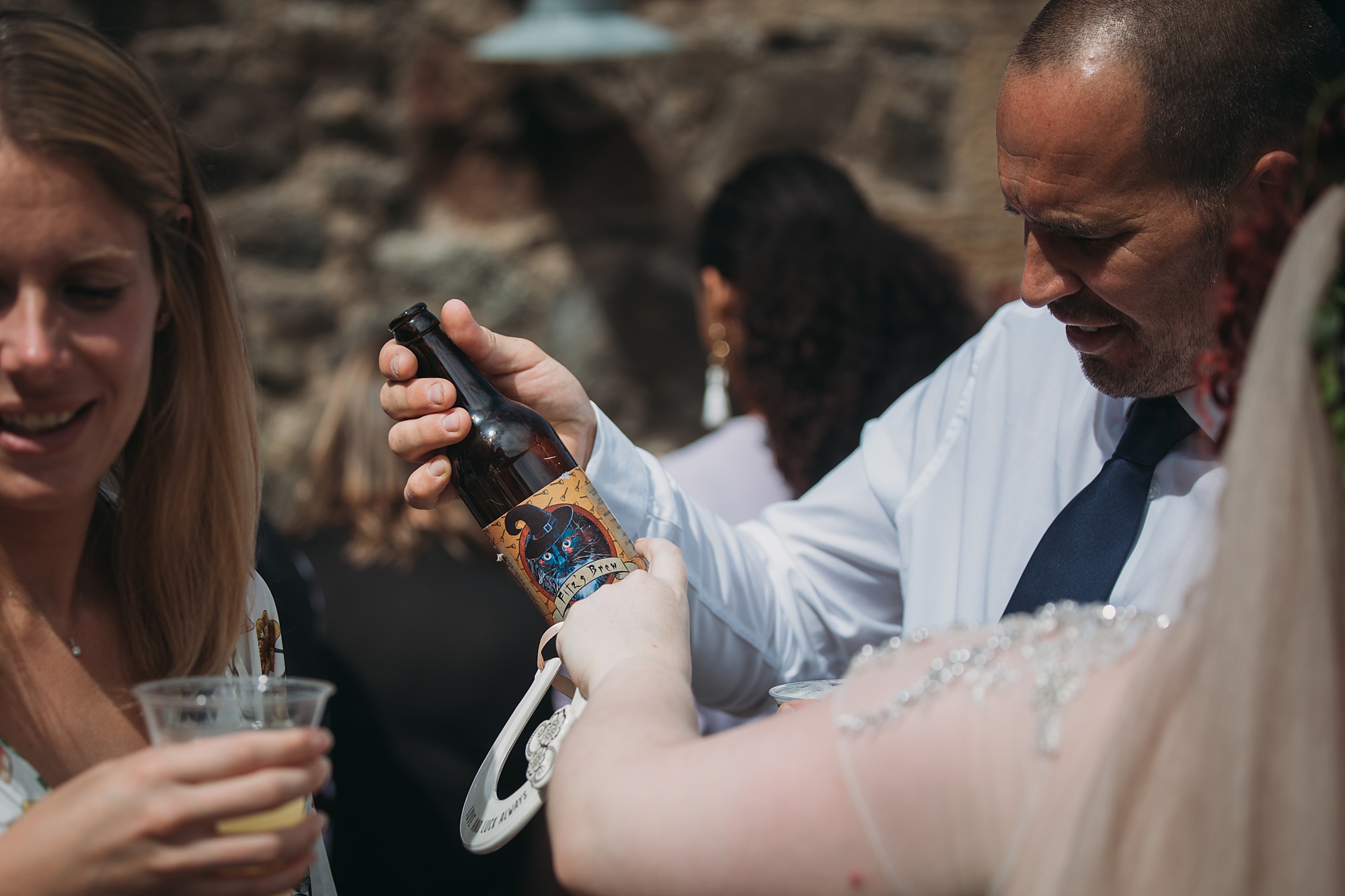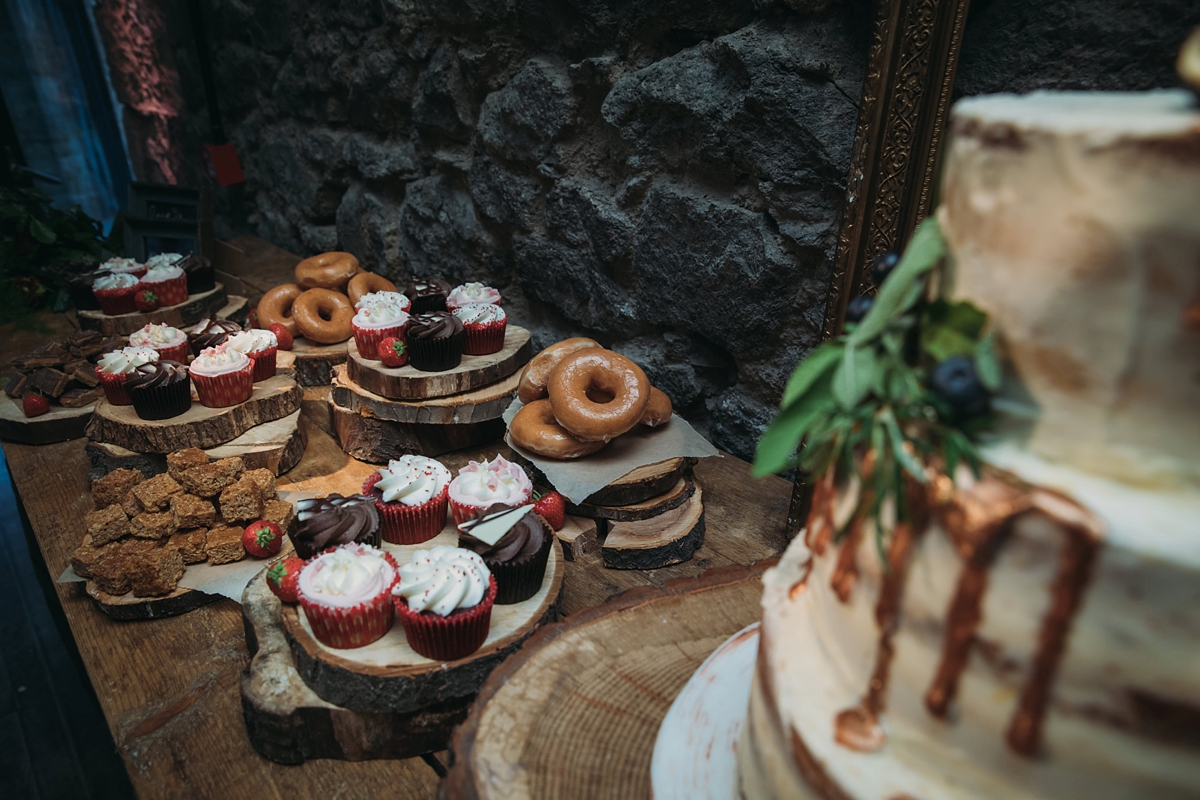 These breathtaking images, full of emotion and beautiful light and colour are by the couple's chosen photographer, Jo Donaldson.
"We found her on Instagram initially, and we were stunned by her work and knew she was the only photographer for us. She genuinely felt like an old pal, and I loved getting to know her on the run up to the wedding. When she appeared on the morning I actually squealed with excitement, like I was seeing an old pal again!"
"Our photos are utterly, utterly stunning. We're both a bit awkward in front of the camera but she made us feel totally at ease. I never usually like myself in photos but I actually welled up when we received our photographs. I need a Jo in my life every day to make me look so good all the time!"
"She really captured the emotions of the day, every photo is full of laughter, face-cracking grins and daftness. I'd recommend Jo in a heartbeat!"
"Our videographer was Wordly Nomads Films, otherwise known as Barry the video ninja! He was so professional but such a good laugh, too, and we love our wedding videos. Watching back moments I didn't see on the day-like the guests arriving, and Adam struggling to tie his tie and needing his best man to do it for him, but I'm glad we have these moments captured forever!"
For their admittedly 'awkward' first dance together, Kirsty and Adam chose The Artic Monkeys' Baby I'm Yours, before loved ones joined them on the dance floor halfway through!
"We didn't hire an event planner, but the folks at Inchyra Byre are absolutely invaluable. Lady Inchyra herself gets really stuck in and was super hands on in the lead up to the wedding and on the day itself."
"It was a bit surreal having an actual Lady help me out on the morning of our wedding, from practising with the bridesmaids their 'aisle walk' to helping with last minute decoration woes. Everyone was at Inchyra truly, truly helped make our wedding so special and run so smoothly."
"Adam's favourite part of the day was towards the end of the night when we sloped off together, just the two of us, to capture ten minutes alone together. I'm surprised by his answer, to be honest. I thought it would have been limbo-dancing beneath poles of shots, he's more romantic than I thought!"
Words of Wedded Wisdom
"Create an email address for all wedding correspondence. It really helps to keep you organised! If you're doing any DIY, start early. It will take so much longer than anticipated!"
"Remember your guests. We tried to include our guests on the day, from lots of photos of them all round the dance floor, to individual Polaroids at their table setting. We wanted each guest to feel included."
"Do a speech! Don't let the men talk for you: you have a voice, so use it! I actually made quite a few guests cry during my speech, which I'm taking as a win."
"Choose your wedding party wisely. You'll really need their help in the run up to the day. Don't take everything on your own shoulders, they're your pals, they'll want to help you. Don't put too much pressure on the day. Really, it's just a big party, with all the folk that mean the most to you, while you get to marry the person you love the most in the world. Nothing to stress about at all!"
"That said, I did stress quite a lot in the run up to the big day. I started to pick myself apart. As a bigger bride, with mad hair and a terrible photo face, I was dreading being the centre of attention. It took months for me to realise that my chubby body, wild curls and 'animated' facial expressions made me who I was, and that was nothing to feel ashamed about."
"For anyone else who feels down about their appearance, remember: You are bloody beautiful. You're marrying someone who loves you because you're fierce and wonderful, not because of what you look like. Every single person at your wedding is there because they love you, and they just want to get drunk and have a fun. Despite the fact I'd been dreading it, I can honestly say I felt like a bit of a babe on the actual day. And now I have the photos to prove it!"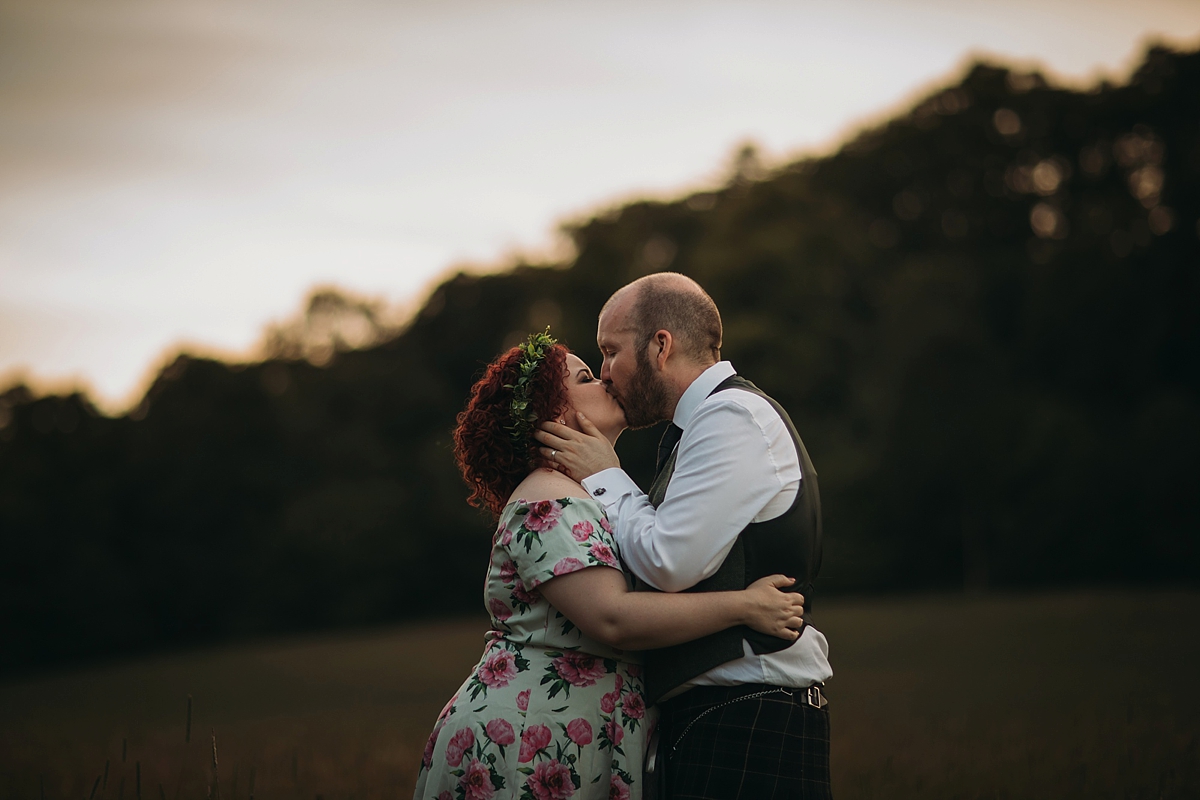 Kirsty and Adam, congratulations and thank you so very much. It's been such an honour to be the one to write about your completely spellbinding day. Many thanks to Jo Donaldson for these stunning images, too.
With love,
Laura x