We've got something a little different in store for you lovelies today. We're heading over to Romania for a simple and modern wedding in the countryside, shot by one of our Love My Dress and Little Book favourites, Matt Penberthy.
The bride and groom are Maria and Claudiu, who married on 7 August 2017 in an outdoor celebration and marquee reception in the countryside close to Beius, Romania. The couple wanted a minimal, relaxed day so kept their colour palette to pure white and rich shades of pink and plum, complemented by natural elements of basketwork and stems. Claudiu and Maria's day was filmed by Radu Văidean who has expertly woven together details of the preparation with the ceremony itself in a dreamy way.
Film Radu Văidean
"I always wanted my wedding to be in a tent ever since I remember dreaming of a wedding so when EMF Events opened their venue in Beius, Romania I knew this was the closest possible to what I wanted. Initially I wanted something very minimal but I combined a little bit of vintage and modern and still managed to keep it light."
Photography Matt Penberthy Photography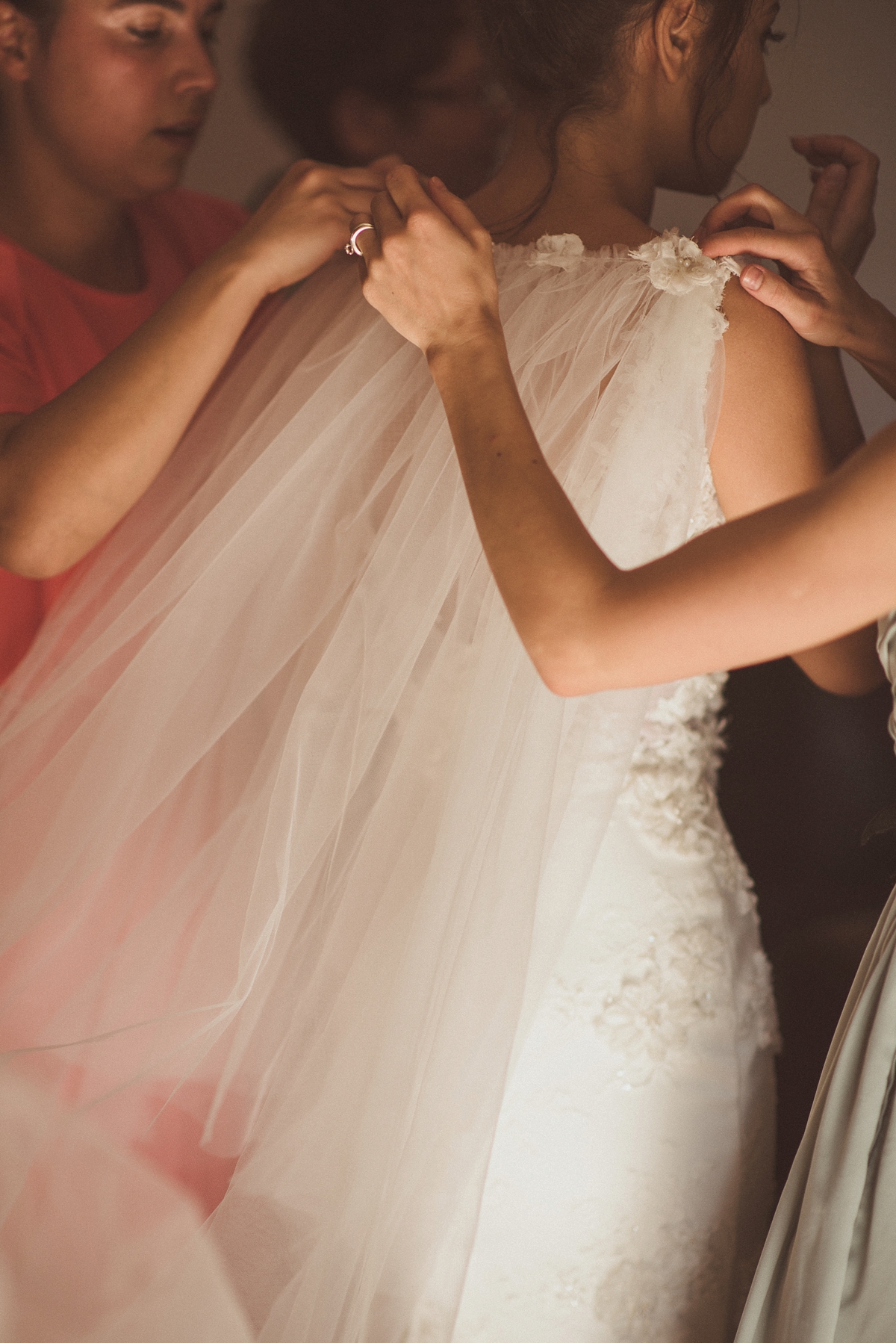 Maria selected a lacy, figure-hugging gown with beautiful, eye-catching leafy detailing appliquéed around the neckline and skirt. I love how its traditional feel is brought bang up-to-date by the ethereal 'pelerine' – or bridal cape – which flows from her shoulders and out behind her like a train.
"It's a creation by Bien Savvy which I got from Fya in Oradea, Romania. I loved the fact it was simple yet sophisticated at the same time. It just felt the right one when I tried it on."
Marie's friend Andreea Bringger styled her hair into a messy, romantic bun right on top of her head, whilst make-up artist Elora Fofiu created glowy skin and dramatic eyes with her make-up skills.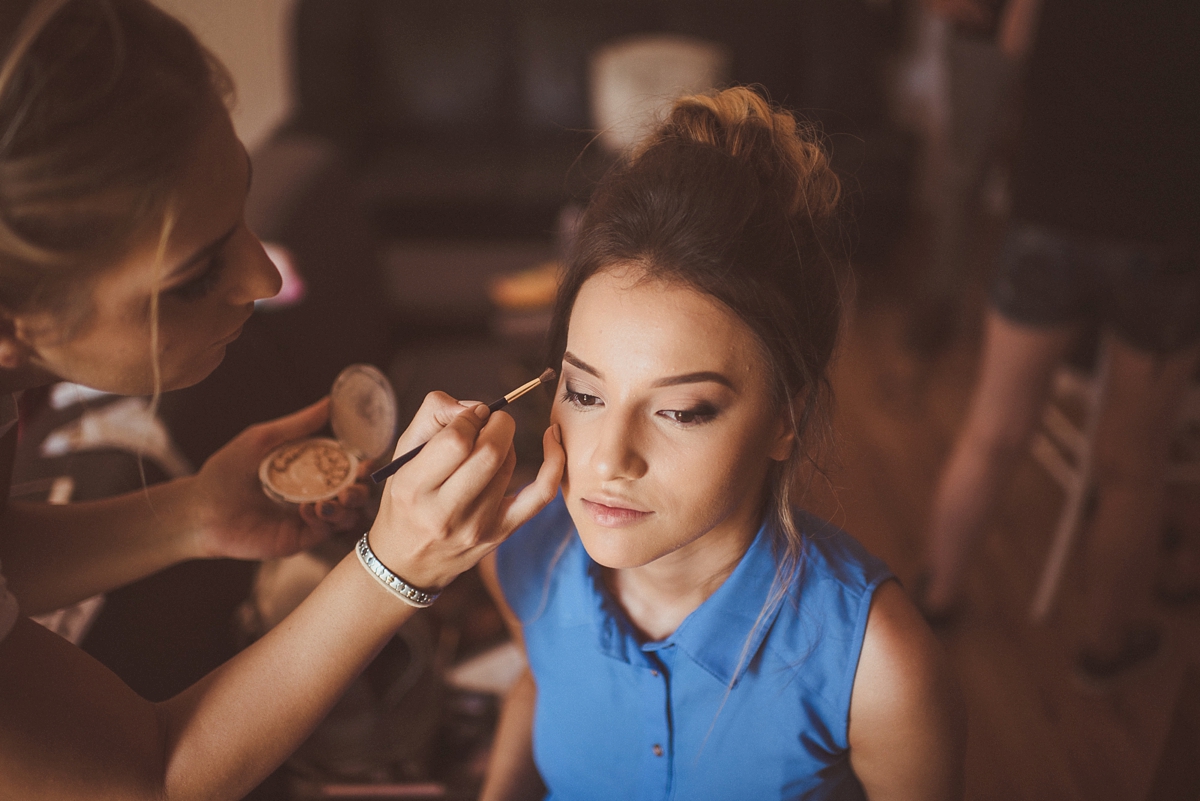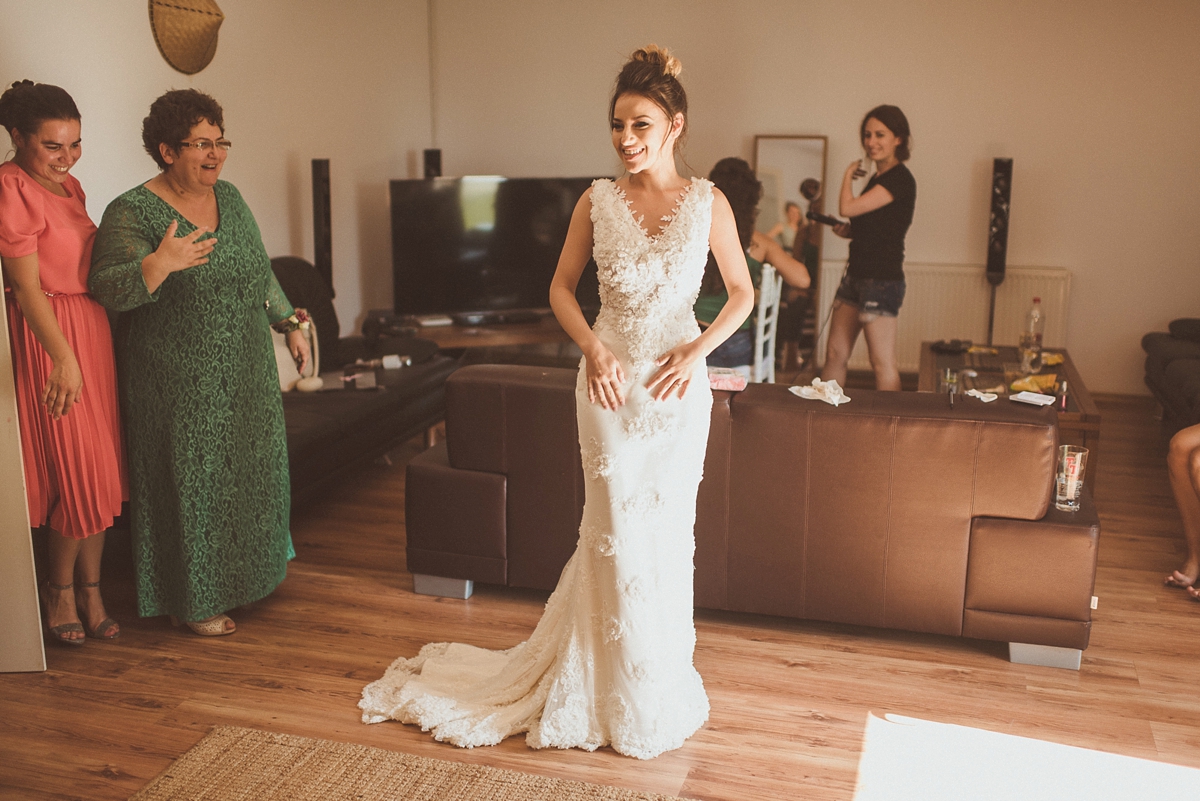 The bride's bouquet was a simple bunch of veronica in dusky pinky-red. I love the simplicity of this look – so gorgeous for an outdoor wedding.
"I ordered my shoes online but sadly for me, they didn't arrive in time, so I just picked up what I could find in my little town the day before the wedding. They were cute anyway!"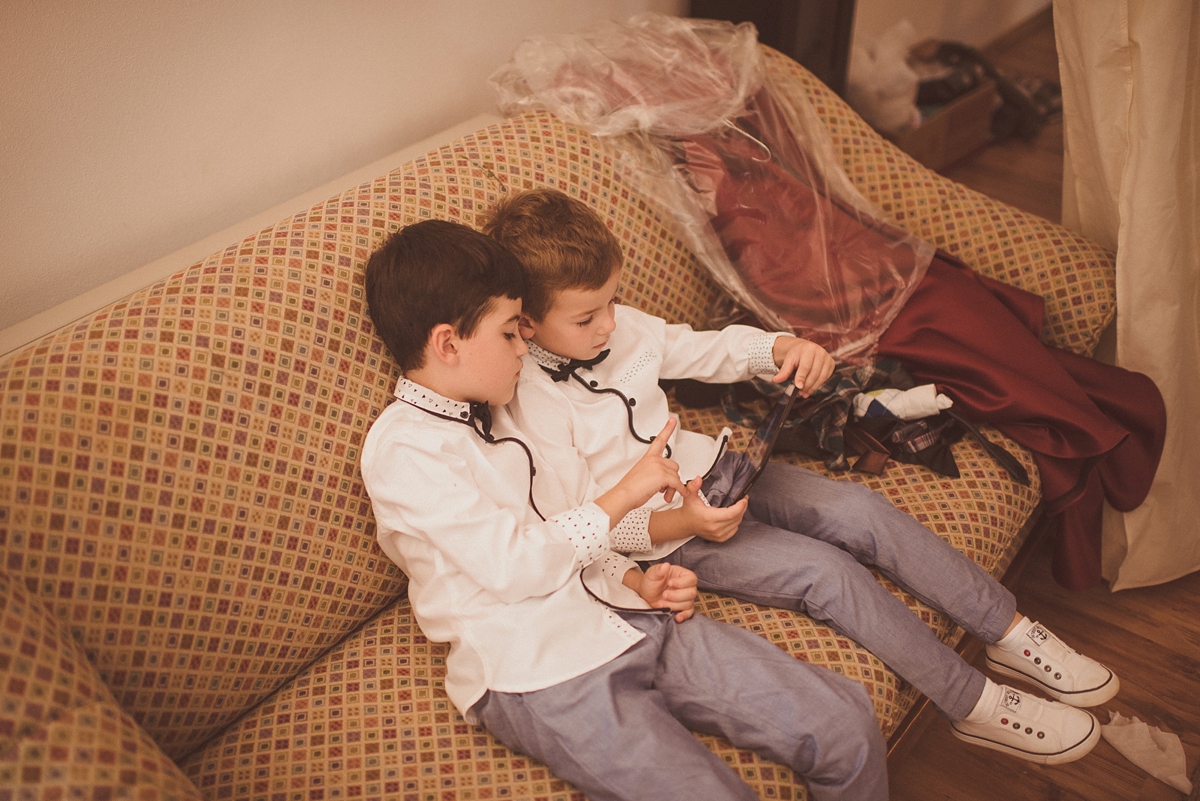 Claudiu's suit was summer-perfect; a light linen two-piece from Zara, worn with a Claude Bernard watch gifted to him by his sister.
"Claudiu and I met on a summer camp, kept in touch and shortly after and got together. We live in the same town so it was easy to meet up. We were five years together plus one year engaged."
The venue had set up the terrace for the outdoor ceremony, keeping the look simple with a modern wooden sculpture and leafy tree acting as a wonderfully unconventional backdrop.
'Shoulders' by For King and Country played in the backdrop as Maria walked down the aisle towards Claudiu.
"I'm not the traditional kind of bride so wanted to walk down the aisle by myself."
The couple married in a traditional service, and exchanged rings made by a local jeweller.
"We had no readings but instead had an item sang by Clau's parents."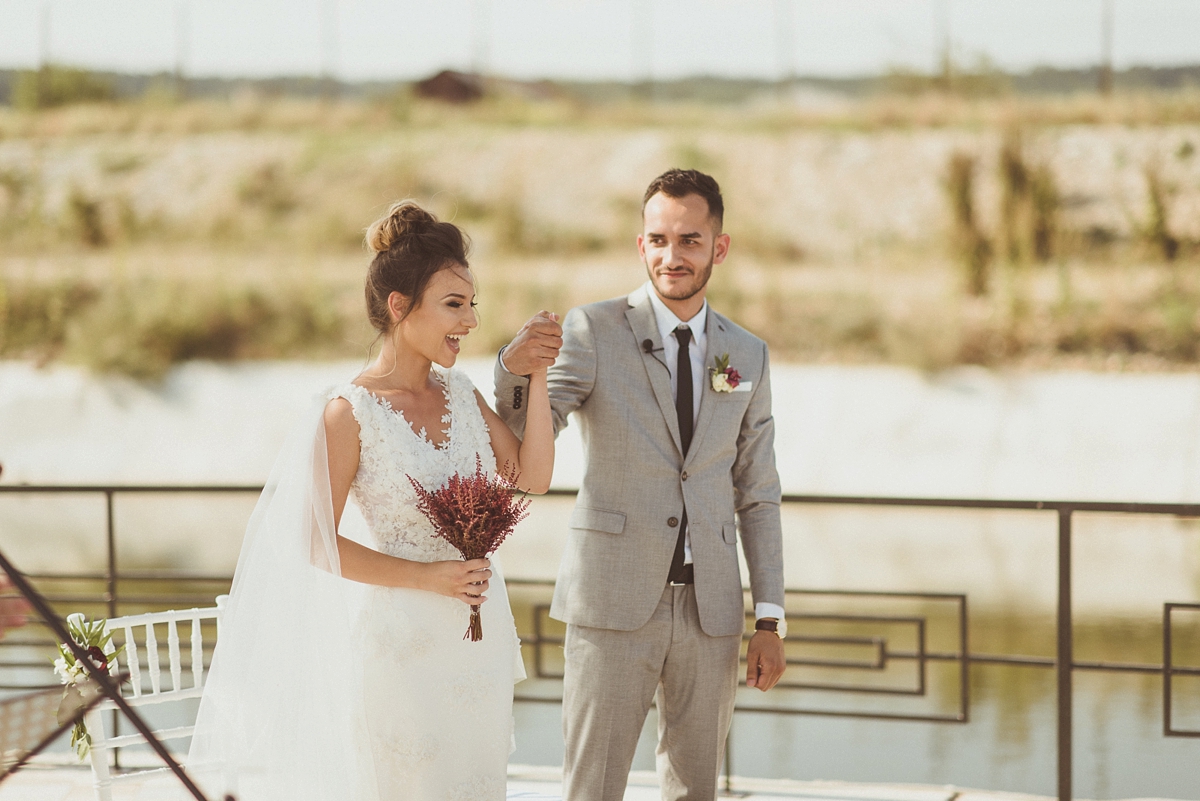 "We had the rings custom-made by someone recommended by a friend. Because my engagement ring was round and quite big I had the wedding band cut around it to fall nicely together."
"Also, because the ring is white gold, we went for the same for the bands."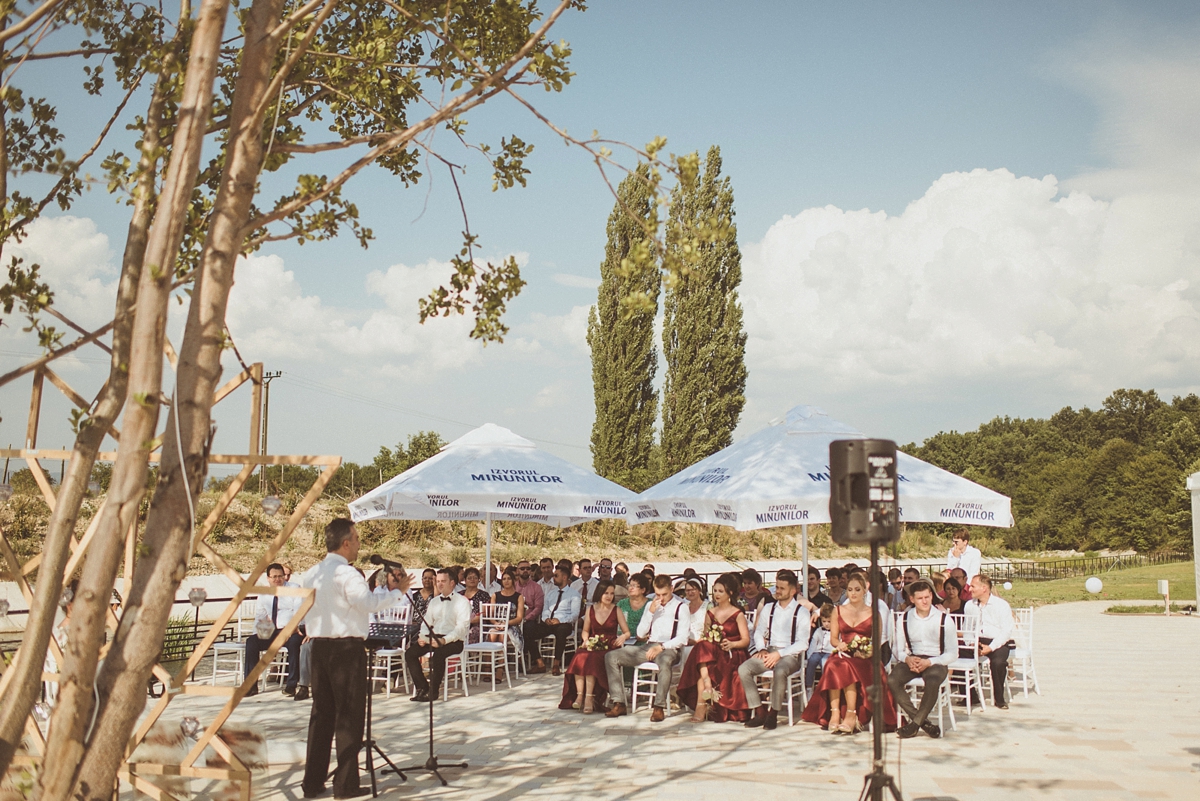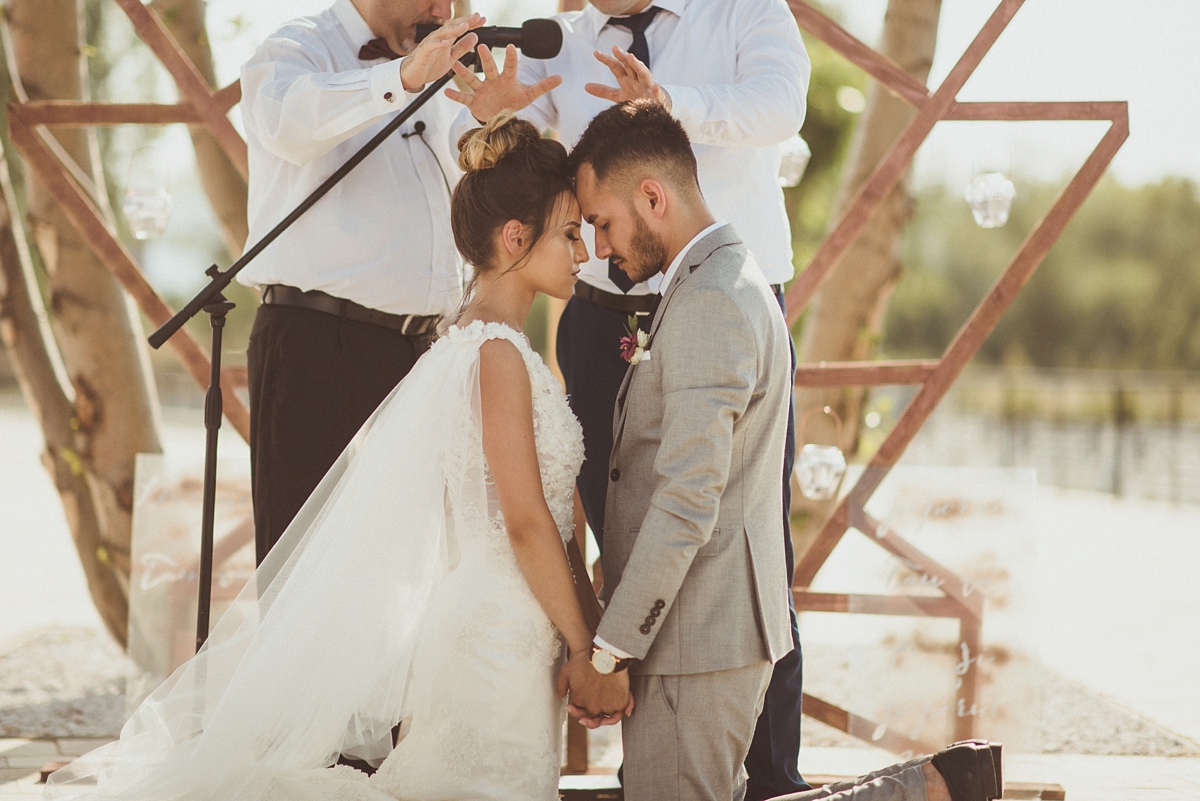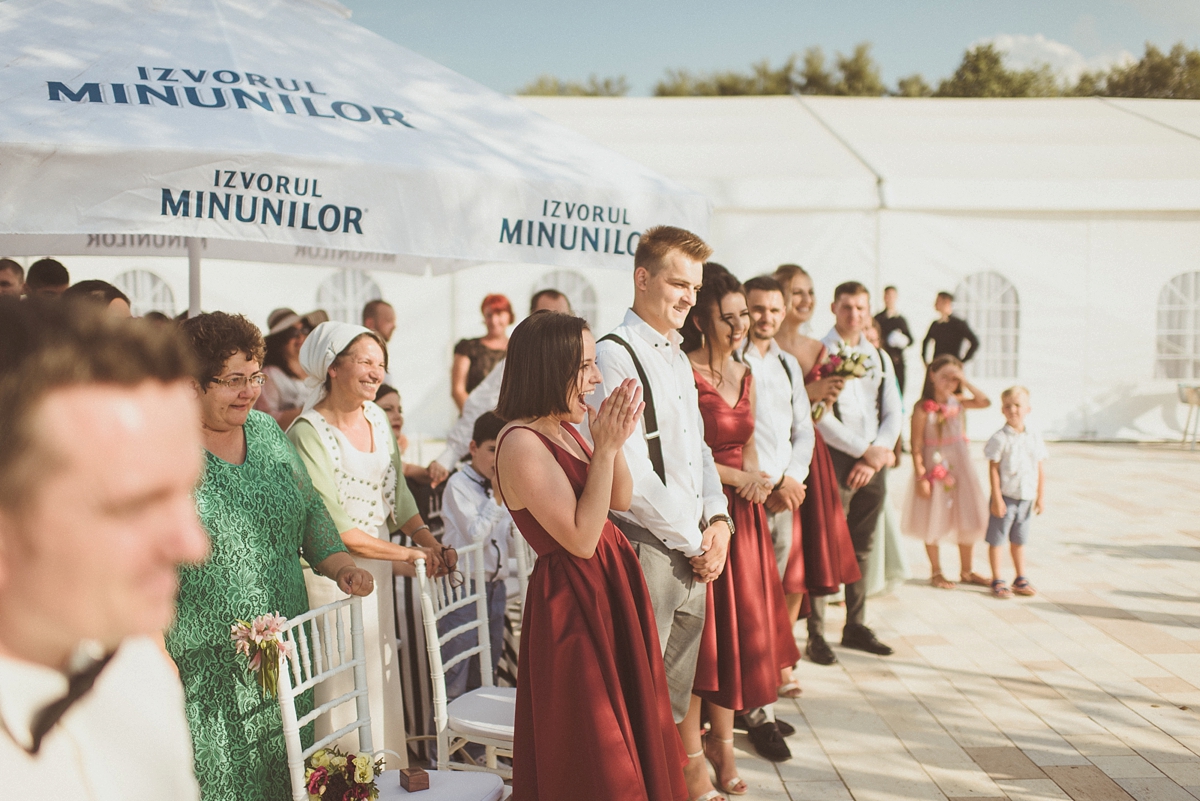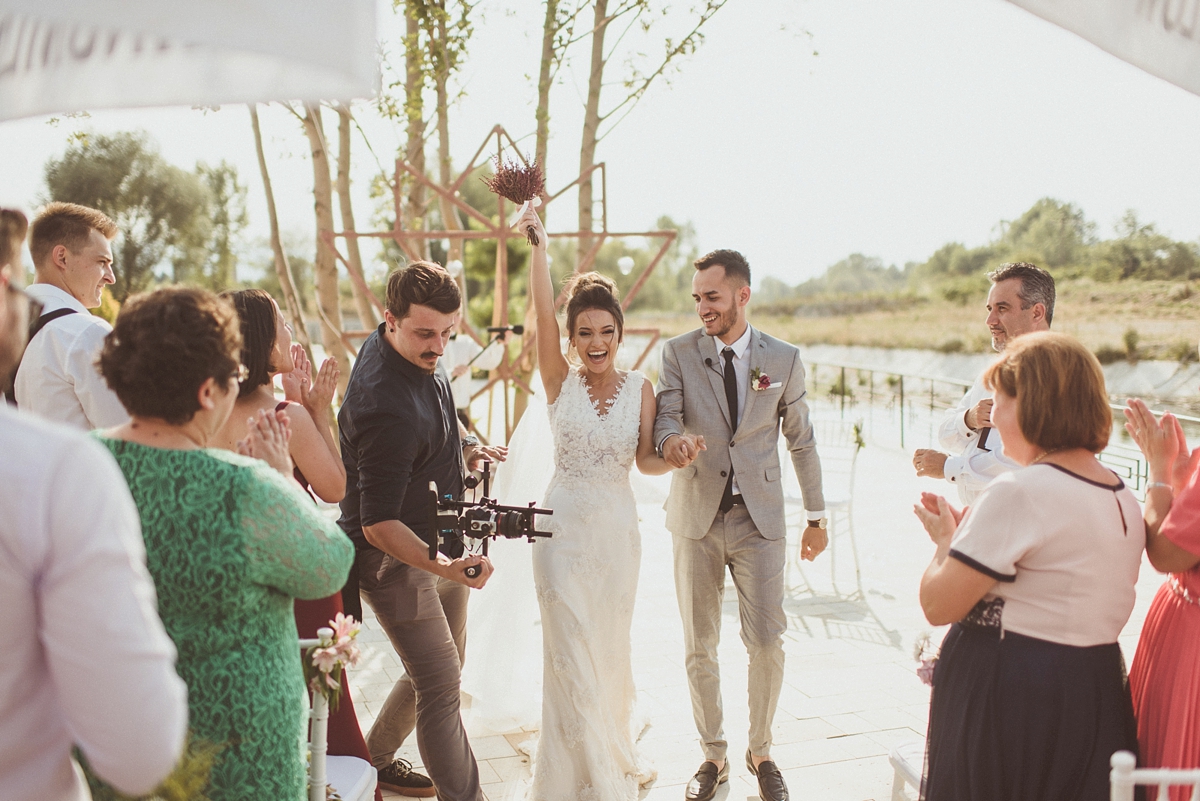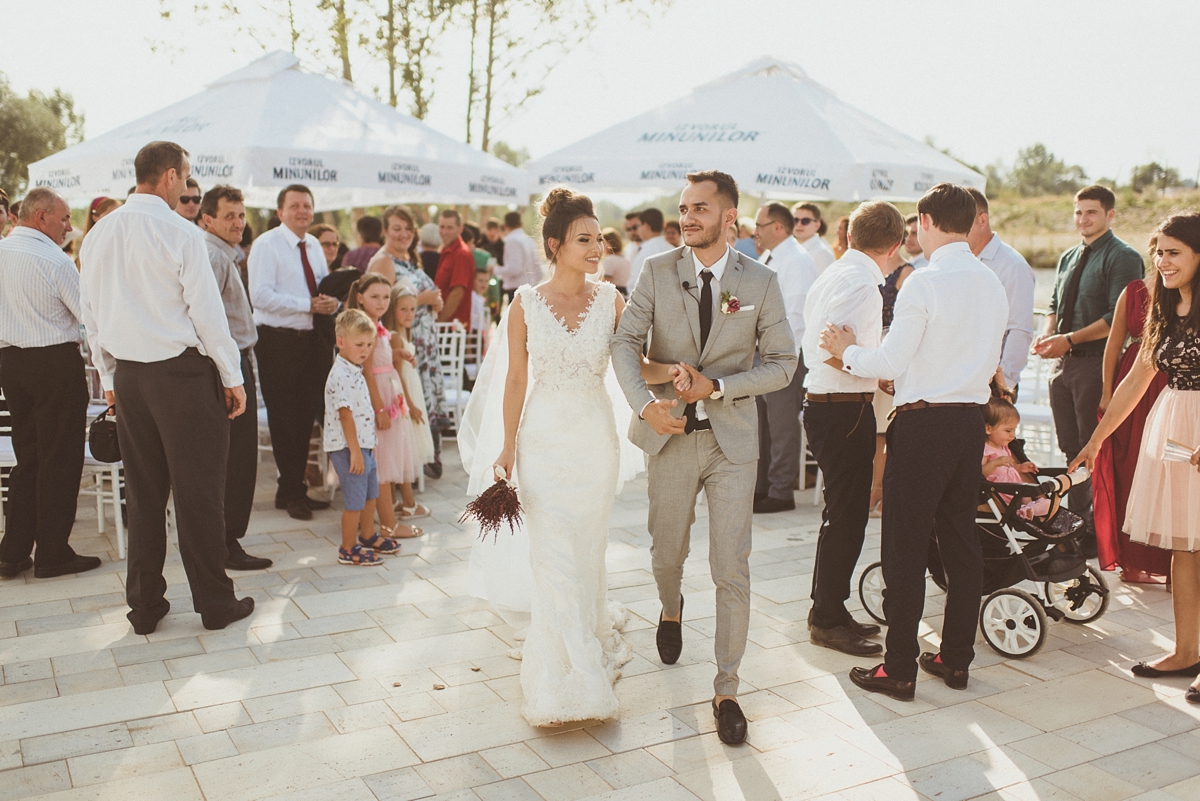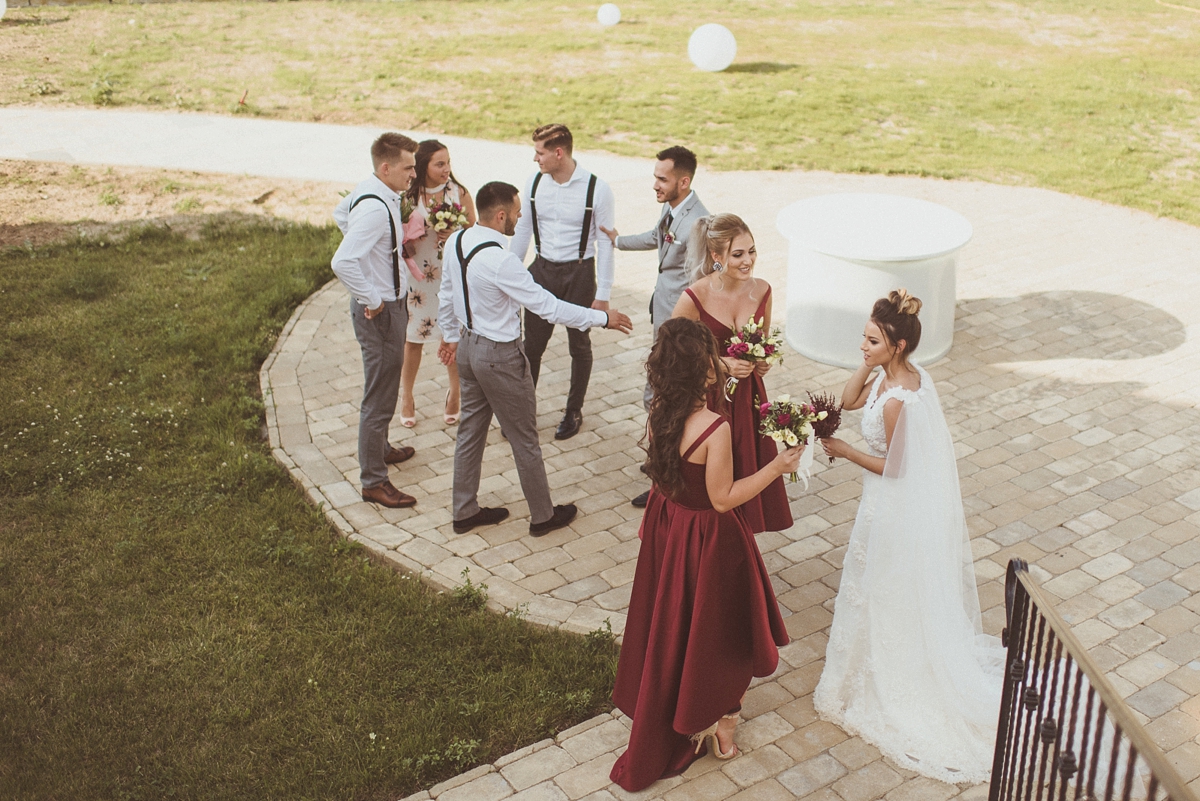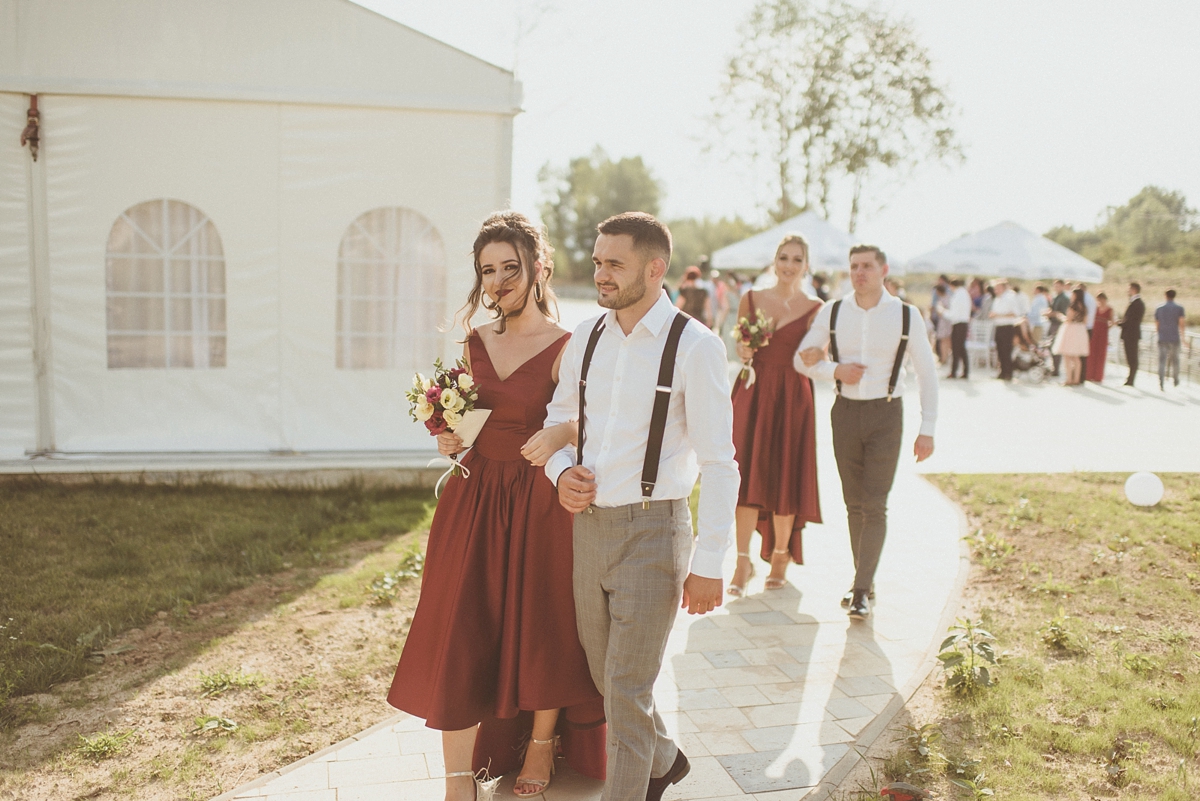 After the ceremony, the guests and newly-weds made their way into the marquee which had been simply yet oh-so-beautifully dressed for the occasion.
"The tent itself was perfect; all in white and simple. We only had central table pieces, got some wooden candle holders from a little shop in Oradea and painted them brown. Once the candles were lit it was perfect."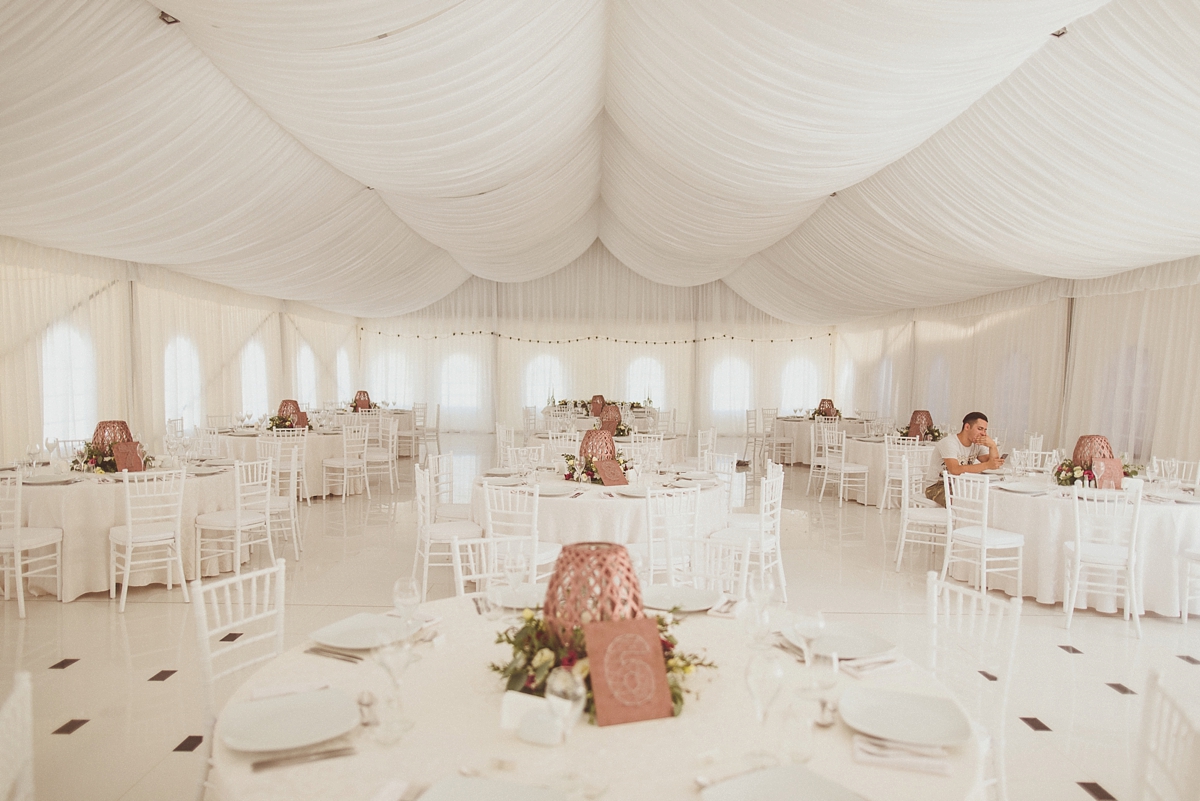 "The place cards and the table plan were made by me and my sisters to match our wedding invitations, made of glass."
The reception took the form of a dinner, so music was kept to the background to allow the conversation to flow.
"We decided to go for only music on the background, no DJ, no live band. Our idea was that our guests should feel like celebrating a nice meal with the family."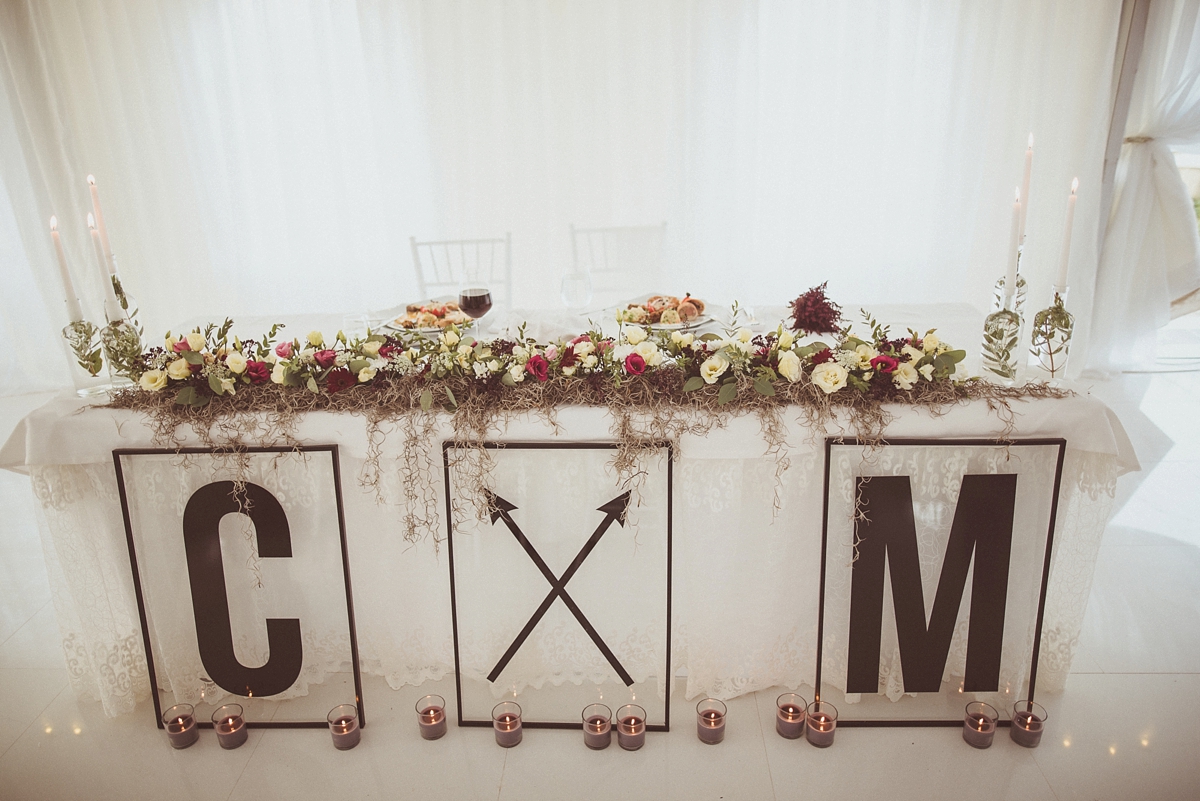 As well as the spread of colourful bakes, Marie and Claudiu had a traditional tiered wedding cake from Cofetaria Bridge, wreathed with flowers.
"Because of the idea of the wedding being simple I wanted the cake to be the same. I went for all creamy-white and got my sisters to put on some simple flowers as a little decoration."
The wedding flowers were inspired by the colour of the bridesmaids' high-low dresses. The style is so beautiful and don't they look incredibly easy to wear? The girls each carried a bouquet of veronica, foliage and white blooms, styled by Decor Cu Flori.
"I saw the style randomly online and decided to have them custom-made by a private tailor. We chose the flowers to go with the bridesmaid dresses."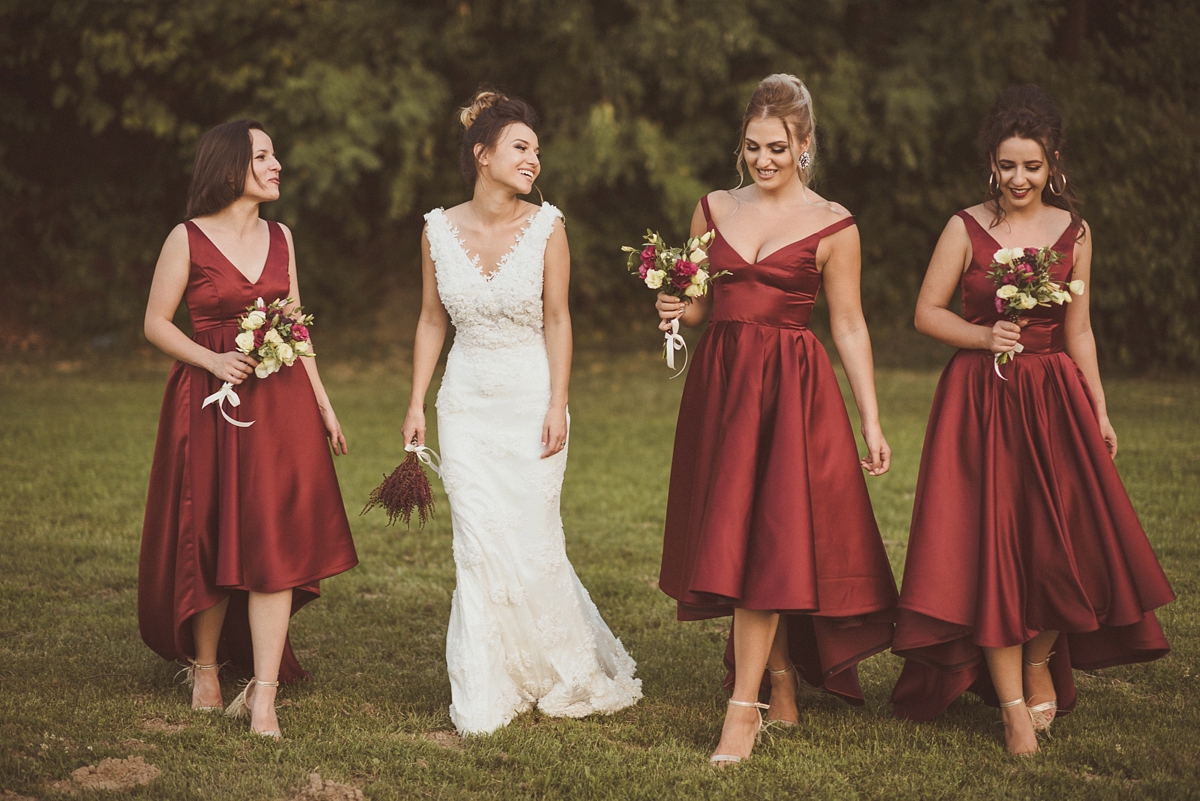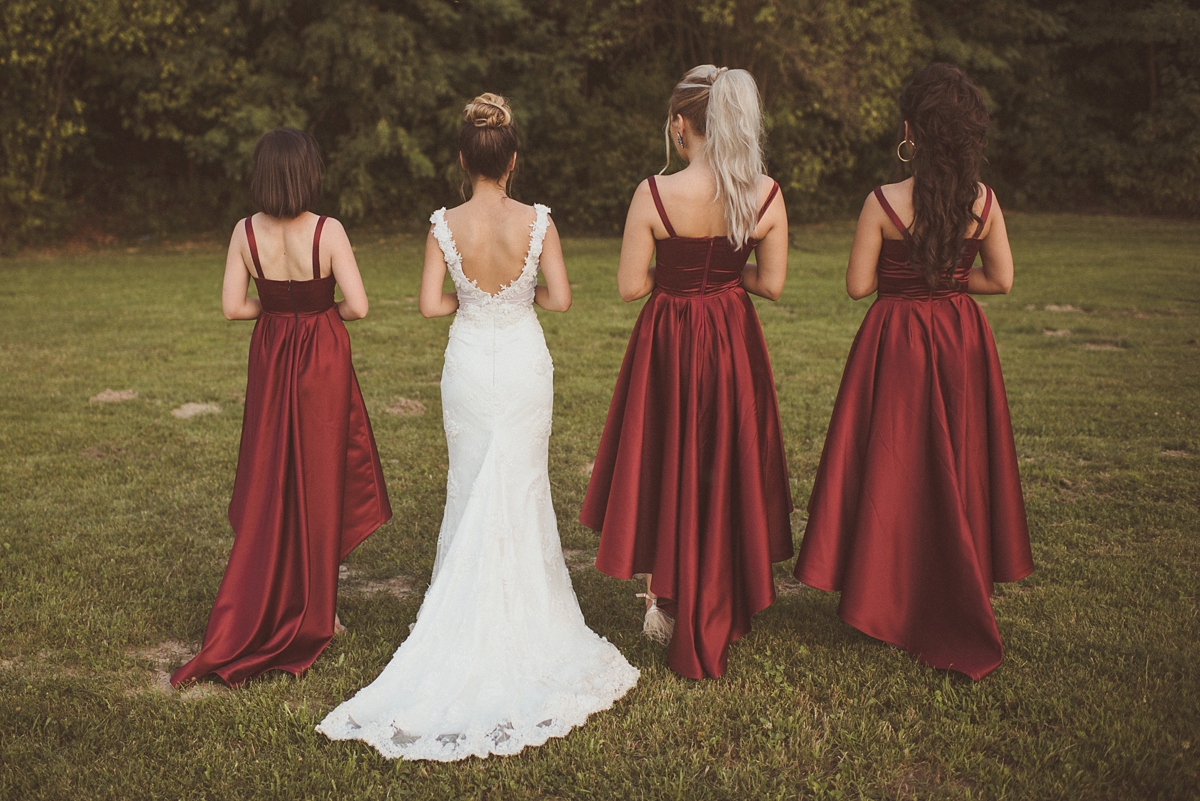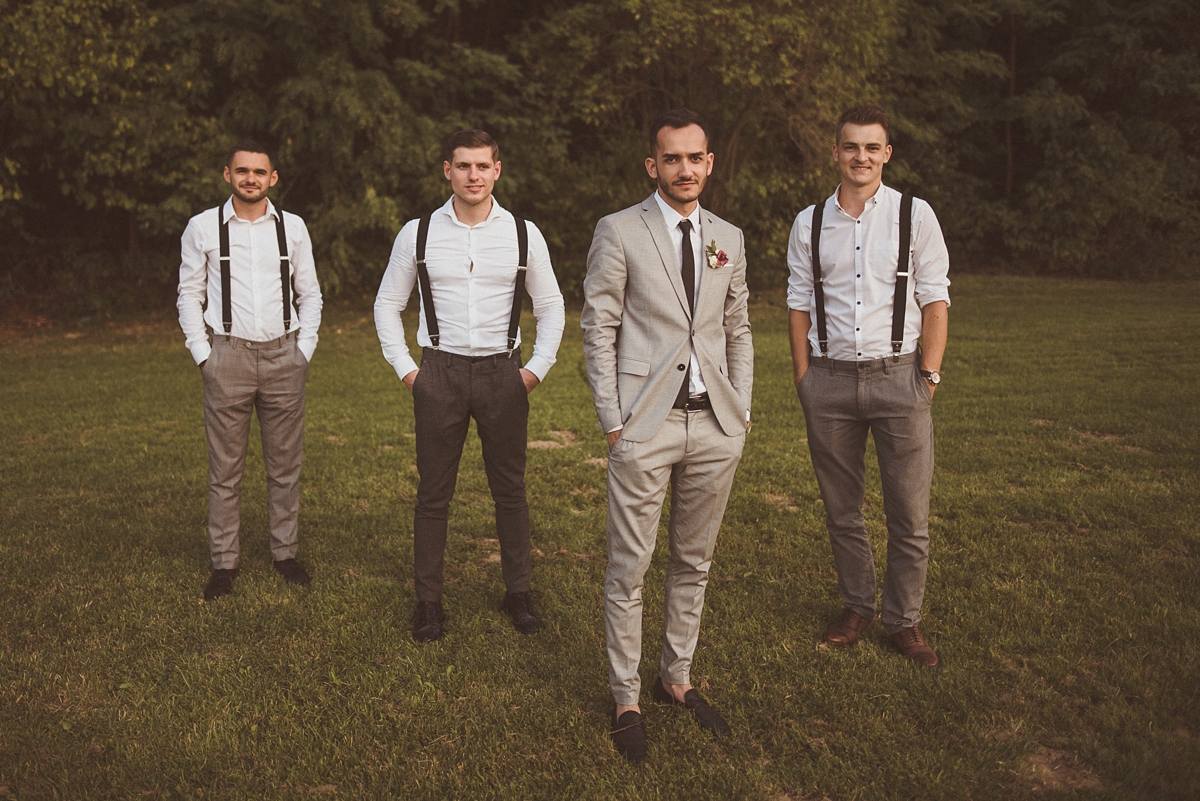 The bride is lucky enough to call photographer Matt Penberthy her brother-in-law, so he was a natural choice when choosing a wedding photographer.
His modern style is infused with natural light and the soft, documentary style makes for timeless pictures that I'm sure Claudiu and Maria absolutely treasure.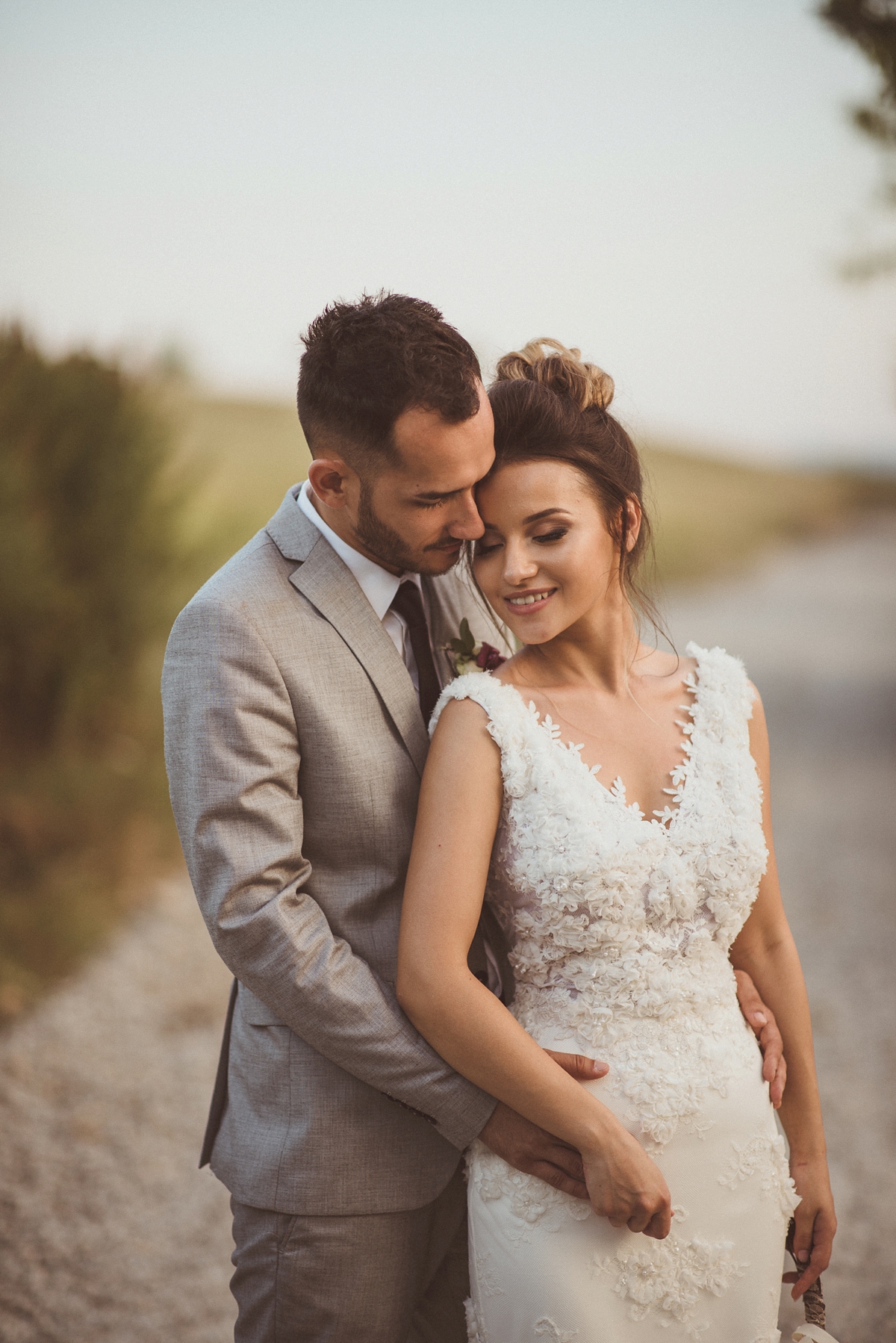 I love the sweeping shots with the Apuseni Mountains in the far distance. If you love his style then I invite you to take a look at his Little Book listing for more information.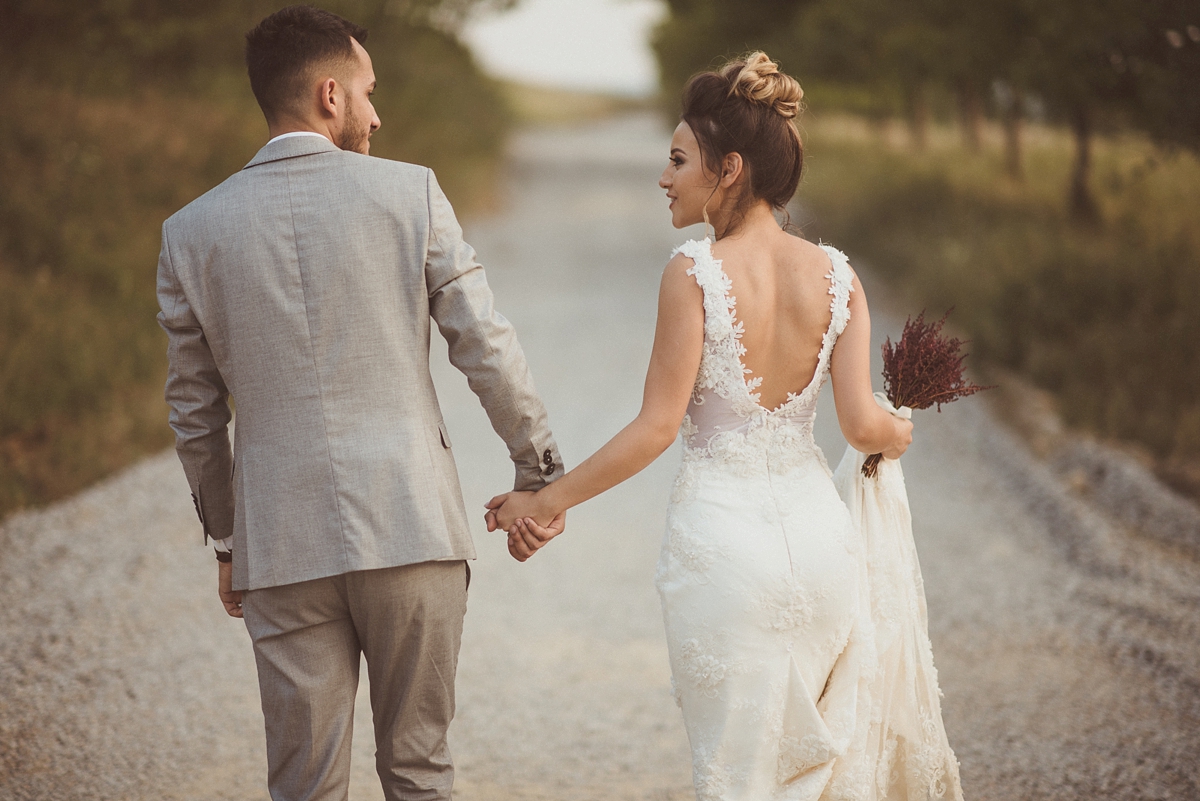 "My brother-in-law Matt Penberthy was our photographer; not because he is my brother-in-law but because I love his style. The way he captures moments makes you realise there was so much more going on at the wedding that we didn't even know about but he captured them and it's for us to enjoy them now. He also captures all the details in such a creative way."
Words of Wedded Wisdom
"Make sure that when you get up that morning you've got only one thought: 'I will enjoy every second of this day'.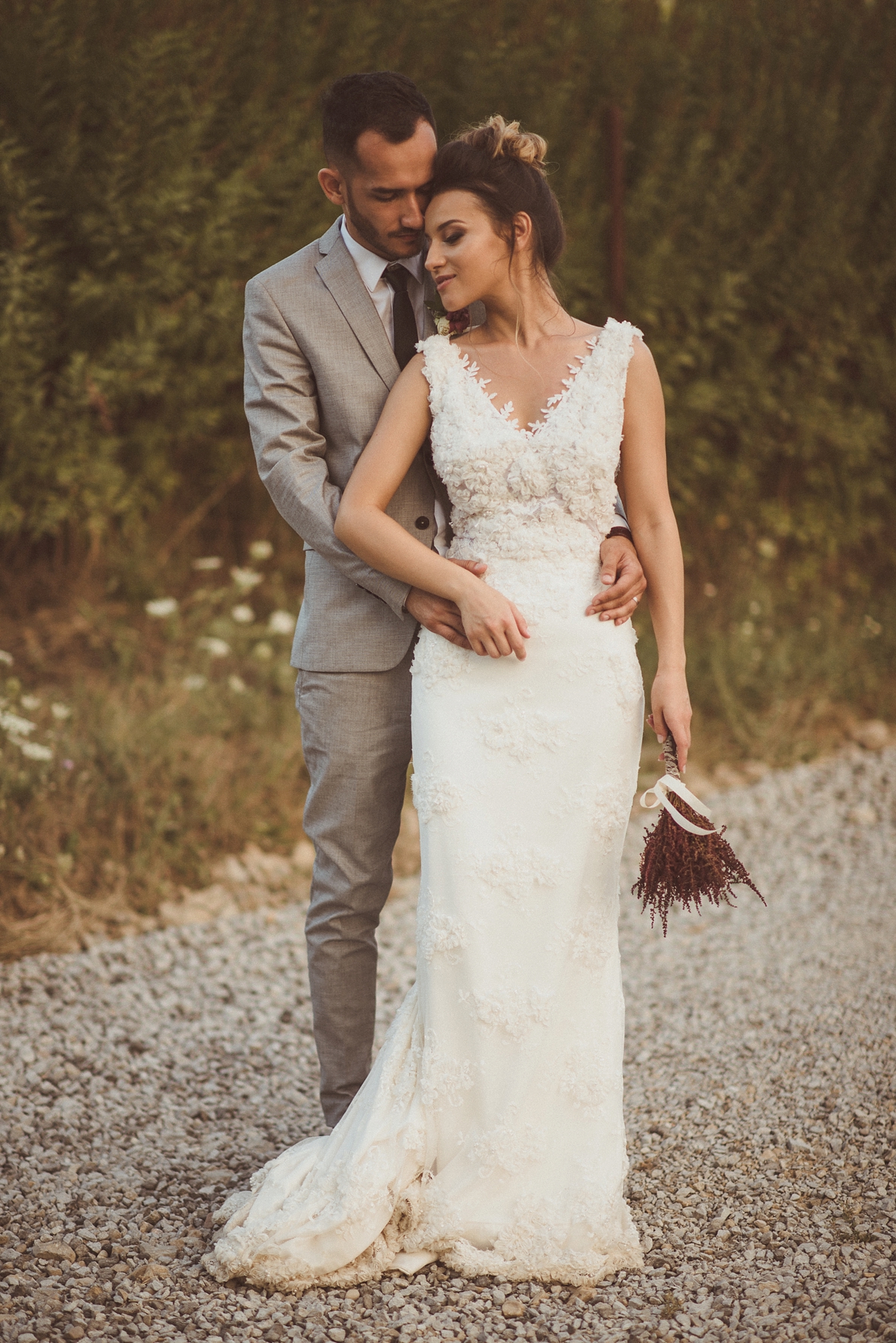 Well what a beautiful day. I've simply loved seeing somewhere totally different; I had no idea that Romania was such a beautiful country. The simplicity of this modern wedding is so refreshing and if you're feeling inspired, then have a peek at these other pared-back weddings which we've shared on Love My Dress.
I just need to say thank you so much Matt Penberthy for sharing your work today, and also thank you and congratulations Maria and Claudiu.
Ele xx