Take a little break from your day lovely readers because I have something special for you right here.
Over the last few months we've really enjoyed introducing you all to the beautiful bridal ready to wear collections by Needle & Thread – the wonderful British label founded by Hannah Coffin, that offers affordable luxury. Today, we're sneaking behind the scenes with Hannah Coffin, Needle & Thread's visionary founder. Come with me and let's see what we can discover…
Firstly, let me clear something up. If you're wondering why I called Hannah a 'visionary', let me explain. Whilst she was working as womenswear director at All Saints, Hannah noticed a gap in the market for cool occasion wear for women and Needle & Thread was born. What's so special about the label is that it appeals to such a wide range of women. In a recent article, the senior fashion editor of The Telegraph tells a tale where the groom's mother and sister wore dresses from the ready to wear collection. That's pretty special – beautiful design that transcends the normal age boundaries.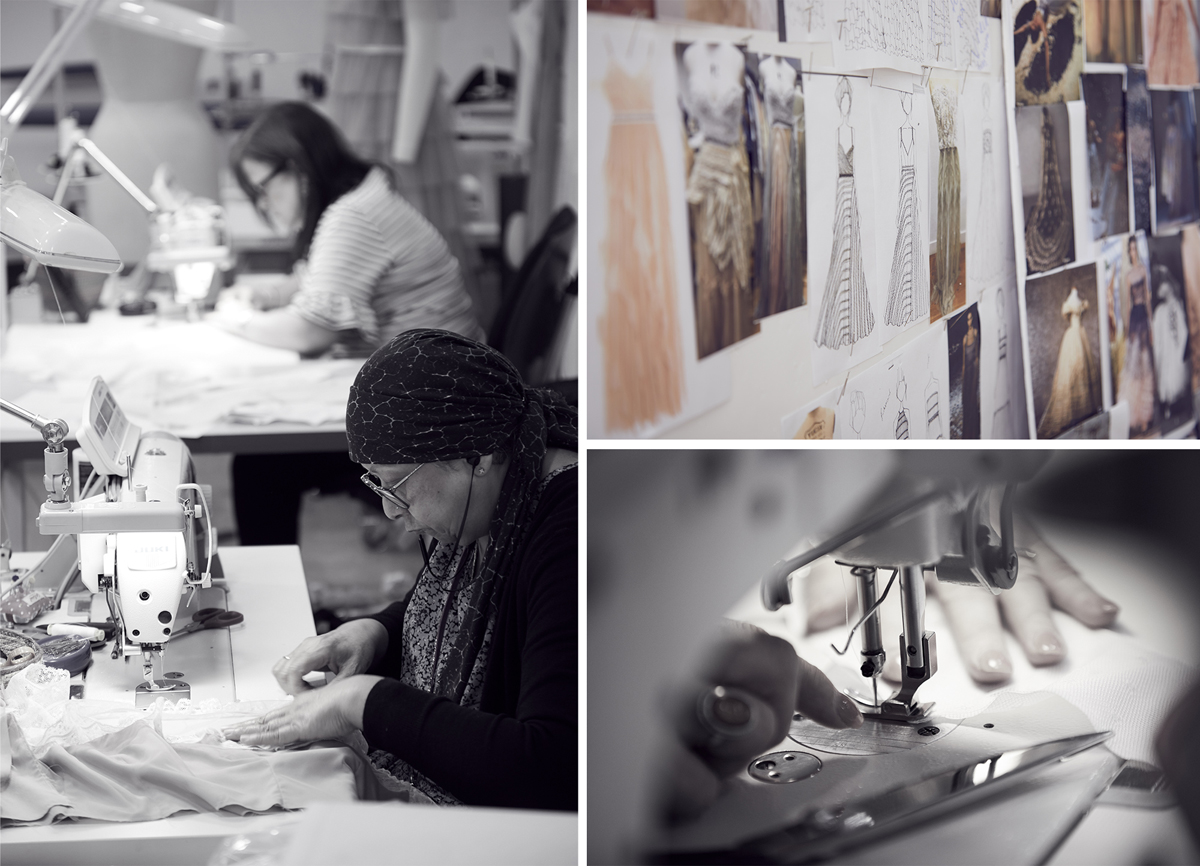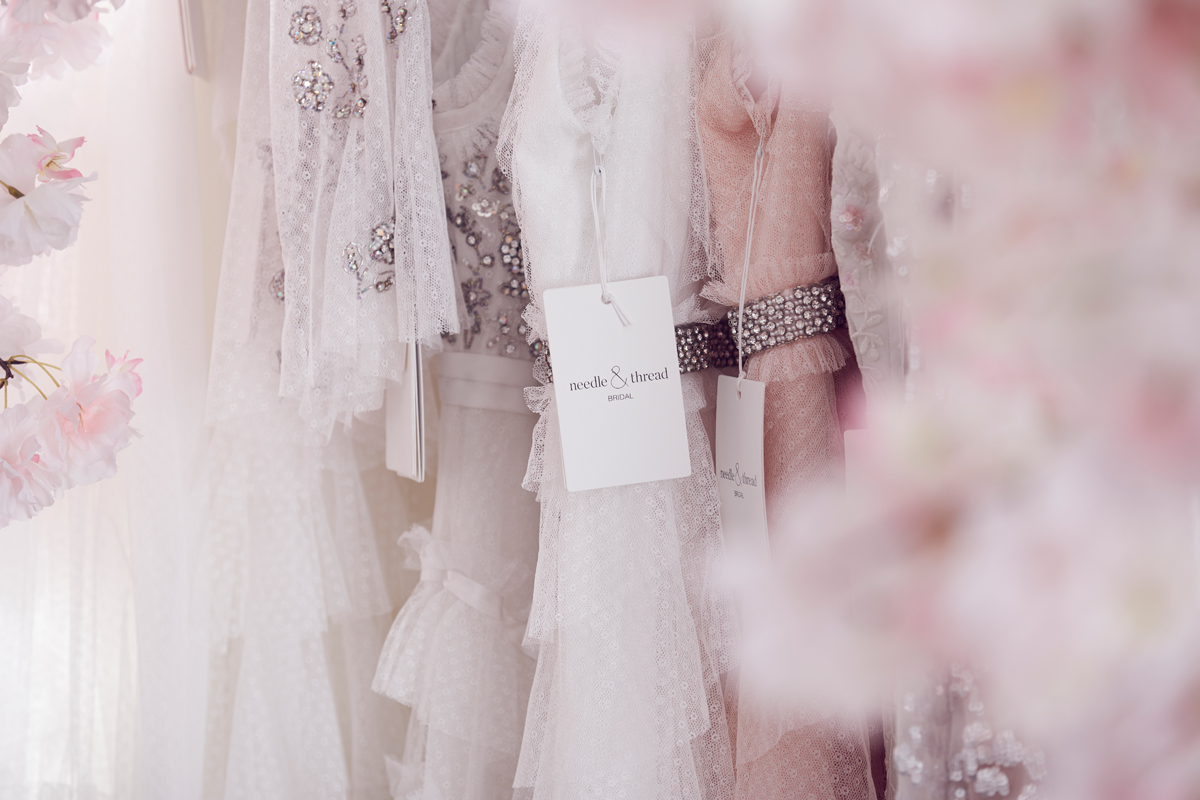 But Needle & Thread goes beyond that. Their bridal range in particular is surprisingly affordable – this is contemporary luxury with price tags that will make you smile for all the right reasons. We've seen lots of Needle & Thread real brides here on Love My Dress and there's a definite buzz around the brand. So, let's find out what happens behind the scenes of the bridal collection:
"Our design team loves working on bridal and they create two collections a year," says Hannah. "They draw inspiration from vintage textiles and lace but are also inspired by more contemporary references and include visits to lace museums, vintage markets and galleries in their design process. I, and they, love the creative freedom that they have – we really encourage them to get carried away!"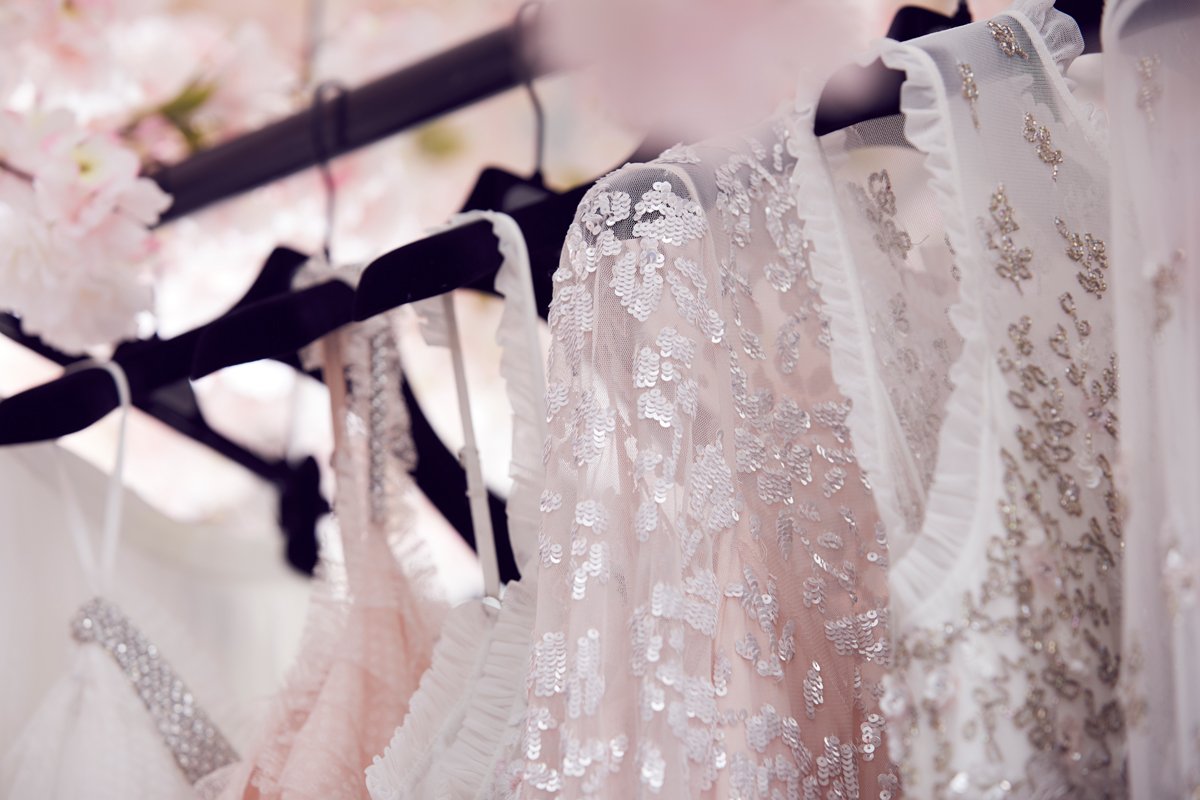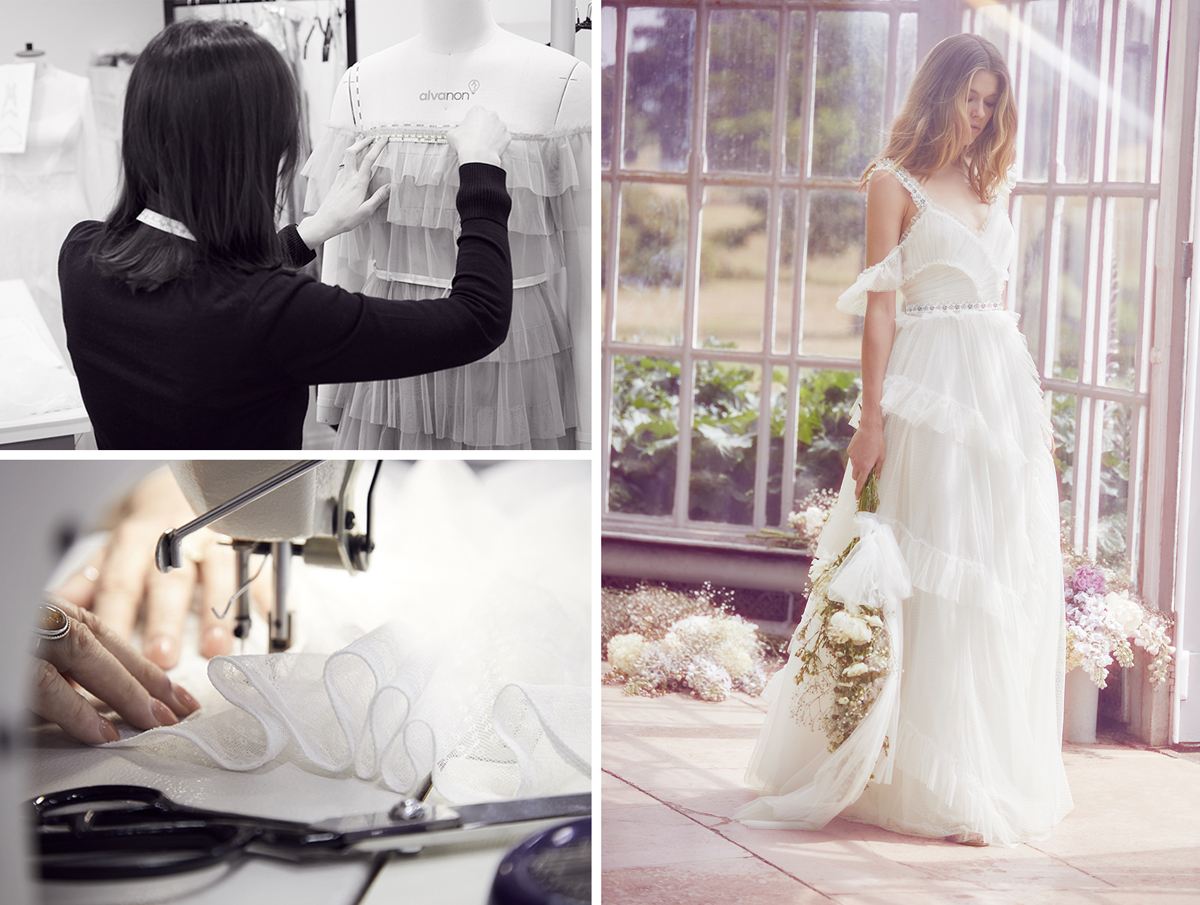 The design process goes beyond the London team and it's the skilled artisans in the Delhi design studios that work to create the exquisite fabrics that Needle & Thread are so well known for.
"In Delhi, we have a team of master sari builders who develop the most beautiful embroideries and embellishments. From there, we select our favourite textiles and apply them to our sketches and hand draw the artwork into our patterns."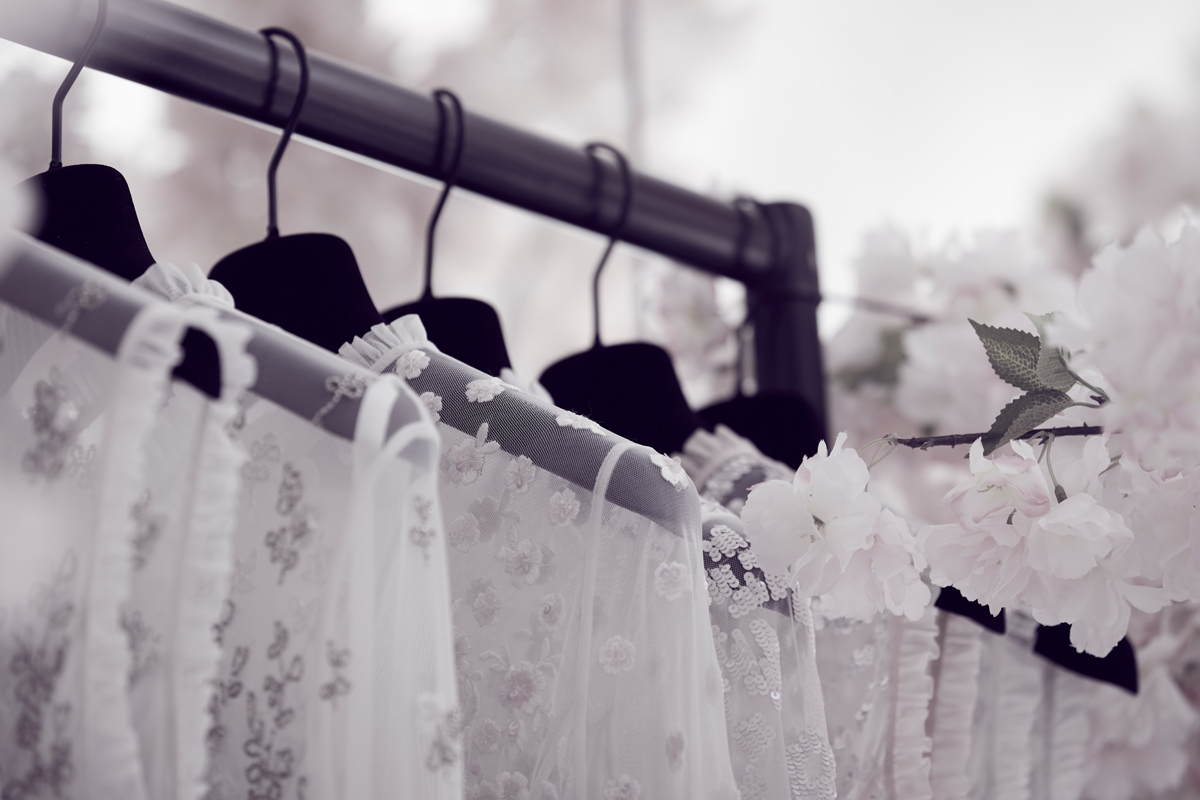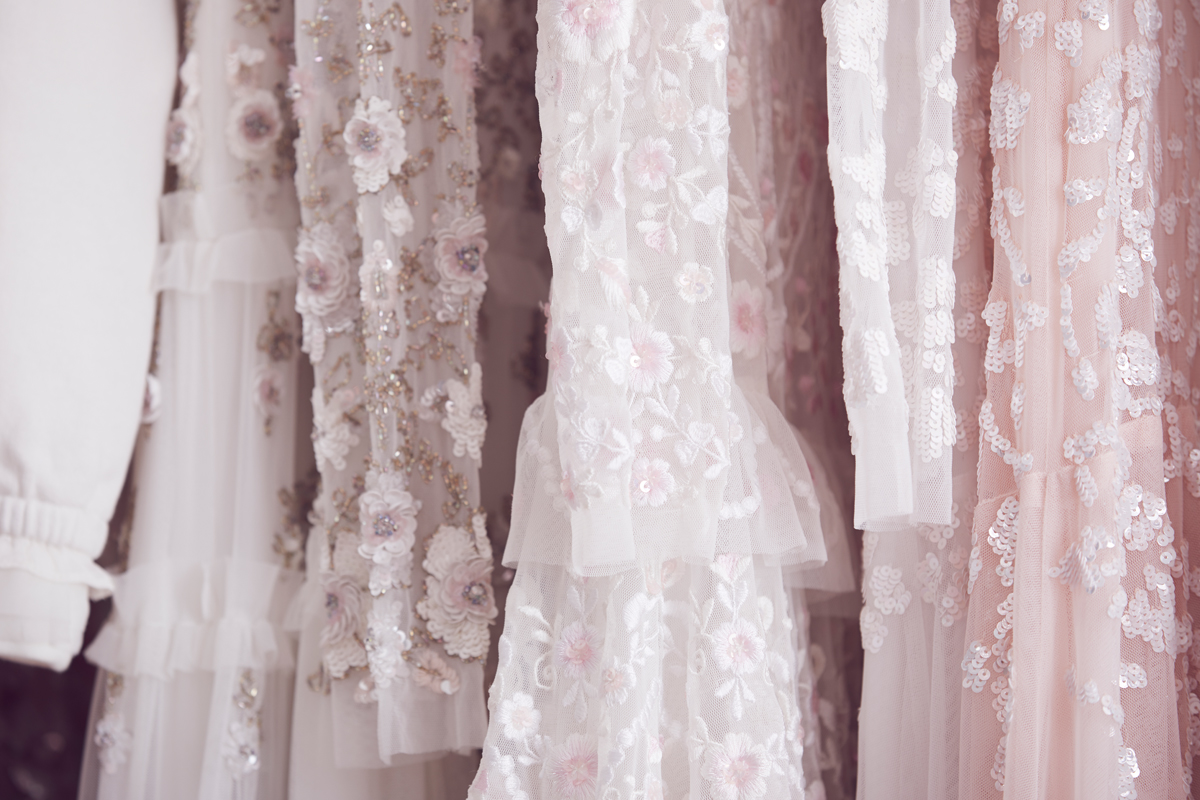 "The team loves draping fabrics and laces on the stands to create new shapes and textile ideas – it's a highly creative and messy process! From there, our designers partner with our skilled atelier room to make sure that the new designs are viable for production. Our team is so skilled that we rarely need to cancel designs but we will if we don't love the finished product. We only want our brides to have the very best!"
Needle & Thread launch two bridal collections every year with new designs being showcased in July and December and it's the superb attention to detail that you'll see in each gown that really stands out. And, if there's ever a day when you want to wear a dress that's immaculately crafted, brilliantly designed and embellished to perfection, it's on your wedding day.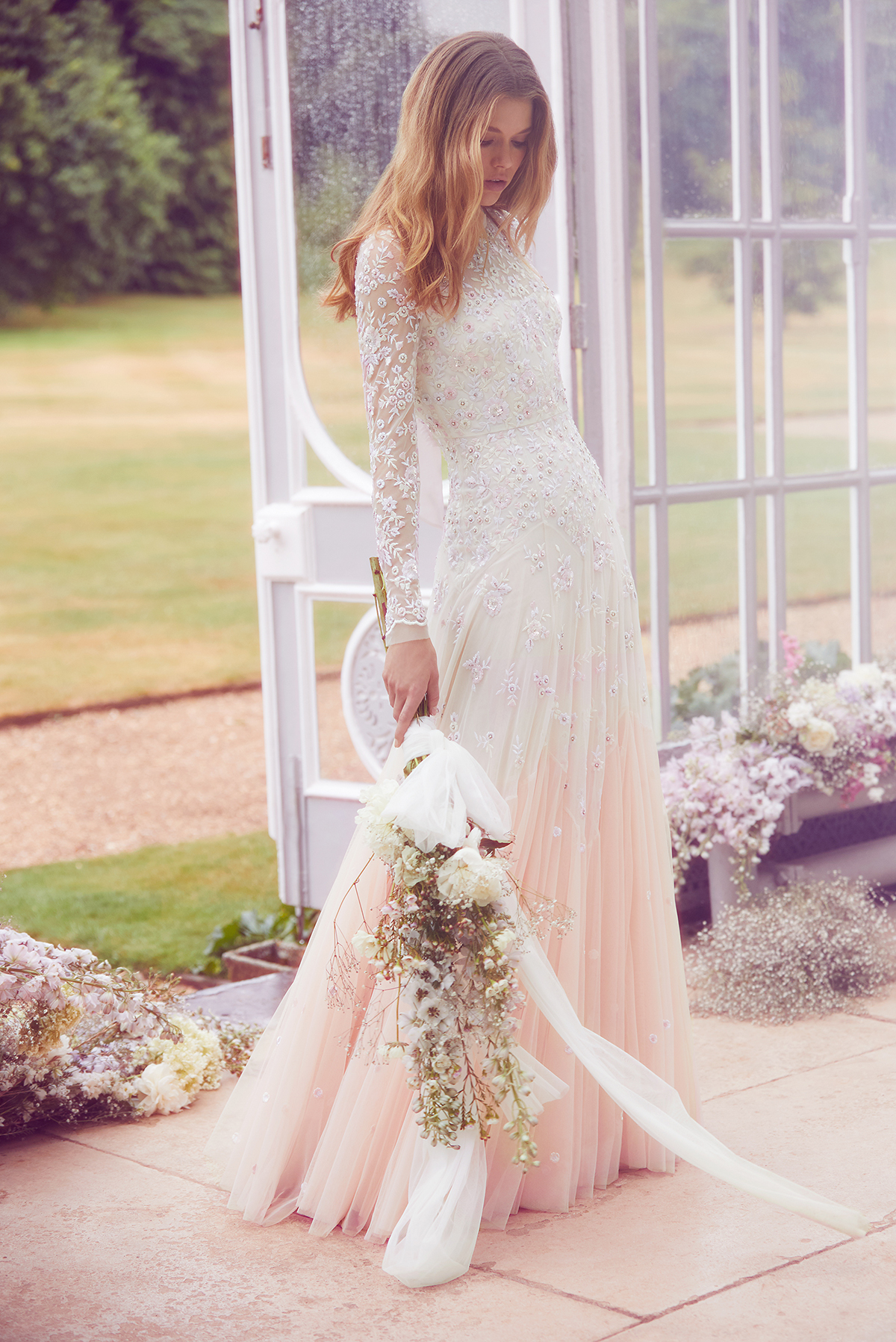 Hannah, and the entire Needle & Thread team, absolutely understand this:
"A Needle & Thread gown can easily have 150 metres of tulle fabric in it, all our embellishments are sewn by hand  and all the artworks on the gowns are drawn by hand. It's important to us that the artwork looks right on each size we produce so we re-draw the design for every size in production."
How absolutely glorious is that? Every gown design, in every size, is perfectly in proportion and perfectly designed – no detail is lost and every embellishment brings its best to the finished dress. I utterly love that and I also adore the fact that at Needle & Thread, the fit and quality of each dress is as important as the design. Your dress will look stunning and flatter you in ways that you wouldn't have thought possible.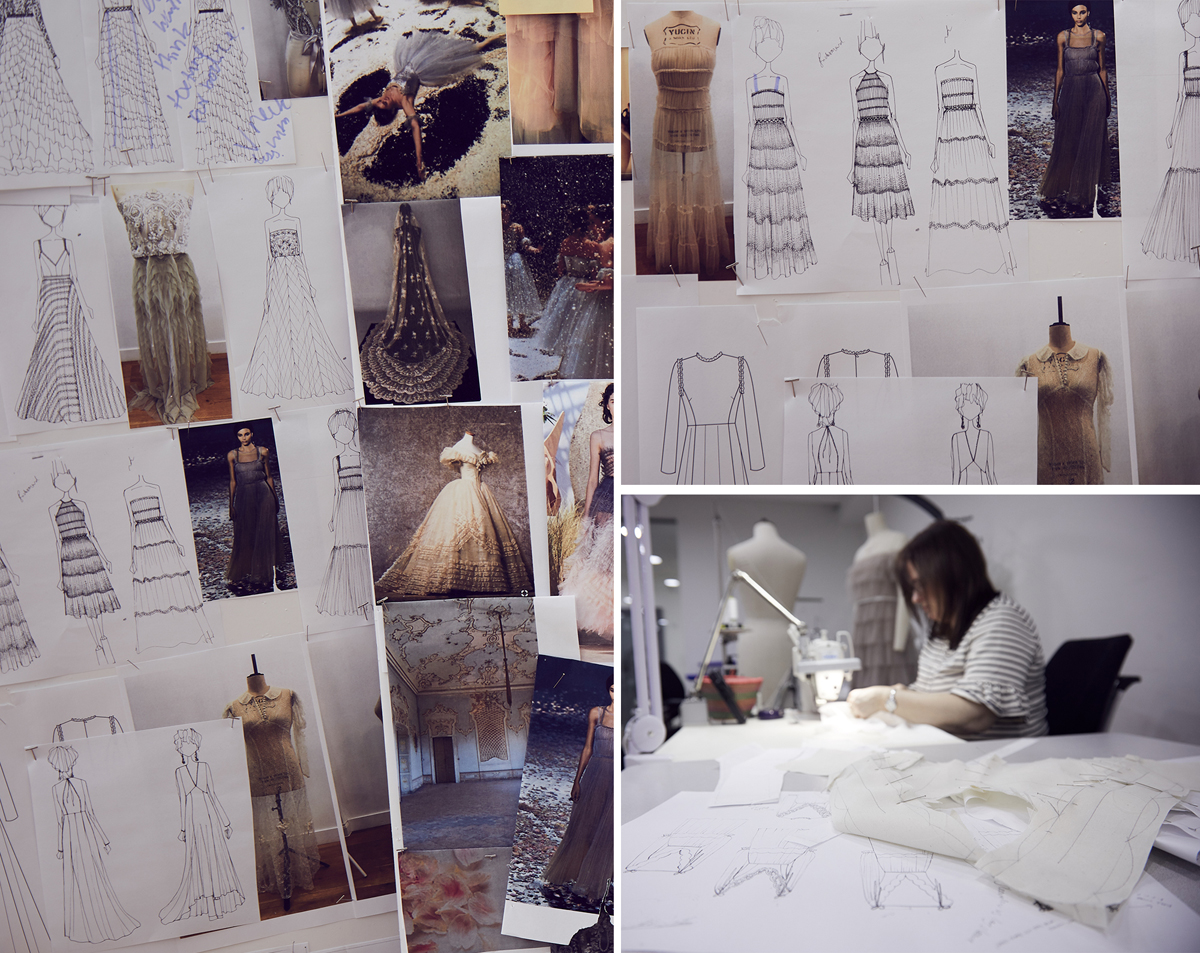 Hannah is rightly proud of the fact that Needle & Thread have built a tremendously loyal customer base and the team actively seek out feedback from clients and this is then incorporated into future designs. That's special. That desire to improve and give clients what they want is simply marvellous. To me, that shows exactly why Needle & Thread have been so successful – they give customers what they want and that just happens to be utterly exceptional.
Whilst Needle & Thread might currently be working on their SS20 collection, you can view and shop the current collection on their website and I can't think of anything better to do right now so hop on over and enjoy.
Love,
Tamryn x