And we're almost at another weekend – hurrah! I hope you've got fab plans for the next few days. It's a joy to be with you today to talk about EW Adams and their partnership with John Lewis. EW Adams create truly beautiful fine jewellery that's designed and hand-finished in London, each stunning piece really is something to treasure.
So, let me tell you a little bit more about this fabulous British jewellery brand. Well, EW Adams founded in 1946 are a London-based third generation family jeweller. Today, the company is run by a brother and sister team who oversee a carefully selected team of goldsmiths, stone sorters and master craftsmen, all of whom work together to create truly beautiful jewellery. I love the fact that the company has such a wonderful history – for example, the company's founder was a trained goldsmith who used his eye for detail in WWII to work on the consoles of the iconic Spitfire! This definitely is a company with personality.
And that personality comes through in the designs themselves. The collection includes engagement rings and bridal jewellery and you'll be able to take your pick from vintage inspired, traditional or contemporary designs. There are adorable classic or diamond set wedding bands in white gold, yellow gold, rose gold and platinum.
I have to mention the contemporary collection that includes fabulous diamond set celebration rings, eternity rings, necklaces, bracelets and earrings, some of which would be absolutely perfect for bridesmaids or as gifts for your (very lucky!) bridal party. Just take a look at the 9ct white gold round pendant in blue topaz and these lovely 9ct white gold oval stud earrings in blue topaz – how perfect are they?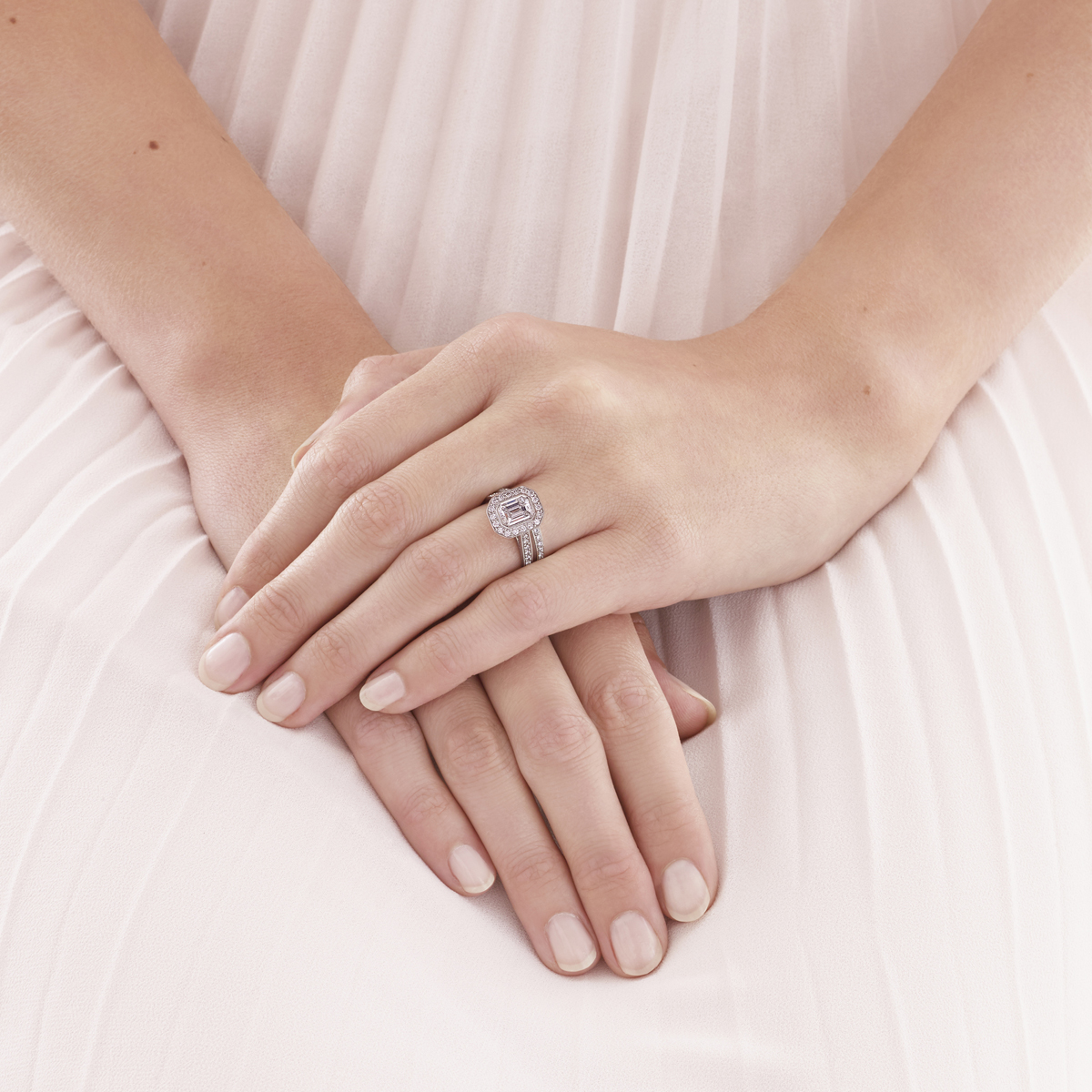 The gemstones used in the pieces are all handpicked and carefully chosen for their beauty. The luscious gems include amethyst, aquamarine, emerald, garnet, opal, peridot, ruby, sapphire, topaz and many more. I love coloured stones, emeralds and rubies in particular, and it's such a treat to see pops of bold, bright colour being used in such gorgeous pieces.
There's a definite vintage aesthetic to some of the designs and you'll see Georgian and Victorian influences in the pieces along with Edwardian and Art Deco details. Every item is designed in the company's south London workshop and is then brought to life by skilled crafts people, all using traditional methods.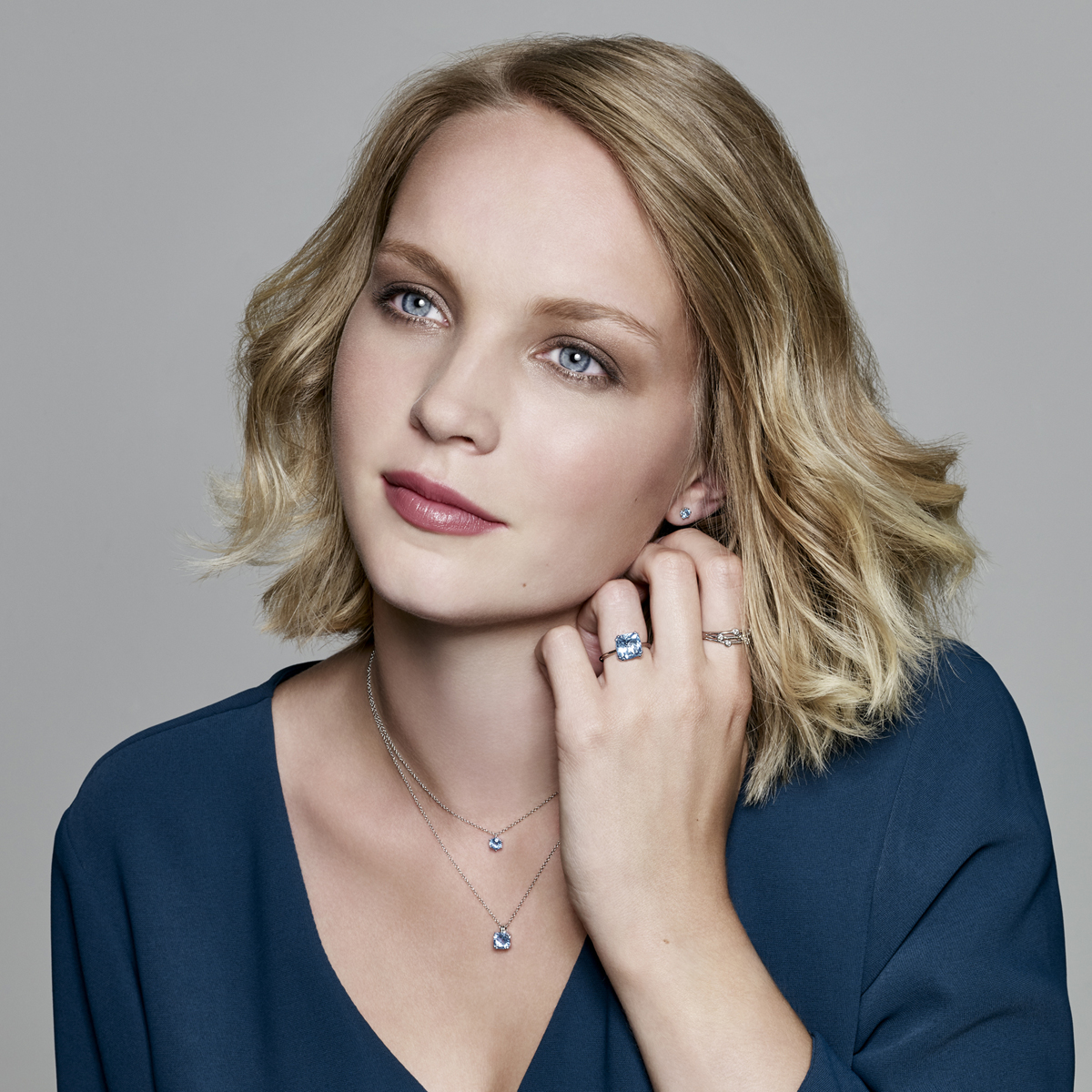 What would I choose? Well, I absolutely adore cluster rings and the EW Adams engagement ring collections features so many gorgeous designs. If I wanted to make a statement, this 18ct white gold diamond cushion cluster ring would be on my shortlist and I'd team it with an 18ct white gold 2.5mm court wedding ring. I also love the 18ct white gold cluster pear shaped pendant – this would be a fab bridal accessory (or gift wedding day gift from your partner!). I have to mention the emerald cut pendants too. These 9ct gold pendants in garnet and peridot would be great to wear post-wedding and of course, diamond set celebration rings, eternity rings are prefect for new mum gifts and all those important anniversaries.
When you buy your EW Adams jewellery at John Lewis, a few extra treats will be coming your way. You'll enjoy complimentary engraving on all new wedding band purchases, they also offer cleaning and checking services as well as re-polishing and plating available on all EW Adams pieces over £1000 and will provide insurance valuation certificates for any item purchased for £2000 or more. So, not only will your jewellery look perfect, it will also be protected for the coming years.
A Few of our Favourites
As well as being absolutely heavenly, jewellery by EW Adams also comes with a big dose of integrity so if ethically sourced jewellery is a must-have for you, then you'll be super happy to know that EW Adams works with ethically sourced materials. The company also subscribes to the Kimberley process certification scheme, which was set up to stop conflict diamonds being sold and used around the world.
EW Adams – jewellery that's designed to be worn and last a lifetime.
To find out more about jewellery by EW Adams, do visit their website and buy online at John Lewis or visit the John Lewis jewellery counters instore where the knowledgeable staff can offer a helping hand and lots of useful advice to help get that important choice right.
Love,
Tamryn x