Today's spectacular and stylish celebration has it all – drama, glamour and sparkle, a beautiful and generous country house venue, and as if that wasn't enough to take in, a modern tree house, too (yes, really!). After spending some time perusing Pinterest, our couple landed upon a colour scheme of white and gold, with contrast found in lots of lovely greenery.
Nina, who works in clinical trial management for a biotechnology company providing cancer treatments married Andy, who works in production management for a well known payments company, on the 9 September 2018. They celebrated their day at Bowcliffe Hall in Wetherby, West Yorkshire, a historic country house built in the early nineteenth century. Nina looked glorious in the 'Dare' gown, embellished with gold beads and sequins, by Jenny Packham, and chosen at The Bridal Collection Harrogate.
"Hayley was brilliant – I made an appointment at short notice and told Hayley we had 5 weeks to the wedding and she helped me find the most perfect dress, measured me up on the same day and I had my final dress fitting two weeks before the wedding! I chose the Bridal Collection because my Pinterest hunting for dresses again showed a trend, and I was really drawn to the Jenny Packham dresses, which were a bit less traditional and a lot more bling!"
Images by Boho Chic Weddings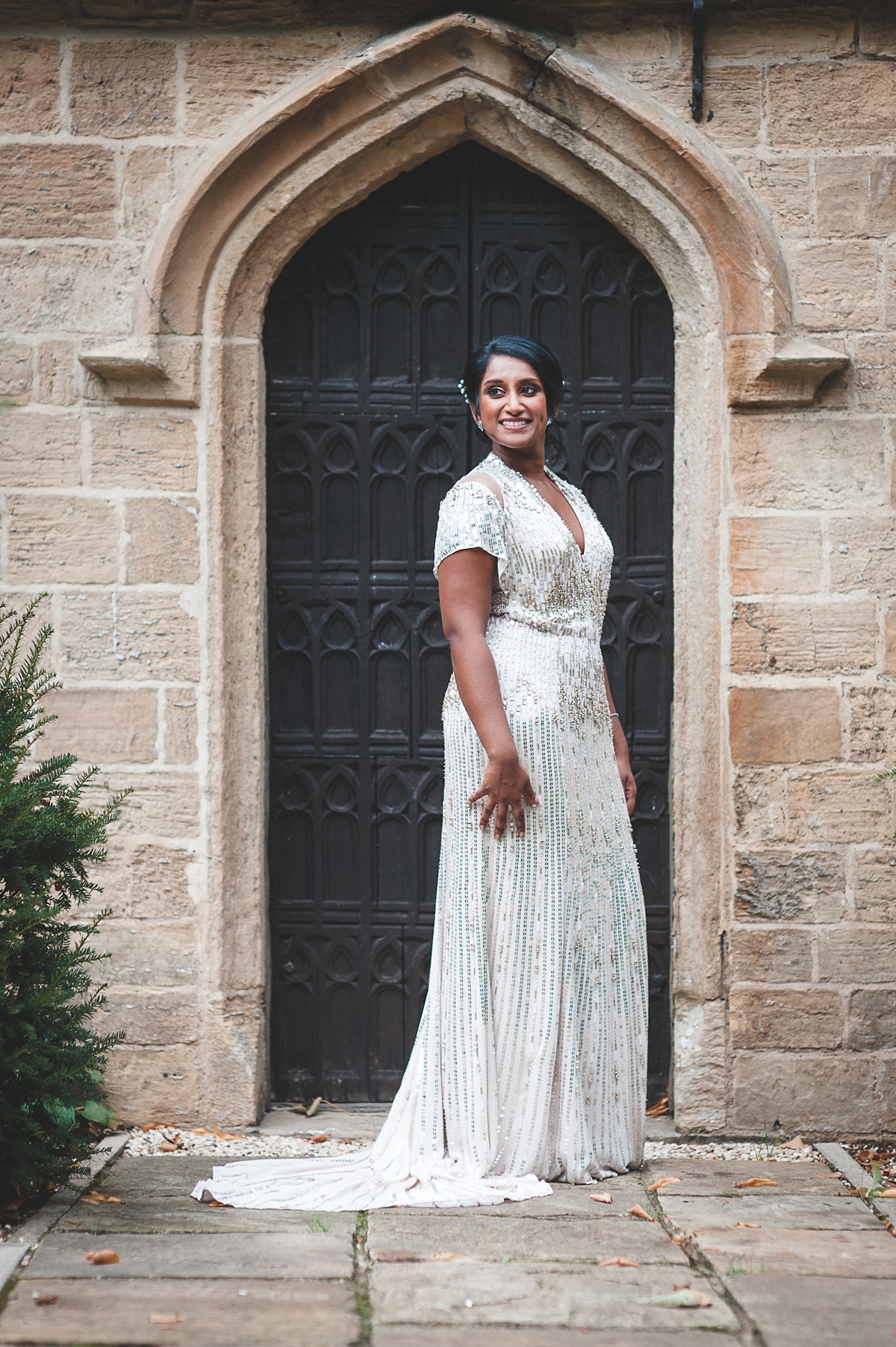 "My bridesmaid and my friend accompanied me to the Bridal Collection and we were all drawn to the Jenny Packham section (without knowing it was Jenny Packham) and we chose a few beaded dresses and a few lace dresses. I tried my dress on second and immediately I just knew it was something different and had real wow factor! I could just imagine Andy's face when he saw it, knowing he would never have expected me to pick a dress like that."
"Every time you look at the dress, you see another bead or gem you haven't seen before, and the way they all catch the light is stunning. It was a really flattering fit too, and before I went to the shop I knew I wanted sleeves (it had them) and a V neck if possible (it had one) so it was a no-brainer."
"Also for my skin tone, I knew that ivory/cream/white dresses were going to be too much of a contrast, and the champagne colour of the dress went with my skin tone perfectly. We were joking that after the wedding I could get it altered and wear it as a cocktail dress…I'm very tempted!"
Nina opted to take care of her own make-up, and Emily Hawkes from By Jodie Hair and Make-up Team styled Nina's hair into an elegant and classic chignon adorned with delicate fresh gypsophila. For her wedding day fragrance, Nina chose Chanel Coco Mademoiselle.
Nina wore pale pink embellished sandals from Jenny Packham's No. 1 collection for Debenhams and also added pretty jewellery from Ivory & Co., purchased at John Lewis – a pair of leaf motif drop earrings as well as a cubic zirconia and silver tennis bracelet.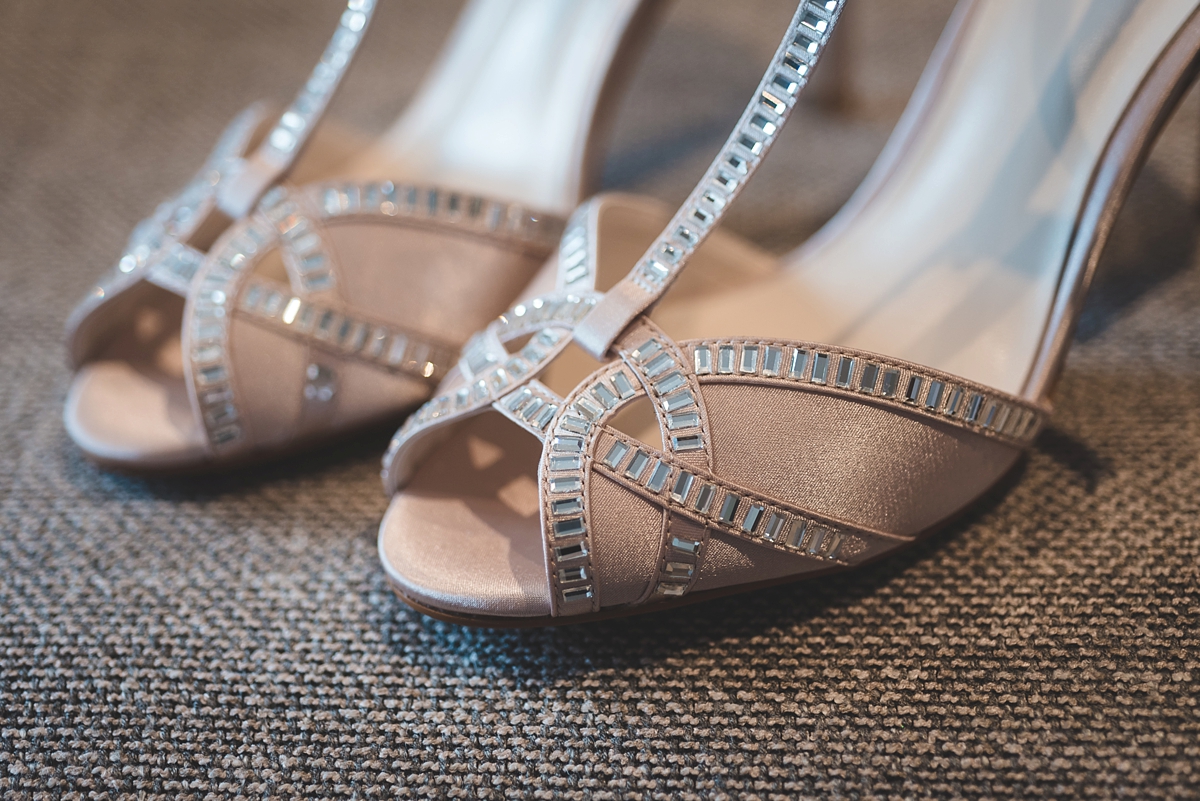 "We selected Bowcliffe because it offered a really unique venue offering a traditional English country house as well as a modern tree house with aeronautical themed wing, and really contemporary interior and décor. We were so impressed with the gardens too, and their team's flexibility and willingness to do everything we asked…especially with the short notice at which we booked the venue."
"We also really loved the exclusive use and the fact they only hosted weddings on weekends. It made for an intimate feel…We both ended up living in Leeds for work, and it was where we met so it seemed fitting to have our wedding in Leeds too. And it meant that our friends and family didn't have to travel too far and wide to come and celebrate with us!"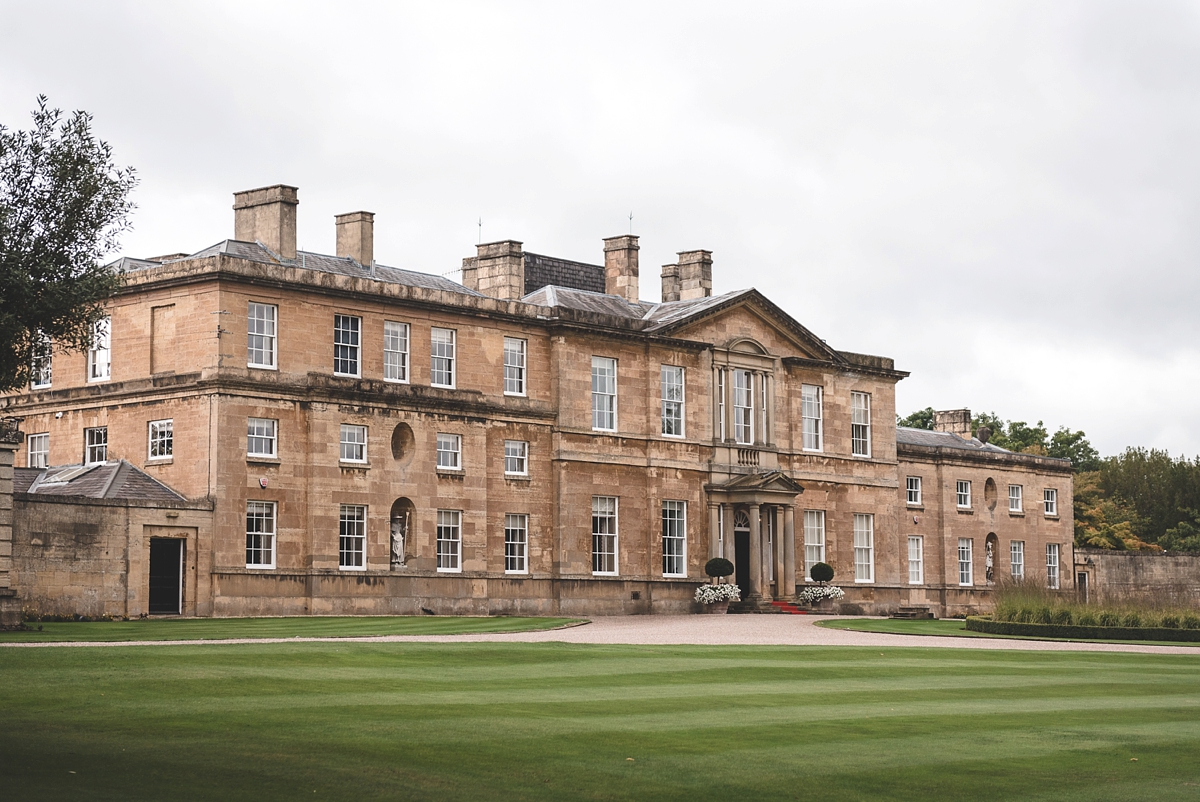 These elegant, wonderfully composed images are by the couple's chosen photographer, Catherine Kerr of Boho Chic Weddings.
"We chose Catherine because we wanted a very natural feel to our pictures. We didn't want to be held up spending ages taking posed photos when we could be drinking and having fun with our guests! We also wanted pictures of our guests having a good time and Catherine was perfect for that."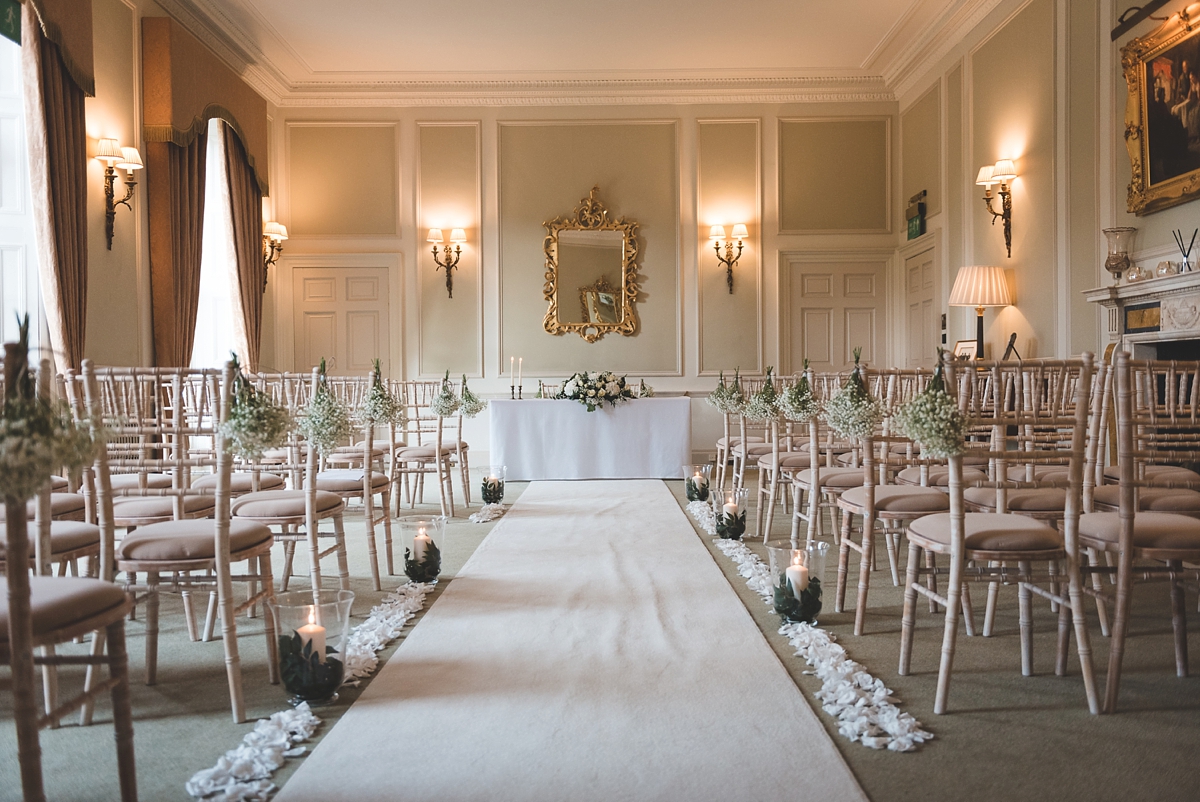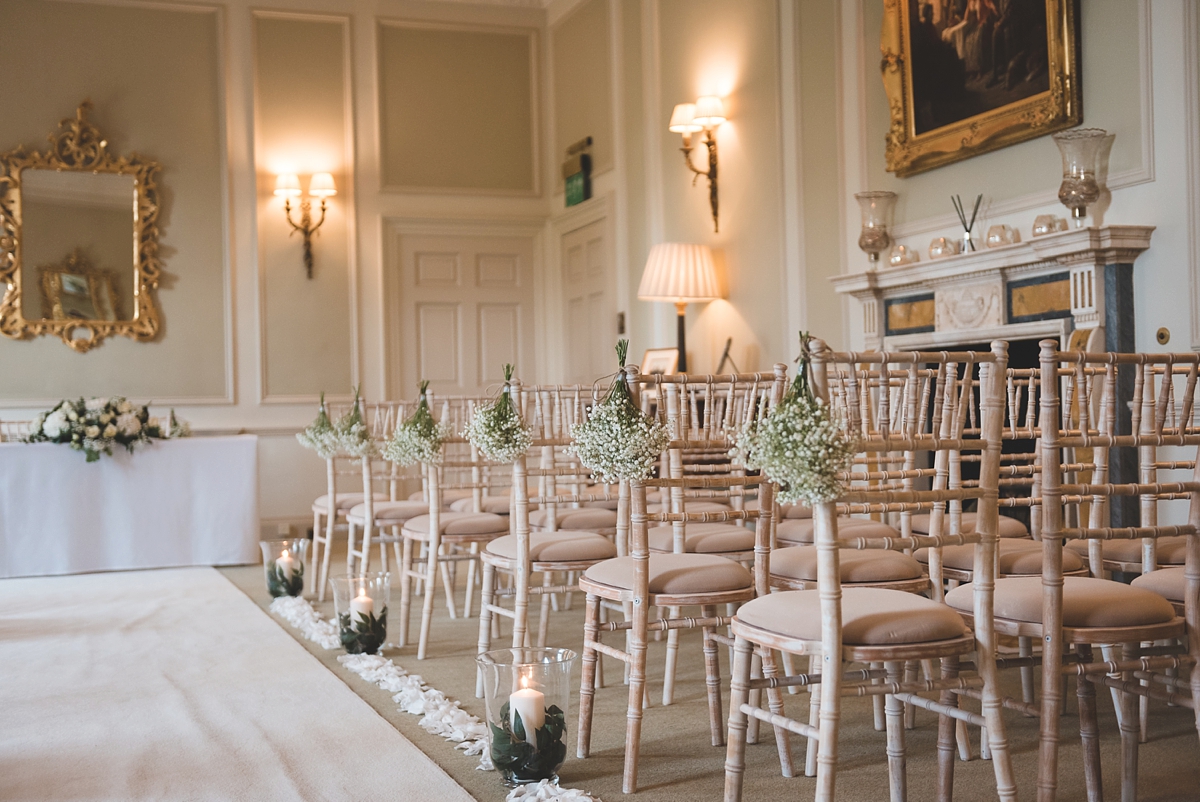 Nina's bridesmaid wore a lovely pink asymmetric dress from Lipsy London, and together with Nina's flowergirl, who wore a white pleated dress from Paisley of London via Roco, their hair was adorned with hydrangea petals sourced from Sweet Colours: The Rose Petal Shop.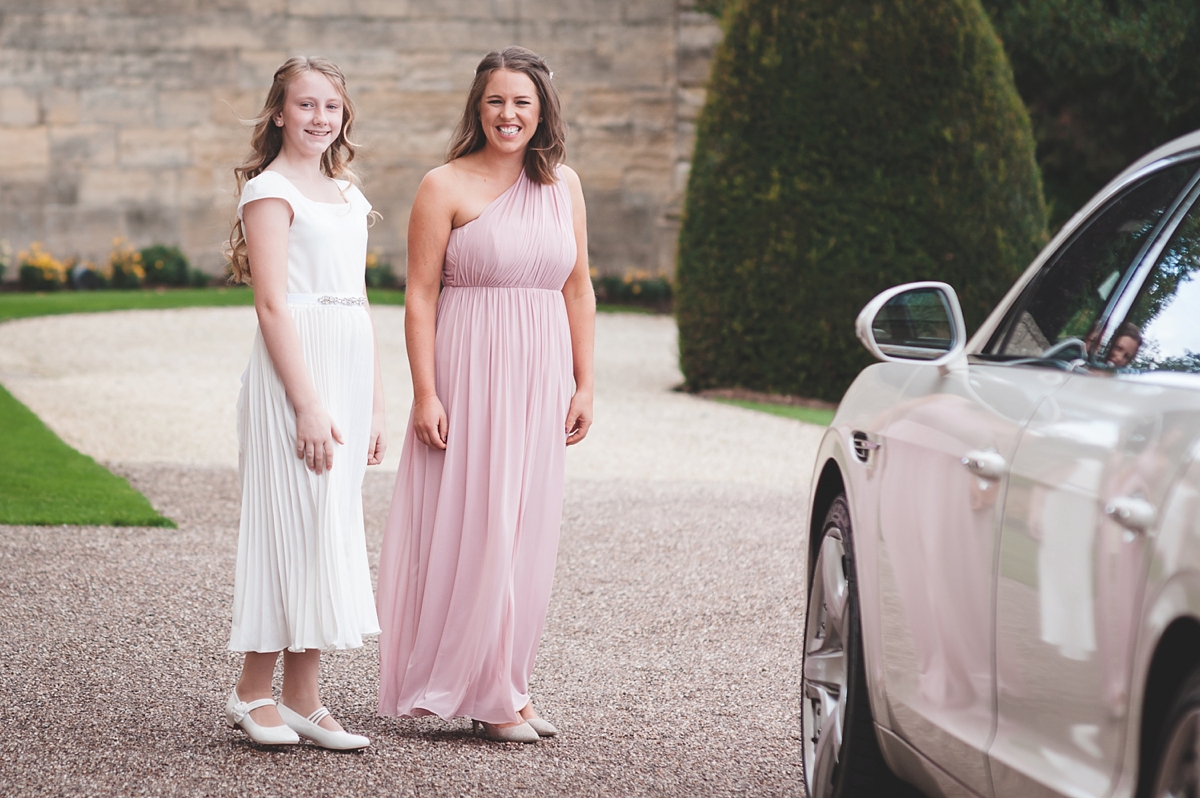 Cupid Carriages provided wonderful transport to Bowcliffe Hall, with a Bentley Flying Spur for the bridesmaids, and a Bentley Mulsanne for Nina and her mother.
Nina loved the idea of monochromatic white flowers throughout the day, and chose to work with a local florist, Lily's of Bramhope to bring this vision to life. There's a gorgeous mixture of roses, gypsophila and hydrangea blooms used in the arrangements, pew ends, and the rose petals scattered on either side of the aisle.
"I loved the idea of a fully white bouquet, which would complement the bling of the dress and the white/gold theme. I didn't want the flowers to detract from the dress and so opted for roses, hydrangeas and baby's breath. They looked stunning!"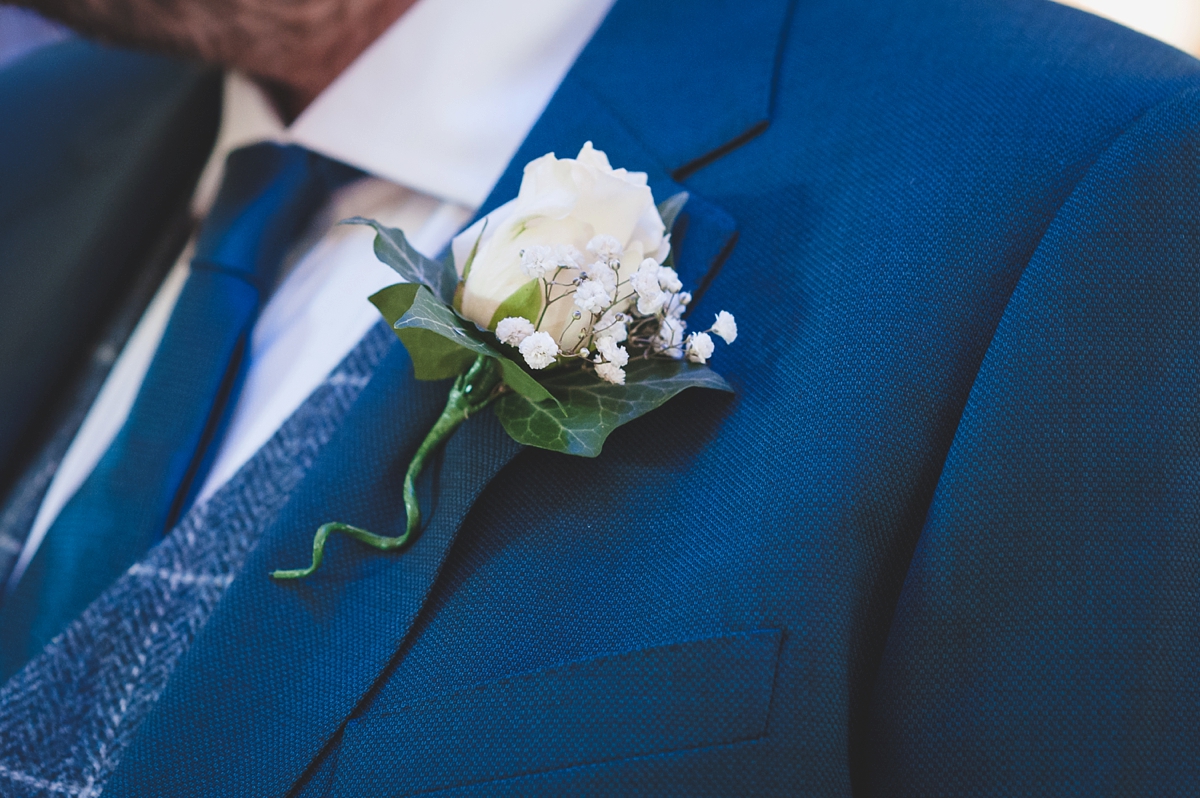 Nina walked down the aisle together with her mum to an instrumental version of Beyonce's song, Halo. There was Andy, looking smart in a navy blue suit (and shoes) from Marks & Spencer with a fantastic contrasting tweed check waistcoat from Young's Hire. Nina also surprised Andy with personalised 'I Do, Me Too' cufflinks from Ali Bali Jewellery via Not On The High Street.
"We first met at a casino in Leeds through mutual friends in 2013. At that time I had recently moved to London and Andy was still in Leeds. Despite several attempts by Andy to get me on a date while I was in London, we only managed to meet once as I was always busy (London life!)."
"Andy still claims our first date was when we met up at Byron Burger but I keep reminding him both people need to know it's a date for it to count! We had been to Vegas with friends as well later in 2013 and had a blast gambling and staying up till the early hours but we didn't get together as a couple until late 2015 when I had moved back to Leeds for work. A few bottles of wine and the rest is history!"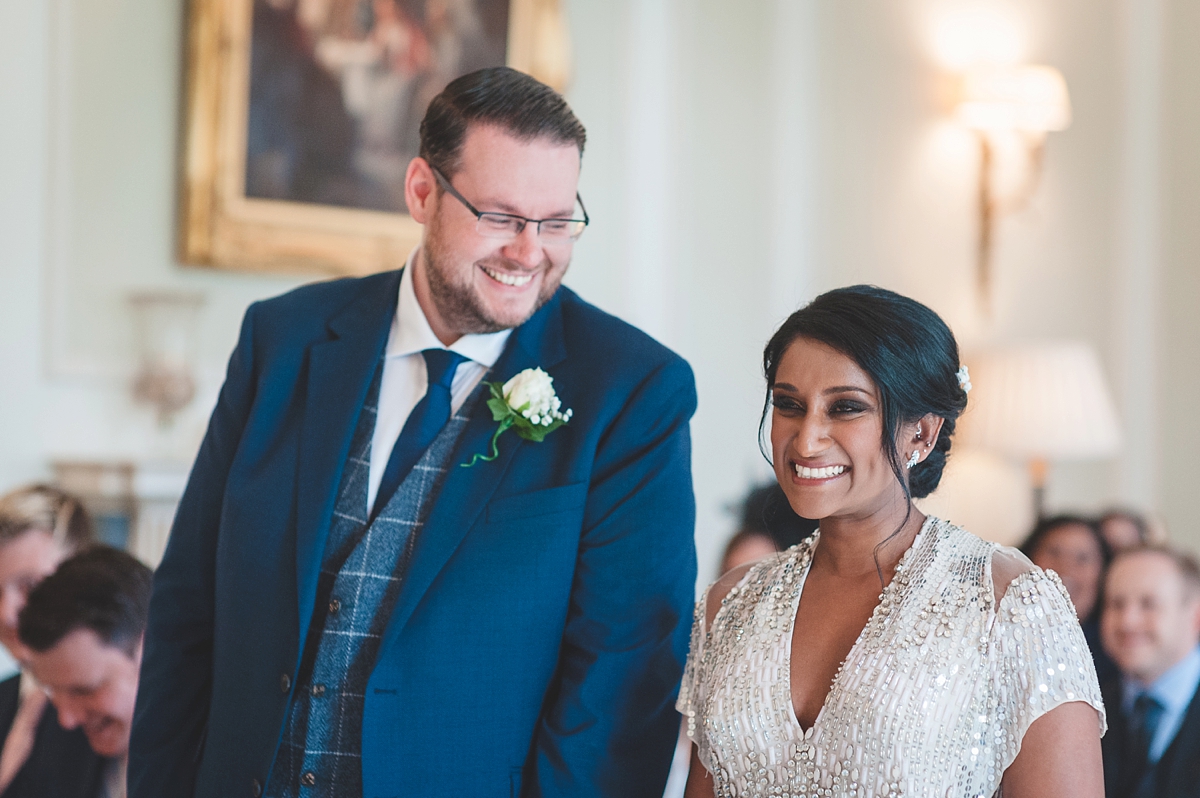 The couple bought their first home together in 2017 and moved in with Nina's cat Pudding, soon adding kitten Teddy to the family, too.
"We had a few amazing years together and experienced highs (holidaying to some awesome places, eating and drinking far too much, hanging out and constantly laughing with our friends and family) and some huge lows (family bereavements for Andy). Andy knew he wanted to propose however the question was how and when was it going to happen!"
Nina thought Andy might propose while they were on holiday in Canada in summer 2018, but instead Andy waited, asked the permission of Nina's mum, ordered a ring and waited for the perfect moment!
"Andy enlisted the help of a friend to light loads of candles on a very windy night and while that happened, Andy took me to one of our first date restaurants where we had an early date.Then once home I was surprised with a garden full of candles and a homemade light up sign spelling out 'Will you marry me?' (which took Andy hours to wire lights around!)."
"Once I had said yes and due to personal circumstances including Andy's dad passing away and an impending move abroad, we wanted to get married as soon as possible, so we could celebrate with our friends and family before we went. When we found out our preferred venue was available on a Sunday in just 6 weeks time, we jumped at the chance! Cue 6 weeks of crazed planning and running around like headless chickens!"
For Andy, his favourite part of the day was during the ceremony, after Nina had arrived and he felt his nerves begin to settle down.
"We were stood in front of everyone holding hands and I thought 'I can't believe this is really happening'. We didn't stop holding hands until we were told to by the registrar for the ring exchange!"
The couple's rings (including Nina's engagement ring) were chosen from Blue Nile – for Andy a classic 4mm white gold band, and for Nina, a platinum, sapphire and diamond pave band.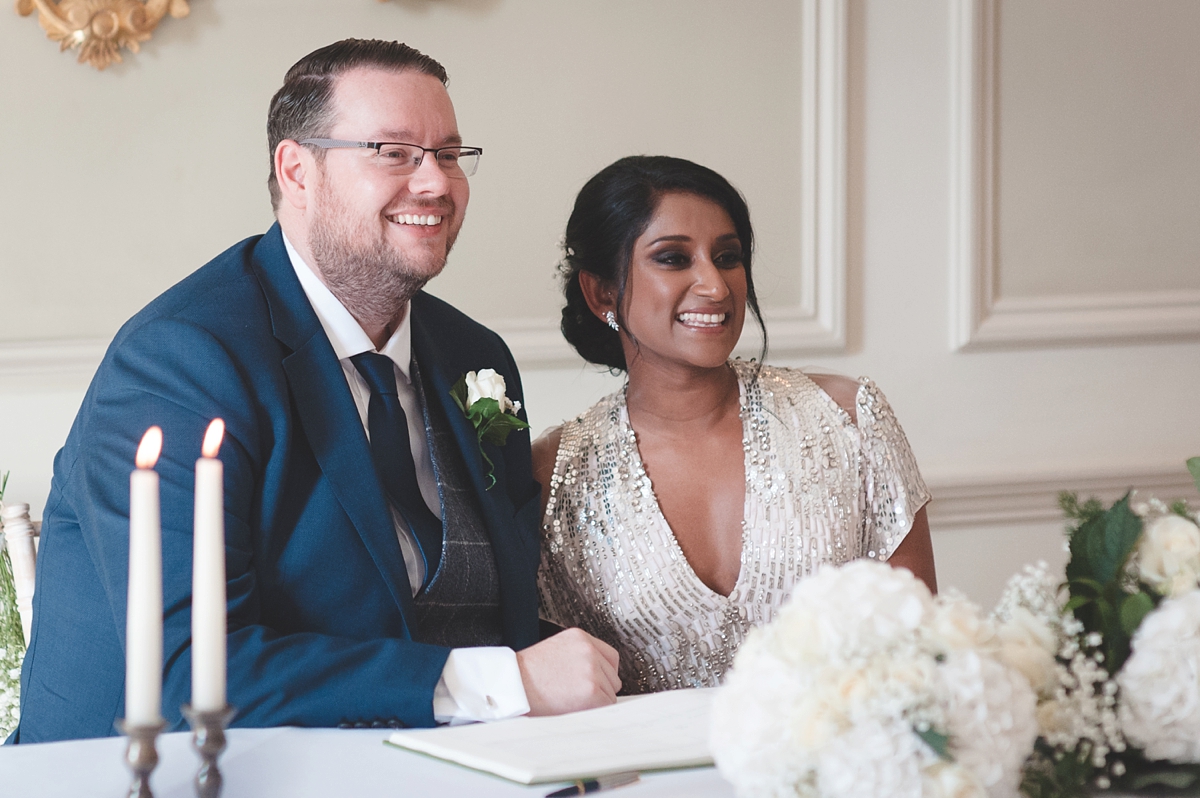 "I chose this because I wanted some colour to break up the platinum. I love sapphires and also they are Andy's birthstone so it seemed a great choice."
The first time Nina read Edward Monkton's A Lovely Love Story to Andy, he cried, and so this seemed like absolutely the perfect choice to have as their ceremony reading.
"After the ceremony and the confetti, we walked away, just the two of us away from everyone and had strawberry daiquiris –it was the first time we had seen each other alone away from the craziness of the day and we were squealing about how we were actually married!"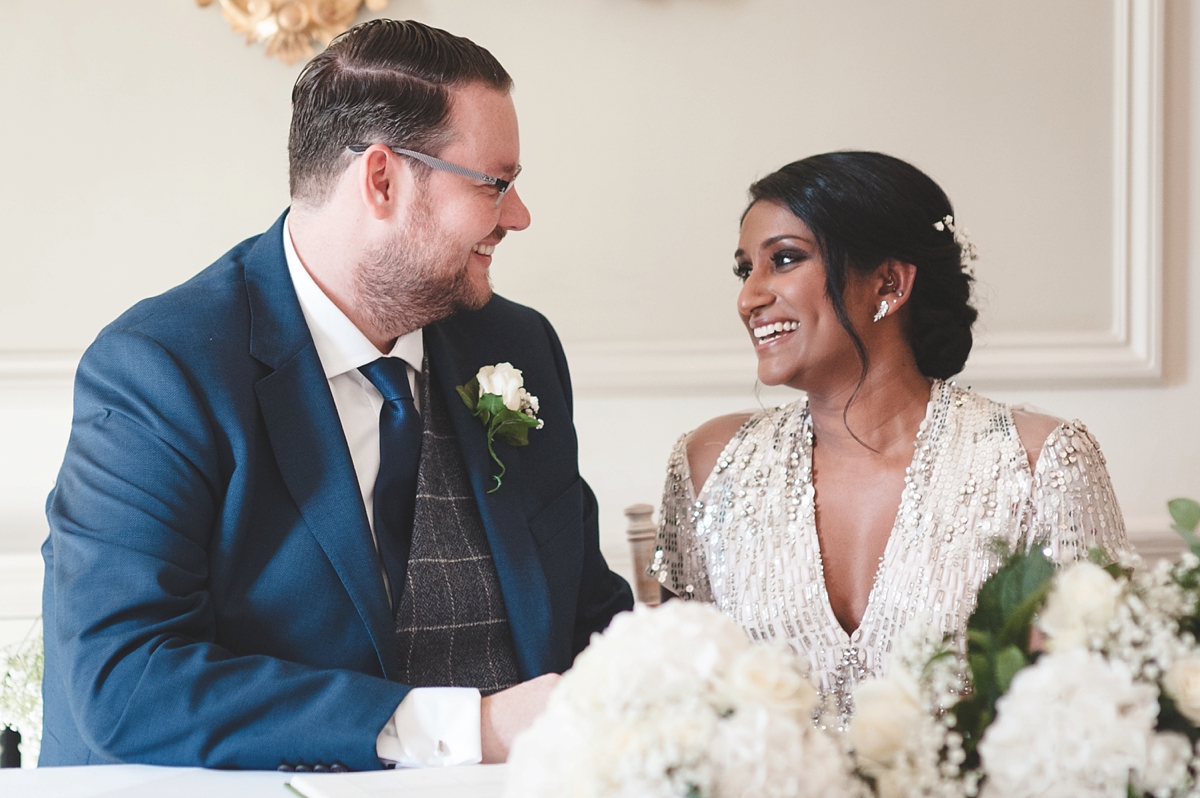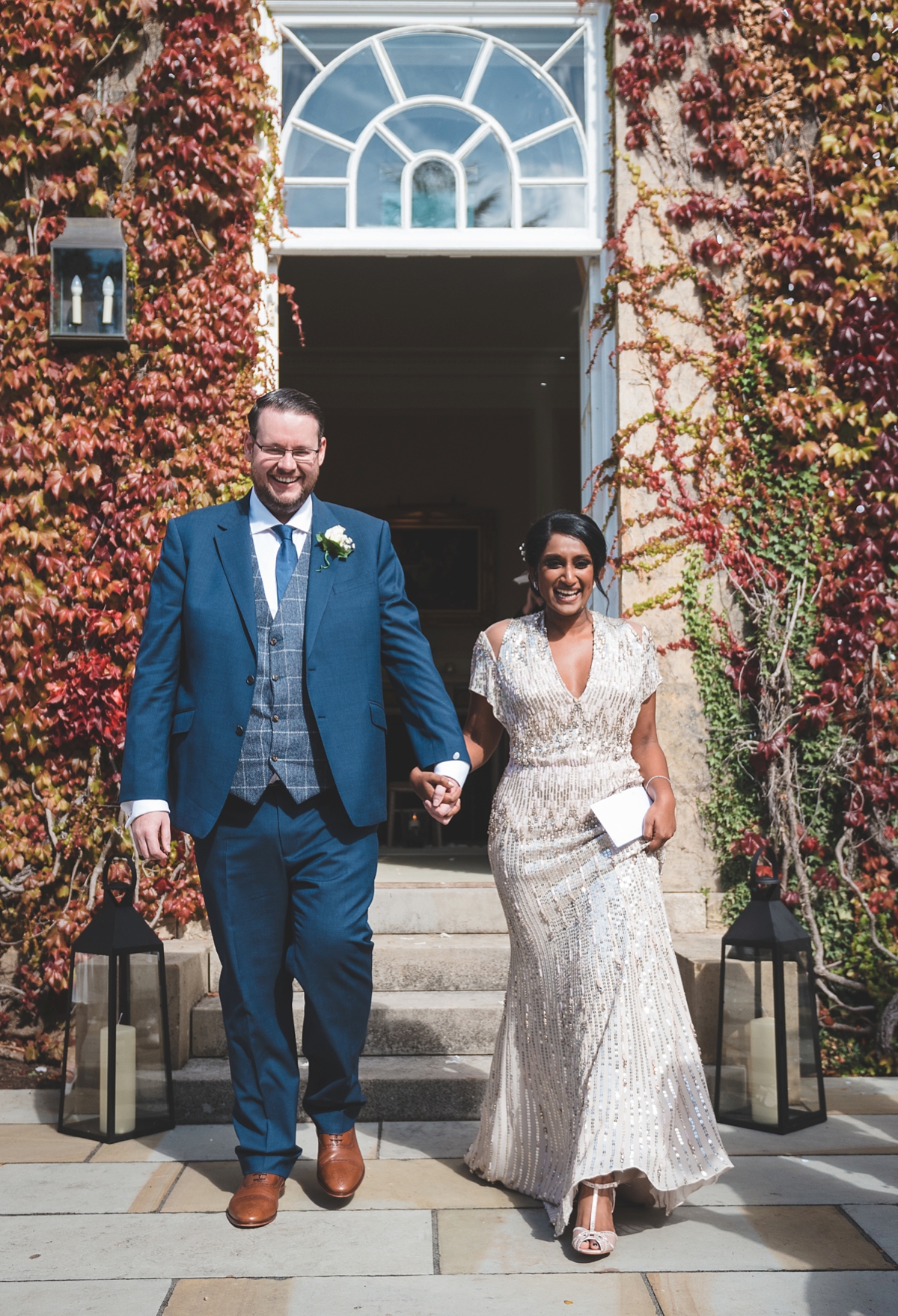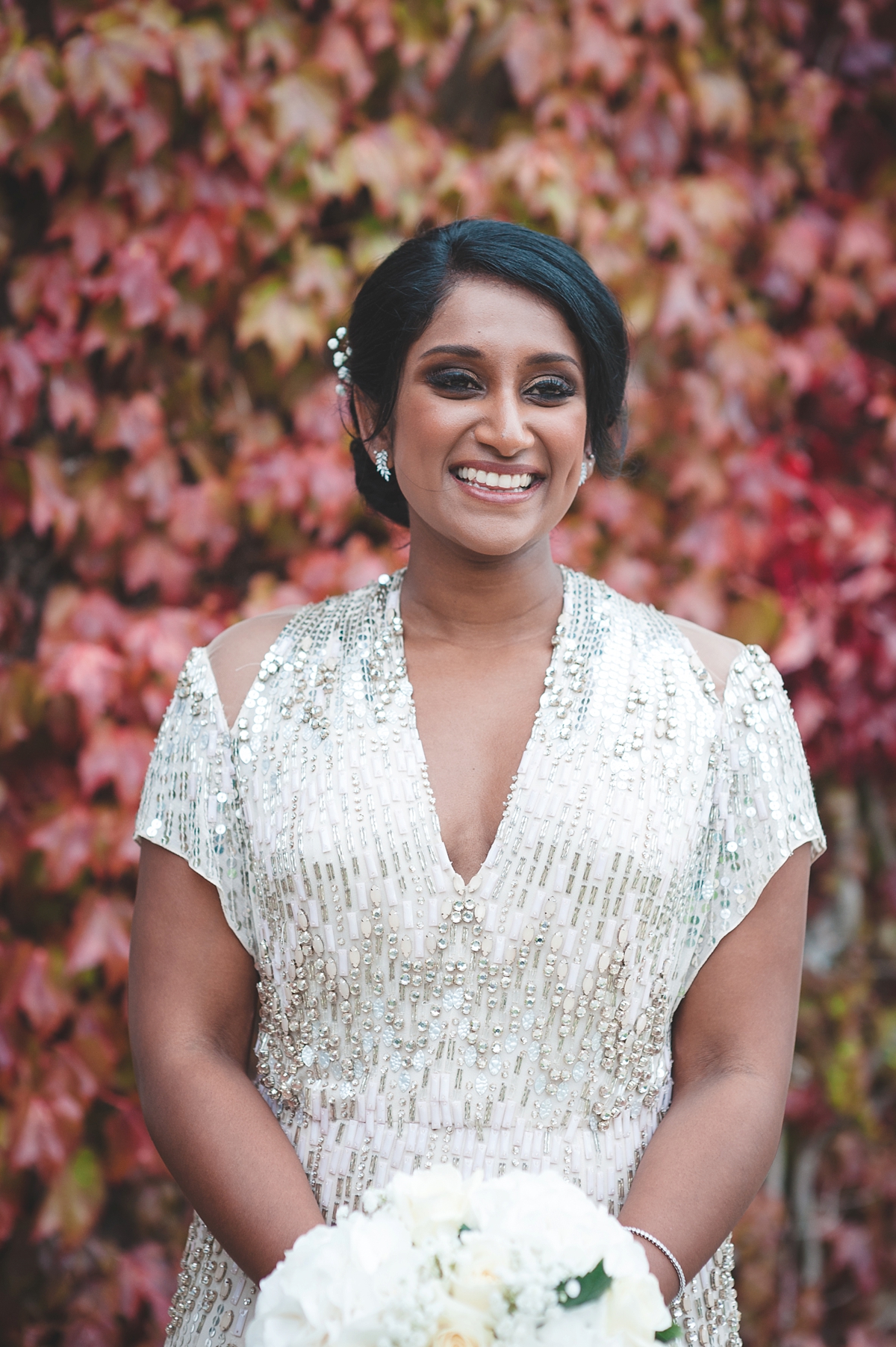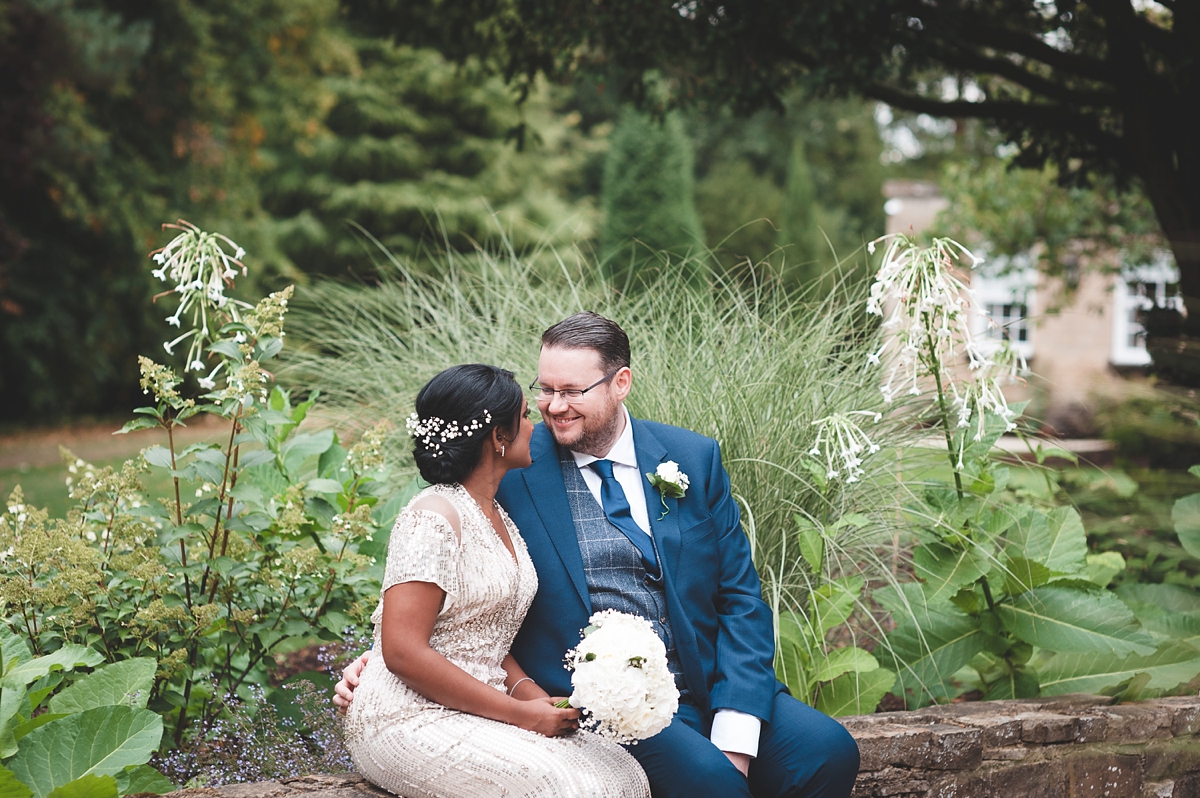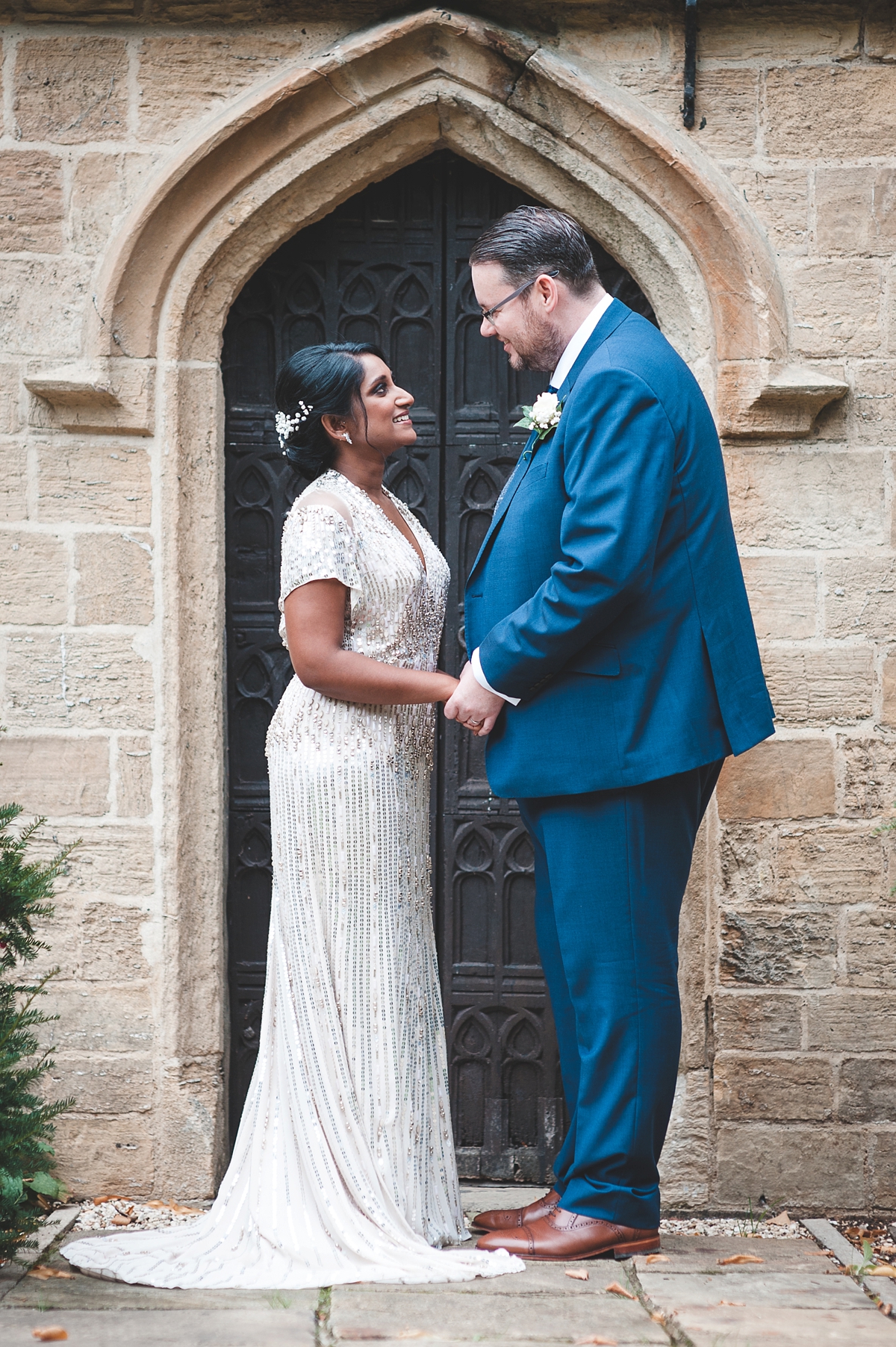 Outside, Nina and Andy hired large lanterns, lawn games and a Prosecco bike from their venue. Their wedding breakfast was held inside that amazing contemporary treehouse I mentioned at the beginning of this post, and what a light, unique space it is!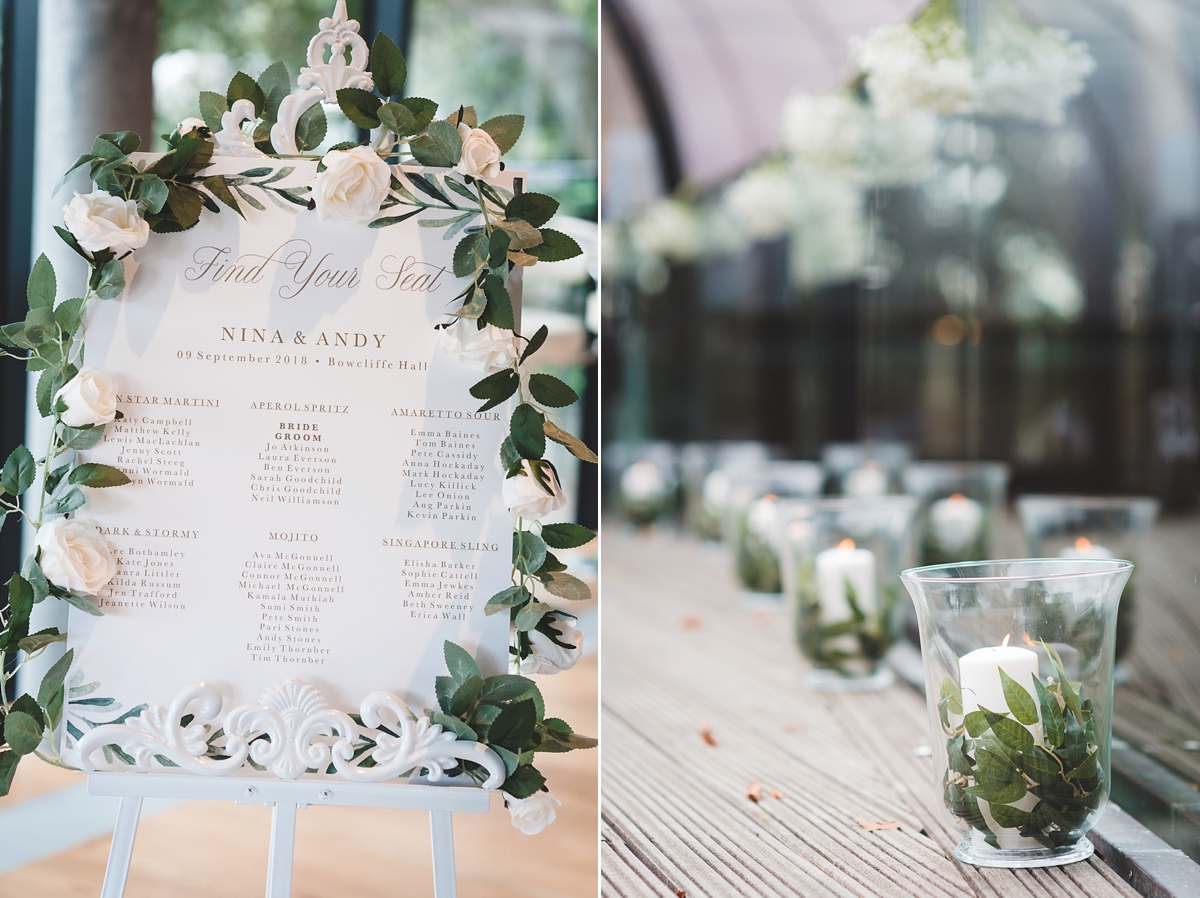 Table centrepieces were antique gold urns filled with flowers, surrounded by gold tea light holders and candlesticks, and table names and a table plan with a modern botanical feel from TheLittleBride on Etsy.
"Basically I was obsessed with gold vases, candle holders and lots of flowers! We really didn't need to decorate too much because the venue was stunning and they had really quirky décor, which was great."
Wedding favours were individually boxed Krispy Kreme doughnuts, and Nina and Andy's only regret is that they didn't order more of them!
"Walking into the wedding breakfast and hearing all our friends and family cheer so loudly, it got us really emotional and made Andy even more nervous for his speech!"
A luxurious wedding breakfast was created by the team at Bowcliffe Hall, with honey-glazed goat's cheese, pressed confit duck terrine, followed by dry-aged fillet of Yorkshire beef or Portobello mushroom and chestnut wellington, and then champagne pannacotta.
"We love meat and cream! …We loved the staff because they remembered our guests with dietary requirements and went straight to them with their food!…We had two craft beer kegs for our guests and they were dry by the end of the night! We provided a cocktail for each guest on the table, plus prosecco toast, plus wine….everyone pretty much had four drinks on the go but we didn't want anyone to be wanting for a drink."
In keeping with the glamorous white and gold scheme, Mary at Quite Contrary Cakes (yes!) made a spectacular four-tier cake decorated with gold leaf.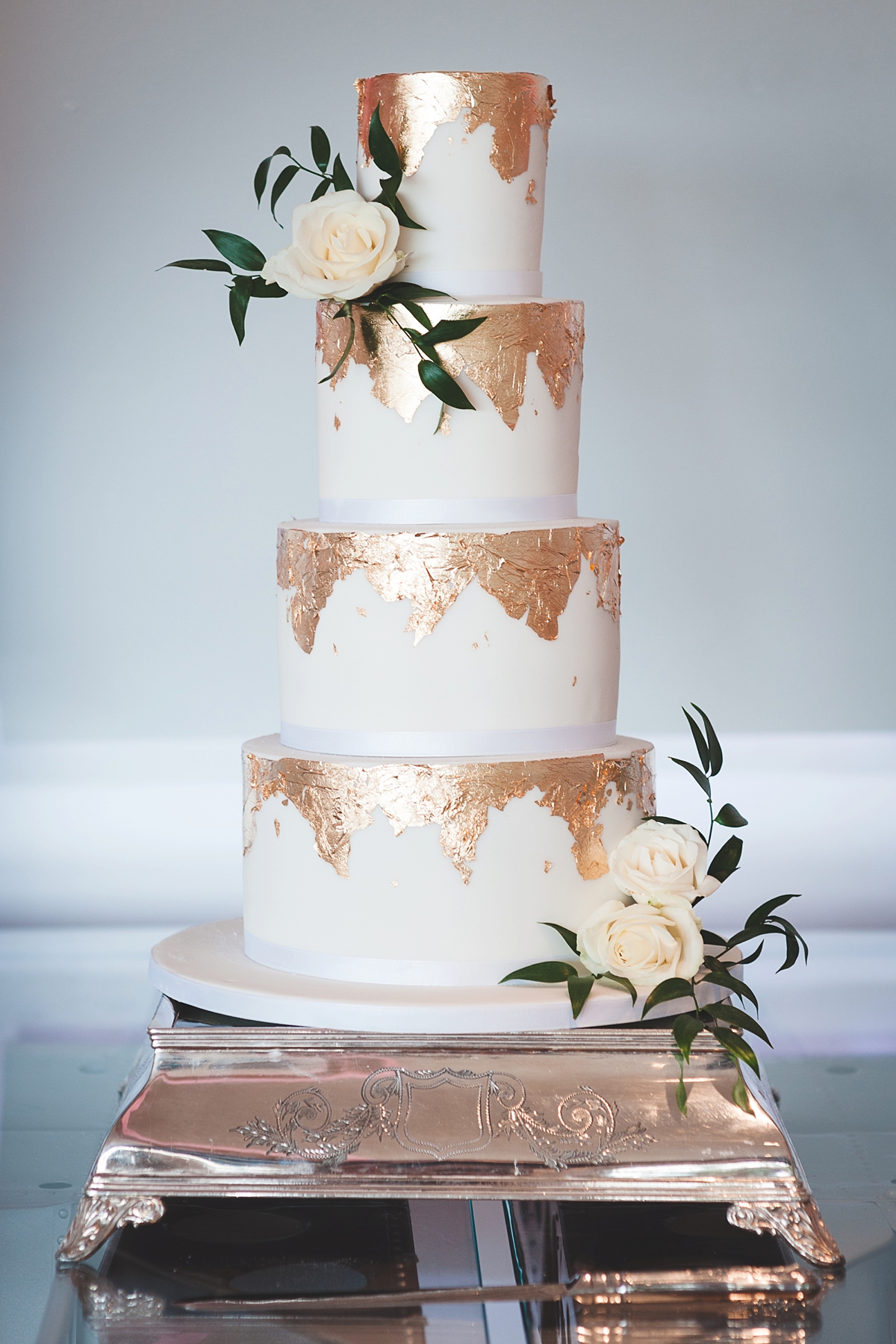 There was more amazing food in the evening, too – pulled pork sandwiches and ham and cheese toasties, sausage toasties and cheese and tomato croissants.
"We were adamant that we would not have a first dance! However, after the cake cutting, we queued up the first track of the wedding playlist we spent hours creating (Calvin Harris and Neyo's Let's Go) and all our friends and family were cheering us on to dance so we threw a few shapes to a real banger and invited everyone to join us after about 10 seconds! We had 13 hours of the playlist and we only got through about 6 hours so we need to find another excuse to party to the next 6 hours!"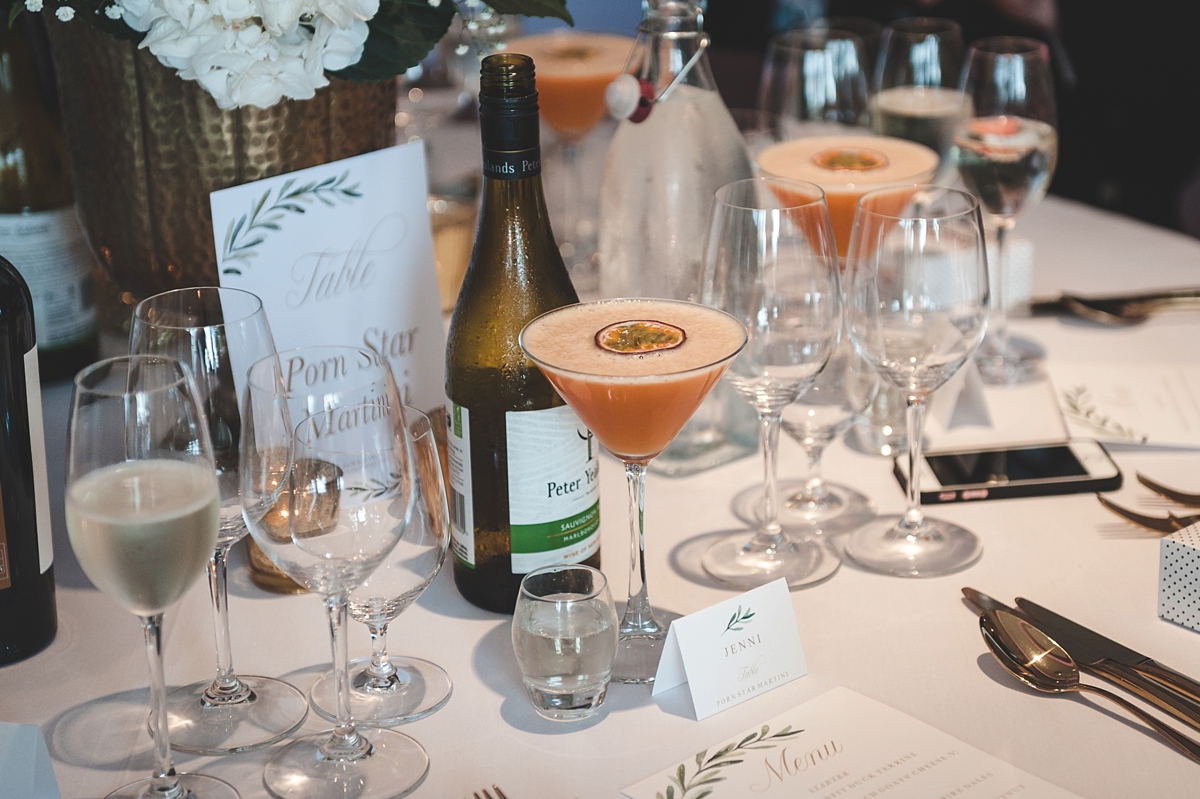 "The cake looked amazing, we opted for four tiers (which was way more than we needed!) – chocolate, Victoria sponge, Baileys and lemon. We spent the two weeks after our wedding eating cake – best thing ever!"
As a nod to the way in which they first met, Nina and Andy hired roulette and blackjack tables from Jack's Casinos, which everyone had great fun with.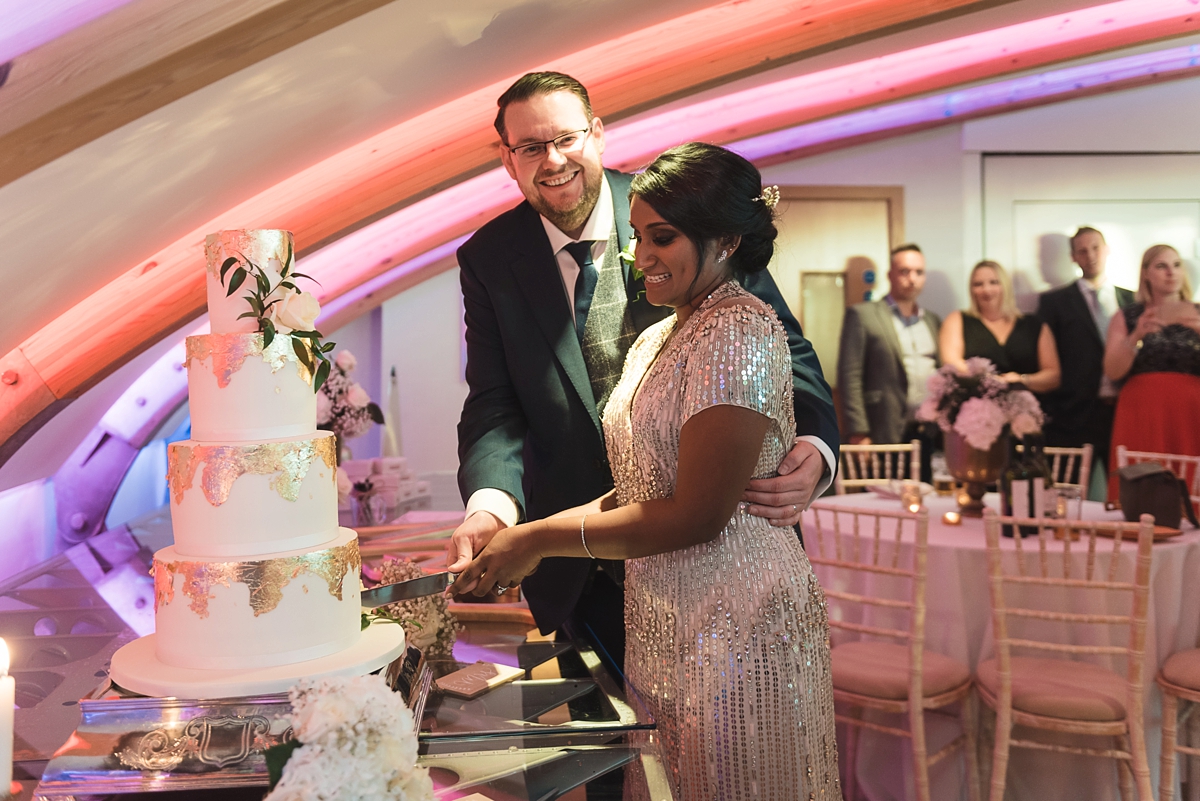 Words of Wedded Wisdom
"From Andy: One area we had not considered or given any thought to was the aftermath. The main thing we would advise someone about is to give some thought to what you want to do with flowers and centrepieces, etc the day after, and most importantly what you will do on your first day as a married couple."
"We were so preoccupied with planning the wedding day we didn't even think about how much stuff we had to collect the next day…and when we woke up to the email from the venue saying our stuff was ready to collect…our hangovers could not handle it! It really meant it was down to earth with a bump!"
"From Nina: With the way the world is now with Pinterest and Instagram, it can seem like your wedding will never live up to the pictures online, and there are SO many options now for décor, flowers, entertainment etc, it can be quite overwhelming knowing what to go for. I would advise to listen to your gut and remember it is not for the 'gram, but for you as a couple! You want people to say 'that's so them' when they come to your wedding -for example, at ours, we provided so much alcohol throughout the day, and a fully meaty menu that everybody said, 'that's so Nina and Andy!'"
"Also, I ended up doing my own make-up because I spent a lot of money on a make-up trial that I did not like the results of, but felt pressured to have a professional do my make-up because it was my wedding day. I would say, don't bow to the pressure! I don't regret it, I felt so much more comfortable doing my own make up than worrying about touching up someone else's work."
"I will say -definitely get lash extensions! I loved mine…although I now can't stop getting them! Don't worry if you do not get to do everything you wanted. We had planned for a Sparkler send off at 9pm, but when it came round to it, we were having such a great time, as was everyone else, I didn't want to disrupt that and we did a very small sparkler line up just for the pictures. Sometimes you just need to enjoy the day!"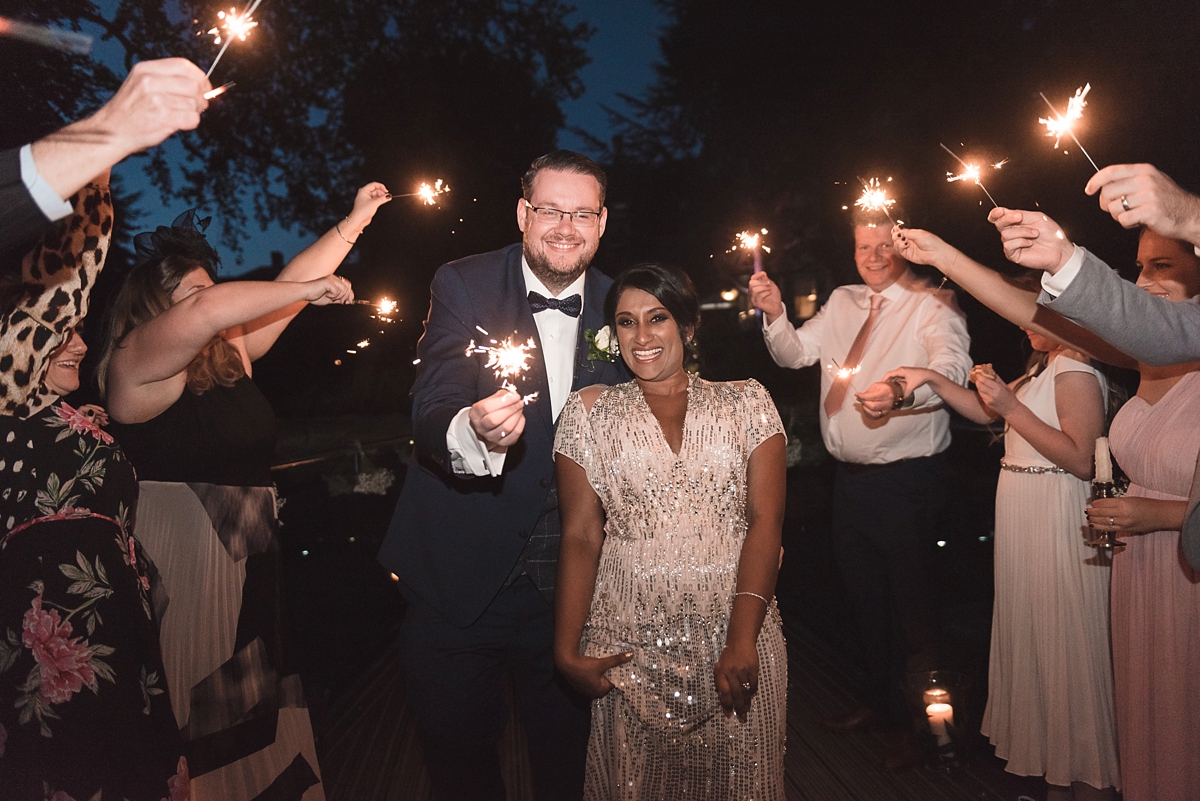 "Both Nina and Andy: Always try and negotiate with your venue! We got an awesome deal by just asking about what they could do for us."
Nina and Andy, a thousand thanks for giving us this glimpse of your elegant and beautiful day, and for your thoughtful words of wisdom. Many thanks also to Catherine Kerr at Boho Chic Weddings for these wonderful images. We've also featured the amazing Bowcliffe Hall on our blog pages before, so do take a look here.
Love,
Laura