Today's couple Saskia and Scott don't do things by halves. They chose a week after moving out of their flat in London and quitting their jobs as the date for their wedding, before they moved to Katmandu in Nepal where the bride is currently writing a book and the groom volunteering as an engineer.
As a final goodbye to the UK before they left for Nepal, they decided it was about time they said I Do and invited their family and friends out to the country to celebrate their nuptials with them in style. They chose Cripps Barn in the Cotswolds as the venue and the wedding took place one clear winters day on 21st December 2018.
Film by Benjamin Radley
"We started looking for a rustic venue that would work well for a winter wedding. As soon as we saw Cripps Barn we fell in love with it. It has such a large and warm barn space that felt like a really good size for the number of people we were having and the light was fantastic! My best mate and maid of honour Rachel Waring is a wedding stylist so luckily she supported us with the planning too."
"In terms of the decor for the venue, we always knew we wanted lots of foliage and candles. As we were planning to be married on the winter solstice, Rachel gently pushed us towards a celestial theme for the day, which meant incorporating lots of blues, bronze colours and night sky motifs."
Photography by Angela Ward Brown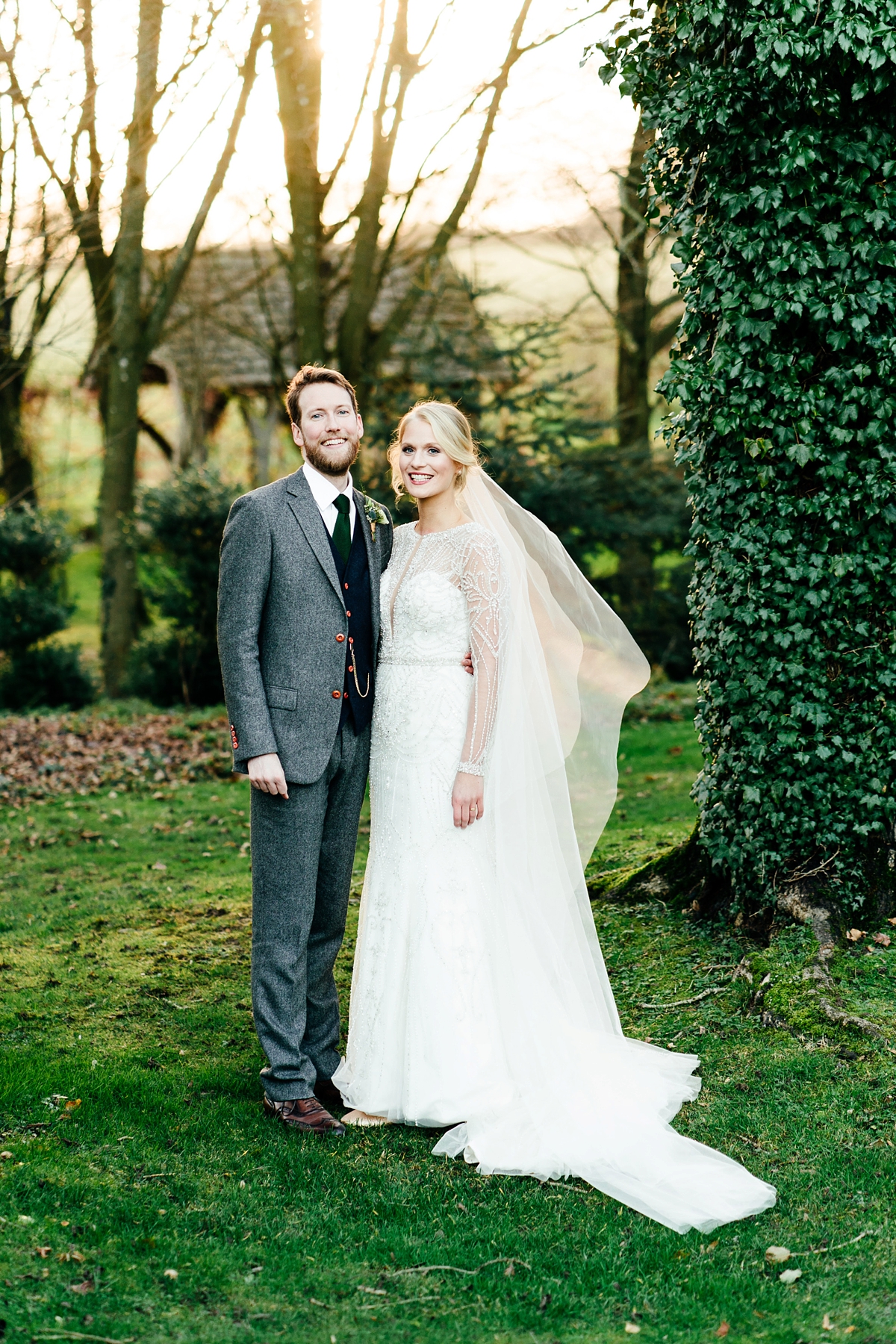 "I chose a long-sleeved beaded Justin Alexander gown to wear on the day which I bought in a sample sale from Angelica Bridal in Angel, Islington. I'd always thought I wanted a boho, floaty dress for my wedding day, but the dress I ended up wearing was very different to my initial image of the 'dream dress'."
It was so different in fact, that when I saw it in the shop, I didn't even want to try it on. My sister eventually made me try it and I'm so glad she did. Once on, I loved all the detailing and the fit in particular. It looked so much better on me than the dress I'd always imagined myself wearing."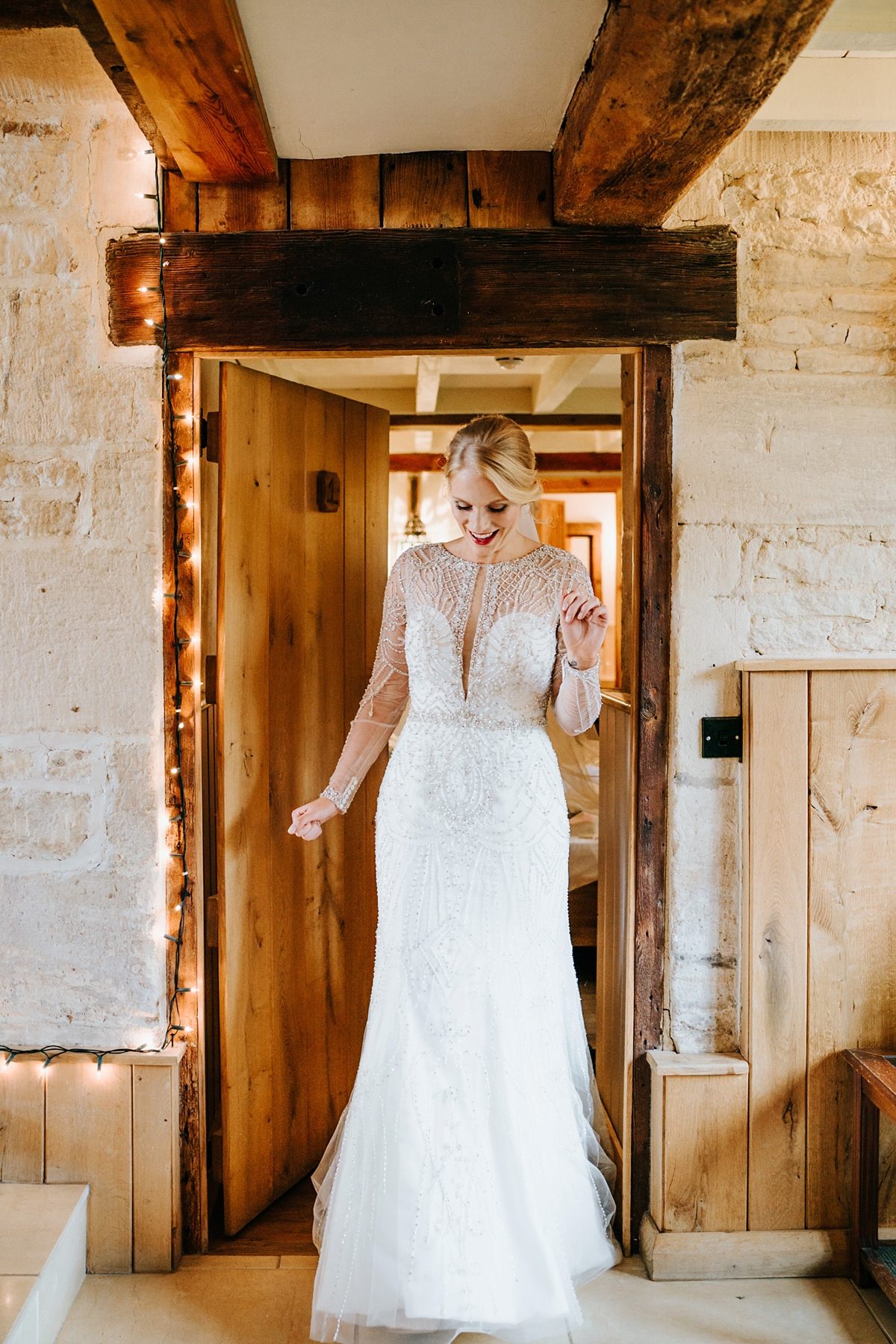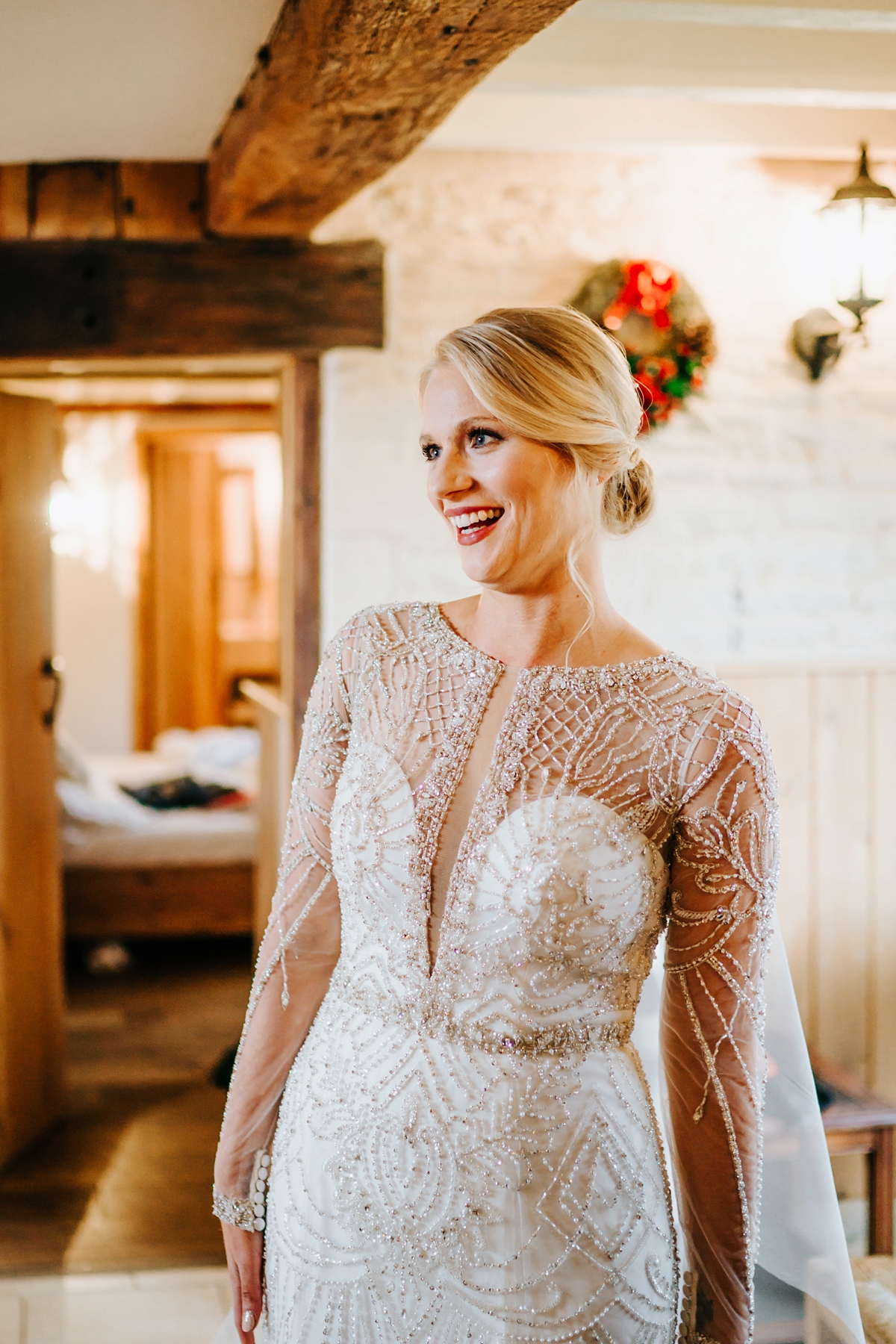 "I borrowed my veil from my sister and wore a pair of £10 glittery pumps from ASOS. I had enough going on with the dress so chose a simple £10 clip, also from ASOS, in my hair and my normal Laura Mercier perfume."
"My grandma's best friend had a long and happy marriage. Her husband bought her charms every year for a charm bracelet that she always wore and on their 10-year anniversary in 1954, he bought her a charm of two wedding bells ringing. They had no children and they left the charm bracelet to my mum. My mum, as a surprise on the morning of our wedding, gave me a gold necklace with the charm as a pendant!"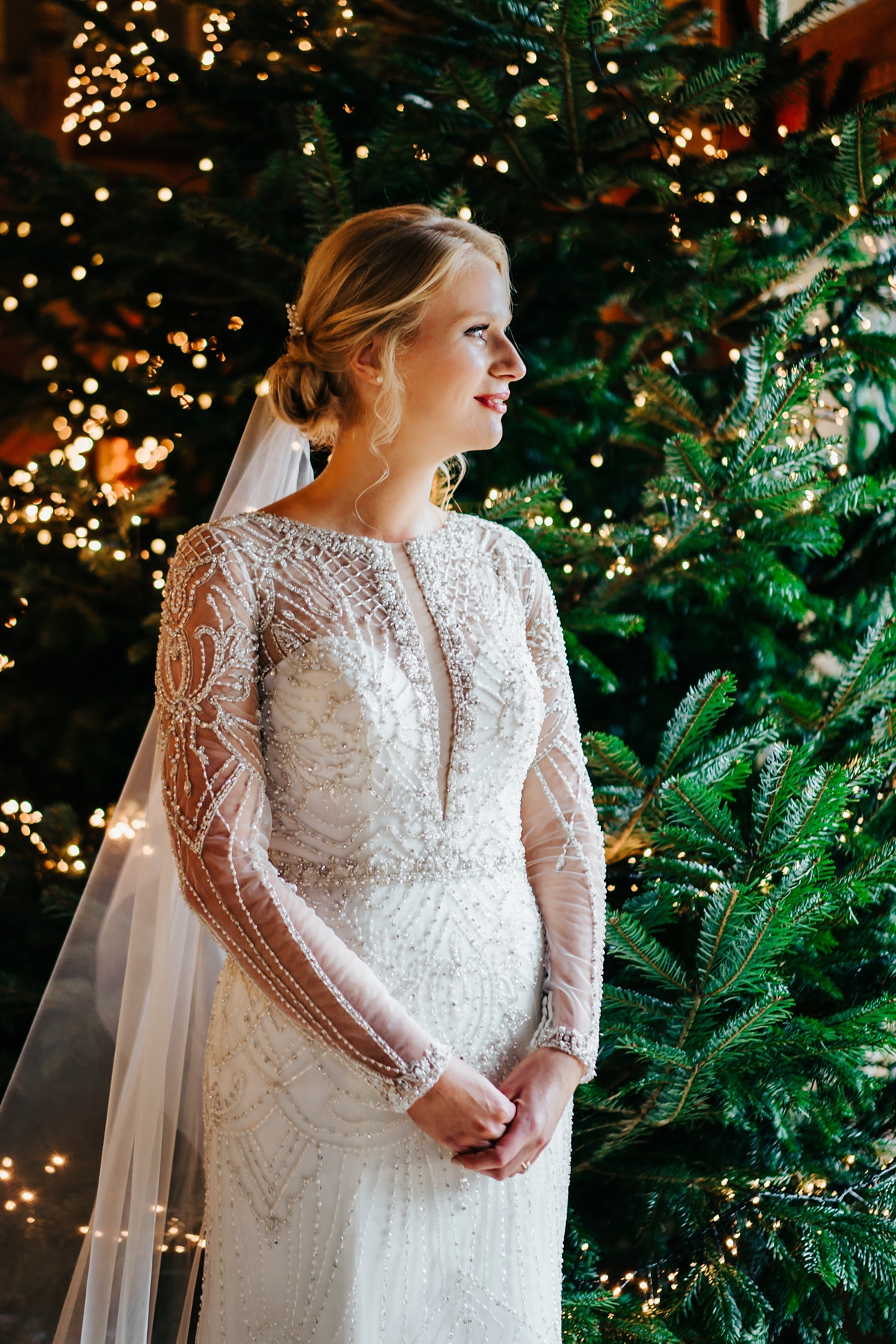 Some might say it was fate that brought Saskia and Scott together after Saskia signed up to a website to help her find some new housemates when she moved to London.
"When I first moved to London I used a 'flatmate finder' website which paired me with a few randomers who I then moved in with. One of those randomers turned out to be one of Scott's best friends and the rest, as they say, is history."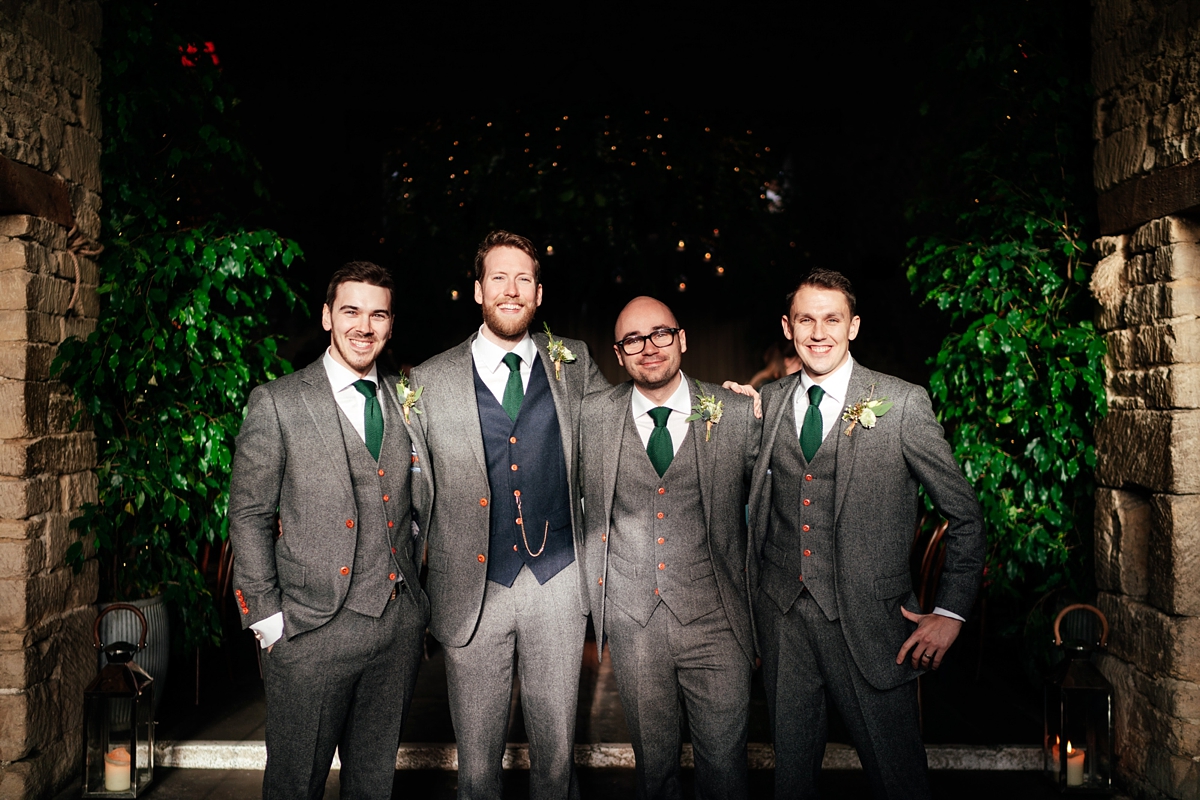 Arriving at the venue in style, a kitsch 1950s style Indian Ambassador from Kushi Cars no less, Saskia and Scott chose a registrar from the Gloucestershire County Council to officiate the wedding.
"A Kushi Car is reminiscent of a flower festooned Morris Minor. Arriving to the ceremony in a Kushi Car was so much fun. Susie, who drove the car, was so lovely and very calming too."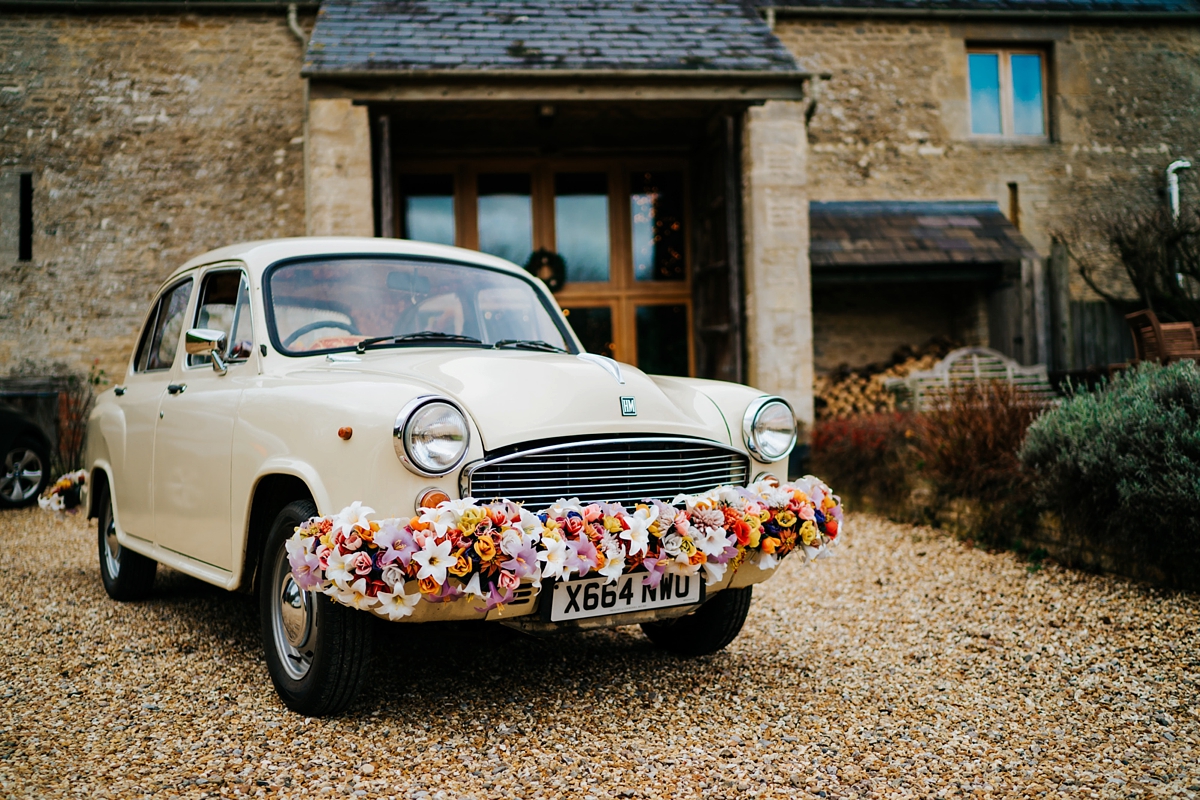 "I gifted my bridesmaids a necklace each, which had their initials and birthstones as pendants, and the flower girls wore good old Marks and Spencer dresses."
"We used Beth at Go Wild Flowers as our florist. We wanted to keep it quite simple so we went with a lot of local winter greenery in the barn. In my bouquet I chose a few wild flowers that are available in winter, including thistle and eucalyptus."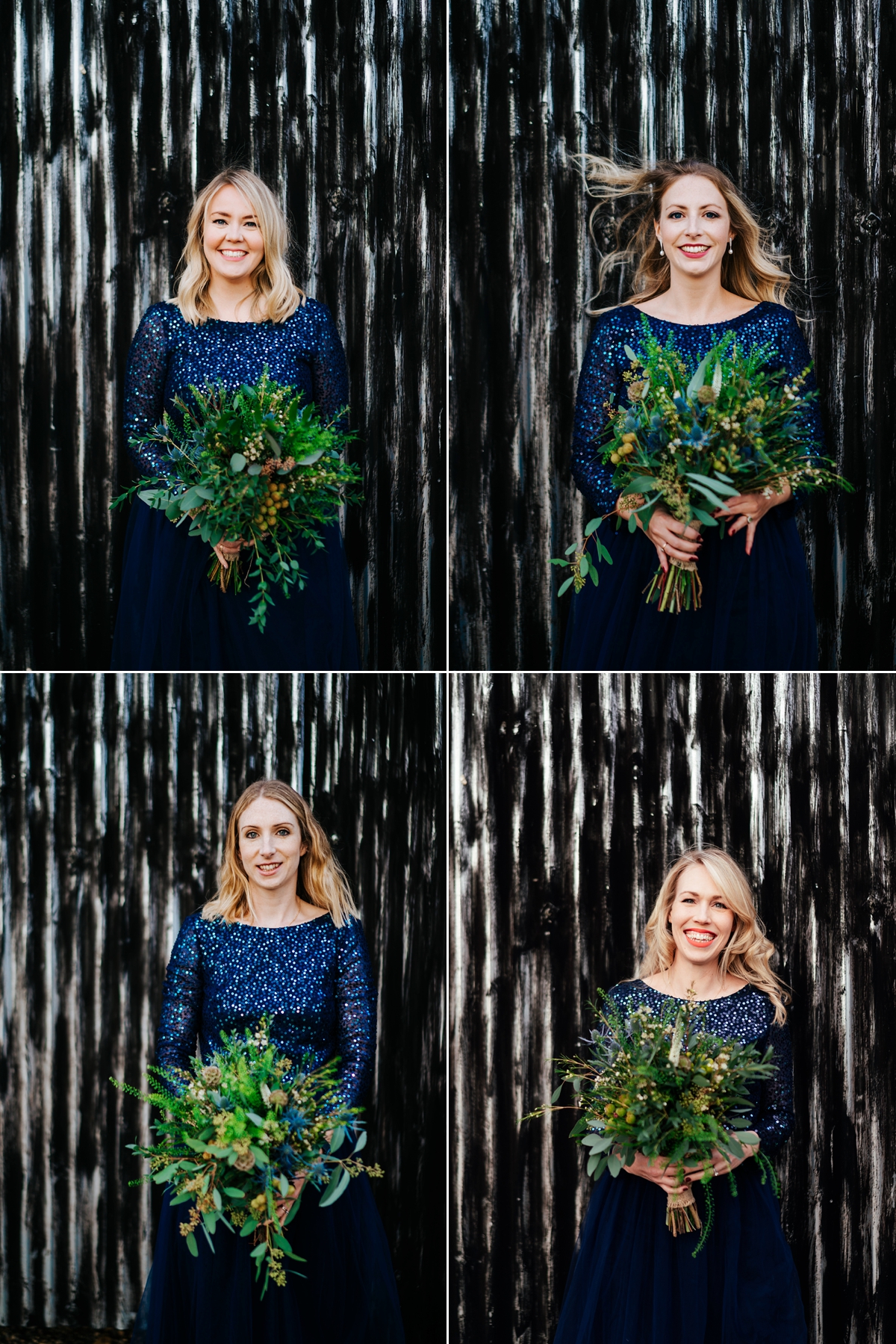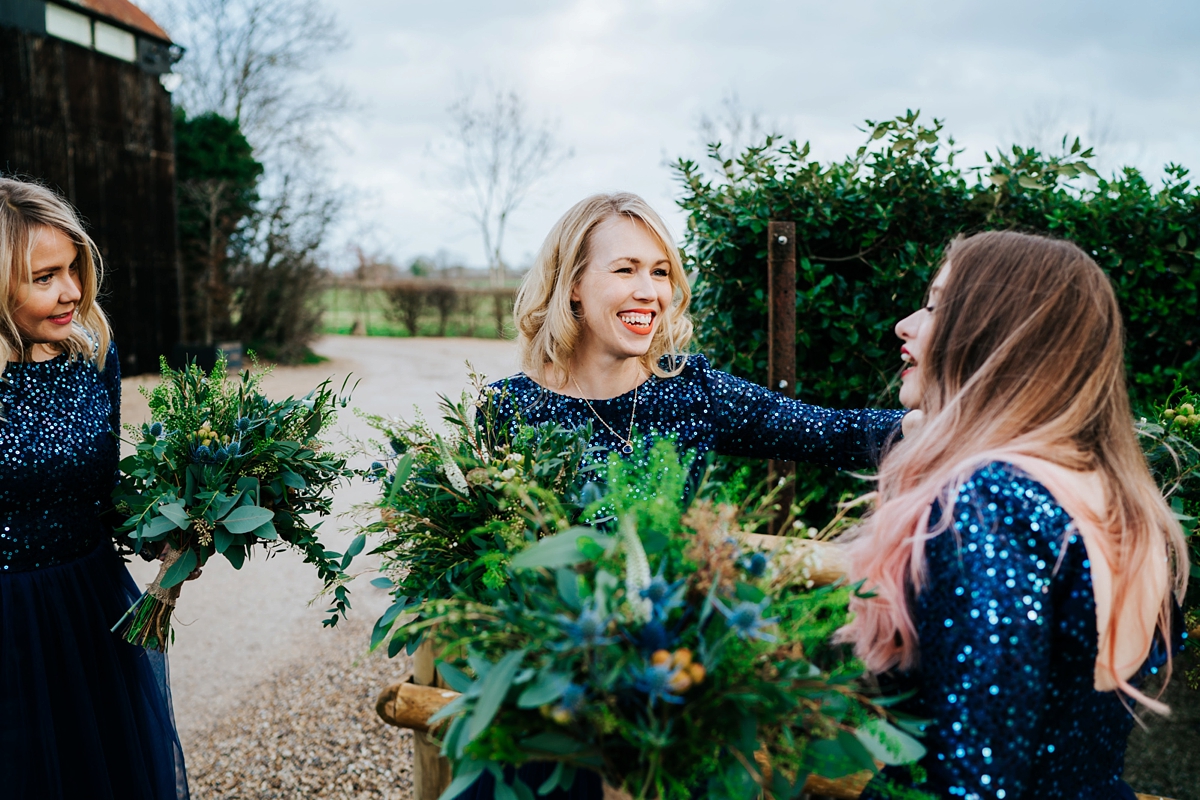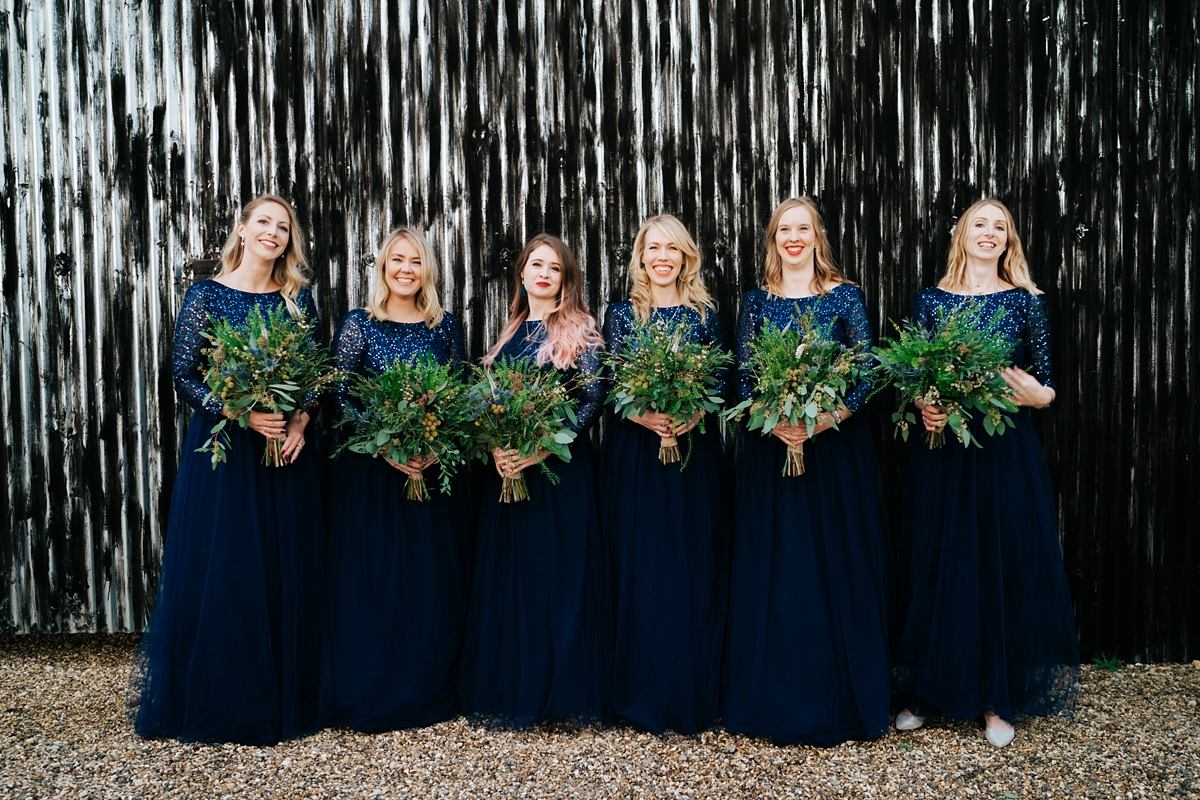 The ceremonial barn was adorned with beautiful rustic hanging greenery, foliage back drops, festoon lights and pillar candles, creating a truly stunning and 'wow' setting for the ceremony.
The bridesmaid bouquets complimented the brides and were bursting with bright greenery and the buttonholes looked like mini versions of the bridal bouquet. There was also a roaring fire burning during the ceremony which really set the cosy, romantic and wintry tone for the day.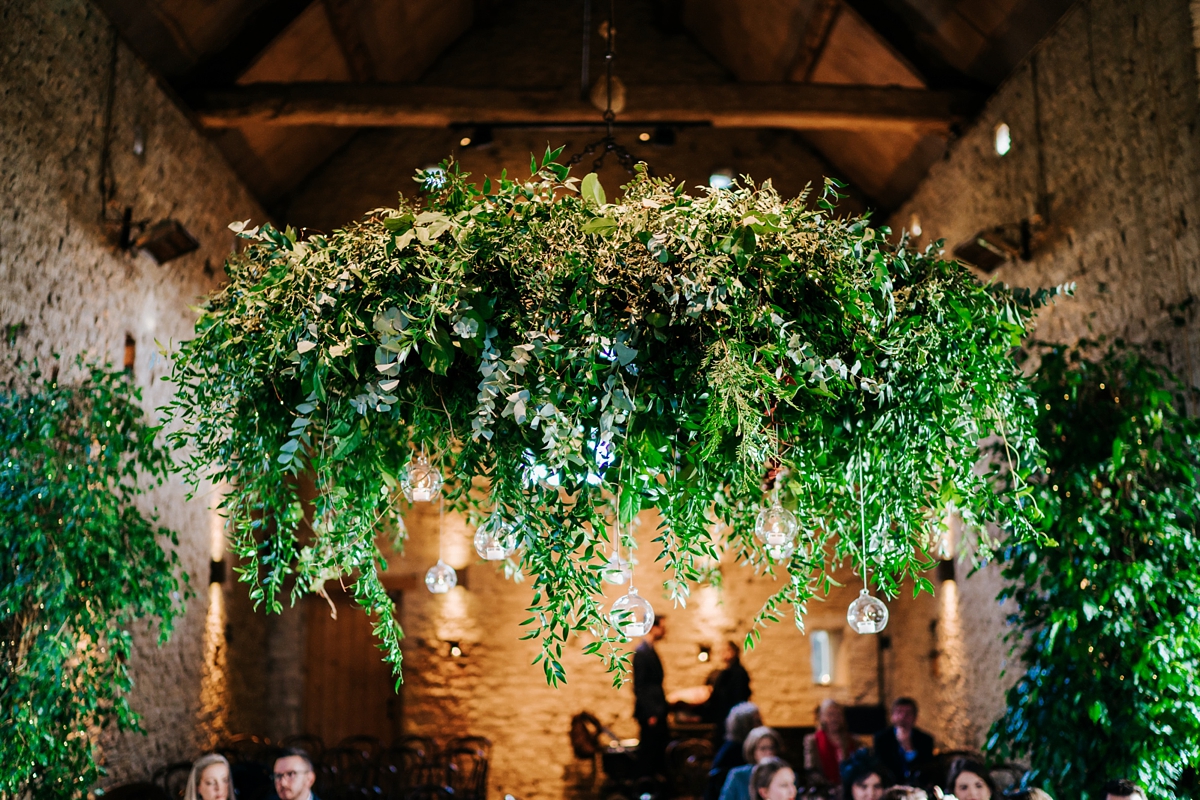 Nervously waiting for his bride at the end of the aisle was groom Scott in a 3-piece grey and black tweed suit from Jennis and Warmann, accessorised with a green Tieroom tie, a bespoke Charles Tyrwhitt shirt and an engraved pocket watch Saskia gifted him on the morning of their wedding.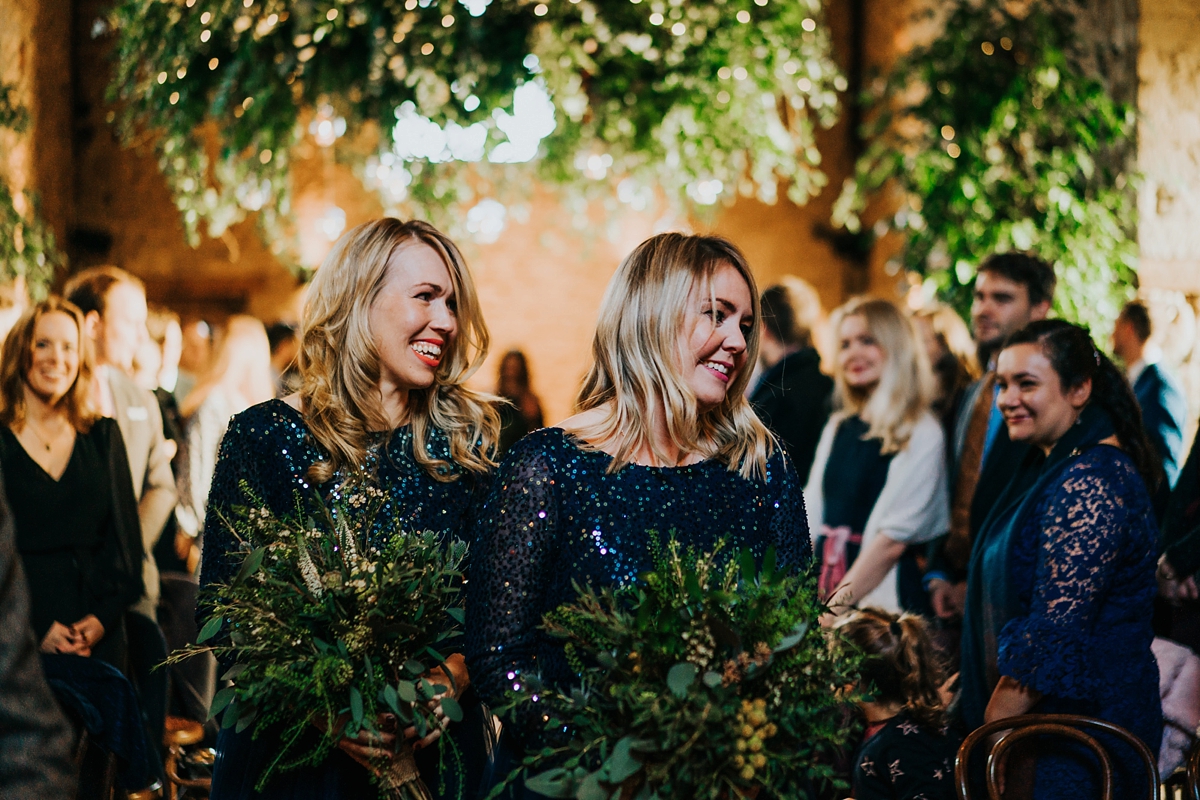 "My mum walked me down the aisle to Glasgow Love Theme performed by pianist Sam Rooney. I was a bit sceptical about getting a pianist at first, but Scott convinced me in the end and I'm so glad he did."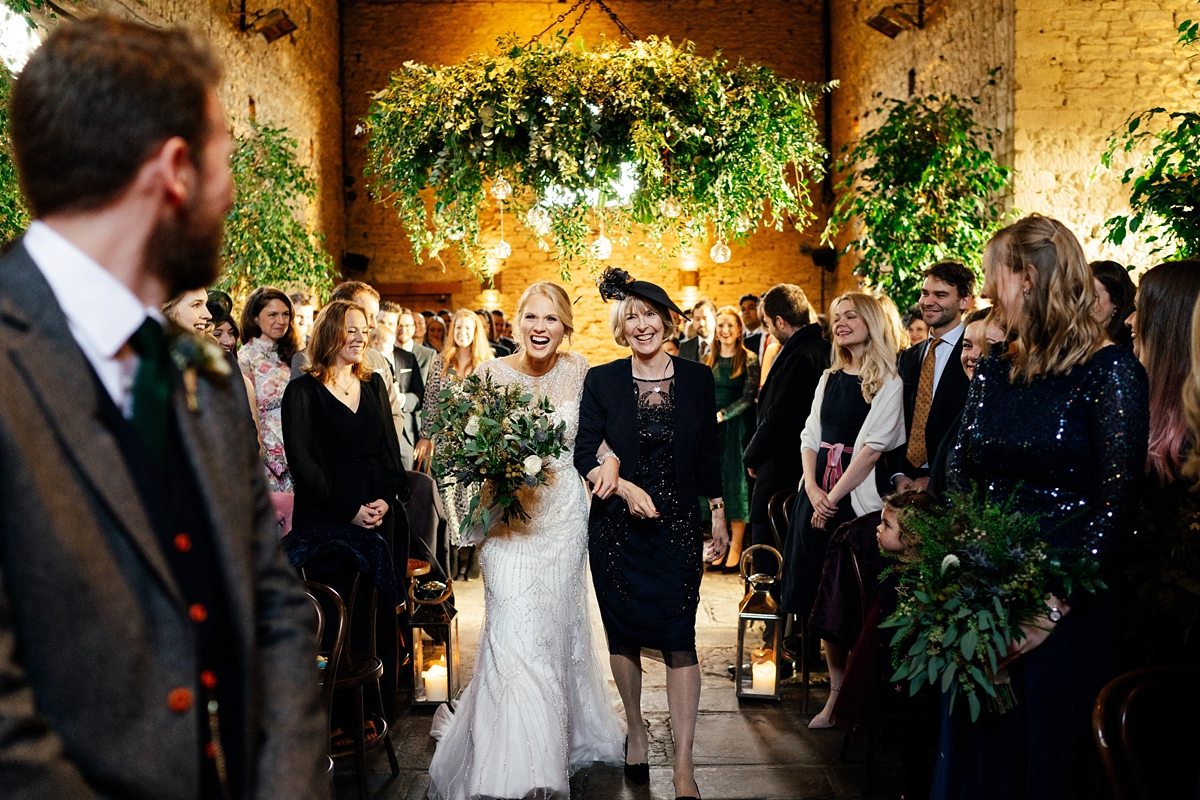 "It made the event feel very special and no-one had to worry about pressing play at the right time."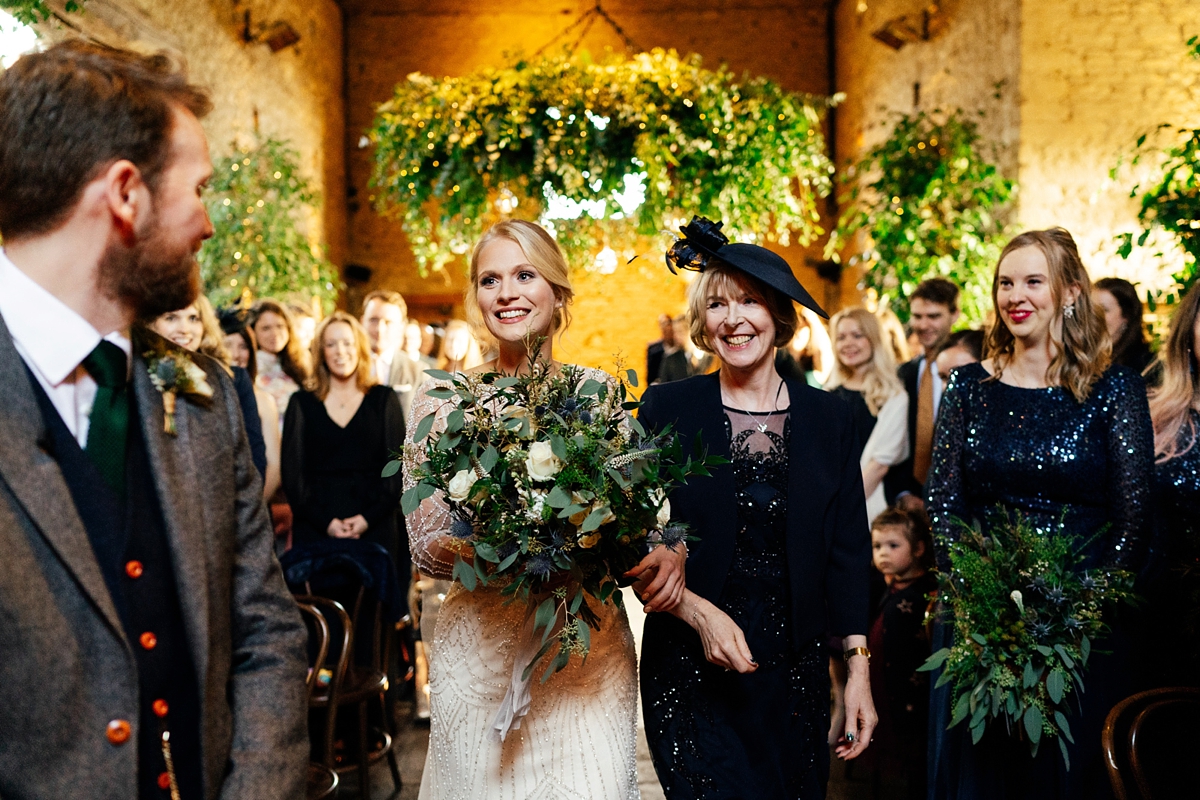 The couple chose two readings for the ceremony; an extract from Amber Spyglass by Phillip Pullman and The Little Yellow Leaf by Carin Bergerm before sealing the deal with their I Do's. Following the ceremony, guests were treated to a cocktail hour and canapés under the crisp blue winters sky, whilst the pianist played in the background.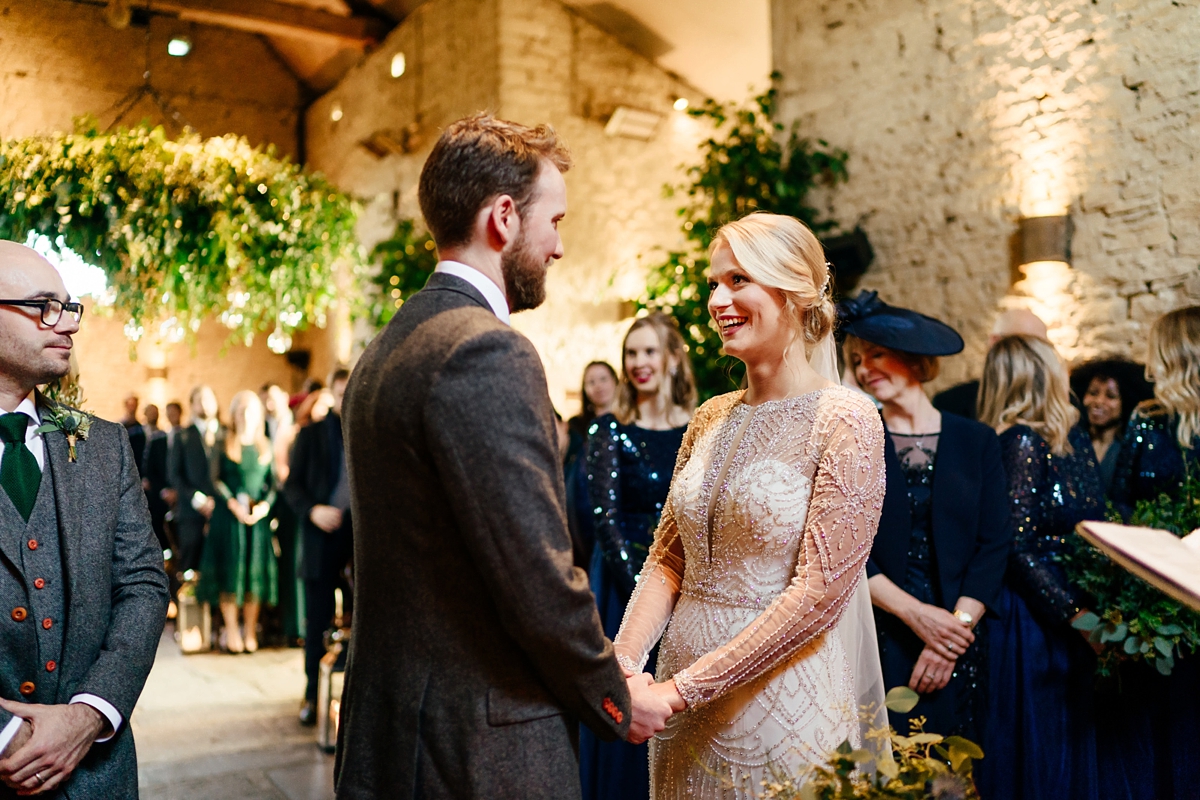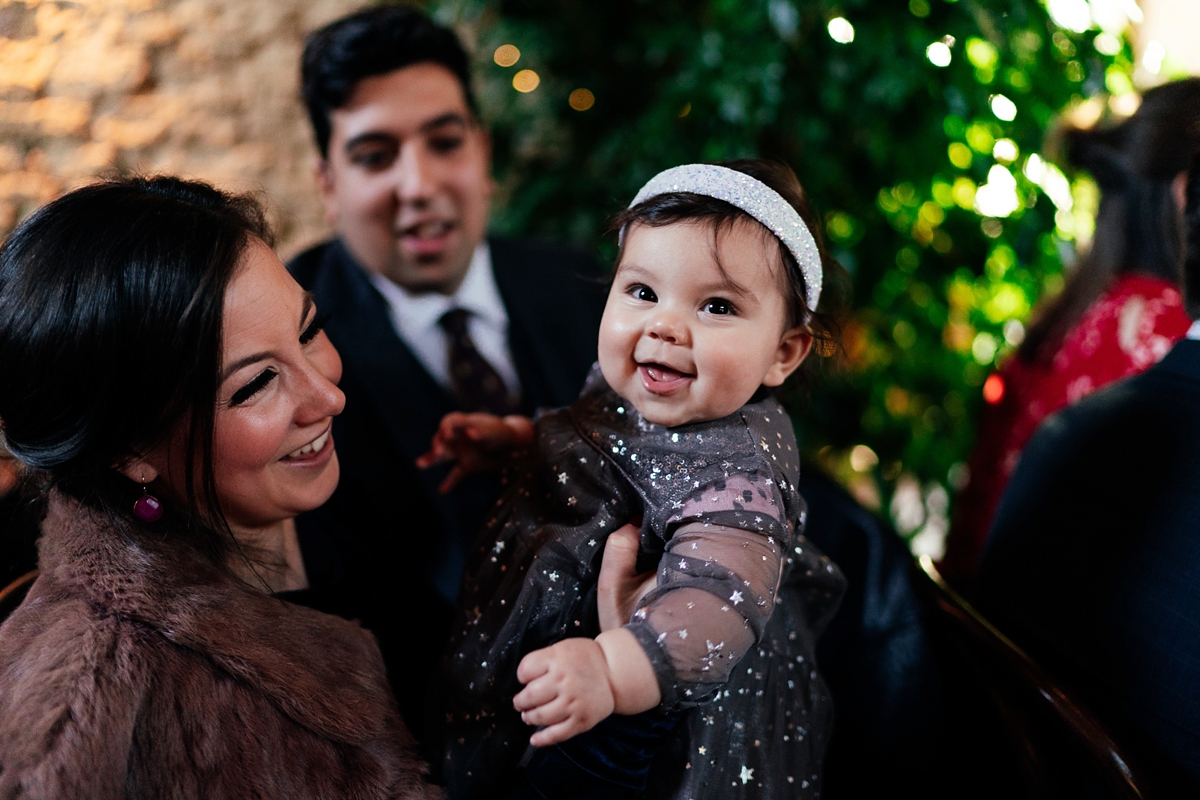 "For our rings, I chose a vintage ring with three small gypsy set diamonds from Lila's Jewels in East Dulwich, and Scott's traditional court wedding band is from an antiques dealer in London."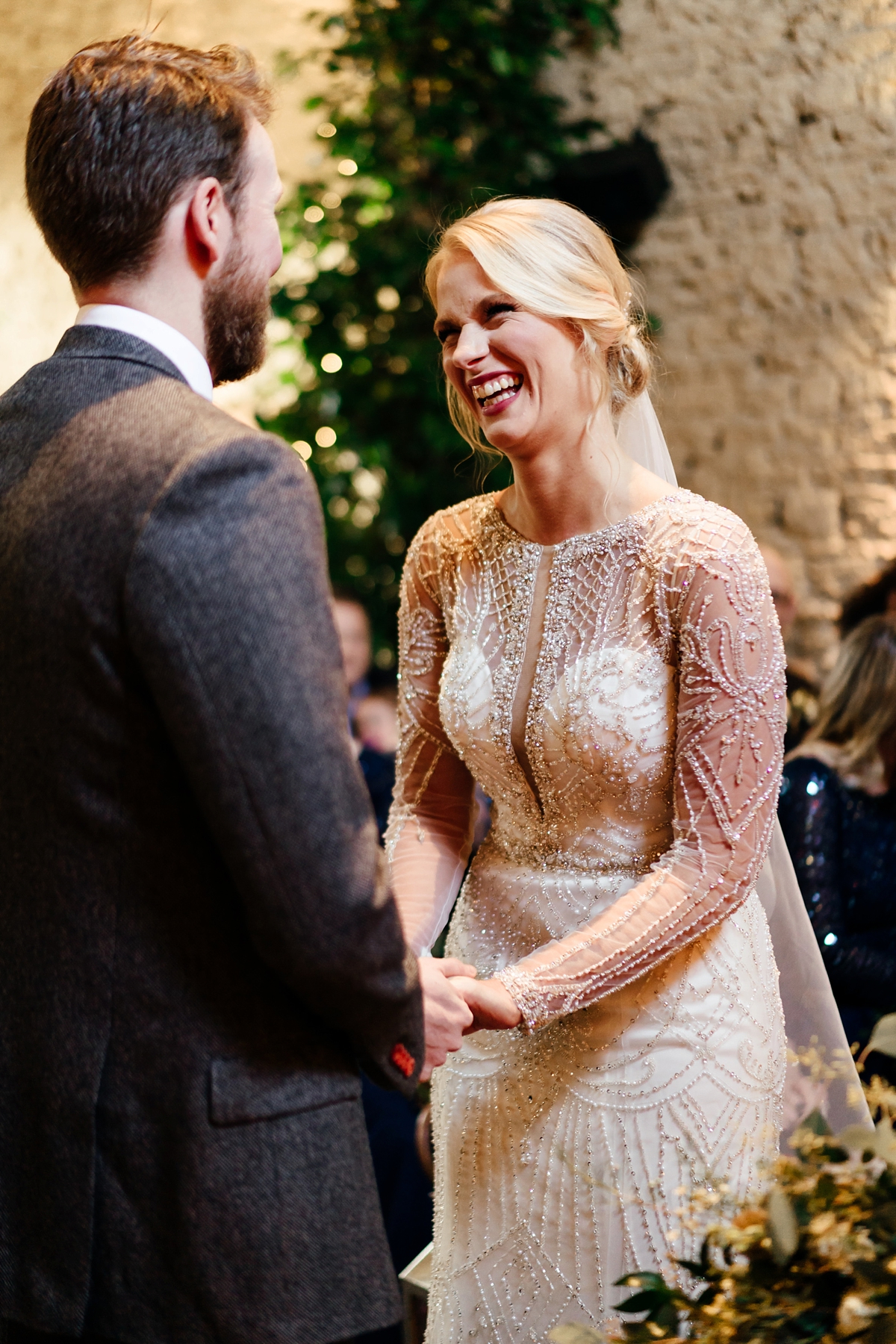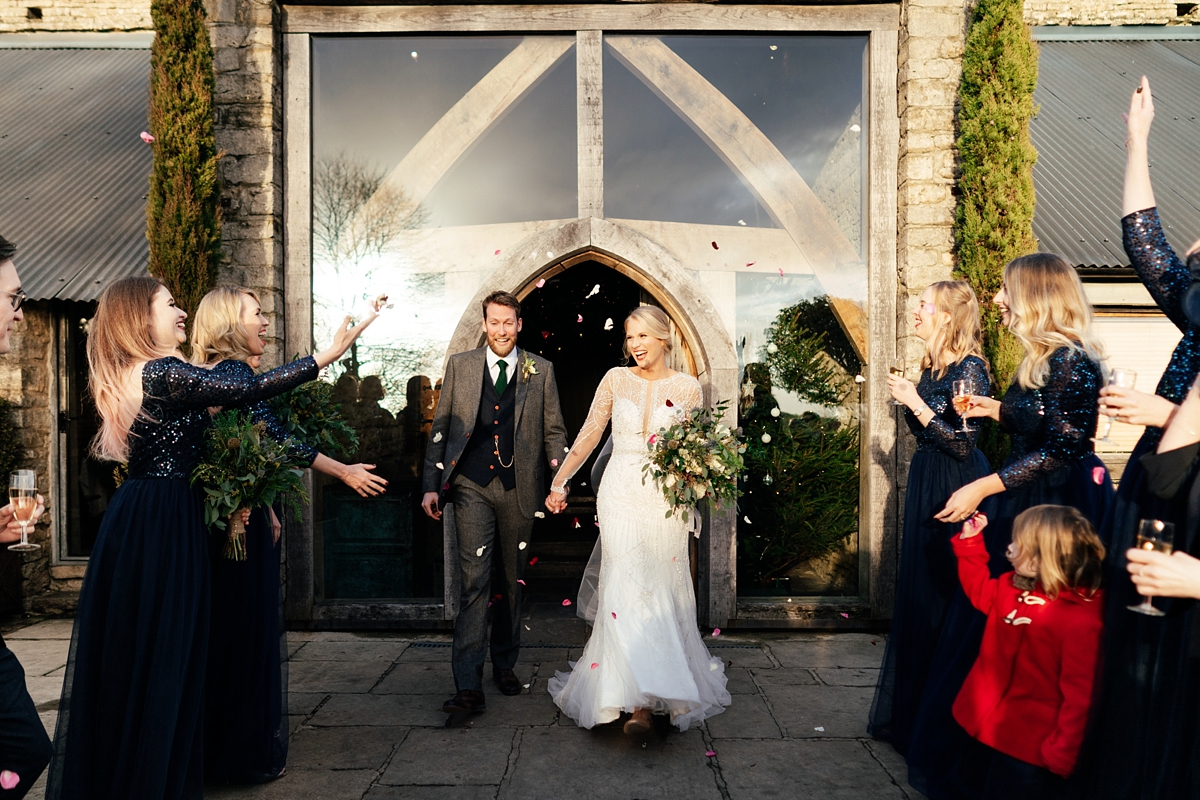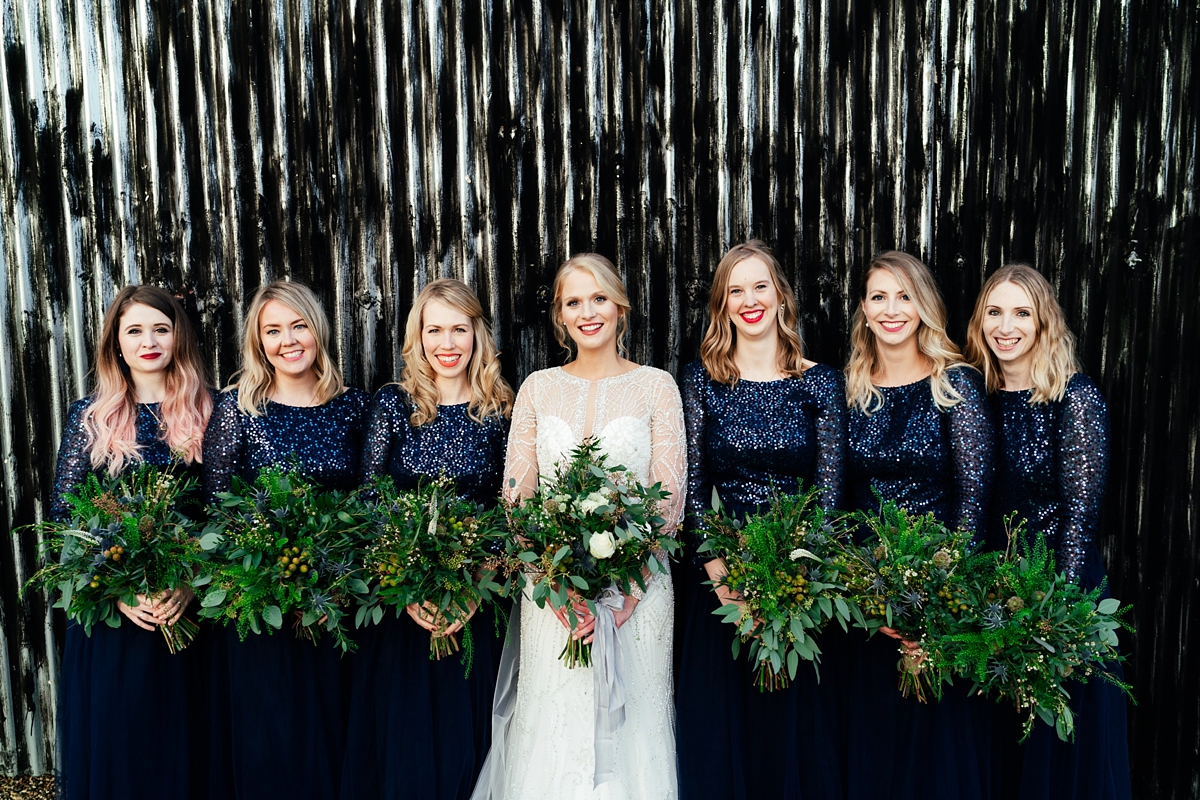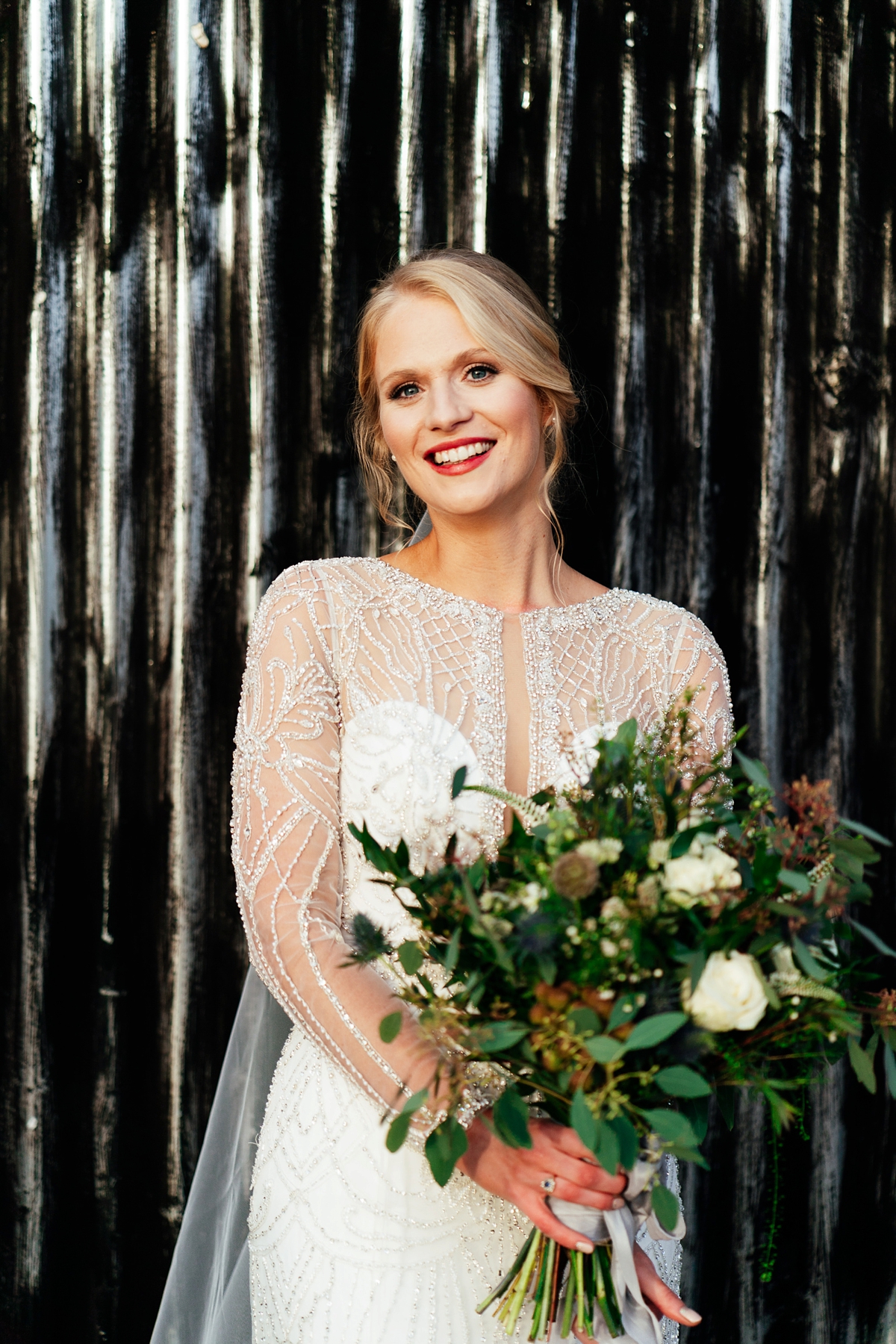 The bride also recruited Winchester and Hampshire based wedding photographer Angela Ward Brown to capture their special day on camera after her own sister, also a wedding photographer, was trained by her.
"Even if it weren't for the close association, we would have always gone for Angela as our photographer. She's such a great person and a bloody amazing photographer!"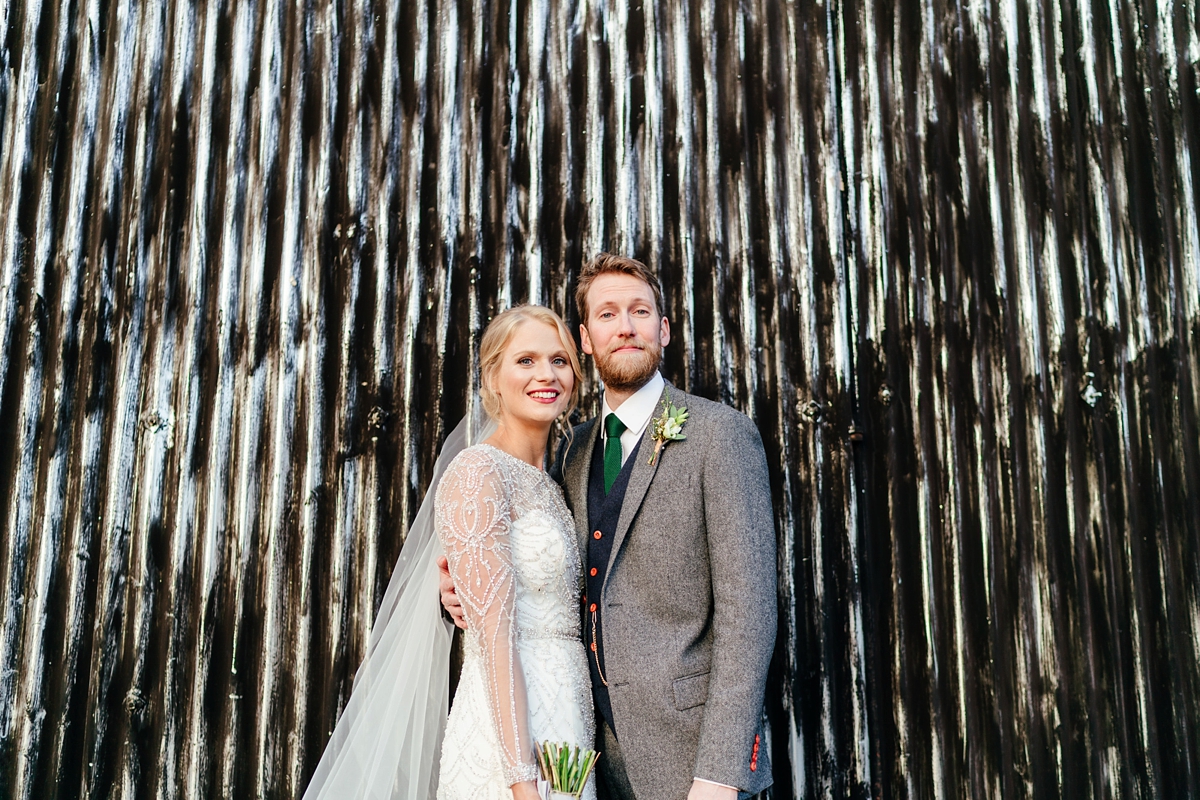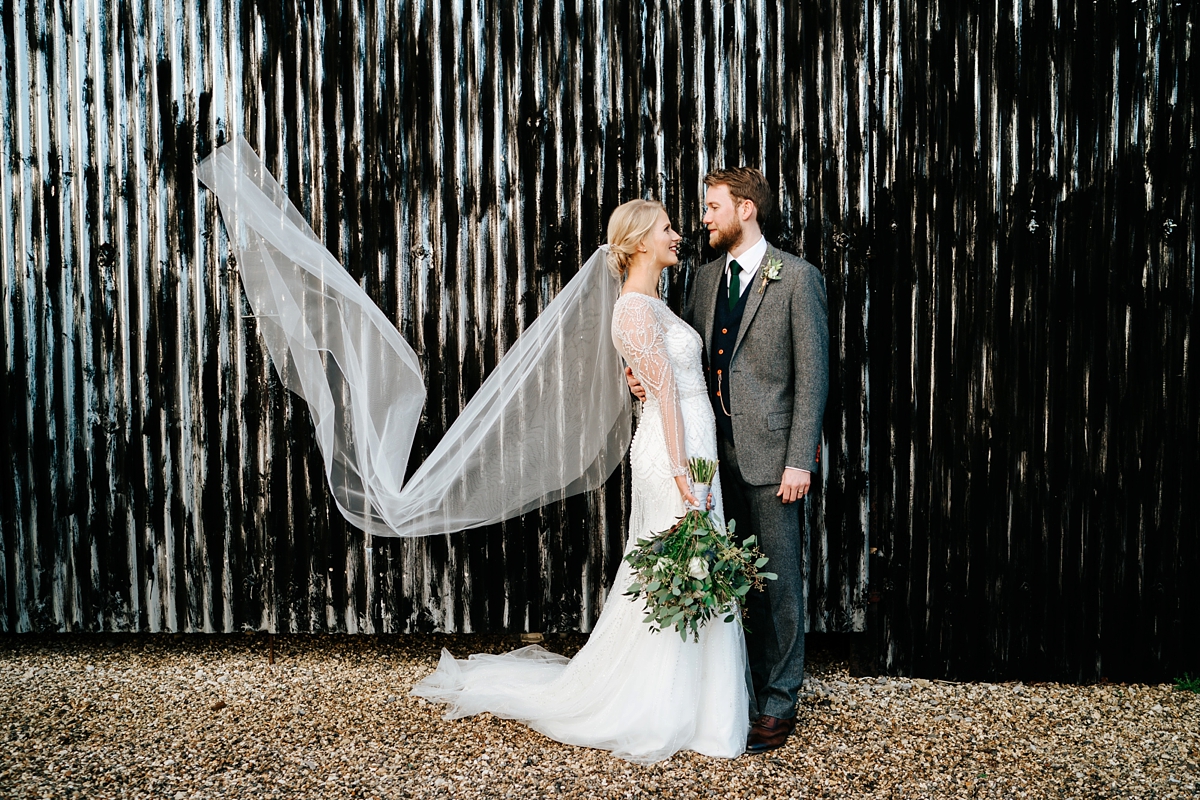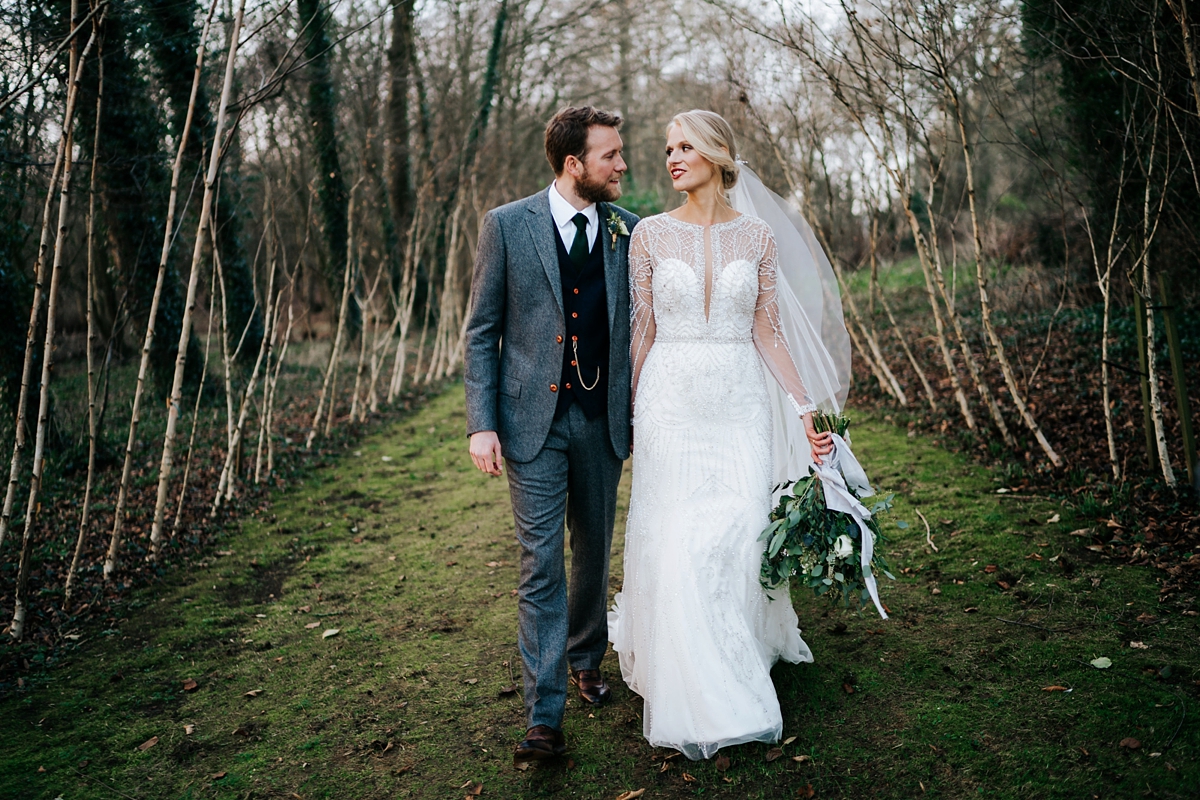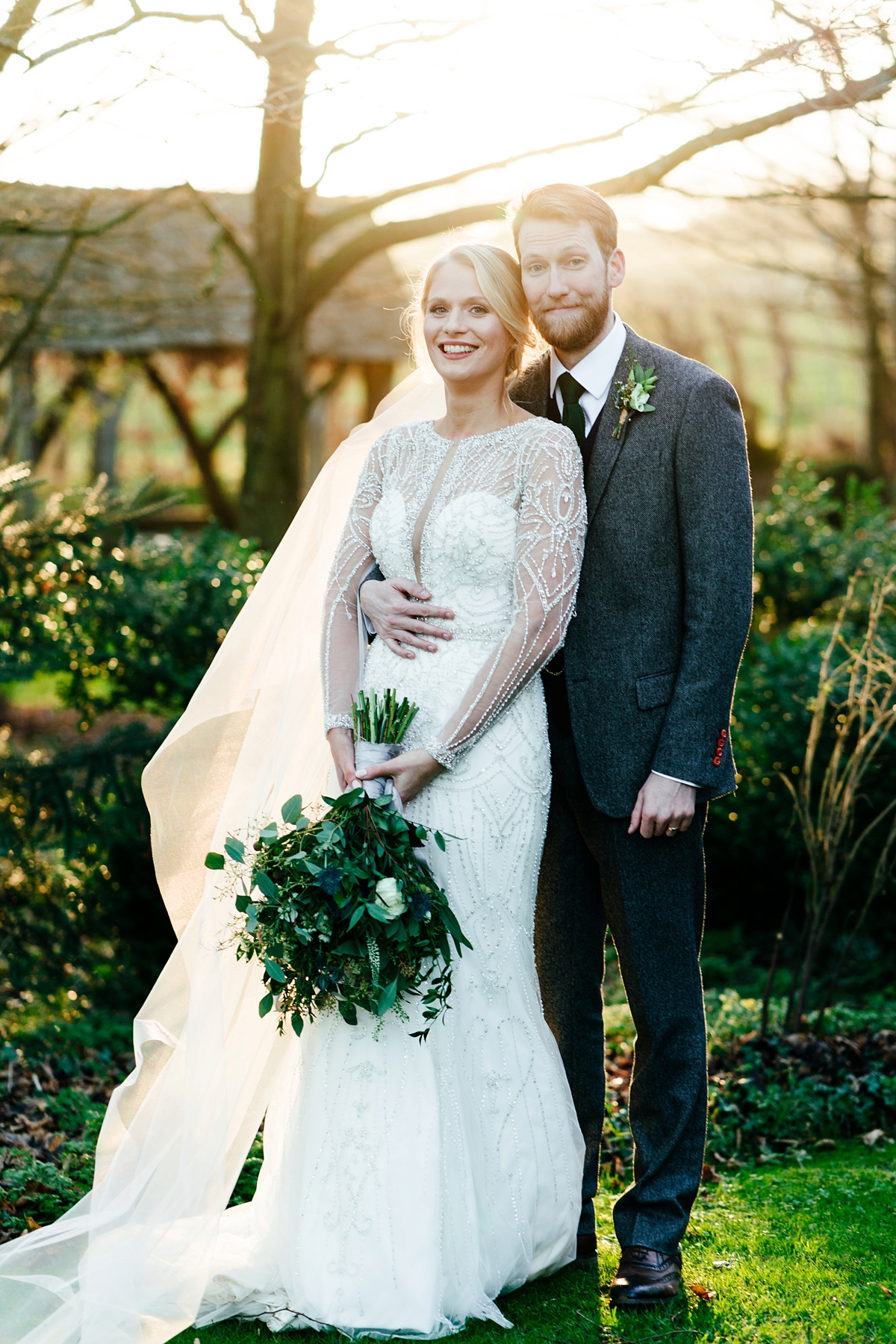 The wedding breakfast was served in the barn which was gorgeously decorated with more greenery and a timely Christmas tree.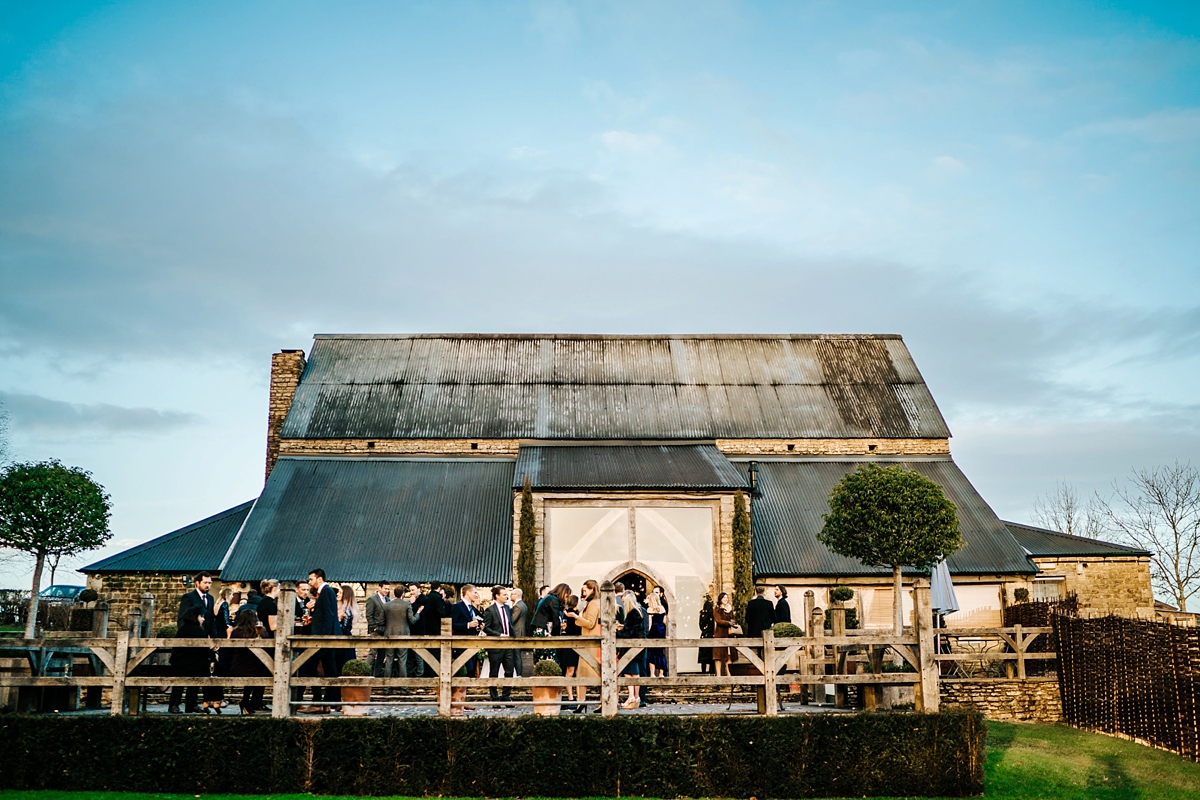 "We decorated the beams of the barn with more greenery and festoon lights and the long rustic wooden tables with brass candles, blue tablecloths and a touch of greenery. We decided not to have wedding favours, instead spending the money on a roasted chestnut cart and hot chocolates with marshmallows."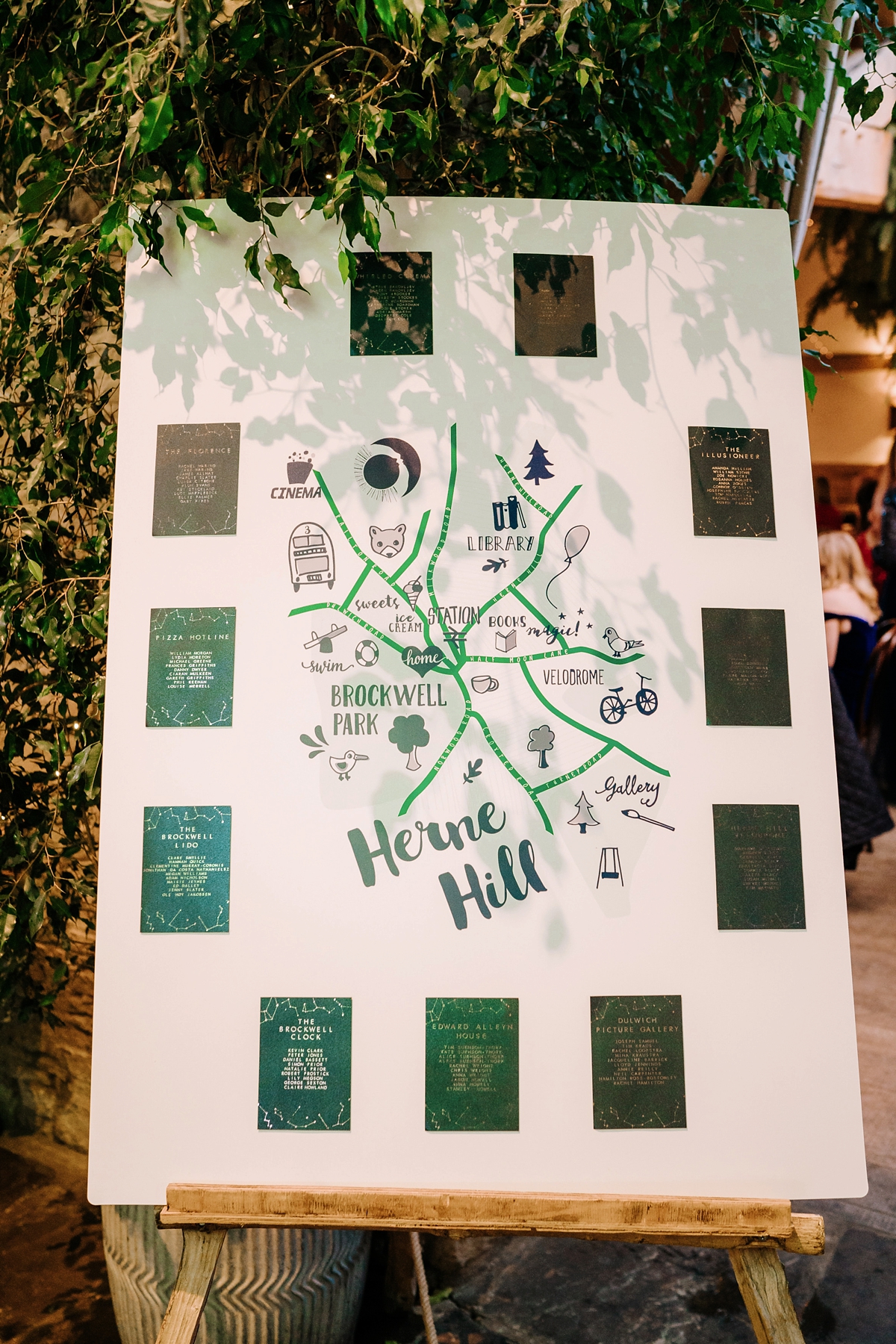 "The catering was all provided by Cripps Barn as they have in-house caterers. Scott and I are both vegetarians so our wedding menu was largely veggie, and Cripps Barn put together a delicious menu for us."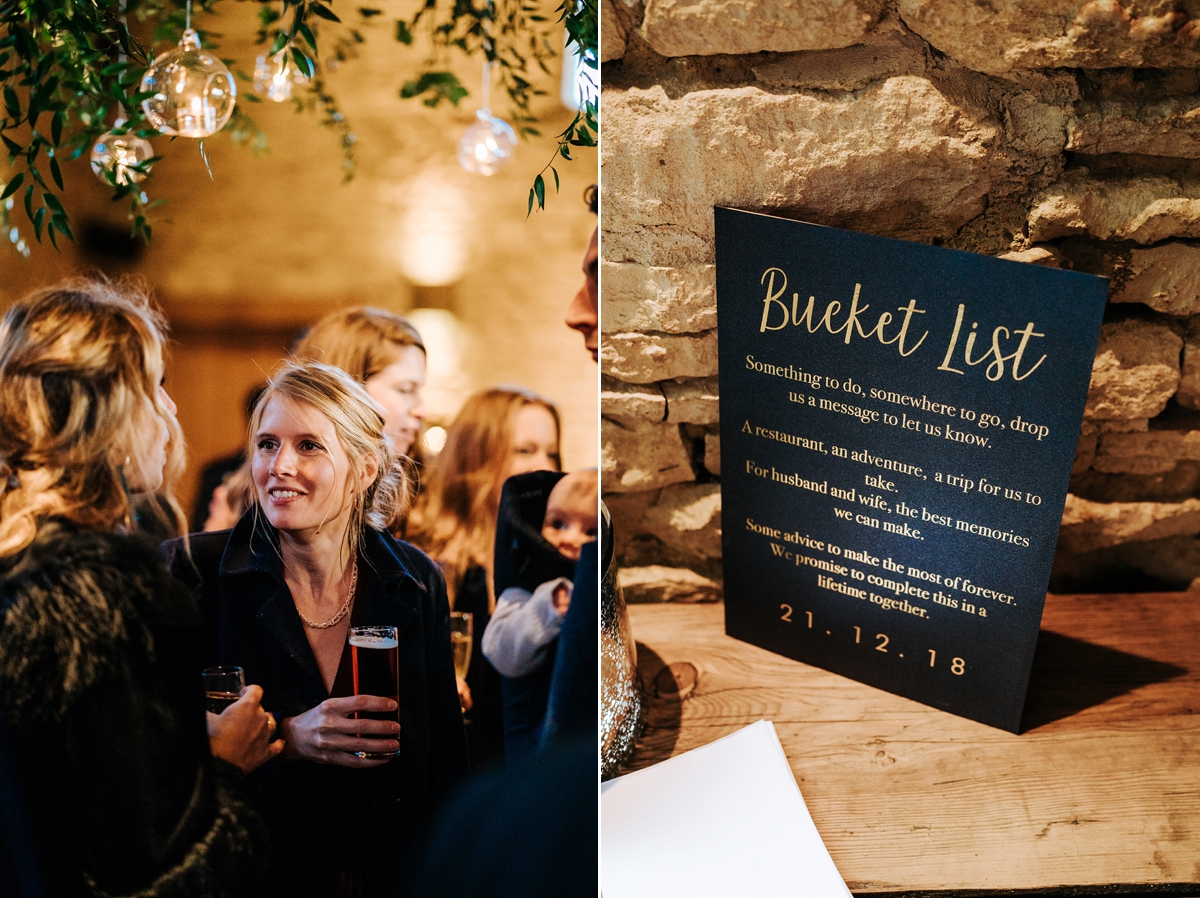 The stunning black and gold graphic place names, table plan and rest of the on-the-day stationery was all created by the talented Rachel Waring from Rachel Emma Studio, wedding planner and stationery extraordinaire.
"The table plan design was a map of where we live in London. We got married in the Cotswolds as we often go on holiday there, so we wanted to incorporate a bit of home into our day too."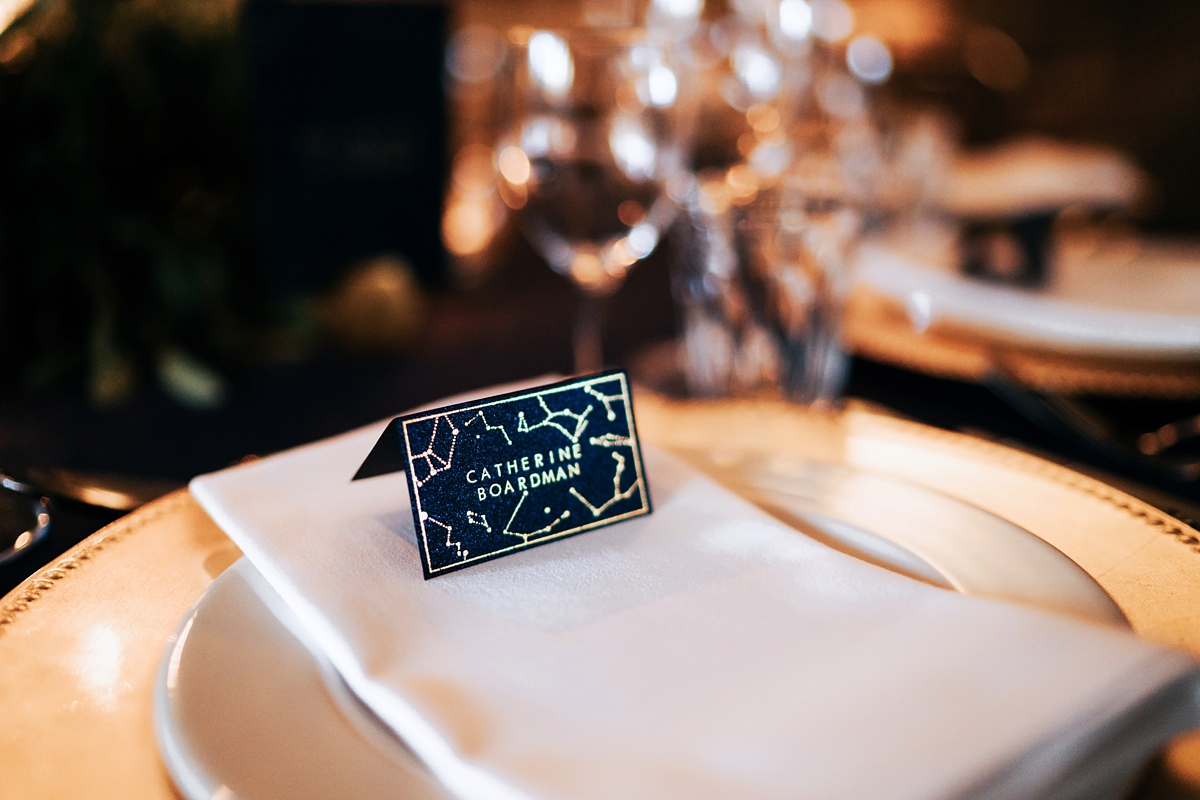 "For the cake, we wanted something a bit unusual and to reflect the Christmas period, so we went with a cinnamon roll cake! My eldest sister baked it and she did a really great job – it was so delicious."
"For the evening entertainment, we booked Entree Party Band, who we'd first spotted whilst on a night out in London. Our first dance was to the track You're My Best Friend by Queen mixed with Crazy Little Thing Called Love to get everyone up and dancing!"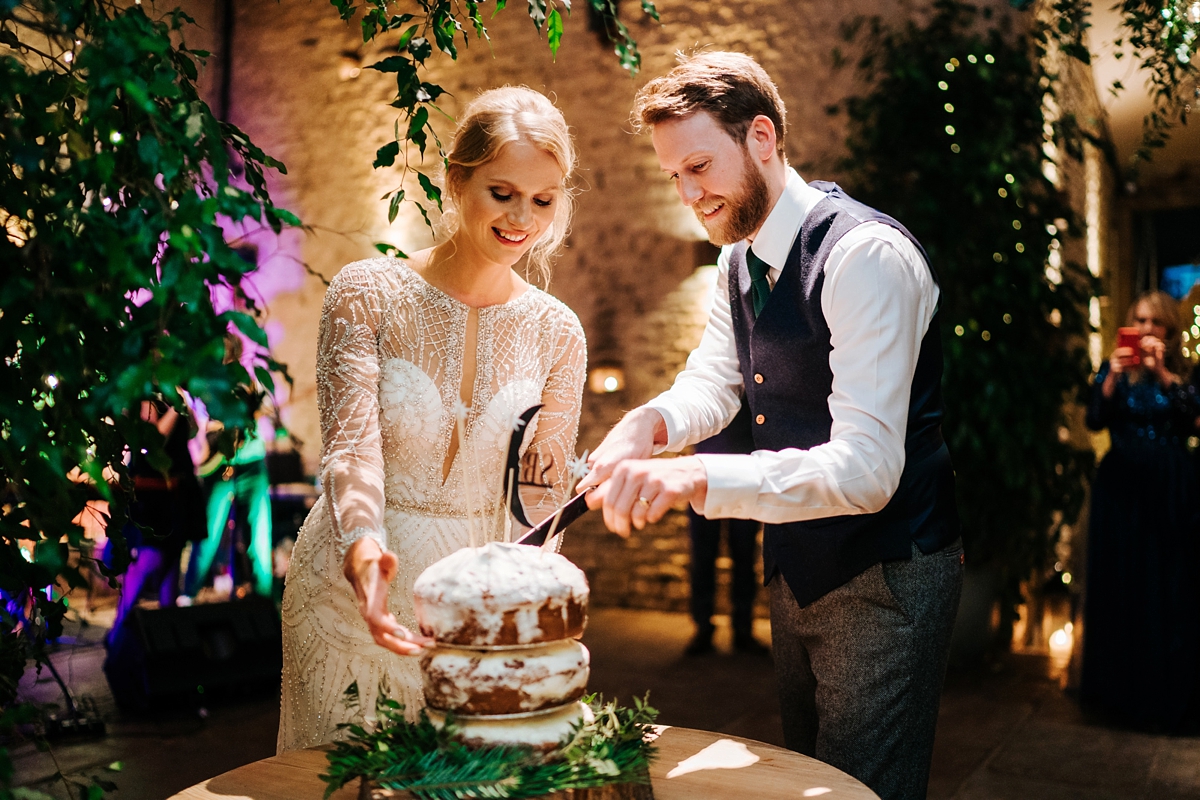 "We thought our favourite part of the day would be the party after the ceremony, however it ended up being the ceremony itself. It was just so special and emotional."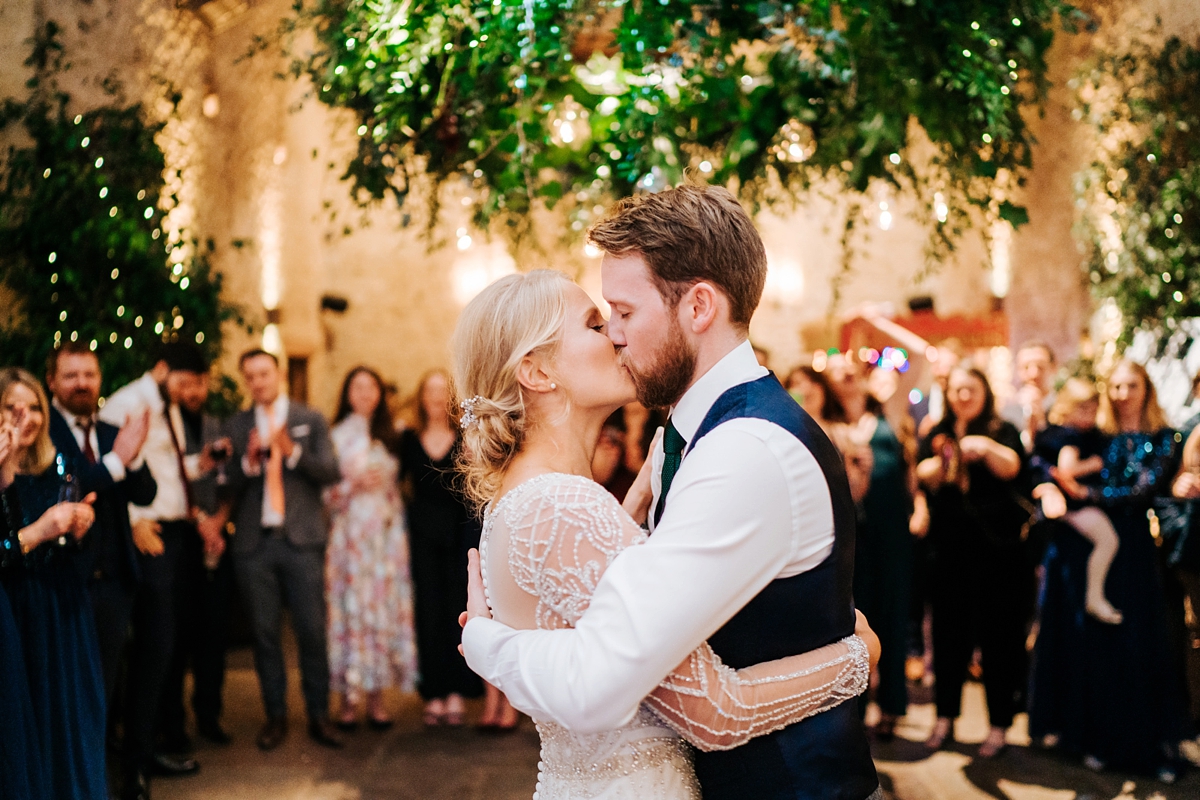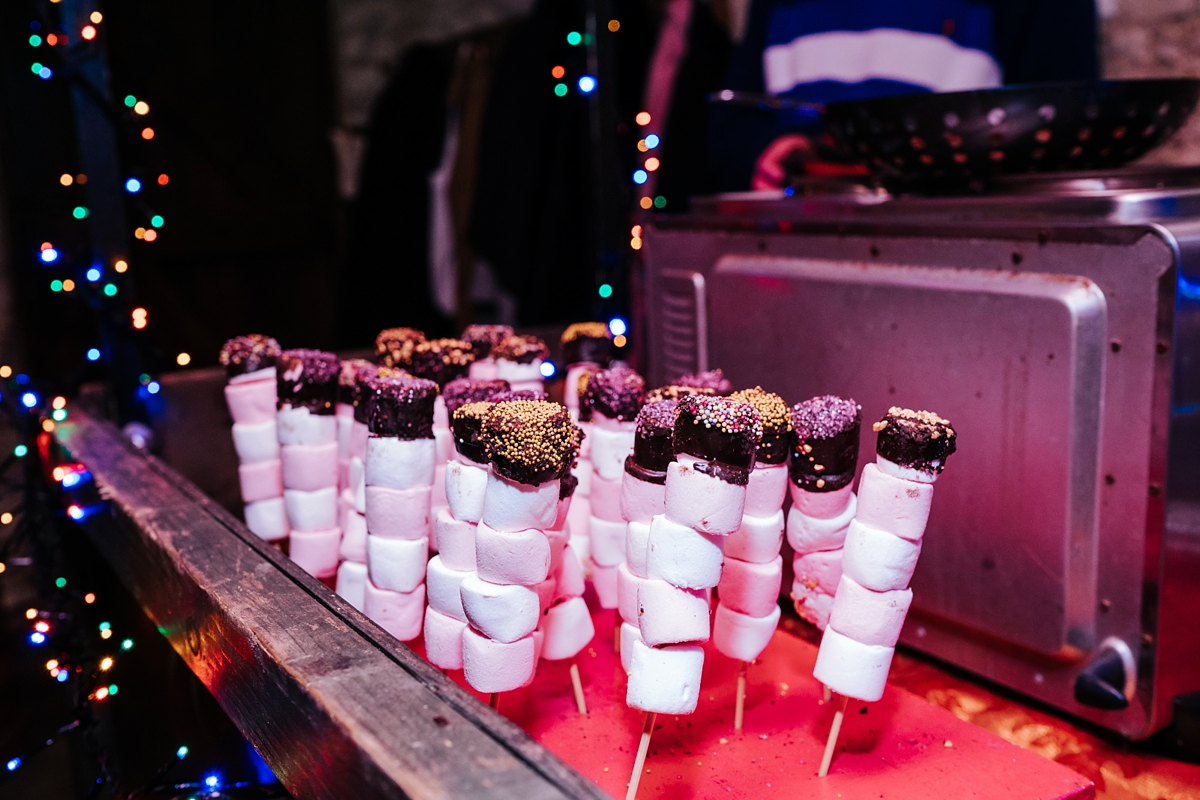 Words Of Wedded Wisdom
"Much like a marriage, I think planning a wedding should be a team effort with the groom involved too. I think it's so much nicer to make decisions as a pair as then it feels like a special day for both of you."
A big thank you to the newlyweds for sharing their truly gorgeous wedding day with us – that greenery is absolutely stunning! A special thanks also to photographer Angela Ward Brown for capturing it all on camera.
Until next time…
Much love,
Holly x