Today's glorious country tipi wedding is going to totally charm you. It's an absolute belter for beautiful reception detail and theres a very beautiful dress involved too.
It all took place in the spectacular Brecon Beacons in Wales, and against that beautiful backdrop we have a ceremony in a medieval village church, bright blooms and wonderfully thought out rustic styling. It's magical, so might I suggest a little break to enjoy all the details here? You won't regret it! Meet Ellie and Dane, who were engaged on the riverfront in Lisbon in 2017. They were married on the 14 July 2018 at the Church of St. Issui, Partrishow followed by a reception at the family home of Ellie's parents, with a wonderful tipi provided by Wedding Tipi.
"Wedding Tipi were absolutely amazing. Wonderful to work with, solutions based, and managed to get a tipi through a wood on a steep hill!"
Images by Matt Penberthy Photography
Perfectly reflecting the rural enchantment of Ellie and Dane's day was photographer Matt Penberthy, whose wonderful work we've featured many times on Love My Dress. Matt is also part of our directory of trusted wedding suppliers, Little Book.
"Matt was absolutely lovely, he worked at our pace (so we could enjoy as much time with friends and family as possible) and was charming and unobtrusive all day. We're so pleased with the photos!"
Ellie's lovely long hair was curled and styled into a half up-do, and her pretty make-up look created for her by cousin and hair and make-up artist Rebecca Anderton together with Ellie's sister, Olivia.
Ellie wore a wired pearl comb in her hair (sadly no details about this) and a simple cathedral length veil, also from The Mews.
There's an elegant, subtle nod to the neat tailoring of the 1940s in Ellie's choice of dress by Laure de Sagazan, which she chose at The Mews Bridal Notting Hill. It's a beautiful combination of delicate, botanical inspired lace with scallop edged cap sleeves and tiny pearl buttons on the waistline.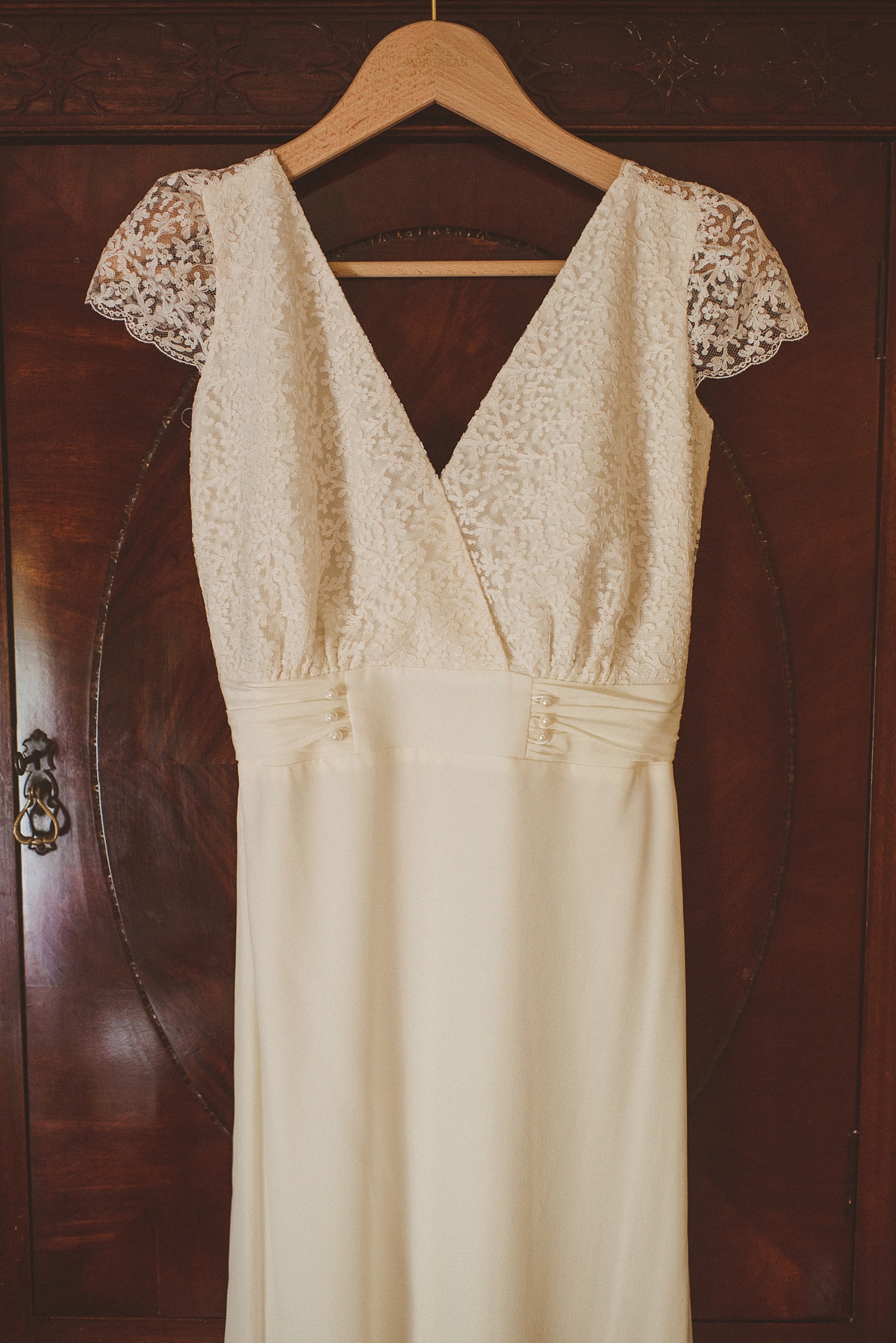 "I thought it was very pretty and simple, which is what I wanted and what suited the venue, and I hope, suited me!"
On her feet Ellie wore ivory lace slingbacks from L.K.Bennett x Jenny Packham. Ellie's wedding day perfume was a mixture of the two fragrances she always wears – Marc Jacobs Woman and Bottega Veneta Knot.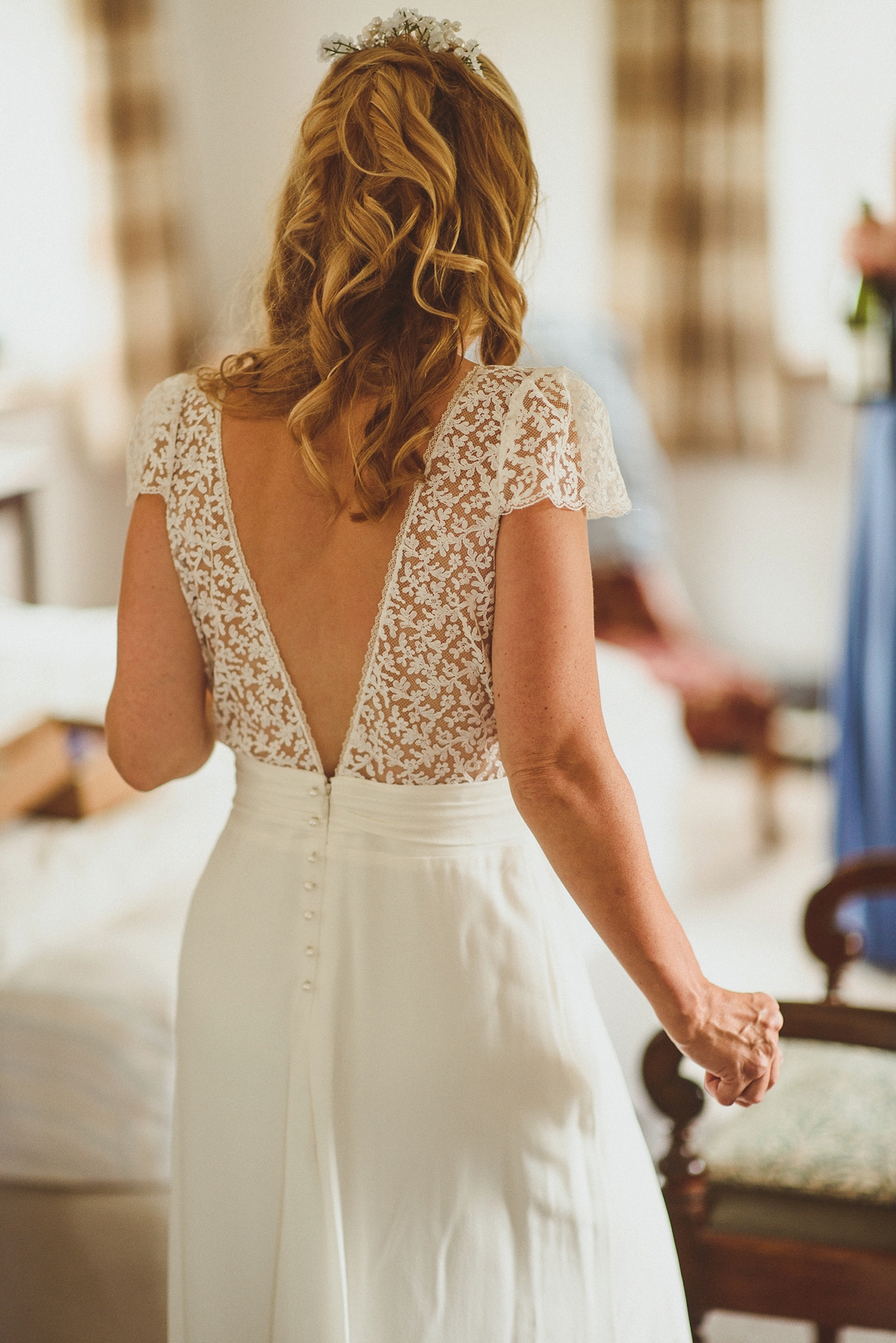 Ellie's bridesmaids wore minimalist and modern 'Vienna' dresses in bluebell from Rewritten. We love their approach to bridesmaid and occasion dressing, and Ellie's maids look fantastic.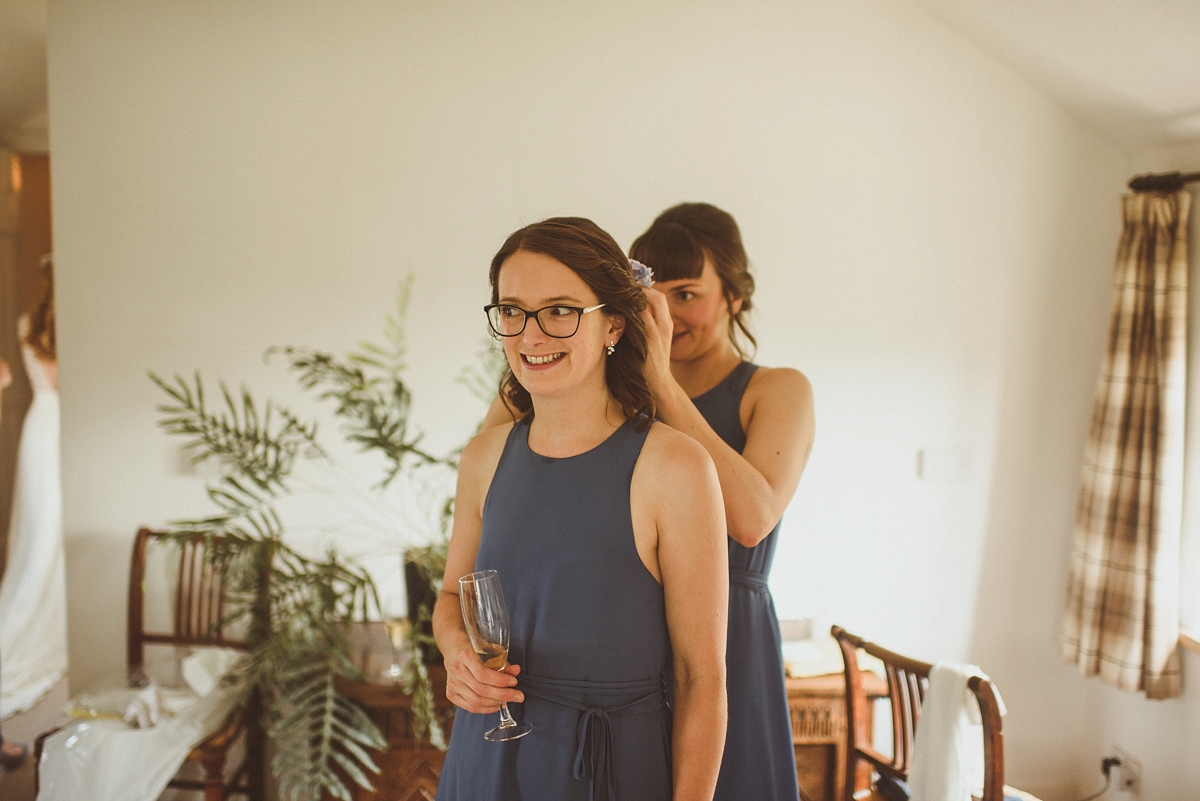 There were beautiful flowers galore for Ellie and Dane's day – wild and natural arrangements spilling out of vases, jugs and milk churns, as well as spectacular garlands adorning the paths and entrances to the church.
Together with the bouquets and buttonholes, these were all the work of Ellie's aunt, who is a florist based in France (sadly no further details provided).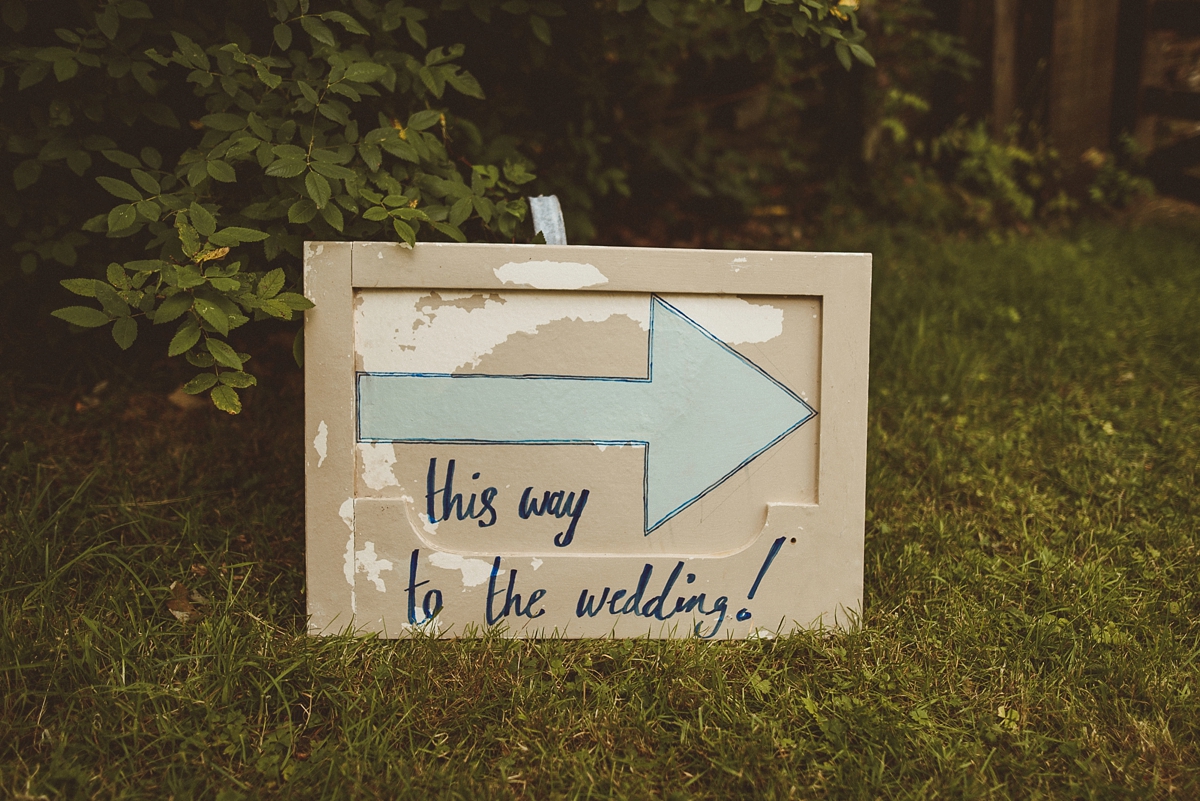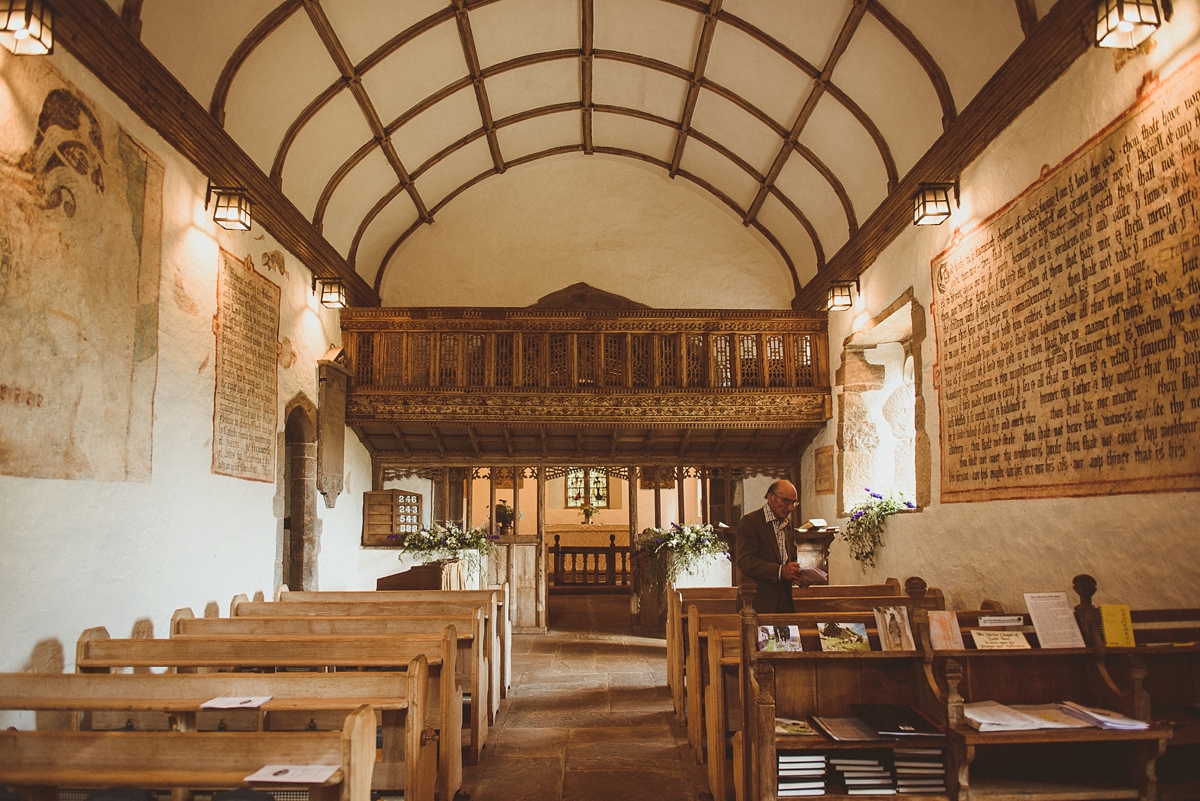 Ellie and her dad and bridesmaids walked to St. Issui's, and Ellie was accompanied down the aisle by her dad to a very special piece of music.
"A piano piece written by my dad (which he wrote at the piano for me as a baby whilst I was sat on his knee!)"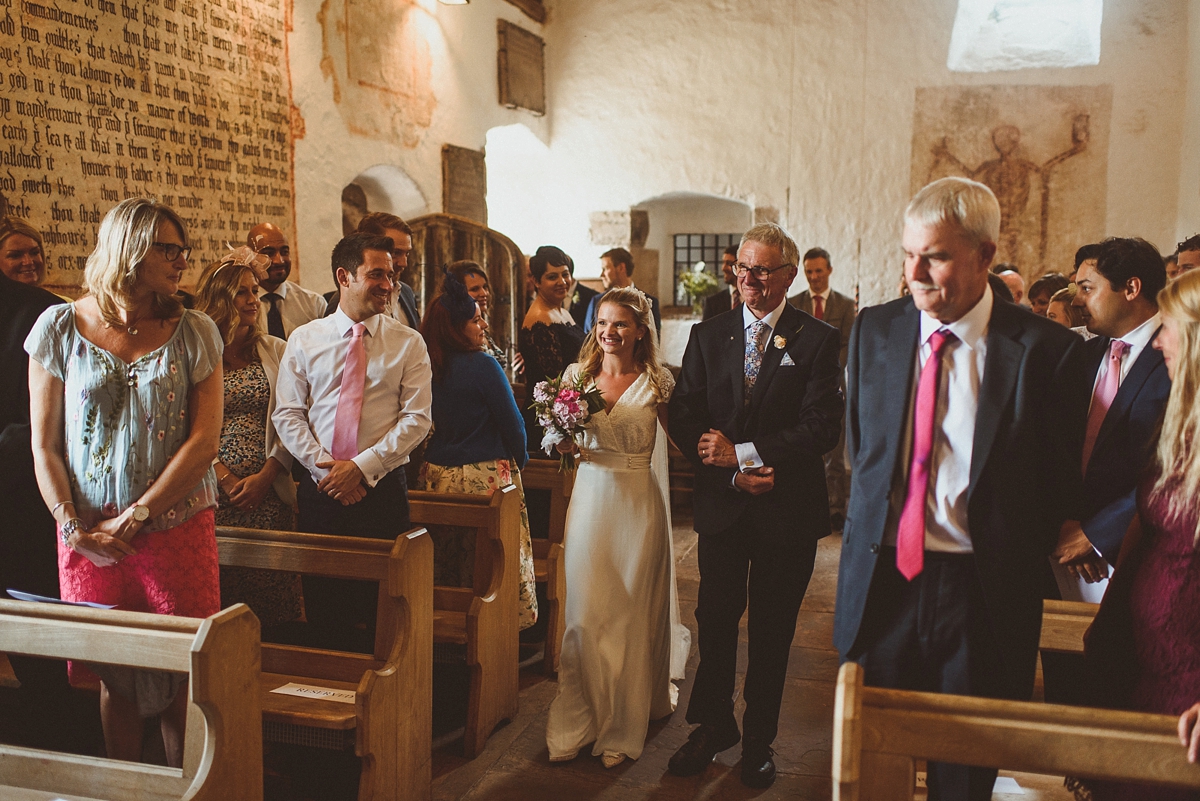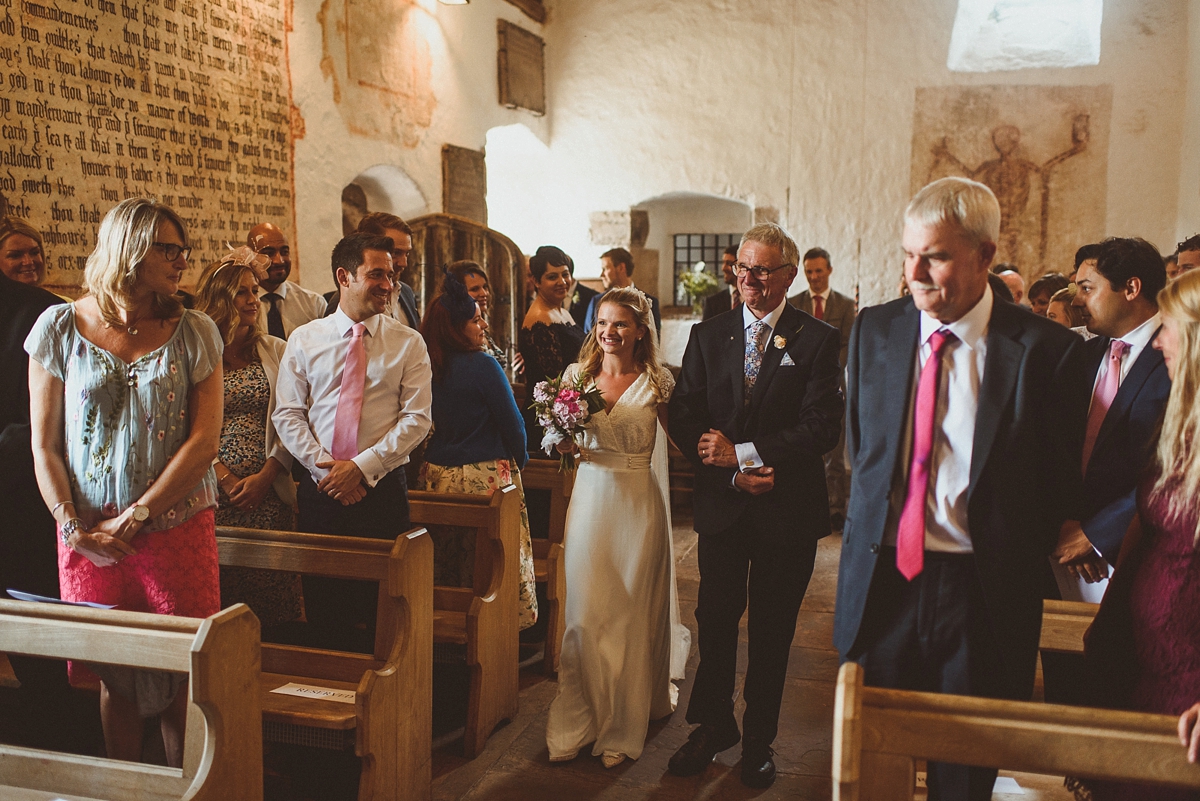 "My favourite part of the day was the ceremony – seeing my friends, family and future husband in the church as I walked down the aisle."
Ellie and Dane exchanged vows, rings and enjoyed their chosen wedding ceremony readings; 1 Corinthians 13: 1-13 and a lovely poem by Edward Muir – The Confirmation.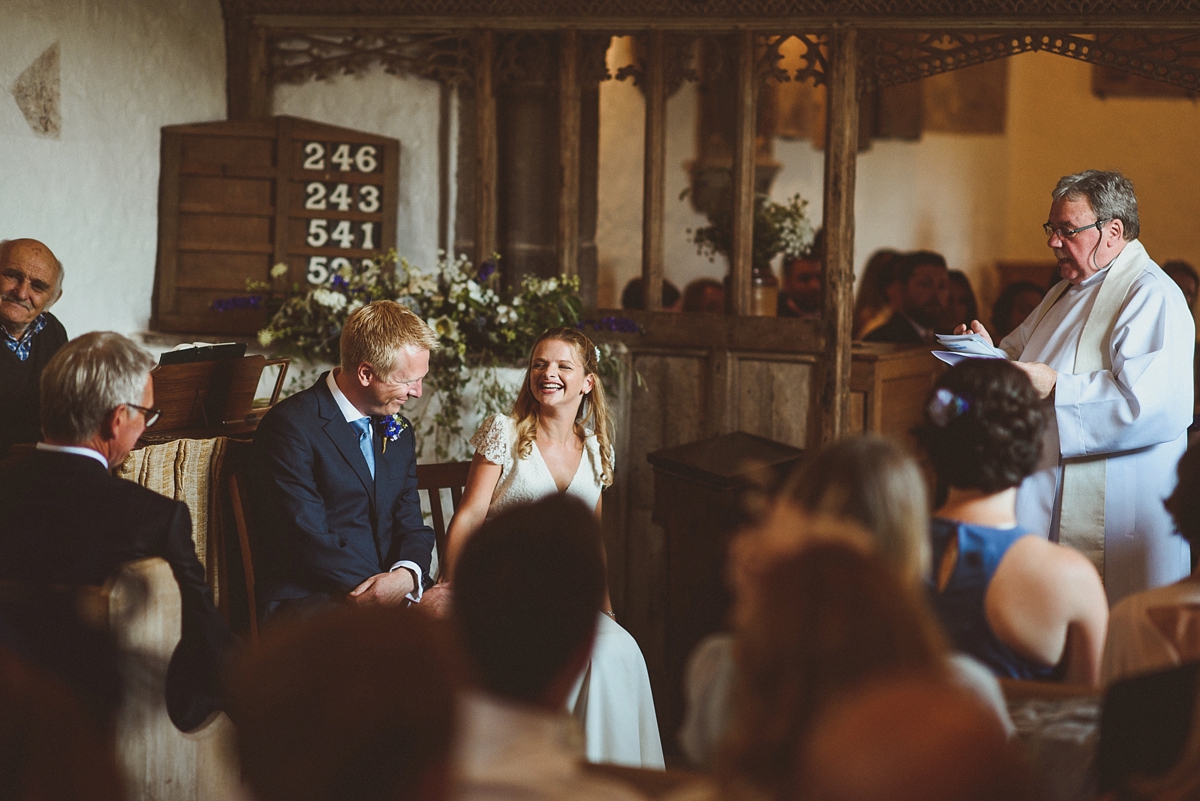 Dane wore a smart three-piece suit with a pale blue waistcoat from Southwark-based Dress 2 Kill with contrast in a deeper blue tie to go with the bridesmaid's dresses.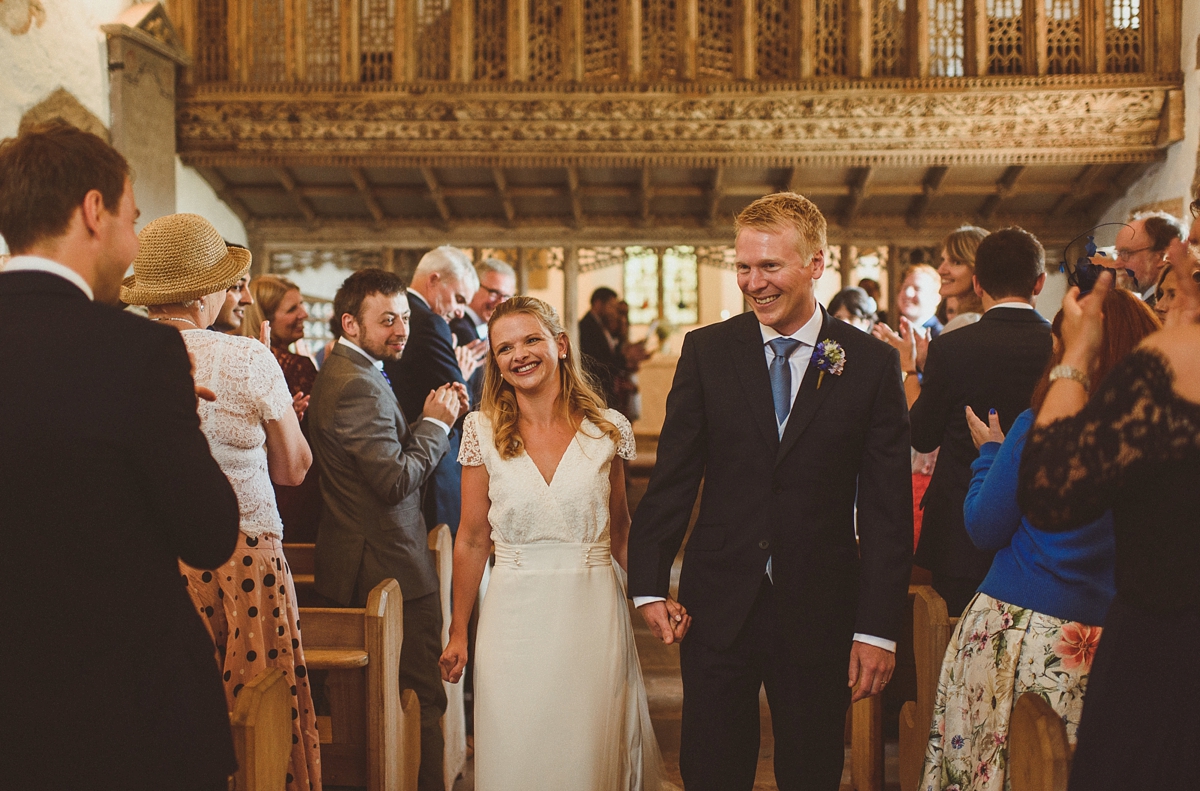 There were smiles and laughter, and lots of hugs and confetti following the ceremony, and a woodland walk through trees and ferns to Ellie's parents' home, and a drinks reception with gypsy jazz from Pocket Full of Swing.
"Dane's favourite part of the day was the start of the reception; he and his wife chatting with everyone while enjoying a glass of fizz and the gypsy jazz on a beautiful summer's day."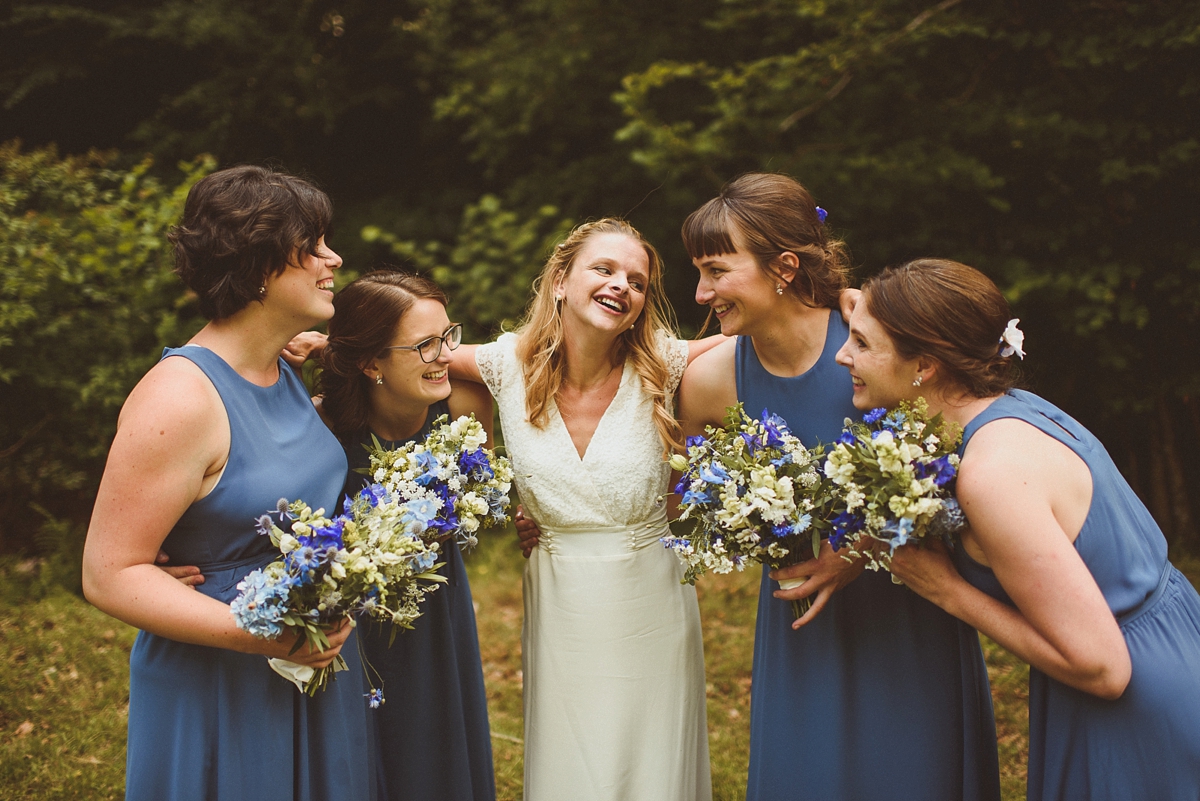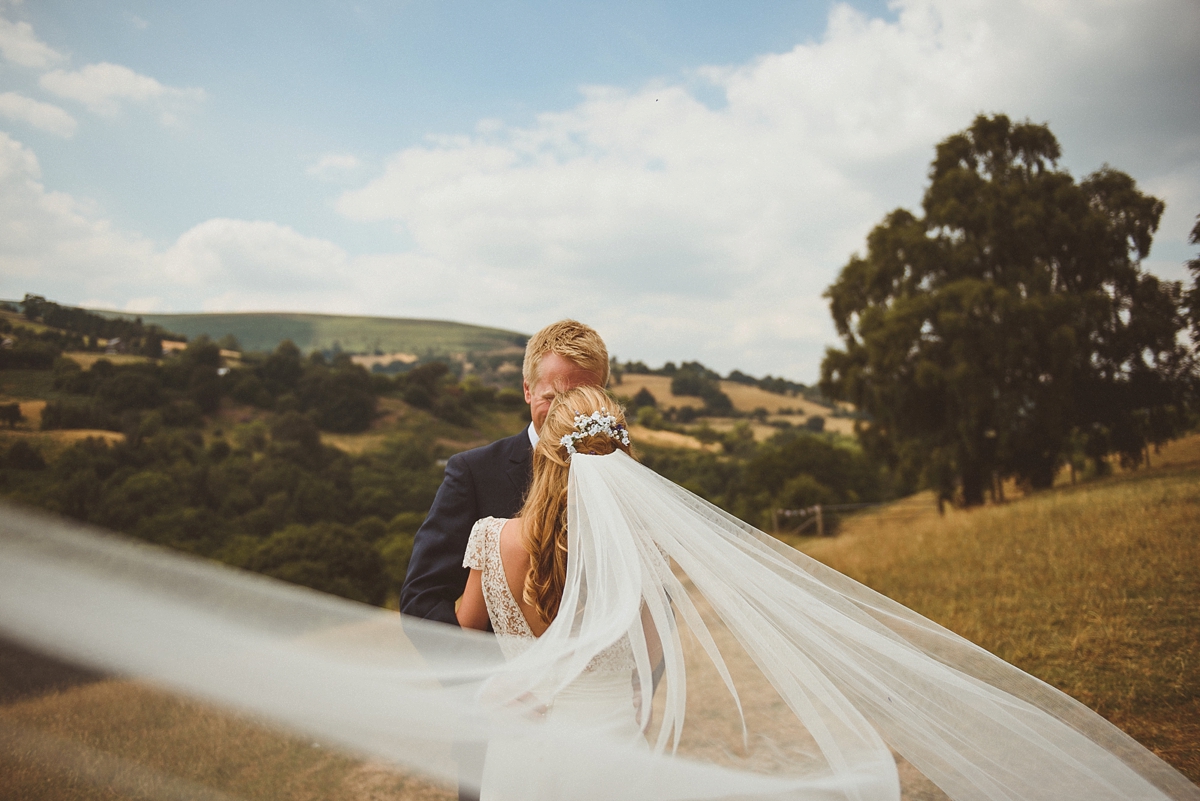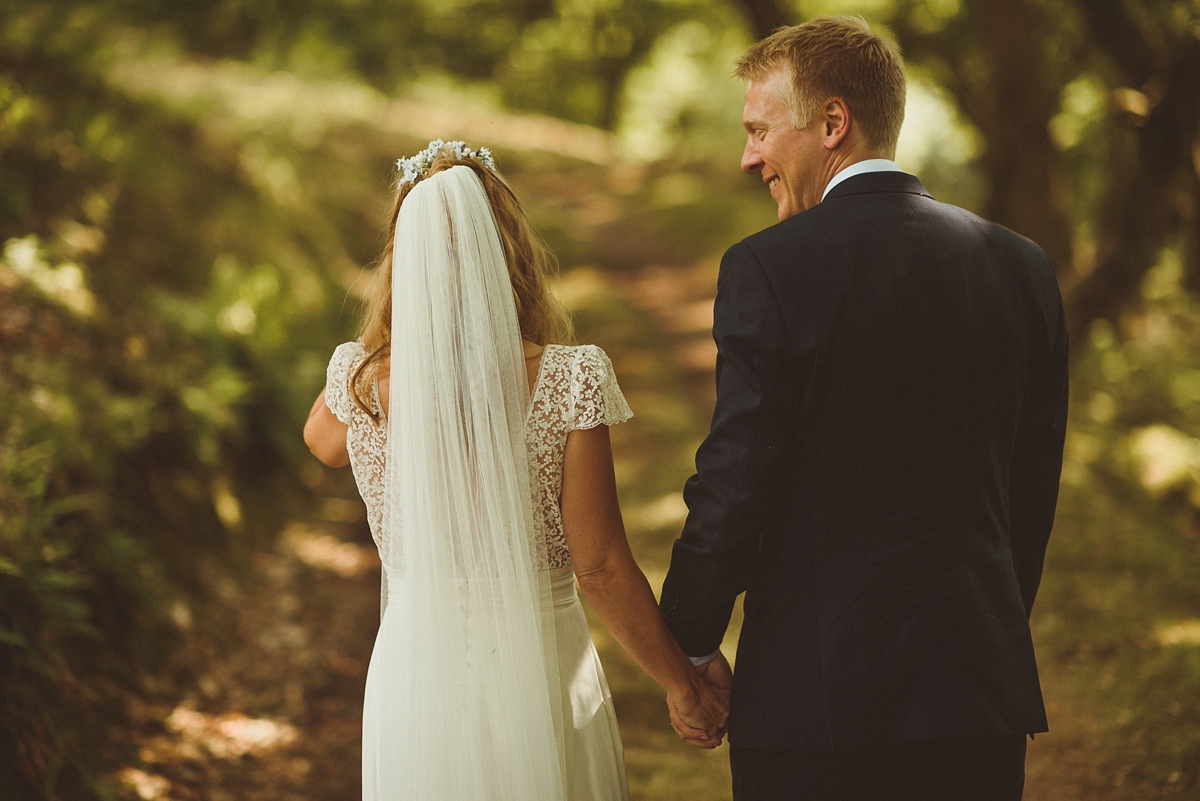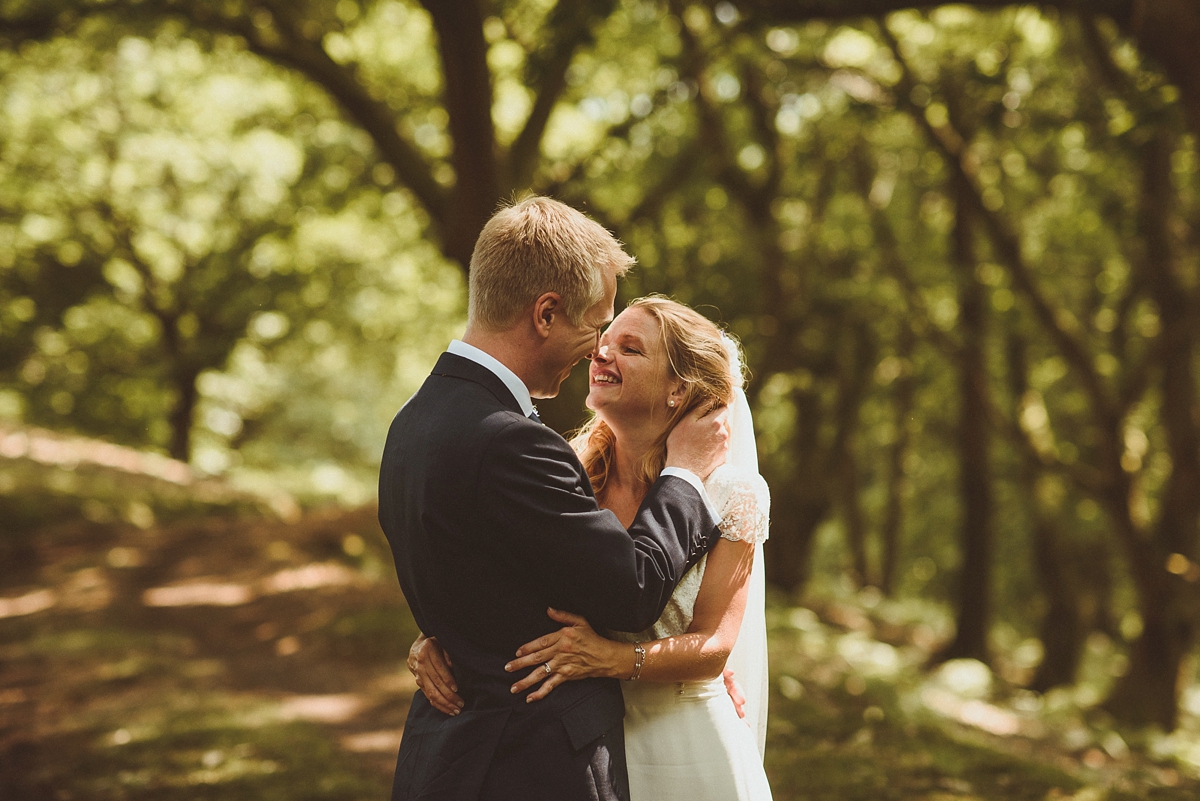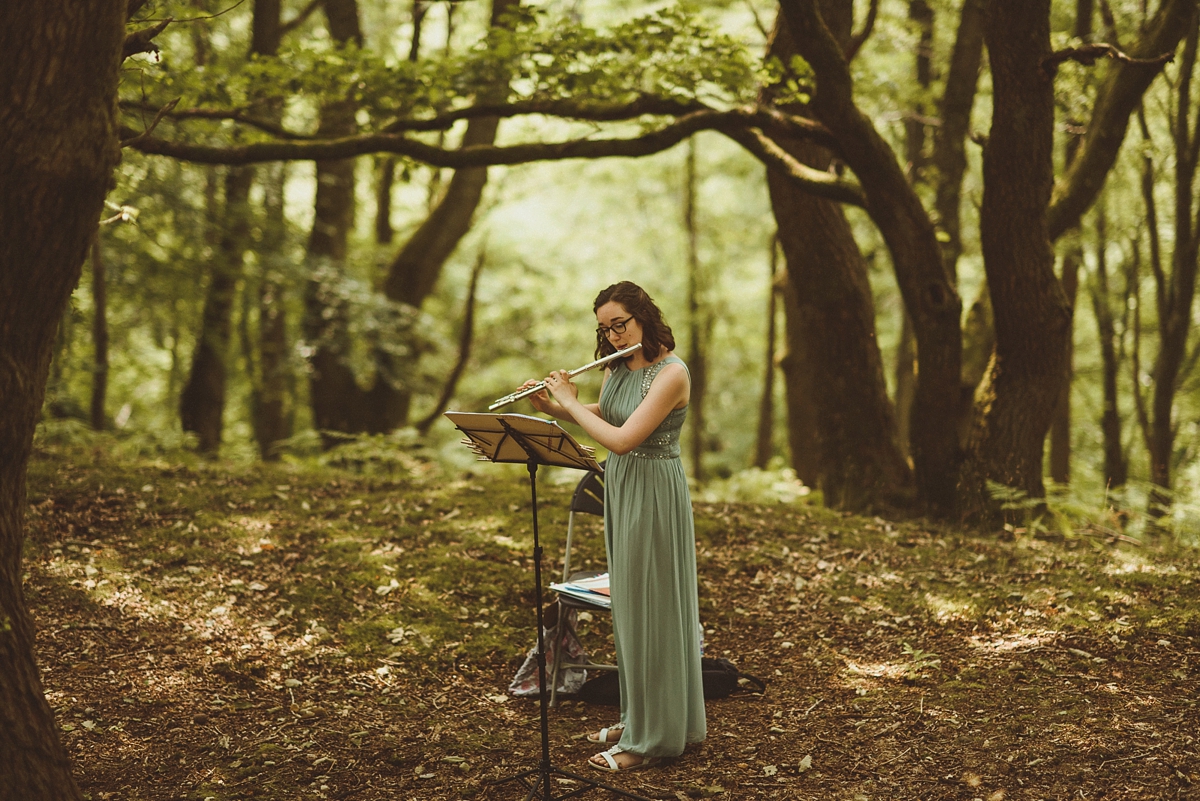 In the field where the tipi (from Wedding Tipi) had been set up, hay bales covered in blankets were dotted around for seating, and strings of bunting fluttered in the breeze.
A path to the tipi was constructed and lined with candles hanging from metal crooks, festoon lights and pots of lilies. The table plan was made from a wooden pallet, with the floral inspired stationery designed by Ellie and Dane (and some great table names, too!).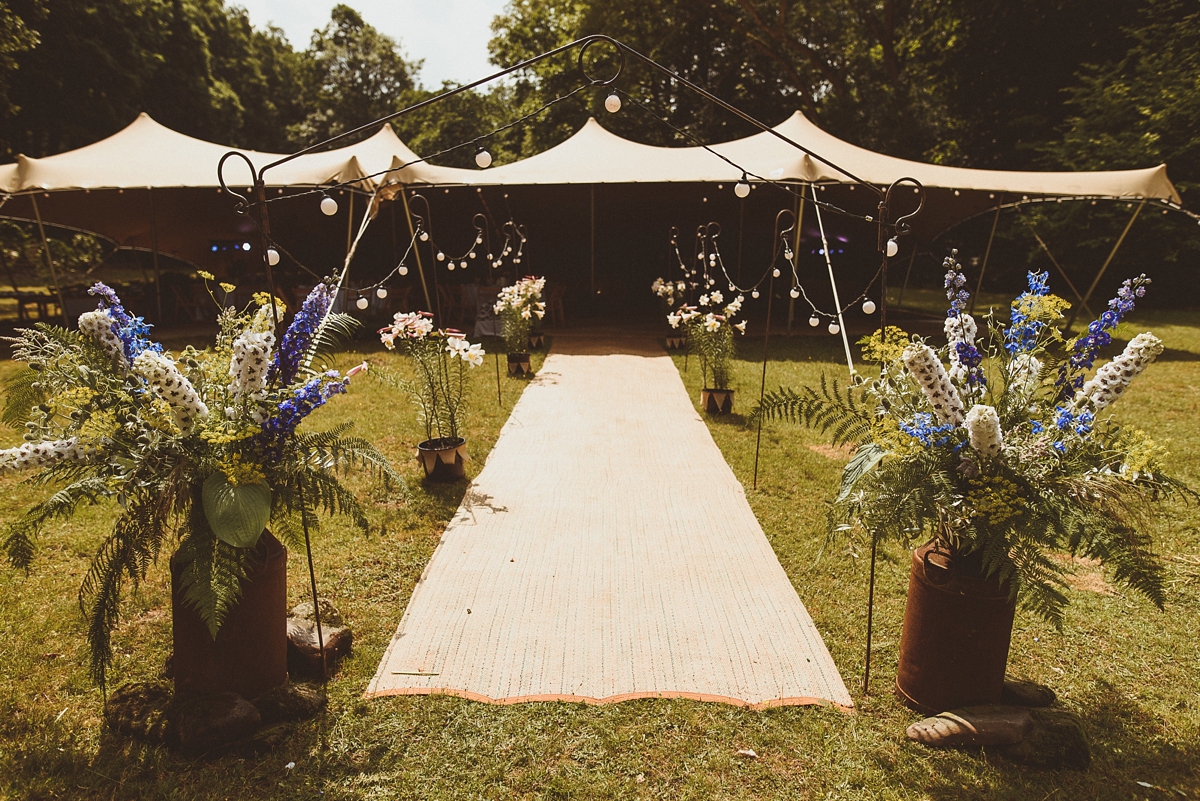 Hoops of greenery and flowers were hung from the tipi, as well as beautiful table arrangements inside. Favours were made by the couple; mini jam jars filled with spirits, with a choice of mixers on the dining tables.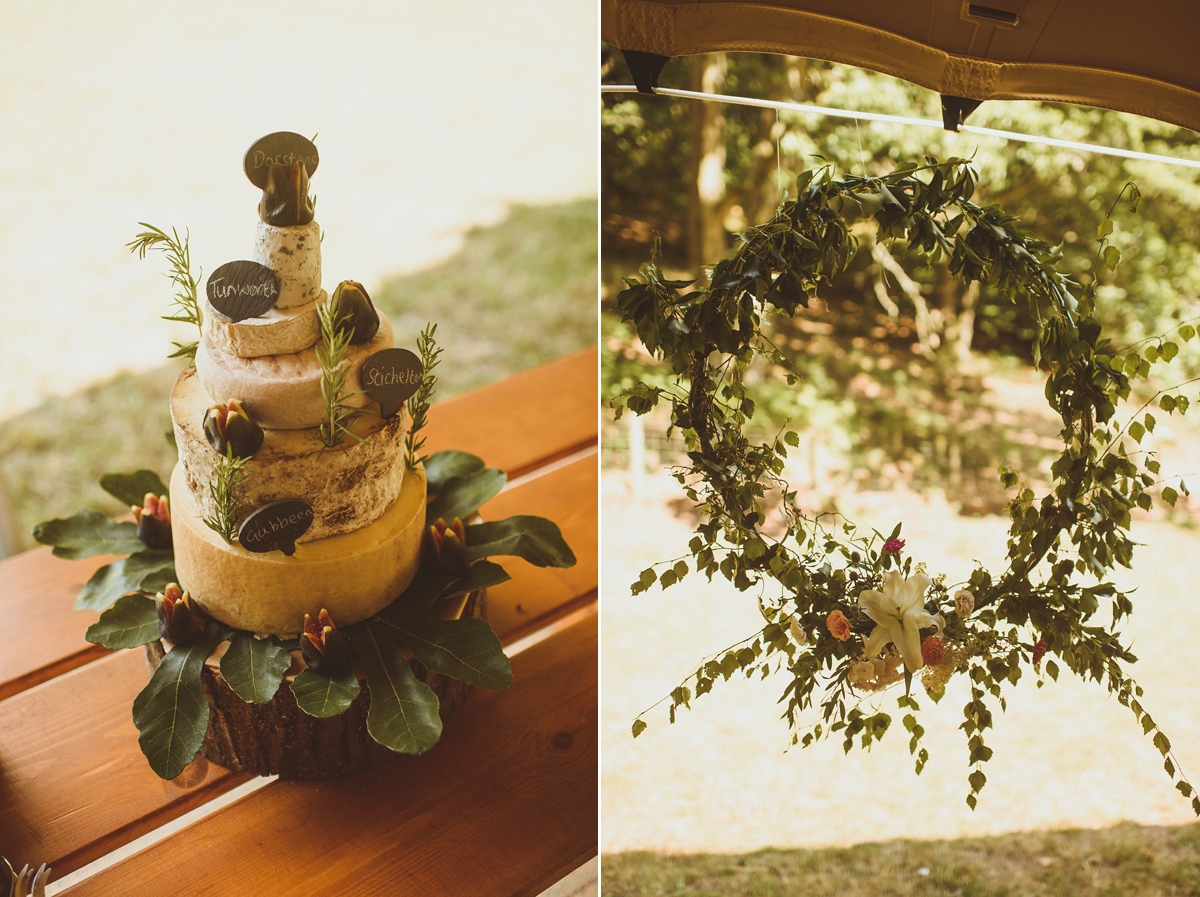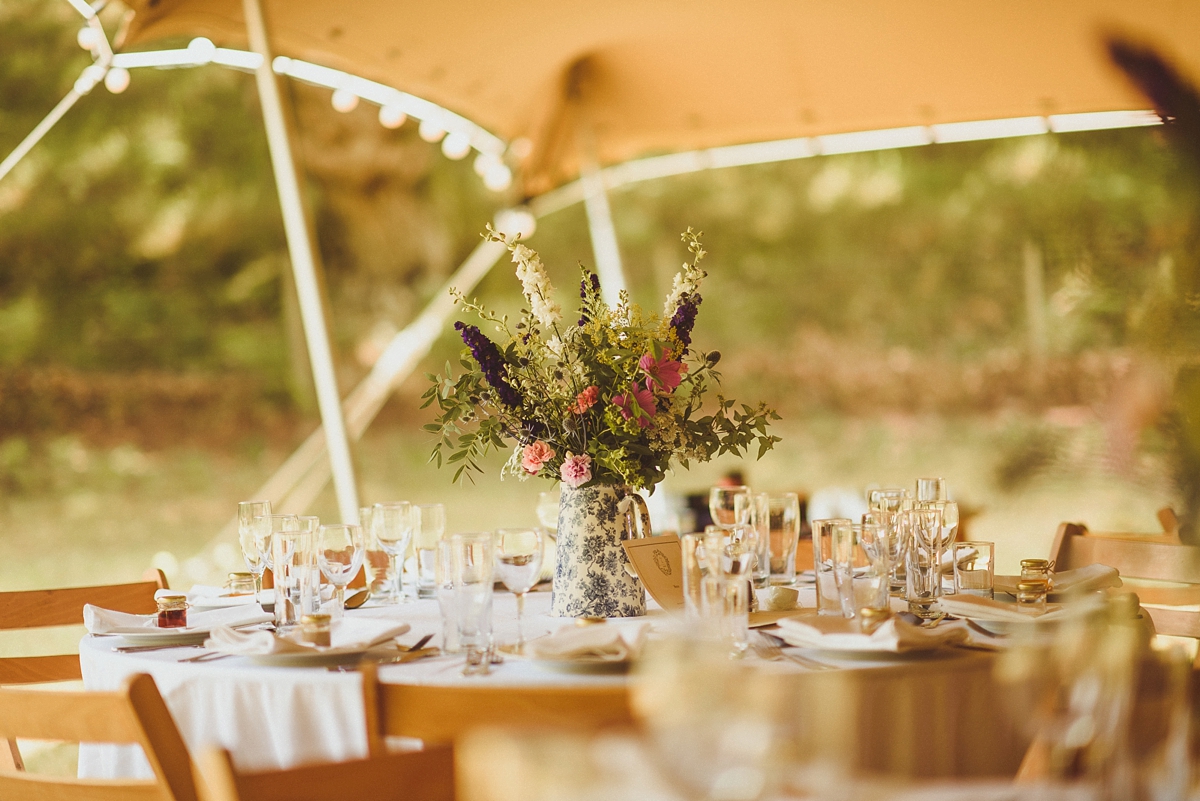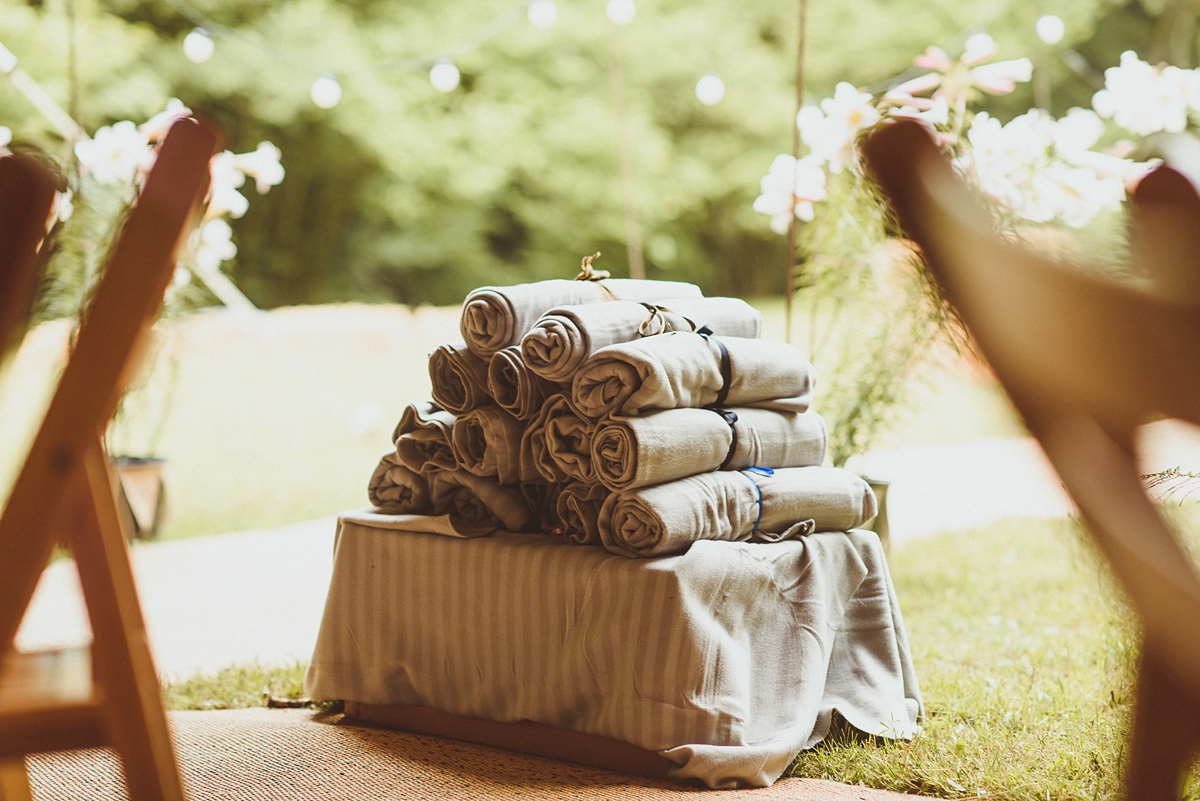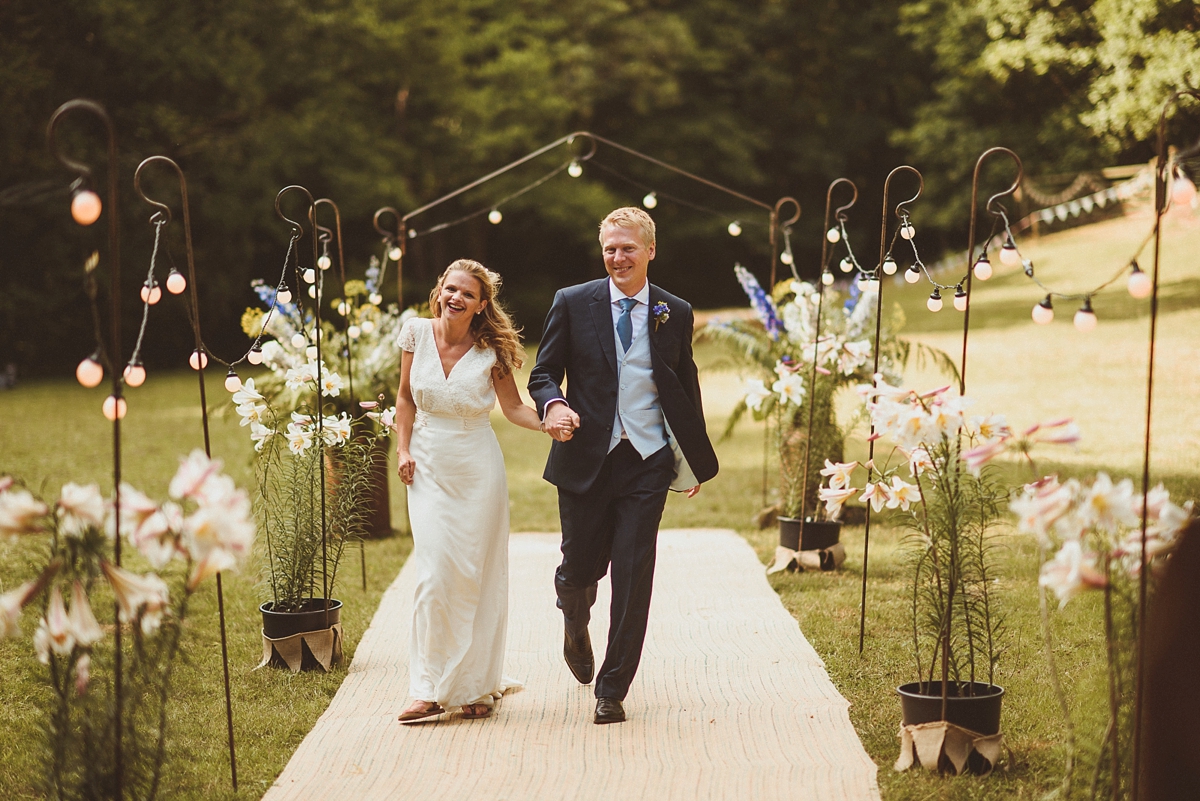 Prickly Pear created the most gorgeous looking feast of summer food for everyone to enjoy, as well as a tasty cheese tower from Neal's Yard Dairy, with Kirkham's Lancashire, Gubbeem, Stichelton, Dorstone and Tunworth cheeses.
As the long summer day came to a close, surrounded by magical woodland, the field was lit with the glow of fairylights and candles and the revelry continued into the night.
Speeches and joyful toasts followed the wedding feast, and as the day gave way to evening, loved ones enjoyed the lovely setting, the fire pit outside, and DJ Jay Maxted began his set.
Ellie and Dane's first dance as a married couple was to an acoustic mix of Stand By Me / Blank Space by Imagine Dragons.
"Because we both love it and listened on repeat for a very long time when first heard it."
Words of Wedded Wisdom
"Delegate where you can, particularly little things on the day itself, so you can just enjoy yourself."
"And if (when) little things don't go exactly as planned, don't worry, it'll still be the most amazing day."
Ellie and Dane, congratulations and thank you for this look inside your idyllic, spellbinding day. Many thanks to Matt Penberthy for these fantastic images, too. If Ellie's Laure de Sagazan dress has left you wanting to see more, do take a look at other designs featured on our blog pages right here.
Until next time!
With love,
Laura