If you're planning or even just pondering your own wedding day, have you thought about having a first look as a couple prior to your ceremony?
I confess I didn't, but whenever I see images of those who have, like today's couple, I'm always struck by the emotion and beauty of that moment. This is a Scottish castle wedding full of low-key glamour and elegance, for a couple who put their loved ones at the heart of the day, focusing on a relaxed celebration in a beautiful setting with good food, drink and excellent company.
Meet Laura, an IT Business Manager, and John, a Cloud Technology Engineer. They celebrated their marriage on the 9 September 2018 at Ardoe House Hotel & Spa on the outskirts of Aberdeen.
Images by Ash Powell Photography
"We wanted a location that looked and felt magical. Ardoe was easy to travel to and able to host our special day from start to finish. Their rooms are comfortable, and they have several bars and restaurants along with a spa and gym (all on the grounds). The staff were super helpful and were able to accommodate our every request."
Laura and John worked with Sara Jane of Weddings By Sara Jane to fully realise their vision of an intimate, elegant and laid back day spent in the company of friends.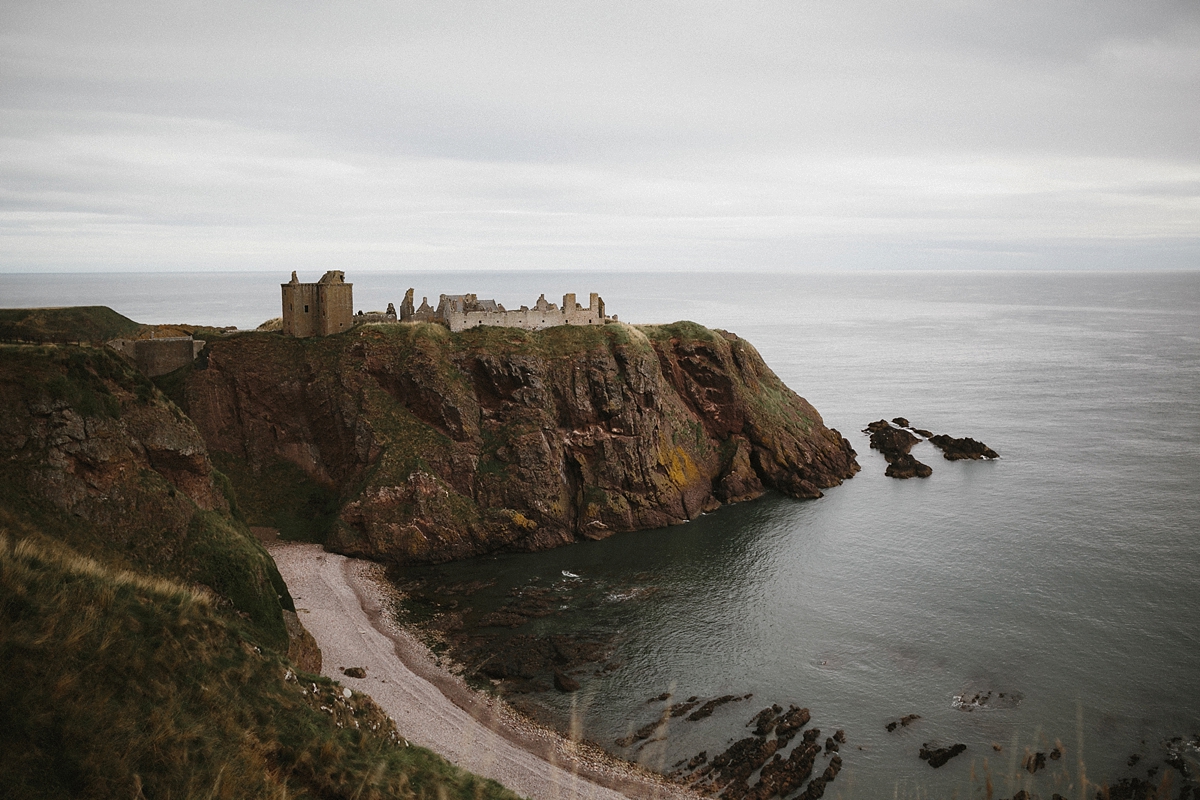 Laura wore a glamorous column gown, with subtle sparkle over the embellished tulle bodice, from Theia Couture, which she chose at the Bridal Boutique of Lewisville, Texas.
"It was simple but elegant and classy. John loves astrology and the flowers on the top, I thought, looked like stars. Once I saw that I was sold. It also helped that it fitted me perfectly."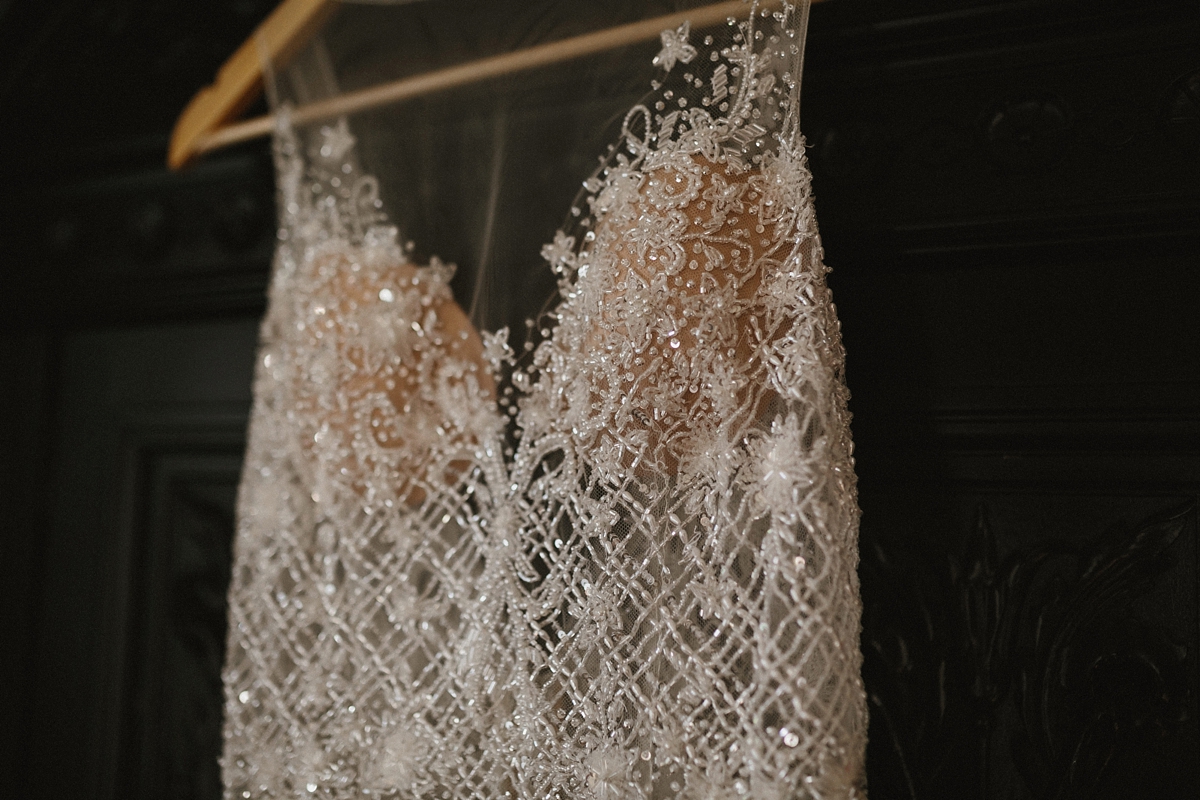 On her feet Laura wore gold glitter Romy 100 pumps by Jimmy Choo, and for fragrance, her signature scent – Jo Malone's White Jasmine and Mint.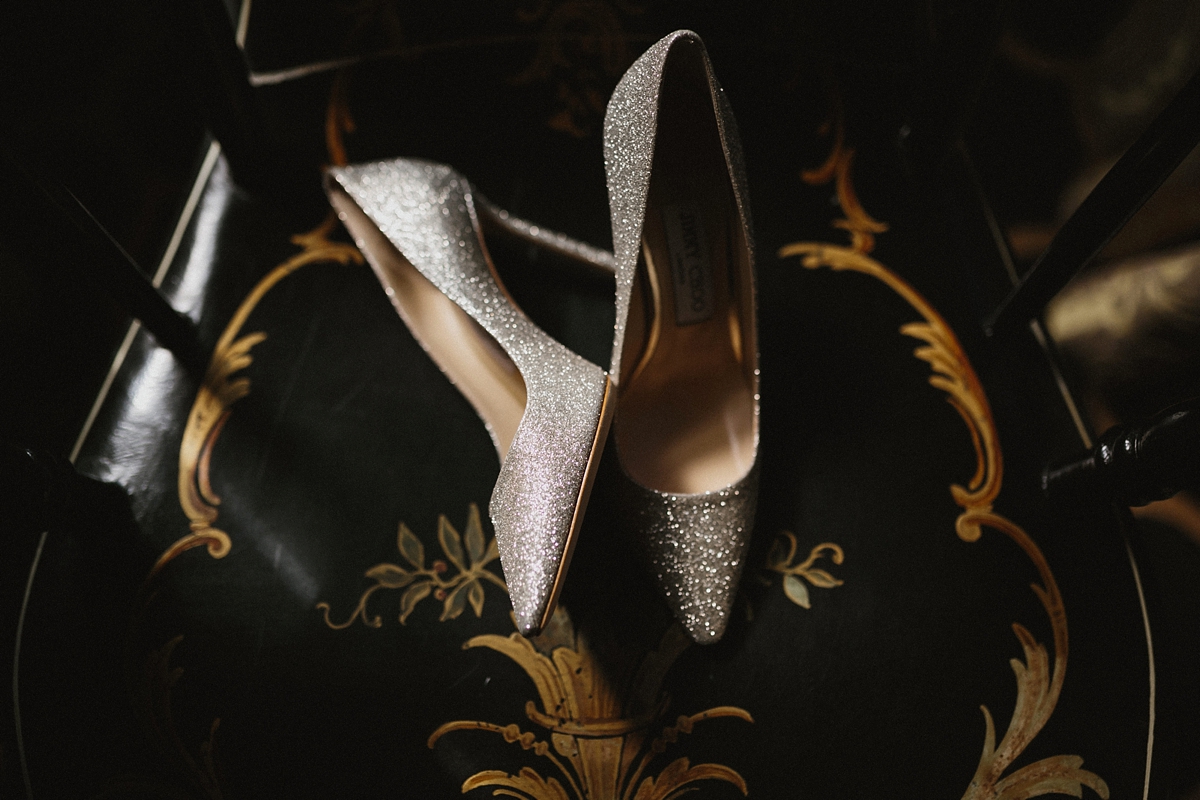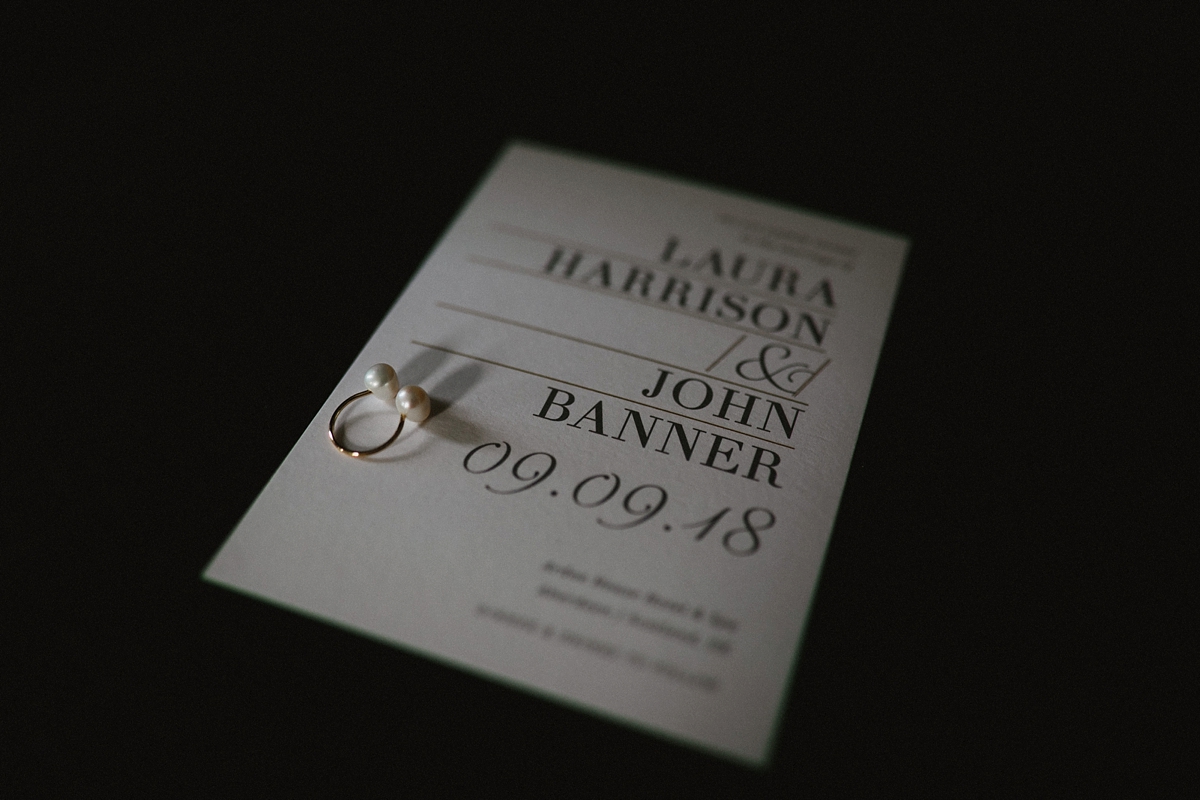 Laura carried a breathtaking bouquet of garden roses mixed with deep burgundy dahlias – such a lovely autumnal feel – created by Jill at Hay's Flowers.
Laura's make-up was taken care of by Samantha Cardno, and her intricately braided and curled hair style was the work of Talisa Mcallister of Beehives & Braids.
"Earrings were my mother-in-law's diamond earrings (my something borrowed) and the diamond ring I wore on my right hand was my great-great grandmother's, which was a gift to me many years ago."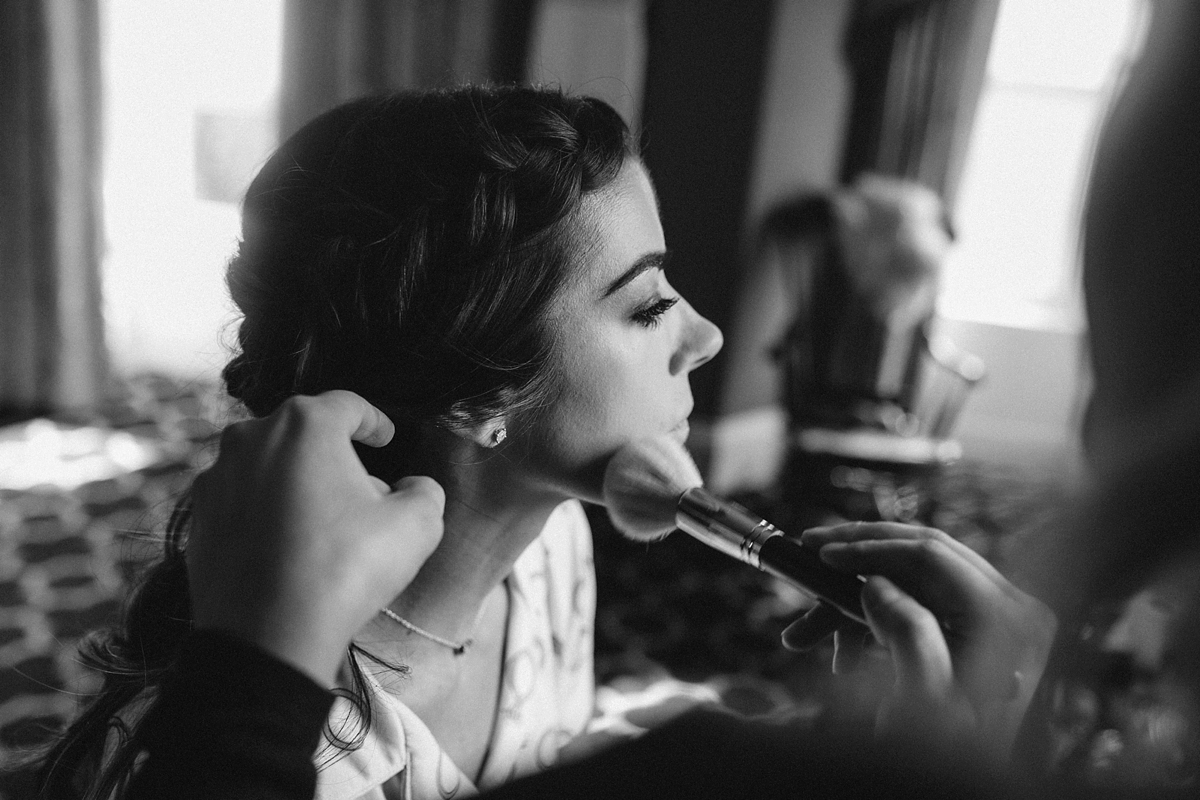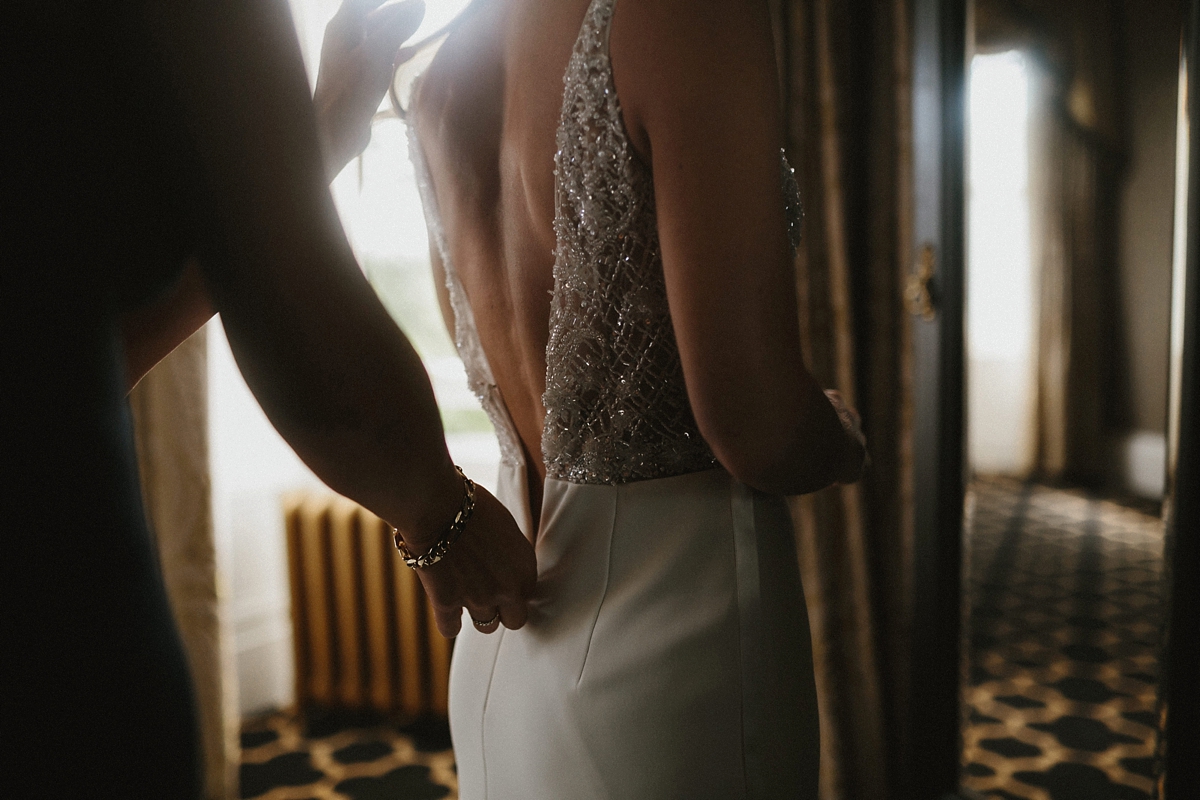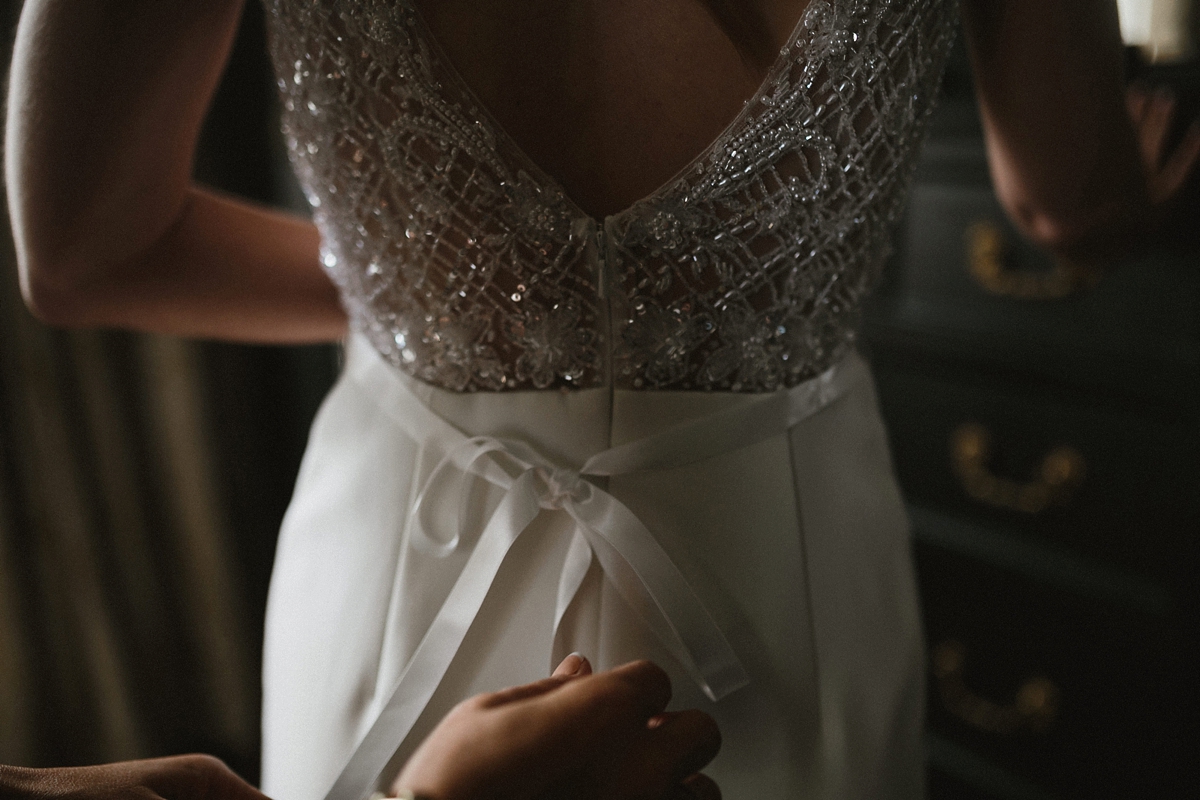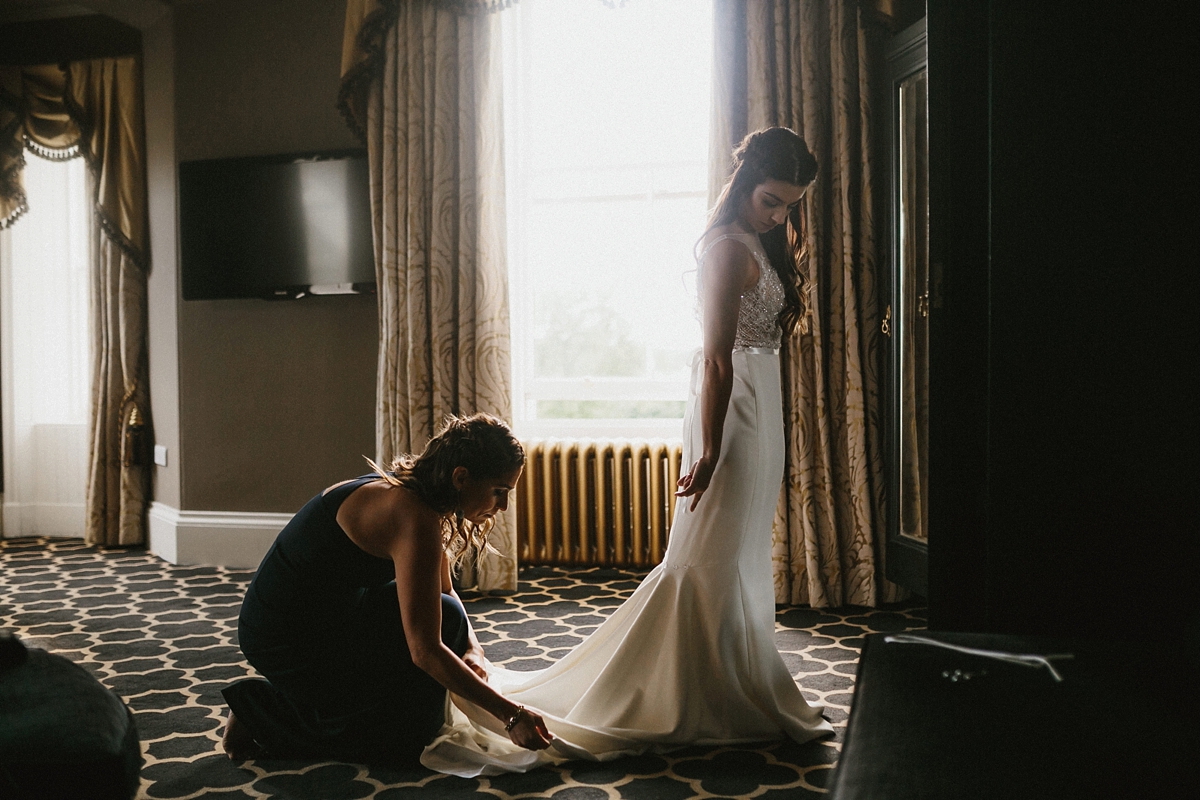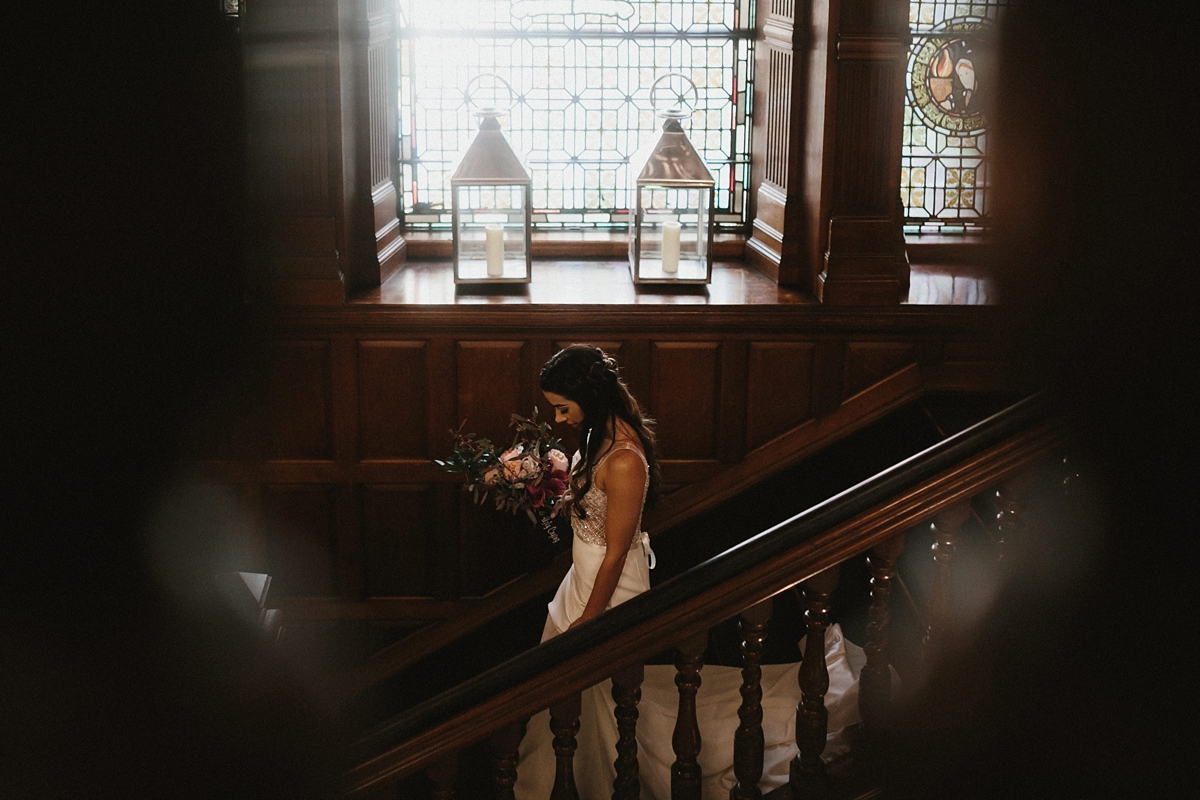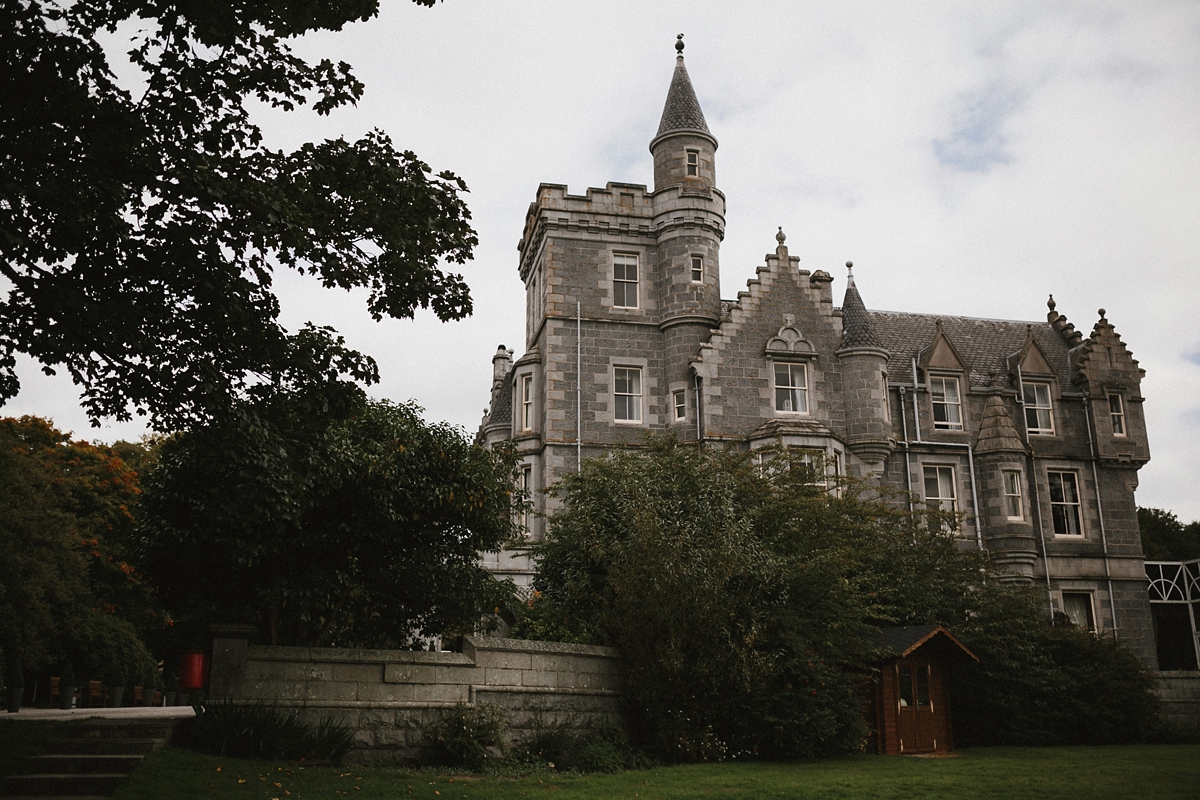 When everyone was ready, it was time for Laura and John to step outside for their emotional first look, so wonderfully captured by Ash Powell, before they walked down the aisle together to begin their ceremony.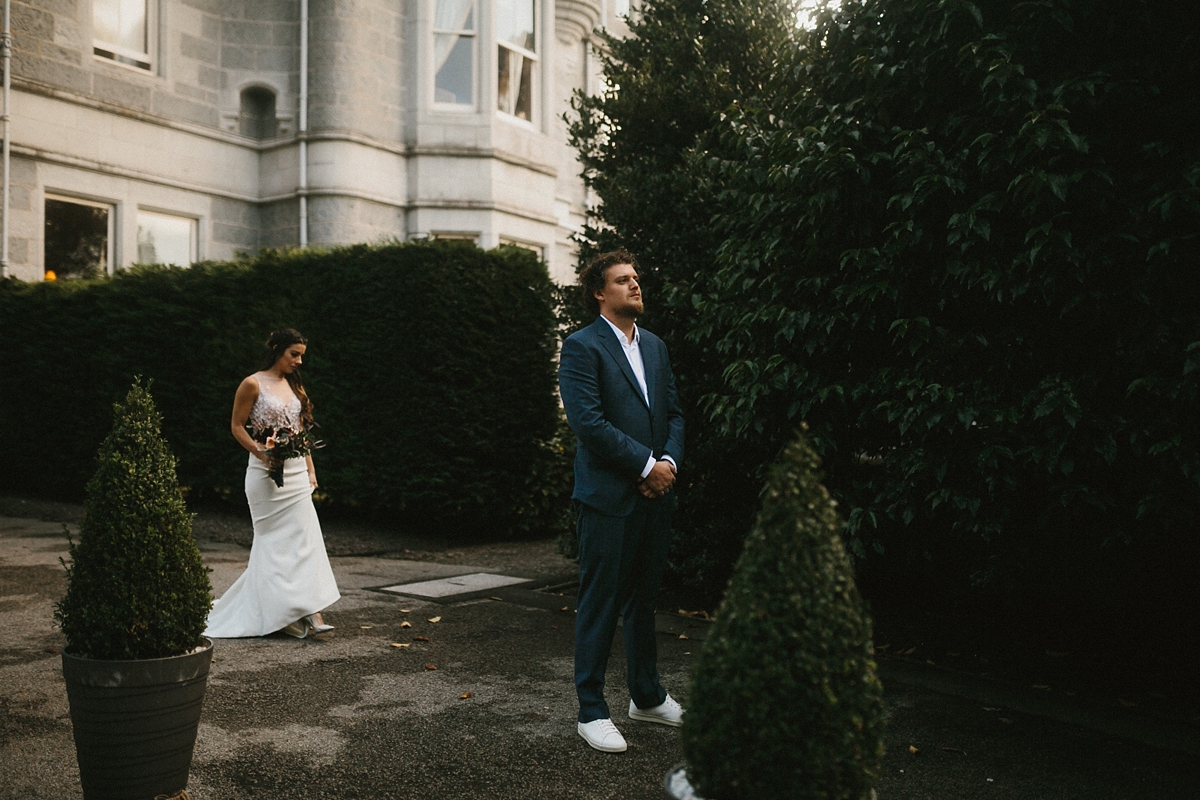 "We were friends in high school but never dated. It wasn't until we were at (separate) colleges, across the country, that we met back up over a holiday break."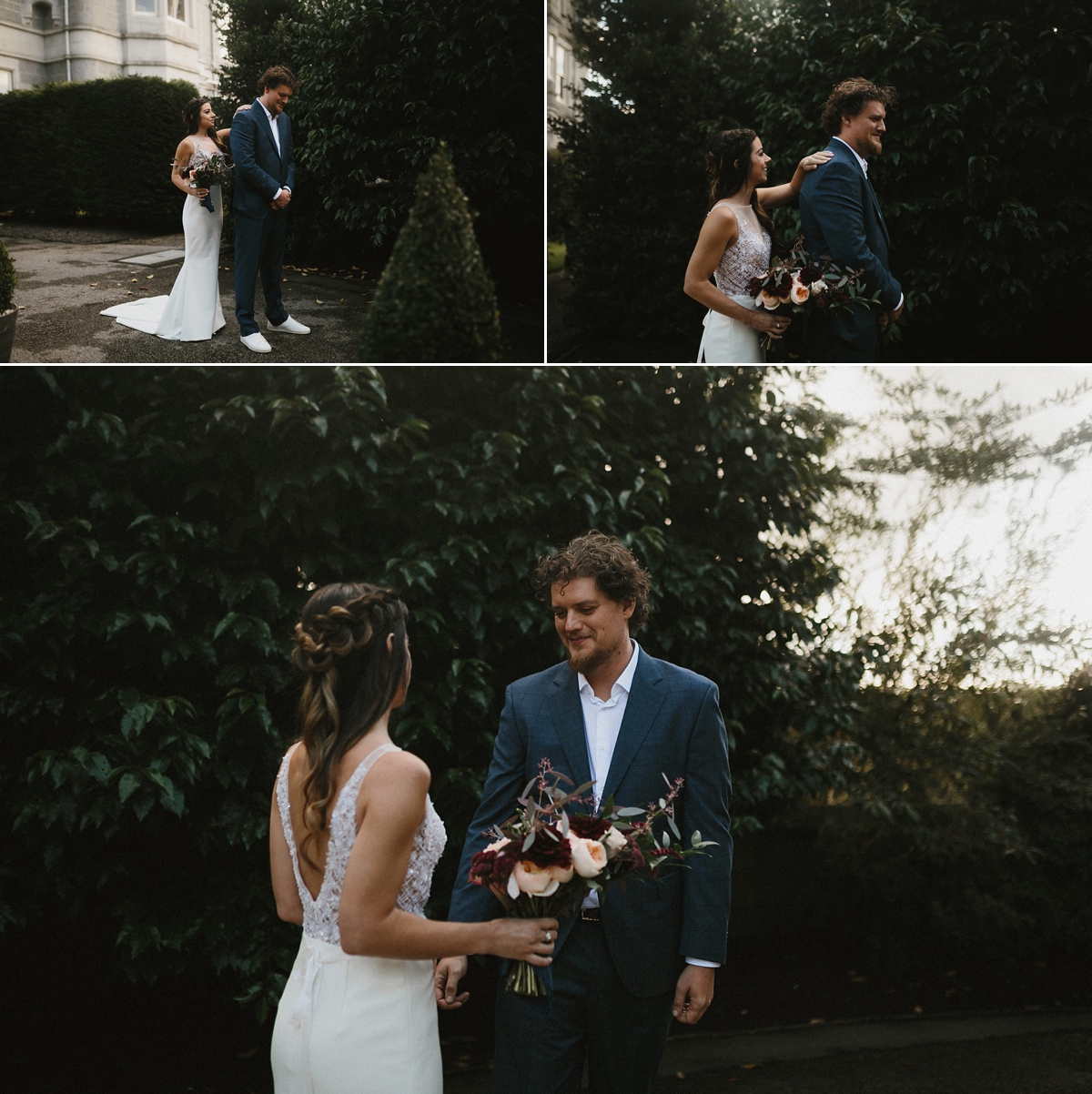 "John and I dated long distance for 4 years and then decided to move in together. We dated for thirteen years before our two year (and two day) engagement."
"After a few pints, John proposed in Edinburgh in front of the Writers' Museum (his passion and what he studied in school) on a cool, misty September night."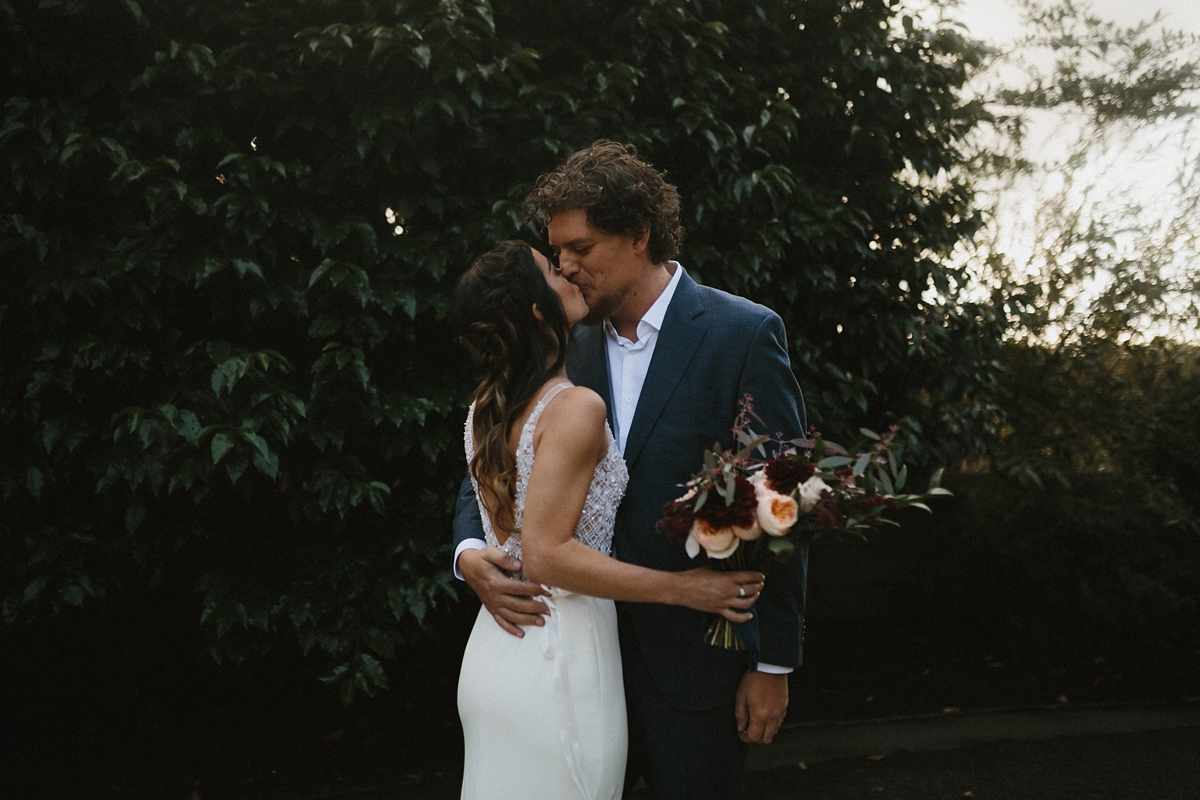 Laura's bridesmaid wore an elegant gown by BHLDN with shoes by Charles David and a gold heirloom necklace.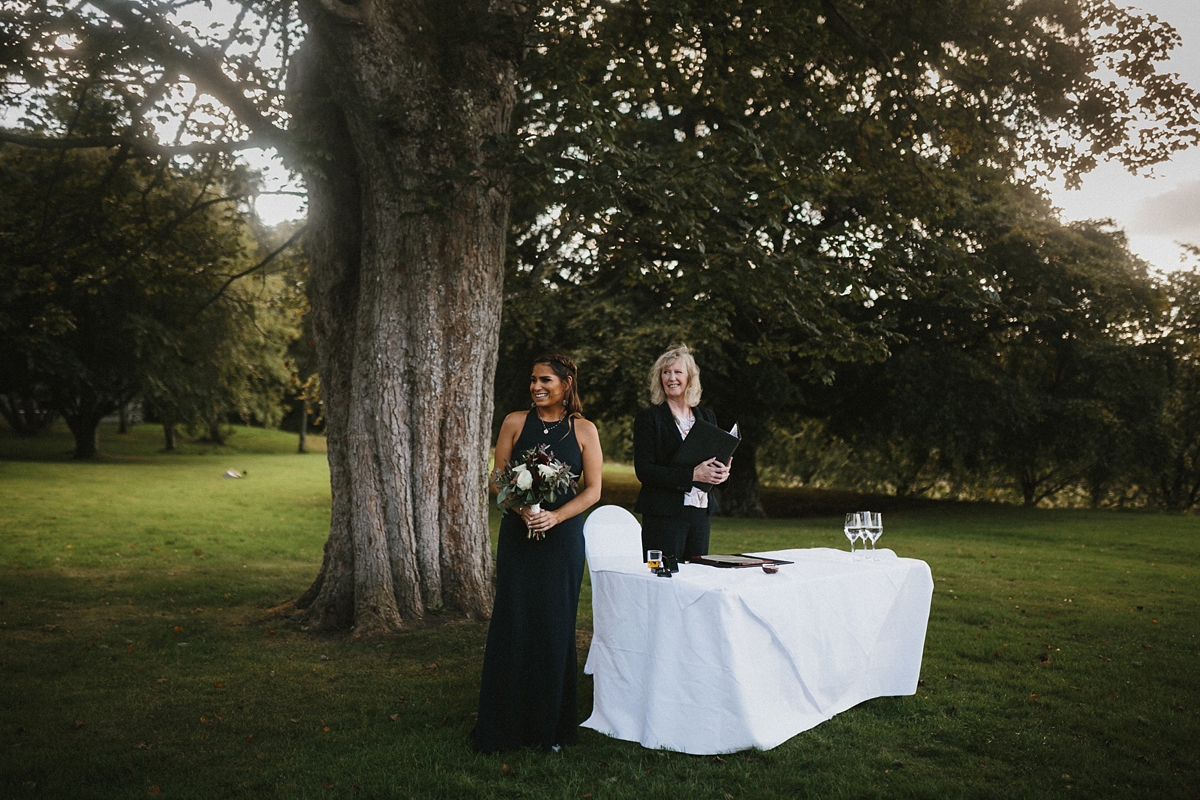 Their ceremony was conducted by Assistant Registrar, Ann Fletcher, and they chose to keep their vows to one another simple, in lieu of exchanging personally written vows to one another on their first anniversary (what a lovely idea!).
"John and I wanted our vows to be special but did not want to necessarily read them in front of our guests."
"We decided to write our own and then share them with each other for our 1 year anniversary. For the ceremony, we wanted to keep it modern and short as we were having other readings."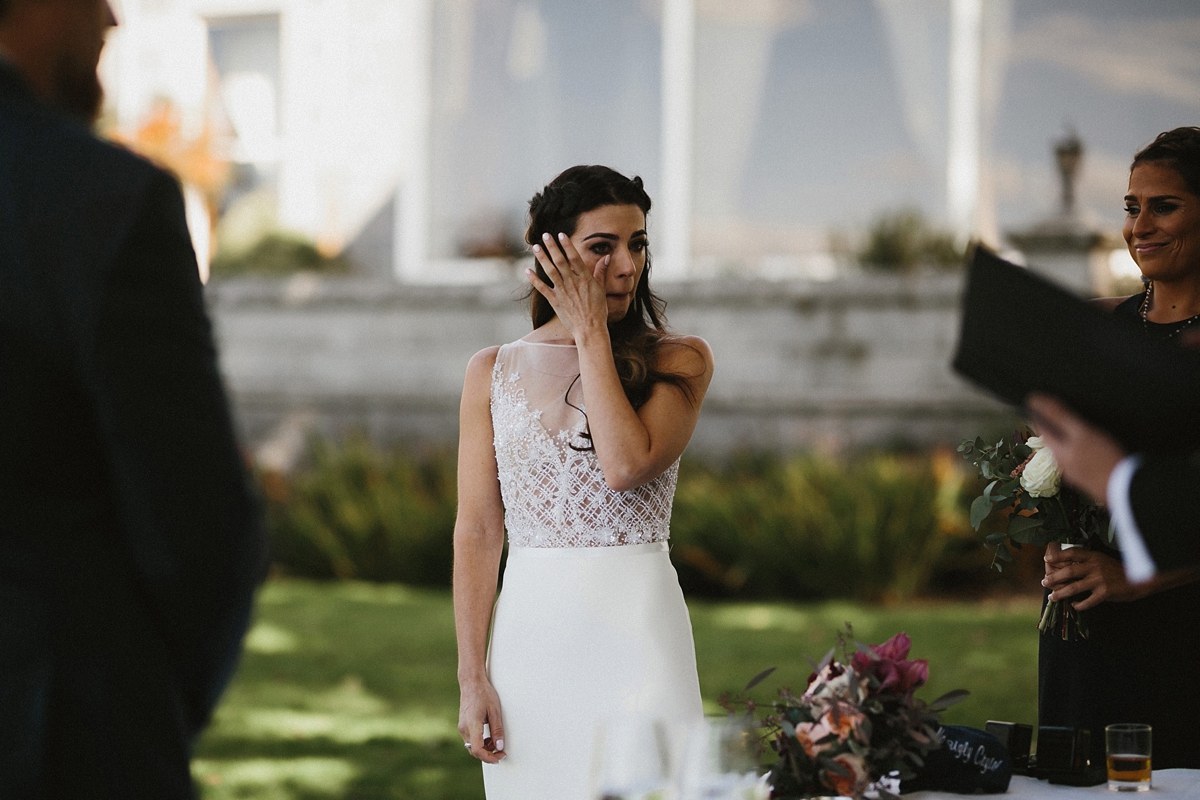 "We found our vows online and we knew they were perfect because we both teared up the first time we read them. They spoke about respect, support, growing together and the importance of treating each other as equals."
The couple exchanged rings with one another, which they chose at Dallas based Bova Diamonds, and had them engraved with each other's initials inside.
"They did such a perfect job with my engagement ring that we wanted them to also create our wedding rings. John and I both have alternating diamonds and sapphires, as blue is our favourite colour. John has nine stones in his ring to represent us getting married on the 9th day of the 9th month of the year."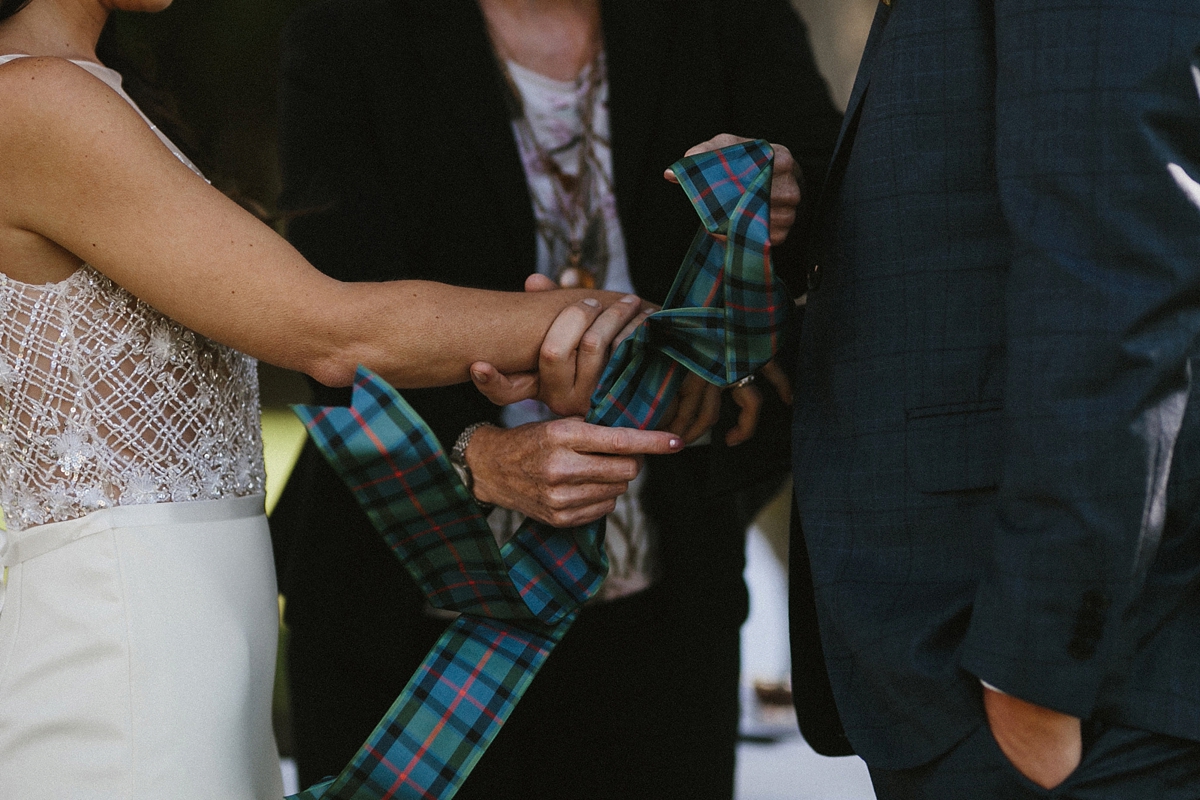 "We had two readings at our ceremony. The first one was read by one of our best friends on behalf of our dog, who passed away a few weeks prior to our wedding. It is called, What I Learned About Love, I Learned From My Dog."
Laura and John's second ceremony reading was Mark Twain's beautiful poem, These I Promise, which they chose because it speaks of love and of partnership.
"Since we got married in Scotland, we made sure we incorporated Scottish traditions like the quaich and handfasting. We shared the quaich with our guests as well."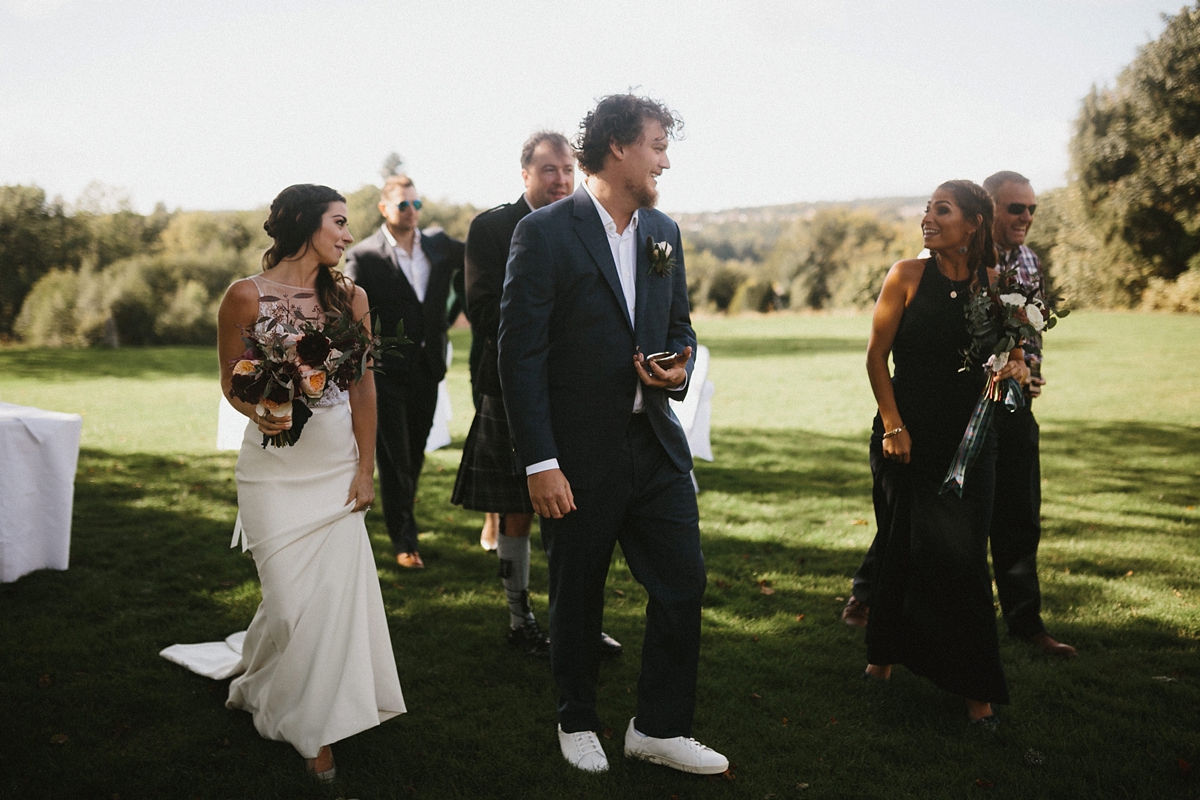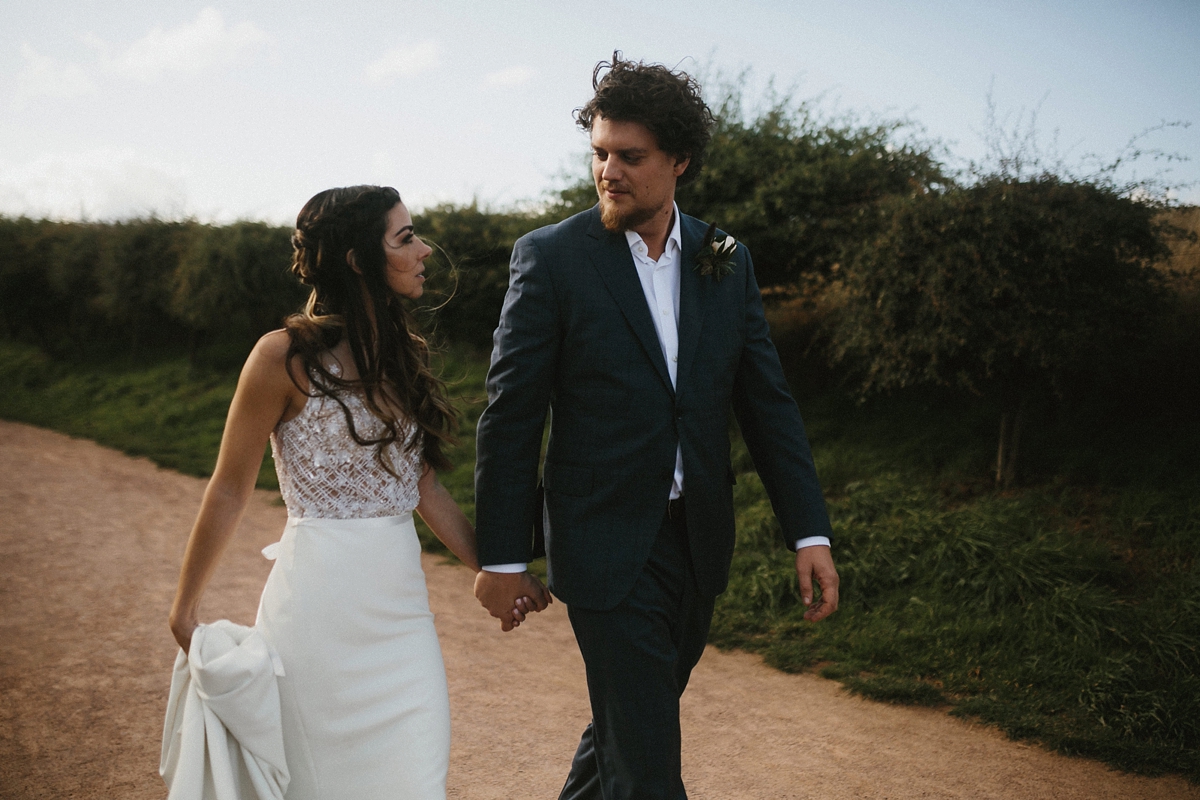 These atmospheric images are by photographer Ash Powell, and whose exquisite work we've had the pleasure of featuring before on our blog pages. I love Ash's painterly use of light here; it makes for a collection of dramatic yet intimate images.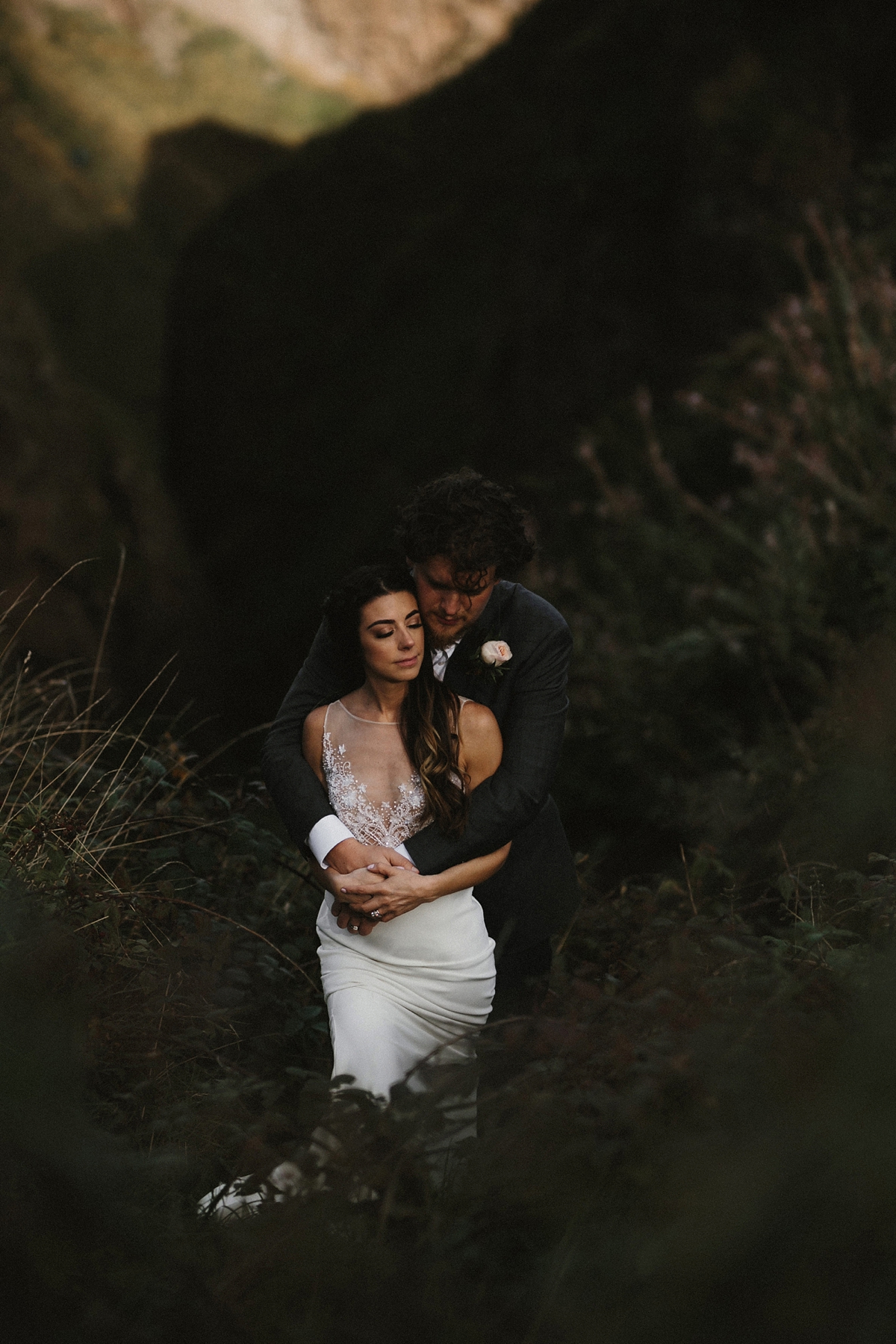 "Ash was absolutely amazing and went above and beyond from the very beginning – from making sure John had his suit on correctly to putting flowers in vases to making sure our make-up artist had enough natural light. We are blown away at how she was able to capture our feelings."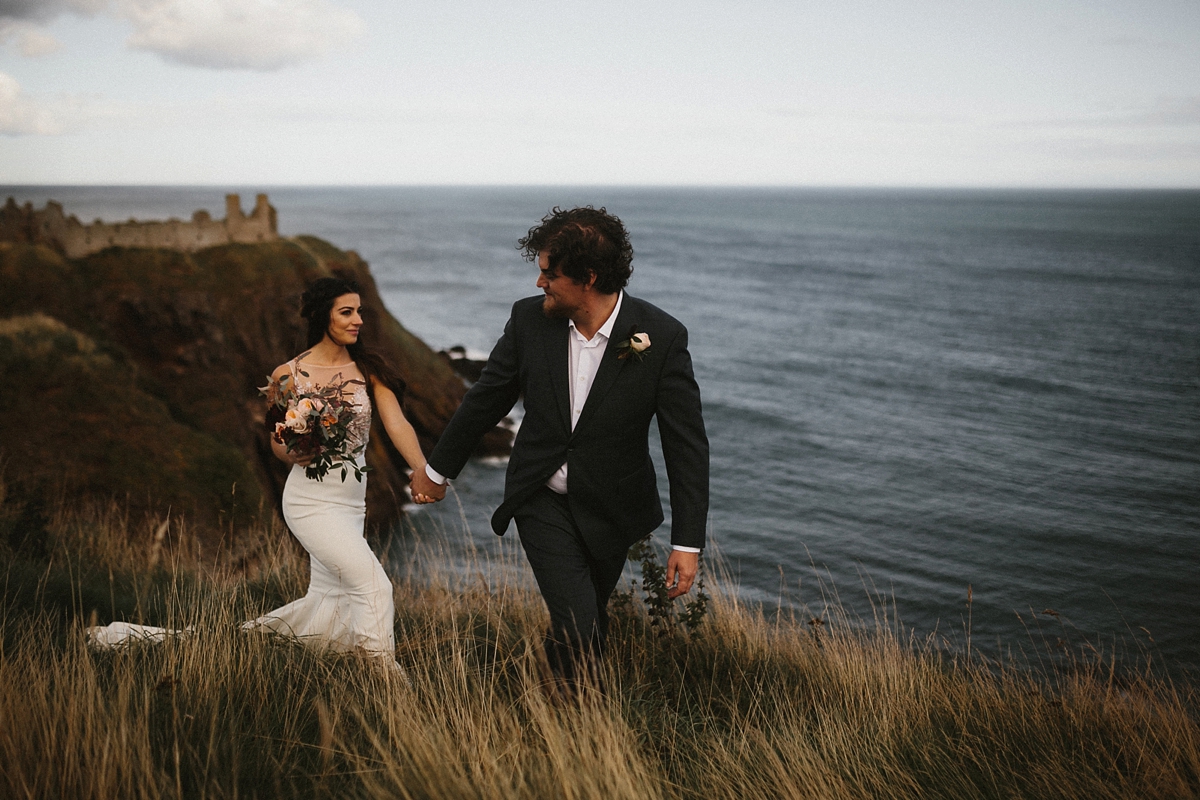 "She has a wonderful contagious energy that made us and our guests feel like she was just part of the group. Despite the full schedule of a wedding day, Ash always made sure we were in the right place at the right time in order to capture the perfect picture with the best lighting."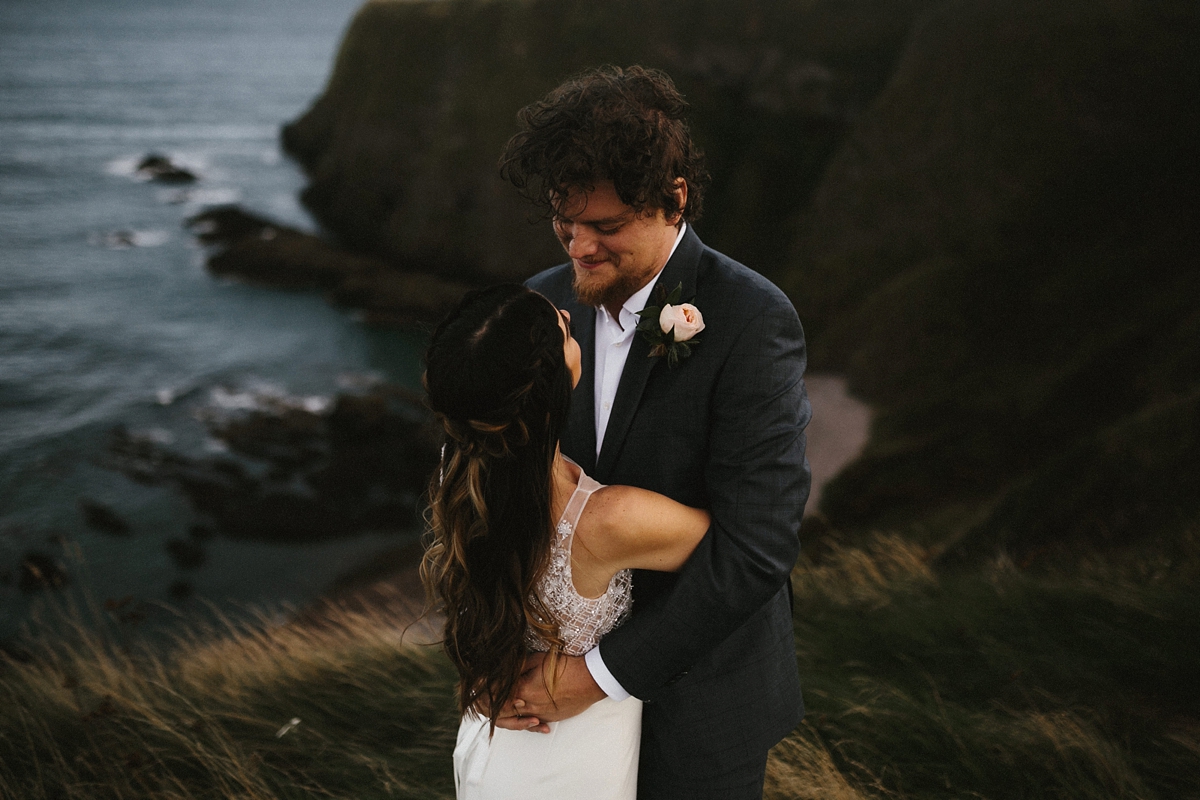 "She made sure that our day was perfect and we can not thank her enough for that. That perfection is reflected in her beautiful photography."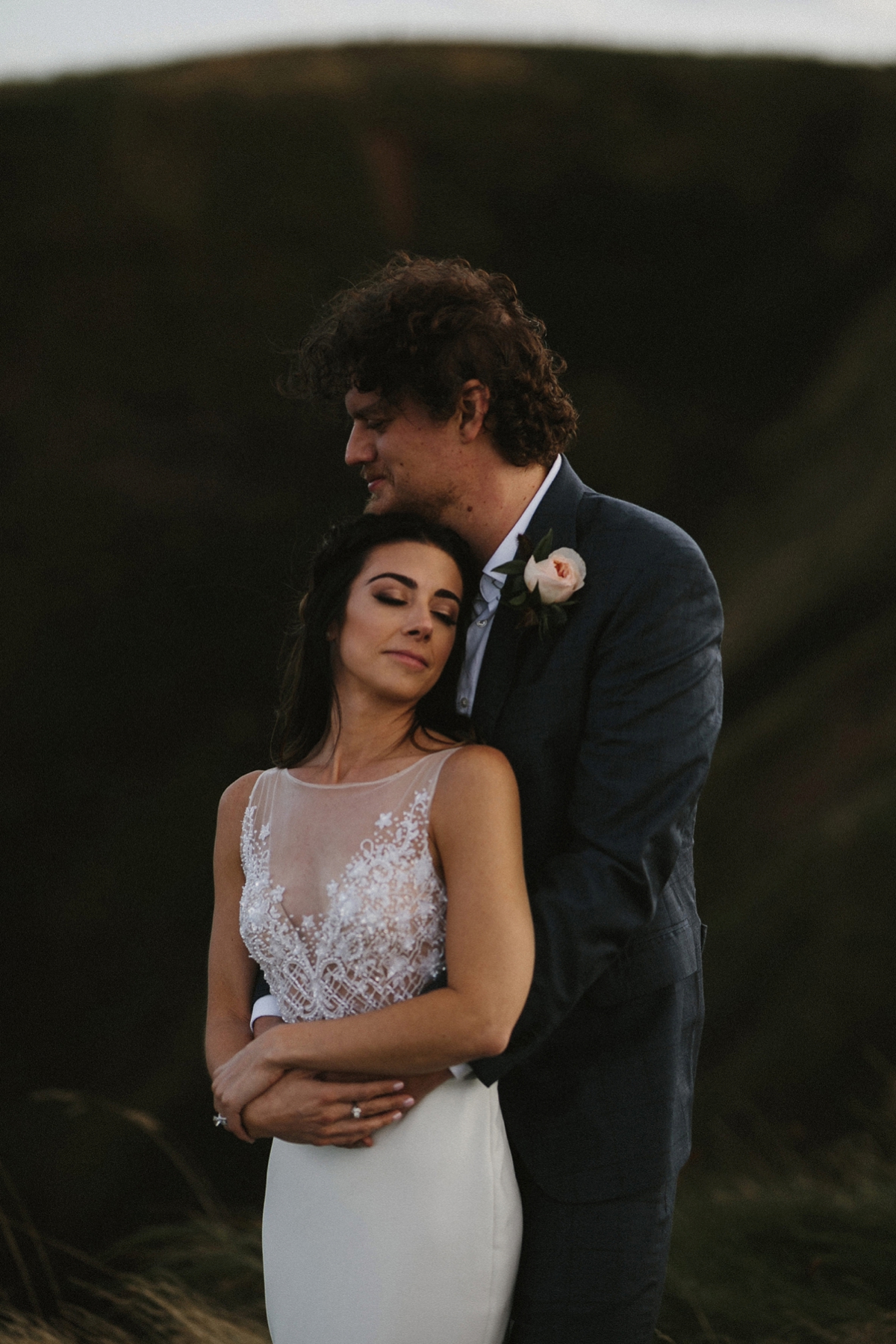 I love John's more relaxed wedding day styling – a blue suit from Peter Millar together with a white shirt and no tie. He accessorised with a Burberry belt, socks from Stance and white Tom Ford sneakers.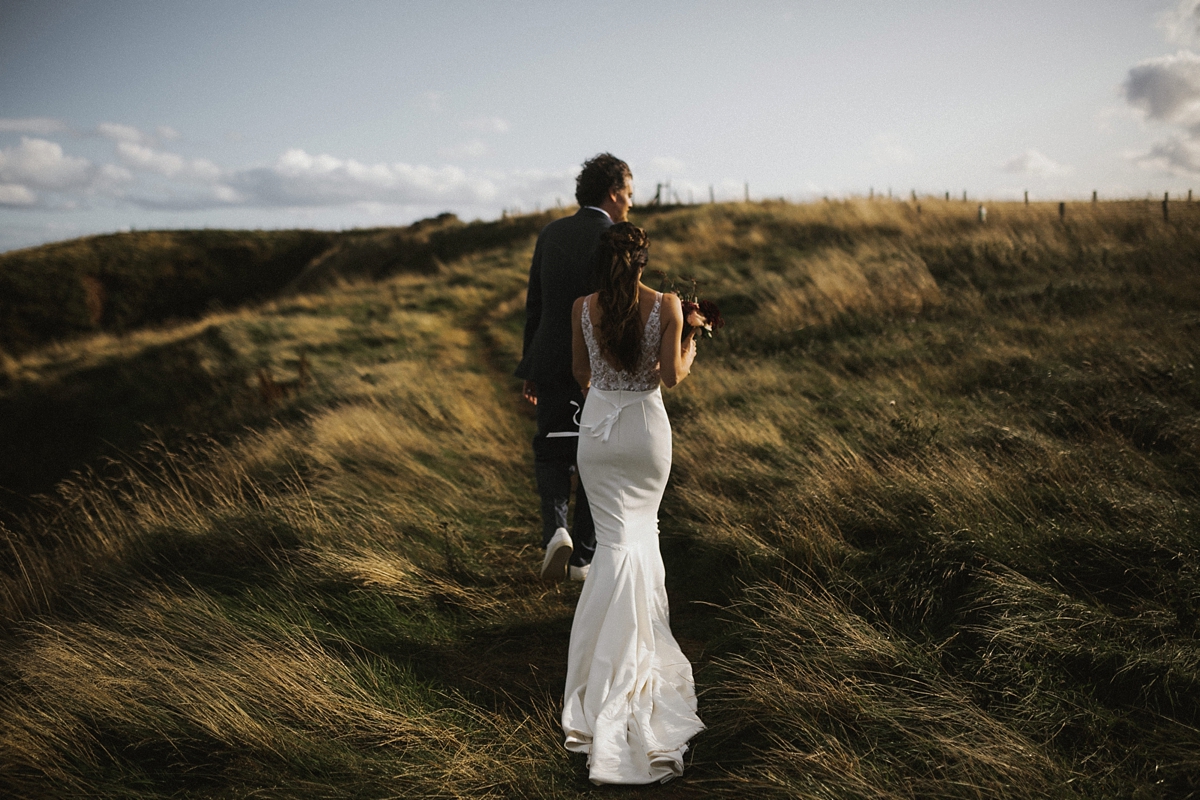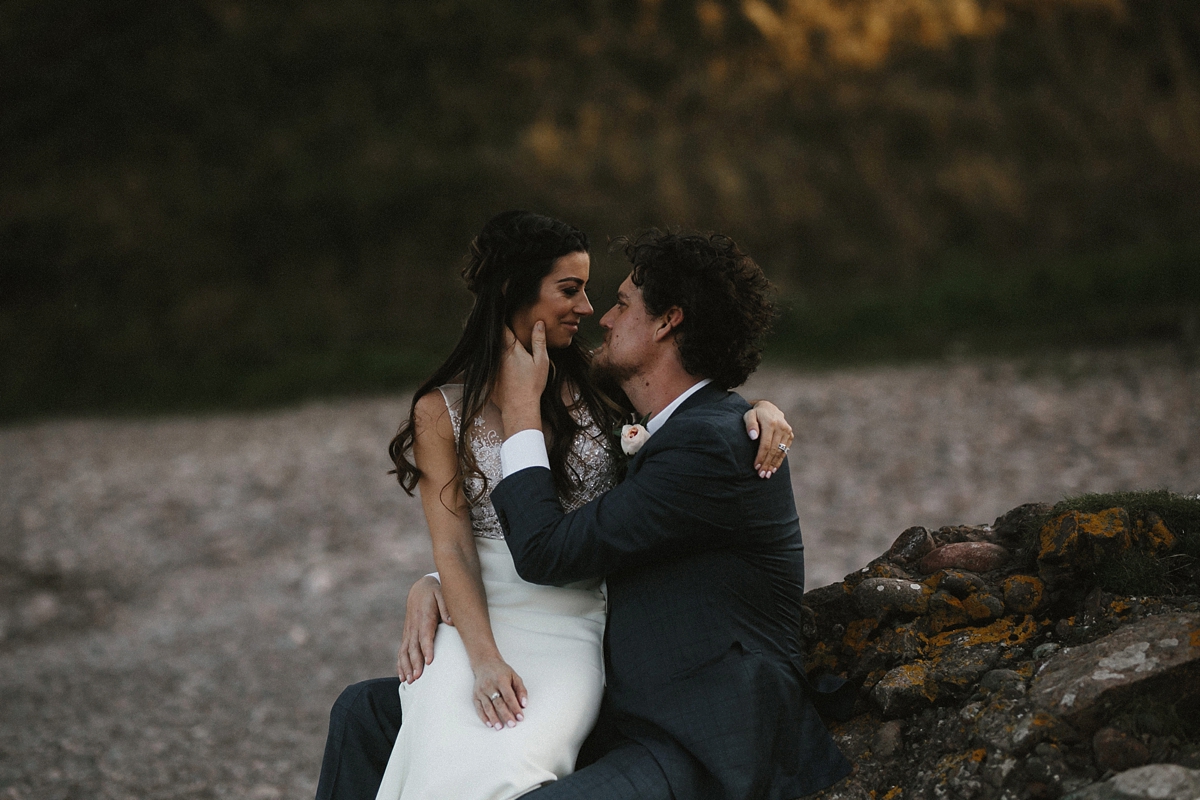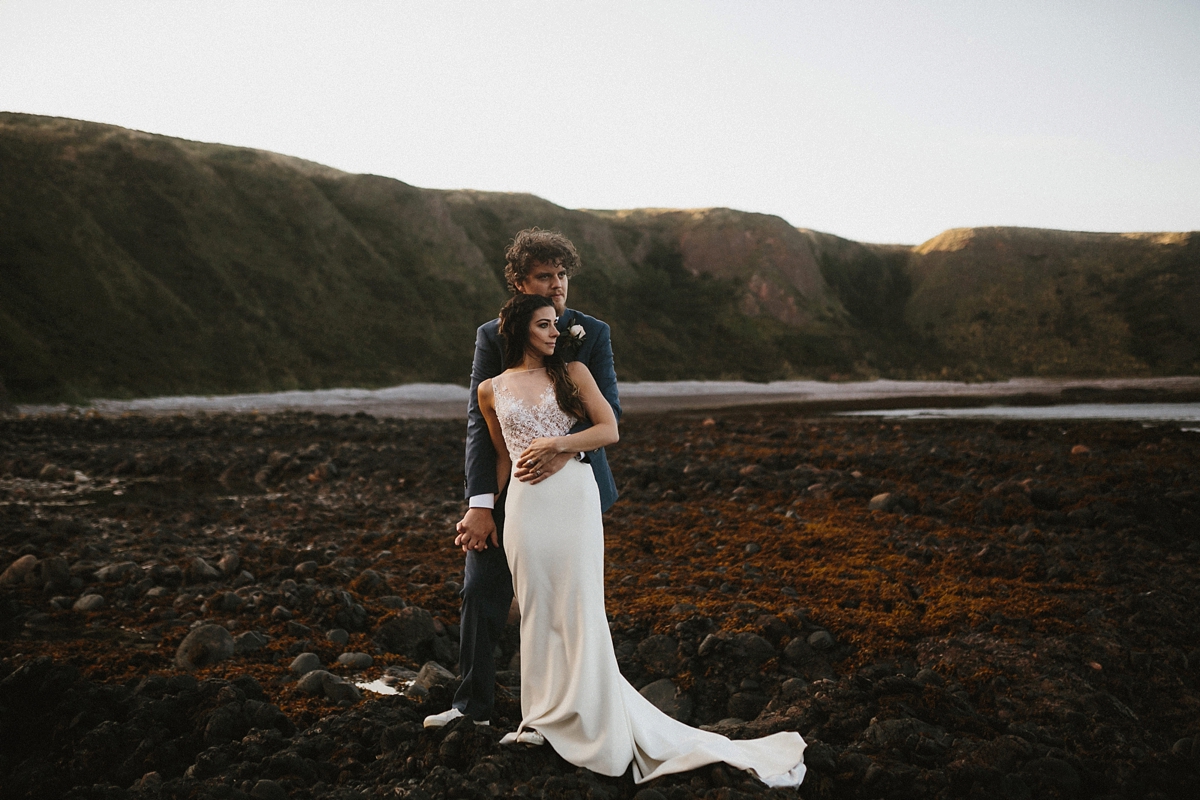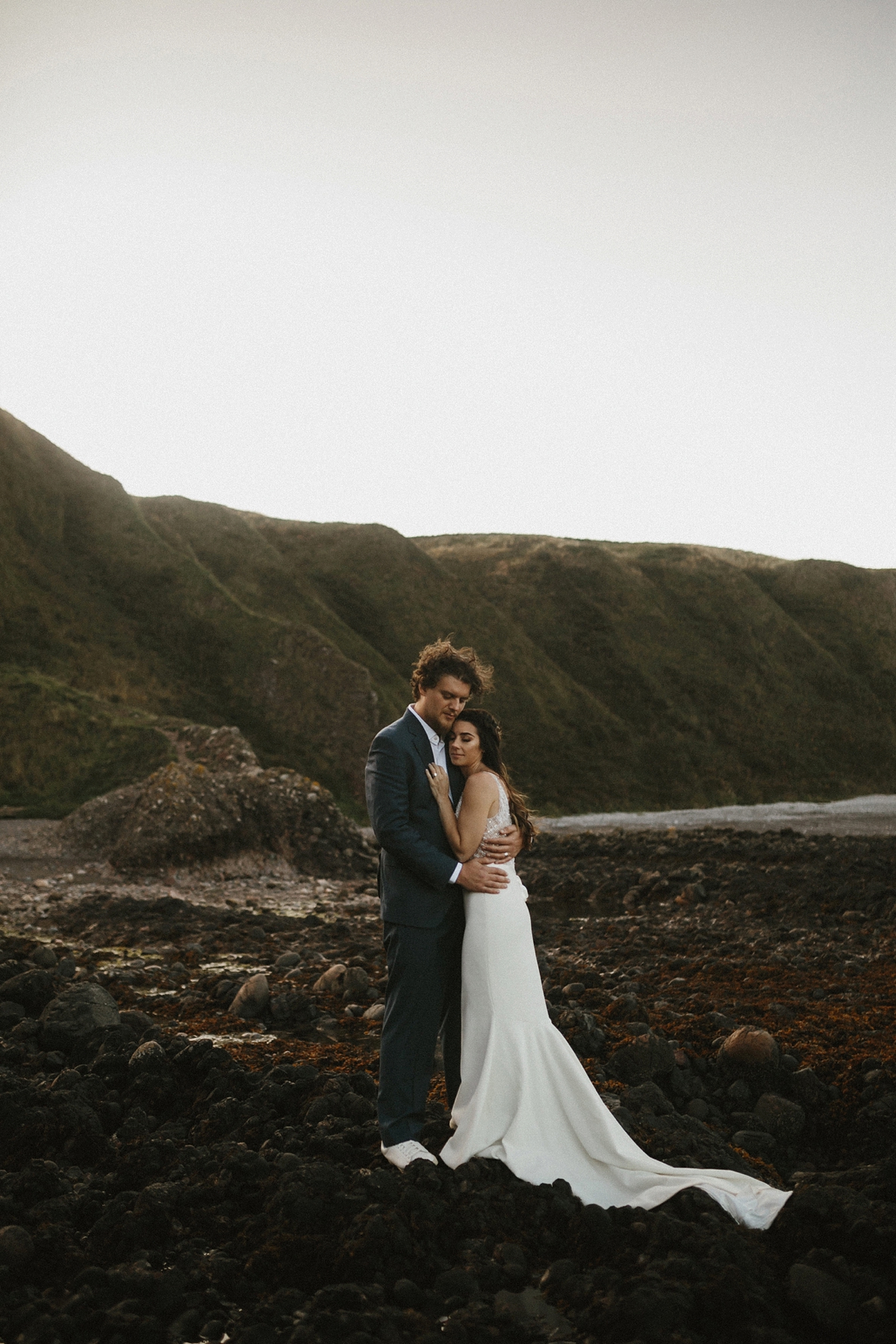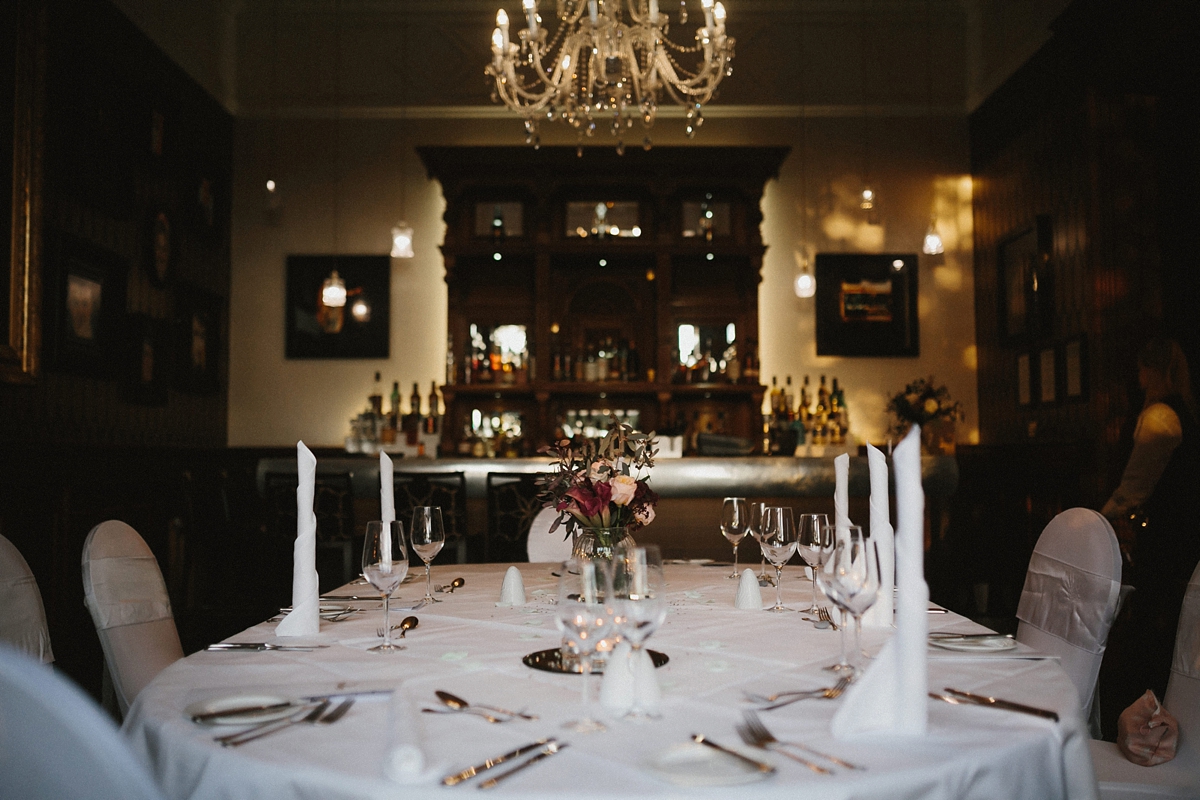 The team at Ardoe House created a wonderful wedding breakfast for the couple and their loved ones to enjoy, and Laura and John provided thoughtful recovery bags as favours, with bags from AlfandNoop on Etsy, as well as personalised cups and match boxes from SequinsandLipstick, through Etsy.

Cakes By Design made a lovely pastel-hued cake decorated with fresh flowers, too.

"Our favourite part of our day was being able to share it with our closest friends. We also had an amazingly fun time going to Dunnottar Castle and taking pictures with our photographer Ash Powell."
Words of Wedded Wisdom
"Stay true to what you want. In this situation, it is okay to be selfish. There are going to be a lot of opinions and you just have to remember what (and who) the day is about."
"You will not be able to please everyone, so why not make sure you (and your husband) are pleased and happy at the end of the day."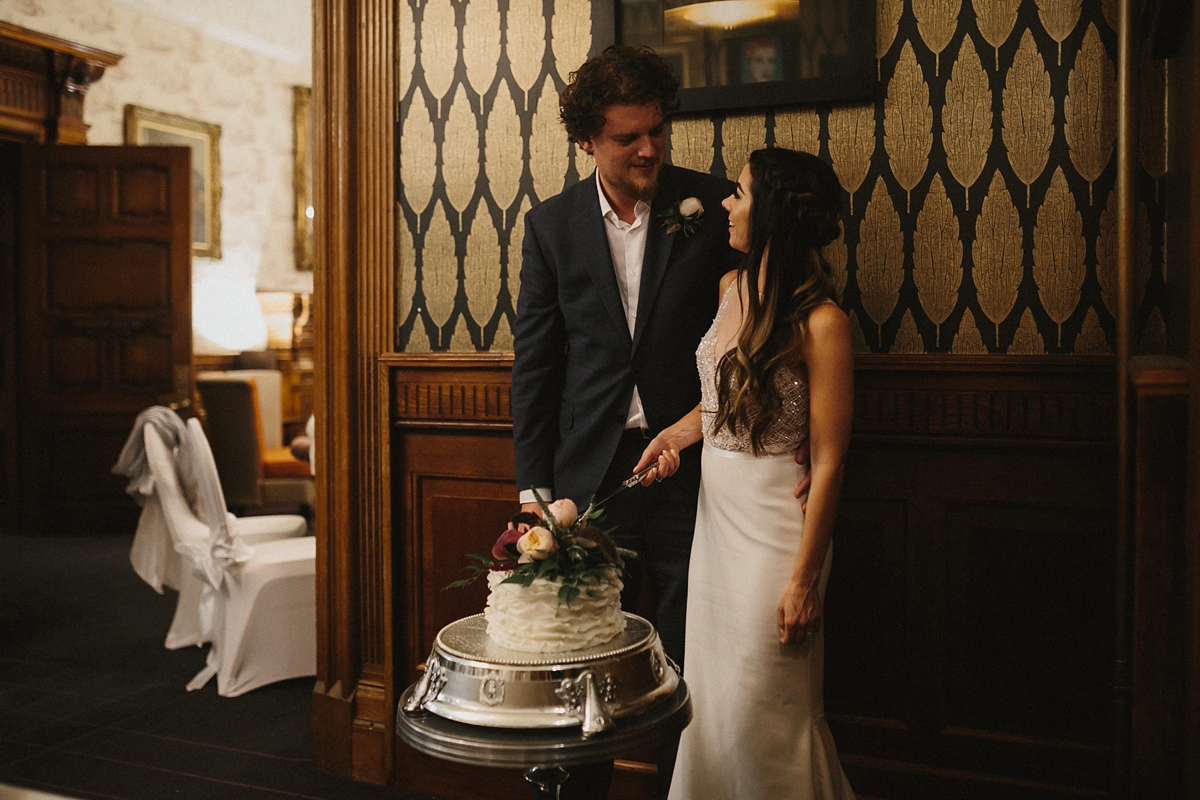 Laura and John, congratulations! Thank you so much for this glimpse into your heartfelt, intimate day. Many thanks to Ash Powell, too, for these extraordinarily beautiful images. You can enjoy more weddings in Scotland on our blog pages, too, right here.
Until next time!
Love, Laura