Lovely readers, how are you all? I hope you're having a great start to the week, wherever you are. I've just returned after a weekend in the countryside at my parents' house, and what a lovely getaway it was.
Whether you're in the midst of wedding planning or happily browsing, and you're concerned about the sustainability and environmental impact of your day, then let today's lovely couple inspire you with their personal and thoughtful approach.
Meet Emi, a masseuse and birth Doula, working freelance in Amsterdam, and Erik, who is involved in ESG and investments for financial institutions. They were married on the 5 October 2018, in a ceremony at Lewes Register Office in Southover Grange. This was followed by a drinks reception in a field at Devil's Dyke, overlooking the South Downs and Brighton, then lunch at Silo in Brighton before everyone headed back to Emi's parents' garden to party into the night.
"We wanted our day to reflect us. We hoped to share a piece of our adventure (our travel) and take everyone on an adventure with us."
Images by Joanna Nicole Photography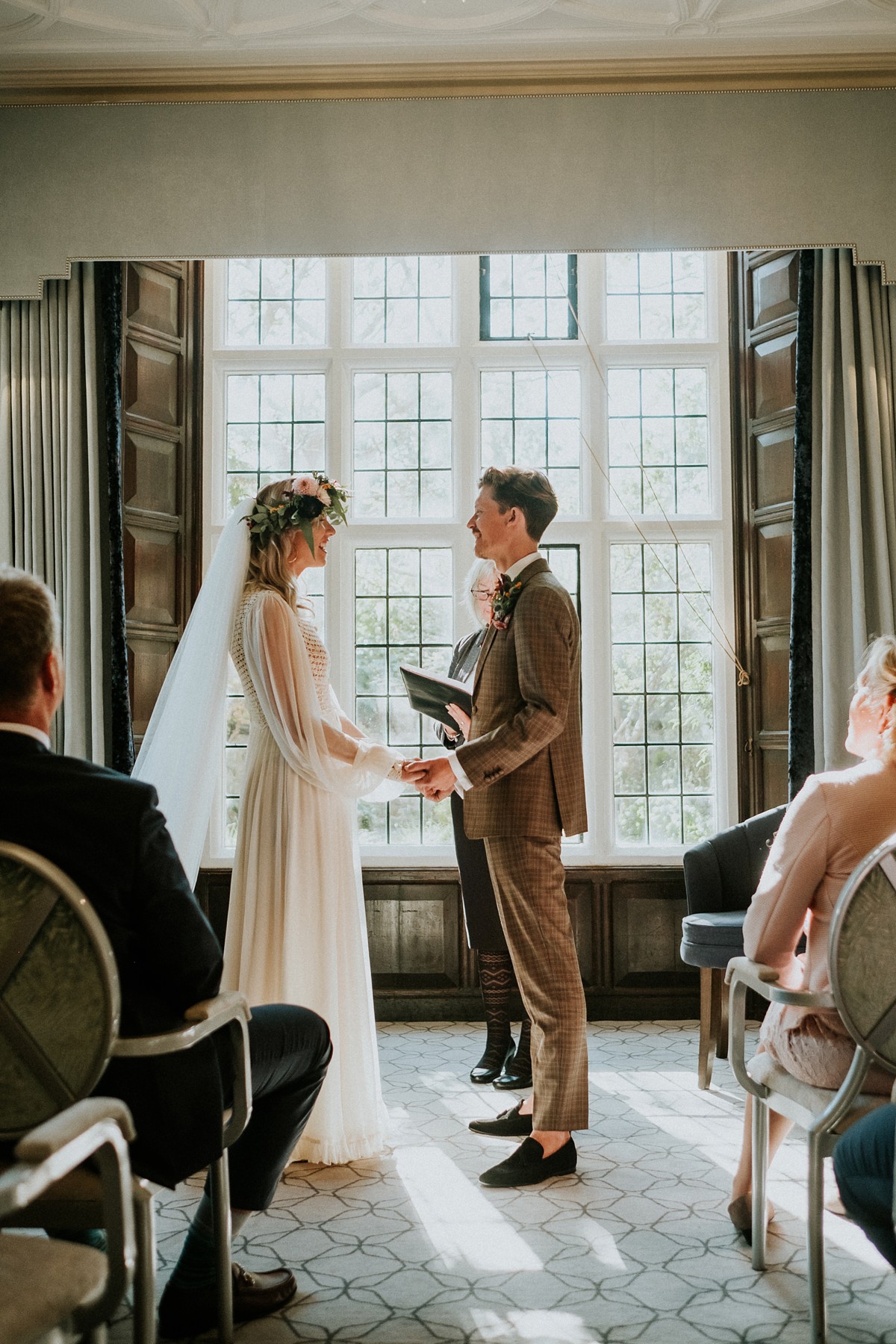 From Brighton vintage boutique, Hope and Harlequin, Emi chose an exquisite, boho 1970s dress with long, flowing sleeves and the most amazing crocheted bodice.
"I love vintage clothes and we try to live as sustainably as possible. I also think there is something magical about a vintage dress. It gave me butterflies.""While I was trying on the dress, two things happened; a lady and her husband walked in and she exclaimed that she had been married in the same style dress back in the 70s. Her and her husband were so in love and we chatted with them for ages, and then another lady walked in, an English lady who had met her Dutch husband at a festival also in the Netherlands. It was fate! I thought this has to be the dress!"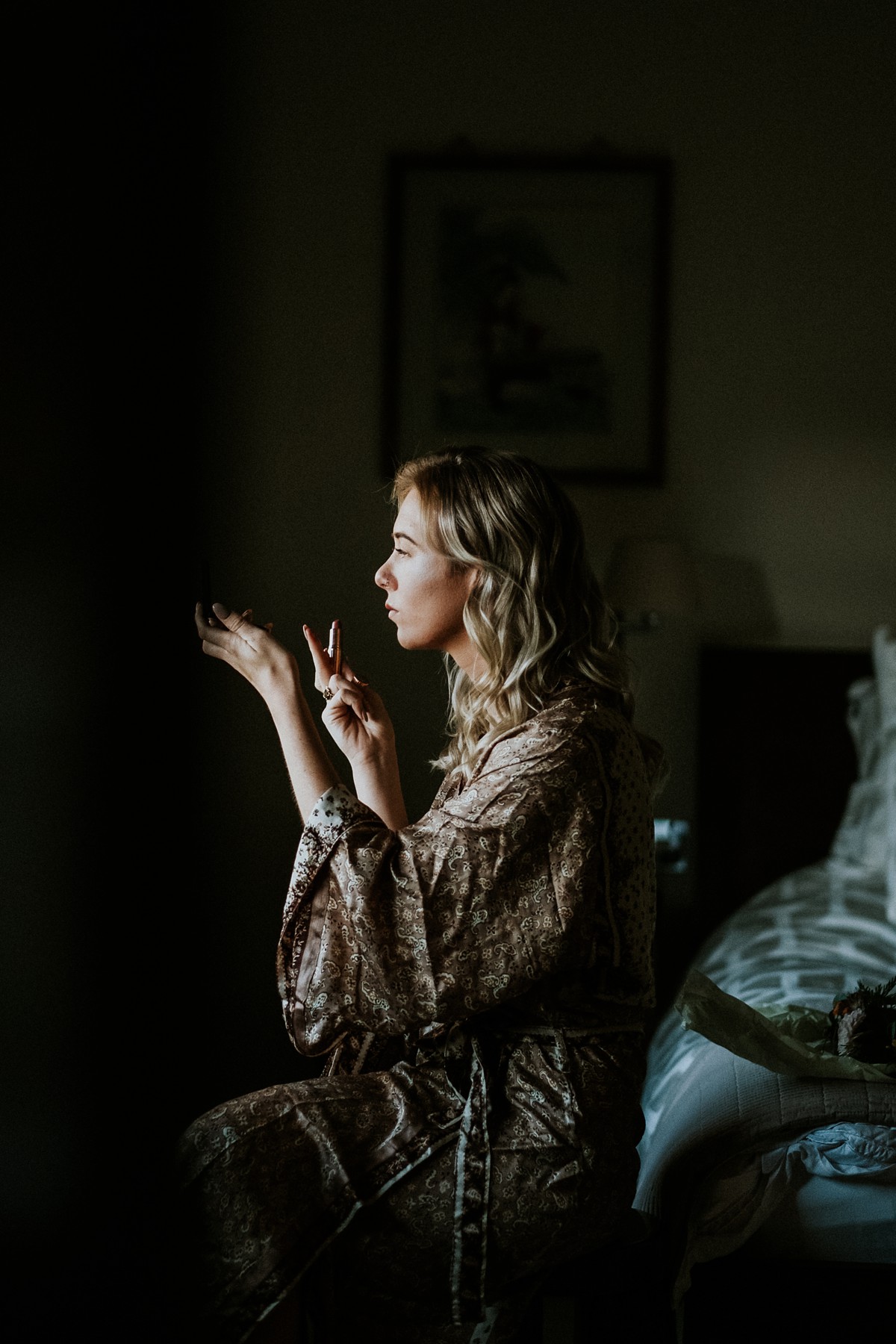 For jewellery, Emi wore statement gold hoop earrings from Missoma, and adorning her hair, a gorgeous floral crown of dahlias, berries and greenery from The Flower Workshop.
"I started in a pair of teal satin pumps for the ceremony, by Charlotte Olympia, but as I knew we were going to be on grass and on a bus, etc. I changed into nude rubber Vivienne Westwood heels. Later in the evening as we were dancing in the garden I changed into ballet shoes."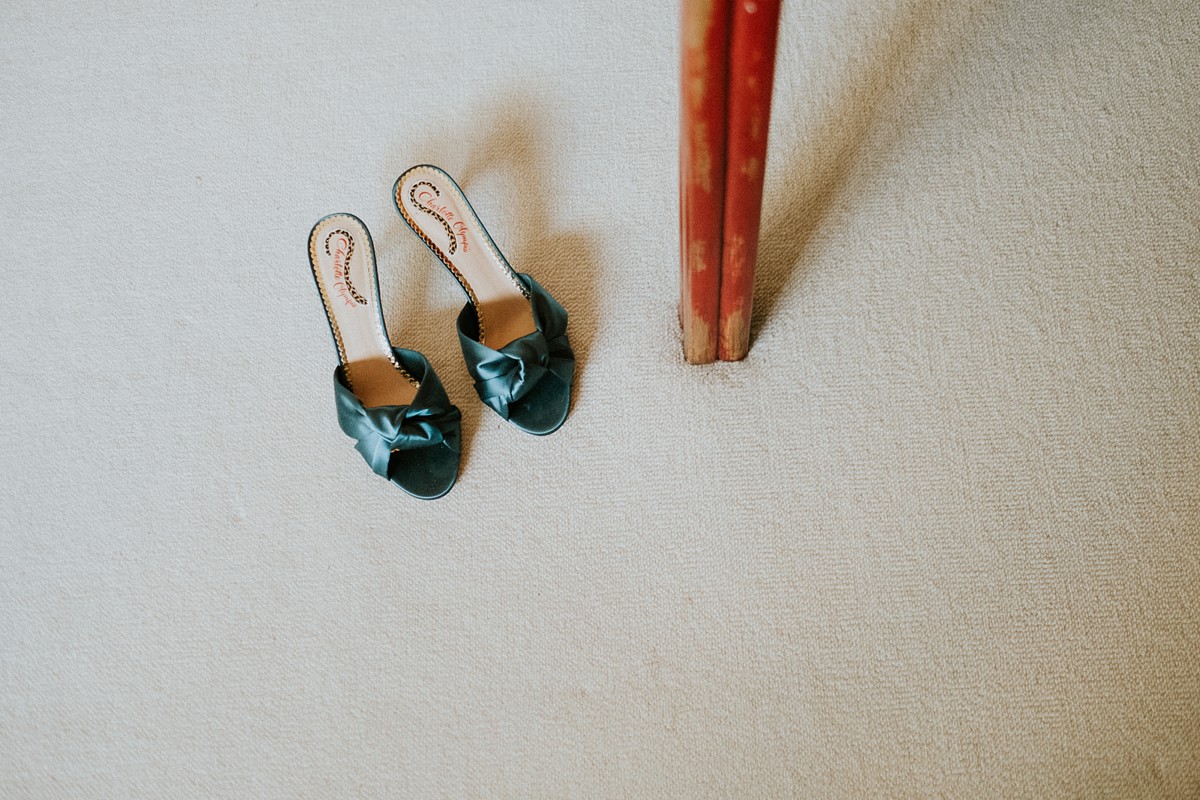 Emi's sister is a professional make-up artist, and took care of her gorgeous make-up for the day (I love the bright lipstick!), whilst her beachy waves were styled by Pin-ups Hairdressing.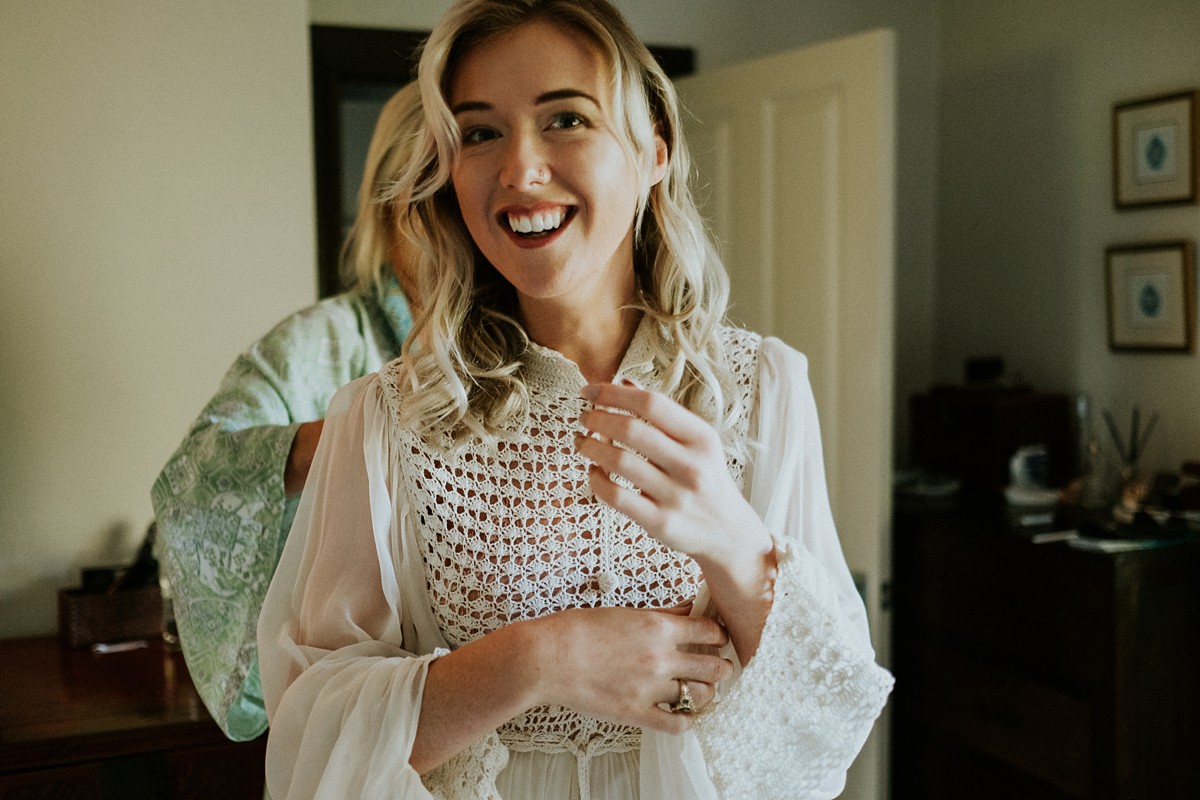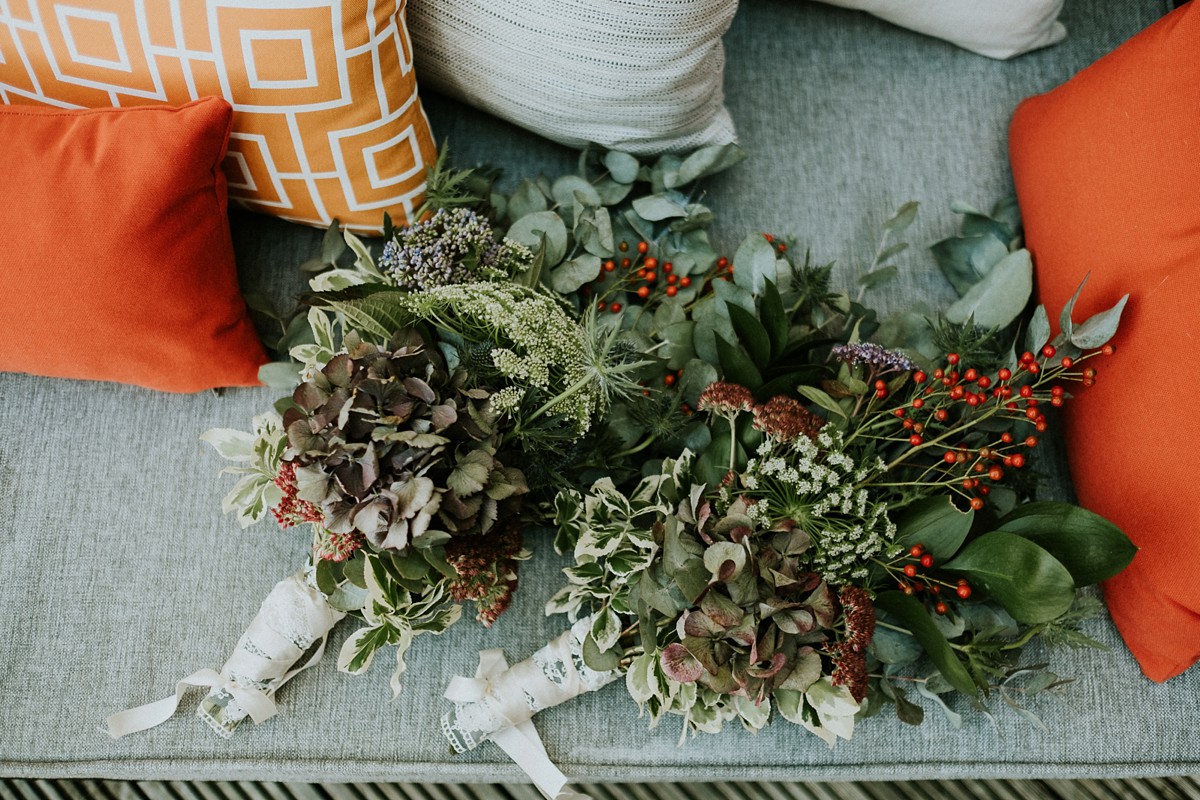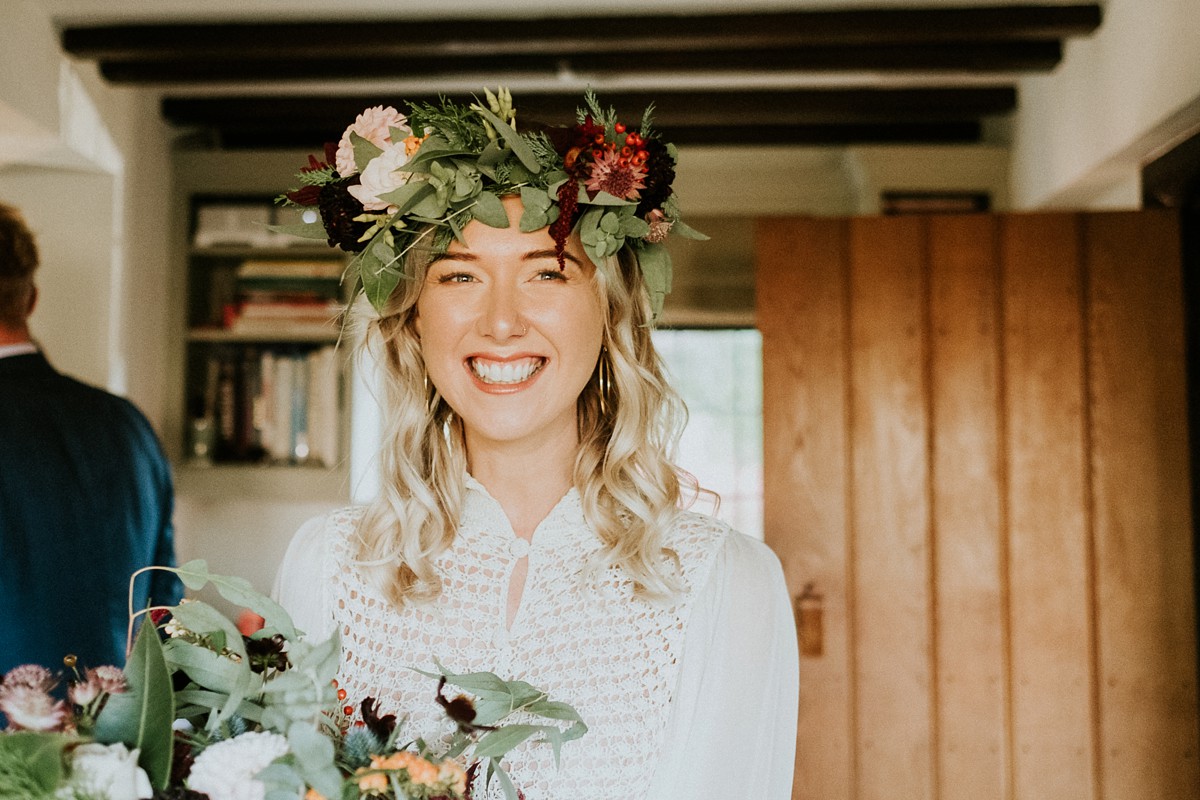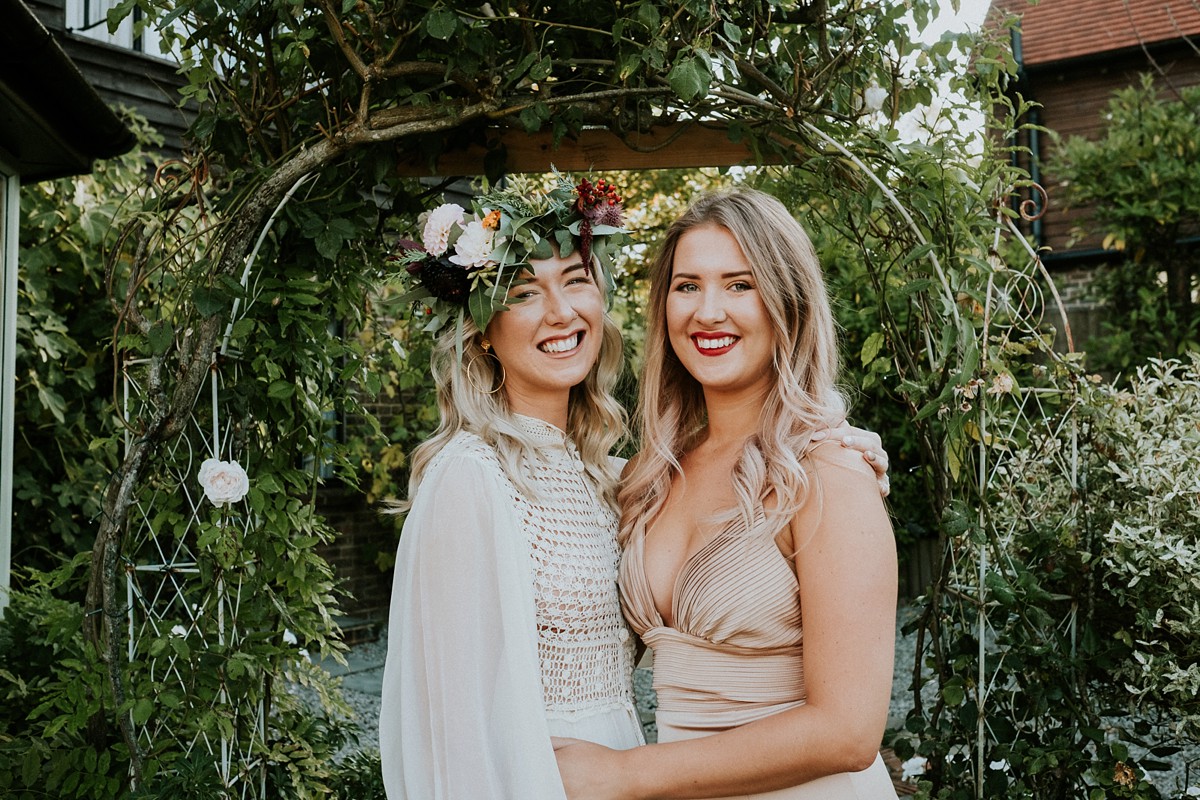 Emi and Erik enjoyed a lovely first look before they took a double-decker vintage bus together with loved ones, to Lewes Register Office, courtesy of Seaford and District Vintage Bus Hire.
"We were only back from our travels for 4 weeks! We spent one week in the UK driving around exploring (it was an awesome way for Erik to see even more of where I am from) and we had to legally stay in the UK to be able to get married.We decided to mix Dutch and English traditions in our wedding. Erik would wait for me at my parents house in the garden and we would travel together to the ceremony (with all our guests!)."
Emi and Erik share a love of music and dancing, and first met at De Pijp music festival in the summer of 2015.
"After two years together, we went on nine months of travel through Asia, starting in the north of Thailand (where I furthered my study in massage). Our travels took us to Myanmar, Nepal, then to the jungle in Chitwan, where we were taken by local guides into the wild. These experiences along with all the challenges you encounter on such a journey definitely made us closer."
Erik had the idea to propose to Emi at some point during their trip, and began the process of designing a bespoke engagement ring with a jeweller – a task made more difficult by the fact that they were frequently without phone or internet access! While staying in an incredible treehouse in Bali, Erik decided the time was right!
"It was there on the balcony overlooking the plantation Erik began to talk about our travels, our experiences and asked me to marry him. After we took a hike to the nearby waterfall and around the plantation. I remember the adrenaline – we barely knew what to do with ourselves!"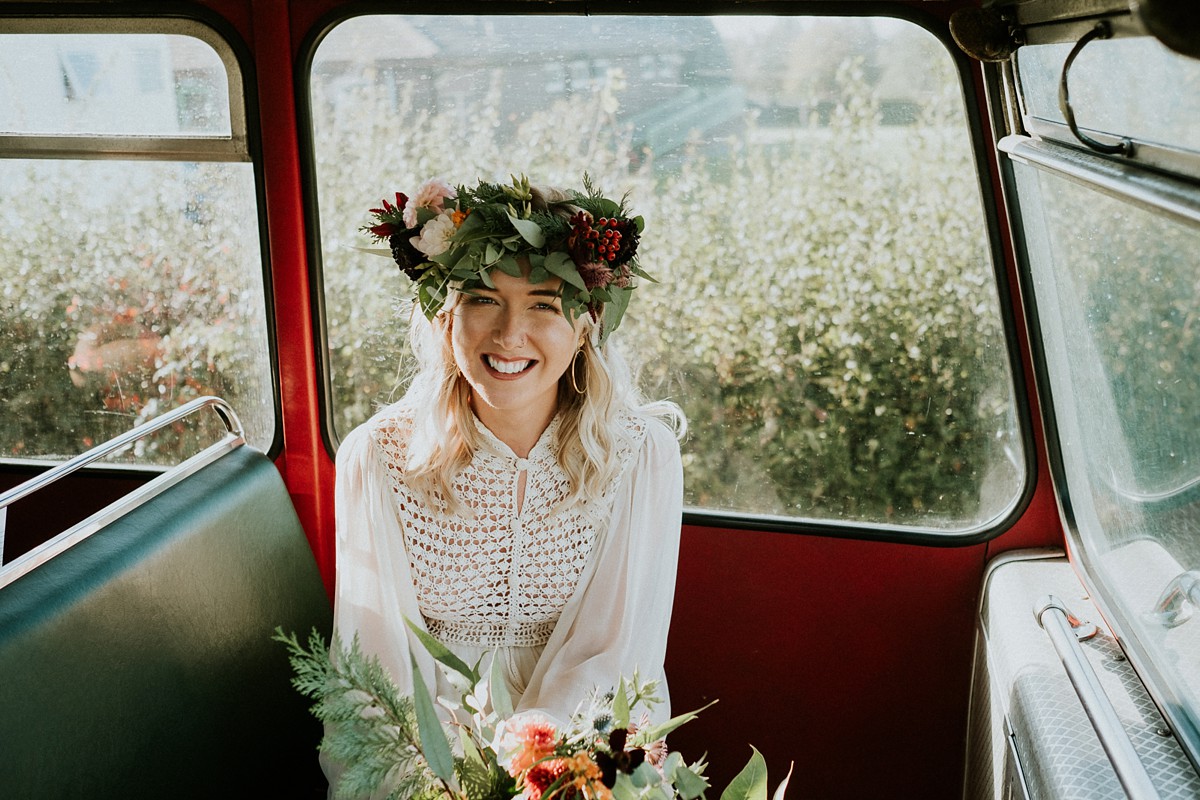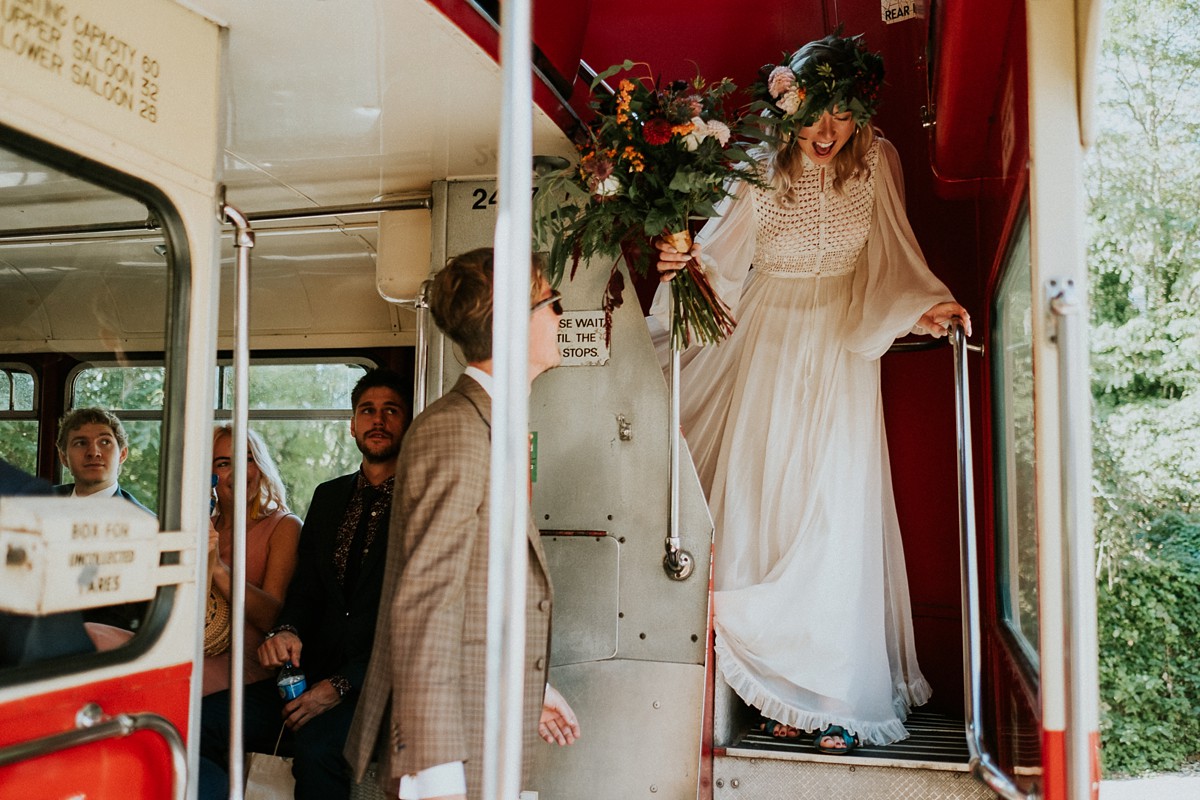 To complete her glorious, free-spirited look, Emi wore a veil borrowed from her sister, and for fragrance, a solid, scented body lotion bar from Lush.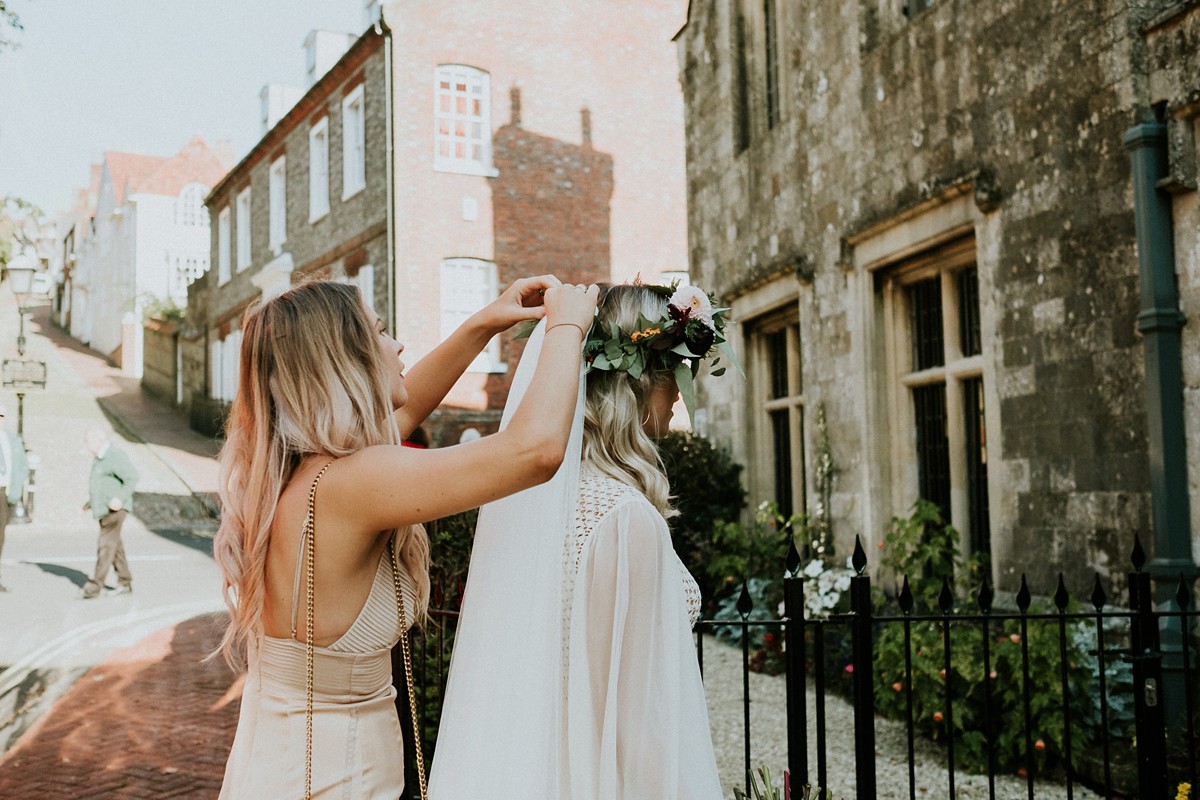 When it came time to walk down the aisle and begin the ceremony, Emi was accompanied by her dad to Live at Heart Culture by Mose featuring Suyana.
"A beautiful sounding set, which reminds us of the rainforests and jungle,  which both Erik and I love."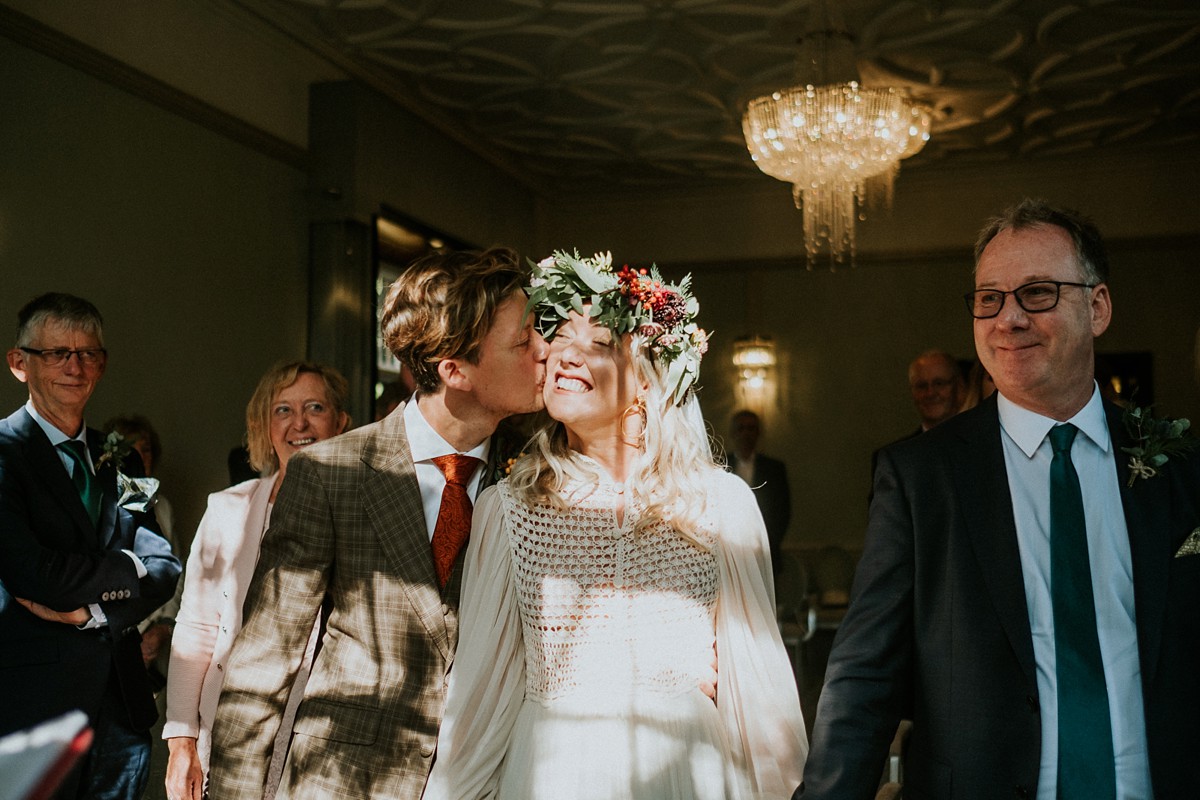 "We wrote our vows ourselves; they were so personal to us as a couple and down to earth, which was important for us. I just said exactly what I wanted, what inspired me about him and how I felt in that moment. I spoke slowly (I think!) so I could say what I wanted and not feel flustered. It worked out. I couldn't stop myself smiling when Erik did his."
As well as saying these heartfelt vows to one another, Emi and Erik also gave one another rings, which were made by a friend and metalsmith (sadly no details provided).
"Hatha (where all yoga comes from); the idea of the sun and moon in balance with each other. The moon for myself and the sun for Erik. We designed them so they connected, and our friend had the idea to make them out of the same piece of gold. Very romantic we thought!"
"The moon is also extra special for us. At the start of the trip we noticed in Asia the crescent moon was on its side, like a boat. We named it the adventure moon, which was symbolic to us. There is also a tiny moon on my engagement ring."
"My sister Sophie's little boy, Logan gave us the rings when it was time. It was so cute – the first time he threw them!"
Emi's grandfather, Peter, read a piece he had written himself for the couple, which was funny, personal and touching, and even included a few jokes in Dutch for Erik's family.
"His piece also spoke about our family in different countries and our mutual love for travel."
"During the signing of the register we played two mantras we had discovered in Phool Chatti Ashram in Rishikesh India: Snatam Kaur – Mul Mantra and Snatam Kaur – Ong Namo."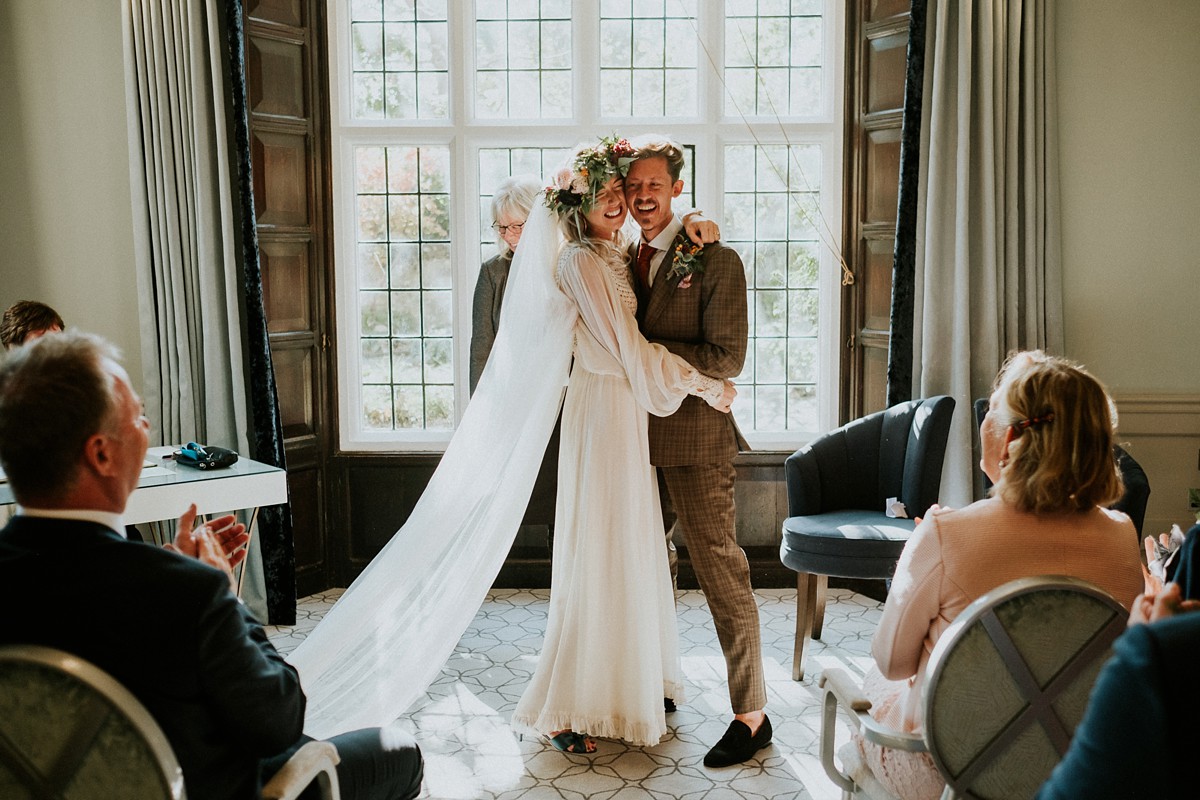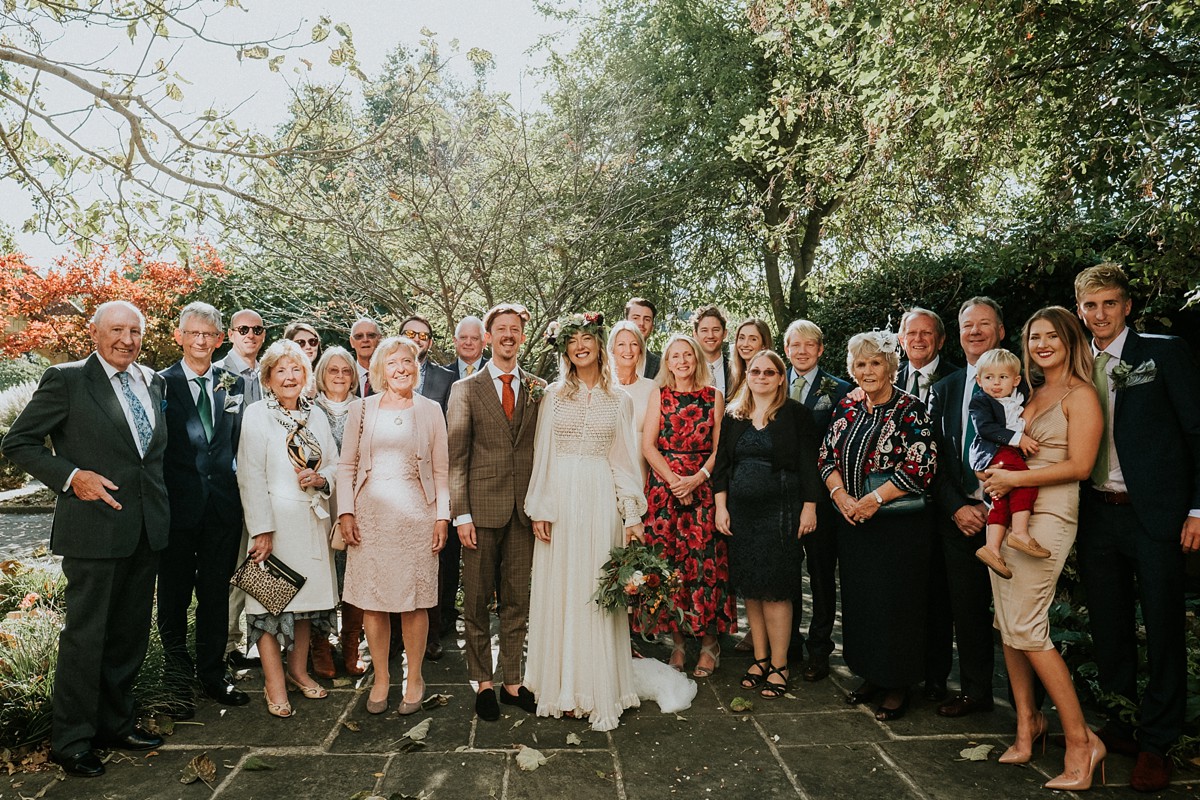 Emi's lovely bridesmaids wore ruffle dresses in a wonderful, autumnal berry red colour, which they chose from ASOS, and silver Om pendants from Emi, which she had made while travelling in India, visiting the home of the Dalai Lama.
"My grandma made the bridesmaid bouquets. She freestyled and I saw them for the first time in the morning. They were stunning. I bought her teal velvet ribbon and cream lace so she could choose what to tie them with. She got excited and used both, just as I would!"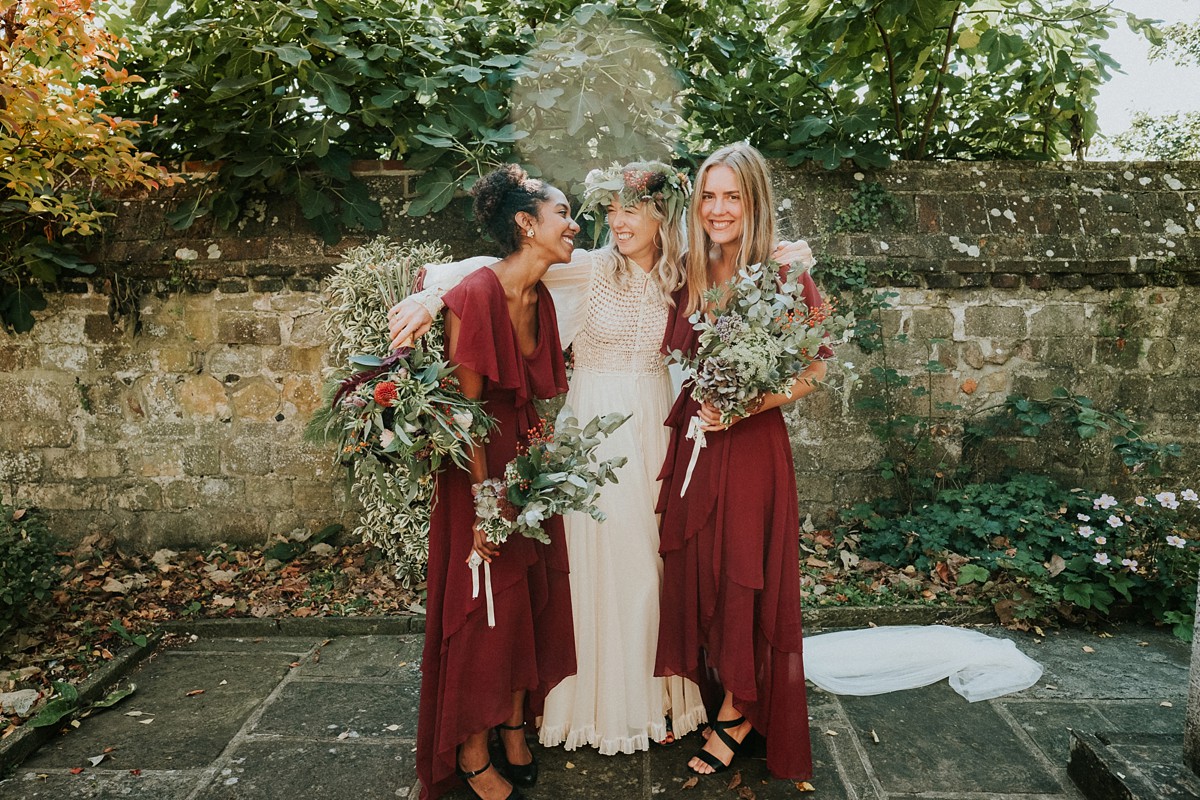 Erik looked great in a smart Prince of Wales check suit from Henry James Bespoke Tailoring, which he wore with an orange Paisley print silk tie from Hawes & Curtis, bee cufflinks from Paul Smith, and an elephant print pocket square from Jim Thompson, as a lovely nod to the couple's travels in Thailand.
"We bought ties in Bangkok for all the men in bridal party and a silk hanky for my dad from Jim Thompson (my family lived in Asia and there is a great connection with Thailand)."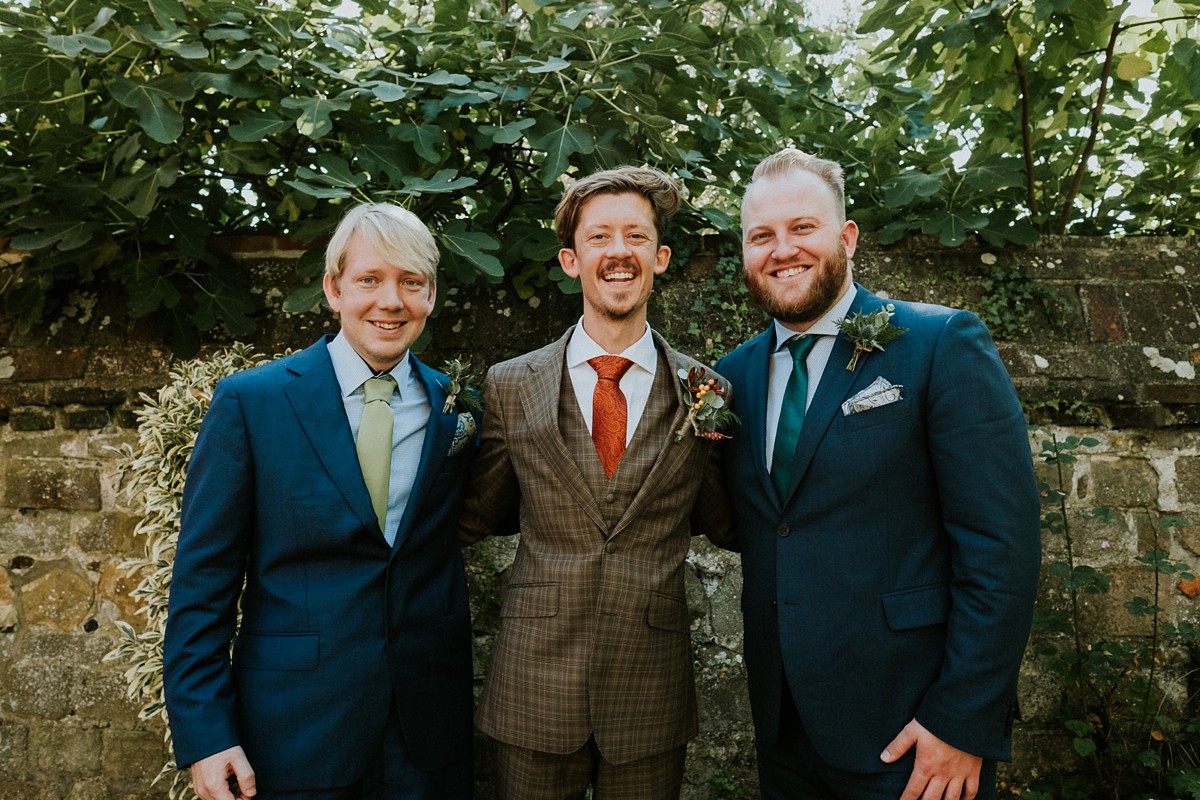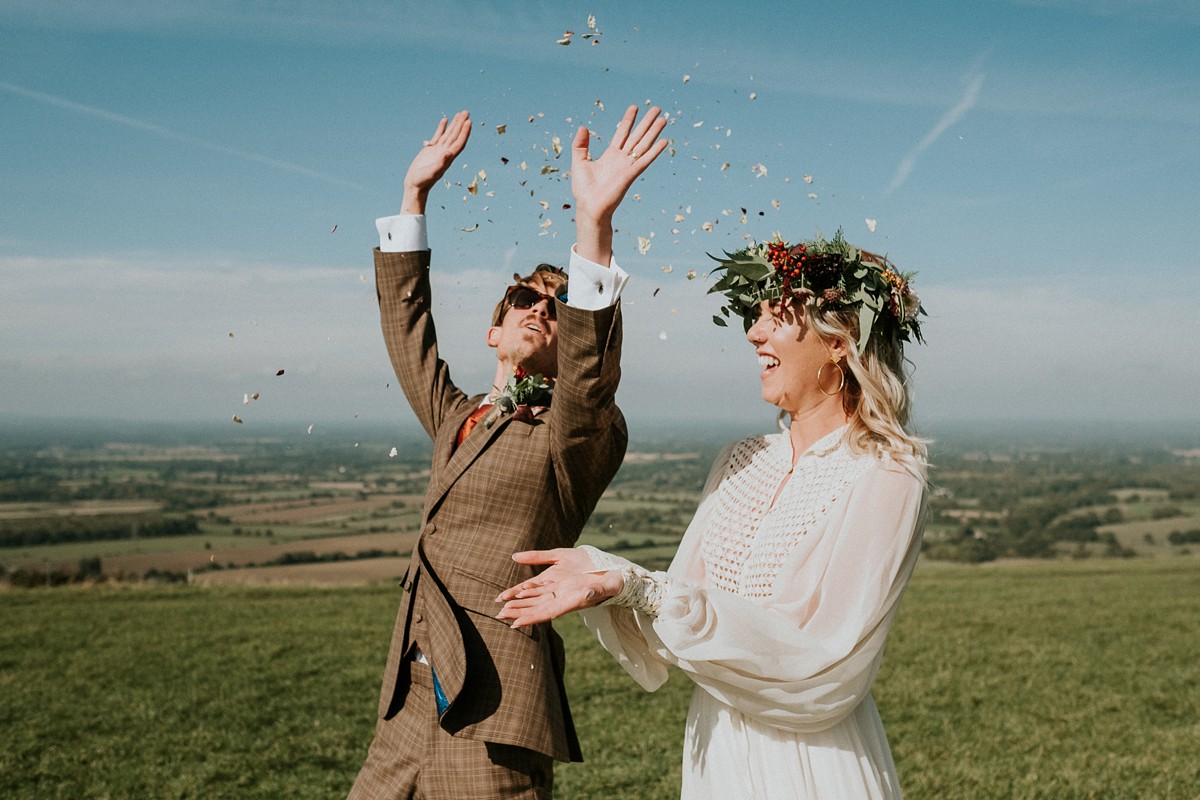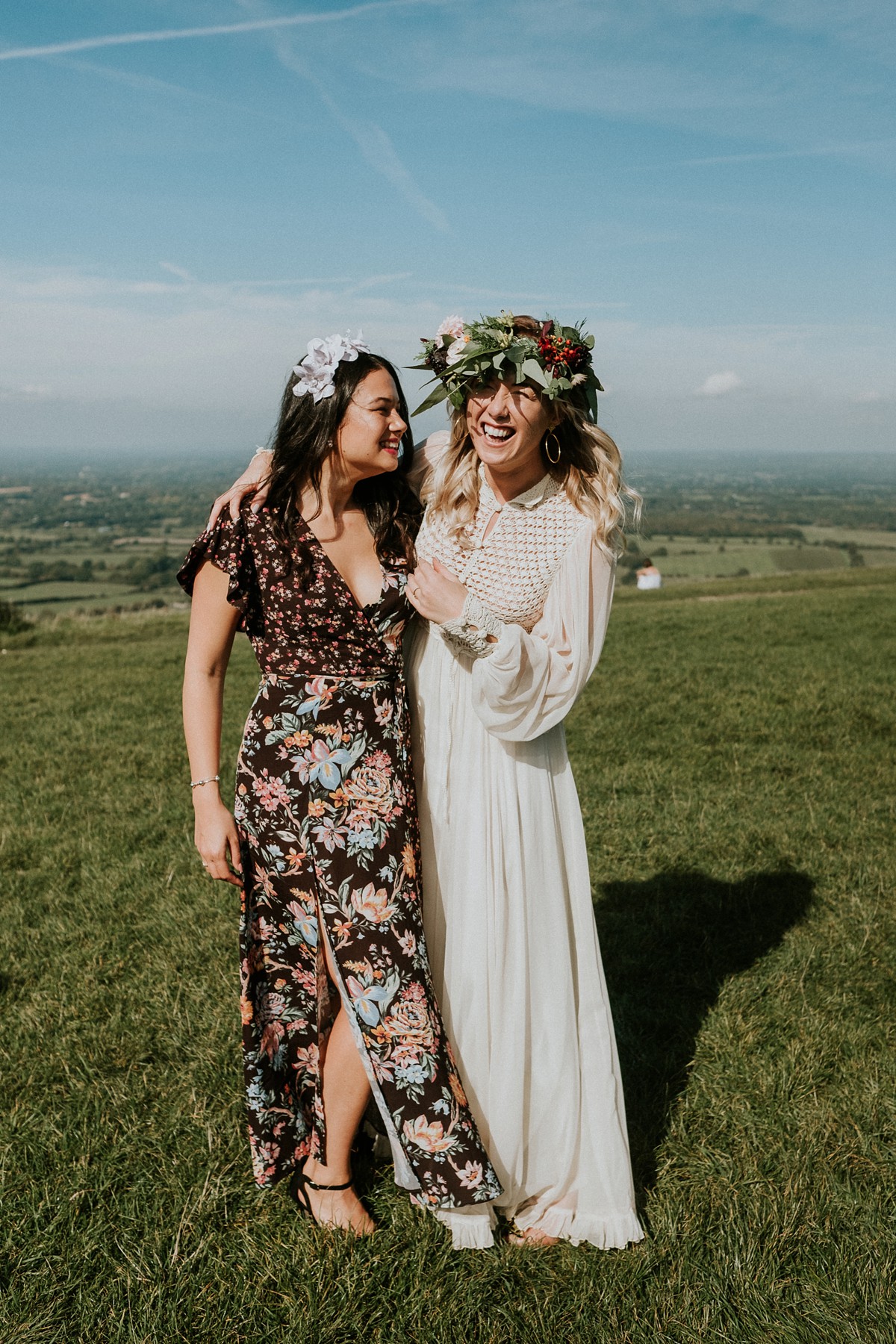 Joanna carried a spectacular, wild bouquet filled with beautiful autumn flowers and abundant greenery from The Flower Workshop.
"I asked for wild and seasonal. I knew I liked long stems and a bit untamed (like me) and for the colours, a romantic crimson, orange (as a nod to the Dutch side). Erik had orange in his tie and hanky also because of that."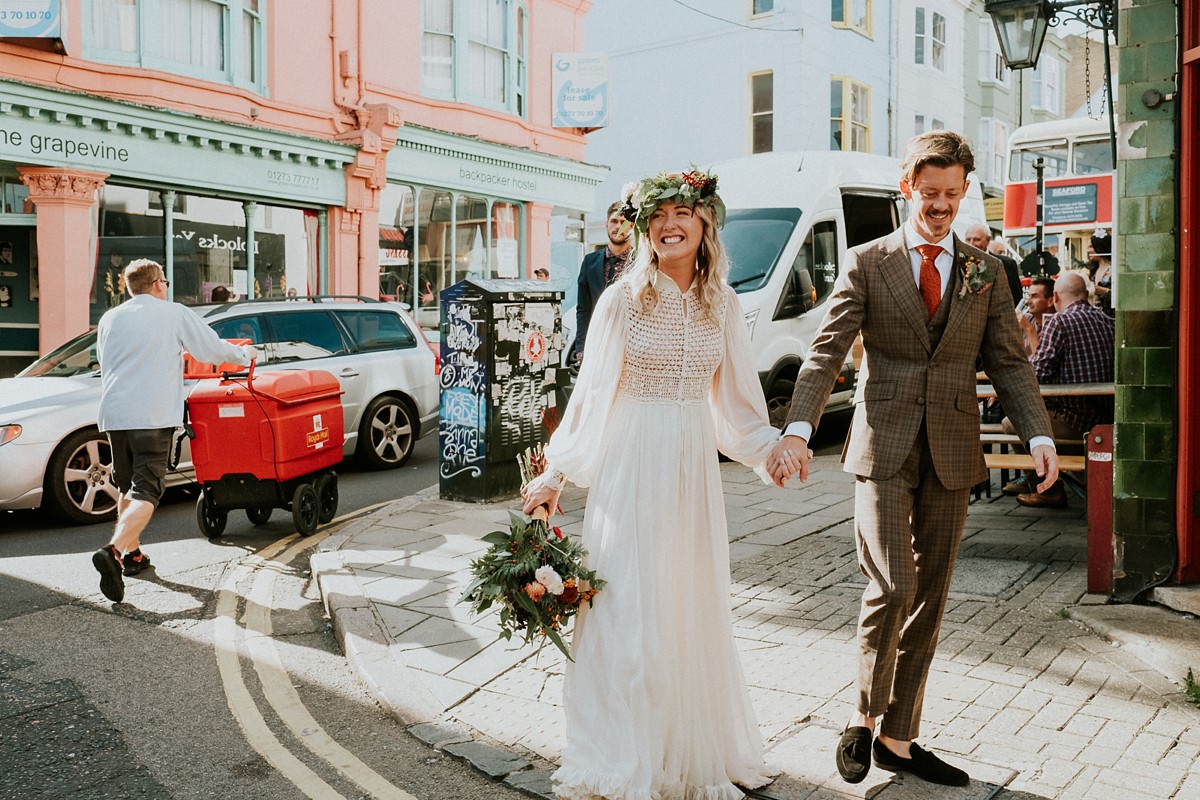 Capturing the energy and loving, beating heart of Emi and Erik's day was photographer Joanna Nicole, and it's fantastic to add to the weddings featuring her wonderful work here on the pages of Love My Dress.
"Jo was amazing. Her energy and excitement for our special day was fab. It was great having her along for the day. She new exactly what she was doing, we trusted her completely, we totally let her just do what she does best."
"What was amazing as well was that we are a little more casual with timings and she was great at grabbing us for private photos and really seizing those beautiful, peaceful moments."
"From the moment we met Jo, she was professional and always responsive with any questions we had. She loved our engagement shoot idea at Cuckmere Haven and as she had never shot there before. It was such a fun adventure for us all. It was the most perfect afternoon and we only had limited clothing with us as we had landed two days before in the UK and hadn't even been home to Amsterdam to get our clothes yet!"
"Our favourite moments of the day – the ceremony itself was so special. We smiled and laughed so much. After the ceremony being on Devil's Dyke with each other and toasting with the whole family was a beautiful moment. The sun shone and it was breathtaking. We toasted my Auntie Anna who passed the year before and we felt she was there with us in that moment."
After windswept drinks under soaring skies on the South Downs, everyone headed to the bus again for the trip to Brighton, and lunch at Silo.
"The food had to be vegetarian and vegan (like us) we really wanted to show people that vegetarian food could be fine dining and also be delicious. We wanted our wedding to be sustainable – no balloons, no decorations, we used dried leaves as confetti, recycled paper and our save the dates were done over Whatsapp."
After the ceremony, it was back onto the bus and over to Devil's Dyke for drinks and photos, and what a breathtaking setting!
"When we told my parents that the reception would be outside in a field at Devil's Dyke they were enthusiastic. They went there for a walk one day (when we had returned to Holland) and there they saw a vintage bus from the 6os. My dad sent me a photo and we thought it looked more fun than a couple of mini vans! So we rented it for the day! It was perfect, we'd been travelling around Asia for months on buses and now we had our own for the day."

Stationery was printed by Emi's dad, who owns and runs Copytech, from a design made by Emi, together with a friend – of a love mandala with a combination of Erik and Emi's star signs combined.
"They also made tiny stickers of our love mandala, which we use even now on the back of envelopes. They also made the most beautiful thank you cards for us."
The team at Silo cooked an amazing plant-based feast, using seasonal, organic and locally sourced ingredients, and then it was back over to the lovely garden at Emi's parents' for an evening reception to remember.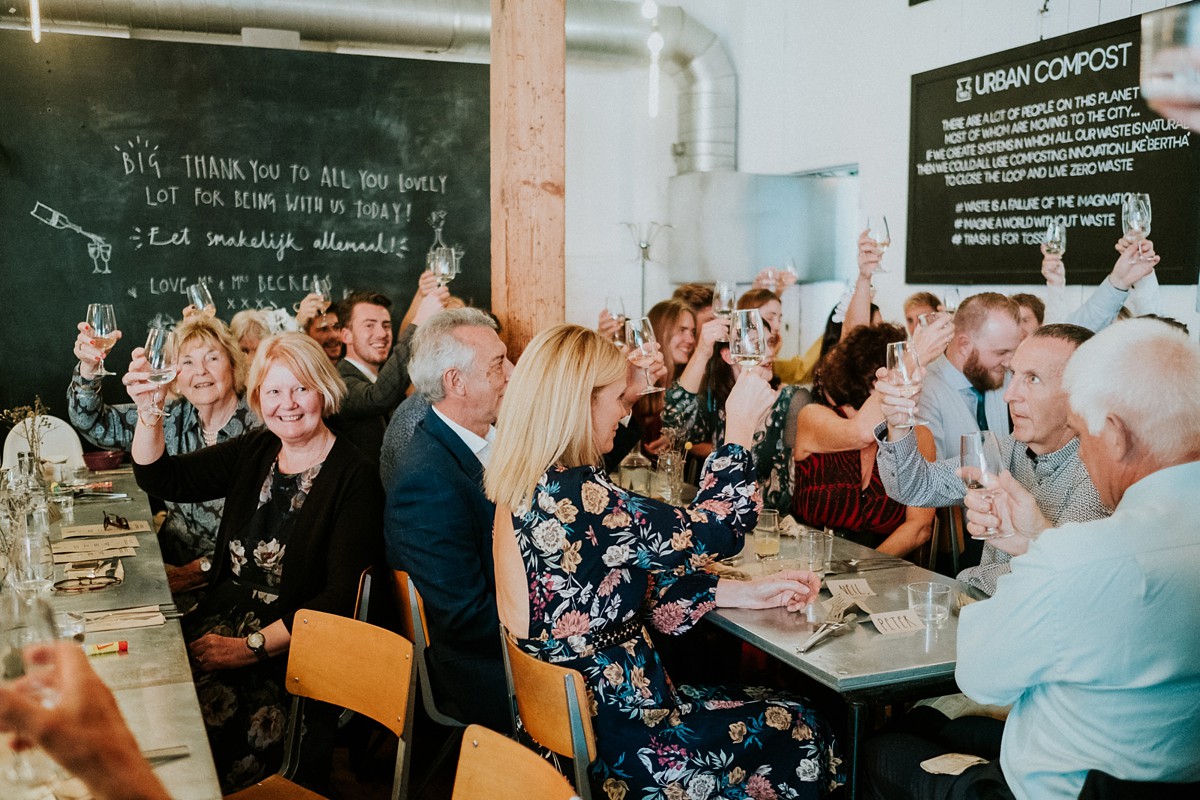 The garden was filled with lanterns and fairy lights, which also decorated the old tree where Emi and her sister used to climb as children. There were also lots of secluded spots for people to sit and relax – a tipi and summerhouse, as well as a swing and a rustic bar, which was built to wrap around a tree – made by Emi's brother-in-law, LJ Carpentry and Construction.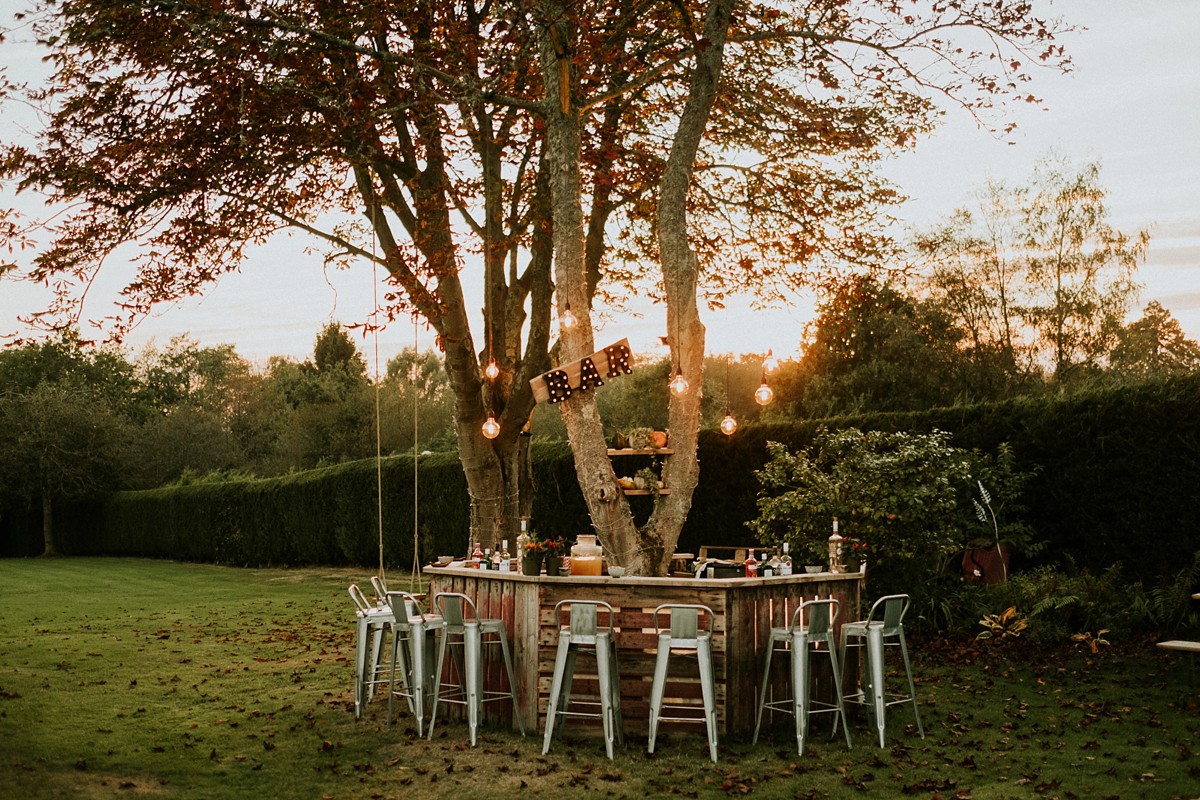 There was more delicious food to fuel the party; a tasty buffet of Moroccan food from Marrakech Artisan.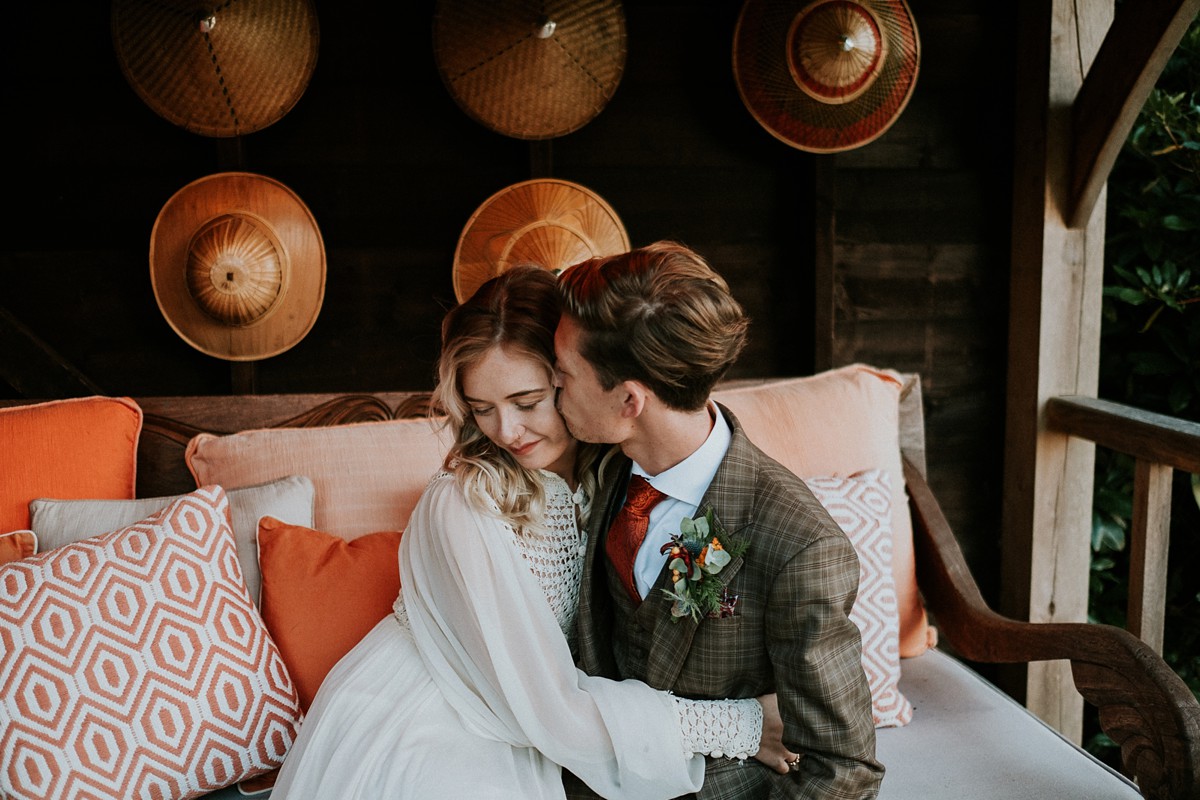 Cakes came courtesy of Choccywoccydoodah in Brighton – one chocolate (Erik's favourite) and one lemon flavour (Emi's favourite), decorated with beautiful fresh flowers.
"Our first dance was to Dance With me by Nouvelle Vague. The lyrics are really personal to us and we love the quirky sound."
"We had a Dutch folk band who we met on the street in Hastings – they were playing one day in front of Marrakesh Artisan. Coincidence!"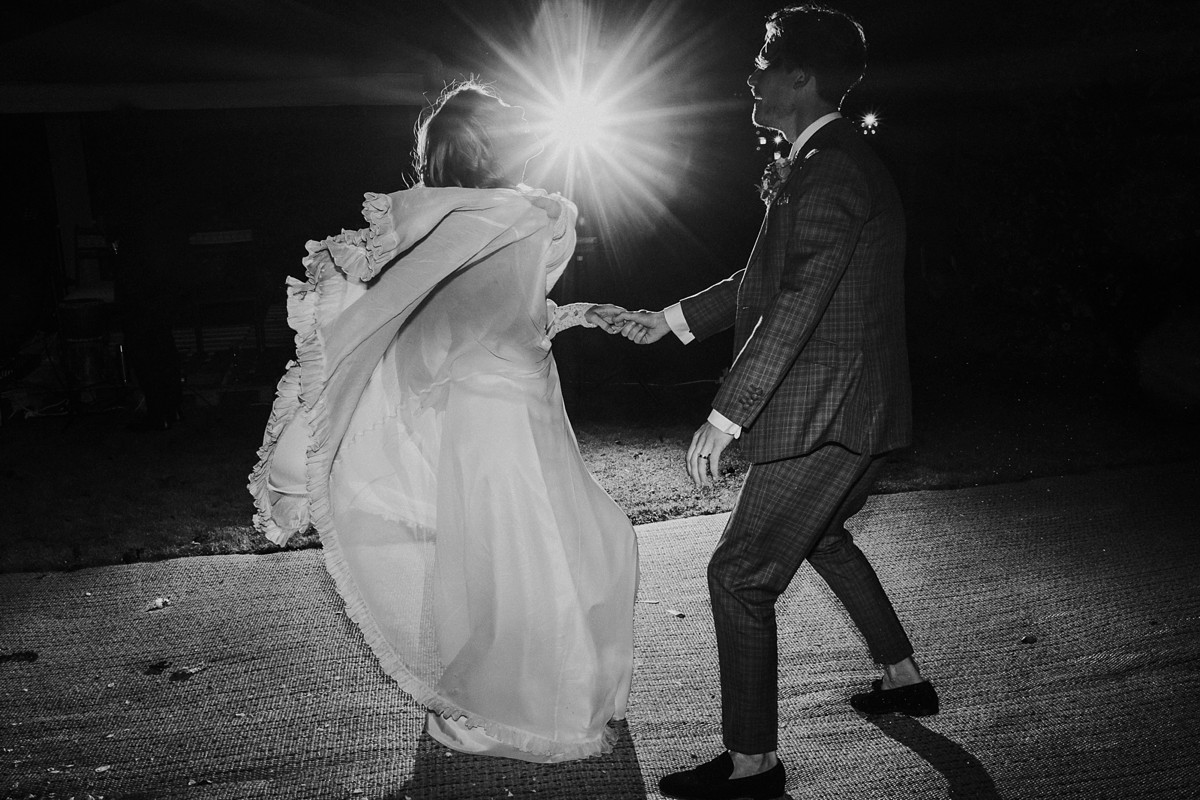 Words of Wedded Wisdom
"Being more last minute in wedding terms, I think taught us some lessons quickly. I would say keep it simple. If someone, something or budget is not possible, don't stress, just go with it. It will always work out in another way."
"In the end the day is about so much more. It doesn't have to be perfect. Tell a couple of close friends your plan for the day and write it down and give that to them, with timings."
"Don't spend money on things that you don't mind about. If you both don't really mind about the cake, then maybe you don't need to spend a fortune there. But then you both love something else spend the money there."
"I'd say make your own rules and don't worry about what you're meant to do."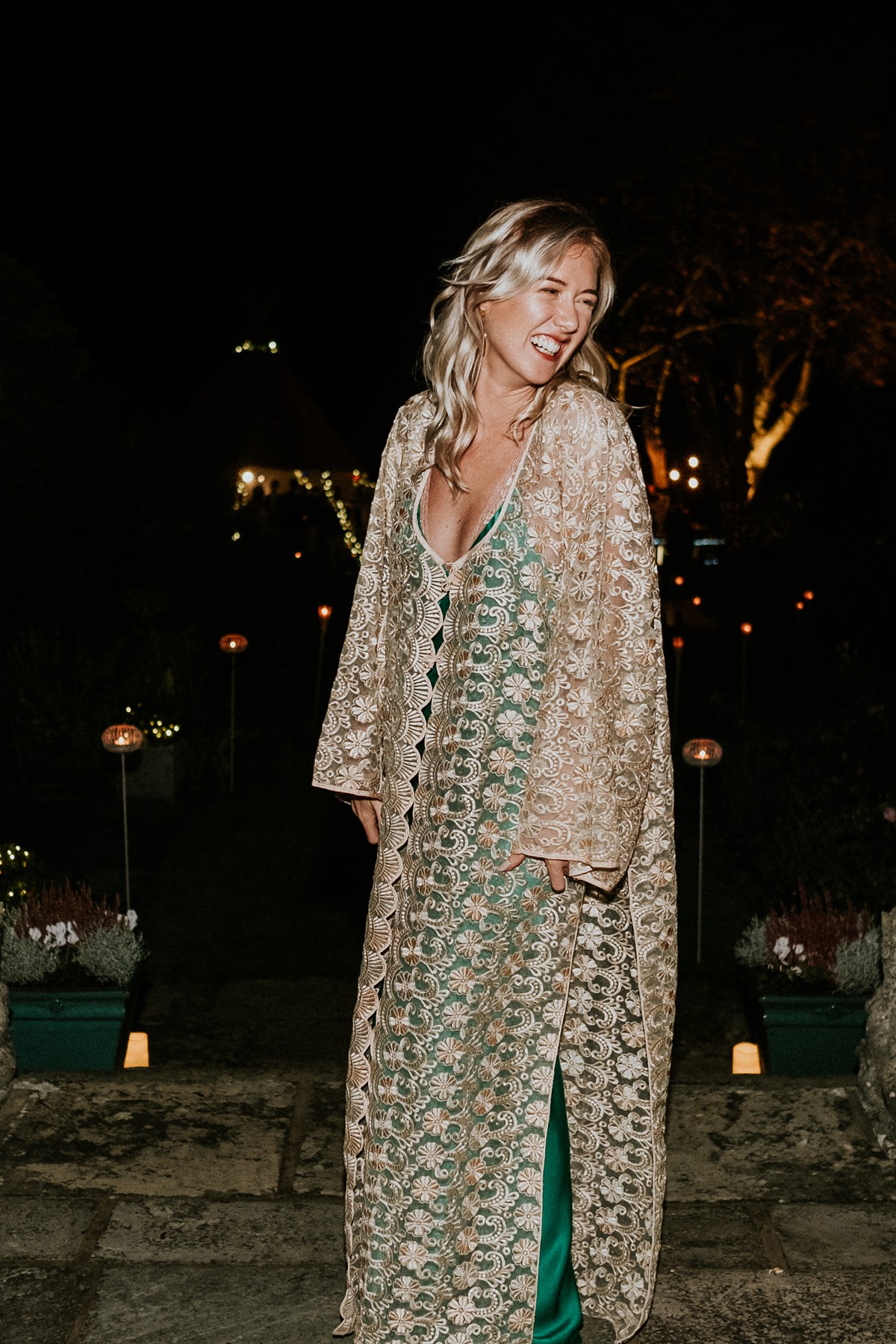 Emi and Erik, thanks a million for sharing your absolutely beautiful day with us. I love that it was so thoughtful and personal, and so inspired by your amazing travels. Many thanks to Joanna Nicole for these lovely images, too.
Until next time!
With love,
Laura