Easter weekend is here and I hope that if you have time off this Bank Holiday you have something lovely planned. I'm here to kick your weekend off in style with today's sparkling, edgy Derbyshire celebration.
Corporate solicitor Laura and senior quality assessor Lewis chose The West Mill, Darley Dale, Derbyshire as the venue for their autumn wedding on 6 October 2018. A former cotton mill on the banks of the River Derwent, the venue's historic and characterful interiors really appealed to the couple. It was the perfect blank canvas for a stylish day inspired by Laura's love of eucalyptus, along with accents of warm copper and cool blue.
Designer Lucy of Lucy Can't Dance creates modern and quirky bridal gowns, inspired by vintage and alternative style with an edgy twist. However, their real point of difference is Lucy's amazing use of unusual lace and colour, in particular dip-dye. Love, love, love!
"I really struggled at first. I tried on several dresses at more traditional bridal boutiques. Some of them were really lovely and flattering but I guess I just didn't feel like me. When I stumbled across Lucy on Instagram I could not believe my eyes; I knew she was the one who would make my dress."
Photography – Rose Images Wedding Photography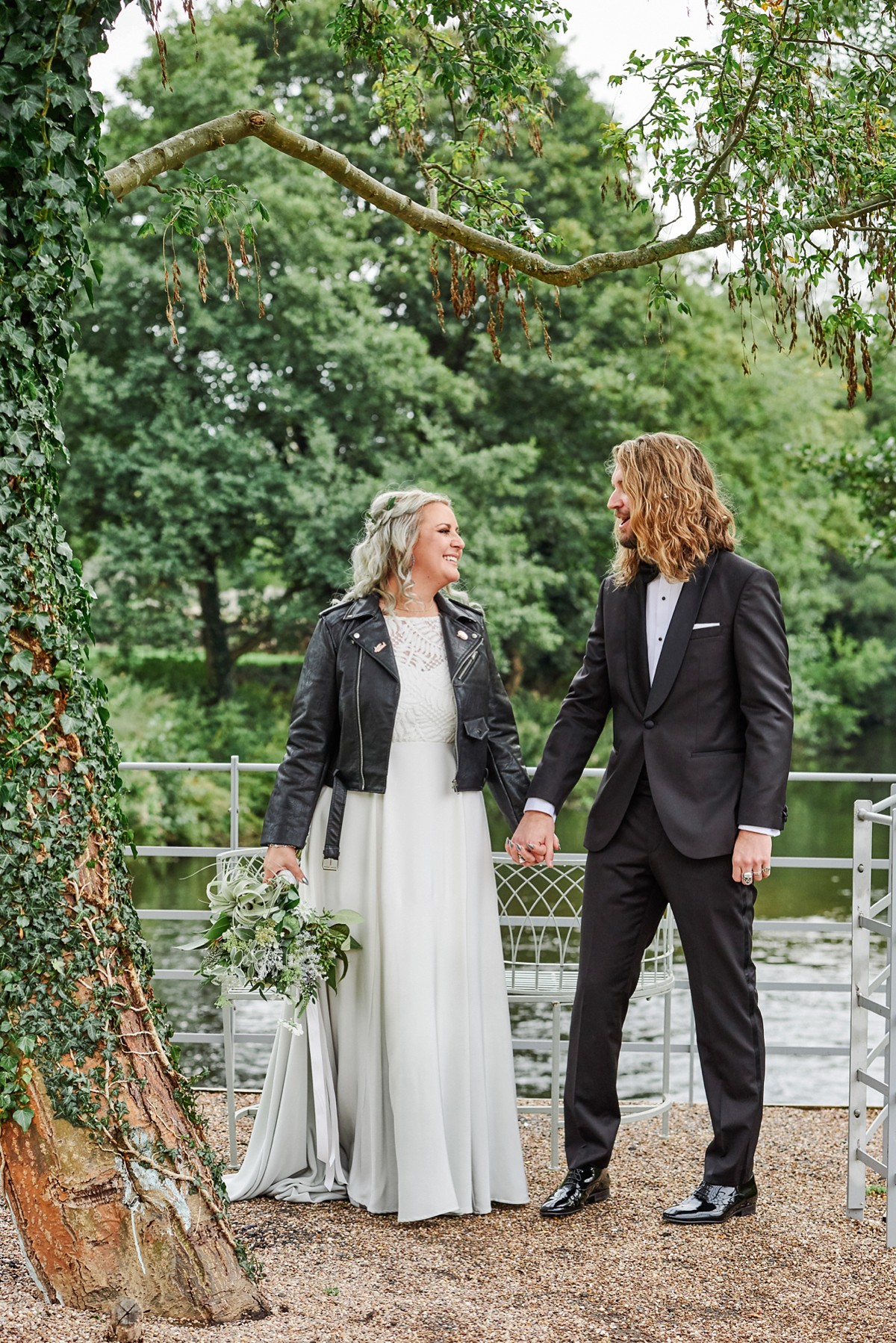 "So, off I set from Nottingham to Essex with my mum and bridesmaids in tow. I had two or three of her dresses in mind and fancied a mash-up of them all. I ended up choosing something completely different from what I thought I wanted. I went for the Ziggy Stardust dress but with a full skirt, dip dyed in dove grey."
"I put the Ziggy on and it felt right. I felt so comfortable and pretty and like the best version of myself. I loved that I could have a bit of colour without going OTT and loved the tropical lace; it was so beautiful but modern and interesting, I loved the full silk skirt that meant I could eat and drink all day without restriction and the boat neckline that somehow made me want to stand tall and proud. That deep V-back was something I never thought I could pull off in a million years!"
Like many couples, Laura and Lewis were unsure about hiring a wedding videographer but asked Costa Sister Productions to record their marriage.
"I first saw Sofia and Elena's work when they shot the wedding of the owner of Bloody Mary Metal, and she posted it on Instagram. I couldn't believe how awesome their films are, like the most incredible movie trailer you've ever seen. Their subjects always seem to be having an amazing time and we decided we really wanted to have one of their films as a special memento, so in 40 years' time we can remind ourselves how young and energetic we were!"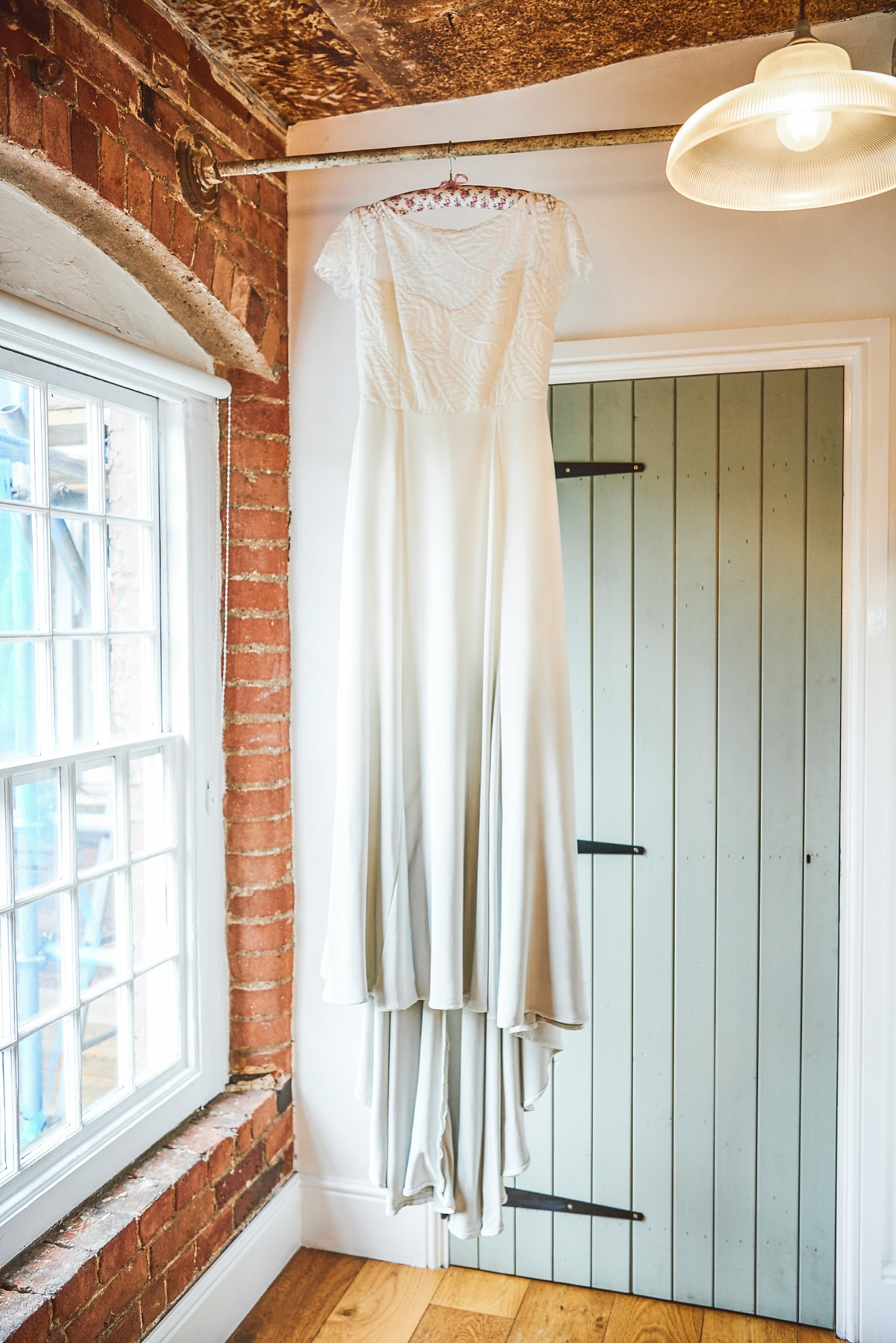 The graduated dove grey of the gown was picked out by Laura's Shoes of Prey heels, which she actually designed herself.
"As my dress was a little untraditional, I didn't think an ivory court shoe was the way to go. Lewis saw mention of Shoes of Prey and told me to have a look. You design your own shoes from scratch and I ordered two pairs in the same colouring – pointed toe and peep toe – and went with the former. Grey suede with a gunmetal glitter heel and toe, and heels that I had half a chance of wearing for 12 hours!"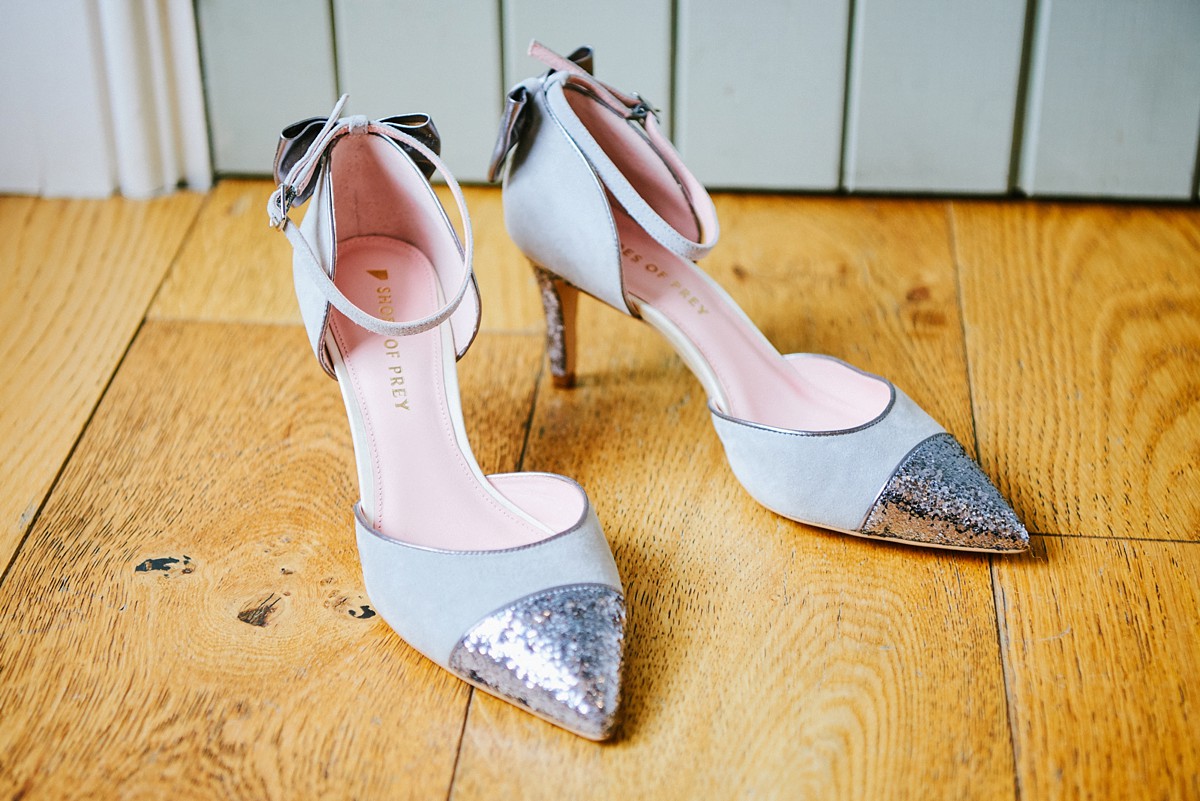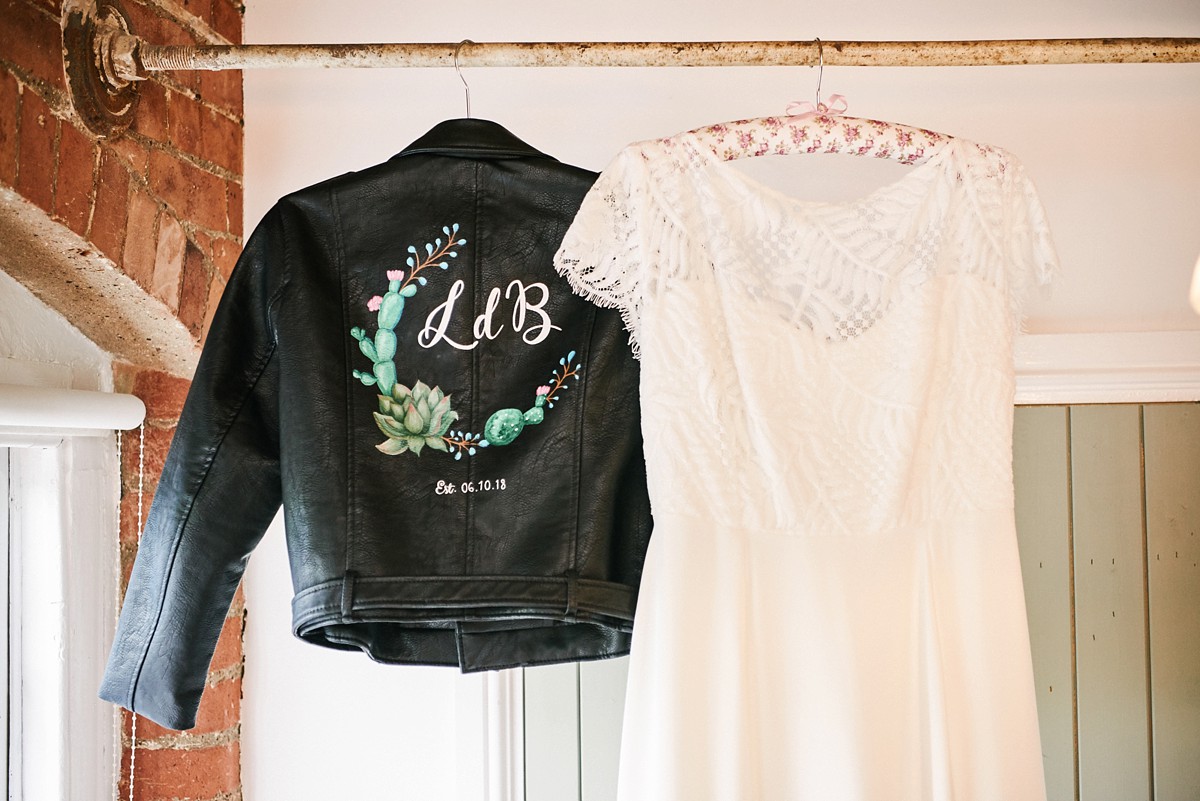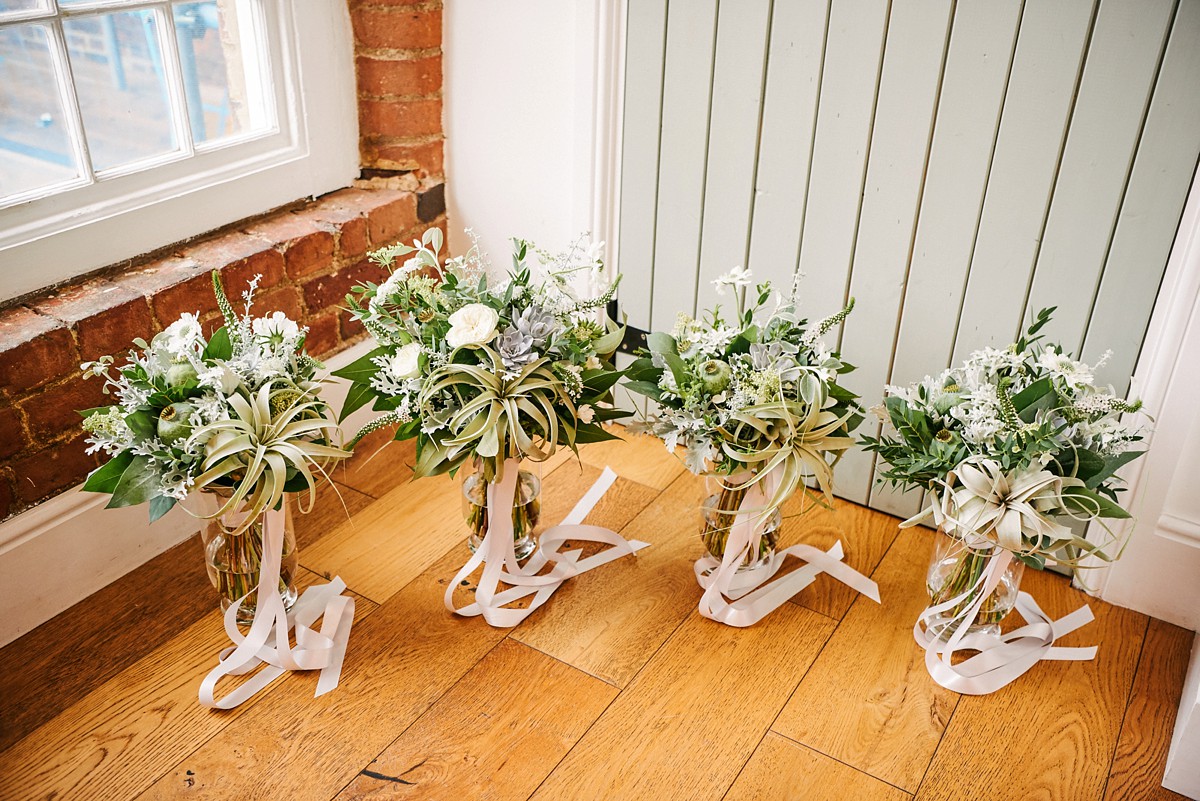 To accentuate the V back, Laura wore a back necklace custom-designed by Bloody Mary Metal.  Her other accessories were gifts from her family.
"I wore a silver and opal ring which belonged to Lewis' great-grandmother, gifted from my mother-in-law. On the morning of the wedding my mum gave me a beautiful wedding gift – a three chain, sterling silver bracelet from Links of London."
"I was in two minds about whether to buy a different scent for the wedding. At first I thought I should smell like I normally do and stick with Liz Earle No. 15. But in the end I decided to go for something new and special that would always remind me of that day – Tam Dao Eau de Parfum by Diptyque."
The bride and groom met through online dating in early 2013.
"My best friend Billie had convinced me to set up an online dating profile. Lewis was the first and only person I made contact with on there – no kissing any frogs for me!"
 
"I relocated from Northamptonshire to move in with Lewis in 2014 and shortly after we bought our own place together. In early December 2016 we came home from a meal at our favourite local restaurant and after 15 minutes of ignorance, Lewis had to point out the new, exciting bauble that had appeared on the Christmas tree. Inside was the most beautiful vintage emerald and diamond engagement ring which I had (flippantly) pointed out to Lewis about three years earlier, saying 'If you ever want to marry me that one will do'! I guess it was waiting for me all that time."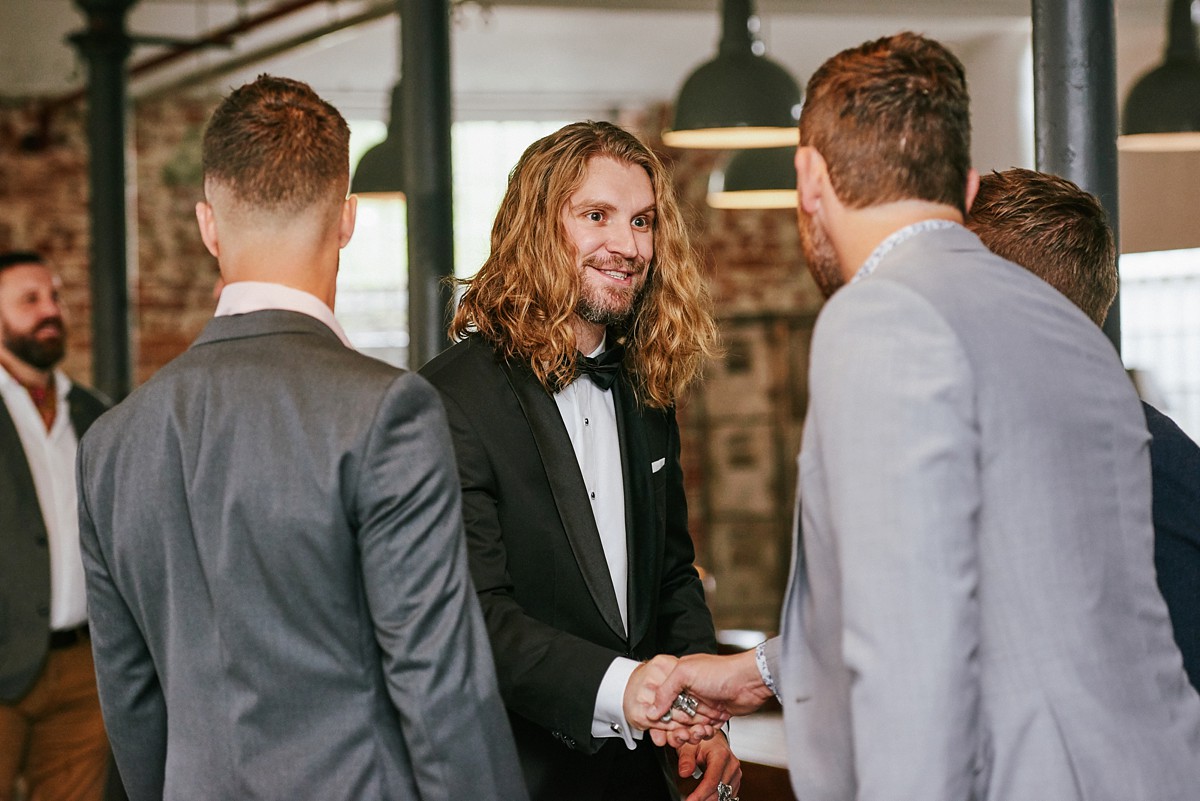 The groom and his best men all opted to sport super-smart black tie. Lewis added rings from The Great Frog and Crazy Pig Designs.
"He had Hugo Boss everything – all the way down to socks and boxers!"
The West Mill has its own wedding team who helped the couple style their day. We're so pleased to count them as a member of our Little Book, so click here to find out more about this incredible venue. The overall look is stylish and glam, but still simple and elegant.
"I absolutely LOVE eucalyptus – my auntie always had loads of it in her house when we were growing up – and the smell is just so nostalgic and triggers so many happy memories. With green being one of my favourite colours, it was always going to be about all the foliage, combined with cool blue/grey hues and copper accents."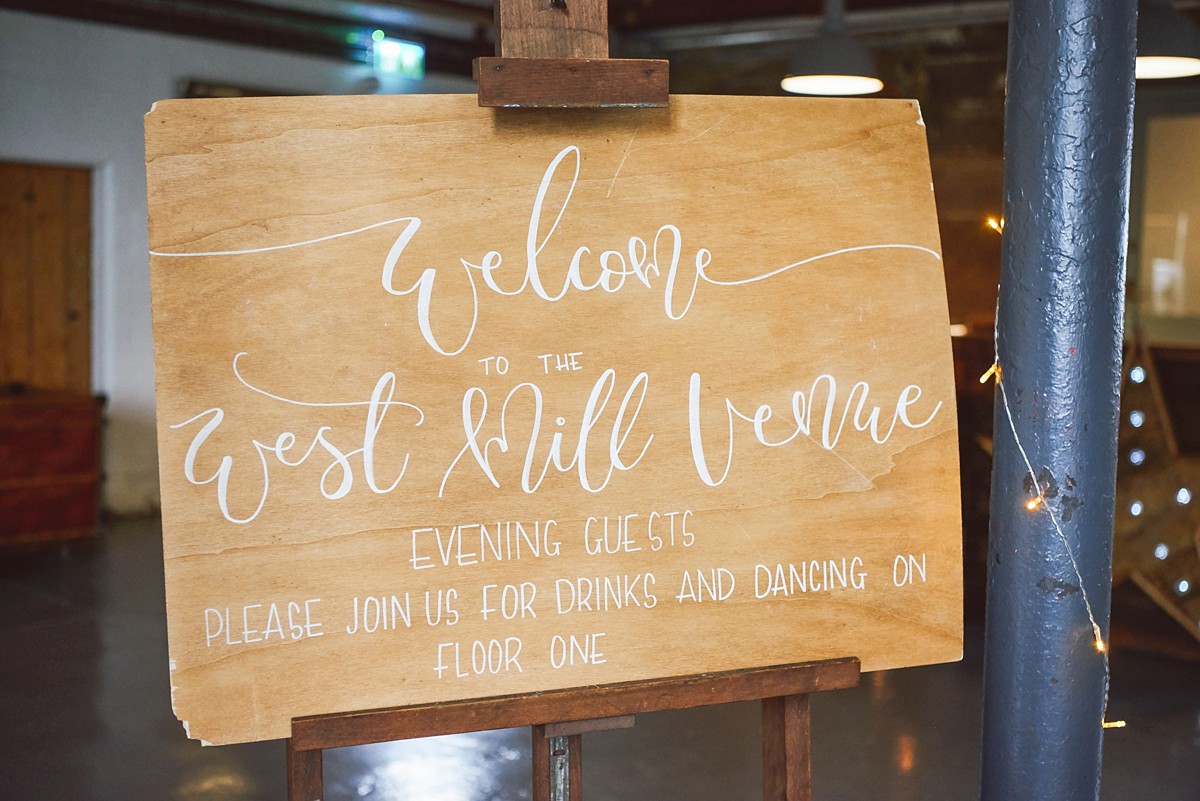 "We had viewed a few places but as soon as we drove into the car park and The West Mill came into view, nestled next to the River Derwent, I just felt a sense of excitement rise up in me. It is a Grade 1 Listed former cotton-spinning mill dating back to the 1800s and like nowhere we'd seen before."
"We took one look inside and knew it was for us. It is such a unique and breath-taking place. The inside is beautiful and charming; full of history and sympathetically restored. We loved that it was exclusive use, had a bridal dressing room, was a no corkage venue and that each floor serves a different purpose throughout the day – so no loitering around whilst a room is turned over."
"There is detail, charm and history at every turn but it somehow still manages to feel modern, exciting and stylish."
"During our engagement, the venue opened its Mill House accommodation – a beautifully-restored Grade II listed building built in 1799 as the Mill Manager's House. We stayed there on the night of our wedding with our wedding party and BFFs."
Laura wore her hair down, with the top layers caught up in pretty braids and adorned with fresh leaves. It was styled by Gabrielle Hulse at Studio M.
"Gabs is my regular hairdresser and I wouldn't have wanted anybody else to do my hair. The week before the wedding she applied a strong ash toner so by the day my hair was my ideal silvery blonde."
The bride's glowy make-up which accentuated her gorgeous eyes was applied by Sarah Lyth MUA.
"Sarah is a freelance MUA and EMEAI regional coaching manager for Urban Decay. She did a friend's make up for her wedding a few years ago and it was just so stunning, I knew I had to have her."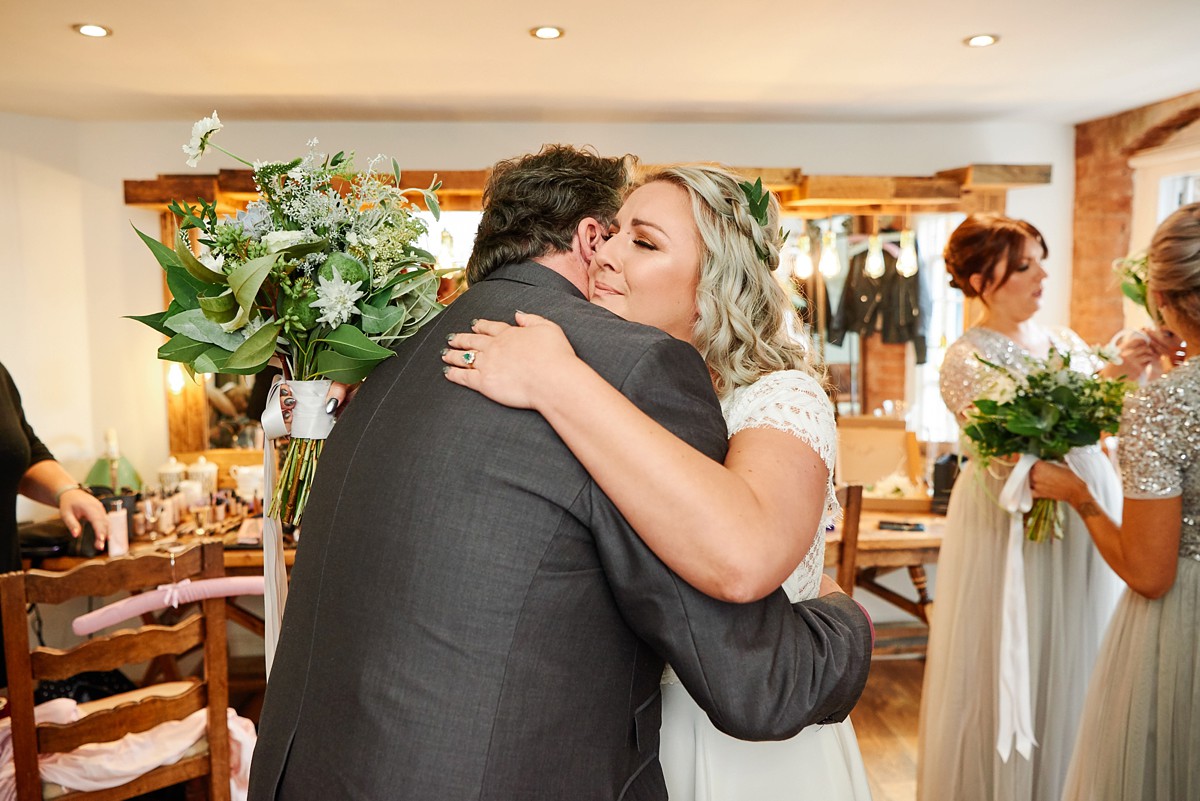 The couple selected 'Warm Foothills' by Alt-J to play as the bride and her father made their way down the aisle towards the leafy ceremony table at the top.
"Lewis chose a The Great Frog 12mm sterling silver band to complement his other The Great Frog and Crazy Pig Designs rings. I had a plain gold band from Gavin Mack Jewellery, custom-made to fit flush with my engagement ring."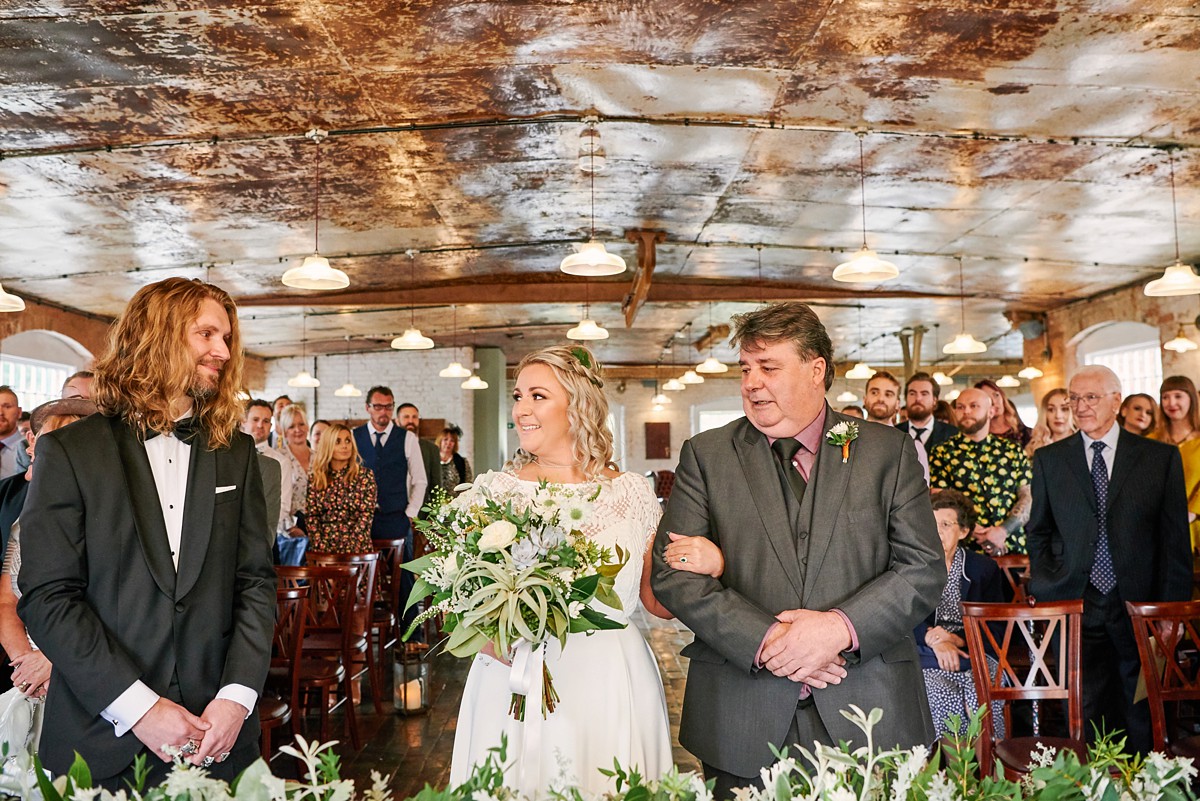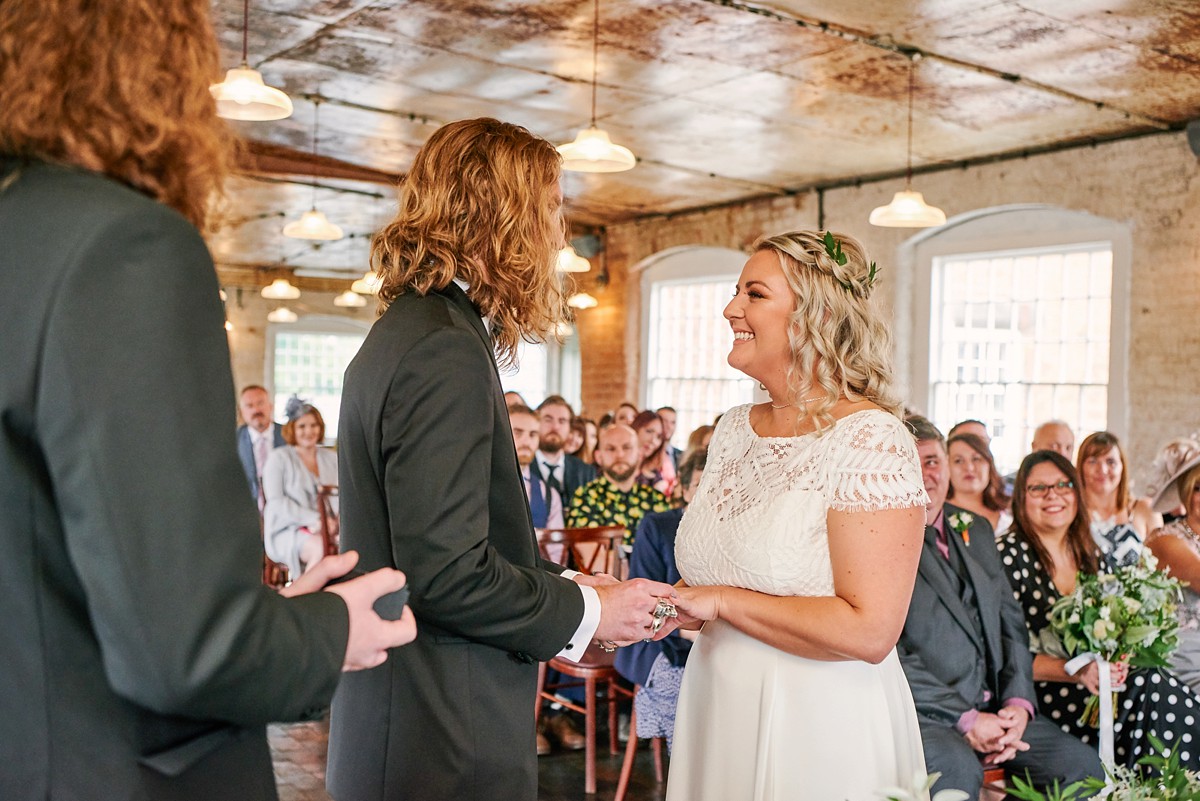 Foliage and eucalyptus played a big part in the day's styling and Nadia di Tullio Flowers has really delivered; the loose, wild armfuls of leaves and flowers are delightful.
"Nadia is a preferred supplier at The West Mill and loads of the weddings there that had caught my eye involved Nadia's work. When we first met Nadia, I did my best effort at flower-speak and she knew straight away what I wanted. She even knew what I didn't know I wanted! When she followed up our initial meeting with her mood board, she had absolutely nailed it."
"The flowers are really something I do not regret spending money on. The bouquets were waiting for us when we got into the dressing room and they looked more incredible than I had imagined. The earthy, piny, minty smell as I entered the room was incredible, all of her creations looks so beautiful in the photos and so many people complimented the arrangements."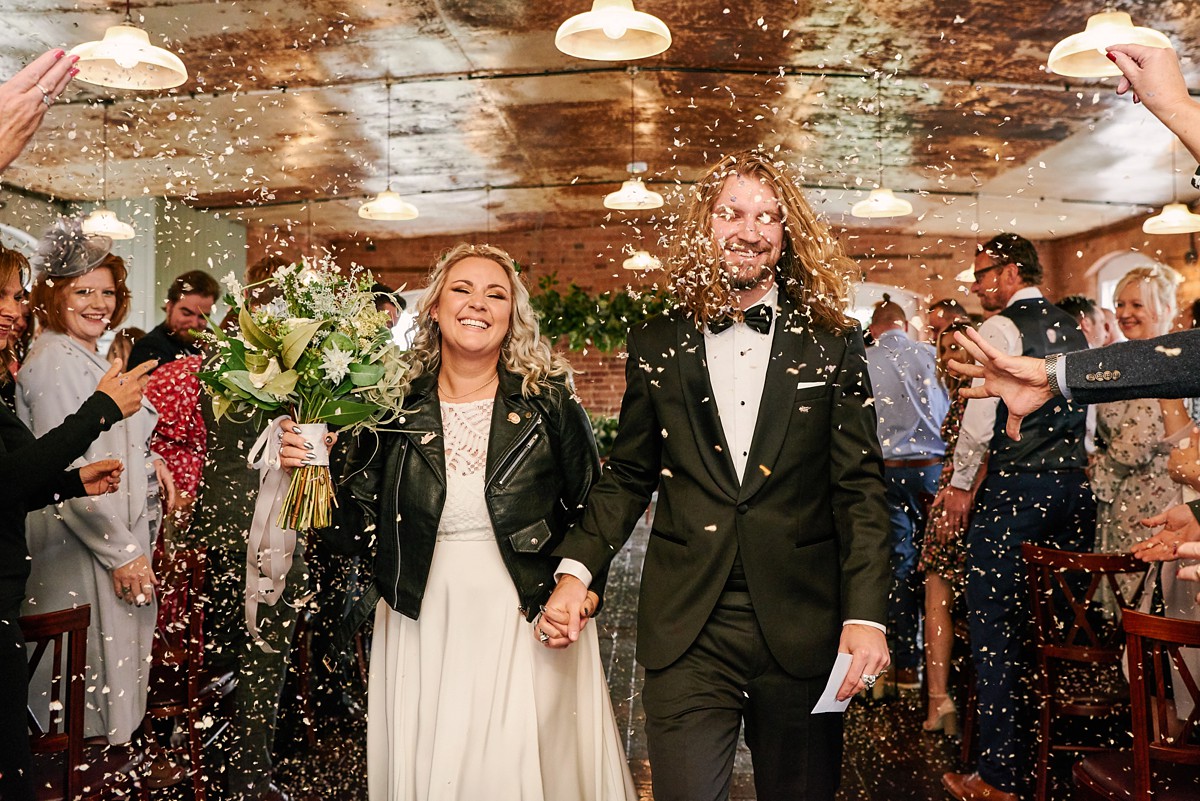 Capturing the entire day on camera was Sally-Rose McCormack of Rose Images Wedding Photography.
"Sally is a friend of ours but we'd have chosen her even if she wasn't. We love her relaxed style, she naturally puts people at ease and has a great eye for those unique shots."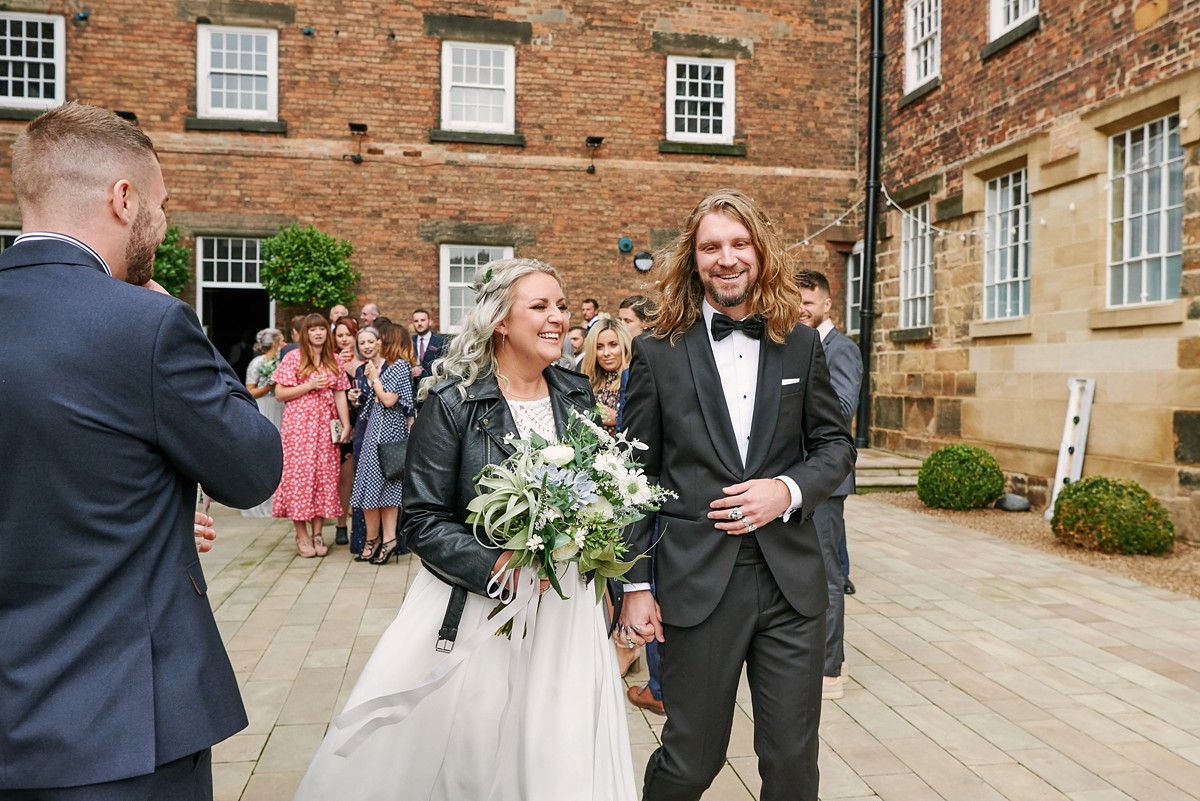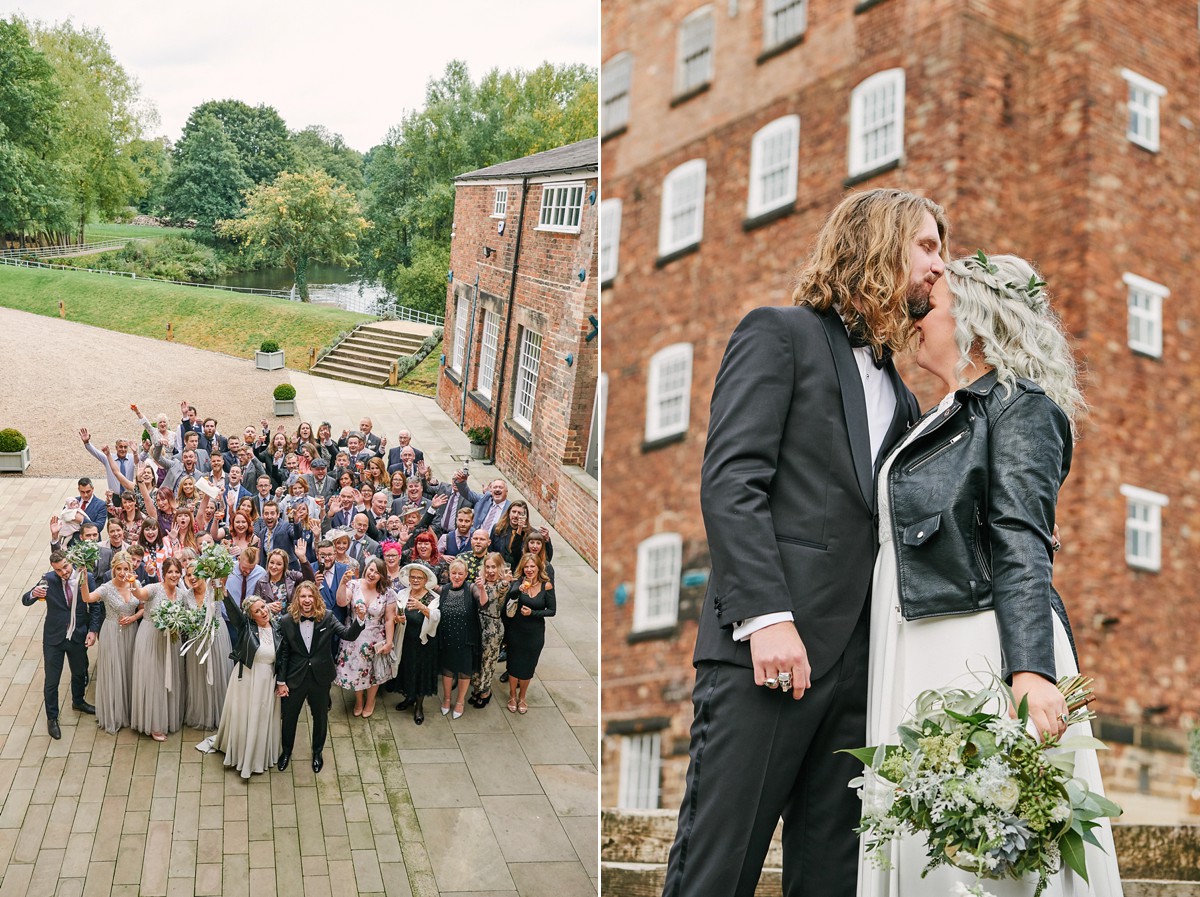 To combat the October chill, the bride slipped on a leather jacket, custom-painted with her new initials. I love this edgy look – and the pretty foliage design too. It looks as if the newly-weds and the rest of the bridal party had a lot of fun with their bridal portraits; those smoke bomb photos are gorgeous.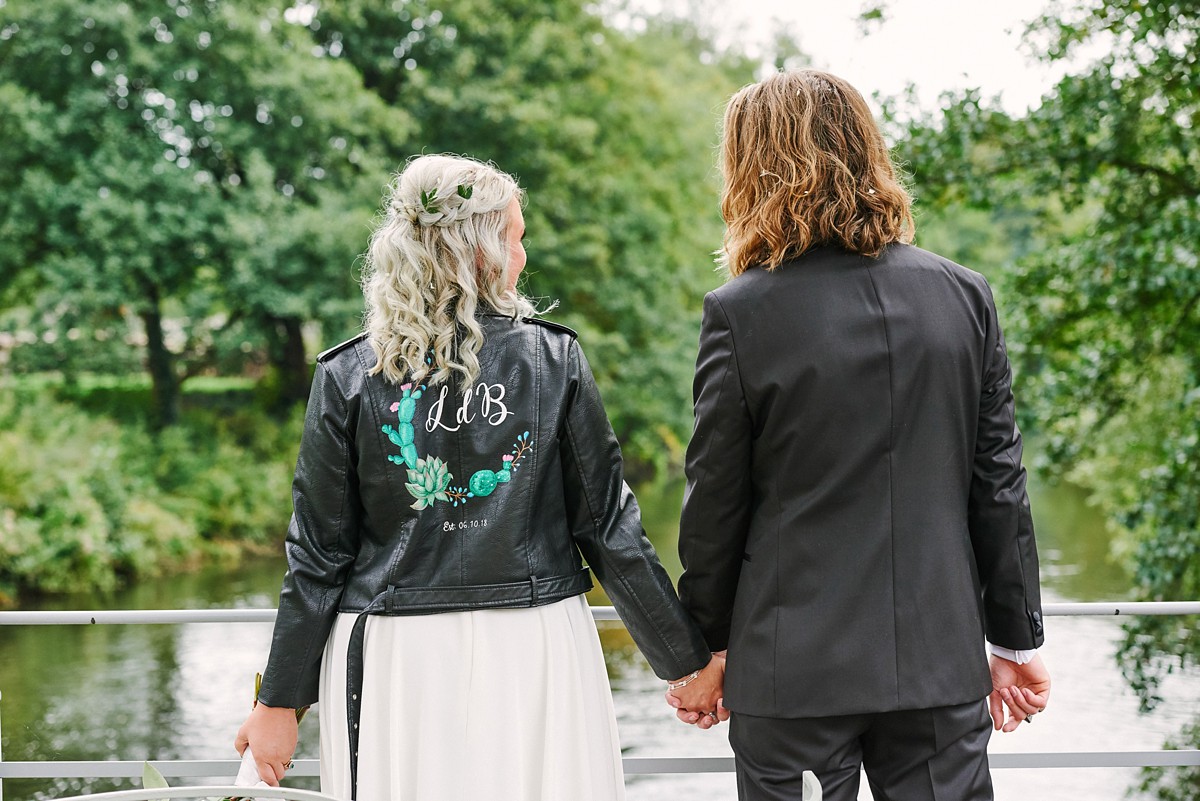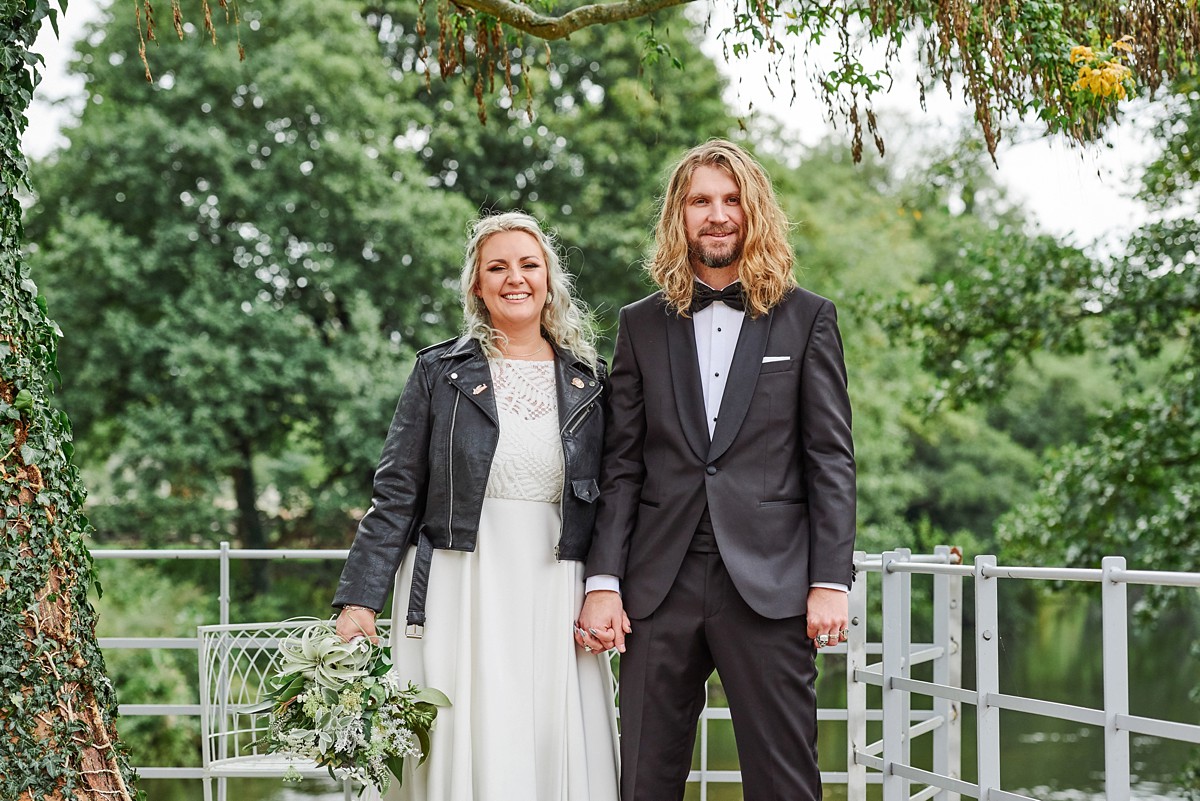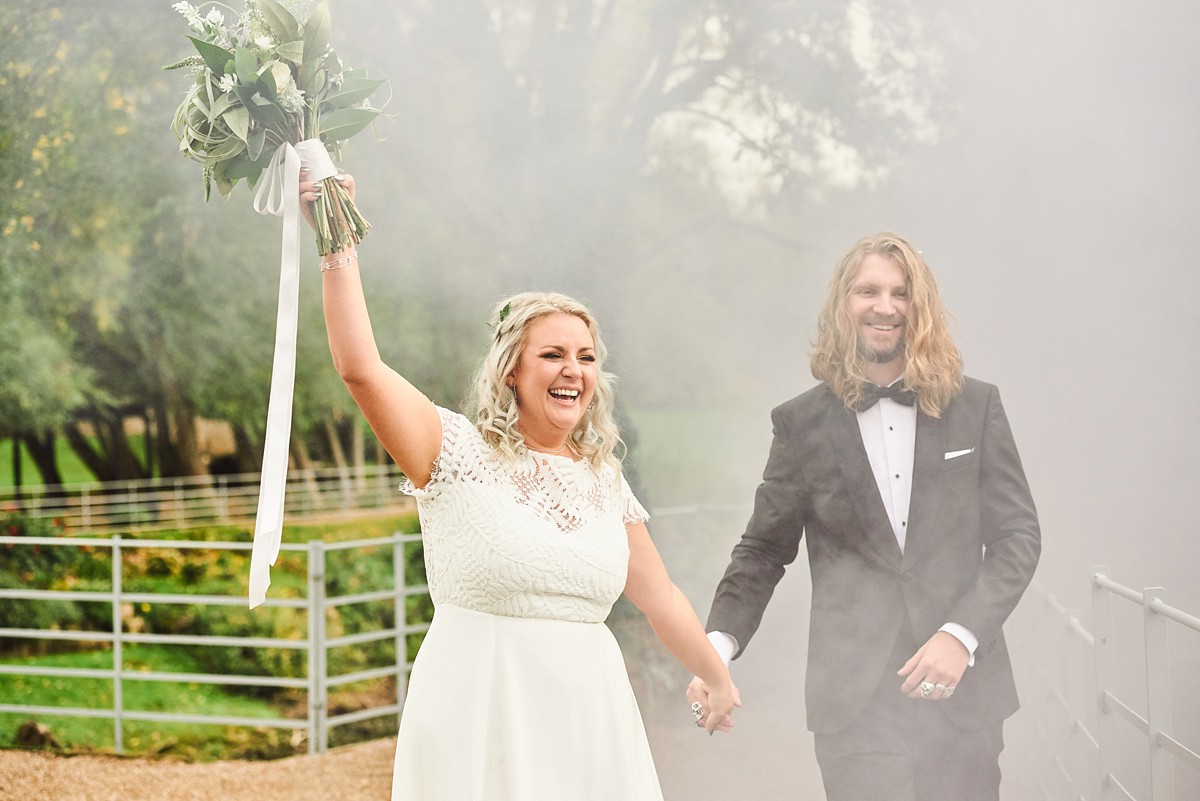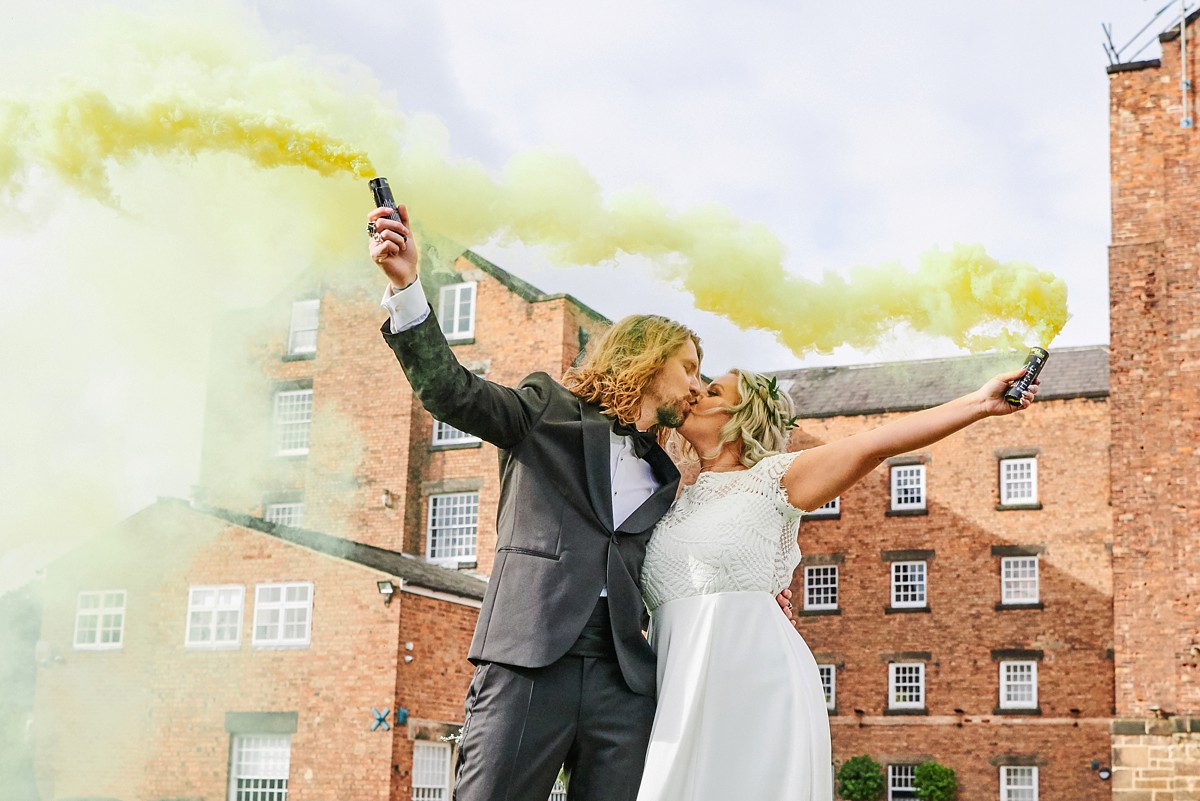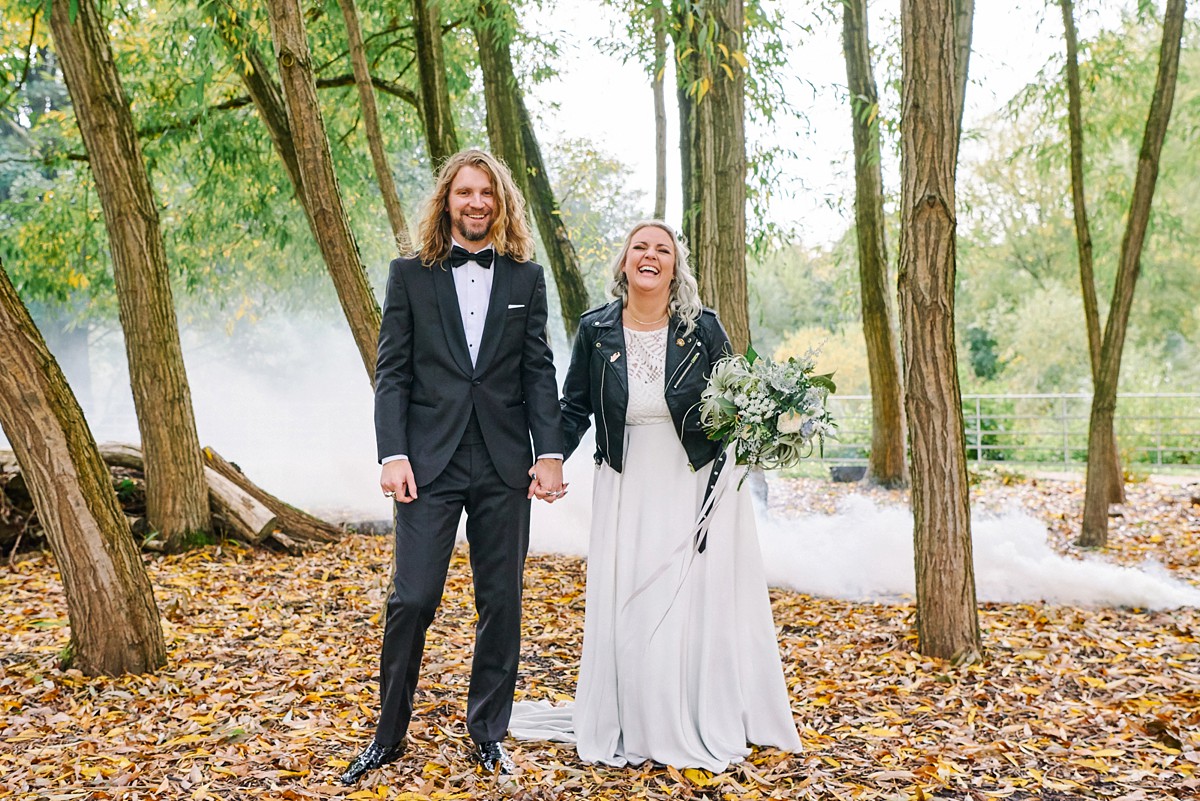 For a touch of sparkly glam, Laura dressed her bridesmaids in silvery-grey tulle maxi gowns from Maya at ASOS, complete with sequinned bodices. They were worn with bracelets from Lisa Angel, part of their gift boxes from the bride.
The wedding breakfast was held back in the Mill, beautifully styled from its stock of historic items.
"The West Mill is incredible as it has so many decor items like brass lanterns, wooden crates, an architect's table, cute artefacts like old suitcases and a typewriter, huge Chesterfield sofas and more festoon/fairy lights than you could shake a stick at!"
"We had candles – ALL THE CANDLES – mostly from Nordic House. We filled the two large windows at the far end of the mill with candles placed in wooden trays from Melody Maison. Centre-pieces were sprawling moss under copper mirrored trays topped with a potted succulent, table number and copper piping candlesticks made by my dad's fair hands with long, grey dinner candles."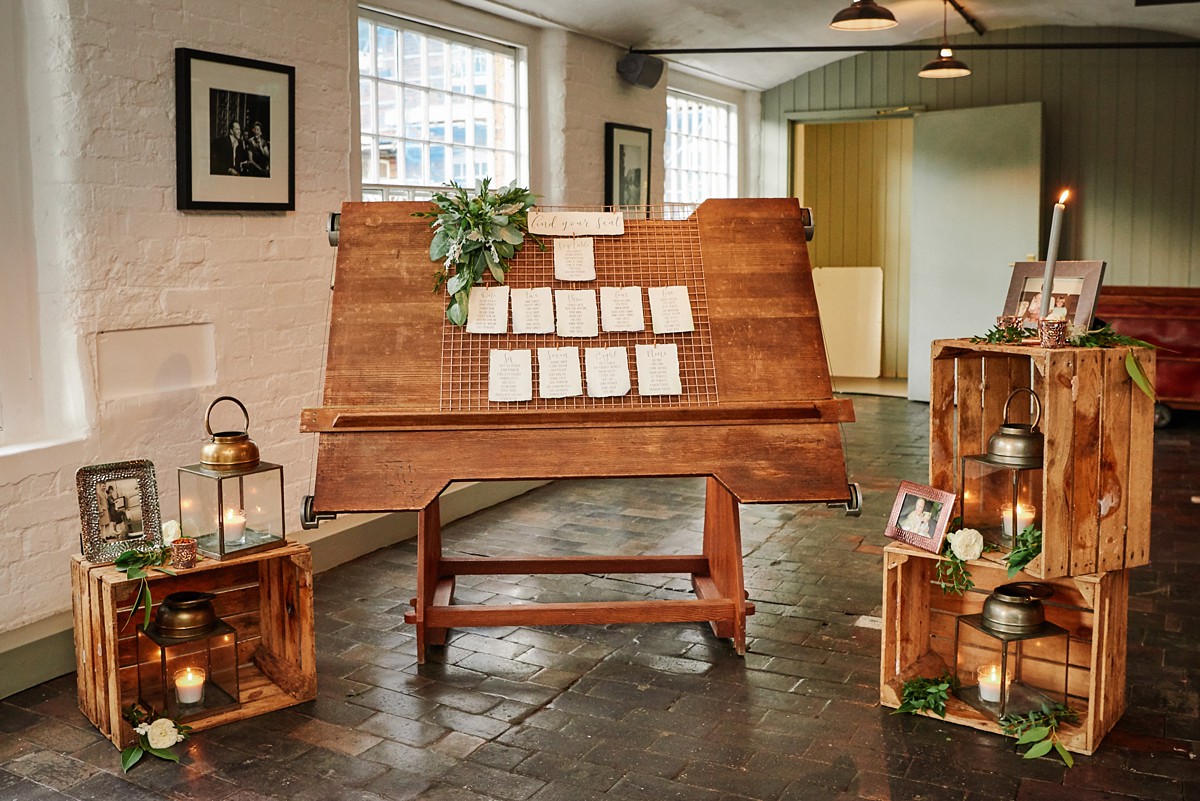 Touchingly, the couple remembered the bride's auntie in their choice of wedding favours.
"We made a donation to the Cransley Hospice Trust in Northamptonshire, who provided palliative care to my Auntie Jeanette as she sadly lost her long battle with cancer. The hospice is a small, local charity that relies heavily on donations."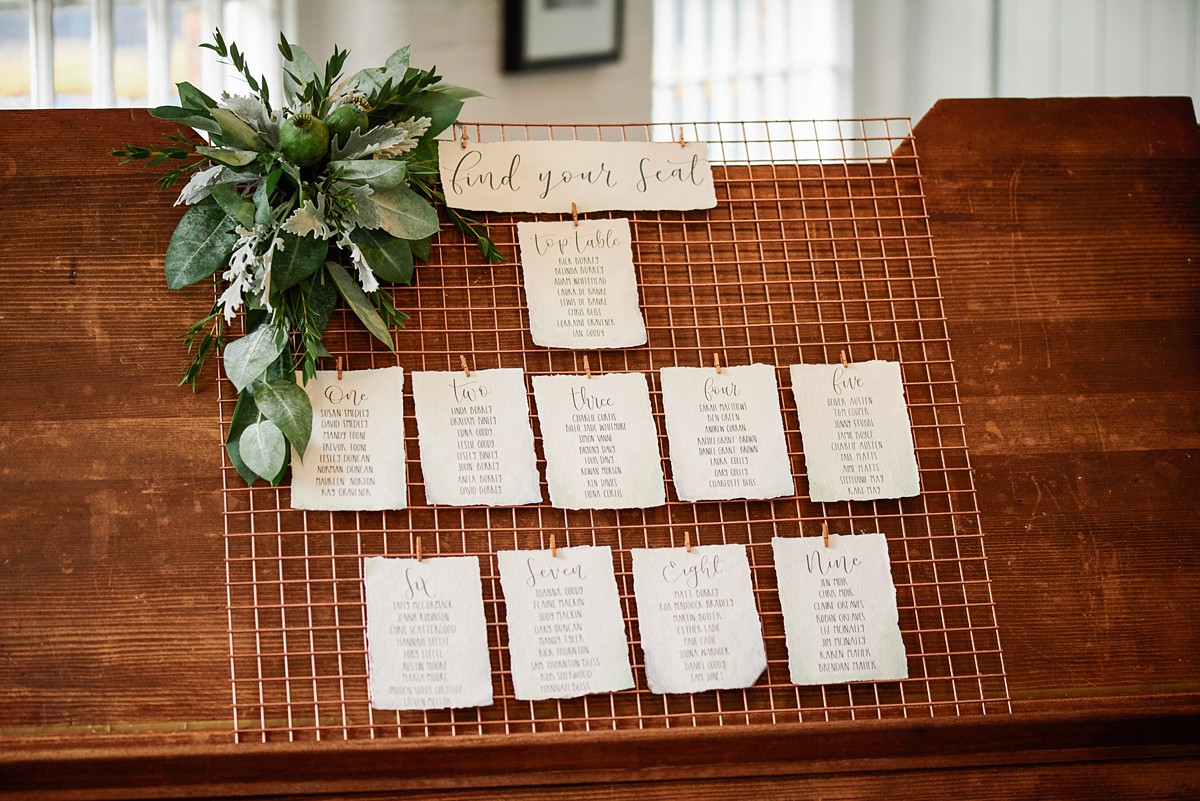 The couple's foliage inspiration was picked up in the gorgeous wedding stationery which Lovely J Lettering designed for them.
"We had seen her work at our mutual friend's wedding and instantly fell in love with her style. Sarah went above and beyond for us. Her mum, a watercolour artist, created the leafy design to which Sarah added her wonderful writing style. Everything was printed on tactile rag paper, the table plans were dip-dyed in pale green and grey hues and she even created a blackboard sign to display the cake flavours."
Laura and Lewis have some really special memories to share from their day.
"One thing I really wasn't prepared for is the feeling you get when you look around a room and see nobody but your most favourite people in the world. At your own wedding, everywhere you turn there is someone who is woven into the fabric of your life and it is just so lovely."
"We had a figure in mind at the outset but as planning progressed we decided that, within reason, we would try to include everything we wanted and not compromise on anything. We wanted to look and feel our best and we also wanted our guests to have a great day; to make sure they were well fed, watered and entertained. I think we probably ended up spending about 40% more than we originally envisaged but we wouldn't change a thing."
The food was provided by Jenkinsons, the exclusive caterers at the venue, and the immaculate drip cake was by Hello Cake.
"We wanted something that looked great but not at the expense of taste – deliciousness was key! Emma at Hello Cake was another supplier I'd seen featured at The West Mill and her work really stood out."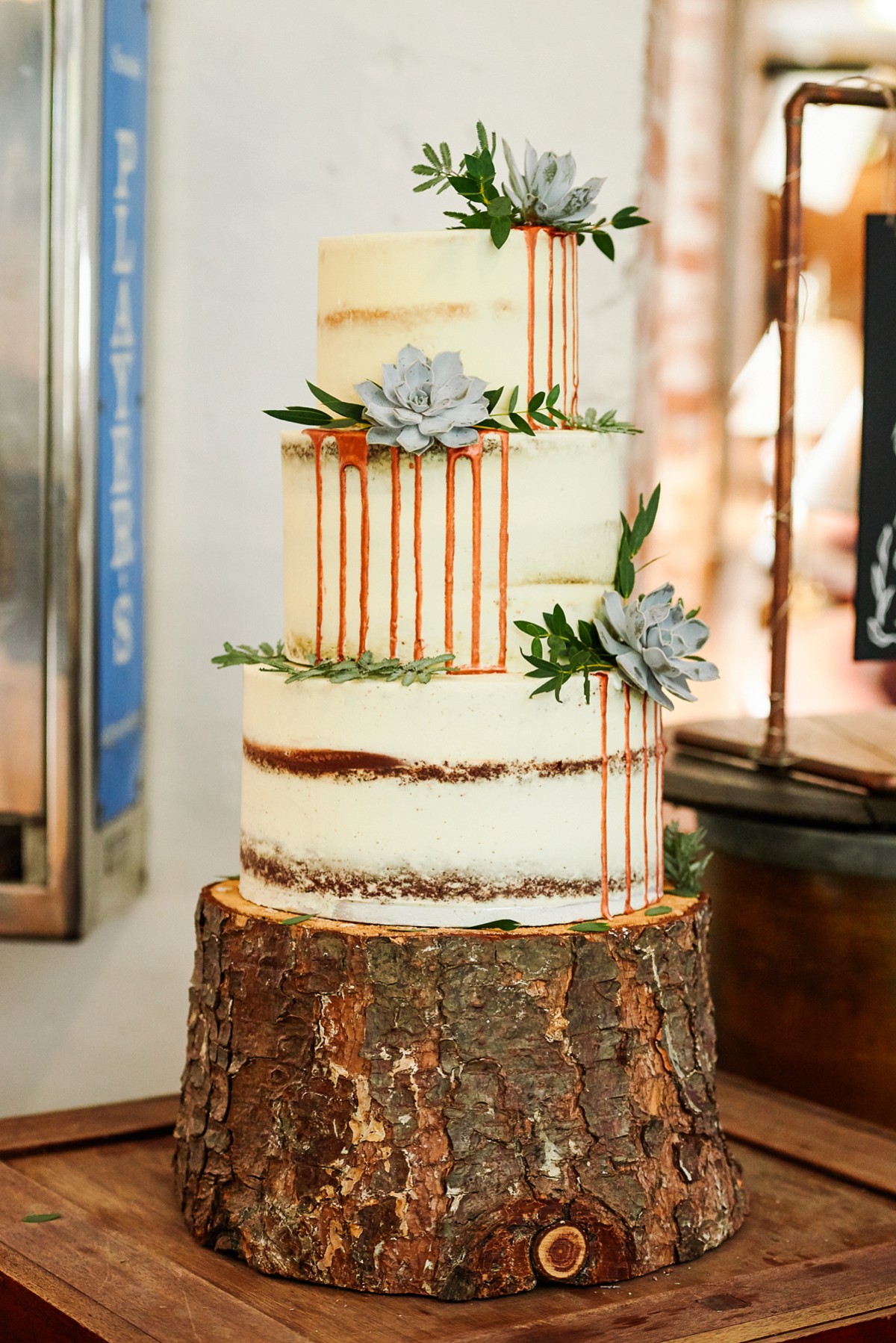 "Emma provided us with a box of different cake portions and we settled on chocolate orange, sticky toffee pudding and cherry Bakewell – all of which went down a storm. I knew I really wanted delicious buttercream so we went for a semi-naked cake with metallic copper drips and some placements succulents supplied by Nadia." 
"Emma also made a vegan cake and a vegan and gluten free cake for us which was really special as we didn't want anyone to miss out."
Later in the evening, Oli Austen & The Miracle Piglets arrived to play live music for the evening party. The couple kicked things off with a first dance to 'Wedding Song' by Band of Horses.
"It's just a beautiful song; not really a cheesy outpouring of love but more of a commitment to the ups and downs of life together, being more than the sum of your parts and a 'love conquers all' sensibility."
Words of Wedded Wisdom
"Be prepared for people to be totally useless with RSVPing and try not to take it personally." 
"Don't freak out if you struggle to see everything coming together; stay true to your own tastes and have faith in your judgement. We planned a child-free wedding and expected some backlash but people by and large were respectful of our decision and, in some cases, very grateful for a night off."
"Enjoy the process. Try not to get bogged down in the tiny details that realistically only you care about in the planning stages, but even you won't notice on the day."
"If you are able to, take some time off in the days leading up to the wedding, spend time with the people you love and bask in the deliciousness of it all. You won't realise how much brain power is consumed with planning, even when you're not doing it consciously, until the days after."
"Have a little break between the wedding and honeymoon if possible."
"Unless you have a bottomless pit of money, prioritise the things that matter to you as a couple."
"On the day, try to spend a few grateful moments every now and then with your new husband or wife to take it all in. The cliches are true – the day disappears in the blink of an eye, so take a little time to be mindful."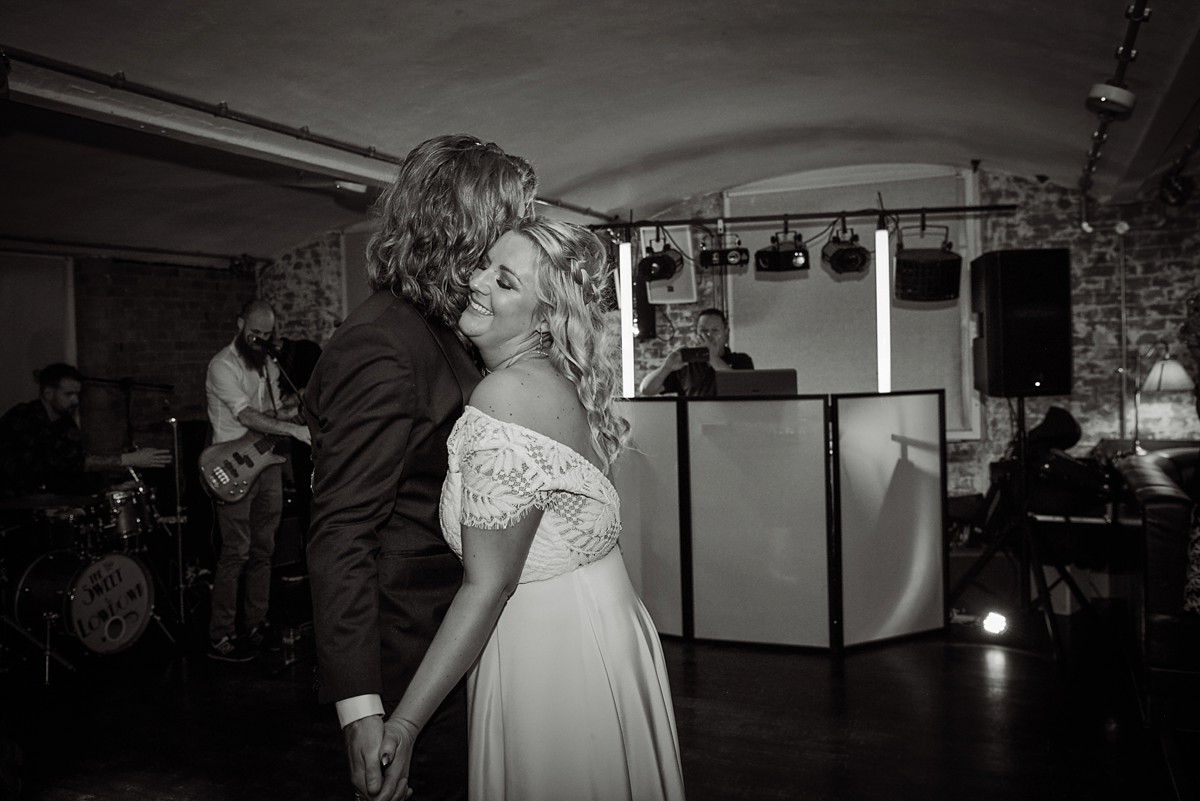 Sending so many thanks to the new Mr and Mrs de Banke for sharing your celebration with us, and thank you also to Sally-Rose for your wonderful photographs.
Wishing you all a happy and restful Easter.
Ele xx