Happy Good Friday and Bank Holiday Weekend lovely ones!  I really hope this article finds you well and rested and looking forward to a little down time over the next couple of days?
As I write this post, I'm deep in the middle of some incredible projects for Love My Dress that will evolve this beloved business of ours into a new creative arena and position us well for the tidal wave of change we're being swept along within the social media and digital marketing scene. We're in a huge transitional stage currently, pivoting away from the 'old' way of blogging and social media and into a new way. Believe me when I say, it's exciting, thrilling and scary all at once!
This new way will see us working more directly with our partner brands to create the kind of content we want to publish online. I could talk about this forever and will find time to update you on everything that is happening very soon. Today however, I wanted to celebrate one of the businesses that has played a significant part in inspiring me to evolve my business and Love My Dress in this way.
Regular's to Love My Dress may already be familiar with the name ''Sanyukta Shrestha' – an extraordinary woman who has, from the very off, set out to make a positive impact in the world through the design of ethical wedding dresses.  If you're keen to learn more, take a look through these past articles. Sanyukta feels deeply passionate about encouraging brides to 'go ethical' and in a hugely generous effort to do this, she is giving away 20 vouchers worth £500 to put towards a beautiful wedding dress from her London boutique.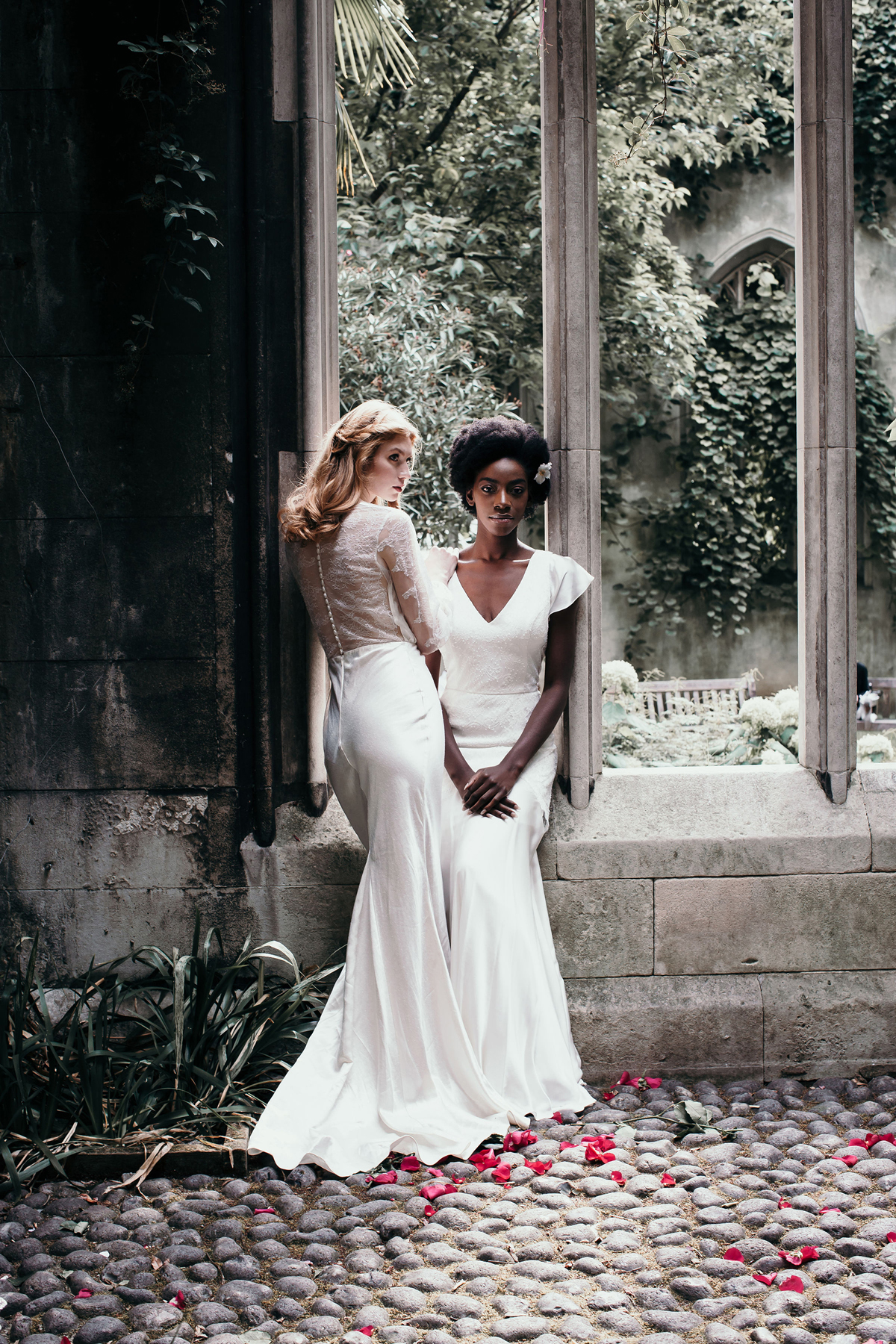 Since launching her first eco-friendly bridal collection back in 2011, Sanyukta has pioneered the concept of sustainable luxury.  Sanyukta's commitment to sustainable fashion comes from a place of true compassion. Having been born in Nepal, Sanyukta has strong emotional links to this beautiful part of the world. She believes that Fairtrade Fashion empowers women and keeps traditional craftsmanship alive, and thus, she is devoted to supporting artisan communities in Nepal with handmake all her dress fabrics by hand, with love, care and using 100% natural, organic and skin-soothing fabrics.
My decision to use these natural fibres in the collection underlines my commitment to environment and development. Through blending sustainability with my ethical beliefs, I also try to create opportunities for village women in Nepal, by merging and turning their traditional skills into delicate fabrics and designs. – Sanyukta Shrestha
We need to talk for a moment about those fabrics;  when I last visited Sanyukta's London boutique, she showed me a gown created from milk silk and it was breathtakingly beautiful; the softest-to-touch fabric ever and pretty much blew my  mind! Sanyukta also creates gowns using organic bamboo silk. The quality and craftsmanship of her wedding dresses is outstanding.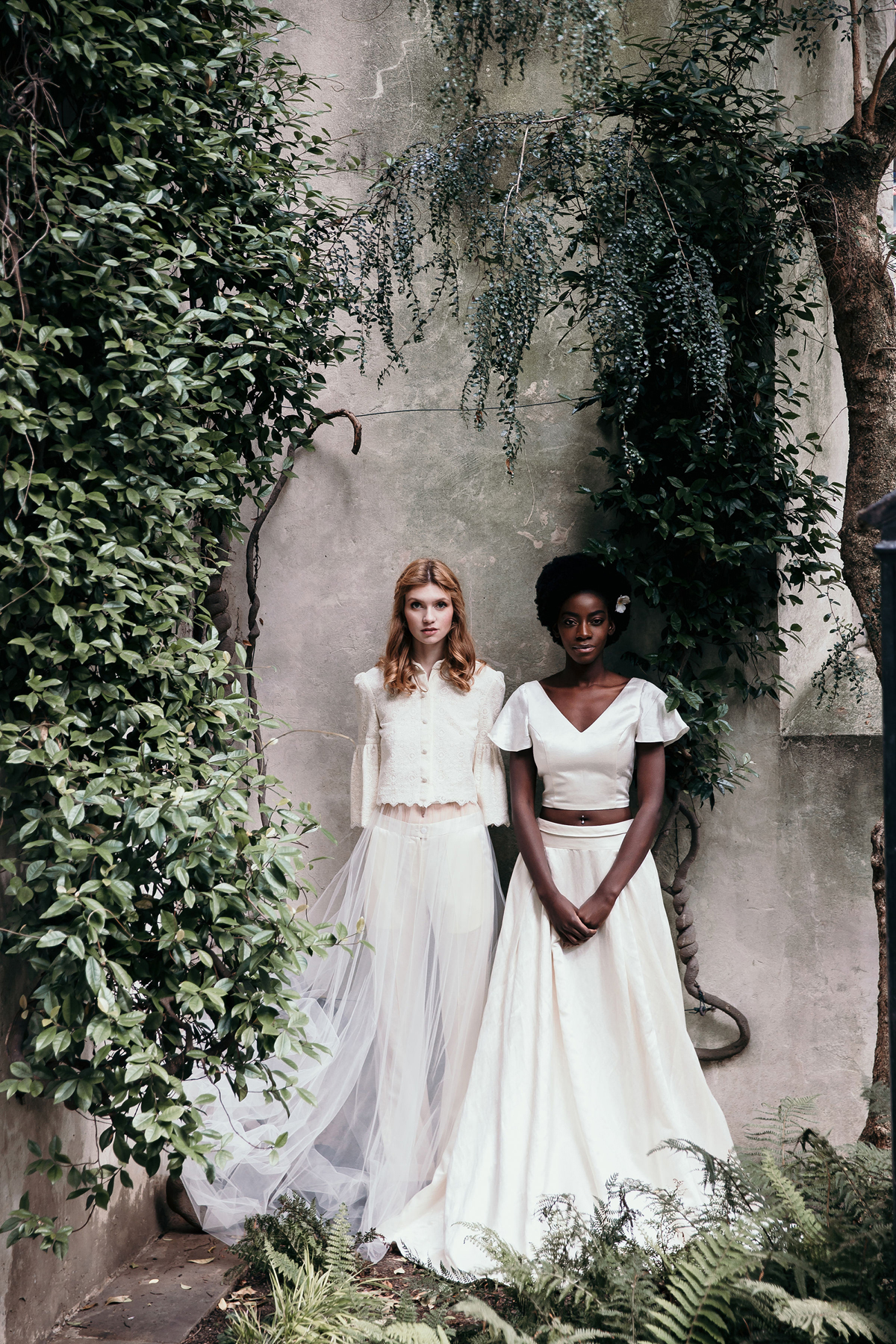 That Sanyukta is exploring innovative fashion and garment production techniques like this that support Fairtrade producers around the world, and has been for several years, distinguishes her from a sea of other designers now hopping on the sustainability bandwaggon.
Win a £500 towards an ethical wedding dress
To celebrate the move towards more sustainable luxury bridal fashion, Sanyukta Shrestha is giving away 20 gift vouchers worth £500 to brides who share her passion for eco-friendly choices when it comes to their wedding day.
We want to see more and a more brides celebrating their big day with sustainability and support those who are already living the ethical fashion dream for the eco-friendly lifestyle. – Sanyukta Shrestha
If you are a bride (or if you know one) who believes in choosing quality over quantity, who follows their heart rather than trends, who loves luxury with a conscience not cruelty, who respects originality in design rather than mass fashion, then this is a wonderful opportunity for you to join the ethical bride movement and be a part of something special.
I encourage all of you yet to find your wedding dress to enter this competition. Not only will you get to save some precious p0unds, and get to contribute to Sanyukta's #ethicalbridalmovement, you'll also receive the very special, warm and welcoming Sanyukta Shrestha boutique experience.  I envy you! What a wonderful treat this would be.
To enter this promotion, please visit this post Instagram and follow the super simple instructions in the caption. Terms and conditions of entry can be found at the end of this article.
If you want to know what the Sanyukta Shrestha experience is like, please read the words below from real brides…

"I was aware of eco-friendly clothing but had never invested in it," says Lucy. "I knew I didn't want the typical fussy wedding dress that felt heavy and artificial but I didn't know it was possible to find an eco bridal gown until I met Sanyukta at a wedding fair. Now I'm proud to tell everyone that I went against the norm and bought a dress that was ethically made in Nepal."
"From the moment I stepped into the boutique, the team were so helpful and made the whole experience memorable," says Rusa. "I love the fact that the dresses are eco-friendly and hand-woven. I cannot emphasise enough how much I support the Fairtrade and ethical aspect of Sanyukta's dresses. Knowing that these fabrics have been sourced ethically to support women's employment in Nepal will mean I shall walk down the aisle with great pride on my wedding day as a Sanyukta Shrestha bride."
To find out more about Sanyukta Shrestha wedding gowns, do take a look at the website.
Annabel x
Terms & Conditions
This competition will run from Friday 19th April through to midnight on Friday 3rd May.
Entry is restricted to persons aged 18 or older and resident in the UK or Republic of Ireland
The organisers reserve the right to verify the eligibility to enter.
The winner will be chosen at random and notified of their prize via Direct Message on Instagram.
The winner must redeem their prize in person, in-store.
If the winner cannot be contacted within 30 days, an alternative winner may be chosen.
All prizes are non- exchangeable, non-transferable and there is no cash alternative.
The prize will be in the form of a £500 voucher which can be used against the purchase of a single wedding gown over the value of £1800 from Behuli Boutique, London, SW6 1QR.
Alterations etc will be charged separately and are not included.
The winner must redeem their prize within six months of the date from which they were notified that they were the winner.
Prior to receipt of the voucher, the winner must agree to provide the following information to Behuli boutique. Name, address, wedding date, telephone number and email address. This information will be held confidentially and not shared with any third parties. Should the winner refuse to provide this information then the prize will not be redeemable and the Behuli
Boutique has the right to select a new winner.
The winner agrees to provide Your Behuli Boutique with high res picture of them on their wedding day in their chosen gown within 3 months of the wedding. The winner agrees that the Behuli Boutique can, at their discretion, use this picture and the winners name on a 'winners page' on Social media promoting #ethicalbridemovement