I love an industrial themed wedding and today's special day is complimented and softened beautifully with green foliage and one happy looking bride and groom.
The photography really captures the essence of the day and it's clear to see why today's couple chose Rosie Kelly as their photographer. So without further ado, let's meet the stylish duo shall we? Hollie and Adam were wed on 31st August 2018 at the exclusive Grade I listed industrial-style wedding venue The West Mill in Darley Abbey, Derbyshire.
Images by Rosie Kelly Photography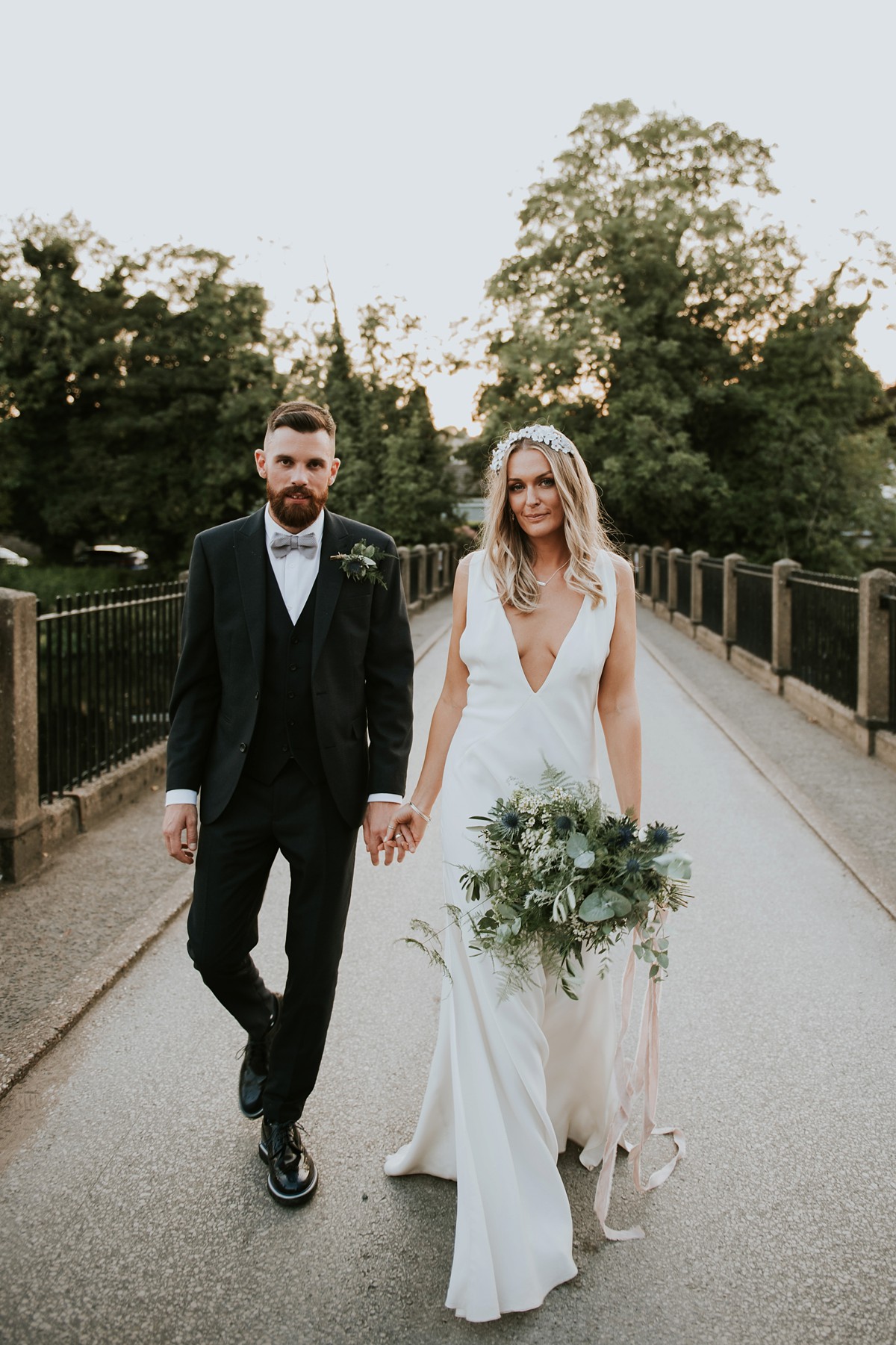 "When it came to finding my dress I found the whole thing quite stressful! After trying on a few of the more traditional style wedding dresses, I knew that they just weren't right for me. I didn't feel myself in them and knew I wanted something a bit more relaxed and different."
"After endless searching on Instagram, I finally came across L'eto Bridal. Her dresses were just what I was looking for and I fell in love with one in particular; a sheer silk a-line dress with embroidered trailing vines that came with a silk slip underneath. The only problem was that the designer is based in Australia with no UK stockists which made me nervous as I couldn't see and try it on before I purchased it."
"I found my shoes in a sale at Net A Porter and they're by Sam Edelman. I have always been a lover of a platform heel (I can't walk in anything else!) and I'm a big fan of velvet and pink. The shoes ticked all the boxes and are something I know I'll enjoy wearing again."
"I'm very lucky in that my amazing hairdresser is also my friend Evie. It was great to have someone so close to us all to be part of the wedding morning. Evie worked so hard doing 8 hairstyles on the morning of the wedding and was on hand all day sorting us all out – I'm so thankful for her."
"Our make up was done by Helen Rose Drake. As soon as I spoke to Helen, we realised we both had the exact same bridal style in mind; fresh skin and a glow which she delivered on. She really felt like a friend who was part of the wedding party and it was a pleasure to have her there."
I loved this girly part of the day, getting ready with my family and friends whilst sipping Prosecco. It was just the thing I needed to calm my nerves."
"My amazing hair piece was by Luna Bea. It was the first thing I purchased for the wedding! Designer Lou Simmond's work is all hand-made and my particular piece was flowers made from leather finished off with rose gold centres."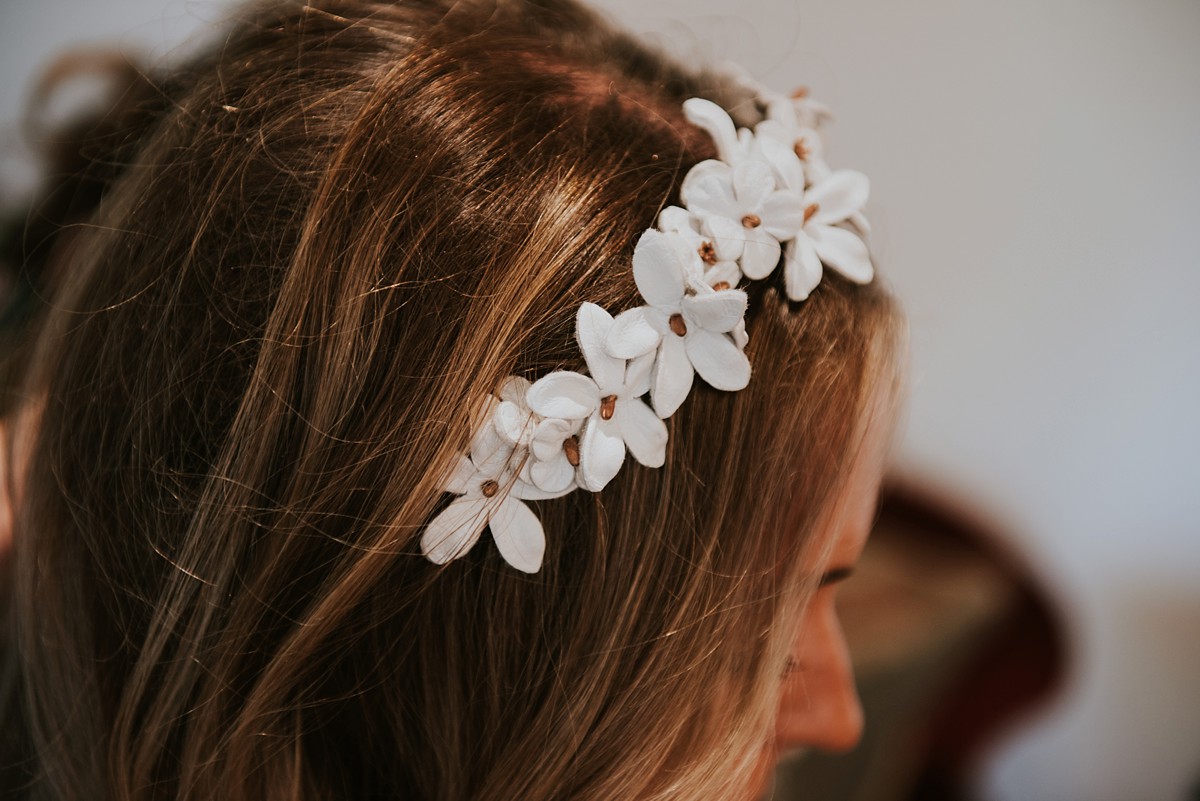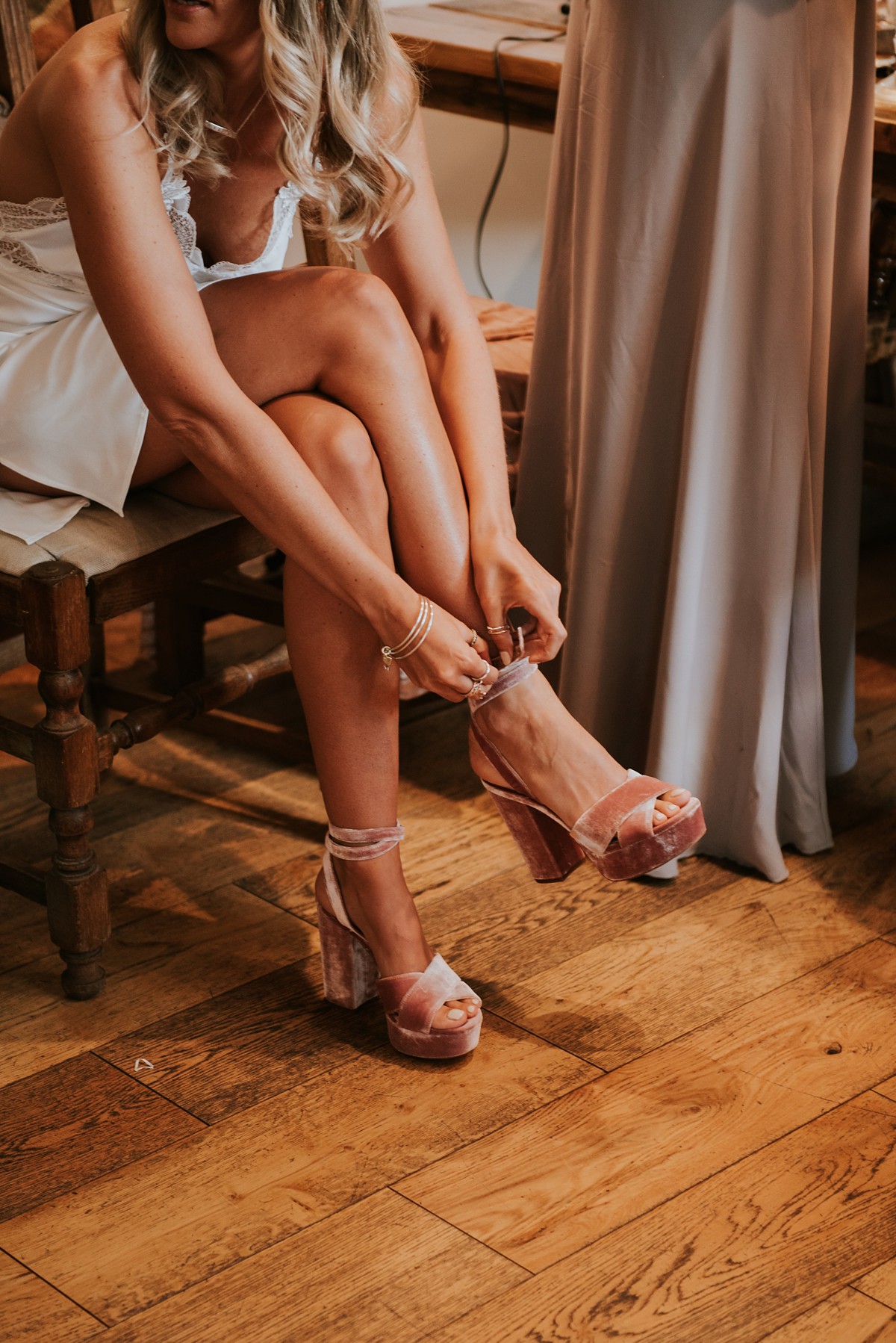 "After a few months of more searching and still finding myself being drawn back to this dress, I decided to take the plunge and go for it. One of my close friends came round and took my measurements and we placed the order with our fingers crossed."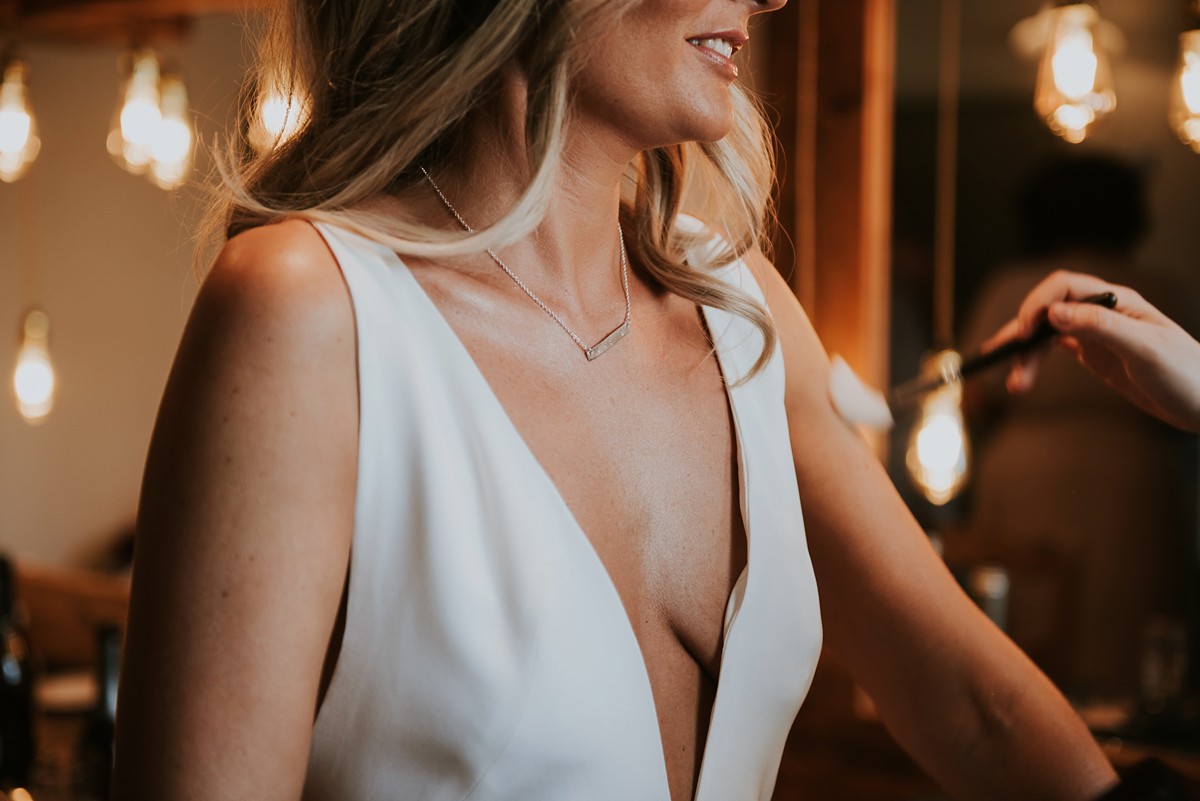 "Luckily when the dress came it was beautiful and just what I wanted but I did feel that I wanted something a little more fitted and sexy for the slip dress underneath which is where my mum stepped in.
"She surprised me with the Michael Lo Sordo Alexander dress from Net- A-Porter. The two dresses combined together were perfect! I actually ended up removing the top layer dress for the evening as the Alexander dress had that party feel and was perfect to dance the night away in."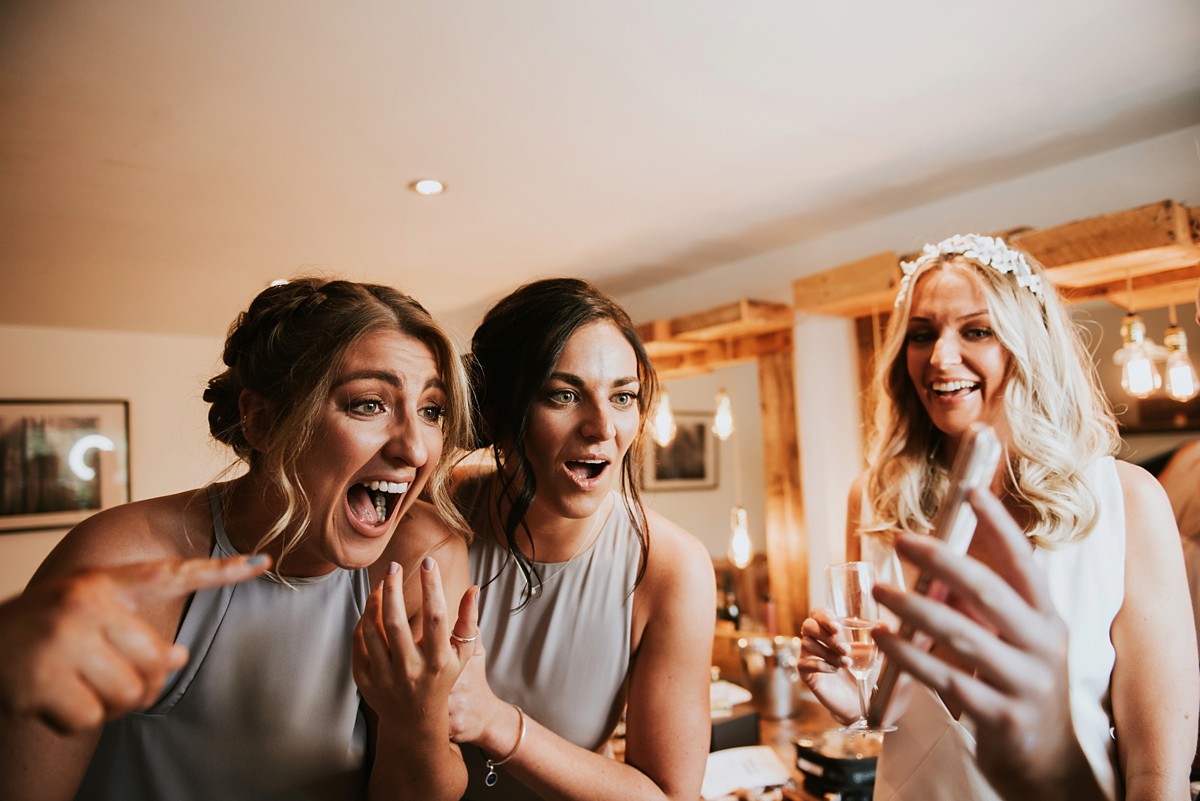 "Adam and I are from the same town but actually met for the first time whilst both on holiday in Ibiza. After a few years of being in the same friendship circles, we decided to give things a go and as they say, the rest is history."
"Four years later on a holiday to Spain, Adam got down on one knee and asked me to marry him. We had a two-year engagement whilst planning our perfect day."
"We didn't have a particular theme in mind for the day. I guess we just picked things we loved so that the day really felt like 'us'. We had lots of greenery, candles, gin bottles and nods towards our French bulldog Mabel, including her on the gin bar."
"We kept traditions important to us such as my dad walking me down the aisle and not seeing each other before the ceremony, but the rest of the day was a bit more informal. It was really important that our guests felt relaxed and had lots of fun helping us celebrate."
"The West Mill was the first and last venue we looked at. I had a vision of where we would get married and knew I loved the more industrial style venues. After a good trawl on the Internet, I came across this place and fell in love immediately."
"We booked to view the venue the following week and as soon as we walked in, I knew this would be the place we would get married."
"Lucie and Kim from Coco In The Country were our florists and the nicest duo you will ever meet! They completely understood my vision and as soon as I met them, I could tell I'd be impressed with their flowers on the day. They are so passionate about their work and it really shows."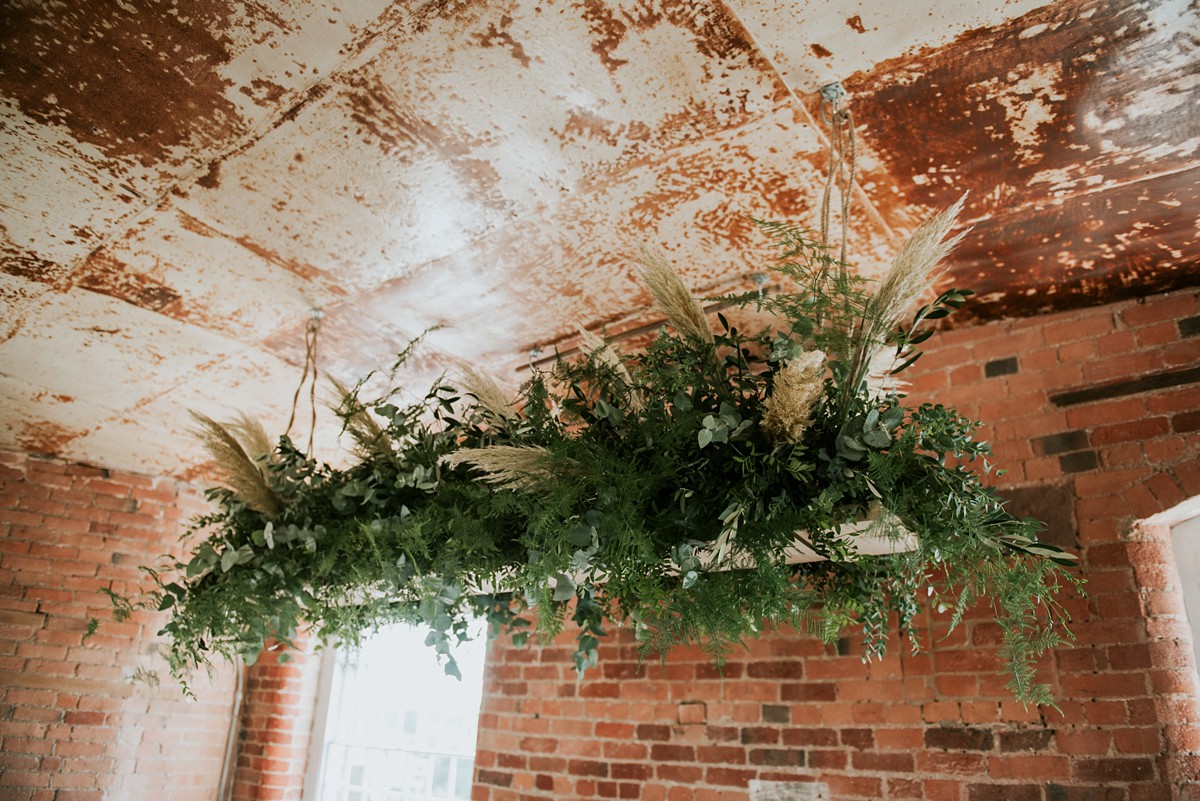 "I gave them a loose brief of wild greenery, pampas grass and more greenery and they got it spot on. I trusted they would do something magical and was brought to tears on the day when I saw it all come together. They really did make my floral dreams come true."
"Adam looked so handsome in his dark navy suit from Next, paired with a knitted grey bow tie. He added a silver Paul Smith watch which was a present from me to him on the wedding morning. He also treated himself to a pair of navy blue patent Paul Smith shoes."
They finished off his look perfectly, along with a pair of polka dot Happy Socks, which were also gifted to all of the groomsmen to wear. They all looked so stylish and smart."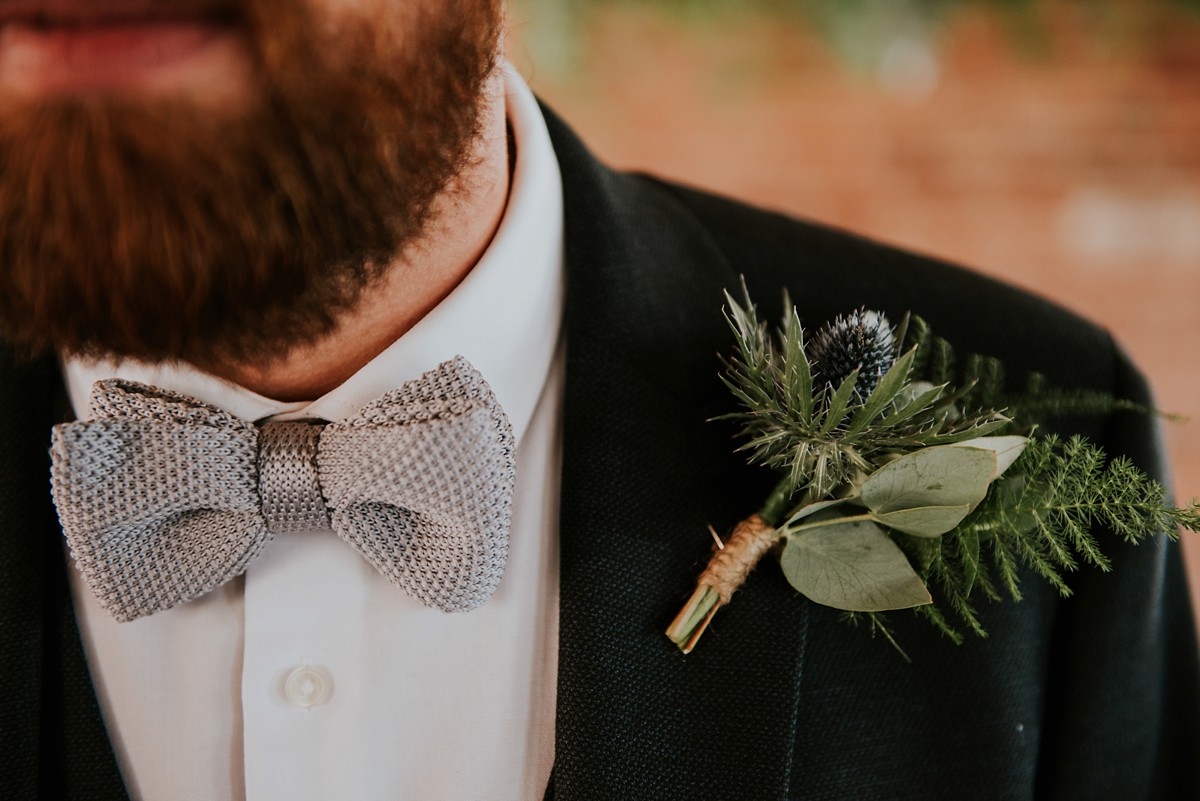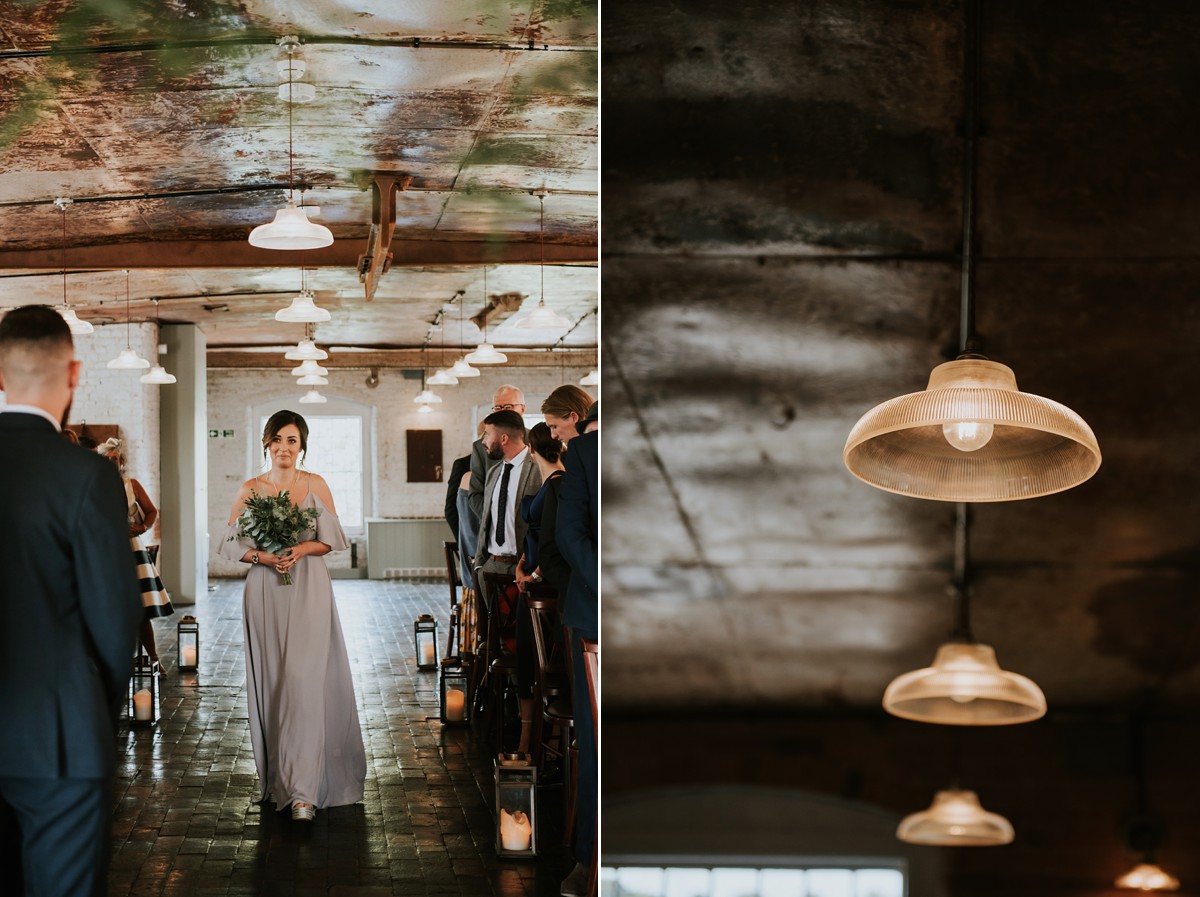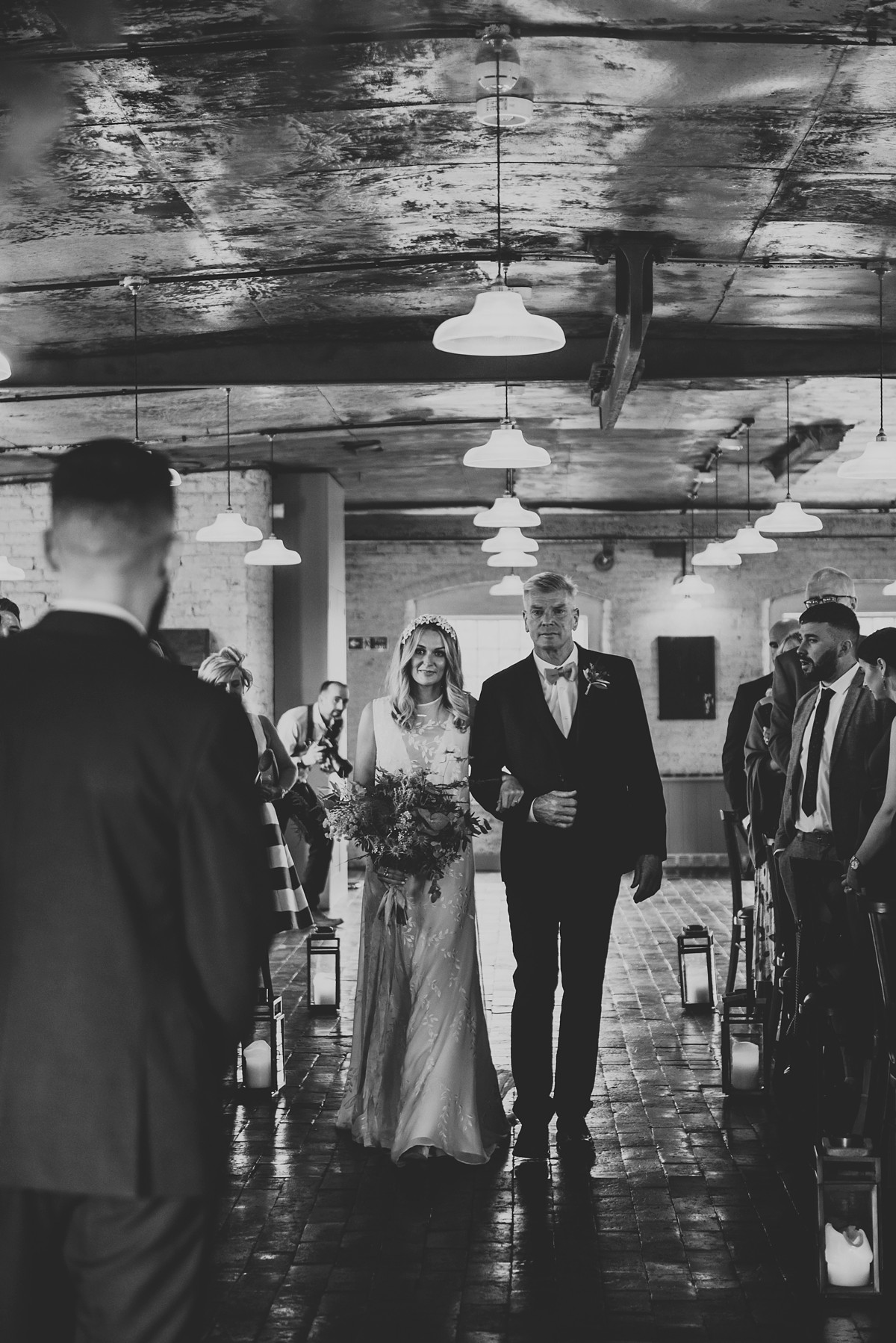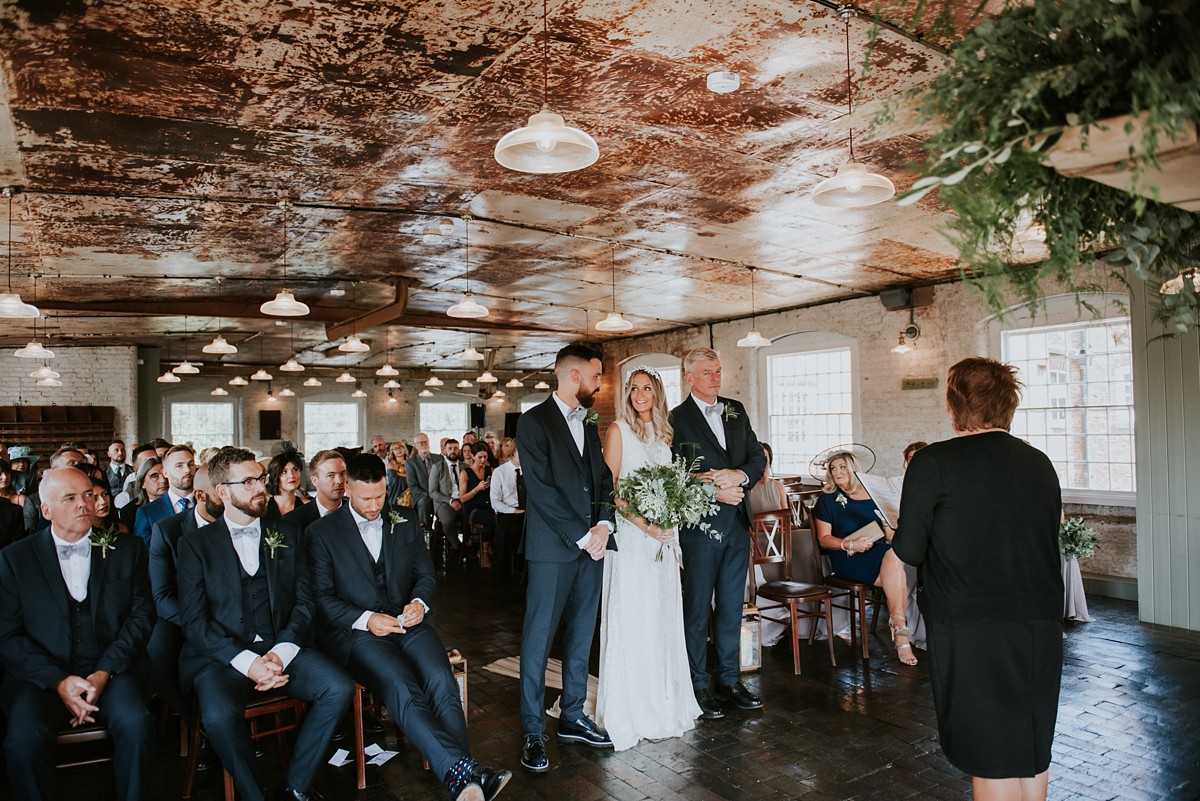 "My dad walked me down the aisle to Grow Old With Me by Tom Odell, played by Georgia on the piano. It was a very special moment between my dad and I that I'll never forget. Other songs played throughout the ceremony were Just Like Heaven by The Cure and You've Got The Love by Florence And The Machine."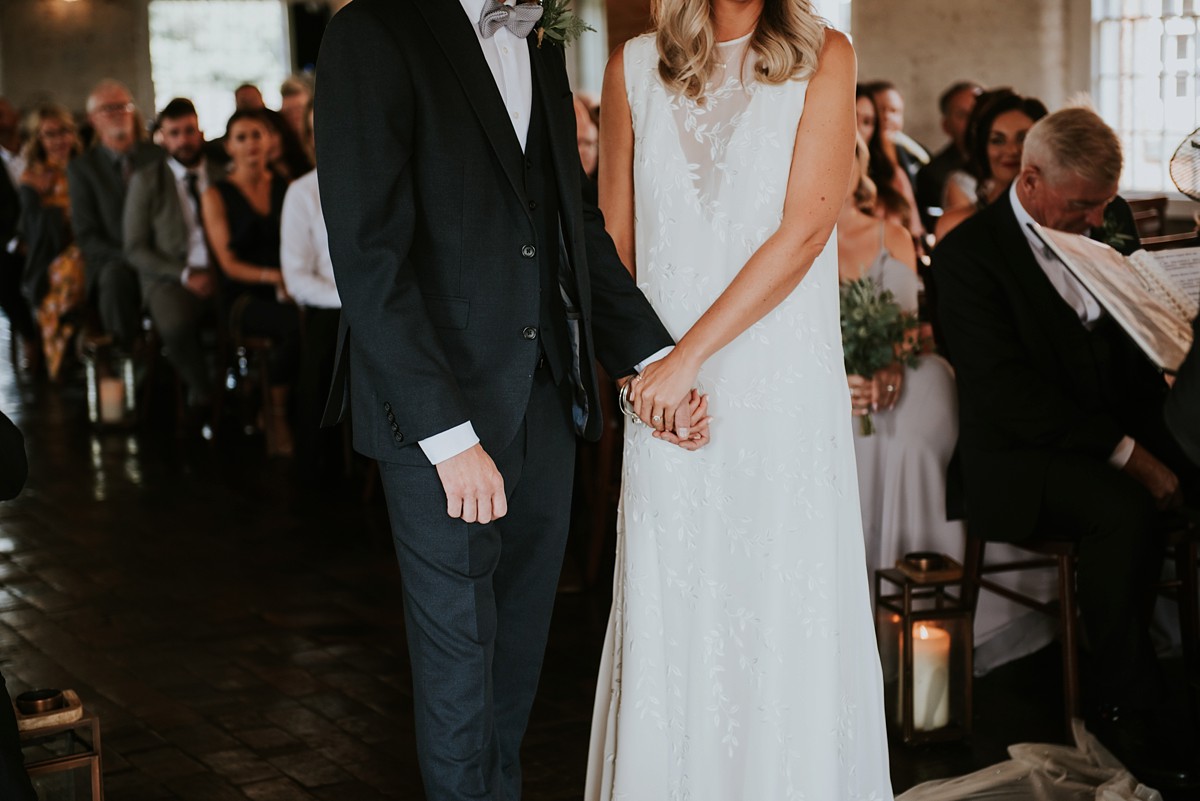 "My bridesmaid Sophie did a reading for us. It was quite last-minute when I asked her to do it but I'm so glad I did. It was a really emotional moment and was also one of my highlights from the day."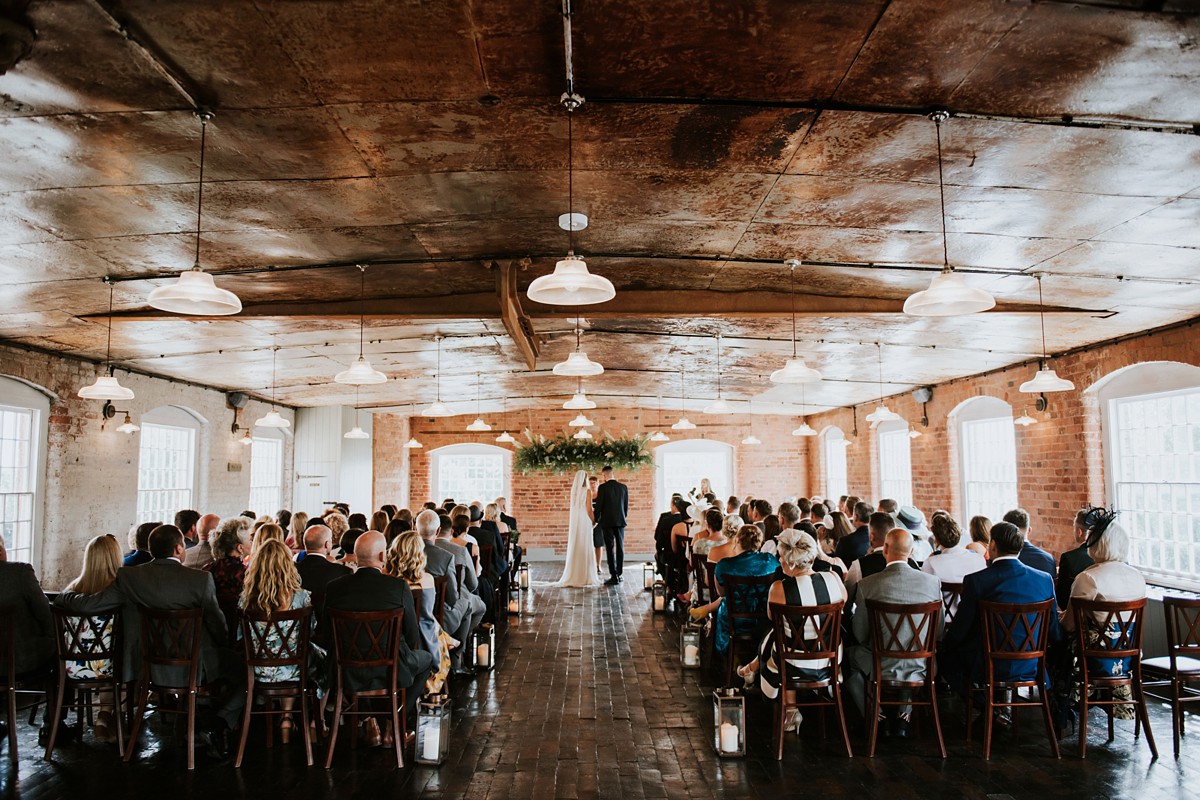 "My wedding ring was a rose gold V band with diamonds made to fit around my engagement ring, both of which made by LA-based jewellery designer Jessica Seaton. Each piece of hers is simply stunning! Adam's ring was a distressed chunky silver band from Daniella Draper."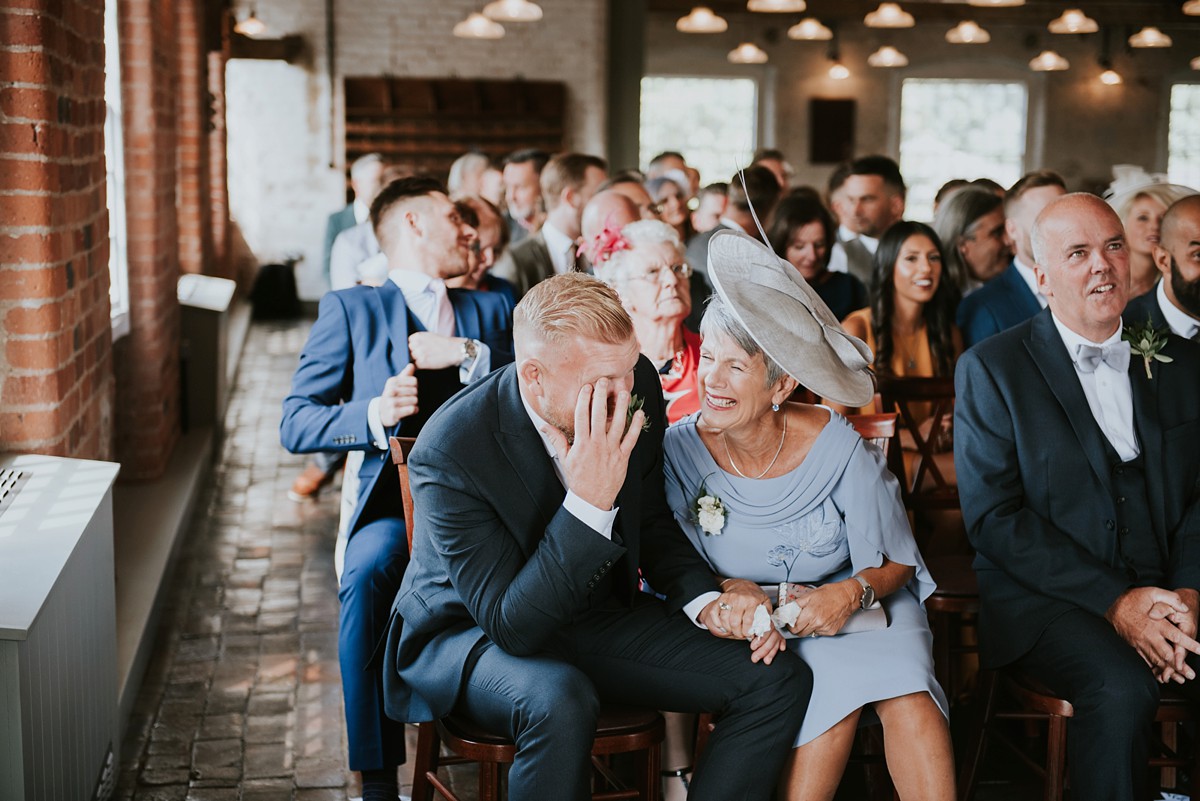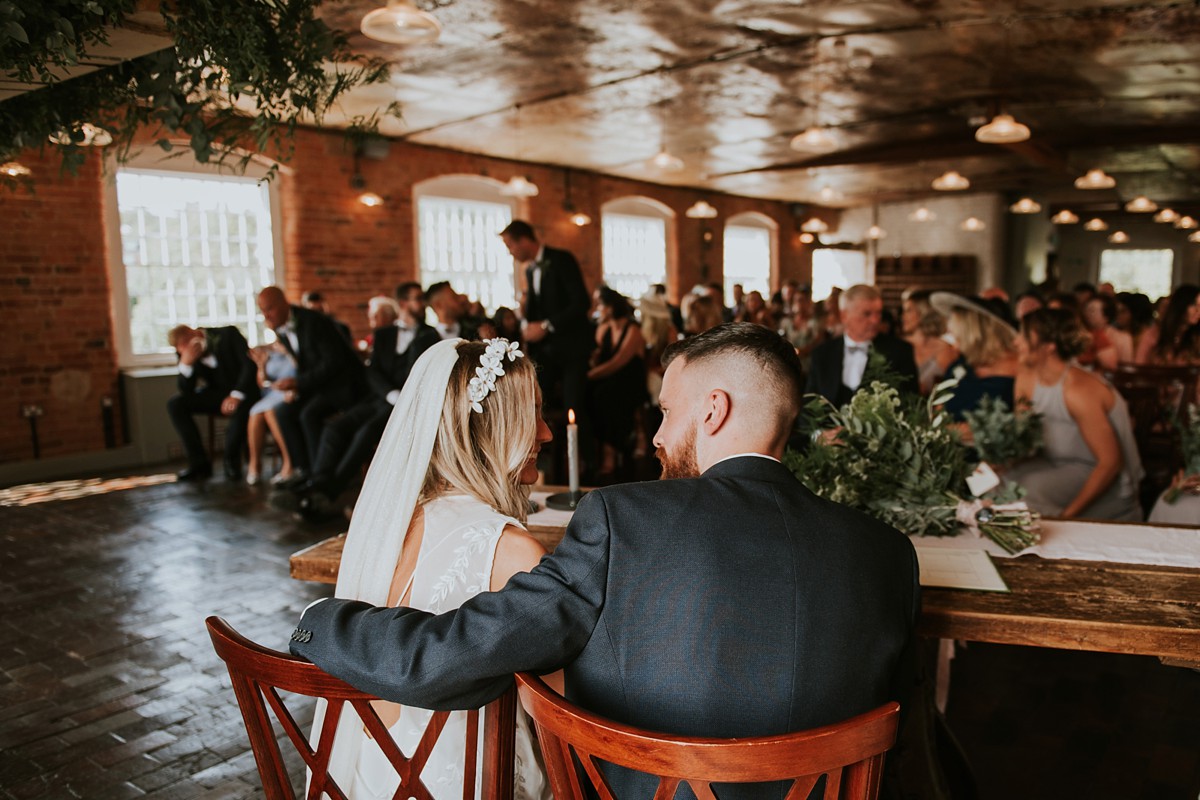 "We came across Georgia Thursting online and she ticked all the boxes for us as an entertainer. She played the piano during the ceremony and guitar during our drinks reception. We got so many comments on how talented a lady she is."
"I was in two minds about a veil as they felt a little too traditional for my dress, until I saw the gorgeous cosmos veil made by the lovely Ann-Marie Faulkner. It was made from a light sheer silk with a subtle gold glitter that when caught by the sunlight, gave off a beautiful shimmer."
"Ann was super helpful when I contacted her and she kindly custom-made the veil to be a longer length for me."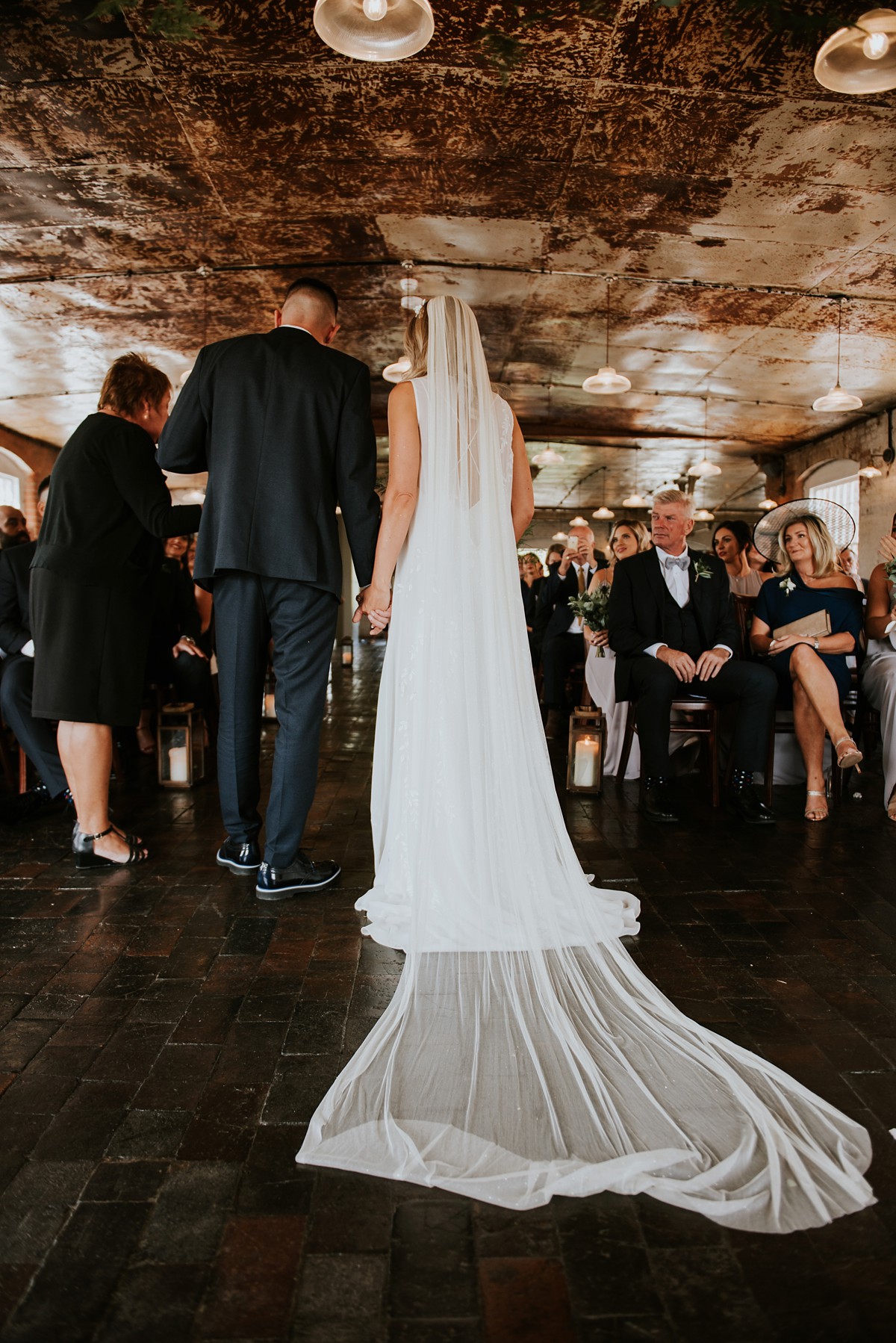 The bride and groom entrusted Midlands-based wedding photographer Rosie Kelly Photography to capture the day on camera and what a gorgeous job she did!
"Rosie was just a dream to work with! She was so incredible throughout the whole process and on the day. She is also just the sweetest person who completely put our nerves to rest. She and her partner Kye produce the most breathtaking work and I love how they captured those special and tender moments without us even being aware."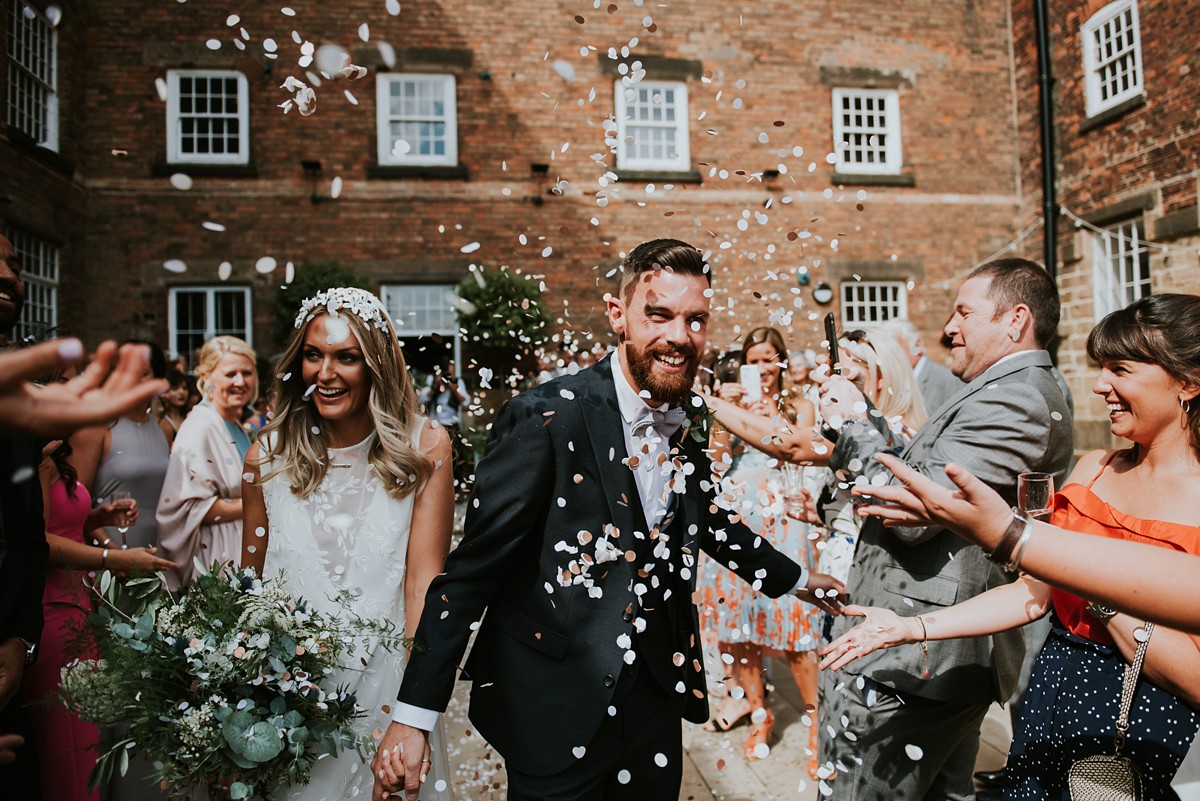 "I loved that they didn't take us off for hours for the photos, and really understood how important it was for us to be able to spend time with our friends and family and just enjoy the day."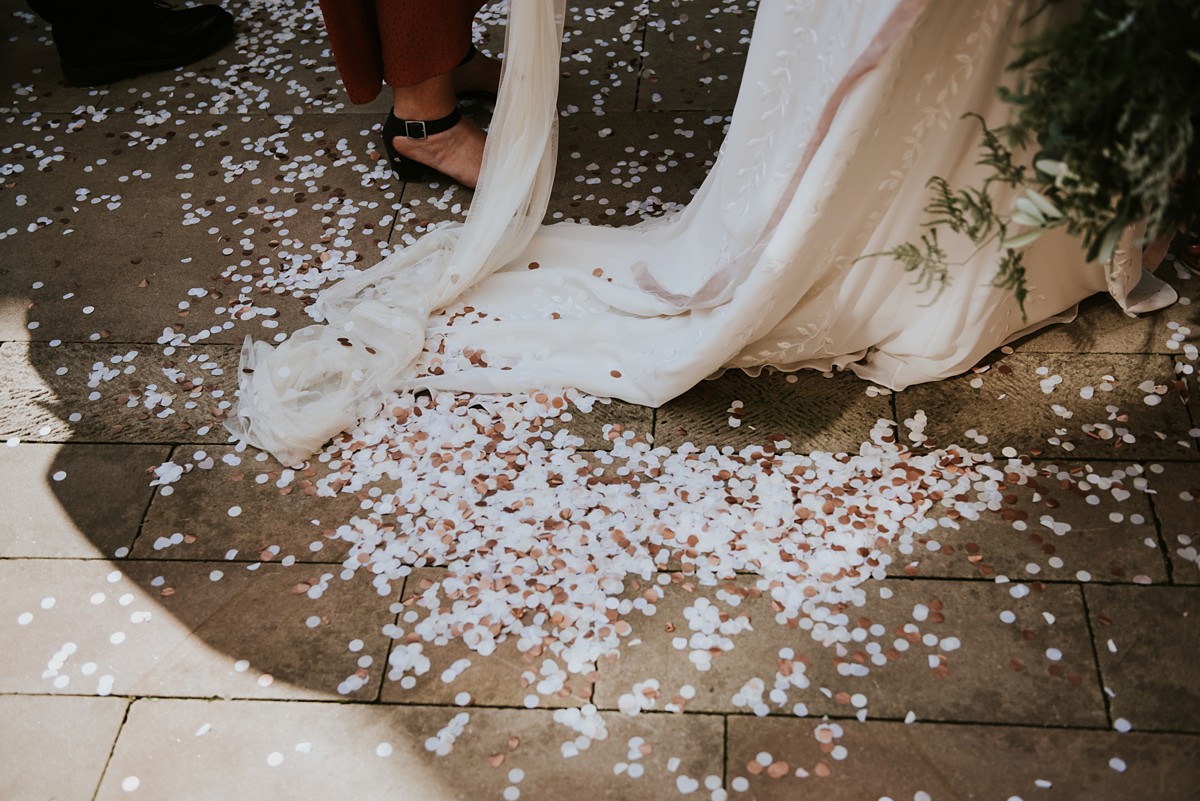 "Rosie advised us to have two 10-minute sessions, one at the end of the drinks reception and the other in the evening and I'm so pleased we took her advice. It was lovely to take that time out for us both to have a little breather and a chat together about the day. I feel extremely lucky that we have such amazing photographs to look back on that capture the day perfectly."
"My bridesmaids concrete coloured dresses were from the fantastic We Are Rewritten. The girls all have such different styles and personalities that I didn't want to put them all in the same dress that would potentially make them feel unlike themselves."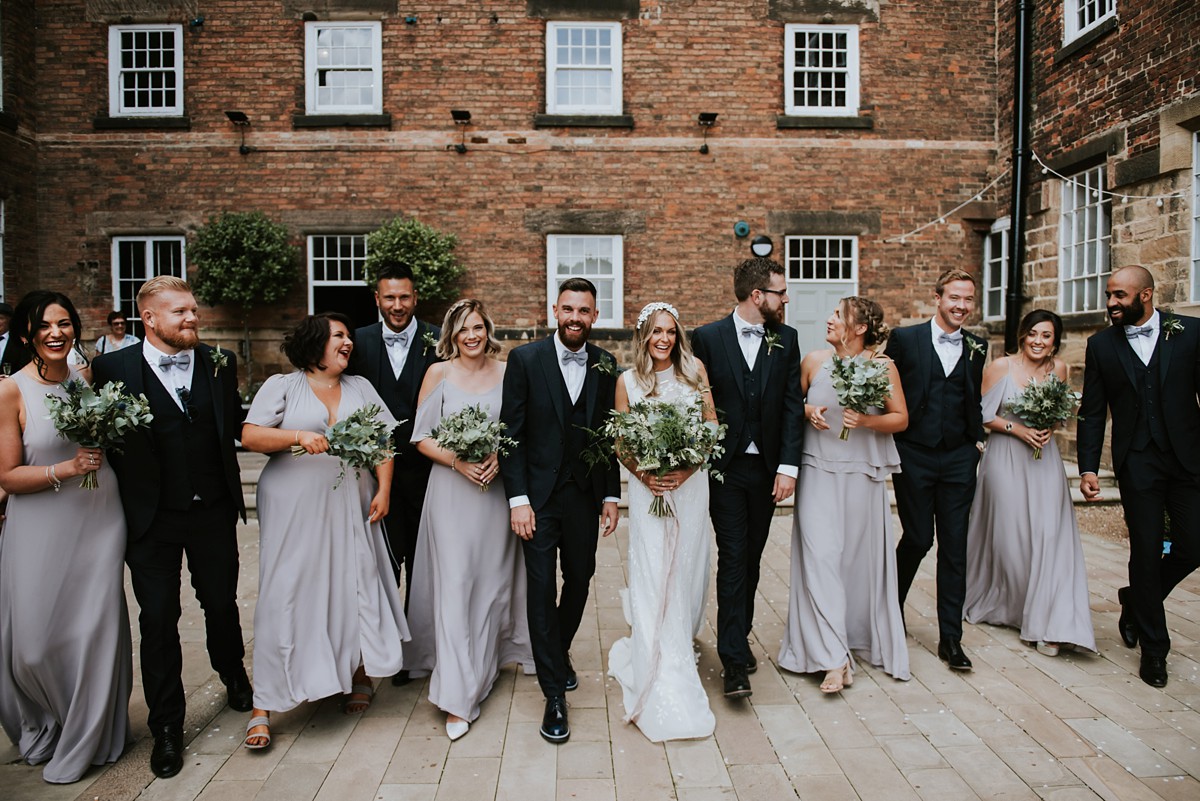 The collection offered a different dress in the same colour palette that would perfectly suit each of them. It really was as if they'd designed the collection with my bridesmaids shapes and styles in mind. All of my girls looked beautiful and the girls at Rewritten were amazing to deal with."
"The girls all picked their own shoes. I encouraged them to wear what they wanted so they all showed their individual styles. I bought them all a wildflower necklace from Estella Bartlett, which they wore and then mixed in their own jewellery."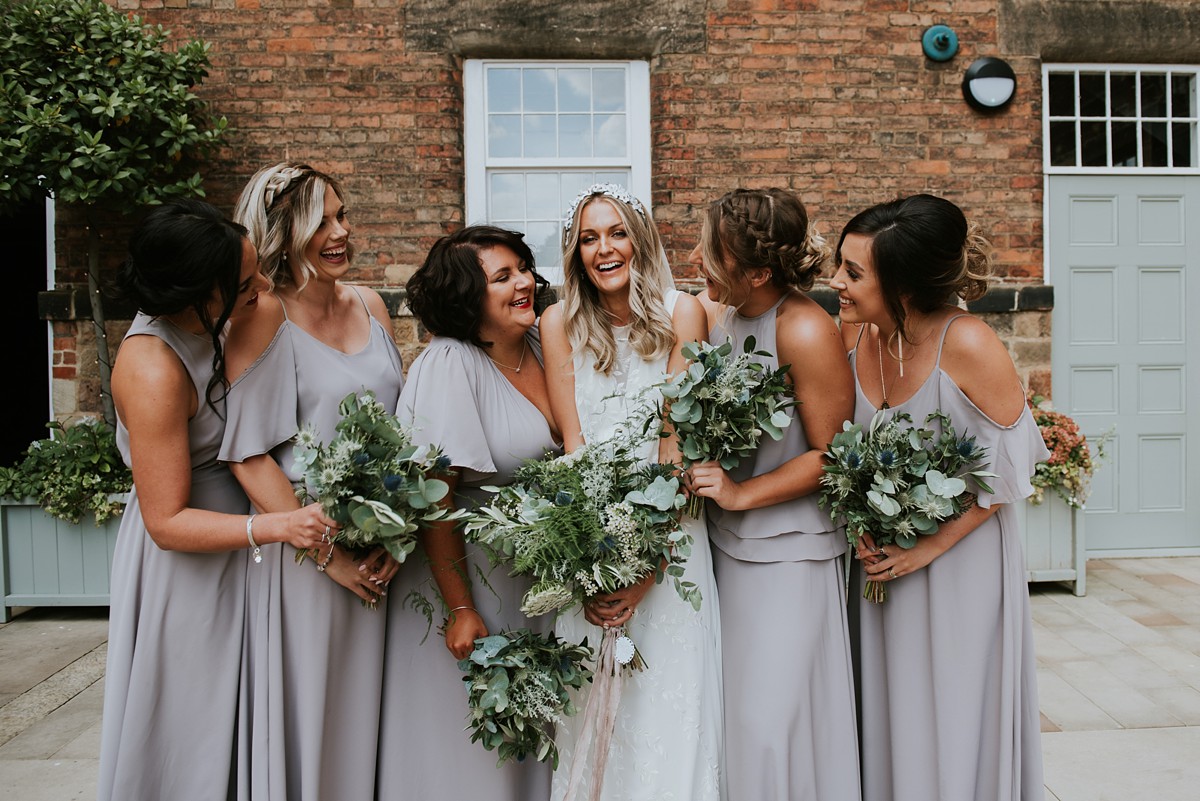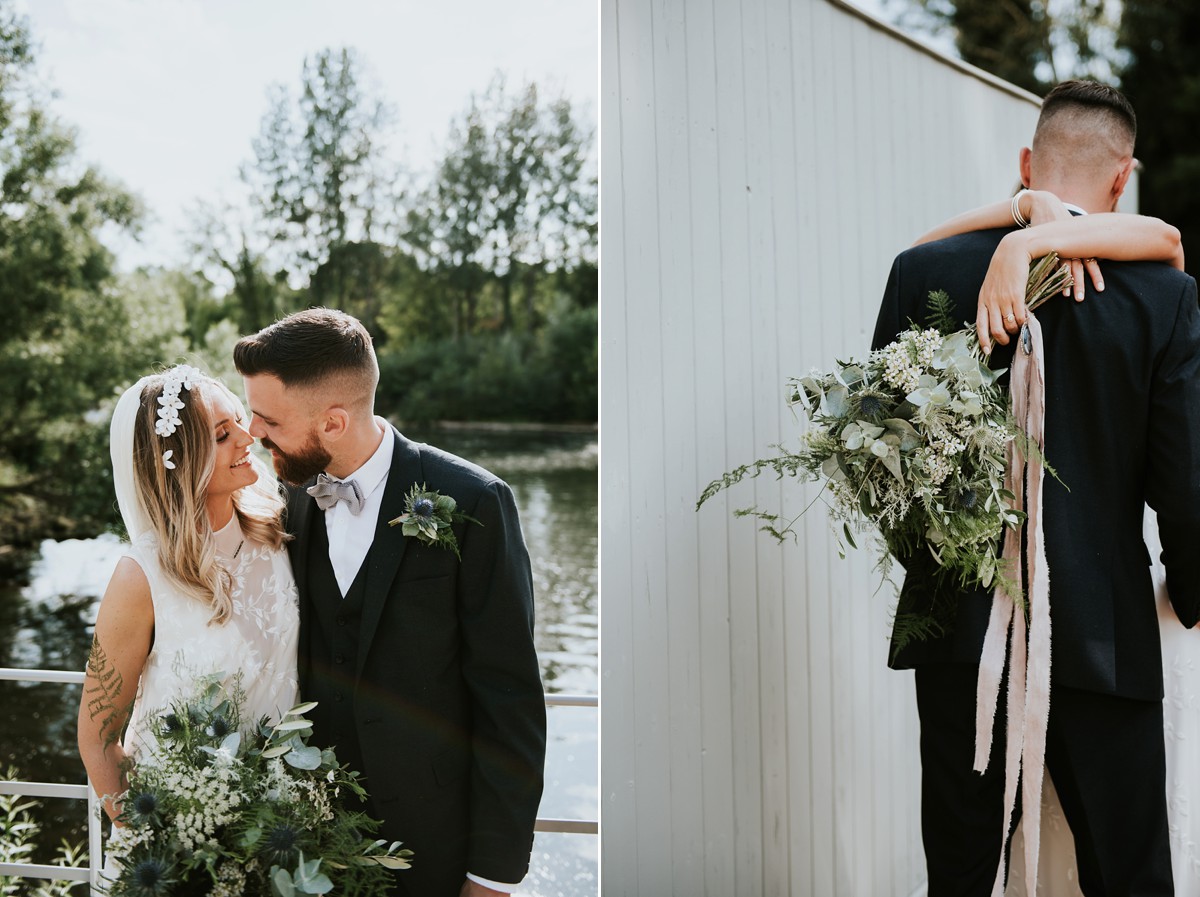 "My accessories included a silver bar necklace from Daniella Draper, a gift from Adam to open on the morning of the wedding. It was engraved with 'Mrs B' on one side and the wedding date on the other."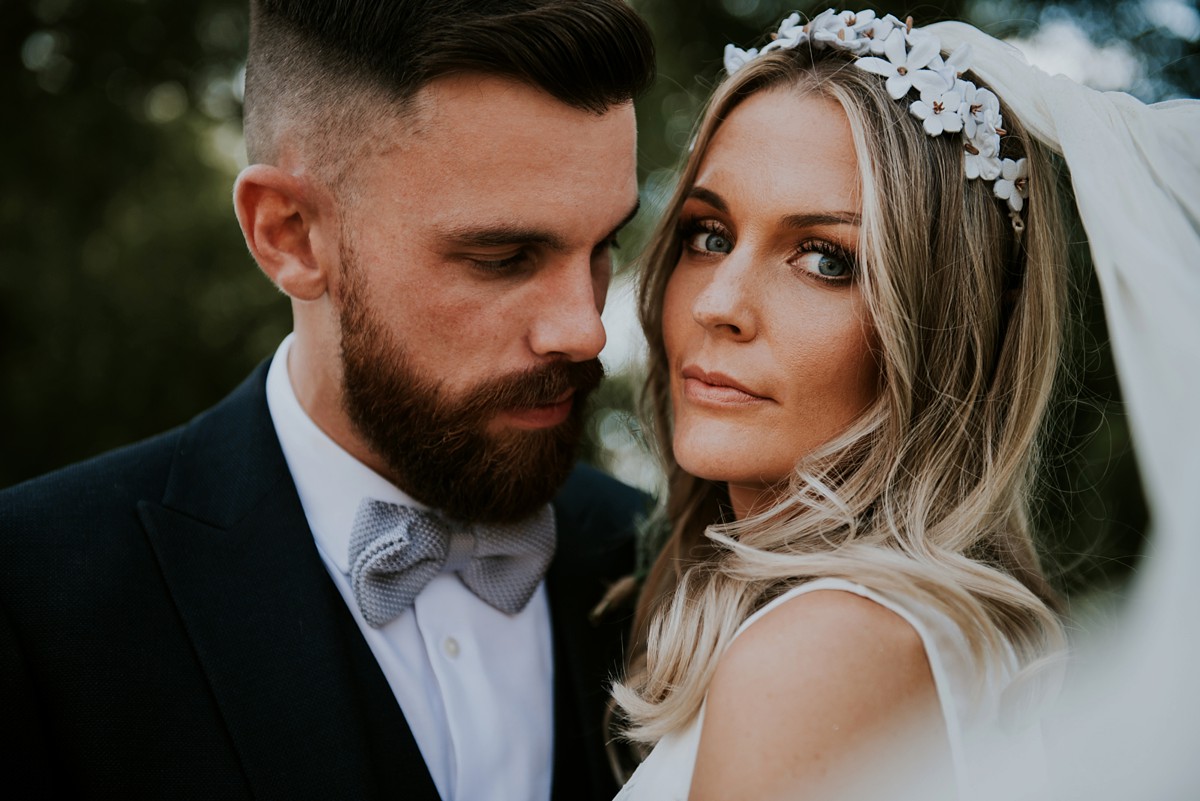 "My dad also bought me some lovely North Star charm hoop earrings, also from Daniella Draper to wear on the day. My something old and borrowed was my late grandma's engagement ring. I was surprised with a locket of my late granddad from one of my bridesmaids which I tied around my bouquet."
It really meant a lot to me that I had a way of them both being involved in and remembered on the day."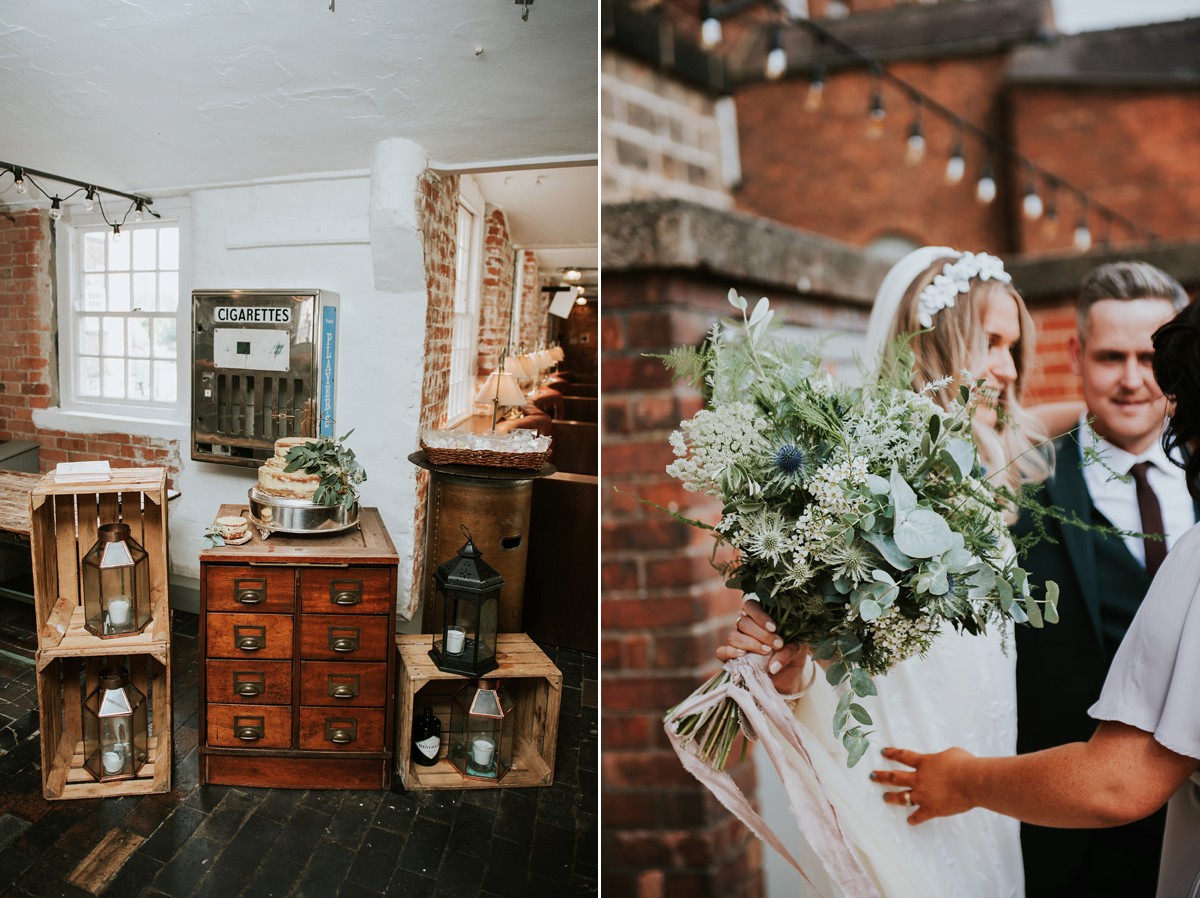 "The wedding signage I made myself which allowed me to add a fun personal touch to the day. I had so many lovely comments about them and have already been asked to make some for my friends!"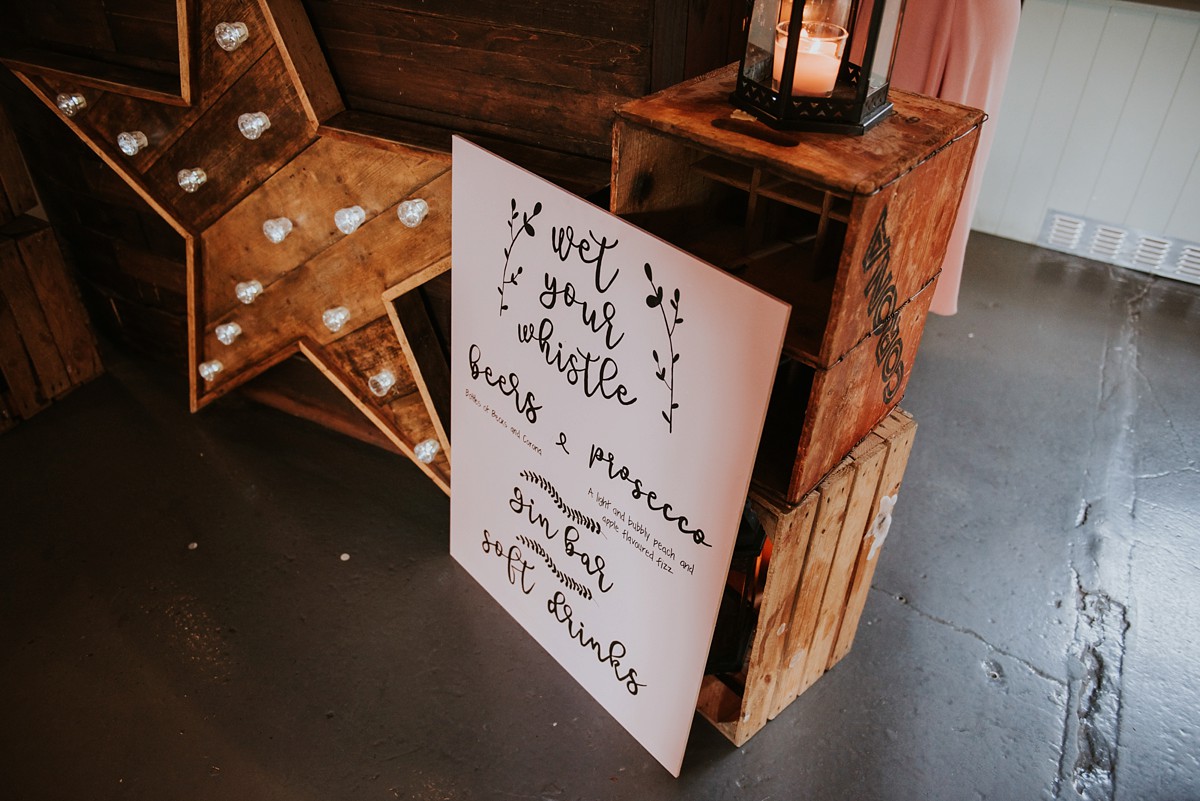 Following the ceremony, guests were welcomed into the venues courtyard with canapés and a drinks reception, before heading indoors for the wedding breakfast catered by Jenkinsons.
"Jenkinsons provided us with the most delicious food! Both being foodies, we knew we wanted to get this part of the day just right and we weren't disappointed. We created a bespoke menu for the day that included an asparagus, pesto and sun-dried tomato starter, beef served with sweet potato dauphinoise as the main, and a trio of our favourite desserts to end with."
At night they served pulled pork and spicy relish rolls, which also went down a treat with guests, especially the ones that had taken full advantage of the personalised gin bar throughout the day!"
"Our invites and table plan were made by the lovely Holly at Let's Face It. Holly made us a personalised print of the both of us when we first moved into our first home together so it was really special that she was able to then create our wedding invites."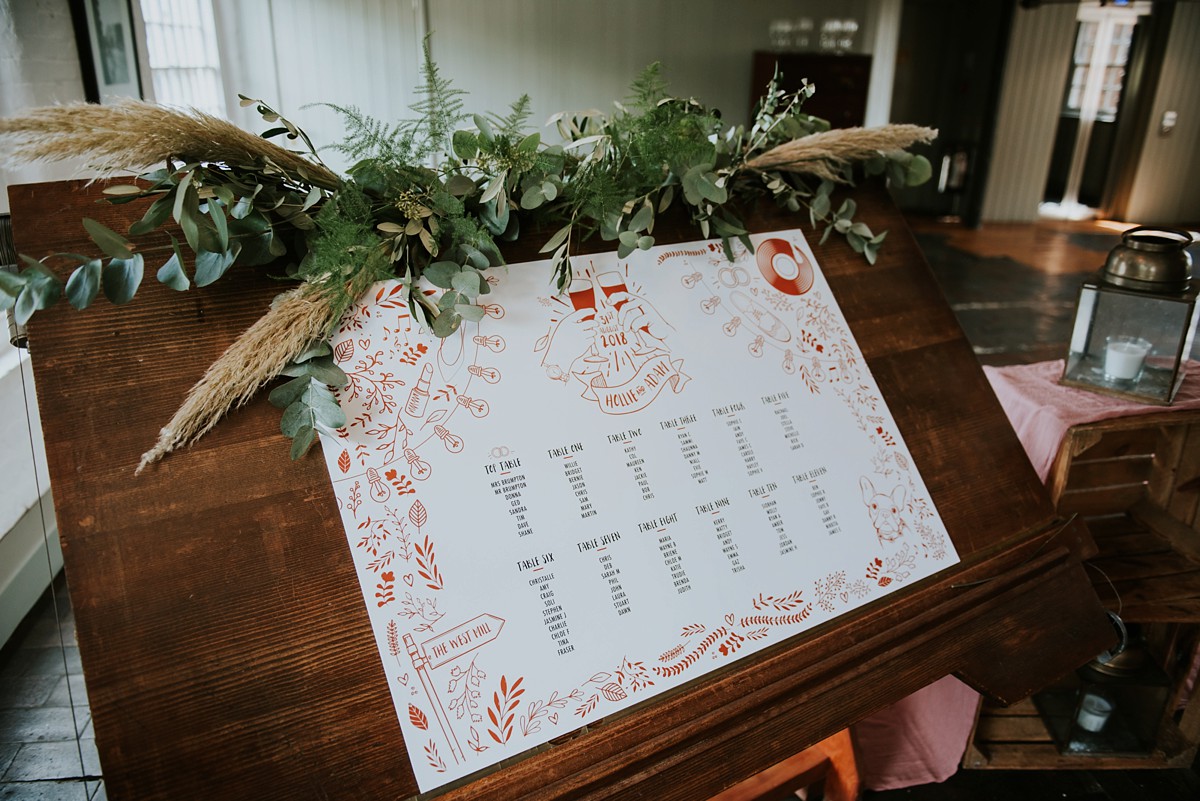 "I wanted them to set the tone of the wedding and to be fun and personalised to us. I was over the moon with what Holly came up with. We had so many lovely comments when they were sent out. I knew when I saw them I had to have her make our gorgeous table plan too."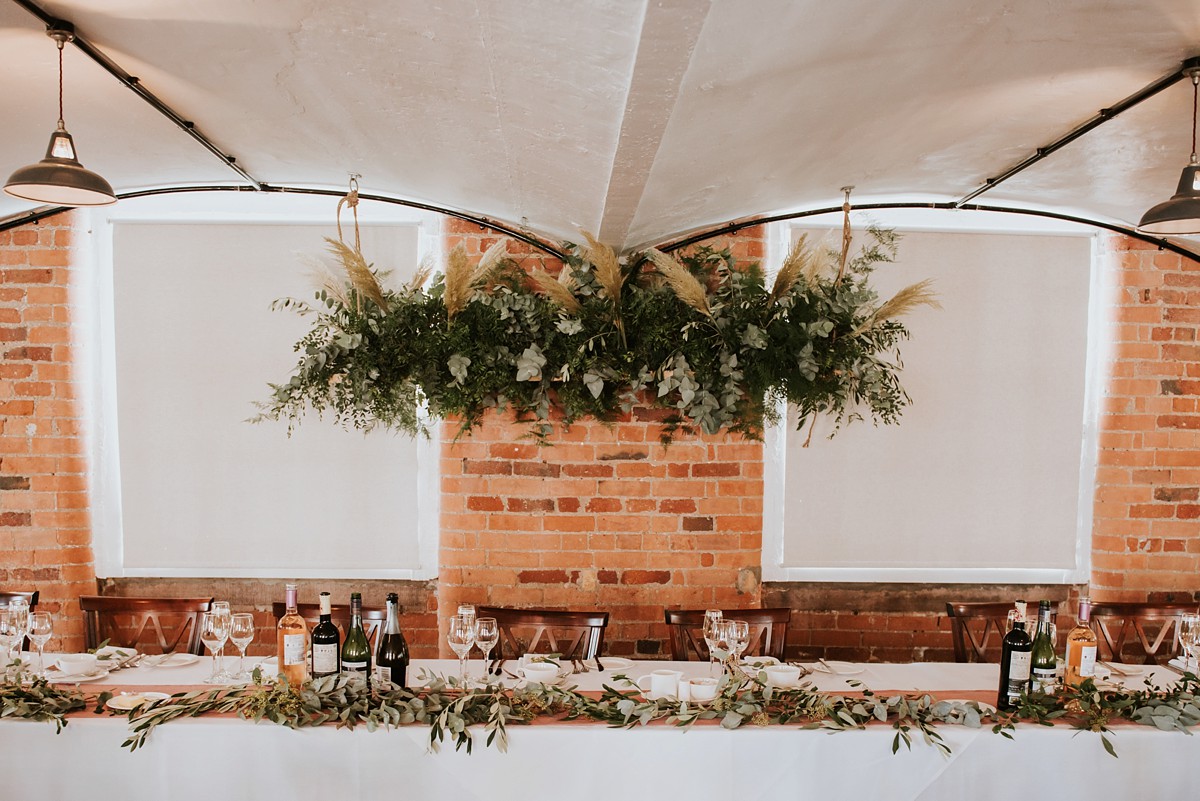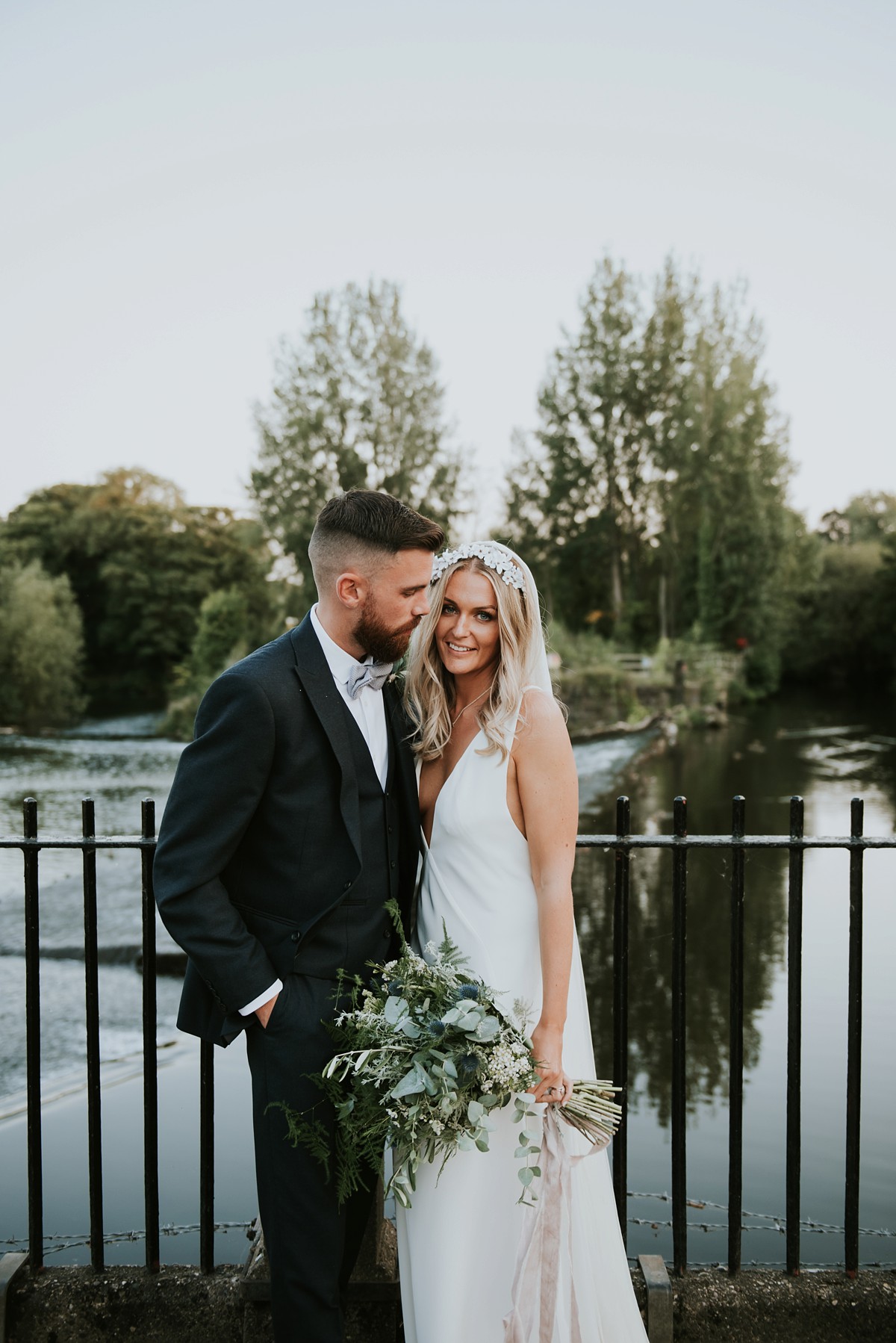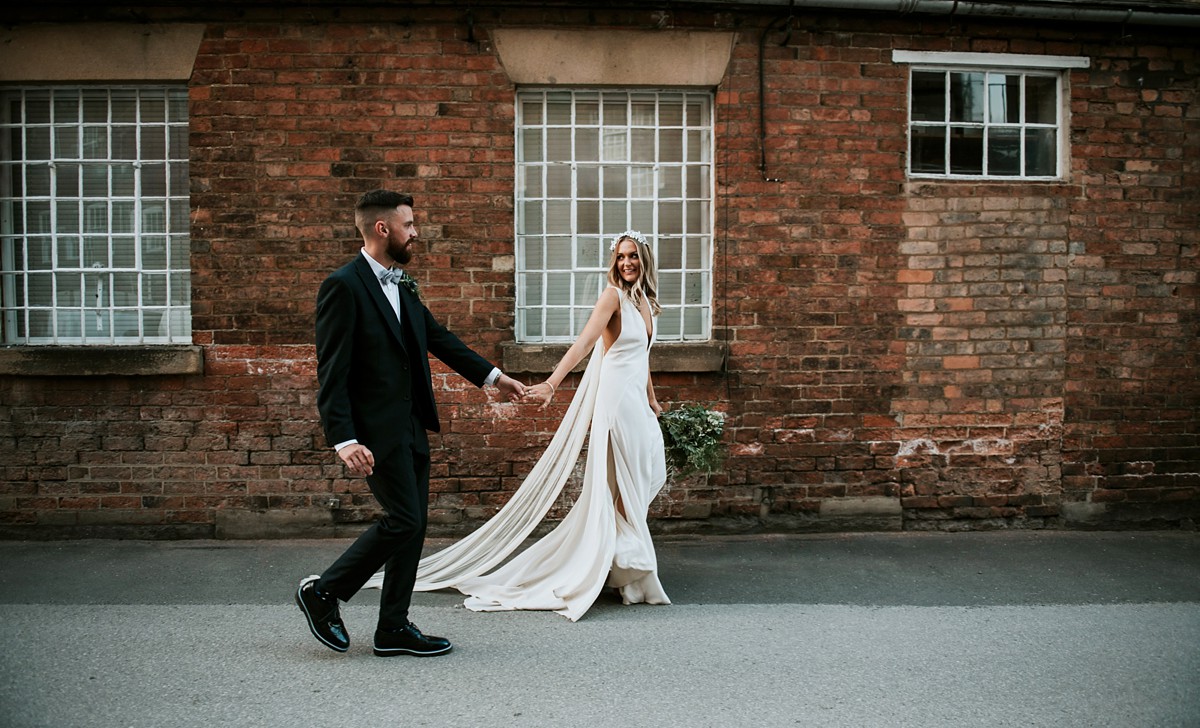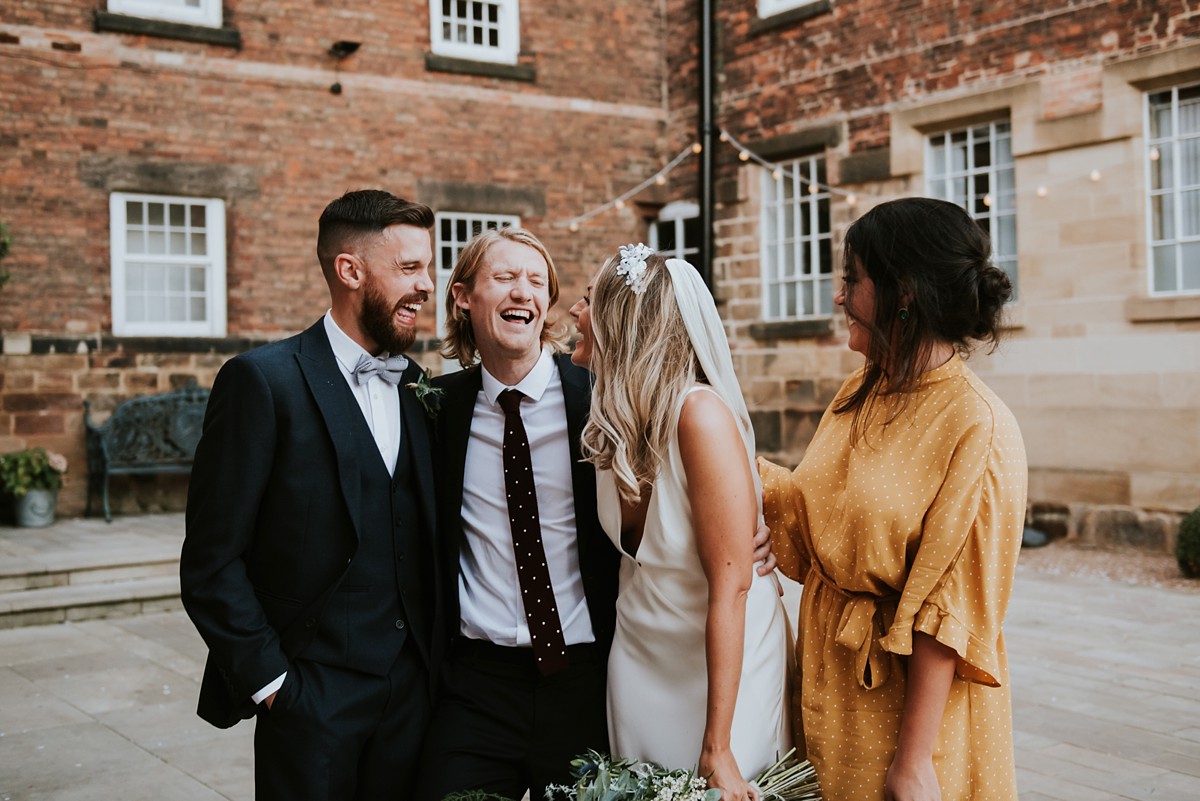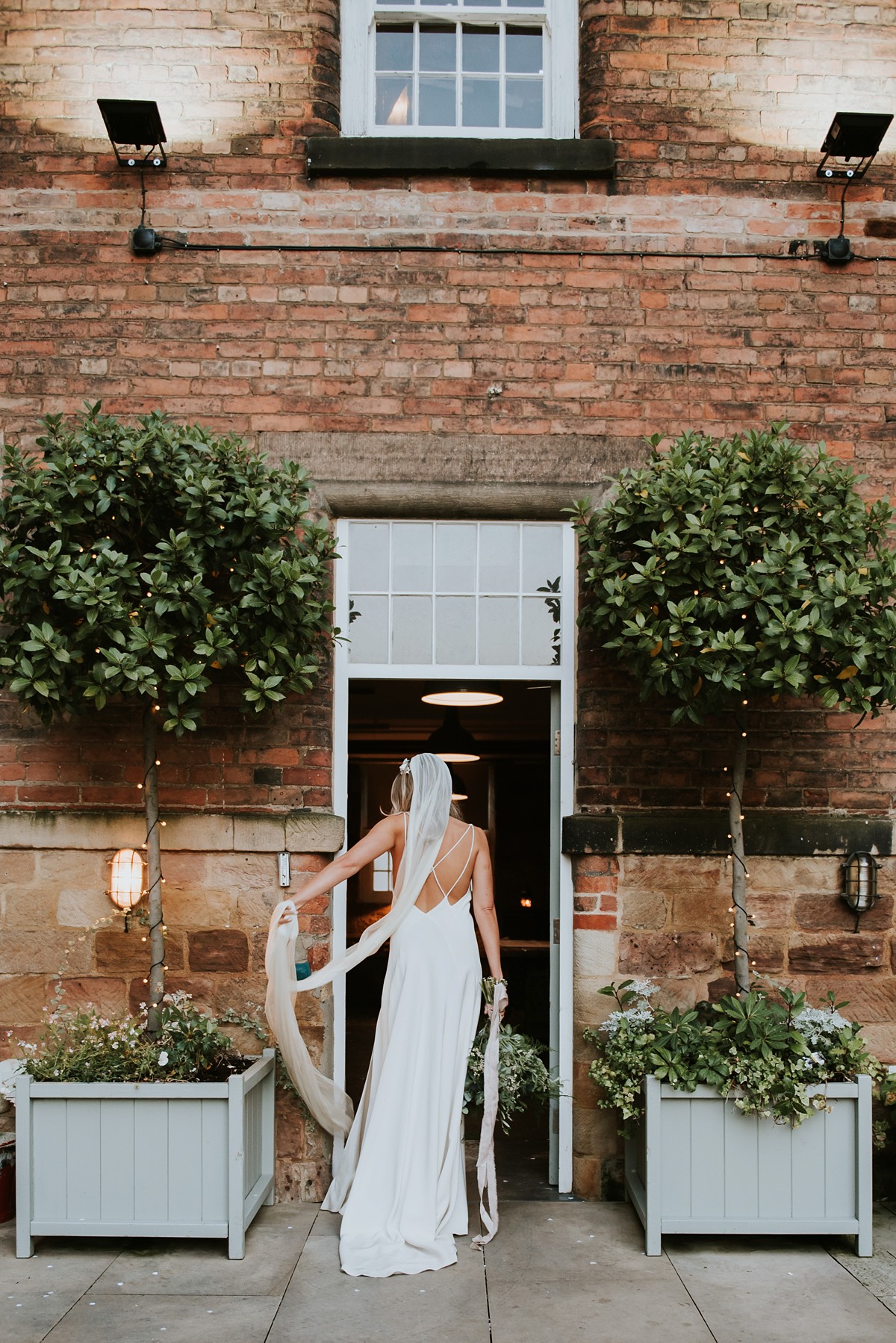 "We chose Hold My Girl by Georg Ezra as our first dance song. We were in two minds whether or not to do a first dance but I'm so glad we did."
We wanted something that would turn from slow to upbeat so our guests could join in with us. It was followed by Friday I'm In Love by The Cure which got everyone up on the dance floor and set the tone for the rest of the night."
"Our friend Aron from The House Of Good was our DJ for the night-time. He was brilliant and played everything we love. He did a great mix of tastes and eras to please everyone."
"Our wedding guests still comment on how they can't believe how full the dance floor was the entire night. There were some very sore feet by the end of the evening (mine included!)."
"My favourite part of the day was walking down the aisle to Adam and seeing the people I love most all in one room. I also loved reading our vows to watch other – it was such an amazing feeling. The whole day was filled with love, laughter and fun."
"It was just as we had dreamed and we will forever be thankful that we have such an amazing bunch of people in our lives. There really is nothing like the overwhelming happiness you feel when all your nearest and dearest are in one place celebrating the commitment you've just made to each other."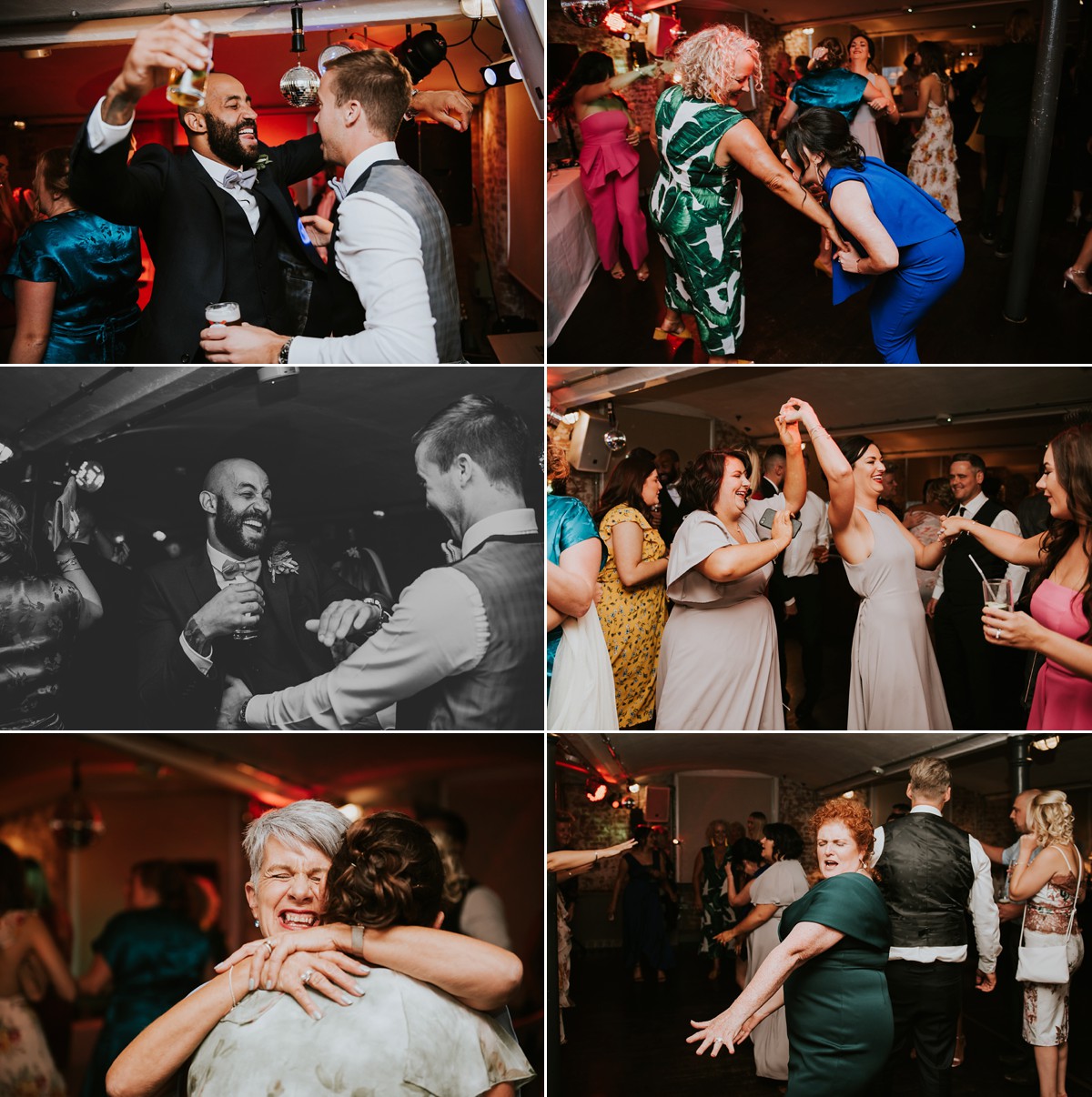 Words Of Wedded Wisdom
"Enjoy the build up. I had so much fun planning the day and adding all the little touches. Remember to accept help if it's offered. My mum was my go-to on the day and it was lovely to share the experience with her. It really helped me to handle my stress and share the jobs with her."
"Always remember it's really important to make sure your decisions reflect you both as a couple. People will naturally have opinions different to yours, but try not to get lost in making every single person happy."
"Lastly, make sure you spend time with your partner on the day. We both made a promise to each other to be together as much as possible, after all it was our day. I'm really happy we stuck to this as we got to soak it all up together and my memories are all with him by my side."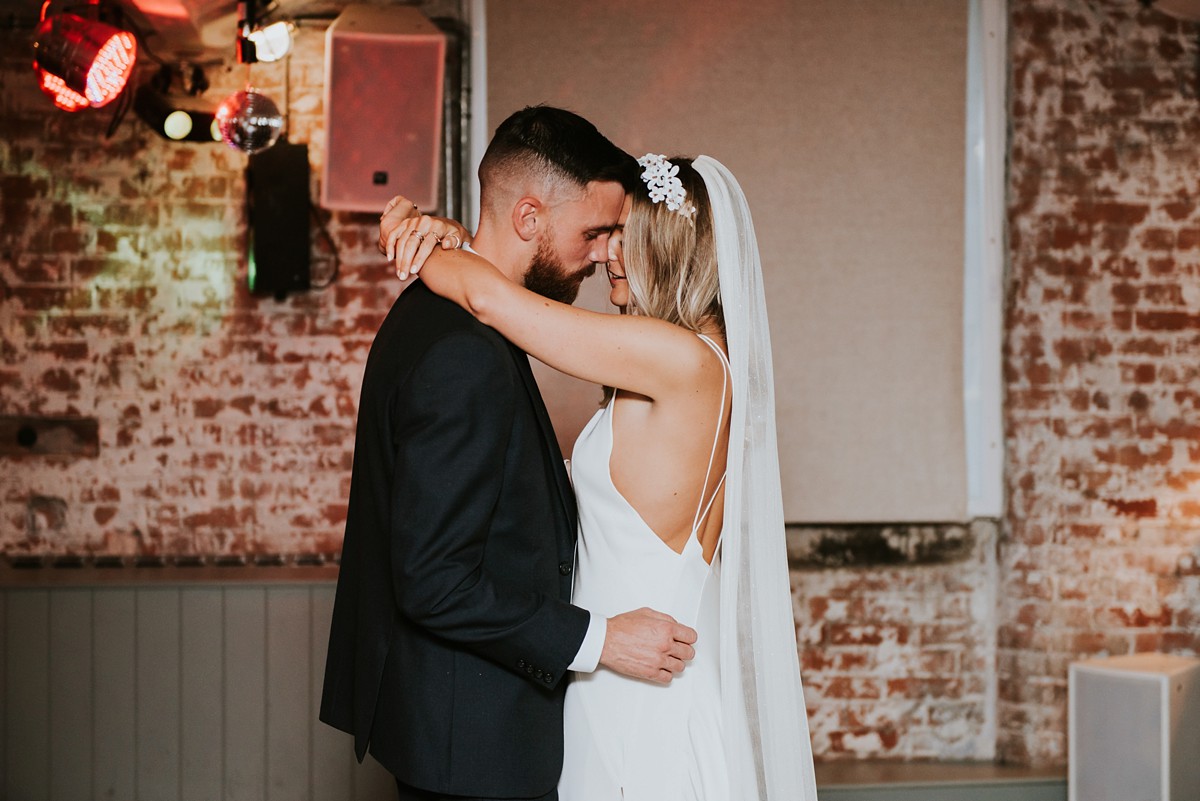 What a stunning day! Thank you so much to Hollie and Adam for sharing it with us and Rosie Kelly Photography for capturing such gorgeous moments.
Now go forth and eat chocolate…
Much love,
Holly x