Hello lovely ones, thank you for waiting patiently for today's wedding. We've been making some important developments behind the scenes this past couple of days which have disrupted our normal schedule but we're right back on track now.
And we're heading overseas to the USA for a beautiful coastal wedding, inspired by the natural beauty of the island today's couple wed on. So without further ado, let's meet them, shall we? Newlyweds Hanna and Reid chose the stunning coastal town of Shelter Island in New York, USA to exchange vows on 14th July 2018.
"We found our amazing photographers The Curries via Love My Dress! They were featured in the very first blog post I ever read and it was a gorgeous autumnal Scottish countryside wedding. It was so beautiful and the photos captured the loveliest, most real moments. From that instance I was smitten with their work. After setting our date and venue, they were the next people we contacted and we were truly thrilled they could be involved with our day."
Photography by The Curries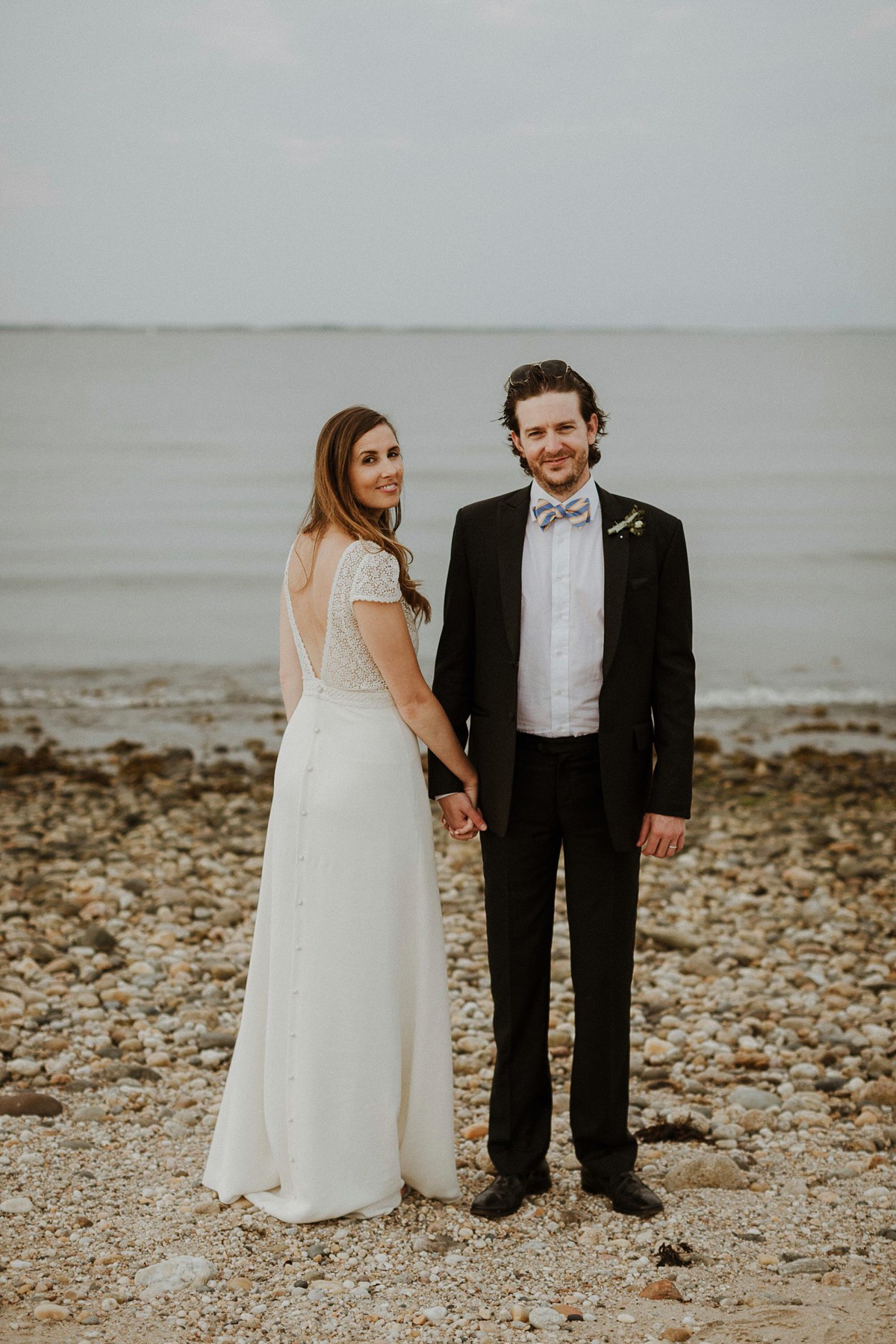 "Gill and Chris are incredible and being with them was one of our favourite parts of the day. Reid and I are both uncomfortable in front of the camera and knew we didn't want any corny staged photos. The Curries shared our respect of the local environment as the main element of the decor, which you can see through the magical way in which they capture light and natural surrounding beauty in their photos."
Their style is more photojournalistic and we cherish the photos of family and friends. Not to mention they are as cool as anything and fit right in with the fun! we really couldn't be happier with the memories they captured for us."
"Having grown up in small coastal towns, the ocean has played a central role in both our lives and we wanted to honour that on our wedding day. Our inspiration was the sea and by choosing a venue by the water, we were able to keep things simple in terms of decor and just respect the natural beauty of the coastline, summer light and smell of the salty sea air."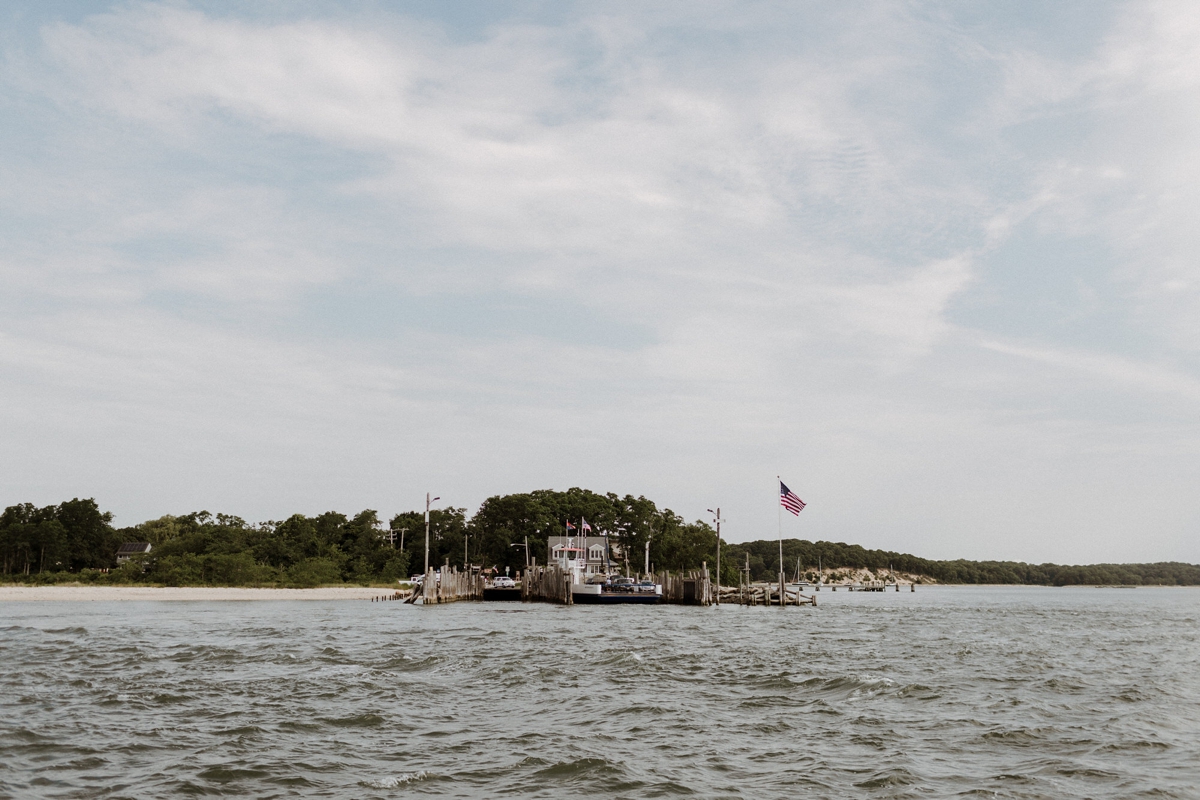 "Our simple vision was to marry near the water on a sultry summer's night under twinkle lights and with seafood and beer! Really we just wanted it to feel like a great summer party!"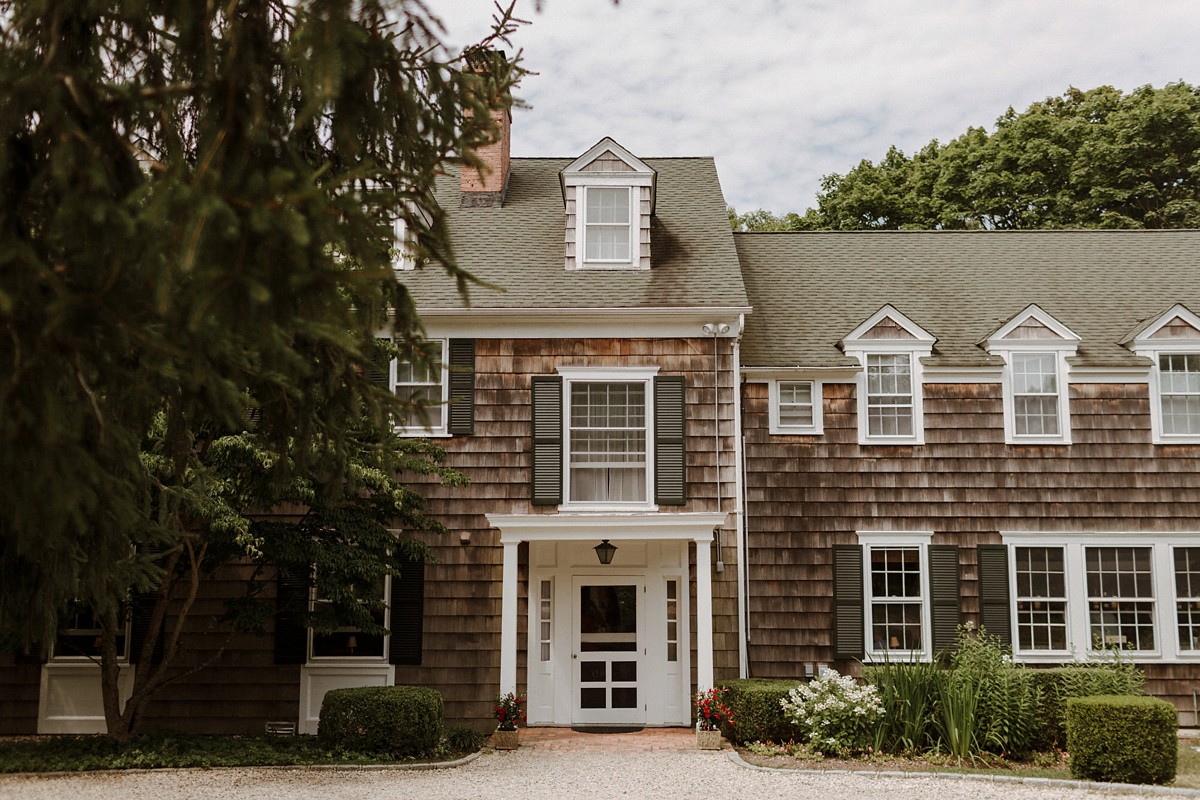 "Whilst growing up, both Reid and I worked summer jobs on the water, I as a lifeguard and Reid as a water taxi captain, however we didn't meet until just after finishing university. We were introduced by mutual friends at the island's local dive bar, danced to the Grateful Dead cover band and never looked back!"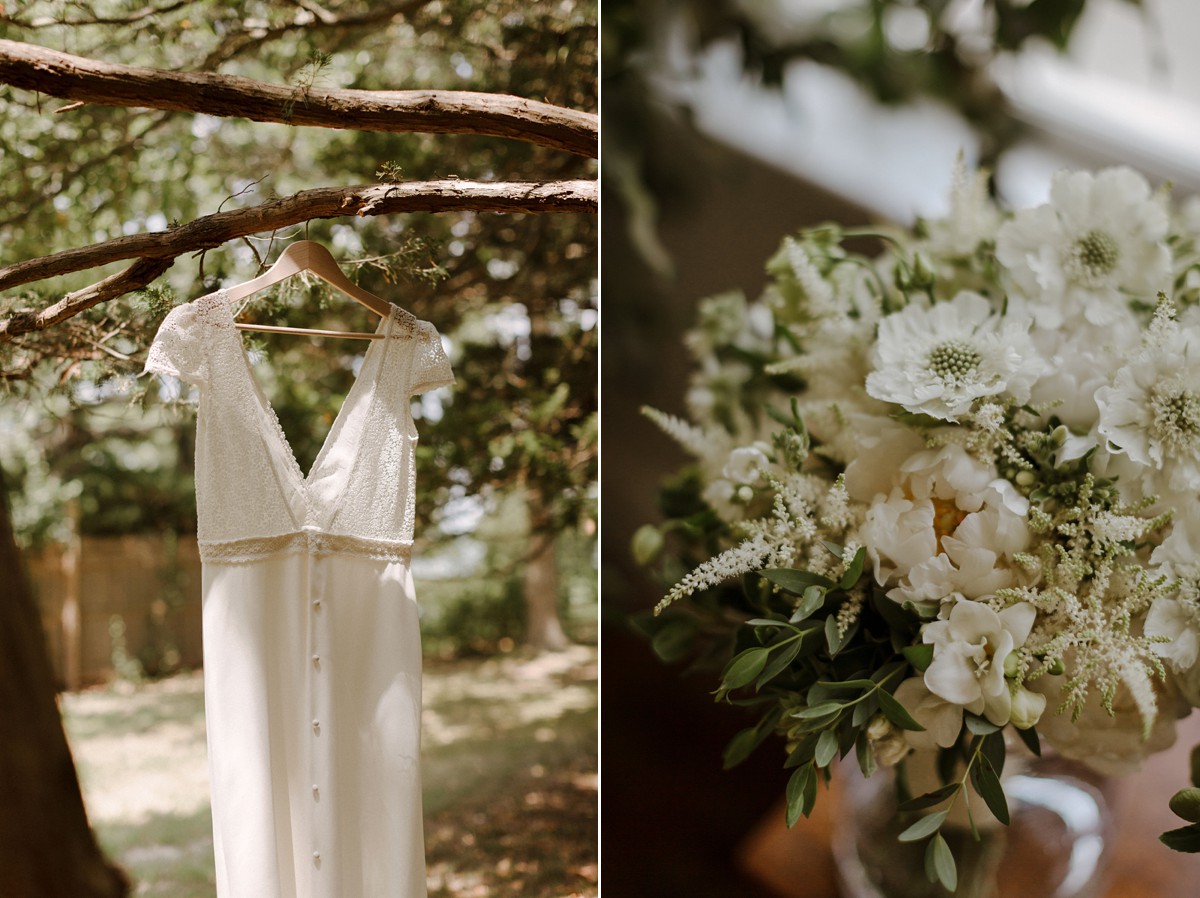 "We dated for ten years, partially long distance, whilst I was in medical school, before getting engaged whilst on a hiking trip with friends in Norway. Reid had planned to propose at the end of a 17-mile long uphill snow-shoeing trek to a beautiful fjord vista, which sounded great."
"In reality, the hike was absolutely gruelling and when we reached the vista, there were exhausted sobs throughout the group, freezing winds and a grand proposal by another couple at the summit."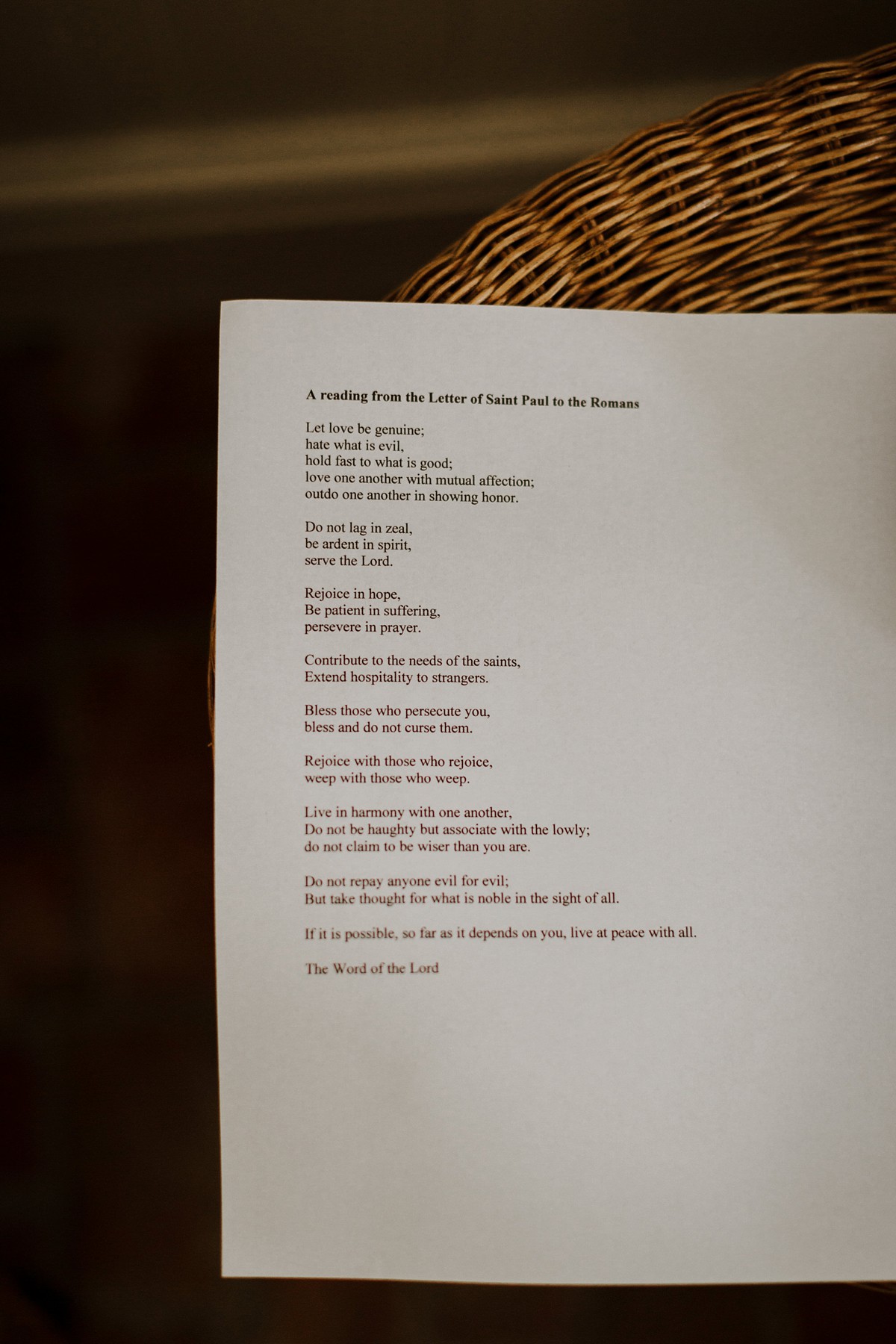 "Sticking to the plan however, Reid proposed anyway, subtly handing me a ring and smiling whilst the group boisterously celebrated the other couple, providing us with a special and private moment. On the freezing return hike, I was too afraid to wear the ring so it remained in my backpack until we got home and made it official at his house."
"In retrospect it was hilarious and perfect and the memory of the exhausting hike improves with time! We were engaged just over a year prior to the wedding."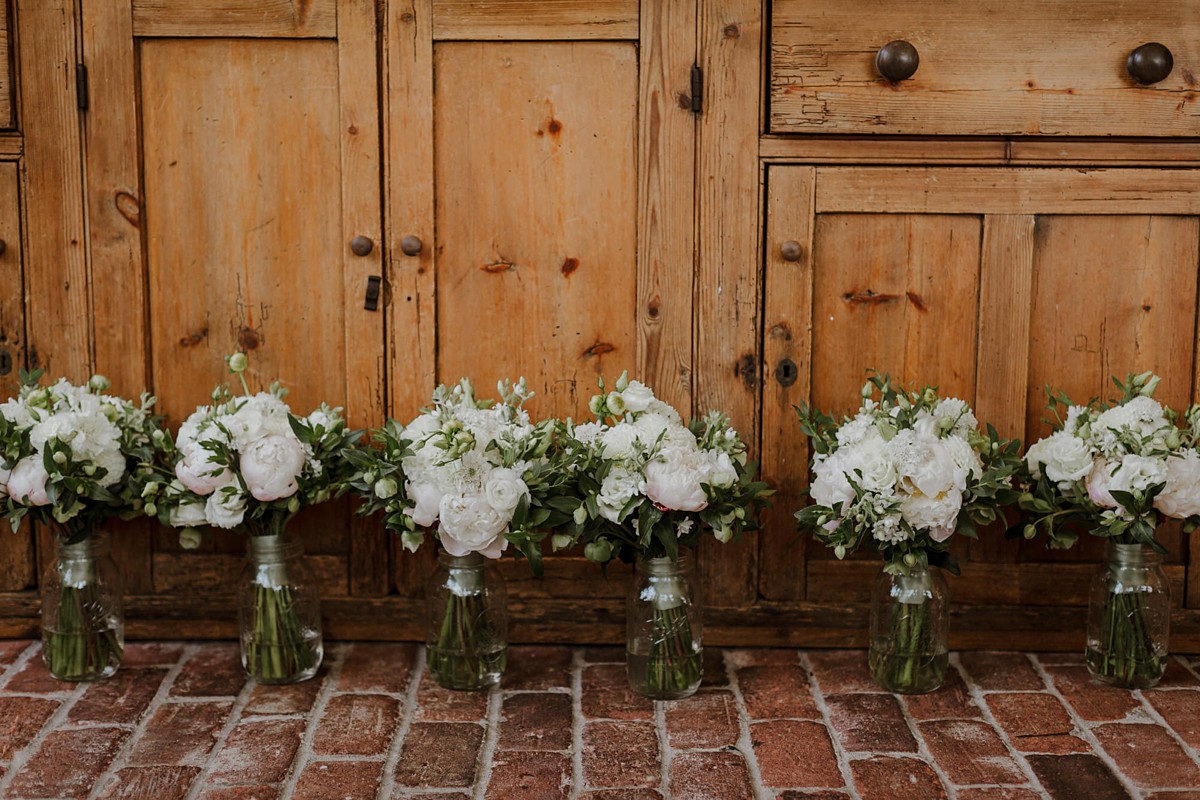 The bride accessorised her dress with a simple cathedral length veil with lace trim and Hortense hair comb, also from Laure De Sagazan, and a pair of blue strappy Coclico shoes.
Hanna's simply beautiful short sleeve dress with plunge back was sourced from the Laure De Sagazan Soho Boutique in New York City, and fit in perfectly with the natural surrounding beauty.
"I was not a girl who grew up dreaming about her wedding or dress so when we became engaged, nearly every aspect of the planning process seemed very daunting. I have a simple, everyday style and knew I wanted to feel comfortable and not like I was dressed as someone else."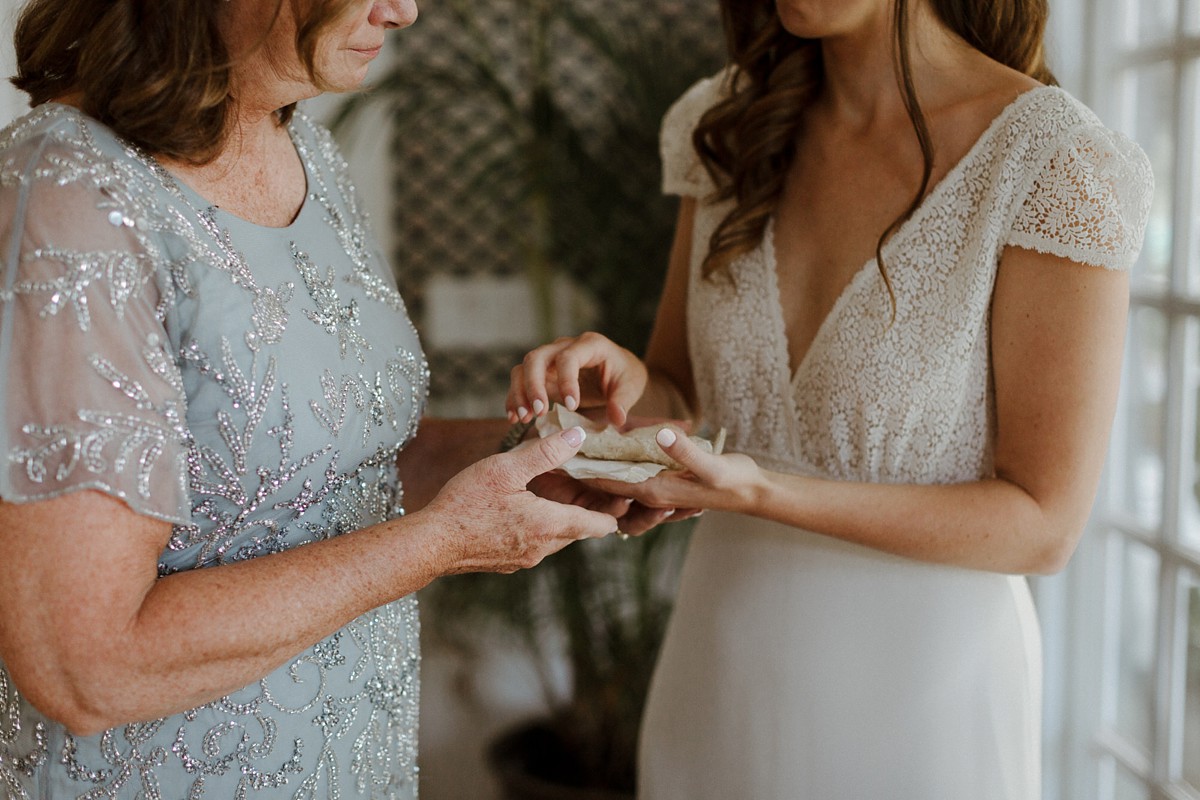 "I fortuitously stumbled across an image of a dress I liked online, which linked through to the designer, and when I saw her collection described as 'bohemian style inspired by Jane Austen novels', I didn't hesitate! After one appointment I chose the dress. It was simple, elegant, a little nostalgic and most importantly, allowed me to feel like the best version of myself."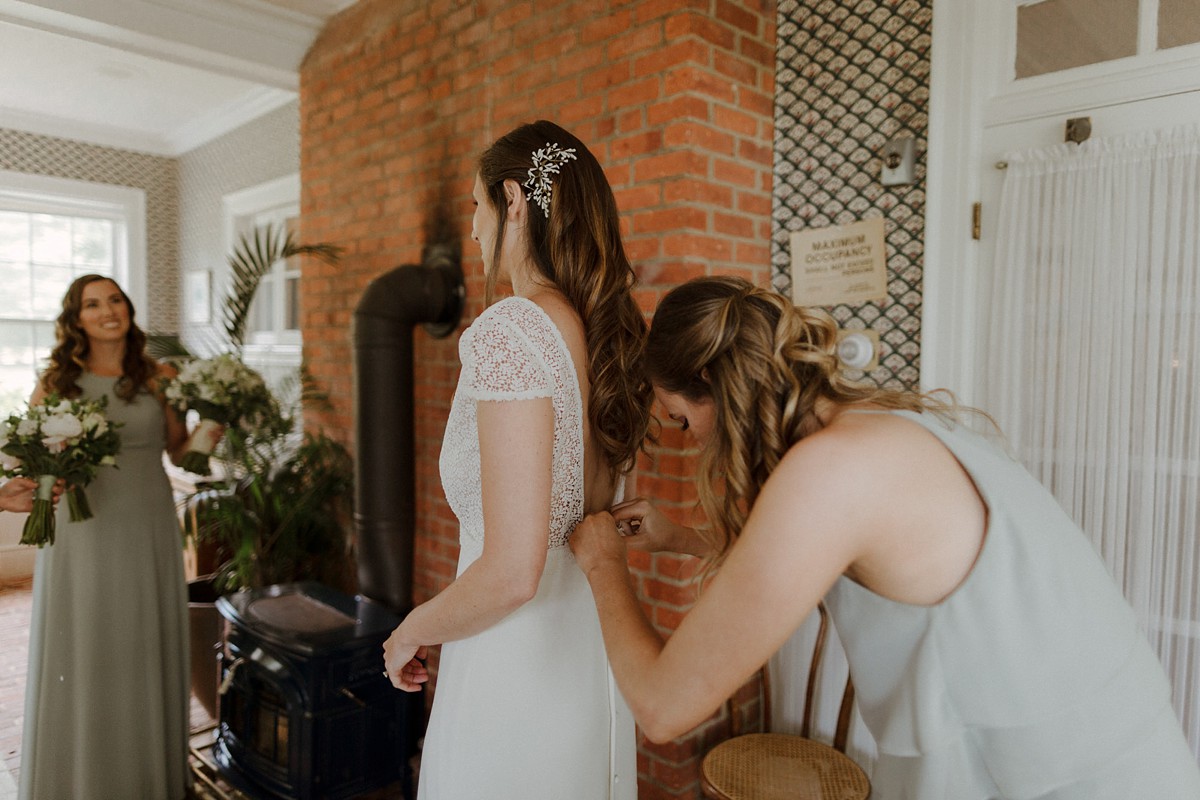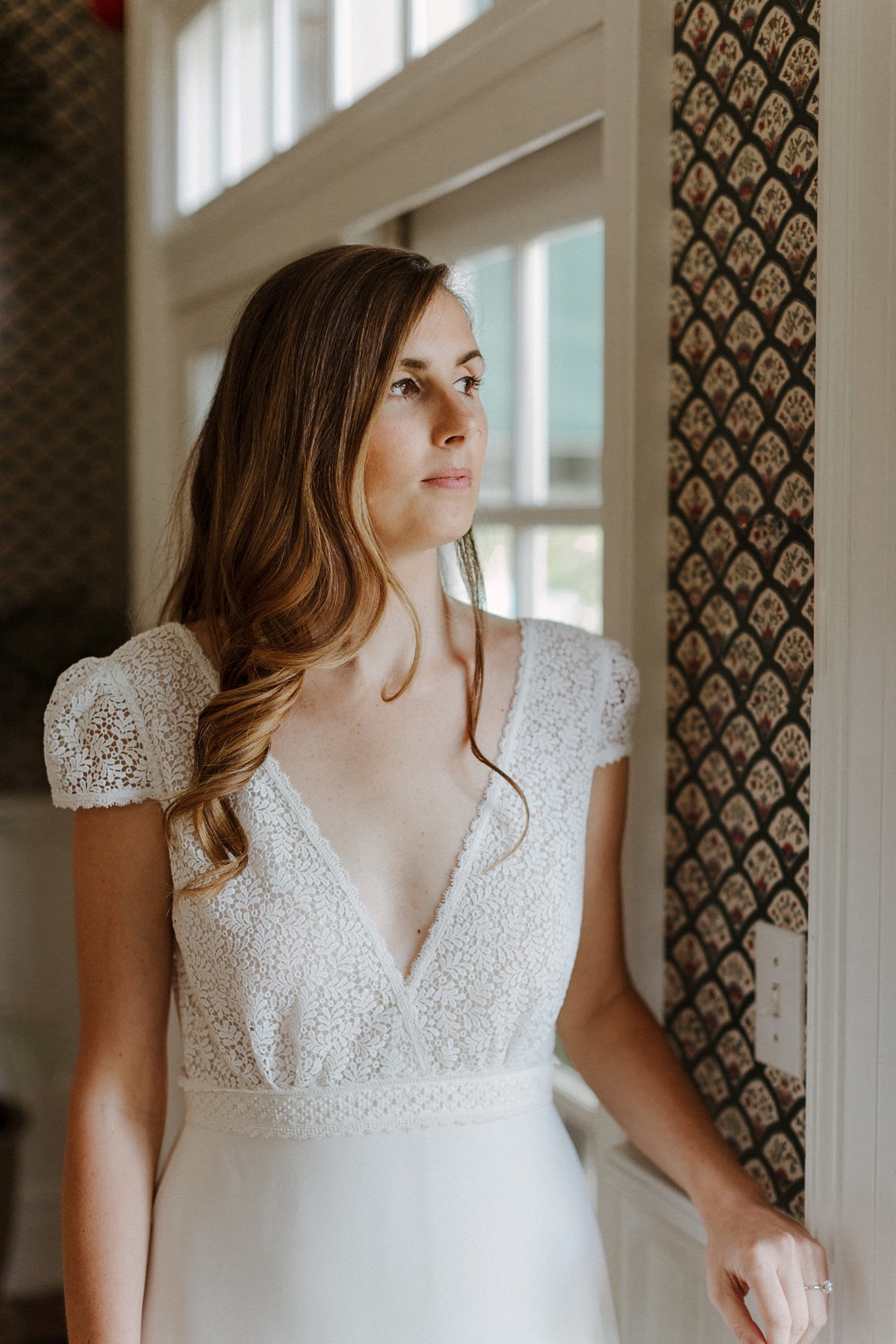 "We had two adorable flower girls; our one-year old niece Beatrice, and my cousin's 6-year old daughter Molly, whose mother had been my parents flower girl when they got married! They both wore their own simple white dresses with matching sage ribbon sash and gypsophila flower crowns. There is no doubt that they were the true hits of the party."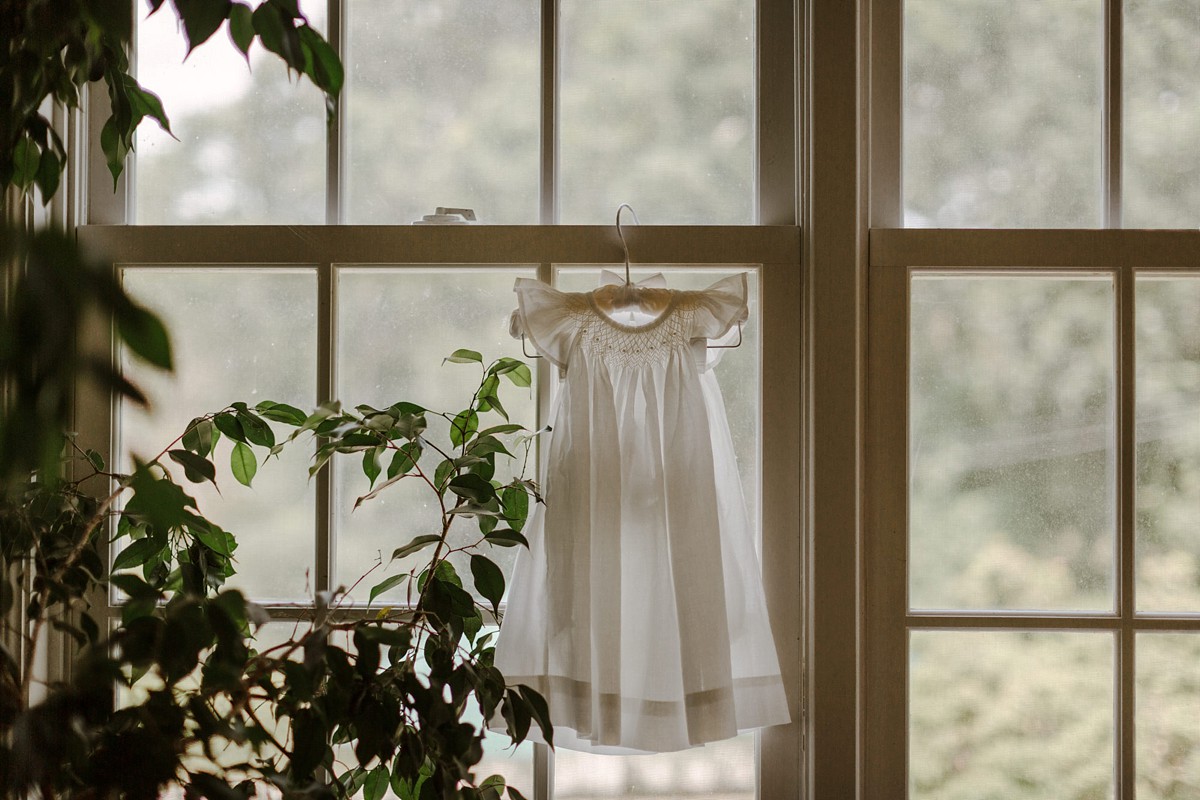 "Each of my bridesmaids chose their own dress in a shade of green, allowing each of their personalities to be represented in colour and style."
"We loved that aesthetic variety for an outdoor summer wedding, flowing with sage, mint and emerald shades. I also gifted each of them a simple pair of opal stud earrings from Catbird NYC."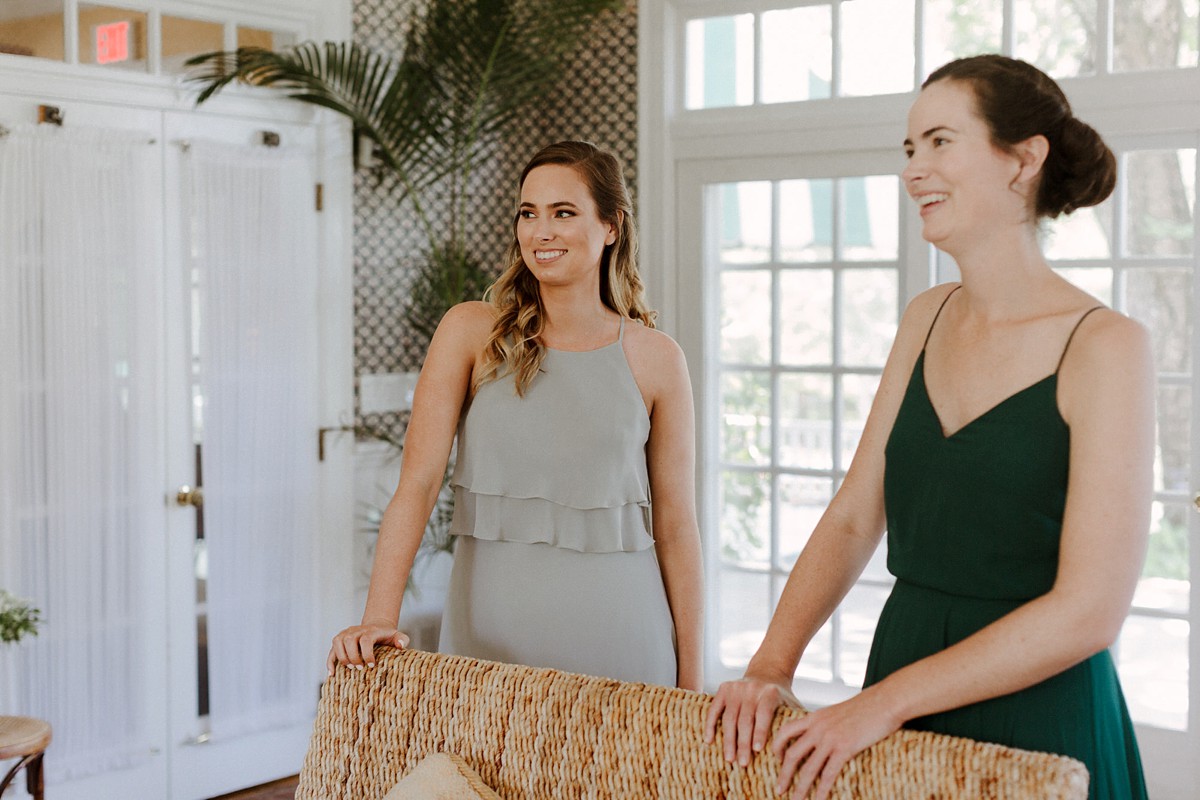 "Our florist Karen Lenahan was from Eastern Long Island and was able to use local greens and flowers that were in season to create beautiful bouquets and table runners."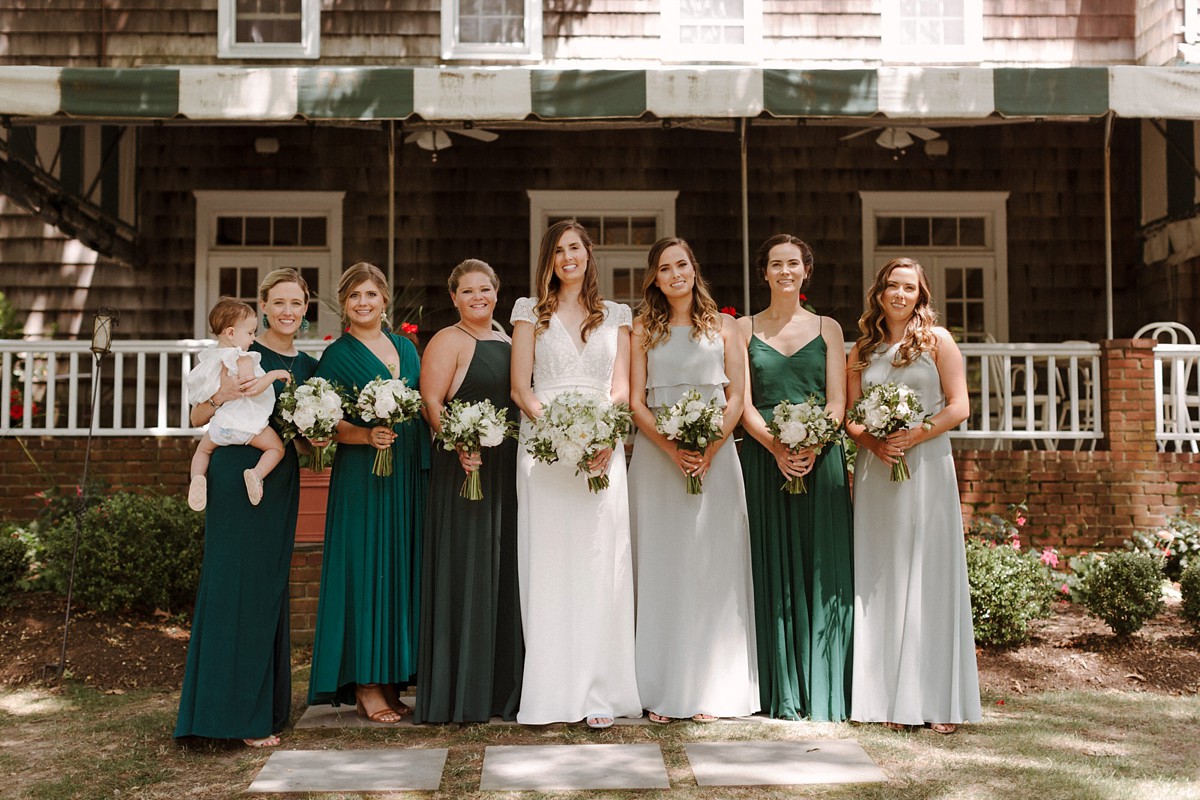 "My sister is our family gardener and has a beautiful eye for design so she stepped in and designed florals of greens and white that felt like they could have been arranged straight from the venues garden."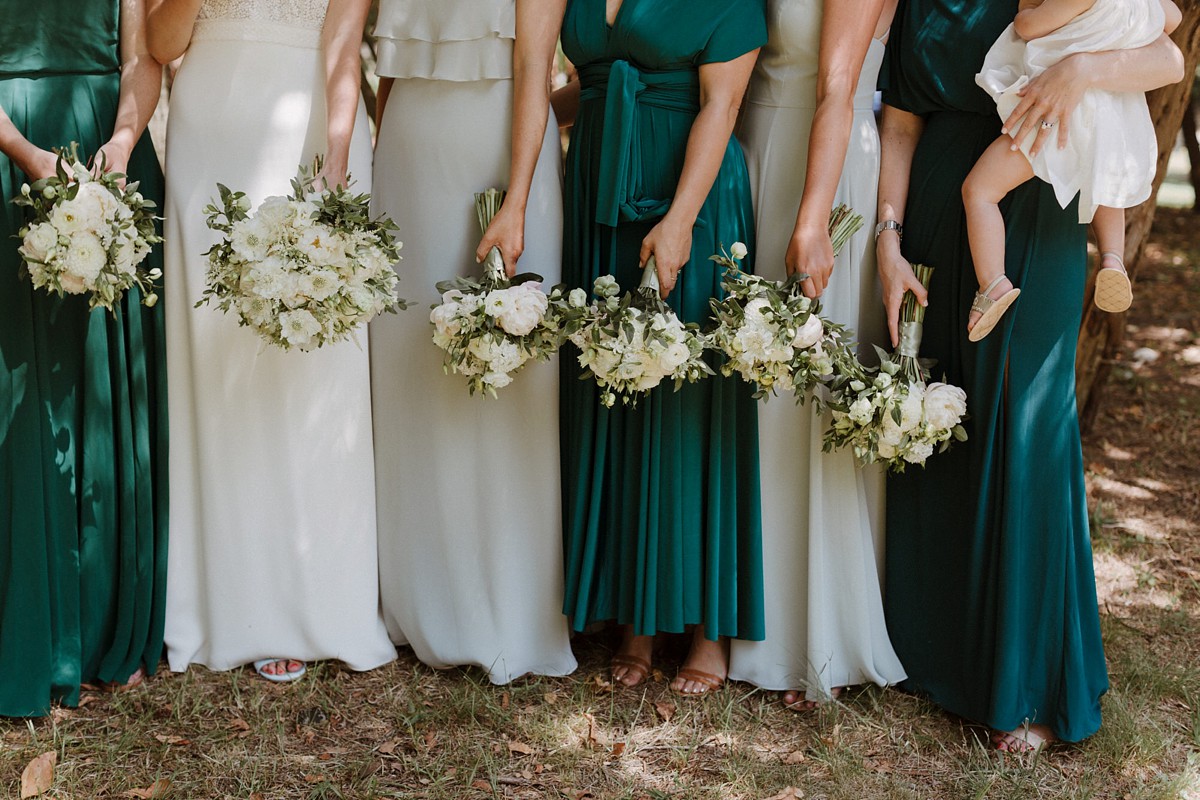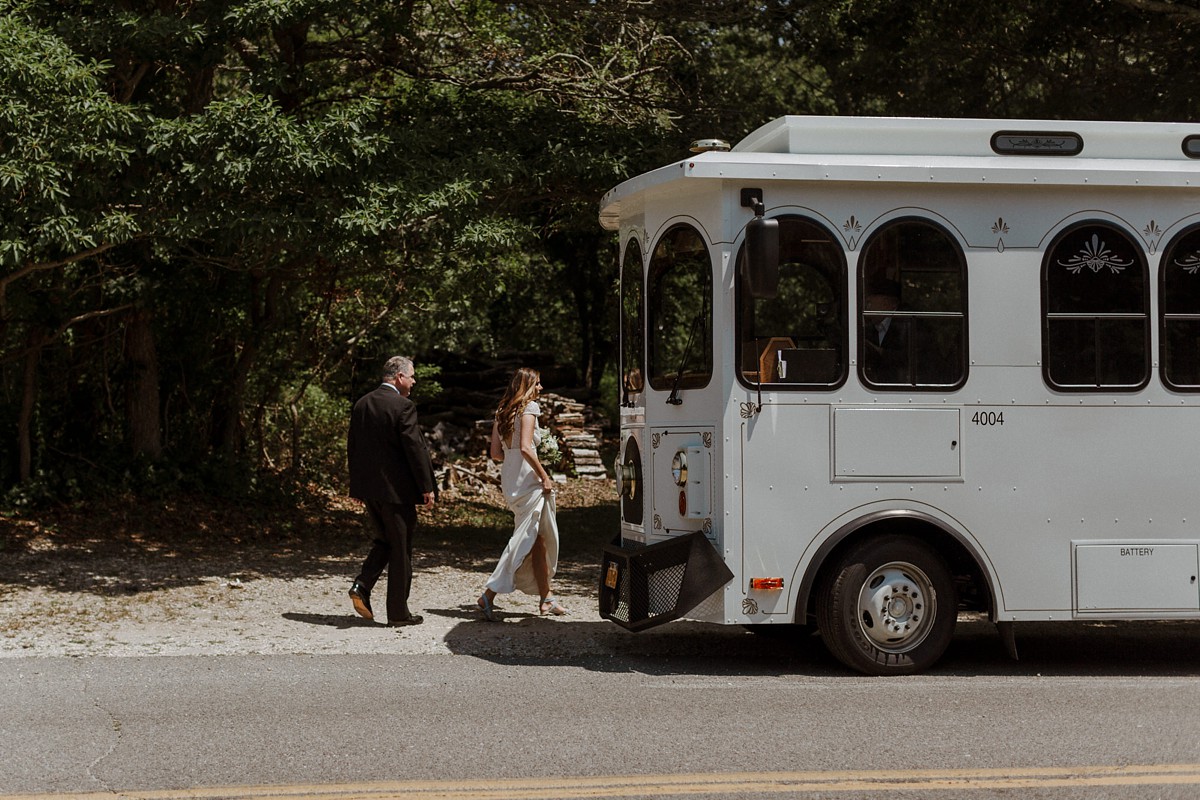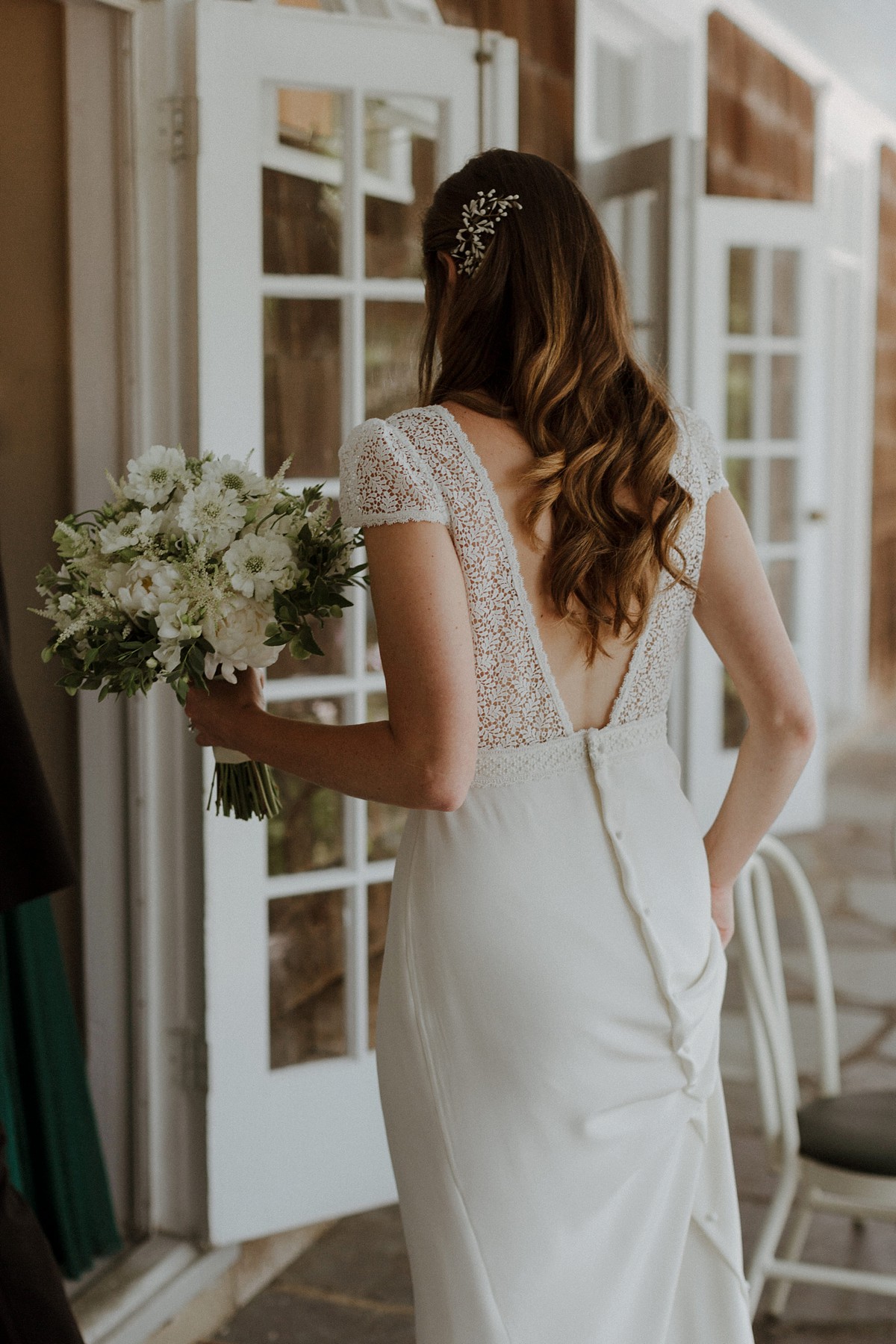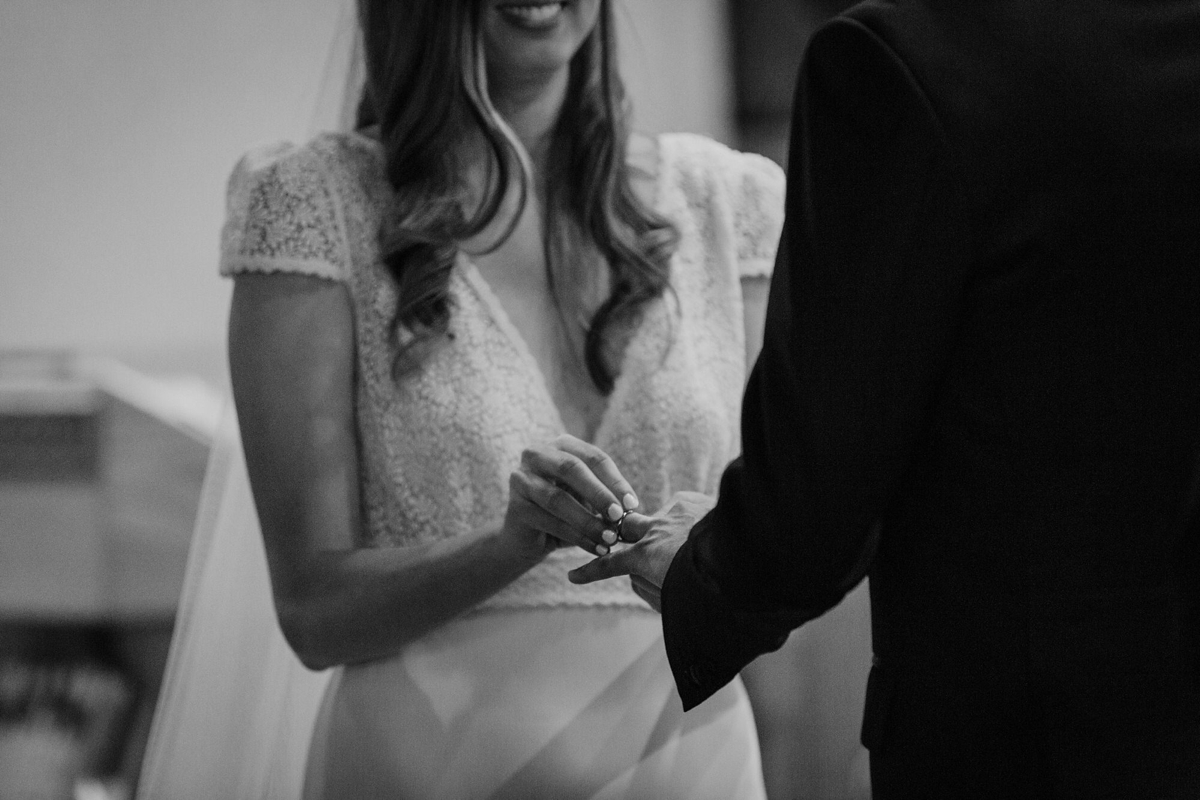 "For the ceremony, Reid and I married at Our Lady of the Isle Church in a Catholic ceremony conducted by the parish priest. My father walked me down the aisle to Morning Has Broken. We're both uncomfortable being the centre of attention so it was reassuring to have each other there to grasp onto as support."
"Being married in a traditional Catholic ceremony, we weren't able to choose alternative readings for the ceremony."
"However, with the theme of our stationery being mussel shells, we printed out a copy of May Sarton's poem 'Of Mollusks' to read individually on the morning of the wedding."
"It speaks about a show of love and opening up to vulnerability together. I love the last line; 'Eat, rest, and be nourished on the tide of love'."
"We got our wedding rings whilst we were living in Philadelphia from a local shop called D'Antonio & Klein Jewelers in Center City."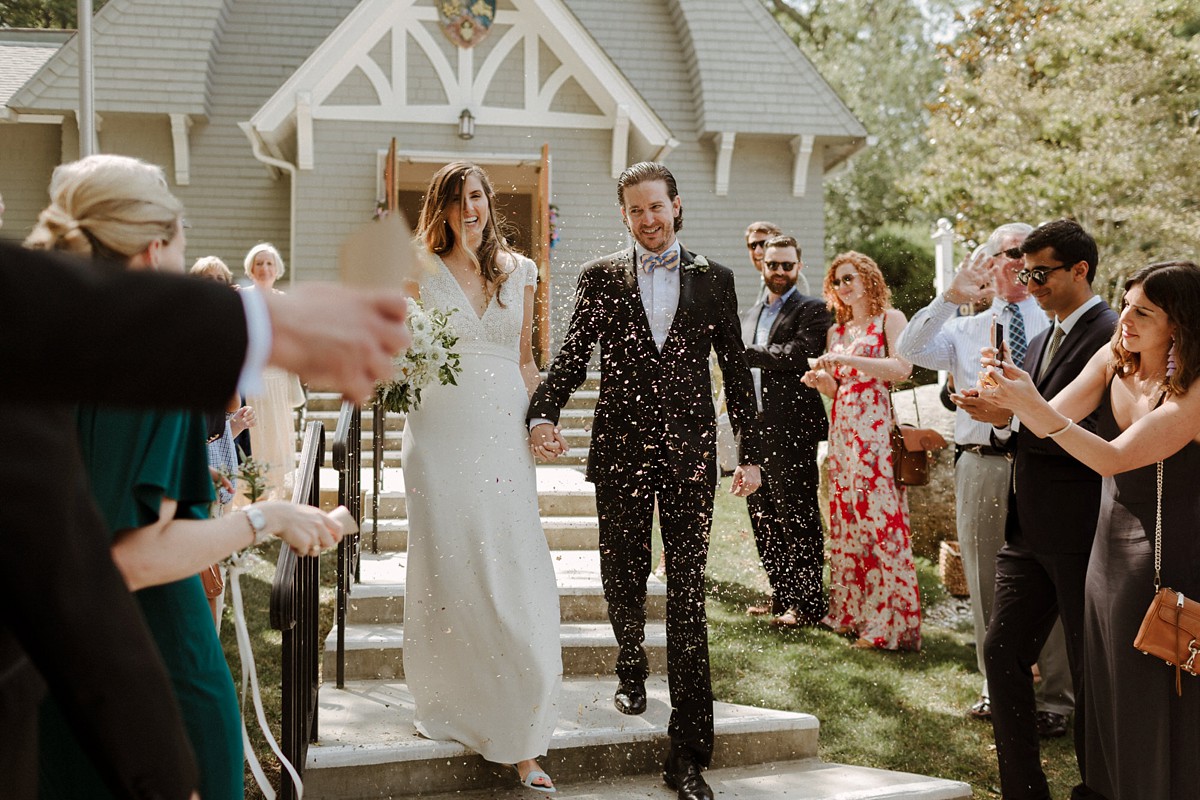 "Reid's tuxedo was custom-made by Born To Tailor in NYC. He is 6″5 and relished in having a long, well fitted tuxedo made especially for him! He also wore Alden cordovan wingtip shoes and cufflinks gifted to him by his mum."
Following the ceremony, guests were transported from the church to the reception in a trolley, hired from North Fork Trolley. As their guests were staying in homes and bed & breakfast's scattered all over the island, the trollies were also used to hitch rides home at the end of the night.
"Ellen of El's Cards designed and made our stationery and she was an amazing resource and just the loveliest person to work with. I was not a bride who particularly enjoyed the planning process and instead opted to find suppliers who I trusted and then gave them free rein to let their creativity flow."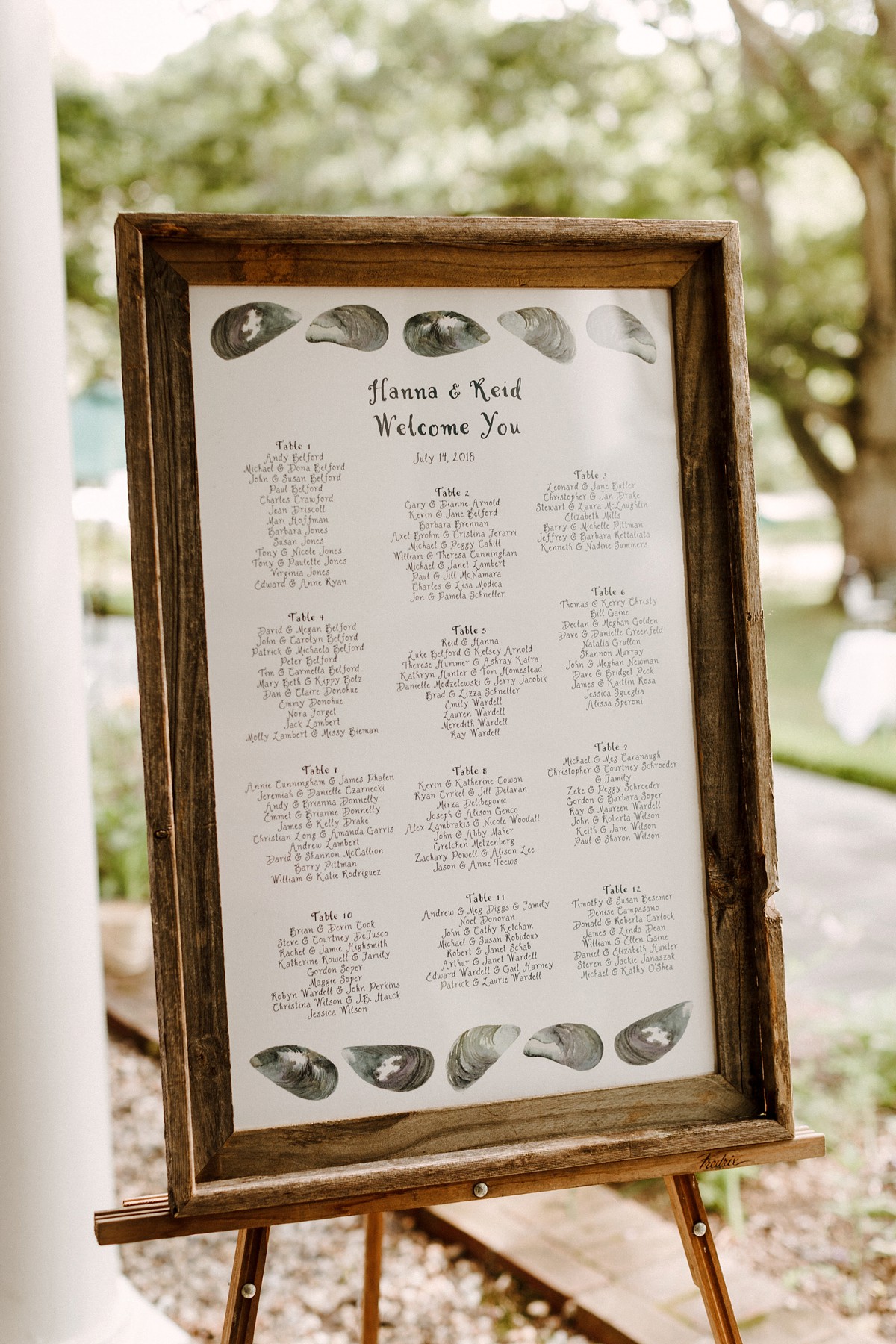 "El designed all the invites, menus, church programs and seating map with a beautifully simple watercolour mussel shell theme. Beyond that she offered advice on other designs and technical aspects that was so appreciated by this often overwhelmed bride!"
"We found an artist, Greyberry Design, on Etsy to paint on actual mussel shells to use as place settings too, which were a fun personal item for each guest to take home at the end of the night."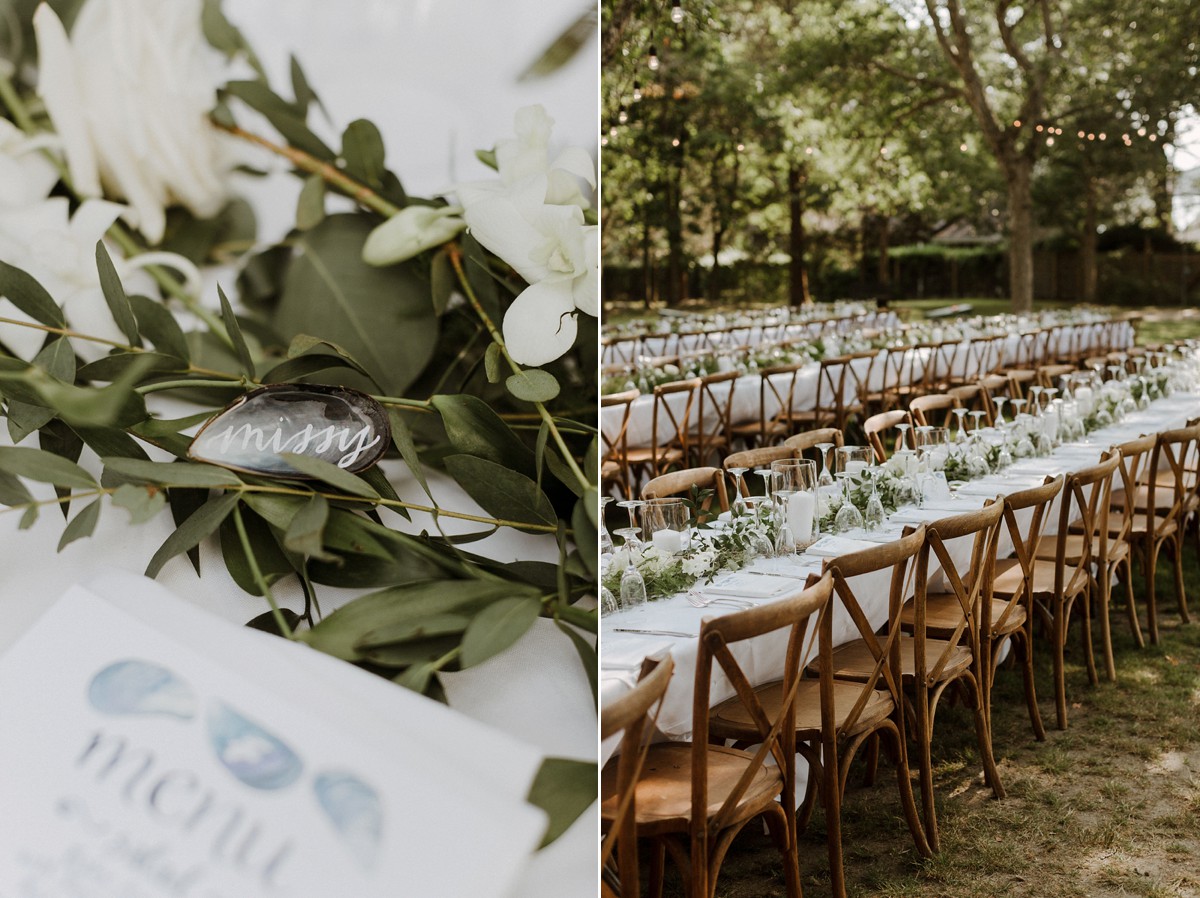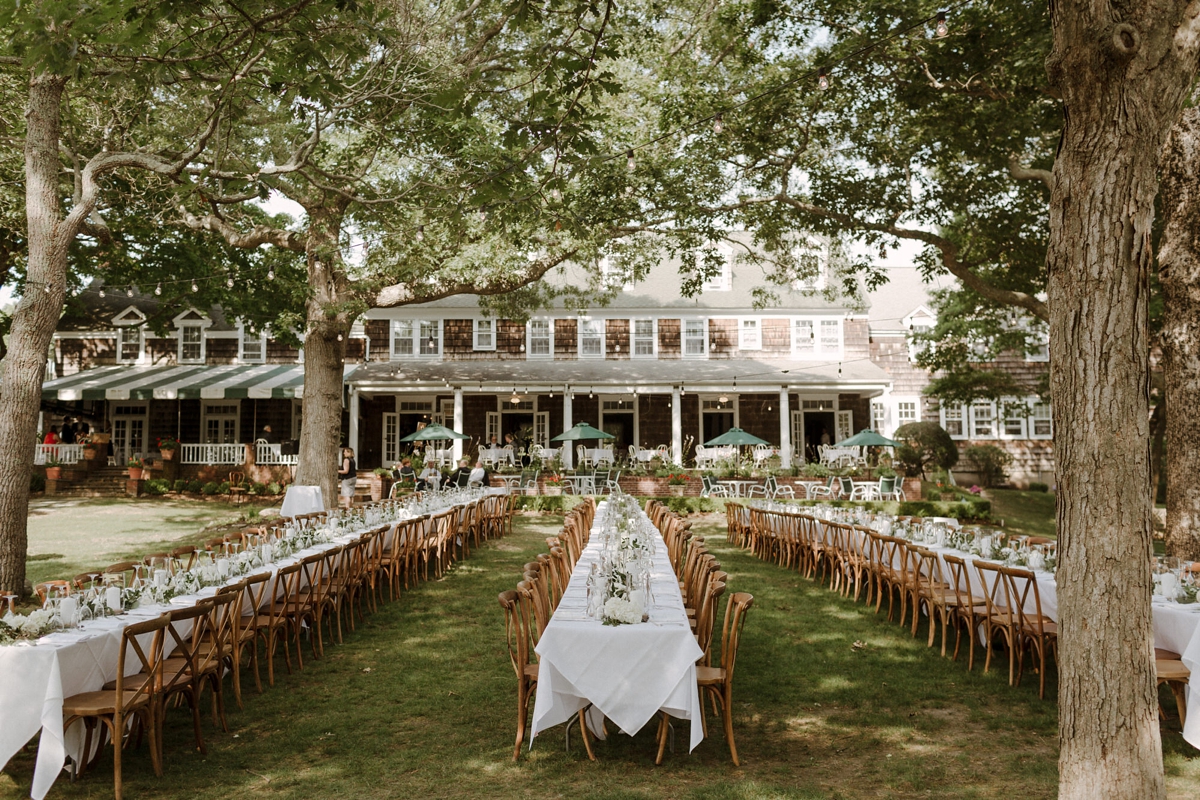 "We also gave guests drink Koozies with a map of the island on it as favours. They fit in with our original vision of being outdoors by the sea having a beer with friends. Thankfully my mum came in and put together wonderful welcome baskets for each guest with a note from us, Long Island wine, North Fork potato chips and local favourites, Tate's chocolate chip cookies too."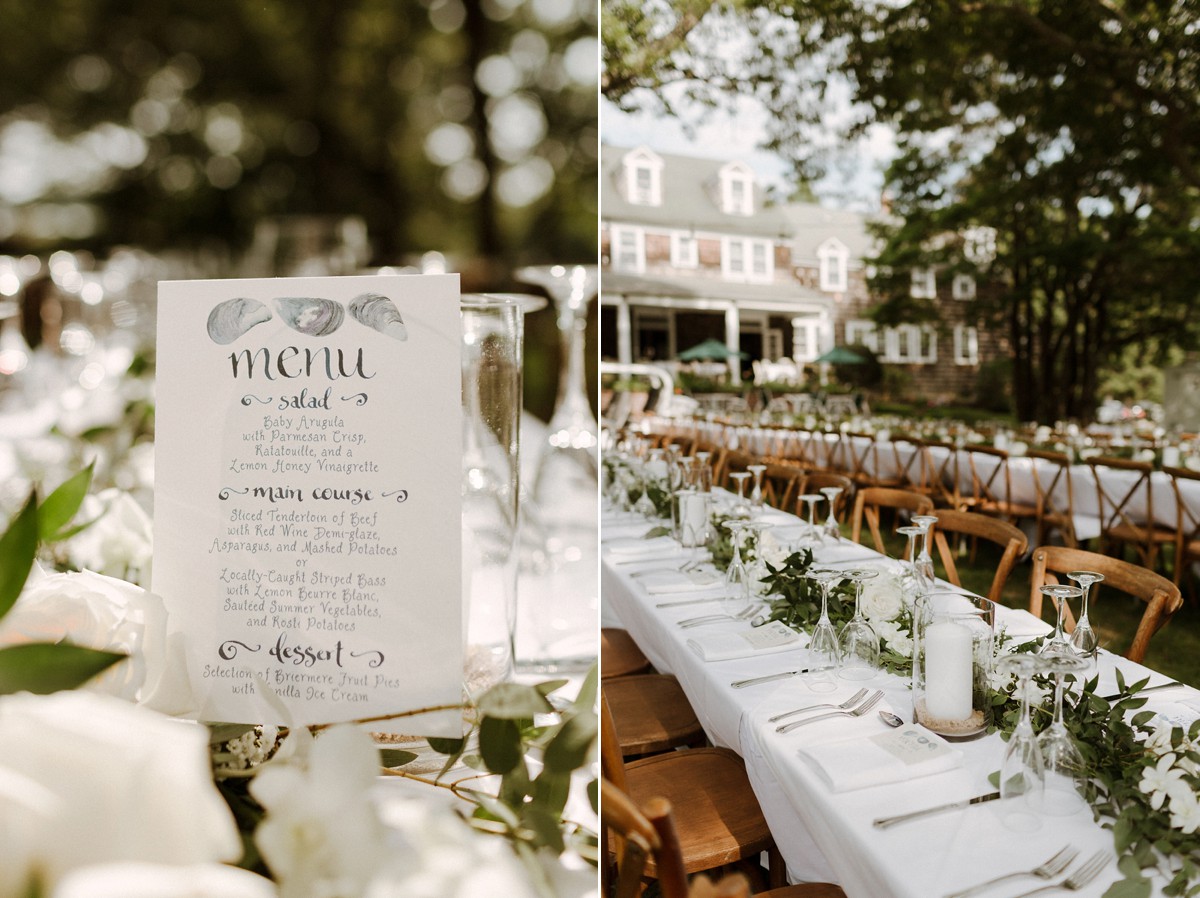 "The venue catered the reception with a seafood-inspired menu. We wanted to highlight all of the wonderful local food caught and grown in the area. Instead of a wedding cake, we opted to serve fruit pies from a local (and locally famous!) farm stand, Briermere Farms. The pies were made of summer fruits in a flakey pie crust, served with vanilla ice cream. I'd take those over a wedding cake any day!"
"My favourite part of our wedding was just being surrounded by our friends and family the entire weekend. We constantly felt bathed in love and support from so many parts of our life all coming together in the same place – how amazing is that!"
"I laughed until tears were pouring from my eyes during phenomenal speeches by my sister, Reid's brother and our fathers. I loved looking around at the tables with our guests smiling and laughing."
"One of the most memorable moments was actually the 20 minutes or so during the cocktail hour when we stepped away with The Curries to take photos on the beach whilst the sun was low. We brought a few beers and just had a moment to stop and appreciate everything that was happening with just the two of us."
"Our entertainment was provided by The East Coast Band, an 8-piece band who kept everyone on their feet throughout the night for a good old sweaty dance party!"
"They also played our first dance song, an acoustic version of Is This Love by Bob Marley, which quickly transitioned into an upbeat Boogie On Reggae Woman by Stevie Wonder."
"This was wonderful as it allowed us to have a brief first dance moment together and then invite all our friends and family to join us when the upbeat track came on, kicking off the dance party. The wedding was a celebration of all the love and support in our life after all."
Words Of Wedded Wisdom
"Remember that the purpose of the day is to celebrate the love of two people and the joining together of their families and friends. There can be a lot of well-meaning pressure from people you love, to do or not do certain things. Discuss with your partner what is important to you both and stick to those decisions."
"That then leaves room to compromise on the parts you don't care as much about. In the end, there are no hard and fast rules. If the thought of cake cutting is awful, don't do it! Do what makes you and your partner happy. And be sure to take a moment from the fun to look around and soak in all the love and happiness. Like everyone warns you, it really does fly by!"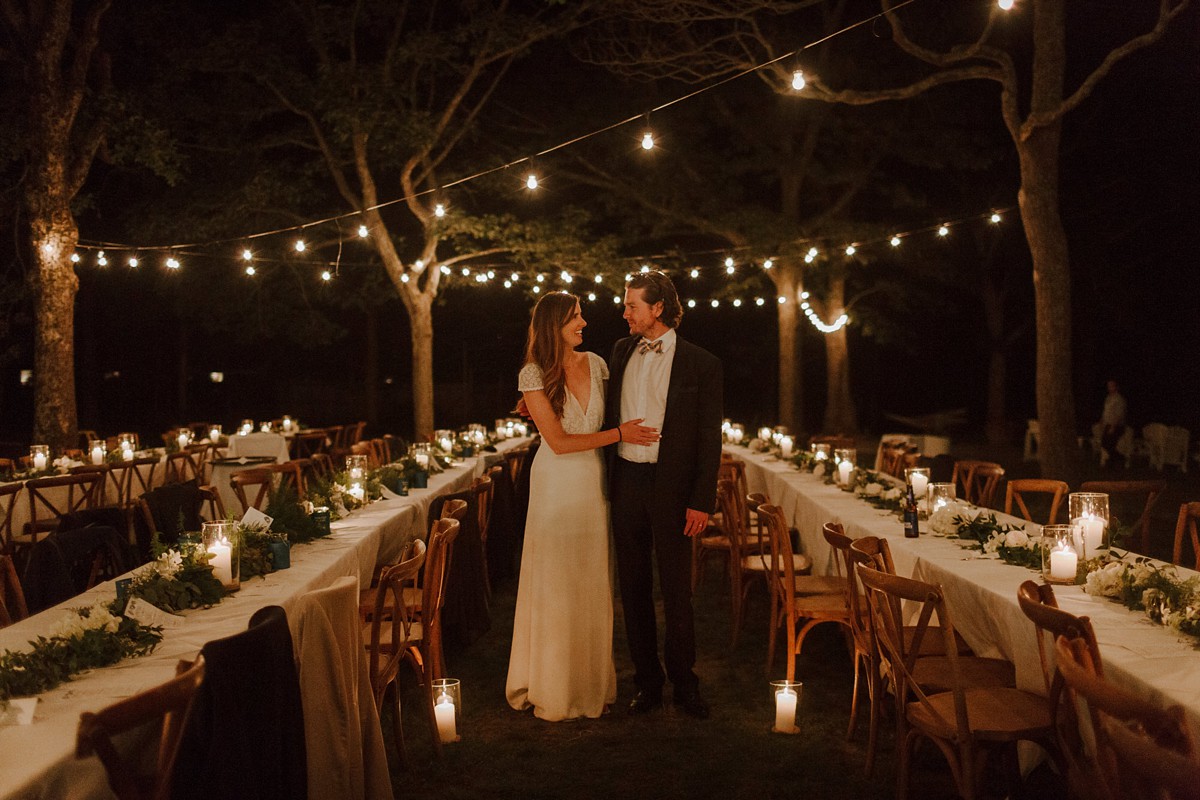 Thank you so much Hanna and Reid for sharing such a beautiful day with us! Special thanks also to The Curries for capturing it all so spectacularly on camera.
Until next time…
Much love,
Holly x