Afternoon tea, mis-matched vintage crockery, relaxed Minna (now known as Indiebride London) design and bridesmaids in blue.
Have I piqued your curiosity? Well then, you are all in for such a treat because I have a dream of a wedding day to share with you. The bride and groom are Hannah, who works in safety reporting in the railway industry, and merchandiser Jonathan, who exchanged their marriage vows on 22 June 2018.
If you're a regular visitor to Love My Dress, you'll know how much we love Indiebride London (formerly known as 'Minna'). I was delighted to see Hannah's choice of the 'Effie' gown – a softly-draping, lacy, era-inspired number with elegant drop sleeves and a gorgeously cinched-in waist.
Photography Cassandra Lane Photography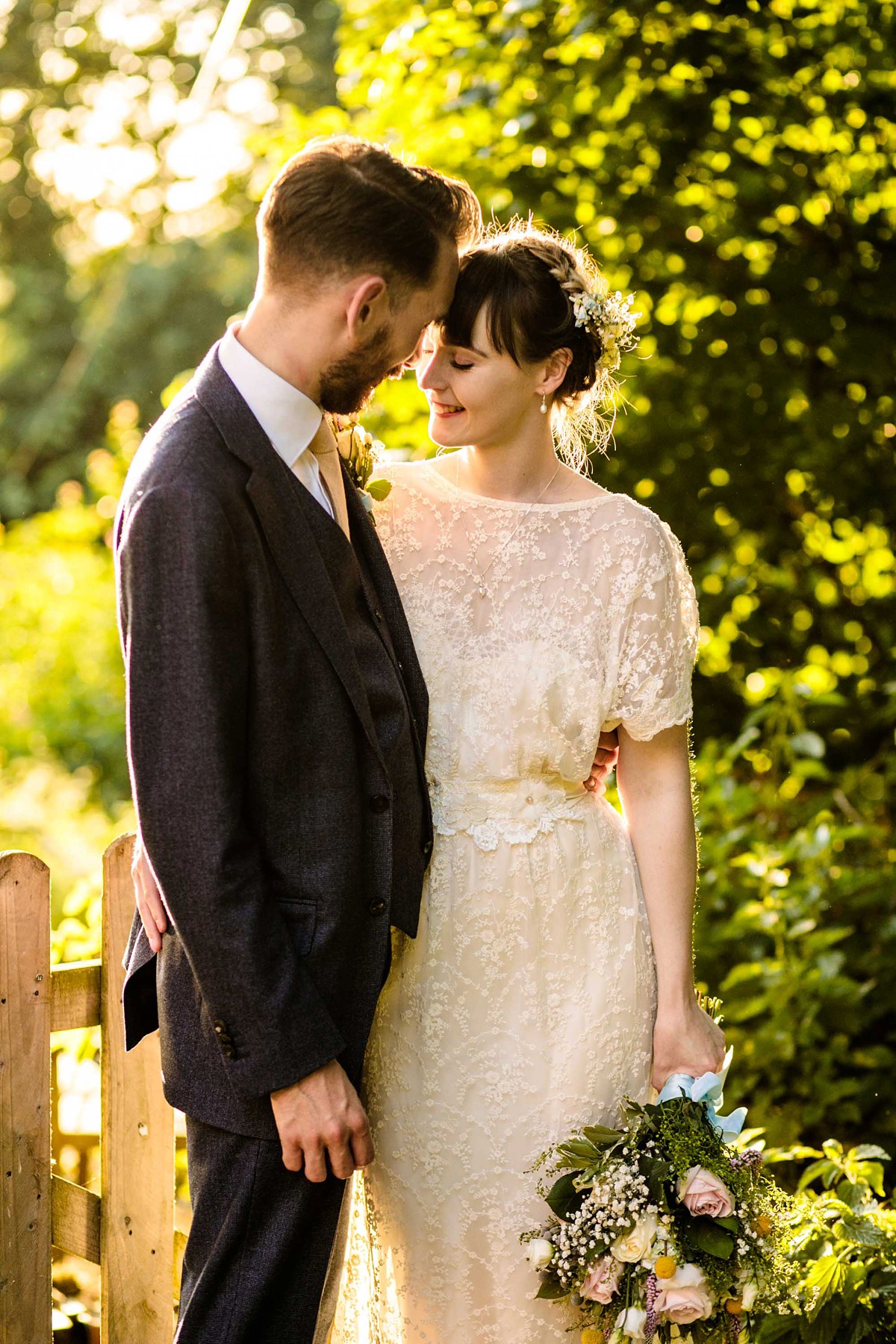 "My maid of honour and I had a mad weekend in London. Our first stop was Minna in Brixton. Minna is based in an old church that is still in use. The showroom is right at the top beside the bell tower; it's a hidden gem! I always wanted a full-length dress that was simple, elegant and had a 1920/30's feel."
"I tried on so many dresses in shops all over London that were boned, sequinned, embellished and layered. They all felt heavy and not very 'me' but when I tried the Effie dress on I knew it was the one.
The fabric was so delicate and I loved the silk slip underneath. I had the back lowered and opened slightly at the last minute which added an element of surprise. The sash around my waist was also from Minna. I wanted to accentuate my waist and I loved the delicate lace and beading detail."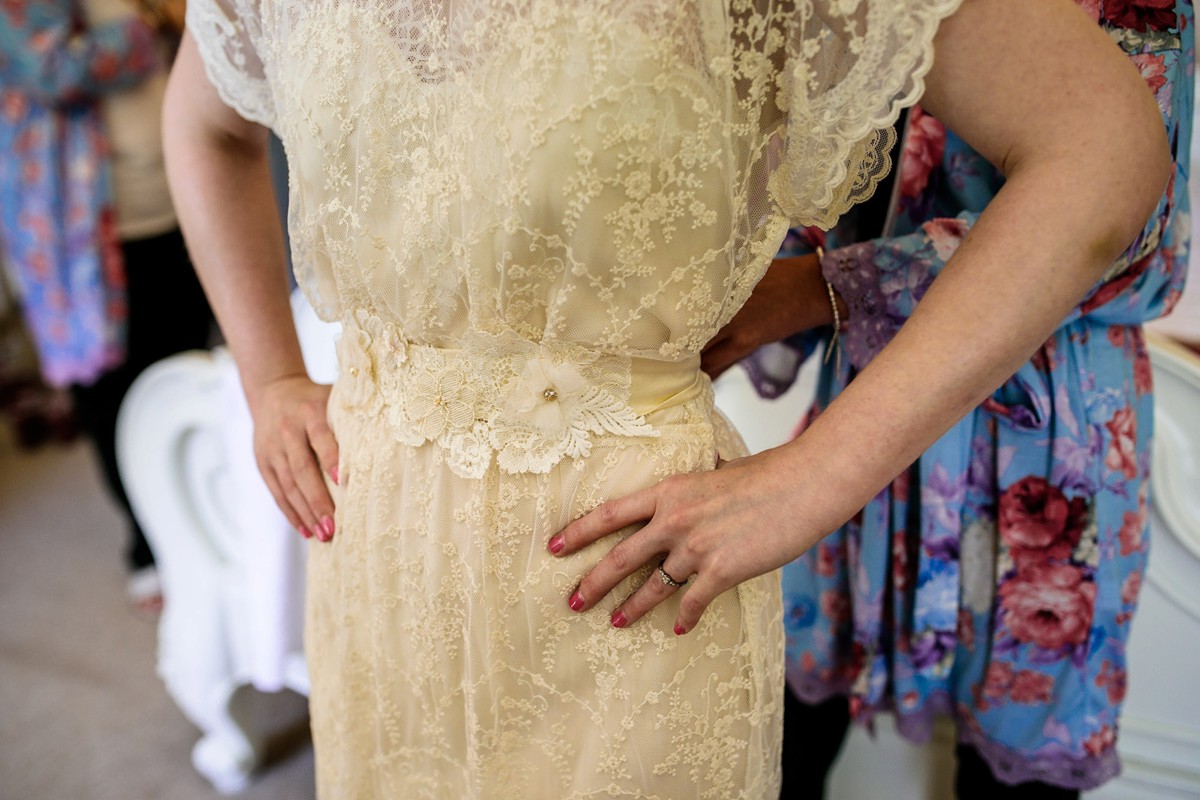 The vintage feel came through Hannah's accessories too, and I'm not sure I've ever seen a flower crown worn like this. I love how it's been woven in to the lower half of her braided hair, which was styled by Sidonie at Aurora Loves. Such a gorgeous look, and one I'm going to save on my Pinterest hair board.
"I wore a drop pearl necklace that Jonathan gave me for Christmas from an independent jeweller in Cambridge and I bought some vintage drop pearl earrings to match."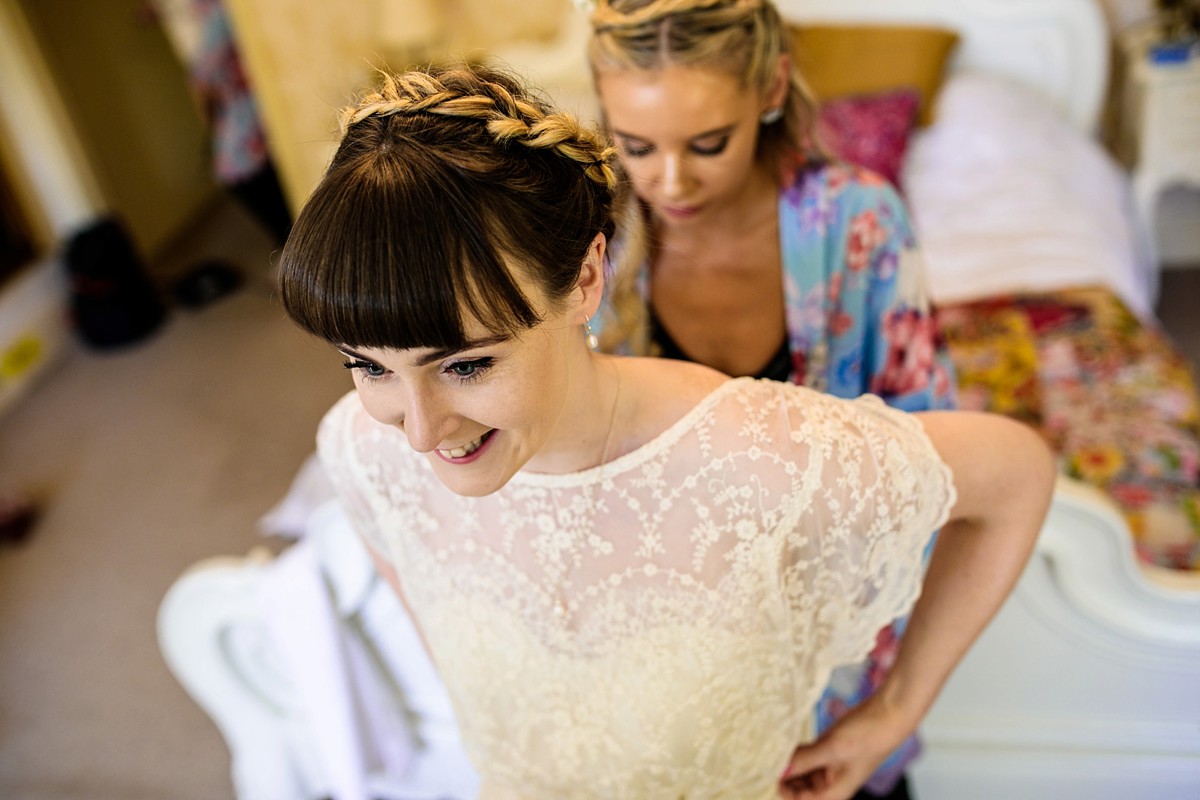 For a finishing touch, she added a splash of Chanel Coco Mademoiselle, a wedding present from Jonathan.
"My shoes were Hermoine by Rachel Simpson Shoes. The beading complemented my sash and they were surprisingly comfortable."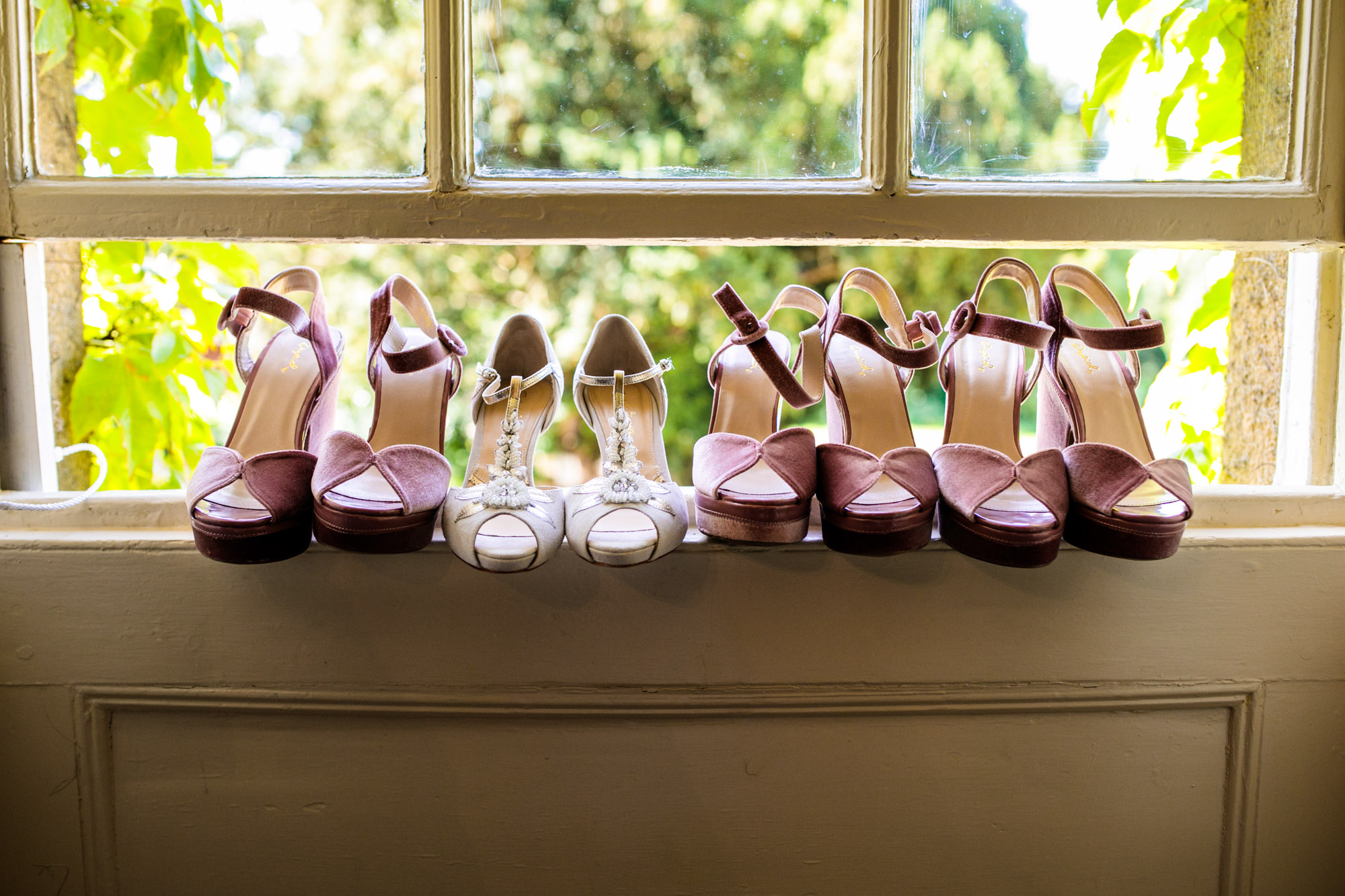 "I decided not to wear my veil at the last minute but I gave it to my friend who got married in August; it matched her dress perfectly! I opted for fresh flowers on wire. I had gypsophila, roses and little blue flowers that were similar to forget me nots – they lasted all day."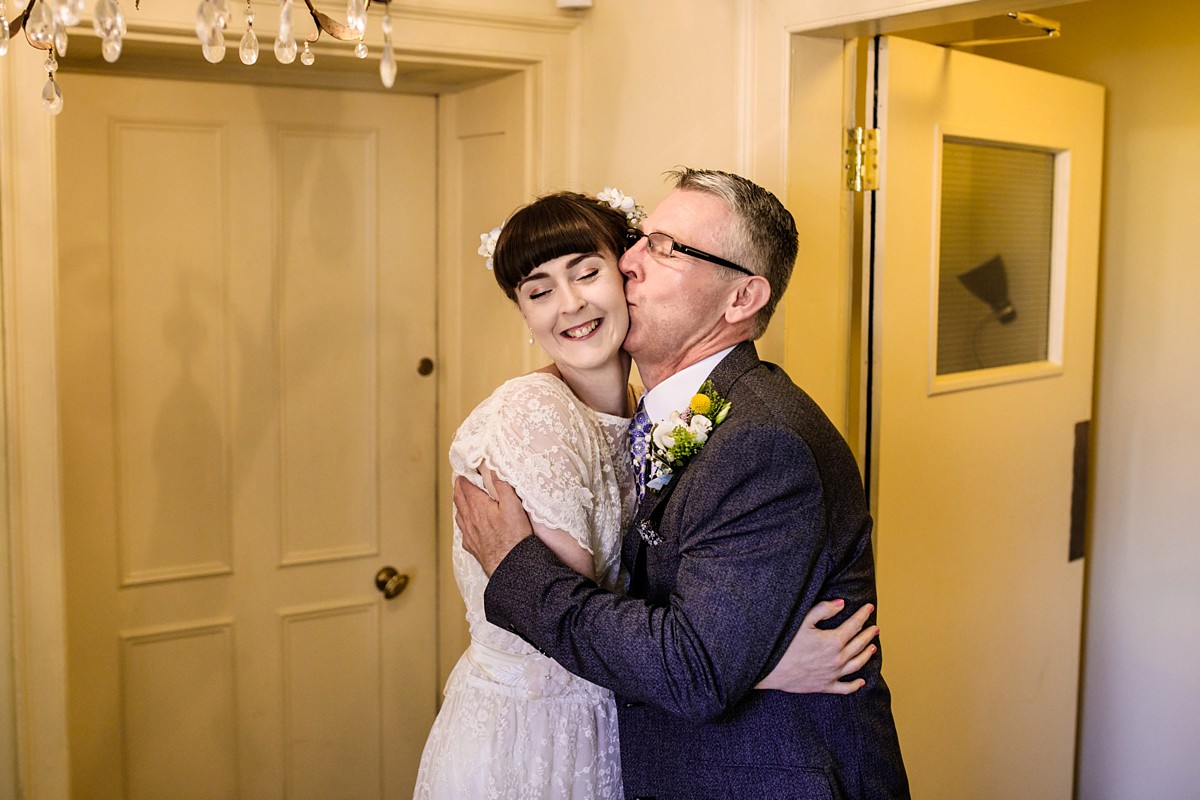 The pastel blue of the bridesmaids' gowns is perfect for summer, and so pretty with the meadow flowers in their bouquets and crowns.
"My three sisters and Kate wore Chi Chi London dresses. ASOS saved the day with their shoes; I really struggled finding the right shoes."
"We gave the bridesmaids bloom studs in pastel blue from Wolf & Moon that matched the colour of the dresses."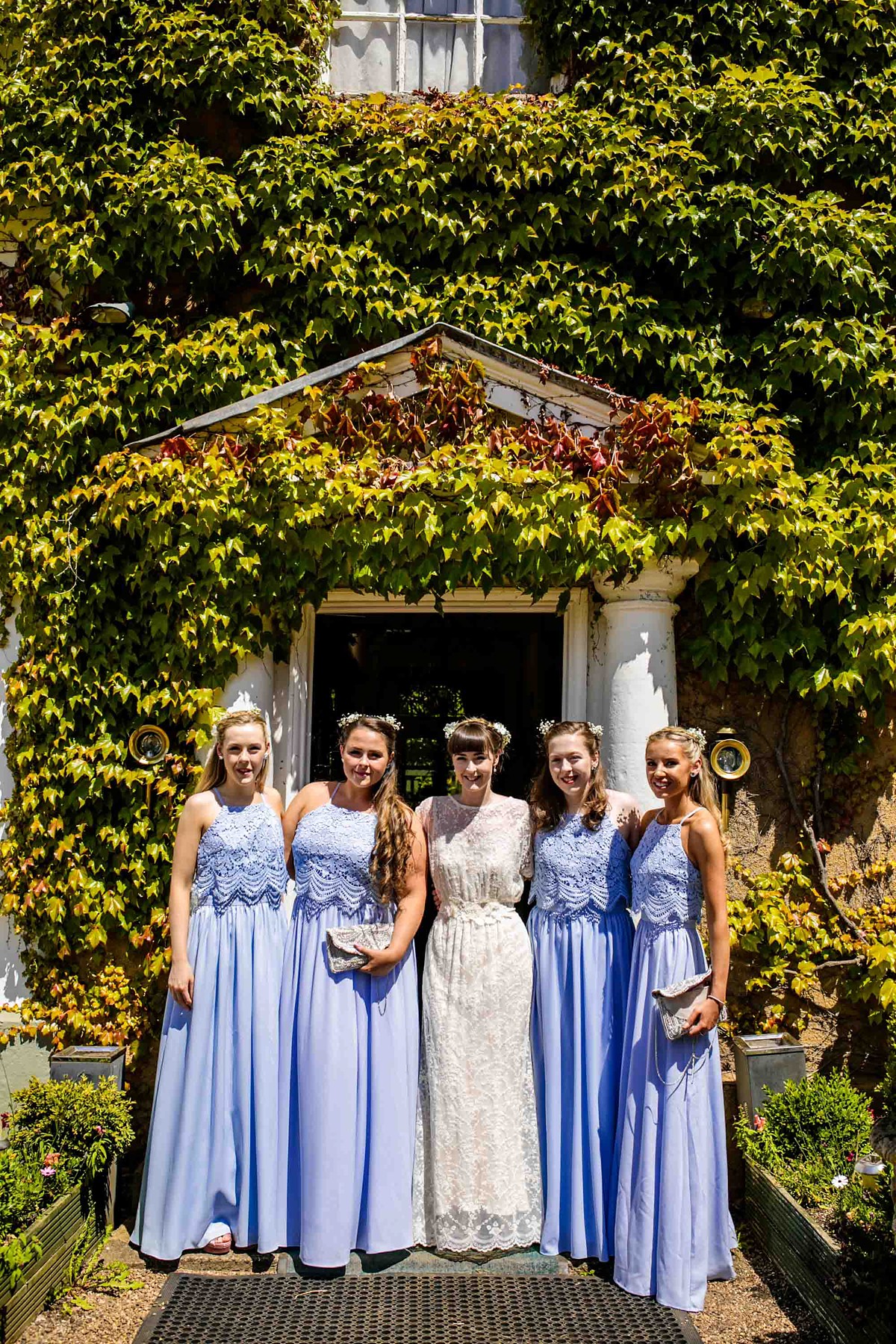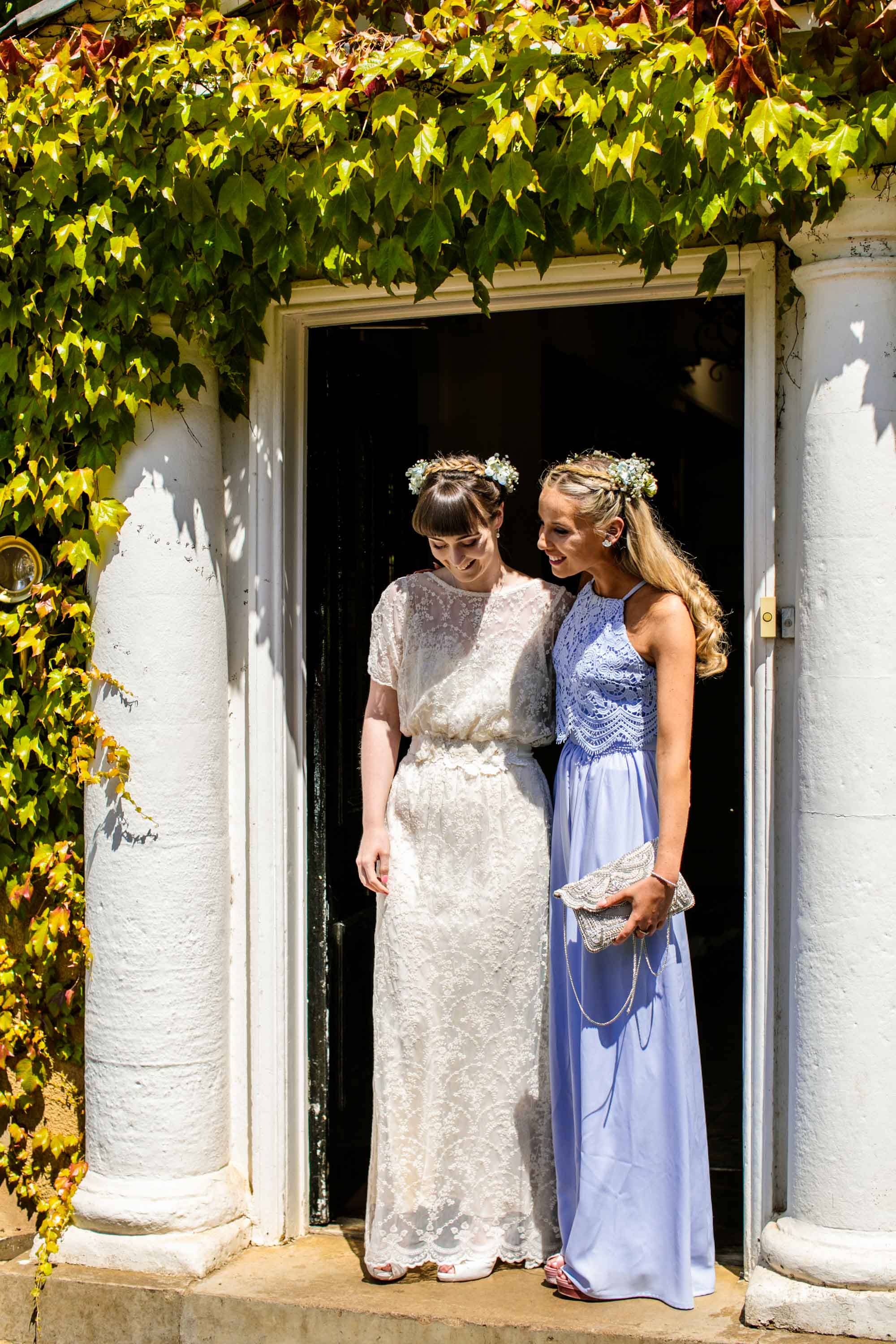 All of the girls carried bouquets brimming with summer meadow flowers, put together by The Secret Garden Florist.
"I loved our flowers. They were meadow-inspired so were colourful and natural with no embellishments other than the blue velvet ribbon. We used the same ribbon to tie gypsophila to the aisle chairs."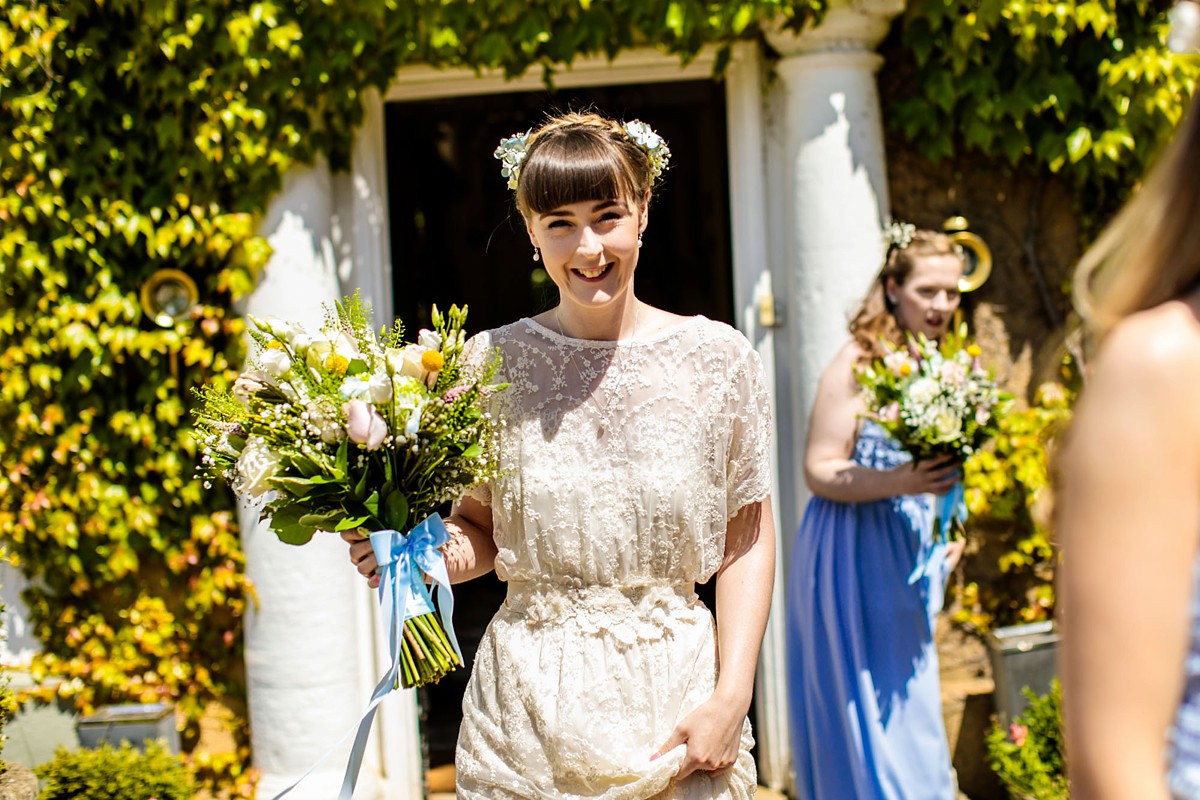 The venue was The Barns at Hunsbury Hill in Northamptonshire, an intimate, boho setting with empty barns for styling, beautiful rural grounds and an outside bar. The couple were inspired by 'vintage glam', choosing meadow flowers, soft pastel colours and a touch of gold for their fun and relaxed afternoon tea reception and evening party.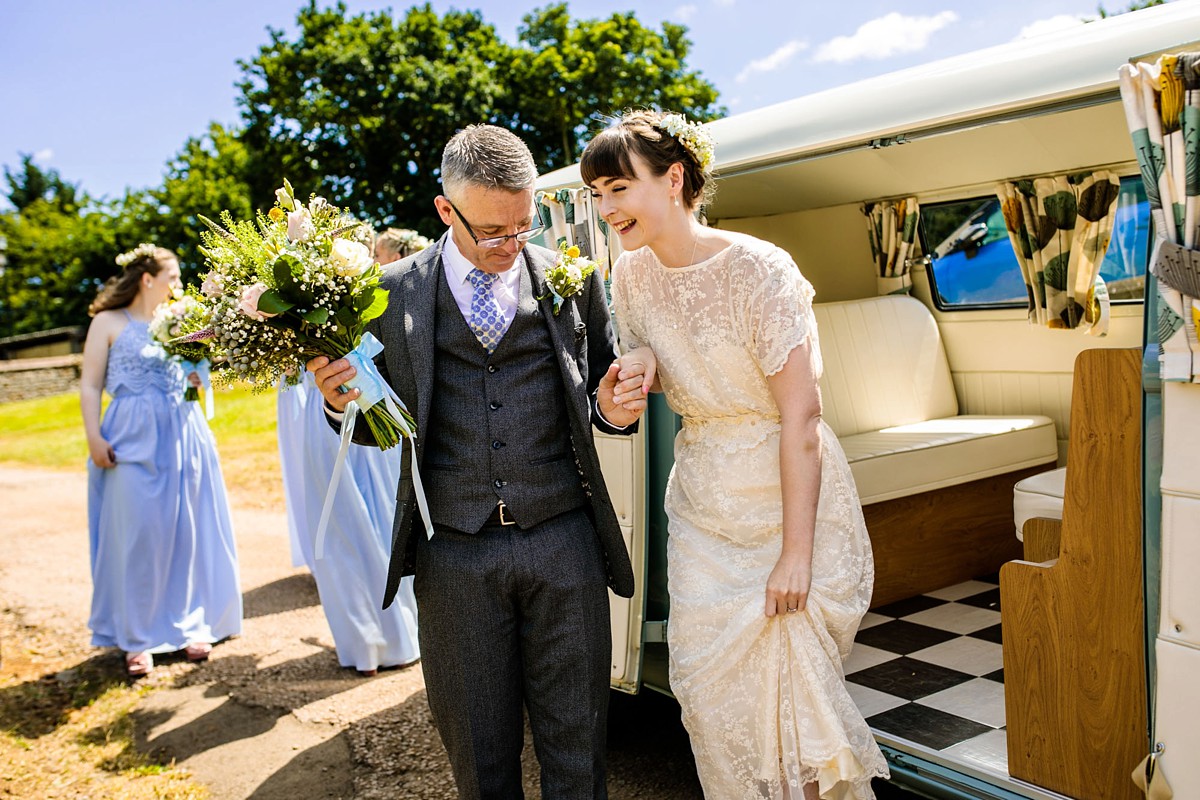 A vintage blue VW Camper from Fifties Chic transported Hannah and her bridesmaids to The Barns, where she entered the ceremony barn on the arm of her dad.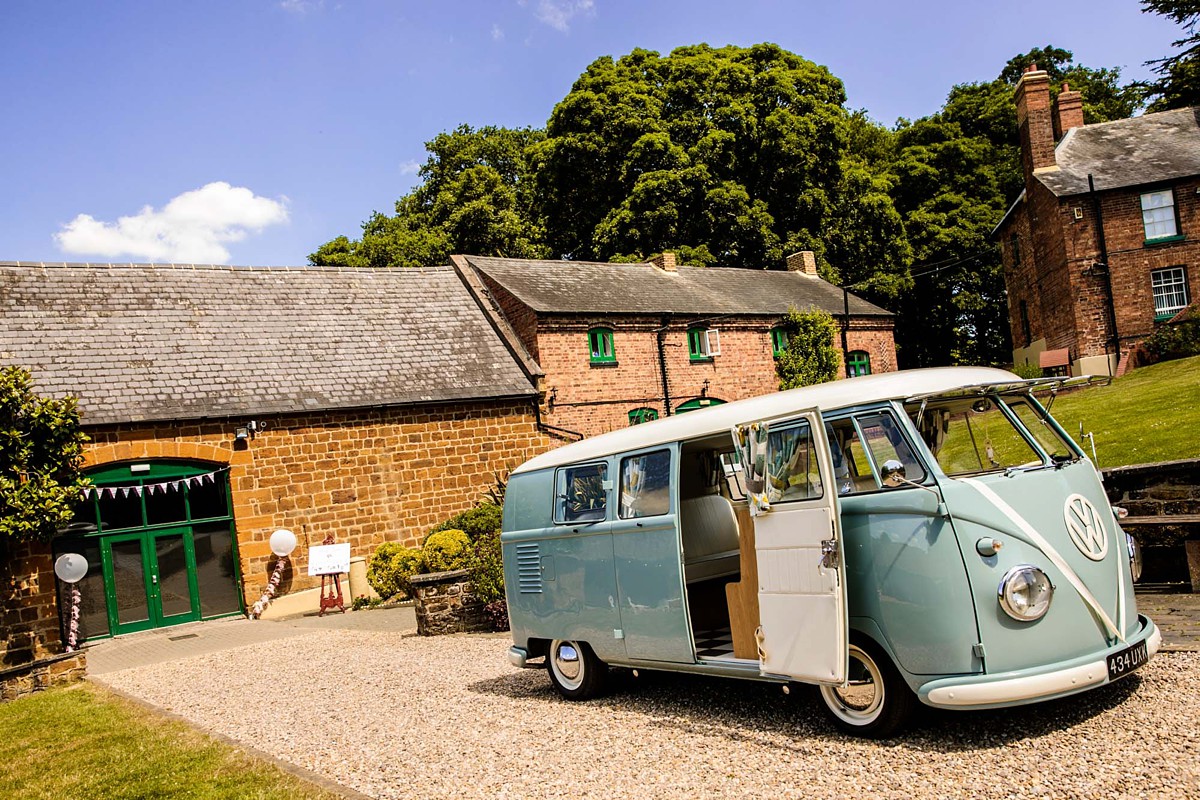 The couple have been together since their time at university and designed the engagement ring together.
"We both went to Northumbria University in Newcastle upon Tyne. I studied Advertising & Media, Jonathan studied 3D Design. We met in our university accommodation, which was a cul-de-sac of tiny houses. He lived three doors down from me and we had bumped in to each other a few times (even though he doesn't remember that!)."
"With the help of my maid of honour Kate, I knocked on his front door and invited him to a party we were throwing for Kate's birthday. After a bit of persuading he came to the party and the rest is history. We have been together since 2009, so next year we will be celebrating ten years together and our one year wedding anniversary."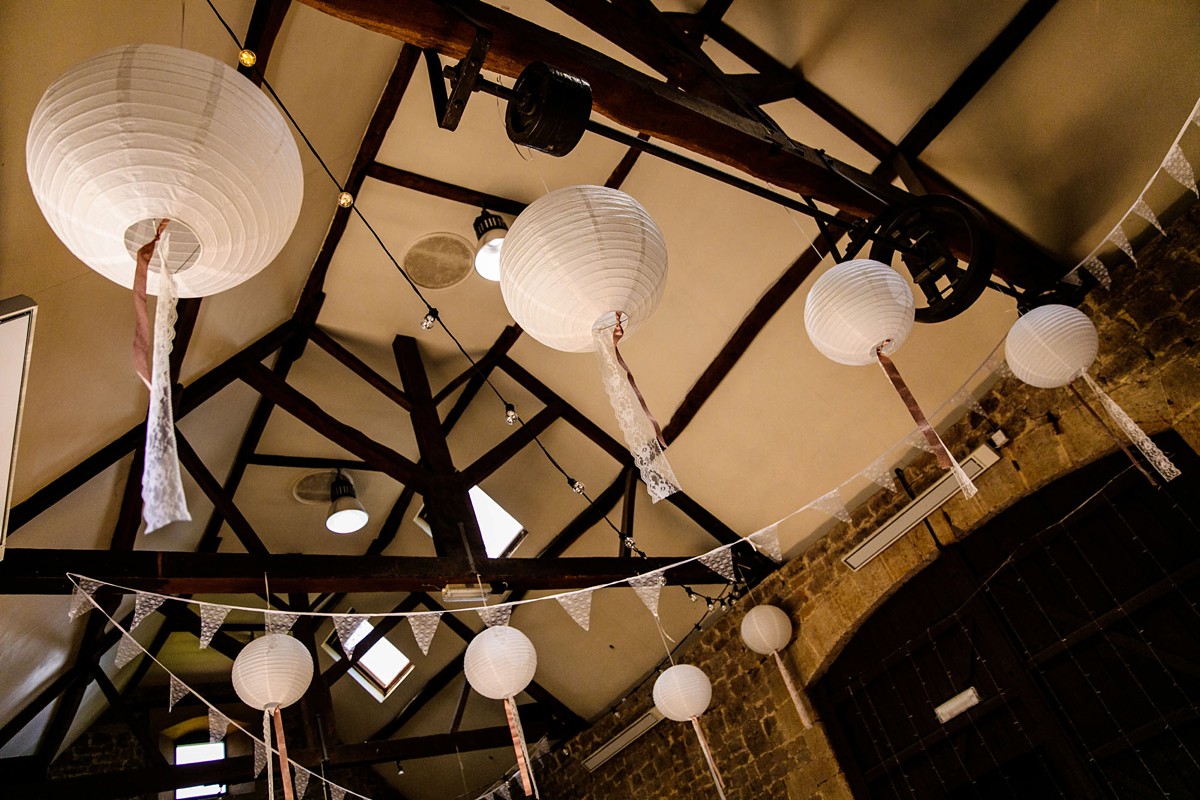 "We designed my engagement ring together at Harriet Kelsall in Cambridge but I didn't see the ring until he proposed. We were on Thornham beach in Norfolk walking our cockapoo, Daphne. We went up into the sand dunes to get out of the rain and he got down on one knee and popped the question. Right on cue the rain stopped and the sun came out."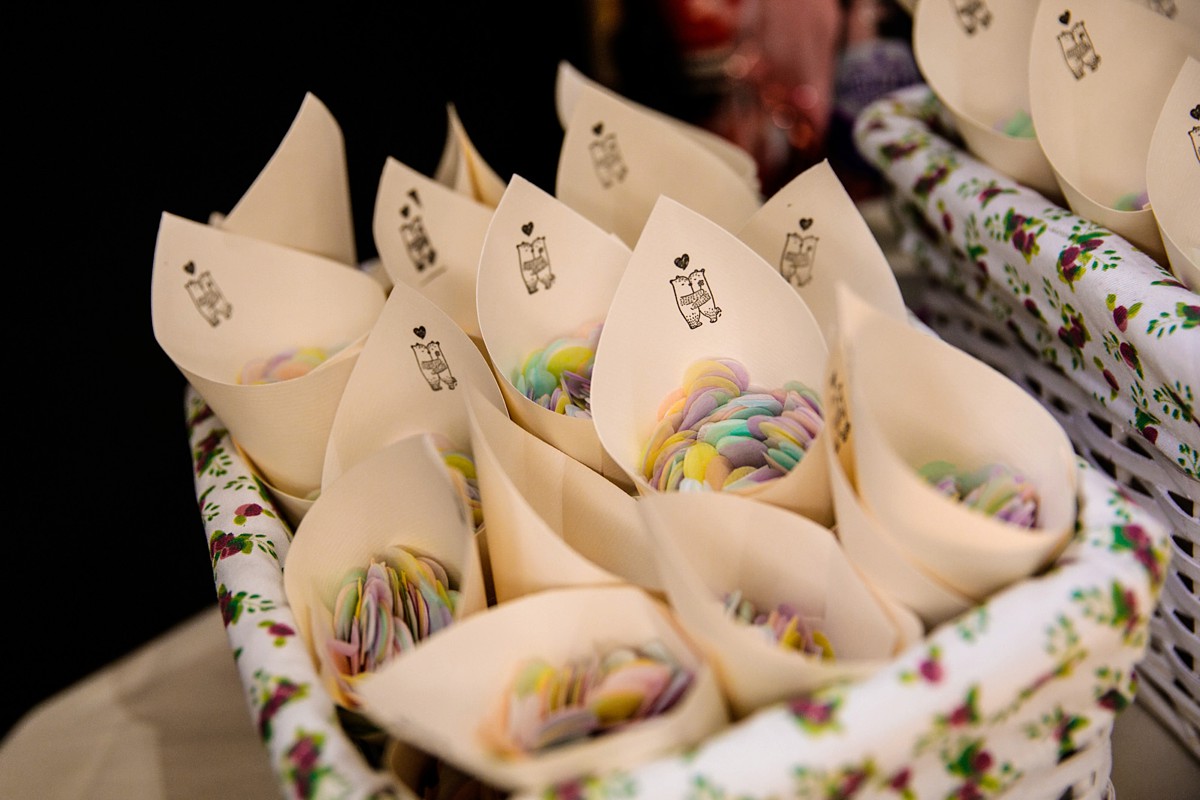 "We were originally looking in Cambridge as it is one of our favourite places but when we saw Hunsbury Hill we knew it was perfect for us. The barn had a boho vibe and the outside space was private and enclosed, which was important as I wanted our wedding to feel intimate. The outside bar was definitely an added bonus."
"We wanted our wedding to feel fun and relaxed. The venue had an afternoon tea option for the wedding breakfast which suited us as we are big tea drinkers, and who can say no to cake! We both enjoy vintage style but didn't want it to look like a time warp so we settled on a mix of vintage and more contemporary decorations."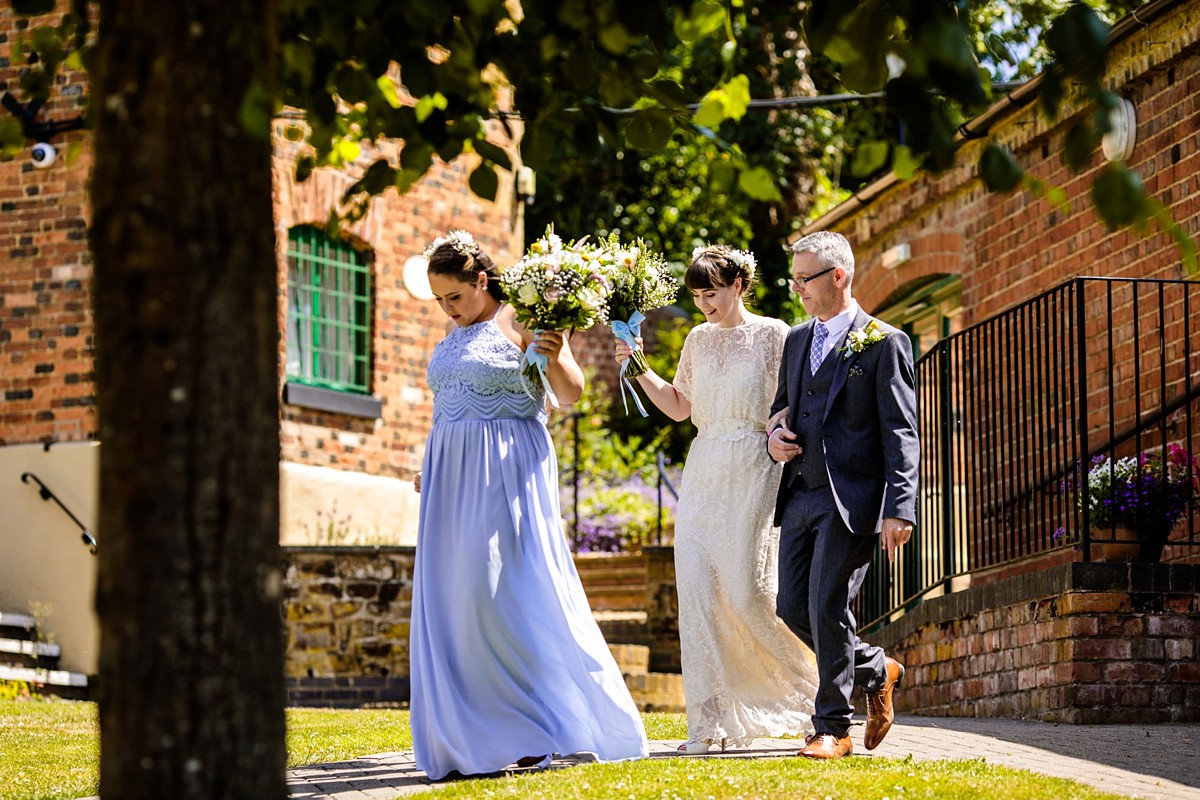 "We went for pastel colours – mainly blues and pinks – with some yellow and a bit of sparkly gold thrown in. We chose soft meadow flowers to go with the rustic vibe of the barn. I got the idea for the teapot centre pieces from my granny Eleanor. She always arranges fresh flowers in a vintage teapot. The result was a sort of soft vintage, glam look."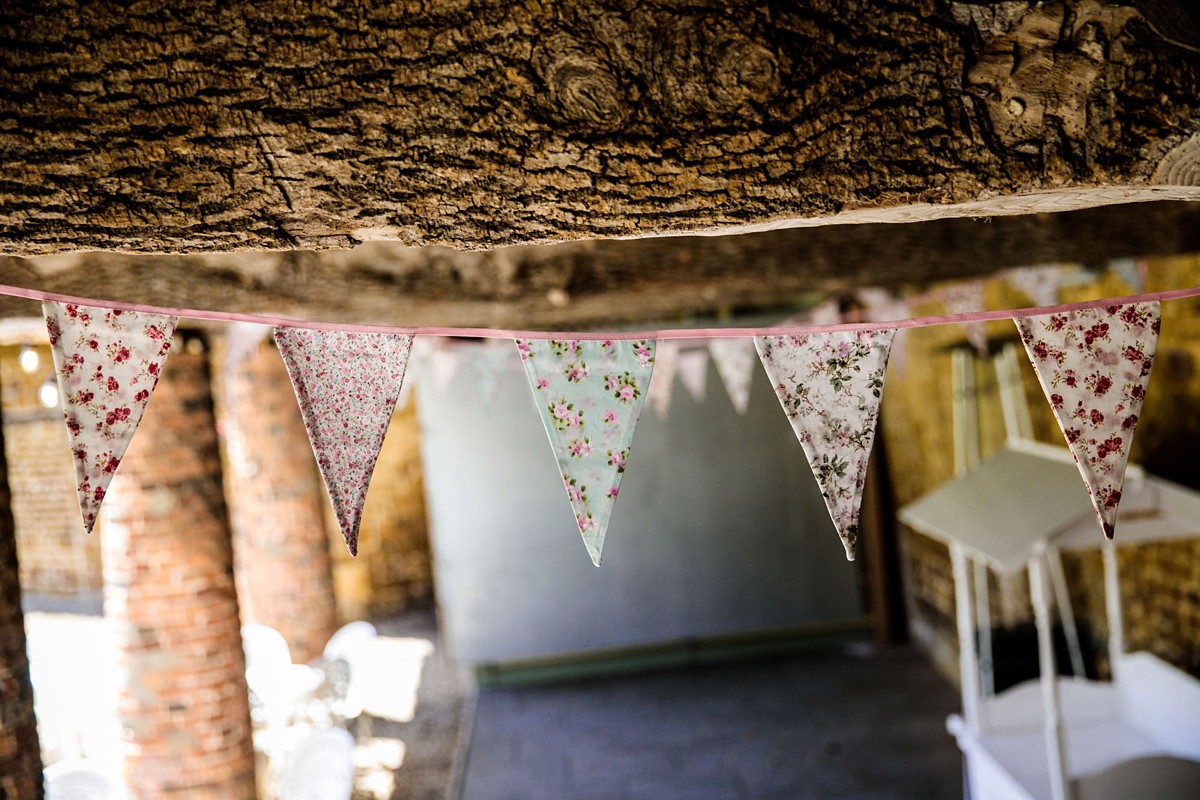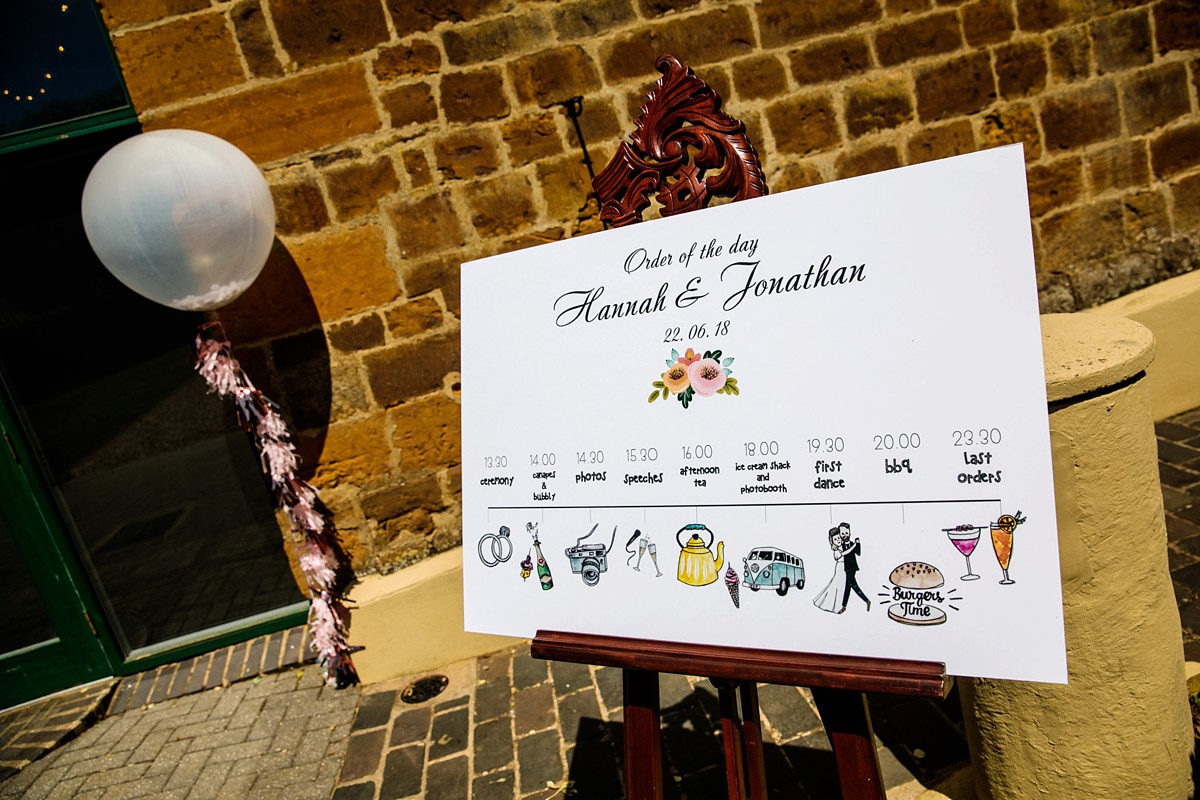 Jonathan wore a super-sharp blue suit from Suit Supply, together with a Suit Supply pocket square and Meermin shoes.
"We had a day in London with Jonathan's mum to find his suit. Jonathan knows his stuff when it comes to menswear so I didn't have much input. He chose one from Suit Supply that fitted him like a glove. I bought Happy Socks as part of his wedding present which he wore on the day."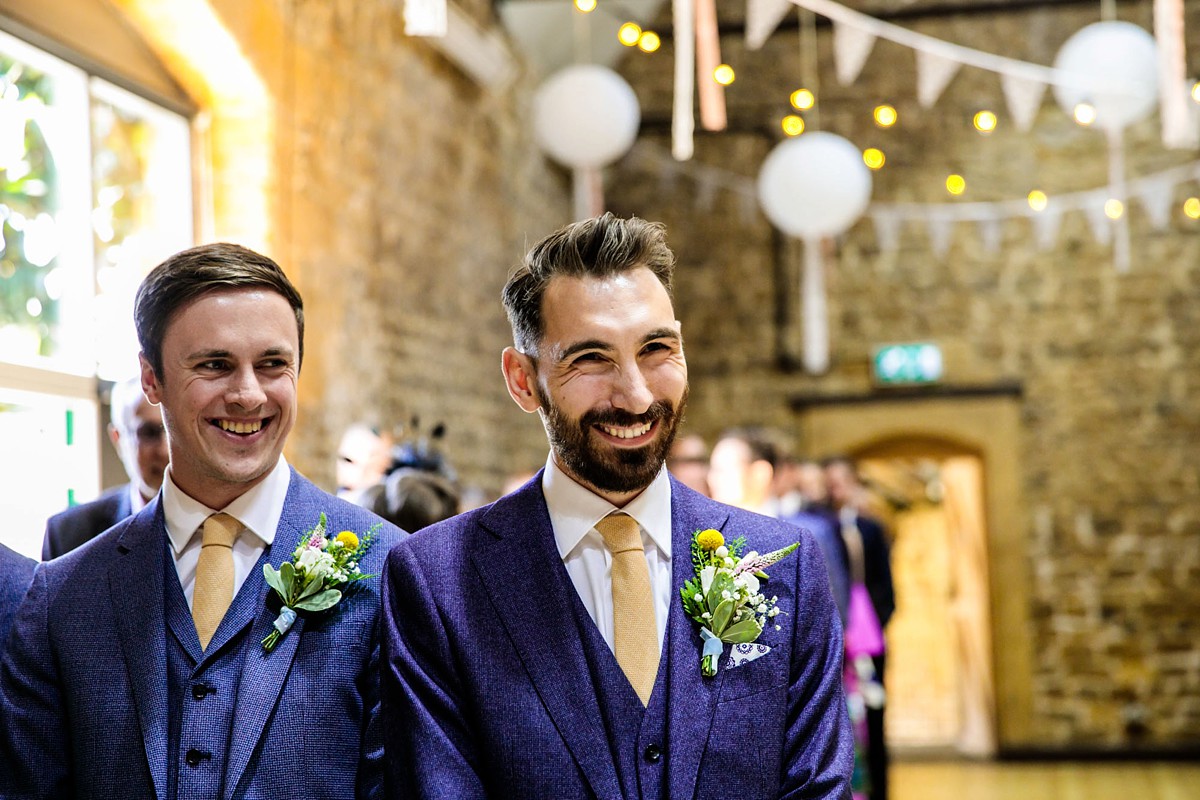 "My dad accompanied me down the aisle. We are very close and it was a lovely moment for us both. We came in last after the bridesmaids, flowergirl and page boy."
"My favourite part of the day was walking down the aisle with my dad and seeing all my friends and family and Jonathan's happy little face waiting for me at the end. My family all live in Northern Ireland so having them there to support me was lovely."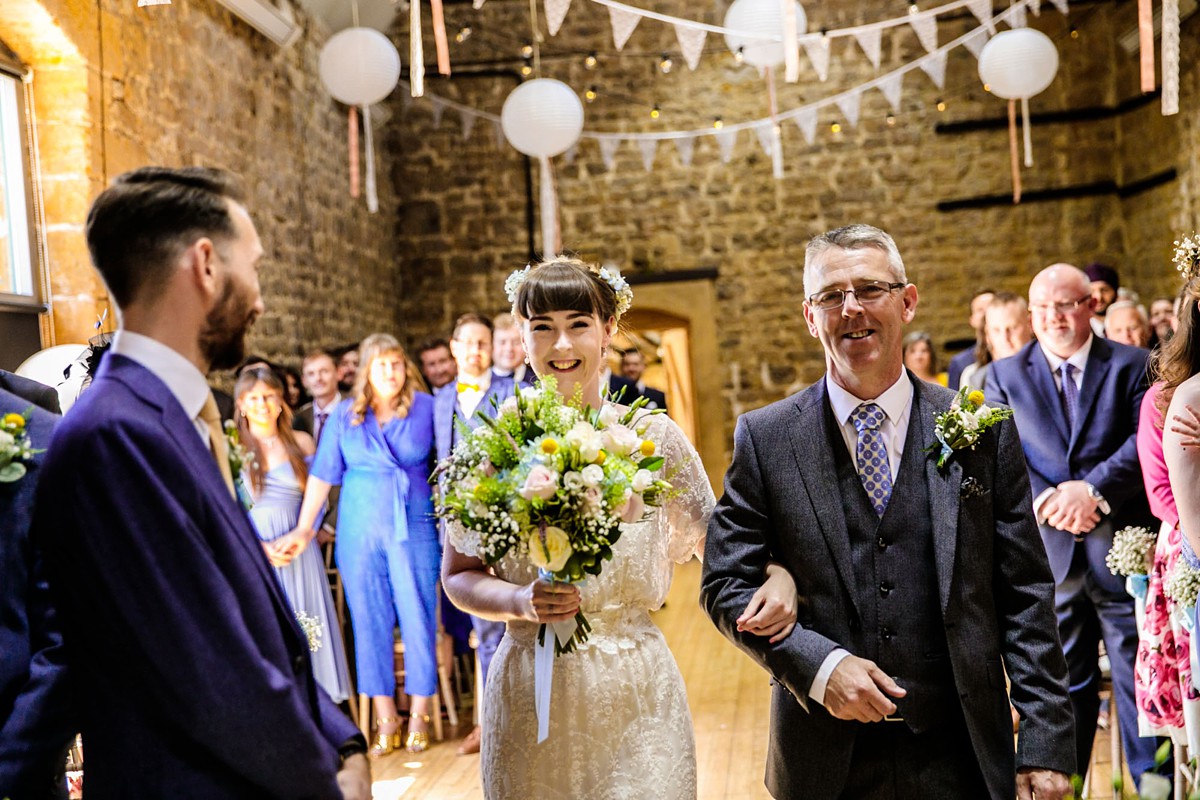 "Jonathan and I took a long time to decide on the music as it has played a big part in our relationship. We chose 'Two Doves' by Dirty Projectors as we used to play it over and over when we first met."
The couple chose simple vows and exchanged rings from Isabella Day.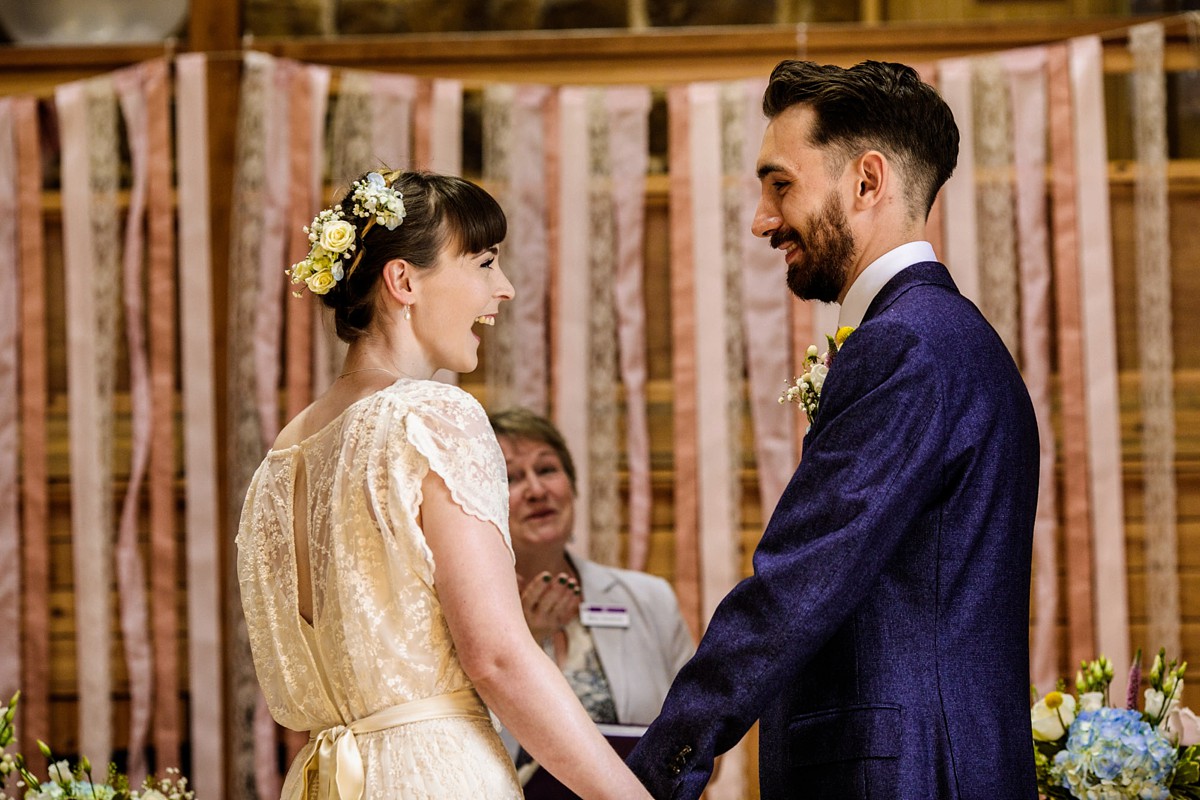 "We were both nervous about the ceremony as neither of us enjoy being centre of attention so we opted for the simplest vows we could find."
"We had two readings. The first one was read by my maid of honour and best friend Kate and the second was read by my mother-in-law, Anne. Kate read an extract from my favourite book, 'Jane Eyre'. Anne's reading was chosen by Jonathan from an anonymous author."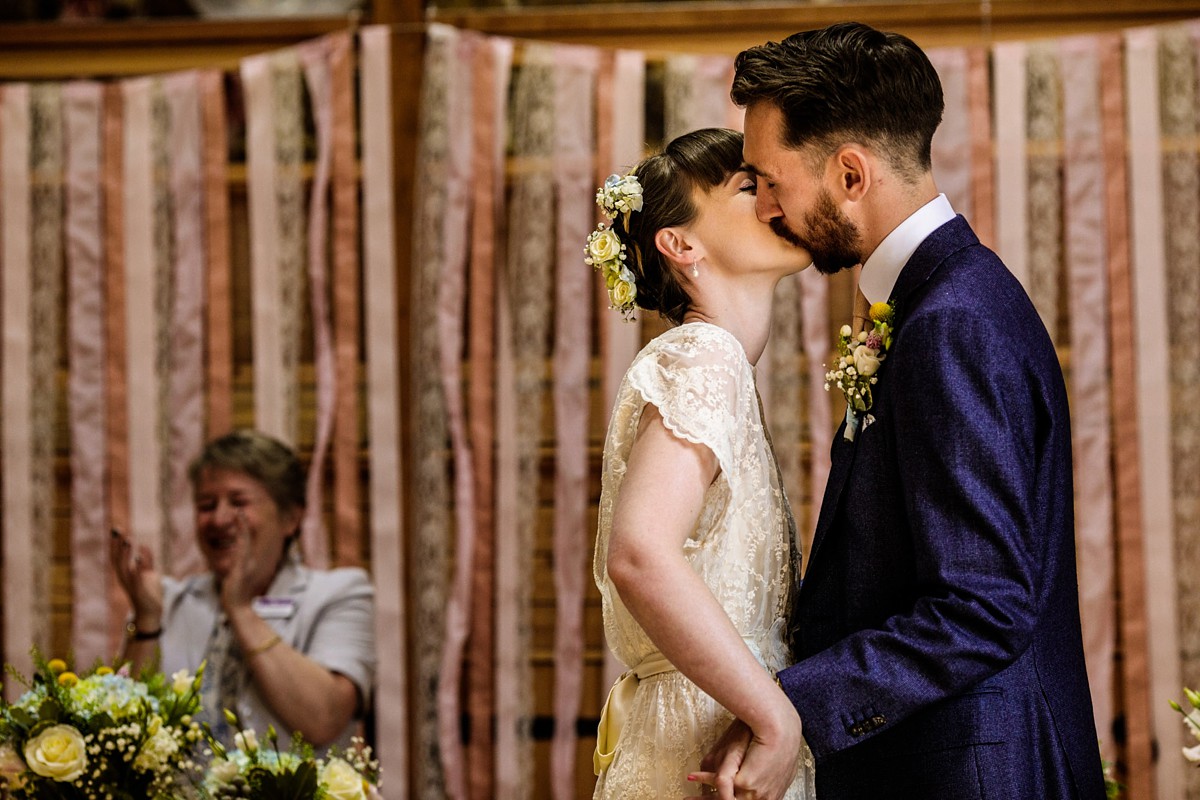 The Barns looks like such a friendly, relaxed venue. The ceremony space was dressed with wildflowers in vintage jugs, paper lanterns and balloons, pretty bunting and a pastel ribbon backdrop.
"I made a ribbon backdrop for the ceremony. This was a mammoth task but I am so happy I did it as it tied everything together. I also loved the lanterns with the sparkly/lacy ribbon hanging down – a last-minute addition."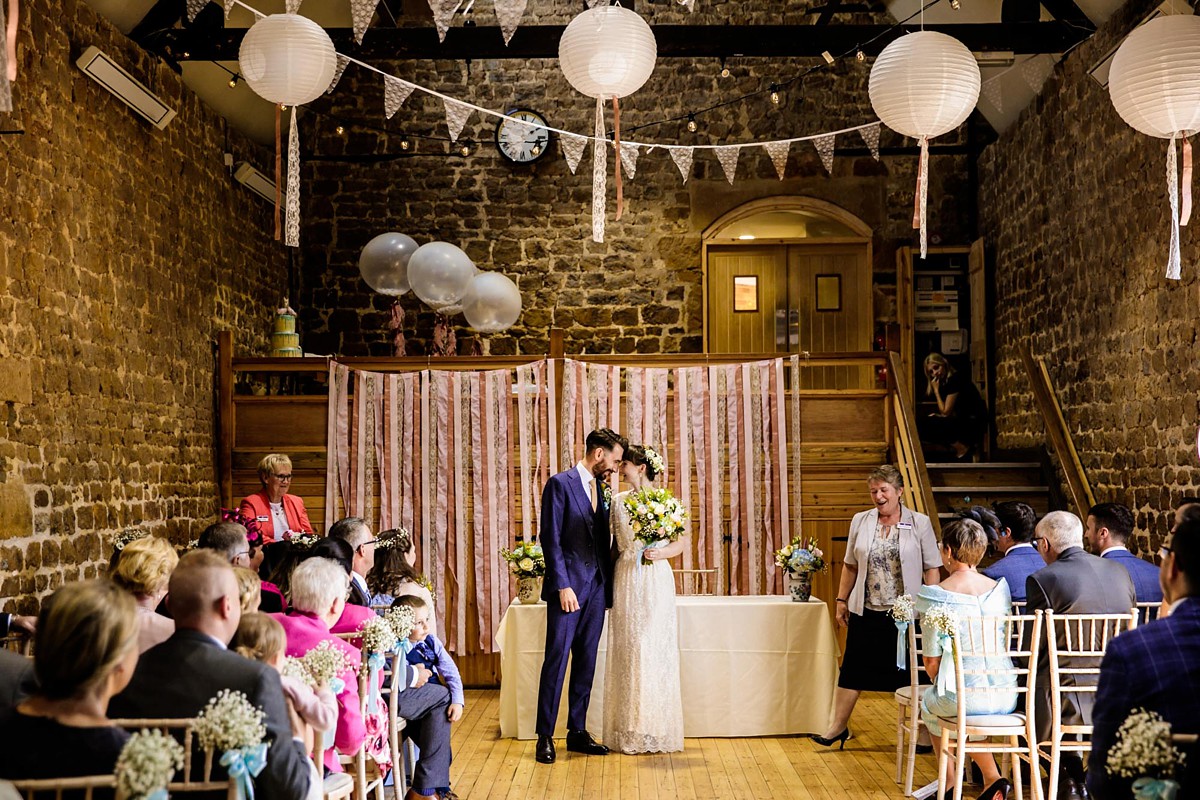 The newly-weds emerged from the barn into the June sun to a shower of confetti. There was time for the newly-weds and guests to enjoy The Barns' grounds before the wedding breakfast got under way.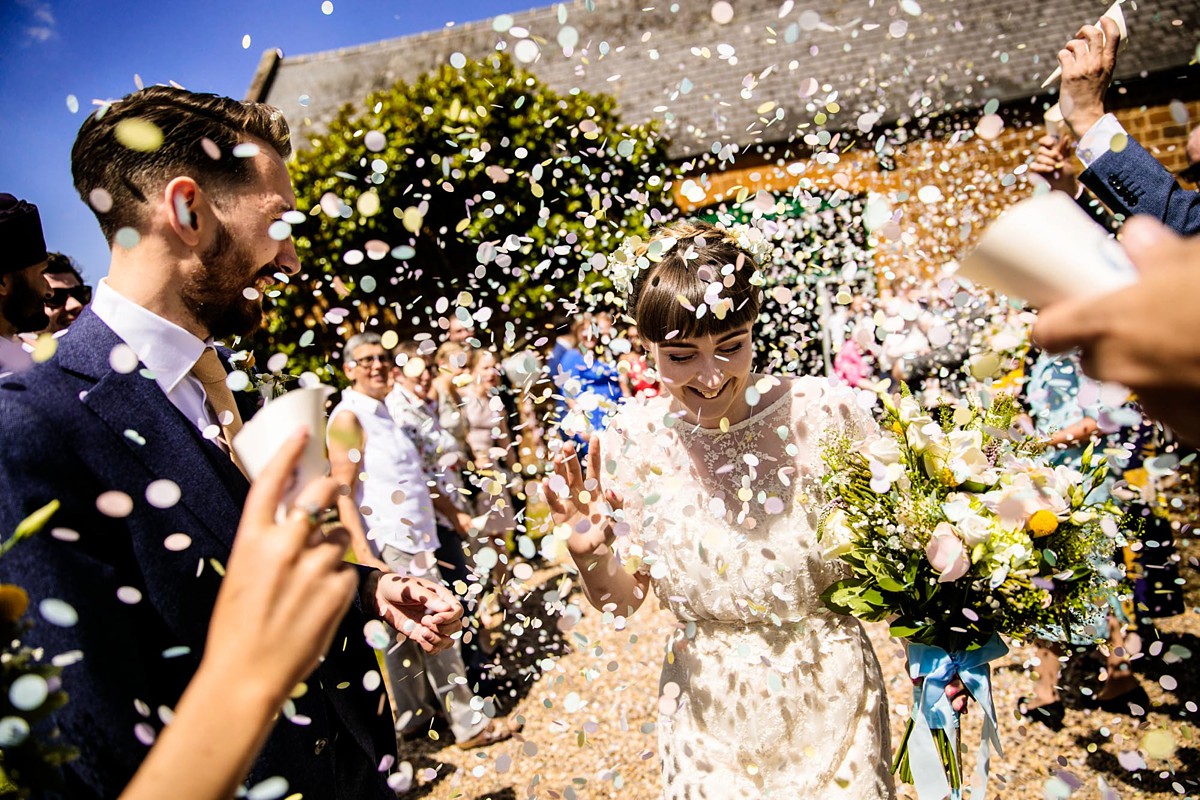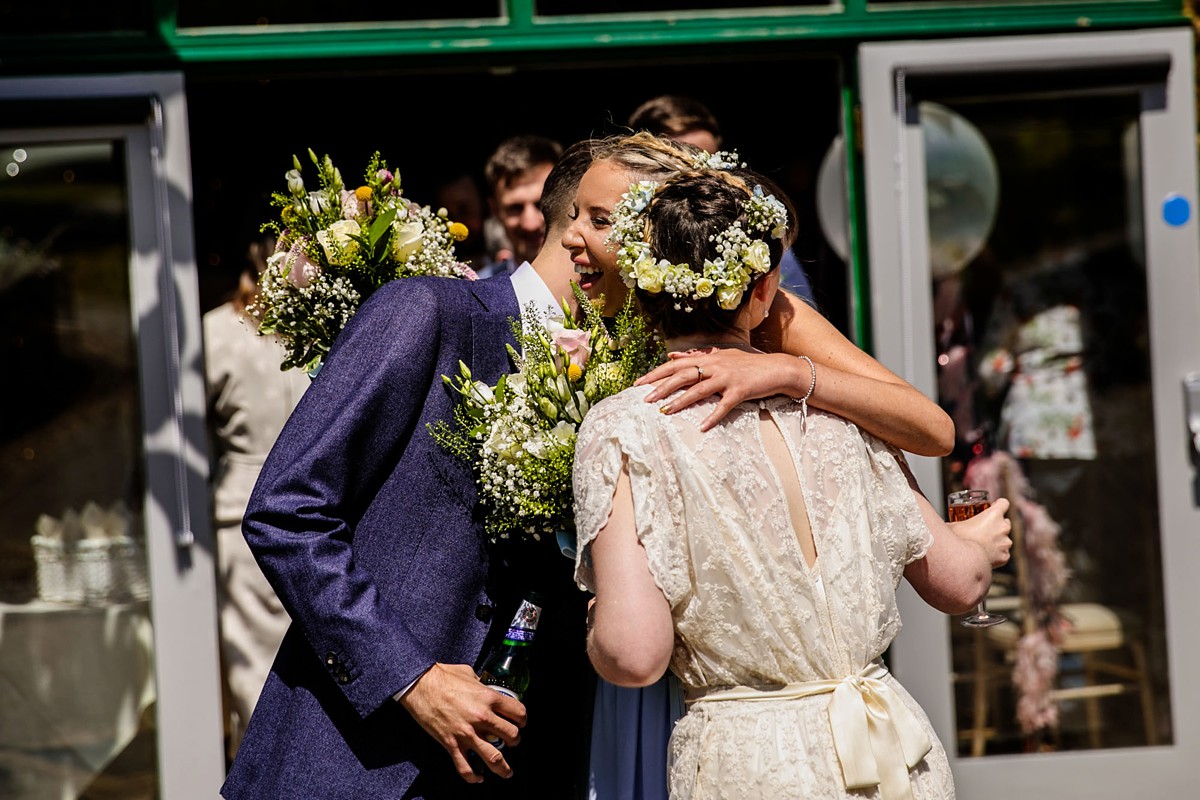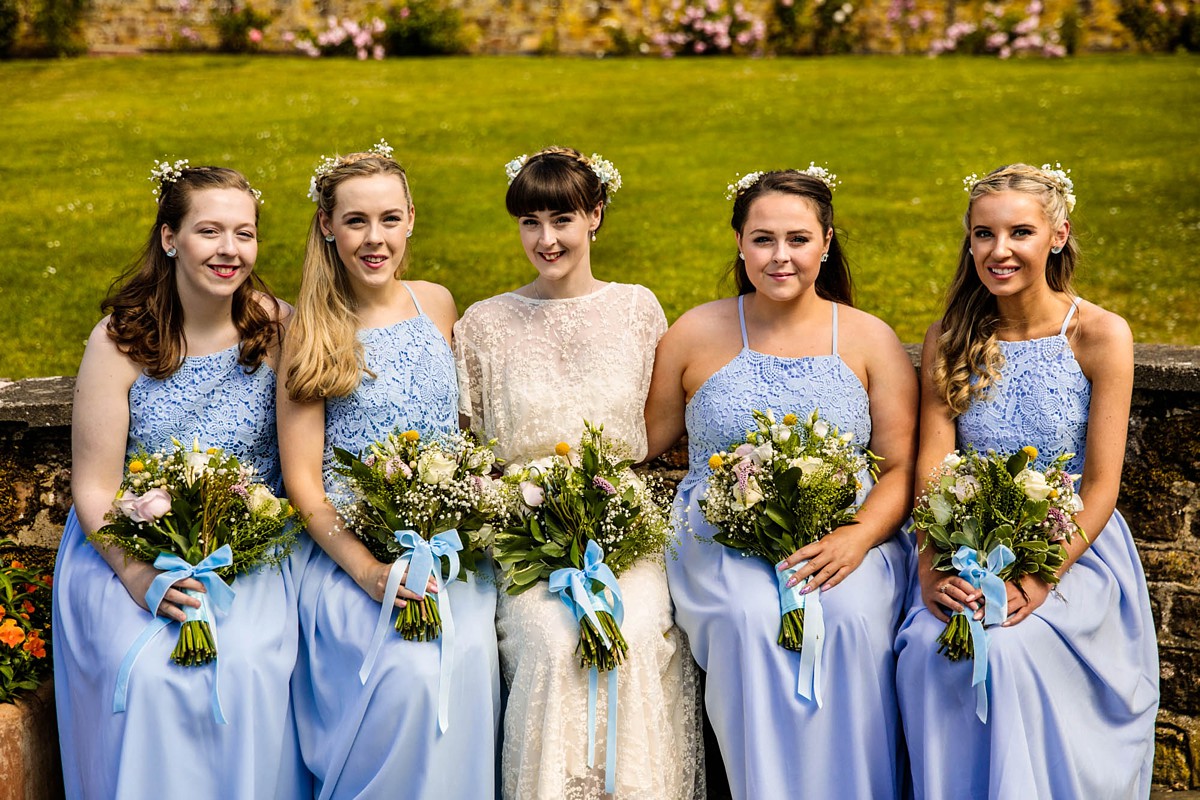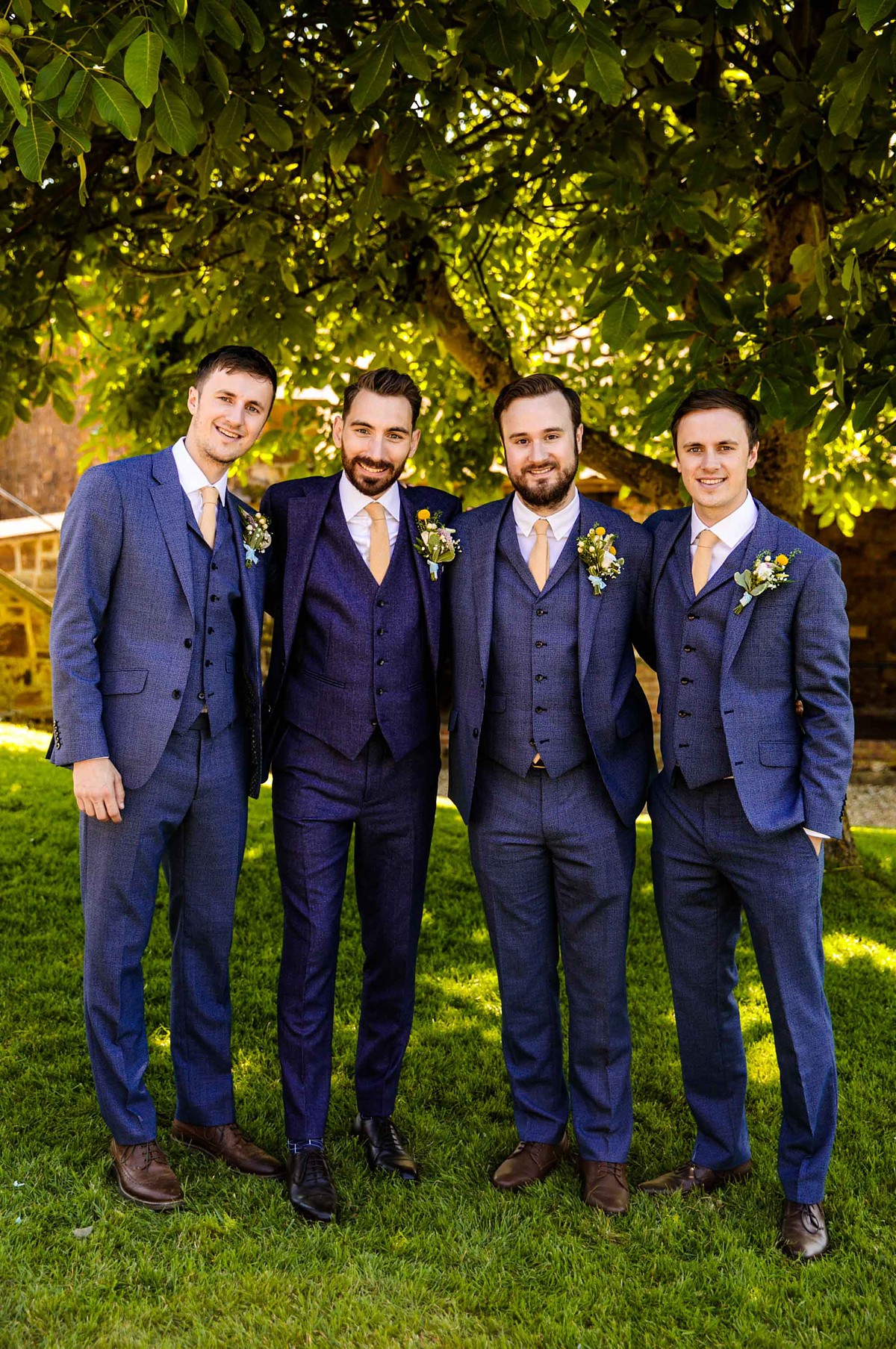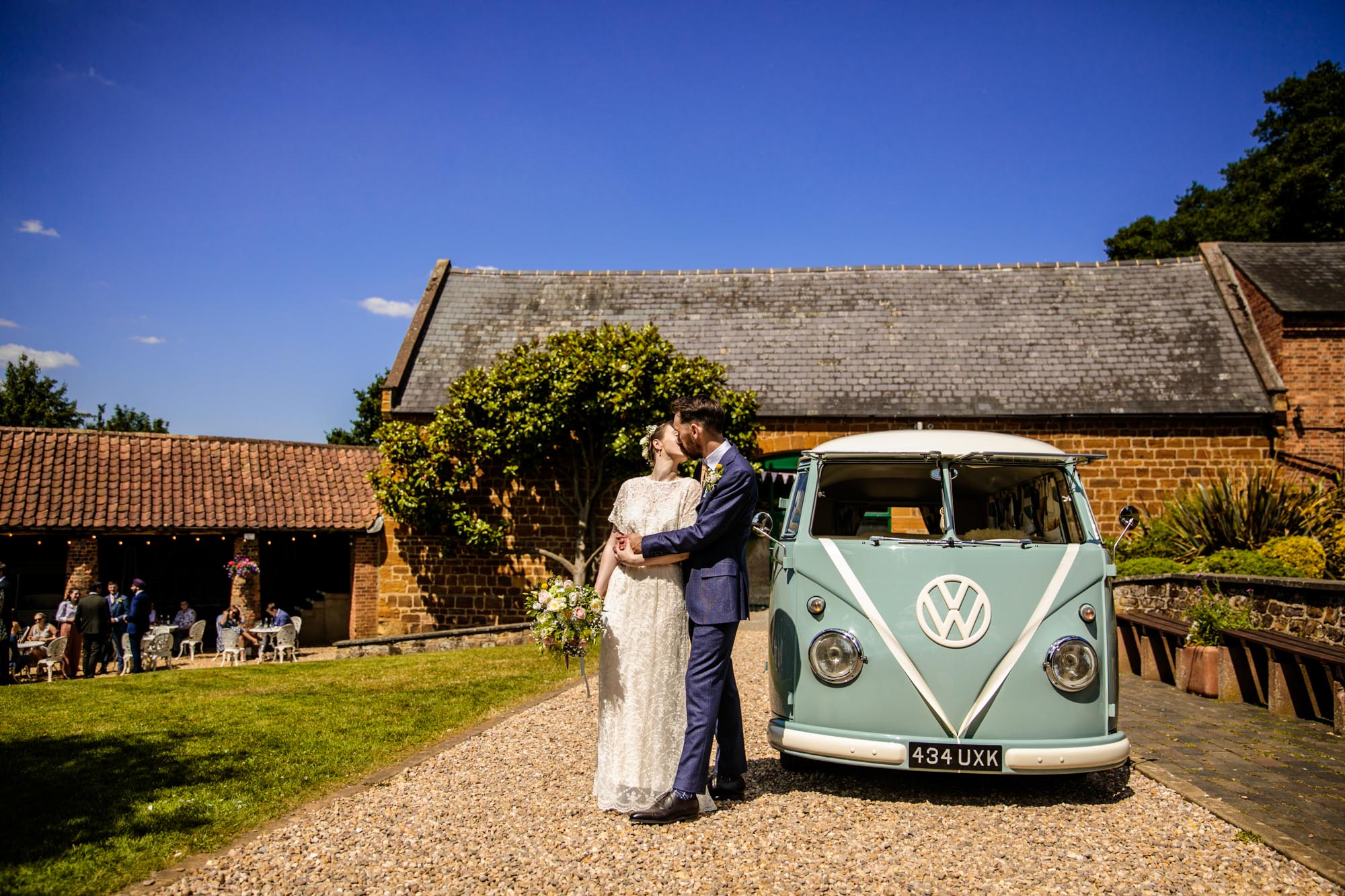 The Barn looks wonderful dressed for afternoon tea; I'm such fan of the mix of vintage crockery and those beautiful meadow-inspired flowers. The table plan is so, so charming too, crafted from lined, pastel envelopes. The stationery was crafted by Loveliest Little Things.
"Danielle is from County Down in Northern Ireland which is where I'm from. She's very talented."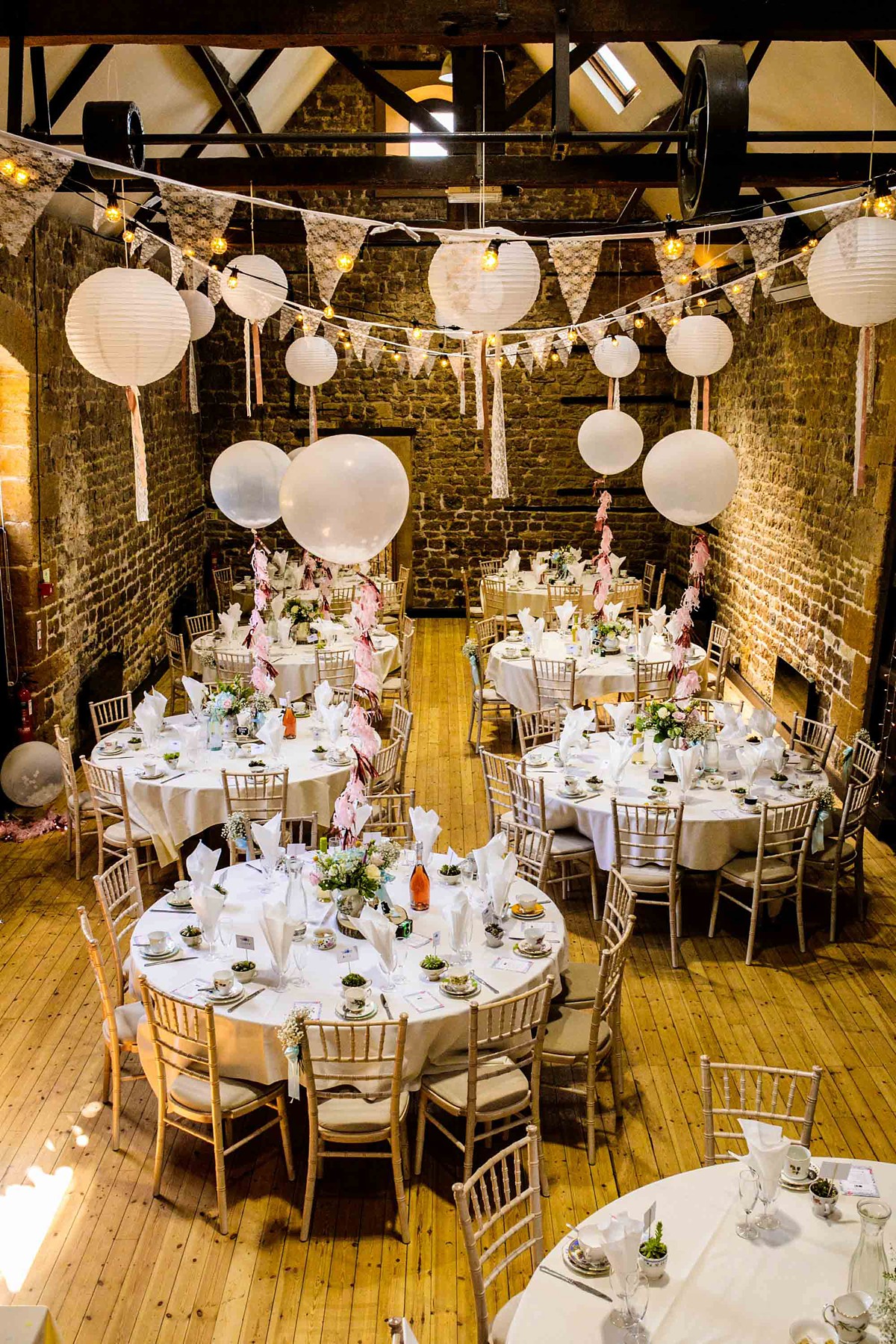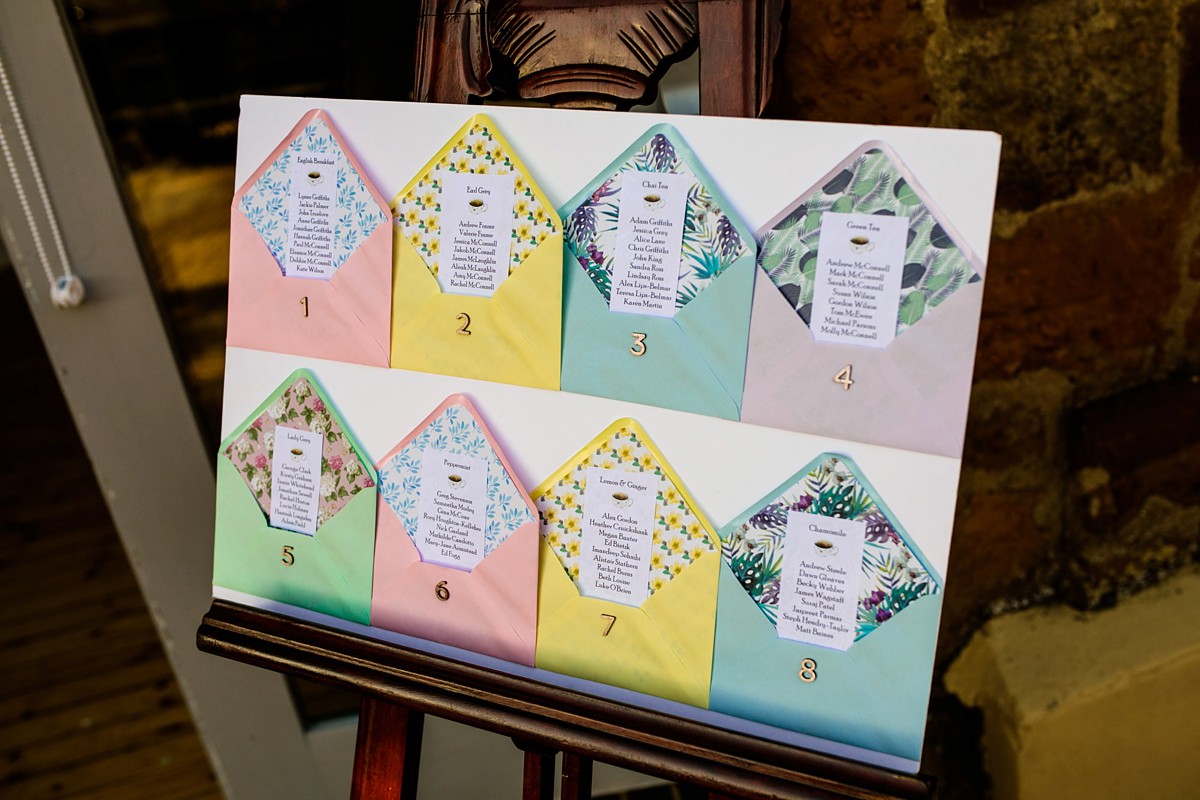 I love the thought that has gone into styling the Barns – with so many fairy lights, balloons, pom-poms and flowers, all in the pretty pastel colour palette. The favours were displayed by pom-pom 'J+H' letters and make such a pretty table-scape.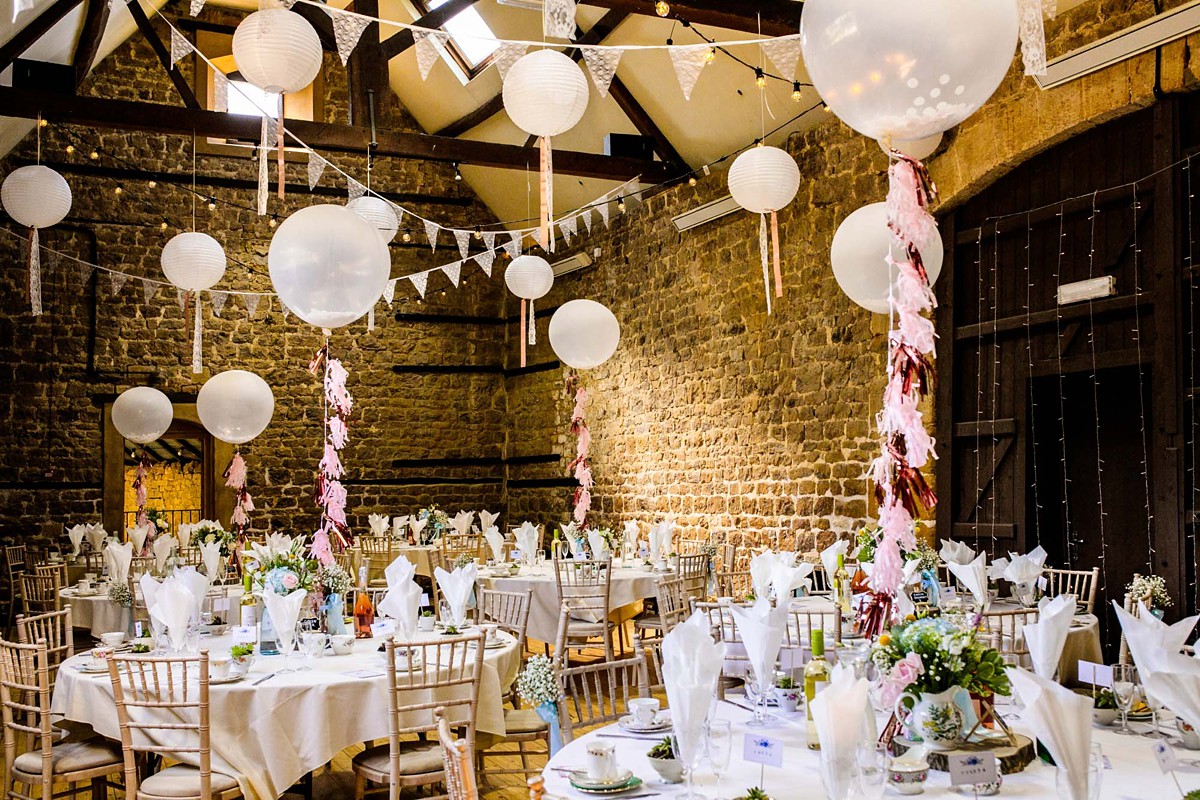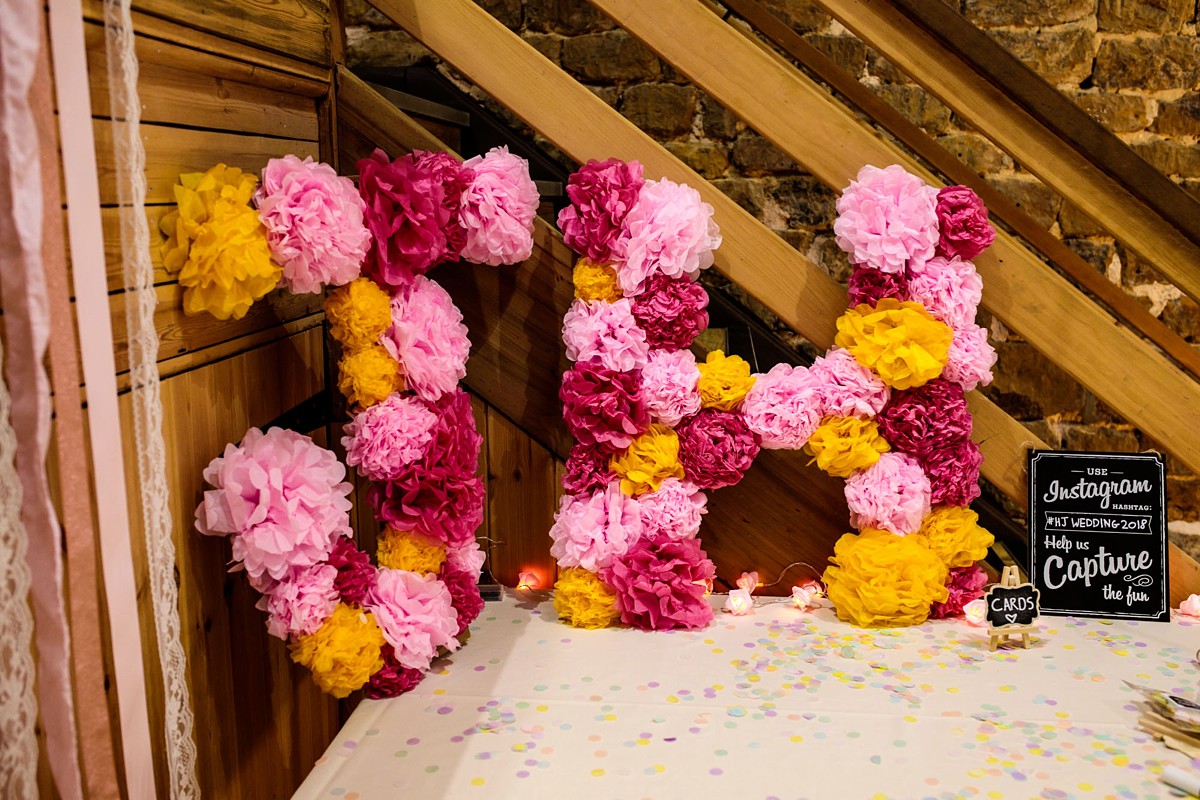 "The wedding favours were little succulents in vintage tea cups. We potted all of them ourselves. Unfortunately our guests didn't realise these were the favours so we ended up taking a load home."
The mid-summer sunlight gave the couple opportunity to have such beautiful couple shots taken before the evening party began, with live music from The Velvet Notes.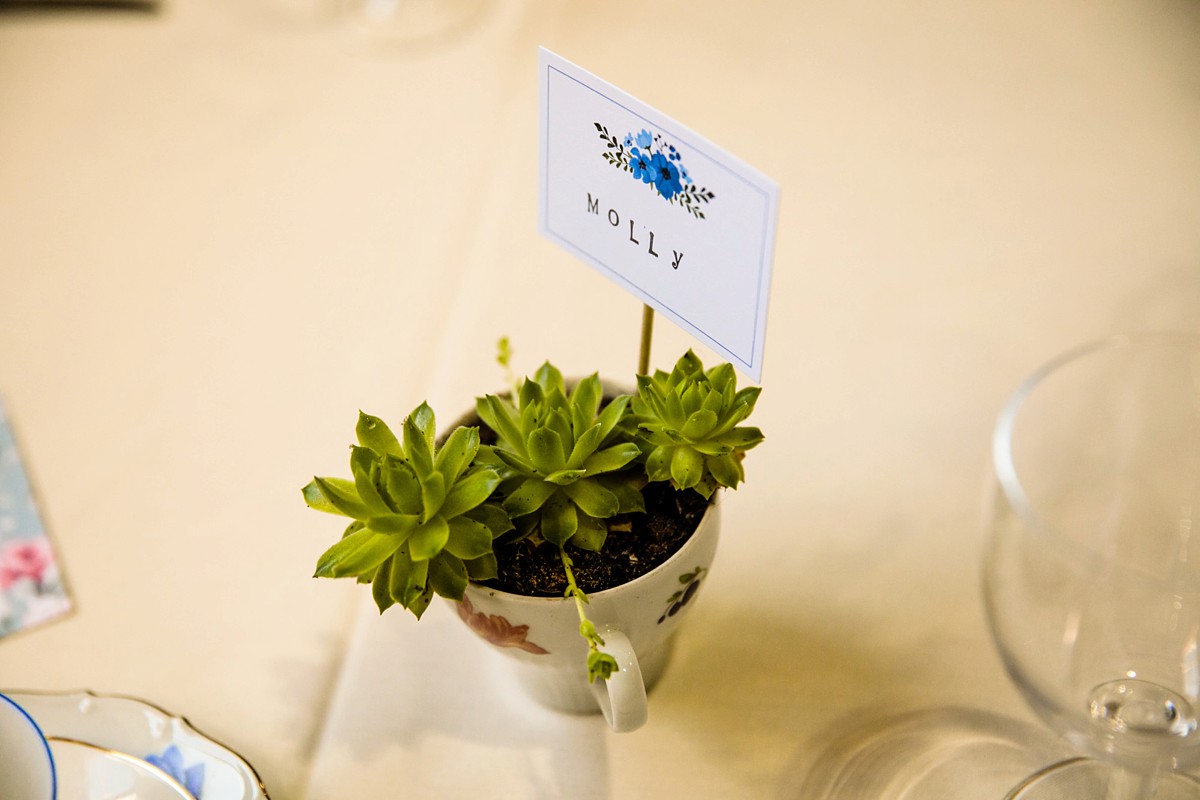 The guests sat down to a feast of afternoon tea provided by Impressions Caterers. There was an additional sweet treat too in the form of the fantastic drip cake from Loyal's Cakes, decorated with sugar roses and bunting.
"Stuart at Impressions Caterers was so accommodating and gave us some great ideas for flavour combinations and drinks. They even supplied an ice-cream shack which went down very well."
"Petie's cakes look beautiful and taste even better. We kept the handmade roses on the top as they looked too good to eat."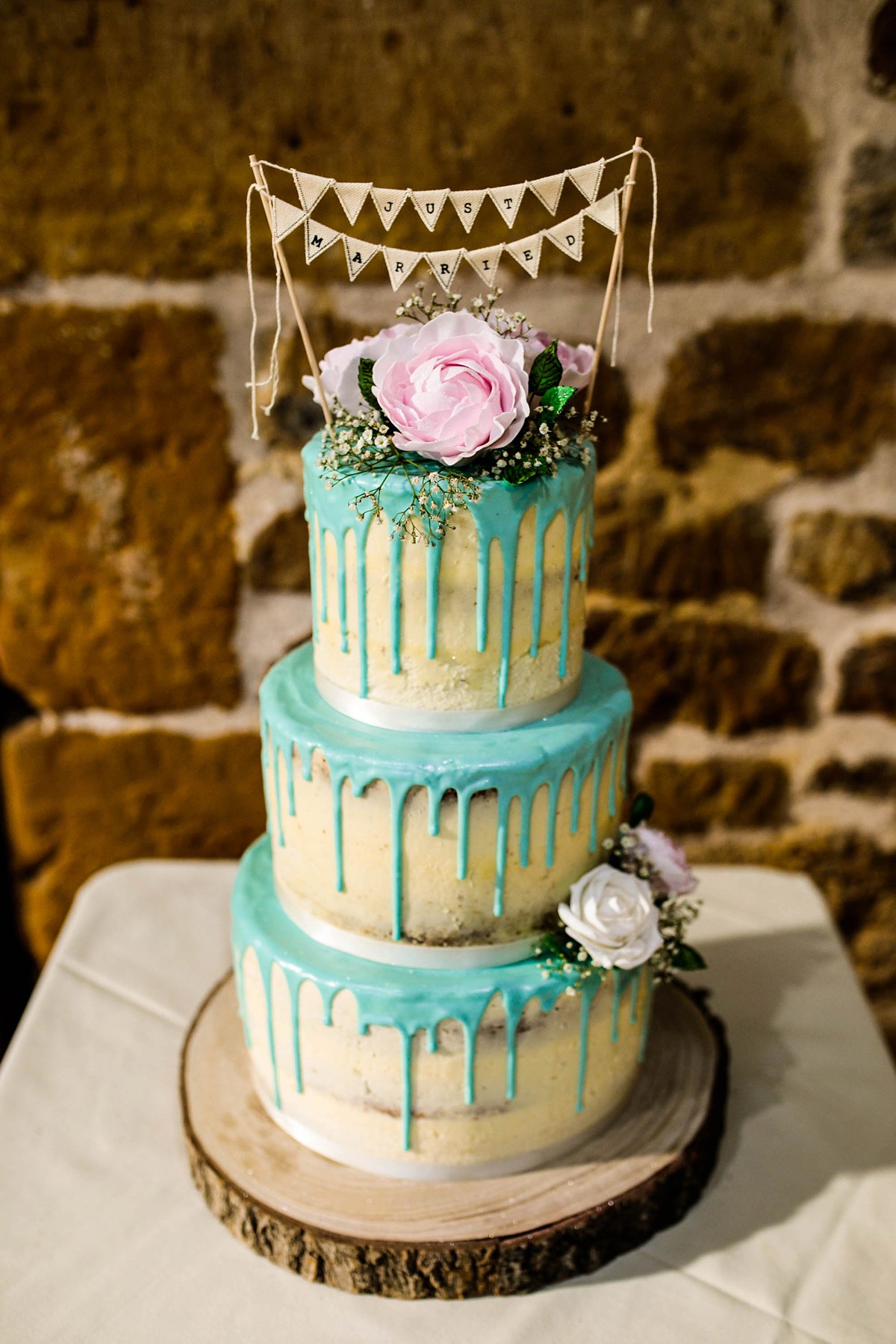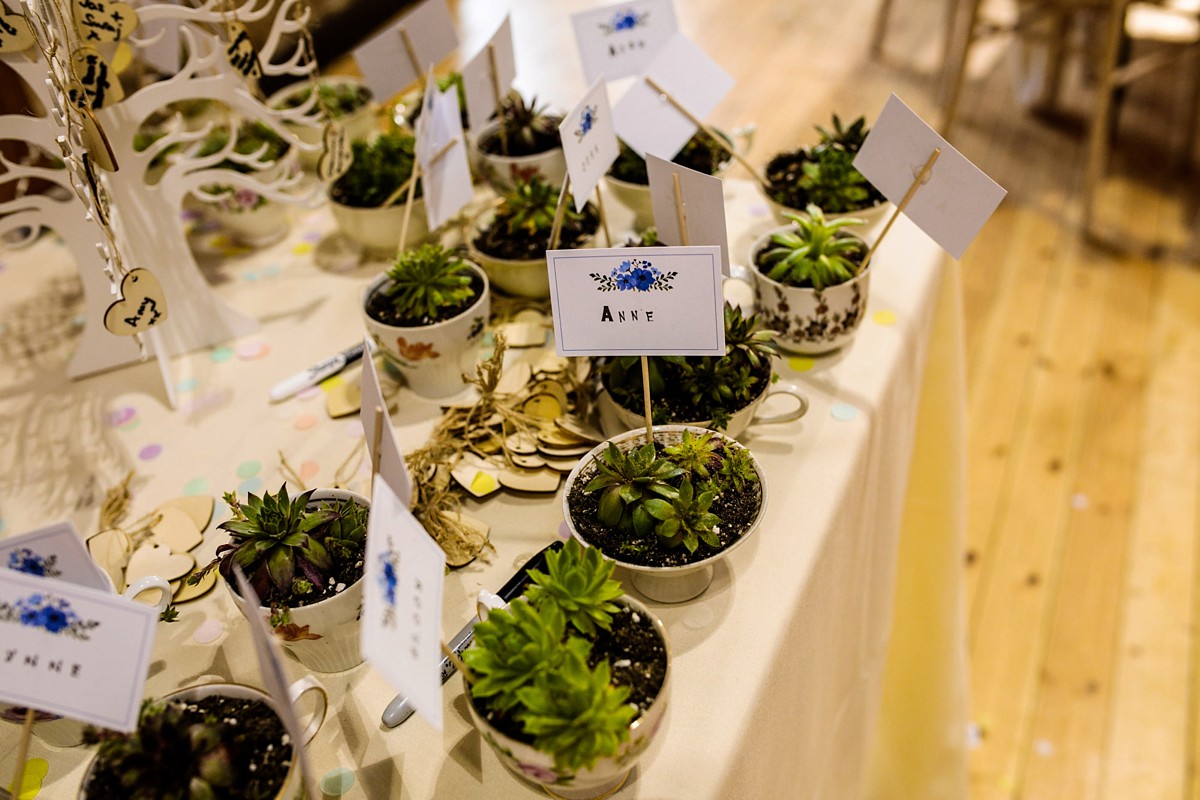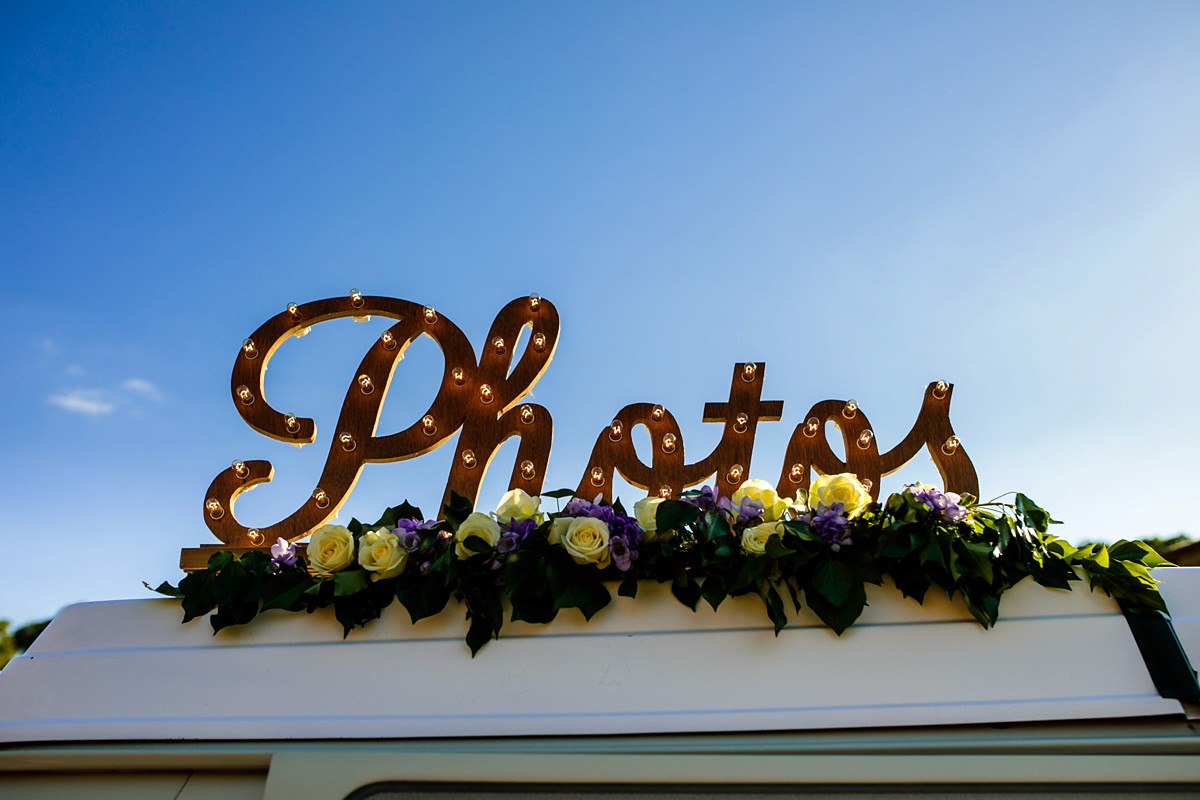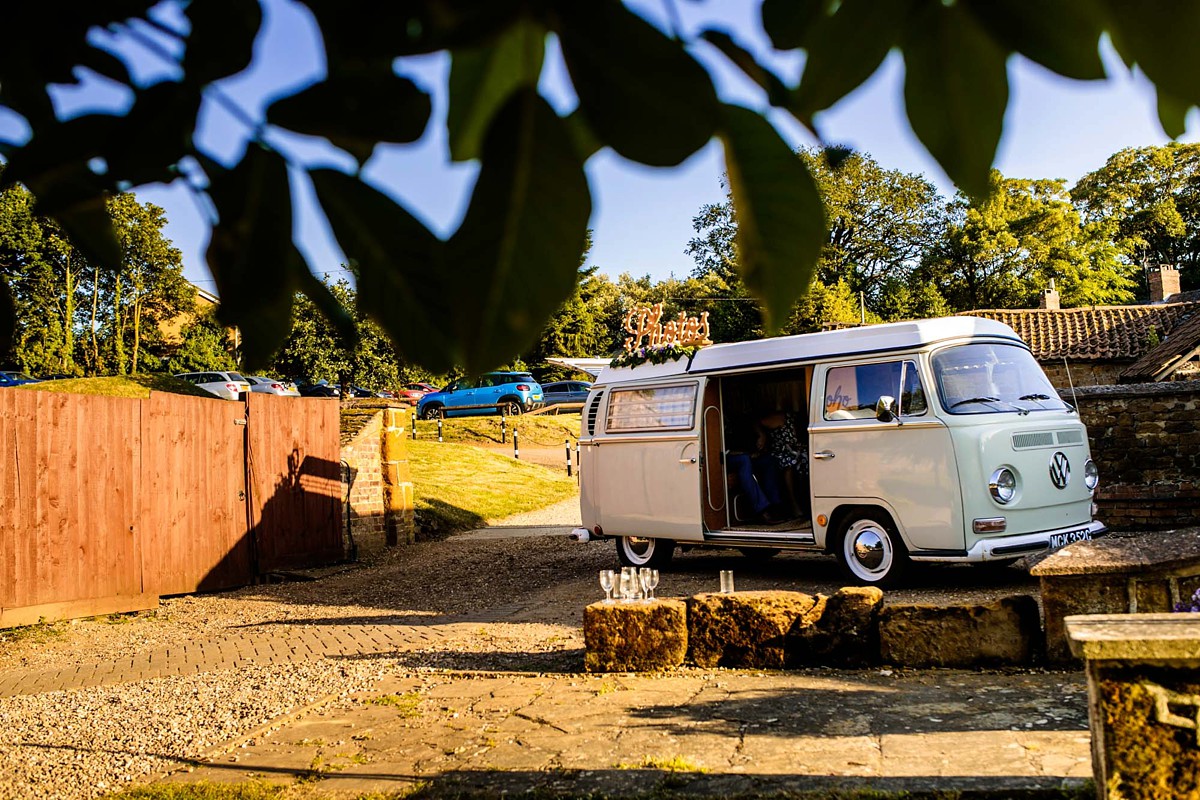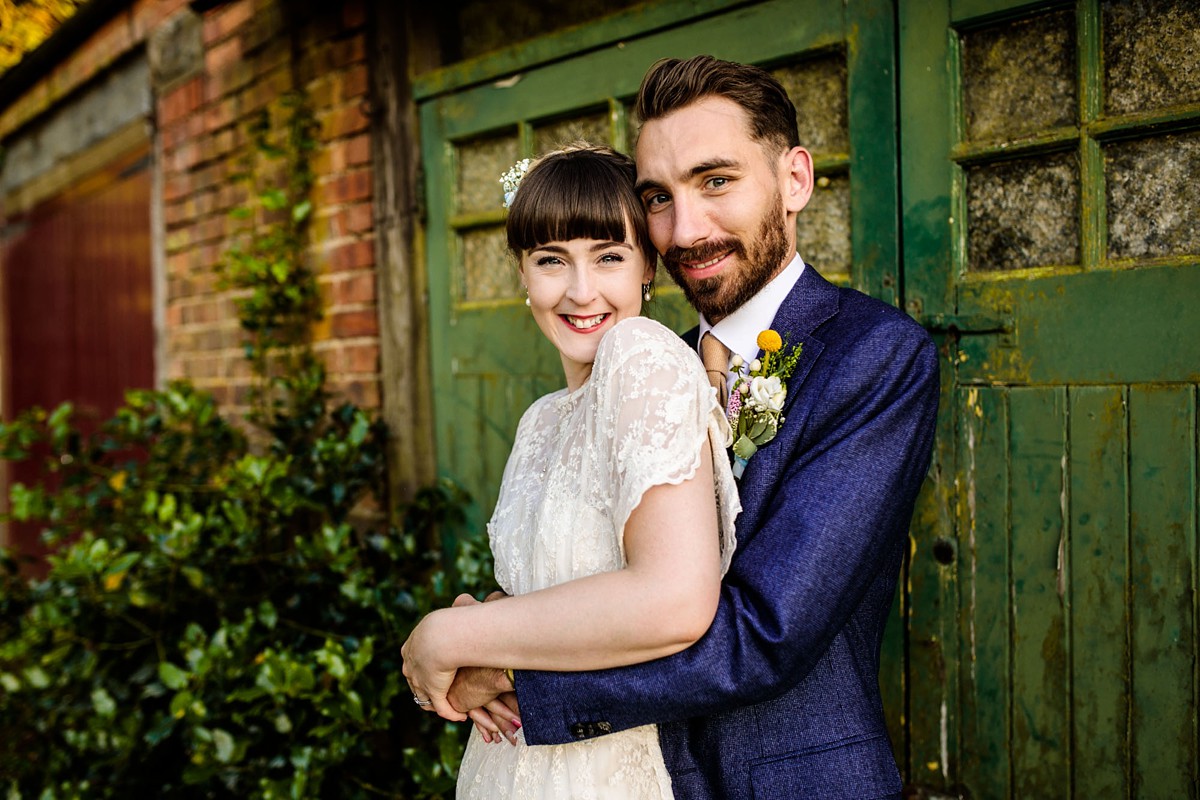 We have Cassandra Lane Photography to thank for these beautiful, vibrant images which capture the fun and summery atmosphere of the day so well. She seems to have blended in so well, allowing her to take such intimate, off-the-cuff moments full of laughter.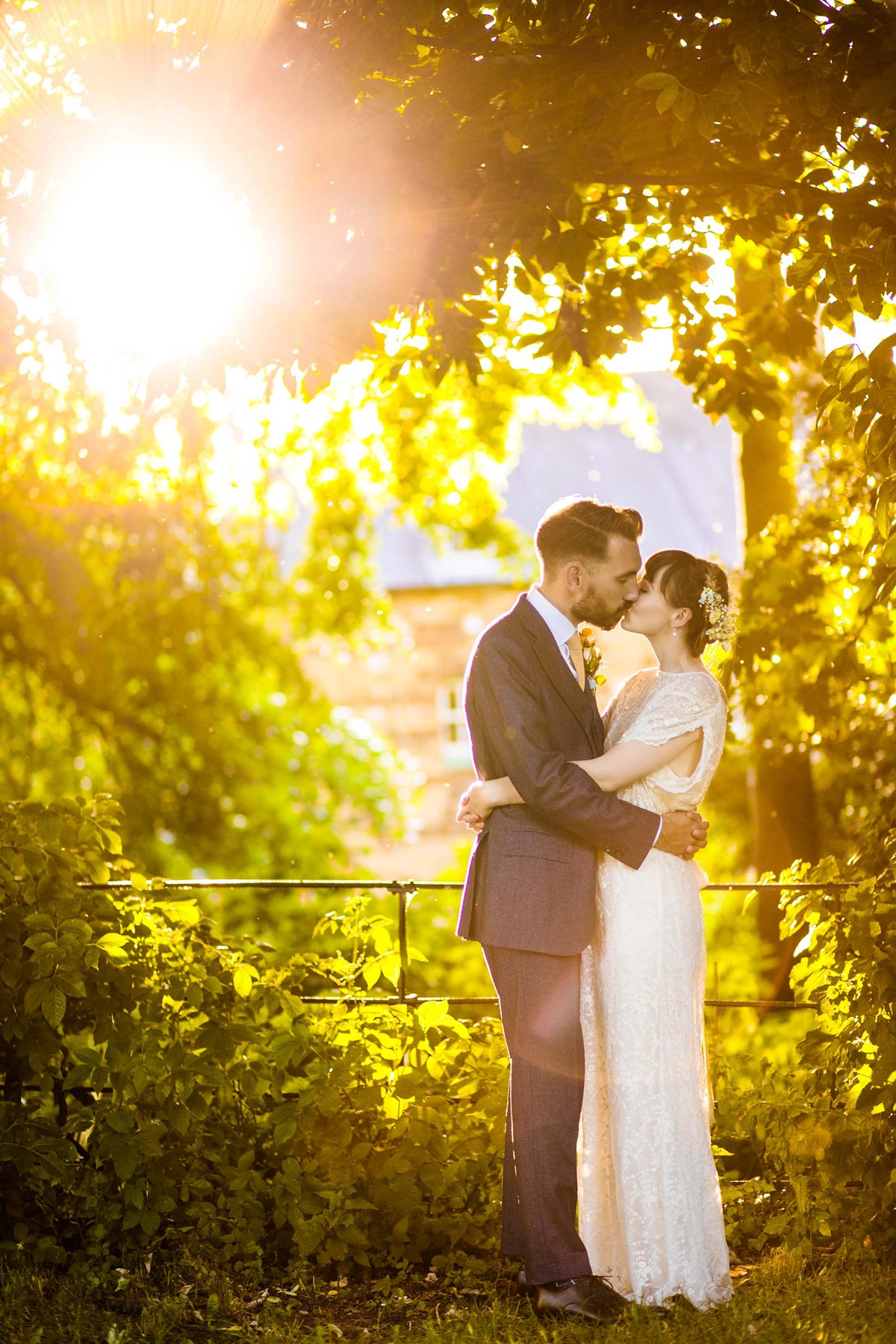 "Cassandra Lane was our photographer and she was fantastic! I honestly can't recommend her enough. She was very professional and made everyone feel at ease, which shows in the photos."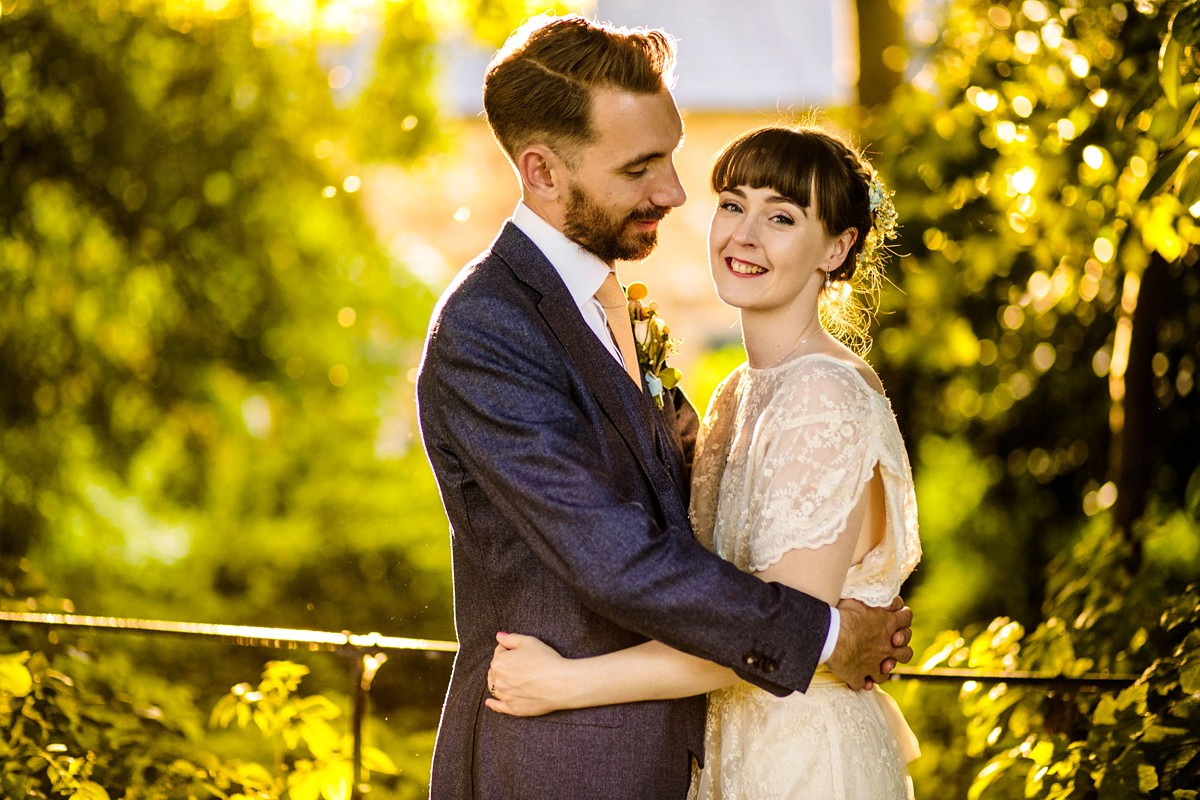 "The photos are so vibrant and capture the day in such a beautiful light. Cass actually had to remind us that the cake hadn't been cut; without her we wouldn't have even noticed!"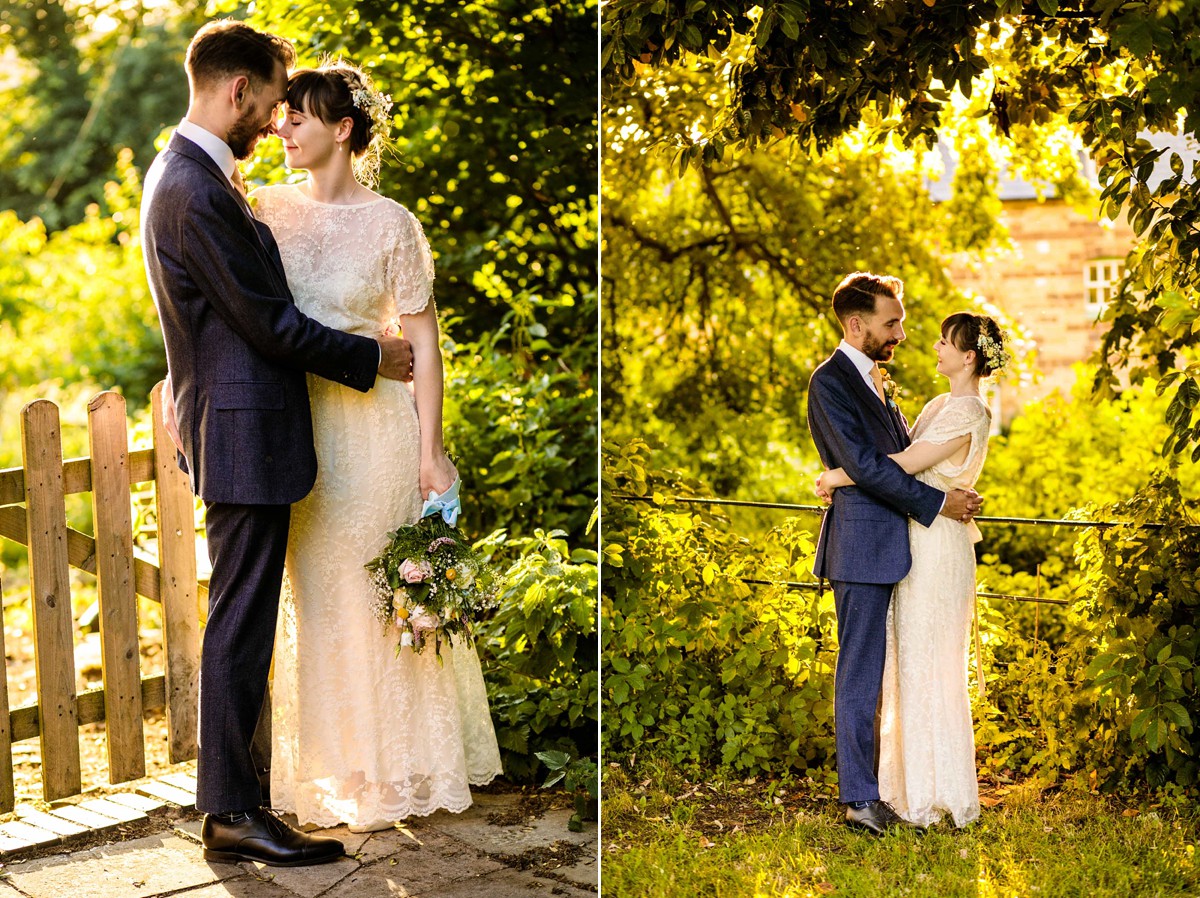 "On your wedding day there are so many things happening all at once and having a photographer who is patient and on the ball really helped me to relax and enjoy the day."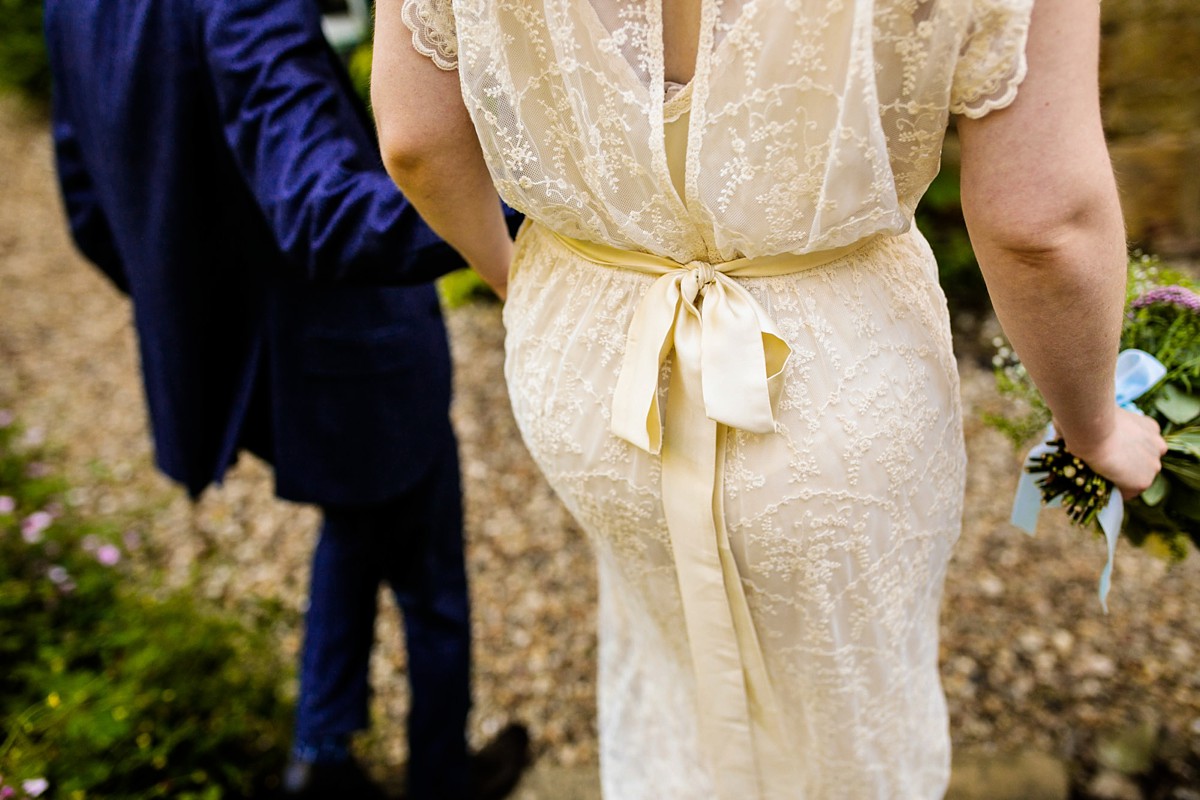 "The band had so much charisma and had everyone up dancing. They also performed our first dance song which was a special moment."
"The first dance was the easiest of our song choices to make. We went for Talking Heads' 'This Must Be The Place'. We both love Talking Heads and they were a favourite of Jonathan's dad, who sadly passed away a few years ago. My wedding present to Jonathan was tickets to see David Byrne's solo tour a week before the wedding and he performed our song!"

Words of Wedded Wisdom
"If you have a bouquet, try not to hold it up around your waist all day. In photographs it looks much better down at your side; my photographer pointed this out and I'm so glad she did!"
"Try not to overthink everything. I am very guilty of this and a few things didn't quite go to plan on our wedding day but in the moment, I couldn't have cared less. It's the people that are around you that make the day so special, so relax and enjoy it!"
If you're taken by Hannah's choice of gown then I'm delighted to share more details about designer Minna here on our Style Files as well as on our Little Book here. Thank you so much to the newly-weds for sharing your barn wedding – it's been so lovely to see how you styled your venue and I adore your gown.
Thank you also to Cassandra Lane Photography. If you love her style, then please head here to see other weddings that she's captured.
Ele xx