Hello lovelies and Happy Easter Monday. The perfect day to curl up on the sofa with cuppa and a box (or two) of well deserved chocolate as I've got a brand new, and totally gorgeous, wedding up my sleeve for you. It does come with a warning; it's an emotional one. So sit back, relax and enjoy.
Hannah and Paddy tied the knot in an intimate family ceremony at Hexham Registry Office followed by food and drinks at the family home on 19th October 2018, before a blessing at the private home of Chris and Maxine in Sparty Lea, Northumberland and an evening celebration at Allendale Village Hall a day later. They were lucky enough to have our Little Book Wedding Directory members, The Twins Weddings, capture their wedding through these beautiful images.
"We didn't want a large wedding in a traditional venue or a wedding that looked too much like a wedding. We preferred the idea of an intimate meal in a beautiful space. It turned out to be quite difficult to find the kind of space we were imagining and with the flexibility we wanted. My father was not in good health as we planned the wedding, so accommodating him was a priority (sadly he died a month before the wedding)."
Photography The Twins Weddings
"One of his (and our) favourite spaces is a converted church belonging to great family friends in Northumberland. We asked and they didn't hesitate in saying yes to having a blessing at their home. By using an unconventional venue, we made a little more work for ourselves but gained the most unique setting which holds much meaning for us both."
"I have known Victoria from Pins Petals Powder for years now and she did my make up and hair. Again, I consider her a friend so it was completely natural to ask her to style my hair and make up on the day. It's so helpful that she covers hair and make up and I loved the natural, understated style she created."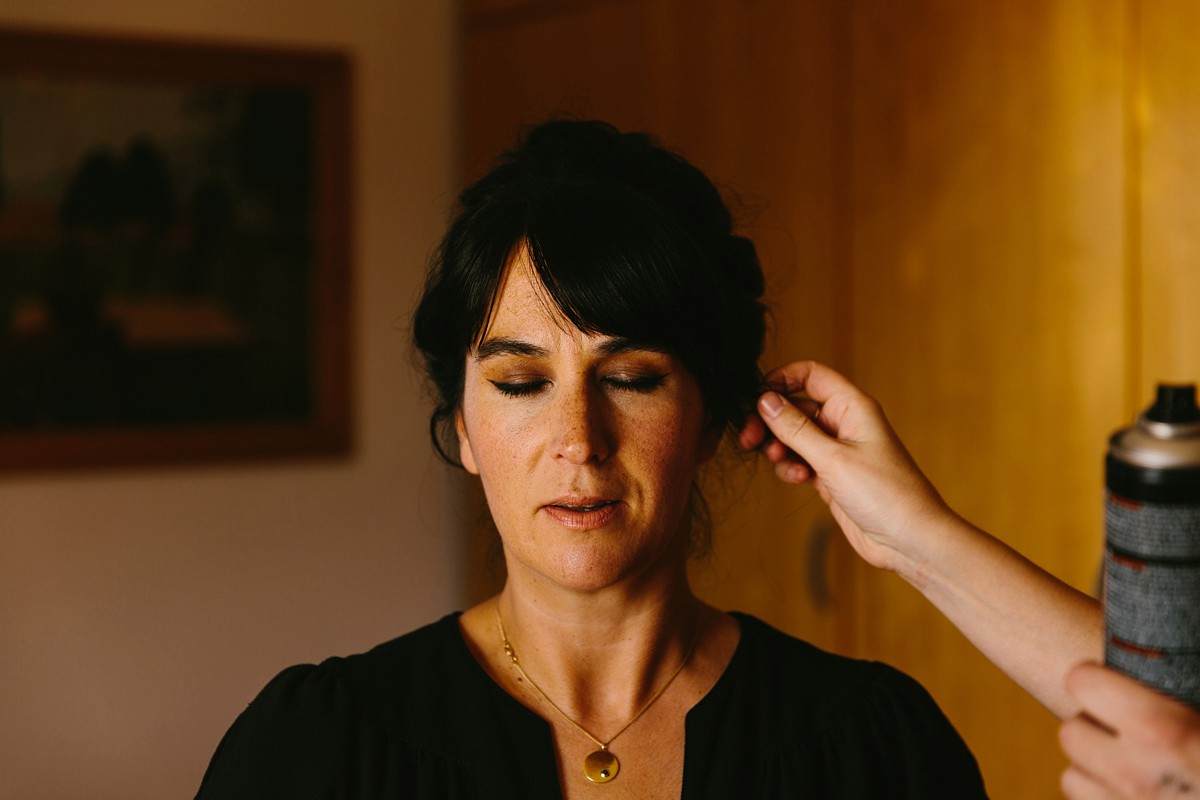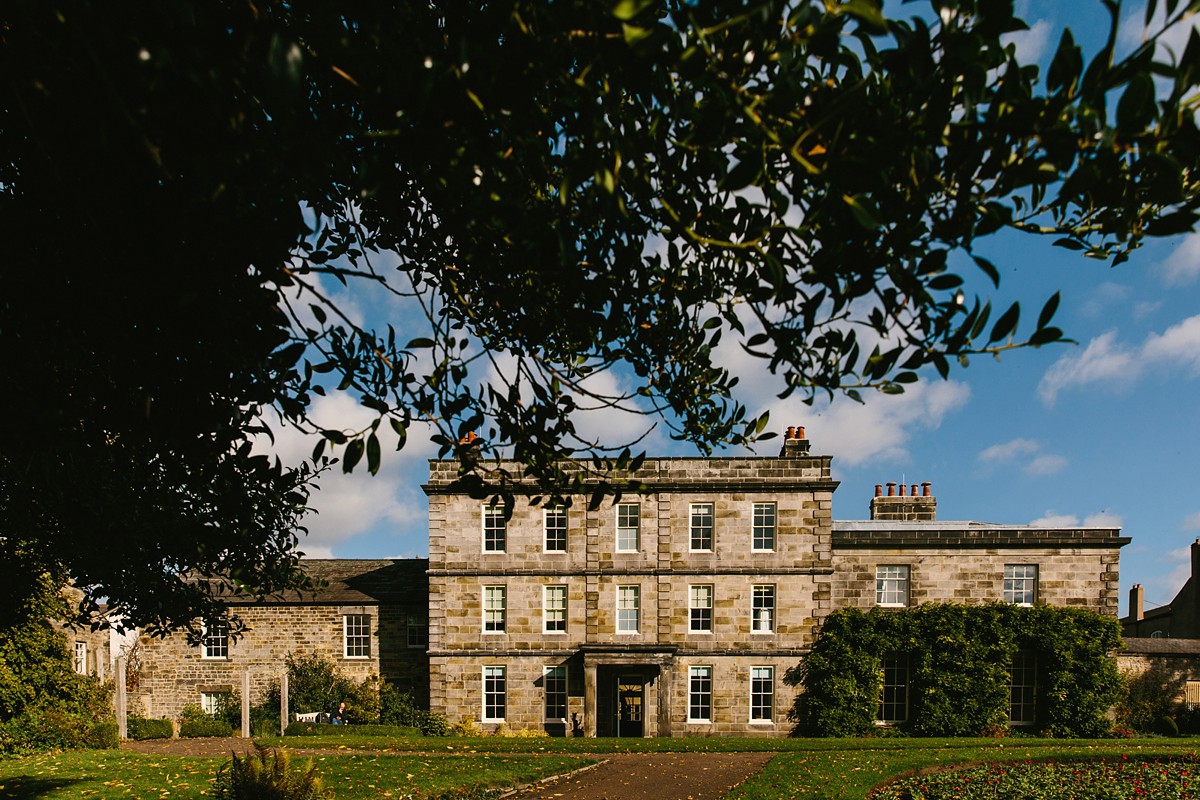 "Paddy and I first met in 2011. Paddy proposed in March 2018 in Paris on my birthday and we knew we wanted to get married quite soon after. Autumn is my favourite time of year so it all fell into place nicely."
"The church itself is so beautiful that it felt wrong to go overboard with styling and in fact, many of the arrangements were removed the night before as I felt it was crowded."
"We wanted it to feel autumnal, warm and simple but perhaps more importantly, it was about creating an atmosphere with colour, light and music."
"We wanted it to feel like a great restaurant. There was a moment when we stepped outside for fresh air and looking back into the glow of the church and hearing the laughter and conversation was pretty special."
"The Twins Weddings photographed our day for us. I have known Kelly and Caroline for years now and have always loved their style of photography. As someone who is absolutely not comfortable being photographed, it was perfect to have friends in the role to put me at ease."
"They were a joy to have with us on both days and we can't thank them enough for capturing the feeling of the day so perfectly."
"My mum accompanied me down the aisle at the registry office to I'll Be Your Mirror by Nico, and I walked down the aisle alone on the Saturday. At the blessing I walked down the aisle to Joan Of Arc by Leonard Cohen. Both Paddy's family and my own are great fans of Leonard and I think my dad would have fully approved."
"I knew I didn't want to wear white, I just wanted a beautiful dress I would be able to wear again. I ordered around 10 dresses in the lead up to the wedding and an Erdem dress from Matches was the only one that fitted perfectly and felt amazing. For our registry office ceremony I wore a black Ossie Clark dress that I've had for years."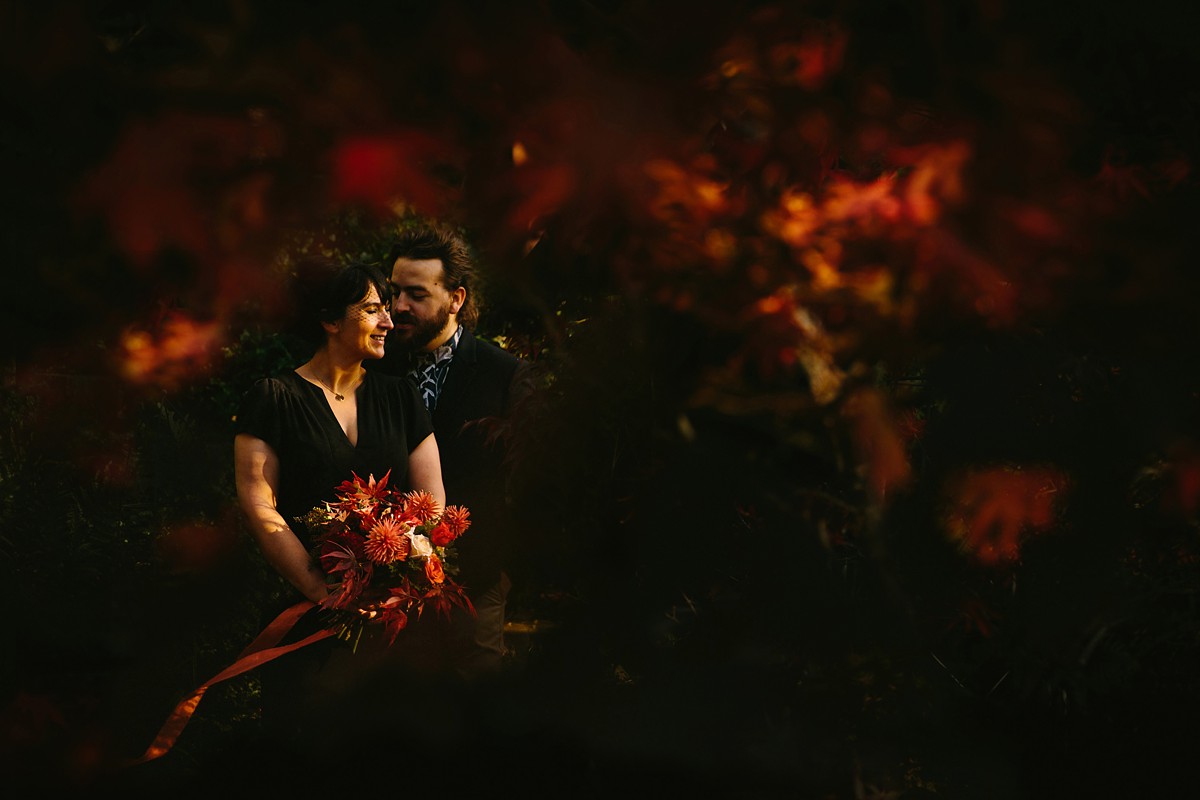 "After working on a styled shoot for The Twins Pieces, I had come to know the work of Agnes Hart. Rae creates beautiful veils and head pieces for brides and was kind enough to send me two black birdcage veils. I wore one on Friday and one on Saturday."
"I wanted to create our florals for the wedding and I wanted them to be simple, warm and seasonal. I lost my father the month before and for his funeral, used the warm, autumnal tones that I knew I would use in the wedding flowers. David at Halls of Heddon (a local dahlia grower) provided me with buckets and buckets of the most beautiful dahlias, both for the funeral and the wedding, which ended up being weeks apart."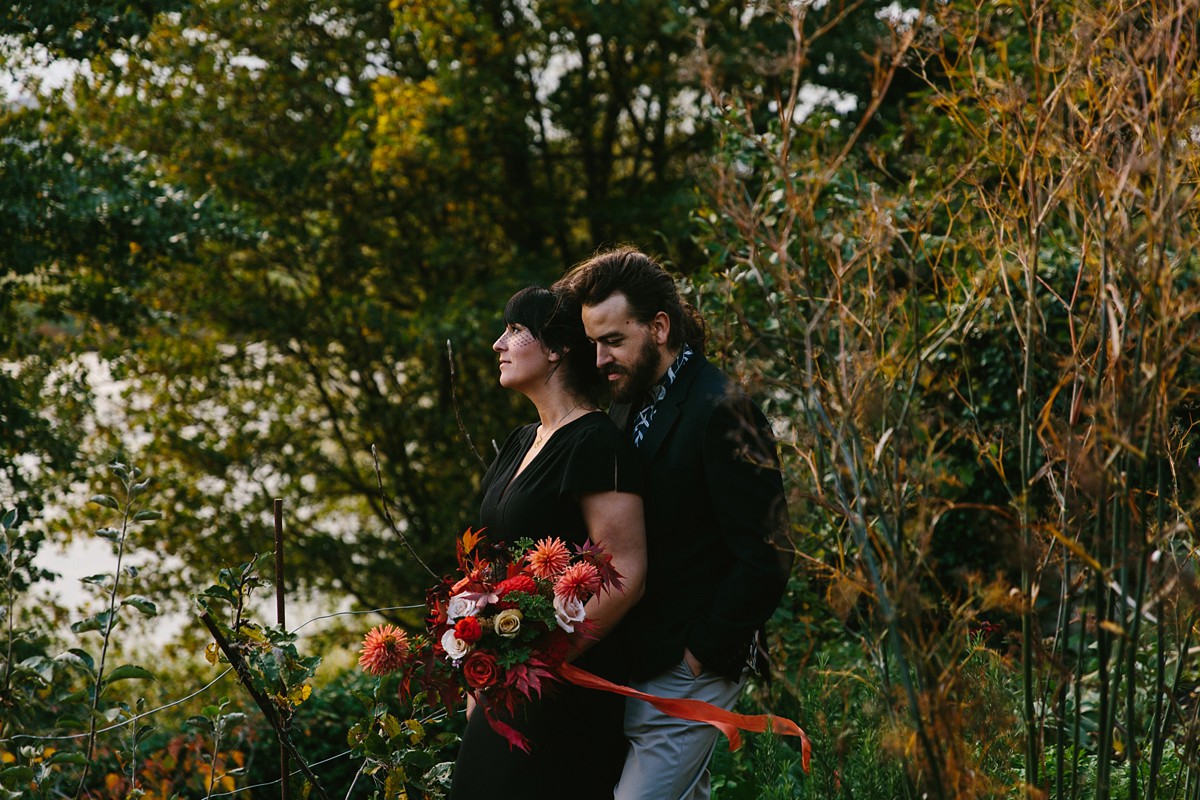 "At the wedding I added grasses, roses, bittersweet vines and vast branches of rosehips. I made two slightly different bouquets for the two days using dahlias, roses and geranium and acer from my mums garden. They were both bound in plant dyed silks from Northern Hands."
"Flowers were always an important part of the day for me. I think that using the local and seasonal elements is such an important part of the celebration as a marker. To know that every year the garden will remind us of that weekend and the dahlia fields will be in full bloom every anniversary – that seems special to me."
"I wore L'Autre Oud de parfum by Lancome as my scent. It's a woody and floral oud that seemed fitting for the Autumn. I also wore a gold and black diamond necklace, which my parents gave me for my birthday and my coat was from Zara years ago."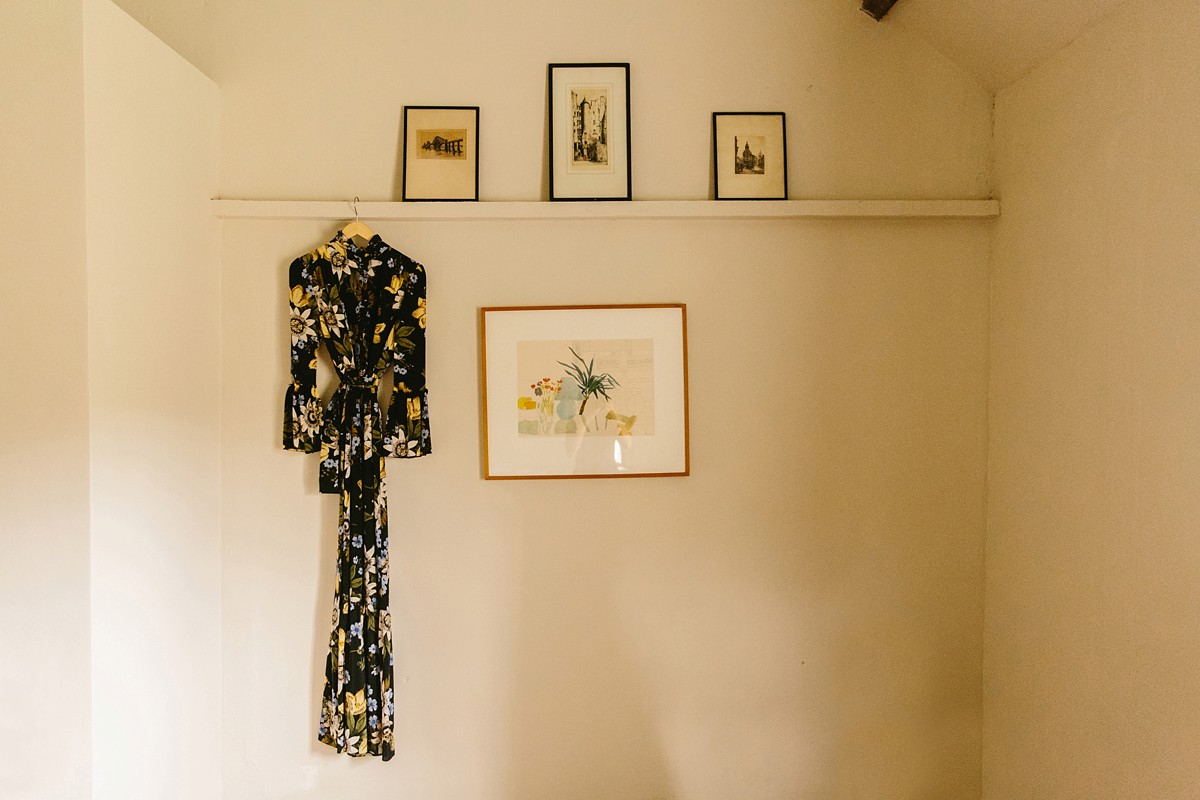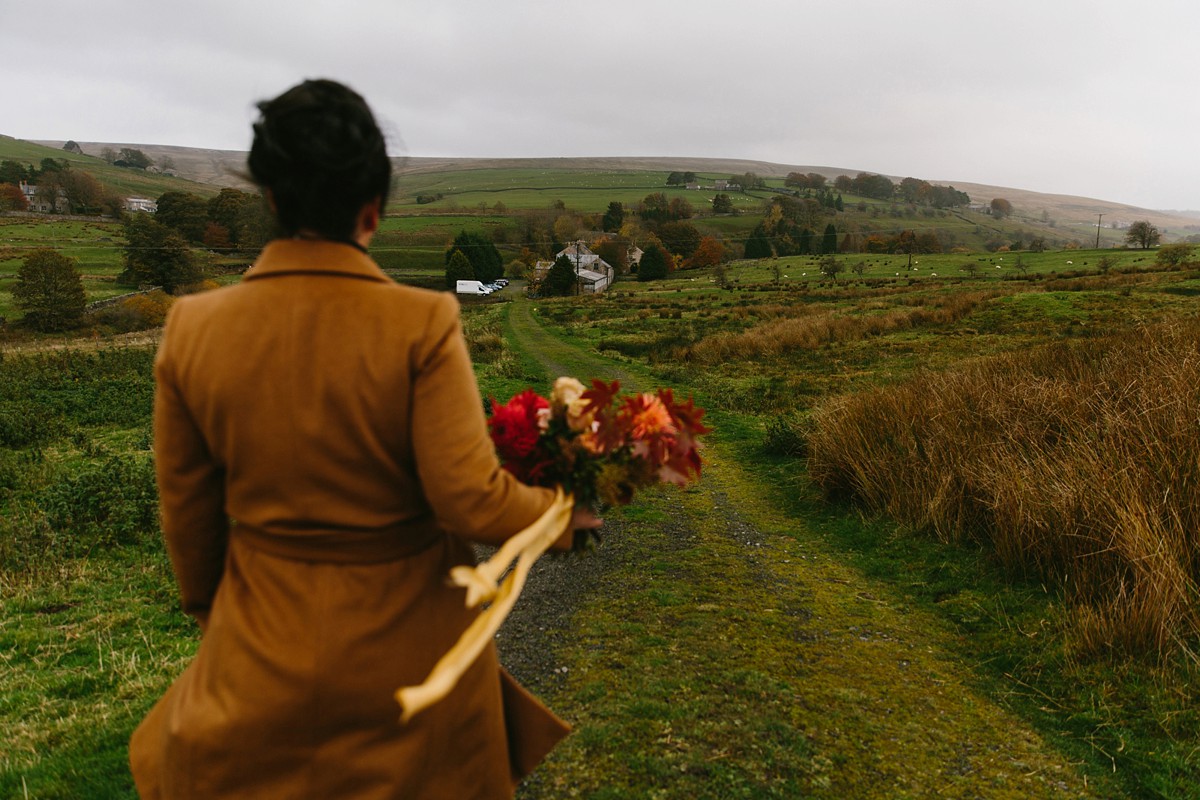 "Paddy bought me a titanium engagement ring which I can wear to work. I couldn't find a wedding ring I loved so Paddy had a gold and ruby pinky ring, that my parents gave me for my 30th birthday, made to fit my ring finger and I absolutely love it. Kirsty Taylor made the original and then resized it for us with so little time to spare which was so kind."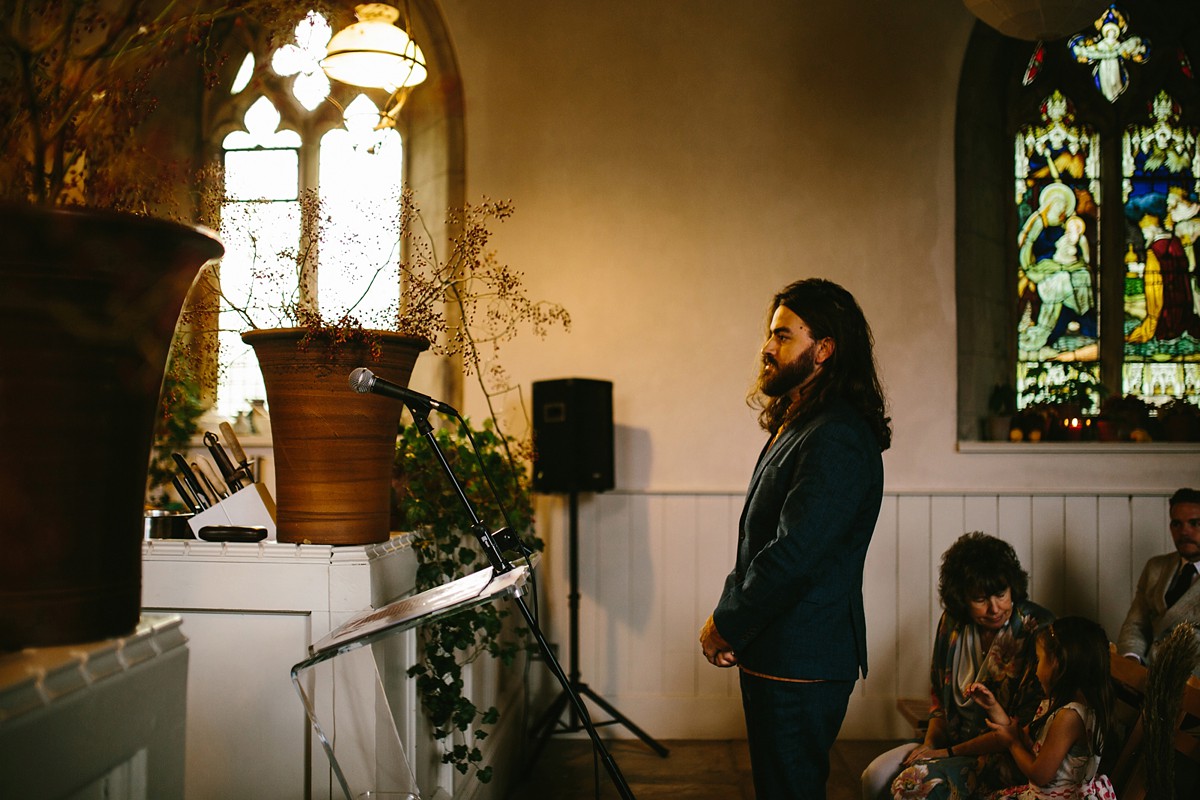 "Paddy's dad performed the blessing for us and we chose 3 readings. As Paddy is a big Paul Simon fan, his sister Alice read extracts from Kathy's Song by Simon and Garfunkel."
Our friend Beth read a Woody Allen excerpt from Annie Hall and Paddy read a passage by Dickens. We struggled with choosing readings and probably spent a lot longer getting the music right."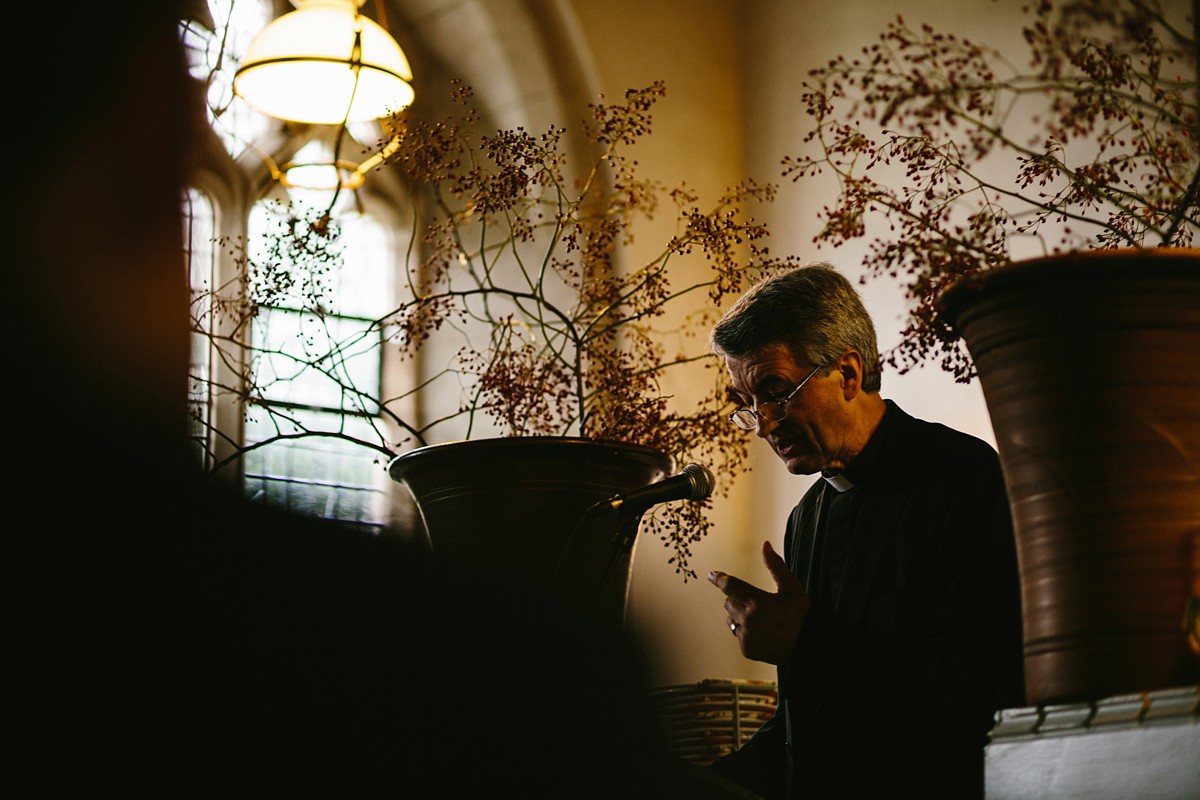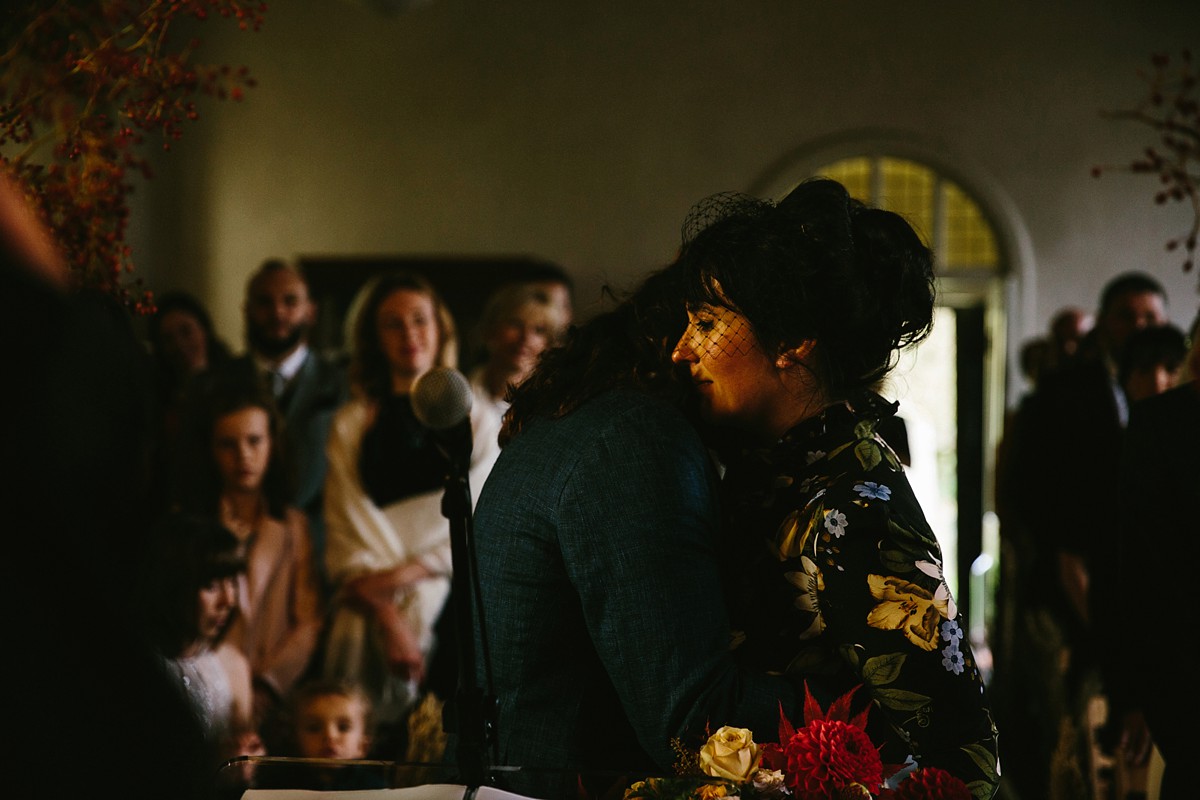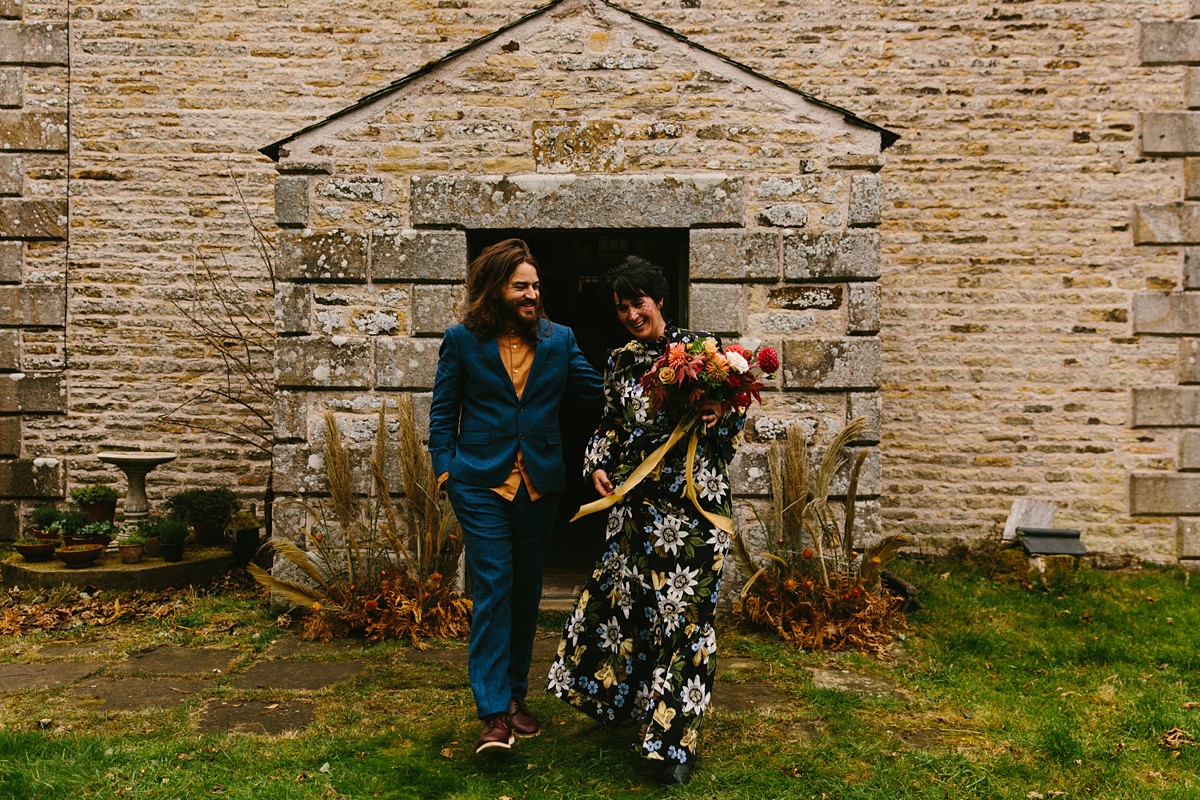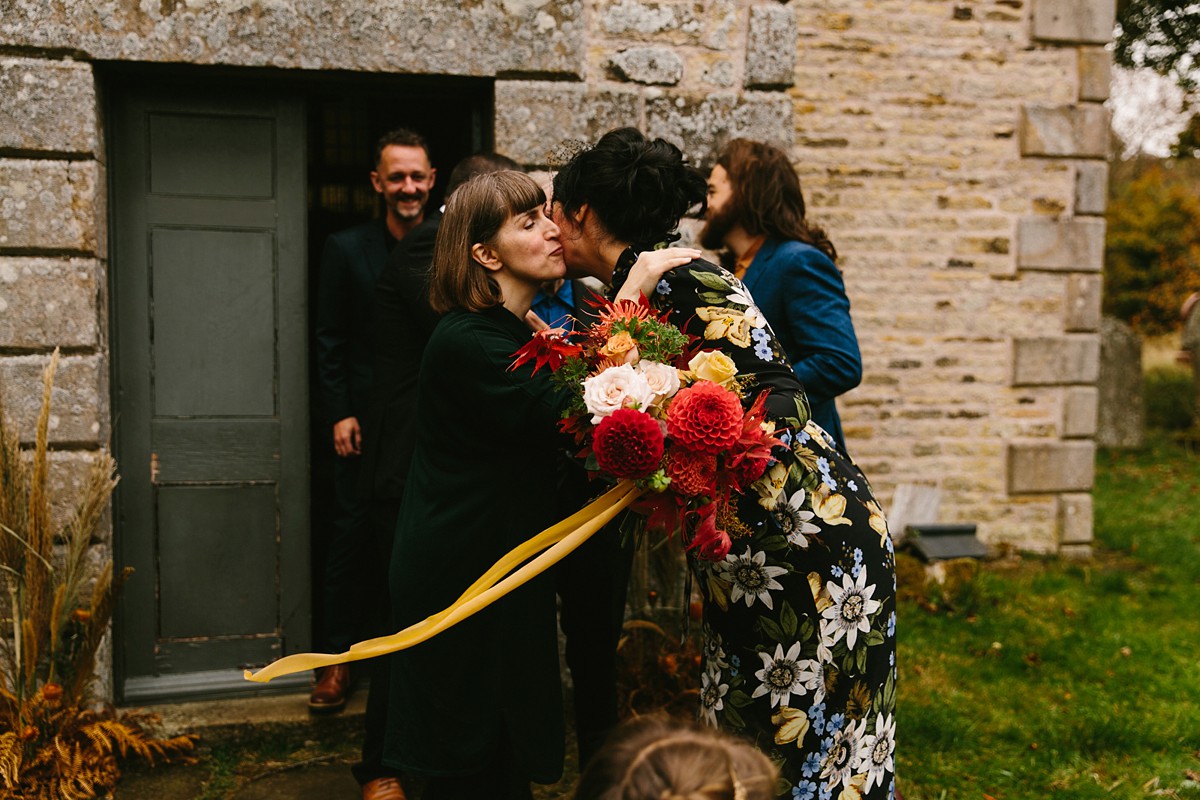 Following Saturday's blessing, the bride and groom and their guests headed to the village hall which was styled with flowers and rosehips and vessels already at the venue.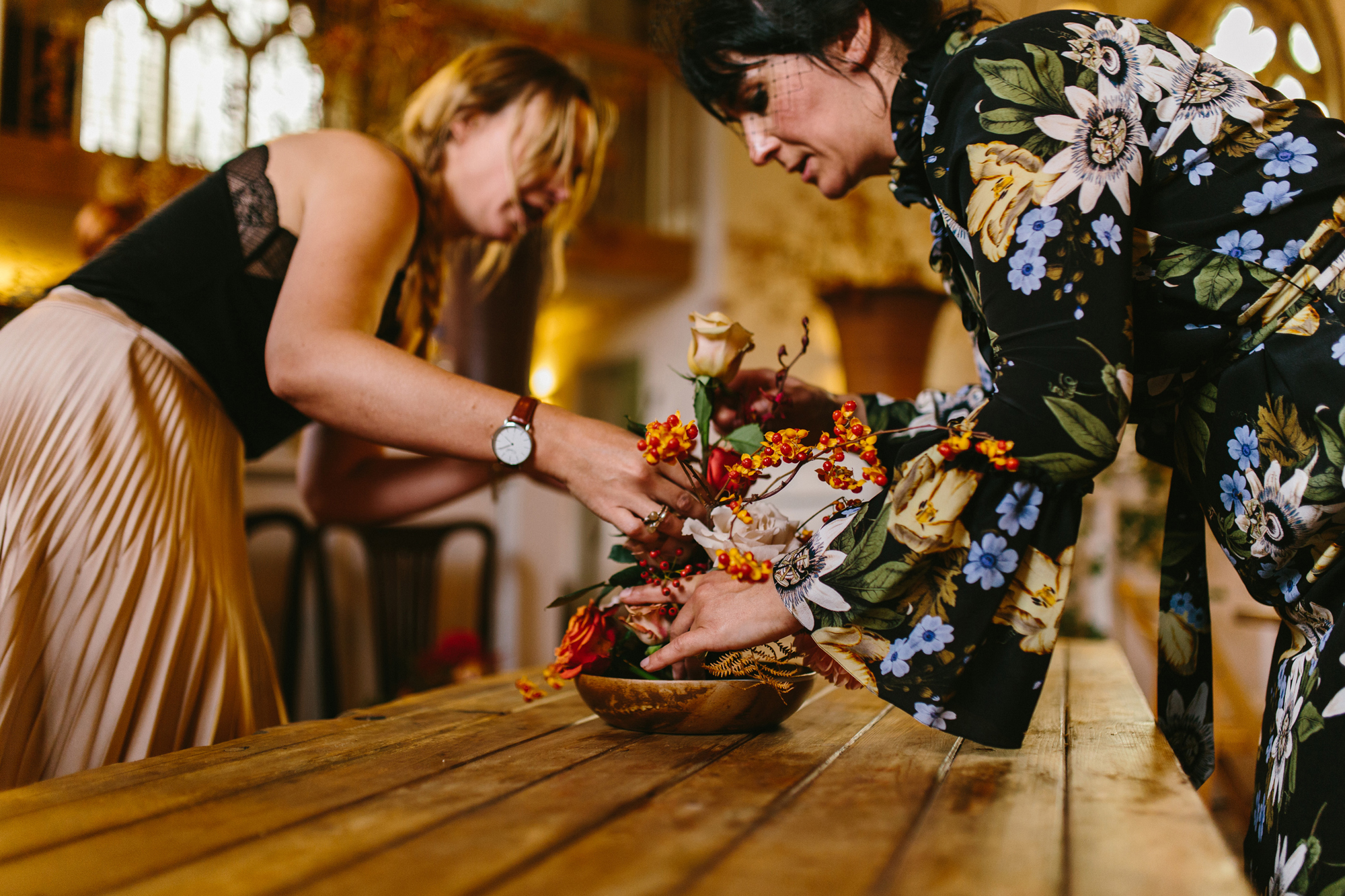 The wooden tables were hired from Birdcages And Dragonflies who made them from the doors of the old miners cottages and the couple took all their own houseplants to the village hall to decorate with.
"Our good friend Anna owns the amazing Cook House restaurant in the ouseburn near to my studio. She has catered so many birthdays and celebrations over the years that we really wanted her to create our wedding food and she created a beautiful menu of all our favourite food to share on every table. The Little Fishy provided food for the evening guests at the village hall."
"William from Boldon Farmhouse Pantry catered the intimate family celebration. We returned from the registry office to my family home where champagne, oysters and the most delicious canapes and bowl food awaited. As with so many things related to our wedding, we chose someone who we implicitly trusted and left it in their hands."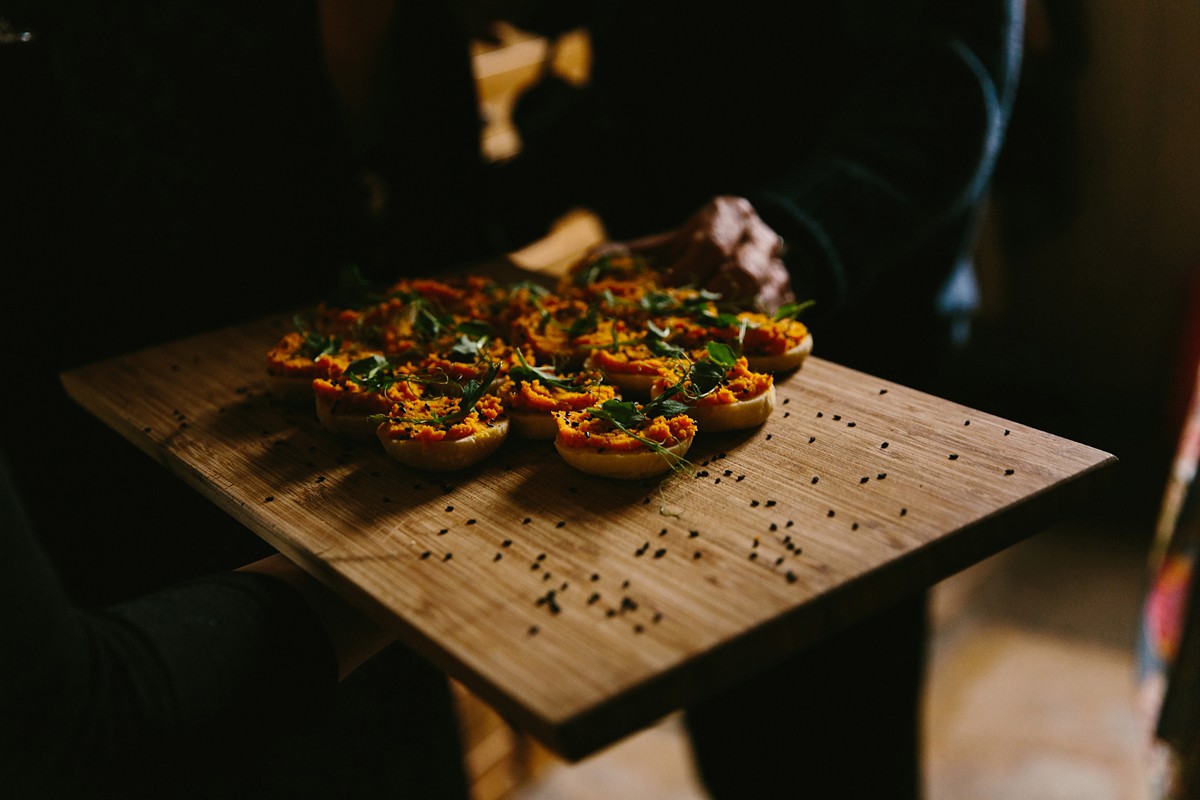 "We entrusted our friend Reed with the PA and lighting. His team suspended incredible pixel tubes from the ceiling which he then sequenced to create a light show."

"My mum had made two beautiful fruitcakes decorated with French glace fruits for after dinner at the church. Bernadett from Dreamworld Patisserie is my work neighbour and she did an amazing job of creating the paint splattered, Pollock-inspired wedding cake of my dreams. It was delicious. We served this to evening guests at the village hall."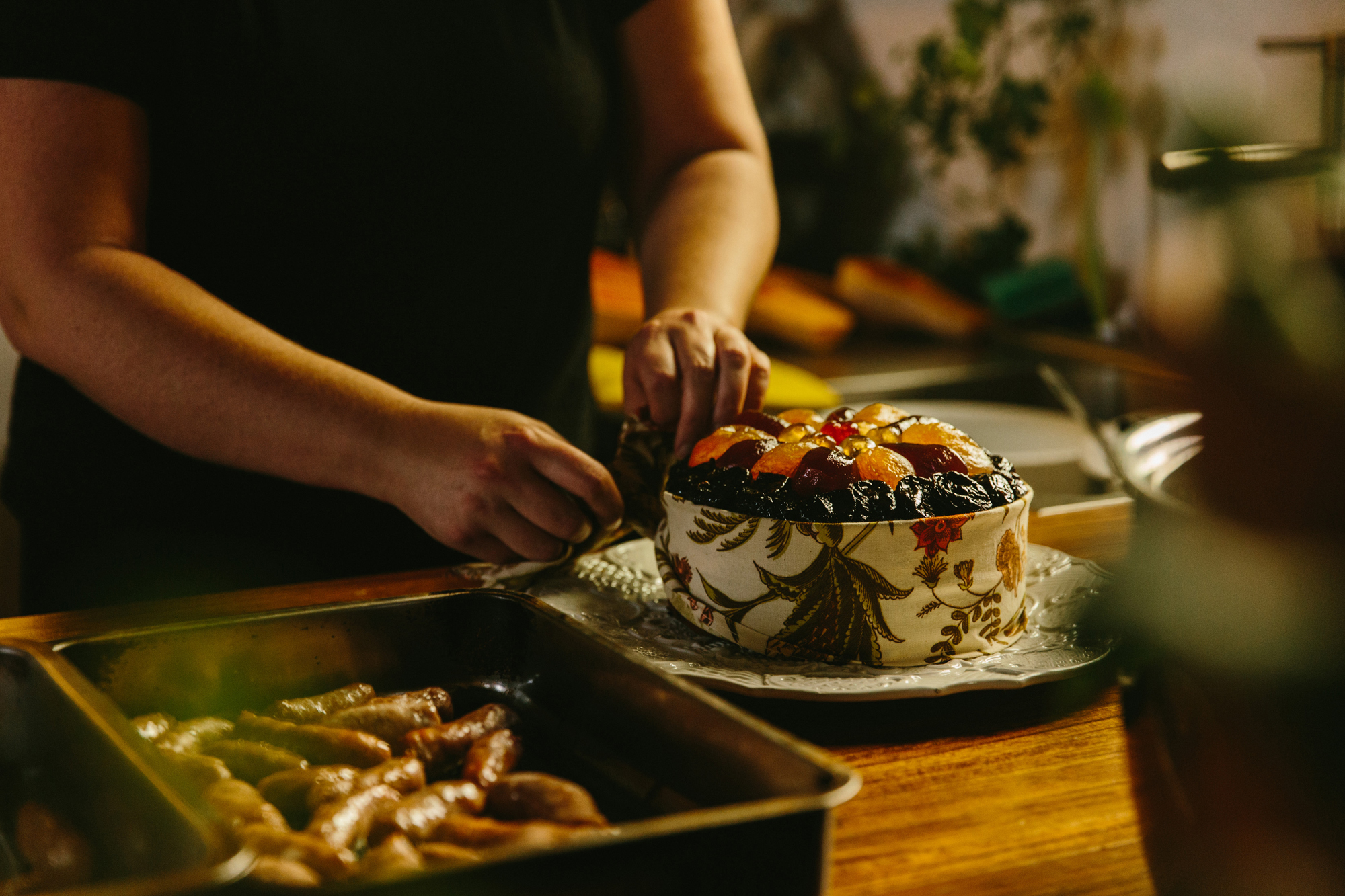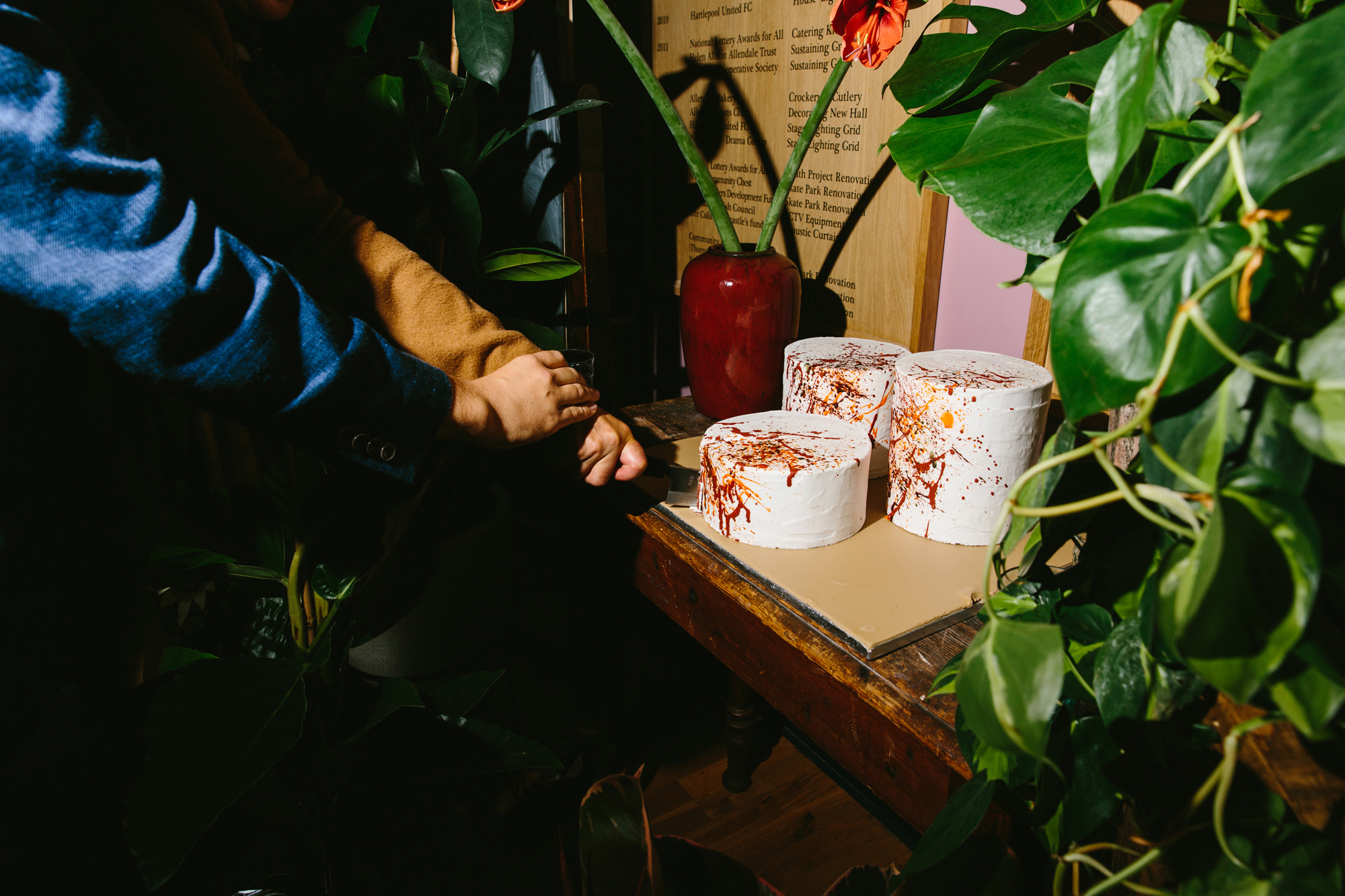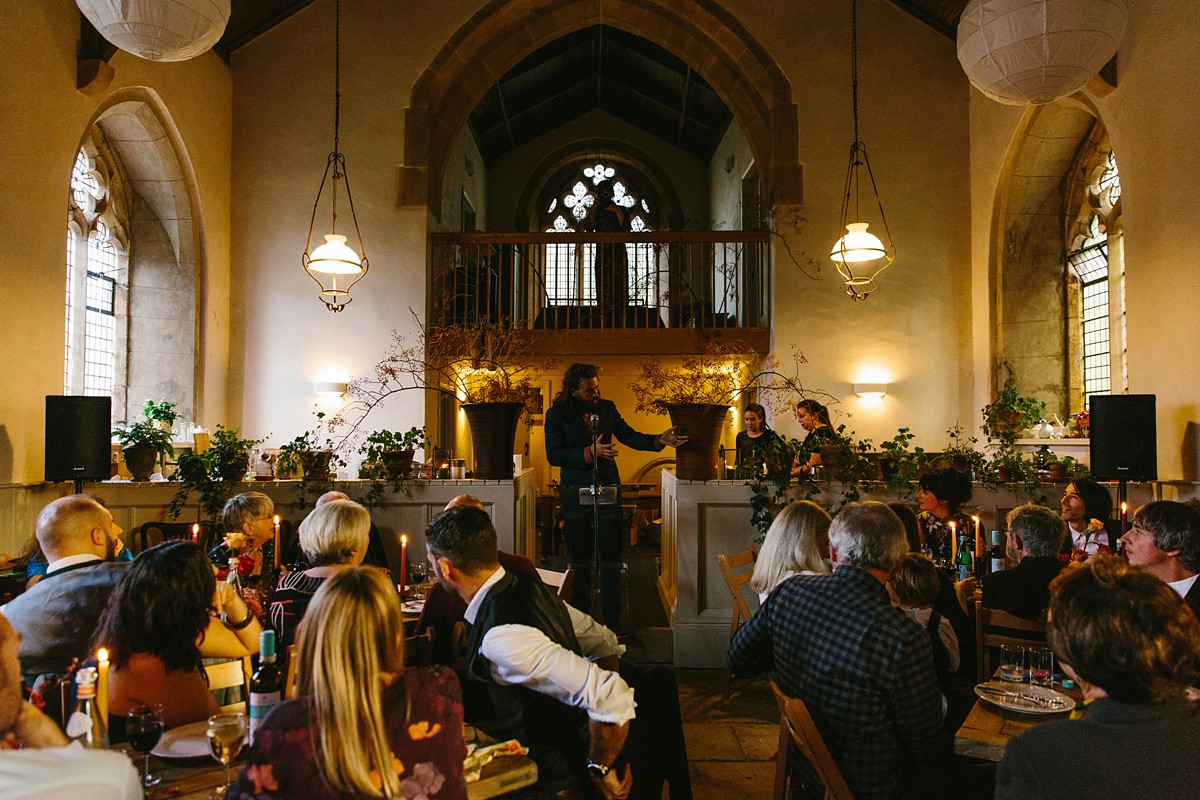 "Paddy created a wedding website rather than paper invites which we sent to our guests. Our friends at Etch Cut created our table plan at a moments notice and kept it simple and modern."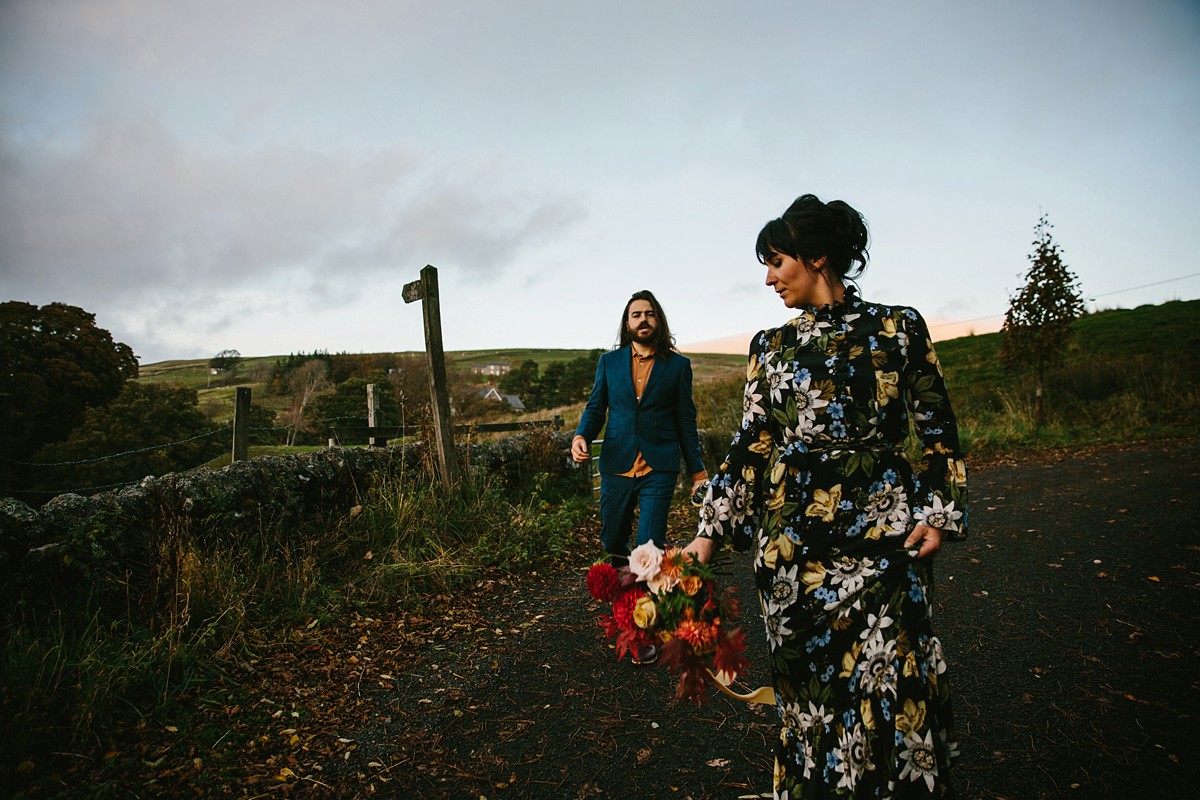 "We spent hours creating playlists for every part of the day and night and relied on music we loved as the entertainment. From Bill Evans to Brian Eno to Leonard Cohen to John Maus, we pretty much covered it all. Our first dance song was The Man In Me by Bob Dylan."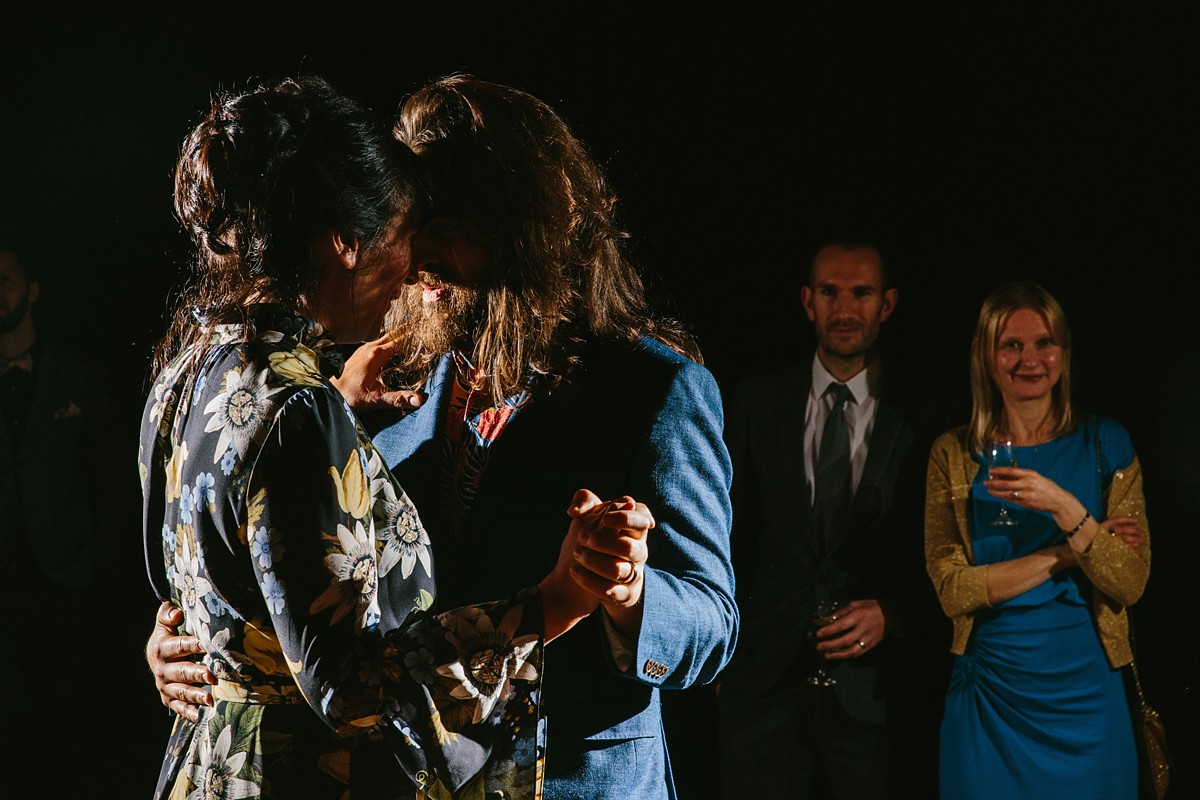 "We both agree that our favourite moment of the day was after the ceremony, walking outside the church yard together and having a couple of minutes alone."
"The blessing was very emotional and there were a lot of tears all round but there was an enormous sense of happiness and relief after standing in front of everyone, that we could finally have a spritz and relax."
Words Of Wedded Wisdom
"Losing dad a month before the wedding, very suddenly our priorities changed. We knew we would go ahead with the wedding but it became a different occasion, still beautiful and joyful, but also very emotional and at times, difficult. Suddenly the minutiae didn't matter."
"Plans to scour the Internet for this or that were shelved and probably a lot of money was saved. Atmosphere is everything; music, lighting, flowers and great food and drink. And a great photographer to fill in the gaps!"
What a truly beautiful day. Special thanks to Hannah and Paddy, as well as The Twins Wedding for sharing the day with us.
Until next time…
Much love,
Holly x