It's such a pleasure today to be able to feature the work of my lovely friend Helen James of Helen James Styling. Helen is an incredibly talented stylist who is immensely passionate about supporting the businesses she works with.
Which immediately makes her my kind of girl. I'm going to hand on right over to Helen because she walks us so eloquently through these editorial images below.
Photography by Alex Sedgmond
"It is my complete and utter adoration for my homeland of Wales that really inspired me to create this shoot. Having designed and worked on a number of bridal editorial shoots throughout the UK I wanted a location closer to home, something truly resplendent, something to really impart to couples far and wide that there is an unparalleled raw beauty to experience from this part of the world on their big day.""It was whilst talking to my own 'go-to florist', Beth of Forbesfield, Penpont came up in conversation and jogged my memory. As a child I used to while away many summers in the fields close by, absorbing the sounds and sights of the local flora and fauna all the while marvelling at the "lived-in" grandeur of the house, it's facade still to this day takes my breathe away."
"Overflowing with character, a surprise around each and every corner you turn, Penpont truly is a venue of undeniable beauty, full of incredible possibilities and quite frankly, it is one of the most spectacular venues in Wales to host your vows."
The Bridal Look
Such a multi-faceted wedding venue would appeal to a bride with a wild spirit. Someone who knows their own mind yet can be changeable. Bold yet sensual, and this needed to be reflected in the bride's fashion choices.
I knew the lady who would make this vision a reality; my dear friend Rachel of Rachel Burgess Bridal Boutique. Warm and overflowing with knowledge selecting gowns and accessories with her was an absolute pleasure.
I am fortunate enough to work with so many talented ladies who have the most amazing boutiques and I can say Rachel was one of the first people who welcomed me in to the wedding industry with open arms. So it seemed fitting that when I "came home" to my roots with this shoot, she was the boutique of choice to work with.
For our first look, enigmatic and ethereal, we opted for a blush pink over lay gown with intricate detailing and enchanting floral embroidery.
Makeup was kept fresh and dewy with the ability to layer for the further bridal looks (a little like that of a bride changing up their "look" from day to night") which Nikki Louise completely delivered.
Hannah's brief for our first look for the models tresses was volume, plaits and tendrils. Having seen Hannah in action a number of times I knew giving her creative autonomy and letting her work organically with the models hair would produce the most splendid results.
The look was completed with delicate drop earrings from Claire Hill Designs that lent the outfit a soft femininity.
The Outfit Change
The second look took on a romantic yet bohemian vibe. Long tumbling tresses, silky satins and the finest guipure lace; a divine gown with fluted sleeves paired  with a cathedral length veil from E&W Couture embellished with delicate embroidered floral petals in pastel hues.
For the final edgy look, we wanted the bride to rock a much bolder lip and carry a bouquet. Her hair was loosely crimped and lots of volume was created by Hannah Mlatem and her head was adorned with a metallic laser cut leather creation by Claire Hill Designs.
The gown was an absolute showstopper – a heavily embellished breathtaking lace gown that is hand embroidered with intricate glass beads.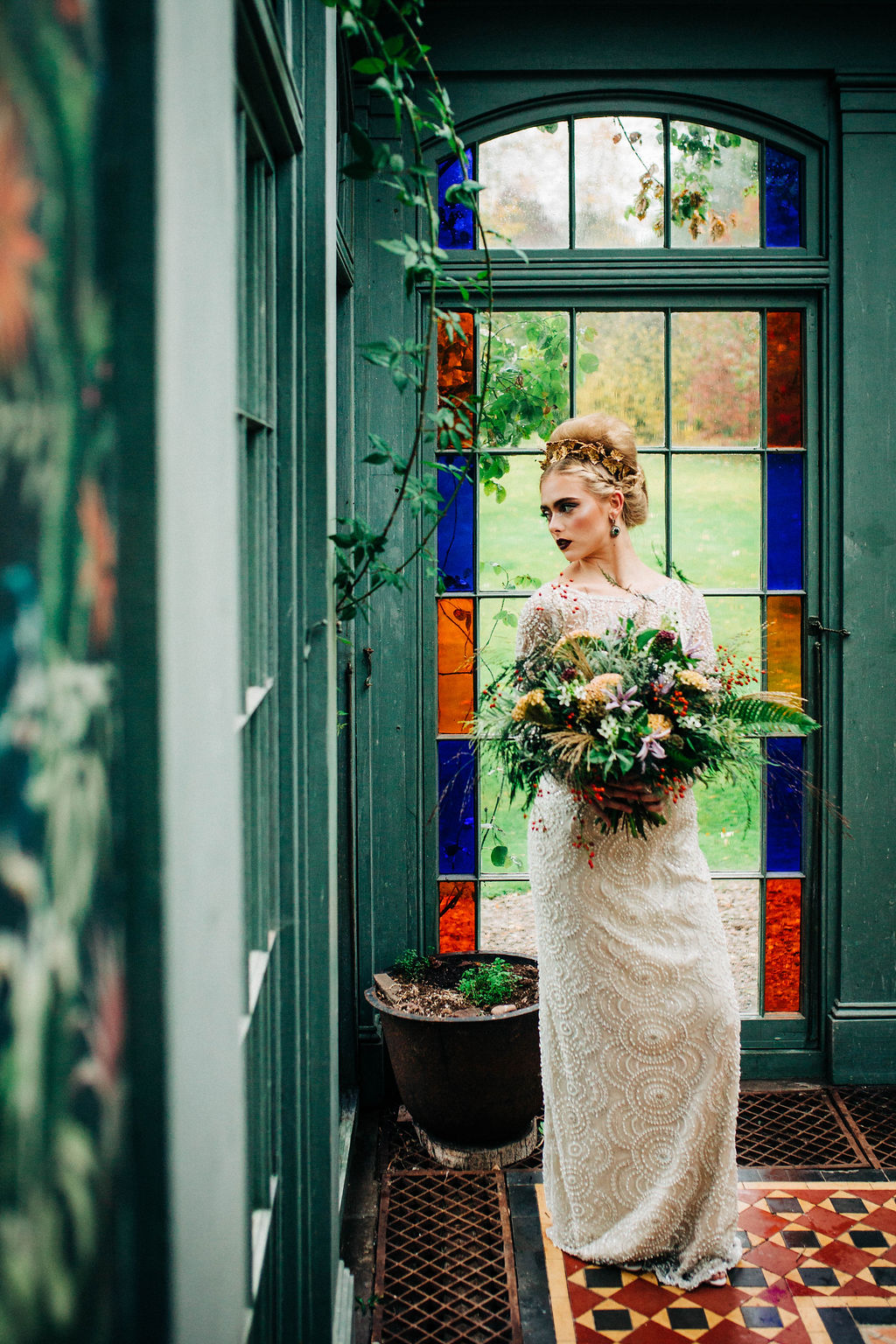 Decor and Blooms
When it came to the colour palette and styling of the shoot, I wanted something that was a stark contrast to the light and breezy days of summer that I have long acquainted with Penpont.
I wanted to work closely with the team of creatives to create something a little different… I craved moody blues and greys to add drama, juxtaposing with opulent jewel tones throughout.
Our florist, Beth from Forbesfield is a total dream to work with. She's creative, a total inspiration and her signature style was the perfect fit for the shoot.
She immediately understood the vision and brief for this shoot and contributed many keys details in her own right as well. Indeed, I don't think she would object to me telling you there were moments on this editorial where I honestly felt like we were thinking with the same brain.
Our wedding breakfast scene was created in the orangery at Penpont. With so many minimalist table capes out there, I was really keen to show that if you are a natural maximalist at heart then you should run with this – your day should always emulate your own style as a couple after all.
I sourced linen that had a fun yet dramatic print on it with leopards and monkeys and added a dash of luxury with the gold cutlery. I asked Beth to bring the drama to the table; she created a runner overflowing and bountiful with the likes of ornamental cabbages, metallic ferns along with bright pops of cockscomb . It ran from end to end and then elegantly meandered it's way up the olive tree at the centre of the orangery.
Stationery
Harriet at de Winton Paper co created the most glorious stationery suites – everything was thought of. We had save the dates, invites and RSVPs, order of the day sheets, menus and place cards.
I adored the raw elegance of the khaki paper used on the stationery. All of the pieces were hand painted in water colour before adding a delicious metallic flourish using the art of modern calligraphy.
Sweet Treats
Decadent, rich, oozing, imperfect naughtiness was the brief given to Zoe from The Vale Cake Boutique. With a wicked sweet tooth myself and a penchant for chocolate, I wanted to step away from the traditional wedding cakes.
An impressive, multiple tier black forest gateau was the star of the show, accompanied by a chocolate pavlova and the most dreamy brownies I have ever seen (or eaten). Zoe really made everyone's mouth water on set.
The 'cakescape' was completed with beautifully ornate gold dusted meringues.
Photography
Capturing the shoot was the wildly talented Alex Sedmond Photography. His editorial eye created some of the most amazing photos and I am still in awe of the work this man can do with a reflection or two.
He captured the vision for the entire shoot in an array of bold and honest images and I know I couldn't have asked for a better photographer to interpret the overall vision for this shoot.