It's always a joy to me that on Love My Dress we share weddings with a huge variety of styles and themes, and today it's my pleasure to go down the festival route. If any of you lovelies are searching for inspiration for an al fresco, garden affair then I hope you find it here.
Rian and Ben wed on 14 July 2018 in the glorious setting of Meopham Court Vineyard, Kent. The couple, who are an operations manager for a jewellery brand and a project manager for an IT network company, wanted to create a relaxed celebration; their friends' vineyard was the perfect location for a day full of tipis and festival vibes, inspired by the green, gold and white tones of Rian's engagement ring.
Photography Libby Christensen Photography
Rian used Pinterest extensively in her wedding day planning, and this is where she discovered designer Cathleen Jia who created her understated but totally cool bridal separates which she layered up for her own unique, relaxed look. I love the deep back and fluted sleeves; so pretty for the summery ceremony.
[RELATED]
"I had a strong idea of what I didn't want; a big meringue skirt and anything with a corset that would be restricting. We were planning a very relaxed festival-style wedding and so I wanted an effortlessly stylish dress. I found Cathleen Jia on Pinterest and was an instant fan of all her designs, particularly the Sage gown."
"Ben and I had a very clear idea of how wanted the day. We love going to festivals and parties and wanted the day to feel like this, just with a sprinkling of marriage. We had our guests very much at the forefront of our minds as we wanted them to have just as an amazing day as we would. The main thing we wanted was a relaxed feel and for it to be very 'us'."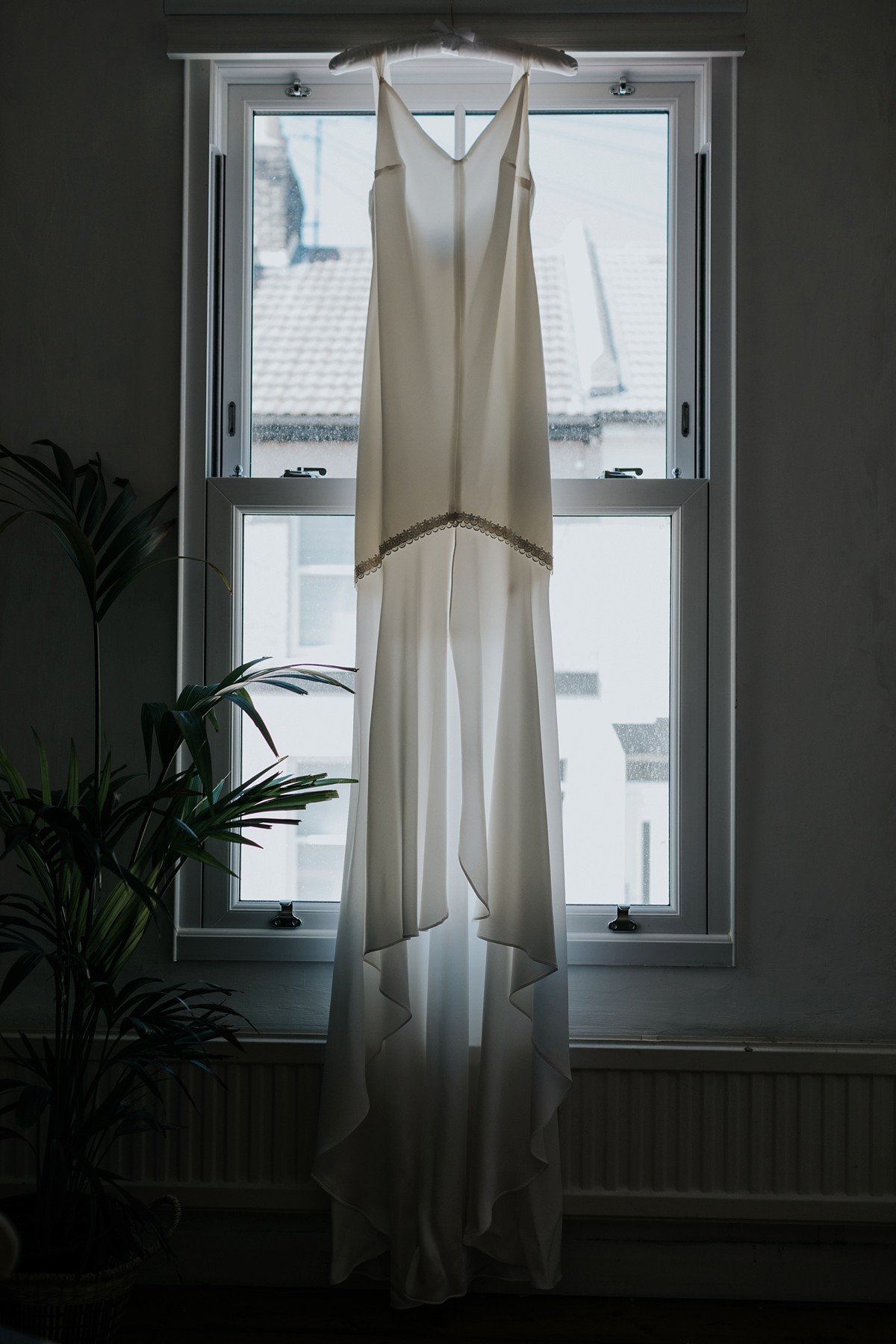 "I loved the whole ethos of the brand. After realising Cathleen was based in Australia, I just hoped there would be British stockists. After a bit of research, I contacted Cathleen direct."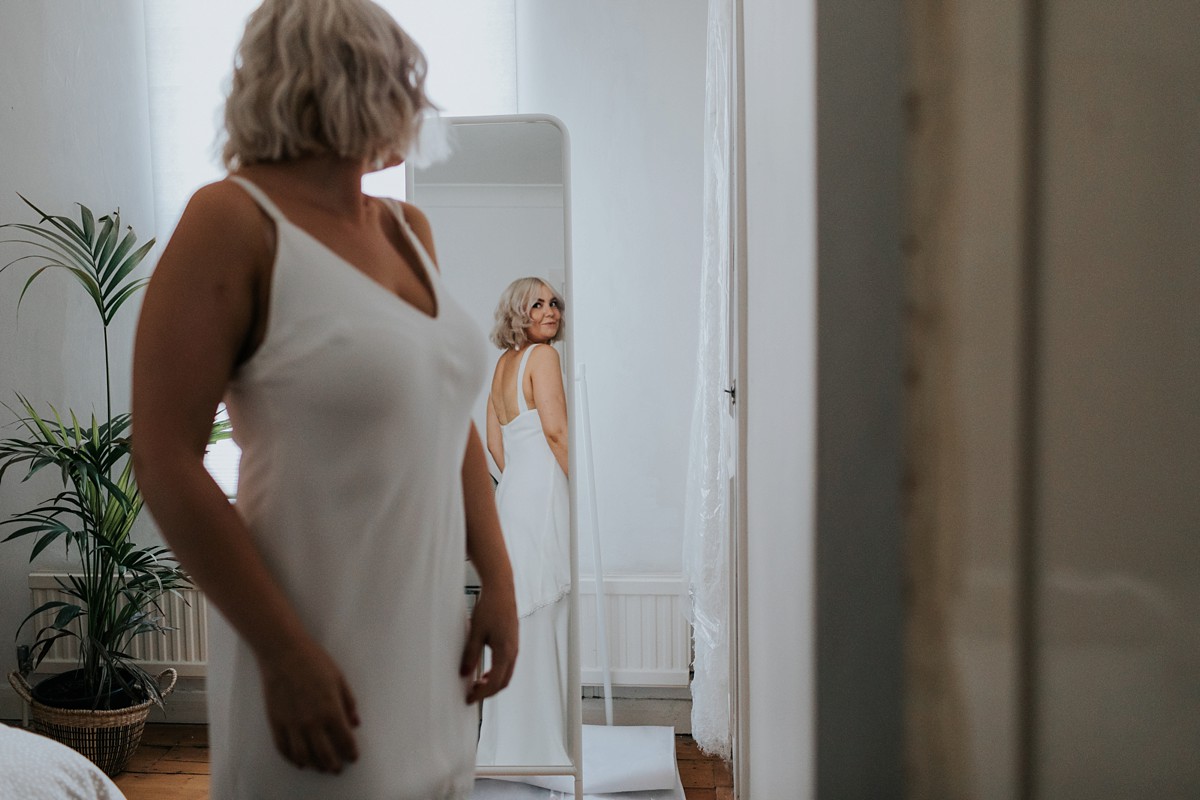 She was so helpful and advised that there would be a trunk show in London in a few months and would let me know the dates nearer the time. Sure enough Cathleen got in touch and I booked an appointment with Heart Aflutter Bridal that same day".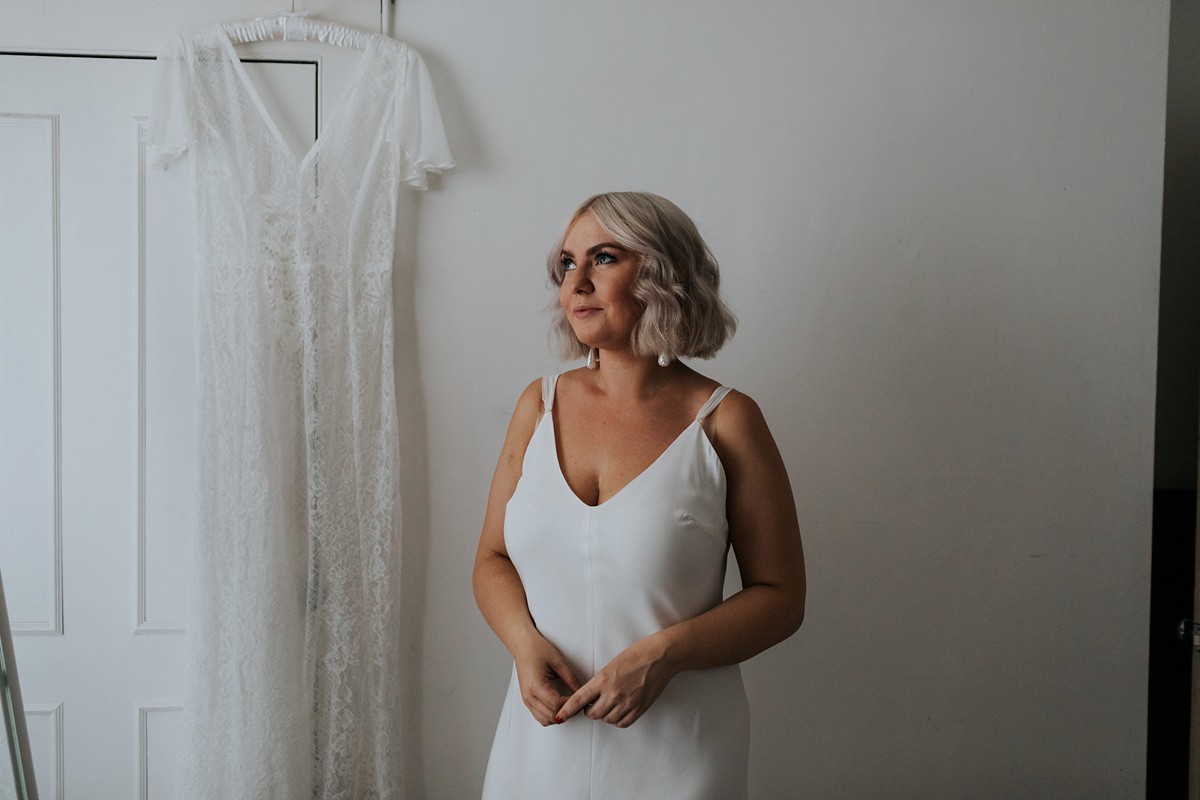 "My whole dress shopping experience was such a doddle working with Cathleen and Heart Aflutter that I never went anywhere else. I opted for the Sage dress as I had planned but fell in love with the Anise dress too so decided I would have both."
"I wore Sage under the Anise gown for the day and in the evening removed the Anise. The Sage felt like an evening gown and perfect to dance in."
For a quirky twist, Rian chose a pair of strappy sandals with glass pineapple-style heels.
"I wanted something a bit special and out of the ordinary but sturdy and not too high. Zara came up with the goods."
The bride let her gown and shoes shine, adding just a pair of long, dangly earrings from Mango. Talking of her hair, Rian styled her white-blonde bob herself in to a tousled, modern style and created a flawless face with defined eyes and lips.
"I chose some statement fashion earrings from Mango. As my hair was being kept very simple and natural, I still wanted something a bit bold."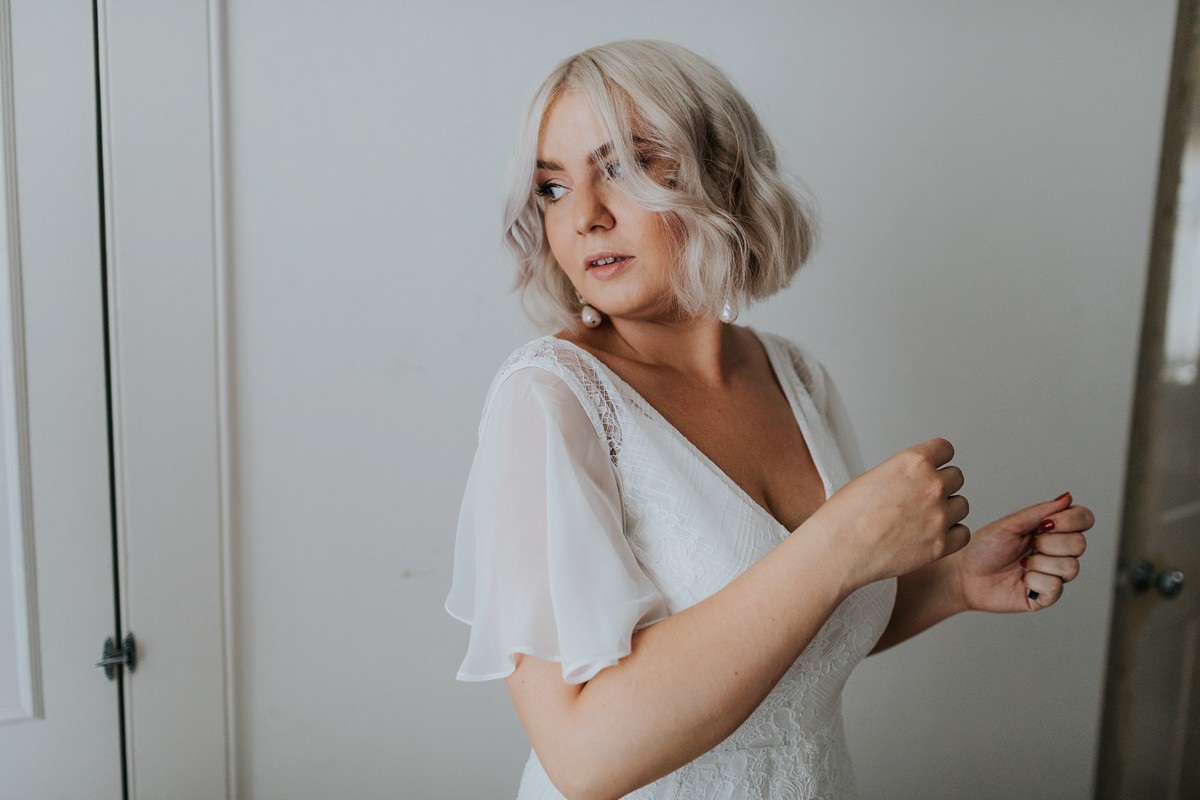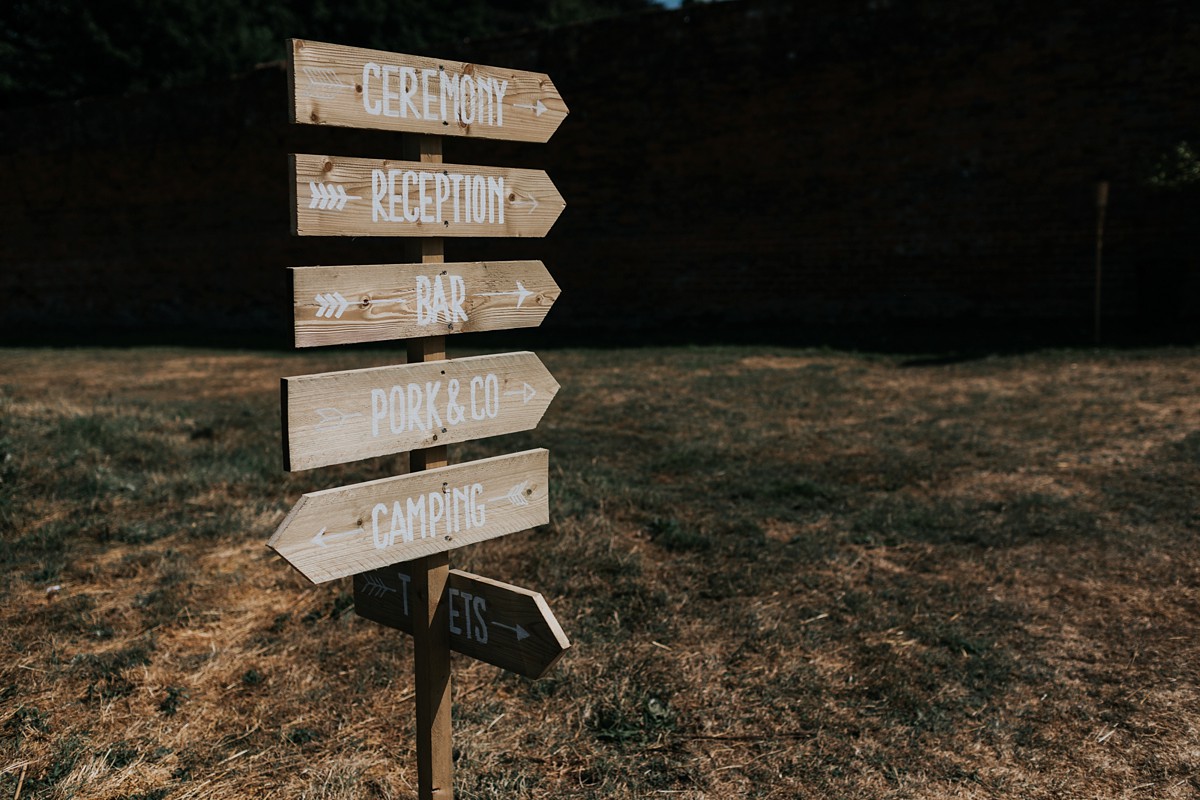 "We were very lucky to have a Rugby Club friend offer us their Walled Vineyard and field, near to where Ben and I grew up in Meopham. I cried the first time I visited the vineyard; it couldn't have been more perfect."
We had a camping/glamping area in the field, two large white tipis for the seating and dance-floor then a vintage-style marquee to house the bar."
The local rugby club and mutual friends also played a part in bringing the bride and groom together eight years ago.
"I used to help out working behind the bar at the club where Ben plays. It took Ben a whole year from meeting me to finally asking me out on a date! We got engaged on my birthday last year."
"Ben proposed in a rainy Greenwich park after we had been for a meal in London. We went back to our friend's pub in Rochester and Ben had organised loads of my friends and family to be there to surprise me."
Rian and Ben planned their day in just over a year and as both of their jobs involve planning and co-ordination, decided to treat it as their own, very special, project. They have some wise words of advice to share for those planning to do the same, though.
Just like Rian, Ben chose a modern look for his wedding outfit. He paired a navy blue, slim fit French Connection suit bought from and altered by Moss Bros with a sage green tie, also from Moss Bros, and brown leather Monk shoes from Topman. His groomsmen also channelled the slick blue suit and green tie look.
Rian was driven to the vineyard in countryside style, in a friend's vintage Land Rover. As 'Warm Foothills' by Alt-J played, Rian and her mum made their way down the outdoor aisle for the completely personal ceremony.
"We had a friend, who is an actor, be our celebrant on the day. We did the legal marriage at Rochester registry office a couple of days before."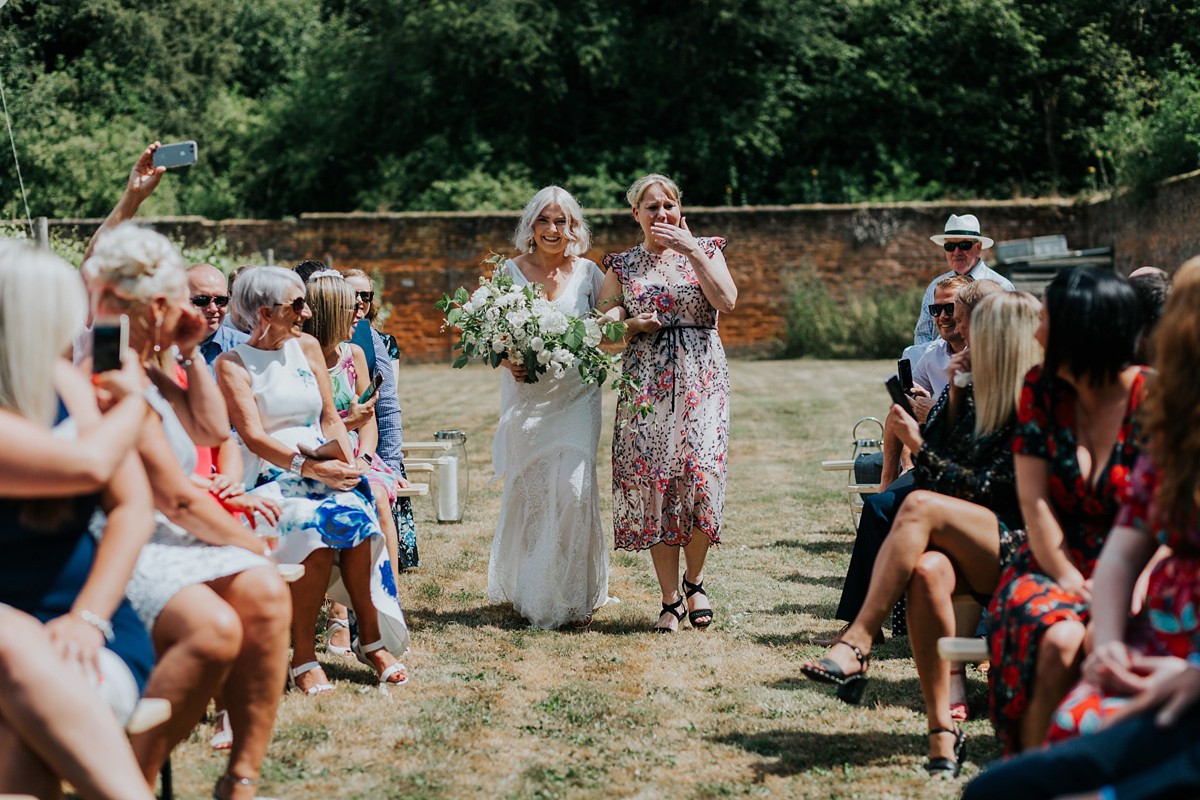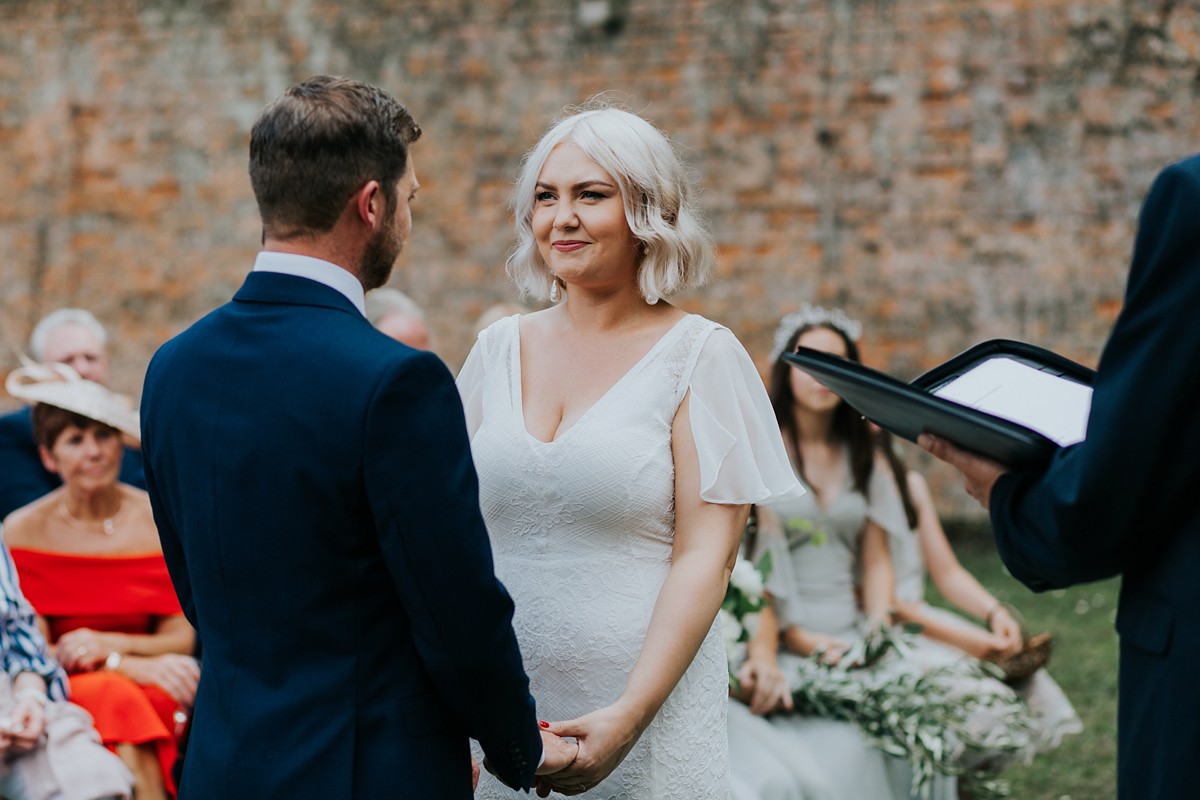 The beautiful summer weather mean that Rian and Ben could marry in the walled vineyard, framed by a wedding arch created from a macramé backdrop and a frame of hops.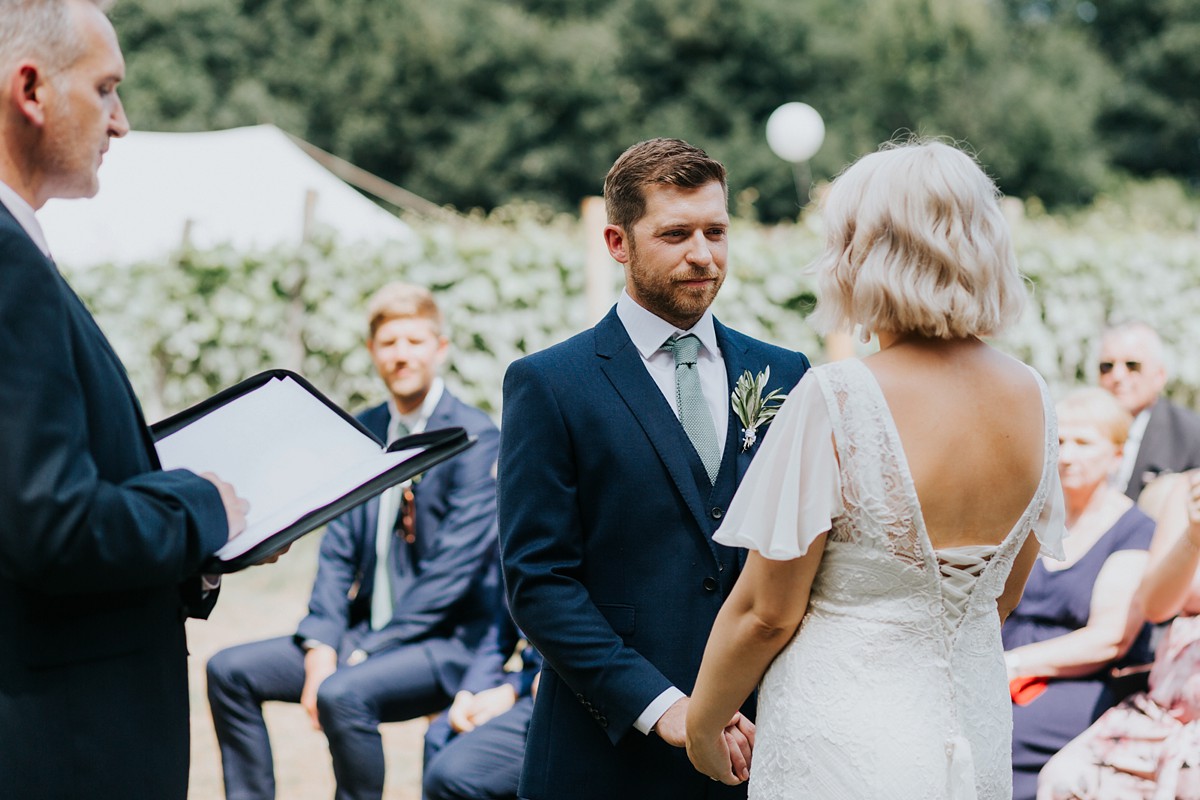 The rest of the garden had been thoughtfully dressed with chalkboard signage and props for fun photographs.
"We got Kentish hops to dress the wedding arch. These were from The Hop Shop down the road from where I work. I love macramé too so I found a company on Etsy that make large ones, perfect for a wedding arch."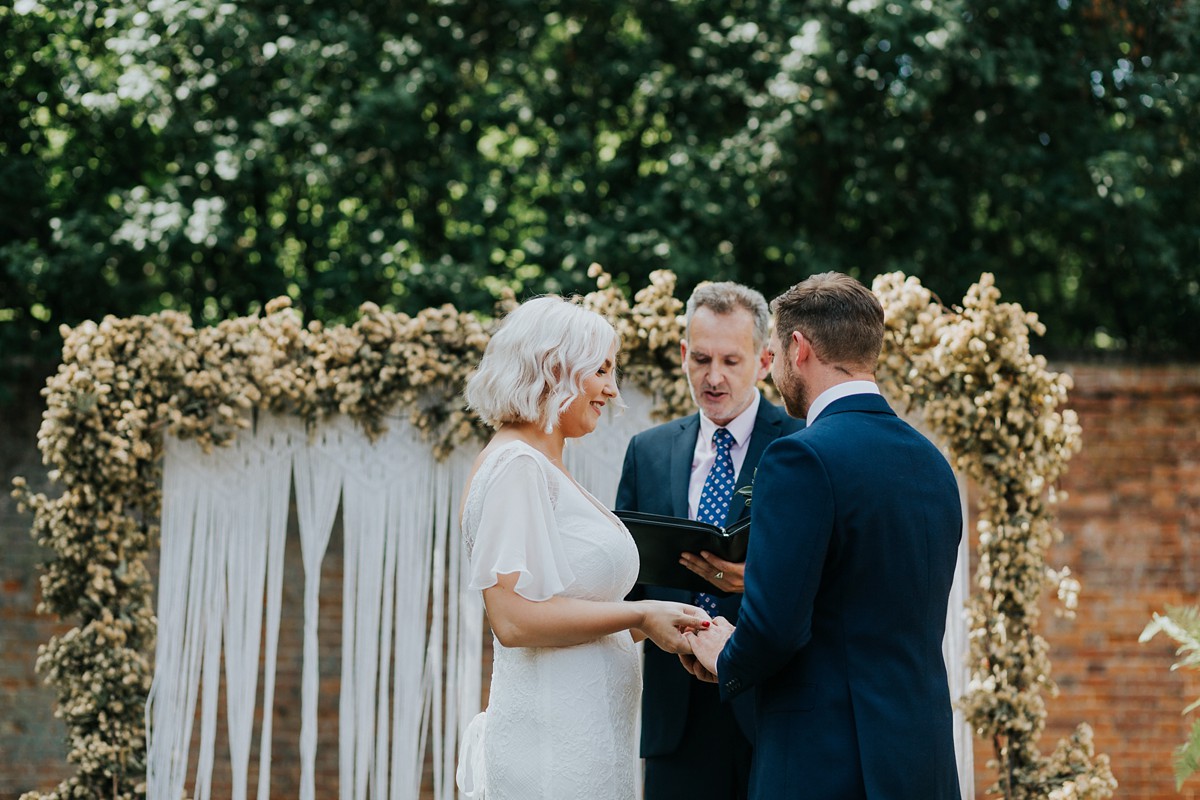 "The whole wedding script was written by Ben. He used a few templates found online and reworded it to make it personal to us. The first reading was 'Close, Close All Night' by Elizabeth Bishop, read by my sister Paige."
"The second reading was from 'Captain Corelli's Mandolin' by Louis de Bernières, read by Ben's sister Philippa."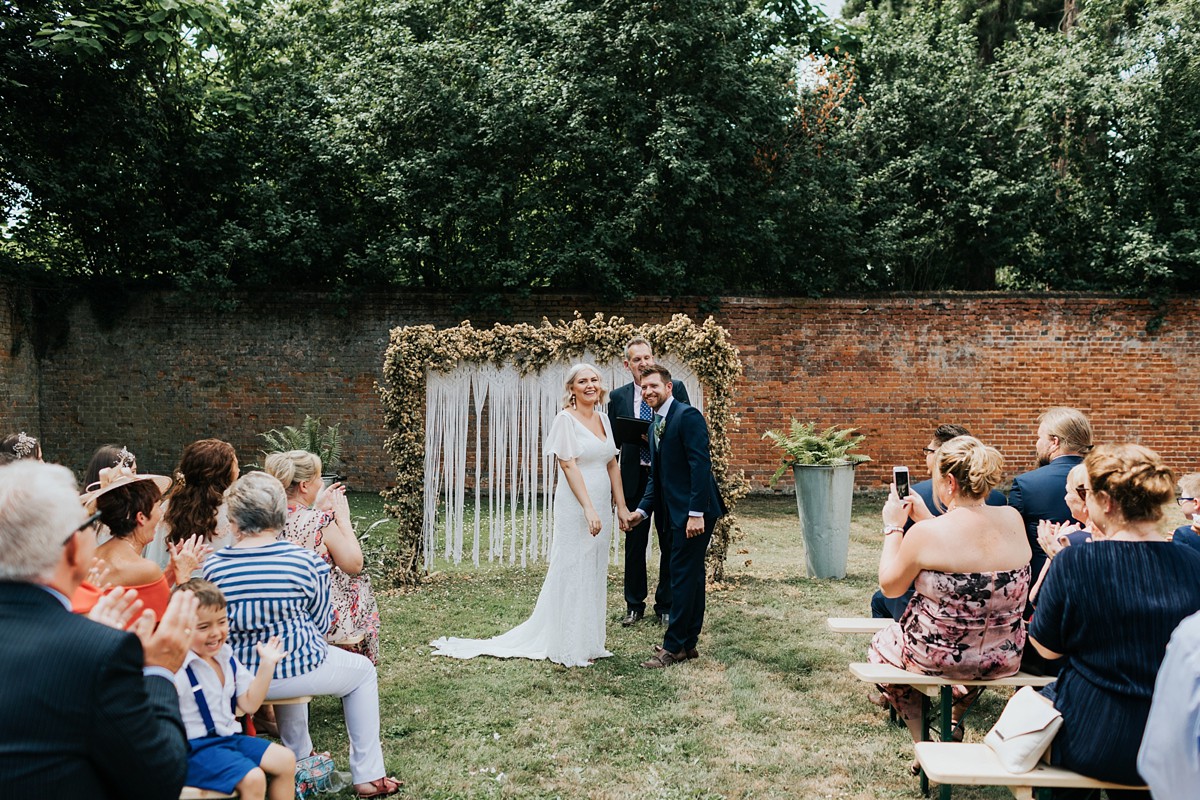 The couple count diamond-setter Mark Christmas as a friend, so he was the ideal place to source Rian's engagement ring and wedding band.
"Mark Christmas runs a diamond setters in Hatton garden. We used him for both of my rings. Ben picked out his ring from Beaverbrooks, as he wanted a very simple ring."
The colour palette for the day was set by the contemporary, gilded stationery suite designed by a close friend, Rob Cursons.
In keeping with the relaxed and friendly vibe of the day, they chose Libby Christensen to be their photographer and my, what a wonderful set of photographs she has captured.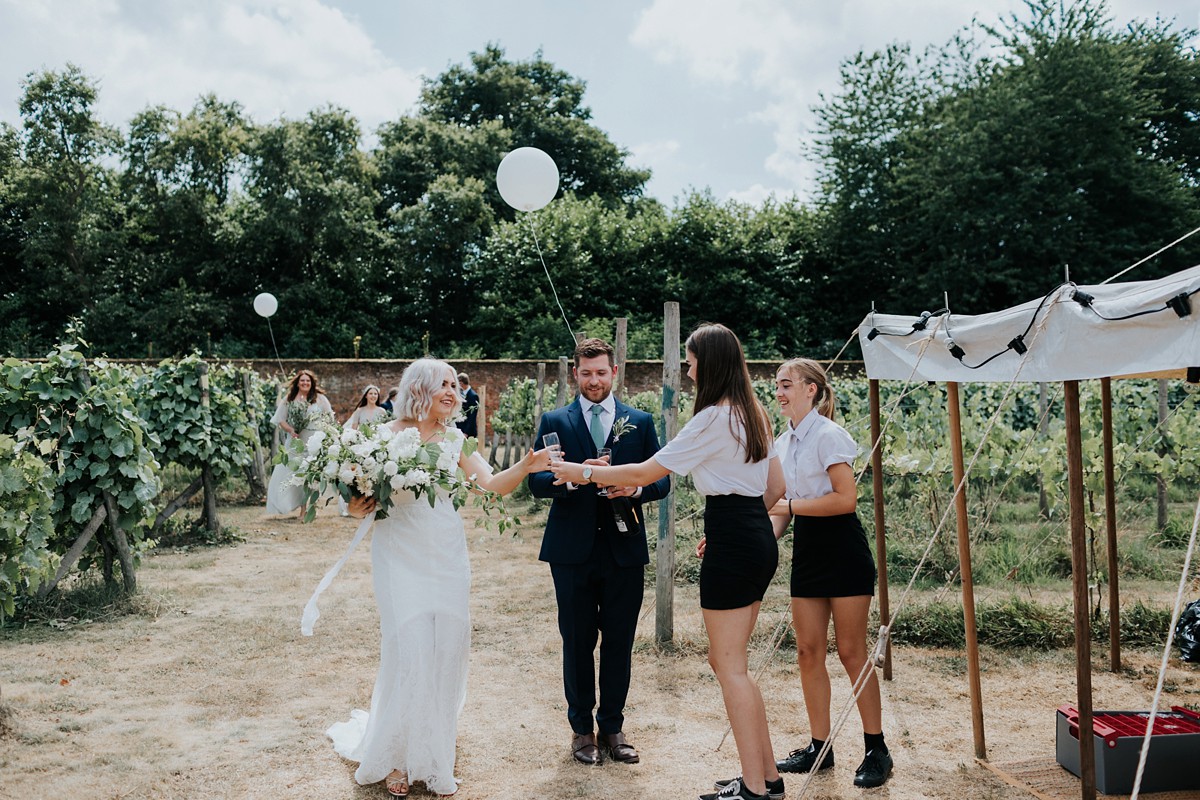 "We were recommended Libby by a friend who had recently been at another wedding where Libby was working. After looking at her website and Instagram we decided to book Libby."
"She was the perfect mix of stylised and candid shots we were after. We did an engagement shoot in Margate – it's mine and Ben's favourite place and our Sten (Stag/Hen) was there too."
"This confirmed we had made the right decision as the pictures were amazing! But nothing could compare to how we felt receiving our wedding photos – we were blown away."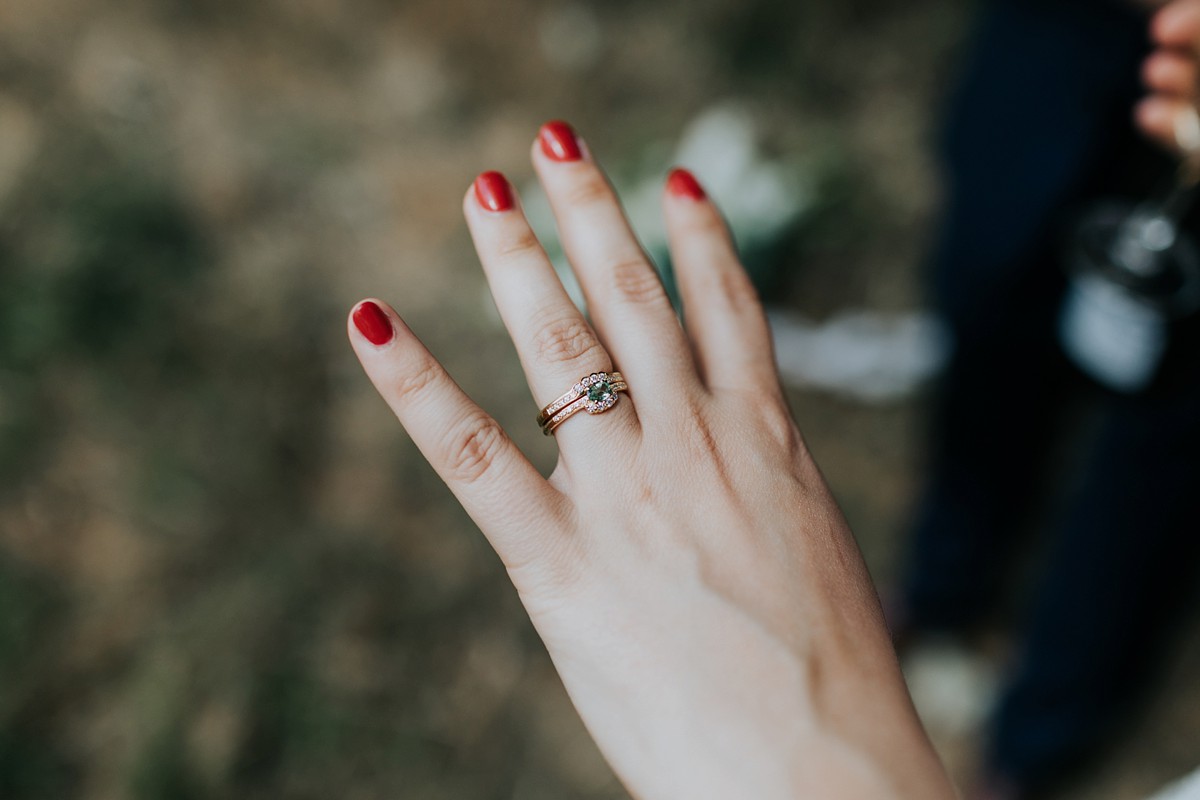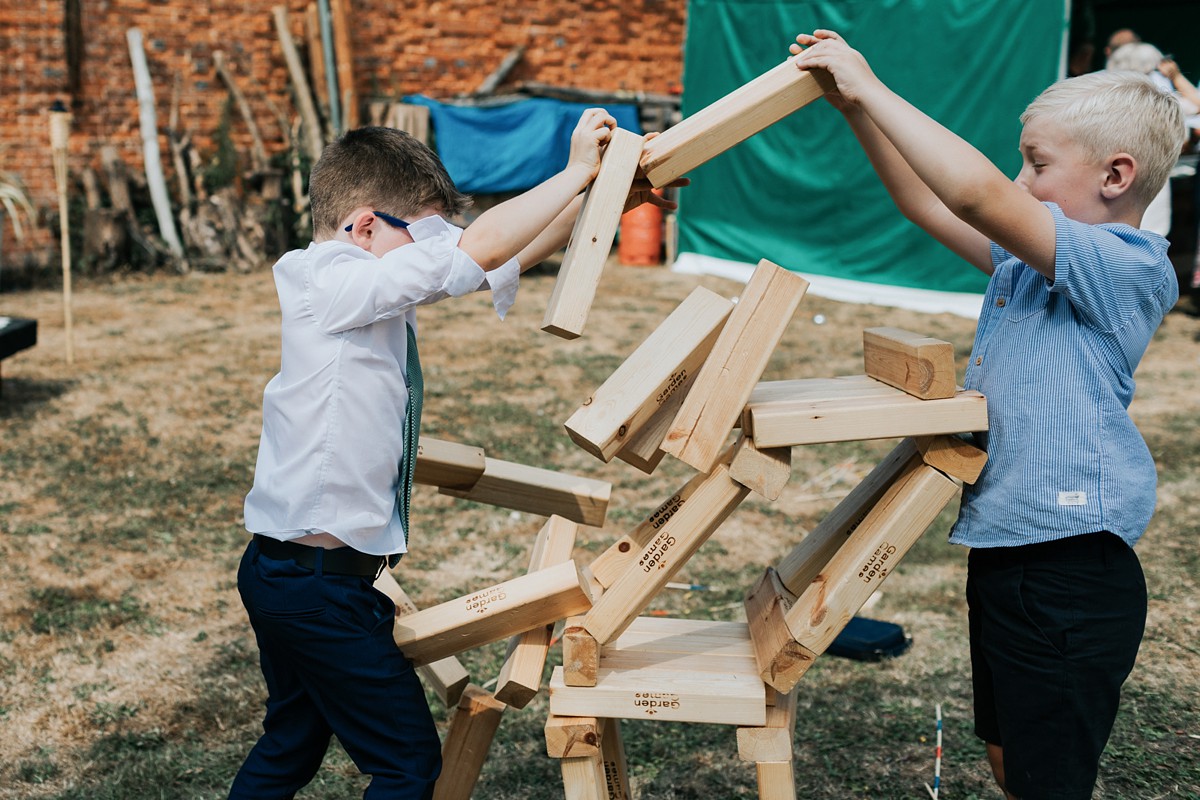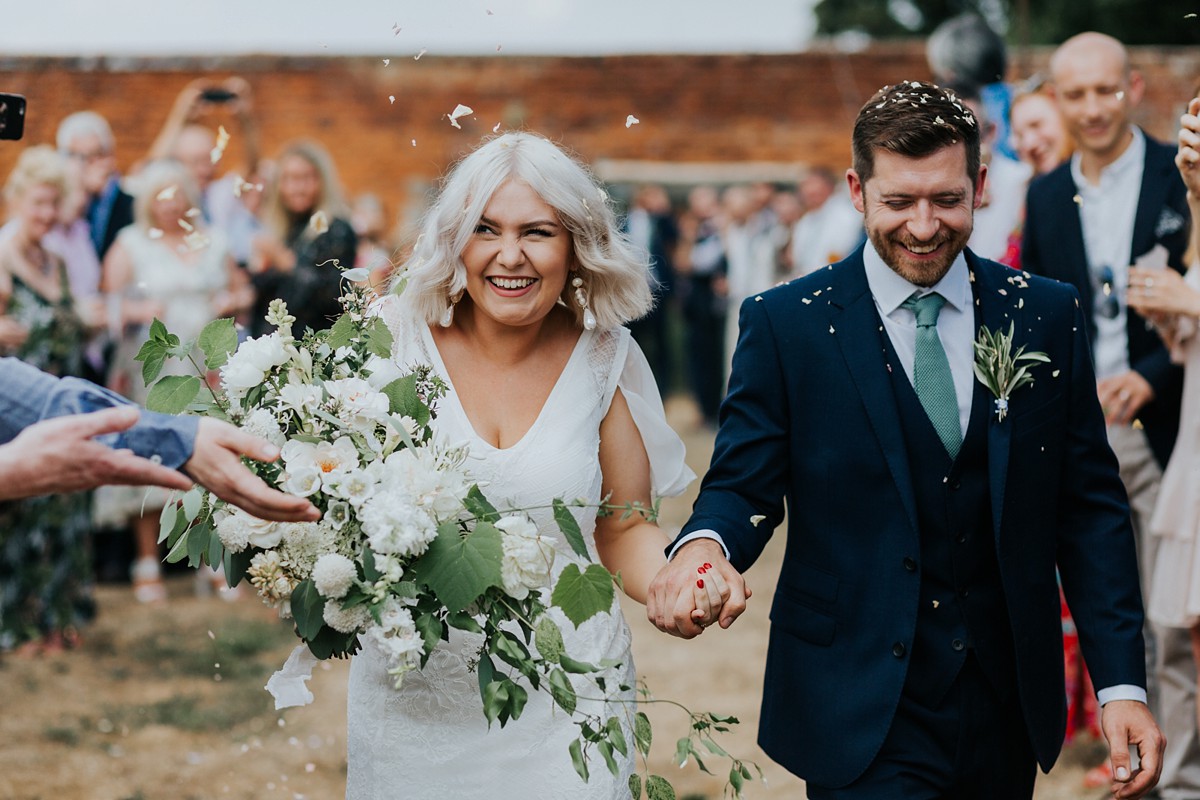 I adore how the softness and floating sleeves of the bride's own gown were echoed by the pale green ASOS gowns worn by the bridesmaids.
"These were the first 'wedding thing' I bought. I fell in love with the colour and style."
The girls all carried opulent and wild white and green bouquets of blooms and foliage designed by BloominGayles.
"My very close friend Gayle of BloominGayles did my bouquet which was INCREDIBLE. She even incorporated vines for an extra personal touch."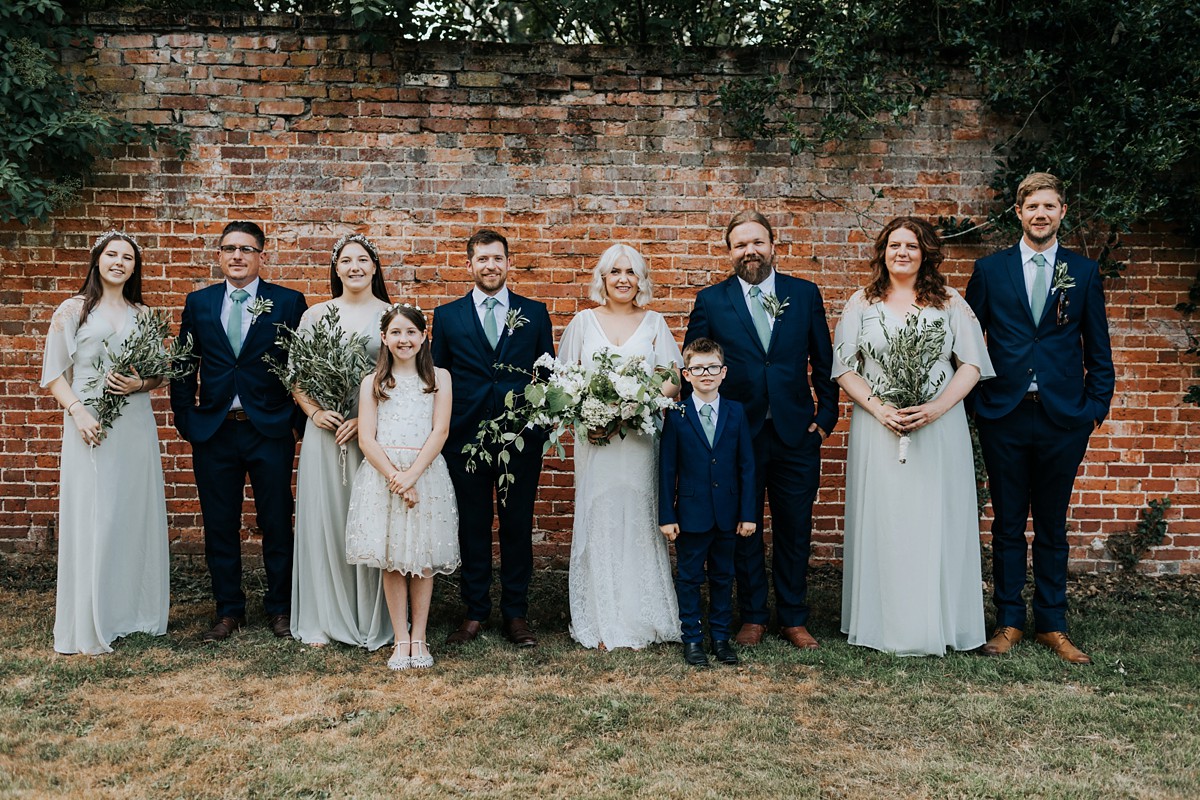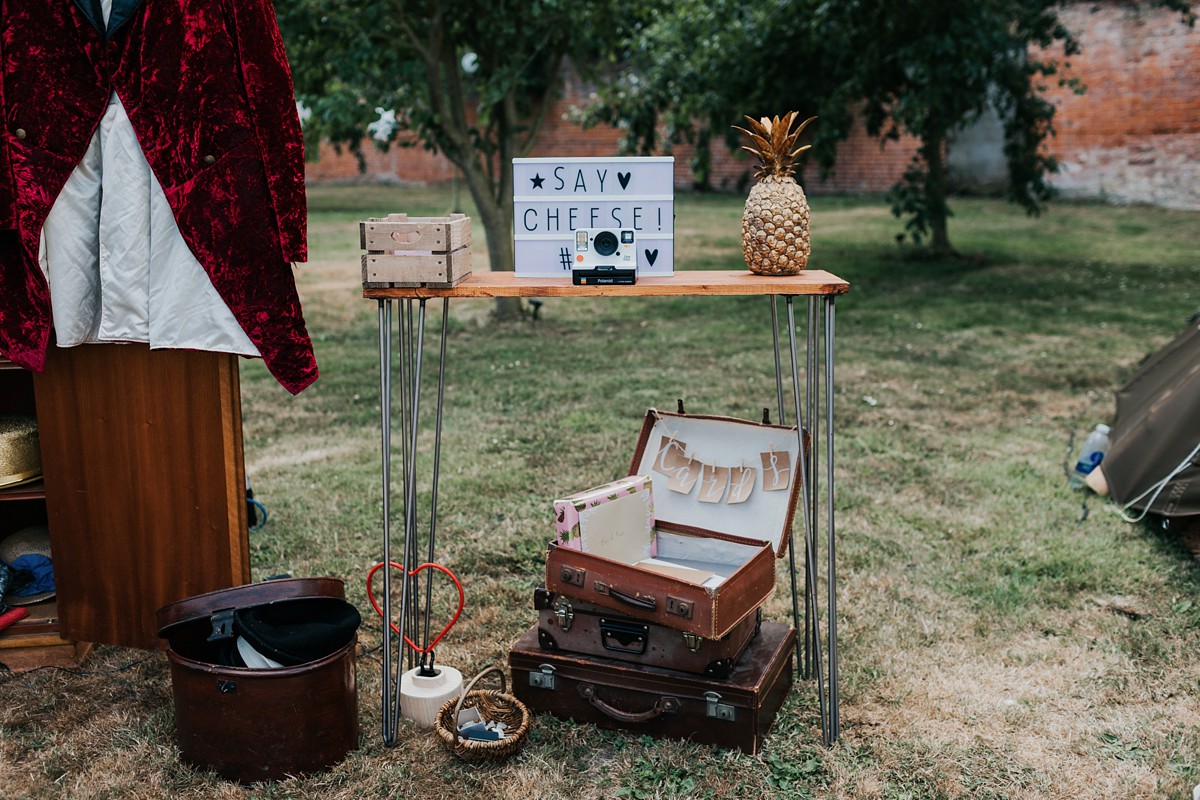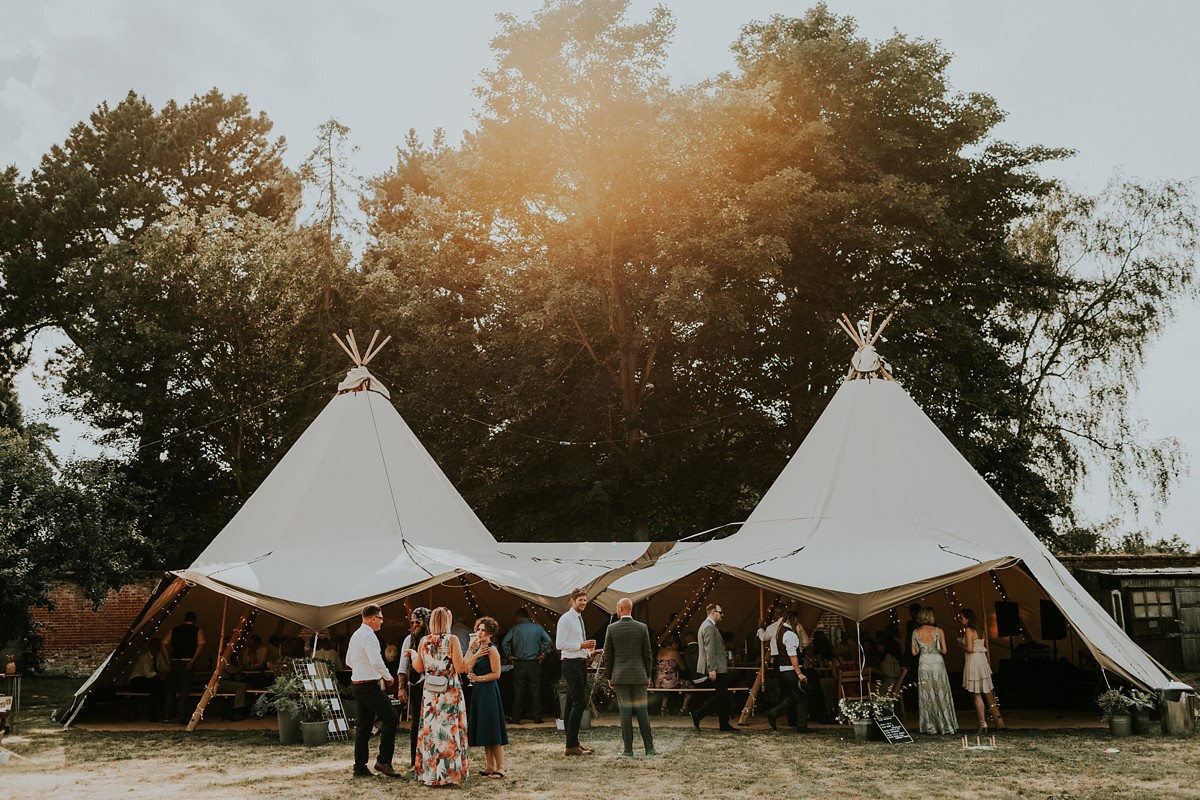 Back in the fairy light-adorned tipi, the guests were treated to a proper festival feast by Pork & Co.
"They are a great company from Canterbury in Kent. Because of the festival vibe, we wanted street vendor-style food and knew Pork & Co (our favourite restaurant) would be perfect having seen them at lots of food festivals over the years. Having a simple menu of pulled pork, chicken strips or veggie Scotch eggs was ideal and it was all cooked to perfection."
"The bar was B-Squared Beer. They are friends of ours and this was one of their first weddings. They were brilliant, meeting up to go through drinks and different options."
"We were able to choose the type and style of drinks we wanted and they did the rest. Having a bar do the right drinks was a big thing for us as we love real cider and ale, as do all our friends."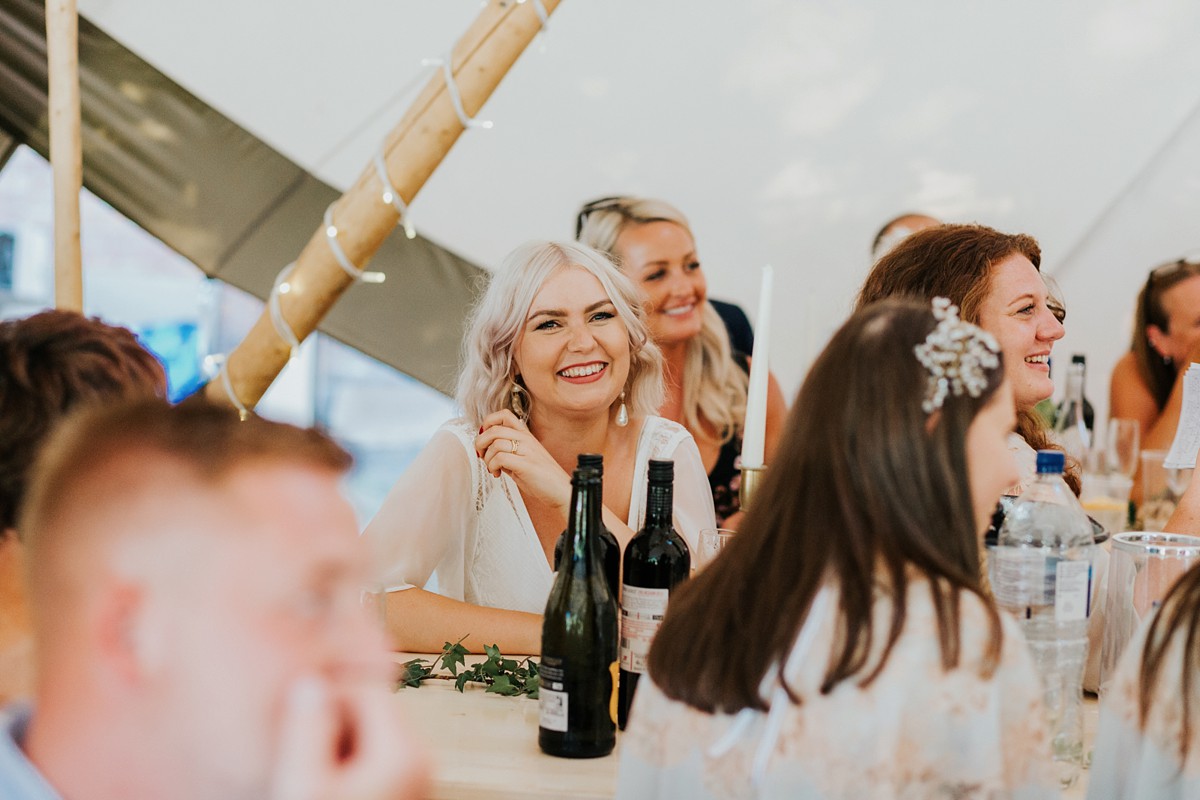 The couple laid on cookies instead of a cake, and kicked off the party with their wedding favours.
"To get everyone in the party mood, we decided on shots for our wedding favours. A firm favourite from the Rugby Club are Apple Sourz so I found a company that provide miniature shot bottles."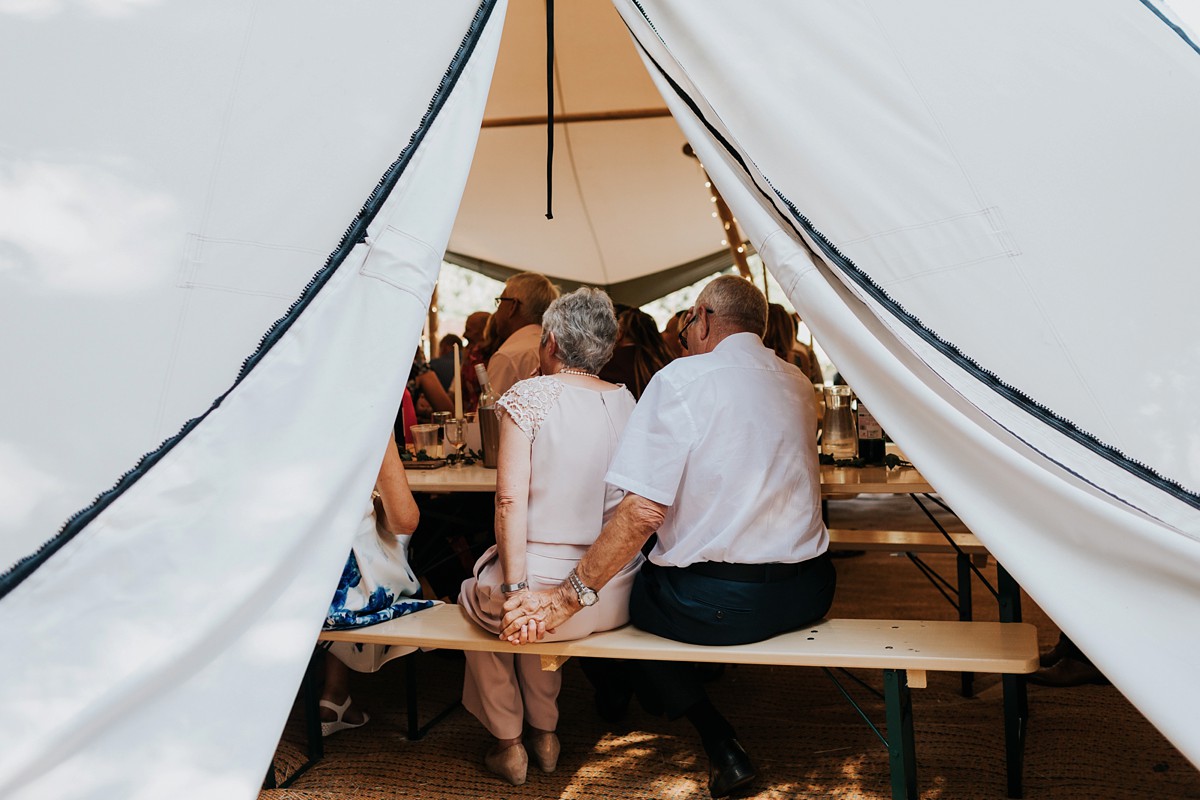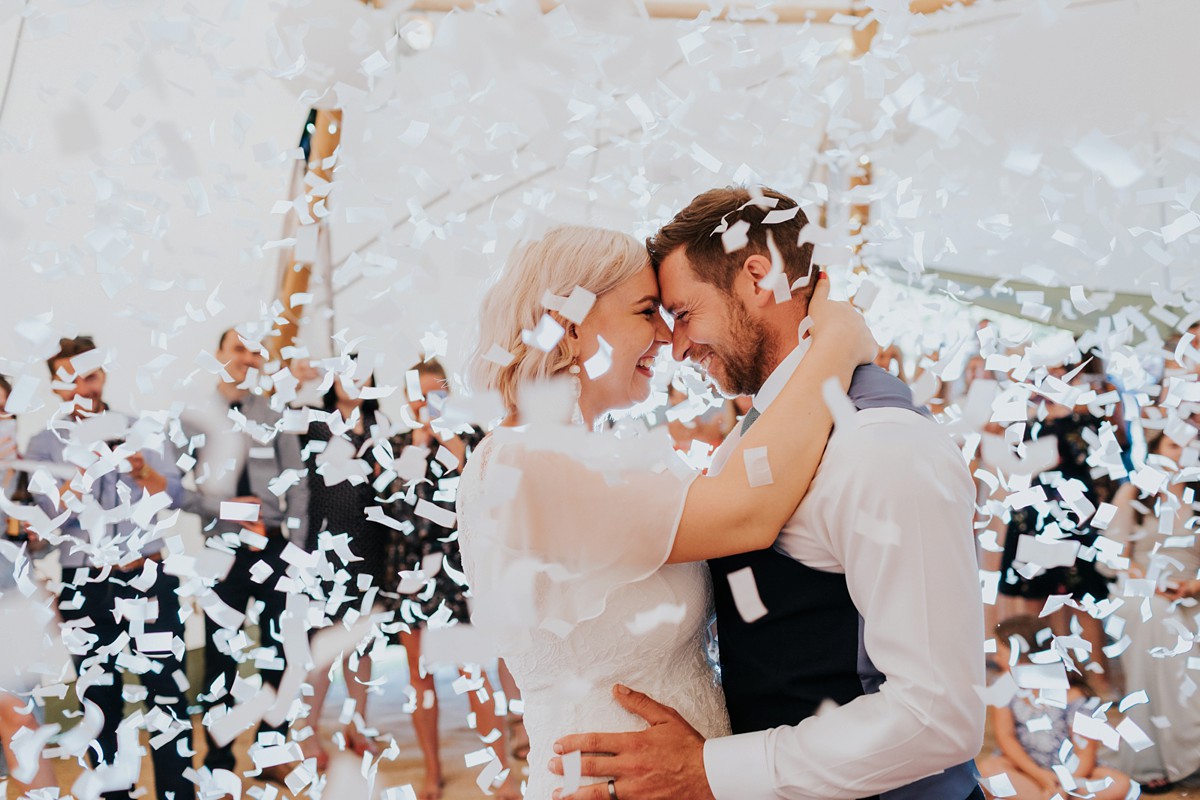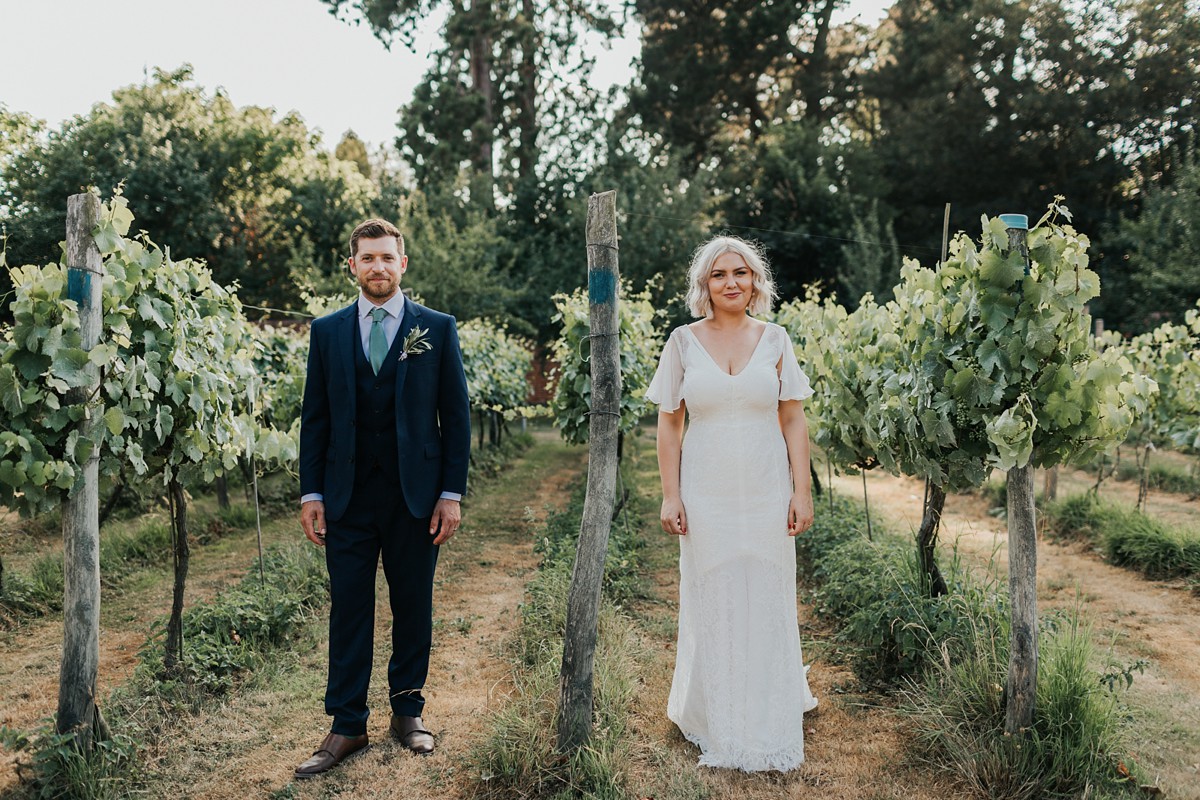 As the afternoon melted in to the evening, Rian slipped off her top gown for a sexy, party look before kicking off the evening party with a first dance to a cover of Chris Isaak's 'Wicked Game' by London Grammar.
"Ben first heard the London Grammar cover a few years ago when they did it live on the radio. It wasn't until one drunken evening going through different songs for the first dance that he thought of it. We put it on and knew it was right as we drunkenly dance at home to it. We wanted something slightly upbeat that would set the mood for the rest of the night."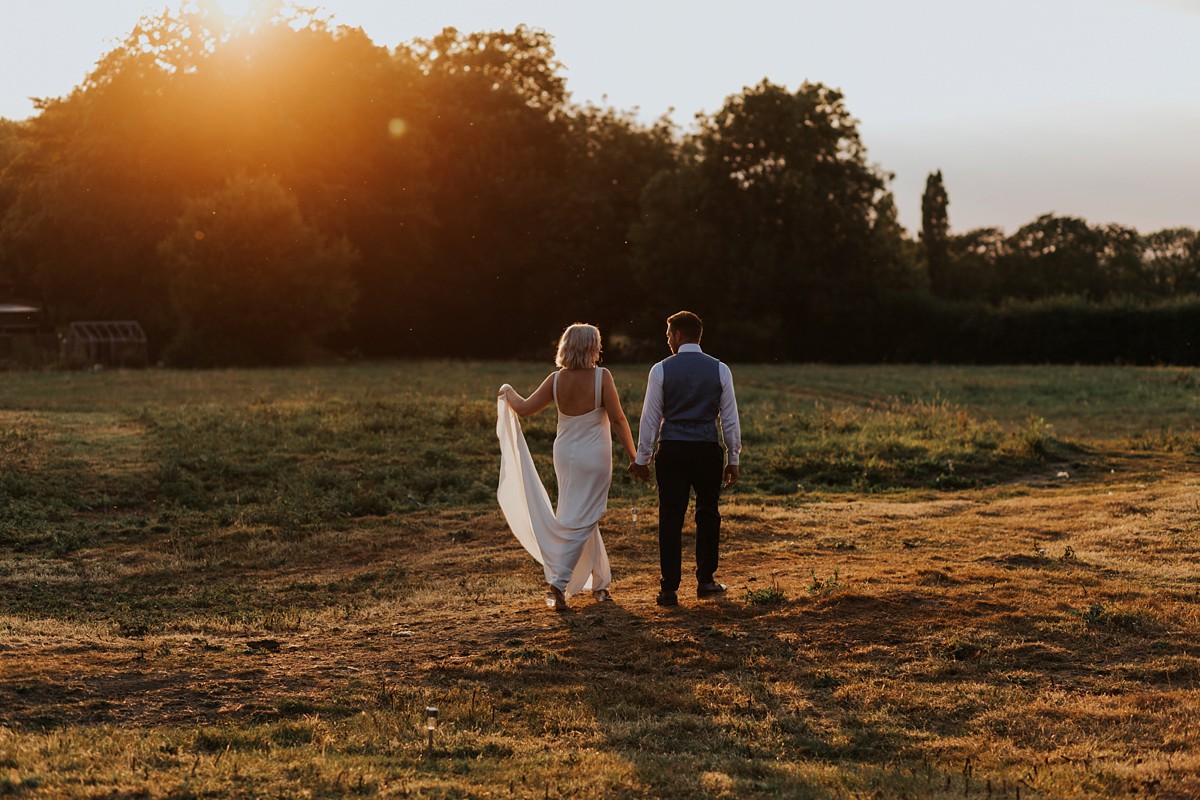 "We wanted to party the night away to our favourite songs and felt a DJ would be best suited to our eclectic music taste. The Wedding DJ was perfect and had everyone dancing until the early hours."
"Jethro, who runs the company, was fantastic through the whole process. He was there for the whole day, providing music for Rian to walk down the aisle to, background music, covered the speeches and smashed his set in the evening."
Words of Wedded Wisdom
"We were given some great advice by best man Chris and his wife Hannah. They got married the year before and said to enjoy the planning and the whole process, as the day itself goes so quickly. We took that on board and had a blast putting everything together."
"The wedding was far more than one day; we had days out while meeting suppliers, a joint Stag and Hen Do (Sten Do) weekend in Margate, I went to London for my dress a few times and made sure I made a day of it. Our words of wisdom would be, enjoy the whole process together as a couple."
"The only thing we would change would be to have more helpers on the day because we did so much ourselves and only had a couple of young girls who helped waitress for us, serving drinks and appetisers. It meant there was a lot our best man, head bridesmaid and family did."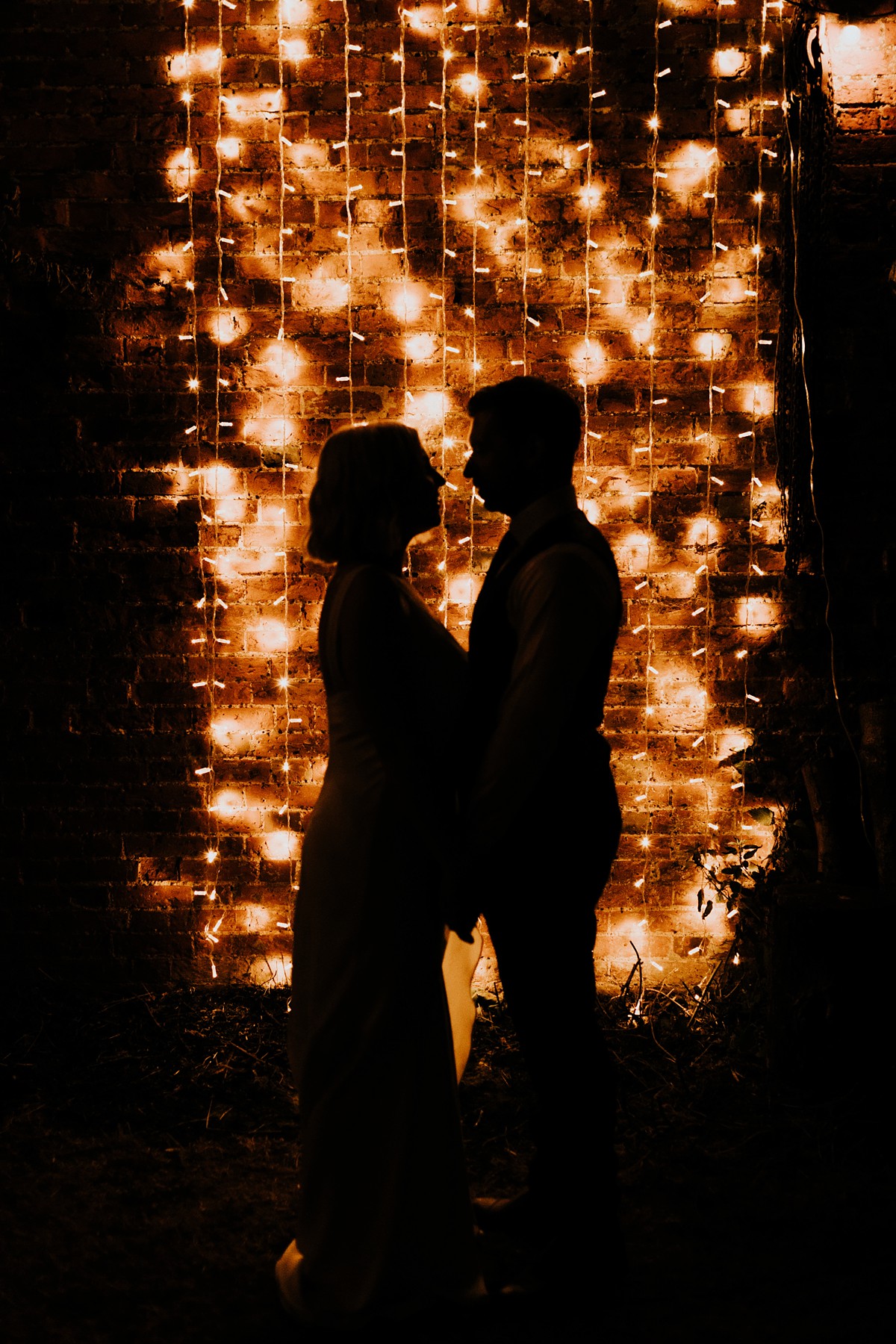 I cannot get over the beauty of this Kentish vineyard, just perfect for a relaxed festival day. Rian and Ben, thank you so much for sharing this insight into your celebration and thank you also to Libby Christensen for letting us publish your work.
For more festival inspiration, I'm so happy to share these other Love My Dress weddings.
Ele xx