How do you keep warm as a bride? Do you throw on a shrug, shawl or a jacket? Or how about a cool leather jacket? Over the past couple of years I've seen more and more brides don one and I just love today's piece, which the bride personalised herself.
This early winter celebration took place at Woodlands Hotel, Leeds with styling inspired by the bride's favourite colour – purple. HR assistant Roona married Karl, an English teacher, on 17 November 2017, and chose this countryside manor house for its beauty and exclusivity, adding in metallics to complete the bright colour palette of purple and violet.
"The styling of the day was based around my favourite colour – purple! Other things like my leather jacket, studded shoes and little touches like the table names were inspired by my love of music and shiny things."
Photography Anna Beth Wedding Photography
After the ceremony, Roona donned her leather jacket, which she had decorated herself. Doesn't it look wonderful in these newly-wed photos?
"This was my own jacket from ASOS. The purple flower patches and 'Just Married' patch were iron-on ones that I had bought from Etsy and Ebay."
"We had always planned on getting married in Leeds as that is where I'm from and where we live. We chose Woodlands because as soon as we walked in we all knew that it was the perfect venue for us. We were really impressed with how beautiful it is and being able to have the entire place exclusively was a big plus."
Roona and Karl have a beautiful whirlwind of a love story, meeting on Tinder just over a year before they wed.
"We meet on Tinder just one week after I signed up. We matched on the 22 August 2016 and started talking immediately, finding out that we got on really well and had lots in common. We first met in person on 27 August when Karl came to visit me in Leeds."
"I was really nervous as it had been years since I had been on a first date but Karl put me at ease and we became pretty much inseparable from then on, going on our first holiday one month later. We went on our second holiday in April 2017 where Karl proposed in Florence, surprising me with rose petals and Champagne in the amazing hotel suite he had secretly booked."
"He told me that he had asked my parents' permission back in January 2017. We saw our venue on 5 August and booked it and started fully planning and organising from there so we did it all within three months."
"My mum had been diagnosed with cancer which is why we chose to move ahead with the wedding so quickly. Luckily she has an amazingly positive outlook and is still fighting the disease so continues to be very much with us today."
The bride's hair was swept up in to a sleek, sophisticated up-do by Cleo Stoute Artistry.
"Cleo was recommended to me by a family friend. I'm thrilled that she was because I felt absolutely amazing on the day with the hair and make-up she expertly did for me. She also styled my bridesmaids and mum. She was fantastic throughout all our preparations."
"I wore Chanel Coco Mademoiselle Eau de Parfum. I really like Chanel perfumes so we both chose ones that we liked and complemented each other – Karl wore Chanel Egoiste."
A metallic, rose gold shoe added a further touch of glam, customised with purple 'I Do' stickers from Ebay on the soles.
"I wore Dune Cliopatra studded T-bar courts during the day and matching Dune Hype ballerina pumps in rose gold for later on. I had initially wanted a pair of silver shoes but was struggling to find the perfect pair. The wow factor of these won me over and they were a heck of a lot cheaper than the Valentino Rockstud heels they are based on."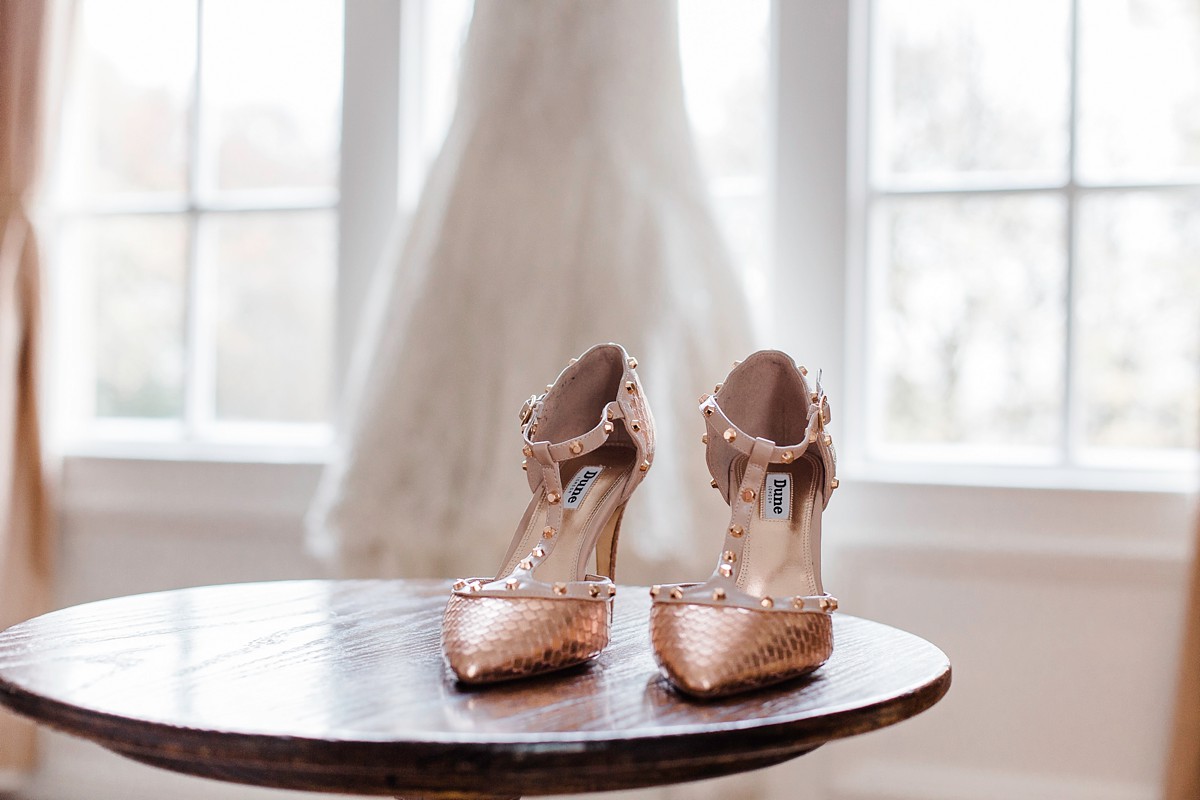 The bride had a wonderful experience at Sheffield bridal boutique The White Room where she found her divine, high-necked Rosa Clara Ofir gown. Just look at that beautiful, pooling lace train. We're delighted to list The White Room on our Little Book, so please head here to find out more about them.
"The staff at The White Room were wonderful. It was the first shop we had been to that felt like a proper wedding dress shopping experience. We had the place to ourselves, were not hurried or pressured into anything, spent lots of time chatting about everything over some Champagne, and I knew within a few minutes that this was the place I wanted my dream dress from and that I would find it."
"I didn't really know what style of dress I wanted, only that I did not want a strapless dress…which is what I ended up buying. As soon as I put my dress on I fell in love with it and the beautiful lace jacket it came with. It just felt amazing."
Roona's frothy, tiered veil was from The Couture Veil by Sassi Halford, and I love the fun, flirty feel it adds to her outfit. Her jewellery was a combination of pearls and silver, with bracelets from ASOS and House of Fraser and pearl earrings from PA Jewellery. On her hands she wore a collection of rings from Jon Richard and ASOS as well as a Tiffany band borrowed from her sister.
"The full Cathedral-length veil I had really made me feel like a proper bride, plus the lace and beading details are all just breathtakingly divine!"
"I had to have a tiara as I love them! I chose a Jon Richard silver pearl and crystal tiara from Debenhams."
Roona walked in to the ceremony room on the arm of her dad as Ben E. King's 'Stand By Me' played. The ceremony, conducted by Leeds City Council Registrar, was personalised with two readings.
"We wanted to incorporate a family element to the ceremony so when completing our wedding booklet from the Registrar we chose these verses as our favourites from the list they provided. 'Where There is Love' was read by my sister Usha and 'A Marriage' was read by one of Karl's sisters, Sam."
"When we got engaged Karl proposed with a 'holding ring' as he thought that I would want to go shopping with him for my ring. After visiting a few jewellers in Leeds we were most happy with one that I had designed and made at Phillip Stoner."
"It ended up being basically identical to the proposal ring with the added bonus of being platinum and having a 0.6 carat diamond along with another 0.2 carats-worth in the band and set under the main diamond. It was a matter of course that the wedding bands would be from the same place."
"Karl has a plain platinum band and I have a platinum band with diamonds set into it on one side to match my engagement ring."
Roona worked with a couple of florists to create this wonderful floral arrangements, featuring bright tones of purple and foliage.
"The bride and bridesmaid bouquets, the button holes and corsages were from Wedding Flowers by Glenda Bream. Glenda is a close family friend and does beautiful arrangements. I had always wanted her to do my flowers and was in love with her designs and the colours we chose together. She very kindly gave them all to us as a wedding present."
 
"All the other flowers, from the table arrangements to the trellis flowers, were done by Alina Florist in Thirsk."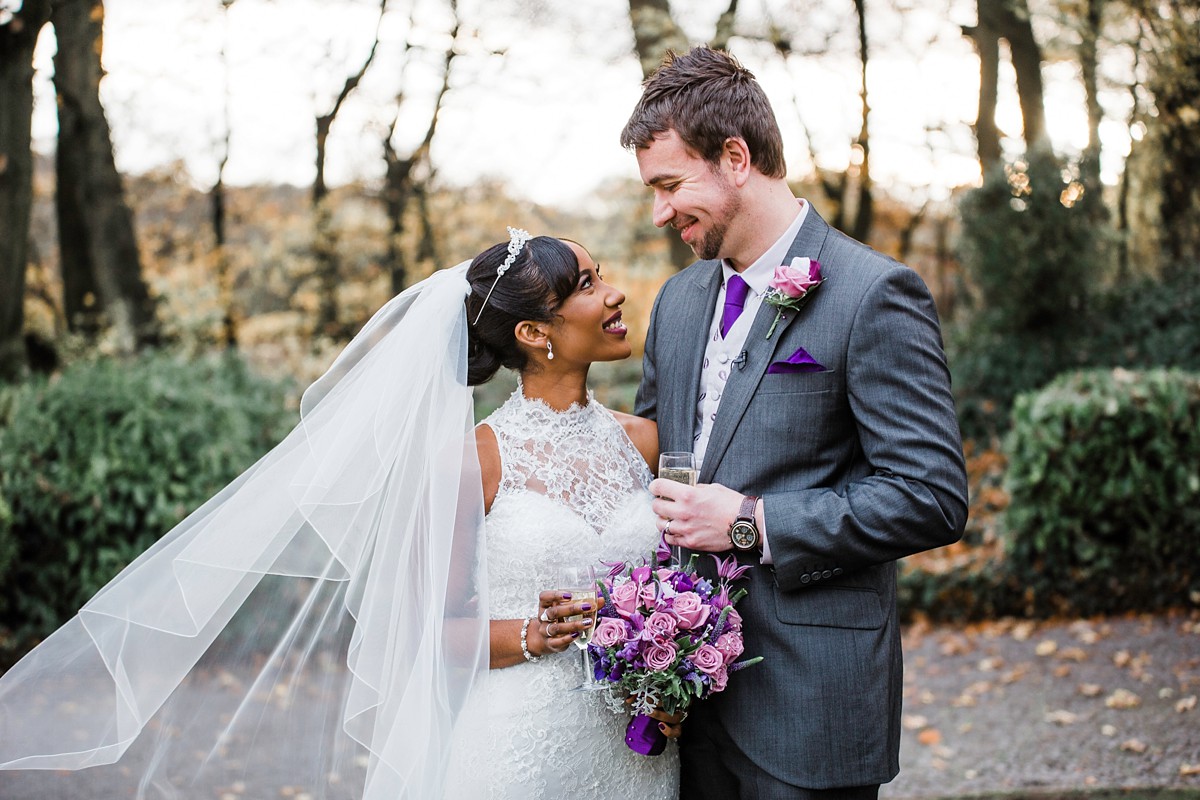 The day was captured for posterity by photographers Hannah and Andrew of Anna Beth Wedding Photography and videographer Paul Reed of Lost in Revery.
"I had been looking at photos online when I came across some of Hannah's photos that mutual friends had liked on Facebook. We really liked her style and luckily she was available on our date. On the day we had two photographers from Anna Beth Photography – Hannah and Andrew – and they were both brilliant."
"We met beforehand to discuss ideas – we were especially happy with the smoke bomb option. The documentary style meant that we and our guests were not harassed and we got some lovely candid shots as well as the posed ones. Afterwards we received a lovely box of treats with our photos too. I really cannot recommend Hannah enough."
"Paul does a lot of work with Hannah and she recommended him to us. We were very impressed with his work and jumped at the chance of having a wedding video to go with our photographic memories. Again we met beforehand to discuss ideas – a particular nice memory that we have is the recordings of us reading out the cards we had written to each other on the wedding morning."
Roona's choice of gowns for her bridesmaids – best friend Sonia and sister Usha – were wonderful for setting the colour scheme for the day.
"They wore purple lace fit and flare dresses by Roman. We were very happy with this choice, in keeping with our colour scheme and also having a sequinned edge to them."
"My bridesmaids got silver, glittered, mid-stiletto heels from Debut at Debenhams. I bought Jon Richard silver diamanté lace bracelets and Jo Bali at Kingsley Ryan amethyst drop earrings as presents for them."
The wedding reception was held in a marquee in Woodlands' grounds, decked out with purple flowers and lots of thoughtful touches.
"We had vivid purple organza sashes over the chairs with our chairs having the special touch of Mr & Mrs signs. Our flower centrepieces in the ceremony room were transferred to the reception marquee and we had purple organza bags filled with confetti for our guests to throw. We had an old-fashioned postbox along with our guestbook with purple pens, of course. Our tables were named after our favourite musicians and bands."
"The speeches before our meal were perfect. My dad's was very heartfelt and I could tell he was proud of me. We had the extra bonus of Karl's older brother Dan making a speech too. He had only arrived with his family from America at the last minute and had originally not been able to make the trip."
"The chefs at Woodlands Hotel provided some really delicious food. From lovely canapés during cocktail hour while we were having our photographs taken, the four-course meal for the wedding breakfast, to the hog roast and other delights for the evening buffet, it was all great."
Karl and Roona asked local bakery Love Rouge Bakery to create this pretty and elegant wedding cake.
"We chose a two-tier Japanese Blossom cake (a nod to Karl who lived there for several years) with cascading purple flowers. One tier was red velvet, the other chocolate salted caramel and we also had some cupcakes made which had the same flower blossom design with alternate purple and white buttercream. Delicious!"
After a first dance to 'Absolute Beginners' by David Bowie, the evening's entertainment came courtesy of Elite Sound, the Woodlands' in-house DJs.
"I am a huge fan of David Bowie so really wanted it to be a song of his. After listening to many we chose 'Absolute Beginners' as the lyrics fit perfectly with how we feel about each other."
"Dean and Jonathan were great, allowing us to instruct them as to the first dance, playlists and what sort of music we wanted and didn't want, so we were very happy with them. I barely left the dance-floor all evening!"
"We had a photo booth – a great tool to keep our guests entertained and it also provided us with some brilliant funny memories too!"
"Being surrounded by everyone and feeling their love and happiness throughout the whole day and night was an amazing feeling. To us our day was perfect; everything went without a hitch thanks to the staff at Woodlands and our wedding coordinator Jessica making everything go smoothly behind the scenes. It's like everyone says; it really does go by too quickly and before you know it, the best day ever is over."
Words of Wedded Wisdom
"Don't panic! It may seem completely overwhelming at times and you might worry yourself silly thinking that there is so much to do and that you will never remember to do it all… but just breathe! I proved that even in emotional circumstances and at very short notice, you can plan and have the wedding of your dreams."
"Your friends and family will want to help out in any way that they can, so make sure that you take them upon their kind offers. Even something as simple as posting wedding invitations for you is great."
"Ask for all the recommendations you can. I had wondered where on earth to start with a hair and makeup artist but asked people and I found myself a fabulous one in Cleo."
"Never be afraid to ask for discounts or negotiate on prices with suppliers. Anything is fair game when it comes to weddings; you'll be paying over the odds anyway so every little bit will help."
"Do think about yourselves and what you want. Some people may have lots of strong opinions which can be annoying but at the end of the day they are just excited for you. Try to be patient with them and don't forget that it is your day, no matter what."
"Don't get overly caught up in wanting your wedding to be just like one you've seen on Instagram or Pinterest. Don't make wanting someone else's idea of perfection make you feel inadequate just because you can't find the 'right' shade of a colour or something."
"It's really not worth it, and your day should really be unique to you. Sometimes it's the little personal touches that only the two of you know about or can see that make you feel the happiest on the day."
"Make sure you have fantastic bridesmaids. I always knew that my best friend was amazing but she went above and beyond for me, doing so much to help with everything."
"Most importantly, enjoy every single moment of being engaged and treasure every second of the most wonderful day of your life. It really is a once in a lifetime experience, and when it is over you will wish you could relive it every day."
Roona and Karl, thank you so much for giving us an insight in to your celebration. I adore your style Roona and my, that leather jacket looks good! Thank you so much to Hannah and Andrew at Anna Beth Photography too for your beautiful work.
Ele xx