I couldn't be happier to be sharing a wedding with you all today, that takes place at one of my favourite places to visit in Cornwall – the brilliant Eden Project – and inside one of the incredible biomes there, filled with all manner of plants and palms.
This is the wedding celebration of Mr and Mrs Lowndes – Amber and Alex, who own and manage their own 24 hour gym, Gainz Fitness & Strength. They were married on the 13 October 2018 at the Eden Project, Bodelva, Cornwall. If you've never been, I urge you to add this amazing place to your list – on the former site of a clay pit, the Eden Project's biomes are home to a wondrous collection of plants, flowers and trees, as well as outdoor gardens.
Images by Louise Eleanor Photography.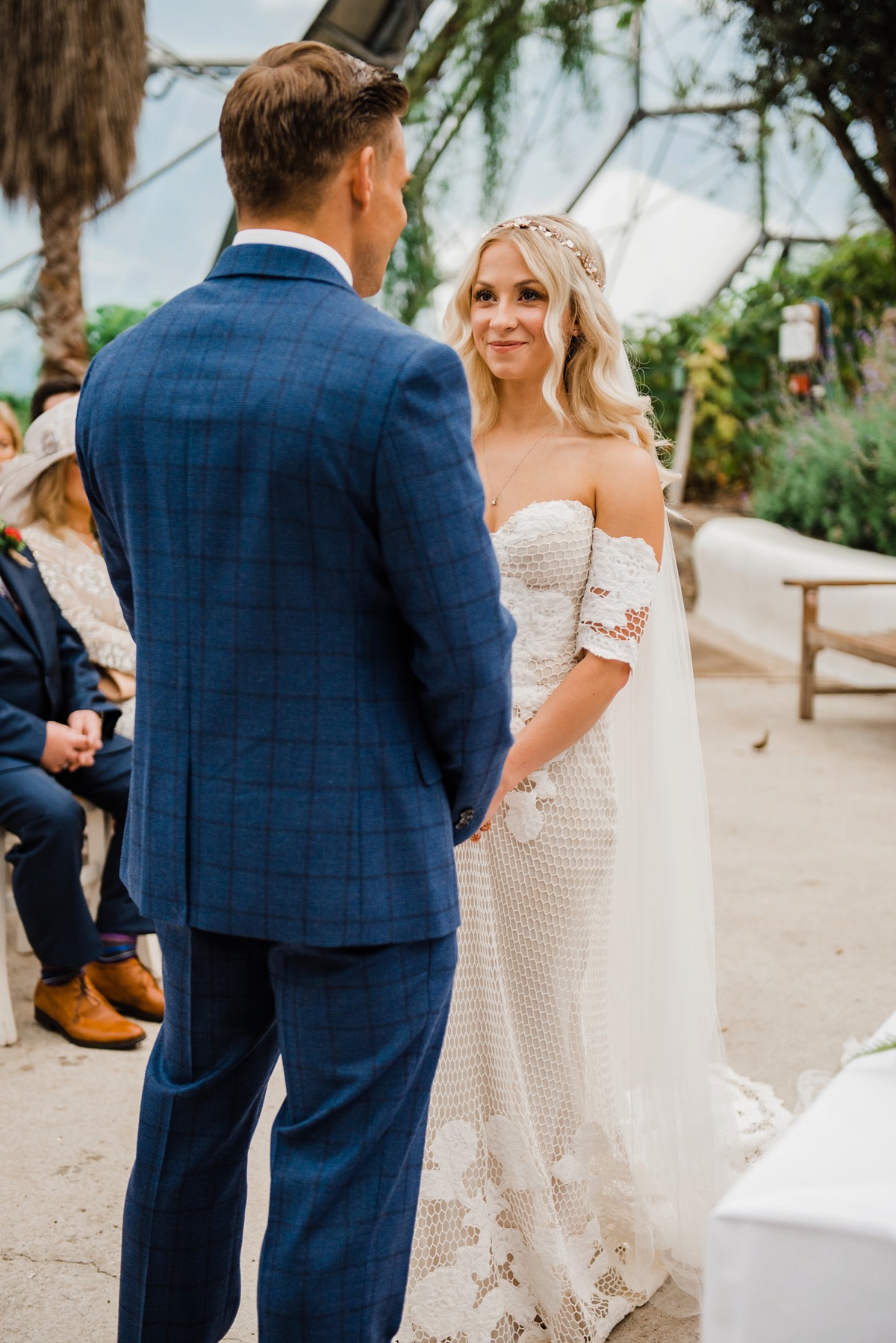 Amber chose the exquisite 'Seven' dress by Rue de Seine, which she found online at Still White. I love that this dress has such a free-spirited, boho feel, but also retains gorgeous structure in the bodice. Is it just me, or does the lovely cotton lace design remind anyone else of the shape of the hexagonal biomes at the Eden Project, too?!
[RELATED]
"It was totally unique, and having tried on 12 dresses, this was the dress that captured my imagination. I wore it with a veil with a 5ft train – I loved my veil, it was an Etsy find. We are quite minimalist people,  however I knew that for one day I wanted to feel like a princess, with long hair flowing and a veil that trailed along behind."
"Alex's sister lives just down the road, so we visit often; it's a place we would both like to retire to one day. It's possibly the most beautiful place in the UK. The venue itself was the Mediterranean Biome, which isn't just home to over 1000 varieties of plants, it also has the same climate as the Mediterranean, which for us was perfect, as it meant we could have an outdoor, relaxed vibe."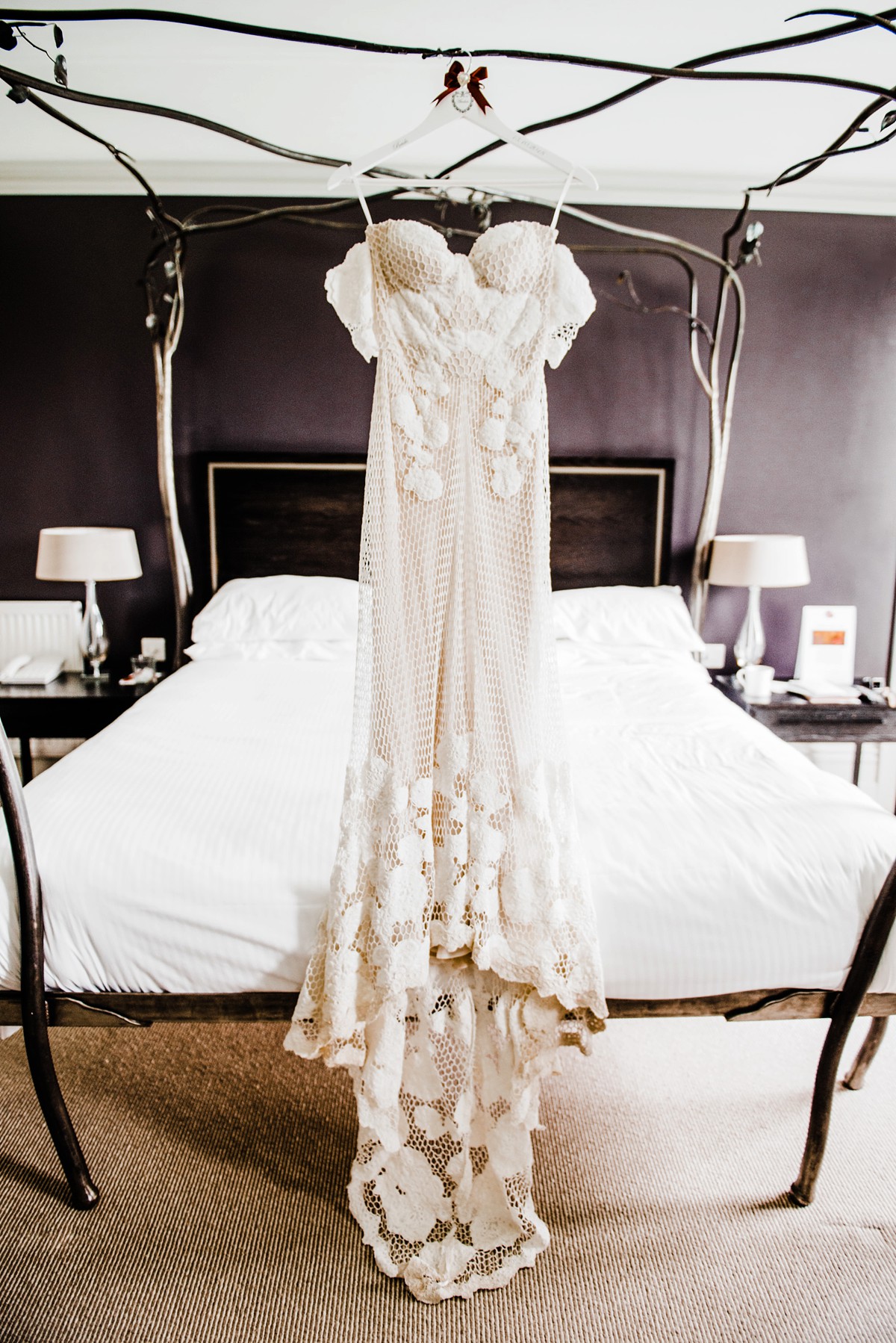 I love the beautiful make-up look created for Amber, and executed to perfection by Andrea Wilks (especially that shimmering gold eyeshadow), whilst Hannah Toon styled Amber's hair, also using extensions from Foxy Locks.
"I had always wanted henna, and 3 weeks before our wedding, I managed to come across an artist that lived a stone's throw away. A couple of days before the wedding the henna artist, Dansim Designs (now Cambridgeshire Henna) came to my house, and as we chatted all about our weddings, she worked her magic on my hand!"
"Within half an hour, I had a beautiful bespoke piece of art on my hand, and I was so happy with it. We wanted our wedding to be anything but traditional, and this was a nod towards achieving that. If you live in Cambridgeshire be sure to check this lady out for henna, she is amazing and well priced!"
"The venue made the wedding magical. The biome at night resembled a fairytale, with palm trees and fairylights. It was a holiday destination wedding with the convenience of staying in the UK! Sam was our dedicated planner at the venue. He was such a great help with putting our vision together. The process with Sam was painless, he kept me calm and sorted everything out. I didn't worry about anything."
From Ivory & Co., Amber chose the 'Sienna' hair vine in rose gold, with Austrian crystals in a lovely botanical design. Her shoes were a great eBay find – super-sparkly crystal embellished sandals by Badgley Mischka.
"I didn't want to wear anything that would take the shine away from the dress, so I wore simple diamond stud earrings with a matching necklace."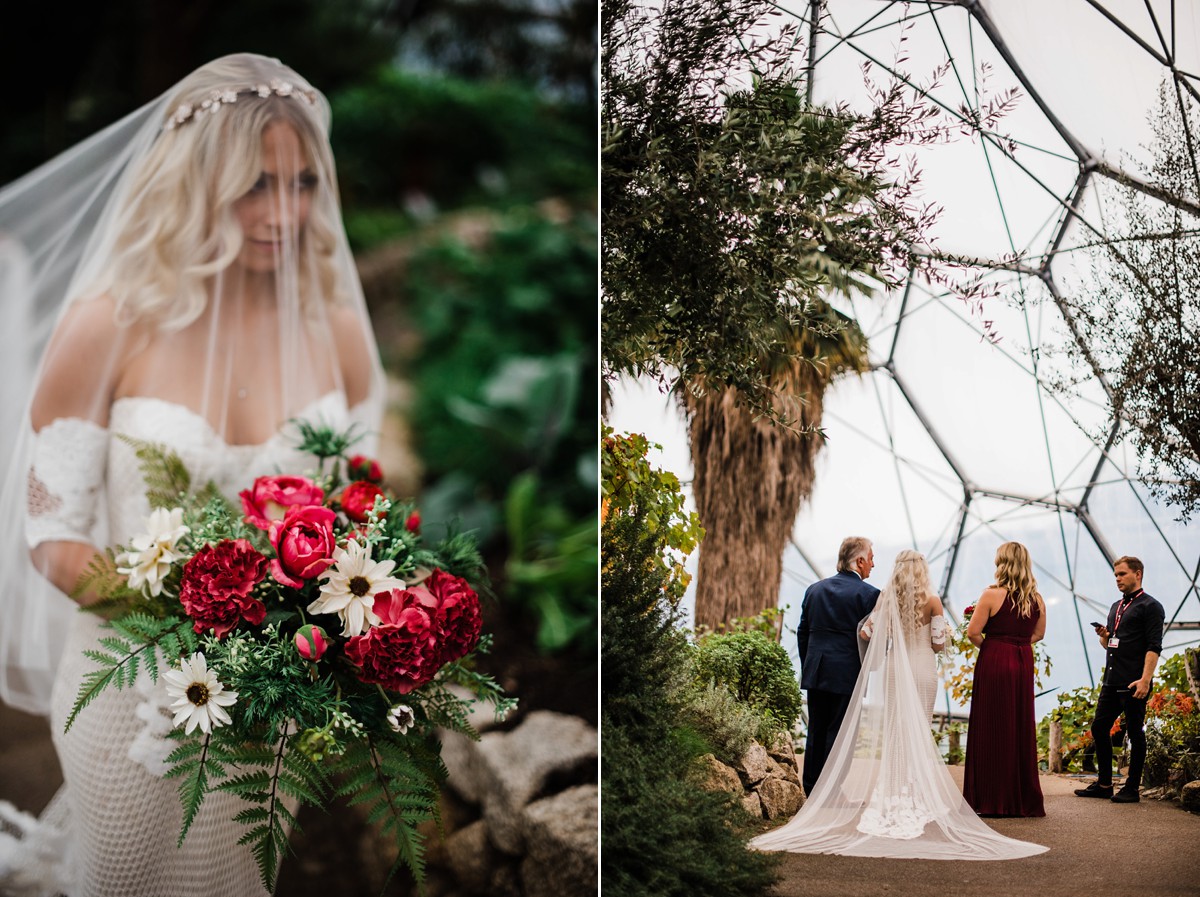 Amber carried a spectacular bouquet of wonderful, bright crimson blooms, ferns and greenery. This, and the other amazing floral arrangements for the day were jointly created by the bride, and her mother-in-law, a retired florist. Also, could you tell these are faux flowers?!
"They had to be artificial, so this meant we could work on them for a while. I didn't need any inspiration for my flowers, all I knew is that I wanted them to be wild and wonderful. I wanted the process to be organic and stress free!"
"I didn't want to be influenced, so we literally went to the wholesalers, and made them up as we went around, scouring all the store had to offer. We did get a little carried away, and had to drastically reduce the size of my bouquet."
As Amber, her dad and bridesmaid walked over to the Mediterranean biome, it was raining, but inside, all was perfect, and set for the ceremony.
"My dad accompanied me down the aisle, and he had a suit made for the day, which he wouldn't let anyone see it until the day. He wanted to surprise me and he did, he looked so smart! I picked a track that in my mind was written on my behalf, for Alex. The xx – Angels."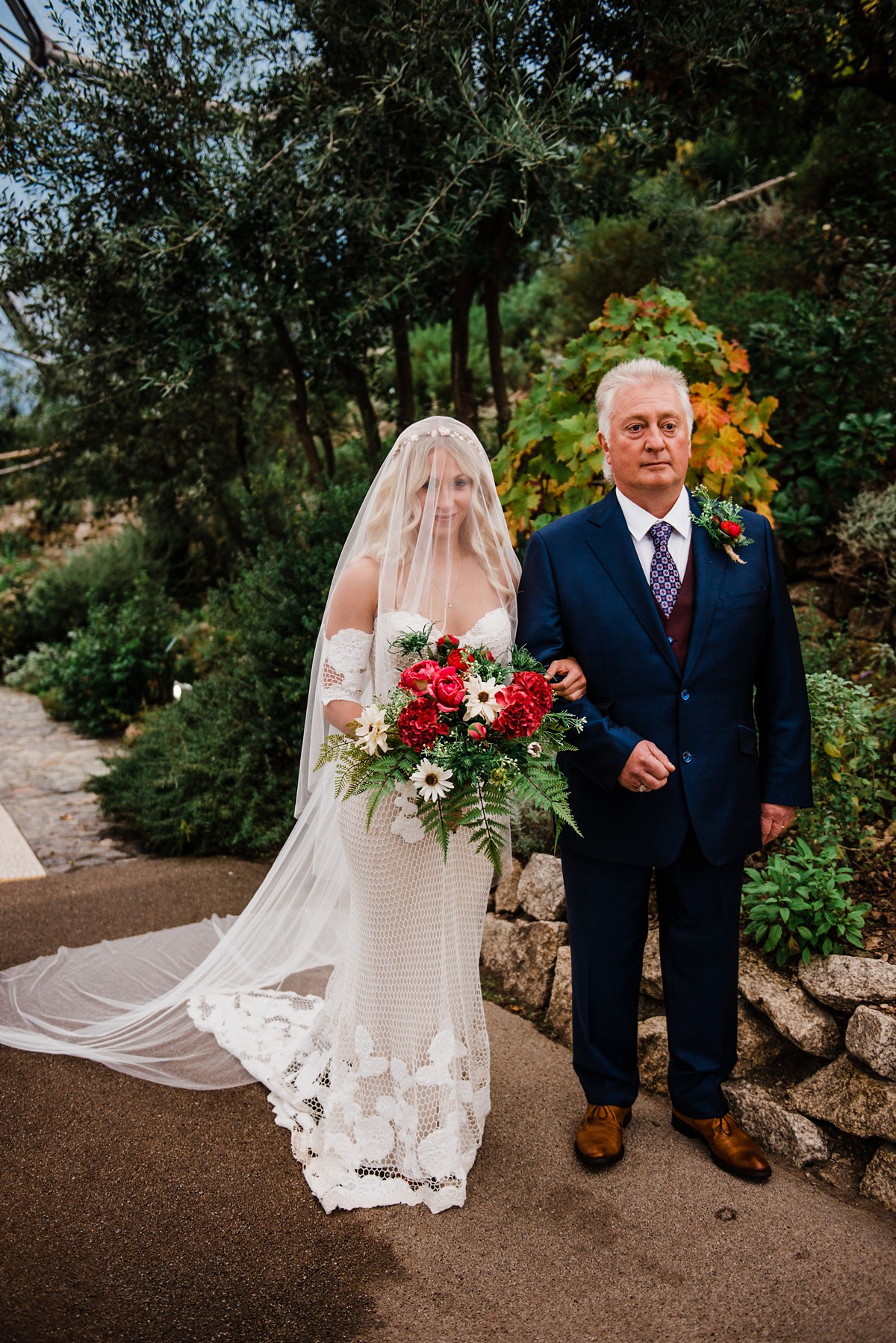 Amber and Alex first met at a New Year's Eve party when Amber was 17.
"Little did I know that I would end up spending most of the night with a stranger called Alex who worked in Africa, and was visiting his friend who lived locally. I didn't think much of it, I was only 17 and he was flying back the next day. From that night a day hasn't passed by where we haven't talked."
"We got engaged five years into our relationship; he popped the question at Champneys, in a private room with a bottle of champagne. We didn't want to rush a wedding, but we finally did it 2 years later and it was worth it!"
Alex wore a handsome blue check suit and waistcoat from Ted Baker, together with a burgundy velvet bow tie from Mrs Bow Tie.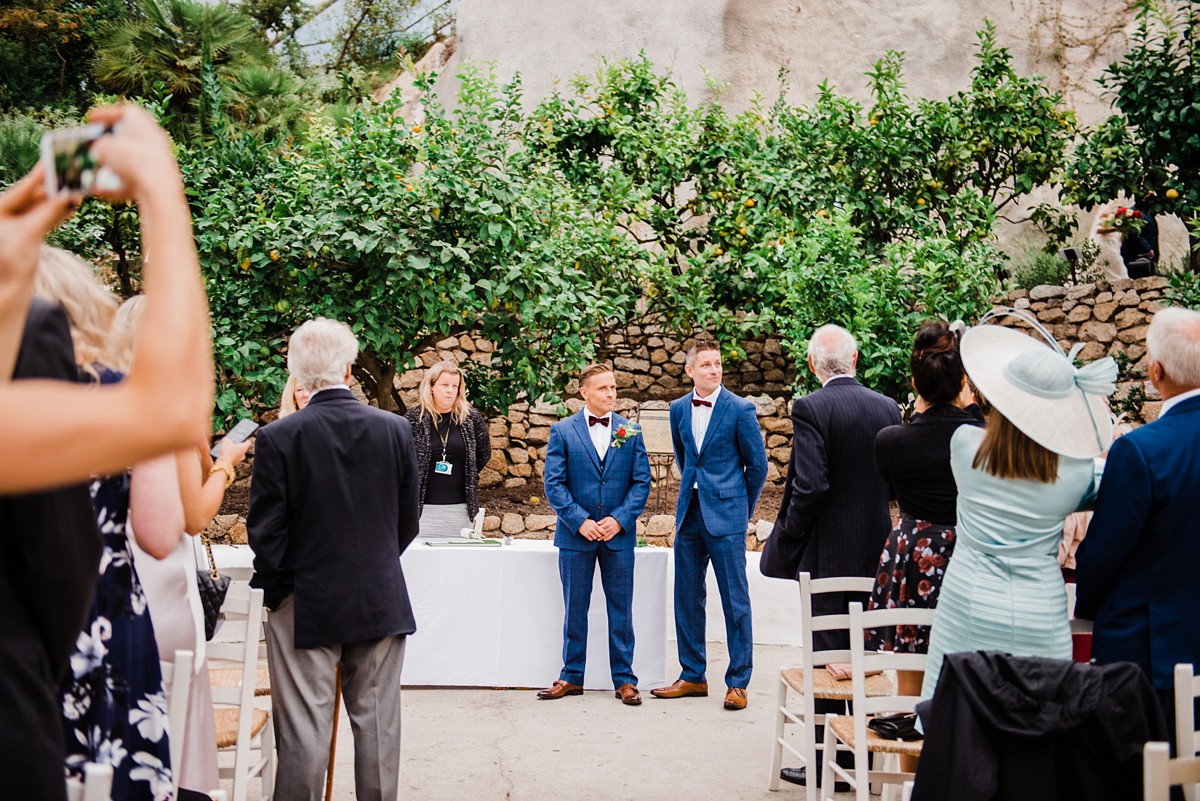 What an absolutely epic backdrop in which to exchange vows; inside a soaring biome, surrounded by huge palms, olive and orange trees, and bright pink bougainvillea. The couple shared their vows and gave one another rings, which they sourced from independent jeweller, Woolfe, based in Milton Keynes.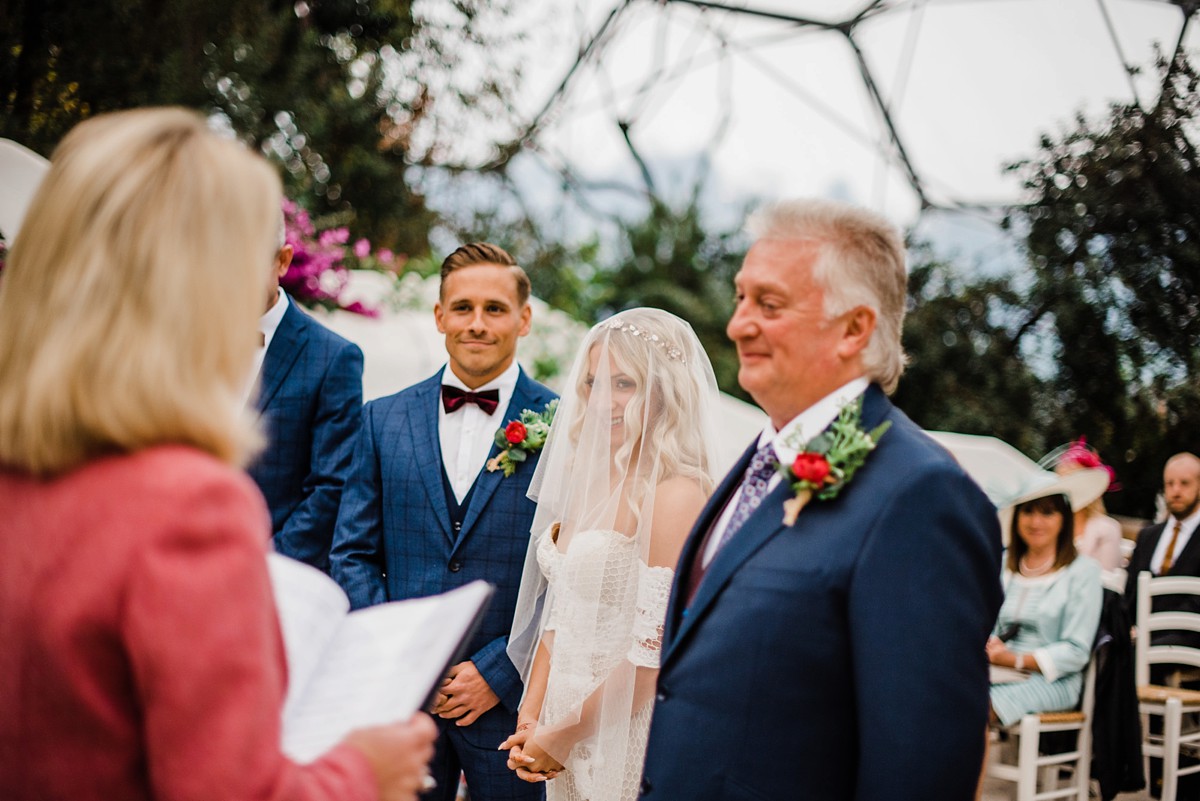 "As independent business owners, we always try support local independent businesses."
"We had two readings: The first was read by my grandad, who got so carried away telling a story that he nearly forgot his actual reading!"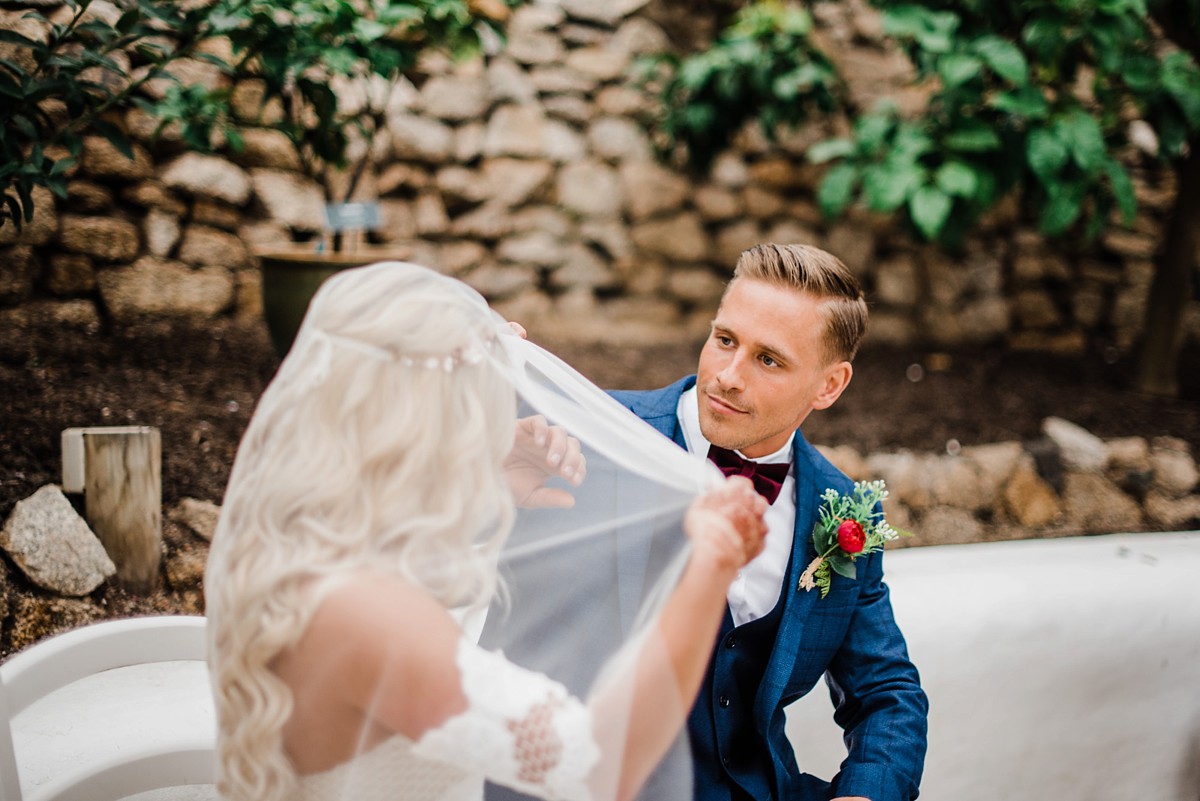 "The reading was In That Still And Settled Place, by Edward Monkton. Alex's sister Clare then read out a more light-hearted reading, which was Love Me When I Am Old, By Bee Rawlinson."
"Grandad's reading was very poignant and emotional, and this contrasted nicely with the humour that was delivered by Clare. It worked for us; we have our serious moments, but we know when to have fun, too."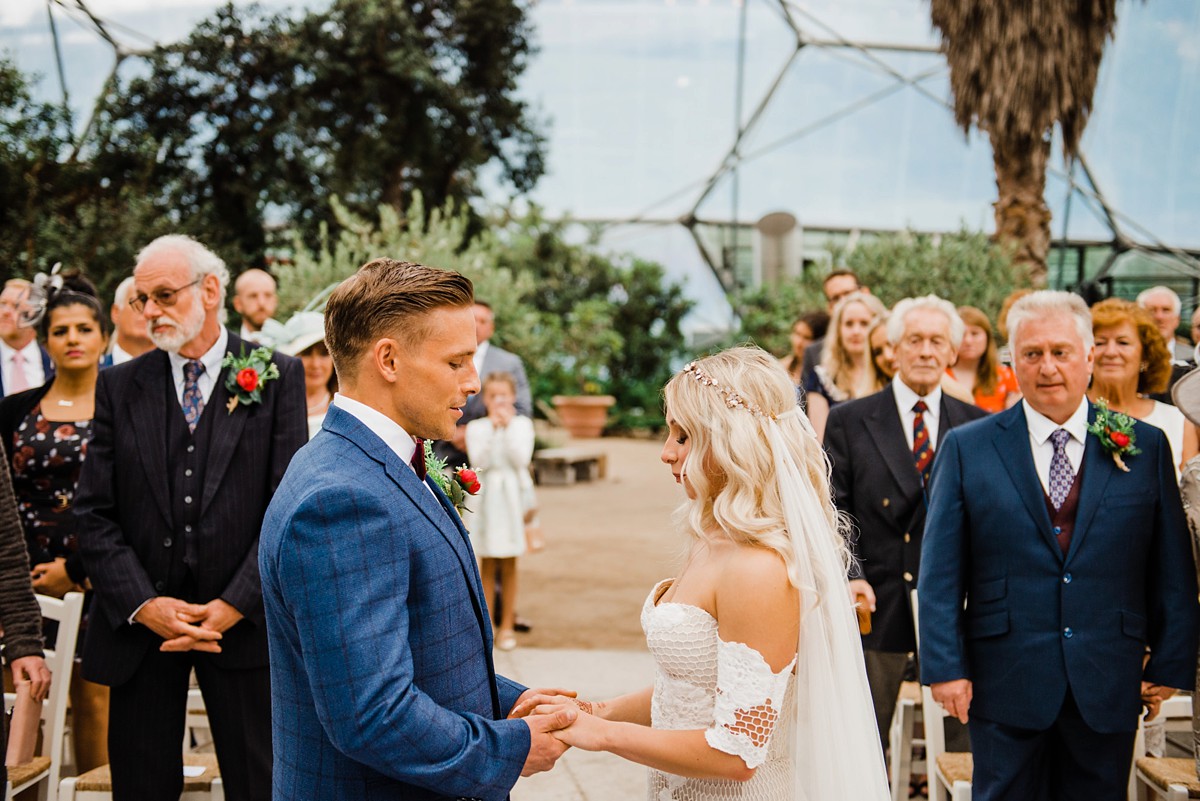 Capturing the laidback, boho magic of Amber and Alex's day was their photographer, Louise Eleanor, and I'm delighted to share her colourful and creative work for the first time on Love My Dress.
"The best wedding investment (other than our rings and my dress) has to be our amazing photographer, Louise Eleanor Photography. I found her via Facebook when I put out a request for recommendations. She was highly recommended, and with good reason."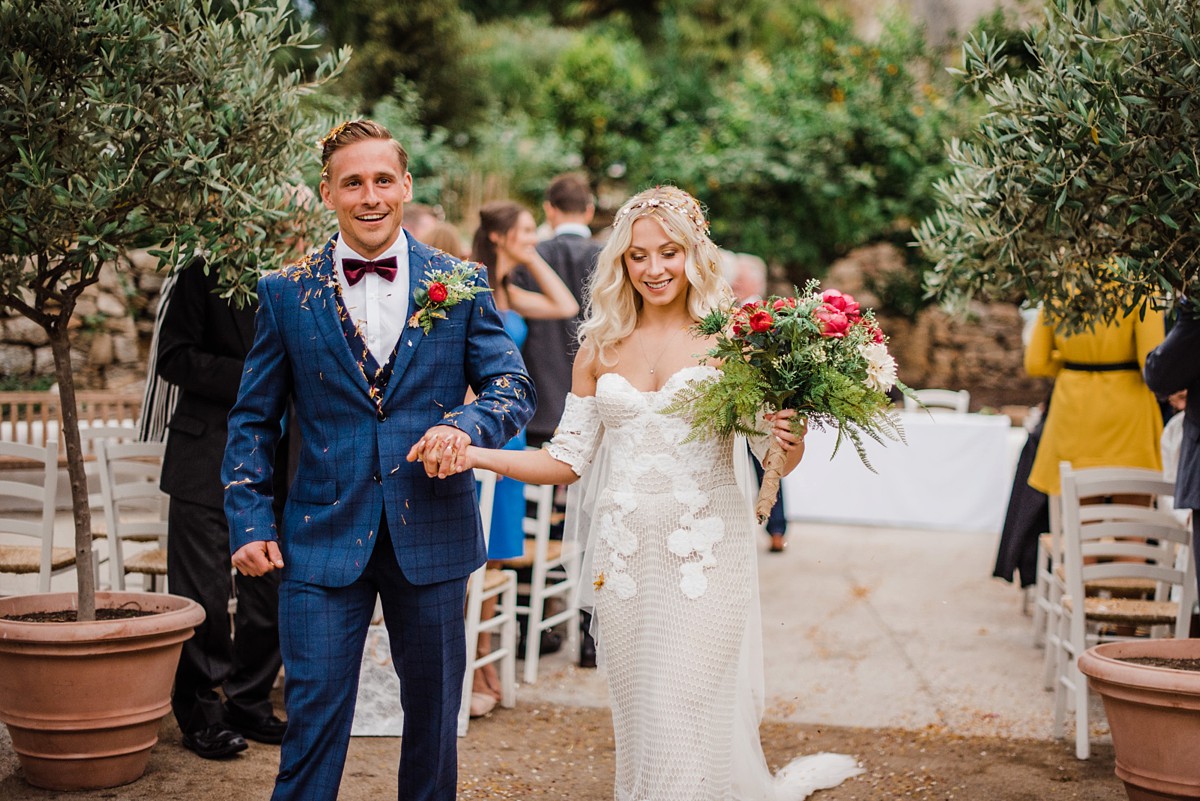 "The pictures she captured were so vibrant and full of life. She really captured the spirit of our wedding – we are so grateful."
"Our style for the day was chilled boho with an autumnal colour scheme. Our venue obviously was home to a huge variety of plants, ferns and palms. We knew our styling would need to be minimal, as the venue did all the talking."
The table plan was written on a large, vintage style mirror, and the tables were kept simple and low-key, with floral centrepieces and Kraft paper place settings.
"Stationery finds were all thanks to Etsy! A great way to support independent businesses and saved me a lot of money. For our invites we created foldable flyers, that were made from recycled brown paper. They almost resembled a flyer for a hippy festival, which we loved, as it set the tone of the wedding."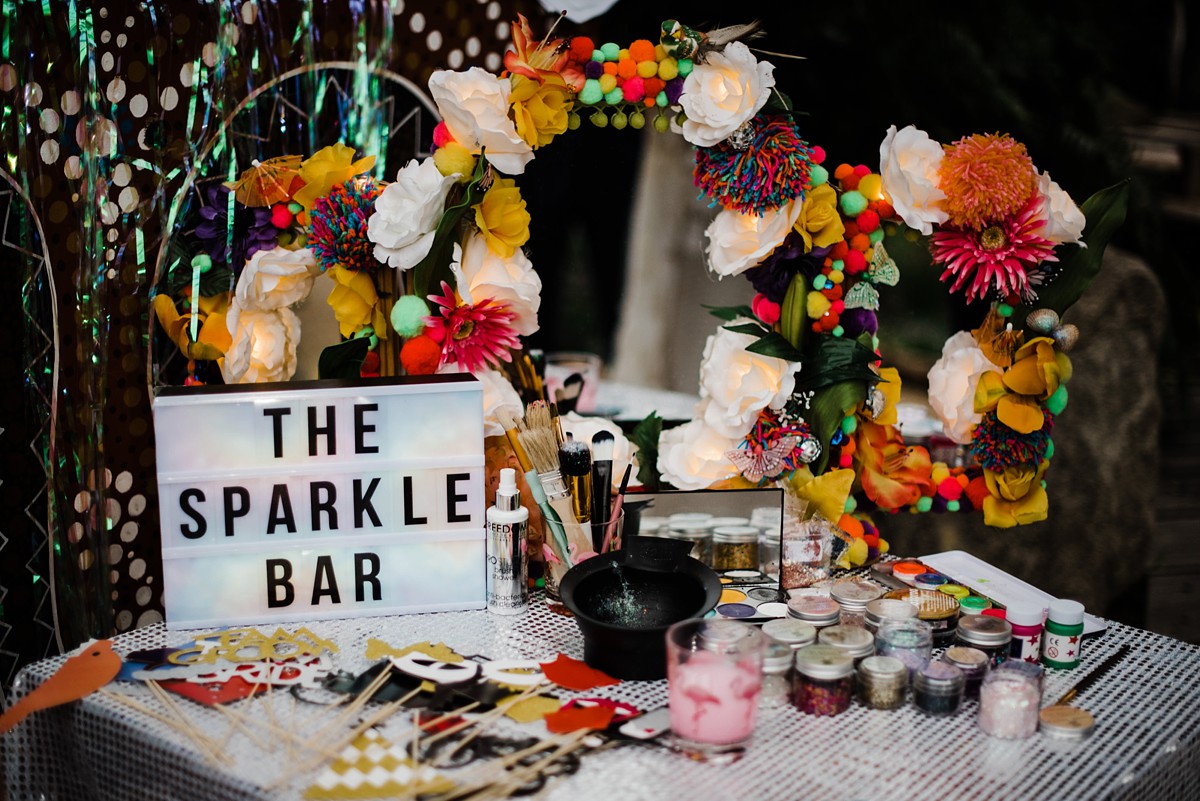 Getting everybody party ready was the Sparkle Bar, which proved to be a huge hit with family and friends, beautifully adorning faces – and beards! There was music, too, from Urban Disco.
"It was so much fun – every single guest had their make-up done. I must say, at first I did have to do some convincing, as Alex didn't quite understand why we needed glitter make-up, but at the end of the night he said what a great idea it was!"
Guest favours were packets of seeds, supporting different causes, including wildflowers for bees, and sourced from Wildflower Favours.

As the day gave way to a beautiful, deep blue twilight outside, everyone sat down to a vegan sharing feast, cooked up by the Eden Project team. There was pasta with roasted squash and toasted pine nuts, chestnut mushroom bourgignon with wild rice, and Moroccan chick pea stew with lemon cous cous.
"Our raw vegan cakes and doughnuts were lovingly made by Pura Pressed. Their ethical ways aligned with ours, and as we wanted our wedding to be entirely cruelty free, they were a perfect match. The cakes were divine!"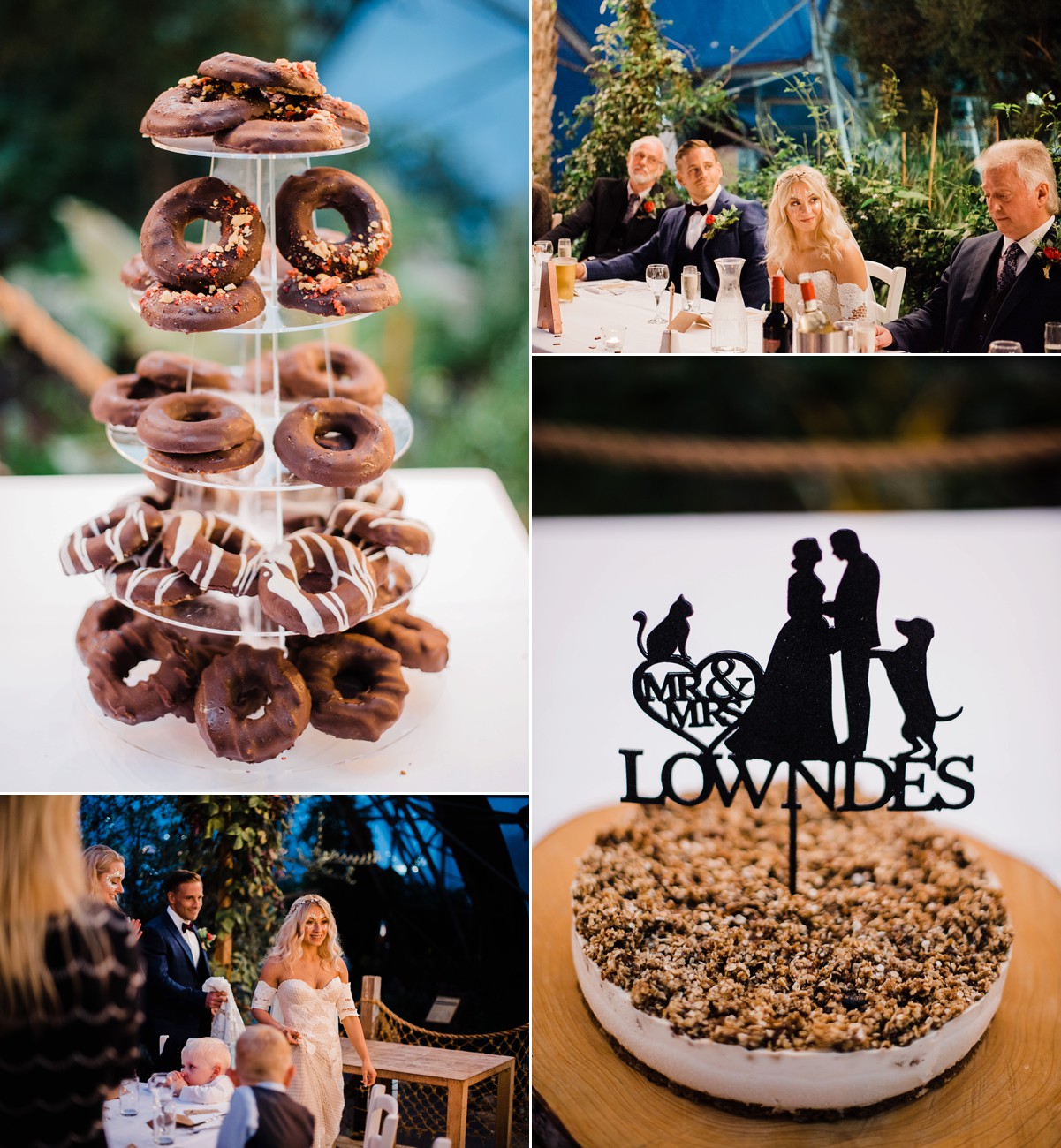 "The speeches were my favourite part of the day – Alex's, my dad and the Best Man. Alex agrees, it was a lovely moment to share with everyone."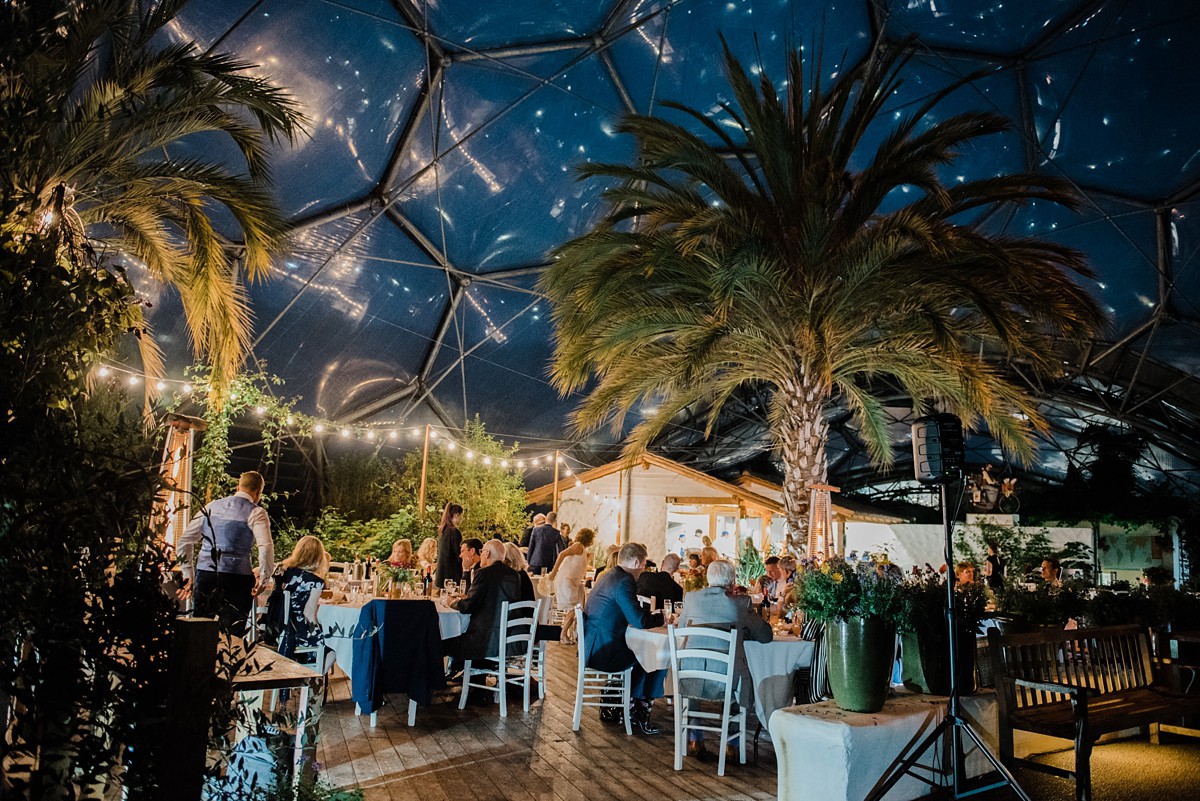 "Our first dance was a highly choreographed piece (well that's what we had hoped for, but half way through the dance, my dress caught on Alex's suit button) nonetheless it was entertaining! We tried to recreate the scene from Pulp Fiction; I was Mrs Mia Wallace and Alex was Vincent Vega."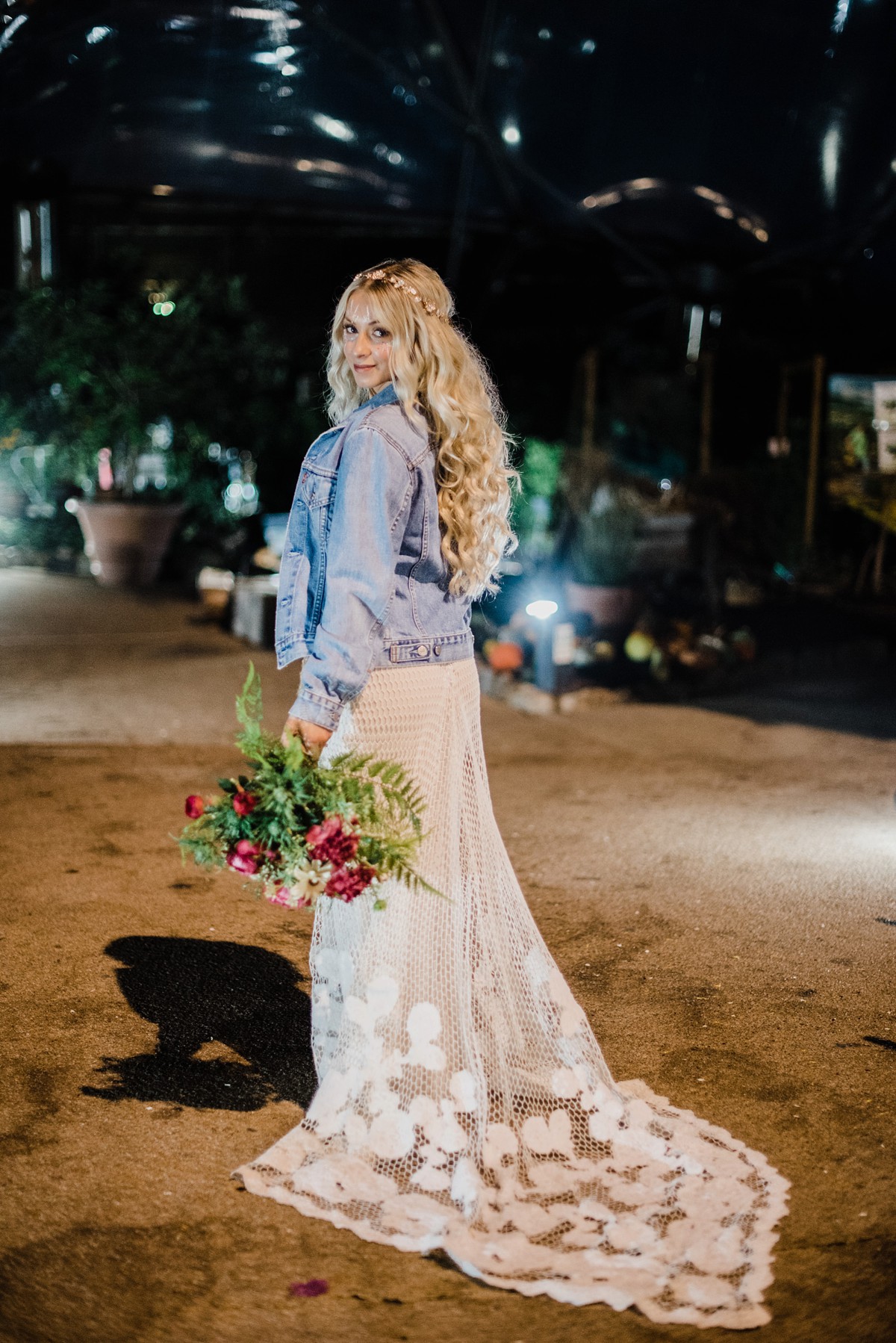 Words of Wedded Wisdom
"Take a second pair of dancing shoes. Make sure if you wear a blusher veil, that you do pin it enough, so it doesn't pull back as you walk around."
"Don't worry about talking to everyone. Enjoy yourself, drink and dance the night away and enjoy every second. At the end of the day, the people at your wedding want to see you enjoy it, you can chat another day!"
"I would have pinned my veil and had a comfy pair of shoes for busting the moves – as my feet still hurt!"
Wow, wow, wow – what a day, Amber and Alex, thanks so much for sharing it with us. How magical does the Eden Project look all lit up at night? Many thanks also go to Louise Eleanor for her lovely images, too. If you'd like to see more gorgeous, boho Rue de Seine brides, then do take a look at more, here.
With love,
Laura