Dear Readers, I hope you're all having a wonderful week. As I write this, I'm looking forward to a few days spent catching up with old friends, and also being nosy and enjoying a good look around the new flat they've just moved into!
In the meantime, let's head down to the glorious West Country seaside today, for a beautiful pastel-coloured wedding, perfectly summed up by our couple as 'coastal meets country.' With the bride's lovely mum on board to oversee decor and styling, and the bride herself in a romantic, blush pink dress, this is one seaside celebration not to be missed.
Images by Emma Stoner Photography
Primary school teacher Natalie, and Sam, a lawyer, were married on the 26 May 2018, in a ceremony in the beautiful reading room at Cliff House in Salcombe, Devon, which is now home to Salcombe Library. This was followed by a reception in the light and airy assembly room of Cliff House, all with uninterrupted views of the Salcombe Estuary.
"We chose Salcombe because it's our favourite holiday destination. My mum had all of the stylistic vision, and decorated the whole ceremony and reception room. We wanted our theme to have a coast meets country feel to it, and enjoyed buying all of our table decorations from little shops in Salcombe."
Natalie's dream of a dress was by Catherine Deane – a lovely sleeveless lace bodice, and a skirt with layer upon layer of blush pink tulle, all tied together with a silk sash at the waist.
[RELATED]
"I loved the fairy queen quality of the dress. I didn't want anything too big, and liked the fact it was a blush colour."
Natalie also wore suede sandals from The White Company, and a gorgeous, single layer tulle veil from Catherine Deane, and a Links of London bracelet, which she borrowed from her mum.
"My fragrances were by Jo Malone; a mixture of wood sage and sea salt (a nod to the wedding being by the sea) and peony and blush suede (to complement the peonies in by bouquet)."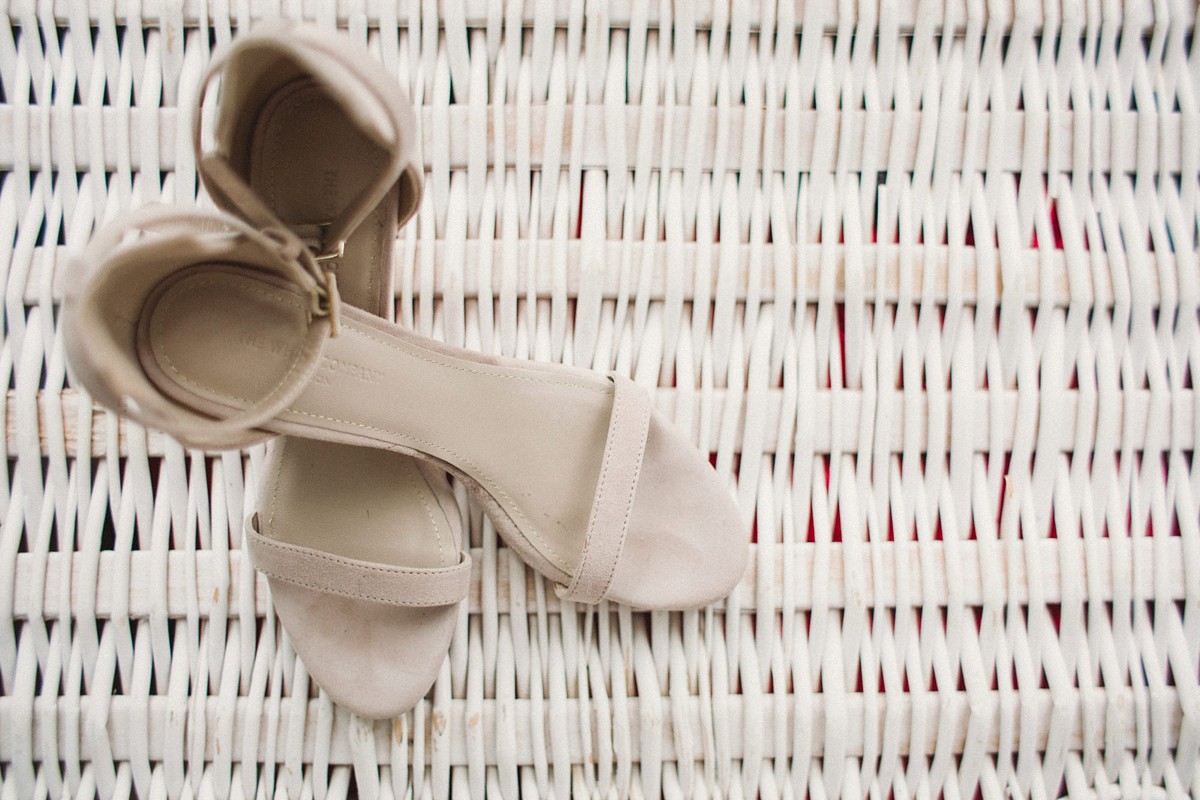 The bridesmaids looked fantastic in blush pink high-low hem dresses from ASOS, and also wore fresh flowers in their hair, and carried posies of gypsophila flowers and roses.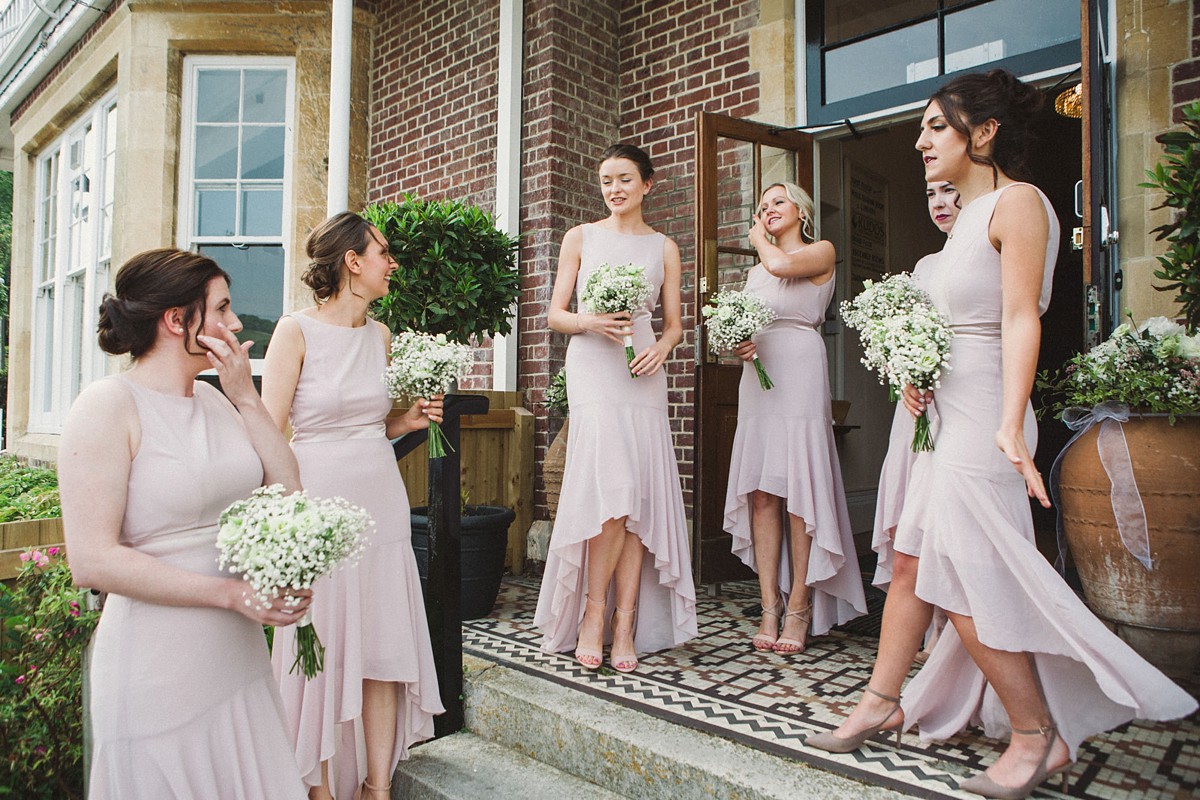 The Pop Up Salon took care of Natalie's hair, keeping it loose and beautifully curled, with romantic, radiant make-up by The Beauty Lounge Salcombe.
In her hair, Natalie wore a pretty and delicate fresh flower crown of roses, lisianthus, lily of the valley, and gypsophila, made for her by local florist, Linda Maybe (sadly unable to find any further details about Linda).
To the song, Stand By Me, by Tracy Chapman, Natalie and her dad walked down the aisle to meet Sam. The couple first met online, through OK Cupid, and had their first date in July 2015.
"We moved in together after 1 and a half years, and were engaged soon after that. We got engaged by Lake Como, in Italy and were married the following May."
Natalie and Sam exchanged vows and rings in front of a lovely, natural willow arbour decorated with wonderful blooms and greenery, with rings from Cred Jewellery, an ethical jewellers with a store in Chichester, and a studio in London.
"Our vows were all personal, and we didn't share them with each other until the wedding. Sam's favourite one of mine was 'Thank you for writing me written directions whenever I need to go anywhere. I promise to try and forge a better relationship with GPS.'"
"My favourite one of Sam's was 'Thank you for pretending to know nothing about technology in order to help me feel useful around the house.'"
For readings, friends and family wrote words to share with the couple, whilst friends from a choir Natalie is part of sang I Have A Dream, by Abba, and one of her family friends sung the song Bless The Broken Road.
Sam looked smart in a navy blue suit, with pastel pink tie and white shirt, from Reiss.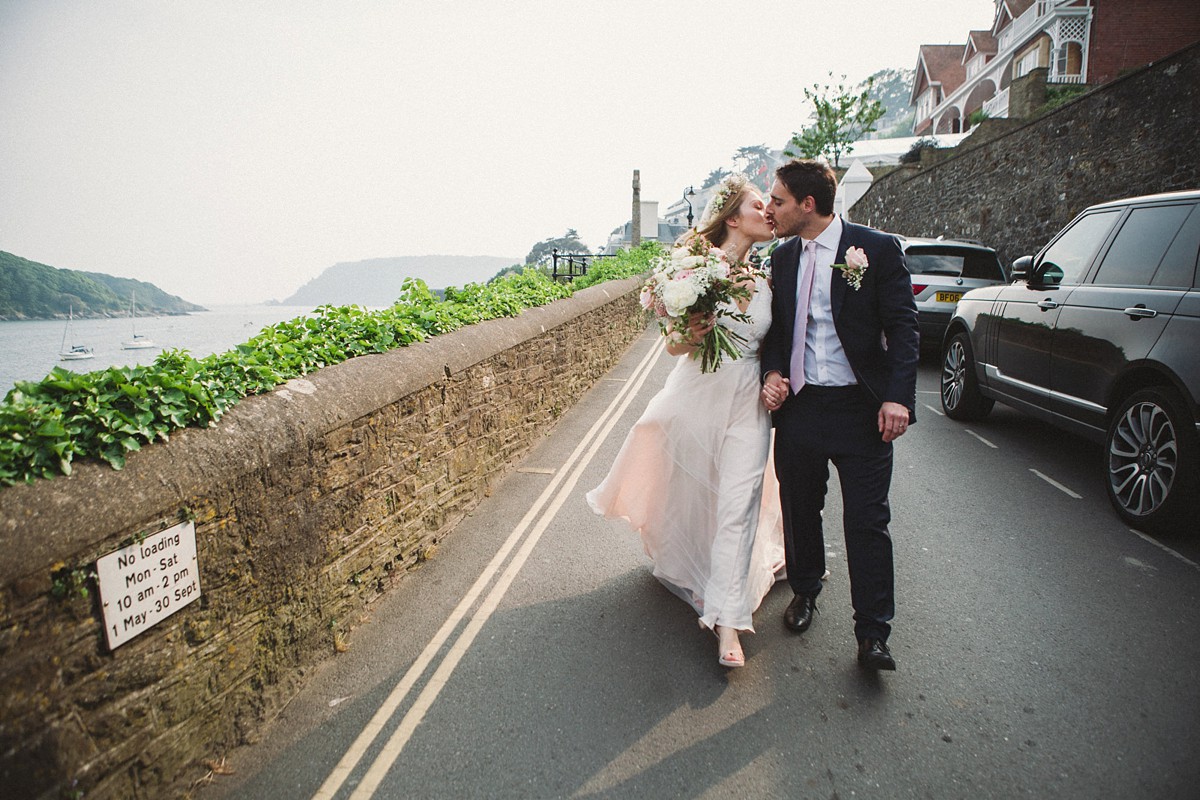 Once the ceremony had concluded, everyone headed outside to the terrace of Cliff House, with those amazing views of the Salcombe Estuary, and enjoyed cold glasses of fizz and canapes from The Fat Pig.
While their guests stayed on the terrace, Natalie and Sam took a boat ride over to the beach – the perfect opportunity for some just-married shots with their photographer, Emma Stoner, whose wonderful work we've featured before on our pages.
"Emma is a Devon and London based photographer, who was wonderful to work with, and has created so many beautiful photos."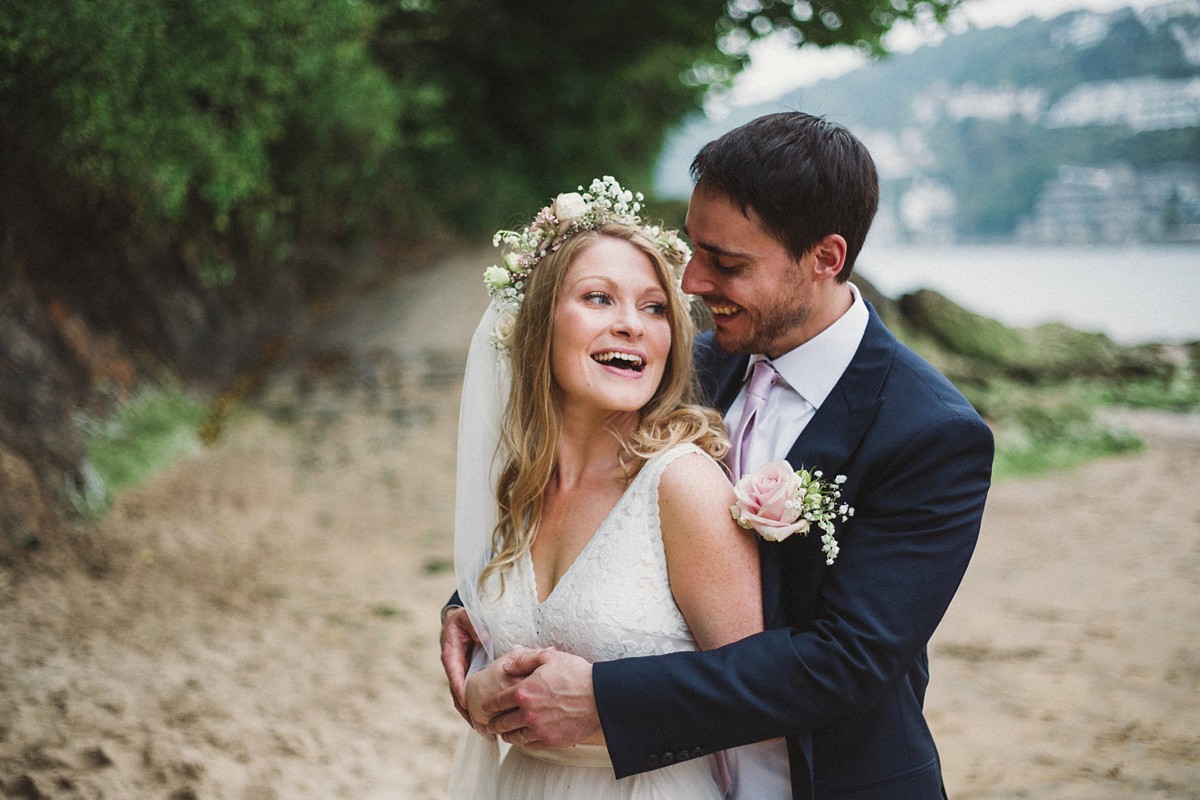 "I wanted a whimsical bouquet, and had peonies, roses, and pink gypsophila. My mum had a lily of the valley buttonhole, as it was my grandmother's favourite flower."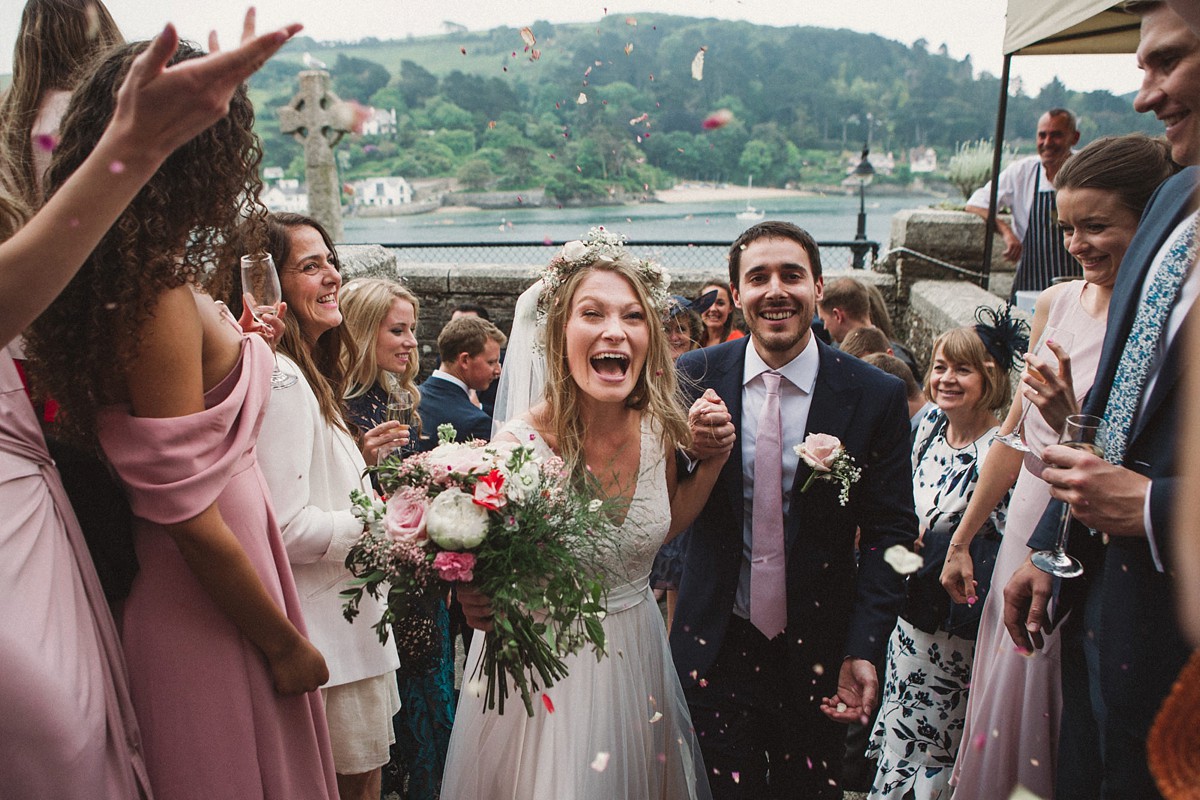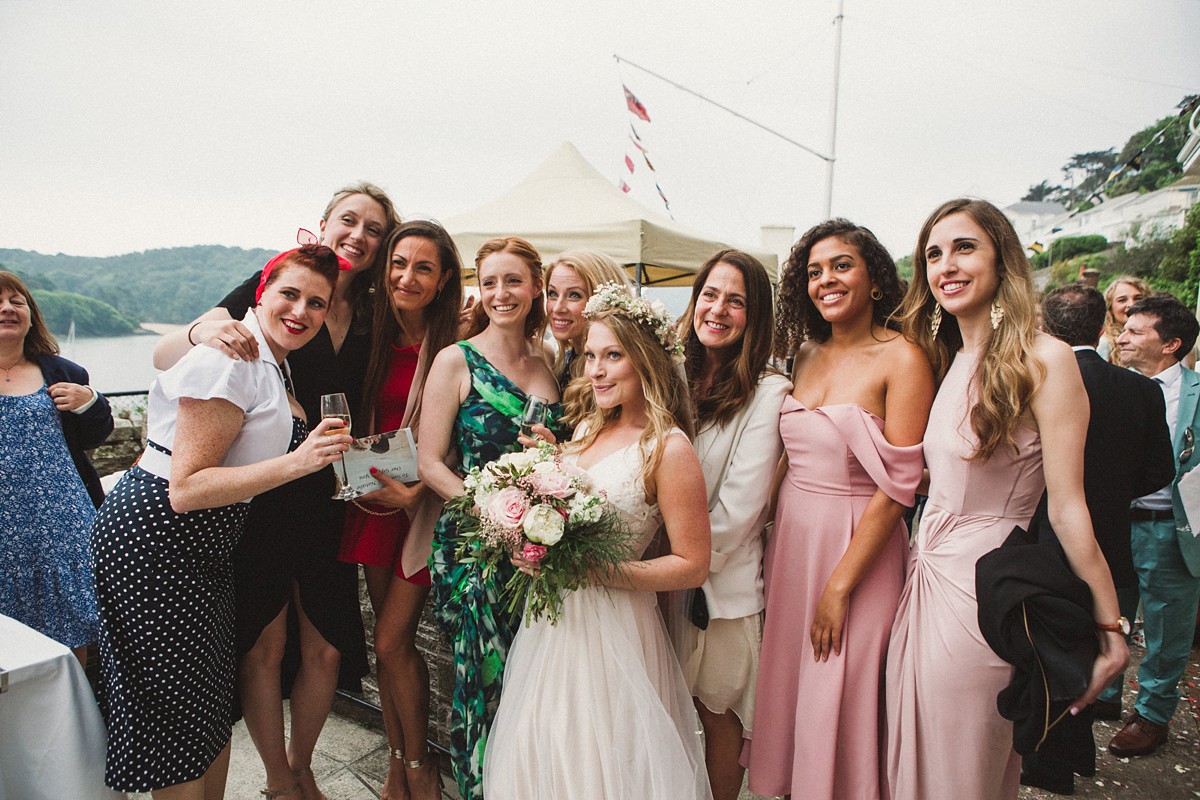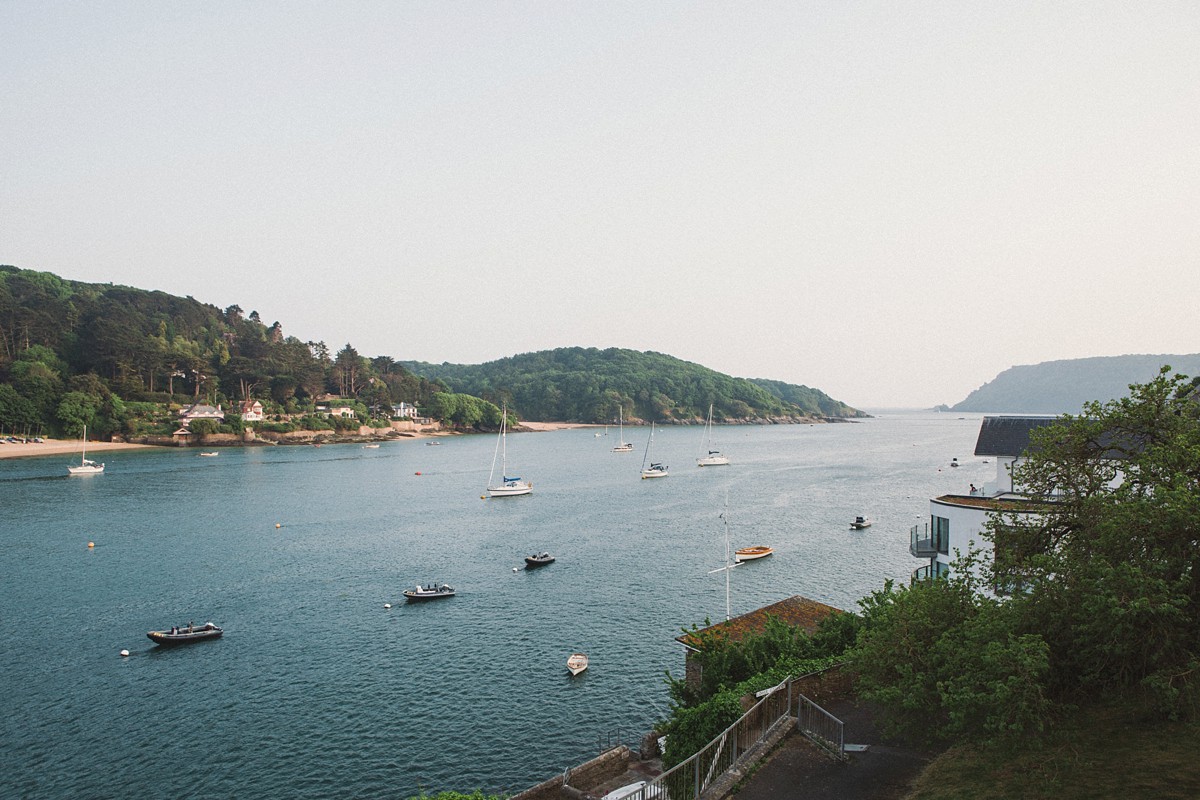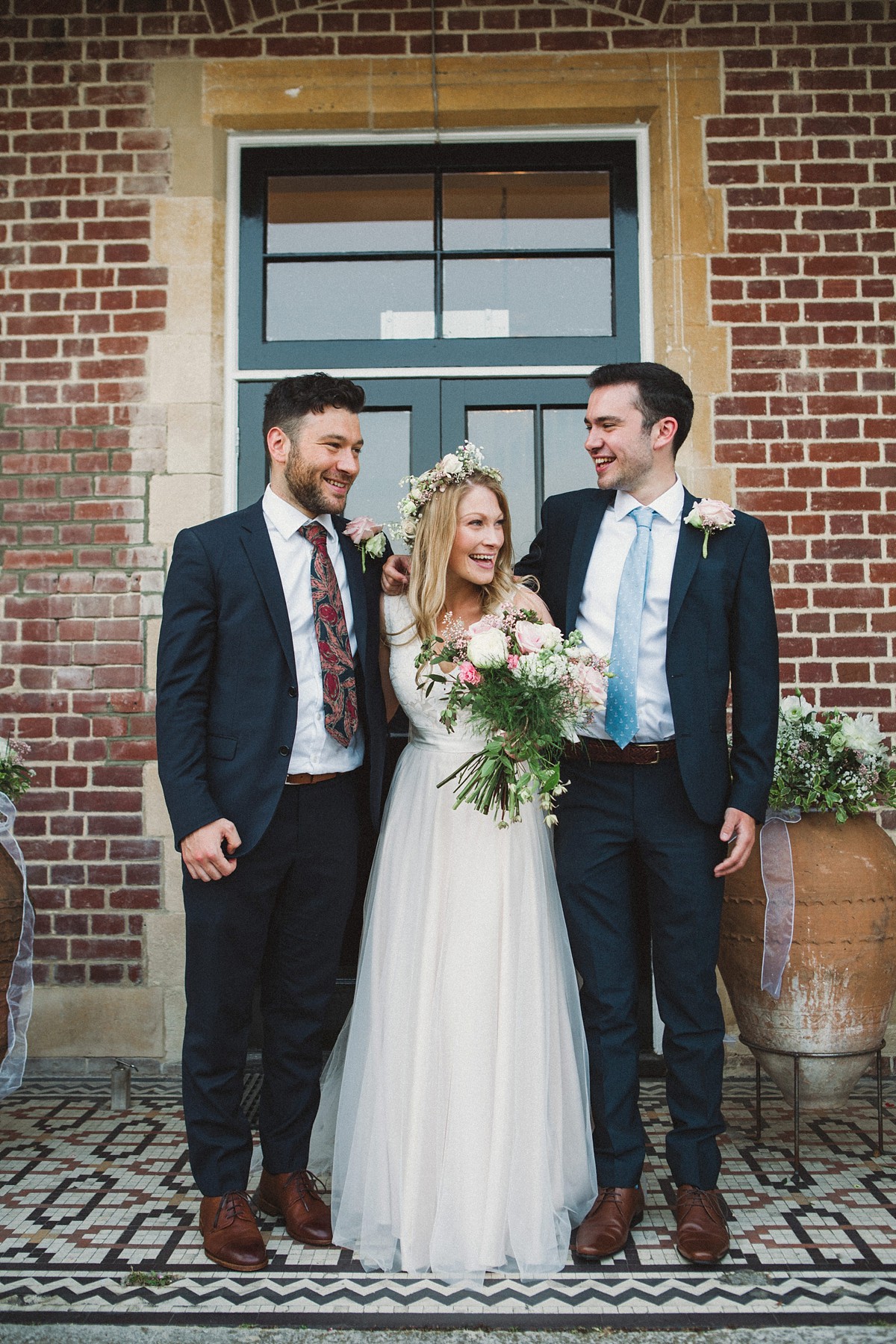 The pretty mint green walls and detailed cornice of the assembly room at Cliff House reminds me of a beautifully iced cake, and it proved to be a brilliant backdrop for Natalie and Sam's coastal meets country theme.
Pastel patchwork bunting hung from the ceiling, and on the tables, mason jars of flowers, sourced and arranged by Natalie's mum, were adorned with butterfly fairy lights.
Dotted around the room, and on the tables, were shells, starfish and driftwood, and little sailboats made from beach pebbles, bars of local chocolate and mini-travel guides to Salcombe and Devon – such lovely, thoughtful touches.
"My favourite part of the day was walking into the wedding reception to You're The One That I Want, and being greeted with cheers and applause from all of our guests. We did a joint wedding speech, and I also loved the feeling of delivering the speech together, and making our loved ones laugh."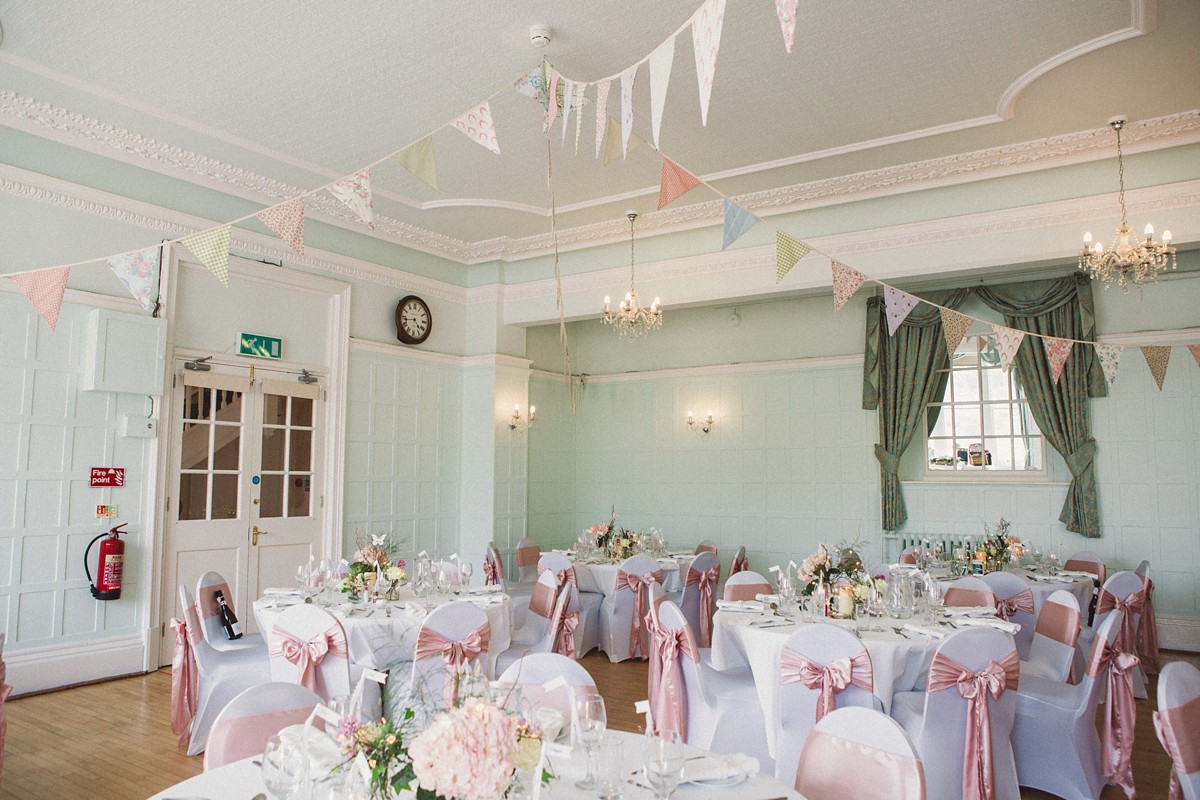 Dinner was a tasty, laidback buffet barbecue feast from The Fat Pig, and Natalie's oldest friend made lots of incredible individual cakes, decorated with icing and candied peel.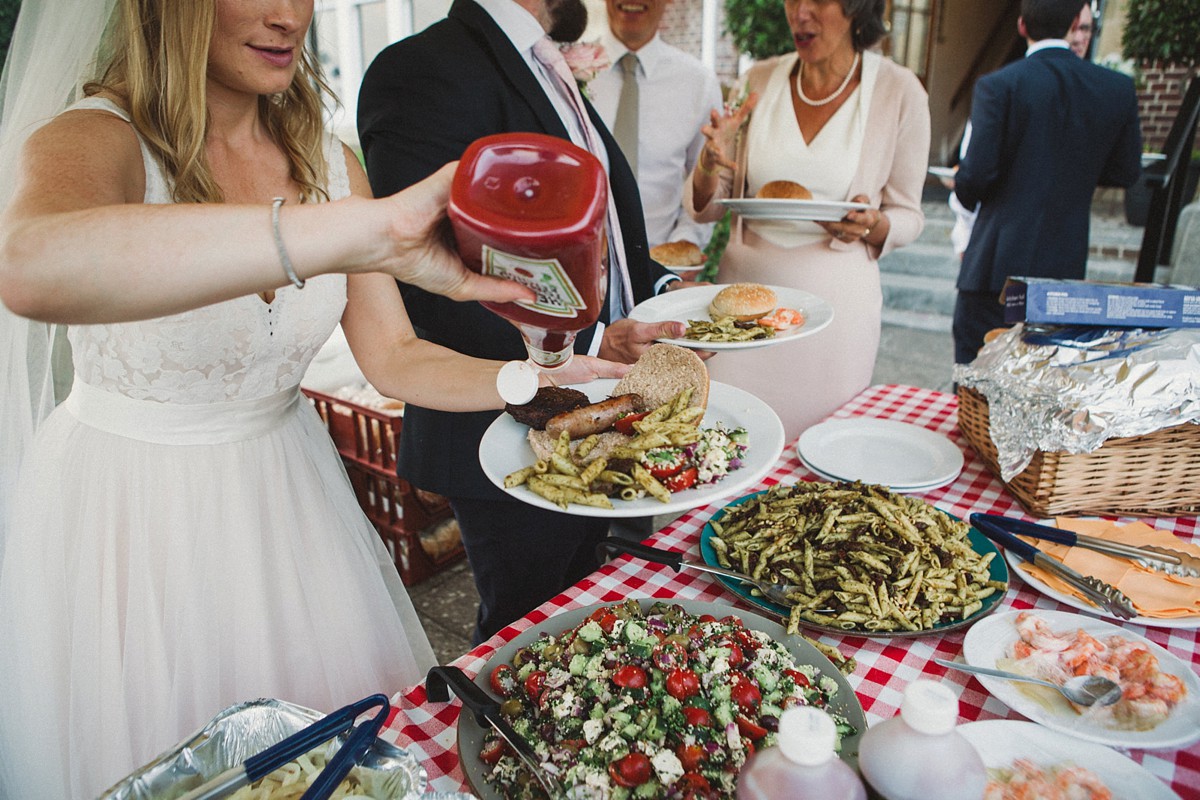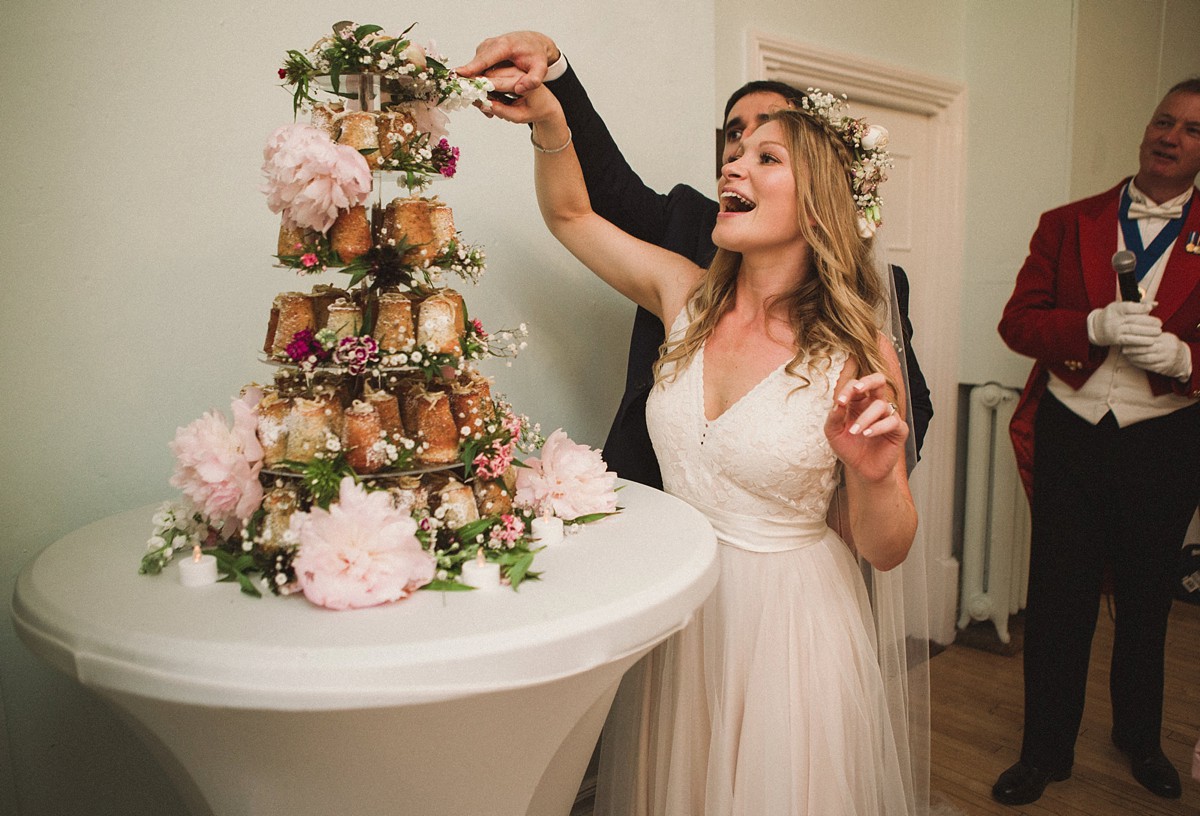 "Our family friend sang Moon River for our first dance. Everything was just amazing, it's so hard to pick a favourite part!"
As loved ones joined them on the dancefloor in the evening, others headed to The Pop Up Salon's glitter bar, to be suitably adorned!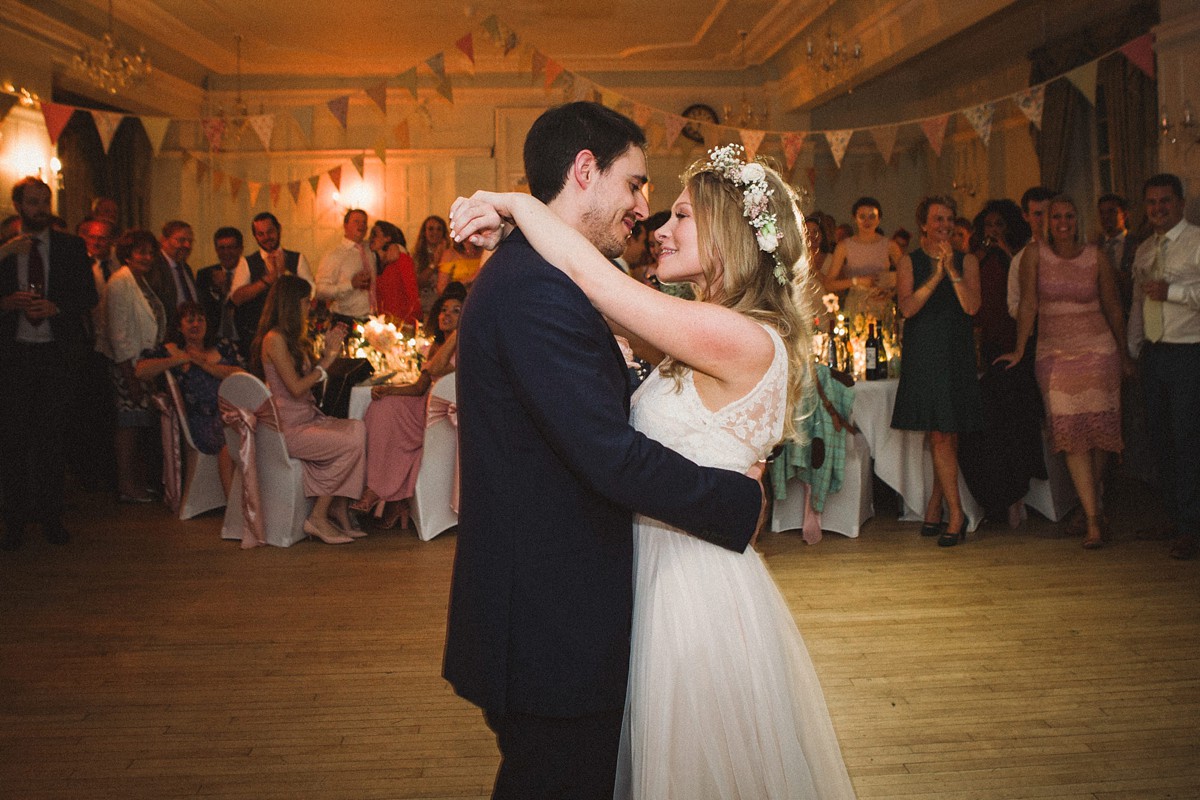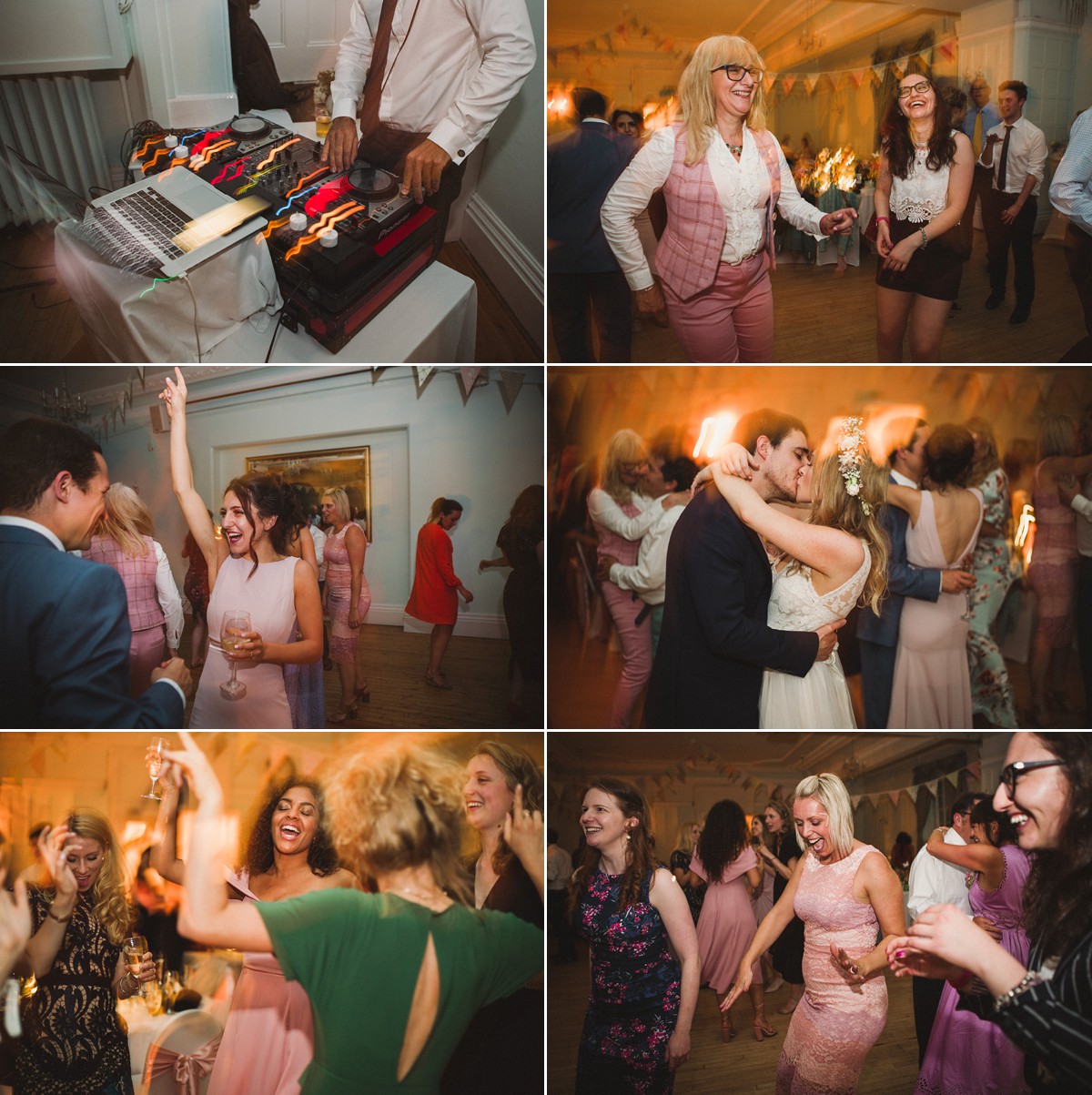 Words of Wedded Wisdom
"I would advise not to get too worried about who to invite/not to invite. I spent quite a long time worrying about it before hand, but all I remember is having fun with people I love."
"I also got quite stressed about the weather during the run up to our wedding. I suppose I'd recommend guarding against planning a wedding in the UK, which heavily relies on good weather!"
"In terms of budget, pay for things as you go along wherever possible. We overspent on the wedding, but we didn't go into any debt for it, so we have no regrets about how much we spent."
"Choose a dress that you can feel comfortable in all day (a built in bra is a great invention) and remind yourself to enjoy every stage of the process. Try on 100 dresses if that's what it takes, and enjoy trying on every single one of them."
"Go for what you want, and enjoy being surrounded by all of your favourite people."
Natalie and Sam, thank you so much, and huge congratulations. What a treat to take a virtual trip to the seaside today – it's been fantastic. Many thanks also go to Emma Stoner for her sweet and lovely images, too.
Until next time!
With love,
Laura