Nestled on the rocky Atlantic Coast in Gloucester, USA, today's wedding venue was a truly unique find. As a medievel style castle, it's a location that really complimented the bride and grooms style and their love for fairy tales, and it's my pleasure to introduce them to you today.
Nurse Angelique and physician assistant Nick said their I Do's on 16th June 2018 at Hammond Castle in Gloucester, USA.
"Since Nick makes me feel like I am living out the happy ever after fairy tale dreams are made of, I was inspired by these same fairy tales and A Midsummer's Night Dream."
Photography by Matt Penberthy
"My dress was designed by Lusan Mandongus and I found it at La Reine Bridal, a boutique in Waltham, US. As soon as I tried this dress on, I could see myself walking down the aisle towards Nick and I didn't want to take it off! I couldn't stop staring at the Chantilly lace that cascaded down, and was surprised by how easy it was to move in, part of my criteria as I wanted to be able to dance in it!"
[RELATED]
"I was also excited that the dress allowed me to add my own envisioned designs to it, in order to tailor it so it was unique to me. I added removable off-the-shoulder sleeves and silk buttons down the back."
"Although we're both drawn to the sea and knew we wanted to begin our marriage by the ocean, we didn't feel we needed a beachy theme and instead, envisioned romantic, soft colours and fabrics that would dance in the glow of candlelight, and accompany the enchanting secret garden feel that Hammond Castle creates."
"I wanted a familiar yet new scent for the day that was soft and captured the fresh, powdery scents of spring, and went for Chance Eau Vive by Chanel. My earrings were by Badgley Mischka and bracelet a gift from Nick by Swarovski."
"Nick's sister lent me her grandmother's sapphire ring as my something old, borrowed and blue, and on the inside of my dress I had one of my late grandmother's vintage pins attached. Every time I walked or danced, I could feel it tap my ankle, reminding me she was still there with us in spirit."
"Nick wore a black 1907 suit from Jos A Bank, his grandfather's watch and a pair of cufflinks engraved with 'grow old with me' on one and 'the best is yet to be' on the other, a gift from me."
"The groomsmen wore mismatched black suits with matching black ties and suspenders and a pair of fun socks that matched each of their personalities."
"Nick and I met when I was working at the hospital I was born in and Nick was doing his clinical rotation for PA school. I always loved collecting treasures from the sea so when Nick took me to Castle Island in Boston, a favourite spot of my family's, to collect shells for a glass bowl, I was delighted but thought nothing suspicious of it."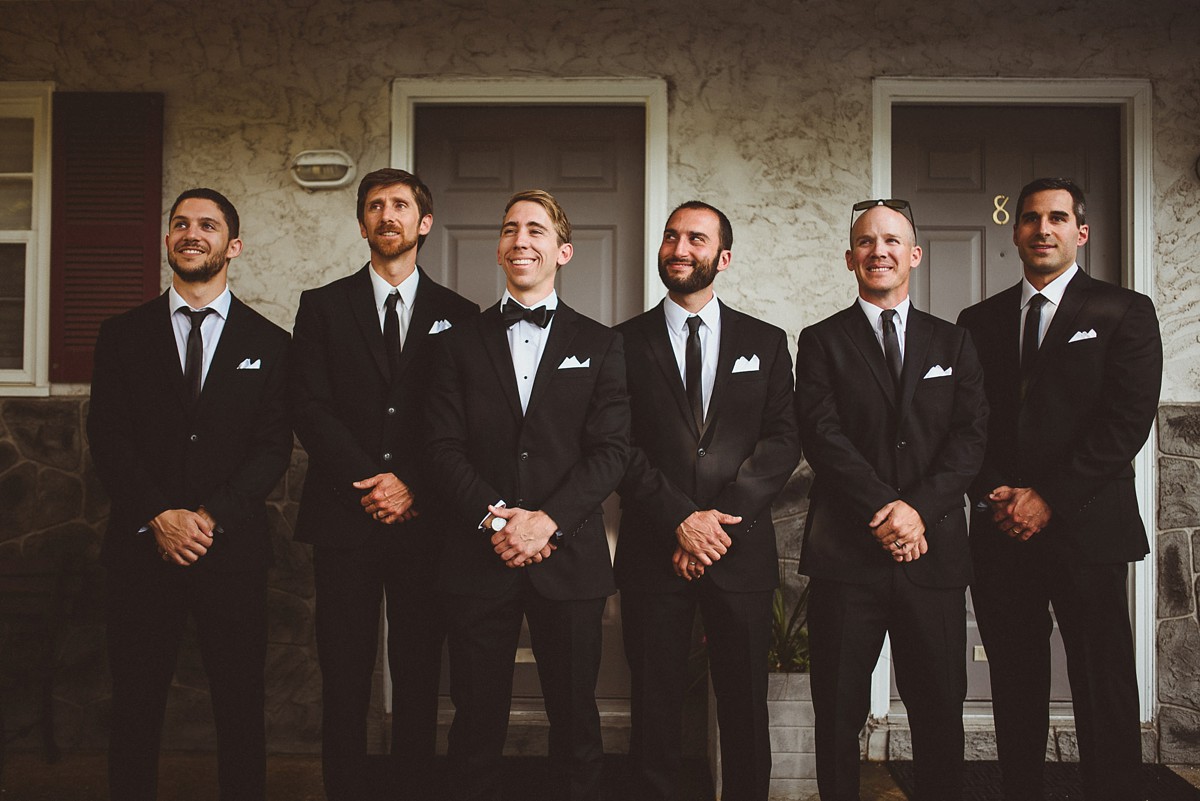 "I was looking for seashells and turned round to find Nick on one knee holding up a shell with a sparkly ring inside it! I looked around thinking my sister and Nicks brother who came with us would be just as surprised as I was, but they were perfectly positioned with their cameras out documenting the moment!"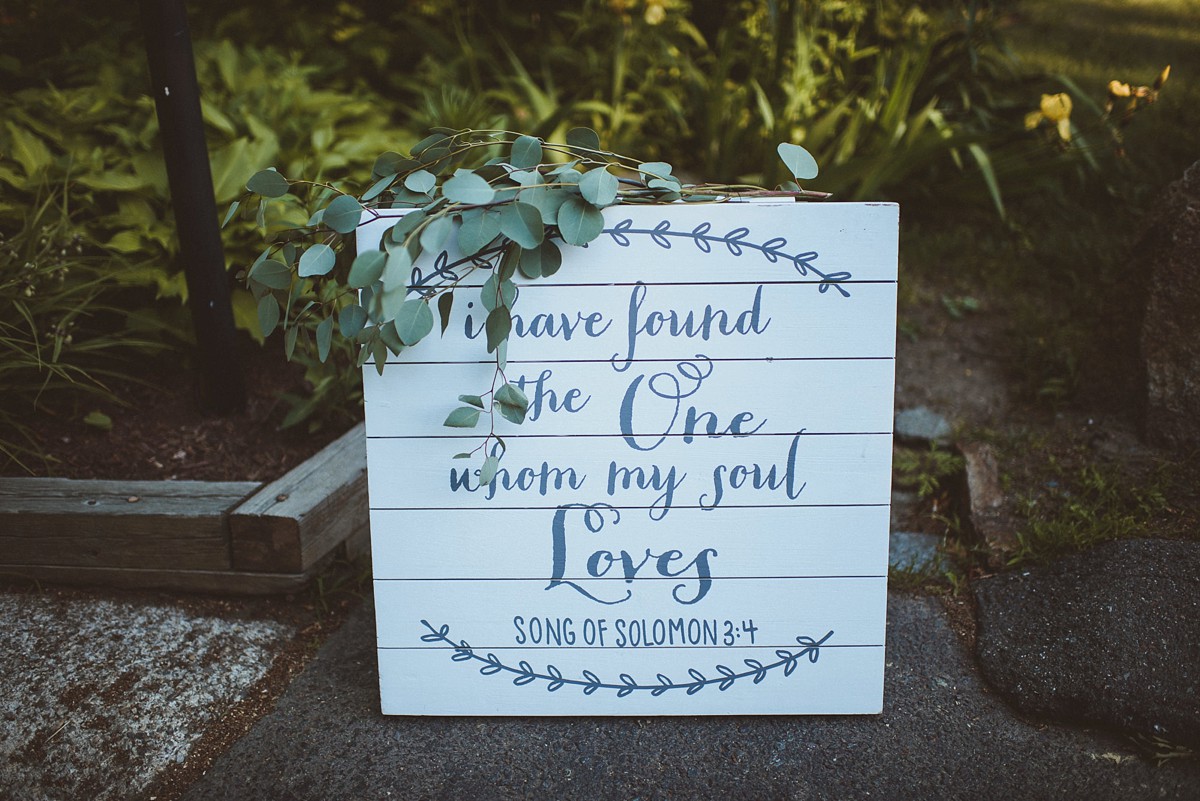 "We were engaged for 3 years before we got married as I wanted to finish nursing school first and start my career so I'd have time to plan the wedding."
"We are both spiritual people with Islam and Christian backgrounds and beliefs. Thus the wedding was blended with a more traditional Christian ceremony followed by an Afghan (non-religious) ceremony termed the Ayna Musaf. We chose to get married outside by the ocean and next to trees, as that is where we both feel closest to God."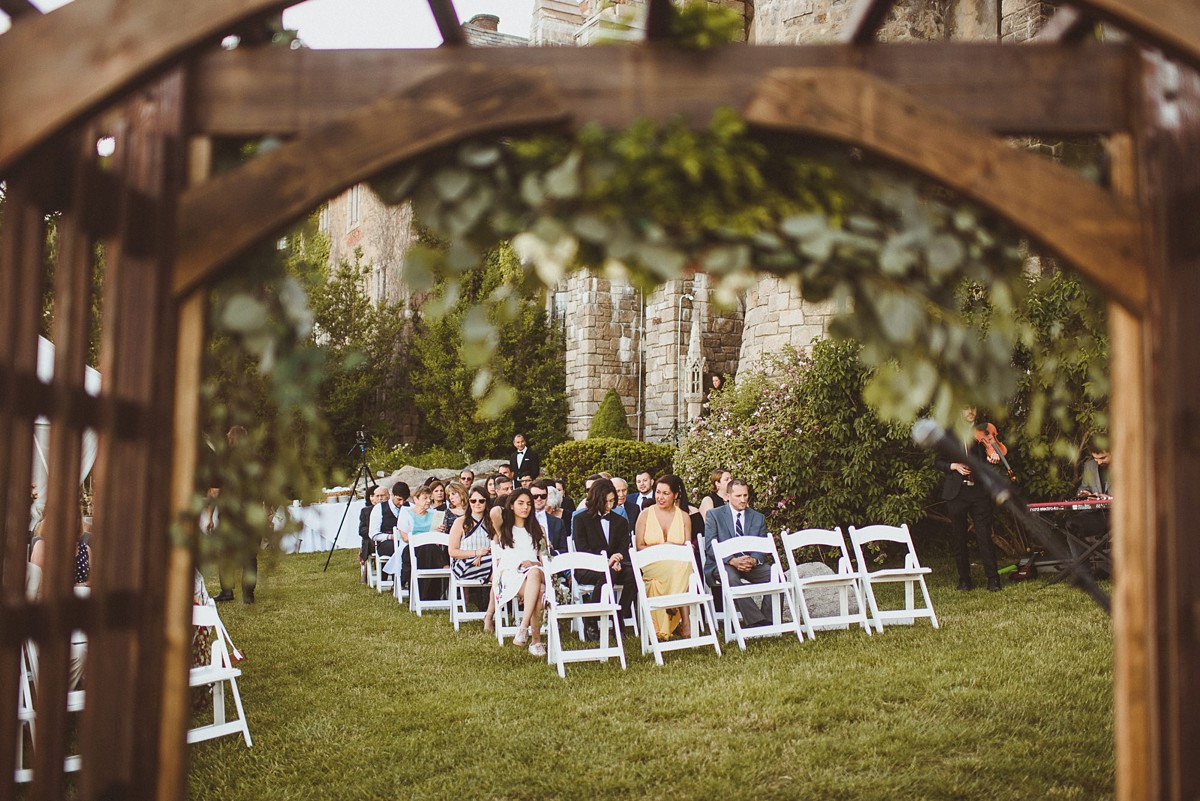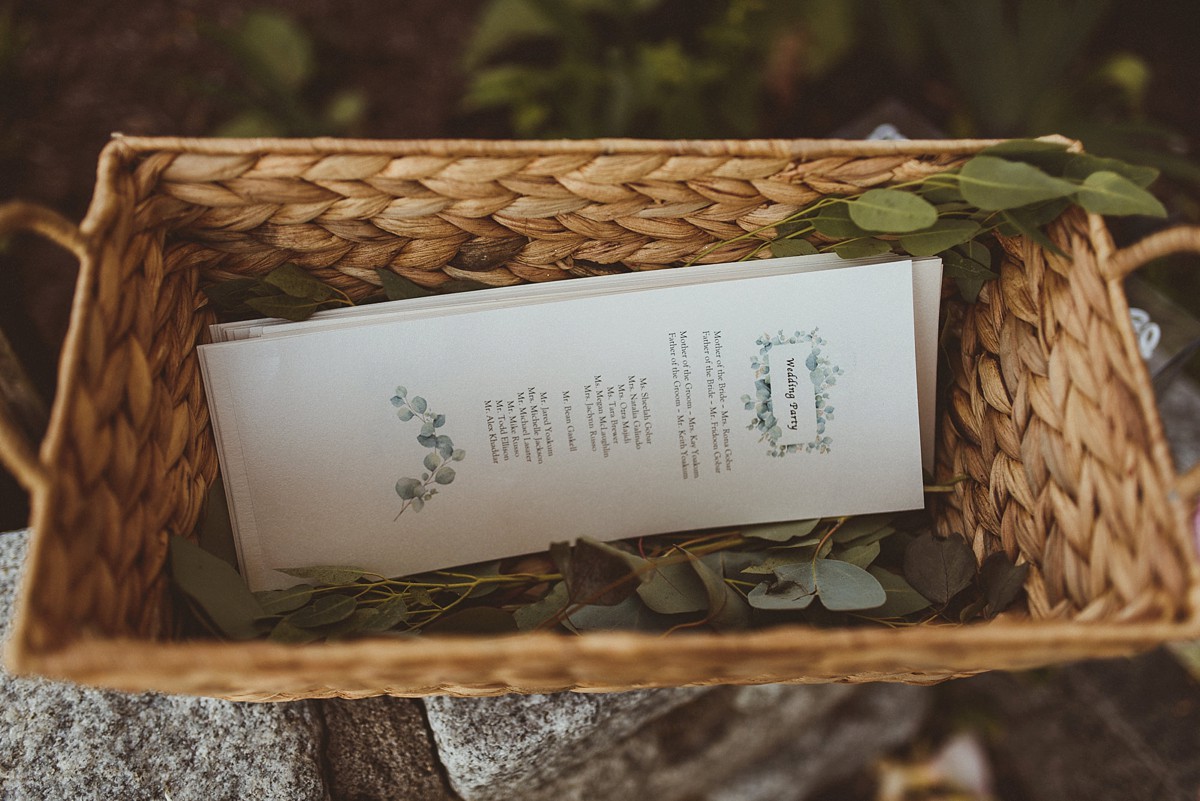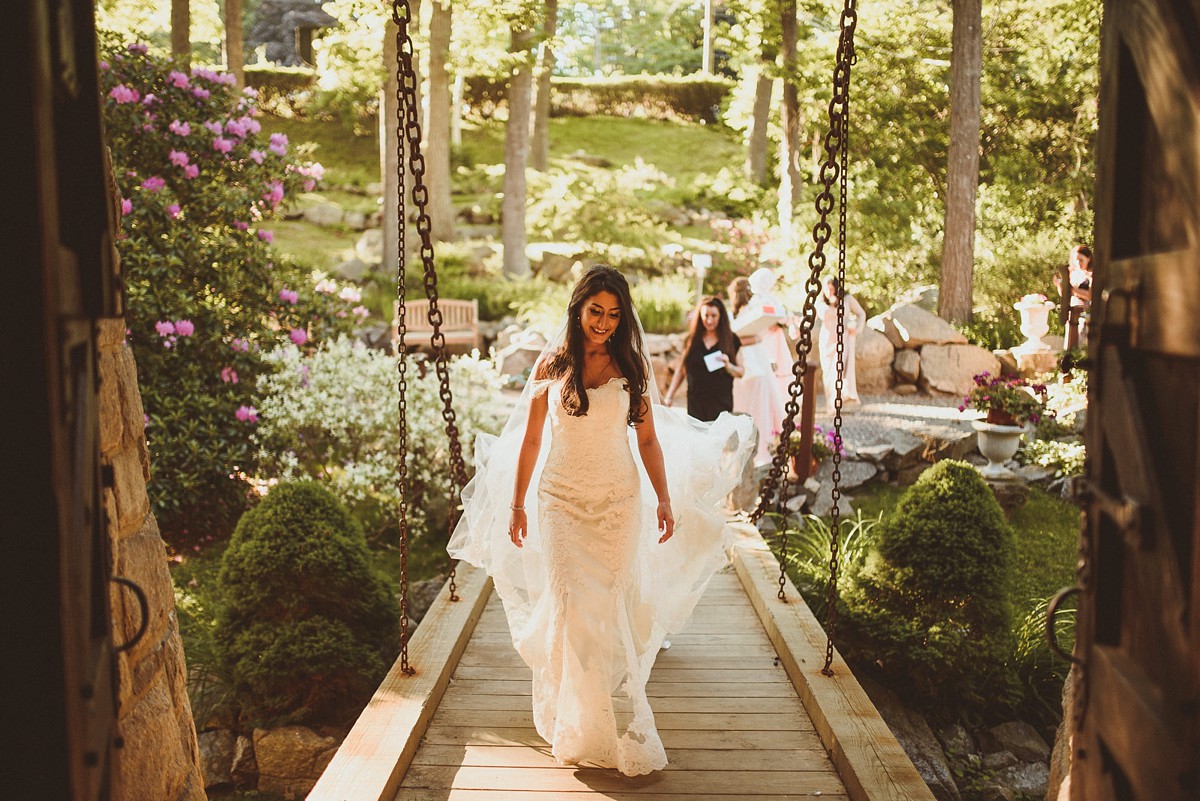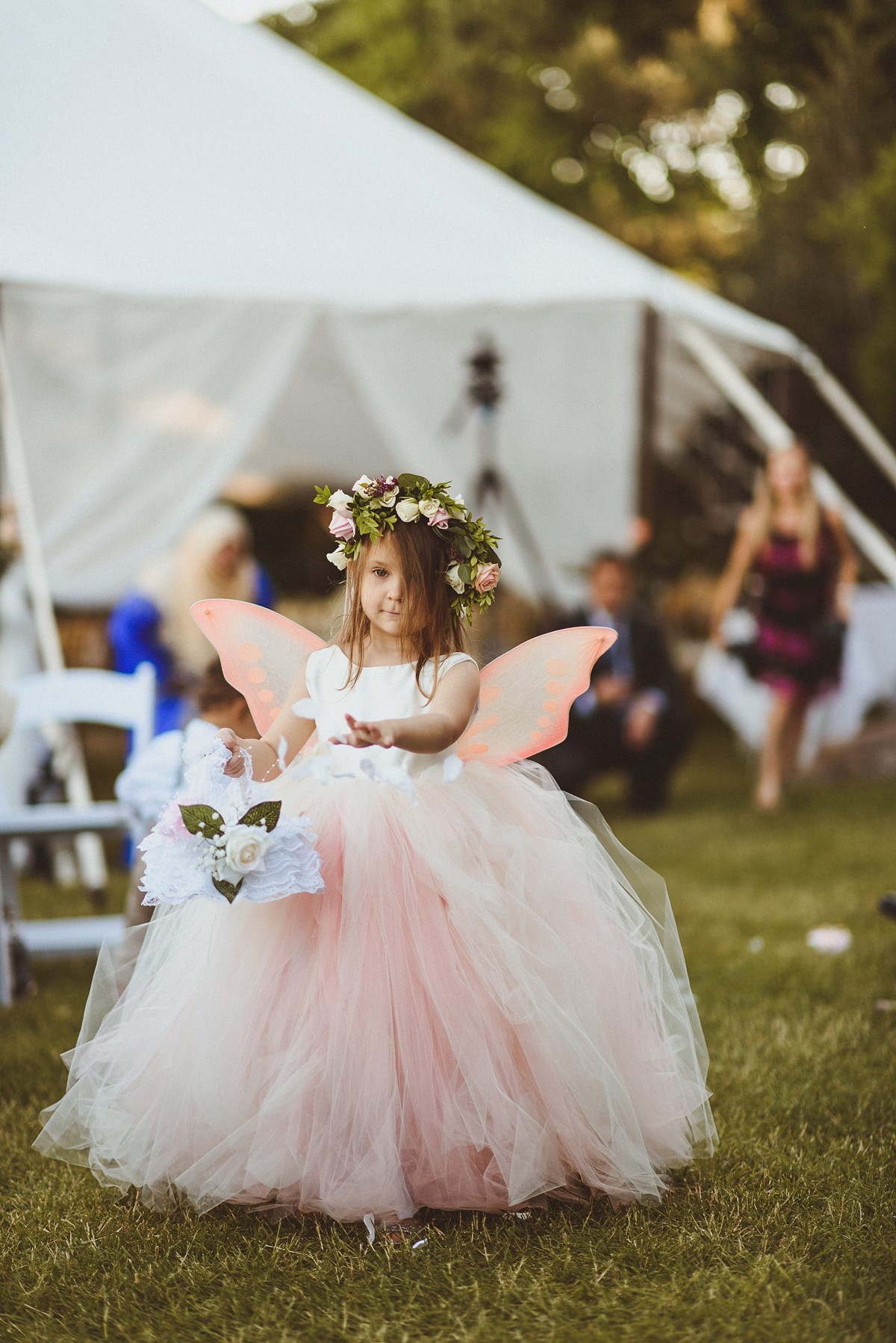 "My father, who is one of my best friends, and my mother both accompanied me down the aisle. The bridal party and our parents walked down to a mix of Bach's Air combined with Fools Rush In by Elvis Presley, beautifully performed by the Silver Arrow Band."
"Nicks best friend was our officiant and flew across the country to marry us! We wrote our own vows and kept the ring exchange part pretty traditional."
"We also asked the officiant to ask our friends and family if they would vow to stand by us and help our marriage through any hardship it may face, and it was very powerful to hear them say 'we do' before we said our I Do's."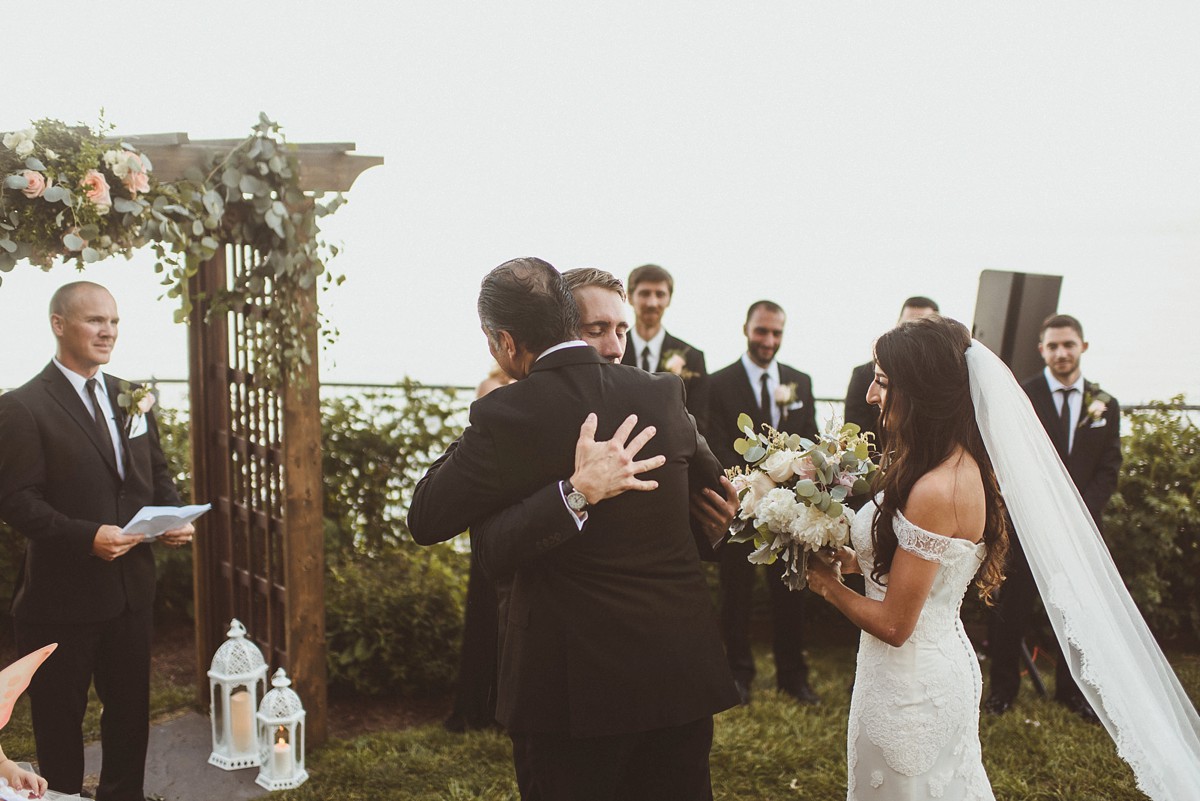 "Foxglove and Ferns created all of our flowers. I chose Lisa at Foxglove and Ferns because we connected on so many levels, from her understanding my job as she had sons in NICU, to her allowing my visions of romantic spring flowers and flowy eucalyptus to come alive!"
"Lisa did an amazing job with everything I asked for, including light peach roses and lots of greenery, and she even included unique heirlooms in the bouquets and arrangements such as peonies from her great grandmother's garden. She was also open to ideas such as the vases I had in mind and the greenery hanging from the tent."
"My veil was a Blanca veil found on Etsy. Samantha Stark at Blanca works with you to design your dream veil and she even sends swatches of colour, material and lace so you get the chance to create the perfect one."
"The tent was motivated by the desire to dance under the stars, protected from the late Spring sun, which also ended up carrying the sounds of the crashing waves into the area, which made the speech part of the night very dramatic!"
"DeScenza Diamonds was our primary supplier of our wedding bands. I helped Nick choose a brushed rose gold wedding band which matched his understated style. My band was chosen to compliment my 49-diamond engagement band, which was created by Nick's brother-in-law, a jeweller who lives near Seattle."
"His brother brought the ring on a plane across the country to deliver it to Nick and assist in the proposal plan."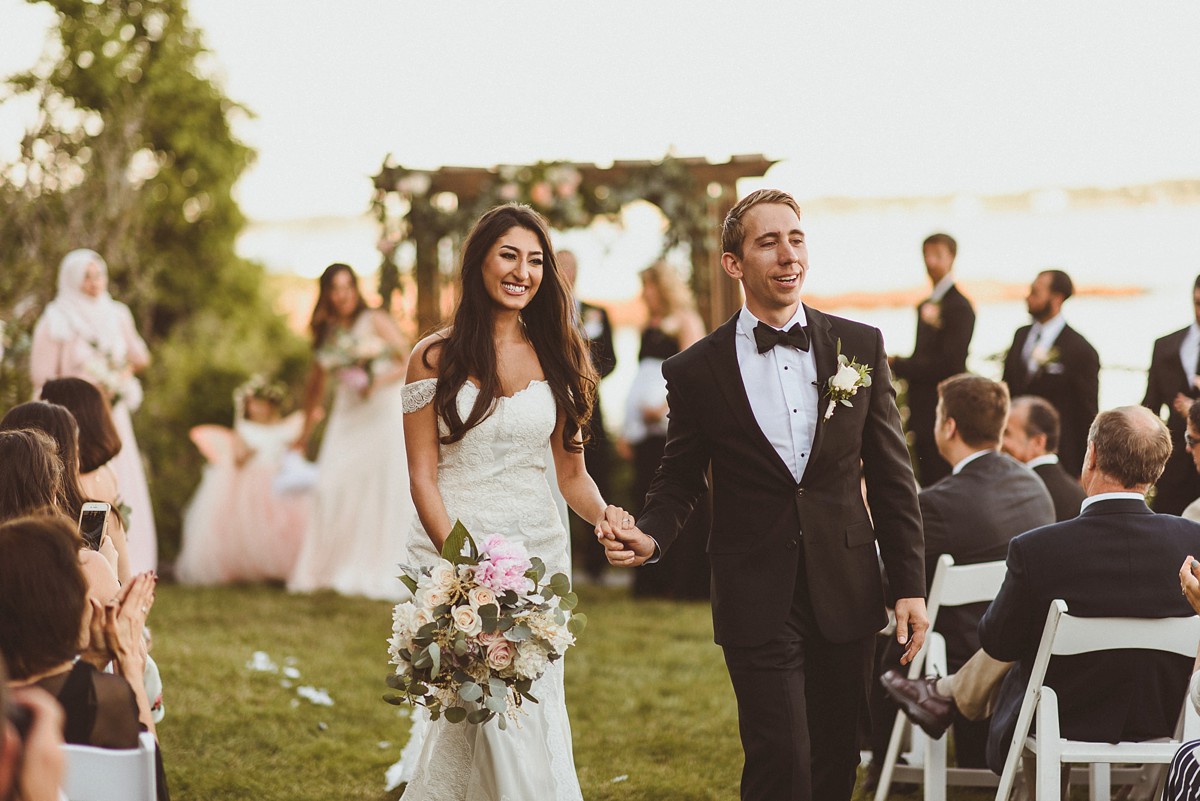 "My bridesmaid dresses were from Weddington Way. I chose the colour palette and material, then let the bridesmaids choose their own style of dress. I wanted them to feel comfortable and beautiful."
"I tried the dresses on prior to recommending them to my girls to make sure they were comfortable. One of the best parts of the dresses was that they had pockets! I also gifted each bridesmaid with Kate Spade earrings, a Kate Spade gold bangle bracelet and a robe from Le Rose."
"The best woman (Nick's sister filled in for his brother who couldn't make it due to health reasons) wore a black dress to match the groomsmen and still coordinate with the style of the bridesmaid dresses."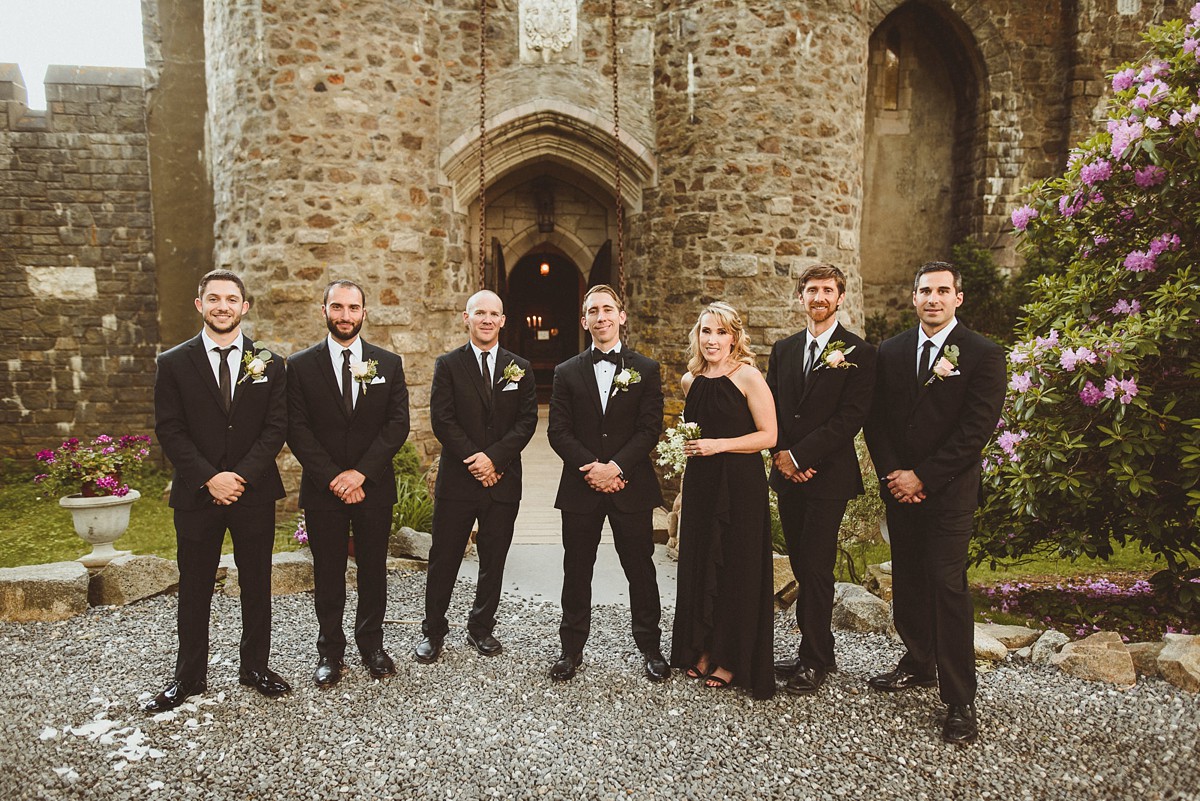 Capturing all the drama on camera was photography duo Matt Penberthy and wife Alexa Penberthy after Angelique and Nick were blown away by their photography skills upon discovery of them.
"Matt and Alexa are not only amazing and skilled photographers, they have also become friends of ours. We were so excited to see them tell our story through their photos and see their portrayal of the castle."
"Matt and Alexa are incredibly inspiring, from their journey together, to the love they have for each other and what they do. It really shows in their work and sets them apart from others in the industry."
"The Penberthy's are true artists and we love being able to hang their work in our home. All our family and friends are amazed by our wedding photos too. The angles and perspectives they found and captured, and the beautiful story that was told through their lenses was incredible."
"The morning of the wedding naturally had some chaos and stressful moments, but as soon as Matt and Alexa showed up, a sense of calm followed. They made everyone feel comfortable and it felt like they were part of the family. Before any problems could escalate, Matt and Alexa had already taken care of them and we cannot thank them enough."
"We would highly recommend them to capture any fairy tale you may want to remember for years to come, especially if you want all the special moments and details captured!"
After the emotional outdoor ceremony, guests were led towards the marquee for the wedding breakfast provided by Creative Catering based in Beverly, MA.
"The castle was so beautifully decorated with real European storefronts, angelic tapestries, candelabra's and preserved, medieval treasures, that we didn't need to add much more. We used candles to keep up the fairy tale theme and added subtle nods to Disney love stories too."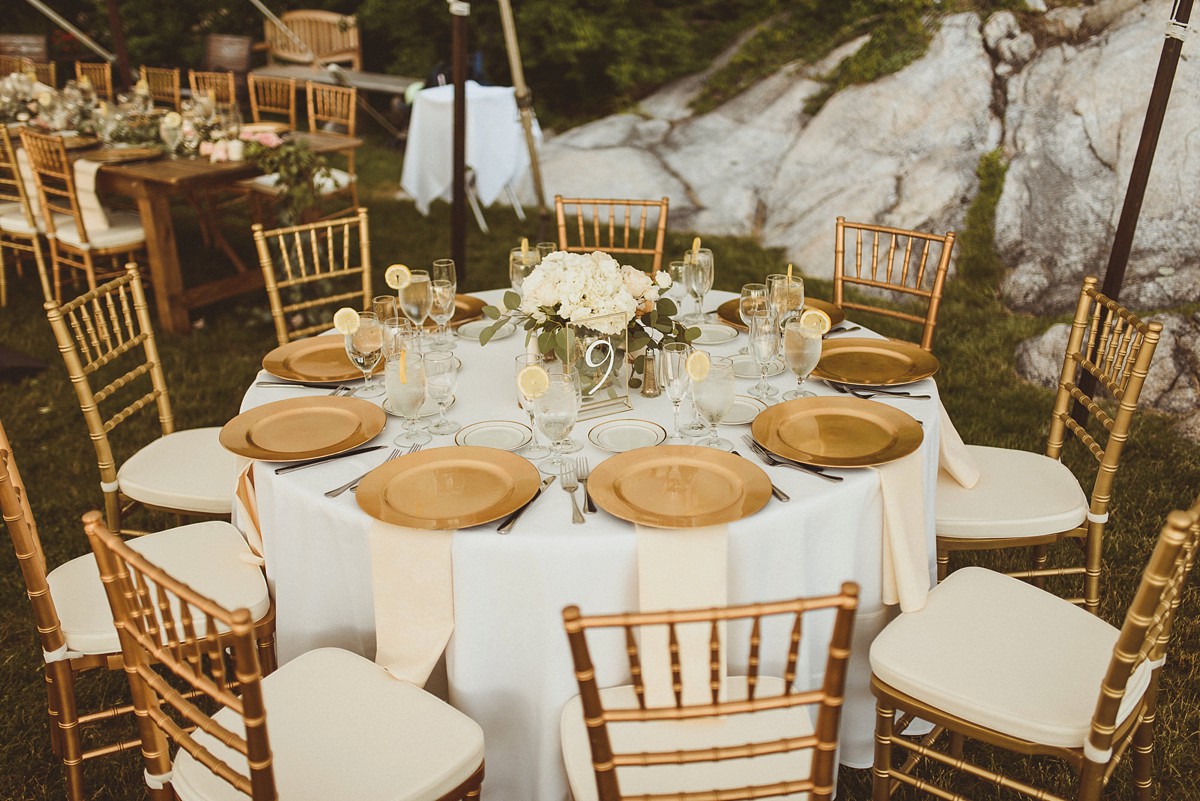 "We used bottle openers which were 'keys to the castle' as wedding favours as well as anchors signifying 'love anchoring the soul." Our stationery was made by Minted and everything else was homemade such as the itinerary, seating plan, table signs and a wooden entrance sign.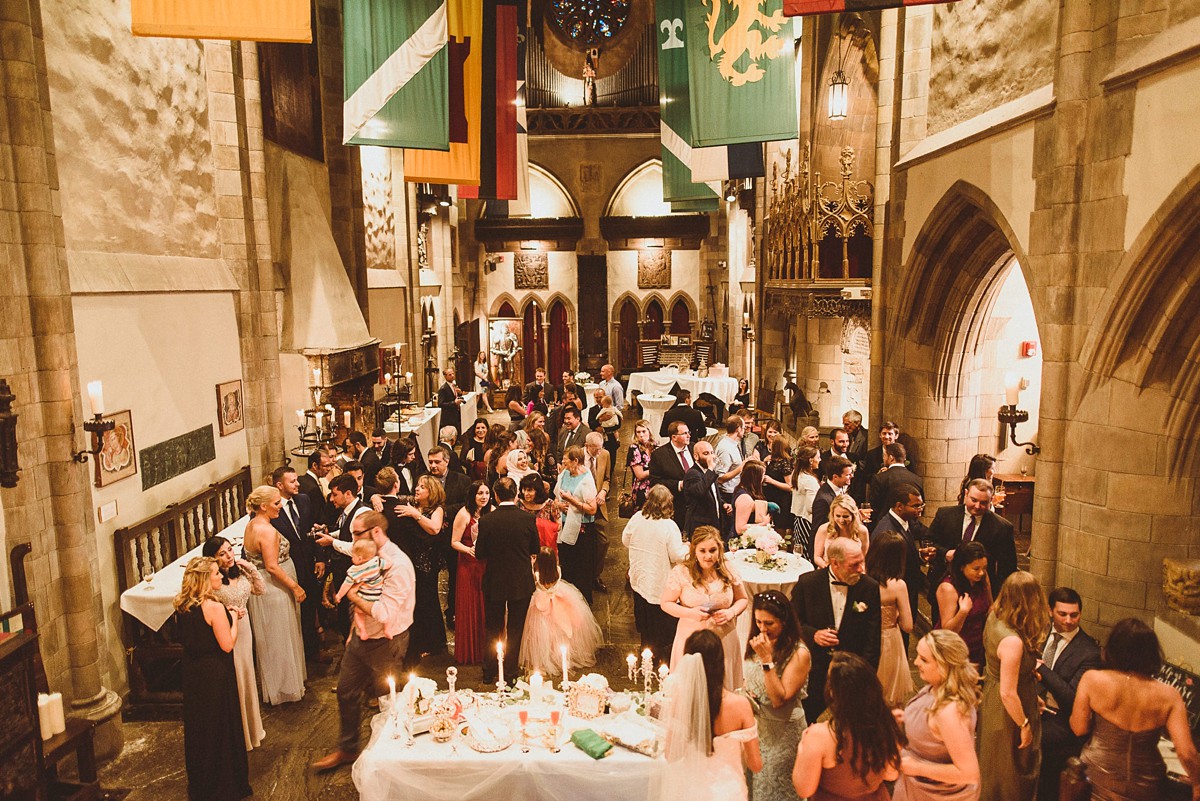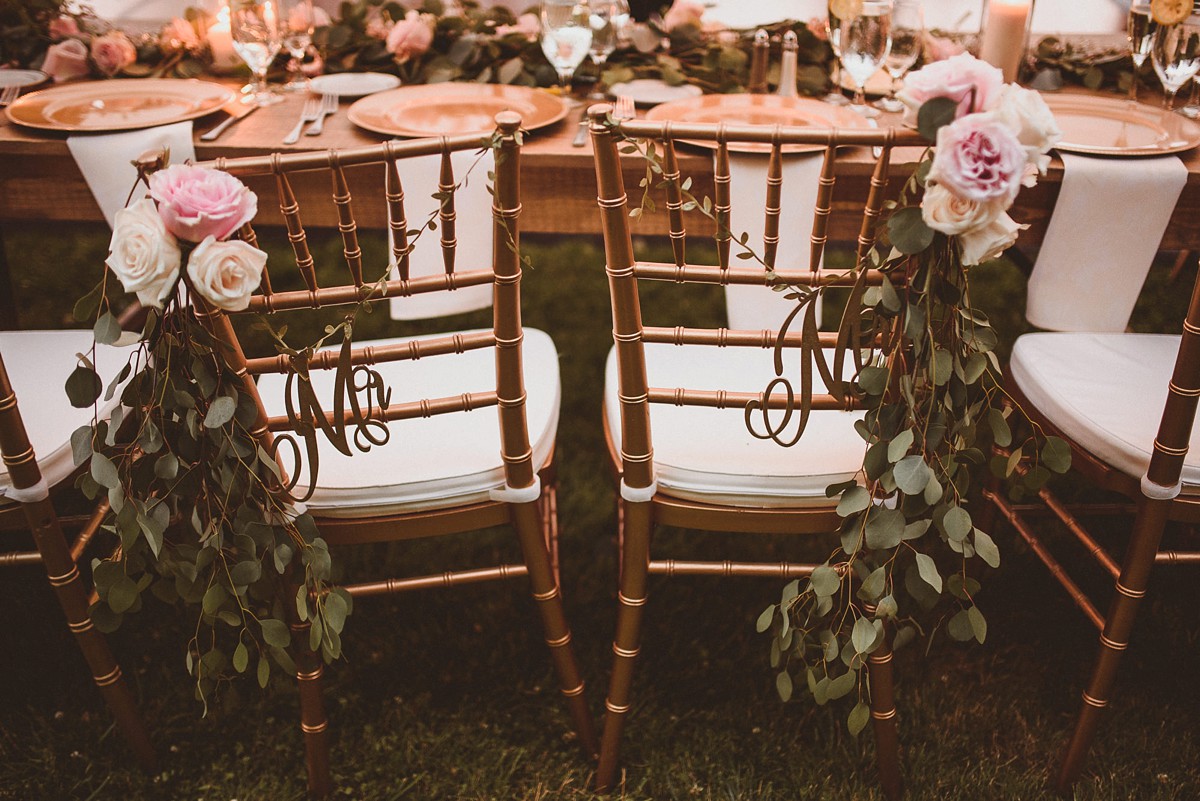 "Our wedding cake was made by Cake Ann Bakery based in Gloucester, MA. It was a vanilla cake with strawberries and buttercream frosting, decorated with gold flecks and fresh roses. Cake Ann Bakery were so wonderful and put all of our worries aside."
"Growing up with egg allergies, it's difficult for me when it comes to celebrations and Cake Ann were so accommodating and are truly talented. They created our dream cake with compromising on flavour or texture."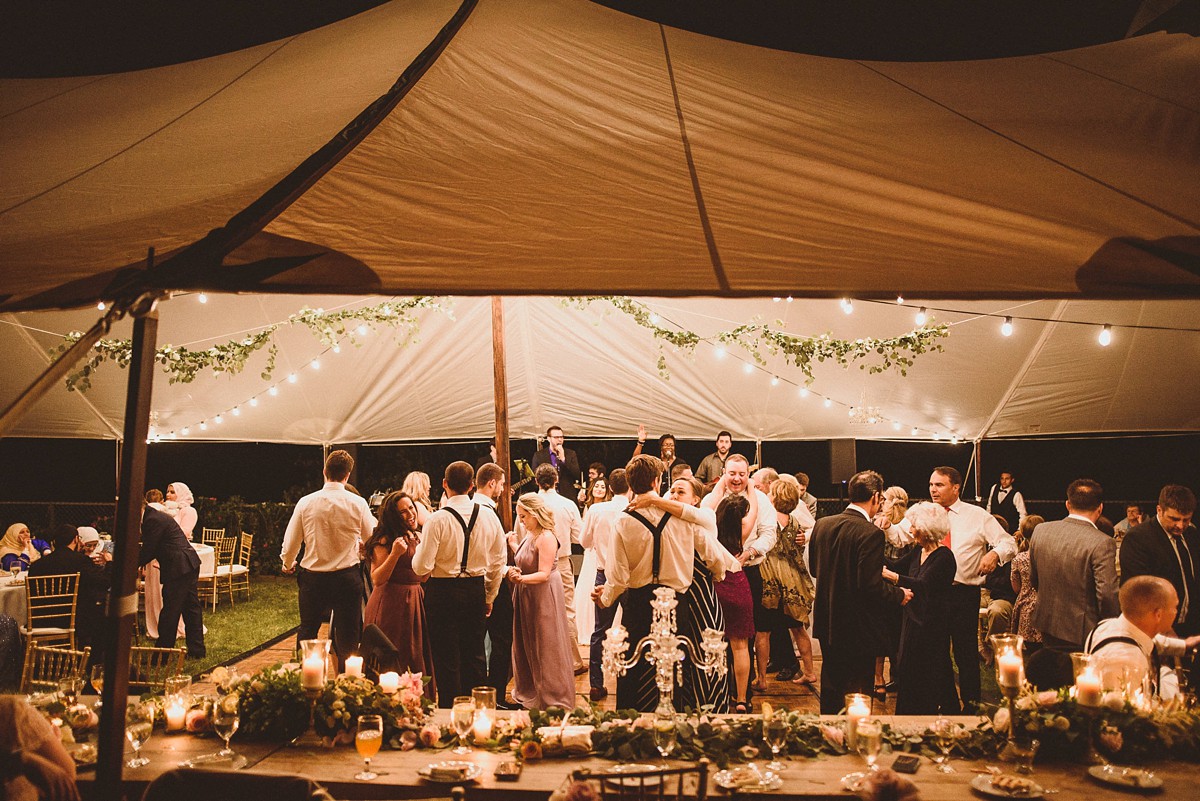 The bride and groom then kicked off the evening's festivities with a first dance to Lucky by Jason Mraz and Colbie Caillat, before Silver Arrow Band continued the party into the early hours of the morning.
Words Of Wedded Wisdom
"To all the brides to be out there, do not stress! As long as your choices revolve around love, everything will come together. Enjoy the planning process and make each vendor or site visit an exciting date for you and your fiancé! It's easy to get so busy and bogged down with all the details and it's easy to forget to make time to spend together.
I remember Nick used to surprise me with a packed picnic blanket whilst we were looking at venues and vendors, and that meant a lot to me!"
"Also, when choosing decor, choose items you can later re use in your home. We love decorating with the candleholders, petite chandeliers and baskets we carefully chose for the day and for the future. The day goes by so fast, so along with pictures it's nice to have these reminders of all the magical memories you will create."
A big thank you to Matt Penberthy and Alexa Penberthy for capturing the day so beautifully! And a big congratulations to the happy couple, Nick and Angelique.
Until next time…
Much love,
Holly x