Hello lovelies! I'd like to invite you to Yorkshire today for a tipi wedding on a farm, featuring a riot of foliage and relaxed countryside charm.
The bride and groom are Emily and Dan, who married on 27 August 2018 in a ceremony at St Katherine's Church, Loversall with a tipi wedding after at neighbouring Unique Occasions at Loversall Farm, Loversall, Doncaster. The couple, who have a young daughter, wanted to make the day as relaxed and family-focussed as they could. The Farm offered an idyllic location for their collection of fairy-lit tipis and games, as well as lots of space to run around and relax.
Photography Emma McNair Photography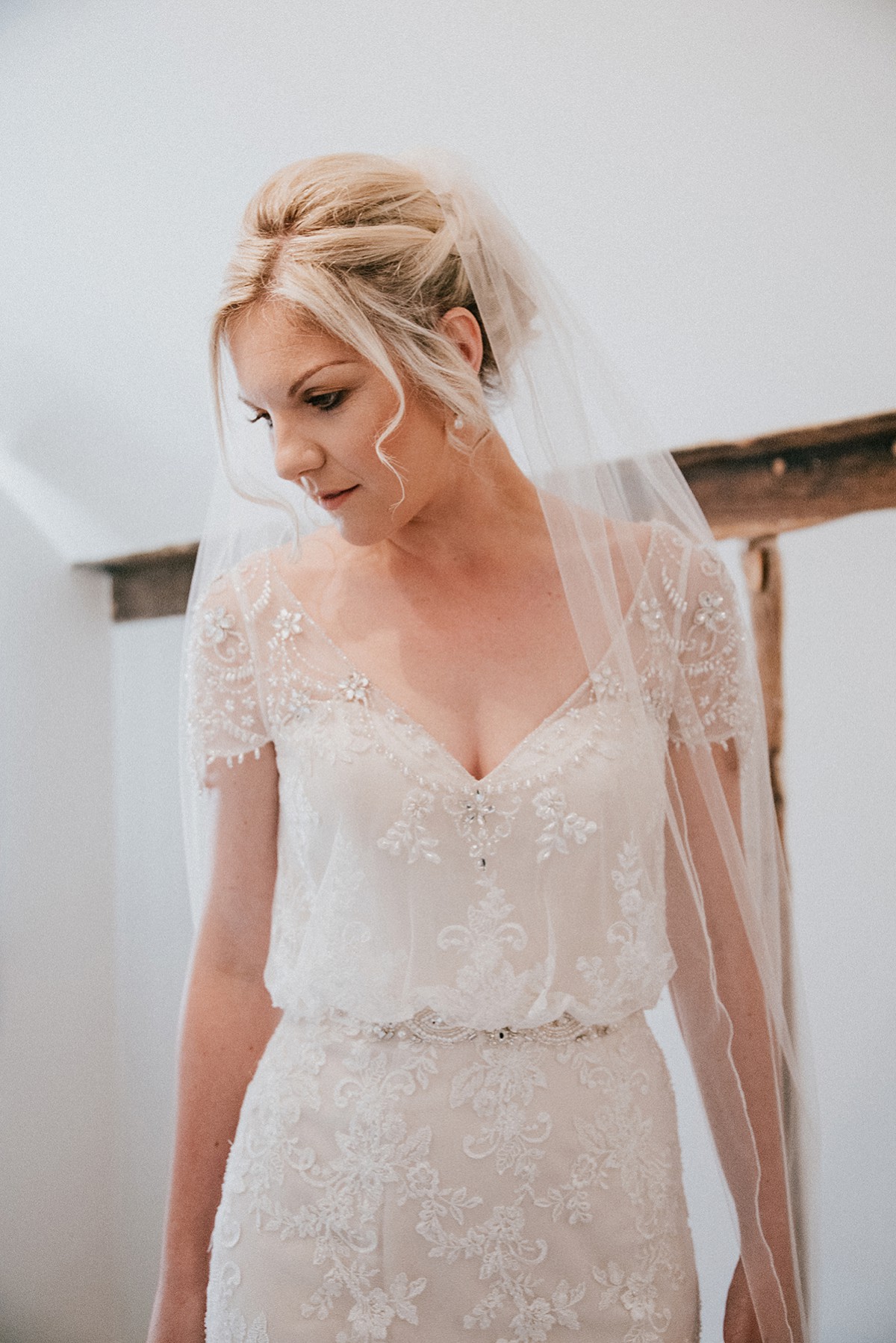 Emily and Dan visited Love My Dress to get ideas for their tipi décor, which they styled themselves. On the day, they were helped out by Steph at Unique Occasions.
"Steph was brilliant on the day and kept the day on schedule. We used Love My Dress to look at the wedding stories and take inspiration for our room dressing."
The Farm has a cottage which Emily and the rest of the bridal party used for getting ready.
[RELATED]
The bride's fitted, mermaid gown with its pretty beading and exquisitely beaded cap sleeves and delicate belt was a True Bride design, which she found at Sheffield boutique Blushes Bridal Studio.
"The ladies at Blushes were absolutely amazing – they even took the dress to my venue and had it hanging in my dressing room waiting."
"From researching dresses online, I knew I wanted a dress by this designer. Both the detail and sleeves were winning points for me. I loved that it had both crystals and pearls, so the glitz wasn't excessive but still a piece of art. It wasn't until I tried this dress on that I knew it was the one from the collection – I didn't try any others after this!"
She treated herself to a new bottle of scent – Mark Jacob's 'Daisy Love'.
"Taking advice, I wore a new perfume for my wedding which would then become a scent which reminds me of my wedding day – and it does."
Complementing the gown's style, she added a simple pair of pearl drop earrings and for a splash of colour, a pair of pointy gold heels from Roland Cartier at Dune.
"I love shoes and couldn't bring myself to buy the usual satin wedding slipper so I went for a gold pair."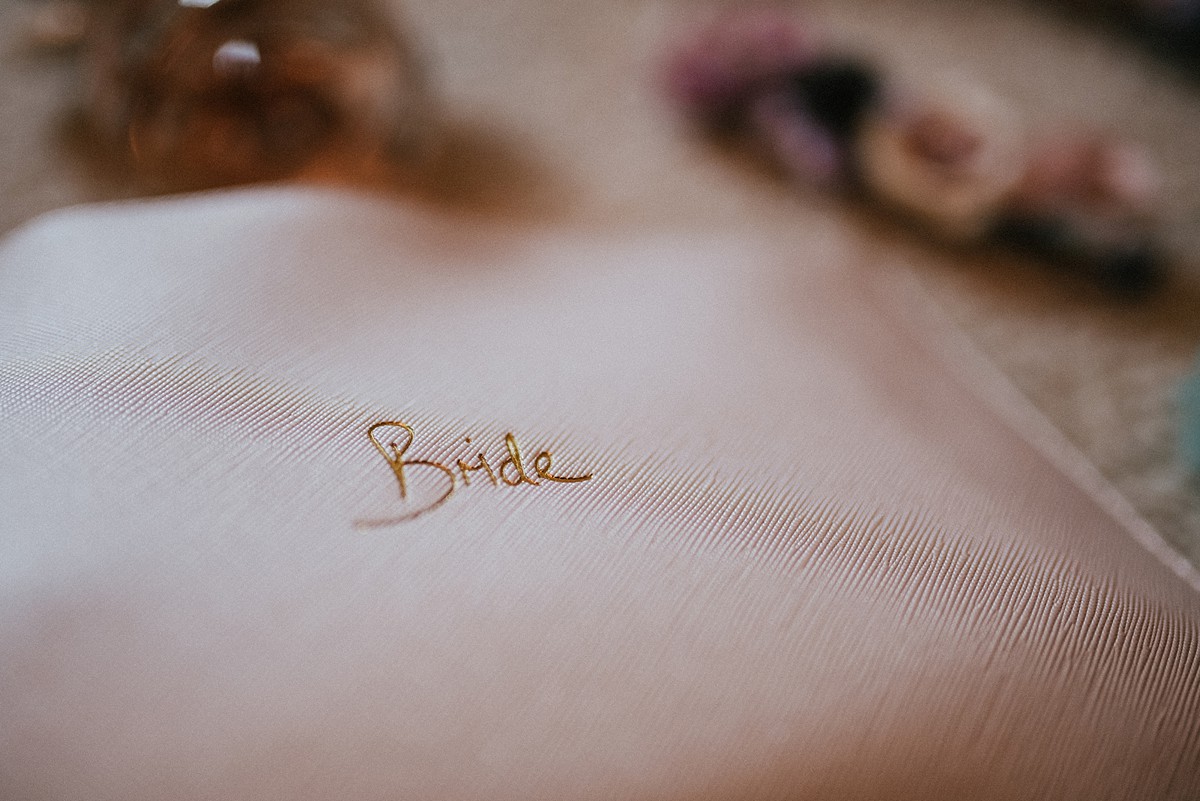 A beaded Debenhams hair-comb and a long, full veil adorned Emily's blonde hair, which was styled in to a pretty up-do by Gemma, owner of Hidden Gem in Swinton. She also created the bridesmaids' styles, which look lovely with their ASOS gowns.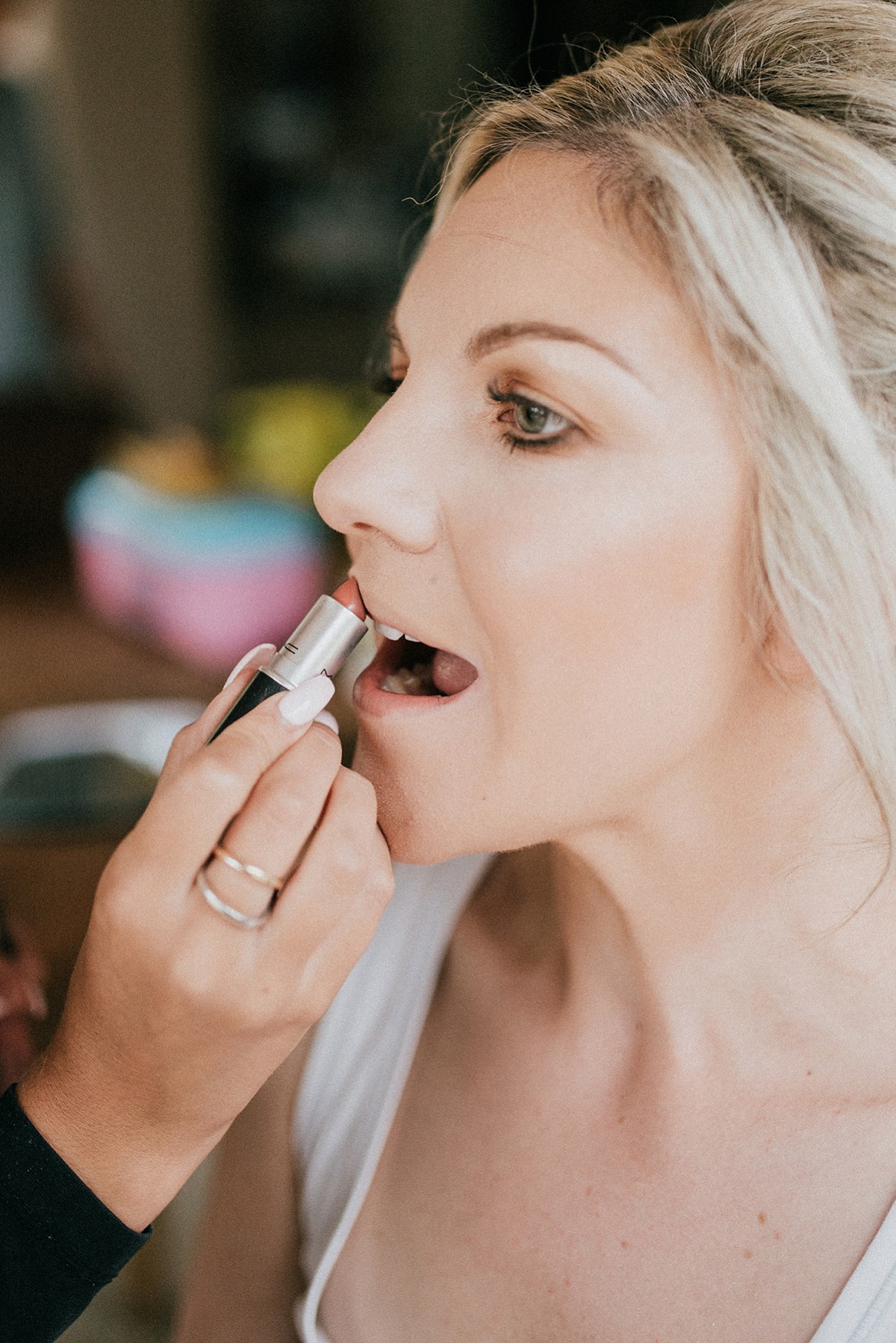 Very luckily, Emily found a flowergirl dress or her little daughter which closely mirrored the style of her own.
I love these charming photos of the bride and her daughter getting ready together. They both carried fresh bouquets of seasonal flowers, put together by one of the bride's talented friends.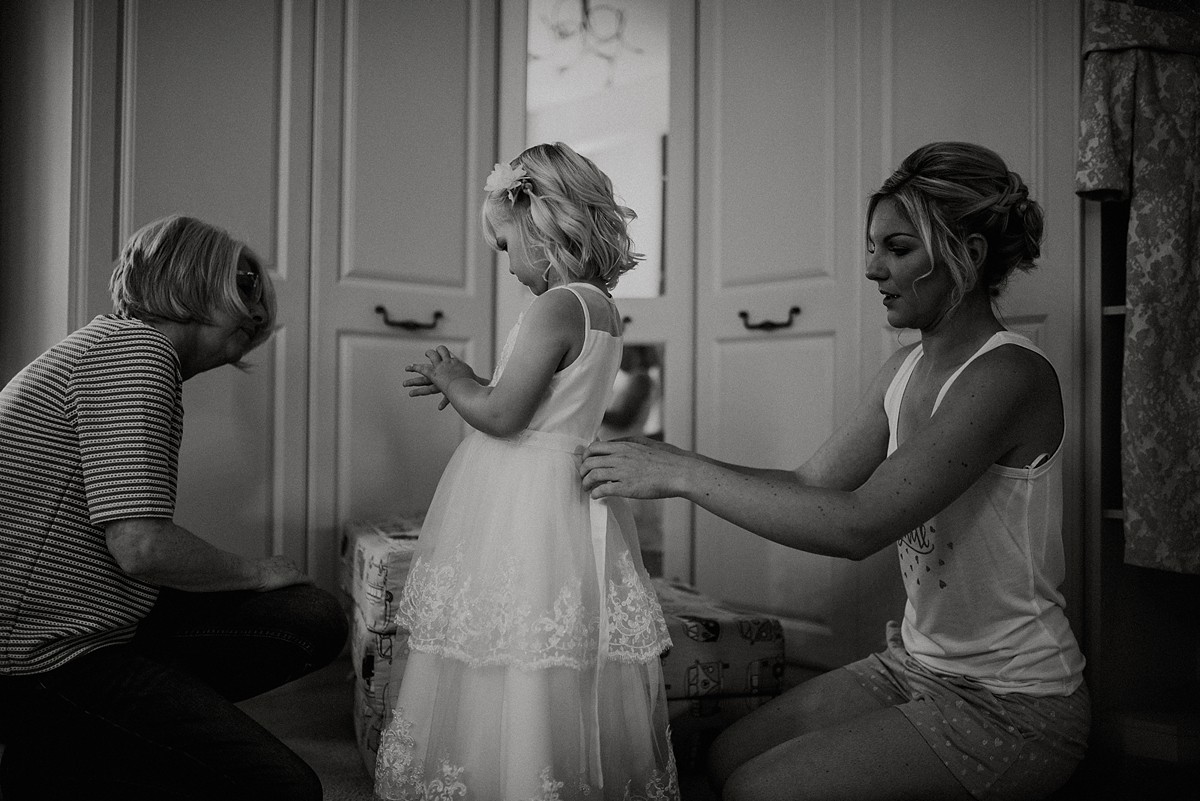 Emily and Dan first met six years ago, and took a year to plan their wedding following their engagement after a hot air balloon ride at Cusworth Hall.
"We met whilst both out with our own friends. It wasn't the most glamorous of meetings but suited us perfectly – on a bouncy castle at a themed evening. We became engaged a year to the weekend of our marriage."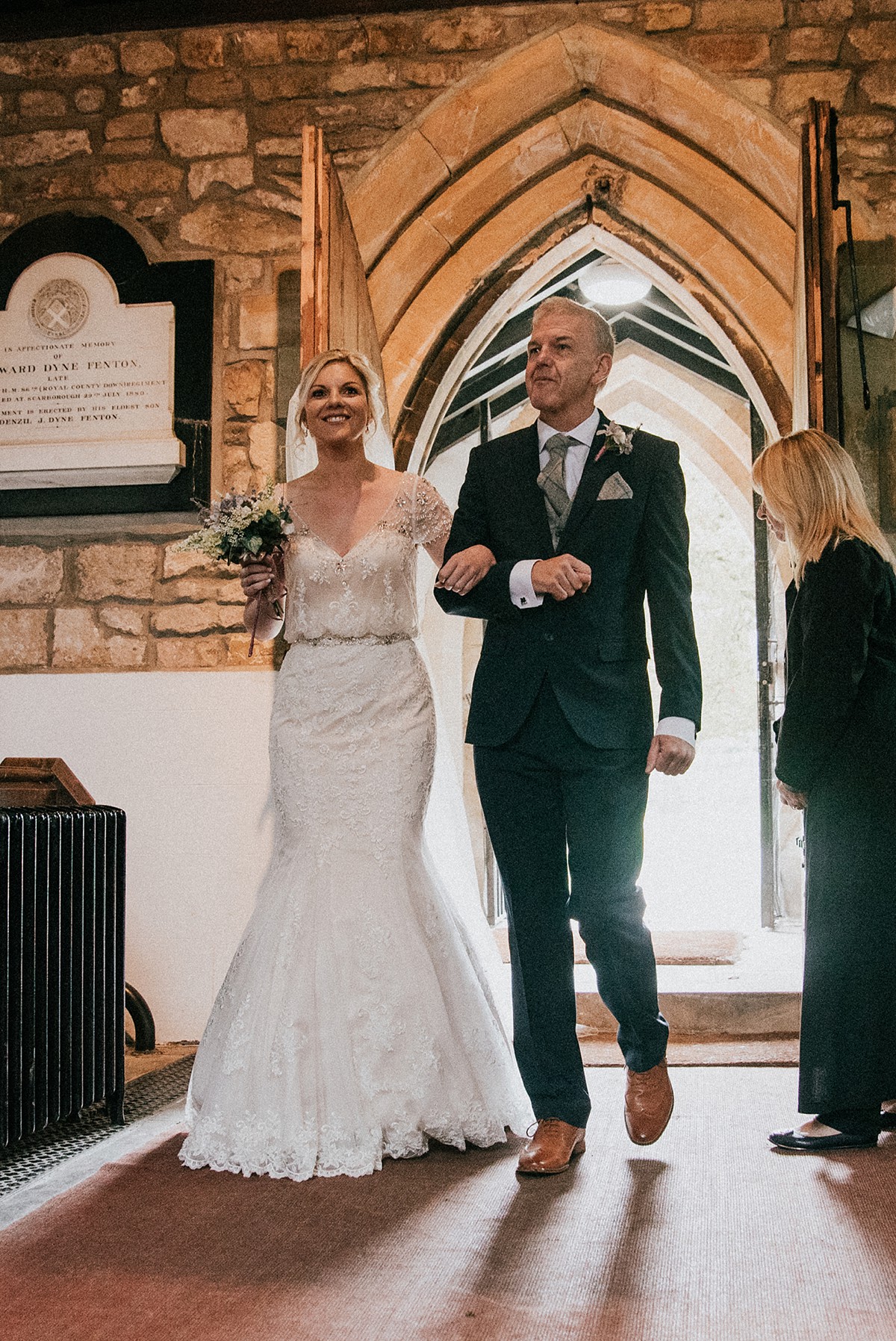 The church looks like a really cool oasis in the August heat. After walking from the Farm cottage, Emily entered on the arm of her dad Paul to the sound of Ben Haenow's 'Something I Need'. She and Dan married in a traditional Church of England service and exchanged rings from Ernest Jones. For a personal touch, their friend Ottilie read some words she'd written herself.
"It was particularly poignant as she is extremely caring and genuine, but has never been described as romantic. So for her to write her own reading entitled 'Love' and only jest a couple of times within it was extraordinary!"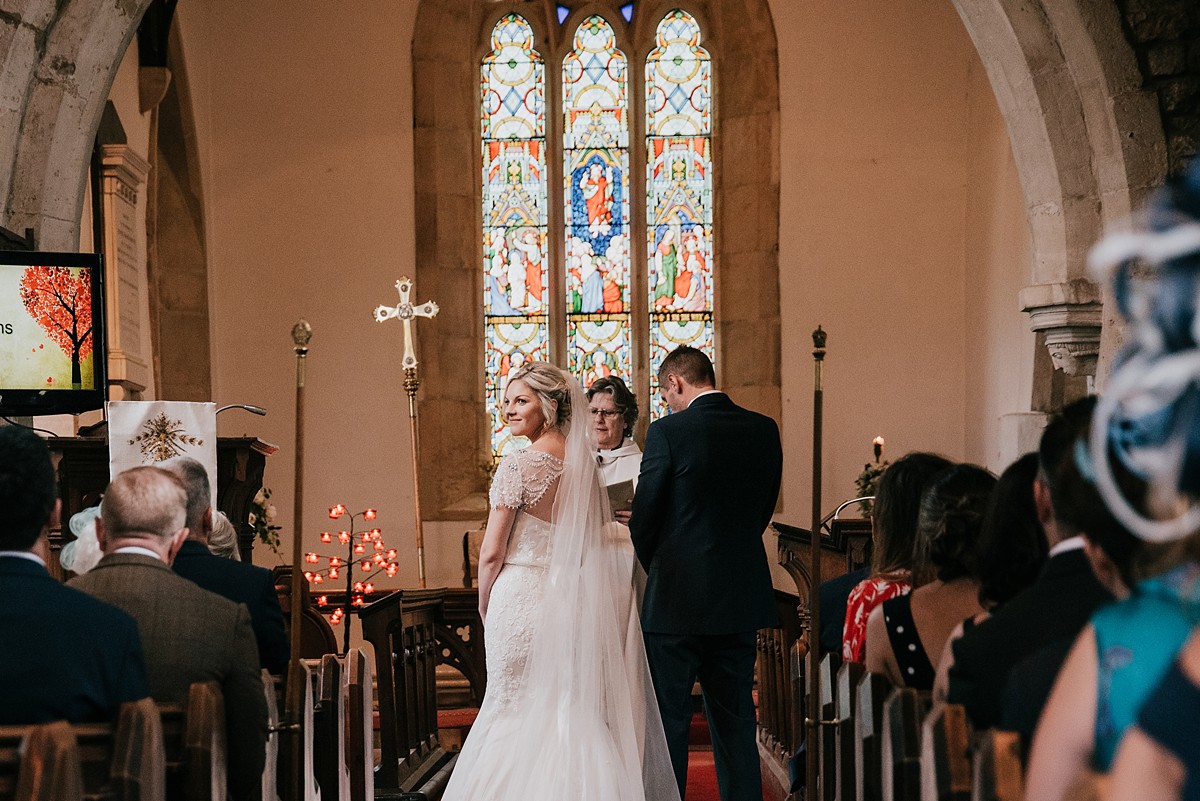 'Love isn't perfect. She's not perfect – you aren't either.'
'But once in a while, like today, you'll meditate on it and realise how lucky you are to share your life with the greatest people you'll ever meet.'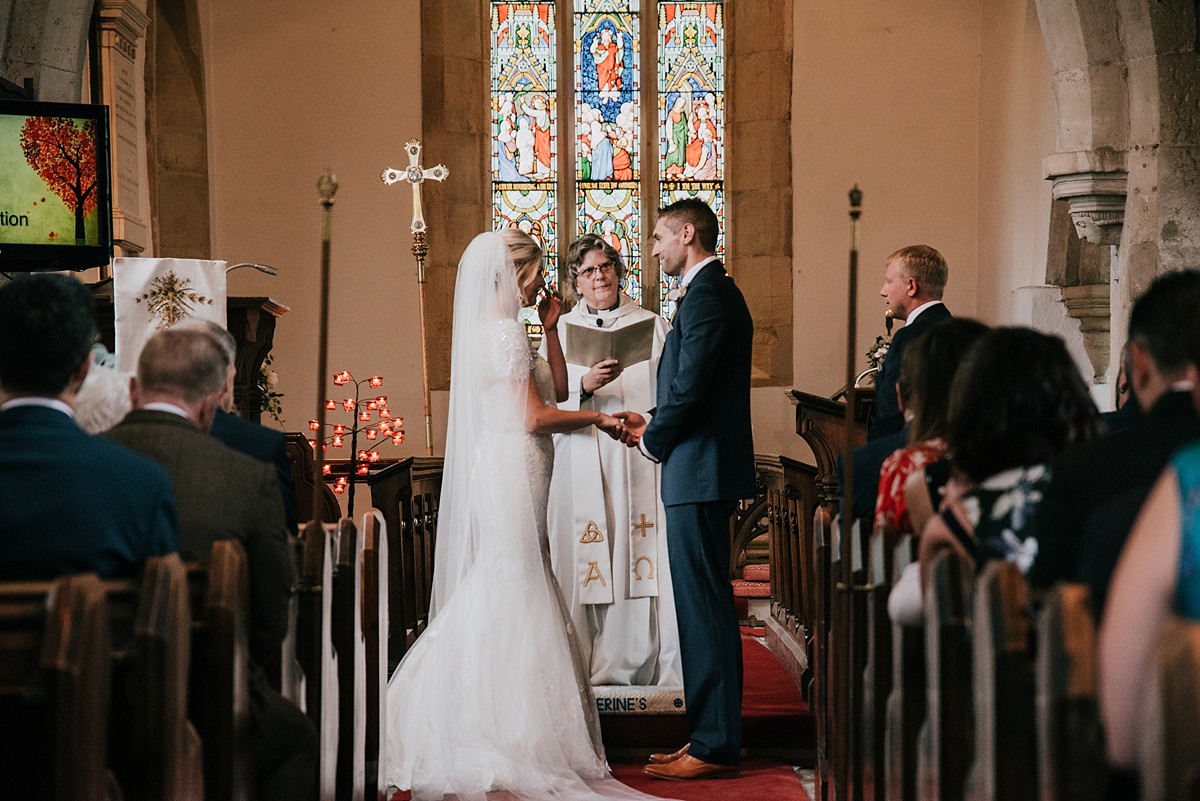 The church is right next door to the farm, so it was just a short walk for the entire party to get to the tipis. These looked so beautiful decorated with fairy lights, candles, jugs and jars of summertime blooms, foliage, bunting and thoughtfully-made signage. I love the hay bale seating areas and gorgeous swing, as well as the floral hoop table plan, made by Emily and Dan.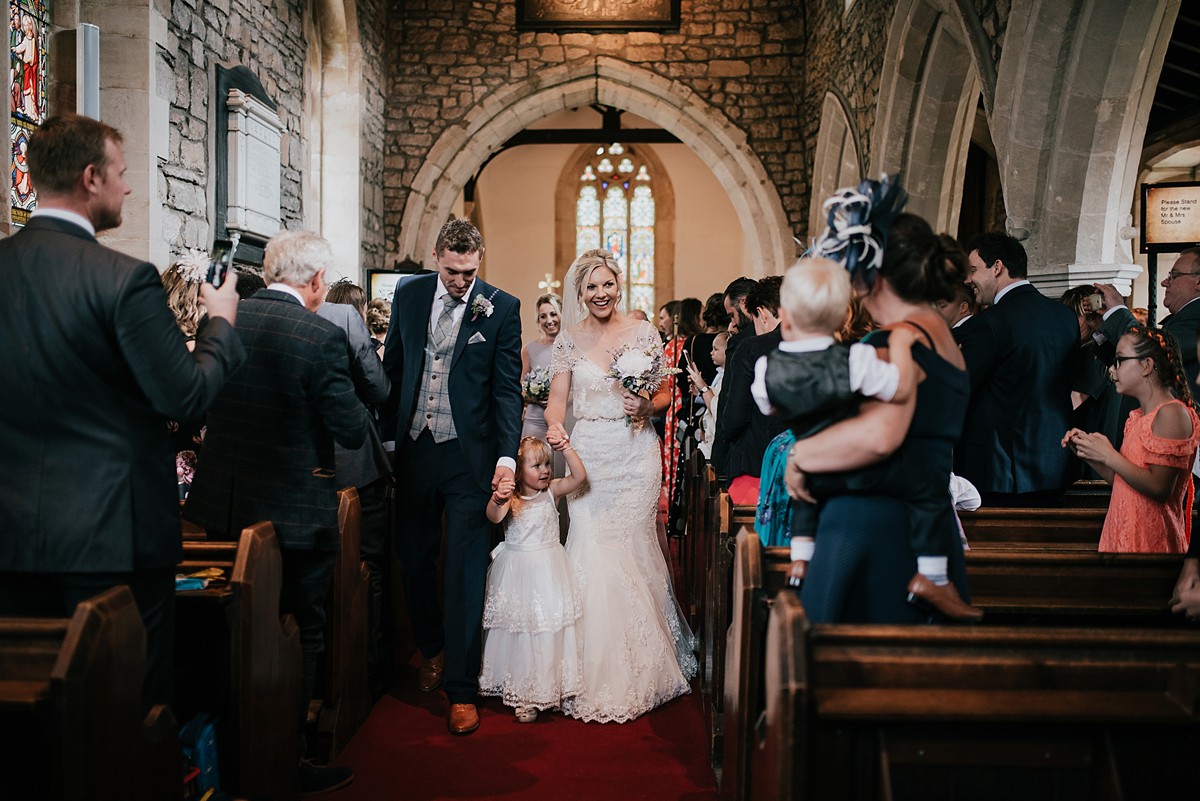 Dan's smart, slim-cut blue suit was from Georgian House Bridal in Doncaster, with a light grey checked waistcoat and tie to suit the summery season and outdoors reception. He asked two childhood friends to be best men, who got ready with him.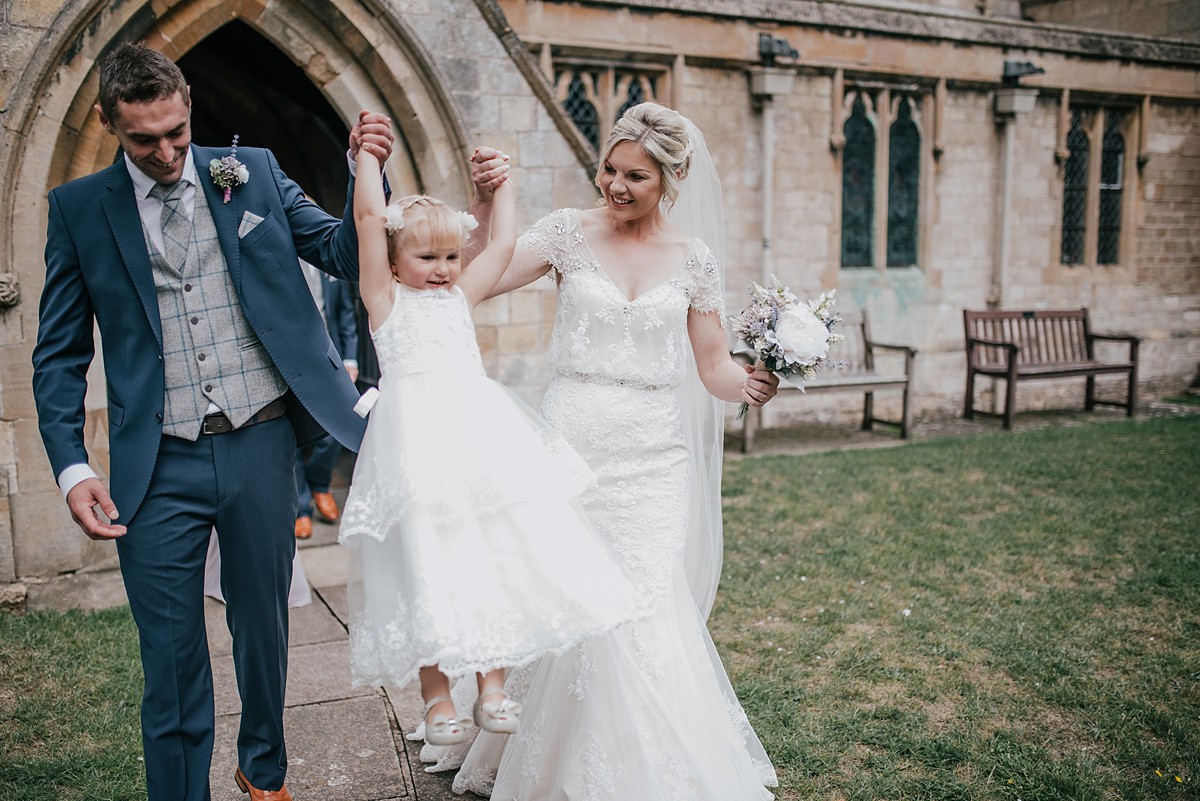 Photographer Emma McNair was engaged to record the day for the couple, adding a light and airy touch to these beautiful images which combine intimate moments with a lot of relaxed, fun shots.
"Emma was found by chance after several evenings of scrolling through photographers' websites, in which too many photographs appeared staged or planned. We hoped that Emma would capture the day and not take us away from our guests for too long."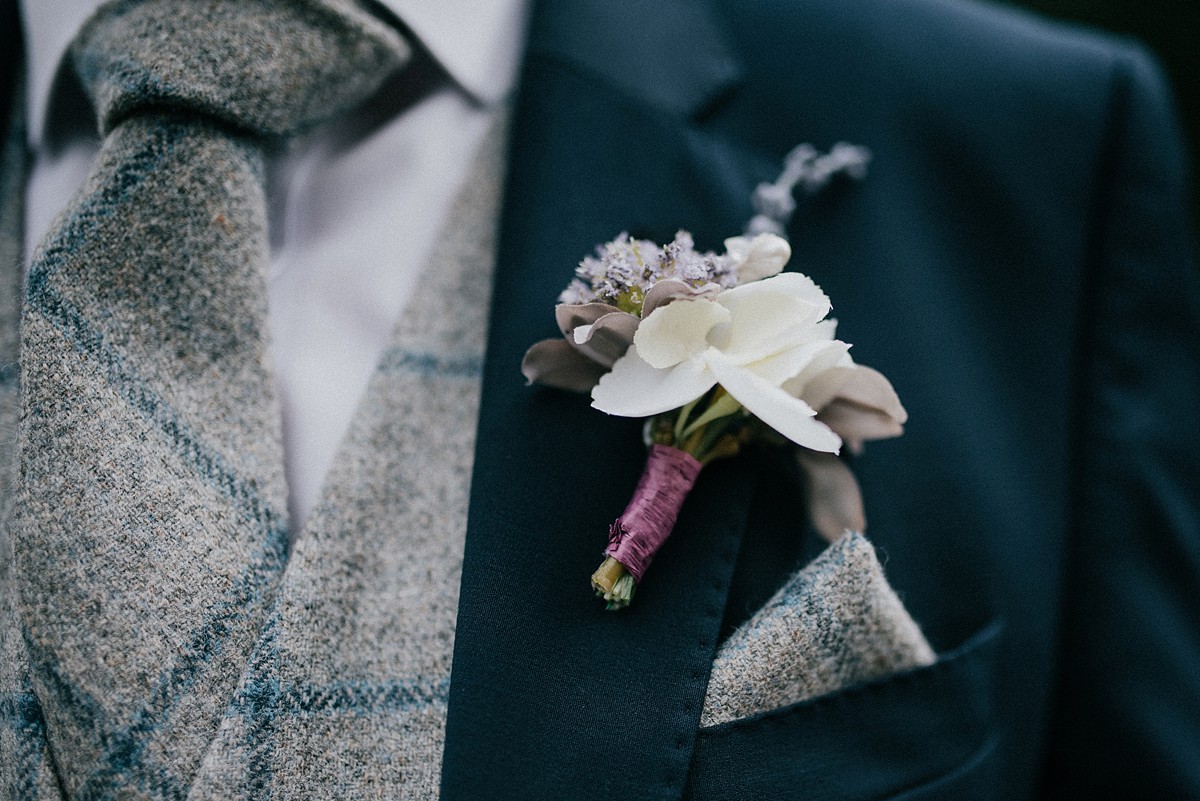 "We were amazed how well she managed it and how after just one meeting for an engagement shoot she became more of a friend/ guest than a photographer. For two people who are uncomfortable in front of the camera, she captured some amazing pictures and did this without asking us to pose or be in forced positions. Many other guests also commented how brilliant she was."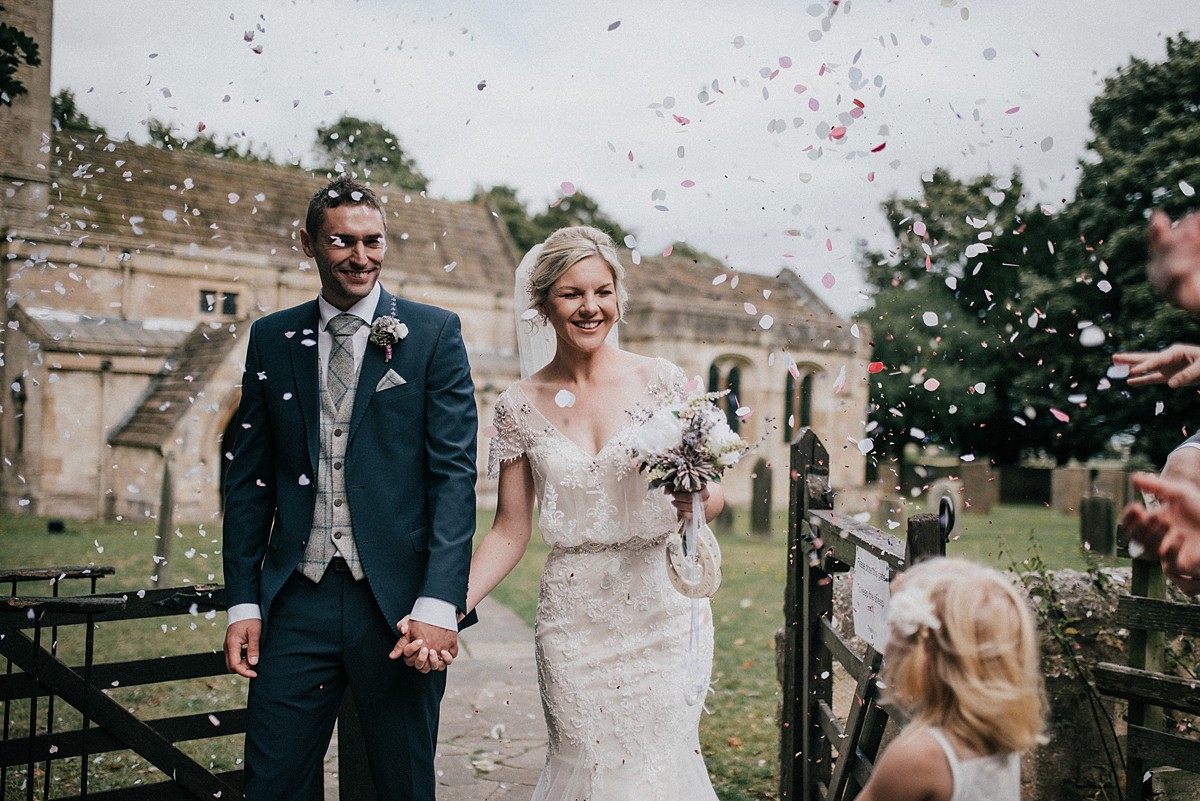 "We were looking for an outdoor venue where we could have a tipi and plenty of outdoor space – as well as the idyllic surroundings. Steph was brilliant on the day and kept the day on schedule. As we have a young daughter (and many friends with children) we were determined that the day would be as relaxed as possible for us and our guests. We wanted to keep the religious elements, and held the ceremony at St Katherine's Church, Loversall."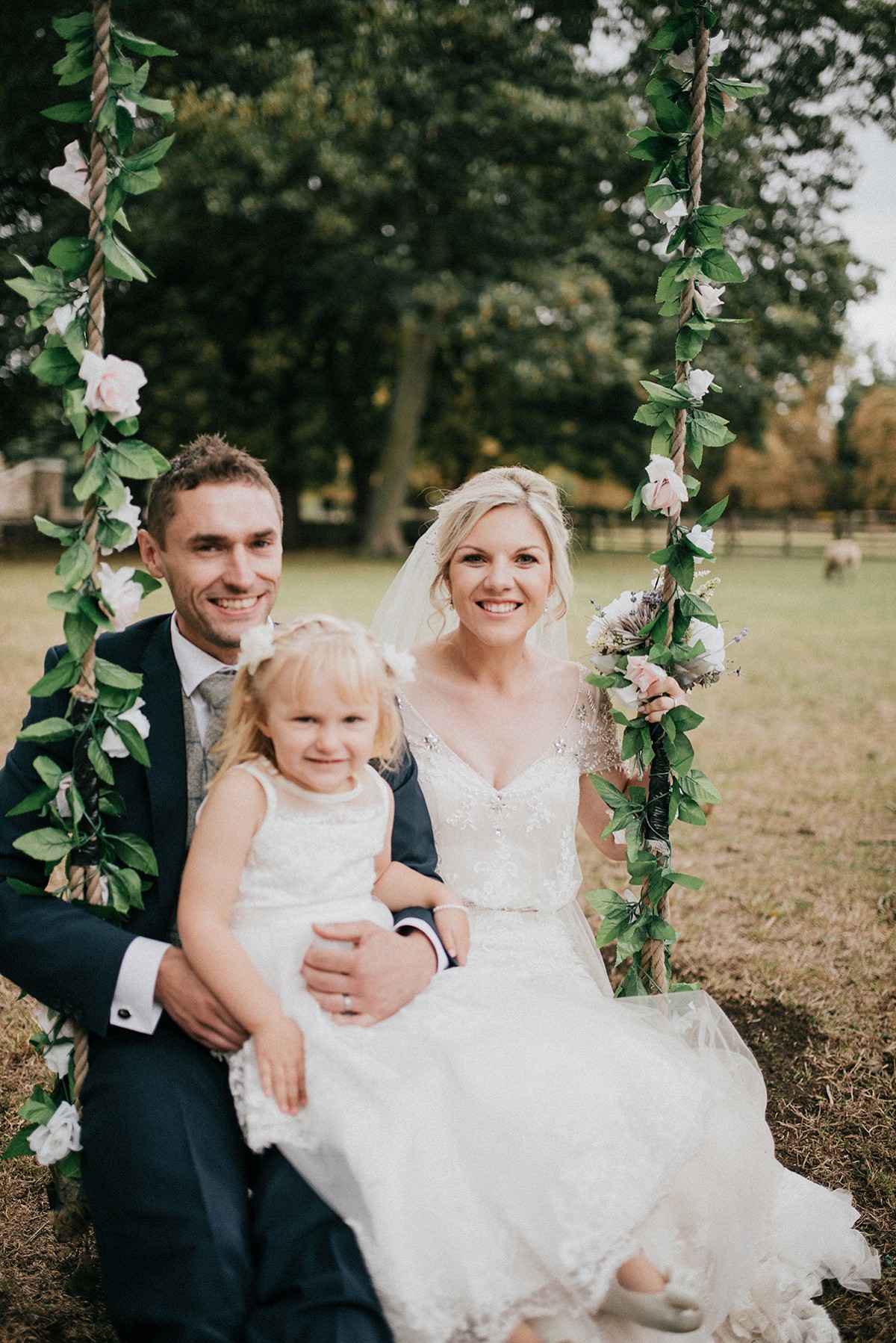 "Invitations were by Yorkshire Wedding Invites and we picked papers and designs in consultation with them. We made our own place cards by printing Polaroid images of each guest from an event we'd shared with them. Favours were seeds in an envelope with a ribbon and personalised tag."
Another friend, Lora Hogan, baked the simple, understated cake – tiers of cakes of different heights in soft lilac and white, with a delicate beading trim.
"We wanted a simple design to fit our low key setting, yet took the opportunity for a bit of sparkle to be added."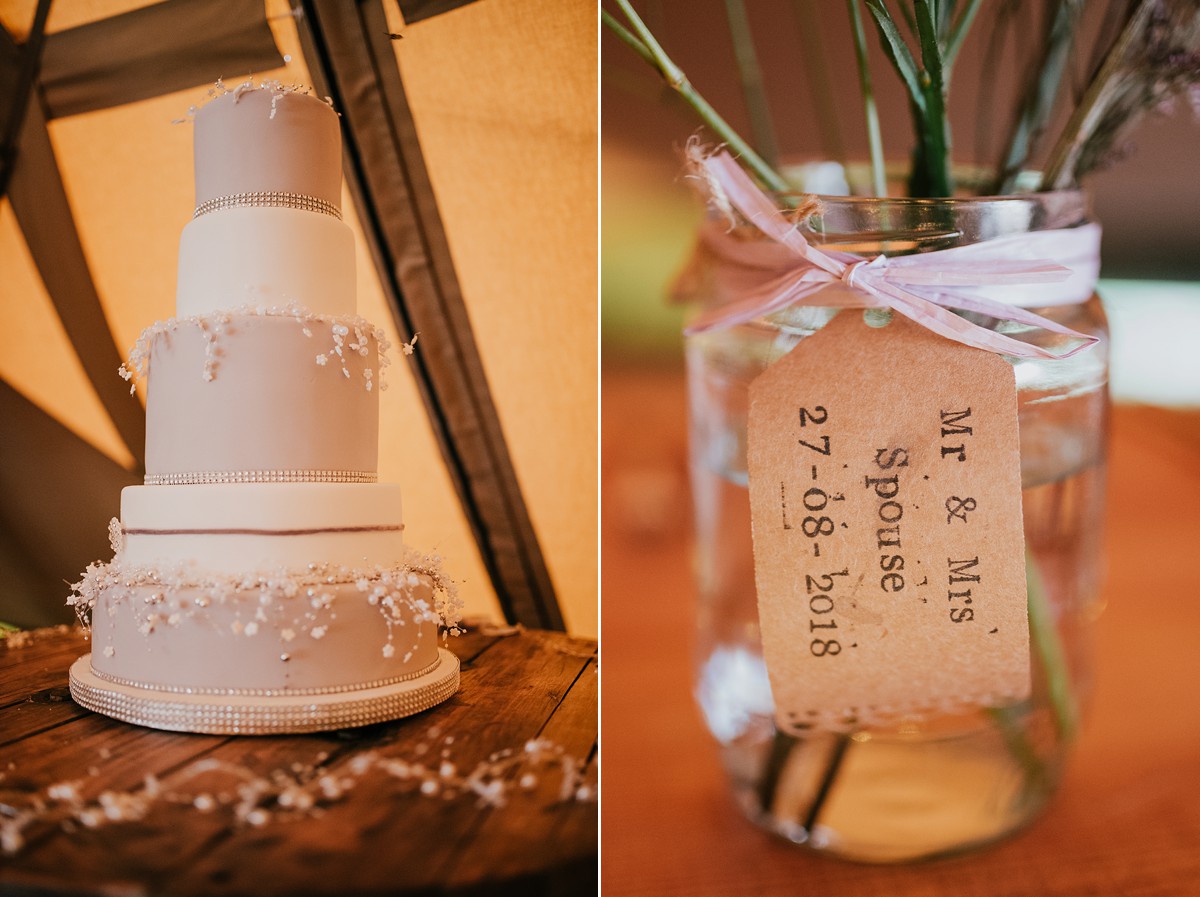 "We used a Polaroid camera and asked people to take a picture in place of a guest book. We then used these to make our own scrap book. One of our best man (Dave) made lots of large outdoor games such as a tin can alley and a coconut shy which kept children and adults entertained."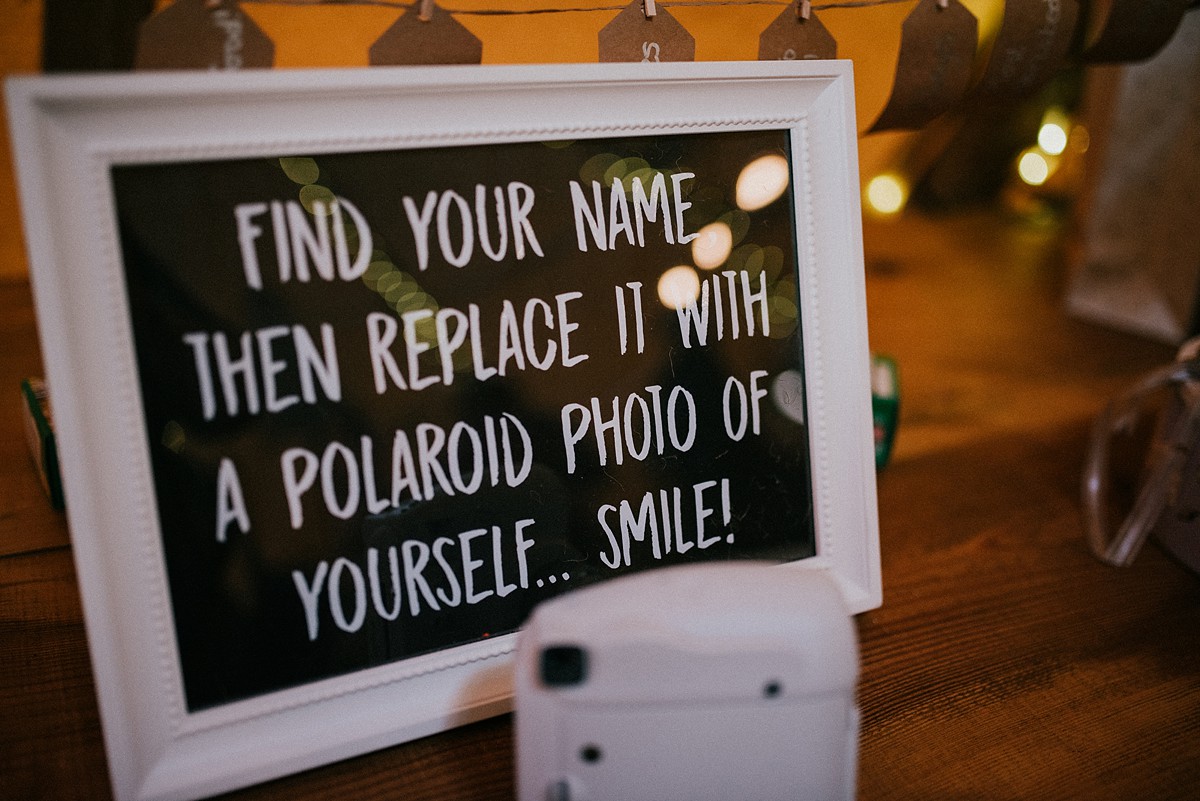 The wedding breakfast was catered by Friends 4 Dinner, Wakefield, whilst in the evening The Pizza Kitchen dished up freshly baked pizza.
"Both were brilliant in terms of the food provided, consultation and communication beforehand."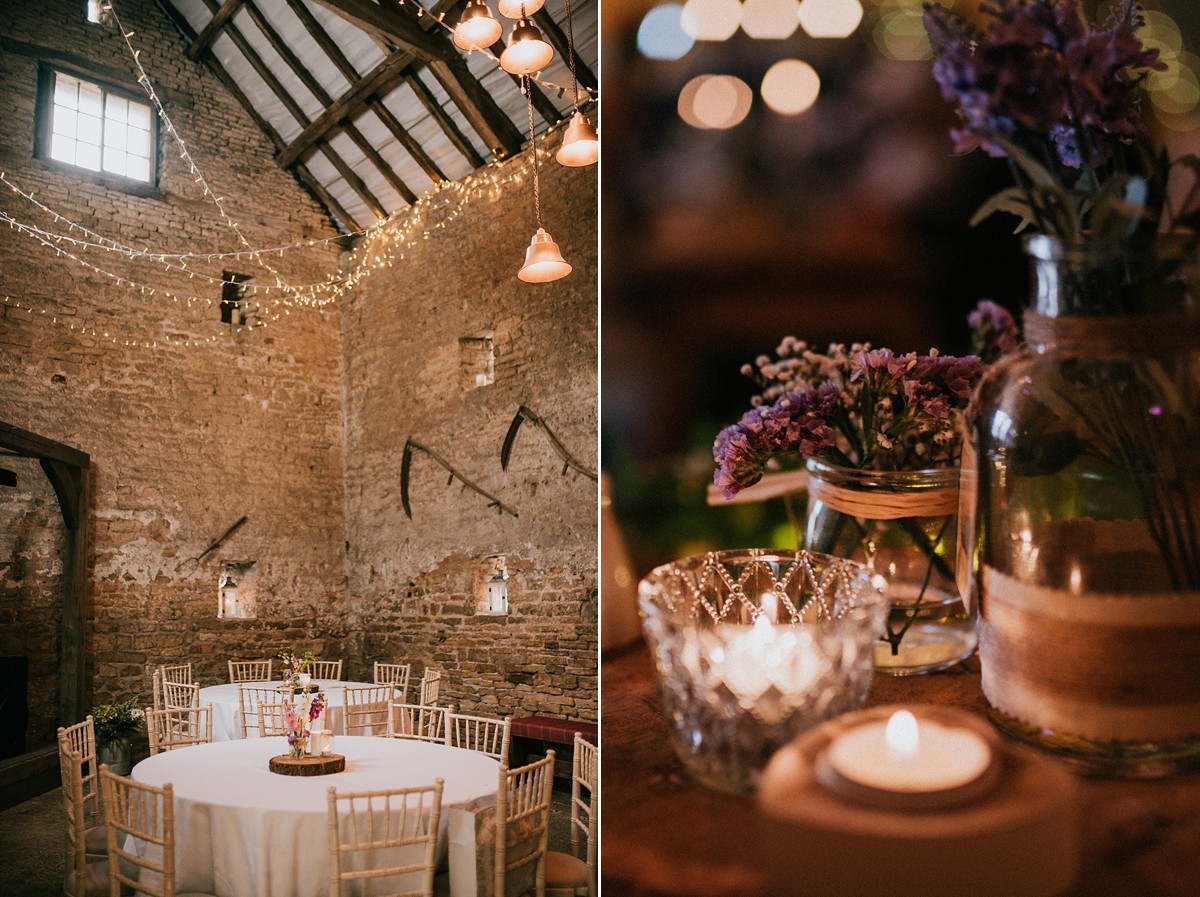 "Our favourite moment was just before the wedding breakfast, greeting our friends and watching everyone playing games outside and the relaxed atmosphere. It gave us a moment to stand back and see how blessed we were to know so many wonderful people who were celebrating with us."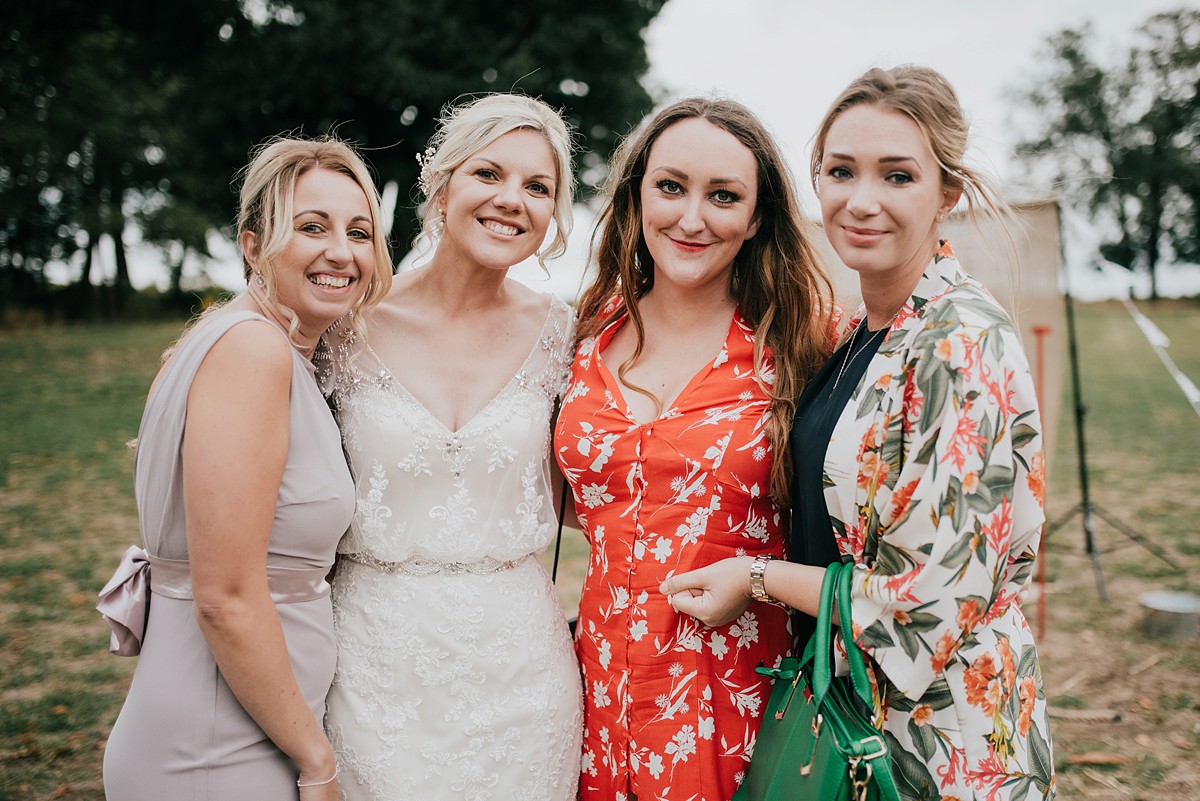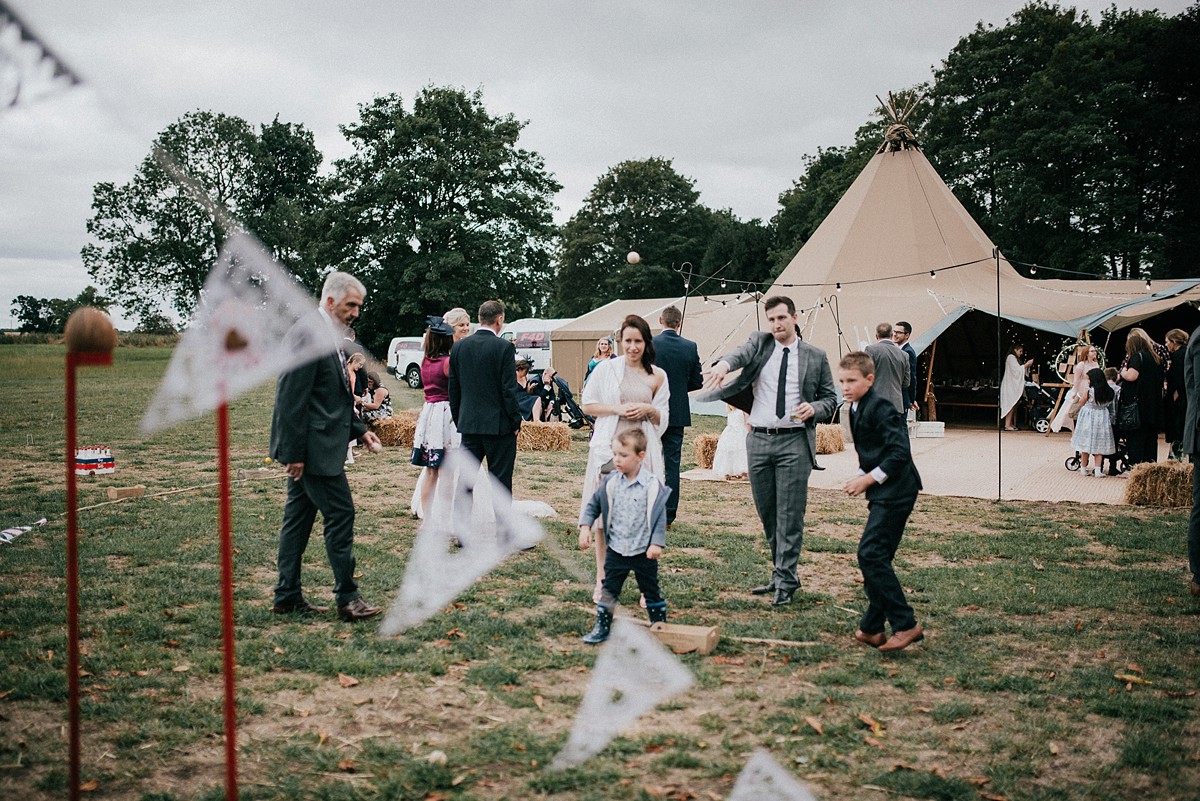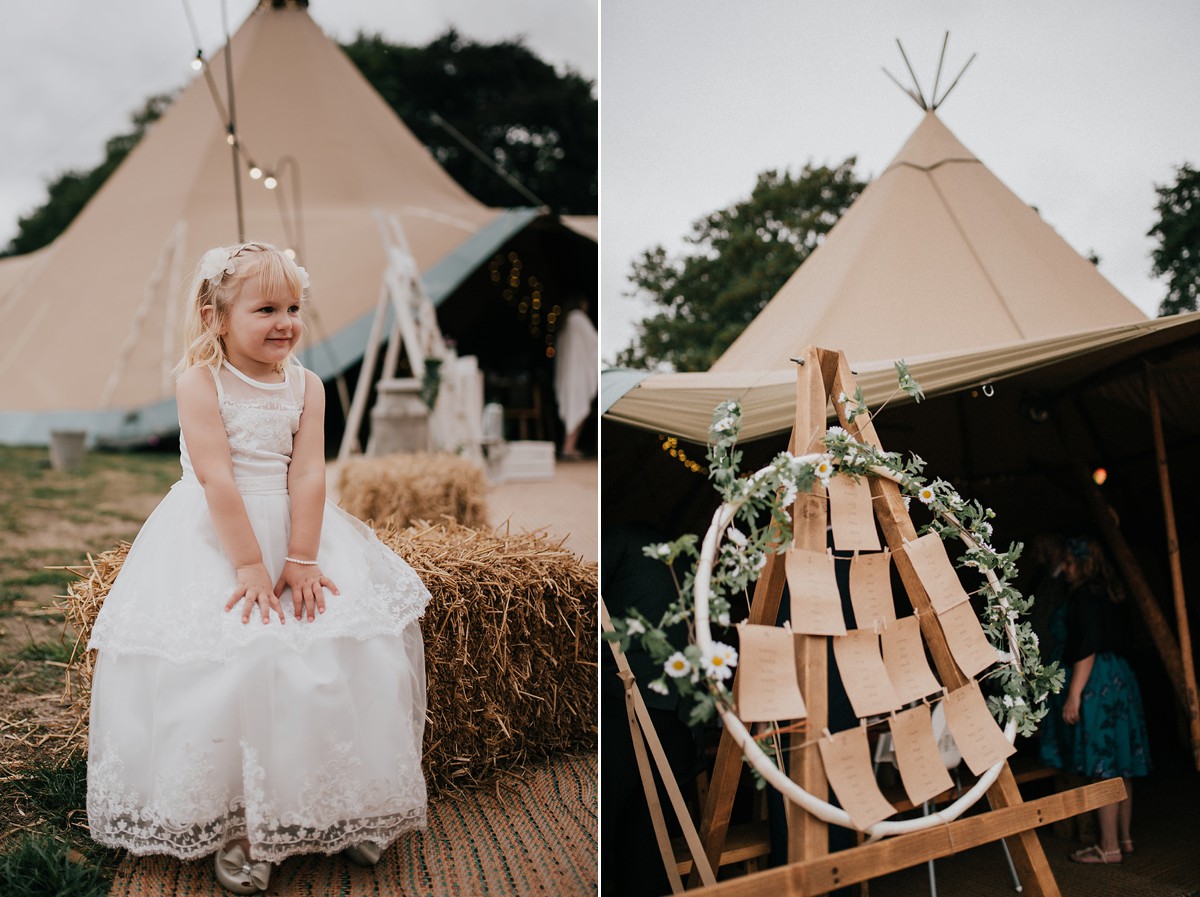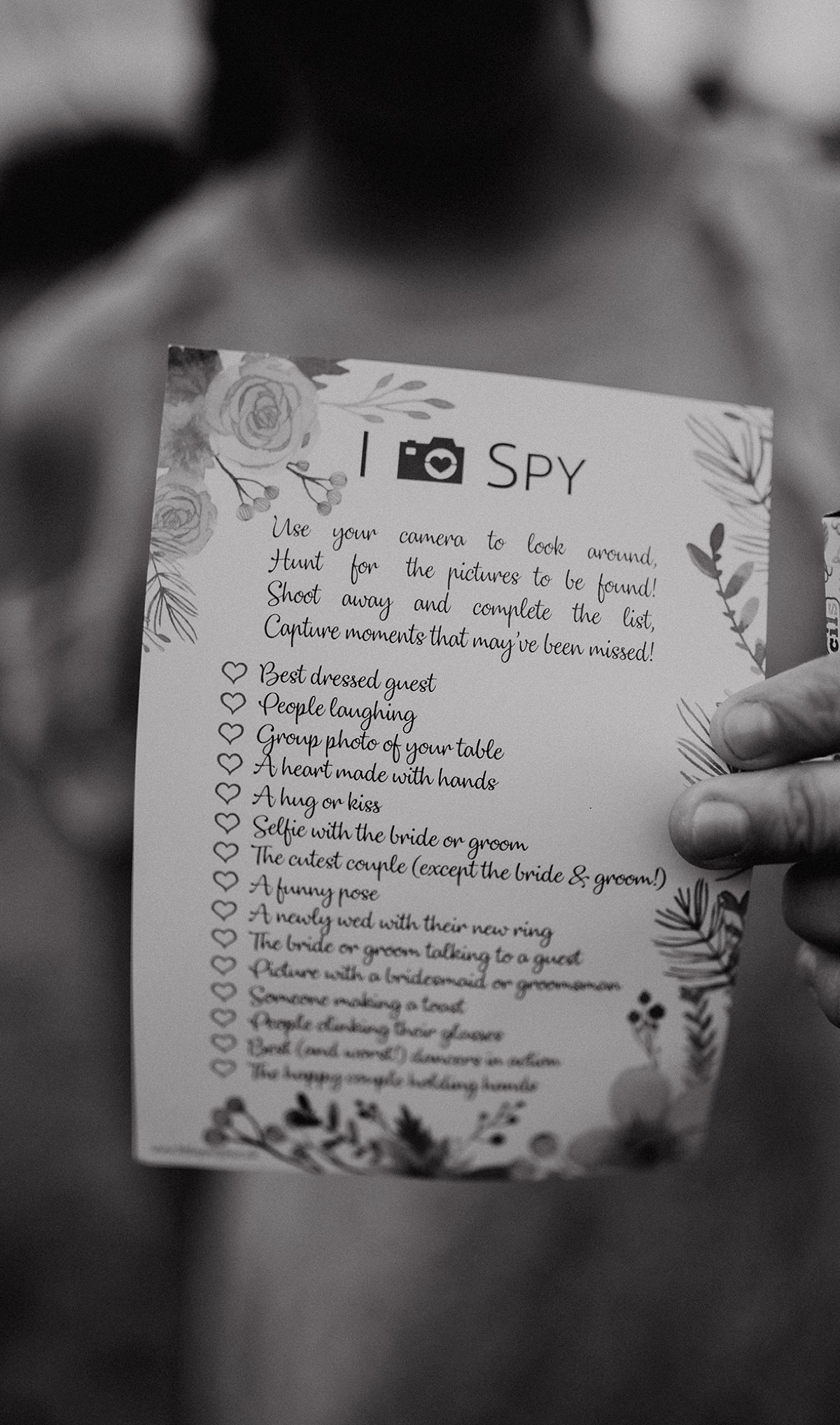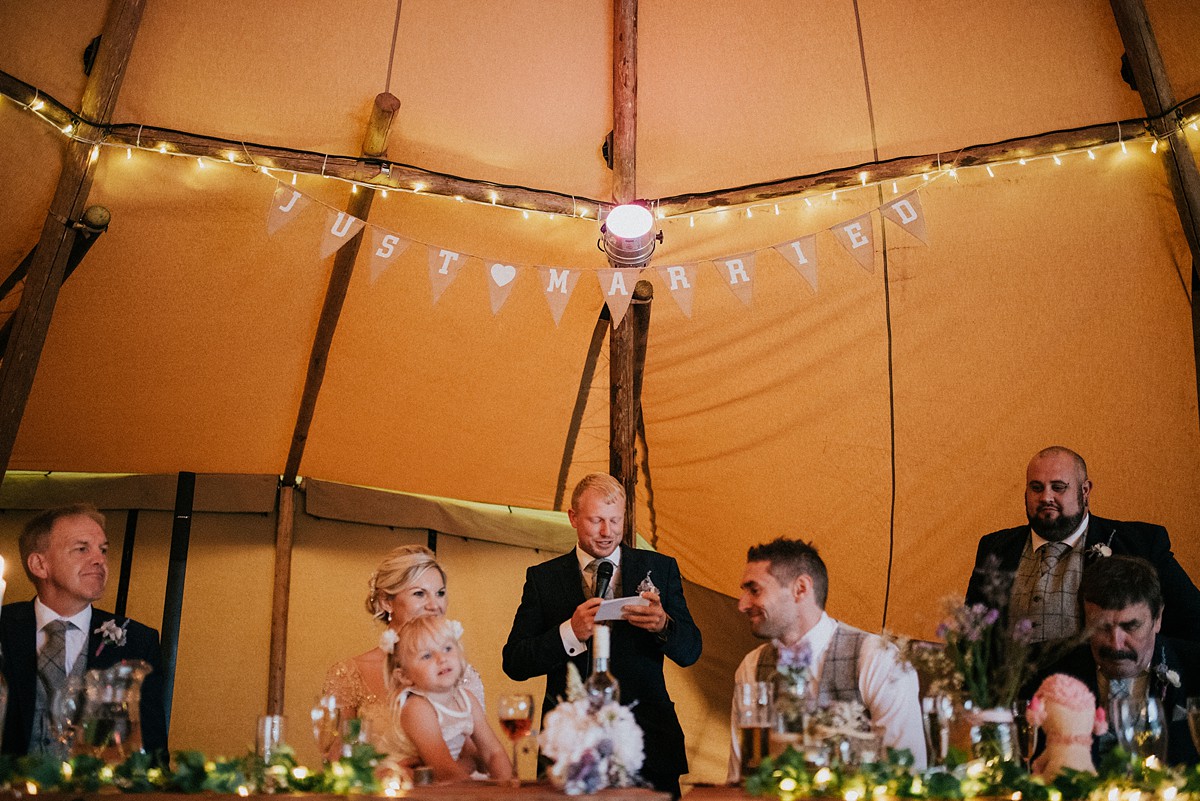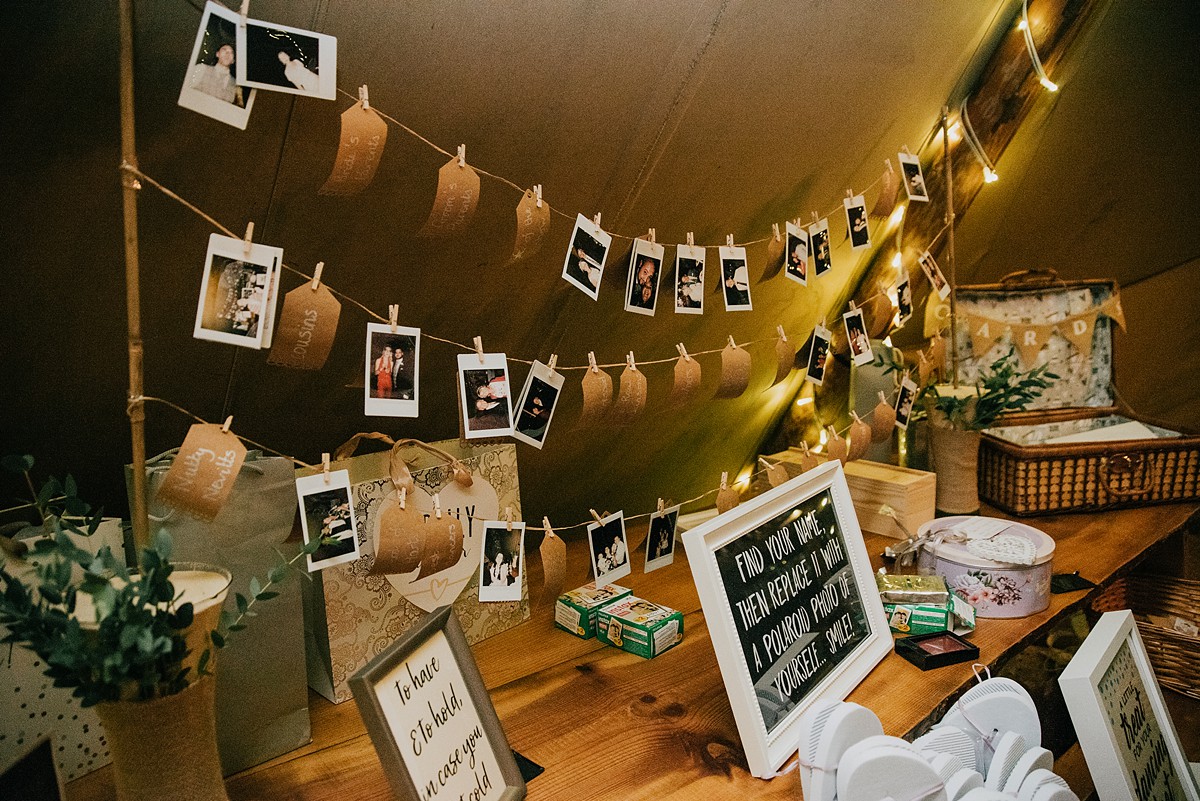 The evening party was a fiesta of pizza, marshmallow toasting over real fires, dancing and more games, as well as fun with the DIY Polaroid photo booth. Their first dance was to Counting Crows' 'Accidentally in Love'.
"In a sensible and heart-felt way, it reflected how we met and our relationship started. But we also acknowledge it was played during 'Shrek' which is an amazing film!"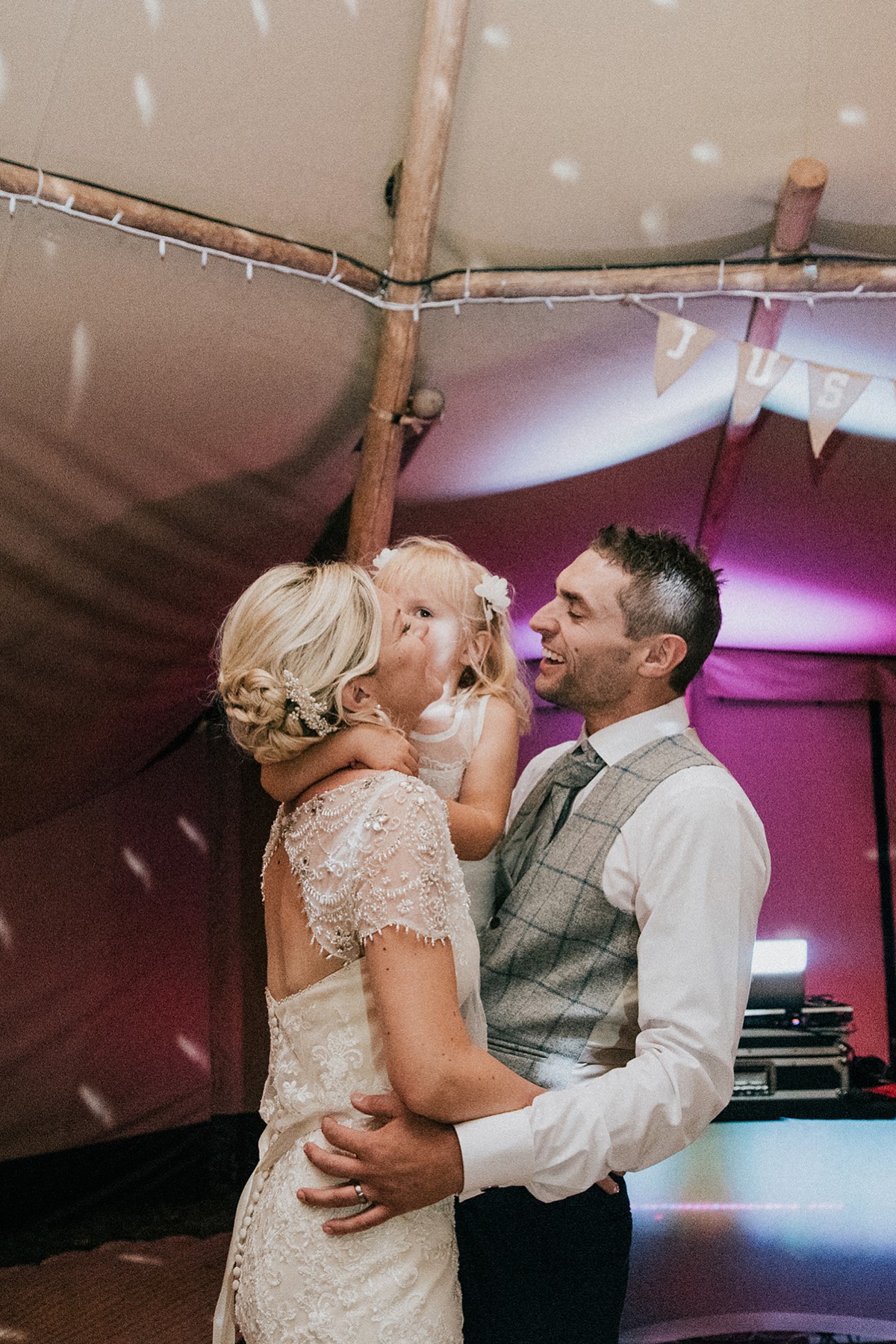 Words of Wedded Wisdom
"Try not to over think things. Easier said than done and at times we got stressed and panicked over small details – but they were just that!"
"We are usually very critical but the one thing I loved and still do about our wedding day is that there isn't one thing we would have changed. Everything came together perfectly, some by planning and some by luck."
"We aimed to have a relatively low key, not over the top wedding. We thought this would be inexpensive. We were wrong. We then budgeted £20,000, once we had exceeded this by a few thousand, we stopped counting!"
Please join me in sending many thanks to Emma McNair for these beautiful photographs, and congratulations and thanks too to Emily and Dan for allowing us to share their day. It looks like a wonderful celebration, and so much fun.
Ele x