If you're considering using dried rather than fresh flowers for your wedding, then I have just the celebration to share with you today. Here, the delicate beauty of dried autumn blooms and grasses are shown to wonderful effect in our bride's crown and bouquet, and with vivid crimson petals scattered across tables laid for a feast.
This is the wedding of Lauren and John, who celebrated their marriage on the 6 October 2018 at Stanton Hall Gardens & Nursery, Northumberland, with their ceremony held in the venue's wonderful wheel house (or gin gan), and a laid back, rustic barn reception.
"Stanton was recommended to us by a friend. Neither of us had ever been, but after searching many venues and never feeling like any quite suited, we were so excited to visit. I was quite blown away to find a place that really was what we were looking for.  The place has such a magical energy; it is a business ran by a local family who are just wonderful, and make the place everything it is – hard working, positive people."
Images by Zoe Emilie Photography
Lauren enjoyed the morning of the wedding getting ready with her mum and bridesmaids, with glamorous make-up taken care of by make-up artist Sammey Luke, and her beautiful, long hair styled by Natalia Bussey.
I've long been an admirer of Claire Pettibone's ethereal and romantic dresses, and Lauren made a fantastic choice with hers (sadly, the boutique where Lauren chose her dress has since closed).
[RELATED]
I just love how the intricate, botanical inspired embellishment gives way to a gossamer-like lace and tulle skirt.
"It was a simple kind of boho dress, with lace and small details, including some floral, which I felt suited the venue perfectly."
With her dreamy dress, Lauren wore metallic sandals with embellished ankle straps from ASOS, and in her hair, the very favourite item she wore all day – the prettiest ivory-hued dried flower crown by The Artisan Dried Flower Co.
"My perfume was Carolina Herrera's Good Girl. I love the scent and wanted something strong to last a long day out in the countryside, and it has a warming smell just right for the time of year."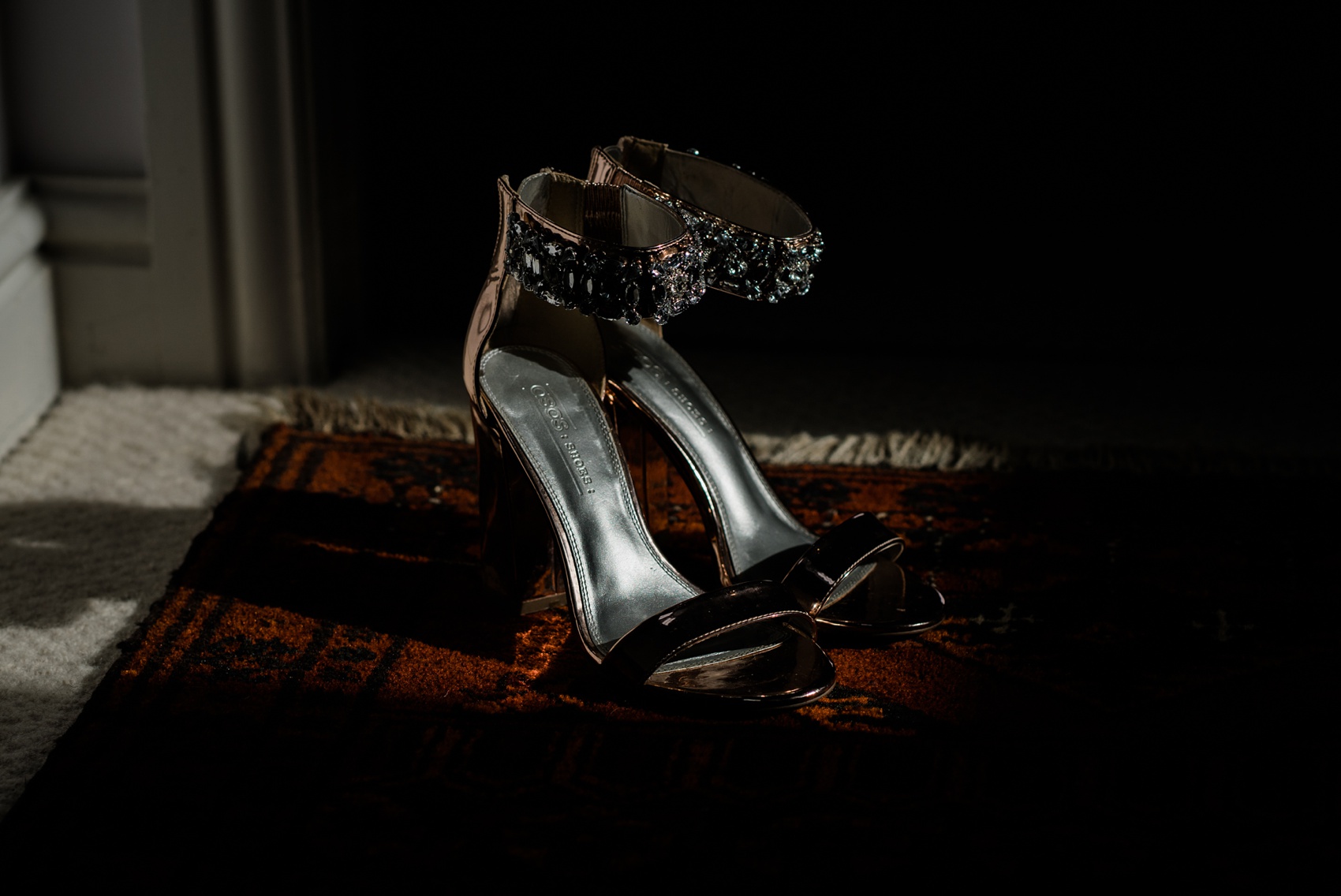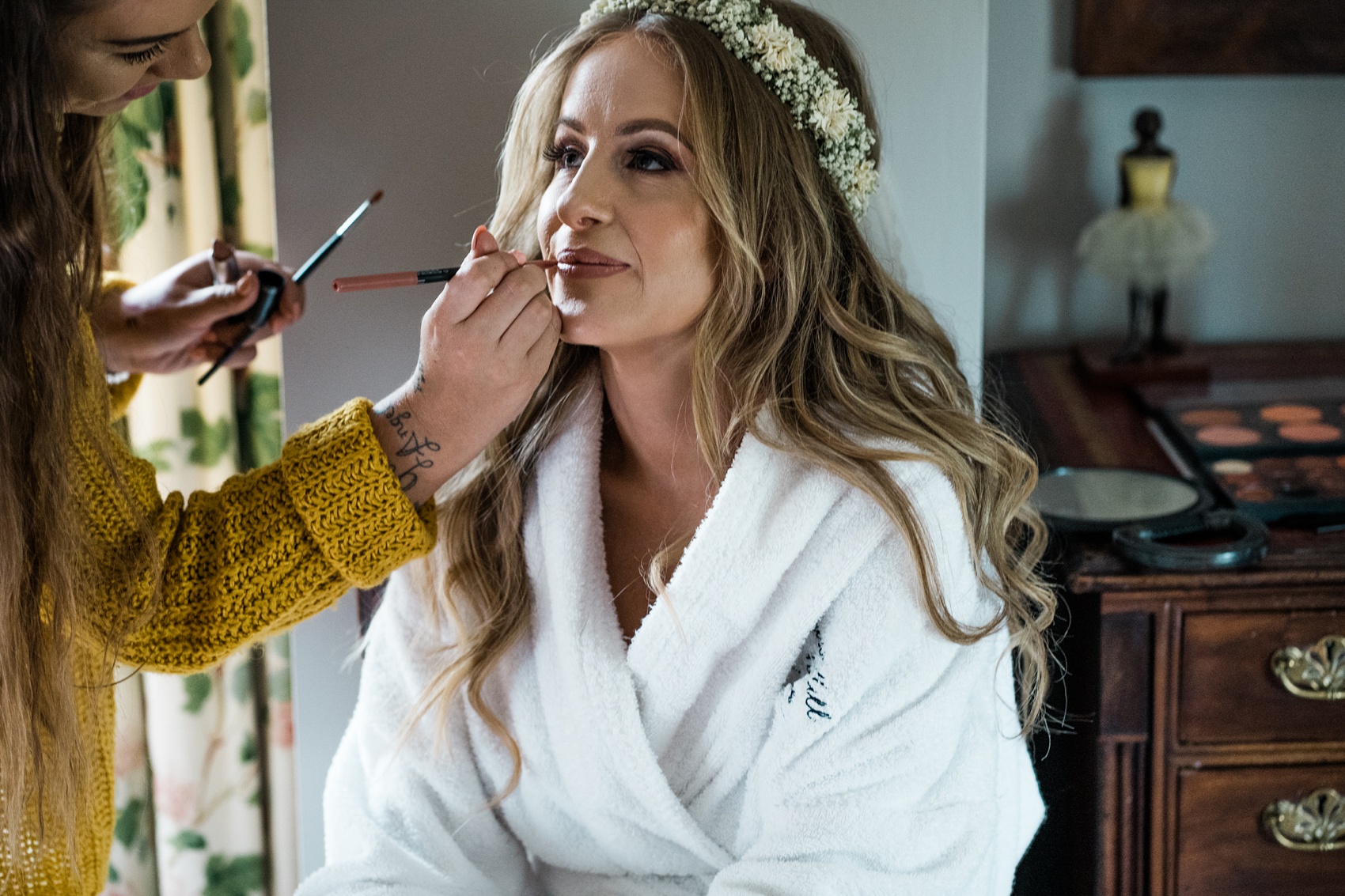 The bridesmaids wore an assortment of dresses from Lavish Alice and ASOS, and I love the colour combination of burgundy, blush and deep teal together. Also, how incredible did Lauren's mum look in that deep red velvet gown?!
Lauren and her bridesmaids carried glorious autumn inspired dried bouquets from The Artisan Dried Flower Co., filled with deep red roses, gypsophila, sea holly, and sprigs of wheat and meadow grass.
"I had been very keen on the idea of dried flowers for a long time, and by chance came across the company online. My younger sister got married a year before me, and I had suggested the company. Her flowers were stunning and I knew I would be using them for our wedding."
"Keeping them and loving them long after the wedding has passed is a lovely little bonus of having dried! I have my flower crown box framed and flowers in a jug."
Lauren's lace-edged veil was handmade for her by a local shop who also took care of her dress alterations – Needles & Pins, and was made to match the lovely lace trim on the train of her gown.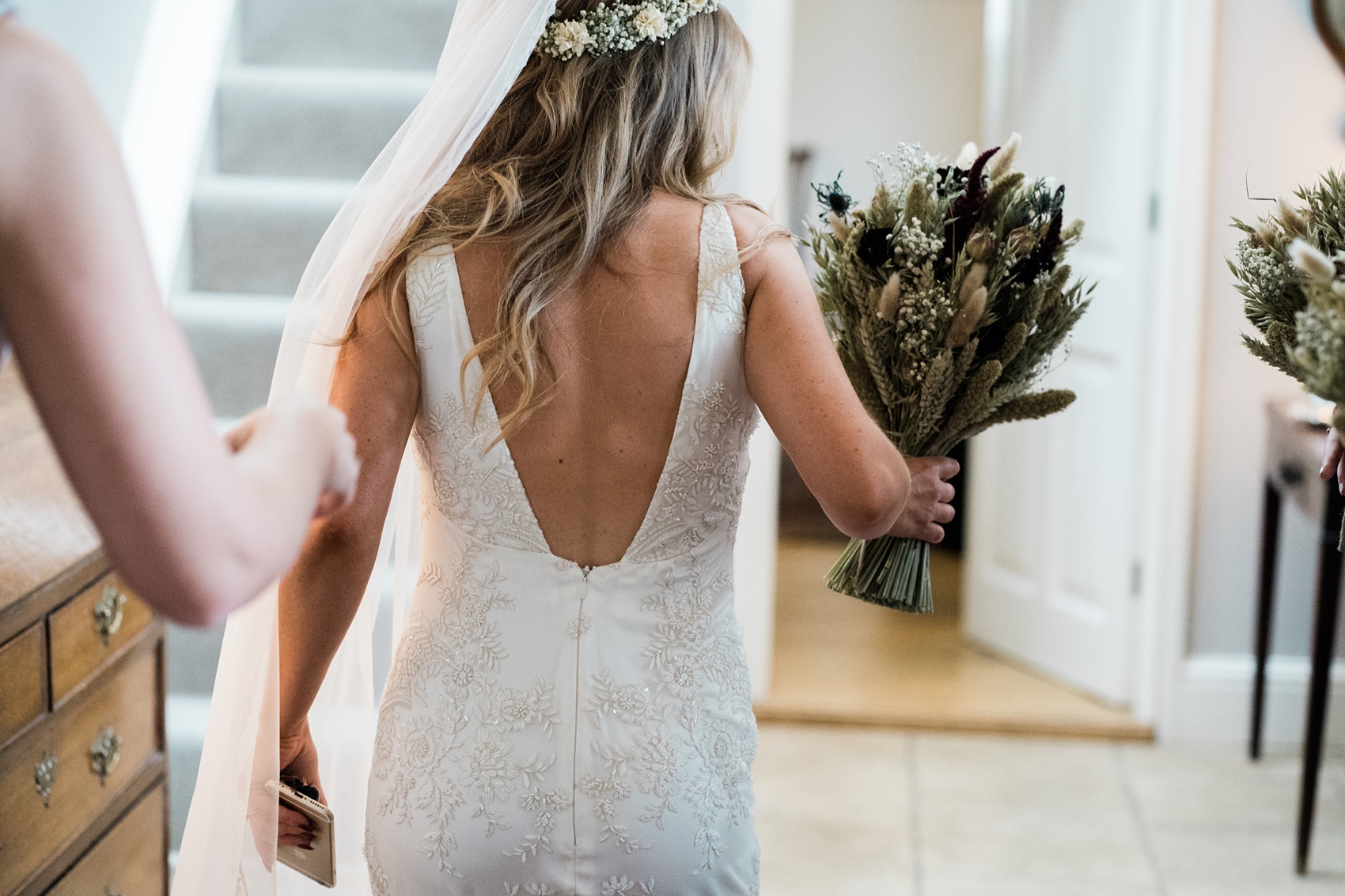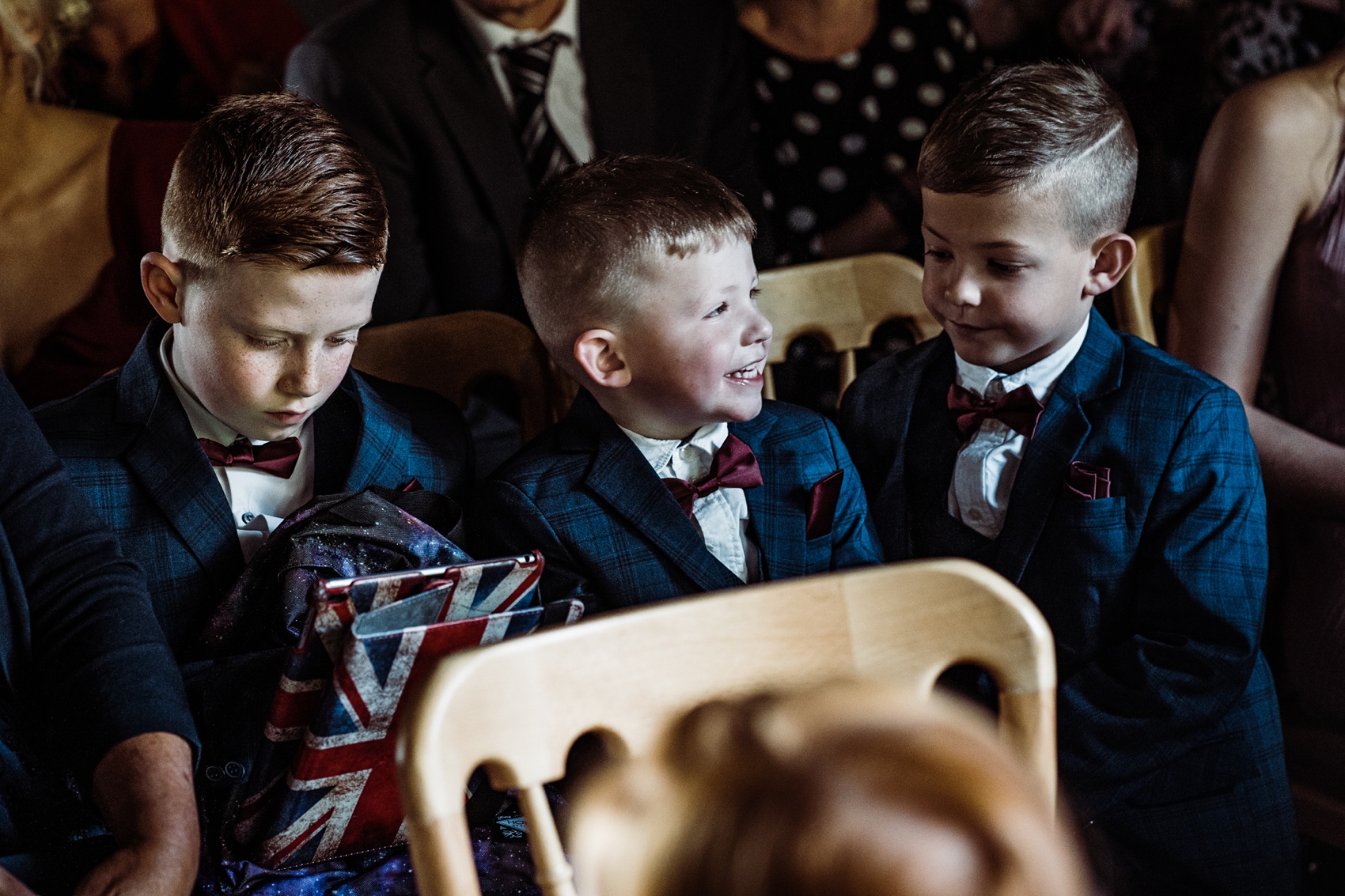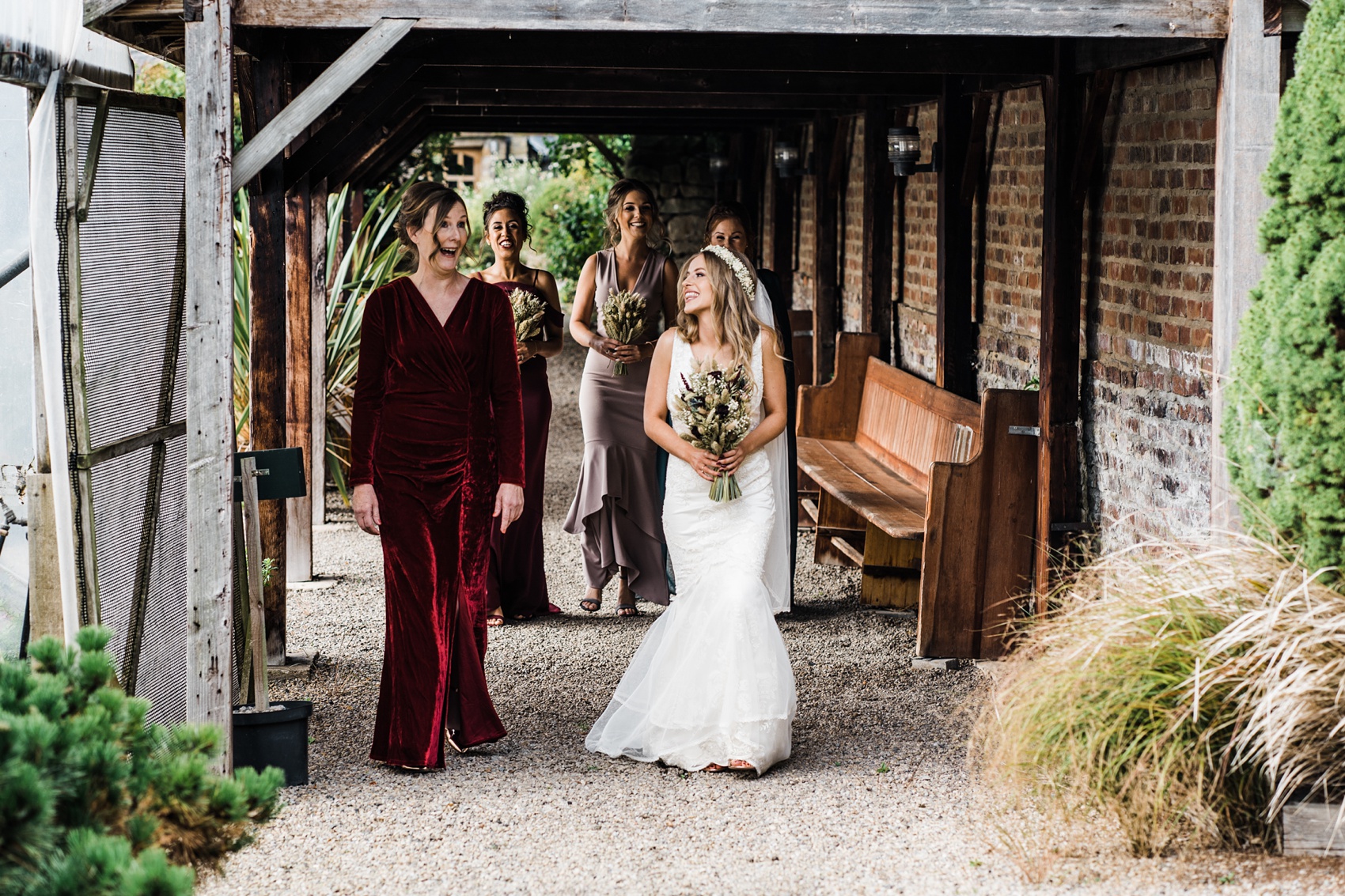 "I walked down the aisle with my mum, to Coldplay's Magic. I walked some of the way myself, and she waited for me at the top!"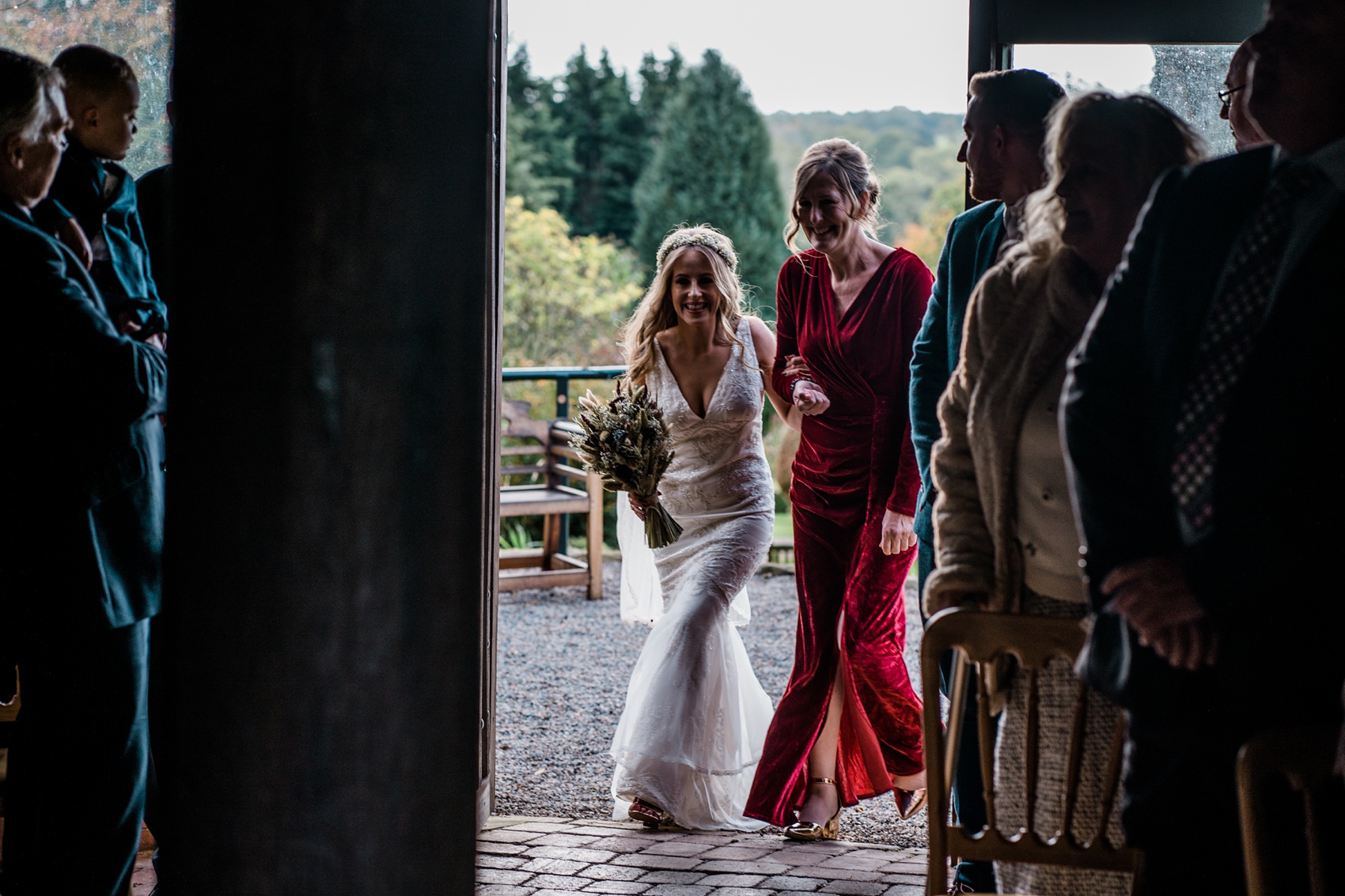 Surrounded by loved ones inside Stanton Hall's lovely, rustic gin gan, was groom John, wearing a super-smart three-piece blue suit with contrasting burgundy buttons from Master Debonair, with a bow tie and pocket square from Peter Werth.
"We met through my sister! John worked with my sister and she invited me along to a work quiz night, and John was there. We really got along and instantly realised we shared the same views, morals, interests and geeky sense of humour."
"I went travelling for a short while, and John waited for me to return – quite keen to pick up where we left off, and take me on our first date. Life got better the more time we spent together, and we got engaged in the countryside in Bali, just us two on the 1 October 2015. We married just over 3 years after becoming engaged."
Whilst they didn't tailor or write their own vows, Lauren and John did ask the registrar who performed their ceremony whether she was open to the idea of talking about marriage being about having fun together and living life.
"She said 'Always be the most important person in each other's lives, and have fun'."
Lauren and John also chose a short, sweet reading to give them a breather during the ceremony, which was a poem called I Choose You.
"We went to H. Samuel for our wedding bands; simple, inexpensive and lovely service after a disastrous time in the past with another jewellers. My engagement ring went missing for 3 months when it went off to be resized!"
"My favourite part of the day was the ceremony, there were so many emotions and so much excitement – there's nothing quite like it!"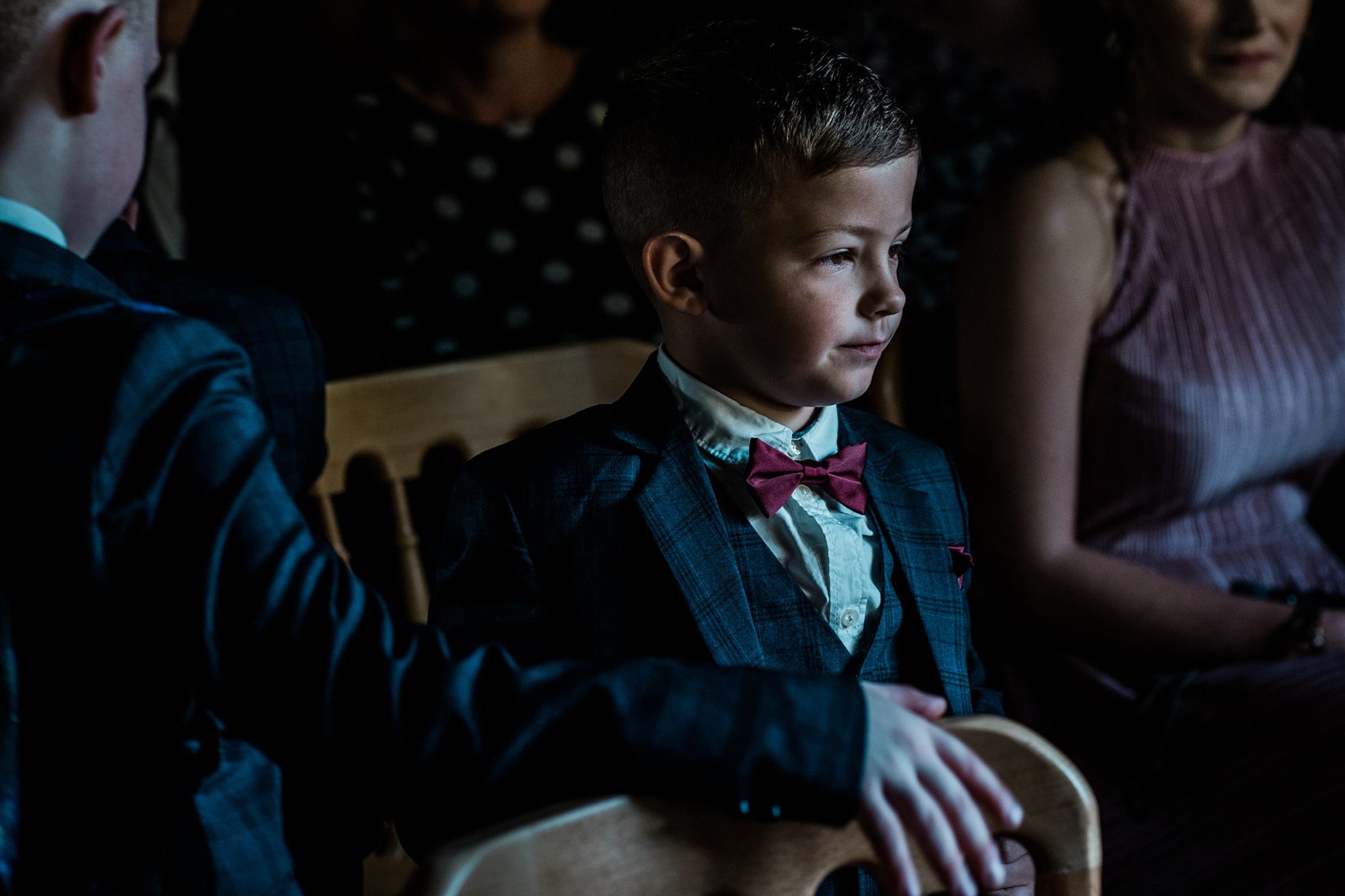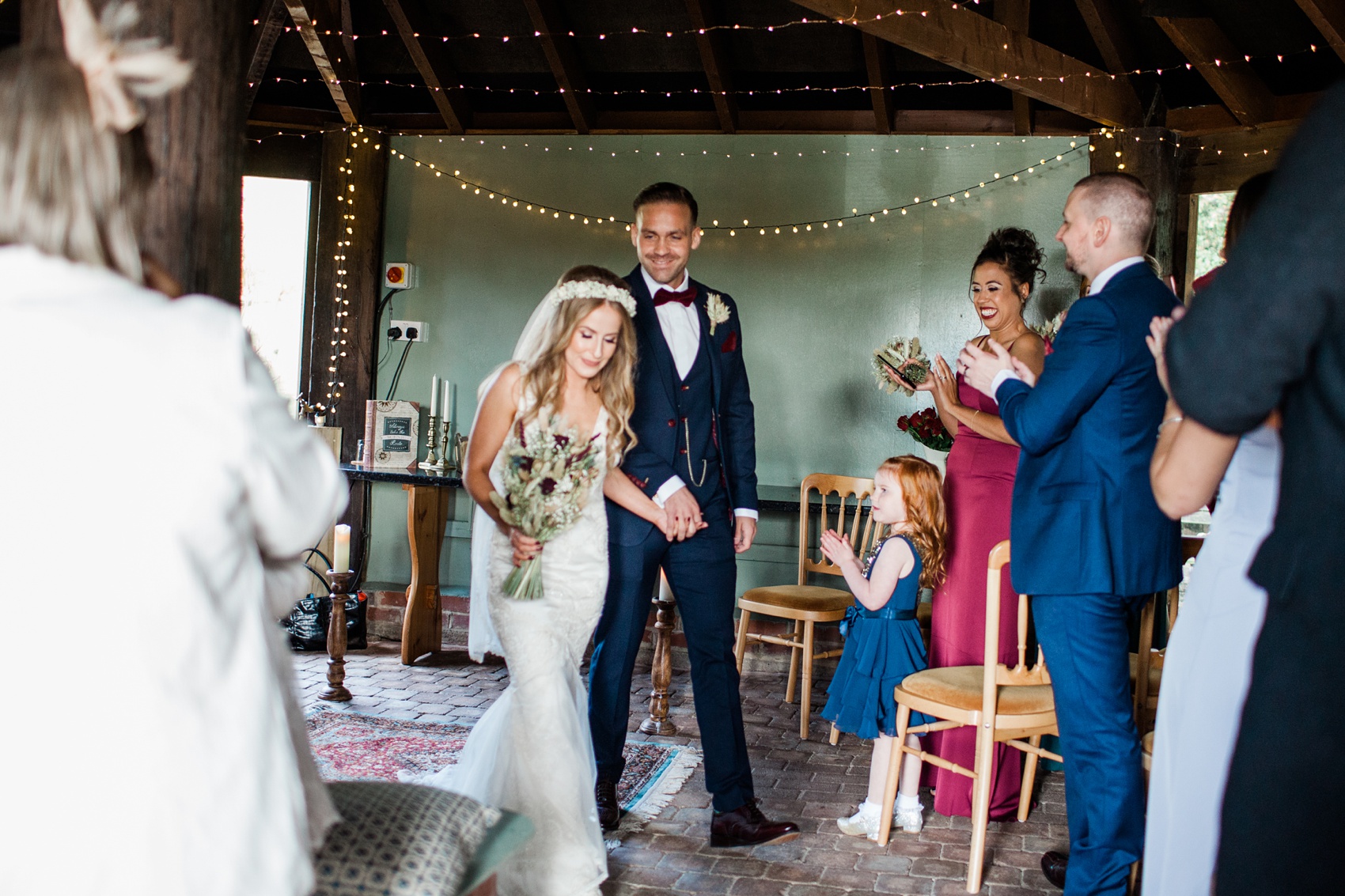 It's brilliant to be able to share the work of photographer Zoe Emilie today. We've featured her work on our pages before, and I particularly love her use of natural light, and her instinctive narrative approach. It's also fair to say that Lauren and John were thrilled with her ethos and work, too.
"We had never met Zoe before our wedding but I had seen her photography, and knew from that it was just what we were looking for – she's a storyteller! Talking to Zoe and arranging the photography was so easy and her friendly and warm nature made us feel really relaxed, and excited to have our photography done by her."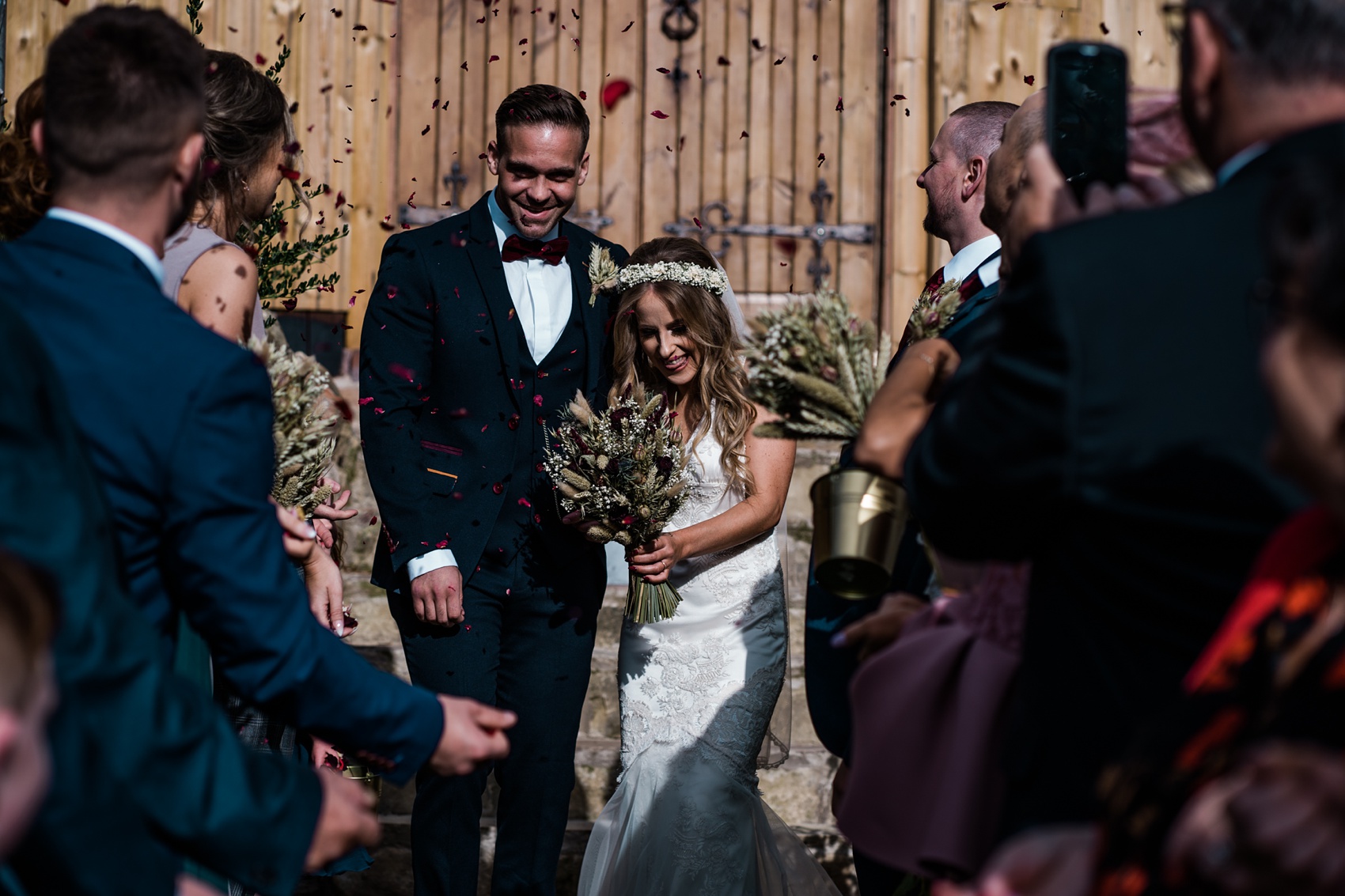 "Leading up to the wedding, I saw glimpses of other work Zoe had done, and just got more and more excited! On the day she was even more lovely, the photos have captured every moment just as it was on the day perfectly, and all my guests commented on how great she was."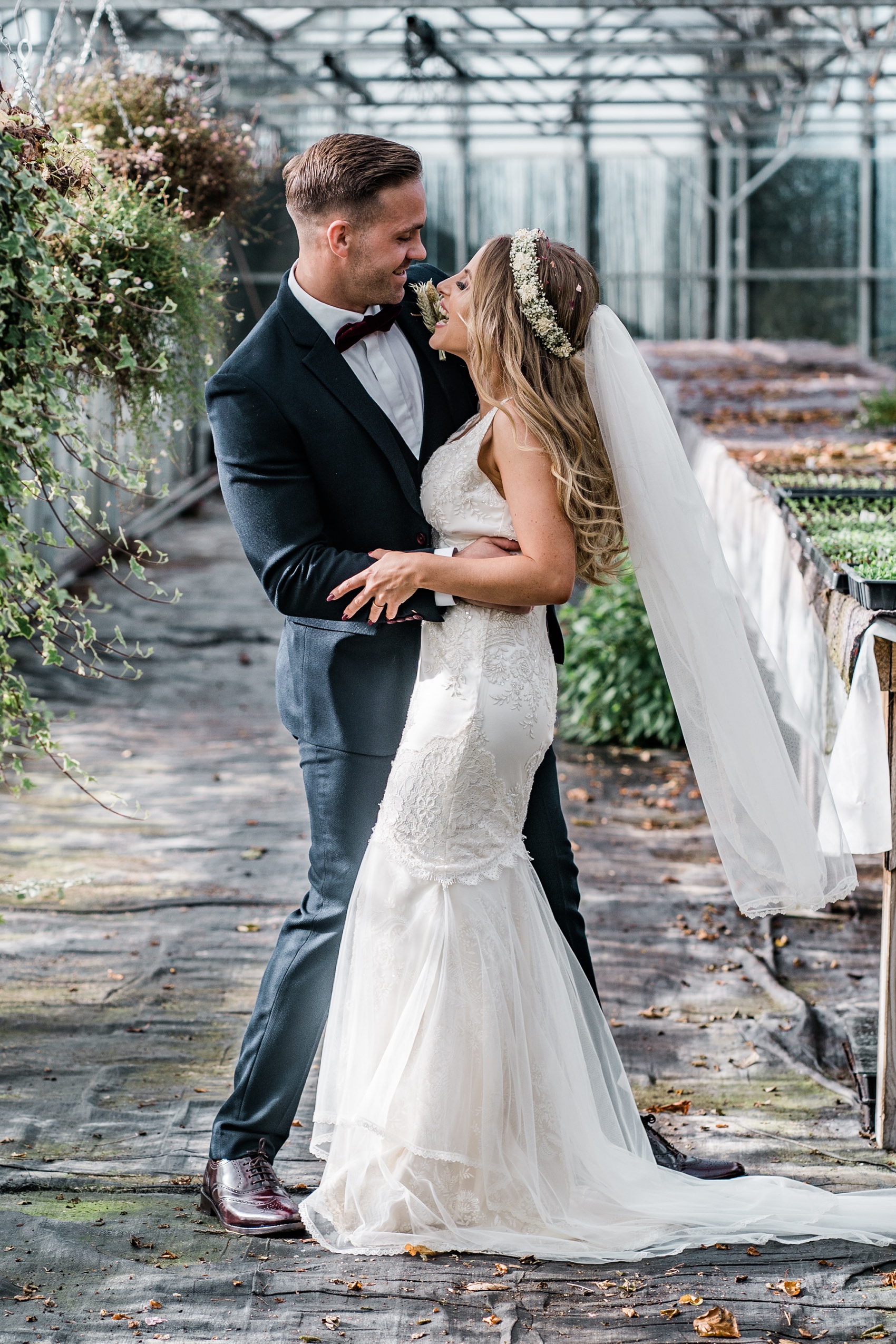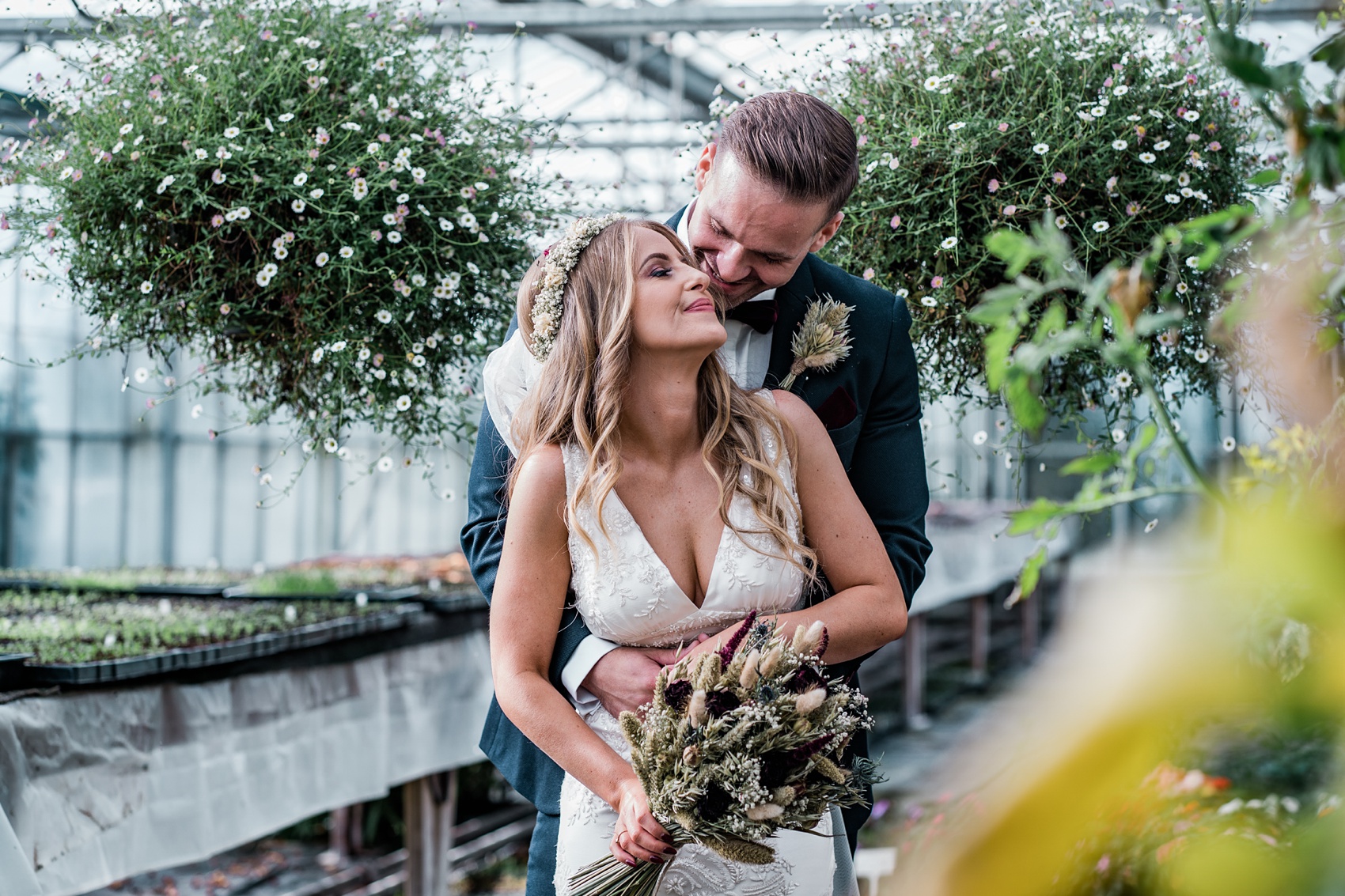 Together with Laura from Stanton Hall, and a few decorative items hired from Birdcages and Dragonflies, Lauren styled the reception barn space, with burgundy and gold stationery and place cards handmade by the bride and her mum, and beautifully textured crepe table runners scattered with crimson flower petals.
"Stanton offered the flexibility to have a wedding in any way we wanted, in beautiful grounds, without the stringent rules and unnecessary expenses – it is what you make it!"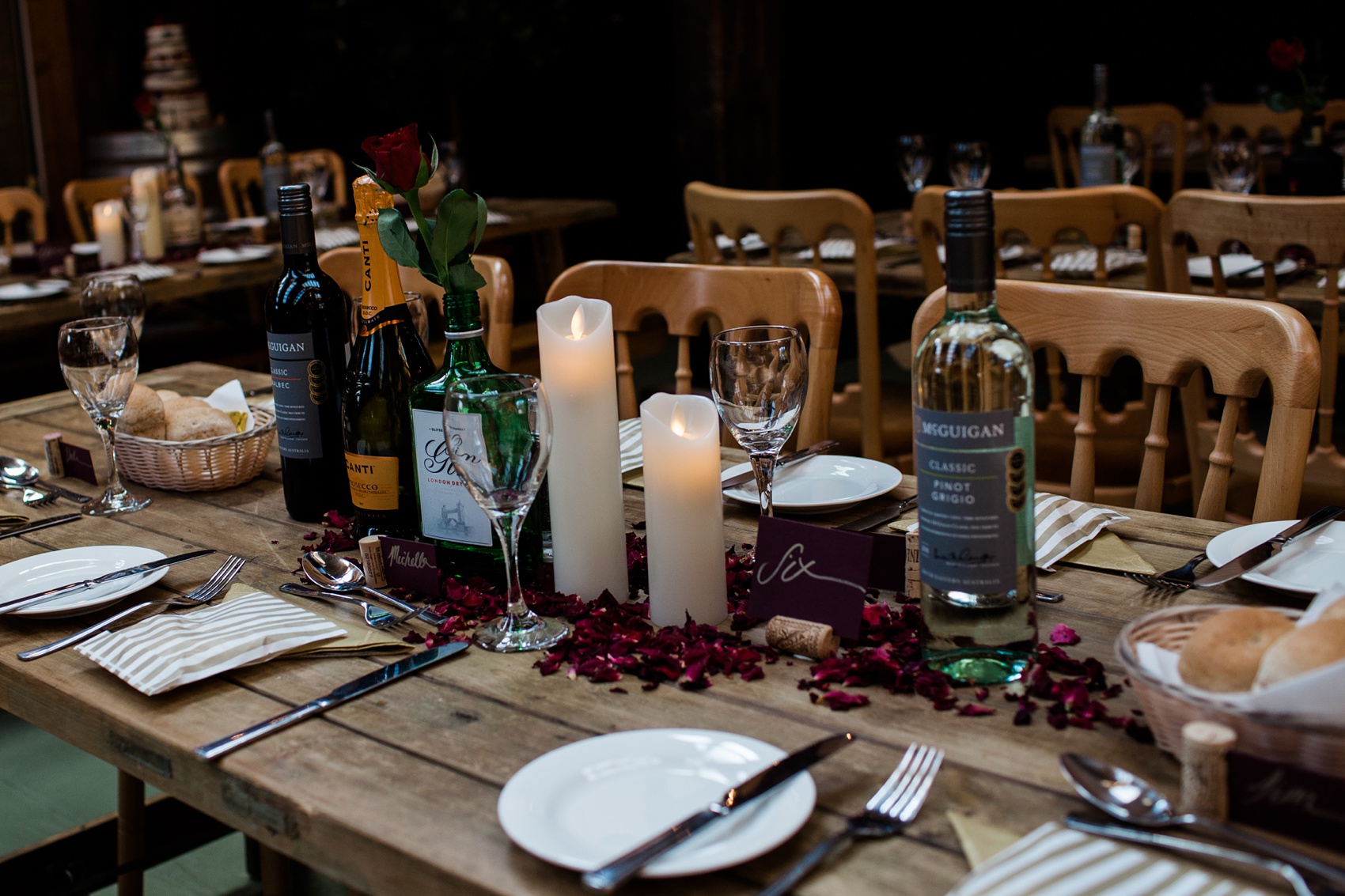 Jacob & Tori Caterers cooked a delicious wedding breakfast, and there was cake, too – a darkly autumnal semi-naked cake decorated with figs, blackberries and gold dusted cherries
"Made by a family friend as a wedding gift. We wanted something rustic, autumnal and delicious, so we wouldn't feel guilty cutting into it and sharing it on the night, which we did, and for a few days after!"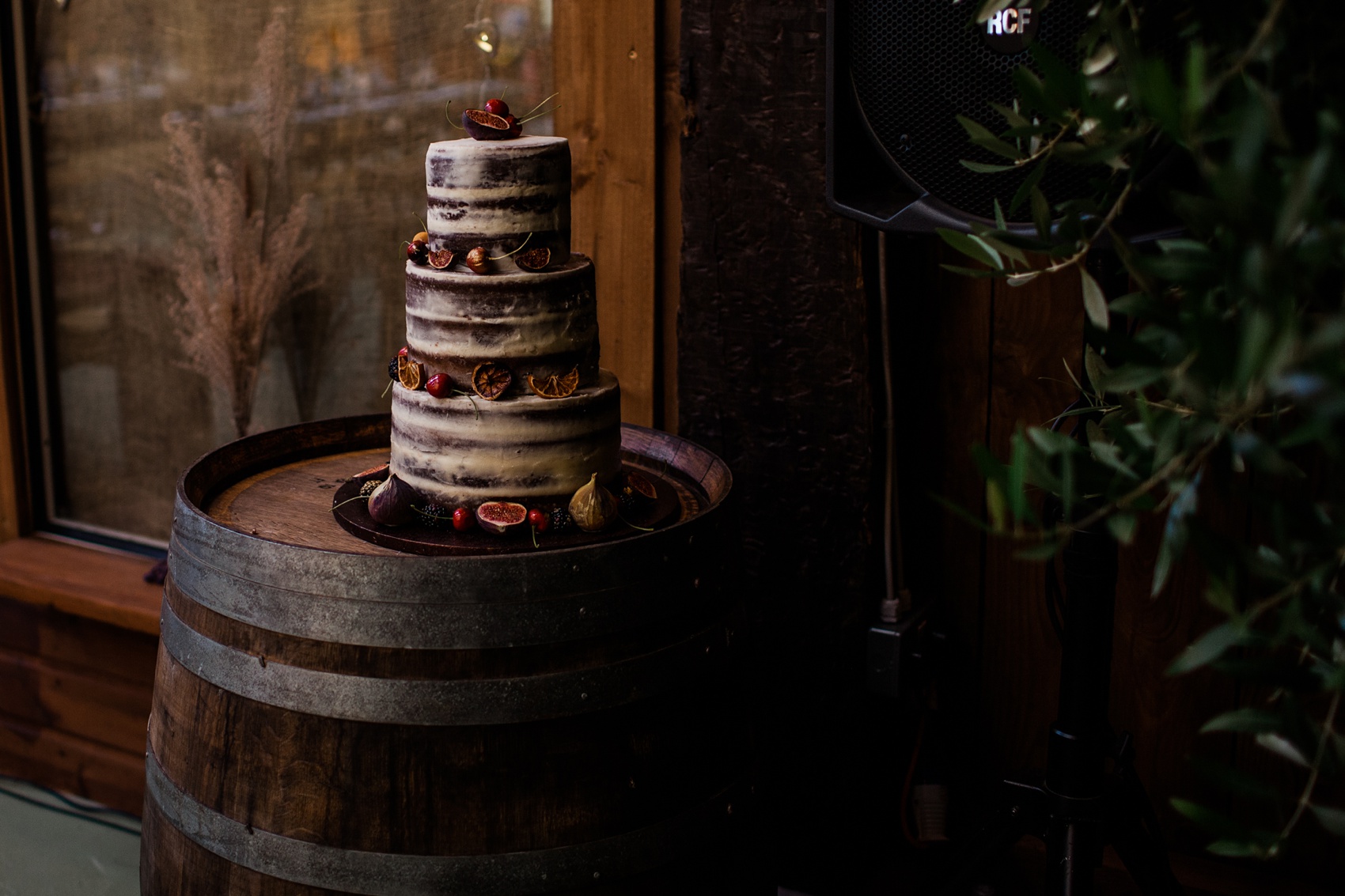 There were flameless pillar candles, as well as more in antique gold candelabra, and softly glowing festoon lights strung around the wood walls. For favours, Lauren and John made popcorn, which they served up in gold striped bags for each guest's place setting.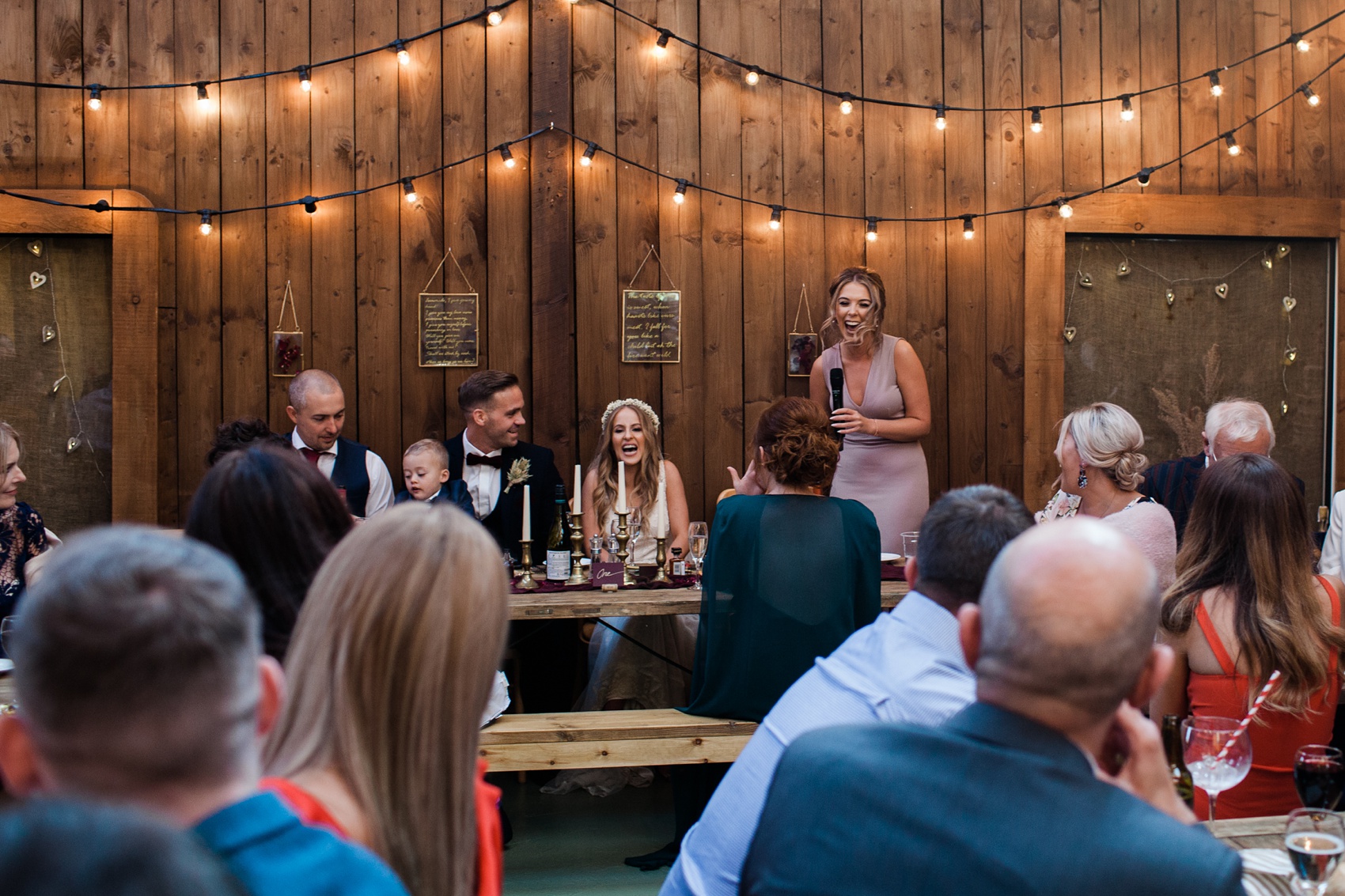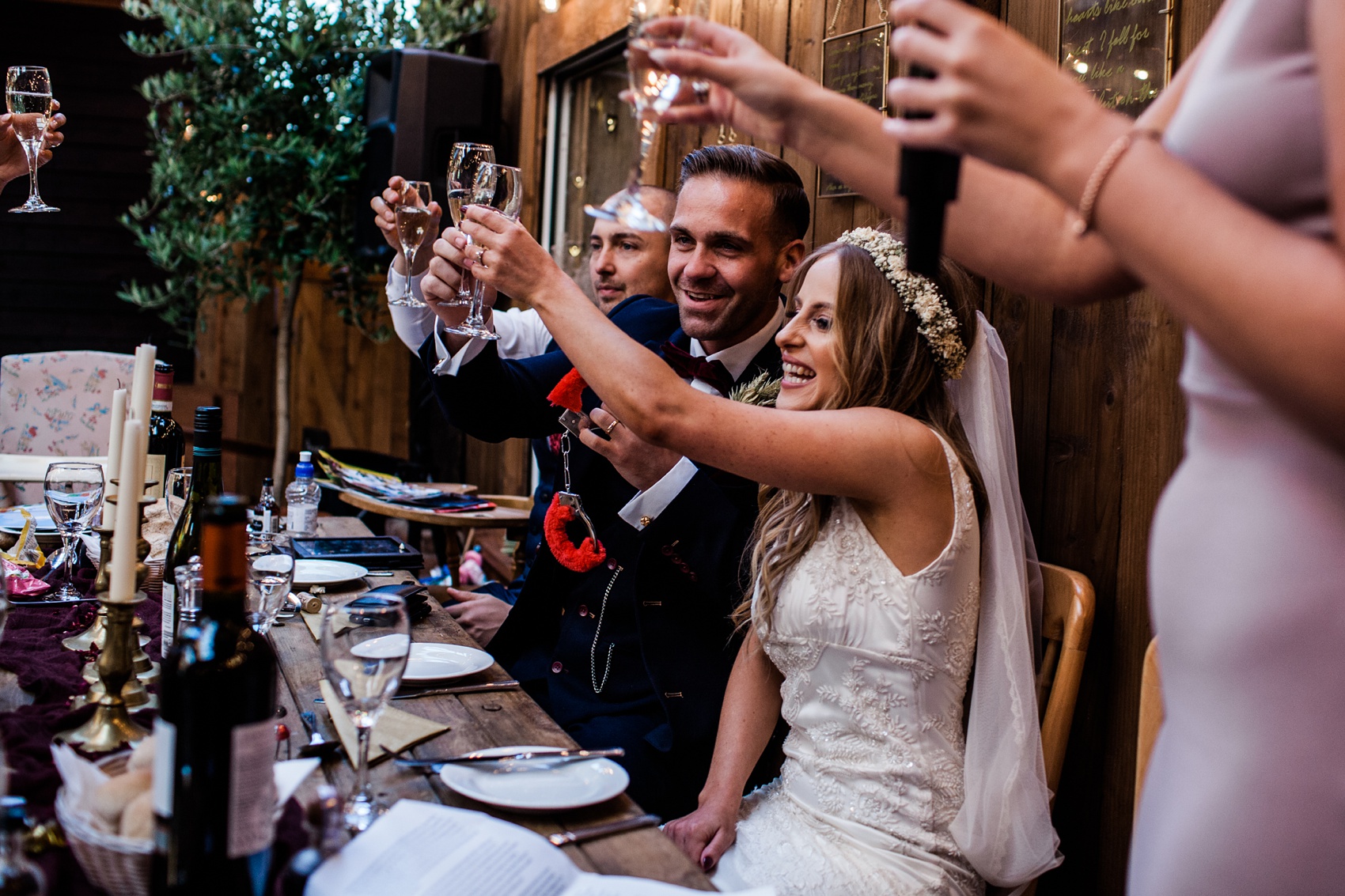 After speeches and toasts, Lauren and John strolled in the golden autumn sunset, and as evening fell, wrapped up warmly and enjoyed sparklers outside, along with fish and chips from The Little Fishy.
"We had amDJ Services for daytime, ceremony and evening music and as Master of Ceremonies. Our first dance was to the Kings of Leon – Manhattan."
"We were going to dance to Coldplay – Ink, as it's a special song to us that reminds us of travelling around Indonesia and getting engaged, but we felt it wasn't easy to dance to, so chose one of our favourite songs; one that reminds us of good times."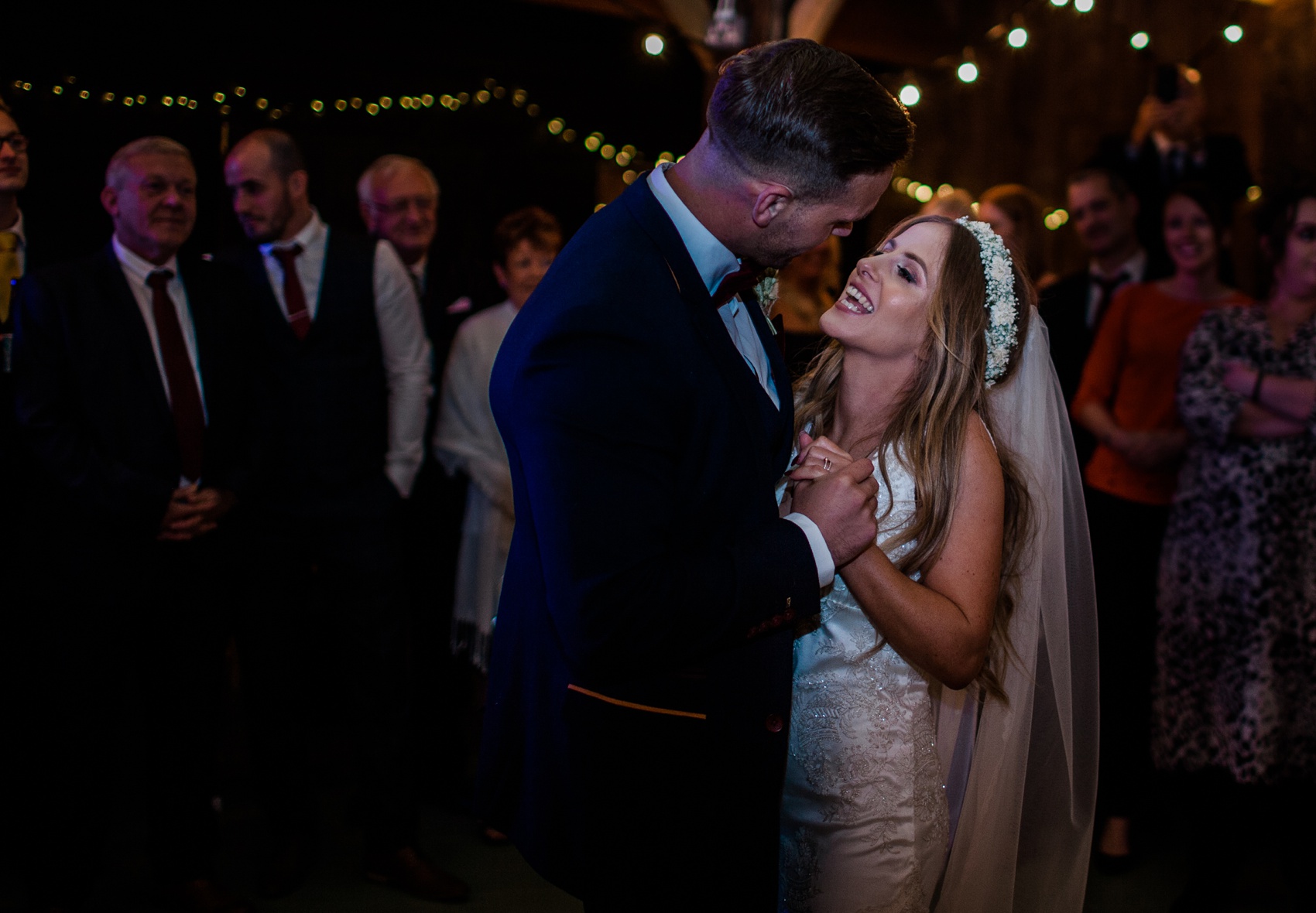 Words of Wedded Wisdom
"Enjoy it all – the planning, the actual day and all of the excitement. It is what you make it, so no matter what – enjoy it!"
Lauren and John, congratulations and thanks a million for giving us this glimpse into your day. I've just loved the laid back glamour and dramatic autumn colours. Many thanks also go to Zoe Emilie for her fantastic images.
We have a whole array of the most beautiful autumn weddings to enjoy on our pages, so if you'd like to see more, head here, and if you're in search of more romantic Claire Pettibone designs, then take a look right here.
With love,
Laura x