Today's wedding is blooming beautiful, and in more ways than one as the bride found out she was a mama-to-be a few months before the big day.
Not letting anything stop them plan their perfect day, the couple travelled to the Scottish Highlands from their home in Devon to live out the dream wedding. So without further ado, let's meet the happy couple (and bump!), shall we?
Ailsa, a wedding dress maker, and Daniel, who works in marketing, were wed on 5th May 2018 in Ailsa's grandma's village of Boat of Garten in the Scottish Highlands.
"The general feeling for the day was decided upon as the most important thing for us was that our guests had fun. We wanted to avoid awkward small talk, long waits and having to sit with people you don't know. The style really clicked when one of my friend's mum's described my style as Renaissance, and my dad described our table layouts like a feast."
Images by Lottie Ettling
"From there, I decided to base all of the styling decisions around the painting Primevera by Boticelli, which gave us the colour inspiration and mood for the day. It also helps that the central figure in the painting has a pregnant belly, and I found out I was going to 5 months pregnant by the wedding day!"
"I've wanted to get married in Boat of Garten since I was a little girl. I spent a lot of time thee as a child and it became my favourite place to go and relax and enjoy the fresh air and stunning scenery. Since meeting Daniel and moving to Devon, I thought it pretty unlikely that we'd get married there and looked around Devon and Cornwall to begin with. We still hadn't made up our minds when we went on holiday to Boat of Garten and Dan fell in love with the place as much as me. We didn't really think of it as a 'destination wedding' as so many of my family and friends live nearby, but it was certainly quite far for his friends, one of whom thought the postcode on the invite was a typo!"
"As a wedding dress maker, I designed and made my dress myself. The design changed quite significantly once I discovered I was pregnant! Having been told only a few months previously that I wouldn't be able to have kids, it was a wonderful but very big surprise! I wanted to keep the dress very simple and flowing over the bump, since I didn't know how big I was going to be, and I decided to use regency inspired shapes and details, like the silk piping and the button detail. It was perfect and almost Grecian, and it completely set off the seeded eucalyptus crown my florist made for me."
"I also made and embroidered my veil with my favourite quote from Much Ado About Nothing; 'I do love nothing in the world so well as you, is not that strange?'" I wore sandals from Clarks, which I bought the week before the wedding as they were really comfy! I kept my hair really simple and had it blow dry curled and then wore the eucalyptus crown, then my little pearl earrings were borrowed from my mum."
"When it came to flowers I was really picky as I think they really set the tone for the day. I wanted big, loose, beautiful unstructured blooms and I really struggled to find a supplier in the Highlands who could do that for me. It sounds insane but I actually ended up using a florist I know from Plymouth and having my parents drive all the flowers up, overnight, 2 nights before the wedding and keeping them in a cold bathroom until the day. I wanted lots of greenery and accents of white flowers."
"Peonies are my absolute favourite and we got the first weekend of them in the UK for the summer."
"Abi from Dearly Beloved made our stationery and she was absolutely amazing to work with! She took the time to understand my vision for the day and designed beautiful invited which completely set the tone for our relaxed but beautifully styled day. The on the day stationery really helped both practically by guiding people through the day, and for decorating the venue."
"We didn't have a wedding planner for the day but we did get a lot of styling advice from Elle at The Artful Event Company, who was great. She also told me that as long as everyone was fed, warm and dry, it would be a great day and she was so right. It really helped me stay calm in the weeks leading up to the day."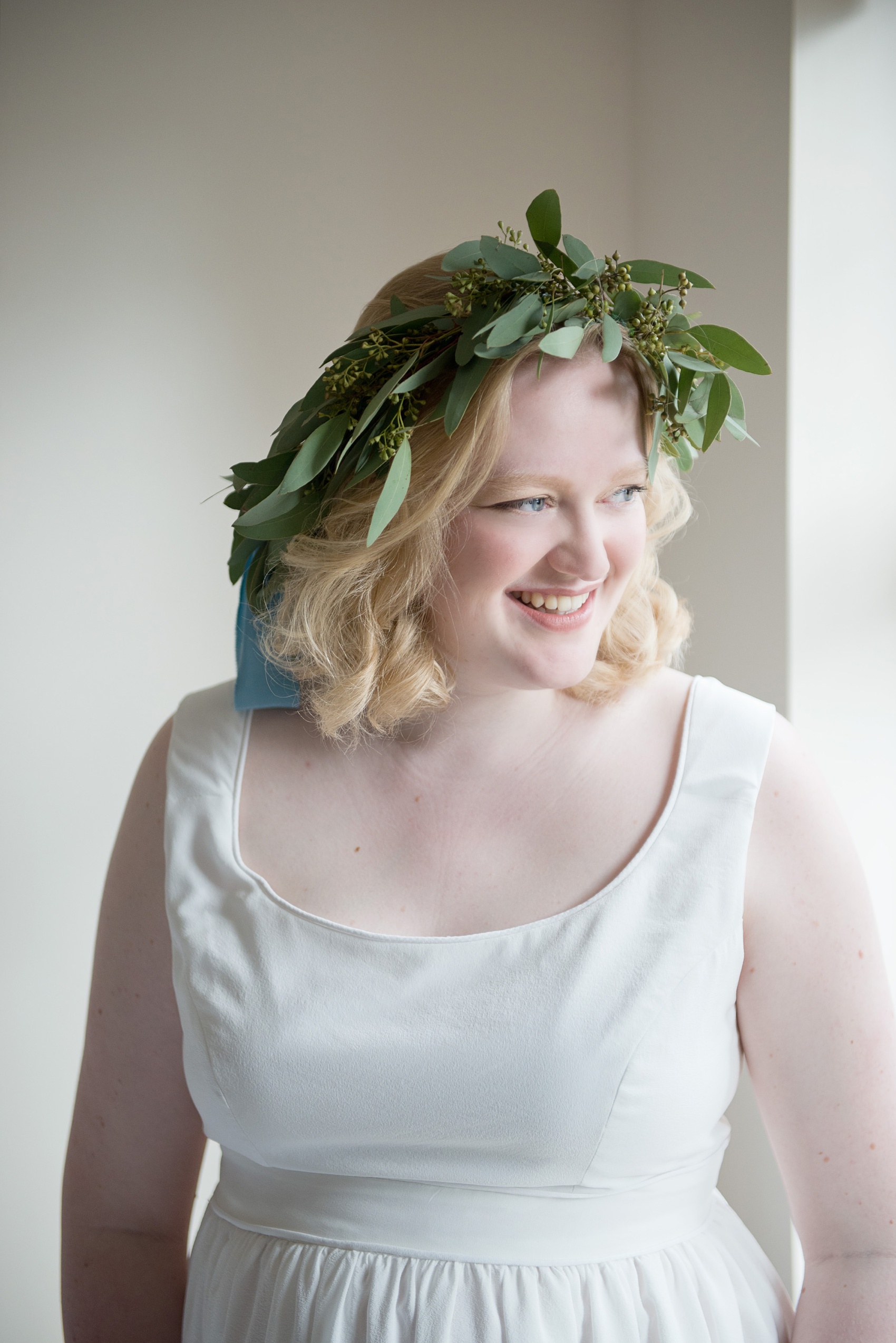 "Our photographer was one of the most important pieces of the wedding day to me (though not for my husband!). Lottie Ettling has photographed my family quite a bit in the last few years and she was the very first thing I booked once we had established that she and the venue were both available on the date."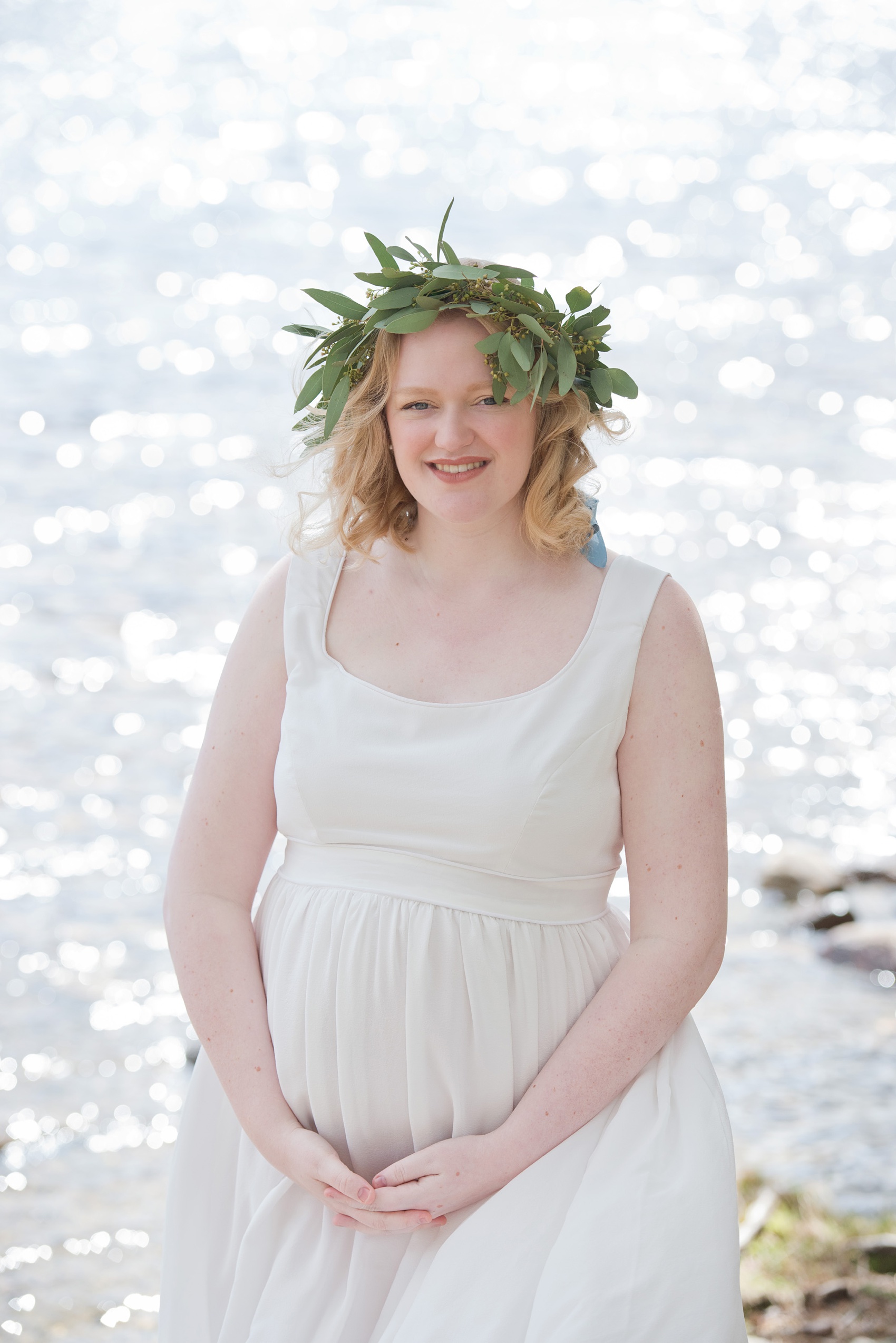 "I made the bridesmaids outfits specifically to suit each bridesmaid. My big sister was the only one who actually had a dress, the others were all separates."
"I wanted them all to have things they could wear again, and I think they will. My little sister has certainly been using her silk peasant top and I think one of my friends wore her outfit again to a wedding."
"The bridesmaids shoes were really funny. My bridesmaids weren't super heavily involved in the wedding planning but one thing I asked them to sort themselves were their own shoes. I asked them all to wear comfortable nude shoes, any height, any style, as long as they were nude. They took this super seriously and had summit level meetings about whether shoes were blush or nude. I just wanted them to have something they could wear again! In the end they all ended up bringing multiple pairs of shoes because they couldn't decide!"
"I also made the flower girl dress! She had her own little style with lace and cute petal sleeves."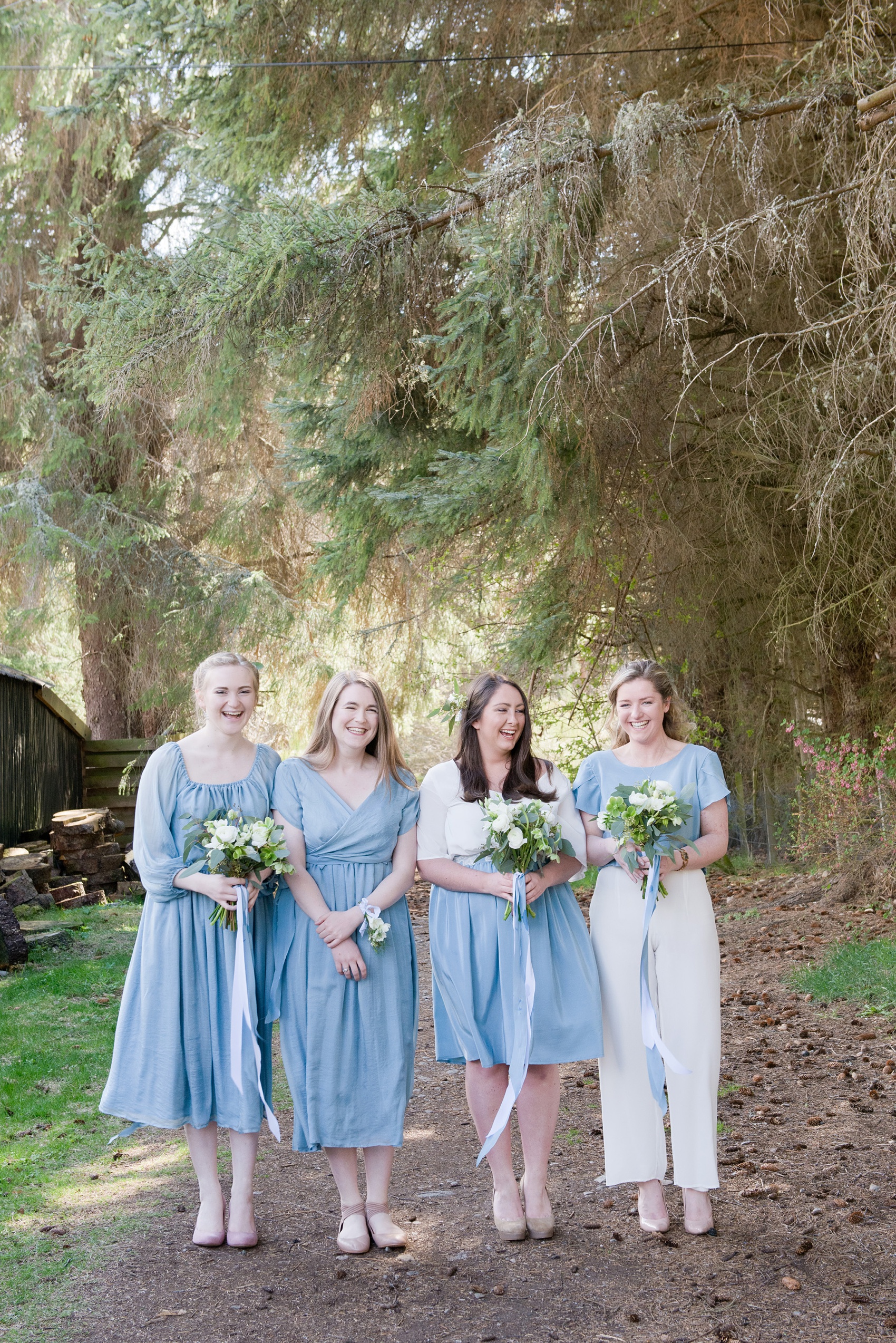 "We wanted to keep the mood casual so Dan wore a gorgeous tween waistcoat by Slaters, a lovely white TM Lewin shirt and a pair of ASOS chinos. It was absolutely perfect for him and he was so much more relaxed that he would have been in a suit."
"We asked the groomsmen to wear mismatched outfits and they all wore blue trousers and blue or white shirts. Those that had waistcoats wore them and little button holes tied all their looks together."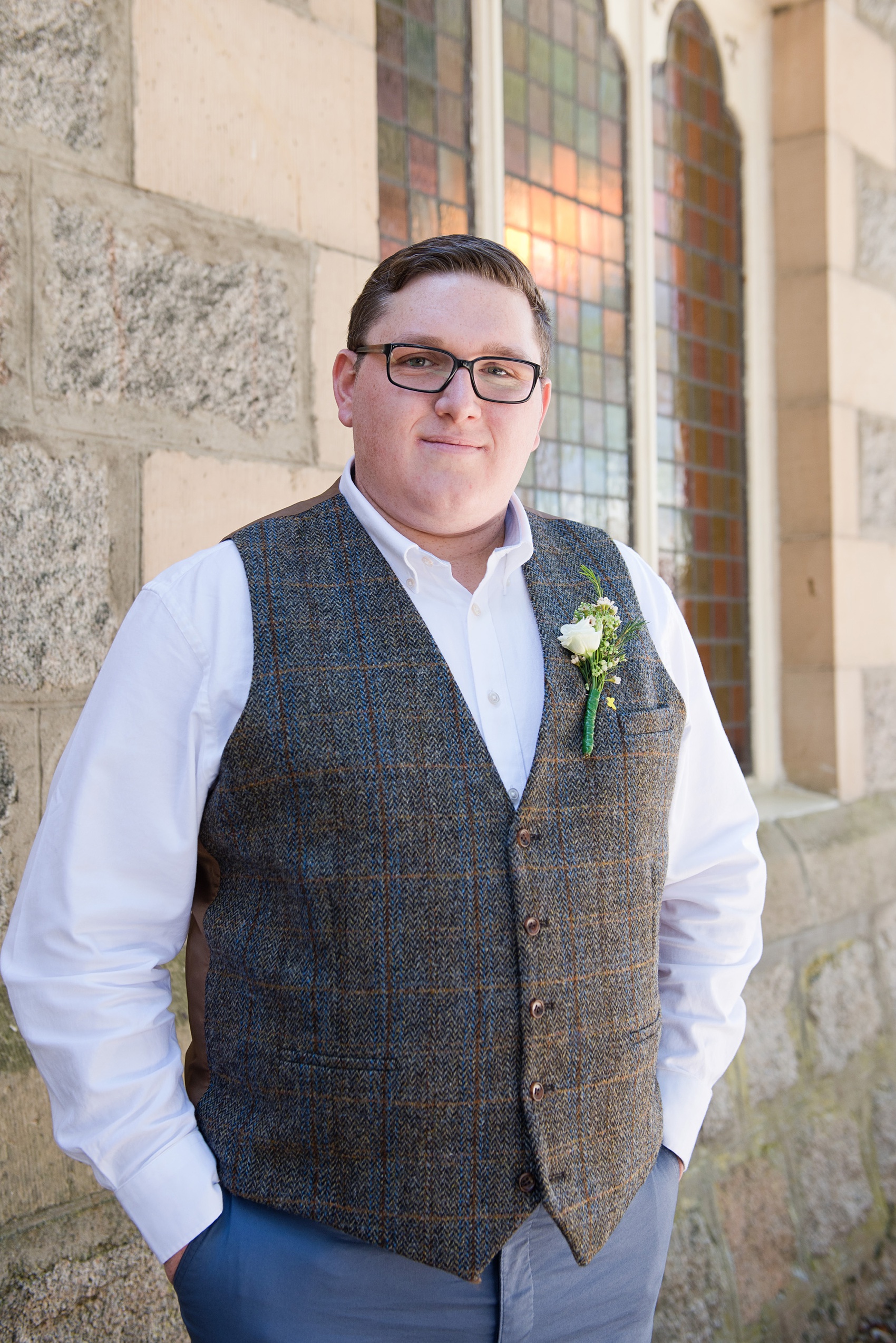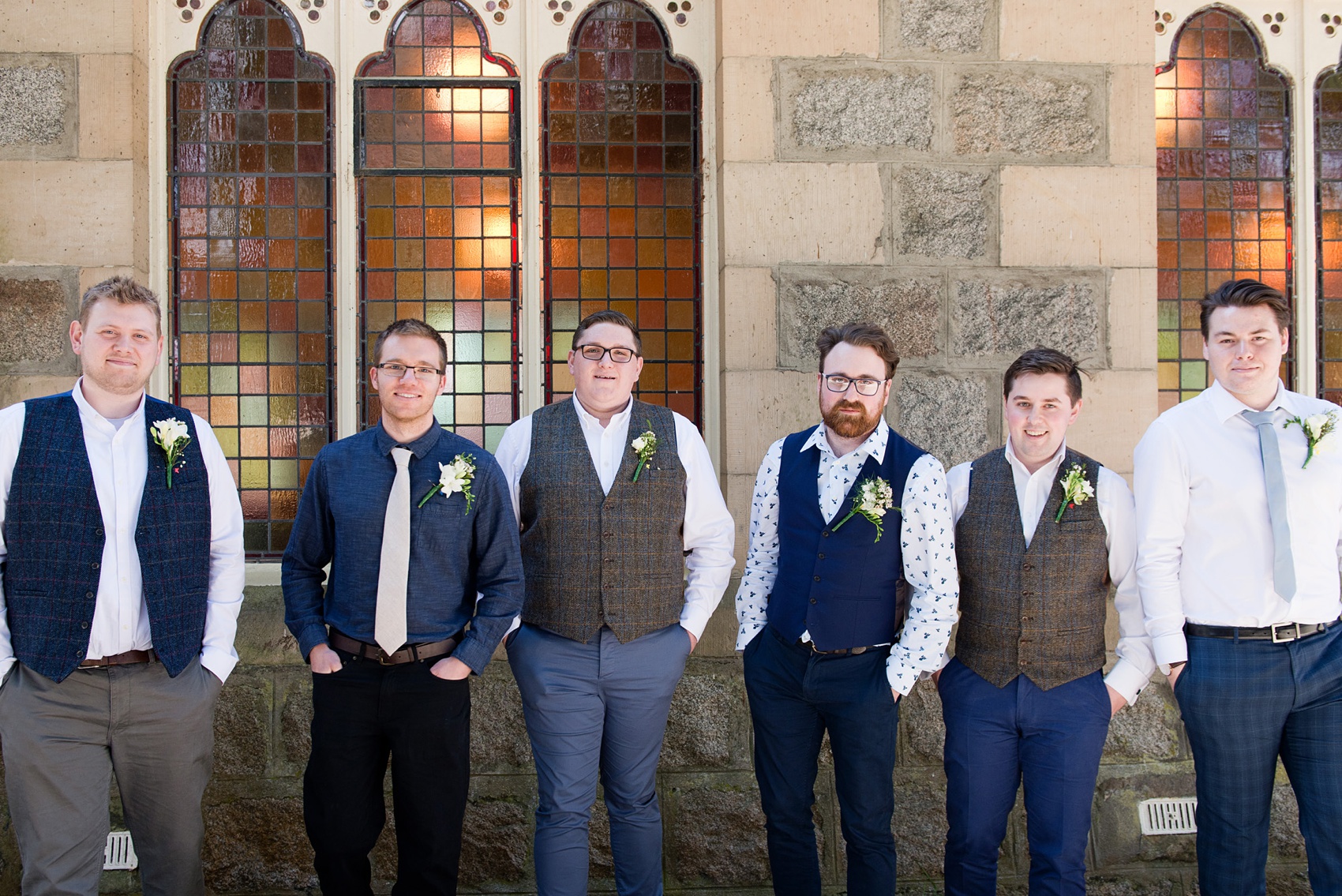 "My dad accompanied me down the aisle but I actually have no idea what song we walked down to! I requested the Entrance of the Queen of Sheba because my mum and sister both had that at their weddings, but on the day the organist told Dan that she didn't know how to play it and he told her anything but Here Comes the Bride would be fine. I was so emotional and focused on the moment that I didn't even notice."
"Dan and I made our own rings at a local jeweller's workshop. We both wanted simple, hand hammered silver rings to suit our lifestyles. Dan plays a lot of sport and I work with delicate fabric every day."
"We spent a lovely morning making our rings, and altered our vows from 'I give you this ring' to 'I made you this ring'. It became a really nice talking point during our champagne reception."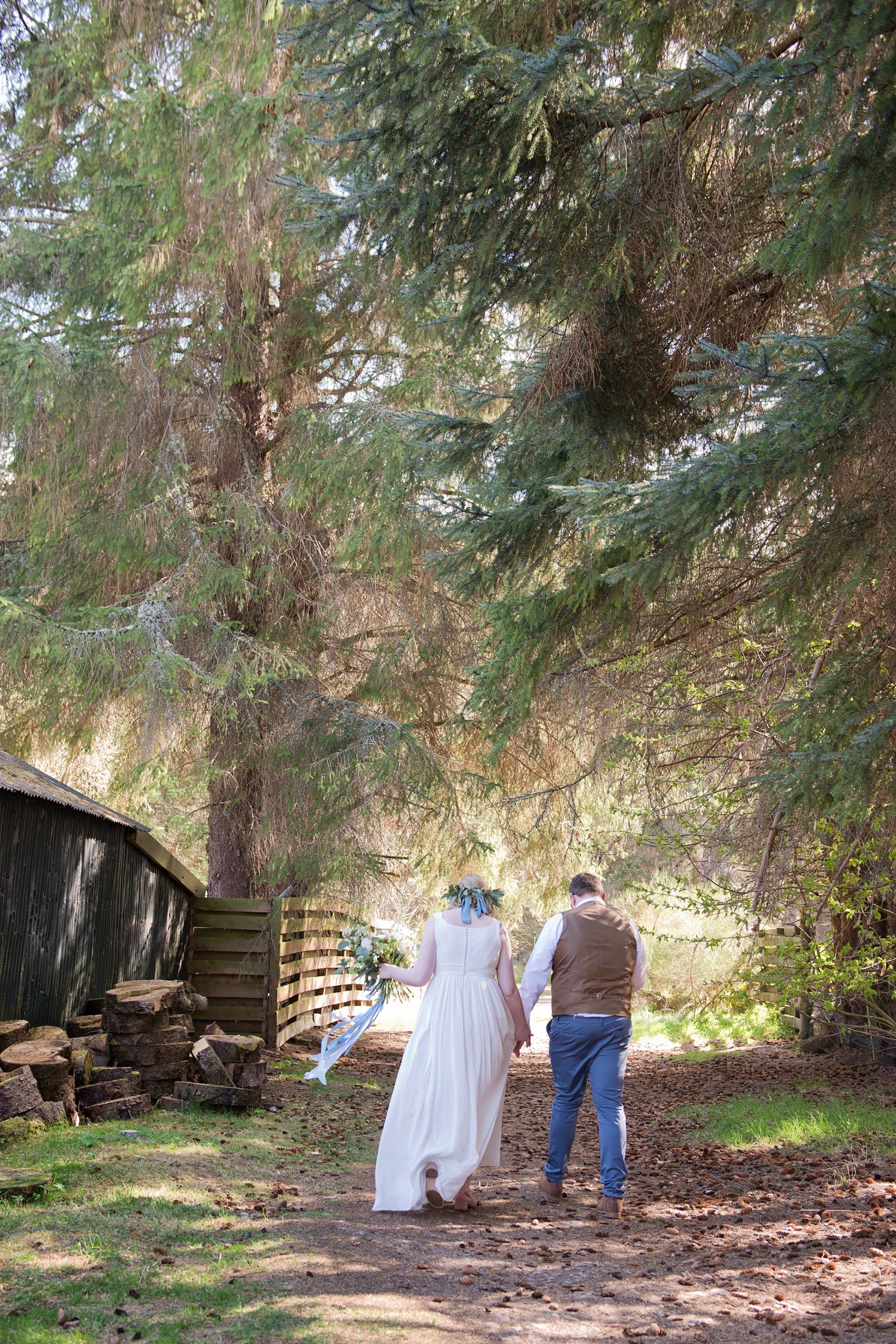 "We kept the decor very simple and had just a few big flower arrangements that were then transported from the church to the venue with us after the ceremony."
"For the meal, catered by Taste of Moray, the tables had eucalyptus down the centre, the embroidered napkins had copper cutlery tucked in and I did splurge slightly on about 50 Ikea candle holders. I planned to sell them afterwards to recoup some of the cost but my little sister liked them so much she bagsied them for her own wedding!"
"My grandma found our wedding cake maker in her favourite village cafe! I loved Rhian's, from The Cairngorm Cakery, simple, fresh and modern style and her cakes were absolutely delicious!"
"Dan and I absolutely demolished the cake tasting, and ended up choosing three different flavours for each layer; lemon and Pimms, vanilla and raspberry, and chocolate. She frosted it really simply and then decorated it amazingly with flowers from the button holes."
"For our evening entertainment we had a traditional Scottish Ceilidh called Eabal and they were amazing! Our English guests threw themselves into it and everyone danced all night!"
"The Ceilidh was my favourite part of the whole day and dancing to them with my sisters, parents and bridesmaids. Even my little niece, who was a year old at the time, made it to the dancing on her mums hip. Dan's favourite part of the day were the speeches, my dad's in particular made everyone cry."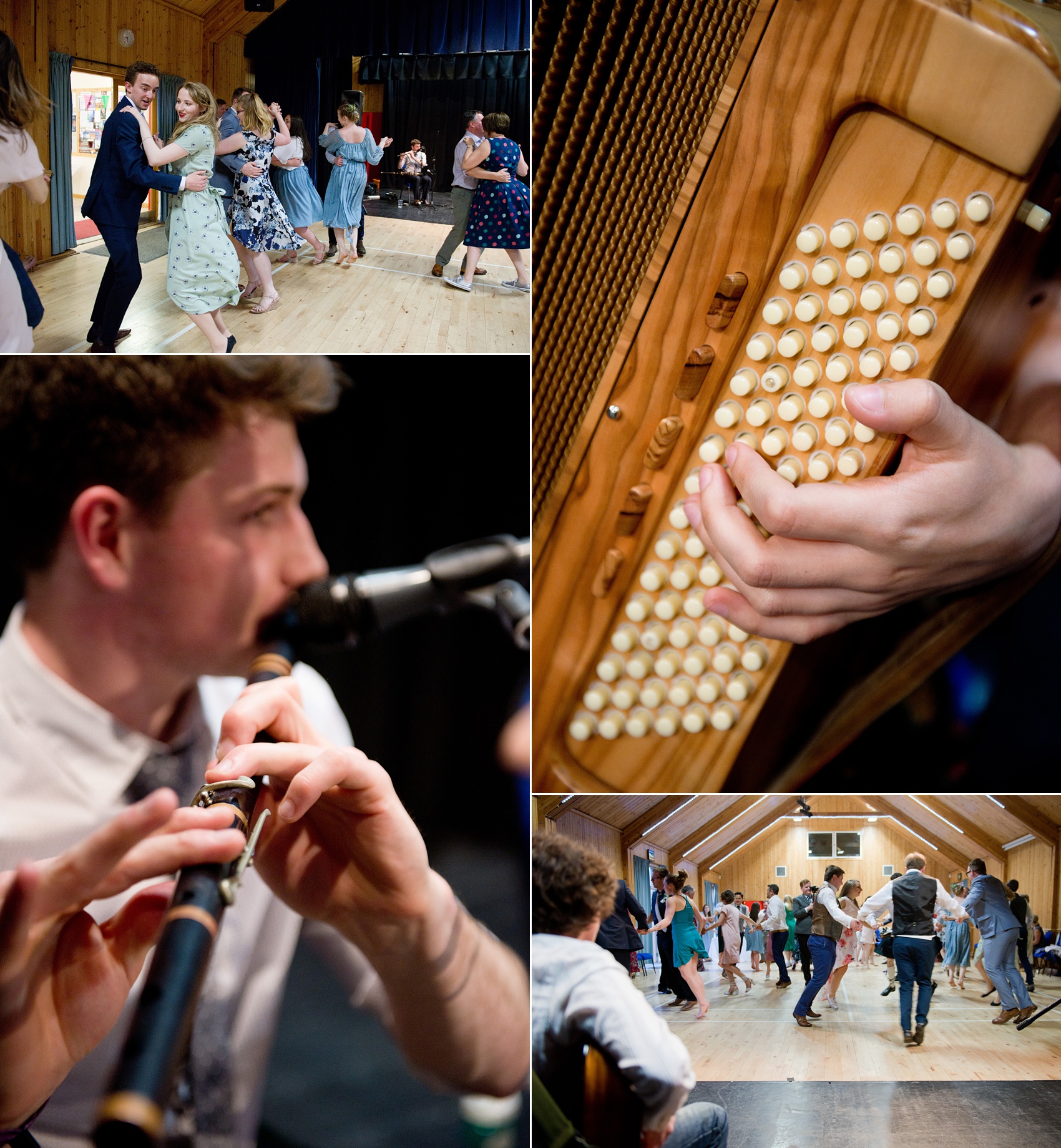 Words Of Wedded Wisdom
"Don't do things just because that's traditionally what you do at a wedding. Think about how you would plan a great party and prioritise those things. For example we had a later ceremony and did our photos before it so that the flow of the day for the guests was as natural and fun as possible. I didn't throw my bouquet and we didn't have a guest book. The only regret I have was gathering everyone to see us cut the cake. It seems like such an unnecessary tradition and we both just felt silly!"
"Do a brides speech. I did one instead of my partner and it was one of the highlights of the day for both of us, even though I silently wept the whole way through it (damn pregnancy hormones!)."
A big congratulations Ailsa and Daniel! A big thank you for sharing your gorgeous day and to Lottie Ettling for telling the story of the day so beautifully.
Until next time…
Much love,
Holly x