If wild and natural is your vibe then you are most definitely in the right place. I'm here to make your day a little bit better with a glorious wedding from the heart of Yorkshire, and I can't wait to share it with you.
The bride and groom are Laura, who works in marketing and Marc, a surveyor, whose wedding was held at All Saints' Church, Hovingham near Malton in Yorkshire on 10 August 2018. The day continued with a marquee reception at nearby York House at The Talbot, which was perfectly suited to their traditional celebrations with its colour scheme of grey enhanced by the most divine flowers in tones of peach and orange.
Photography Carla Blain Photography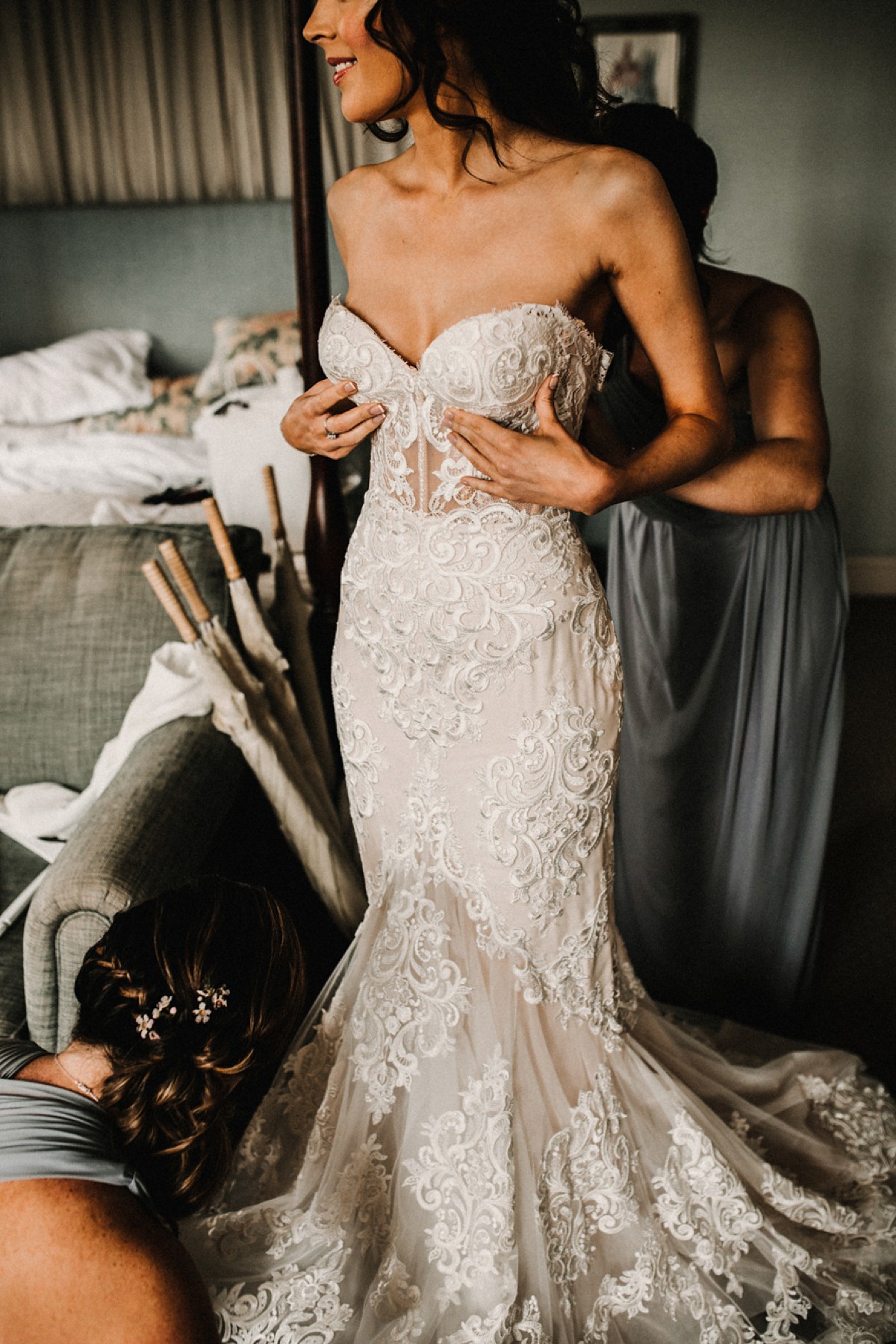 The bride spent a long time searching for her wedding gown and found her glamorous Riki Dalal dress at The Little Pearl Bridal Boutique in Pickering. It featured a super-fitted, lacy bodice with sheer panels and a long, trailing skirt over a sexy nude slip. Its lacy cap-sleeved shrug was removable, transforming her look ready for the evening party,
[RELATED]
"I tried on about 50 dresses at different places then I saw a Riki Dalal dress I loved and looked for stockists. The dress I went to try on actually didn't suit me and I only tried on the dress I chose as Diana, owner of The Little Pearl, picked it out for me. I instantly fell in love with it and knew I had to have it."
"I should have ordered my dress sooner. It nearly didn't arrive on time which caused a bit of stress and didn't leave much time for alterations."
Very happily for the couple, Marc's sister is wedding planner Chloe Beattie who helped them plan their day and was a bridesmaid too.
"We were very lucky to have her help and support. We wanted something quite traditional in terms of the wedding style. We picked grey so everything from the invites to the bridesmaid dresses to the favours all matched the theme. Choosing grey made it easier to add colour with the flowers too."
On the morning of the wedding. the girls make-up was applied by the bride's friends. Laura looks so radiant with her fresh, glowy look.
"I was lucky that both of my friends did the makeup. Andrea did my makeup as a wedding present which was so kind, and she did some of the bridesmaids and one of the mums too. Emma did the rest. Everyone looked so beautiful."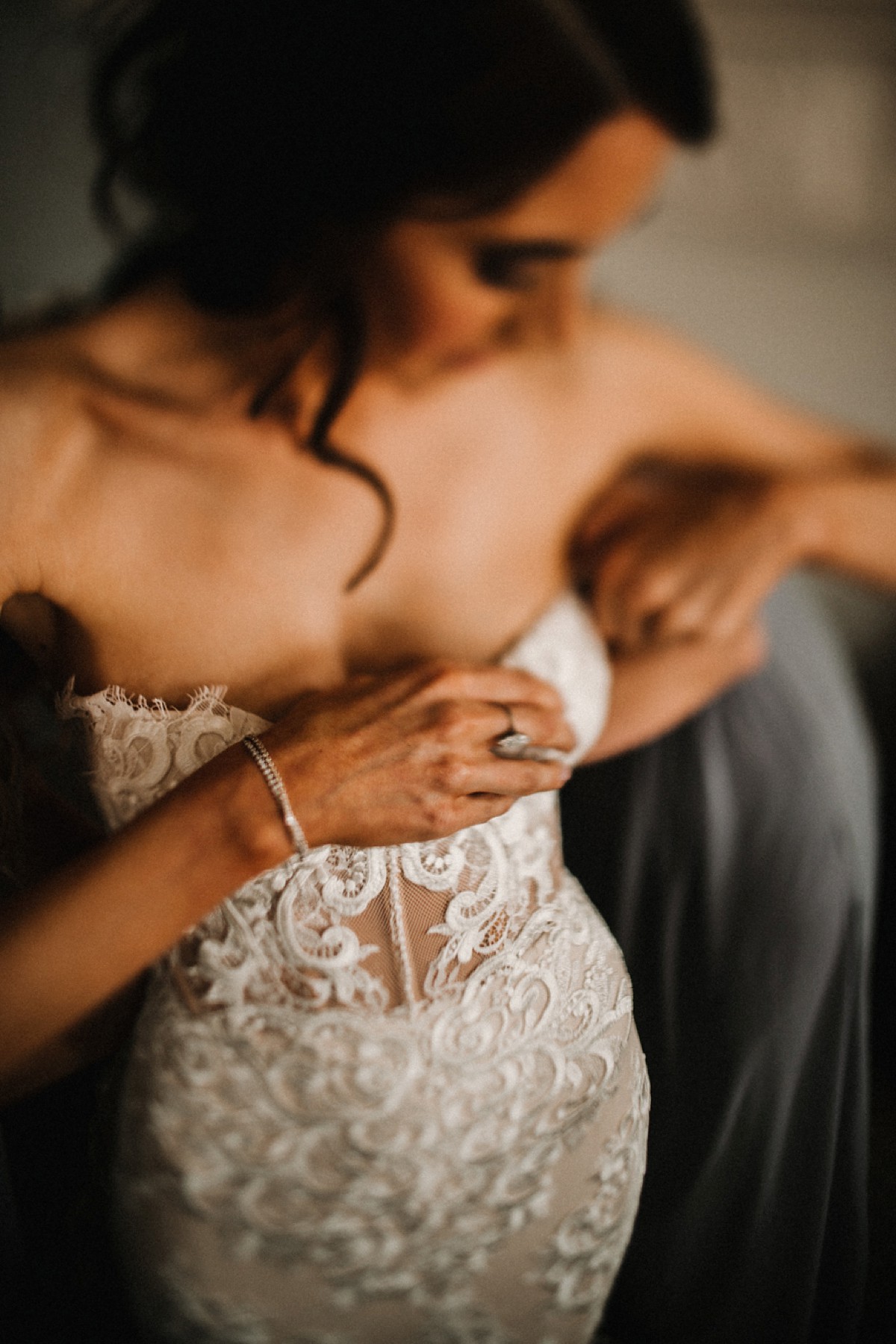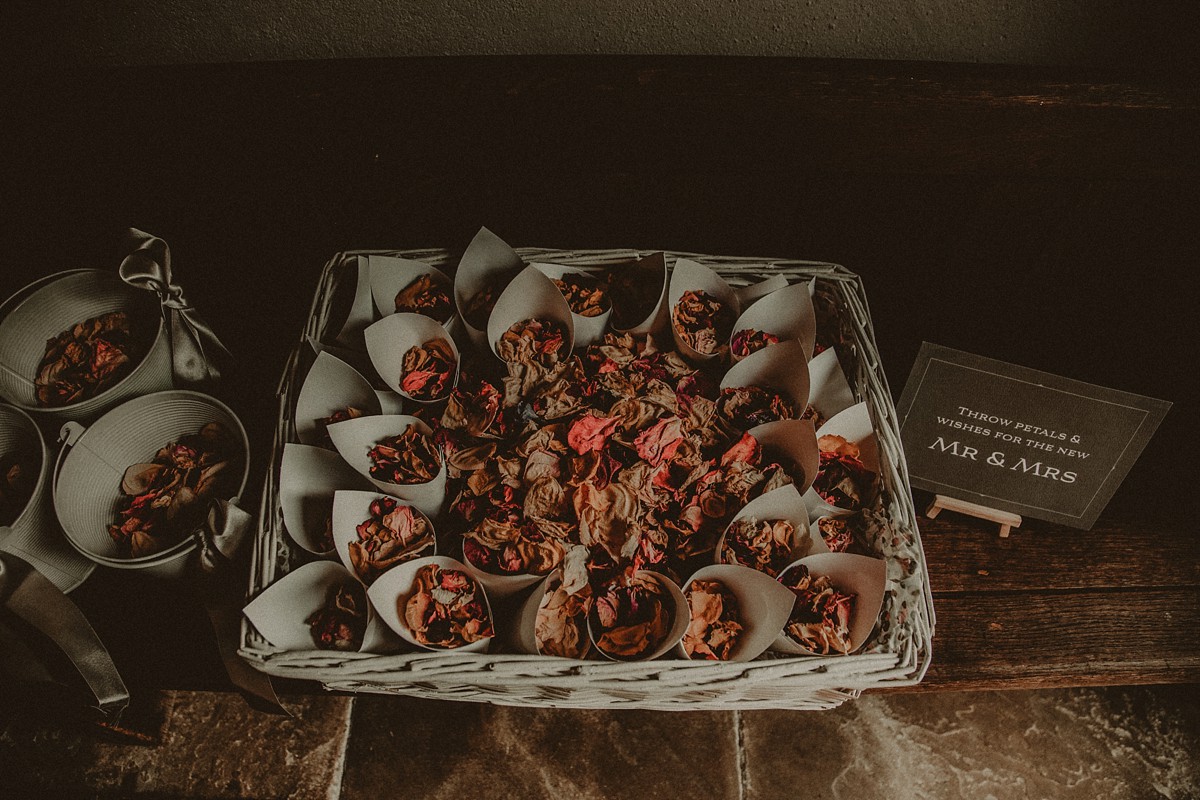 "I wanted to choose a new fragrance which I had never worn before, so that it would always remind me of the day. Creed's Love in White Summer is quite a fresh and floral smell which I love." 
The bride and her grandfather travelled to All Saints' Church in a 1949 Bentley Mulliner, provided by Superior Motor Cars. She entered with her veil over her face as Pachelbel's 'Canon In D' was played on the violin by Kate Chruscicka.
The bridesmaids' grey, floor-length gowns are the perfect foil for the wild, colourful blooms which they carried. Laura selected two different styles from ASOS and used the spare material to make sashes for the flowergirls. They each wore their own silver shoes and had fresh flowers in their hair.
"Two of my bridesmaids were pregnant for the wedding; luckily the dresses could be altered. If that might happen ensure the dresses can be easily changed too. I had actually ordered two dresses for a couple of the bridesmaids as I wasn't sure on sizing so it meant there was spare material which we used for the flowergirls."
"I bought each bridesmaid and the mums gifts of jewellery; some had earrings and some had necklaces. I got them from various shops including PLUM in Malton and Barkers in Northallerton. I also got all the bridesmaids a matching bracelet each from Accessorize."
"I picked simple white dresses for the flowergirls and then used some of the material from the bridesmaid dresses to make the sash."
Her gossamer-fine veil, edged with eyelash lace, was from The Couture Veil, and was the only adornment to her dark locks which were left down in soft waves. She added diamond stud earrings, a bracelet gifted to her on the day by Marc and, for something borrowed, her grandmother's diamond ring.
I cannot get over the beauty of these wild and natural hand-tied bouquets, and how lovely that the bride could remember her grandma through her church flowers.
"Manor Garden was such a fantastic find. We searched and searched for a florist but nothing suited what we were looking for. Manor Garden are unique; they grow most of their own flowers and then do the styling and arranging too. We went to meet Clarey at her house and we talked over our ideas, the colours we liked and the types of flowers which included David Austin roses, Icelandic poppies and dahlias. We picked some peachy tones and Clarey suggested creamy roses like Margaret Merril and Evelyn in soft peachy tones."
"The bridal bouquet was tied together with soft grey, hand-dyed silk. Initially the bridesmaid's bouquets were going to be sweet peas but due to the hot summer it had to be something else. We let Clarey pick as we trusted her completely to come up with something perfect. Clarey made all of the button holes and corsages and even ones to go on the wrist and bags too."
"My grandmother founded the Easingwold Flower Club, so we thought it would be really nice to incorporate them into the day. The Easingwold Flower ladies arranged all the flowers inside the church, which we then took to my grandmother's grave the following day. Clarey provided buckets of flowers so that the flower ladies were using the same types to match the milk churns outside the church and the ones at the venue."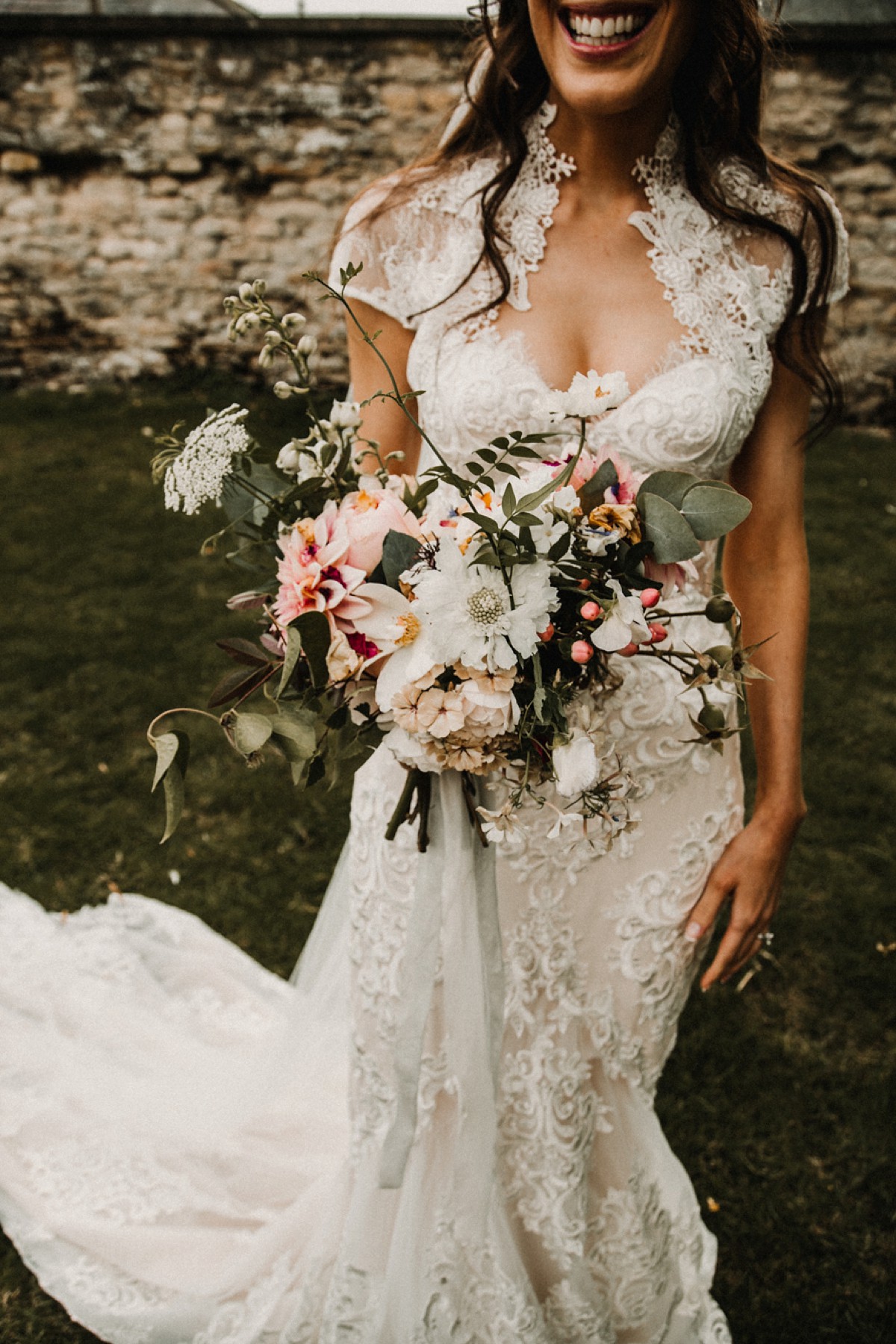 Laura and Marc first met at Yorkshire mansion Castle Howard, where the groom was competing in a triathlon.
"We met through our mutual friend Liam who I stayed in touch with since living together in at University. Liam is an old school friend of Marc's and they were competing in the Castle Howard triathlon together. I went to watch Liam and after meeting Marc that day, he asked me on our first date and we have been inseparable ever since."
"We bought a cottage together which we had renovated. The first morning we woke up in our new home Marc proposed. It was bonfire night 2017, so we were only engaged for nine months before we got married. Marc knows how much I love bonfire night so it was so romantic."
"My grandpa walked me down the aisle which has always been my childhood dream."
"I went to Hovingham school and my grandmother is buried at Hovingham church so it is very sentimental. I have always dreamed of getting married at that church so we needed to find a reception venue close by. We chose York House Marquee at The Talbot which is just a few miles from the church and complemented our more traditional theme. We met at Castle Howard which is also near by, so it all came together perfectly."
The couple's marriage service included the traditional church vows and two readings; 'A Reading from the Letter of Saint Paul, Colossians 3:12-17'  and 'On Your Wedding Day', author unknown.
"We chose them as we liked the meaning of them both."
"Marc designed my engagement ring alongside the owners of Blair and Sheridan, Douglas and Roddy. He chose them as they allowed him full involvement in the design process. The wedding band was also from there."
"My favourite moment was walking in to the sound of the violin and seeing Marc turn round, then saying our vows together and getting married. We feel so lucky to have been surrounded by all our favourite people."
"We loved celebrating with everyone. For me it meant the world to have my grandpa give me away and to know that my grandma would hopefully be looking down on us."
The August weather meant that the newly-weds and guests could thoroughly enjoy the grounds of York House before heading in to the fairy-light lit marquee for the wedding breakfast. This was provided by head chef Dan Graham and his team.
The couple fell in love with the work of photographer Carla Blain, whose natural style and use of the August light has resulted in these wonderful images which are full of movement.
"We searched high and low for a photographer and really struggled. We didn't want anything too formal in terms of group shots. As soon as we saw Carla's work (through a recommendation from our videographer) we fell in love. She has a unique way of capturing moments. We had a pre-wedding shoot too which I would really recommend as it meant on the day we knew each other already."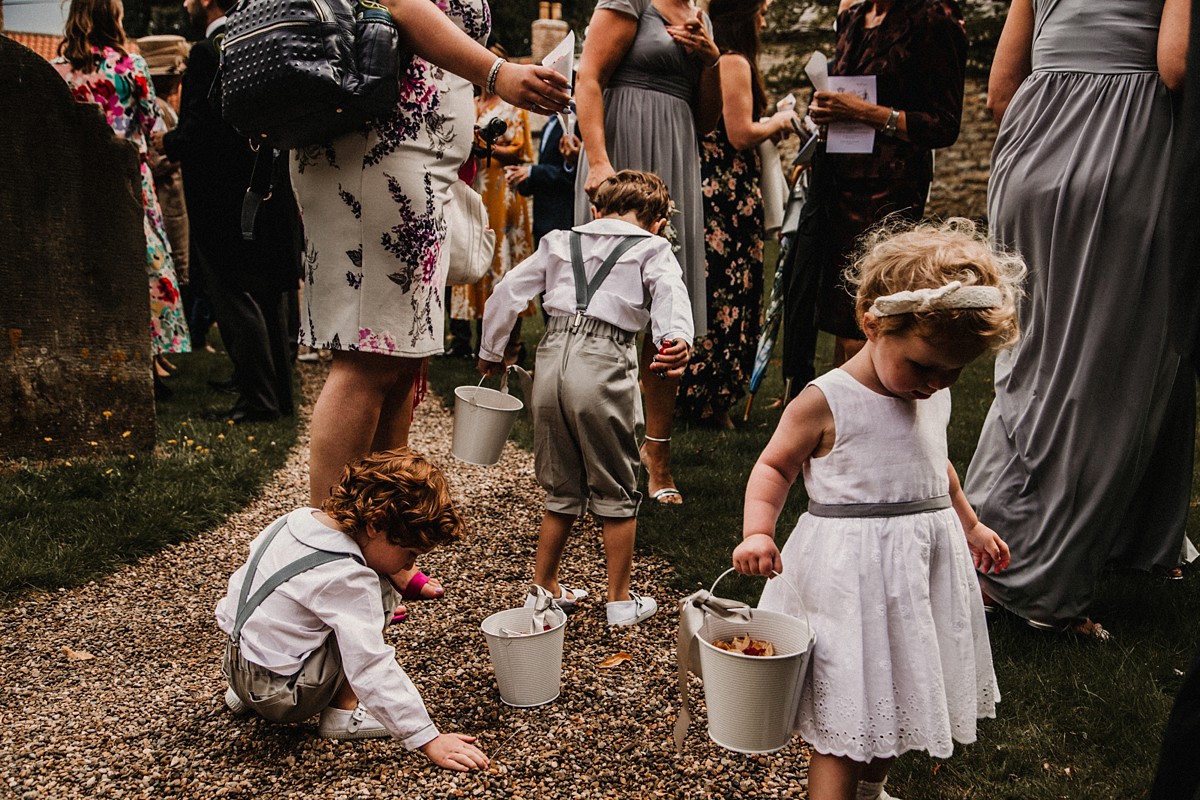 "Carla truly is amazing and we were really lucky to have her as she had a cancellation for our wedding date. I would recommend booking the photographer first if you find someone you like as they get booked up so quickly."
The videographer was Authentic Wedding Films.
"We were recommended by a friend, very professional and great to work with. So talented."
The adorable pageboys were in classic Amelia Brennan outfits, with their shorts and braces paired with fresh white shirts.
Marc opted to wear a traditional morning suit in dark grey from Favourbrook, with a contrasting lighter grey waistcoat from Oliver Brown. His crisp tie was a Gieves & Hawkes design and his shoes were from Loake. The final touches were Aspinal of London cufflinks and his grandfather's Rolex watch.
During the reception, there was live music from singer Kat McHugh accompanied by guitarist Matt and the guests received personalised mini bottles of liquors and gin from local producer Raisthorpe Manor.
"We picked individual flavours such as violet, elderflower and raspberry. The table names were cocktails too, so they went with the theme."
"We had a sweetie table which we made ourselves with jars and the sweets and a photo table where we provided a Polaroid camera for people to use. We used light boxes, fairy lights and also had some signs made. The centre-pieces on the tables were unique and provided some height to the arrangements and we had a wire covered with foliage and little hanging candles."
In time for the evening party and dancing to music from The Manytones, Laura removed her lacy shrug to reveal the sexy strapless bodice of her gown.
"Our first dance was to 'Give Me Love' by Ed Sheeran. One of our first dates was to one of his Glasgow concerts and we have seen him live four times since."
Words of Wedded Wisdom
"We got married at 1pm, I am so glad we chose an early-ish time as it means you have longer to spend with all your family and friends."
"Have umbrellas handy, just in case it rains."
"We provided flip flops in the evening for guests dancing which went down a treat."
"Order your dress as early as possible and book any suppliers you want as soon as you can."
"Ask friends for advice,; they can be great for insight in terms of budgets etc."
"Make the wedding how you want it to be, not how you think it should be or what others suggest. It's your day."
What a treat it's been to travel to Yorkshire for your day, Laura and Marc. I love your glamorous gown and those divine flowers, so thank you to you both for sharing these images with us. Thank you also Carla Blain for your work; I do hope we see your photography on Love My Dress again soon.
Ele xx