I really admire how the brilliant couple in this wonderful wedding honed in on all of the things they like best in the world, incorporating them into their beautiful barn celebration. This included music and great food, but also a strong family focus, with poignant remembrances of loved ones no longer with them, and family members turning their talents towards different aspects of the day.
Meet Rebecca, a solicitor, and John, who is an estate agent. They were married on the 8 September 2018 at the very lovely Tower Hill Barns in Trevor, Denbighshire. Not only is the venue a converted 250-year old cattle barn, it also boasts a sandstone railway bridge, too. Rebecca found lots of styling inspiration for her dress on our very pages, and how other Eliza Jane Howell real brides had pulled together their looks.
"I loved looking at the real weddings. It was helpful to see how they styled their dresses with hair and accessories, and it also helped me decide which way I wanted to go with bridesmaids."
Images by Damian Brandon Photography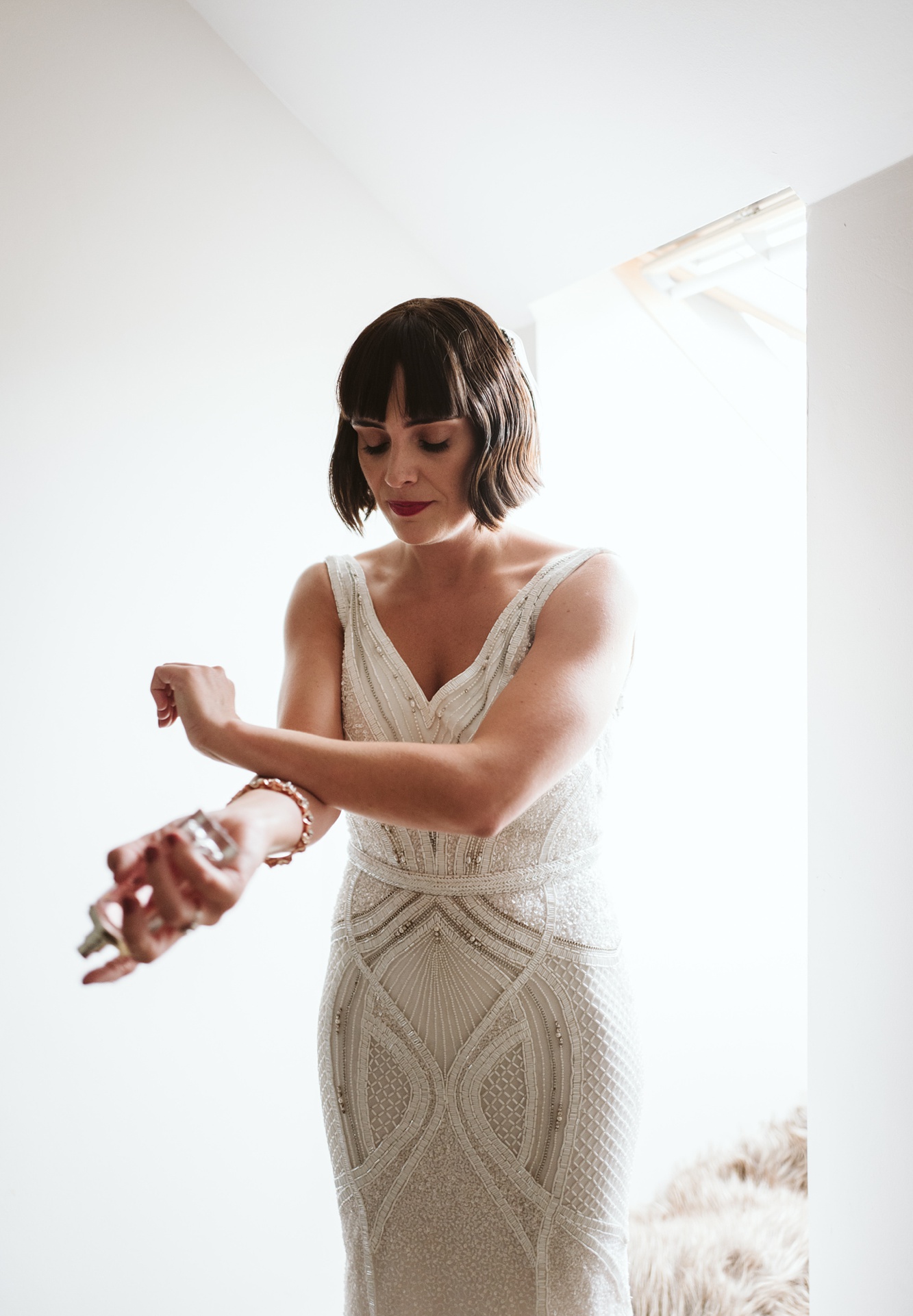 "When we got engaged John's grandfather, Reginald Crump, was still with us, however, he was almost 90 years old and not very mobile. It was therefore very important to us to have the wedding closely located to him, to ensure he could make it. We therefore began our search around North Wales and Cheshire."
John wore a super three-piece grey tweed suit from Torre, and a wonderful mix of gifted and heirloom accessory pieces, including his grandfather's watch and armbands, a hip flask given to him by his sister, and a pocket watch gifted to him by his parents.
Together with the groomsmen, John wore a pale mint green bow tie (to complement the bridesmaid's dresses), and the groomsmen's suits came courtesy of Off the Cuff Menswear in Wrexham.
It's no secret that we love the era-inspired elegance of Eliza Jane Howell's dresses here, and the designer is also part of our directory of the most excellent and trusted suppliers, Little Book. Rebecca chose the intricate, Art Deco inspired, hand-beaded 'Zenith' dress at The Bridal Rogue Gallery, and she looked utterly magical.
"It was, in fact, my (soon to be) brother-in-law who first decided that my dress was 'the dress'. I first tried it on in another wedding dress shop, however, the experience we had during that appointment put me off. I then tried it on again at the Bridal Rogue Gallery. I liked it but wasn't sure. I spent time looking at the dress online and came across a picture of a bride who had had the dress altered to give it a low back."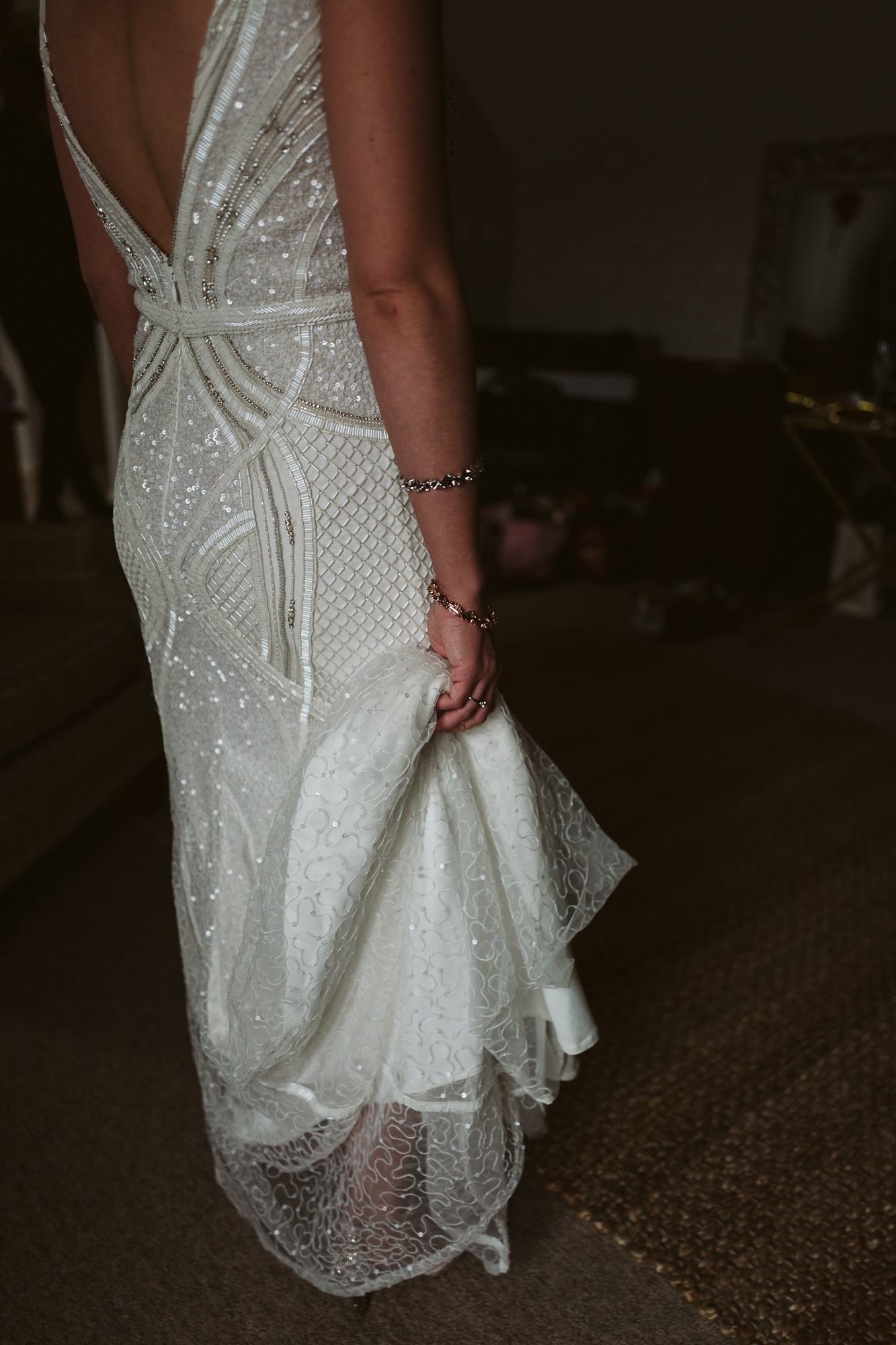 Rebecca's shoes were a lovely Rachel Simpson design – the 'Olivia' in sumptuous mauve velvet (and glitter, too!).
In her hair, Rebecca wore a sparkling hair comb from Etsy (sadly, no seller details provided), and paired it with a long tulle veil chosen at The Bridal Rogue Gallery.
"One thing I was sure of from the very beginning was that I was having a veil. When would I get another chance to wear one?! My dress had a little bit of a train, but I wanted to make it a little more dramatic and so added a long veil."
All that remained was for a mist of special wedding day perfume, which was Addict, by Christian Dior.
"My colleague at work, Debbie, was so generous and bought me a gift voucher for the Perfume Shop for my 30th birthday, which was just before the wedding. I was therefore able to put it towards a new perfume for the wedding. I love that I have a scent to remind me of the day."
The bridesmaids looked wonderful in pale mint green sequin and tulle dresses from ASOS, and as a gift, Rebecca bought each of them rose gold ear studs, also from ASOS, and rose gold bracelets with a heart charm, from Accessorize.
"Finding the girls' dresses was the hardest thing for me. I must have tried over 100 dresses from various high street suppliers before finding the dress. It was difficult to find something to complement my dress, which was quite 1920's Art Deco, without it looking like fancy dress. I therefore settled on a sequin dress, with a tulle skirt to complement mine. I wanted them all to be comfortable but still look incredible, which they did of course!"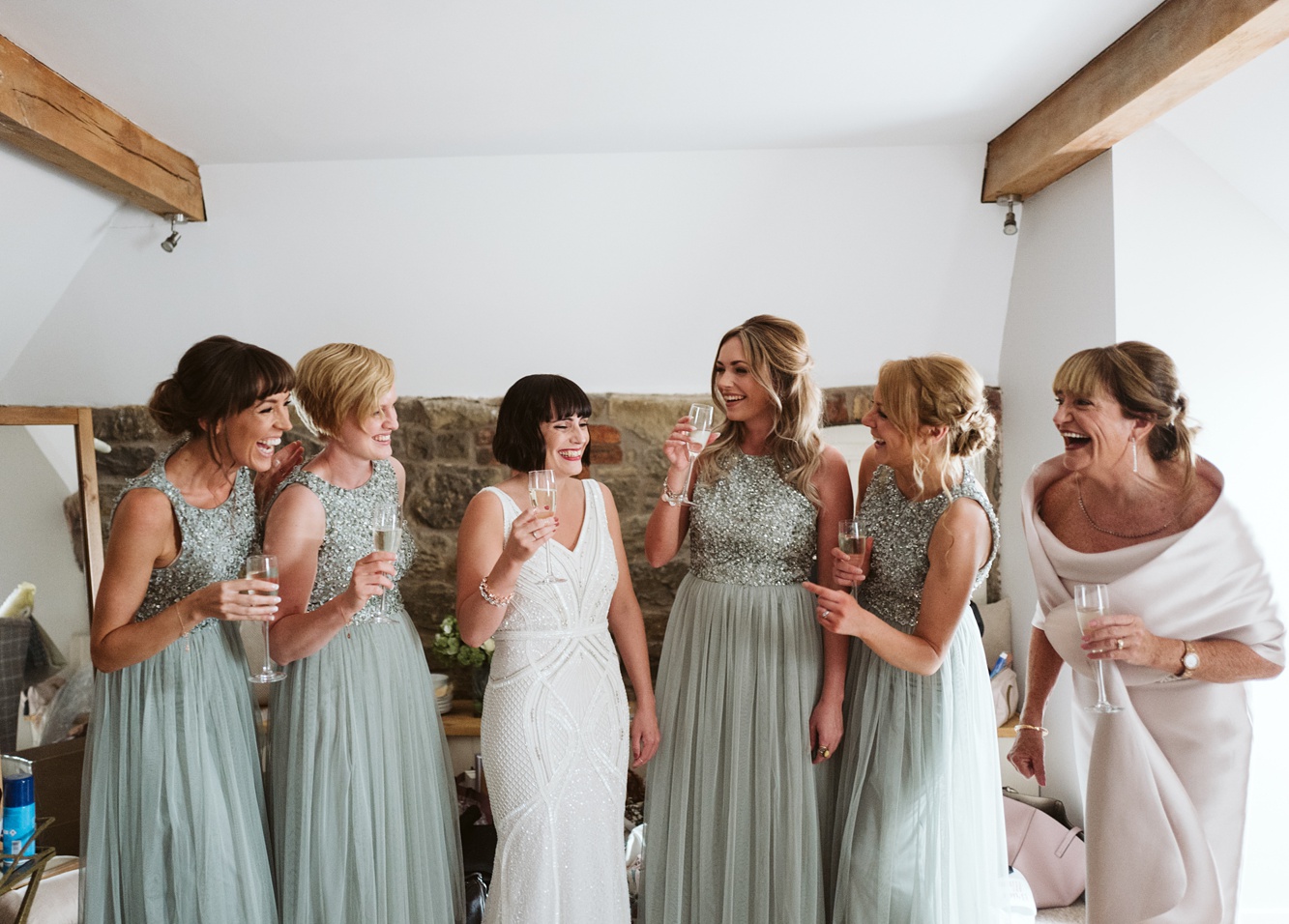 For jewellery, Rebecca wore earrings by Lace & Favour, and sparkly bracelets from Kate Spade.
"I purchased a leather jacket from ASOS and had a wonderful friend paint the back. She was so nervous about doing it, but did such a fantastic job. I am thinking about getting the jacket framed." 
There's a lovely crimson and pink colour palette running through Rebecca and John's day, from the bride's nails and lipstick, to the wonderful flowers, all created by family friend and florist Kate, of Blooming Beautiful.
"My mother-in-law has been purchasing her flowers from Kate for years, as she was located in their local village. From the moment I met with Kate, I knew she would be perfect for our wedding. She was enthusiastic, always ready with ideas and able to understand what my husband and I often had difficulty trying to explain; for example, the tree centrepiece my husband came up with, with Kate's help."
"Kate was the one to break it to me that I couldn't have peonies for my core flower (it was the wrong season) and suggested David Austin roses instead. I actually think this worked better with my dress and the suits."
"We then worked through various ideas for the other flowers to be used in my bouquet, which were then incorporated into the girls bouquets, corsages and buttonholes, as well as the flowers in the centrepieces and moon-arch (which Kate had to transfer from the ceremony room to the reception room after the ceremony finished– sorry Kate!)"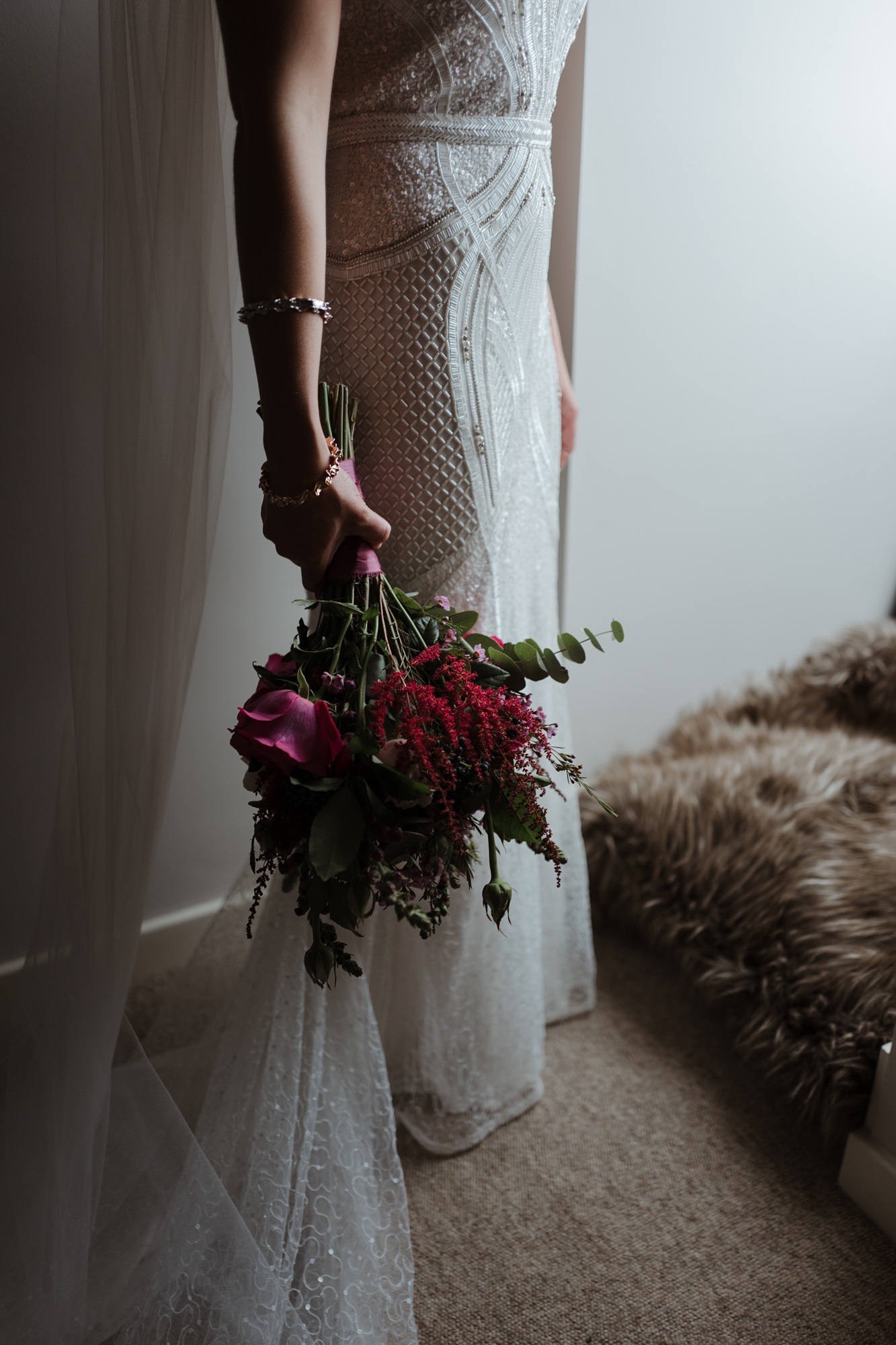 Rebecca was accompanied down the aisle by her dad, and it was an important and emotional moment for them both.
"Despite my dad and I being very emotional people, we managed to keep it together and keep in time to the music!"
The choice of entrance music was likewise important, and after much deliberation, the couple chose Mumford & Sons' I Will Wait.
"Music is so important to us, and we wanted it to be special and relevant to us as a couple. We settled on I Will Wait, as John and I had waited such a long time to get to this day. After two years together at university, we spent five years long distance, whilst I trained as a solicitor and he studied for his Masters."
"John proposed whilst we were on holiday in Thailand. It was our last day in Koh Samui and John had been acting strangely all day; disappearing to the 'toilet' a lot (calling various members of the family) and insisting we go to a beautiful restaurant on the beach (called Orgasmic – you could not make this up!)."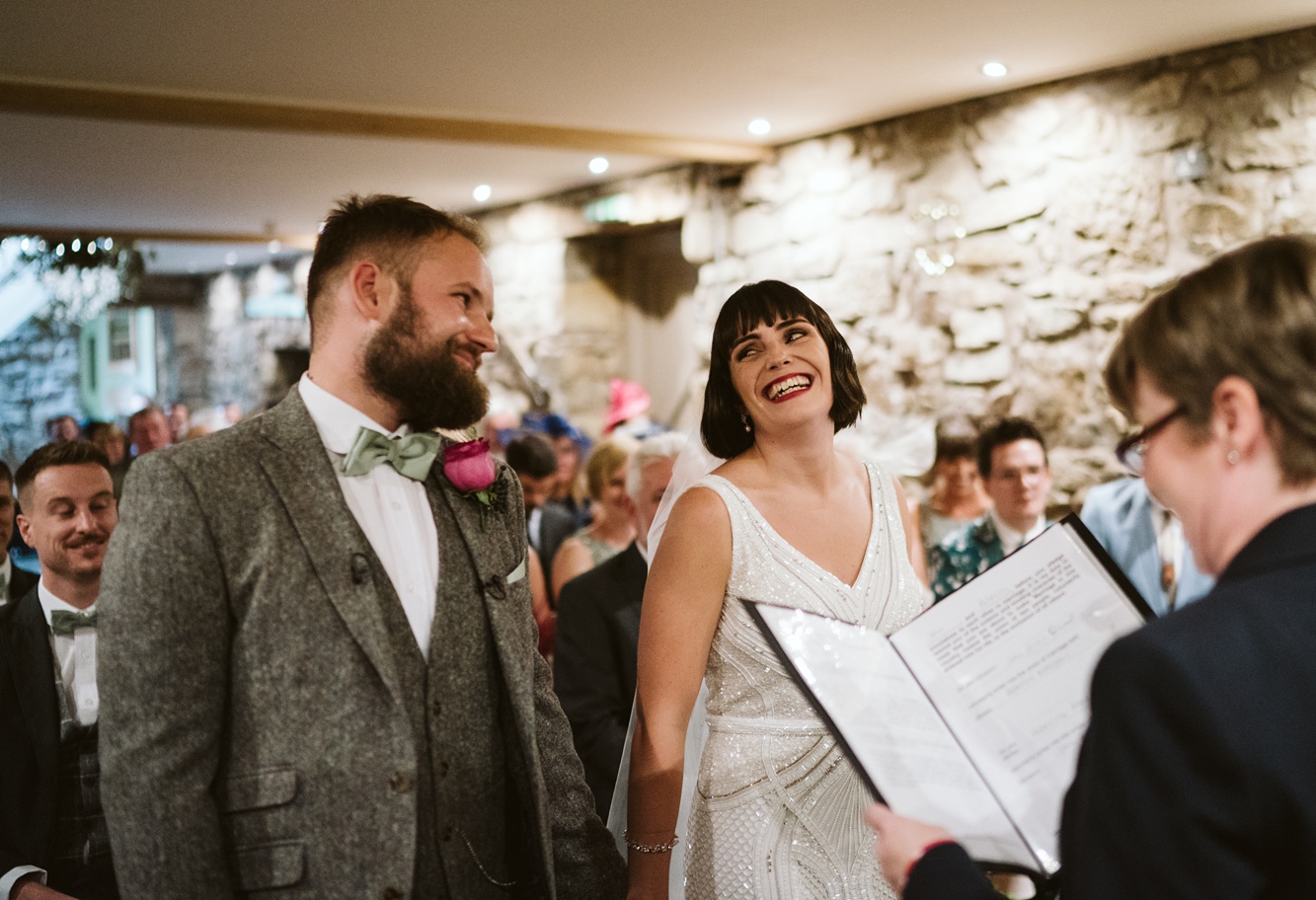 "After a couple more drinks and a fire dancing display, John suggested that we go onto the private beach at the hotel for a drink. Then, with our feet in the sea and a beer in hand, John popped two questions (on one knee of course): Could he watch Wales in the football early in the morning and, would I marry him? After a lot of tears and me checking he was being serious, I of course said yes."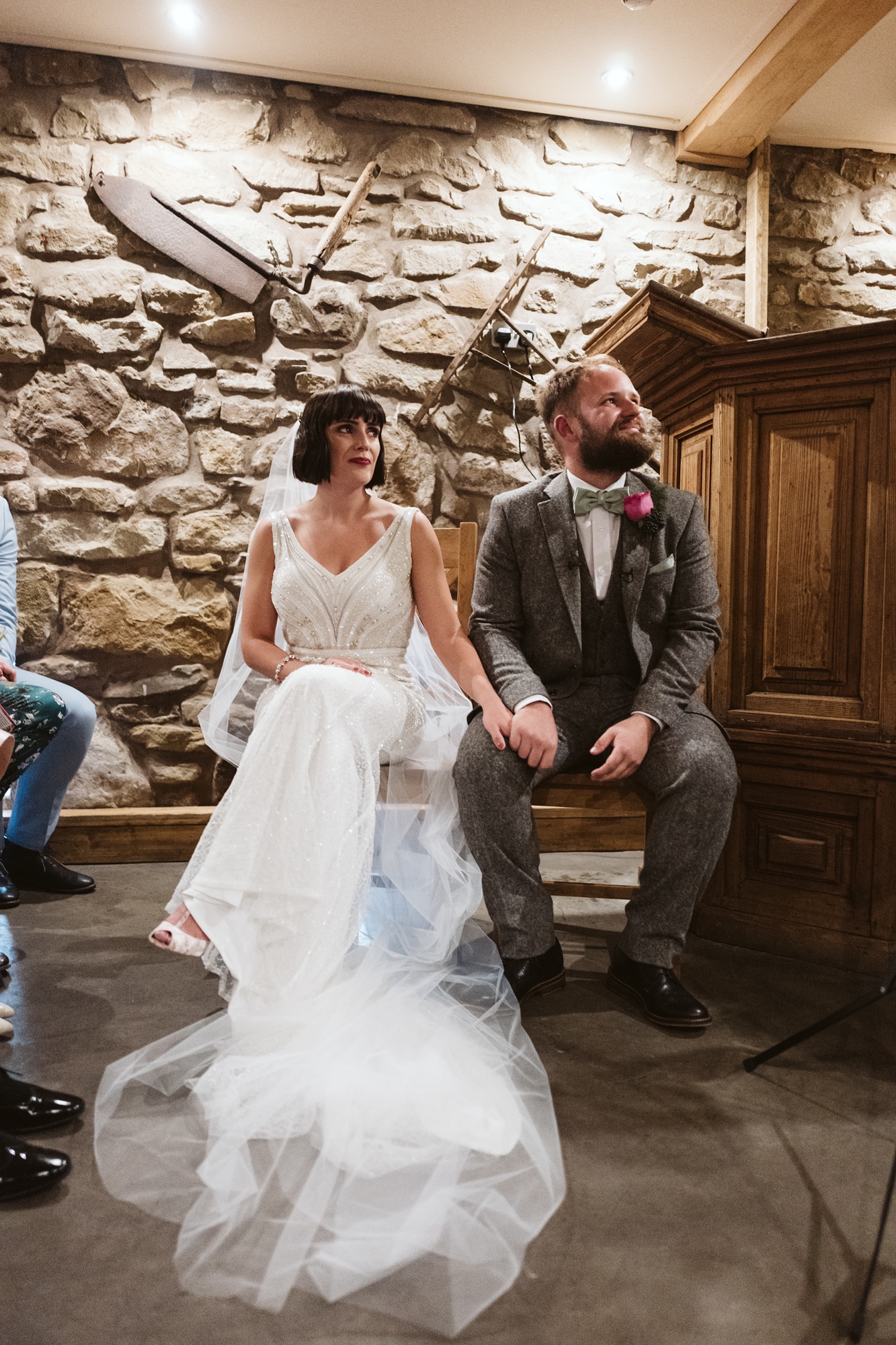 "There was then no time to waste; with me planning how I was going to do my own proposal to my bridesmaids, and John preparing the first draft guest list (which came to almost 200 people!) during our stopover in Singapore."
Rebecca and John wanted their vows to be heartfelt, but with humour, and so decided to write their own.  The couple also gave each other rings; Rebecca chose hers from The London Victorian Ring Co., and John's was handmade for him in Wales by Etsy-based Wooden Gold.
"We had three readings which were: He's Not Perfect by Bob Marley, which was read by a very close friend of ours, Olivia; The Bridal Cake, a poem that John's mum found in an old cookery book of his nana's, which his sister read. The reading my brother and his fiancé were meant to read was Union by Robert Fulghum."
"However, my brother decided to instead start the reading by reciting the reading from Friends, which was written by Joey for Monica and Chandler's wedding. It was a total surprise but my brother and I are massive Friends fans and often quote the show, so it was very apt and got everyone laughing. They did eventually get to the proper reading!"
The newly married couple enjoyed the most joyous walk back down the aisle together and outside, and instead of confetti, loved ones blew bubbles into the air instead.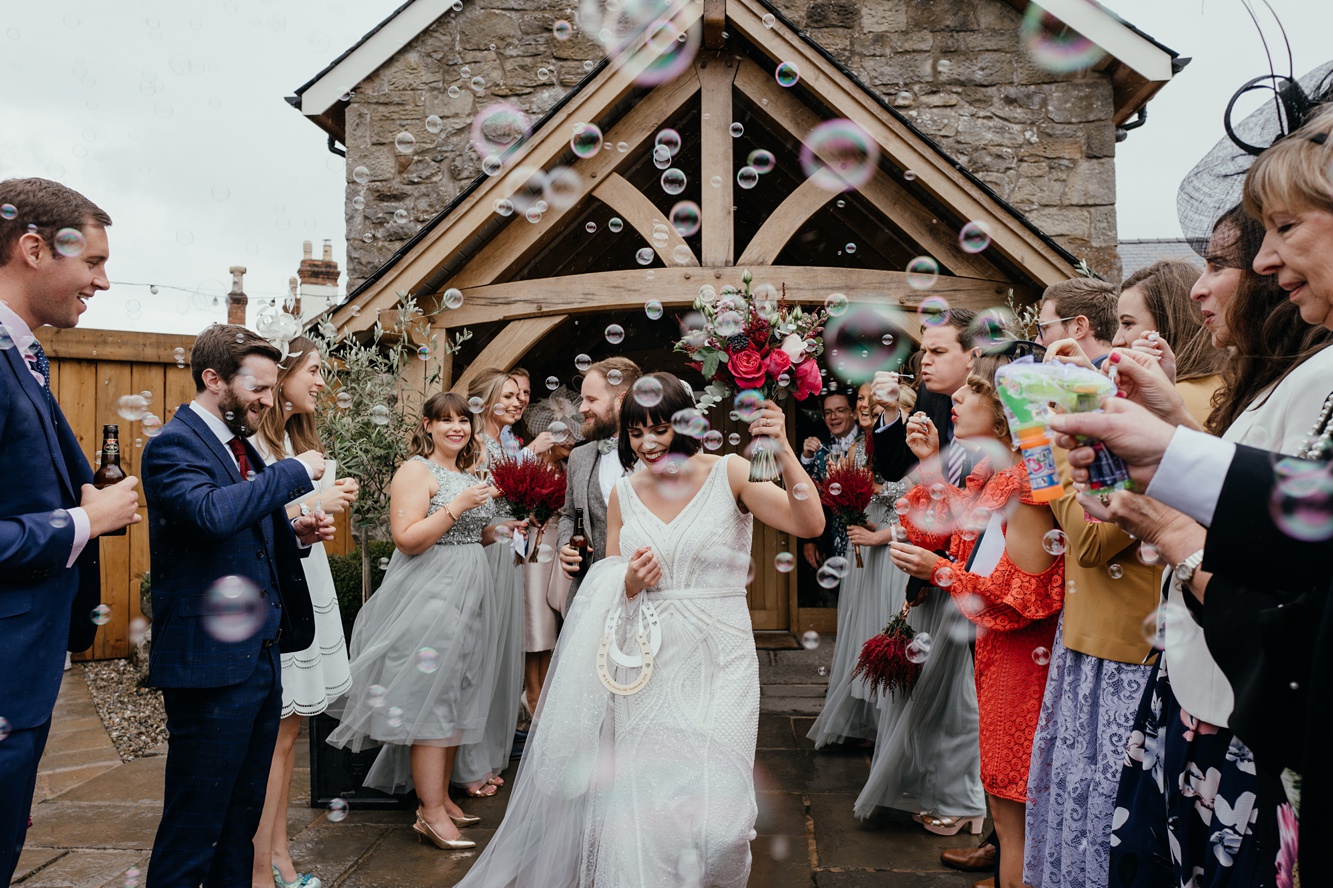 This infectious happiness was captured to perfection by Rebecca and John's chosen photographer, Damian Brandon, whose work we're thrilled to feature here today.
"After the venue, Damian was the first thing we booked. We spent ages trying to find a photographer we thought we would get on well with. It was important to us to have a more natural look, as we are both quite awkward about having our pictures taken."
"I love that Damian doesn't use any bulky equipment, and that he uses the natural light so expertly. Most of our guests didn't even realise he was the photographer. He wasn't pushy or interfering, he made us feel so at ease, and I am so pleased we trusted him, as he managed to create some amazing photographs."
Rebecca and John were also delighted with their choice of videographer – James Wray, who was recommended to them by Damian.
"Their work complements each other's so well. Again, James was so relaxed and managed to capture some stunning moments. We were unsure about incurring the cost of a videographer but I am so glad we did (thank you mum and dad!)."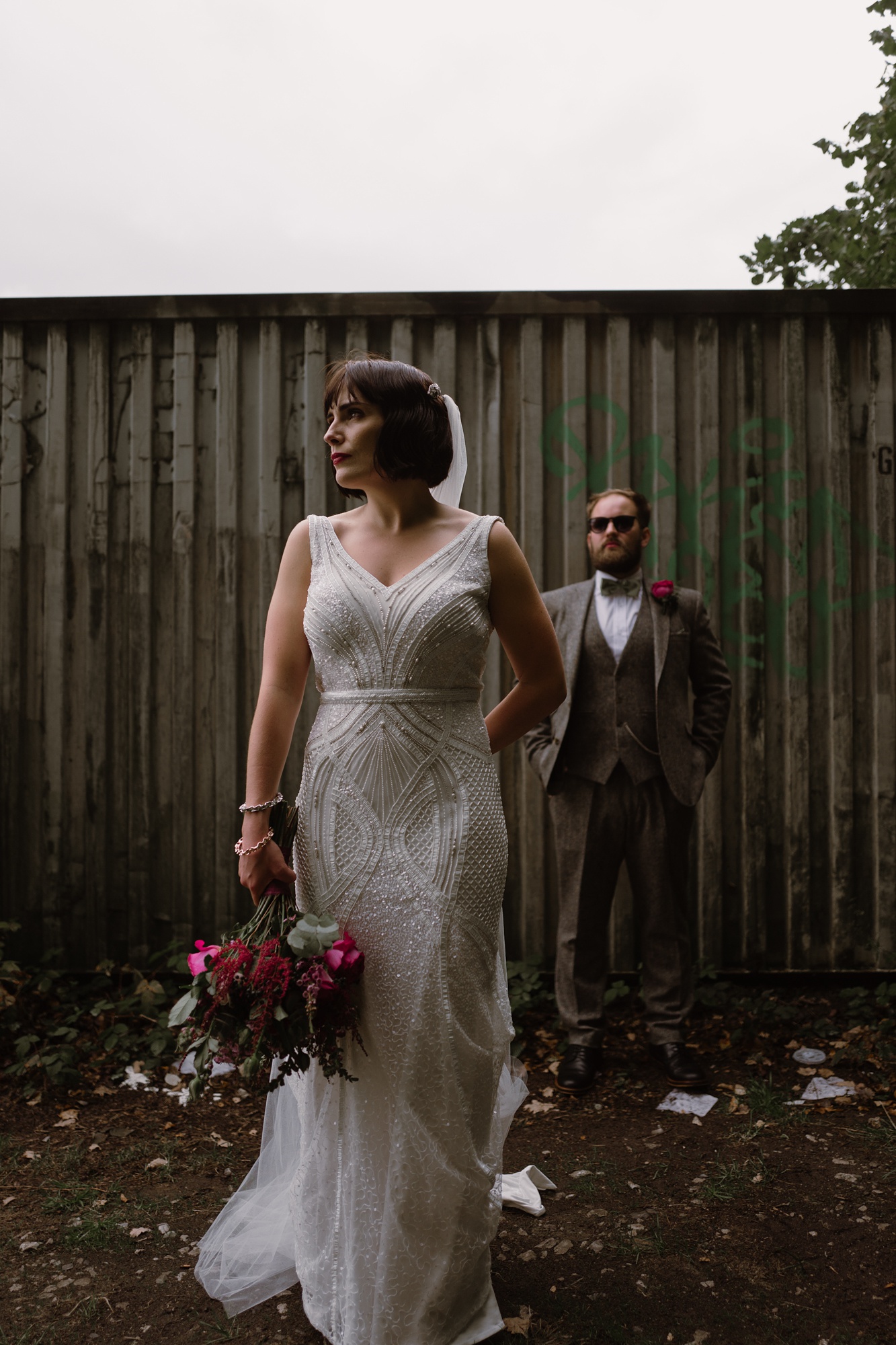 In keeping with dramatic 1920s glamour, Rebecca's beautiful bob was styled into an s-wave, with elegant make-up, including statement red lipstick, by Sarah Morten.
"What can I say? Sarah is a genius. I have very temperamental skin, but she managed to work her magic to achieve the look I wanted for the day. I knew I wanted a strong lip colour, so Sarah did a great job to ensure the rest of my make-up was such that the overall look wasn't overpowering, and made my red lip colour the focus."
"We tried various versions of my hair and settled upon an s-wave, which suited the dress and headpiece perfectly. Sarah was assisted by Rebecca Forshaw on the day. Rebecca did hair and make-up for my mum and a couple of the bridesmaids. They were both so friendly and calming on the day, just what I wanted for the morning of the wedding."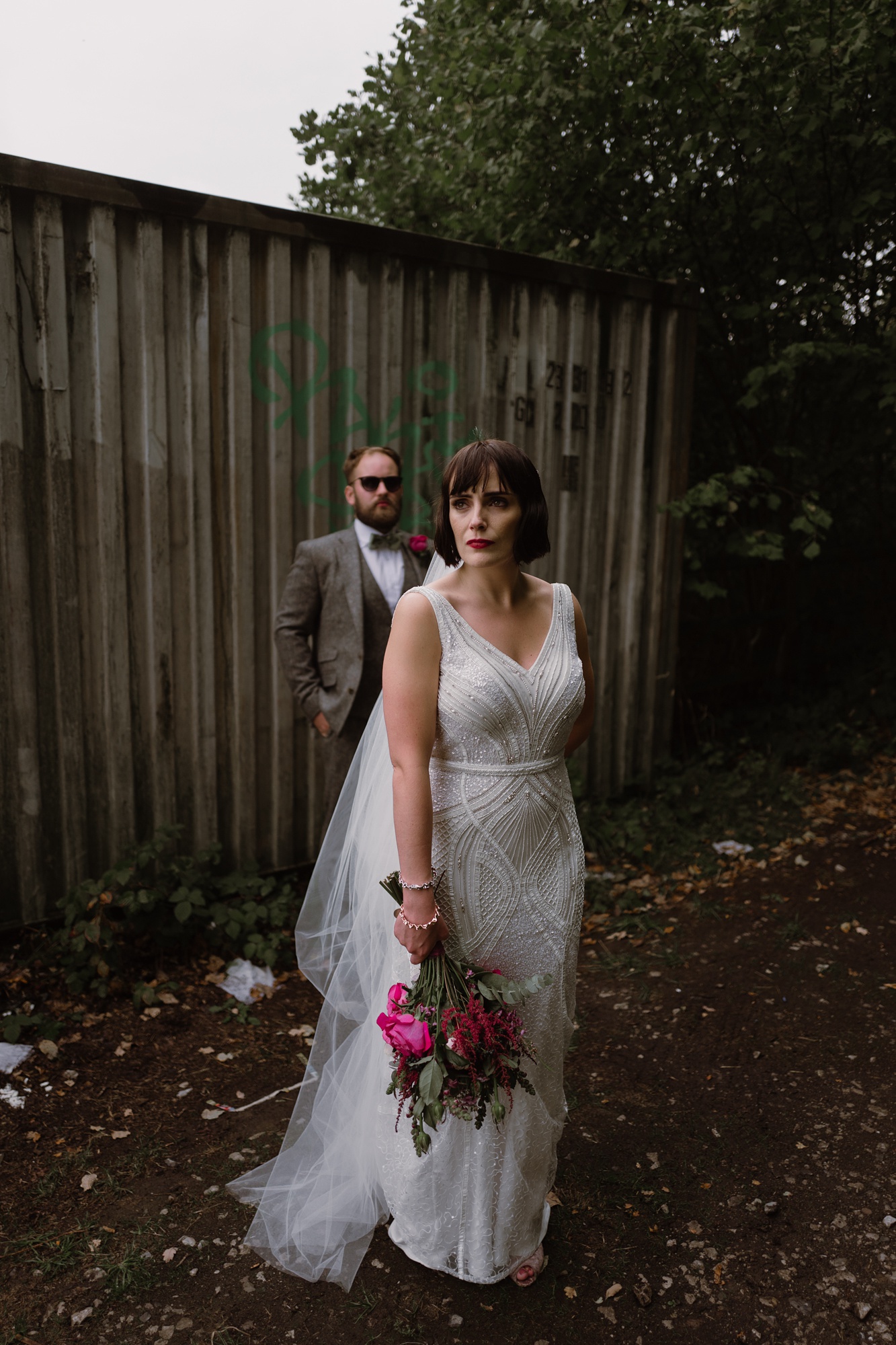 "We knew we wanted a beautiful and relaxed venue. I remember typing 'barn wedding North Wales' into Google and Tower Hill Barns, in Trevor popped up. I immediately fell in love with the images they had on their website. It was exactly what we were looking for. I asked John where Trevor was, as I had never heard of it before, only for John to inform me it was down the road from his parent's house, in Wrexham."
"John is a very proud Welshman, and we first met whilst at university in Aberystwyth, and so it felt meant to be. We arranged to view the venue two weeks after we got engaged. It was perfect and we booked it shortly after."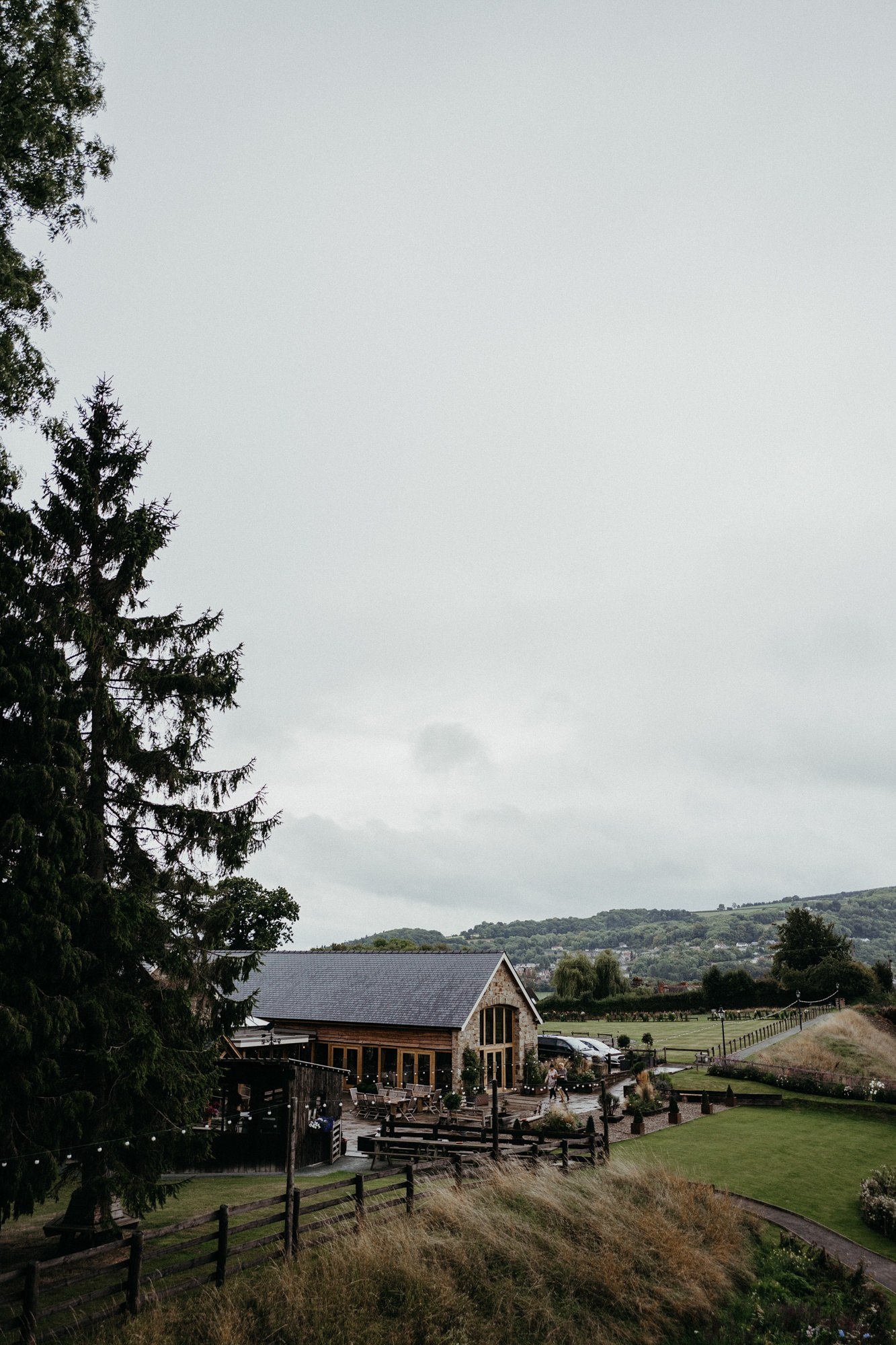 "Our gifts and cards were placed into a banjo case our uni friend, Barry, very kindly lent to us. John's old work colleague, James made crochet dolls of us, which we displayed next to a sign my mum and dad had bought us saying 'Jagerbomb time'."
"Above this we displayed the wedding pictures from our parent's and grandparent's weddings. It was a great sadness that the majority of our grandparents (including John's Grandad Reg) had passed away prior to the wedding but was lovely to have a piece of them present during the day."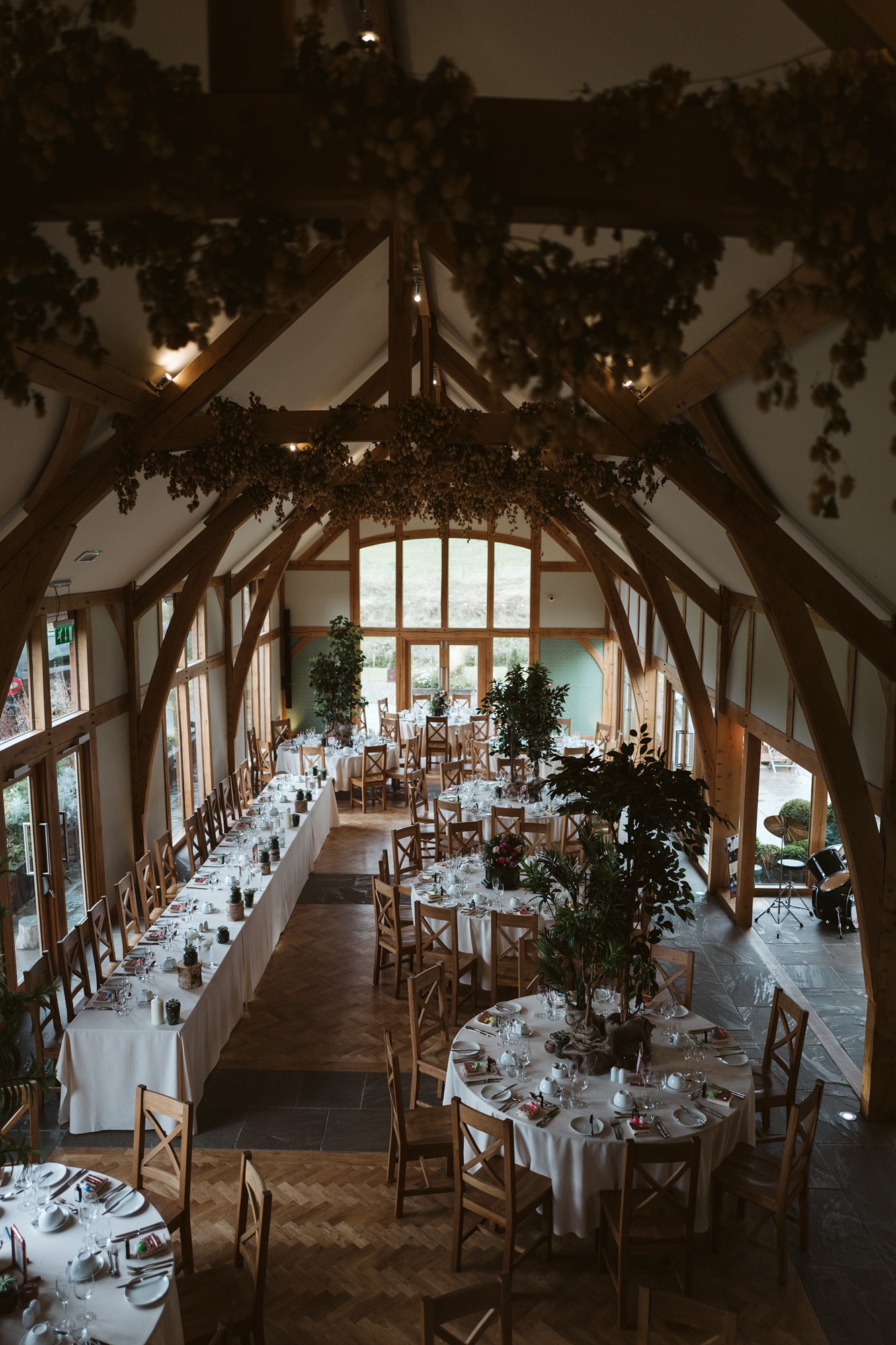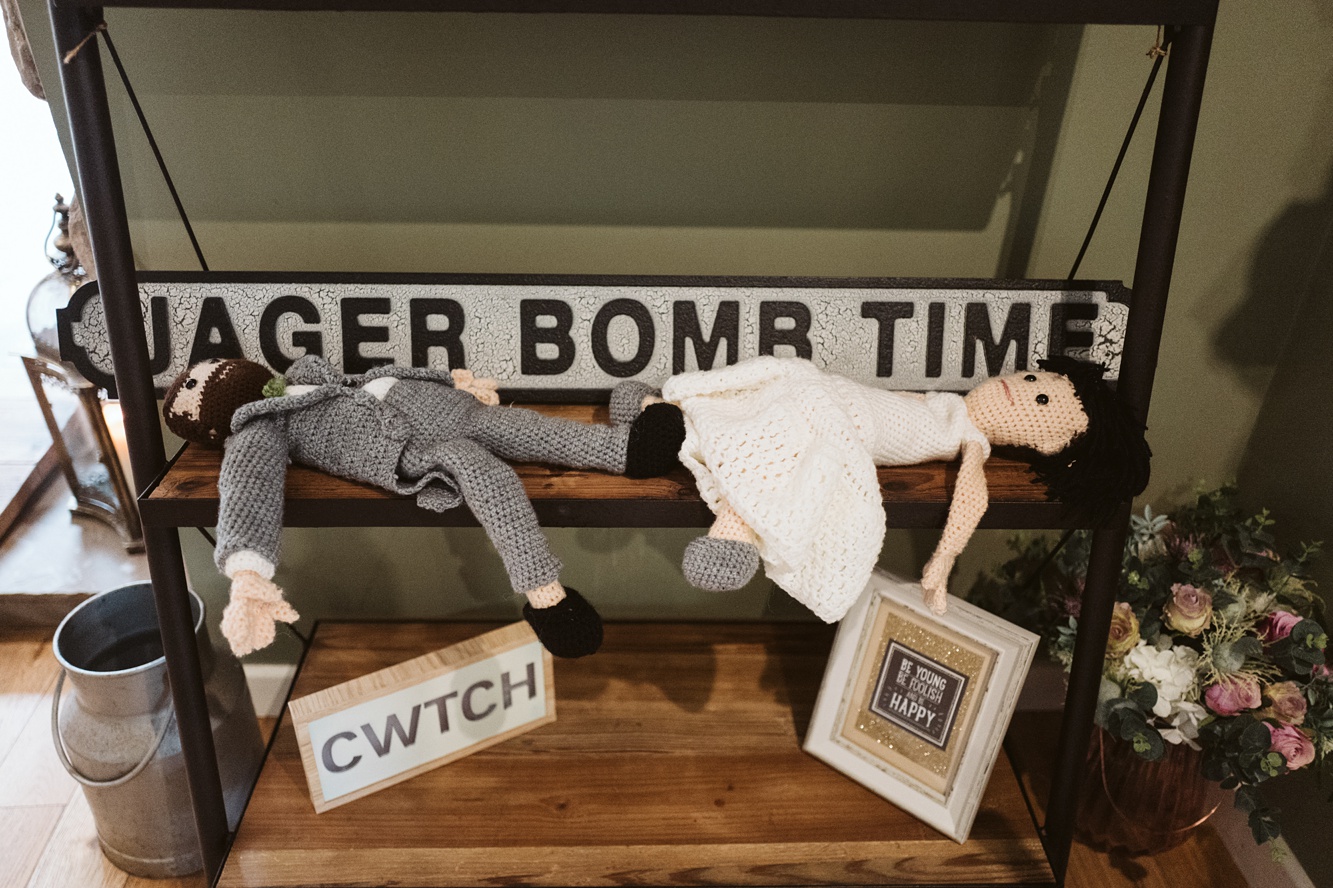 I love the contemporary floral stationery, designed for the couple by Rebecca's brother, who studied graphic design at university, and who offered his creative talents as a wedding gift.
"David knows us very well, and was able to nail the design on his first attempt. All I had to do was provide him with the details and the wedding colours and he worked his magic! Whilst I absolutely adored all of the various things he designed, I think the highlights were the album covers used for the table plan. David incorporated mine and John's faces into the album, sometimes so well it took our guests quite a while to realise they weren't the original images!"
Rebecca and John showcased their love of music in other aspects of their decor, too, with a main focal point being John's set of drums, which had a personalised wedding drum skin.
"We then set it up in a corner of the venue, along with vast amounts of dressing up gear my mum and dad accumulated over the years. It was a great hit, and I loved witnessing my best friends dressing up as angry birds, wearing a crown and palm tree glasses, whilst trying to play the drums with our personalised drum sticks."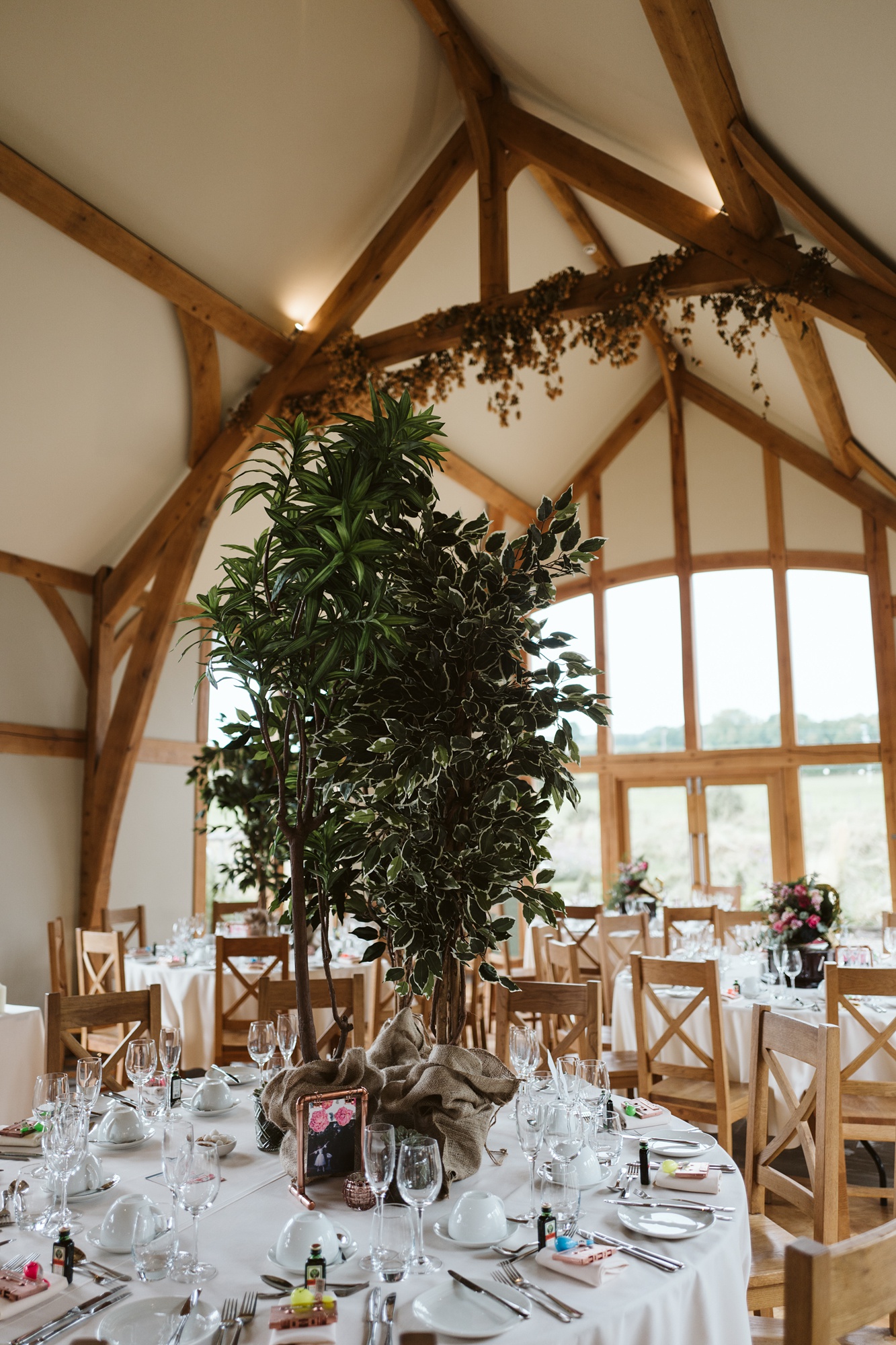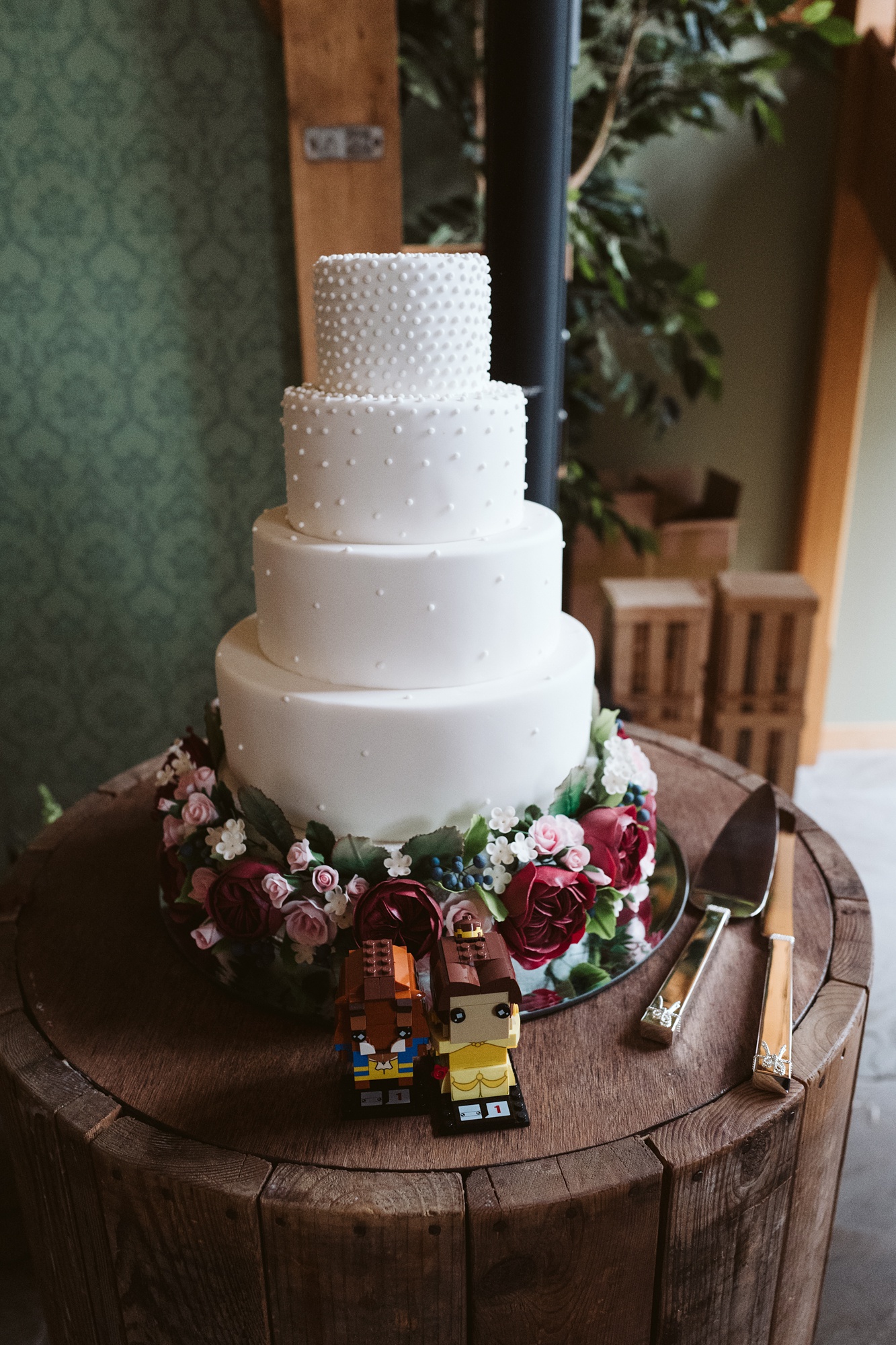 Table centrepieces were beautiful floral arrangements inside vintage gramophones, by Blooming Beautiful, and guest favours were mini bottles of Jägermeister – paying homage to the first drink that John ever bought for Rebecca.
"We tried to incorporate the gig vibe into our décor as much as possible. We displayed posters from gigs we had been to together. I had badges made using the designs my brother had prepared for stickers we used for the save the dates, which were held in a bowl made from an old vinyl record."
Great food was a key consideration for Rebecca and John when planning their day, and the in-house team at Tower Hill Barns didn't disappoint, with lots of guests telling the couple how delicious it was following the wedding.
"Our cake was made by John's Aunty Ann. Originally we weren't going to have a fruit cake but, when I announced this to various members of the family I realised that it was only really John and I that didn't like it! We therefore decided to have a traditional wedding cake layer and then a layer of chocolate cake, lemon cake and Victoria sponge. We didn't want to make it easy for Ann!"
"We settled on quite a simple design for the cake itself. Ann piped on polka dots, which started off very close together on the top layer and then dispersed down to the bottom of the cake. For the base of the cake, things were a little more complicated. Ann handmade, from sugar paste, our wedding flowers, which included the David Austin roses. Ann will not reveal how long these took her to make, but I know she never wants to see a David Austin rose again!"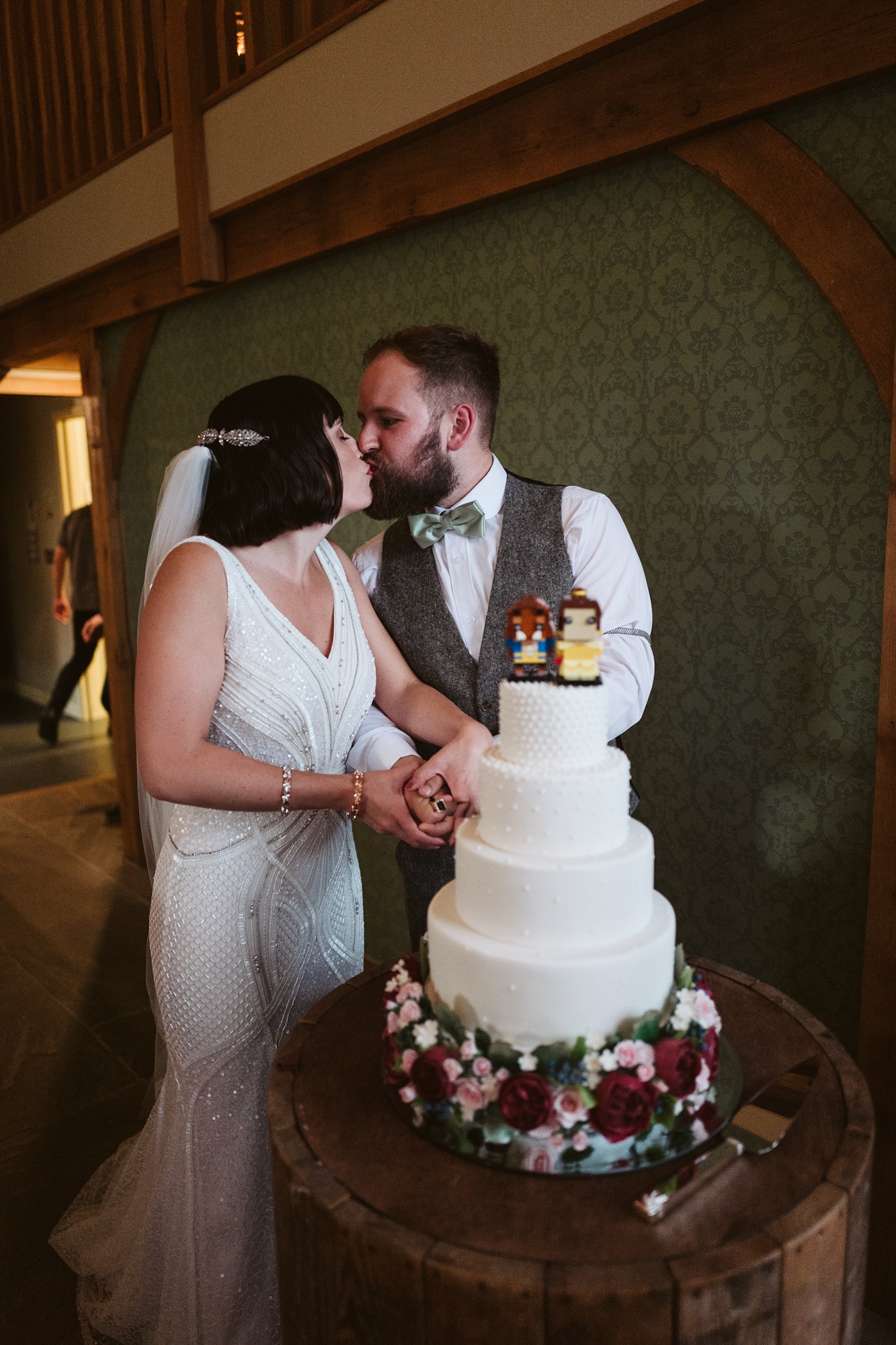 As well as the amazing DIY photobooth, Rebecca and John had some great fun with colourful smoke bombs, and over on the dance floor, there was fantastic live music from Rhythm Train.
"We really lucked out on our wedding band. John has always been into his music and met one of the band members, Tom, when he was in college. Tom used to be part of a band that John was a huge fan of. In fact he put a lot of effort into trying to convince Tom to put the band back together to play our wedding! John was out in London one evening, soon after we got engaged and Tom happened to be there. John knew Tom was part of a band that did weddings, called Rhythm Train."
"They did not disappoint. They were incredible, and I don't think many of us left the dance floor for the majority of the evening. They were so incredible in fact that one of my bridesmaids has now booked them for her wedding in July next year."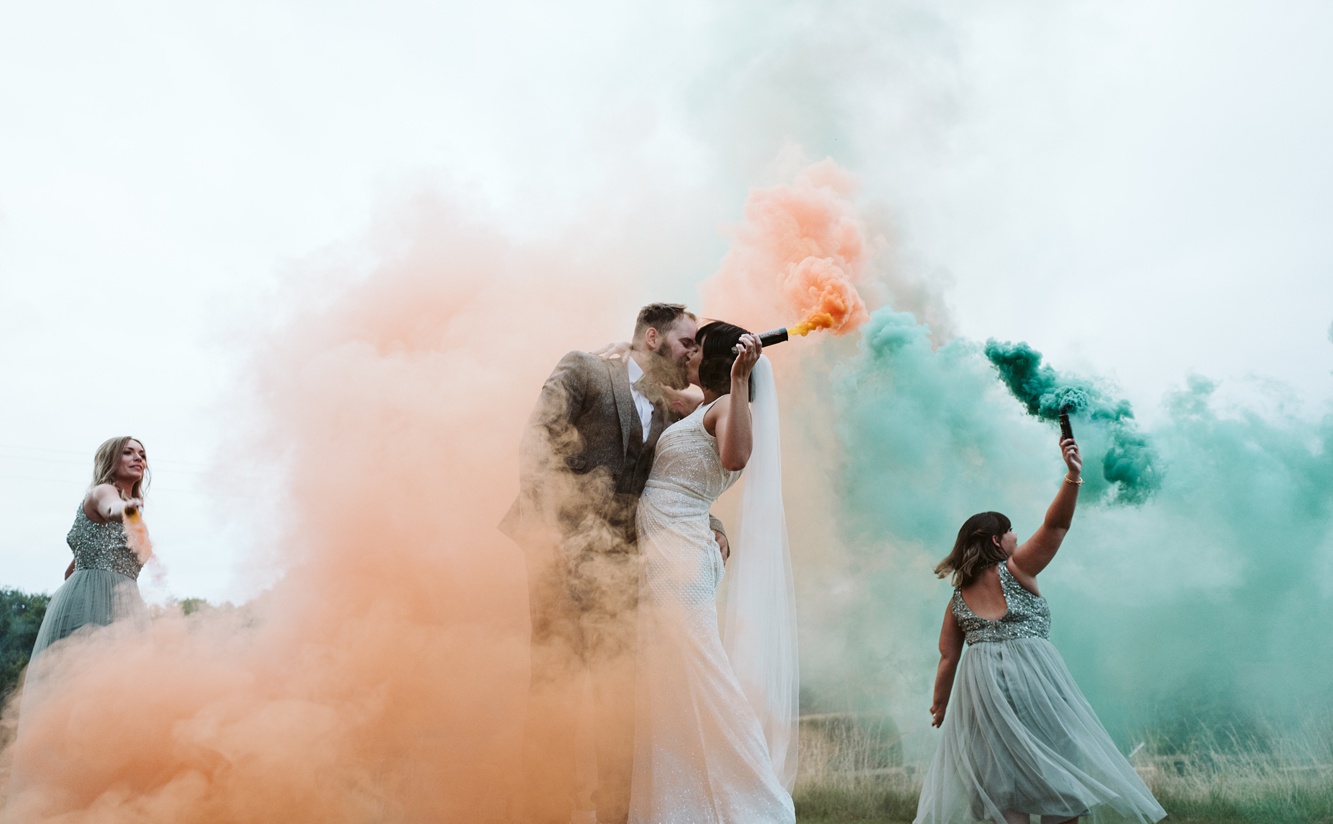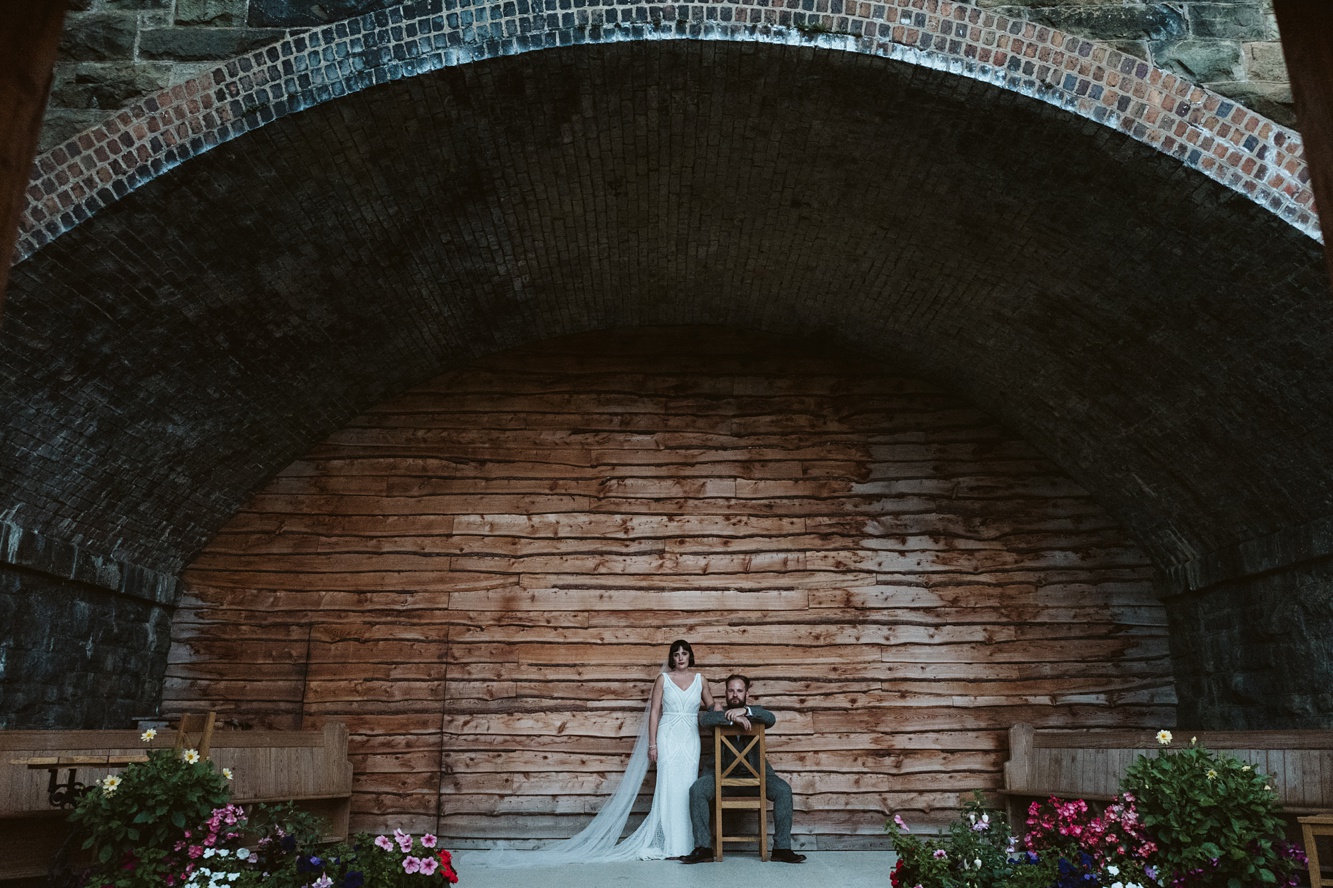 There were no shortage of significant songs that Rebecca and John could have chosen as their first dance, but they settled on a Florence and the Machine and Dizzee Rascal duet from the Brit Awards – You Got The Dirtee Love.
"We decided to rap the first two verses of Dizzee's parts and kept this a secret from all of our family and friends. The only other person who knew was our friend James, who we asked to merge the original version of the song with the Dizzee version to give us a longer intro to dance to. Another thing we kept secret was my personalised leather jacket, which Lottie (who made it) passed to me during John's verse."
"We cannot pick just one favourite part of the wedding. It was honestly such an incredible day and went by in a flash. Some of our highlights were walking down the aisle, the food, creating the photos using smoke bombs, our first dance, dancing the night away with our family and friends and my brother running around the venue putting glitter on everyone's faces. There isn't anything I would change about our day. It was incredible from start to finish."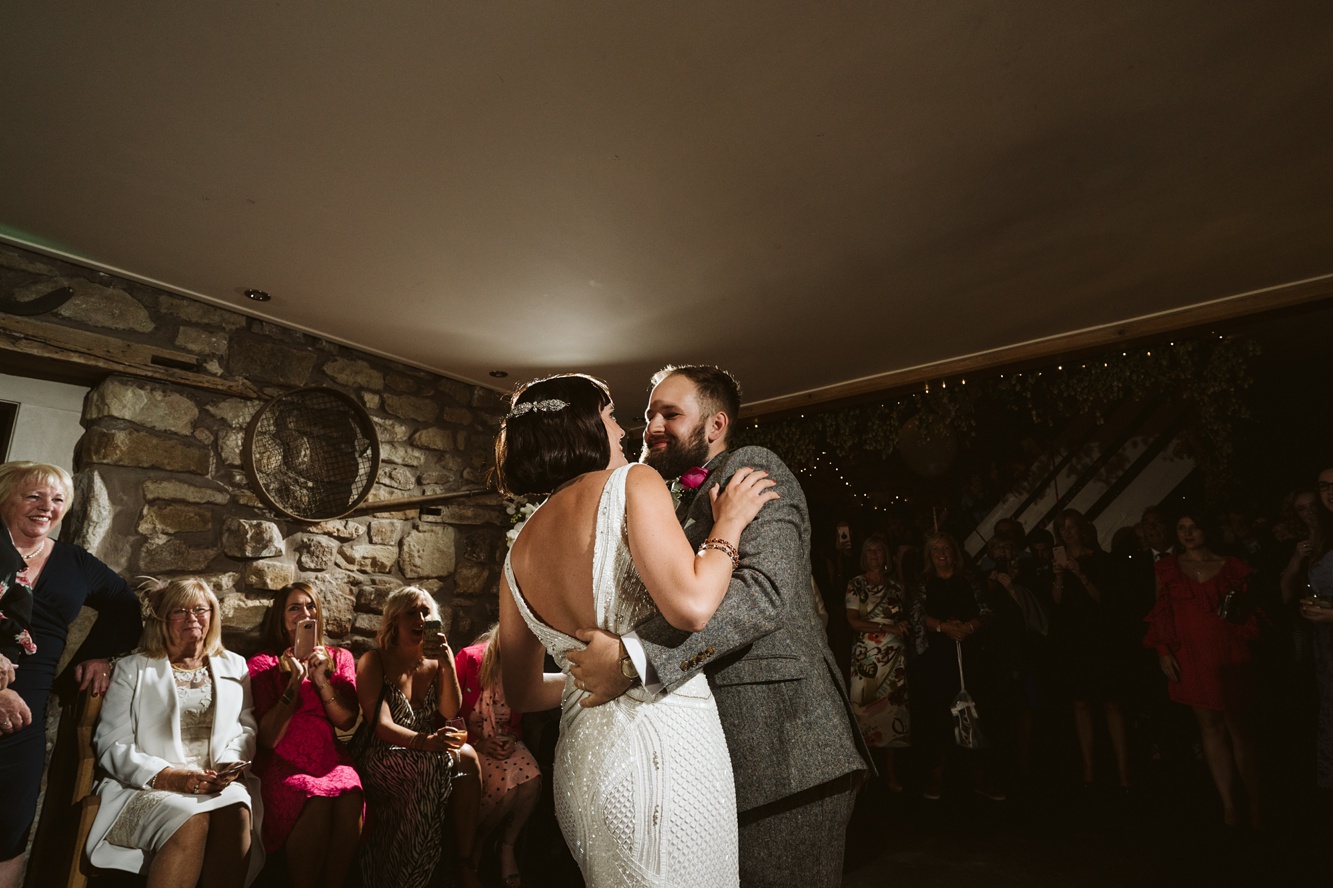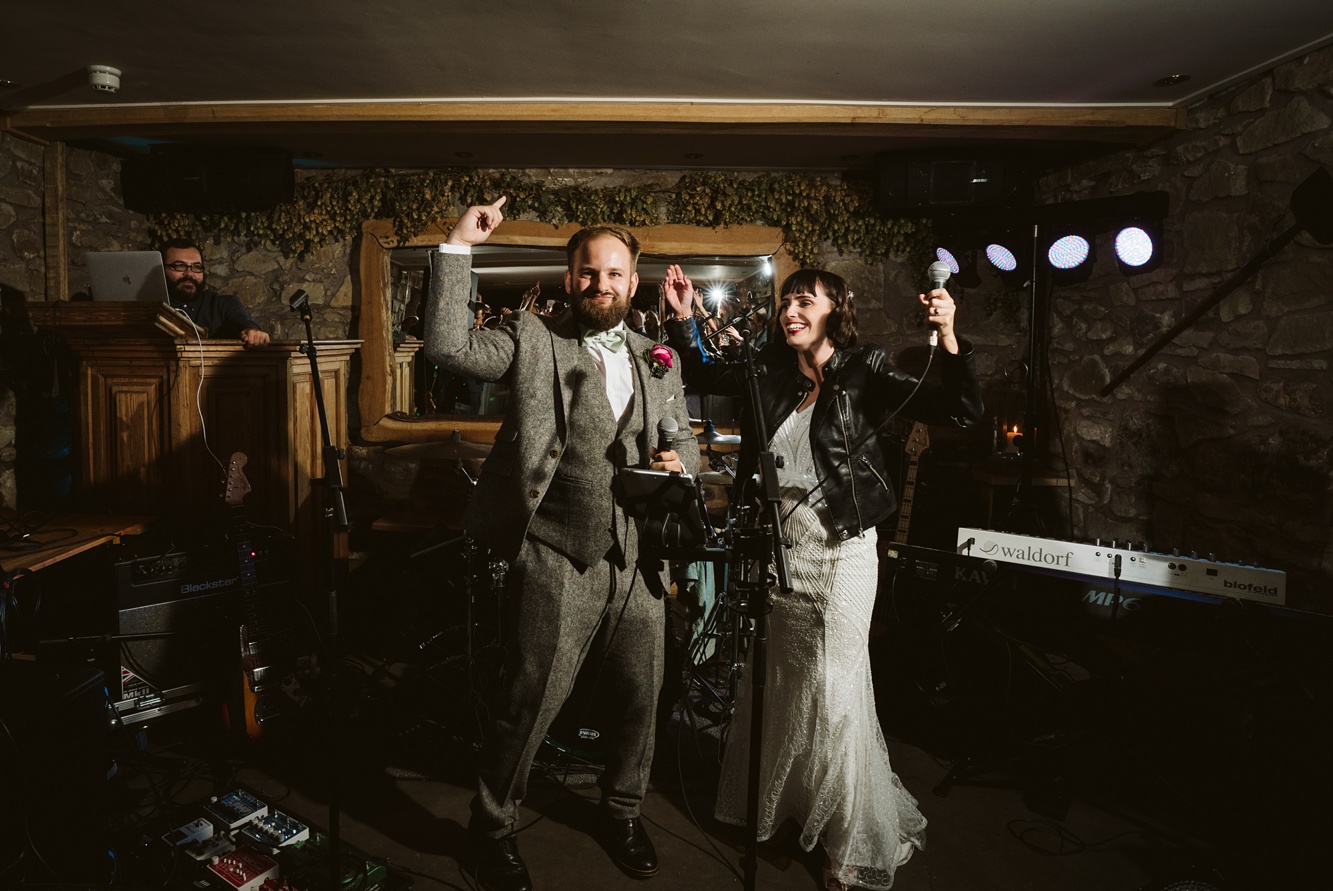 Words of Wedded Wisdom
"I decided early on that I wanted to do my own speech. I wanted to thank people myself, not just through John, especially my parents, brother and bridesmaids. I also wanted to gush about my wonderful husband! Why should I have all of the lovely things said about me? Especially when the Best Man was likely to throw some shade!"
"I think one key piece of advice is to do what is right for you and your partner. You will obviously want to make the day special for everyone, but you will probably not please everyone. It is important to stay true to what you and your partner envision for the day. That being said, that doesn't mean you shouldn't be open to ideas and suggestions. It's sometimes good to take on board other people's advice, but just ensure you don't let it overshadow what you want from the day."
"I would also say, have fun and enjoy every moment as it's true: it's over in a flash. I wish I had relaxed more during the morning of my wedding. I wanted to ensure everything was in the right place, which is very difficult when trying to get ready and so I am very grateful I had my dad, brother and brother-in-law on hand to help the venue set everything up!"
"I was also so nervous about having to walk down the aisle, read my vows, and my speech and rap! I wish I had just remembered everyone was there because they loved John and I, and when I did eventually stutter during my speech, they were behind me every step of the way. Especially my husband, who held onto me the whole way through, as he could see how nervous I was."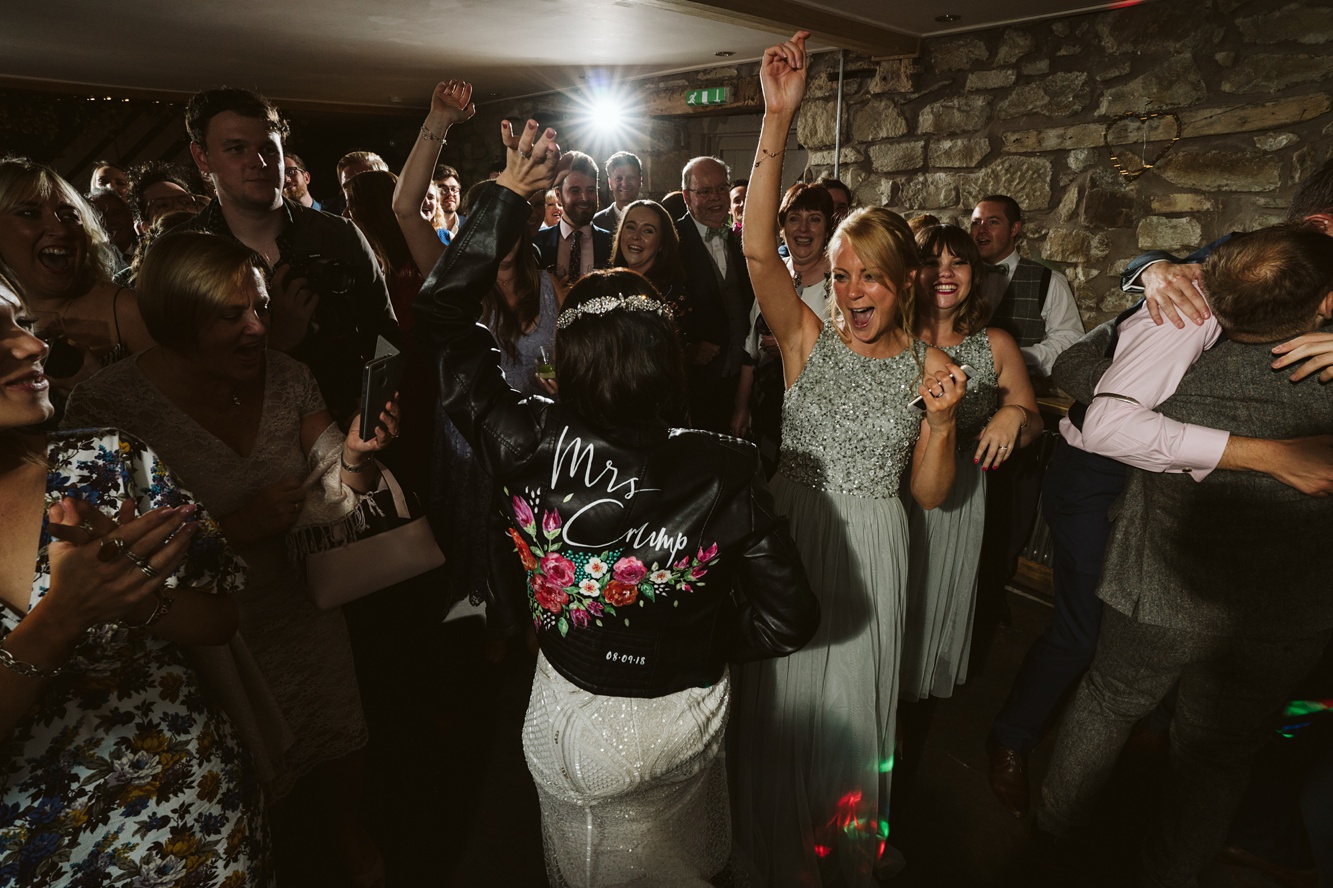 Rebecca and John, huge congratulations and thank you so much for sharing your joyful celebration with us. I've so enjoyed seeing all of the wonderful, personalised details. Many thanks go to Damian Brandon for his magical images, too.
If you'd like to see more glamorous and gorgeous era inspired Eliza Jane Howell brides and designs, we have plenty more for you to enjoy, right here.
With love,
Laura