Dear Readers, I can't quite believe we're past the halfway point of 2019 already – where has the time gone?! That said, I'm still enjoying these warm, long summer days whilst I can, and hope that you are, too!
For today's wedding, we're heading into autumn, but you're not going to mind because this wedding is a beauty, so read on and enjoy all of these perfect details. This is the wedding of nursery teacher Laura, and Tom, who works in property. They celebrated their marriage on the 21 October 2018, with an outdoor ceremony held in the grounds of Micklefield Hall, Hertfordshire, followed by a reception in its beautiful medieval Great Barn.
Images + Film by Emily & Steve Photography
"We always wanted our wedding to be held in a barn with lots of natural light, which Micklefield Hall offers, but what really made us fall in love with the venue was the outdoor space and grounds. The barn is set in 350 acres, and has stunning views over the Hertfordshire countryside. The highlight, though, was the long grass aisle, which leads to a stunning, secluded temple area set around a small pond. We knew immediately that we wanted our ceremony to be held there."
Laura's chosen wedding dress was a showstopper of delicate lace and subtle sparkle, with a beautiful tulle train and low, illusion back, by Galina Signature, which she chose at David's Bridal.
"I wanted an A line dress with lots of lace; something classic and almost old Hollywood glamour style. I fell in love with this dress the first time I tried it on due to the plunging neckline and illusion panelling."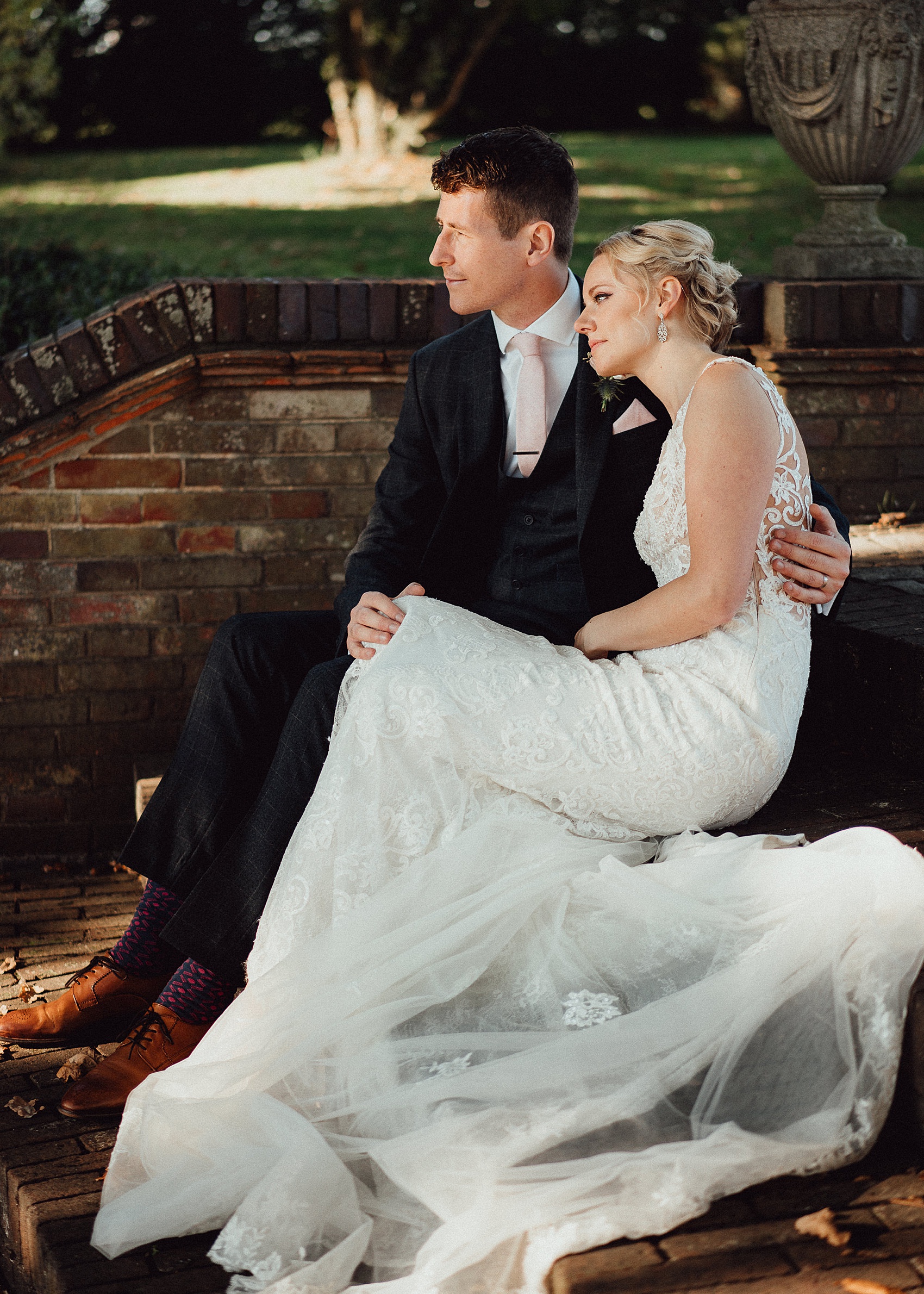 Laura and Tom chose photographers Emily & Steve to capture their brilliant day, both with images and a film, too. We've featured their work before on Love My Dress, and they always bring such a light, natural touch to their work.
"We loved their style of photography – very vintage and natural. They captured some lovely moments during the day without being intrusive. They are also just really nice people, and it was a pleasure to have them there on our wedding day."
Laura wore silver vintage style shoes from Rainbow Club, and a crystal and pearl hair comb from Style Jewellery and Accessories Boutique, along with sparkly chandelier earrings (sadly no further details about these).
"I wore my nan's engagement ring as my 'Something old'. This was very meaningful as my grandmother's greatest wish was to see me get married, but unfortunately she passed away a year before the engagement."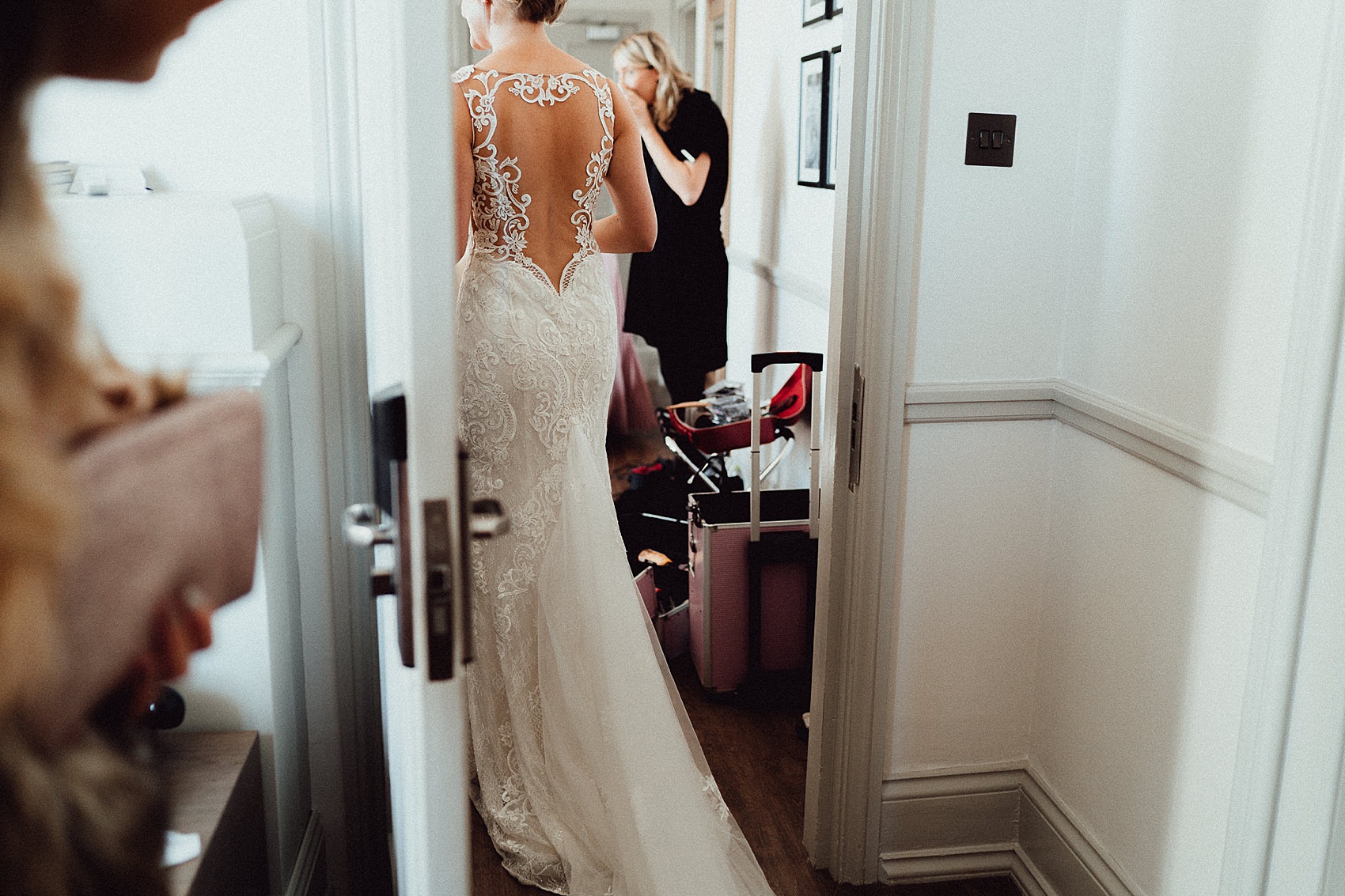 "For my bouquet, we wanted something rustic with lots of foliage and a wild look. Our florist Andrew Fleming put together a lovely bouquet with eucalyptus plants and dusky pink roses (Quicksand roses, seeded eucalyptus and Nicoli eucalyptus, Memory Lane roses and Sweet Avalanche roses)."
Laura and Tom first met at university, lived in the same halls of residence and had lots of mutual friends. Despite this, and getting close a few times, they never quite got things together, but remained friends.
"Laura moved to Hong Kong to start a teaching career. We finally got together during one of her trips home in 2014, when I (Tom) asked her to the theatre on a first date. For the first year of our relationship, Laura lived in Hong Kong whilst I lived in London, so it was very much a long distance thing."
"I proposed on New Year's Eve in 2017, getting down on one knee in the rain on Wandsworth Common after a long lunch at our favourite restaurant, Chez Bruce. We then went home and threw an 80's themed New Year's Eve party before announcing the engagement to our friends just before midnight over champagne."
"We didn't want a long engagement, so decided to get married 10 months later in October. As Laura is a teacher we had to work around school holidays."
Tom wore a navy blue checked suit from Alexandre of England, which he wore with a pale pink tie and pocket square sourced from eBay.
"Best Man was Tom's best friend Graham, who he and I met at University. Tom was Graham's Best Man at his wedding in South Africa two years ago, so it was nice to have him return the favour. As he's known us both for a long time even I wasn't spared from his jokes in the Best Man speech. Groomsmen were my brother David and Tom's brother Sean."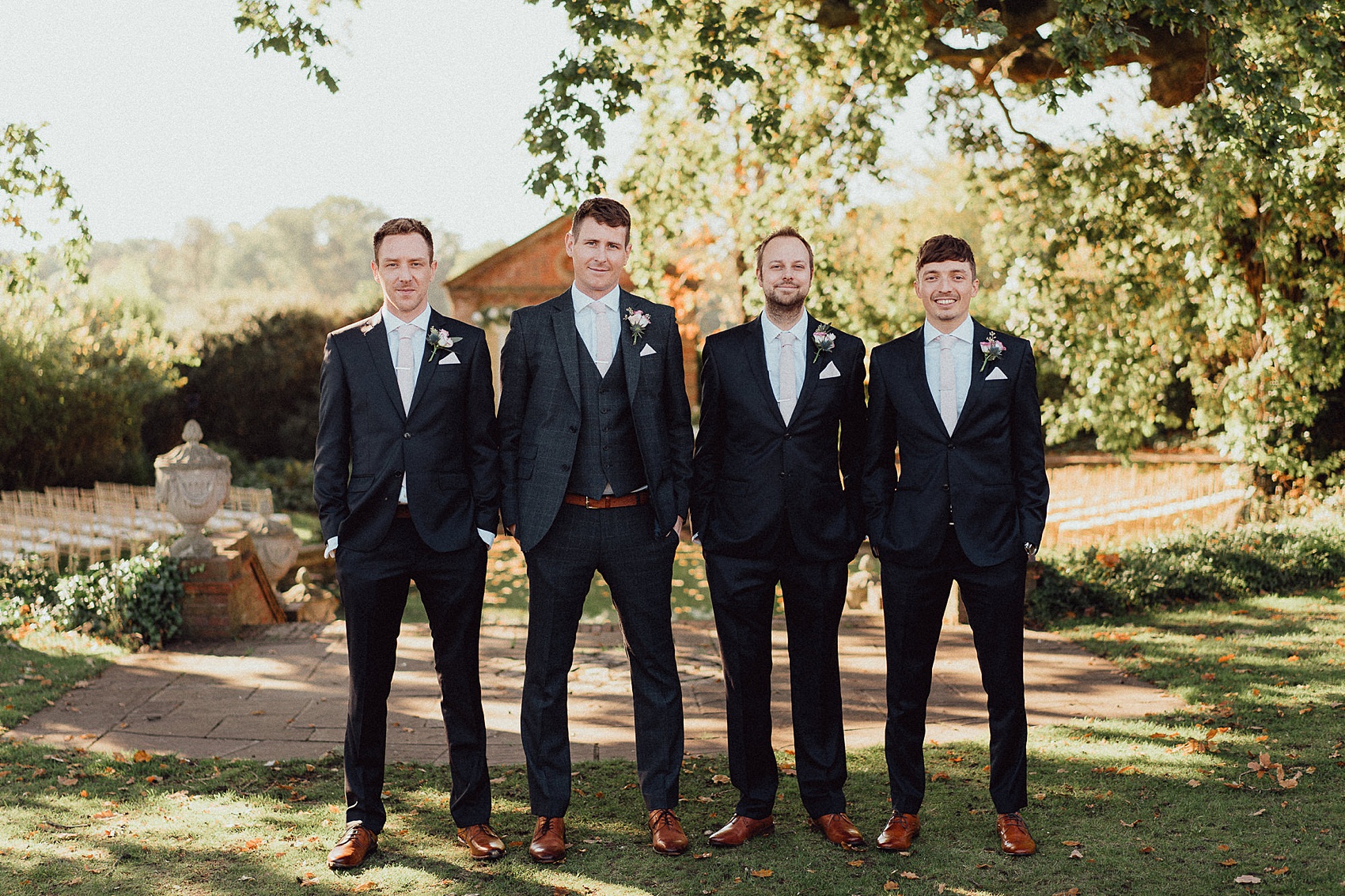 The temple where Laura and Tom held their ceremony was beautifully adorned with garlands of white blooms and greenery, with the pond scattered with autumn leaves, which had fallen from the turning trees above.
To John Legend's song, All Of Me, Laura walked down the aisle together with her father, Alan, wearing a custom made faux fur jacket made by the head of alterations at David's Bridal. The couple's ceremony was conducted by Humanist celebrant, Ginny Collins.
"We worked with our celebrant to tailor our vows to ones that felt truly personal to us, and we tried to include lots of anecdotes and stories so guests could get a better feeling for us as individuals, and how our relationship works together."
"We think this paragraph sums it up nicely: 'Laura and Tom see marriage as a commitment to spending a long, happy, life together, supporting each other through ups and downs. Their relationship works because they're both very caring people who bolster each other, share similar values and have the same sense of humour. They see today as the start of the next chapter in their lives: their first being the friendship, the second being their relationship and, now, the beginning of their marriage.'"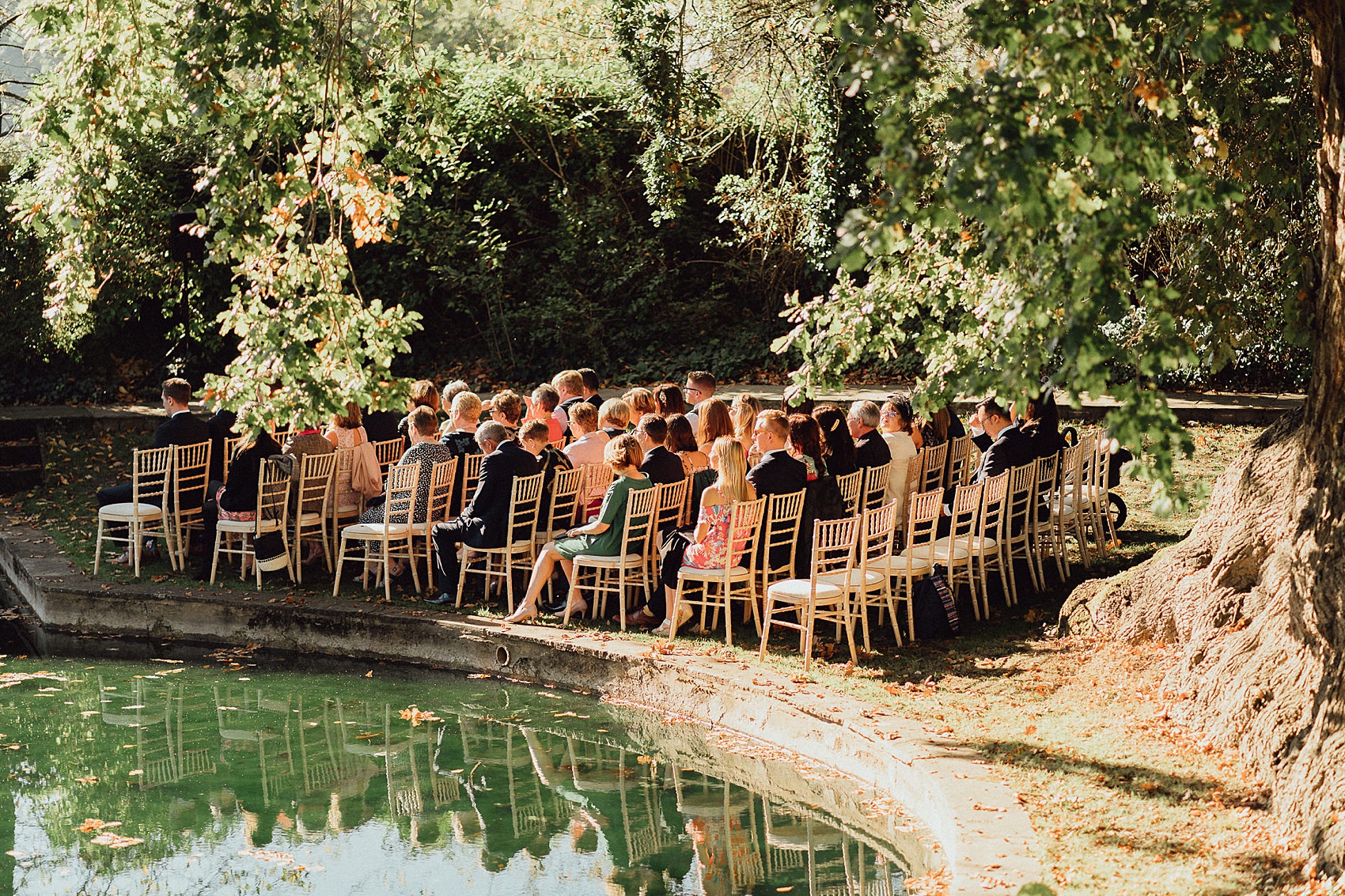 The couple chose their rings at Number Ten – a jewellers located in the lovely Brighton Lanes, during a day trip there.
"We included a reading from Captain Corelli's Mandolin by Louis de Bernières, which is a book we both love, and we felt the passage was very moving – Love is a Temporary Madness. Ginny also suggested we include a quote from one of our favourite authors, Antoine de Saint-Exupery, which we were really pleased with; 'Life has taught us that love does not consist of gazing at each other, but in looking outward together in the same direction.'"
It was such a beautiful, bright October day, and after the ceremony, drinks were enjoyed outside with loved ones.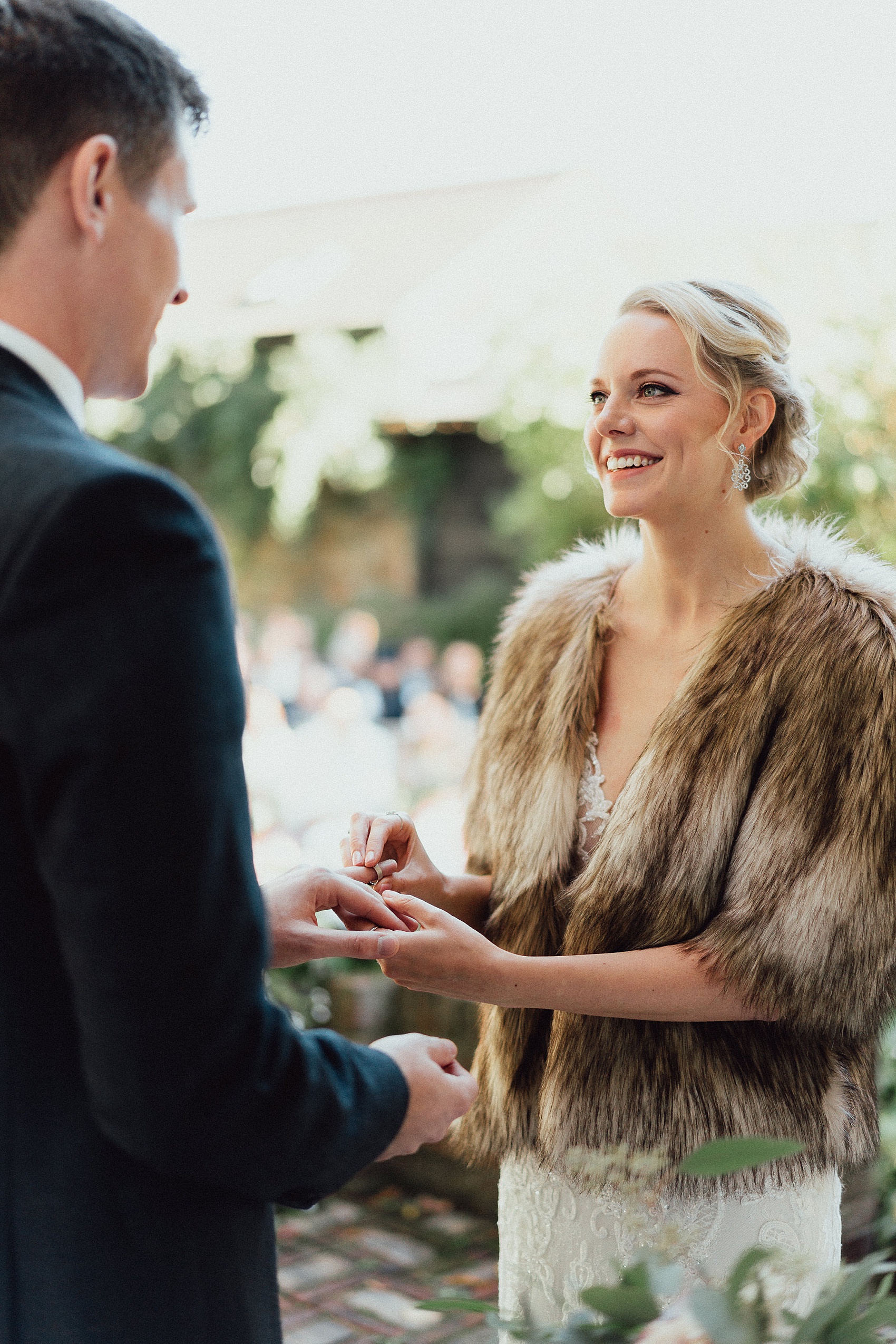 "For us, the ceremony was the probably the highlight, being outside in the sun around a beautiful lake at the end of October was ideal. It really didn't feel like England at all, we even had parakeets turn up!"
"When we pictured our wedding day, we always pictured it being outside but having chosen a date in late October we didn't know if this would happen or not until the morning of the wedding."
"We wanted quite a rustic theme to the wedding with lots of greenery, and a natural feel. The barn really lends itself to the this, and it suits our style and tastes as it's not overly fussy or manicured."
The Great Barn at Micklefield Hall looked spectacular (those beautiful weathered beams!), and both Laura and Tom felt very little was needed in terms of decor. They opted for living bay trees as table centrepieces, which were decorated with pastel pink roses for a subtle pop of colour.
"We decided we didn't want elaborate flower arrangements, which would need to be thrown away after the wedding. It was nice to then be able to give the trees away to our friends and family to take as mementos of the wedding, as well as keeping a few for ourselves, which are now kept in pride of place in our garden."
There was also a wall of twinkling, cascading fairylights, and elegant, contemporary stationery was designed by Laura's friend Kate, who has the rather fantastic job of designing book covers for a living!
"We made small party bags with chocolate, confetti, party poppers and some temporary gold tattoos, that said things like 'Sip Sip Hooray', 'Drunk in Love' and 'Just Drunk'. We had to import these from America but are really glad we did; our guests seemed to love them."
Delicious food was served with serious style by caterers Kalm Kitchen, and instead of a wedding cake, the couple opted for a glorious doughnut wall, along with a selection of macarons.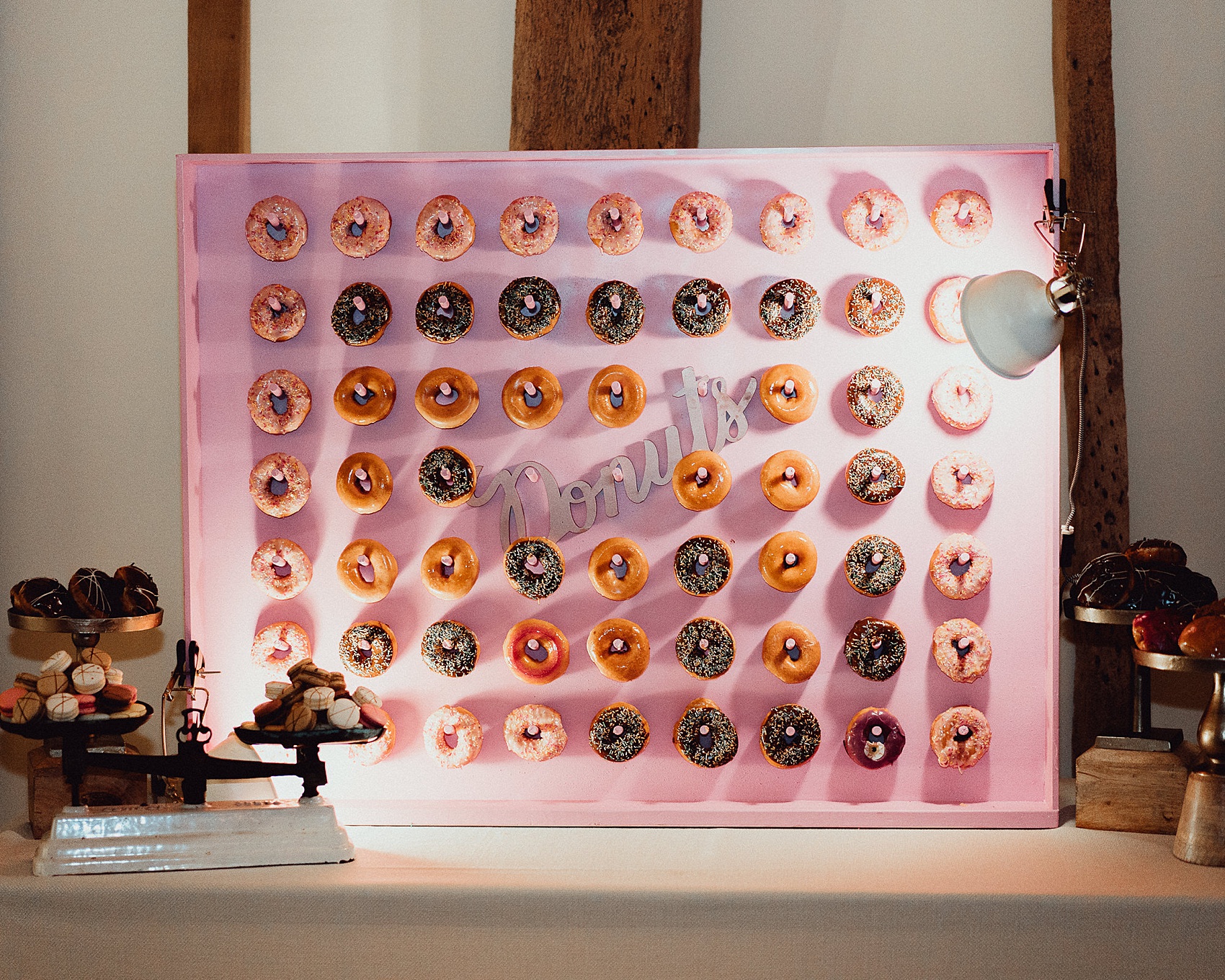 Laura's bridesmaids wore a mixture of pink, pleated maxi dresses from ASOS, which they wore with their own choice of shoes, and pearl and crystal hair combs that matched Laura's. The couple's sweetest flowergirl wore a pretty floral embellished dress from Monsoon.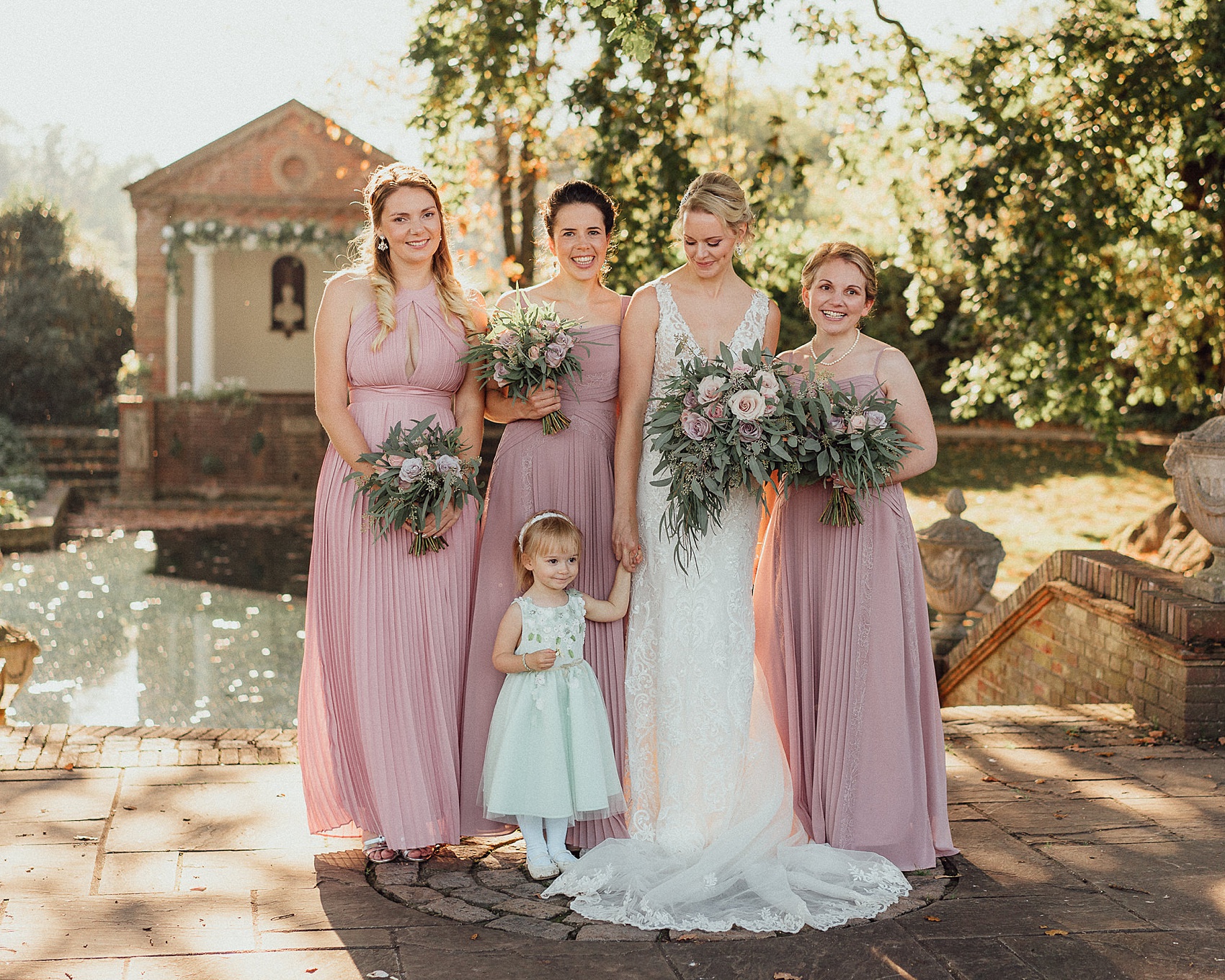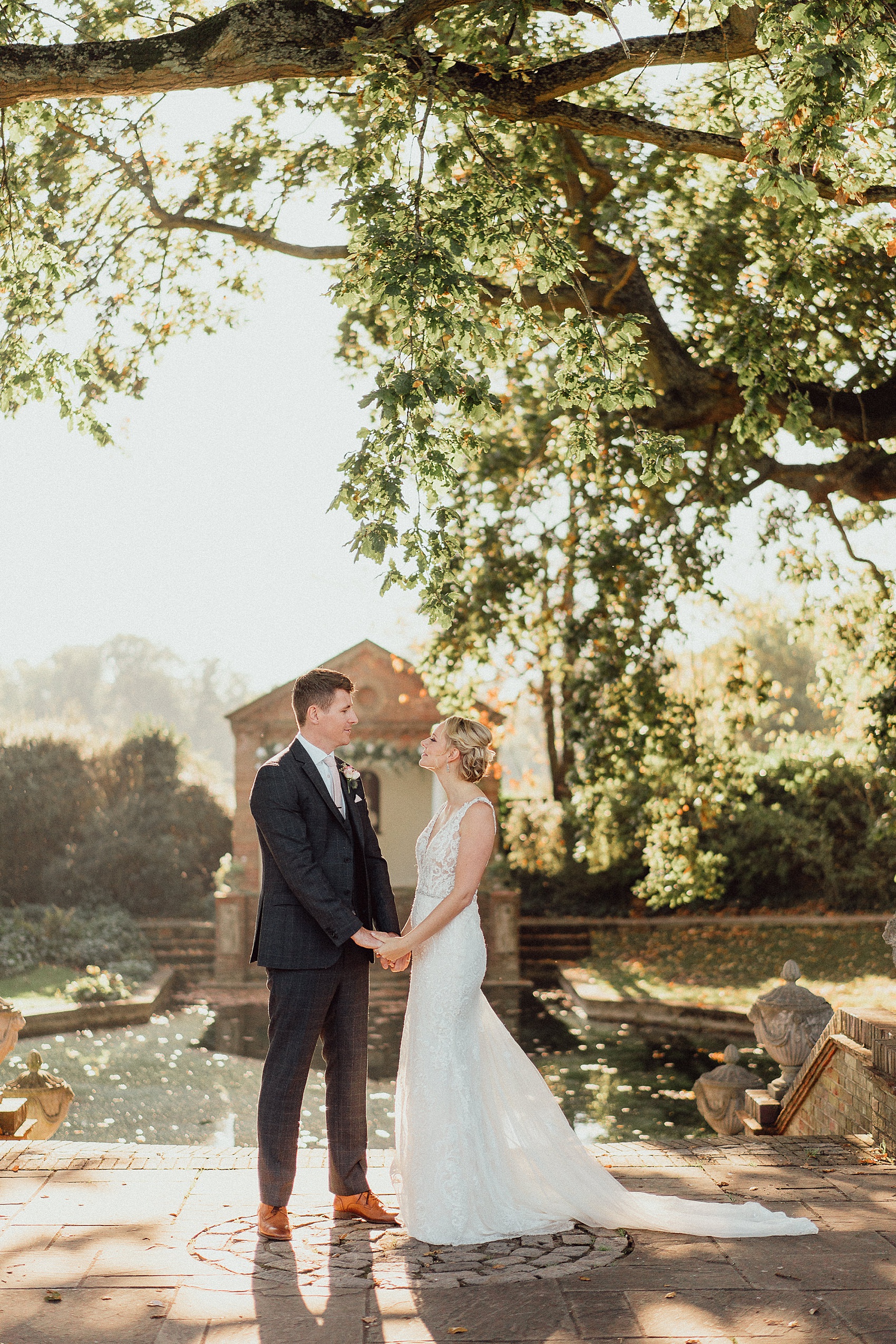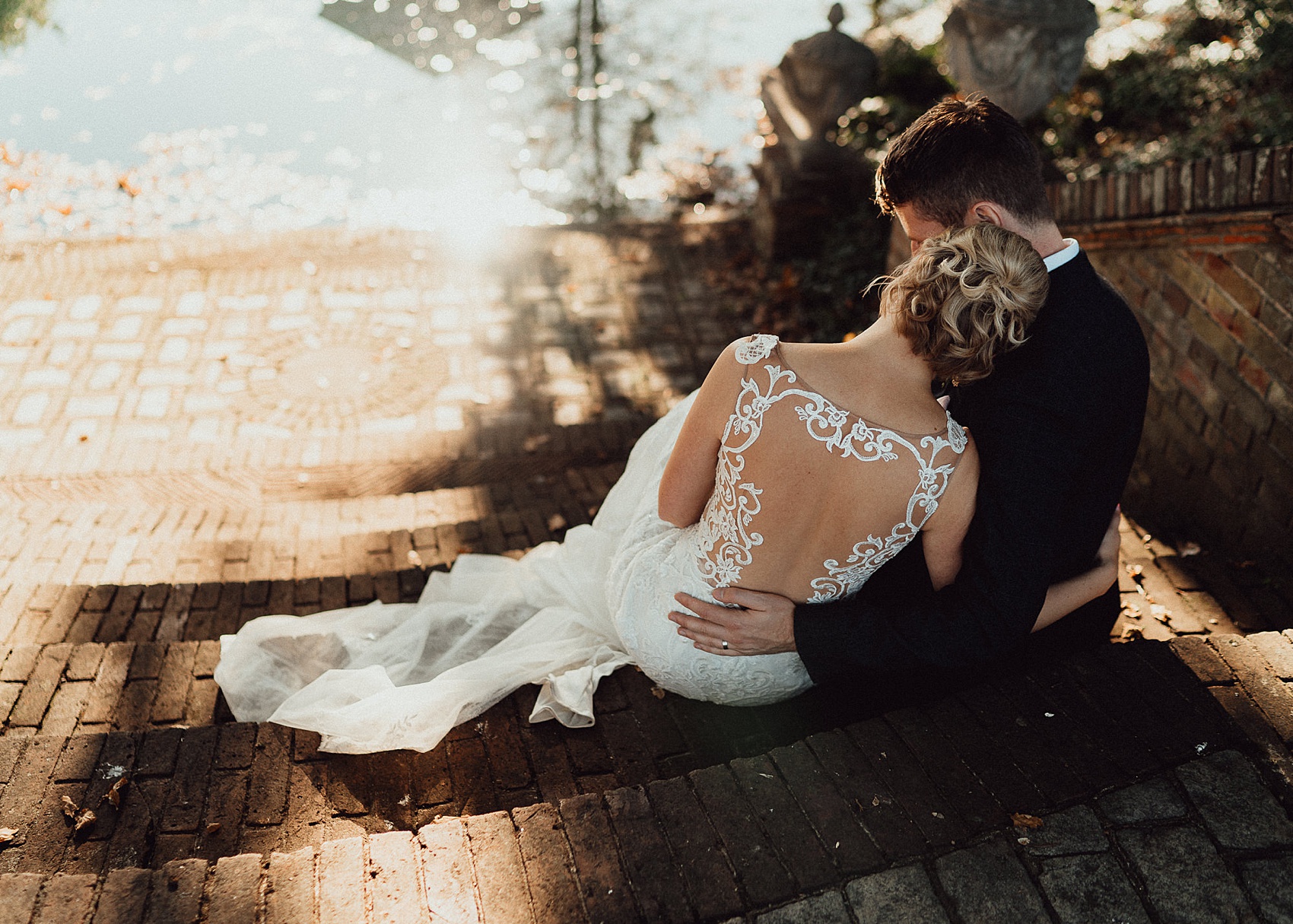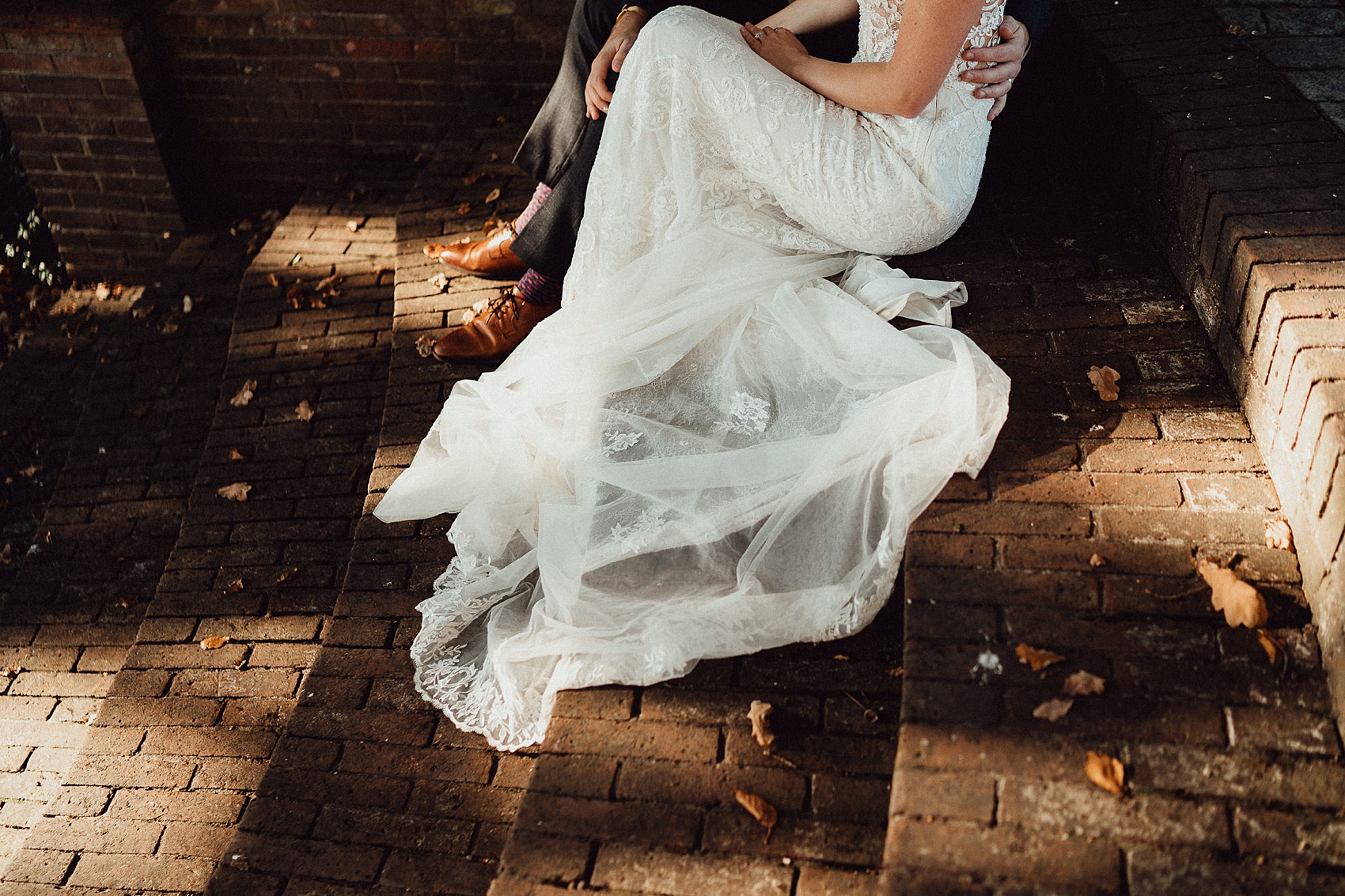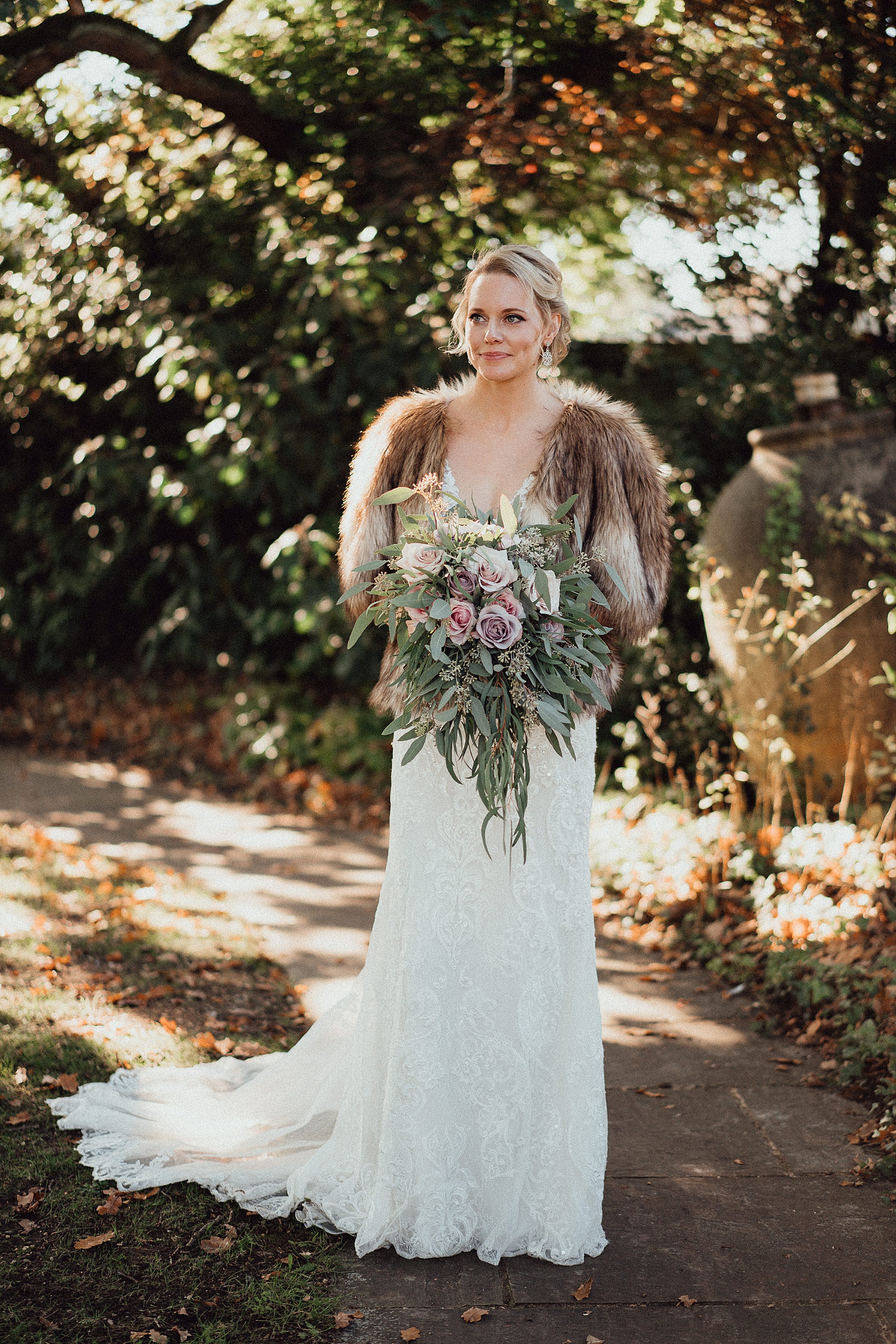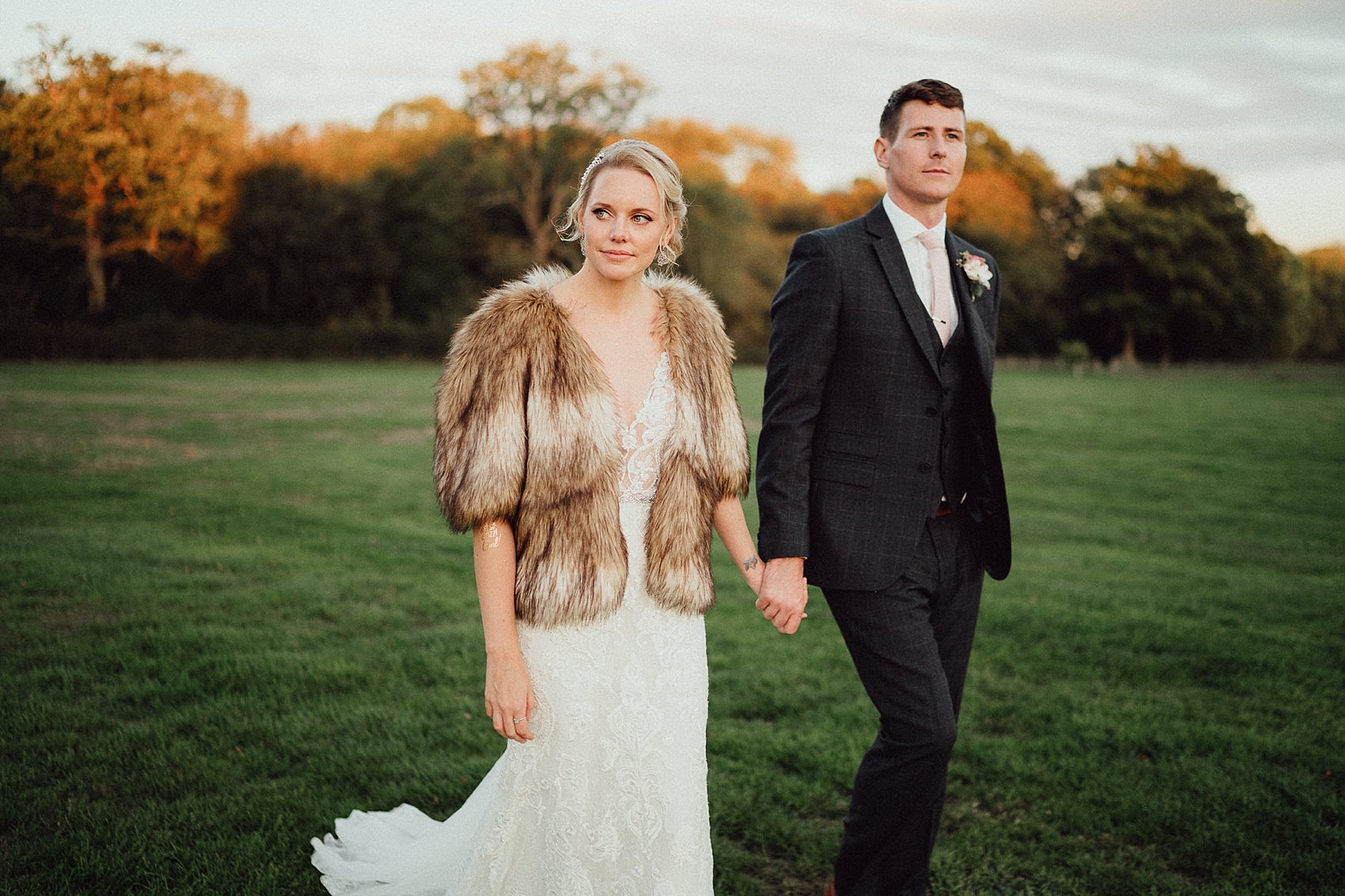 As Laura and Tom's amazing day came to a close, they headed to the dancefloor to enjoy their first married dance together, to Say You Won't Let Go by James Arthur, with more music afterwards from DJ Rory from Matt Maurice Event Production.
Words of Wedded Wisdom
"Have your ceremony early as the day goes very quickly and you want to savour every moment."
"Also try to get all of the preparation done a few days before the wedding so you're not running around last minute trying to organise everything."
"Finally, if you're getting married in the UK then book into a hotel for a full weekend and encourage your guests to do the same. We really enjoyed having dinner with our guests the day before the wedding, and then catching up with them over breakfast the morning after, to go over all the stories from the evening reception!"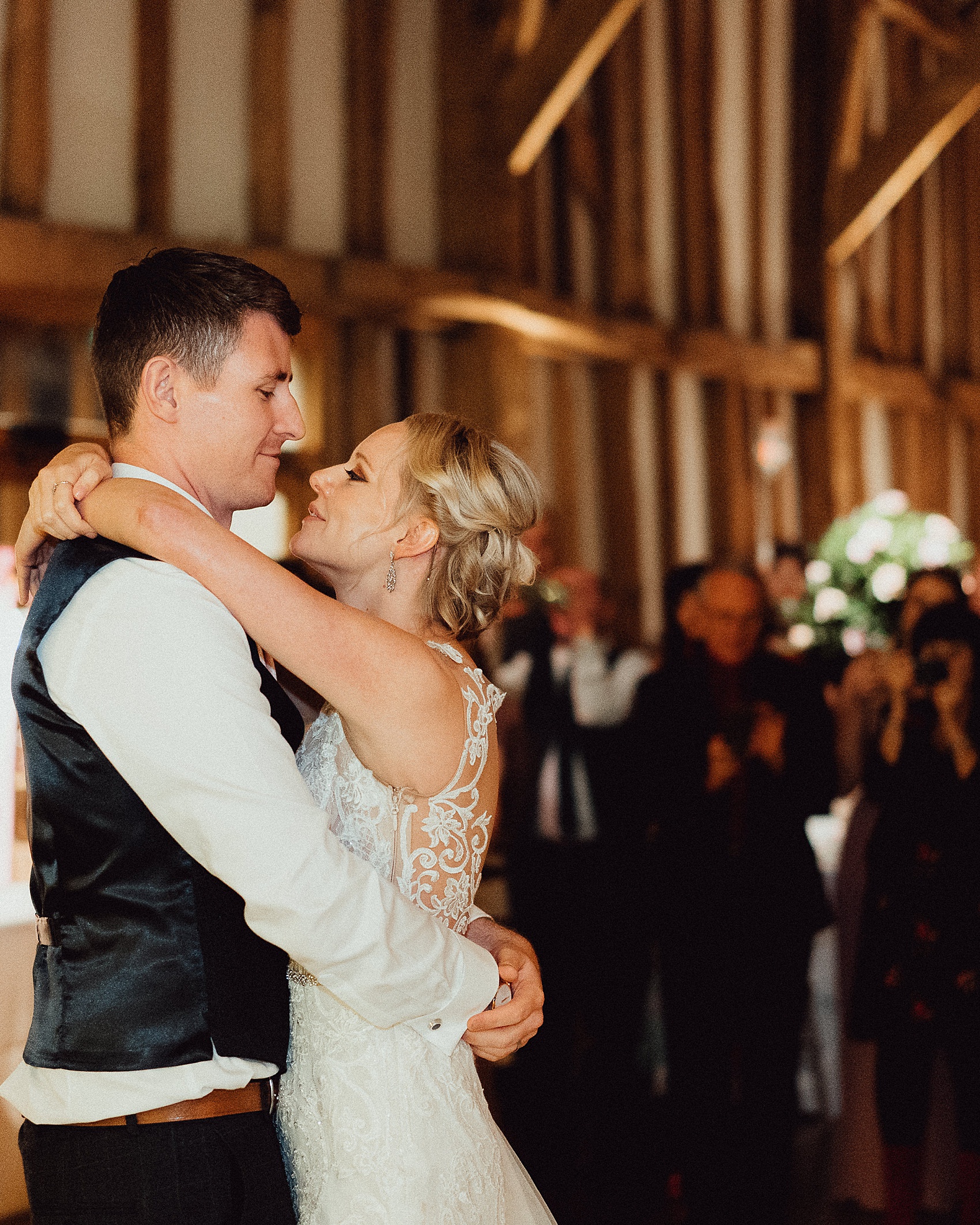 Laura and Tom, thank you so much for giving us this fantastic glimpse into your spectacular day. How wonderful to have an outdoor ceremony in autumn! Many thanks also go to Emily and Steve for this lovely collection of images.
With love,
Laura
The gorgeous vintage style glamour was carried through into Laura's classic updo and flawless make-up, by Helen Alexander-Watson of Alexander Wedding Belle