Happy Sunday lovely ones. I hope you had a wonderful weekend and are looking forward to the week ahead.
To offer some Sunday inspiration, I have a beautiful wedding up my sleeve today, one that will whisk you away to warmer climes and have you dreaming of the rolling hills of Tuscany, good wine and delicious pastries. Today's couple tied the knot in a stylish outdoor ceremony, followed by a good old knees up with their friends and family. So without further ado, let's meet the gorgeous pair.
Operations director Samantha and TFL contractor Ian were wed on 1st September 2018 in a ceremony at the Castello Dei Vicari in Tuscany, Italy, followed by a reception at Parco Dei Platani in San Ruffino.  The bride chose a breathtaking strapless top with a sweetheart neckline and full skirt by Love My Dress favourite and wedding directory member Halfpenny London, bought directly from the Halfpenny boutique.
"As soon as I saw the dress it just felt like 'me'. I went by myself to around 8 boutiques and tried on many different styles (around 50 dresses altogether!) and I liked lots of them. I never got the feeling that I had found 'the one' though, so I kept on searching."
Photography by Andrea Corsi
"When I tried the top and skirt combination at Halfpenny, I knew the search was over as I felt so comfortable and unpretentious in it. I wasn't even going to try it as I'd decided against a two-piece, but I'm so glad they suggested I try it on in the boutique."
"We've been to Italy at least once a year since we've been together and we just love it so much. We both immediately knew it was the only place for us to get married and we didn't even consider having the wedding in the UK. To help plan a wedding overseas, we enlisted the help of wedding planner Francesca Wit from Efffetti Wedding Planners in Tuscany.
"We spent a lot of time discussing what we wanted with Francesca, who was a must have for us as neither of us speak Italian. She also saved us a lot of money as she was able to get deals from her preferred suppliers. It was so nice to see our vision come to life throughout the wedding day and we were genuinely delighted at her interpretation of everything we had discussed."
"We were also recommended our photographer, Andrea Corsi, by Francesca. One look at his website was all it took to know we had to have him for our big day. We also hired Virginia from Screenshot Production as our videographer to capture the day on film."
"I'm a real shoe person and as my dress was a lot shorter at the front, the shoes were really important to me as you'd be able to see them clearly. In the end I went for a pair of red suede Tamara Mellon heels, and changed into a pair of Chiara Ferragni sneakers for dancing in the evening."
"I wore Tom Ford Black Orchid as my perfume on the day. It's what I wear daily and my husband loves it. My earrings were pearl pull through's from Spitalfields Market in London and I added a 'Mrs Mardon' necklace after dinner, which I bought from Etsy."
"My daughter Paige accompanied me down the aisle. There was no other choice for me, she's my absolute best friend. We walked to an acoustic guitar version of Just The Way You Are and the mayor of Casciana Terme officiated the ceremony in Italian, which was translated by our wedding planner Francesca. As we got to know Francesca over the wedding planning period of 18 months, it felt like we were being married by a good friend."
"My favourite moment of the whole day was turning the corner whilst holding my daughter's hand and walking towards Ian. I didn't even notice the guests, I just had my eyes fixed on him. I felt so grateful to have both Paige and Ian in that moment. I would definitely recommend a wedding abroad – as it spanned over a few days, we were able to spend a lot of time with everyone."
"Eighty people attended altogether, which was way beyond our expectations!"
"Ian and I met through work as we worked in the same department. When we both became single we started chatting and then dating. We were together almost 5 years when Ian proposed in Lake Como, and we were engaged for around 18 months prior to the wedding."
The couple were married in an outdoor ceremony under the glorious Tuscan sun. The bride pulled up in a beautiful green vintage Morgan car, hired from Classy Car Rentals in Florence, before heading up to the aisle with her bridesmaids in tow.
"We chose one of our very good friends, Ross, and Ian's sister Victoria to do the readings. We asked them to choose what they wanted to read and not to tell us beforehand as we wanted a surprise. They were very emotional as we'd never heard them before, and they really meant something to us as they'd chosen them for us themselves."
Florist, Simone Bertini, was another recommendation from Francesca the wedding planner and what a beautiful job she did. The brides exquisite bouquet was made up of green foliage and white roses, with the bridesmaids each carrying a mini version each themselves.
"My bridesmaid dresses were pewter coloured multi-way dresses from Twobirds. They accessorised with different pink suede shoes from Whistles, Topshop and Sarah Flint. Ian wore a two-piece black suit by Hugo Boss via Net-a-Porter, paired with a white Hugo Boss shirt and Burberry shoes."
Following the ceremony, the couple hopped back into the vintage Morgan for their couples portraits with photographer Andrea.
"Guests were treated to a drinks reception where best man and childhood friend of Ian, Rob, played his own version of Elton John's Your Song on the guitar, both a funny and emotional moment for the couple.
"The wedding breakfast was held in an outdoor marquee and provided by Leonardo Catering. In terms of decor, we hired some mirrors and had our table plan made from stickers, along with a couple of cute quotes."
Our table names were TV/movie couples such as Carrie and Big, Sandy and Danny, Rocky and Adrian and Ross and Rachel. We then just had lots of string lighting for dancing under the trees at night!"
"I can't recommend our stationery designer, Lucky Ink Letterpress Studio enough. They provided the menu cards and invitations, which we helped design, and the service was so lovely and personal."
"Instead of favours, we used agate slices for our place names which most of the guests took home with them."
"For our evening entertainment we hired a saxophonist for cocktail hour, followed by Danilo our DJ who had us all dancing until 4am in the morning!"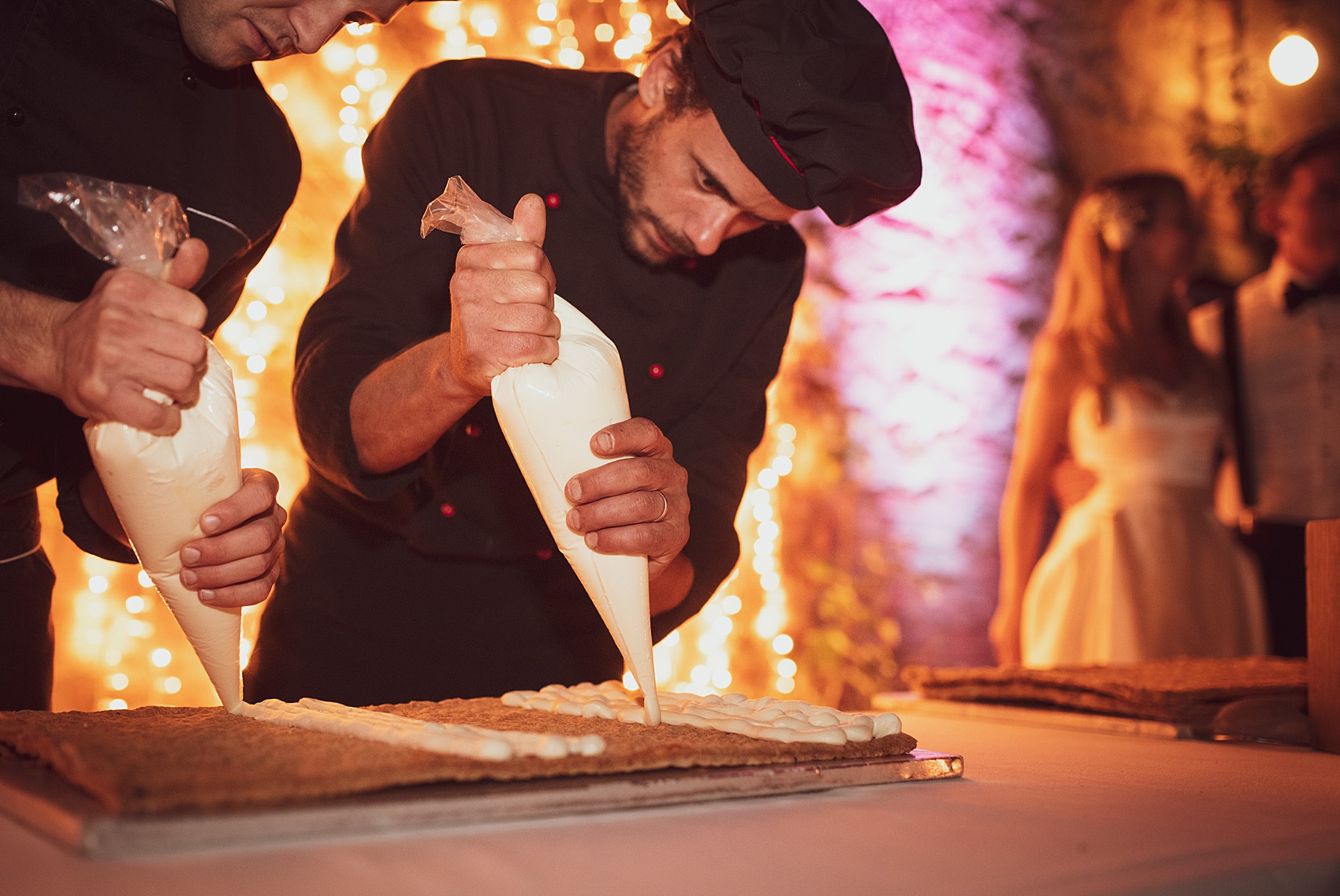 "We didn't have a traditional wedding cake as we didn't see the point. Being abroad, no-one would have been able to take it home so instead we chose to have a traditional Italian pastry and cream cake made by our caterers."
We helped create it with the chef in front of our guests and then served it up as dessert."
"We chose You're In My Heart by Rod Stewart as our first dance song. It's one of our favourite songs, with the most beautiful words, which we followed with Never Too Much by Luther Vandross to fill the dance floor!"
Words Of Wedded Wisdom
"We planned everything together and found the whole process exciting and fun. I think that was because we did everything exactly as we wanted to do it, so there was nothing to stress about. We paid for everything so no-one tried to make us spend money in a certain way either. We loved the few precious moments we had to ourselves on the day after the ceremony in the car, so make sure you make time to just sit back and watch what's going on."
"A destination wedding was great. As guests arrived during the week preceding the wedding, we didn't feel pressured to speak to everyone on the day as we had already spent some time with everyone."
A big thanks for sharing the day with us and congratulations to the happy couple, with a special thanks also to Andrea Corsi for the beautiful imagery.
Until next time…
Much love,
Holly x