There are some super beautiful and high quality bridal editorial's coming out from what is a brilliant pool of creative talent in the UK at the moment.
It never ceases to amaze me how there is not one television series commissioner yet who has seen the potential for a series that explores (mindfully, honestly and seriously) the exceptional talent we have within our wedding world. I can't think of anything at all (hello Mr/Mrs new TV programme commissioner, just saying!)
This set of editorial images is the result of a team of such creative talent getting together and thinking about what minimalist wedding inspiration means to them. I hope you love it as much as I do. Words are from photographer, shoot co-ordinator and stylist, Kitty Wheeler Shaw. For more brilliant creative suppliers, please visit our Little Book wedding directory.
Images by Kitty Wheeler Shaw Photography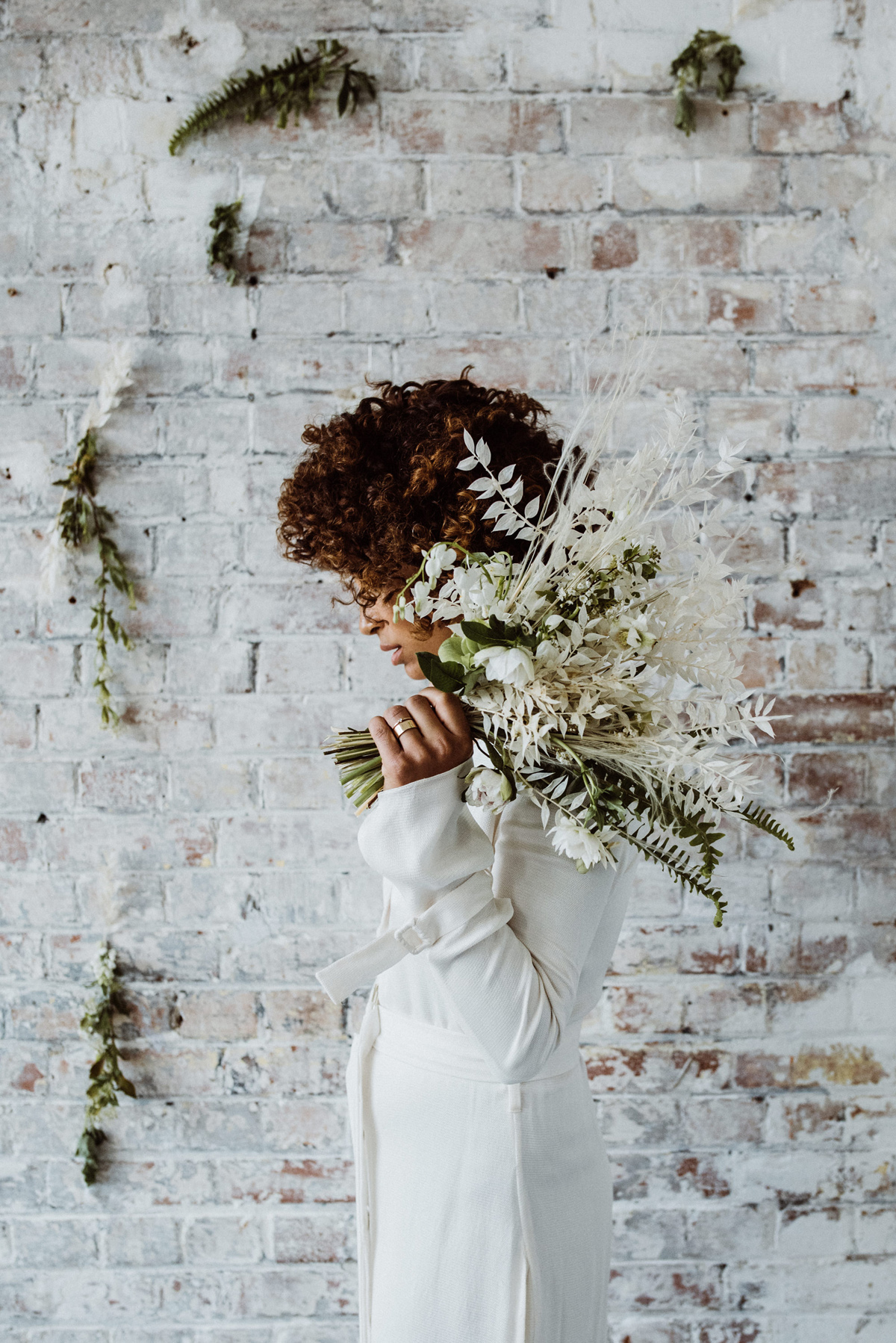 "We wanted to create minimal wedding inspiration for a laid-back, no-fuss bride with an eye for detail and simplicity. When curating this shoot I kept shape and subtlety in mind. I wanted to convey a sense that minimalism doesn't have to be serious; and stripped-back doesn't have to mean "go without". It is just-enough, considered design with a sense of humour.""The bridal looks and accessories were selected for their cool, modern designs. Susanna Greening Design's dress is classic, but with a modern twist. The drop hem and oversized polka dots lending the dress a quirky edge."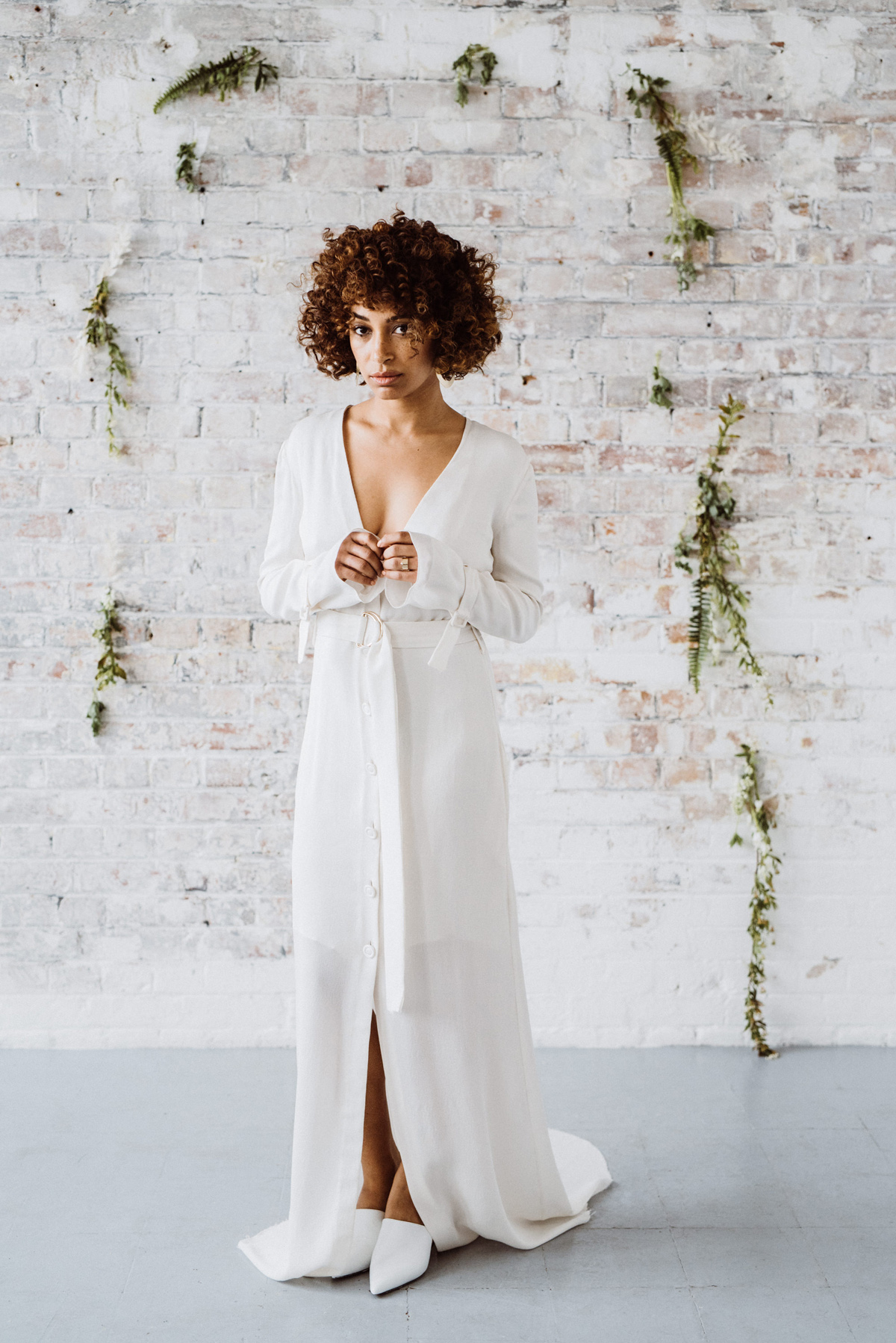 "Worn with Ellie Air's natural diamond ring and Alma Sophia's raincloud earrings, the look is feminine but not girly. Bon Bride's belted shirt dress, paired with white mules is the perfect outfit for the bride who wants to wear a dress, but still, have an edge of androgyny."
"The final party look is the sumptuous, wide-leg jumpsuit from Lily Ingenhoven which, styled with a head wrap, Lennie Beare's large hoop earrings and model Elisha French's to die for curls is for the bride who wants to make an entrance and dance the night away."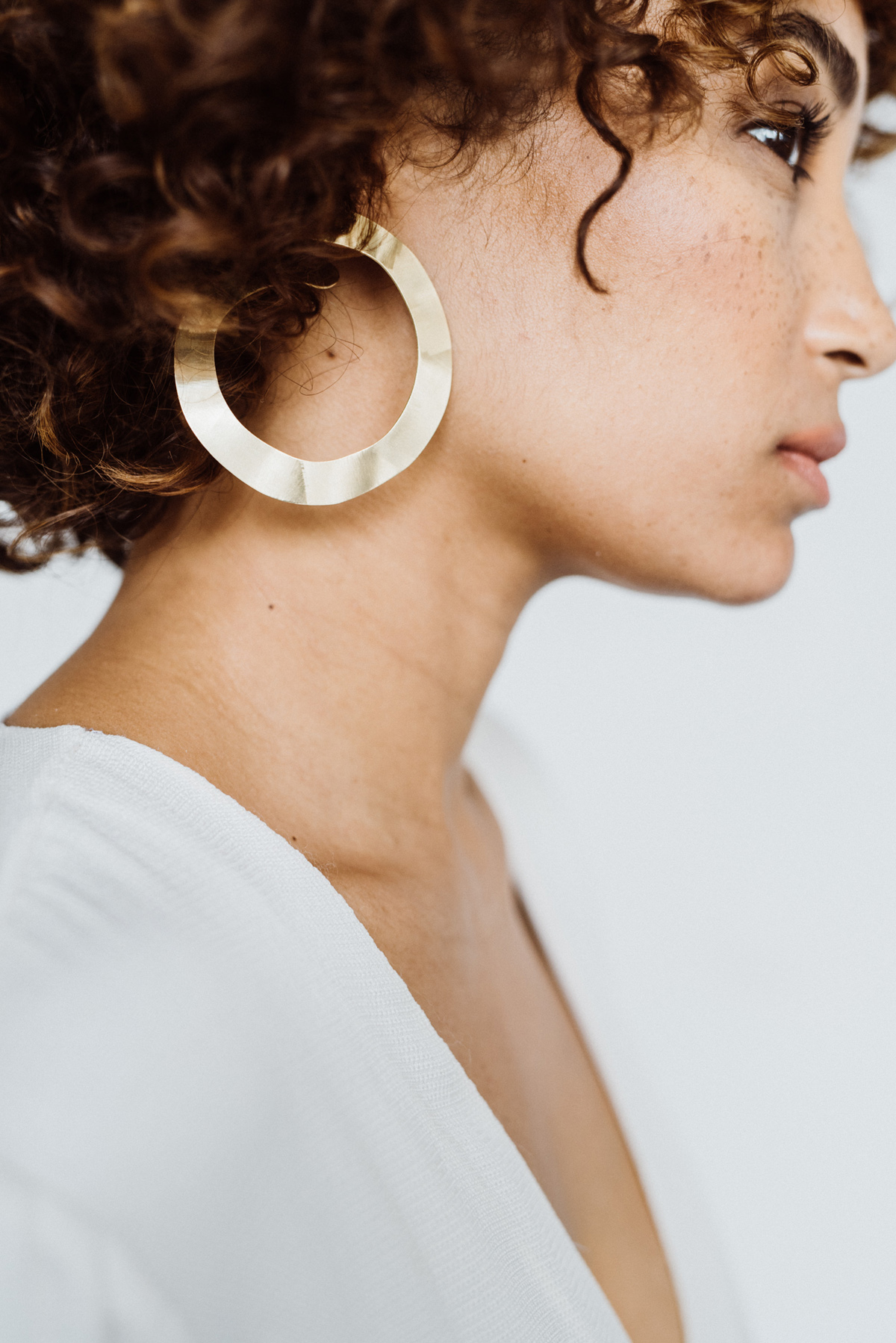 "My brief to Aimee Willow Designs was stationery with an urban twist. The seating chart on ply-wood, the invitation in monochrome and the frosted menu with a dark dash of tape all added to the industrial edge I wanted to give to the shoot."
"The wedding table is set below a cherry-tree branch installation created by Flower and Fern. Barely-there florals to add a splash of green to the muted linen and simple earthen wear. It stands against the white brick of the studio walls which will later become the perfect backdrop for Flower and Fern's green ceremony arch."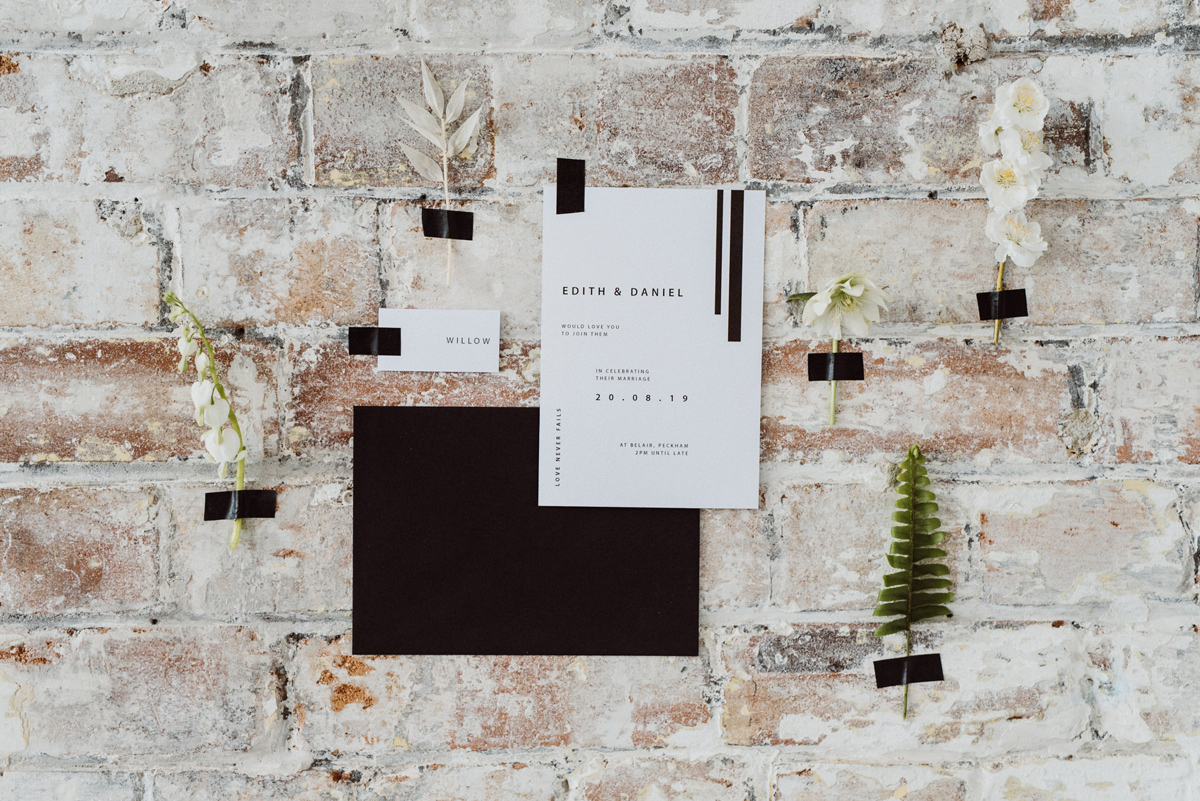 Lizz from Flower and Fern
"The seasons are always my starting point when choosing ingredients, and the cherry blossom branches, hellebores and lilac epitomise the transition from winter to early spring. For structure, I opted for ferns and dried leaves to compliment the modern and fresh concept and balance the softness of the flowers."
"Throughout the florals, I steered clear of large focal flowers traditionally used for weddings and opted for a more subtle effect. For the bouquets I wanted to reflect the simplicity and minimalism of the dresses and surroundings with a clean yet natural aesthetic to make an impact without overpowering the overall styling."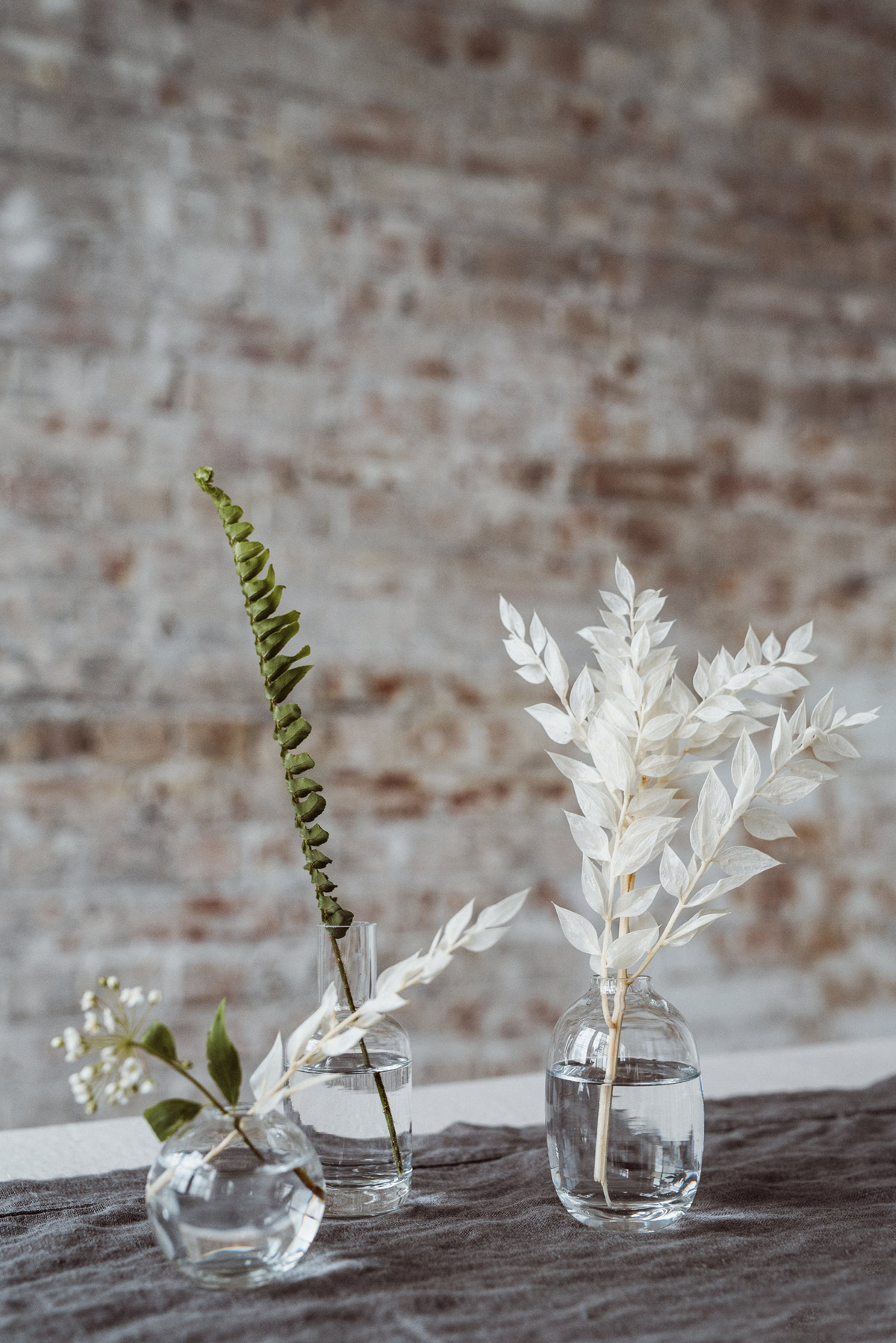 Kylie McMichael Make-up
"When Kitty showed me the picture of our bride along with her initial ideas for makeup I was in love. Elisha's freckles were just gorgeous in real life so skin prep was key in showing them off with minimal addition."
"This year's Pantone colour being coral, we added a hint of coral warmth to the lips, sculpted cheekbones and halfway through the shoot added dots under the eyes. The dots were mixed from aubergine and black pigments to compliment her freckles in a minimal way but not imitate them."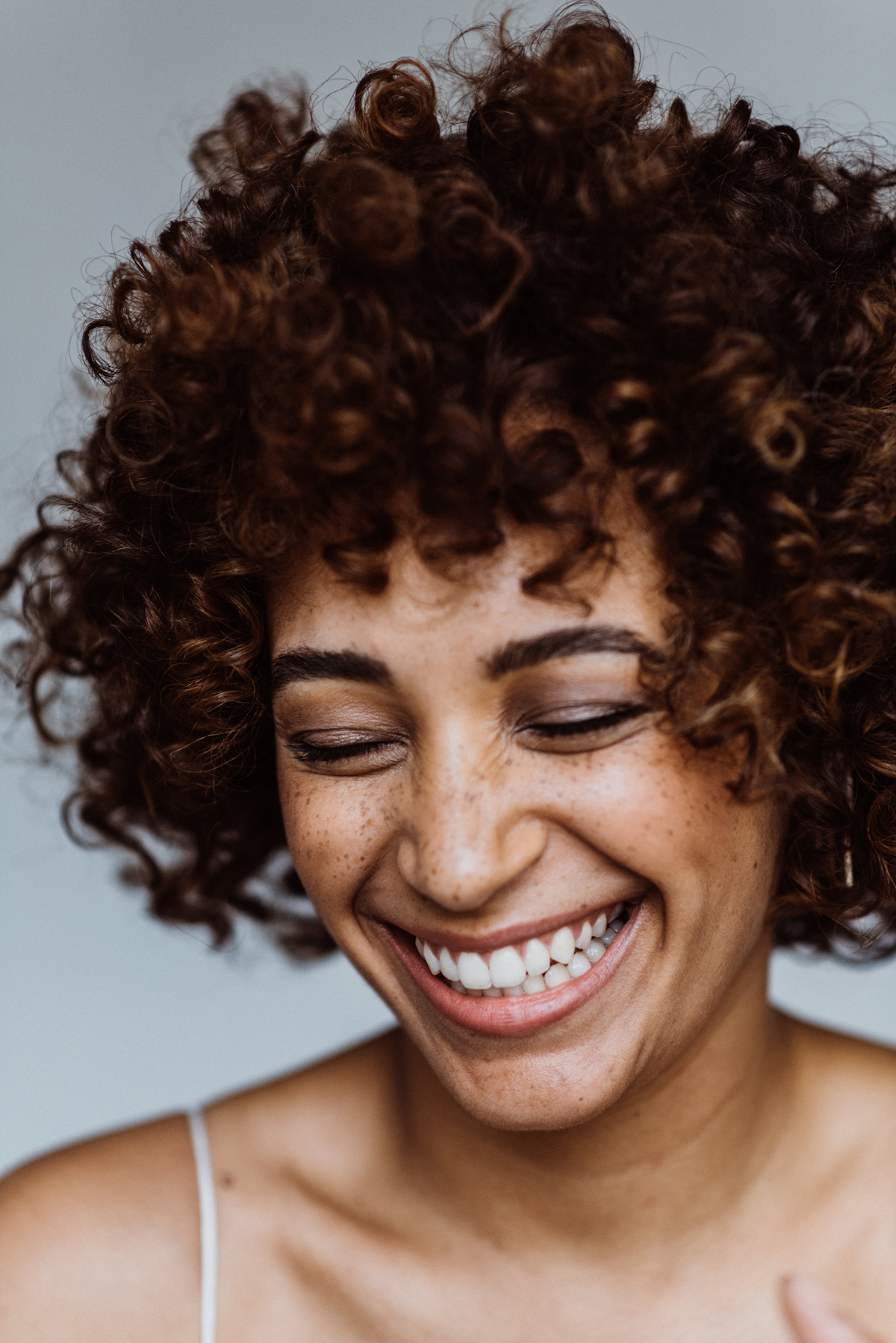 "Elisha's hair is naturally fairly wavy and unruly. I decided to completely reset it into a tighter curl with lots of body and modern asymmetry. Luckily, Kitty saw the vision and gave me the time I needed to do this, her hair alone took about an hour and 45 minutes!"
"Kitty bought me the most gorgeous piece of silk to use for the hair change. We brushed out some of the curls to give a fluffier texture and after some careful manoeuvring created the stunning head bow."