Come with me to the glorious Cotswolds today, for a summer wedding with an abundance of cheerful, bright blooms in a beautiful country house and barn setting.
This is timeless English country charm with a joyful couple at its heart – not to mention some very spirited lawn games! Meet Emily, who works for a not-for-profit organisation specialising in music education, and James, who is a software developer. This lovely couple celebrated their marriage on the 23 June 2018 at Caswell House, Oxfordshire.
Caswell House is a lovingly restored fifteenth century manor house and barns. Caswell House is also part of our brilliant Little Book directory, too. I love Emily and James' approach to planning their day, and desire to create a relaxed garden party filled with vibrant colour and personal touches – really making the most of the season, as well as the magical setting.
Images by Betti Confetti Photography
Emily found Maxine Wilson, her brilliant hair and make-up artist, through our closed Facebook group – and what a fantastic recommendation. Maxine is also part of our incredibly helpful supplier directory, Little Book, and the soft, pretty and romantic look she created for Emily was out of this world.
From boutique Ellie Sanderson, Emily chose to pair two elegant Charlie Brear designs: The 'Carenne' gown, with an empire bodice and soft, flowing crepe skirt, and over the top of this, the 'Voulaire' lace overdress, with fluttering short sleeves and a gorgeous puddle train.
"I really wanted a dress in which I could move, dance, and eat! When I first tried on the 'Carenne' slip, I felt comfortable, but elegant and bridal too. I loved the simple, timeless style, and when I went back to Ellie Sanderson a few weeks later to try the 'Voulaire' lace over the slip, I was totally sold. I knew it would be perfect for our relaxed summer wedding.""We really wanted our guests to feel completely at ease – to be able to kick back, catch up with old friends and make new ones, and properly let their hair down. To achieve that, we tried to create a comfortable and convivial atmosphere by building in plenty of time for our guests to socialise, chill out, and have fun together."
With her beautiful dress, Emily wore Rachel Simpson 'Mimosa' shoes in a glorious shade of powder blue, and crystal drop earrings from Jules Bridal Jewellery.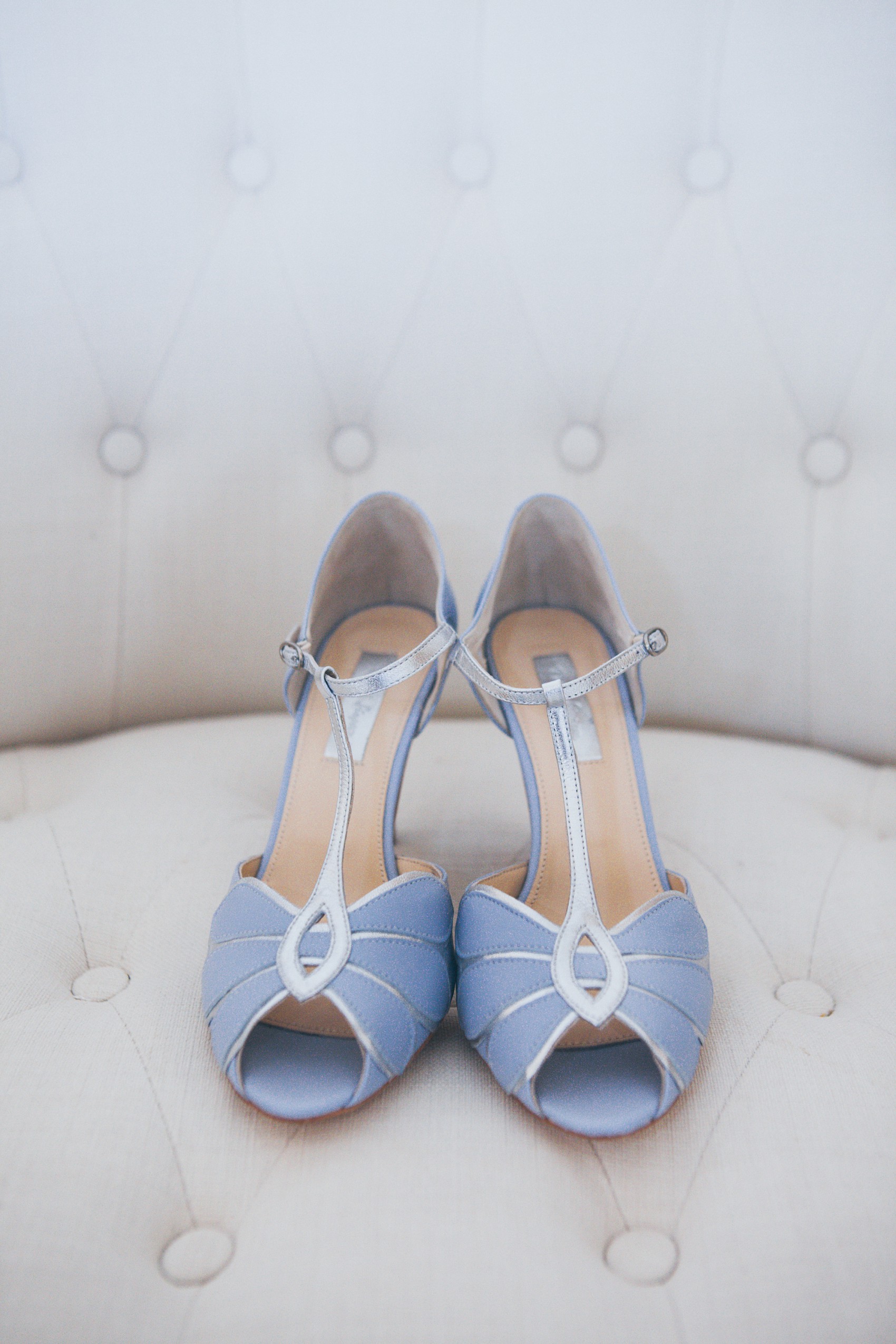 "I layered Jo Malone's English Pear and Freesia body lotion with their Earl Grey and Cucumber cologne. I went for a consultation with one of my bridesmaids at the Jo Malone store in Spitalfields, which was such a lovely pre-wedding treat. These two scents combined to evoke exactly the feeling I wanted – an English country garden on a summer's day!"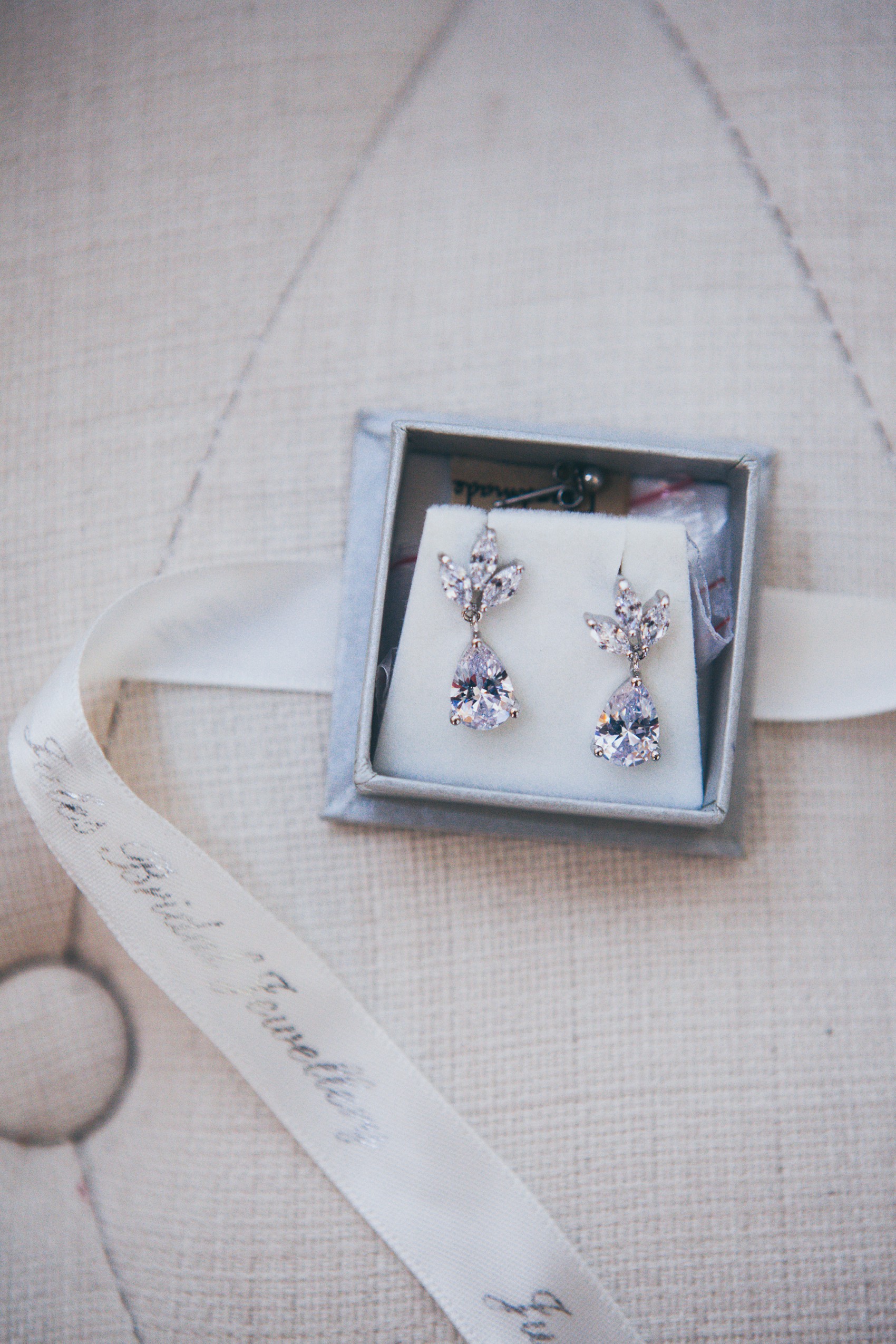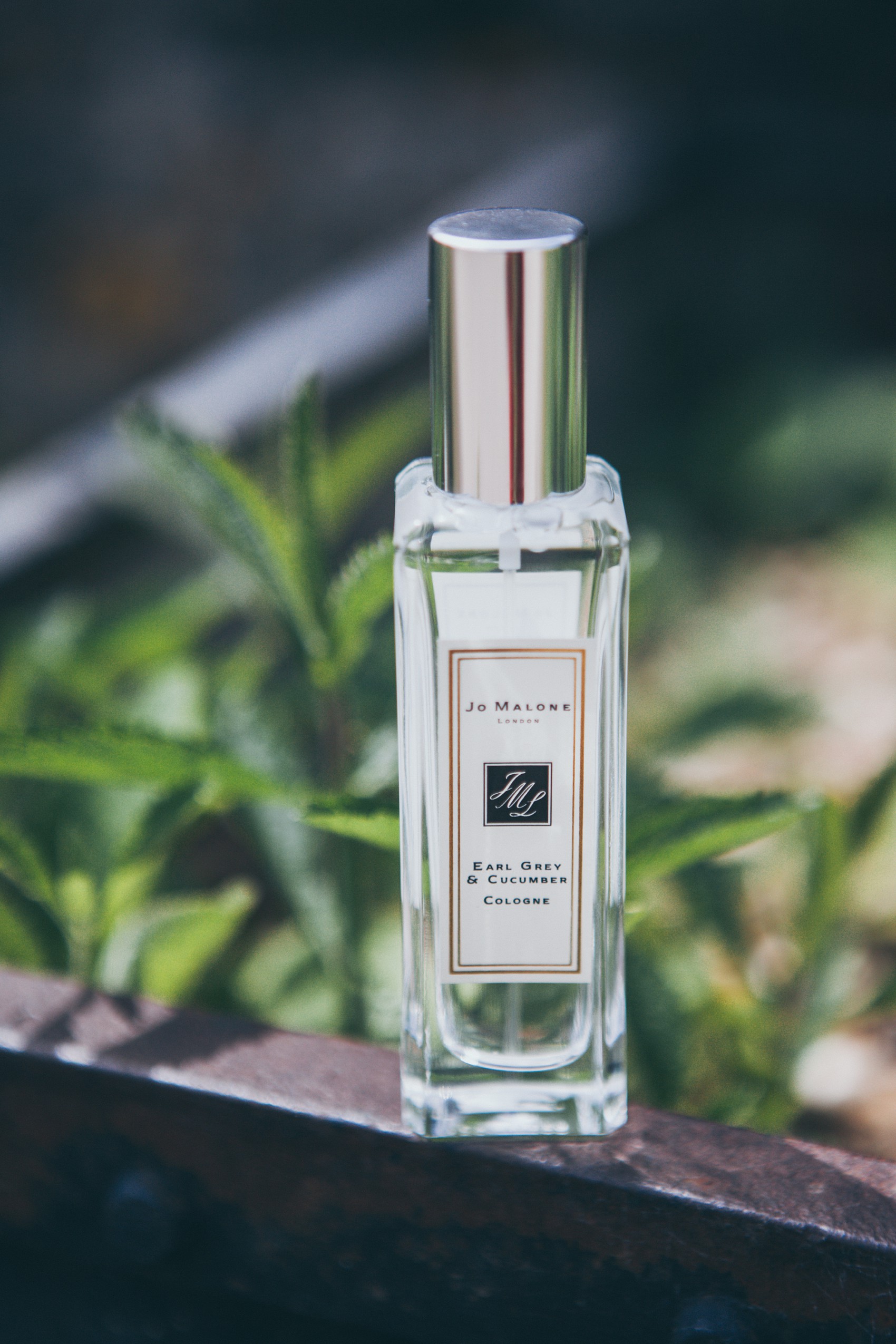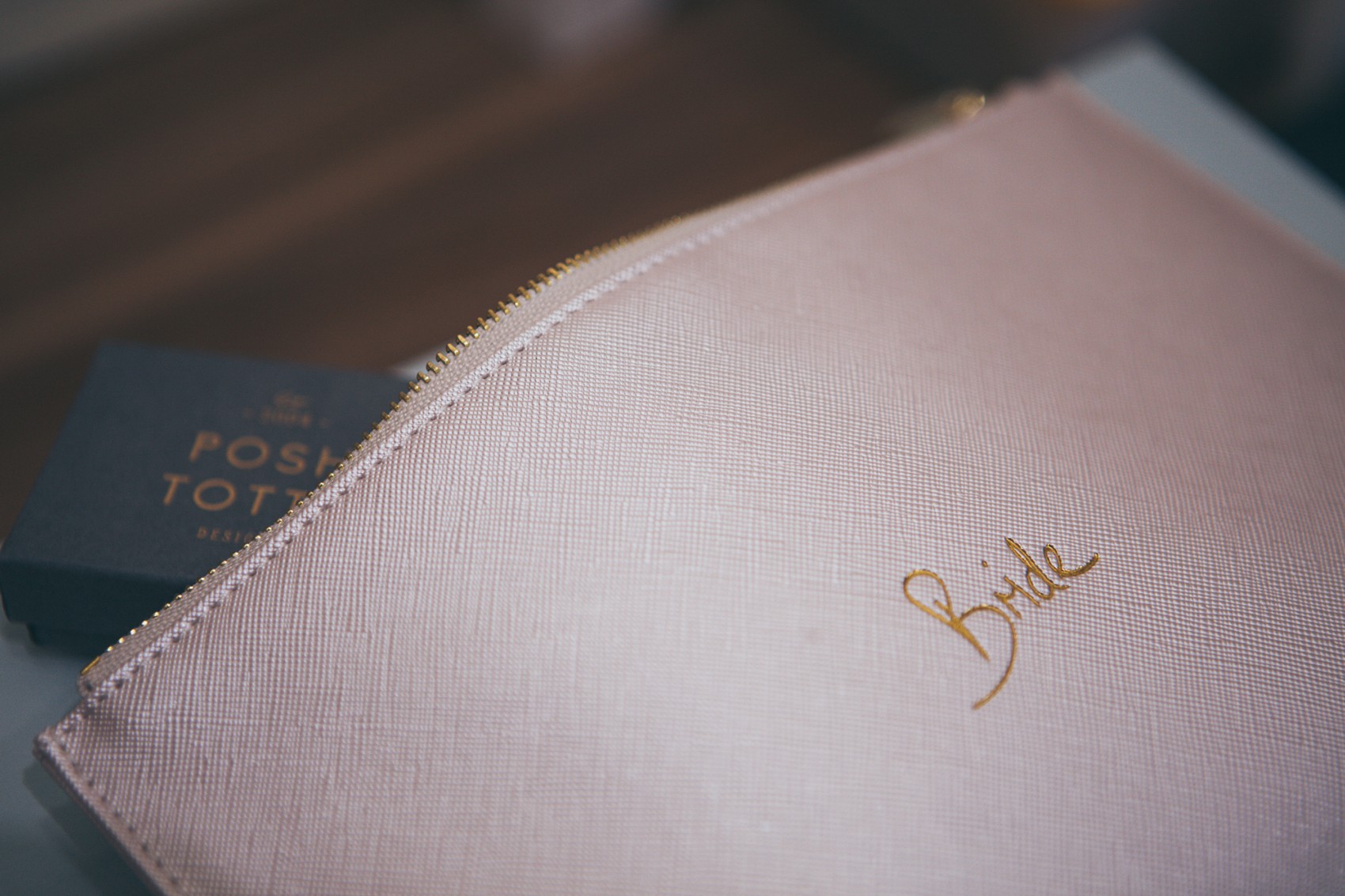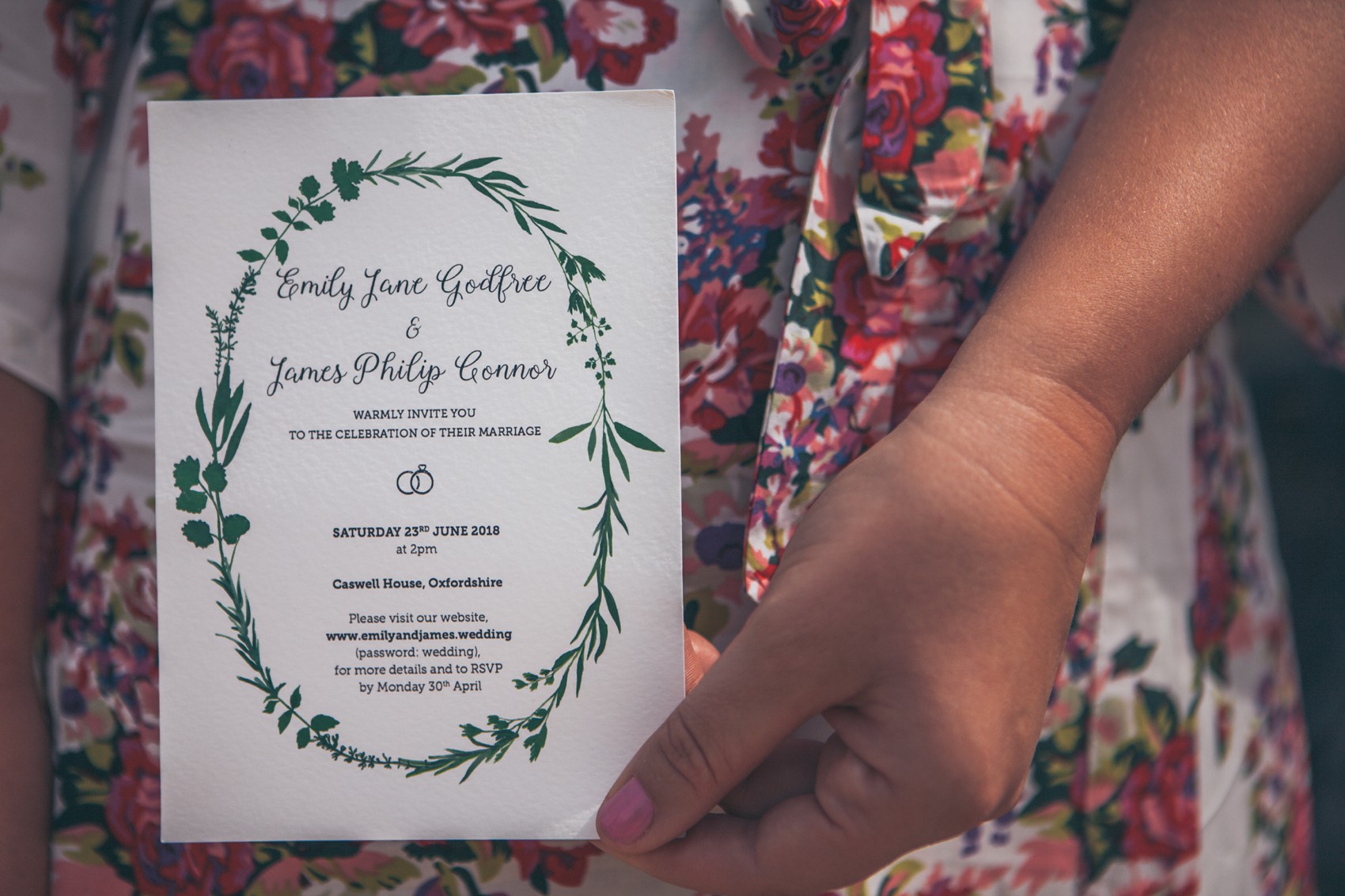 To complete her look, Emily wore a crown of mauve waxflower blooms (I adore their delicate, pearlescent beauty) made for her by The Great Little Flower Company.
In keeping with the 'summer brights' theme, Emily's bridesmaids wore a vivid assortment of green dresses – some floral print, some with floaty pleats and beautiful embellishment, chosen at ASOS and Dorothy Perkins. They wore their dresses with their own choice of gold and metallic shoes, and fresh flowers in their hair.
"We were keen on a barn venue with lots of outside space and some accommodation on site, and looked all over the south-east of England (where most of our family and friends are based) to find somewhere that fit the bill."
"Even in the depths of winter, we immediately got the 'wow' factor from Caswell House on our first visit – it ticked all the boxes. We didn't hire an event planner, but Kirsten at Caswell House was invaluable during the run-up to the wedding and fielded endless emails from us!"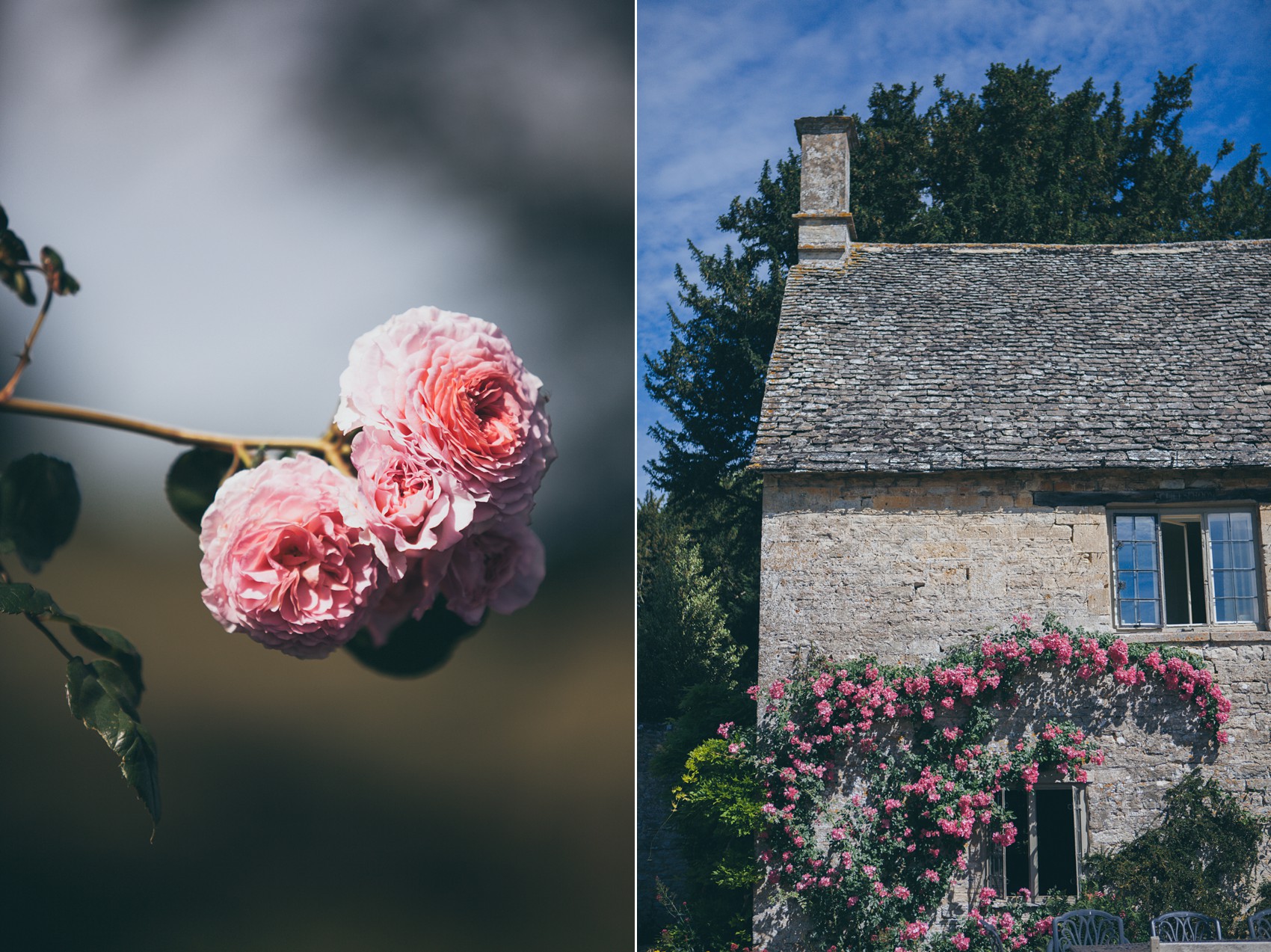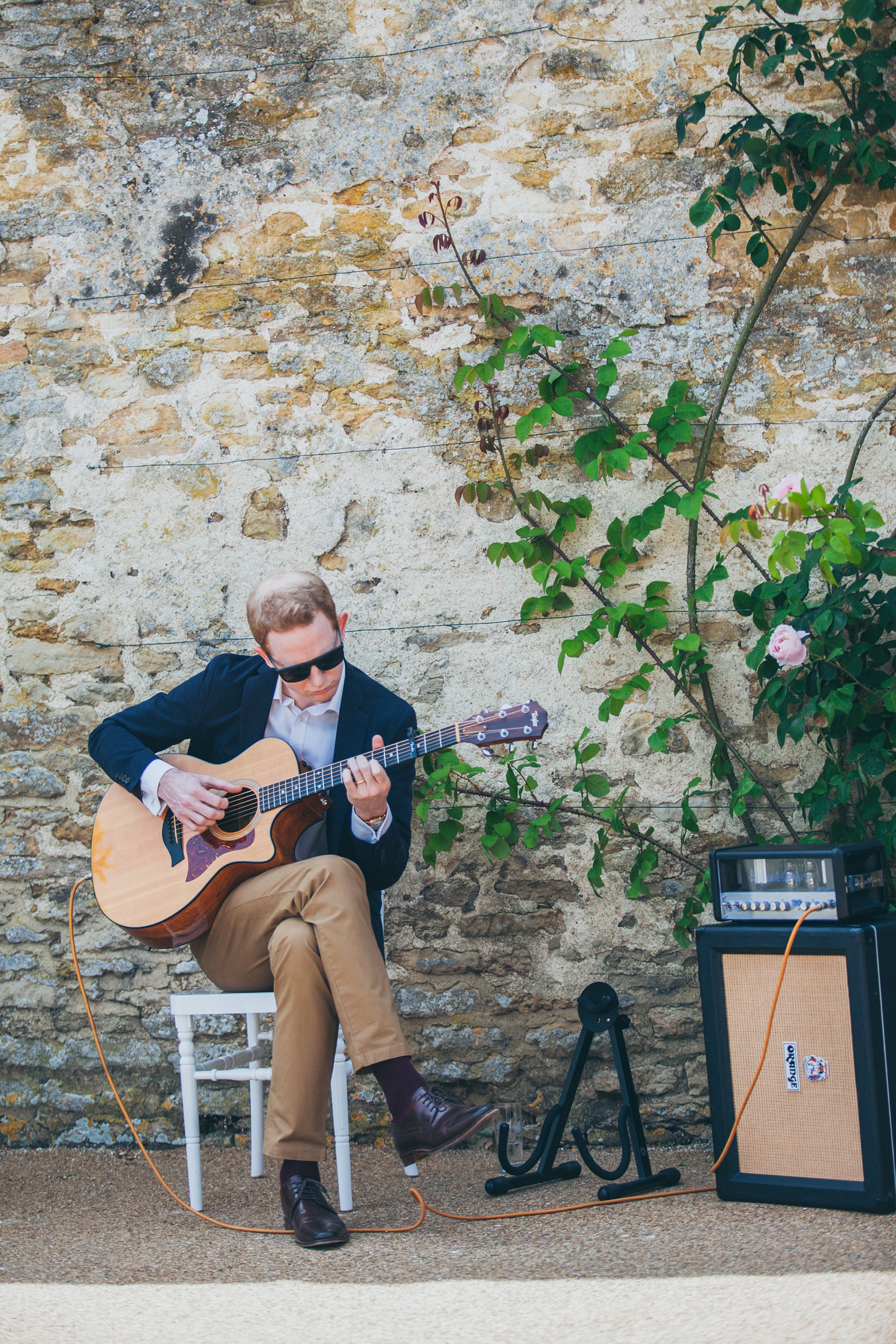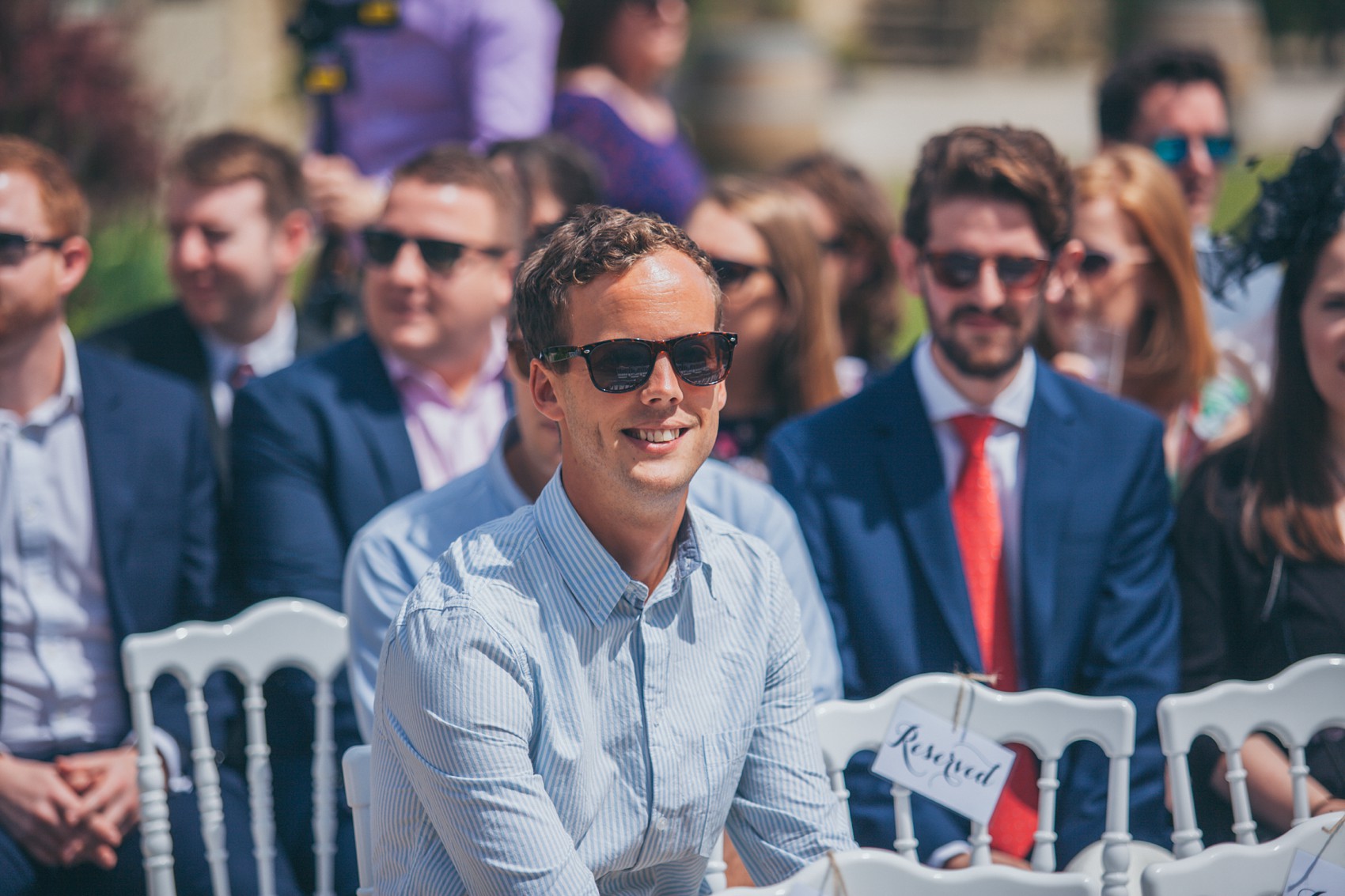 From The Vintage Suit Hire Co., James chose a blue three-piece suit with contrasting button detail, which he wore with a mustard bow tie and pocket square, brown brogues, and a felt lapel pin, also from The Vintage Suit Hire Co.
"James and I met in June 2011 at a friend's birthday party in Camden, through mutual friends. We spent a lovely summer 'courting' before making things official a couple of months later! He proposed on Christmas Day 2016, so we were engaged for almost exactly 18 months before getting hitched."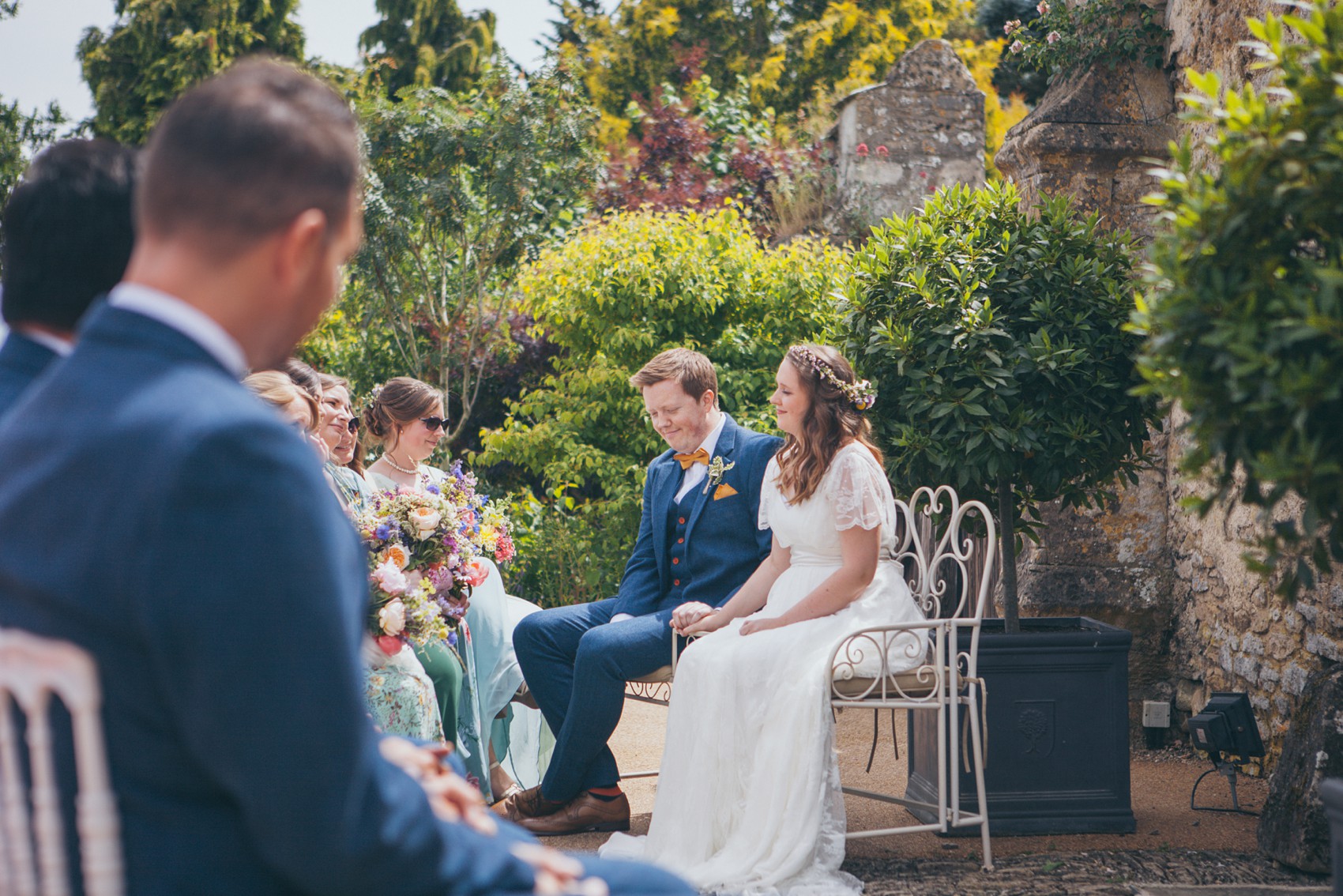 "James and I decided to walk down the 'aisle' (which was actually the garden path, as the good weather allowed us to fulfill our dream of an outdoor ceremony in Caswell's gardens) together, following our families, bridesmaids and groomsmen."
"It felt like just the right thing for us – going into it as a partnership and as equals – and I'm so glad we made that decision, because walking down together was a really special moment."
The couple's ceremony was conducted by celebrant Pat Winslow, whom they discovered through Humanists UK.
"We actually did the legal bit at Islington Town Hall the weekend preceding the wedding celebration, so we were free to tailor the Humanist ceremony in a way that felt right for us. Pat was incredible and designed a ceremony that was personal, hilarious and full of love."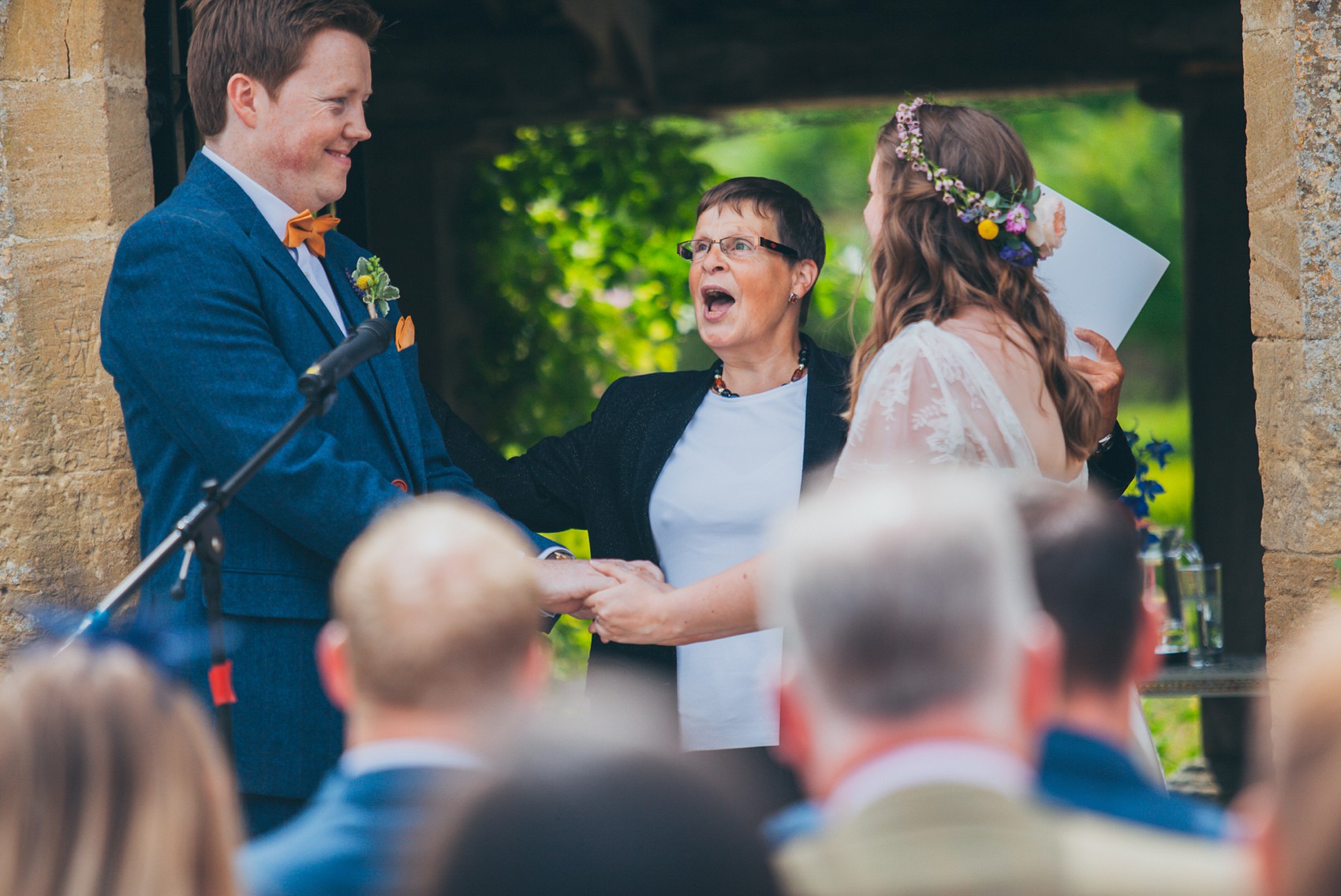 "The fact that we had a humanist ceremony means that we had the scope to do our vows however we wanted, but in the end both James and I were a bit nervous about the public speaking aspect, so we decided to keep things simple. Pat suggested some straightforward vows for us, which took the pressure off, and we didn't need to say anything much more complicated than 'I do'!"
Emily and James headed to Hatton Garden in London for their wedding rings (a bit of a last minute dash!) and chose them at Beverly Hills Jewellers, who were able to help out with a quick turnaround. Emily went for a simple, platinum band to complement her engagement ring, and James chose a brushed gold design.
"We had two readings: One read by my dear friend Sam, called All I Know About Love, by Neil Gaiman. It's full of beautiful imagery, but I think my favourite part is: 'It's not two broken halves becoming one. It's the light from a distant lighthouse bringing you both safely home because home is wherever you are both together.'"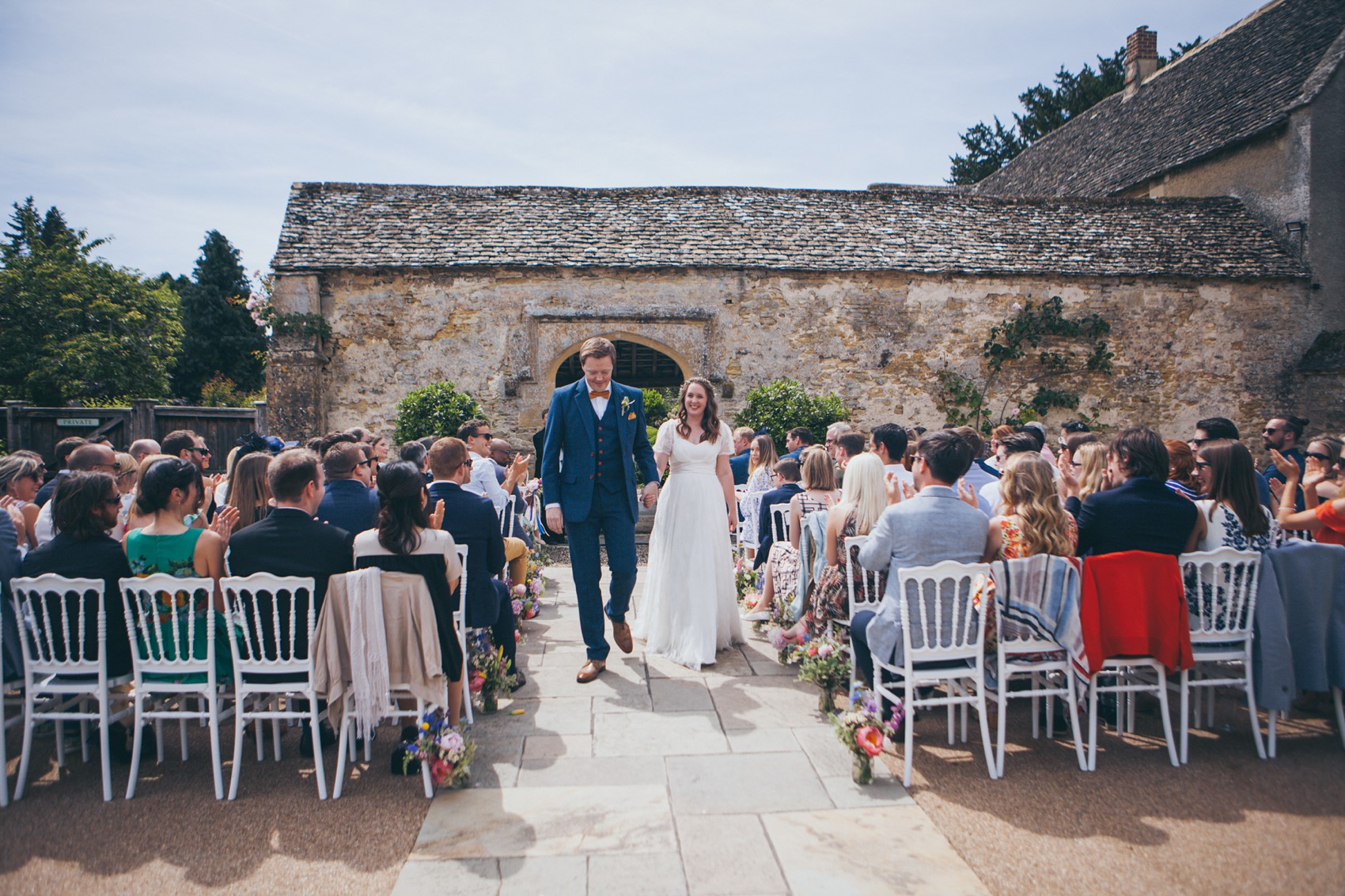 "This resonated with us because the concept of home – both in the physical and metaphorical sense – is very important to us, and this emerged as a bit of a theme during the ceremony. The other reading was given by James' niece and two nephews: Recipe For Love, which felt apt because I love baking."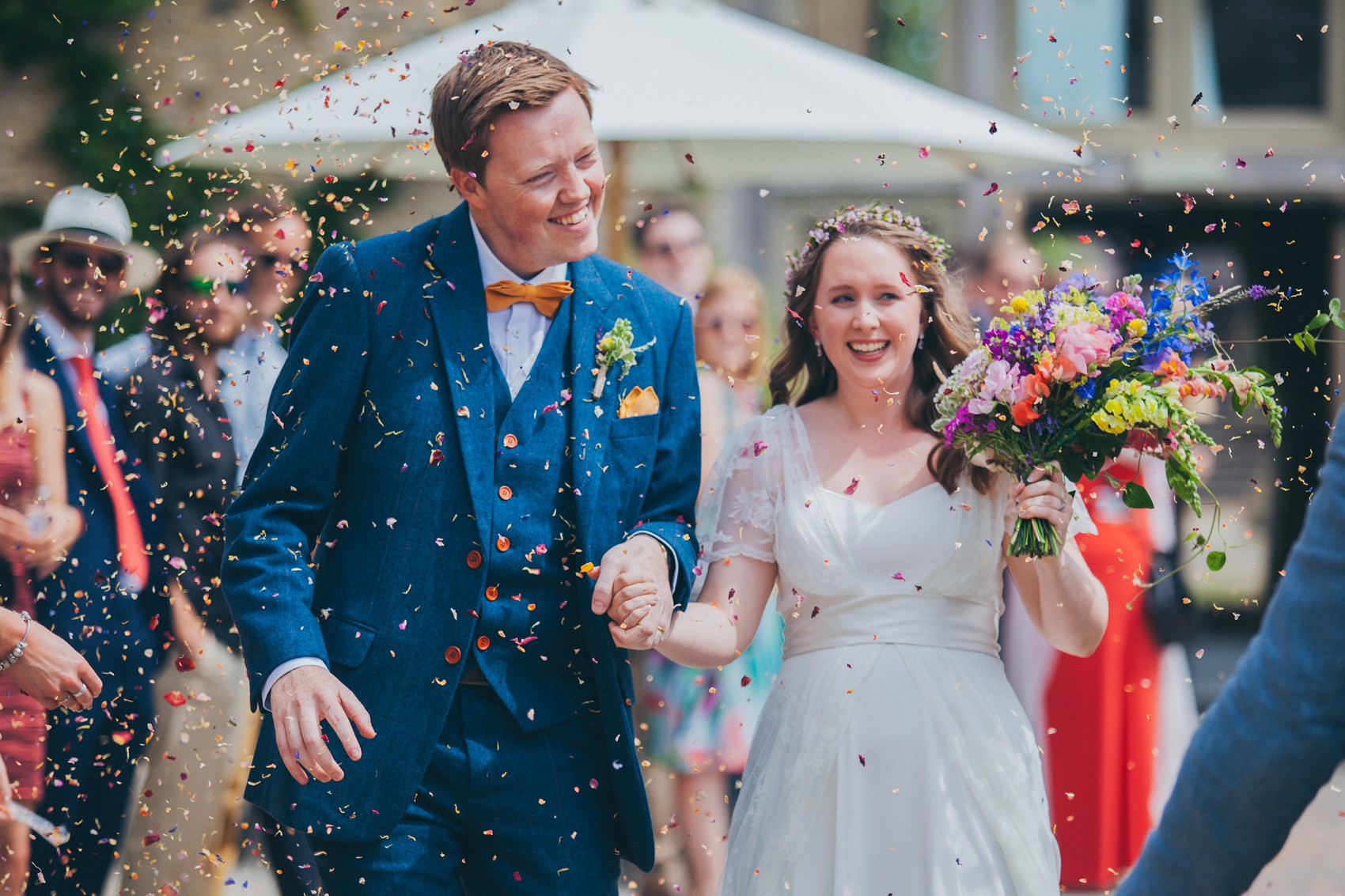 After the ceremony, drinks, ice creams and lawn games were enjoyed outside (with gypsy jazz from Latchepen), surrounded by incredible summer flowers – from the rambling roses growing and climbing in Caswell's garden, to colourful arrangements by The Great Little Flower Company – wondrous assortments of peonies, dahlias, snapdragons and more (including Emily's lovely bouquet).
"We went for a colourful mix of summer flowers including garden roses, peonies, sweet peas, stocks, snapdragons, cornflowers, dahlias and chamomile. For our June wedding, the Caswell House gardens were due to be in full bloom and I wanted to complement this with even more of the season's most beautiful flowers, inside and outside."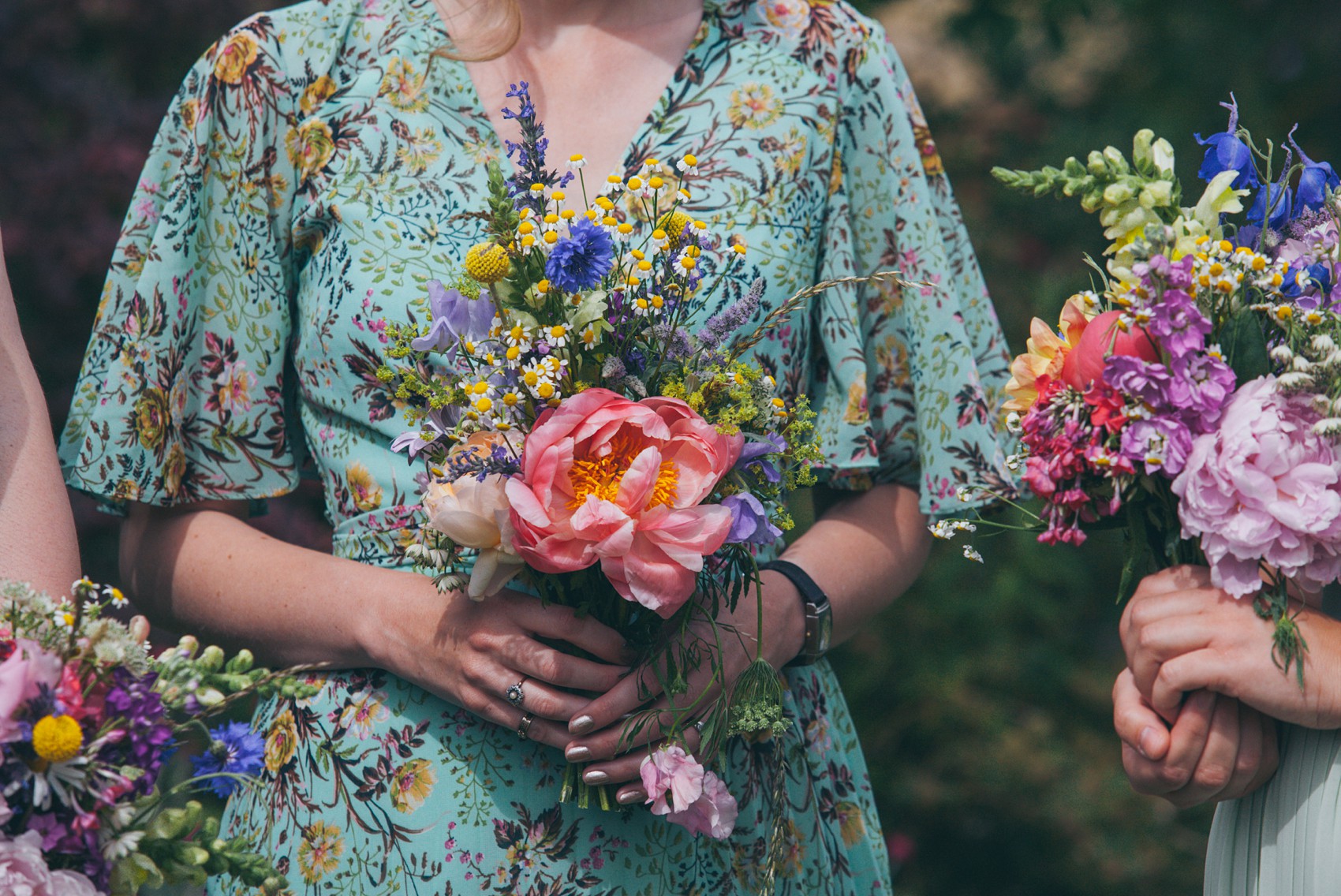 Emily sings in a cappella group, After Hours, and they sang for the couple as they made their entrance together.
"My friend Jamie was so generous with his time and talents, and arranged an a cappella version of Clean Bandit's Symphony especially for the wedding. He also played the guitar as our guests assembled before the ceremony. We must have taken the procession into the ceremony a bit slower than planned because just as James and I were halfway down the aisle, I could hear the song coming to an end and panicked that we'd have to finish walking in silence! But without missing a beat, Jamie brought the singers in for one final chorus – a true professional."
We've featured the brilliant work of Betti Confetti Photography before on Love My Dress (and what a great name!), and it's a delight to be able to add to it with bright and happy images.
"Gemma photographed my sister's wedding in 2013, and we were all blown away by her gorgeous photos and warm personality. She was also super quick with all the group shots, which was a big plus as far as we were concerned!"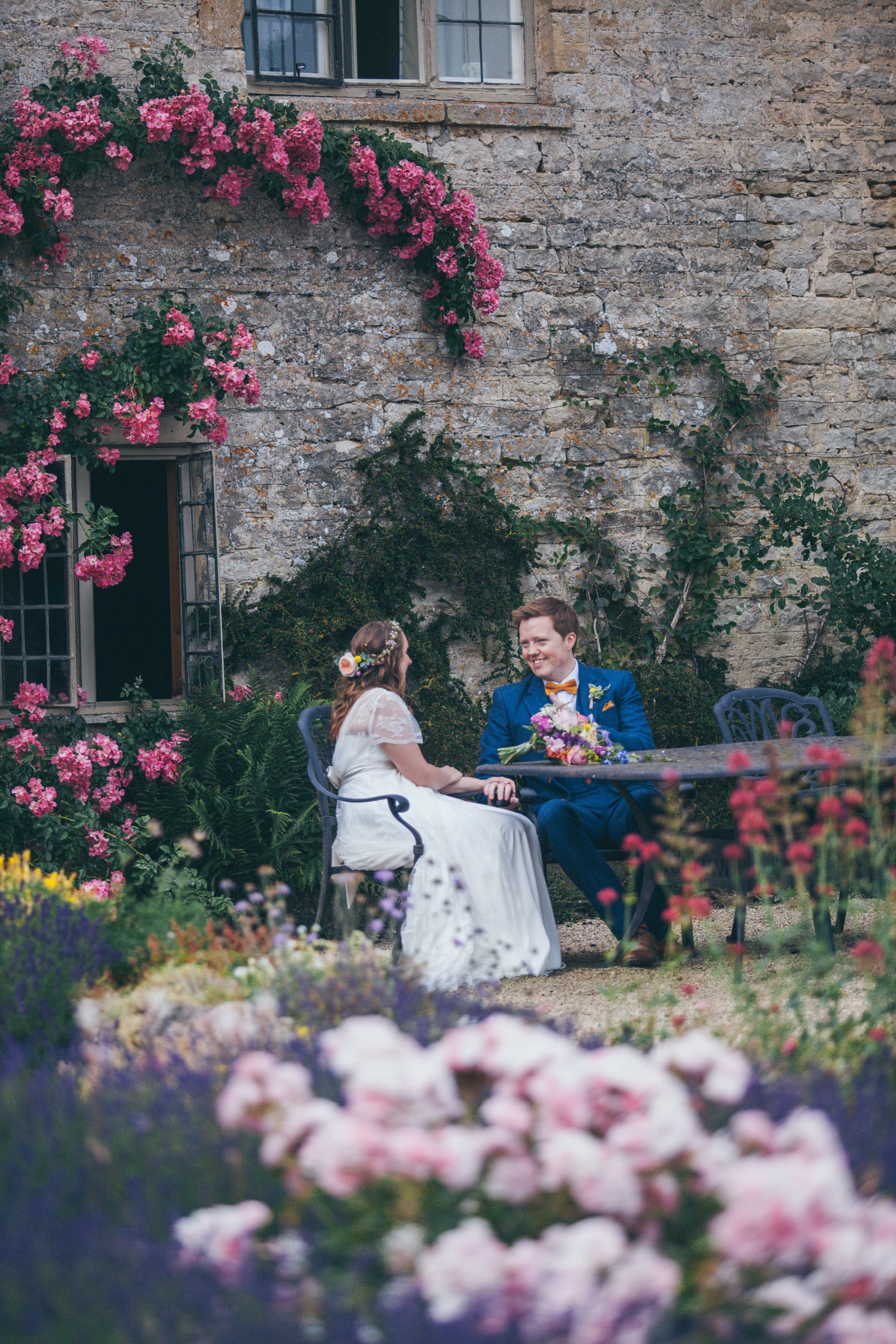 "Once James and I had booked our venue, I emailed Gemma straight away hoping she would be available on 23rd June. Luckily for us, she was. It felt very special for my family and me to be reunited with Gemma on 23rd June, particularly as it meant that she could meet my niece, Rosie, for the first time."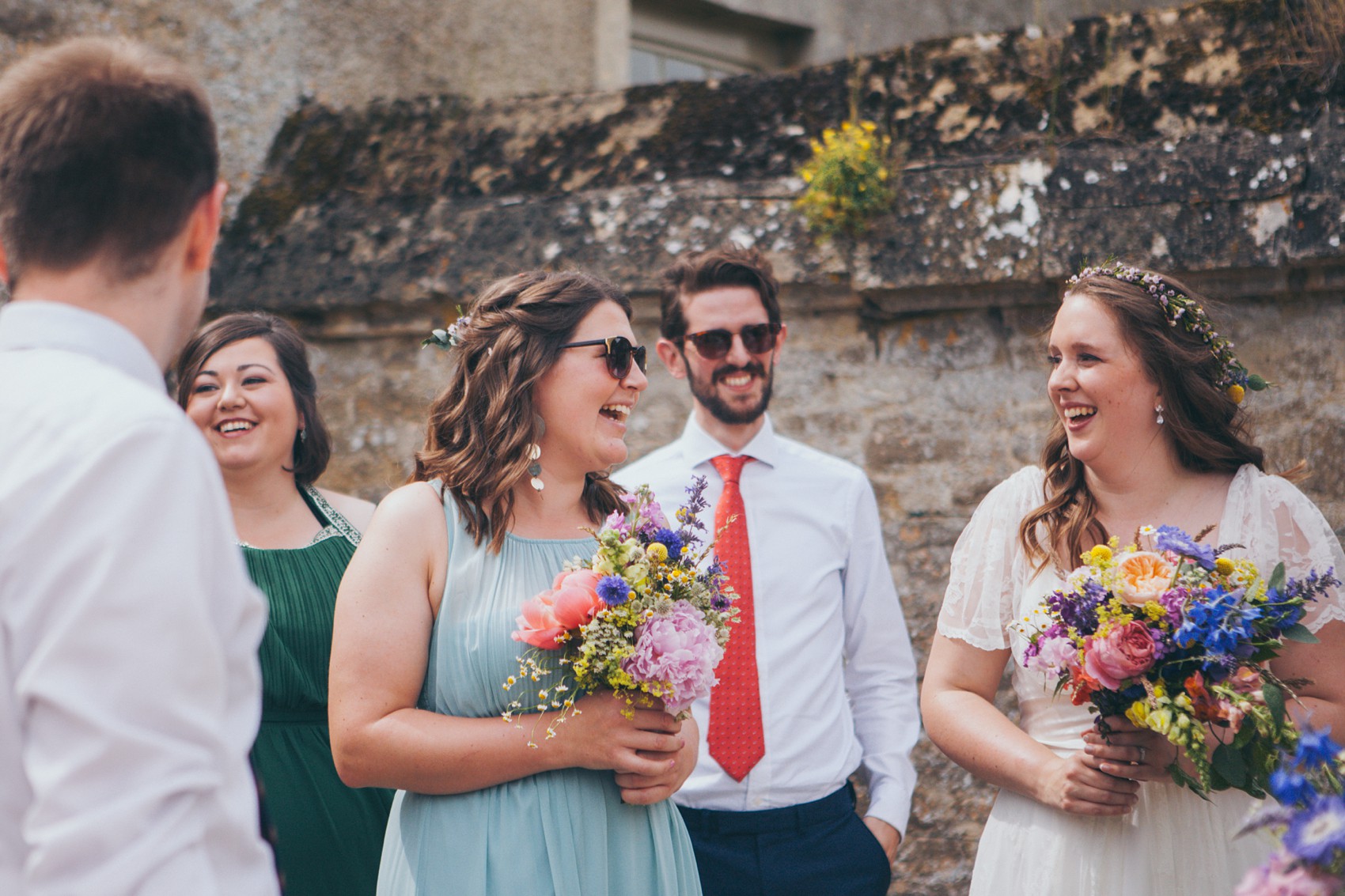 "Caswell House is so naturally beautiful that we didn't need to do much, but apart from filling the barn with gorgeous flowers, we added a few meaningful extras: a garland of woolly pom-poms made during my hen weekend by my bridesmaids, my mum and me; some Polaroid bunting, a few gold balloons, and some big light-up letters from Doris Loves, spelling out 'LOVE'.
Inside the painstakingly restored medieval barn, long tables were laid for dinner, with white cloths and a dazzling, technicolour array of posies, as well as a spectacular garland on the top table.
"It was unbelievable; the florists had achieved exactly what I'd dreamed of, and then some!"
Wonderful food came courtesy of Indulgence Boutique Hospitality, followed by a gorgeous three-tier cake by All Cakes and Sizes.
"Lauren is local to Caswell House and was super professional and helpful throughout the process. After going for a cake tasking (obviously, a hardship, but someone had to do it), we decided on a three-tier cake with vanilla sponge and raspberry jam, chocolate, and carrot and walnut, iced with rustic buttercream. Our florists decorated it with peonies and snapdragons, and the finished article was an absolute dream."
Emily and James sourced their delicious favours – shortbread love hearts inside mini organza bags from Lauren at All Cakes and Sizes.
"While we used Blush & Gold for our save the dates and invitations, I DIY'd the rest. I calligraphied everyone's names on little Kraft luggage tags as place cards and attached them to our favours. I used Printed.com for the menus, and I drew up the table plan using a white Posca pen on a huge piece of black MDF."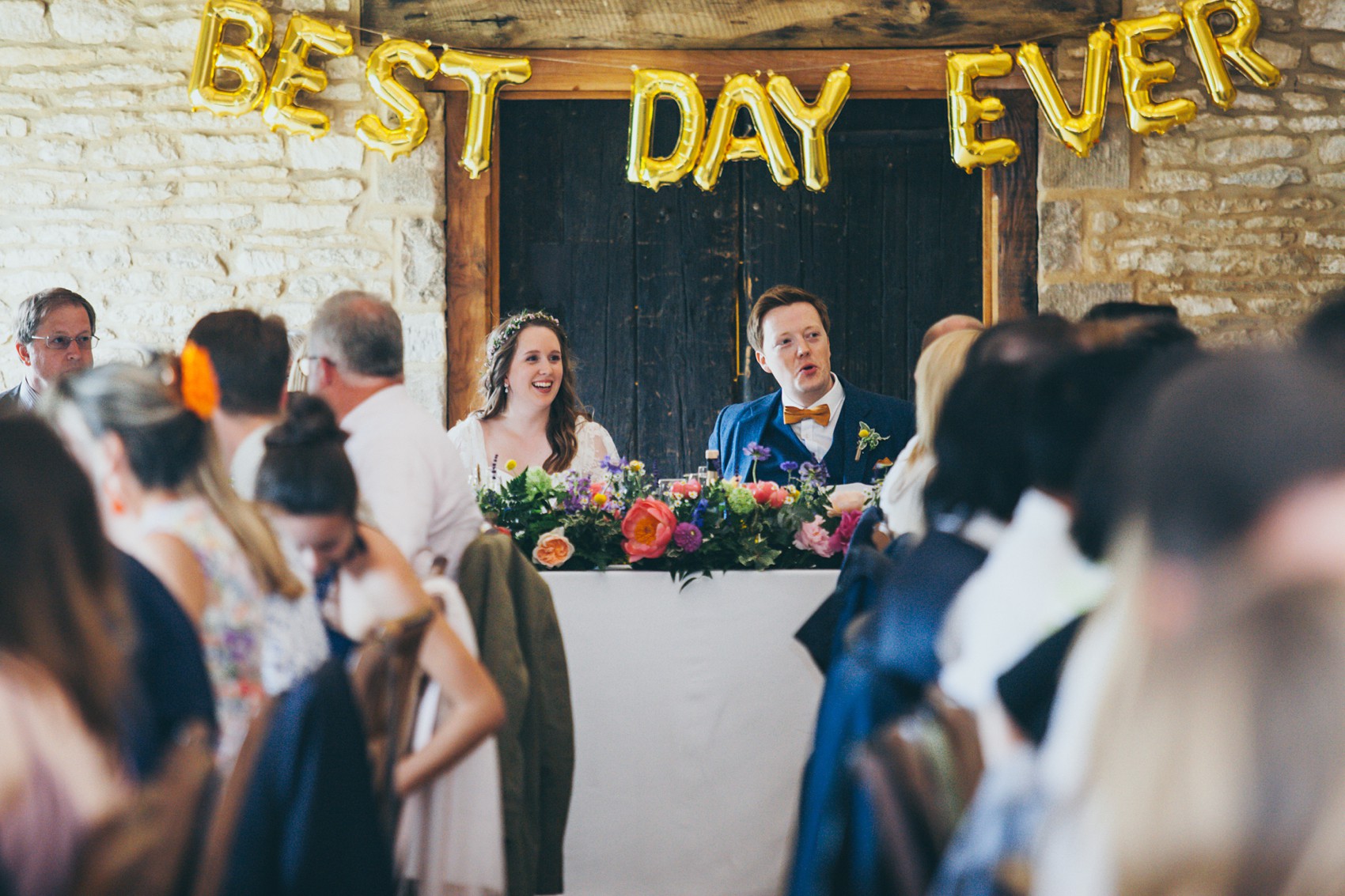 Emily and James decided not to have a first dance, but when band Mister Kanish played You're All I Need To Get By, this song became a belated 'first dance' enjoyed by the couple.
"We were hugely entertained by the incredible Mister Kanish, who kept us on the dancefloor until the end of the night. We booked a silver Airstream trailer photobooth from Belle Studio, which was one of the best decisions we made – our guests had a blast posing with all the different props and then sticking the photos in our guest book."
"There were so many magical moments throughout the day, I'm not sure I could choose just one! But there was an absolutely incredible pink and gold sunset that evening, so we slipped away for a bit to enjoy it with some of our guests. But generally, being surrounded by the people that we love the most made every moment wonderful."
"We were really happy with how everything went on the day, and can't think of anything that we might have done differently."
Words of Wedded Wisdom
"Plan your wedding underwear carefully! I ended up wearing a really uncomfortable bra, part of which repeatedly emerged above my dress' neckline, so in retrospect I wish I'd put a bit more time and effort into finding the right thing."
"Relax! Planning a wedding honestly needn't be stressful. Make lists, start getting things in place as early as you like, and ask for help when you need it. I think there's also a lot to be said for keeping things simple."
"Make choices that feel right for you and your partner, and don't worry about what you might perceive as other people's expectations. Don't fancy the idea of speeches or a first dance? It won't matter! Do whatever you need to do to make sure your day is enjoyable and authentic."
"Being married is amazing, and remember that your wedding day need not be representative of how married life will be. If your day doesn't go quite to plan, or if you have to make compromises for other reasons, at the heart of it is the awesome privilege of making a huge promise to your best friend – nothing else matters."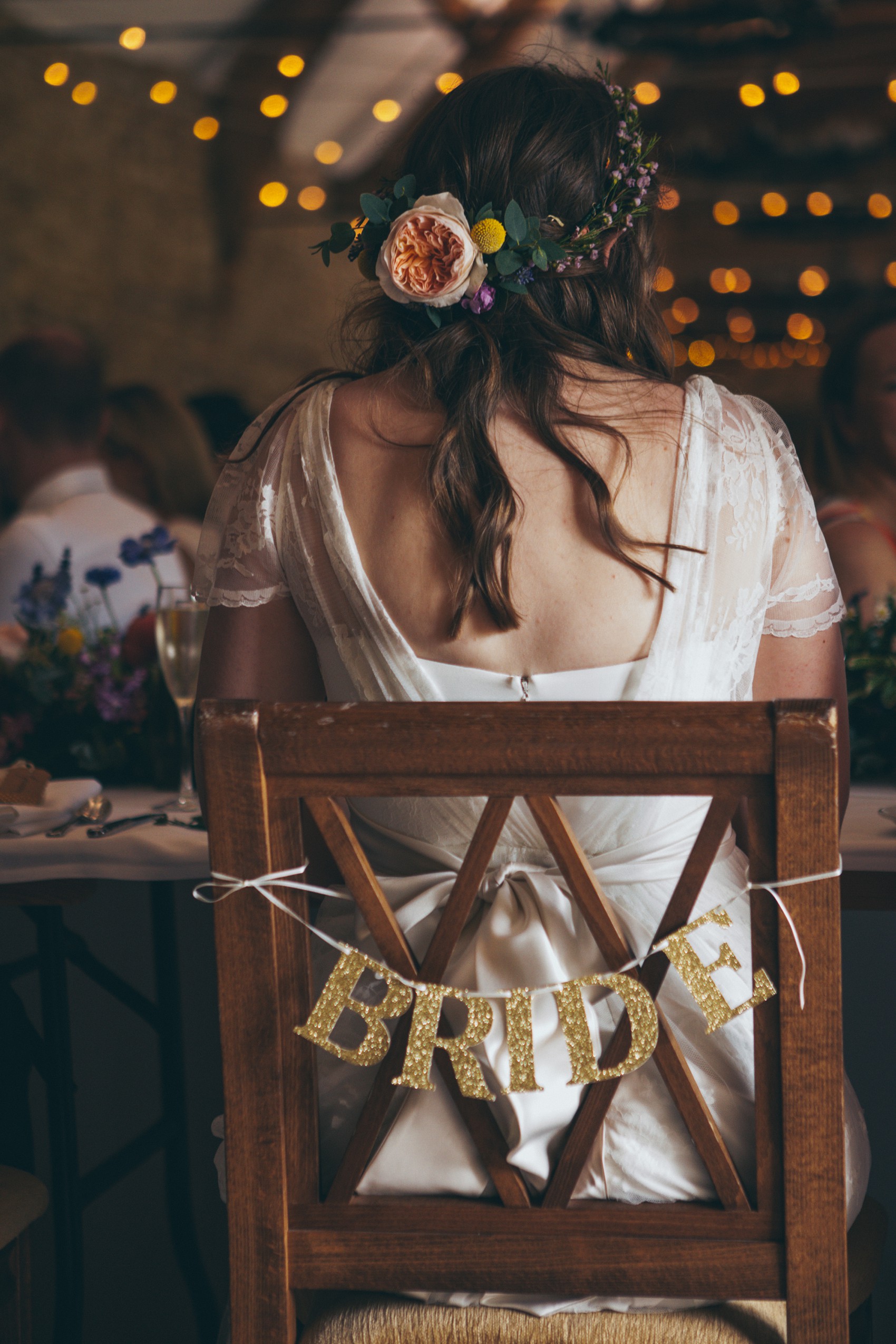 What thoughtful, helpful words of wisdom – thank you! And many thanks to you both, Emily and James, for sharing your thoroughly lovely and charming day with us. Many thanks also go to Betti Confetti, for capturing all that joy and colour.
Until next time!
Love, Laura