I'm so excited to share today's wedding with you for it's the celebration of one of our much-loved Love My Dress Facebook group members Elizabeth and her husband Howard.
Elizabeth  found many of her wonderful suppliers through the group and our Little Book wedding directory, including the very talented Fiona Kelly Photography. We're very proud of our closed group for brides, but especially of our wedding directory – a resource we've worked exceptionally hard to build for the benefit of everyone who visits Love My Dress.
Fiona Kelly has a strong eye for romantic, light-infused images and we adore her naturally beautiful style.  We are so proud that she is one of our Little Book members and, if you'd like to find out more about her and her work as well as enjoy an exclusive saving, please do take a moment to visit her listing. She was assisted on the day by second shooter Jesse.
Film Henley & White
The couple's utterly dreamy wedding film was captured on film by Henley & White.
"Andrew at Henley & White is also highly recommended. Calm and totally un-intrusive, he captured everything we wanted and edited it very well. He exceeded our very high standards, a tall order considering I am a film buyer."
Photography Fiona Kelly Photography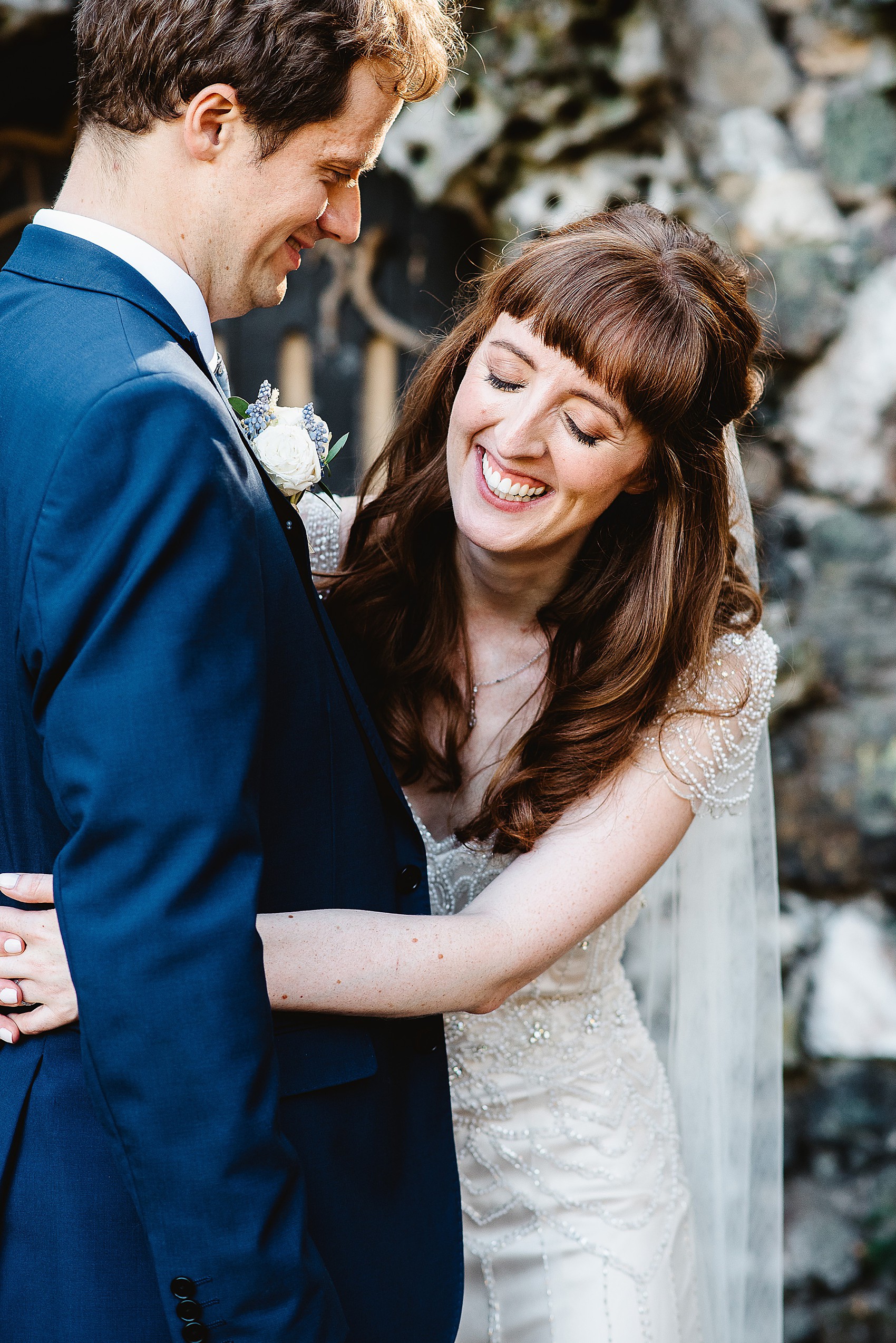 "We cannot recommend Fiona Kelly more highly. She surpassed our expectations in every way – reassuring and relaxed whilst being really thorough and expertly handling people and timings through the day. Her images are simply stunning and tell the story of the wedding so well. She perfectly captured all the key parts of the day, as well as the candid shots and emotional moments, without being at all intrusive."
"A special mention also to second photographer Jesse who captured so many extra shots, including the time Howard spent with his groomsmen in the morning. Jesse is supremely talented, able to capture the little details as well as the big moments from other angles, and plenty of hilarious candid shots too."
Come with me to Hampton Court House in Surrey for the marriage of film buyer Elizabeth to journalist Howard on 5 August 2018. The pair, who were introduced by mutual friends, fell in love with the beauty, relaxed feel and intimacy of Hampton Court House and chose a dreamy colour palette of soft blue and cream for their styling. A beaded Maggie Sottero gown added a subtle 1920s vibe and the overall look is the epitome of summertime charm.
"Hampton Court House had the wow factor and met all our criteria. We could get married and have the reception in one place, it's not far from London but felt like a private country house, it's beautiful and impressive without being imposing, has lots of different, stunning places for photos and a great flow of areas for guests to enjoy. Plus, it is dry hire and the manager of the house is very experienced and calm."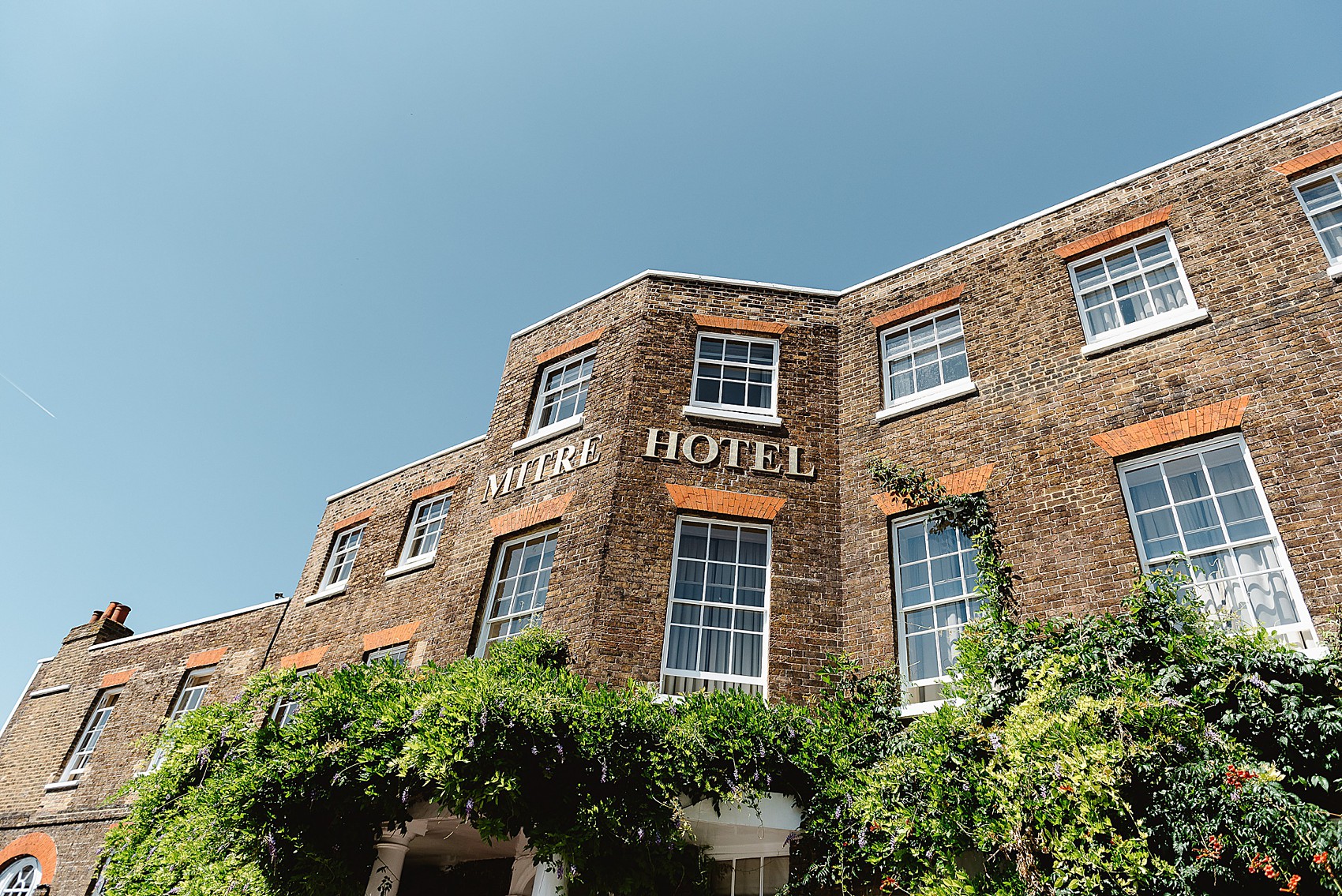 The blue and white palette informed the couple's wonderful, floral stationery suite, which was designed by our very own Little Book member Fig & Fern Studio. You can see her listing here; she adds a beautifully unique and personal touch to each and every design she creates.
"Howard's sister Rachel designed our save the dates. We were delighted with the result and that she could be involved in this way in the wedding. For the other stationery we used Fig & Fern Studio. I found Anna on Instagram and we felt her style would match with our day. She was extremely flexible and quick to respond, even apologising that she hadn't got back to me one day because she had been in hospital giving birth! Now if that's not dedication to customer service, I don't know what is. "
Continuing with the soft blue palette, the bridesmaids wore long multi-way gowns from Debenhams with delicate blue and white accessories gifted by the bride; hairpins from Accessorize and personalised pearl bracelets from J&S Jewellery on notonthehighstreet.
Elizabeth was keen to wear a 20s-inspired, beaded gown and found her Maggie Sottero beauty at Teddington boutique Gillian Million. It suits the bride so well with its simple, elegant silhouette and champagne hue.
"I always had in mind a 1920s-style dress with beading and cap sleeves and tried on probably around fifteen dresses, mostly in that style. Quickly realising that a princess dress was not for me, I found 'Ettia' through some Insta trawling and totally fell for it."
"I love that the dress is glamorous, romantic and figure-hugging, evokes the 20s but still looks modern. The beading is so beautiful so as the sun set it really sparkled on the dance floor. It is the perfect dress to go from day to night and is the opposite of a 'traditional' dress, particularly as it has the option of the champagne slip. I loved that it wasn't a pure white as it was different and suited my pale skin."
"The experience at Gillian's is wonderful. Everything in her shop is so beautiful and she really makes you feel relaxed and looked after, with no pressure to buy. She totally understood the brief, has an amazing range of very high-quality samples and pre-loved dresses and made helpful suggestions about how to pull the whole look together. She also made me the most beautiful headpiece with only two weeks' notice. She is quite simply a Fairy Godmother!"
"I wore a Tiffany bracelet that Howard gave me for my 30th and borrowed a special necklace from my cousin that went very well with the design of the dress."
Her perfume was the summery scent of Jo Malone's Nectarine Blossom and Honey.
"I wanted a new scent for the day which would take me back to the wedding every time I used it. After a very enjoyable Jo Malone wedding appointment, I decided the Nectarine Blossom and Honey suited the summer wedding and smelt divine."
The Bridal Stylist's Aria was on hand to create Elizabeth's bridal look, creating glossy waves and flawless skin.
"Aria is so calm and quiet, she just gets on with the job and does it beautifully. Her calming influence was much appreciated and I was so happy with the results. My make-up and hair were just what I wanted and lasted extremely well throughout the day, quite the achievement in sweltering thirty degrees."
Elizabeth chose a pair of elegant, strappy Dune London sandals that she already owned.
"After trying on what must have been more than 30 pairs of shoes and getting more worried about it than the dress, I took a deep breath and remembered that you can't really see the shoes much and that I probably had the right ones already – a comfortable but glamorous silver pair I had worn as a bridesmaid the year before. I realised I needed to stop stressing about the need to have something new for everything and just go with what I had."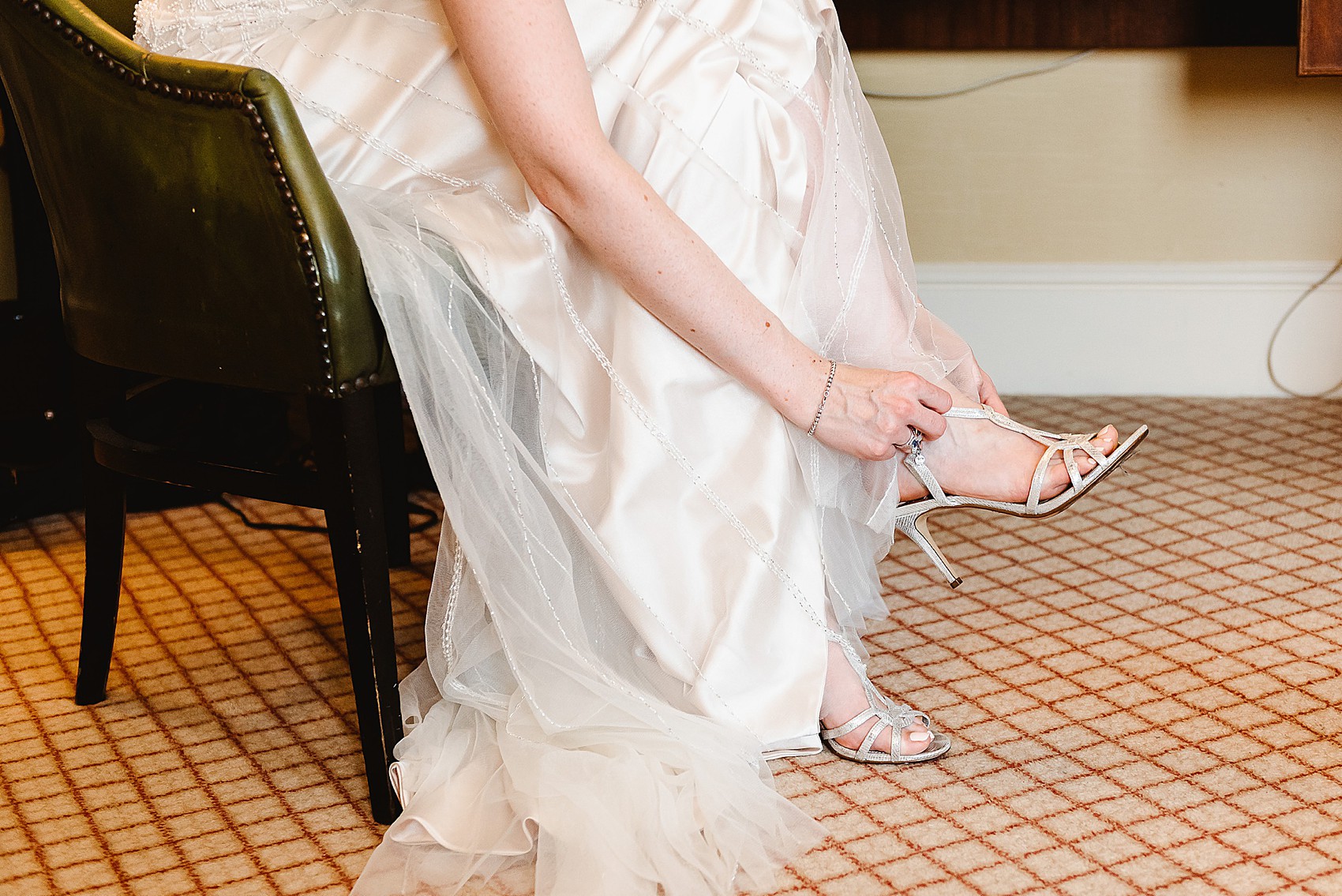 Second shooter Jesse spent the morning with Howard and his groomsmen as they got ready. Howard added personal touches of a bespoke tie clip and socks to his smart, deep blue suit, hired from Moss Bros.
"Howard had a personalised Bookity tie clip with a map of his hometown. He also wore Happy Socks and chose four others from there for the groomsmen to wear too, suitably bright and fun."
Elizabeth and Howard were introduced by mutual friend (and bridesmaid) Antonia, who the bride knew through school and the groom through university.
"She played matchmaker one night and hosted a dinner with me and three of her male friends. Howard and I had chemistry straight away. Seven and a bit years later, Howard proposed at the end of a very special meal in the House of Lords dining room. We were engaged for almost two years."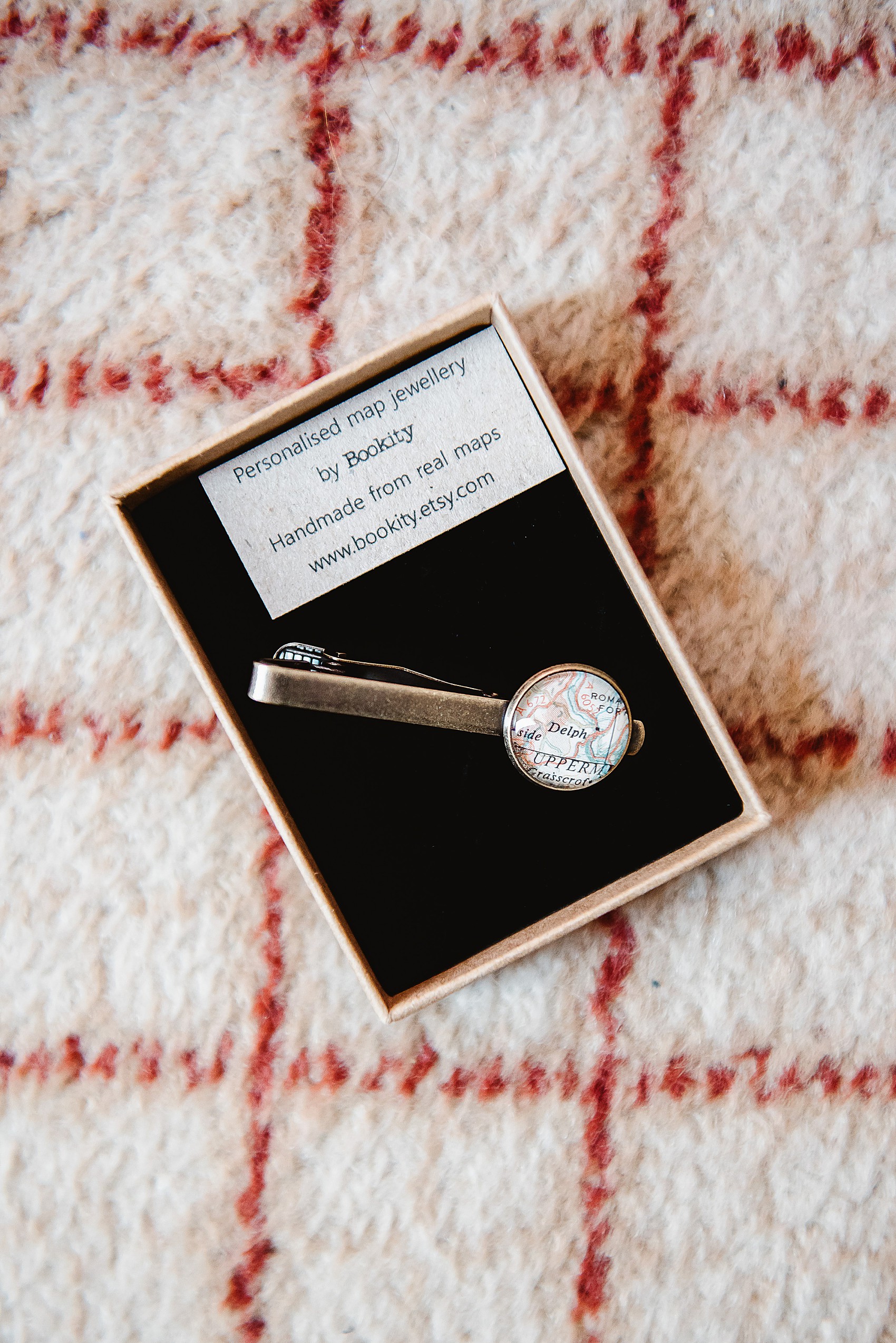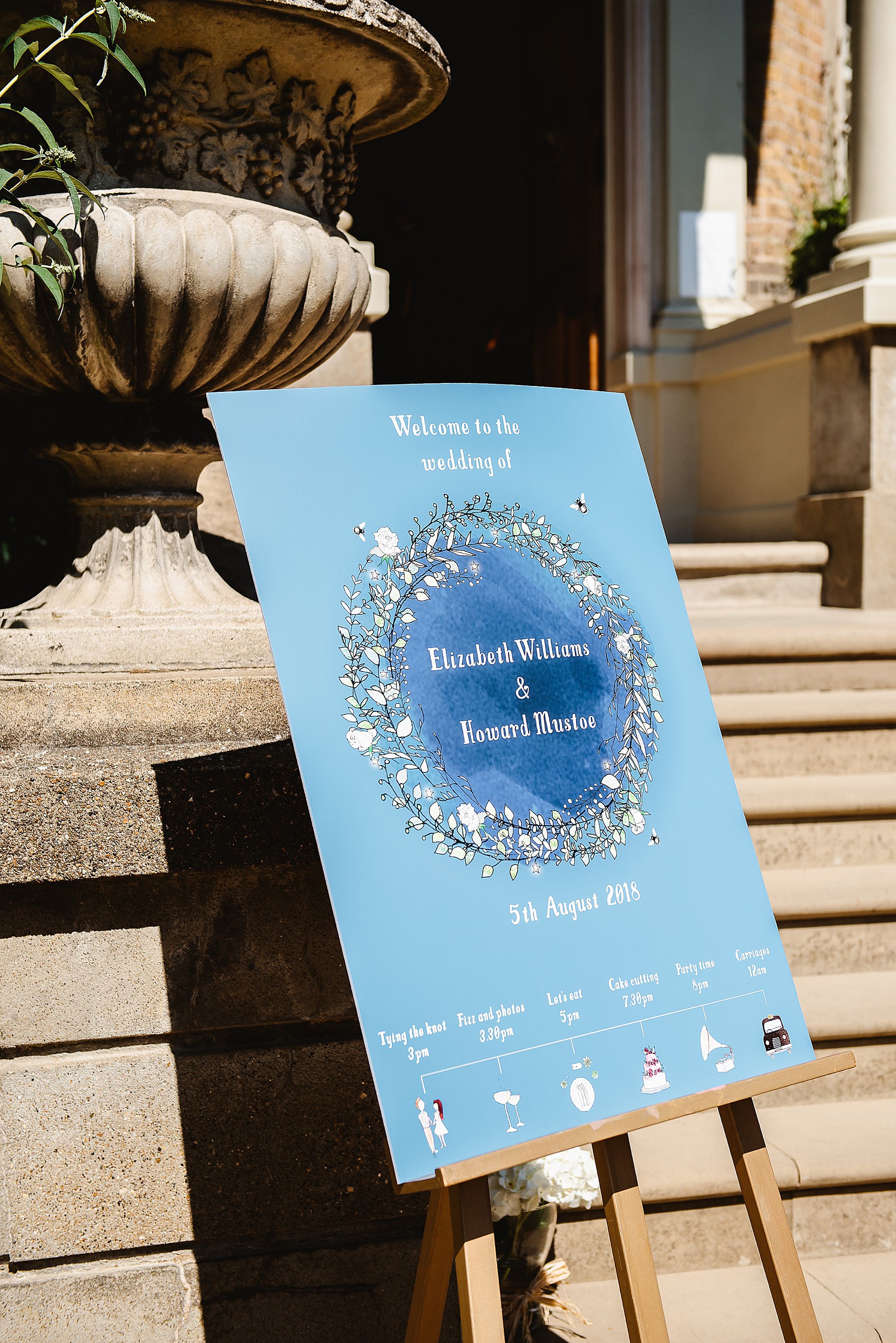 The bridal bouquets and the rest of the wedding flowers were utterly divine arrangements of soft blue and white blooms, accentuated with pale green foliage. Elizabeth was delighted with the flowers which were provided by Fairy Nuff Flowers.
"Steph's style is simply beautiful and her relaxed but efficient approach was wonderful throughout. She understood my rather loose brief of 'pale blue, white and foliage' and turned it into something truly spectacular, especially the large displays for the ceremony. I was especially delighted with my bouquet, which had some flowers we requested that were favourites of my late grandmother's: white calla lilies."
"Her attention to detail was excellent. She used the motifs of the flower wreath and the bees with the blue and white scheme throughout all our stationery, and everything came out beautifully and set the tone so well."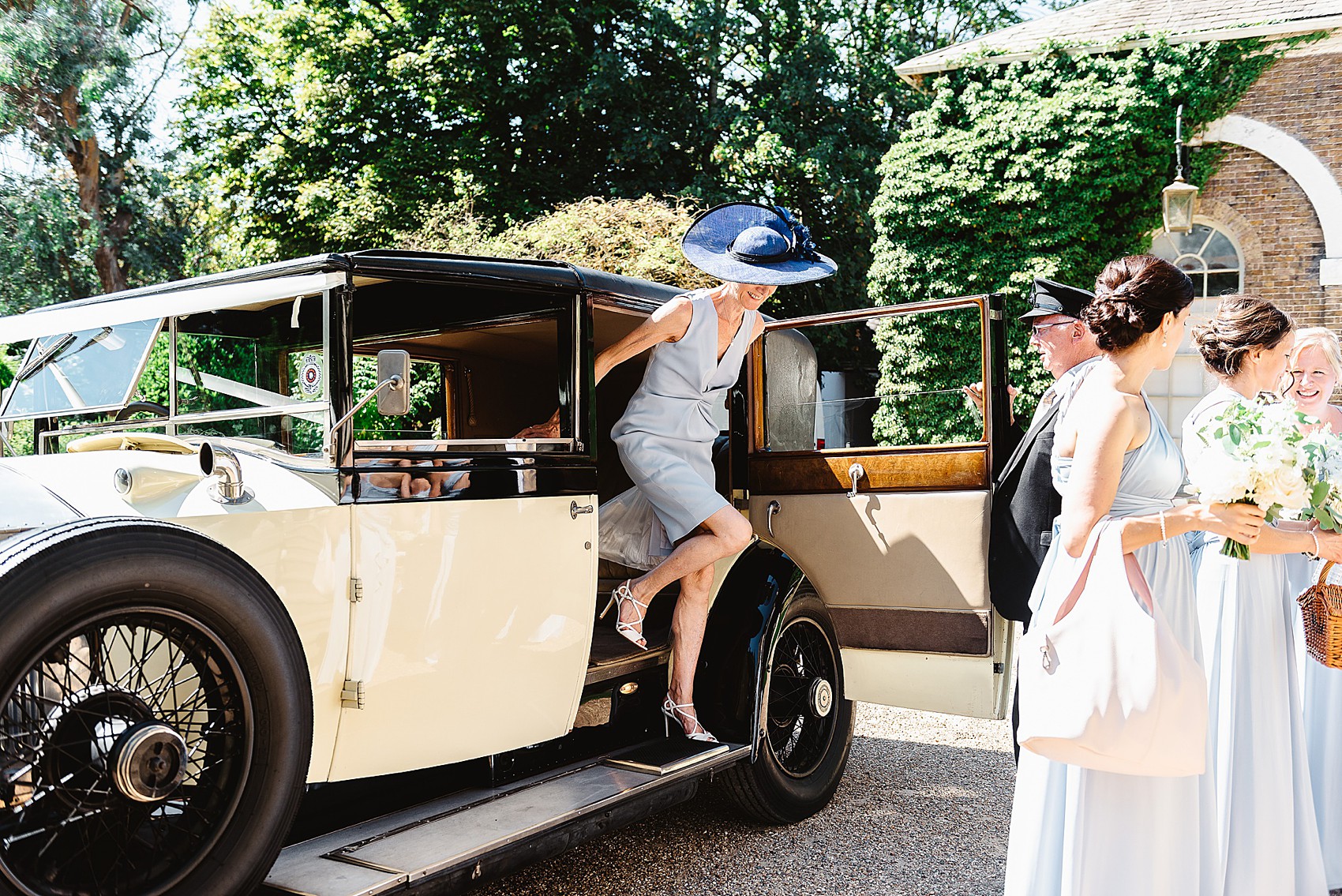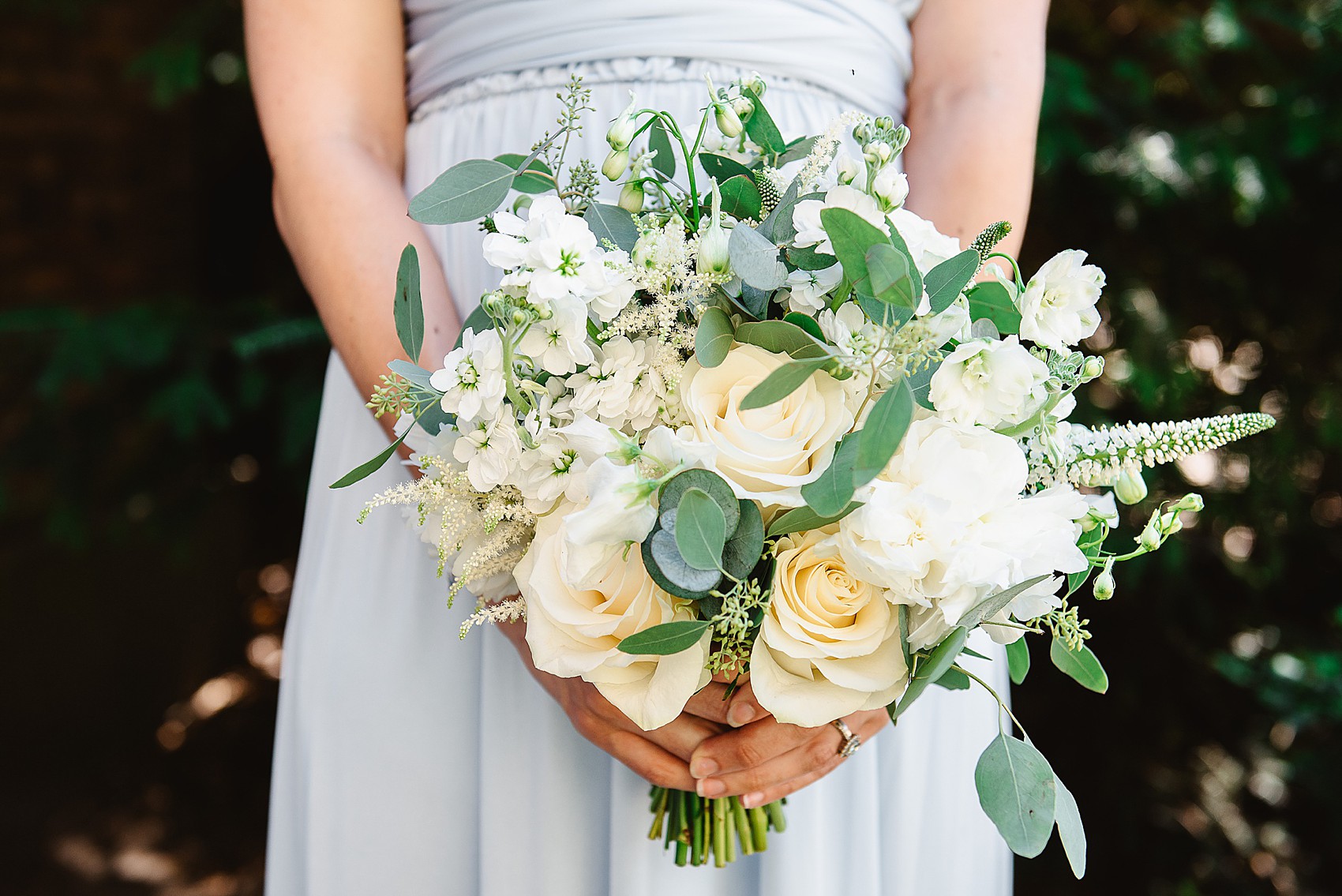 As well as the bespoke hair accessory from Gillian Million, Elizabeth wore an exquisitely-crafted veil, hand-made by Sian at Blossom & Bluebird, as recommended by our Facebook group.
"The service from Sian was exceptional, from her advice on colour and style to the beautiful way the veil was packaged with a personal, handwritten note and other sweet additions."
The ceremony was held in one of the House's beautiful rooms, and Elizabeth arrived in pure 20s style.
"I had always dreamed of arriving in a Downton Abbey/Great Gatsby-style vintage car and there was only one choice of supplier that made sense, the Classic Car Hire Company which is a five-minute drive from the venue. They have a 1920s Rolls Royce Phantom which was simply the dream. It was so special to travel in such style and worth every penny."
The bride entered on the arm of her father to 'Halo' by Beyoncé, played by a string quartet from Music Students for Hire. This moment holds very special memories for Elizabeth as her father very sadly died shortly after the wedding.
"Having a Beyoncé track represented that even though I was getting married I would always be an independent woman! It was very special for both of us. I felt my dad's strength and support in that moment, as well as all the moments leading up to it."
"I'm so glad he walked me down the aisle as he passed away suddenly a few months afterwards. I will treasure the memory of having him by my side forever, as well as his speech and the great form he was in on the day."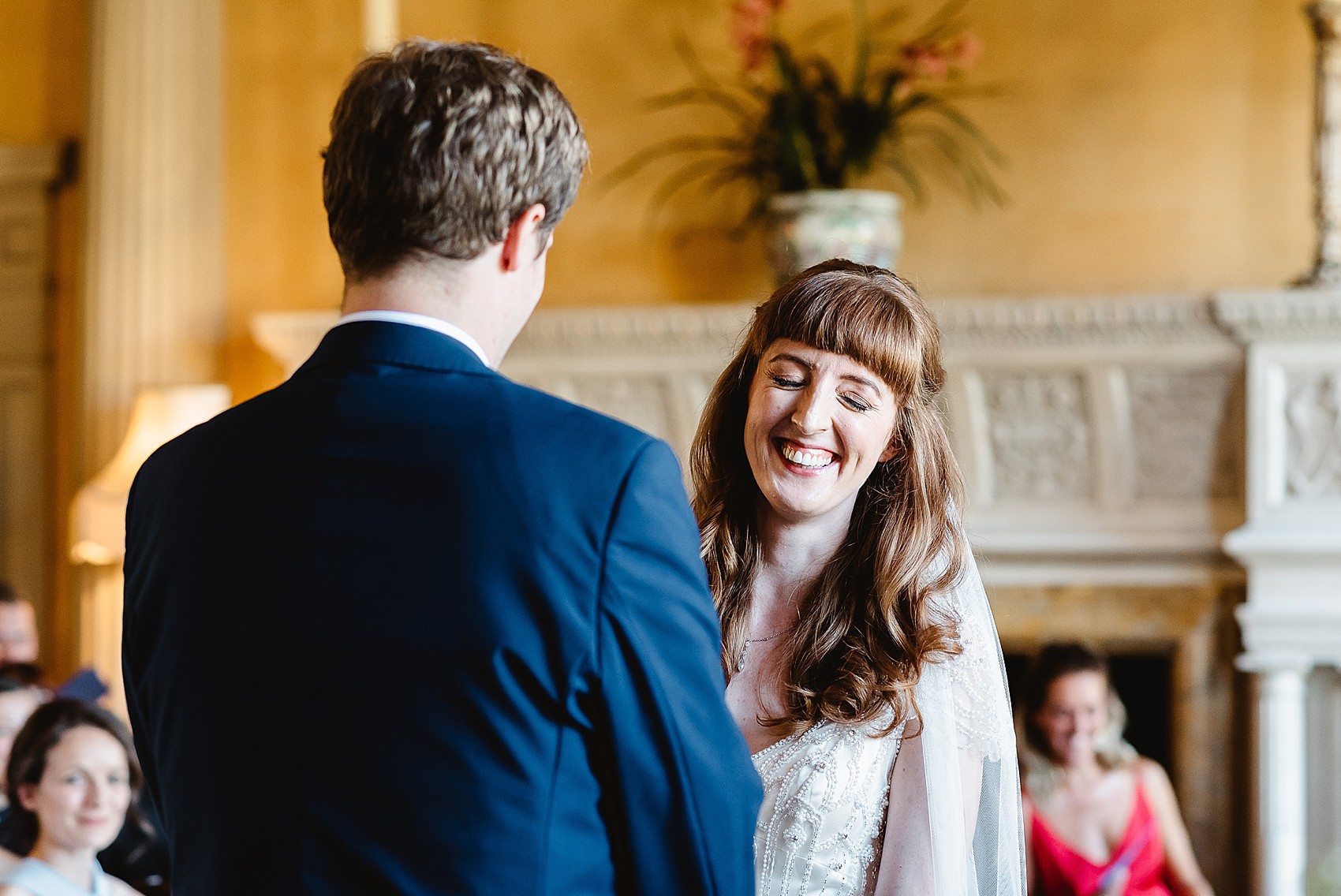 The wedding rings came from Wolf at Rabstein Diamonds.
"Wolf is a wholesale diamond seller who was recommended by one of my bridesmaids. He is personable, efficient and knowledgeable, offering wonderful service and a very high quality of rings at excellent prices. He also arranged the engraving of our wedding date on Howard's ring."
The ceremony was led by Richmond Registrars and included readings of 'Union' by Robert Fulghum and 'He Never Leaves the Seat Up' by Pam Ayres.
"Richmond Registrars have several choices for the ceremony wording. We slightly personalised one of them, adding a line about wanting to share everything we have with the other person. Howard was keen to add this as I'm an only child, which felt like our own special private reference during the ceremony. We both had a big smile at that point."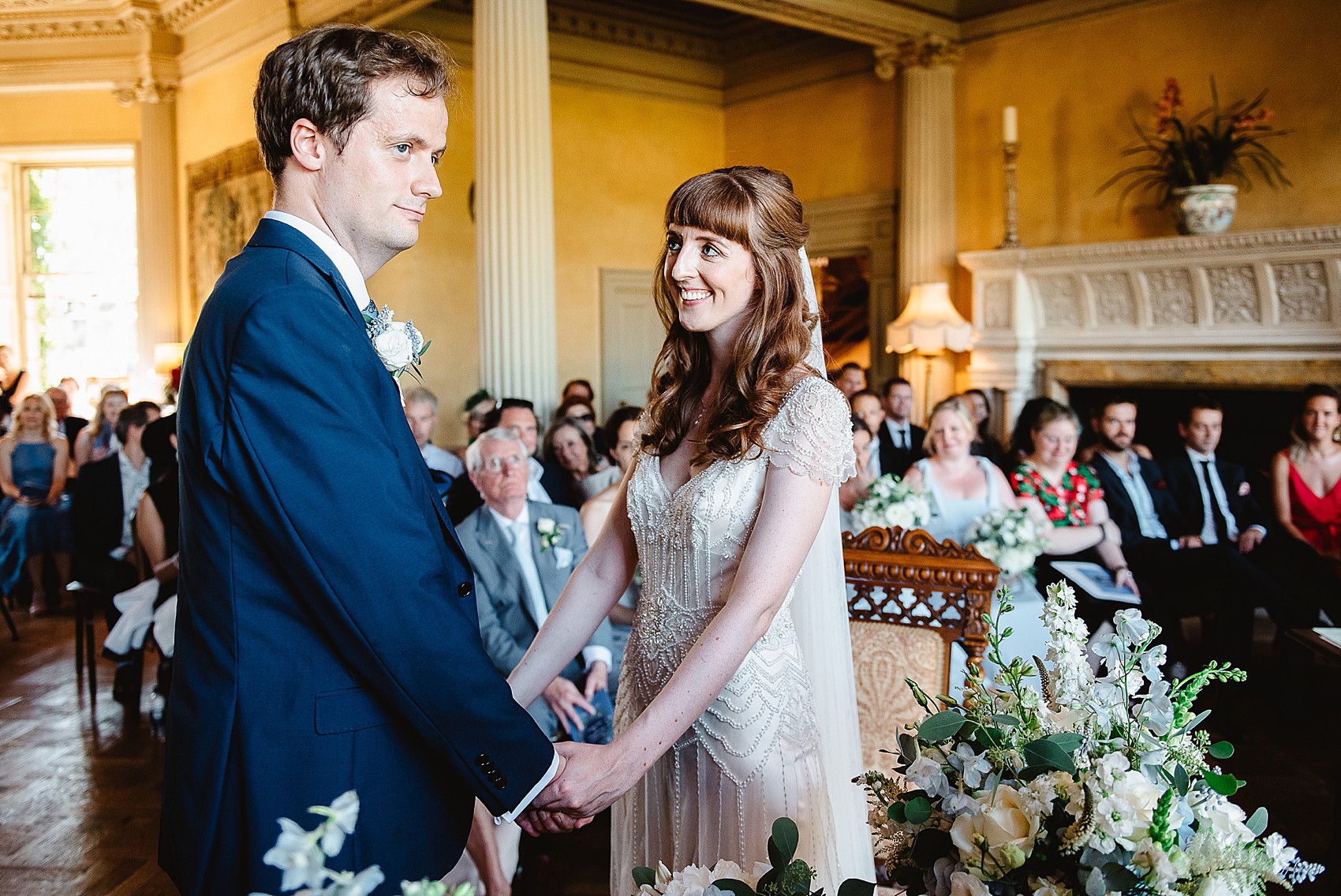 "The readings offered a good balance of serious and funny and felt very relevant to our relationship and the step we were taking."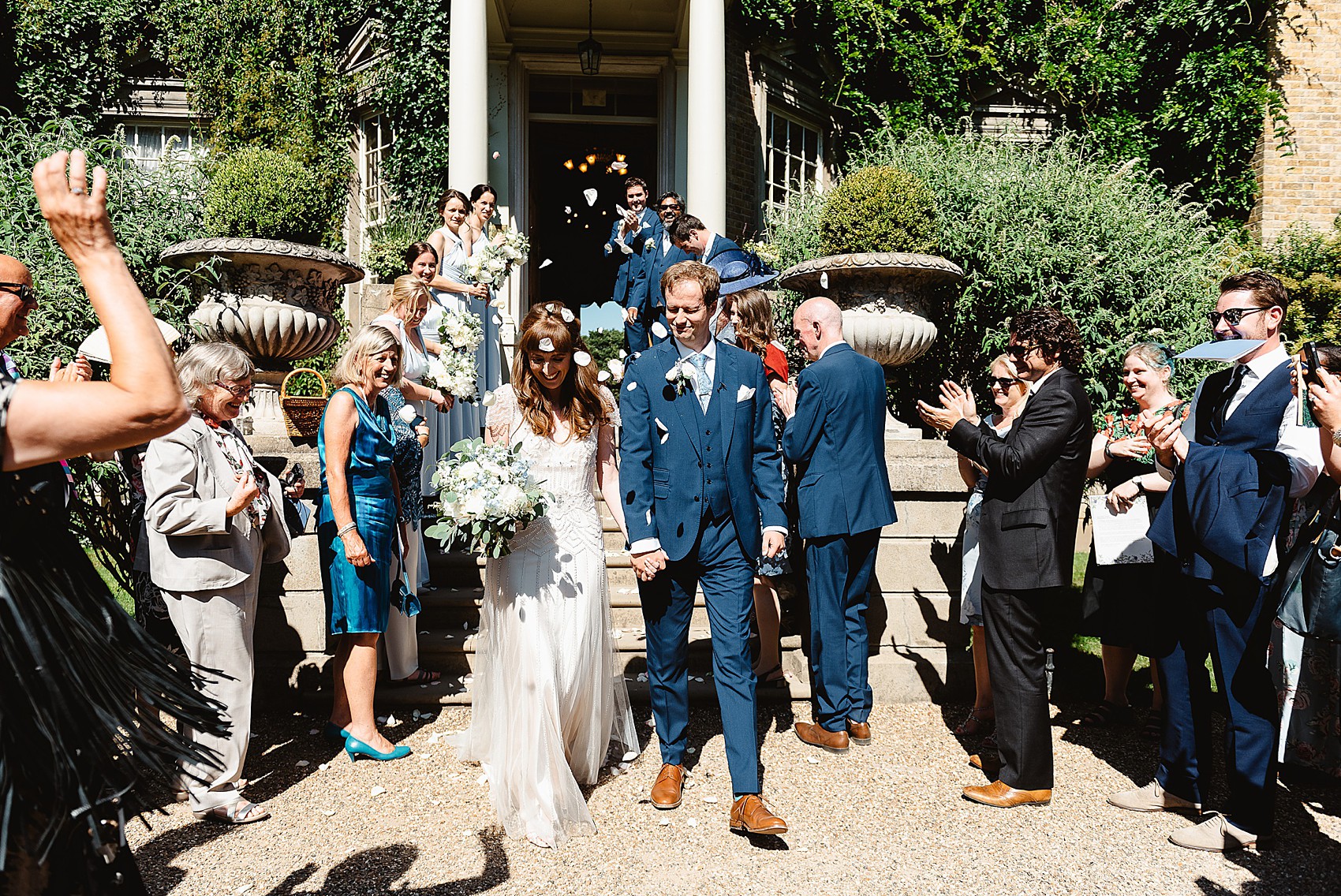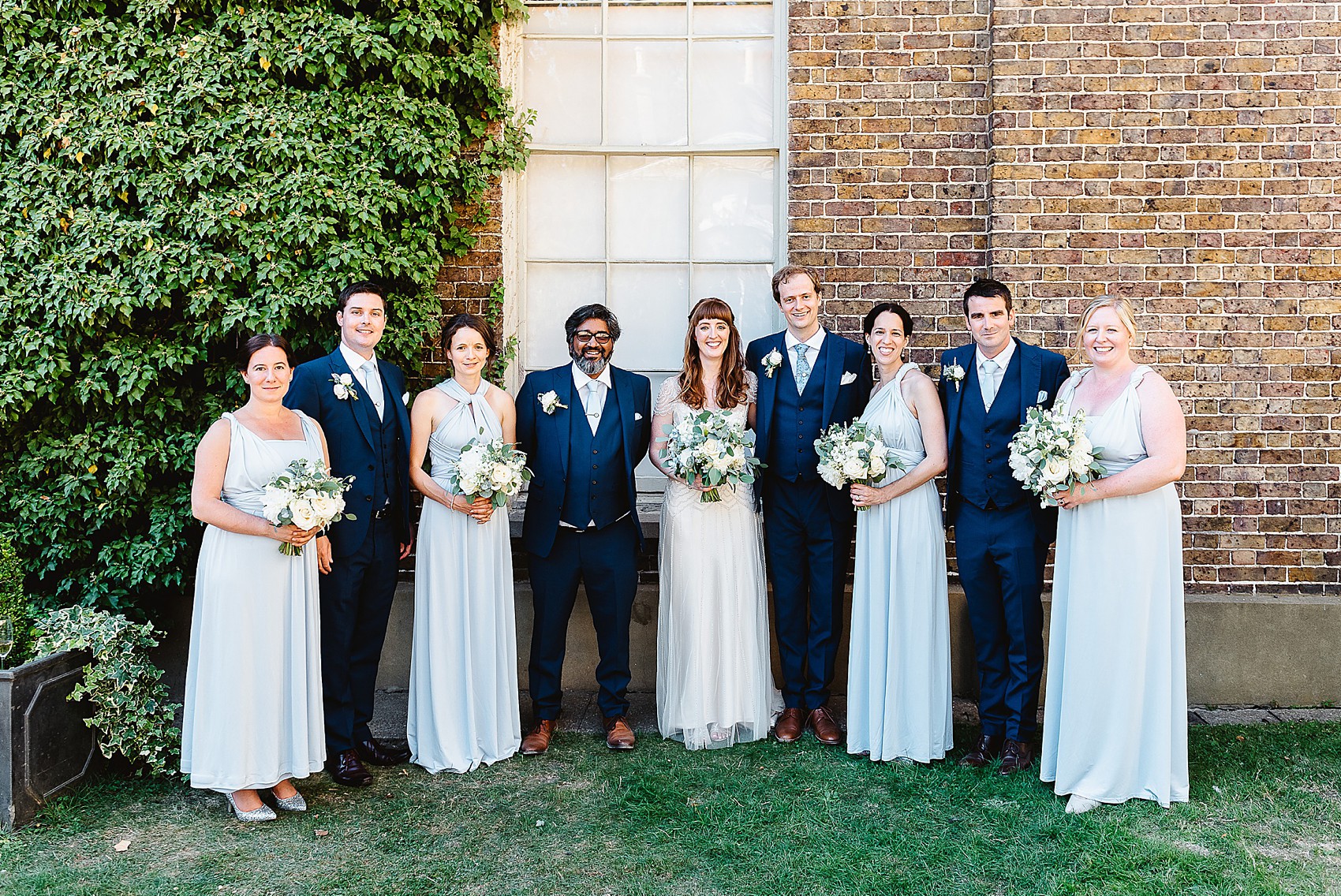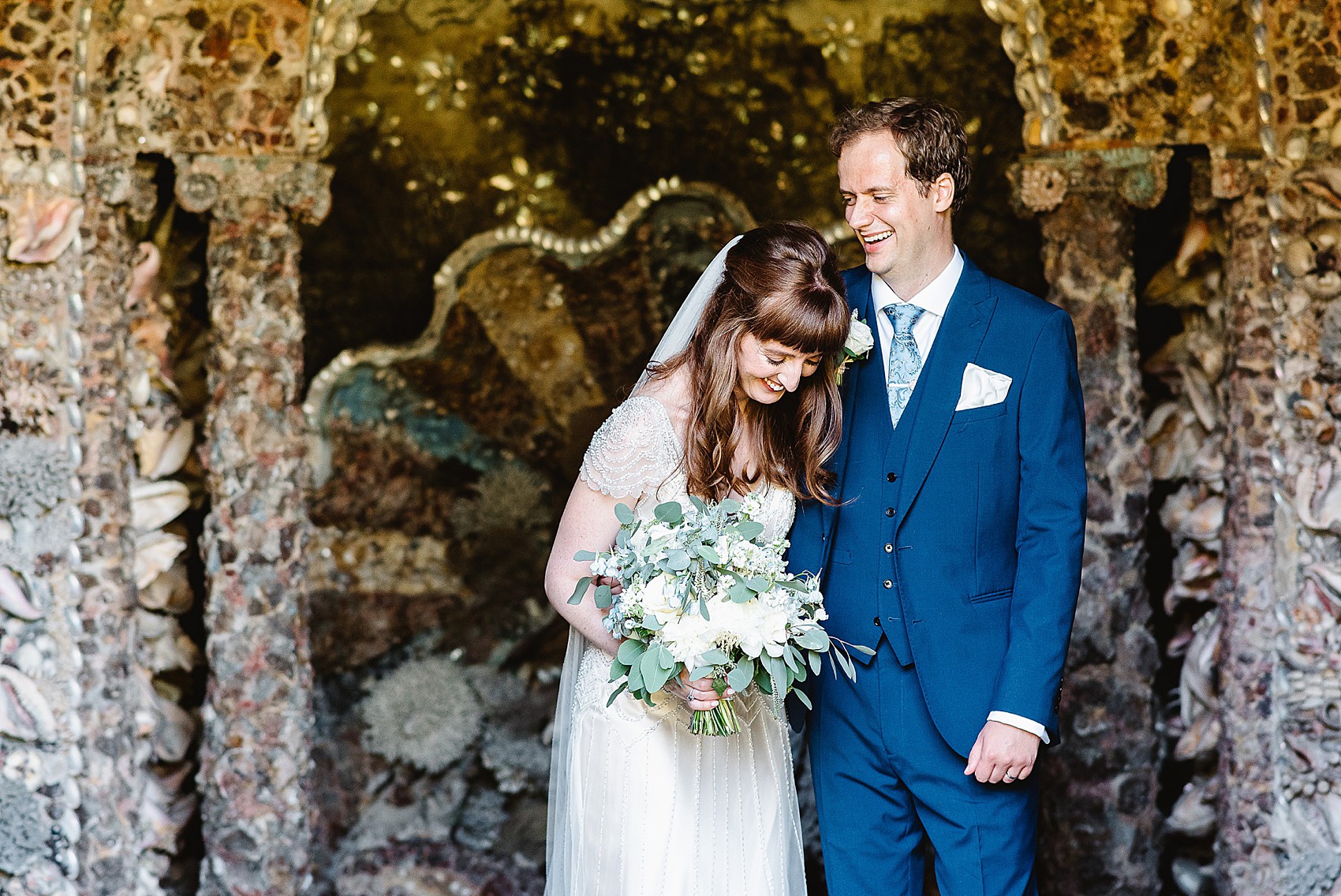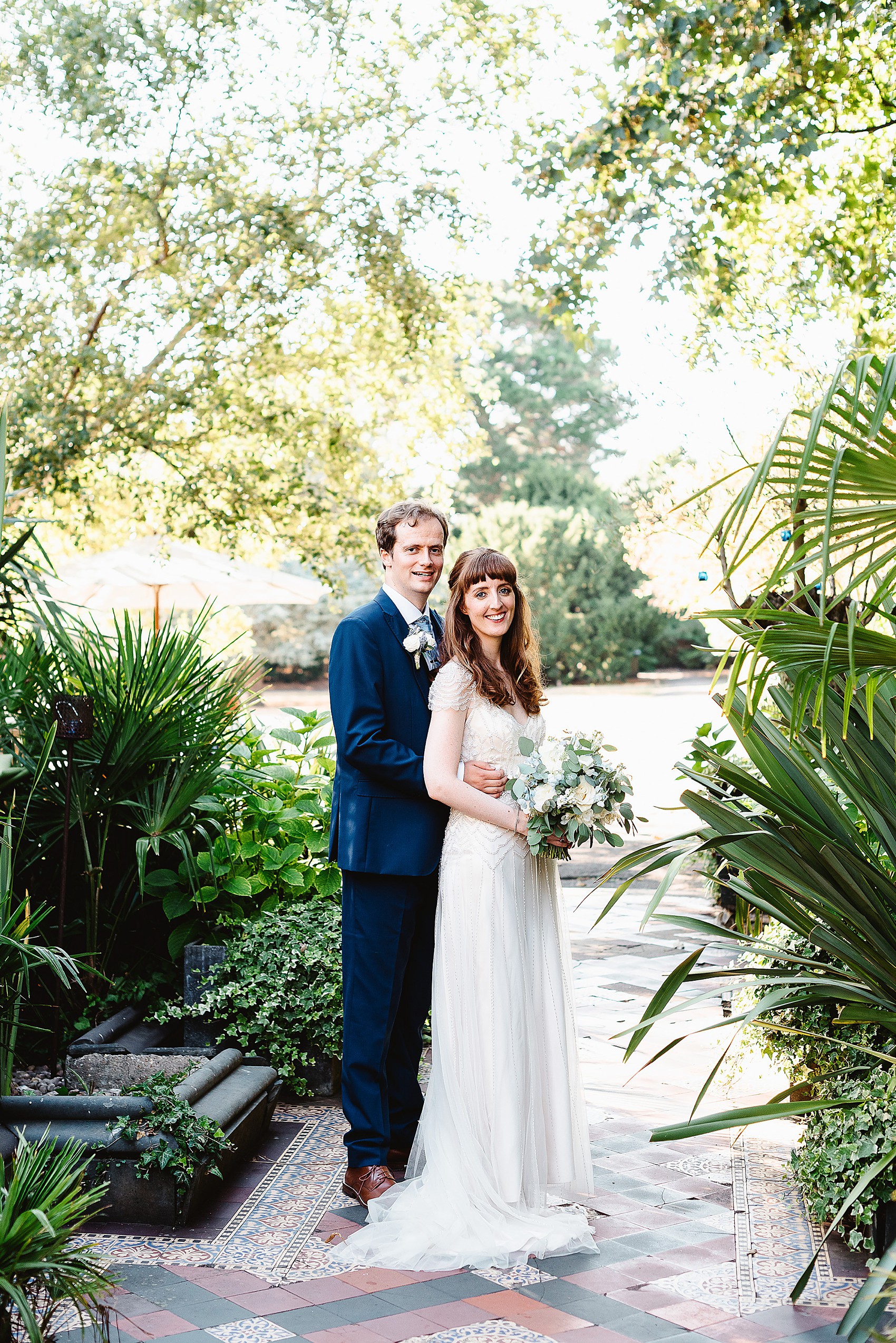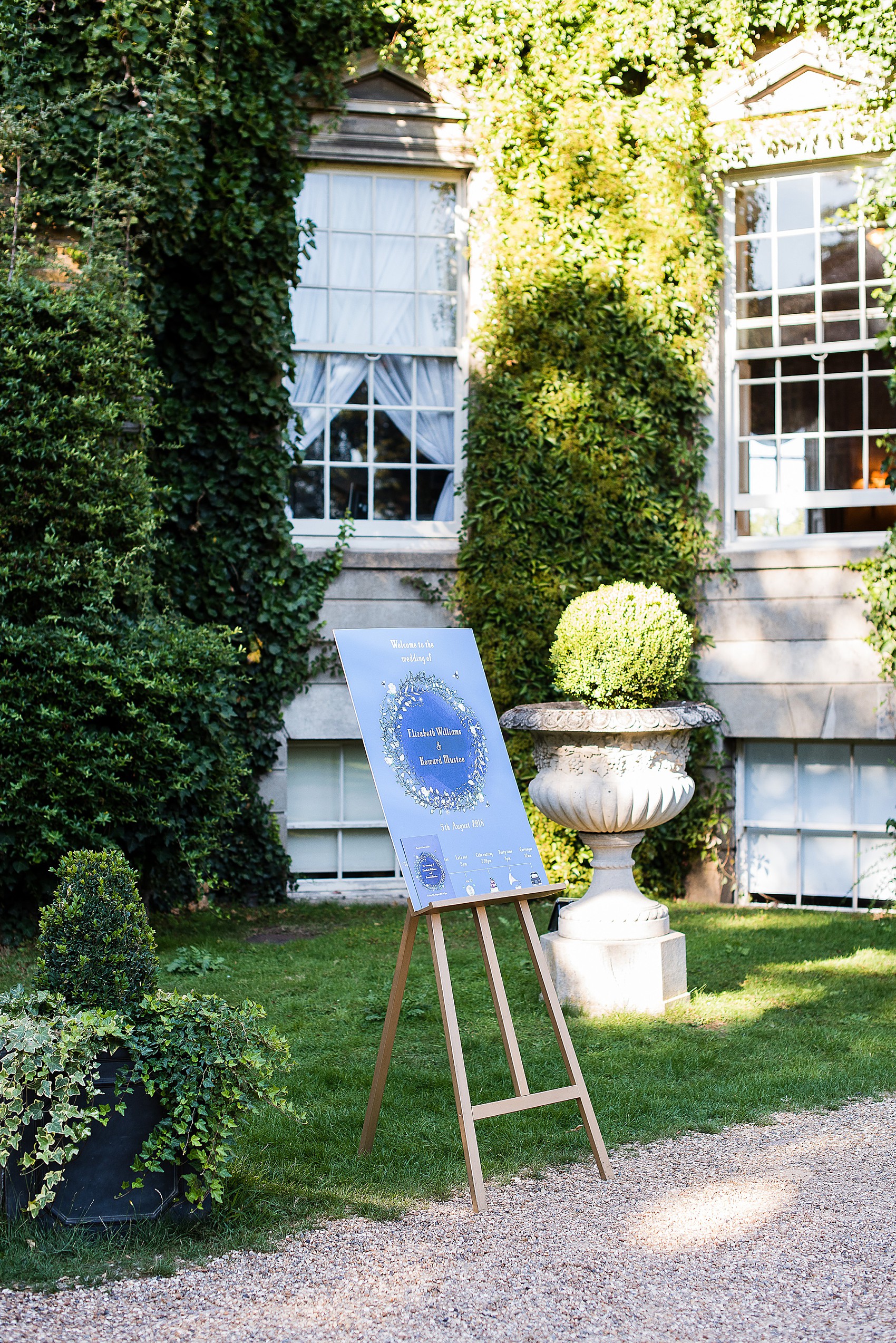 Whilst the guests mingled on the lawn for drinks and canapés, the newly-weds escaped in the grounds for some beautiful shots as husband and wife. Aren't they glorious in the August sun?
"For the ceremony and drinks reception we liked the idea of a string quartet and chose Music Students for Hire who were excellent. They have a brilliant playlist that mixes classical and modern, transitioning from Mozart to the Foo Fighters effortlessly."
Hampton Court House needed little decoration other than the wonderful flowers, but Elizabeth and Howard selected a few pieces for a touch of personality.
"We had a picnic basket for cards with a sign from STN Stationery on Etsy and light-up E and H letters from Hema. We also had a Pimp Your Prosecco station with a lightbox from Locomocean on Amazon, a DJ banner from Ginger Ray, a DIY photo booth area, props from Flying Tiger, a wooden frame from Ebay and DrawMeAParty date night cards on the tables. We also borrowed various vases, candle holders, lanterns and Mr & Mrs signs for the cake table from friends."
Back inside the hall had been set for dinner,  provided by Acclaim Events.
"Tim and his team, especially Easha who managed our day, are brilliant and very calm. The reason we chose Acclaim mainly though is their wonderful food. It is absolutely delicious and presented really well. Easha was particularly attentive to me and Howard, making sure we had our own tray of nibbles and bringing them to us in the grounds of the house whilst we had our photos taken. The level of service from her and the friendly Acclaim team was impeccable."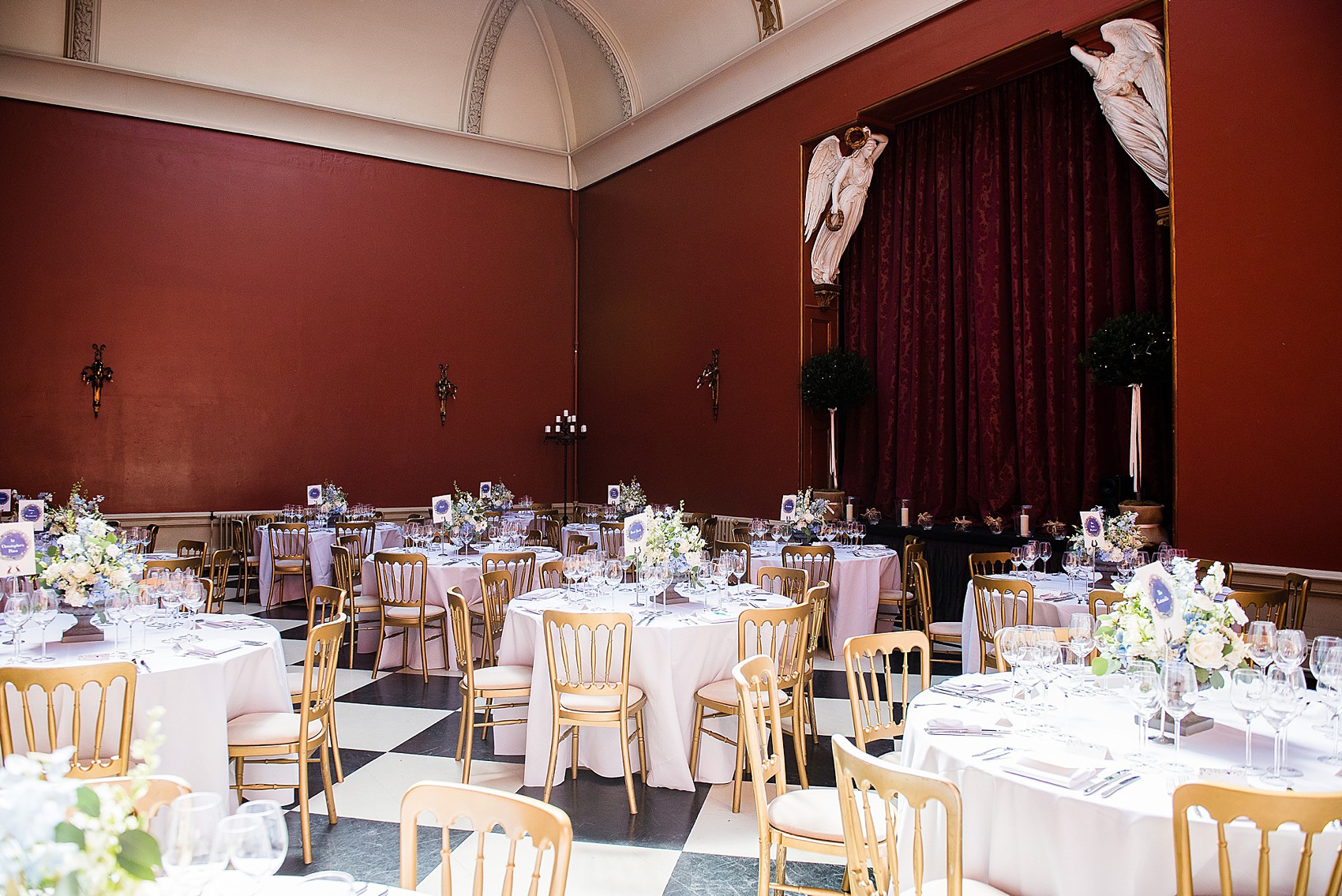 The House looks like such a wonderful venue, with lots of different spaces for the guests to discover. They moved into the light and airy conservatory for the cutting of the cake, an elegant, tiered Konditor design.
"Konditor cakes are absolutely delicious and we have always loved them. Evelina at the Waterloo branch organised a fantastic tasting session. We went with three different options; lemon, chocolate and hazelnut, and their famous Curly Whirly flavour."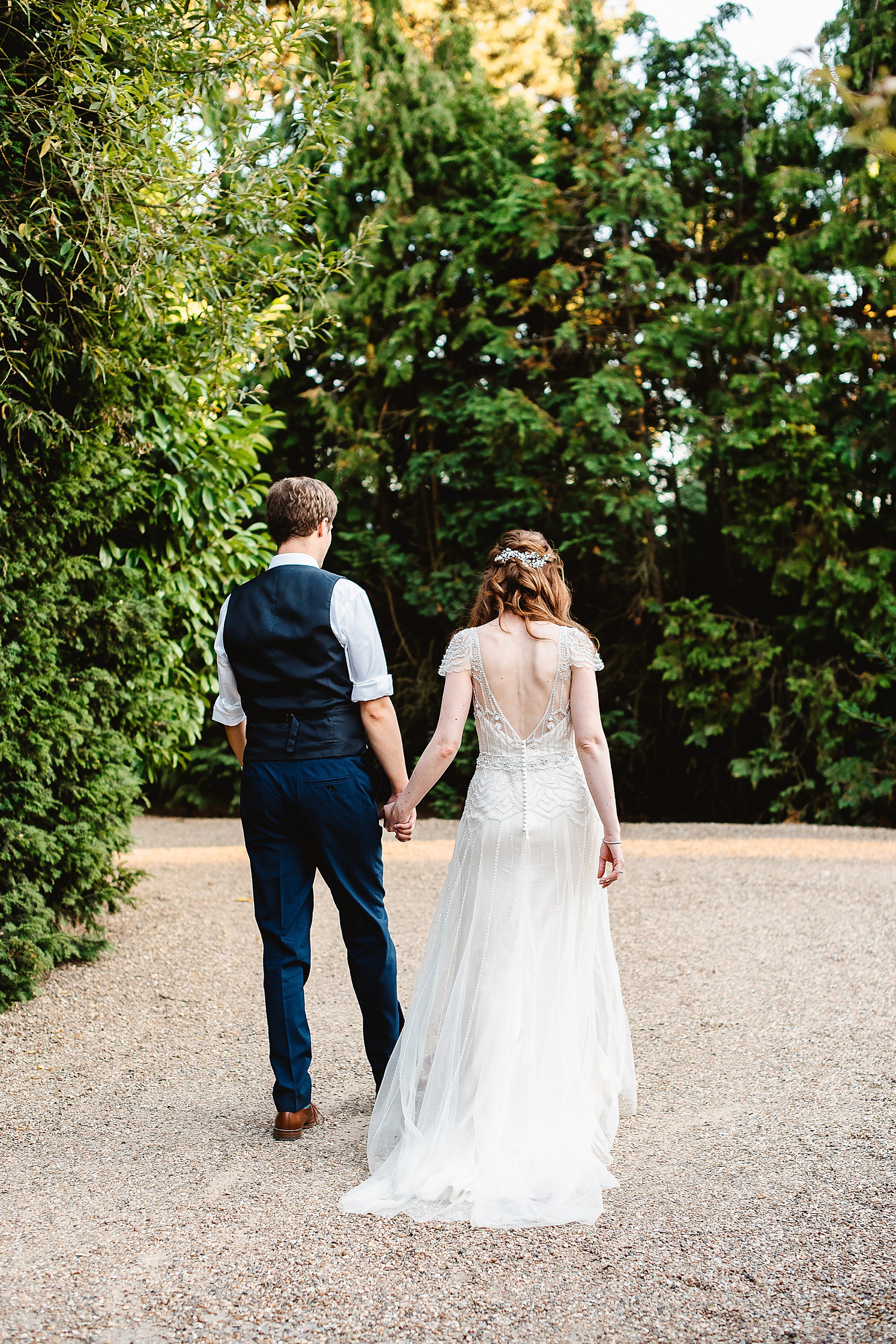 The couple have so many special memories from their day.
"For Howard, it was when his speech had ended and when he could relax and enjoy the evening. For me, it was a moment during the first dance when I realised everything had gone well and I put my head on his shoulder. I had never felt such happiness as in that moment."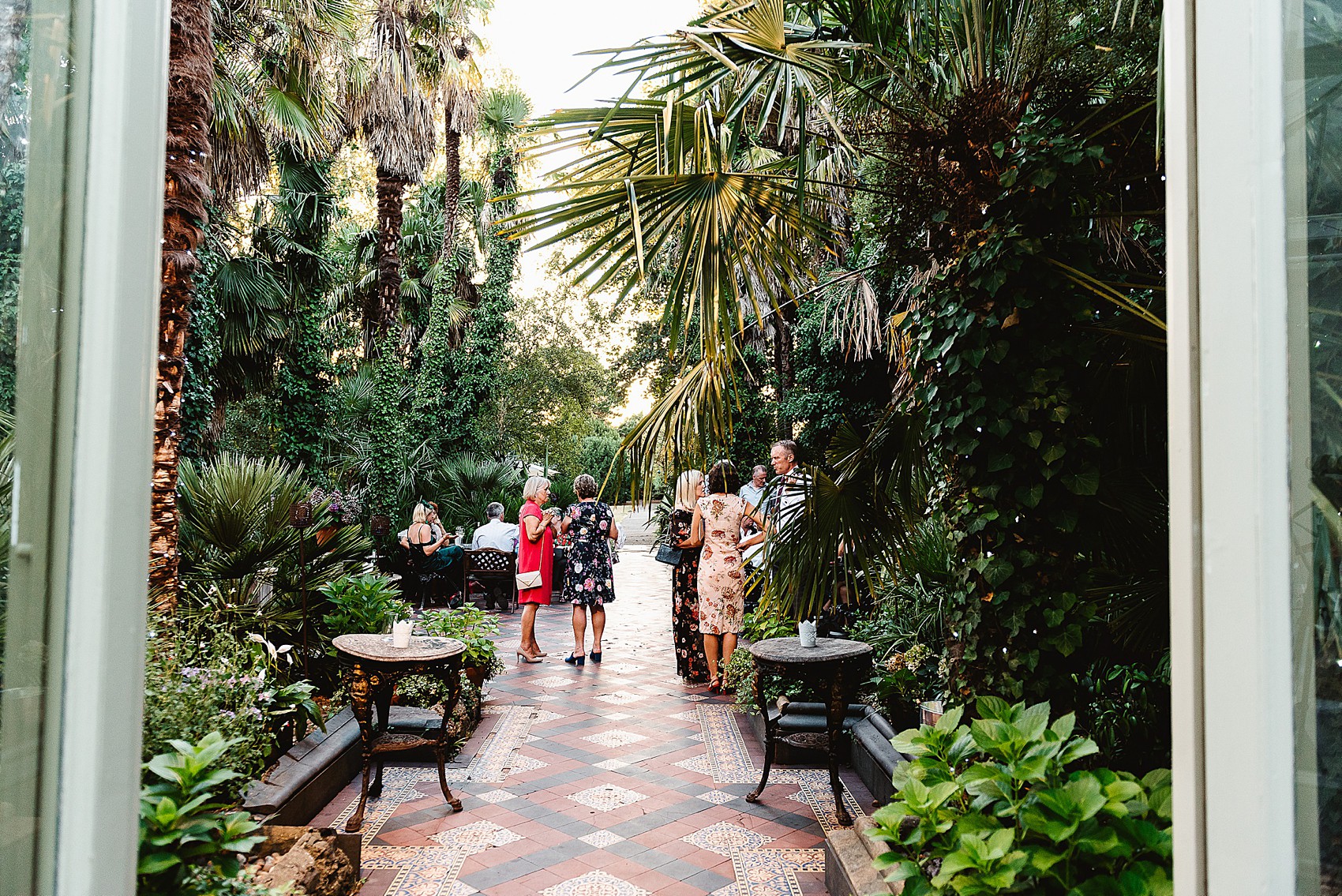 Later, the conservatory was turned into a dance floor for a first dance to 'My Girl' by Otis Redding.
"Both Motown fans, we love this track and felt this version was going to be the easiest to dance to!"
"We felt the pressure to choose a great DJ as they manage the entertainment for such a long part of the day and can make or break the party section. I found our DJ Marc of Audiohead Events by Googling 'non-cheesy wedding DJ'."
"His reviews were excellent and after a short video call, we booked him, appreciating his flexibility and relaxed attitude plus his experience as a professional DJ for various top musicians before turning to weddings. He went down a storm on the day, filling the dance floor from the start; not an easy job when it was still so hot!"
Words of Wedded Wisdom
"Having lost my dad so soon after the wedding my advice is to simply treasure the moments on the day with their loved ones and enjoy it all. Remember that any dilemmas or challenging moments in the run up simply melt away and should not matter in the end. It's about you as a couple surrounded by the love and support of your nearest and dearest enjoying a wonderful celebration – that's what counts."
"Use the Little Book directory. It's so useful to narrow down the options and we saved £100 on our photographer just by quoting LMD. Personal recommendations go a long way too, so ask around not – just in the LMD group but recently married friends."
"If you choose to support independently-run businesses, especially those with just one person doing the work, be aware that family emergencies happen and sometimes communication can be slower than expected."
"Have your veil and any hair accessory sorted for the hair trial and have both well before the wedding."
"Days off from work in the final month are probably the best-timed days off."
"Do a rehearsal, even if it's a friend pretending to be the registrar/vicar/celebrant in your living room. This really helped our nerves during the service."
"Think about your last song as well as your first."
"Take a few minutes for just the two of you to step back, see everyone having fun and all your hard work paying off."
"Do a speech. It's the most supportive, enthusiastic audience you will ever have."
"Ask someone to be in charge of giving the venue flowers away to guests at the end of the night so they can be enjoyed for longer than the day."
"Things will go wrong on the day. In our case, being told everyone had to leave our hotel the morning of the wedding and not stay that night because of a hot water issue. It's how you deal with it that counts. We ended up staying mainly because it turns out the words "it's my wedding day and we are not going anywhere" are powerful. Use your inner bridal strength when you need it. It's a calm strength, rather than bridezilla, that got us through that problem."
"Keep prioritising the things that mean the most to you both, all the way through. Try as much as possible to block out all the noise of others' opinions."  
"Don't take it personally if your fiancé is not that interested in certain aspects. Savour the fun parts of planning because much of it isn't; in the last six months of planning it felt like a part-time job full of spreadsheets, chases and phone calls. If it's all getting overwhelming get off Pinterest and Instagram, take a deep breath, close your eyes and visualise the aspect of the day you're worried about. Or better still, take a day off from planning and thinking about the wedding if you can. It takes a lot of emotional energy and can be exhausting."
"If you want to do anything to improve your appearance remember to do it for you and your confidence first, as your fiancé would marry you as you are; after all, he loves you for you. Keep remembering that all along. It's a day to celebrate love and the two of you. Everything else is just details. Enjoy your day and married life. It's a wonderful feeling to say the words 'my husband'."
Thanks so, so much Elizabeth for your advice; I'm sure it will be invaluable for brides-to-be reading this feature. Sending so many thanks and congratulations to you and Howard on your wedding day, and I hope you have a wonderful first anniversary.
If you haven't yet joined our private Love My Dress Facebook group yet, please head here to request access. I hope you find it as useful as Elizabeth and enjoy chatting with other brides.
Ele xx