As much as I adore a summer wedding, it's always nice when a winter wedding crops up (our second in as many days!) as they can be so beautiful and full of love, and what's nicer than some festive cheer to add to your special day?
Today's couple are big fans of the chilly season and having also met during winter, thought a December wedding would be perfectly fitting, and indeed it was.  Abi and Ed were married on 9th December 2018 in a ceremony in a barn at the historic Cripps Stone Barn in the Cotswolds.
The images here were taken by our Little Book Wedding Directory member, Claudia Rose Carter, who is currently running an incredible money saving offer for all of you yet to book your 2019 wedding photographer – learn more here!
Images by Claudia Rose Carter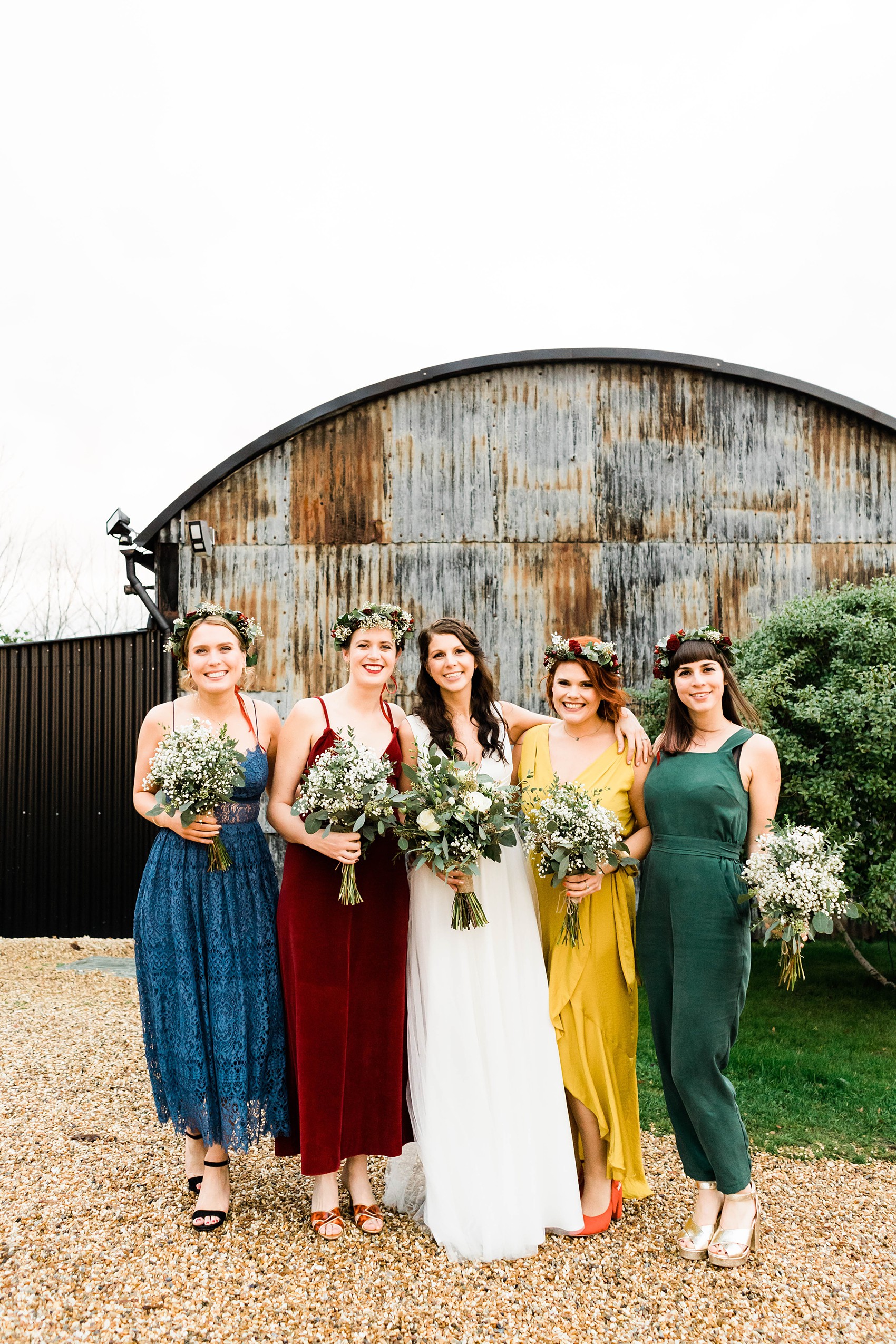 "We booked Claudia Rose Carter to photograph the day, who I found via Love My Dress. I'd been looking at other people's winter weddings on the blog for inspiration and spotted her work. We wanted a photographer who would be able to take beautiful photos, even without much natural light and we also didn't want to spend long posing for formal shots and preferred a more natural, reportage style."
"Claudia jumped out at me and we had a phone conversation, then met in person a few weeks before the wedding for a drink to discuss the details of the day. She is so lovely and caught some really amazing, hilarious and special moments from the day! We're so happy with the photos."
"Ed and I met 8 years ago working ski seasons in the French Alps. It was a fling that never ended! We went backpacking around the world together before settling in south east London. We got engaged in the summer of 2017 on holiday in Malaysia and so were engaged for 18 months before the wedding."
"The fact we both met in the winter and love the time of year (especially Christmas!) made us really want the winter wedding with a festive feel. We used rich jewel colours as a theme throughout the day, with accents of gold. It was a complete DIY affair and we used lots of our incredibly talented and helpful friends and family for the day."
"Our save the dates, invites and order of service were designed by our friend Michelle at Gingerline Designs, who took our colour scheme and ideas and turned them into stunning stationery. All the rest of the stationery was made by another friend, who is a talented artist and calligrapher."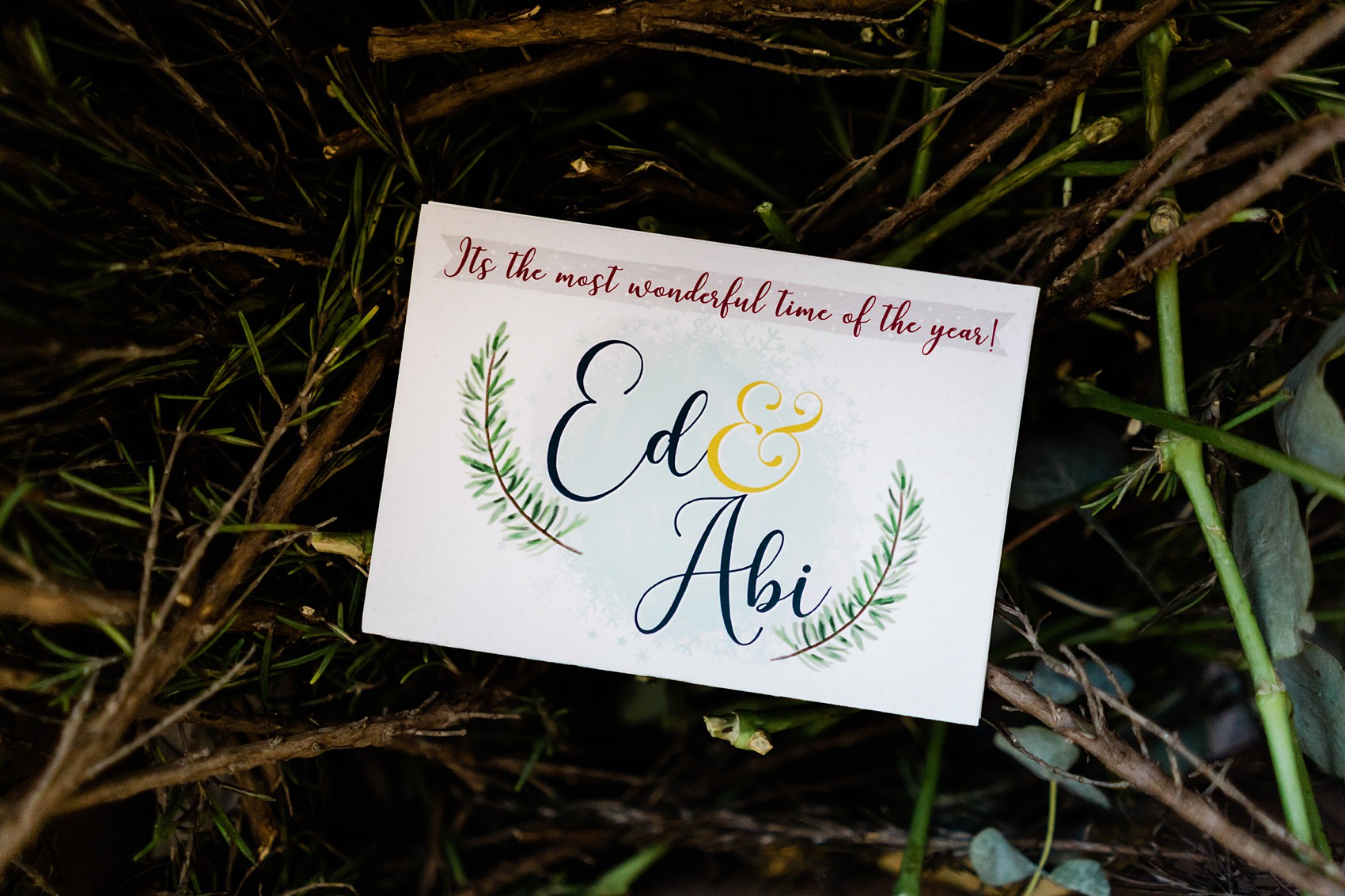 "Sticking to the jewel colour scheme, my four bridesmaids had free reign to choose their own dress. I love it when bridesmaids are dressed differently and all of them picked something true to their own style, but they all looked amazing together."
"My sister was delighted she got to wear a jumpsuit. The red velvet dress was a vintage find from eBay, the blue dress was from ASOS, the yellow dress from SilkFred and the green jumpsuit from Kitri Studio."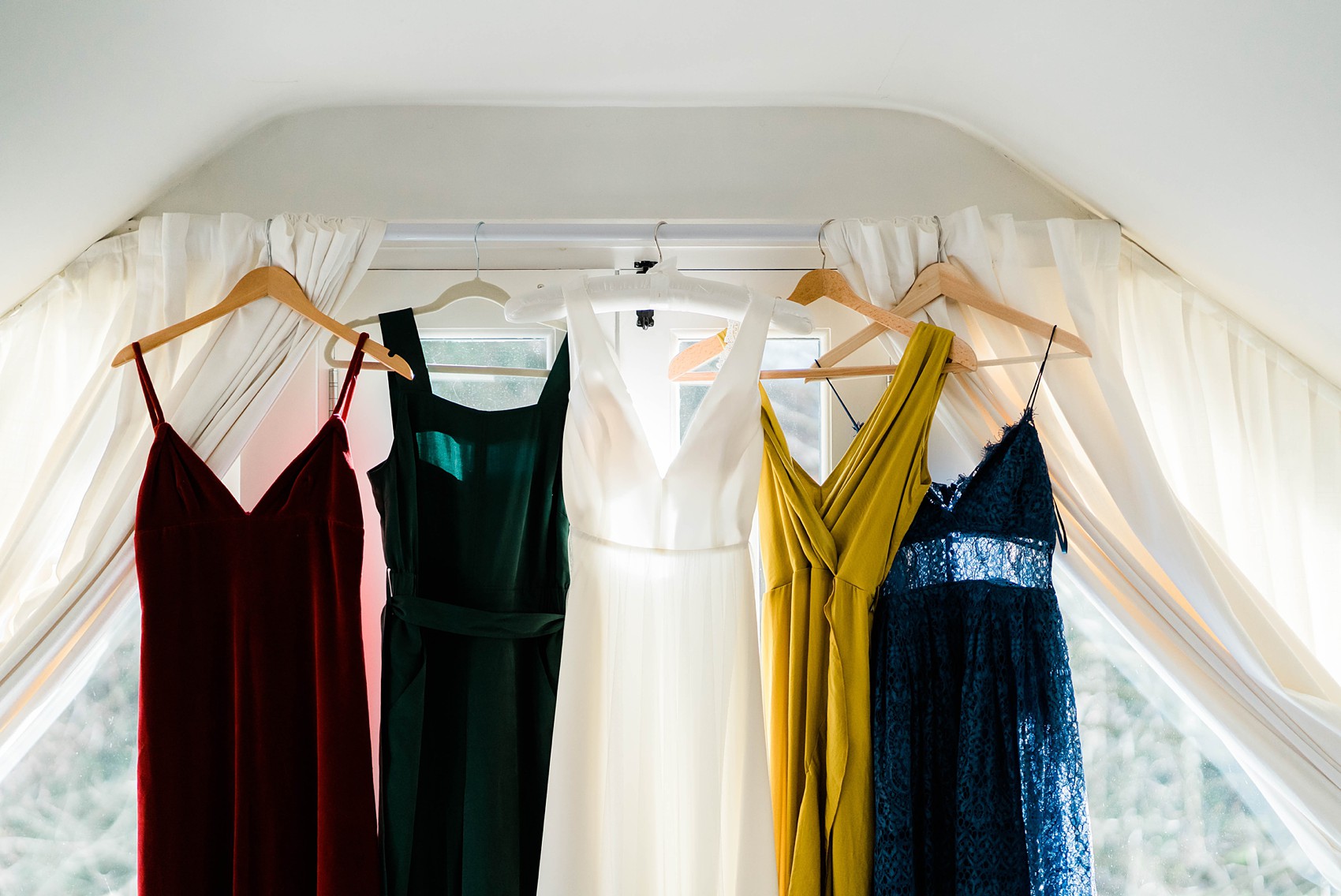 "One of my bridesmaids and her mum spent the day before the wedding making flower crowns using fresh flowers, which each of the bridesmaids wore. They looked so beautiful and my only regret is that I didn't have one too!"
"I gave each of the girls a different pair of gold earrings on the morning of the wedding from Ania Haie, who were so helpful in making sure they arrived on time, as it was somewhat of a last minute decision!"
"I booked Lauren Wheeler to do my hair and make-up and some of the bridesmaids and my mum. She was so lovely and calm, even whilst working in the busiest part of the house, and made everyone look beautiful!"
"My dress was by Charlie Brear and bought from Mia Bridal in Cumbria. I never had 'the moment' where I knew I'd found the right dress. I went to 10 different dress shops and tried on every style of dress imaginable. It was never really the focus of the wedding for me, and I didn't want to spend too much money on a dress I'd only wear for one day."
"I found dress shopping quite anxiety-inducing too – having to stare at myself in a mirror for too long whilst the sales assistants say encouraging things, all the while I'm thinking 'help, get me out of this dress!'"
"I wanted something that wasn't too traditional, that I could easily walk in, didn't feel too constricted by, but that would flatter my figure and be a bit special. When I tried on the Marceau dress, I was a bit nervous as I knew I couldn't wear a bra with it, but I figured that if I was going to go bra-less at any point in my life, now was the time to do it, and I loved the open back, the wrap around waist and the tulle skirt."
"When I found it in the sample sale I loved the price too! It originally had lace around the front neckline, but I wanted a simpler style so had it removed. I had it tailored by the very talented and lovely Katrina at Bridal Dress Alterations who had the mammoth task of finding a way to keep my boobs in place, in a dress that had no back and not much front either! She did a great job, they didn't move."
"I also had a floor-length medium width veil from Blossom and Bluebird. I had always wanted to wear a veil and loved the way it felt against my back. However, I didn't realise that every time someone hugged me it would be pulled – it was wonky all day!"
"I had a pair of white Kurt Geiger heels. Nothing fancy as no one was going to see them, I just needed them to be comfortable enough to wear all day. Looking back, white was a mistake – they're filthy now!"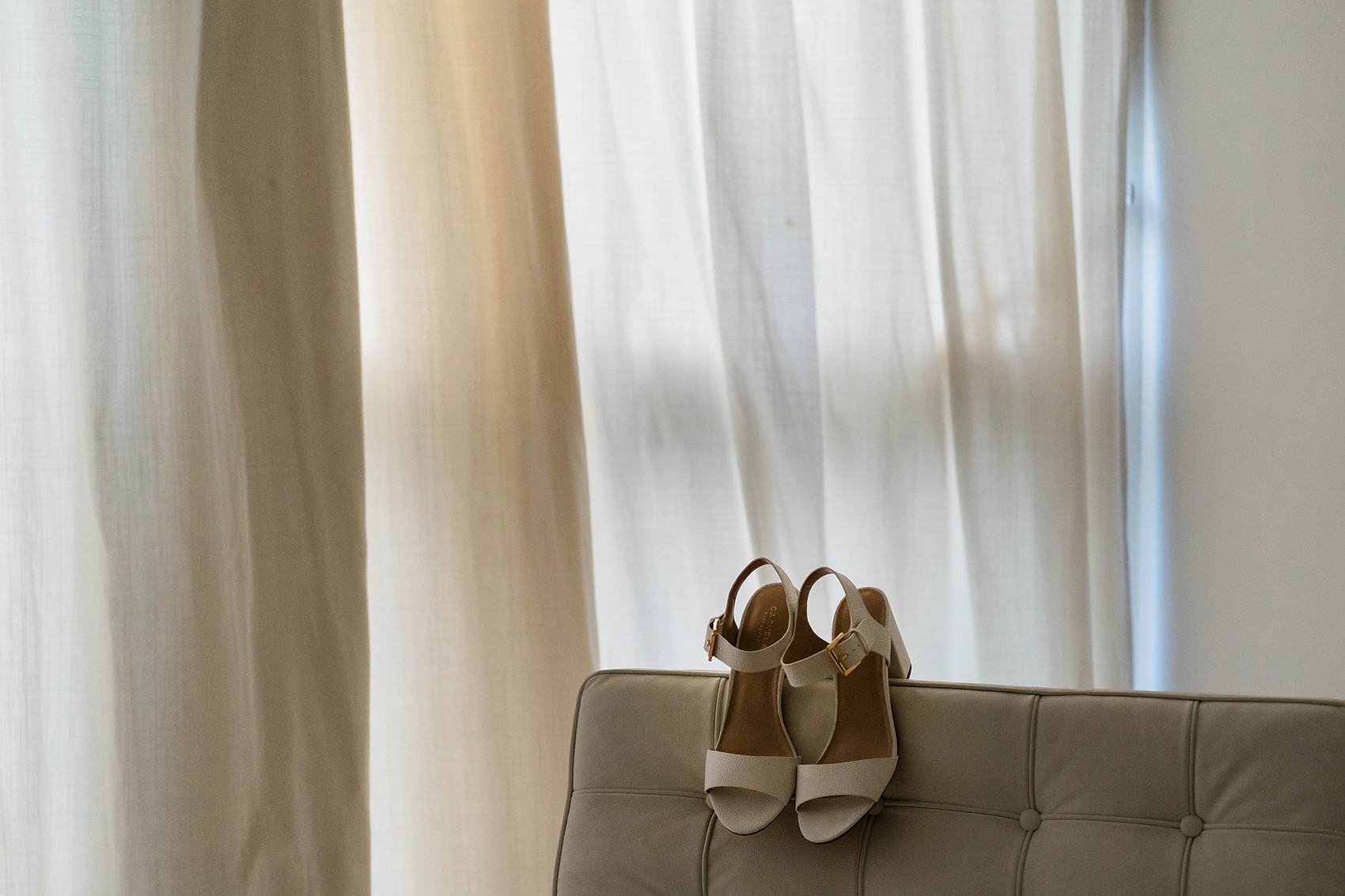 "My family live up north and Ed's family live down south, and most of our friends live in London, so nowhere was going to be convenient for everyone. We picked the Cotswolds as we had spent our first weekend away together as a couple there. Plus we thought it would feel really festive in December (which it did!). Cripps Stone Barn was the third wedding venue we viewed and we booked it immediately."
"We liked the mix of the classic English barn with the more industrial and modern feeling Dutch barn, as well as the location, the slightly-later-than-usual end time, the beautiful ceiling (which really comes into its own after dark) and the fact that everything was all under one roof (important for a winter wedding!)."
"We also loved how they pride themselves on their food and their huge indoor BBQ really made Ed's mind up. The team there are brilliant – they were so helpful and organised in the run up to and on the day."
"I wanted all gold accessories to wear with my dress. I absolutely love Luna Bea and bought the gold plated constellation pins to wear in my hair and around the veil. They are gorgeous and I am sure I will have more opportunities to wear them."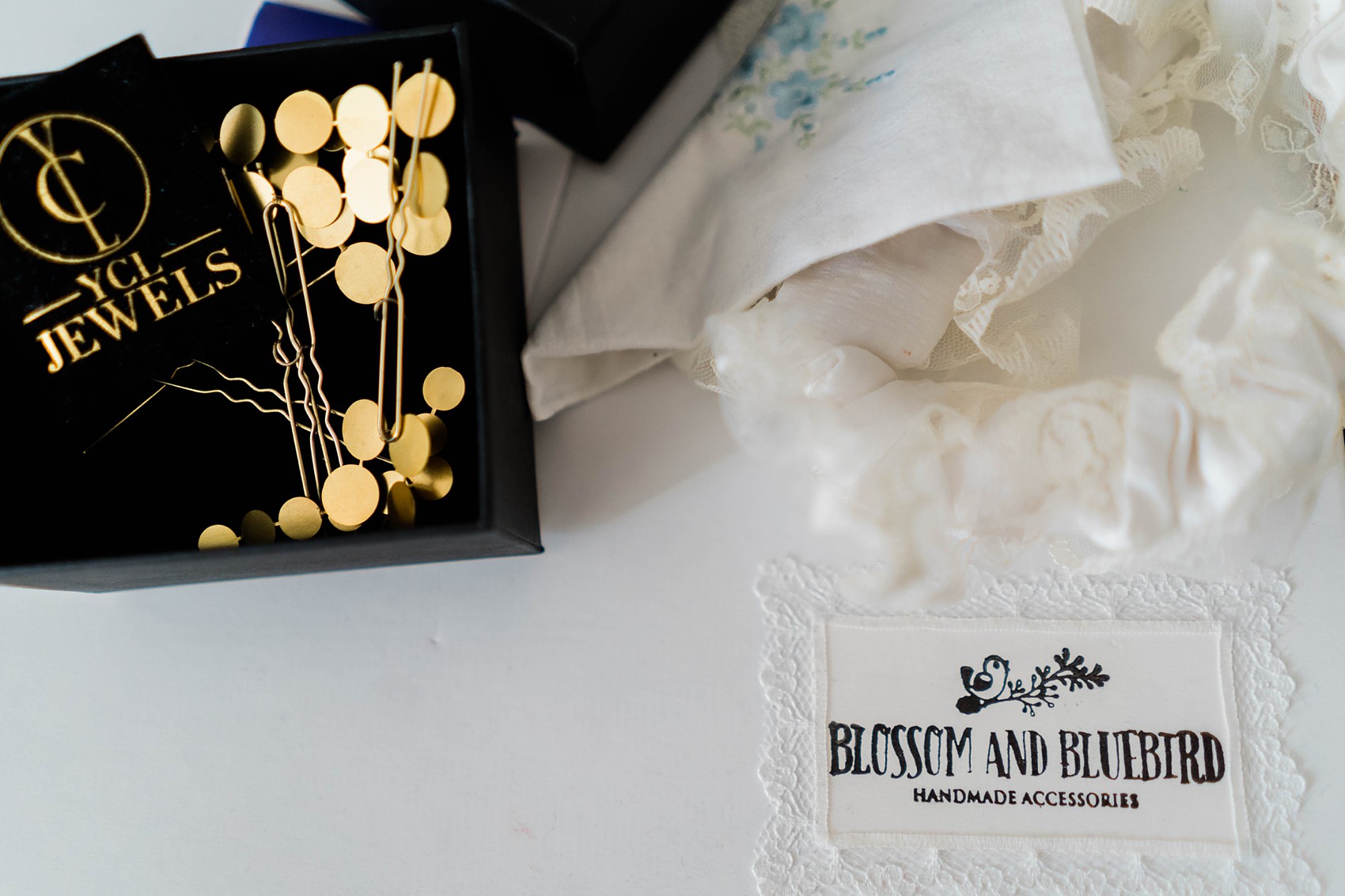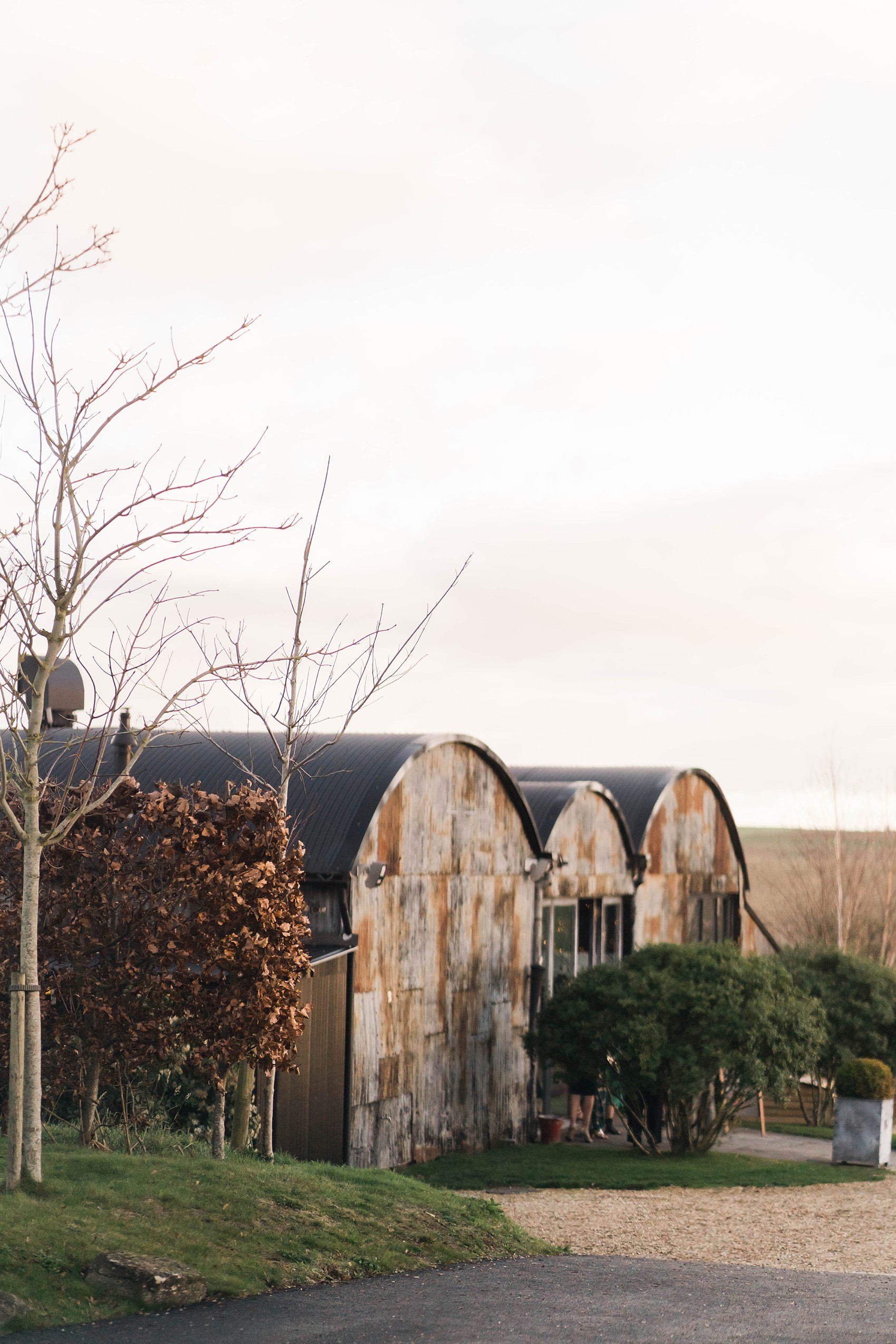 "Ed wore a charcoal grey Reiss suit with an old navy waistcoat he'd had made on a backpacking trip in Vietnam. He also wore his beloved IWC watch, and a spotty tie with dark brown Grenson shoes. The groomsmen all wore their own suits, with the same Reiss tie as Ed."
"My dad accompanied me down the aisle. He hasn't been very well over the last few years and it was a lovely moment for the two of us to share. He looks very stern-faced in the photos but actually, I think he was trying not to cry."
"We walked down the aisle to my brother Felix playing an acoustic version of Can't Help Falling In Love With You by Elvis Presley. Two of my brothers are classical guitarists and learnt so many songs for the wedding, which they played whilst guests arrived. We exited to You're So Cool by Hans Zimmer."
"We had a Humanist ceremony led by celebrant Laura Gimson, who was incredible. We met her for a very nervous lunch in September, and from that, she wrote the most moving ceremony, which perfectly encapsulated our relationship."
"We wanted it to be relaxed, personal and fun, and she nailed it – so many of our guests commented on how much they enjoyed the ceremony. She also helped us write our own vows, which I'm so pleased we did."
"We had two readings; Carpe Diem by Stewart Cons, and The Game by B.J. Falkens. We didn't want anything too cheesy and these two struck the perfect balance. They were read by a bridesmaid and a groomsman."
"We had a friend who is a wonderful singer and pianist sing Songbird by Fleetwood Mac. She chose the song herself and sang it beautifully. It was a very moving moment of the ceremony."
"For our flowers we used Beth at Go Wild Flowers, who was recommended to us by the venue. She made the bouquets and buttonholes. At the last minute we also decided to have a huge hanging foliage ring in the barn, which I'm so glad we did as everyone commented on how stunning it was. For all the table flowers we used Triangle Nursery."
"I ordered lots of green foliage (so much eucalyptus and rosemary!), along with some other flowers to give pops of colour (black pepper berries, yellow craspedia, blue thistles, red hypericum and lots of gypsophila). They were incredibly helpful in giving advice when I emailed with a brief outline of the colours I wanted, and it was delivered two days before the wedding. My mum and I conditioned everything and she arranged them at the venue on the morning of the wedding, with some assistance from the wedding party."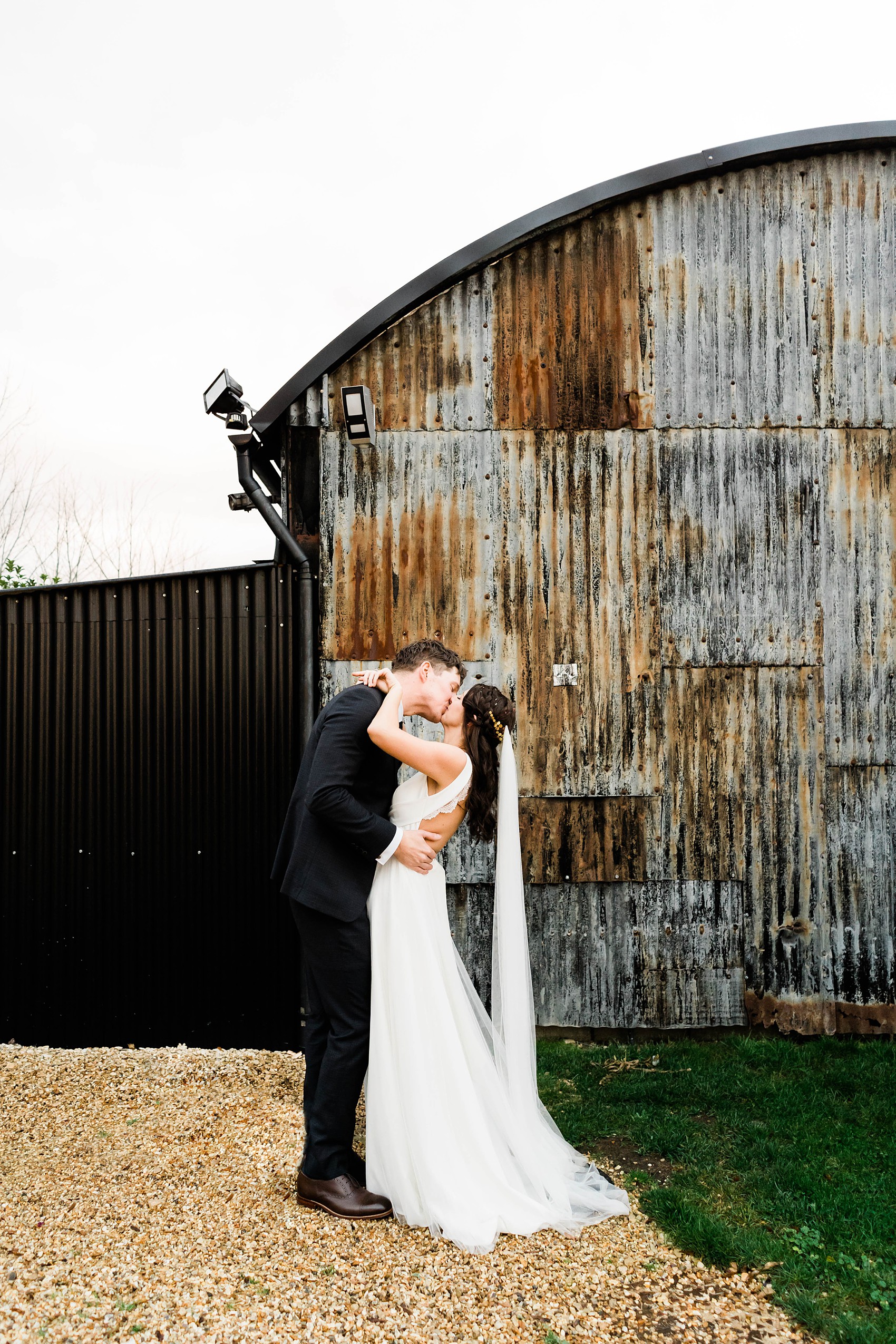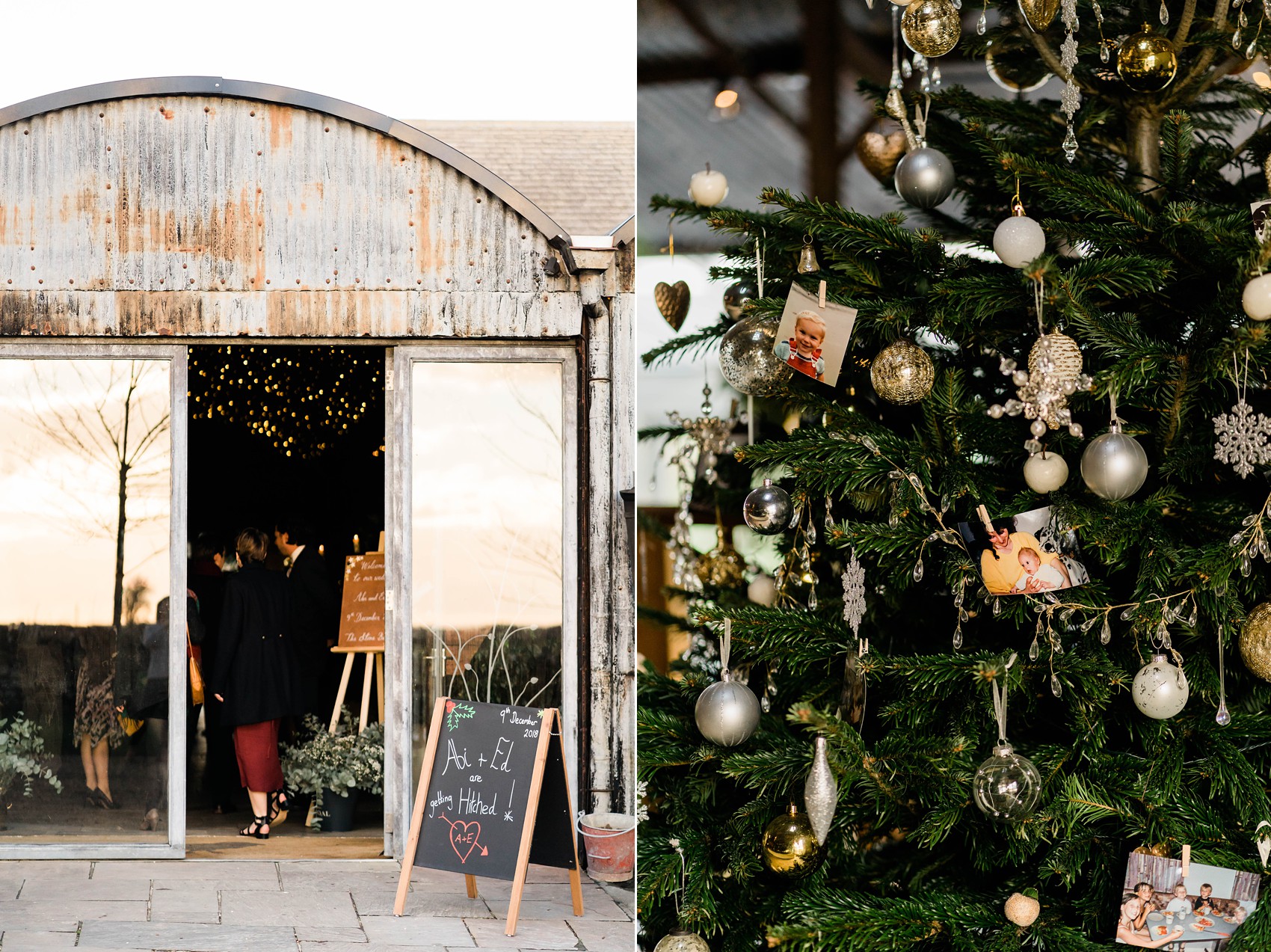 "Cripps provided all of the food and we had cured beef and celeriac as the starter, followed by a roast pig with baked apples, then churros and chocolate sauce as dessert. In the evening we had Baz + Fred Pizzas, which were amazing!"
"I collected glass vases for months before the wedding – inheriting lots from a friend who had gotten married the year before, and also adding my own sourced from frequent work trips to Denmark. We used these for table centerpieces. They were arranged in clusters on log slices, which had been decorated with gold leaf. My mum and her friends had also been collecting pine cones, which we sprayed glitter onto and arranged around the vases."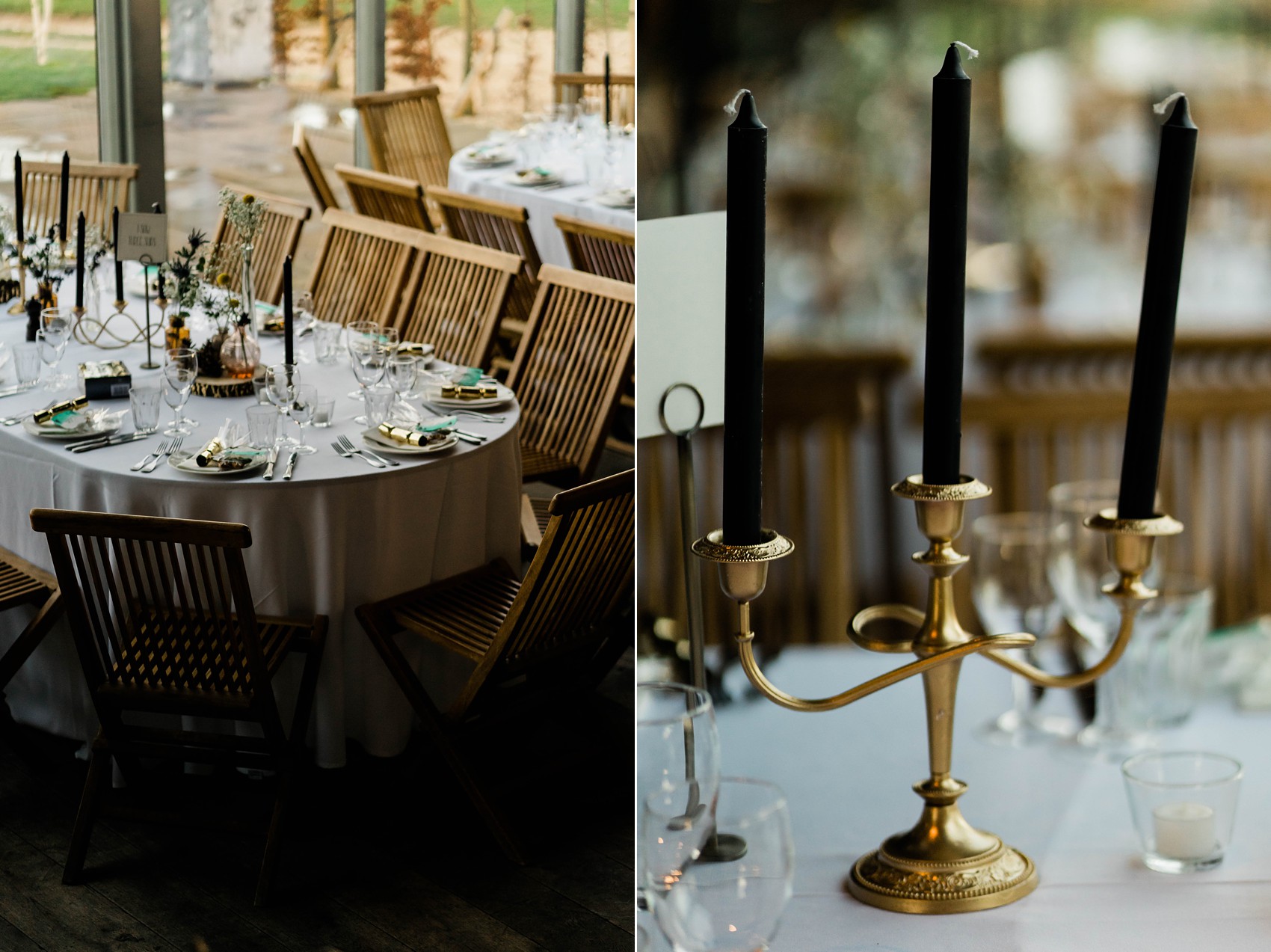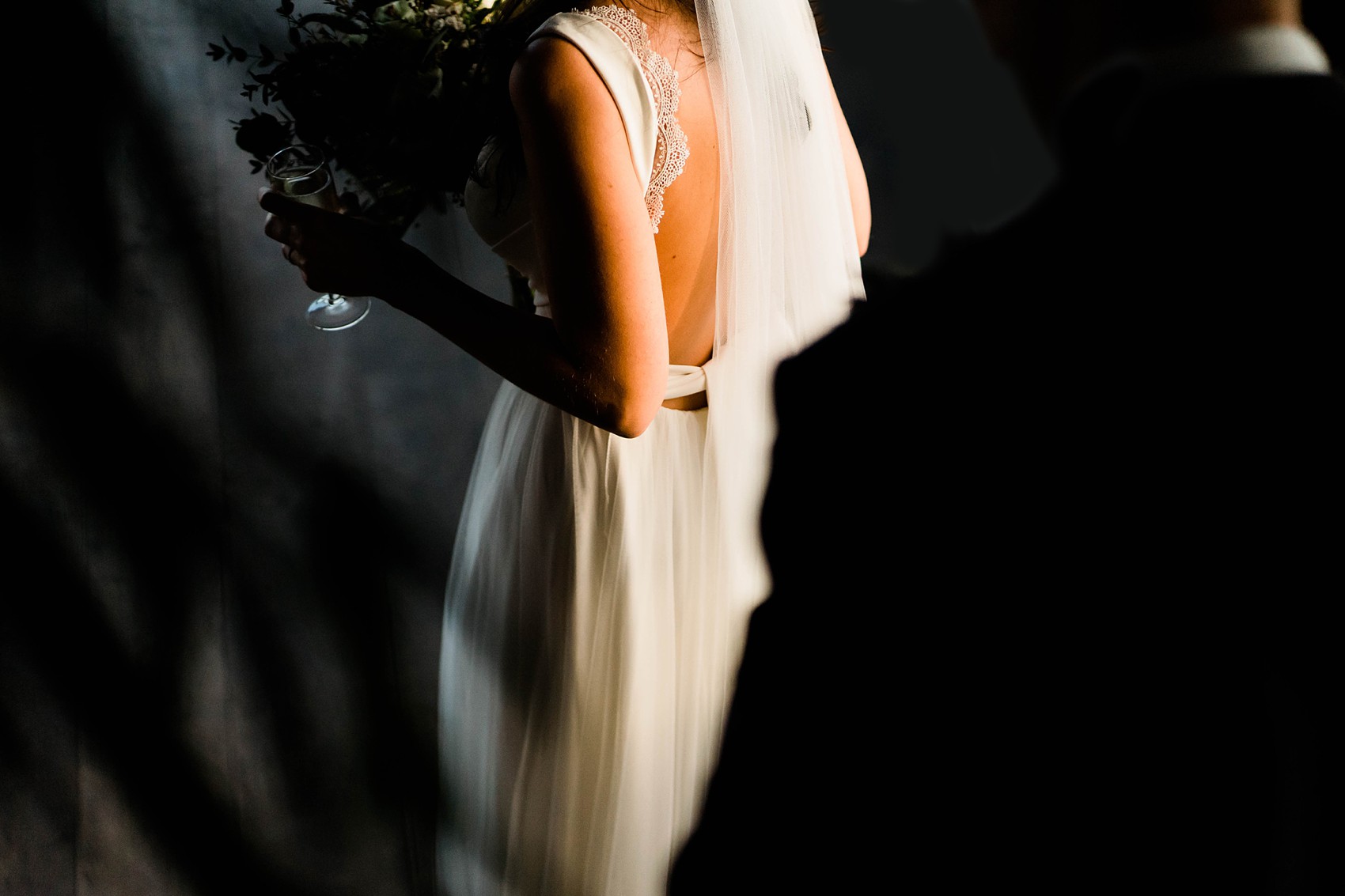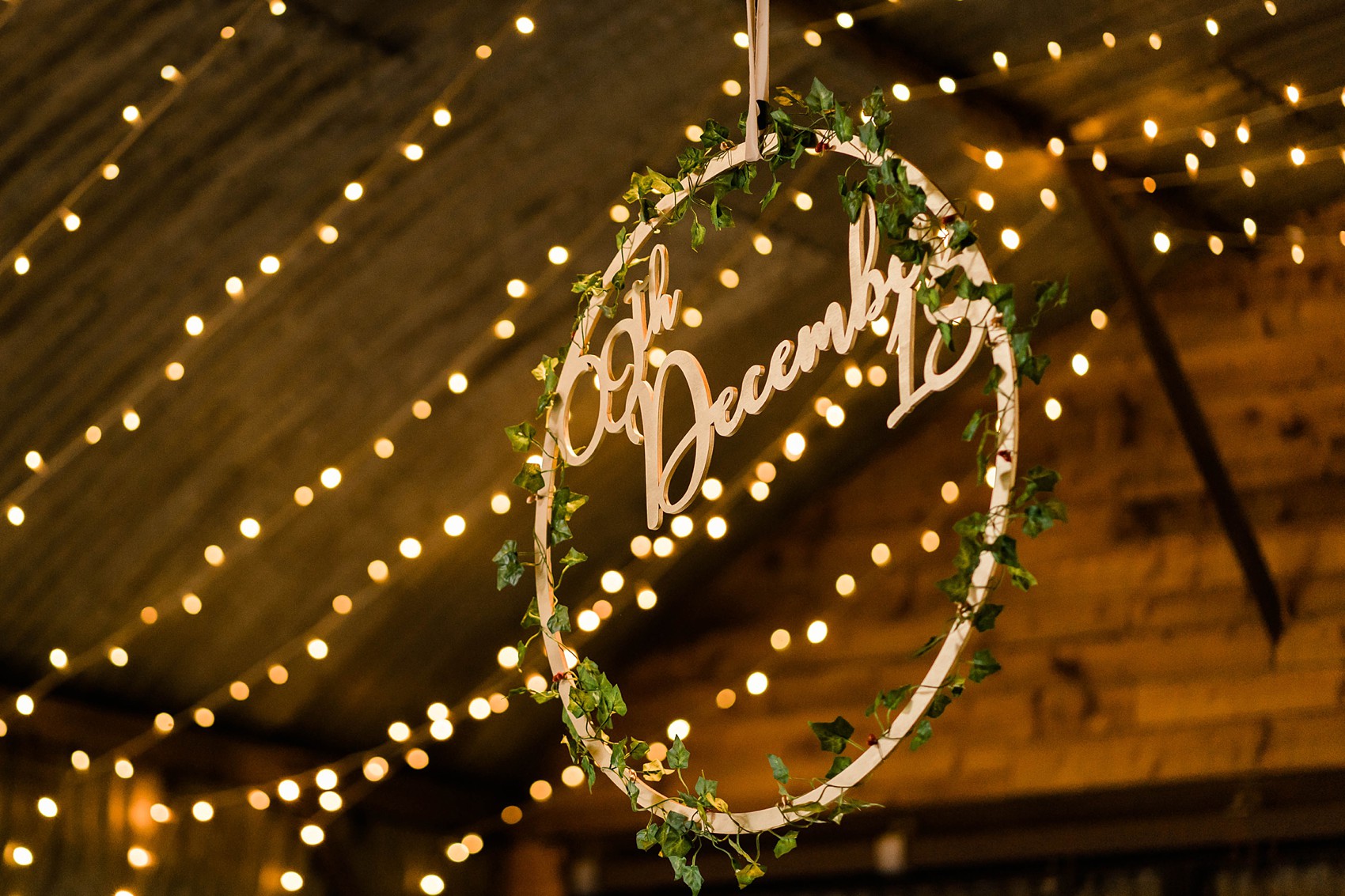 "Our tables were named after Christmas carols and hanging from the ceiling we had three huge wooden hoops, ordered from Studio M Design, with our names, the wedding date, and 'just married' in the. And of course, I can't not mention my mums bunting. She spent 3 months making 100 metres of this, and every single star was hand-cut."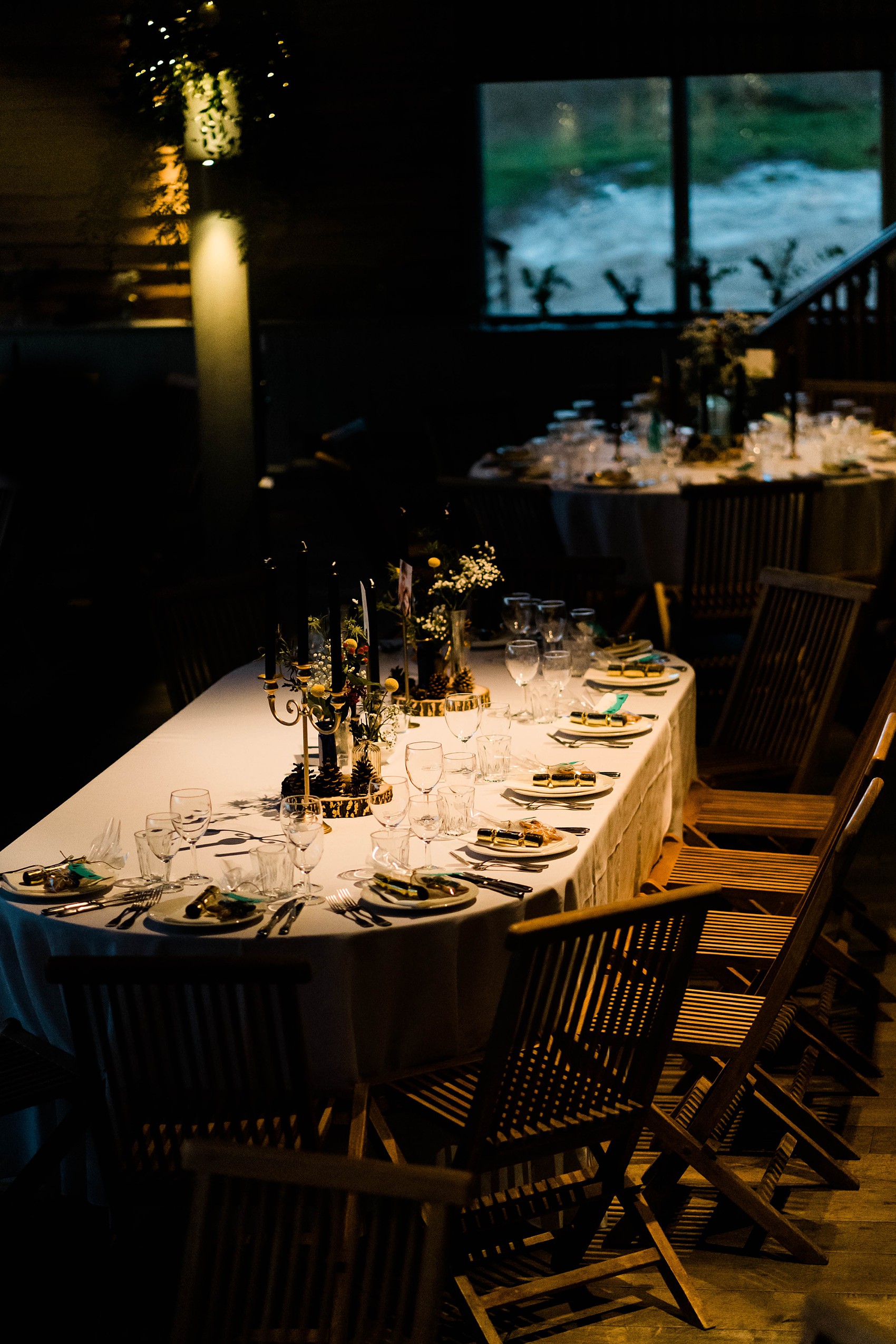 "Right from the offset we had wanted a band and booked The New Town Centres. I had seen them at a friend's wedding years ago and made a mental note that they were fantastic so as soon as we were engaged I hunted them down. They were incredible and I can't recommend them enough."
"For after dinner I had bought loads of glitter pots and glowsticks for a 'Glitter and Glow Bar', which everyone dived into. We also had sparklers and marshmallows for guests to cook over the fire pits. For the guestbook we had a polaroid camera and a box of props for a makeshift photobooth."
"I loved the whole day; from getting ready in the morning, through to the last dance and trying to get all our drunk friends in the taxi's. Some favourite moments were the ceremony, the speeches, and dancing to the band. Seeing all of our friends and family covered in glitter and rocking out to the band was amazing."
"It was better than I could ever have imagined. Having all the people we love in one place was such an amazing feeling, neither of us wanted it to end."
"There are a few things we could have done differently if we had our time again. We didn't need to buy so many marshmallows and I wish I had straightened my veil before the ceremony. However overall, there's nothing major we would change. One thing we didn't have but would have liked is a videographer. We were restricted by our budget, but if we could have spent any more then this is where."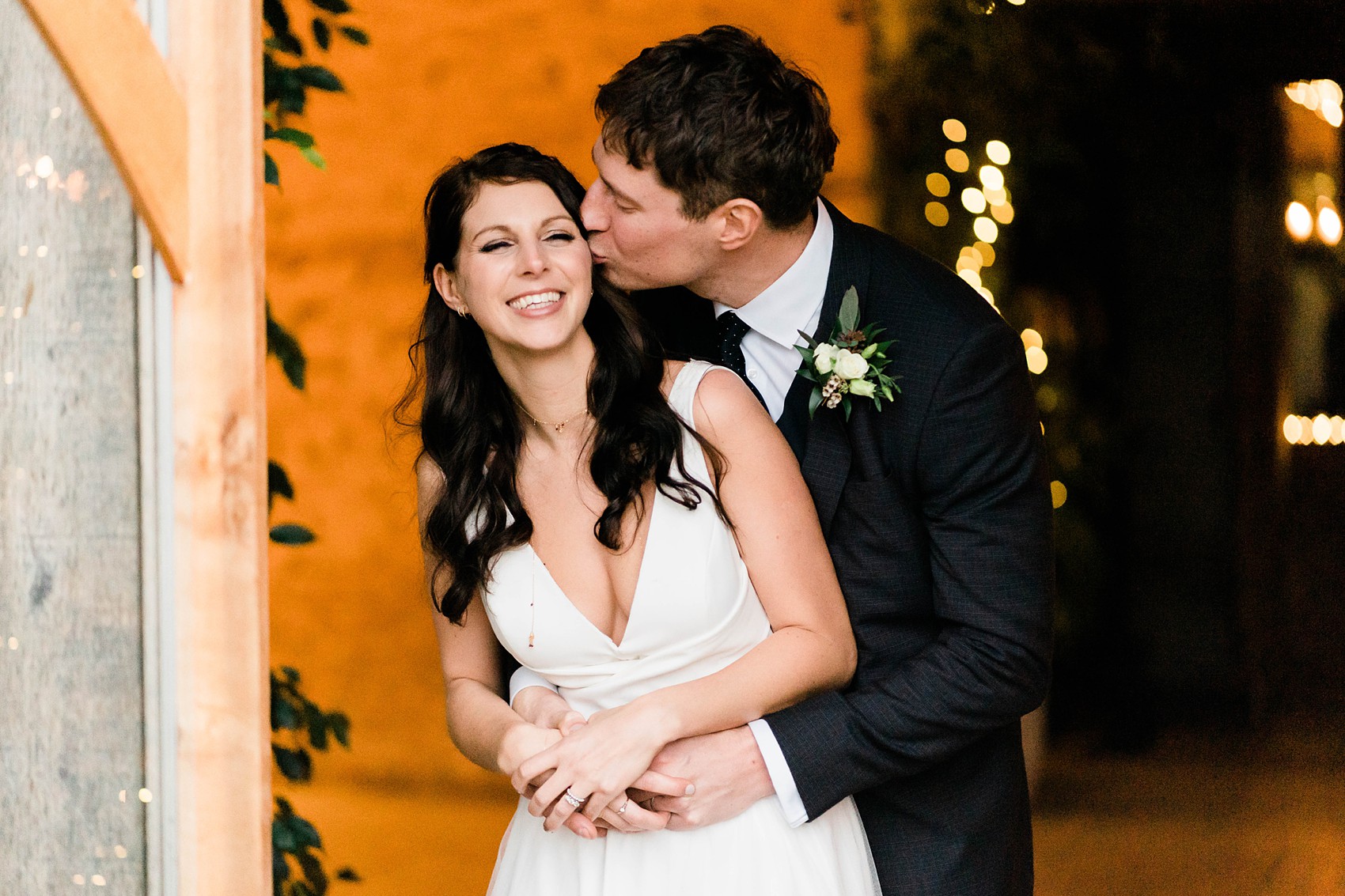 "I wear the same pair of gold hoops every day, so for the wedding I wore these along with another pair of gold pave hoops from Missoma, and an amazing fine gold necklace I was given by a friend. I wore my grandma's gold engagement ring, which I wear every day anyway, and on the morning of the wedding I got a beautiful Laura Lee gold bracelet as a gift from Ed."
"A few nights before the wedding my mum realised I didn't have a garter and made one for me out of her own wedding dress (which was in a bin bag in her wardrobe). It was hilariously huge. I loved it and wore it all day!"
"Our first dance was to Can't Nobody Love You by The Zombies. We both dreaded it, and even went to a dance lesson to prepare ourselves for the potential humiliation of being watched by a room full of people. It was actually OK though, everyone was so supportive and the dance lesson paid off as we can now dance together at other people's weddings!"
Words Of Wedded Wisdom
"Enjoy the planning and prep. You'll spend most of your time doing this compared to the time spent at the actual wedding. It's all part of the experience and such a lovely time. If you don't have a wedding planner and are decorating the venue yourself, choose someone you trust to be in charge and make detailed plans of everything you want."
"Do the wedding your way. We had grumbles from some people about having a wedding on a Sunday, not inviting every single person we're related to etc. but we tried not to let it bother us. It's hard if people are put out by your decisions but ultimately, we had to balance having a wedding that pleased everyone, with having a wedding that pleased us and we could afford."
"Make sure you spend time together on the day – we were given this advice by so many people and definitely took it on board. Also, do a speech! All brides should do one. When else do you get the opportunity to say lots of nice things about the person you love?"
"Take a little holiday straight after the wedding. We didn't have a honeymoon booked so went on a mini-moon to a cabin in Scotland for 4 nights. It was amazing and definitely took the edge off the post-wedding come down."
"And finally, ask one of your friends to regularly run a critical eye over you to check everything looks how it should, and avoid any wonky veil scenarios!"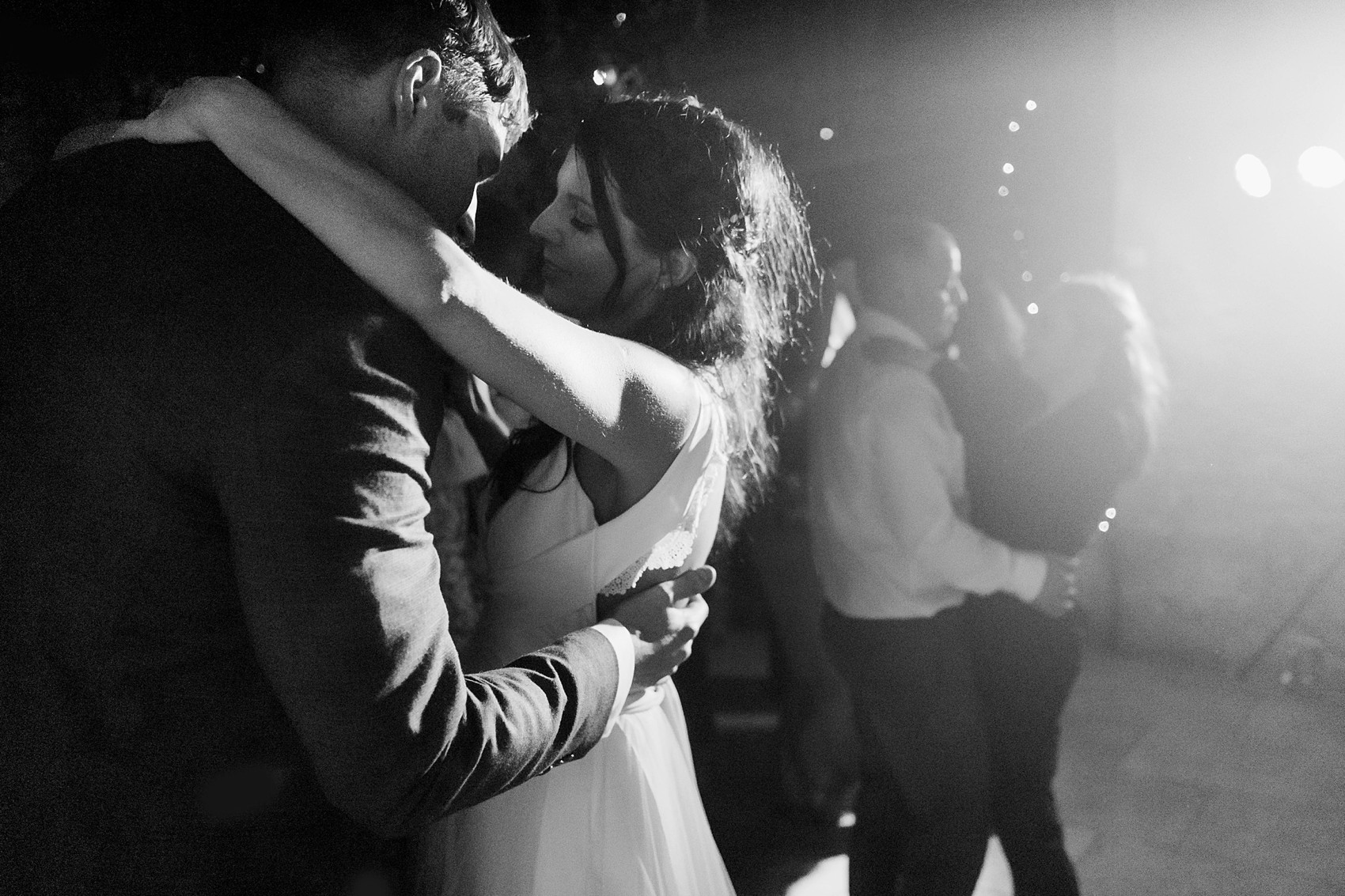 What a gorgeous day – huge congratulations to Abi and Ed for pulling it off so beautifully! Special thanks also to Claudia Rose Carter for capturing it all on camera perfectly.
Until next time…
Much love,
Holly x