Standby, dear readers, for a riotous, joyous and luxurious feast for the senses, in the shape of the wedding I have the pleasure of sharing with you today.
It all took place in a gracious and beautiful French chateau – once used as a hunting lodge, and now a treasured family home, where our couple and their loved ones came together for a week long celebration filled with good food, and a dizzying array of sweet and thoughtful personal touches, incorporating many of our couple's loves and interests.
This is the wedding of Holly, a freelance food stylist and recipe writer, and Jack, who runs his own company, Almost Everything, making props for commercials, film and television. They were officially married on the 13 September 2018 in London, before travelling to France for their celebration on the 22 September, at Château de la Blérétie.
Photography by Lee Garland
"My dad moved to the area when I was a teenager, and the chateau is just under an hour's drive from his house. Getting married in France was important to us, as my dad passed away very suddenly just before we got engaged. Having the wedding in France, and in the area he adored so much, felt like the best tribute and ultimate reminder of him on the day, not just for us, but for our guests who knew and loved him too."
"We looked at a few venues but most were very baroque in style and too OTT for our taste. We eventually found Blérétie and fell in love. From the minute we got out of the car, we could visualise our day – the old family house where we would stay with our friends, the lawn where we would marry, and the barn where we would party."
Holly and Jack discovered their photographer, Lee Garland, on Instagram, and loved his natural, relaxed, reportage style of photography. Lee's brilliant work has graced our pages over the course of many years, and he is also a member of our Little Book directory, too.
"Not only are his pictures technically stunning, but they captured so beautifully our relationship, and the emotion of the whole day. He was present, excited and friendly, and our guests all adored him, and commented on his magical ability to be everywhere and nowhere all at once!"
"We were both a bit worried about being in front of the camera, but Lee made it super relaxed, and we had a great time wandering around the house and garden with him, chatting whilst he snapped away. I cried like a baby when I saw the pictures. We will honestly treasure them forever."
Holly took care of her own hair and make-up, but in the lead up to the day, she took a private lesson from make-up artist Lisa Valencia, to make sure she felt confident, relaxed and prepared.
"I'm not a big make-up wearer usually, and the idea of someone else doing my make-up made me feel very anxious. I wanted to look like myself, just x 100. I met make-up artist Lisa Valencia on a job a few months beforehand, so I contacted her to see if she'd be up for giving me a private lesson."
"I went to her house one morning, armed with my regular bag of make-up and a few Pinterest images, and she used a combination of my own stuff plus some of her recommendations to make the look that little bit bridal and long lasting. It was completely invaluable."
For her wedding dress, Holly chose the elegantly draped 'Laelia Floral' dress by Temperley London, covered with delicate applique flowers and leaves, which she found in a sample sale at The Mews Bridal, Clifton.
"I was really nervous about shopping for a dress. As someone who'd describe their style as androgynous, and my favourite colour as black, I had always imagined wearing a suit or jumpsuit, or something sharply tailored, but feminine and super sparkly."
"I loved Temperley as a designer already, and came across the 'Laelia' gown from her bridal collection on Pinterest. I thought the detailing and the draping of the fabric was beautiful – it was very elegant, timeless and feminine without being super girly. I pinned it to a board and forgot about it."
Jack wore a super, custom-made vintage style suit, made by the couple's friend Rachael Alice Smith, who works at Savile Row tailors, Norton & Sons.
"Finding a good suit is hard! We spent a long time looking for something in Jack's style, and suited to his smaller frame, but didn't find anything ready-to-wear in the end. Eventually, Jack looked into having a suit handmade by our friend Rachael Alice Smith, a tailor."
"He wanted something with high-waisted trousers and a simple, fitted 1920's style jacket in a light tweed. He's not a big spender on clothes usually, but felt like the wedding was a good excuse to have something made that he could keep and wear forever. He looked amazing, and so at ease in something that suited his style so well."
With his suit, Jack wore a collarless white shirt from Reiss, button down braces by Nigel Cabourn, and his great-grandfather's gold signet ring.
"Jack loves boots, and in honour of the occasion, decided to have a custom pair of brogues designed and handmade by British company Grenson. He chose to have a pair made in cream, brown and tan leather, which looked so beautiful with the green tweed of his suit."
"A month or so later, I was in Bristol for work and decided to go to The Mews Bridal in Clifton, just for a quick look on my own. On one of the first racks, there was the 'Laelia' gown, and in the sample sale! I tried it on, along with a few others that were suggested to me."
"Being persuaded to try dresses on that were out of my comfort zone was actually very helpful, as it helped me work out what suited me and what didn't (P.S. It's never what you expect!)."
Despite this, Holly was still apprehensive about wearing the dress, and even took the jumpsuit she had worn at the legal ceremony over to France as a back-up. However, having fun with her friends and getting ready in the morning helped those worries to float away.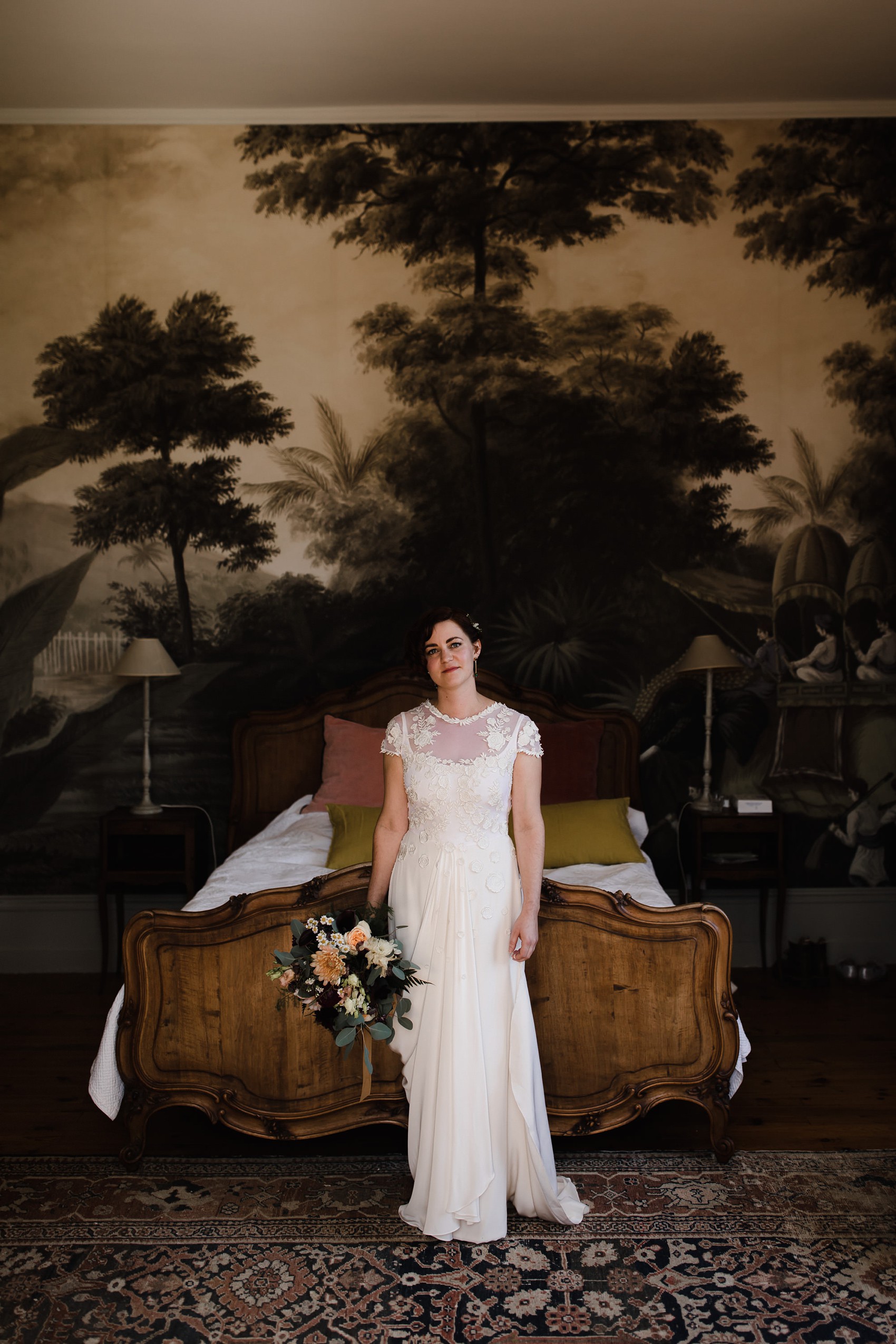 "Getting ready with my friends to a 90's hip hop playlist made for me by my Man of Honour, Chris, I felt incredibly happy, confident, excited to marry Jack, and killer in my dress."
"I look back on the photos now, and and my dress wobbles seem so insignificant. I see my smile, and my husband, and nothing is as important as that. A dress is really only a dress."
Holly wanted to wear colourful shoes, and chose an Art Deco inspired design in vibrant green, by Malone Souliers, via The Outnet.
"I'm lucky enough to have inherited a lot of really beautiful antique jewellery from my grandma, and every piece has a great story.  I didn't wear a necklace, because I didn't want to distract from the delicate neckline of my dress, but I wore a lot of rings."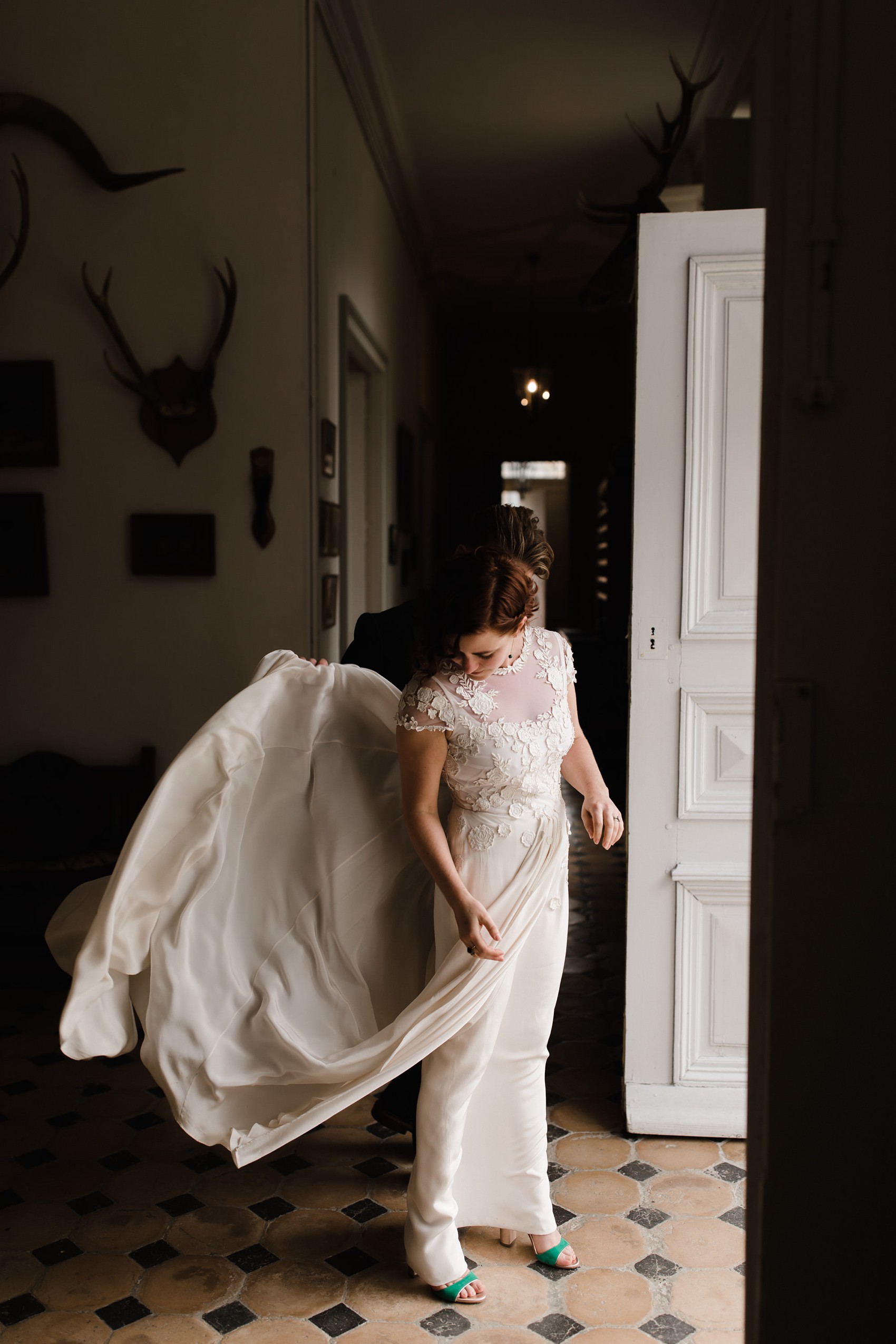 I love how the colours of Holly's bridesmaid's and bridesmen's outfits complemented one another, with deep mustard ties, and lovely mustard yellow and pink velvet jumpsuits.
"I'm not a fan of matchy-matchy bridal party, especially as I had two men and two women. I wanted them to wear something they were comfortable in, and suited their style and personalities. We did decide as a group that it would be cool to have everyone in trousers of some type. Both Amy and Lucy wore jumpsuits – Amy a mustard yellow jumpsuit from Whistles, and Lucy a dusty pink velvet one she actually had made to measure in Thailand, where she lives. They both looked like the goddesses they are."
"My two best boys wore blue suits that they already owned, waistcoats, white shirts and a knitted mustard tie which I found in Kin at John Lewis. Everyone in our wedding party wore a glittery wooden monstera leaf badge designed and made for us by our sweetest friend Lucie at Lucie Ellen."
On the day that Holly and Jack were officially married in London, Holly's stepmother, Cathy, gave Holly her dad's mother's wedding ring.
"It really meant a lot to me to have that to wear on the day. It's a very chunky gold ring, which my grandad had designed for her with a grape vine pattern to echo the vines at their home in Spain. I also wore a family ruby ring given to me by my dad a few months before he died. Having something to wear which he had given me was so lovely. I kept touching it all day."
Holly's green and gold statement drop earrings were from Oliver Bonas, and in her hair, she wore pretty, fresh waxflower blooms courtesy of florist, Agnes Laye.
"Finding a florist near our venue and in keeping with our relaxed style was hard, but after a bit of strategic hashtag searching on Instagram, we found Agnes Laye. She listened to exactly what we were after and made great suggestions. She did such a great job, and I was thrilled with my hand tied bouquet of big, beautiful jewel toned and black dahlias, dusty pink David Austin roses and lots of different toned greenery. Everything was tied with velvet ribbon I brought with me from the UK."
Holly and Jack first met through mutual friends in 2010, and began dating the following year.
"He walked me home from the pub one night, and after we said our awkward goodbyes, I plucked up the courage to message him and tell him I wish I had kissed him. 15 minutes later there was a knock and my door and he'd run all the way back to my flat!"
The couple became engaged 5 years later on Holly's 30th birthday. Jack dreamed up a fantastic treasure hunt from London to Whitstable, where he proposed on the beach after dinner.
"Jack had a little Cryptex puzzle box he had made with my ring hidden inside. I love puzzles, and had to work out the code before I could get inside. It was the letters HWYMM – 'Holly, Will You Marry Me?' Little did he know, I was planning to propose the same year."
"One of the things I value so much about our relationship, is that we are equal in all things, and have such great respect for each other. Jack is also one of the biggest feminists I know. The traditional vows we looked at used such possessive and male-centric language that neither of us felt comfortable using them, so, we wrote our own vows, terribly last minute."
"Whilst I am in no way condoning a last minute scribble, I actually found that being so close to the day made it easier. You're in such a bubble of excitement and anticipation, that the words just seem to come
easier. Writing your own vows is also probably the best opportunity you'll ever get to rave about how brilliant your partner is."
Loved ones gathered on the sunny lawn facing the chateau, greeted by the sight of a spectacular arch made of paper flowers and leaves, created by Holly and Jack.
"I'm not a massive fan of being the centre of attention, and was also worried I'd be overwhelmed. In the absence of my dad, I walked arm in arm with my brother Samuel, but Chris, Dave, Amy and Lucy all came out at the same time, too. Walking down with all my best people was amazing."
"They whispered words of love and encouragement to me, and Chris also played the role of chief dress wrangler – completely invaluable, as I had to navigate an old stone staircase in heels, which I wear very rarely."
As her entrance music, Holly chose a favourite song – You and Me, by Penny and the Quarters – a beautiful soul song recorded in the 1970s, and lost until rediscovered on a mixtape in 2010. The ceremony was conducted by Holly and Jack's friend, Rich.
"We had a couple of meetings with him at the pub to discuss a layout for the ceremony, and then just sort of let him run with it. He sent us a questionnaire, which we had to answer individually about how we met, our hopes for our future etc, and he used it to create a brilliant, funny and emotional ceremony, which everyone laughed and cried through. He was an absolute nervous wreck beforehand, poor guy, but he was so brilliant and a lot of our guests said it was the most personal, special and memorable ceremony they had ever been to."
The couple were also keen to involve their friends and family in their vows, and so asked them to give a vow of support to help them through their married life – what a beautiful idea!
"Jack's mother read Love, by Roy Croft, the most traditional piece we had, but a beautifully honest poem about love, human nature and relationships. Lucy read a poem – Love Train by Tomás Q. Morín, which is literally a (very beautiful and I'm sure metaphorical) poem about a man trying to find snacks for his wife on a train! I kid not. So very apt."
"Jack and I are both massive space and science geeks too, and so our other friend Lucie read a piece called On the Nature of Science and Love, about the parallels between quantifiable science and irrational, random love."
Holly's engagement ring is a lovely and unusual late Victorian target ring, which jack had chosen at a friend's jewellers – Lila's. This meant that finding a wedding ring to pair with it was something of a task, and so they headed back to Lila's to come up with a design.
Once there, Holly found the perfect ring already existed – a 1920s platinum band engraved with ivy, which fitted her perfectly and would sit beneath her engagement ring.
"Jack, who also uses his hands a lot for work, opted for Lila's to make him a simple but hardwearing gold band, which he can wear every day."
"As a wedding gift I also bought Jack an antique signet ring set with a jet stone (signets are a tradition in his family), which is engraved with the date 22.09.78 – our own wedding date but 40 years previously. That's why I love antique jewellery so much, it's amazing to imagine the history and stories behind each piece."
Right at the end of the ceremony, there were surprise confetti cannons, which Holly and Jack had installed in their floral arch!
With their post-ceremony drinks, everyone also enjoyed delicious croquembouche, made by a local bakery, and filled with vanilla praline, salted caramel and chocolate creme patisserie.
"The timing was perfect as it got the attention it deserved and broke up the afternoon drinks perfectly before the canapés came out. Traditionally, the bride and groom are meant to shake up a bottle of champagne and try to knock the top choux off with the cork – we failed and overshot, but our friend Bibi caught the cork and everyone cheered!"
Early on in their wedding planning, Jack came up with the idea for an infinite figure of 8 shaped table, so that everyone would be able sit, eat and chat together. It looked wonderful on the chateau's lawn, strung with overhead lights and colourful bunting. Amazingly, if you would like to commission Jack to create a table for you, do get in touch with him at Almost Everything.
"We drove it over to France in pieces, and assembled it on the morning of the wedding. Jack also worked with a friend of ours, Louise at Bookishly, to develop a star chart of the night sky on our wedding, which he then engraved into the top of the table."
"We spent many hours hand painting each one if the stars gold, but it was absolutely beautiful. I was so proud of him for making such an amazing object! It was the talk of the wedding."
Holly painstakingly sourced mismatched vintage tableware from charity shops, car boot sales, French markets, and eBay (which you can hire here), and dining chairs along with a number of other antique pieces were hired from Oui Mon Coeur.
"Jack laser cut peoples names from a lush glittery acrylic, which doubled as both a place name, and later on as necklace/bracelet tied onto a piece of red white and blue string we used to tie the cutlery. It worked like a dream, and I still see our friends and family wearing them now."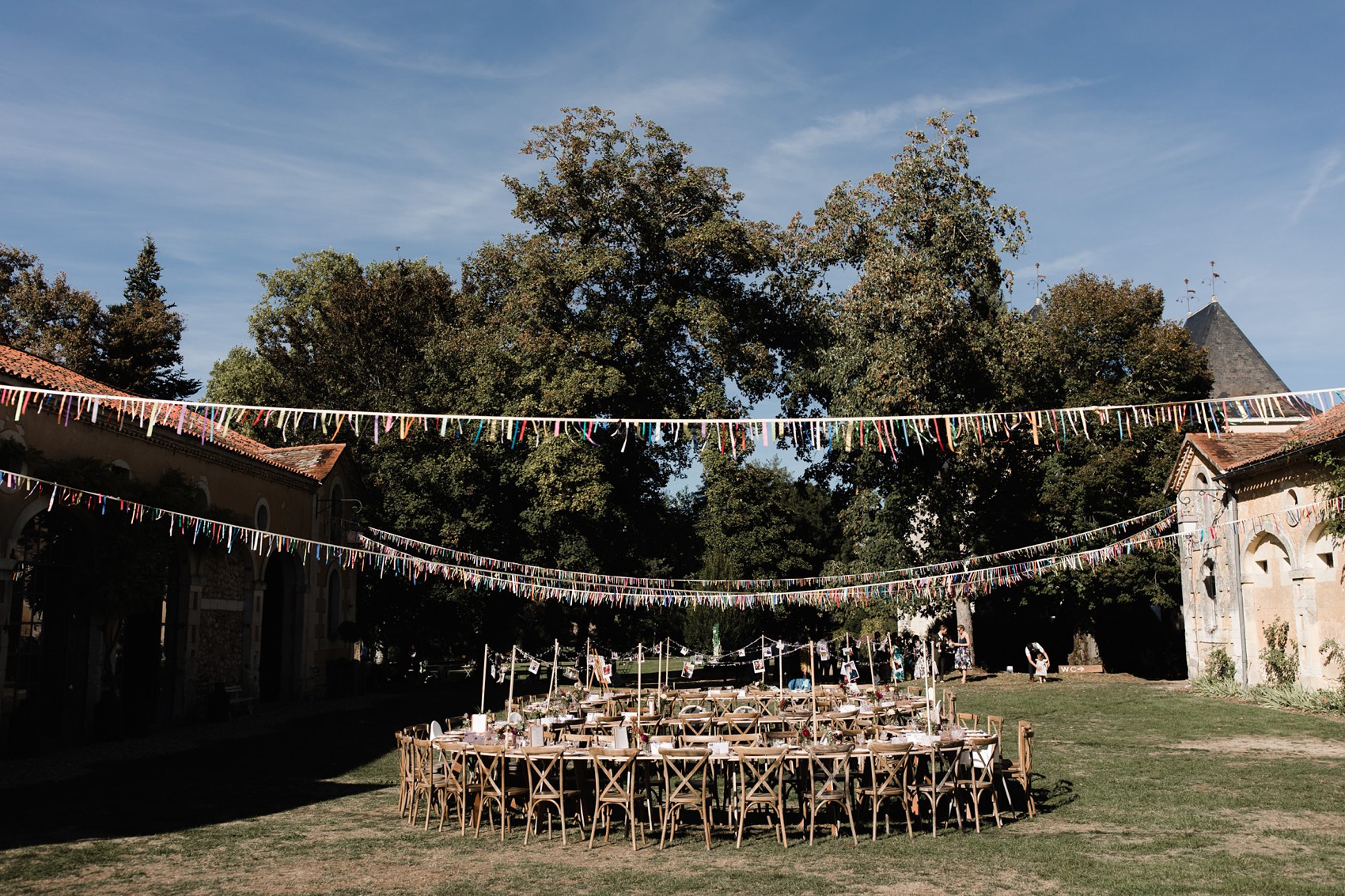 "Blérétie is so beautiful, and the perfect blend of modern and traditional that we sort of let it take the lead when it came to styling our day. We took inspiration from the colours in the house and gardens, and echoed this in our colour palate for decor and styling. Lots of rich jewel tones, deep greens, leaf patterns and elements of metallics and lush fabrics like velvet and tweed."
"Then there were all the other nods to the loves in our lives – space and astronomy, Asian culture, and an Art Deco designed bar. It was a bit of a mish-mash, but we loved that it was so very us."
"One of my favourite things is cooking for our friends, and so I chose to write each guest a personalised recipe based on what I knew they loved to eat, or dinners that we'd enjoyed together in the past."
It took a long time, but was totally worth it – I loved doing it and it meant I also got to write everyone a personal note, saying thank you, and telling them how much they mean to Jack and I."
Sourcing and enjoying the best food and drink (and local produce) was really important to Holly and Jack, and they were recommended to seek out a small farm called Le Maine Meunier, ran by a British couple, Paula and Mike (they have since retired, sadly).
"Everything we ate on the day was lovingly grown or reared by them, or other small producers they knew from a 30 mile radius around Ponteyraud."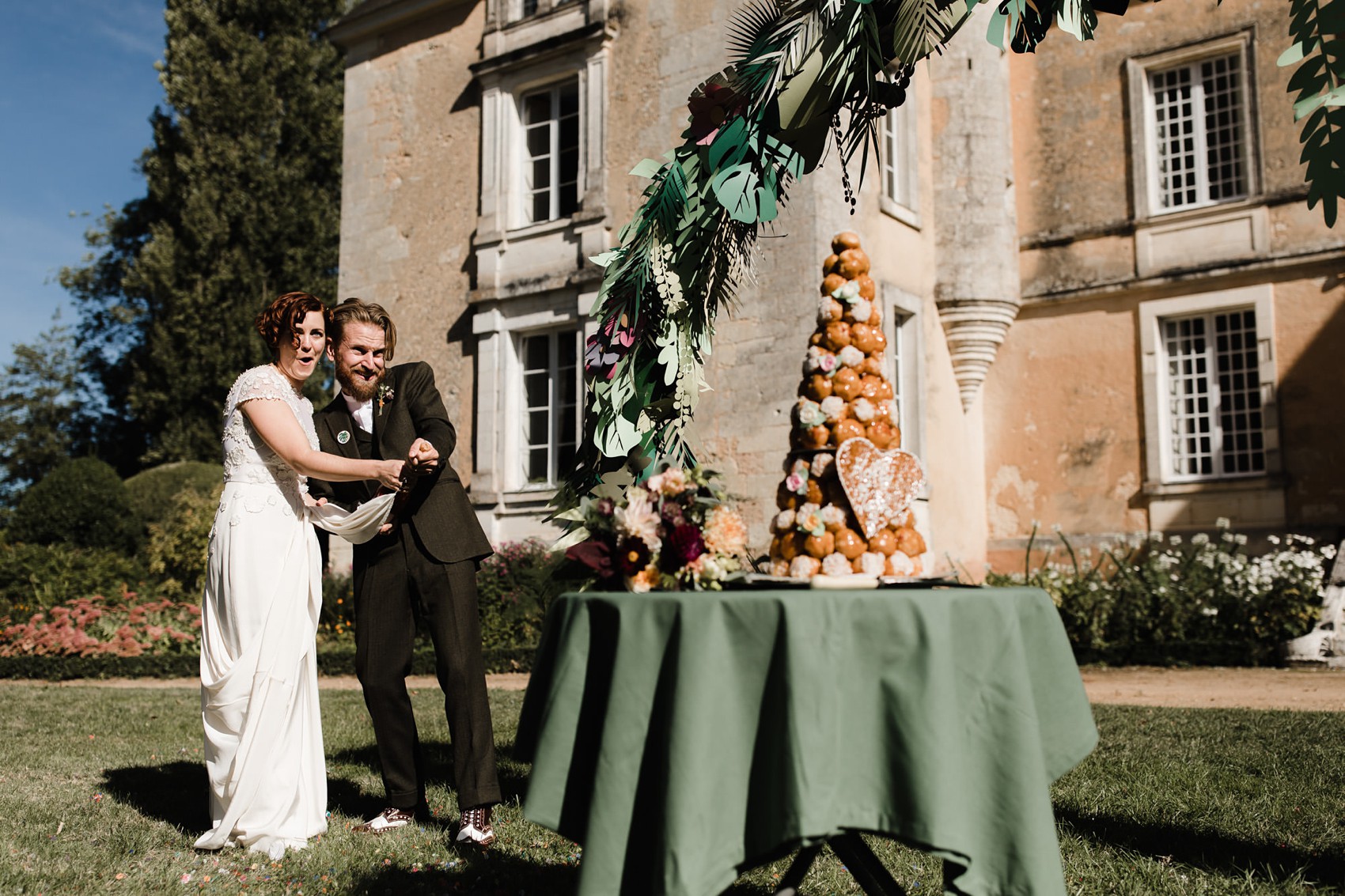 "After canapés of local smoked duck breast, fois gras, mini croque monsieurs, and tricolore salad, we had a relaxed dinner of traditional Tournebroche spit roast lamb with homemade Gascony Noir pork sausages."
"This was served sharing style, with huge platters of salads made with Paula and Mike's homegrown heritage tomatoes, green beans, herbs, leaves and edible flowers."
There was delicious artisan bread from Painpouline, and for dessert, there was sour cherry and chocolate tart and rose meringues with chantilly cream.
"A few of the wines were recommended by wine expert and lovely old friend of my Dad's, Joe Wadsack, who paired classic regional wines to our menu. The rest of the wines were a little different."
"We bought directly from a young grower in Bergerac, Vincent Alexis at Chateau Barouillet, whose wine we actually fell in love with on a trip to Bordeaux city a few months before the wedding."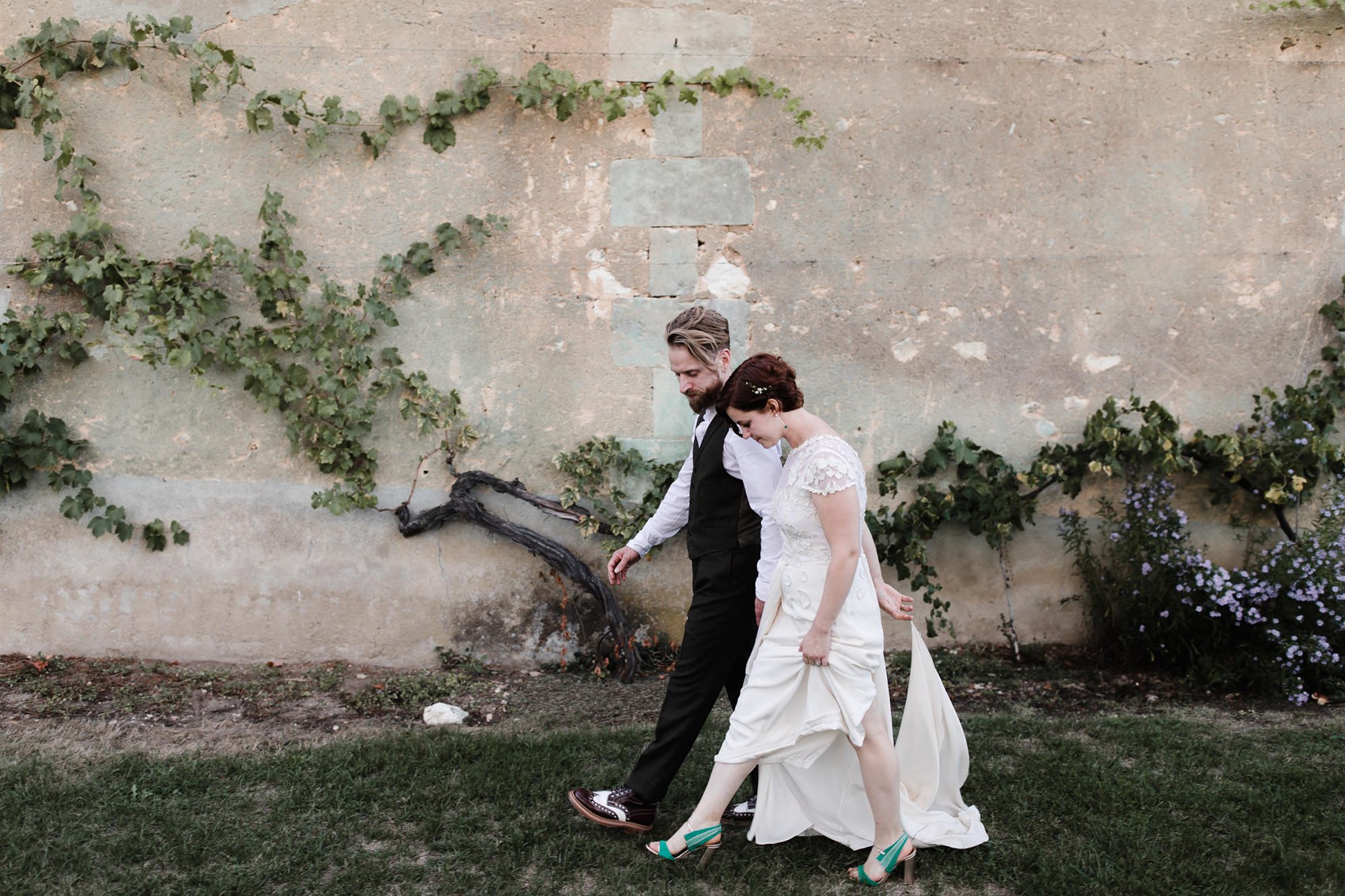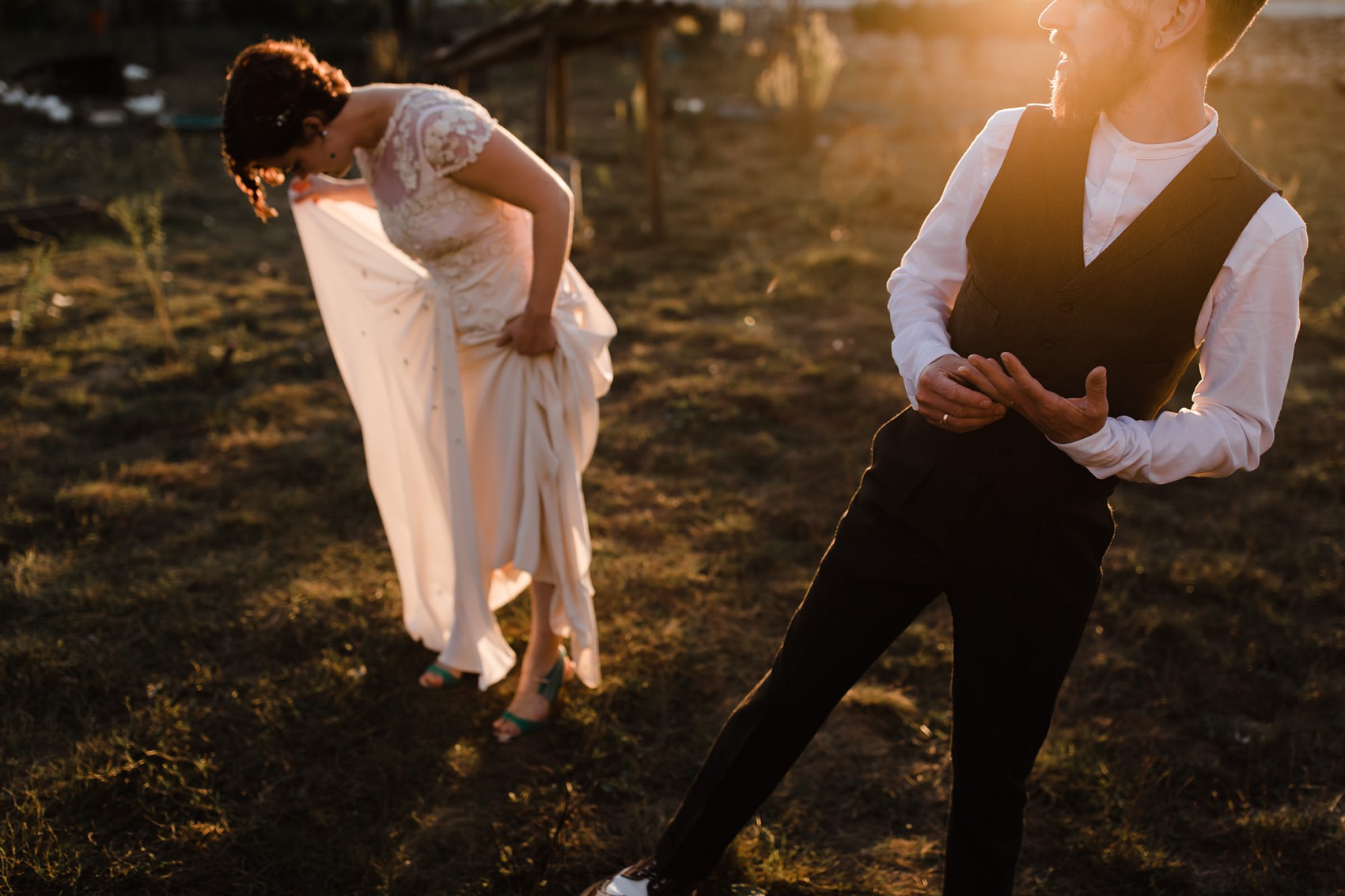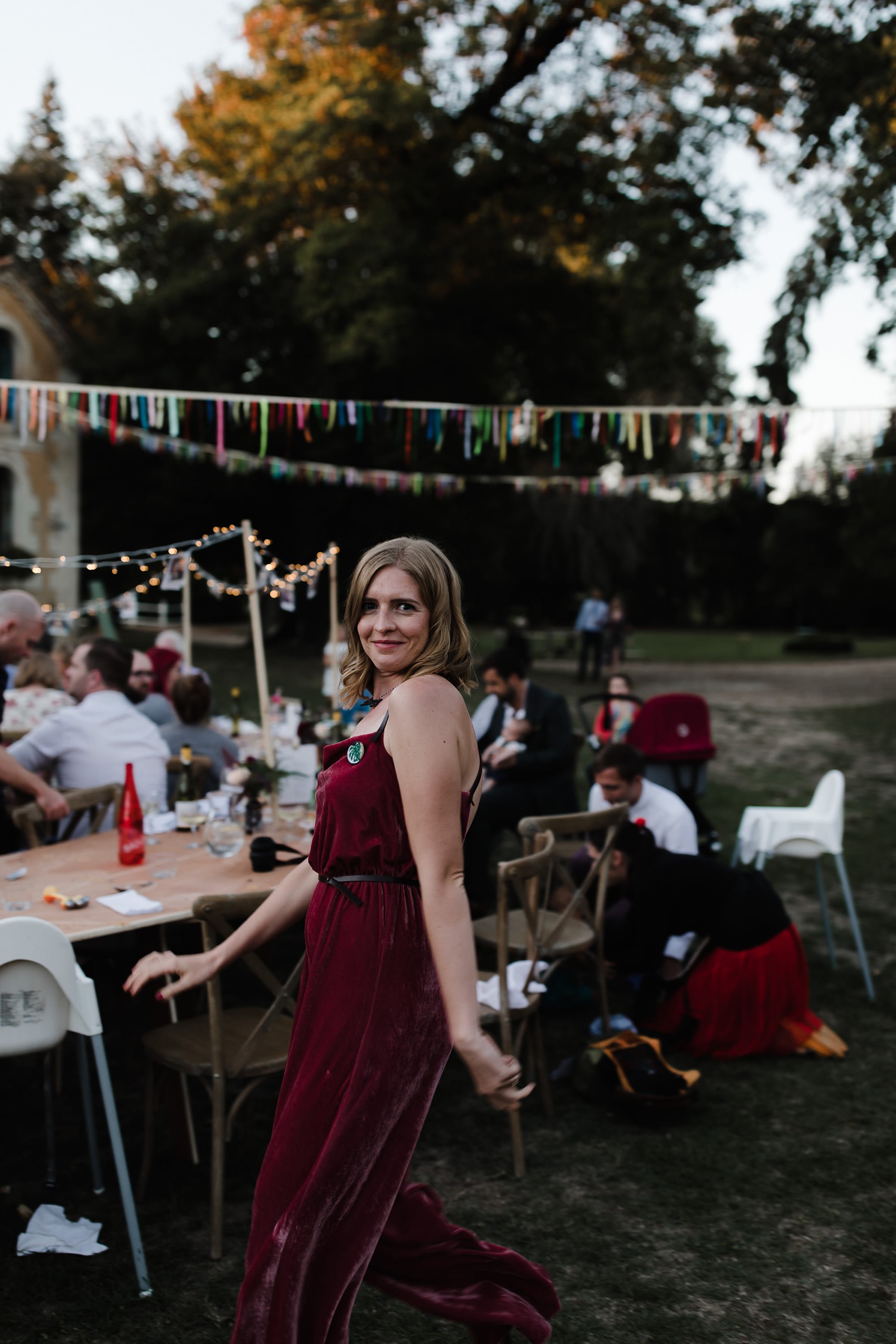 "With the barn, we had an initial plan to fill it full of plants and cram it to the rafters with big palms and trees. But after a quote of over £3000 for the hire of the plants, we had to think again."
"Jack had just bought the laser cutter, so we experimented with cutting leaves and flowers out of brightly coloured sugar paper and stringing them together to make long garlands."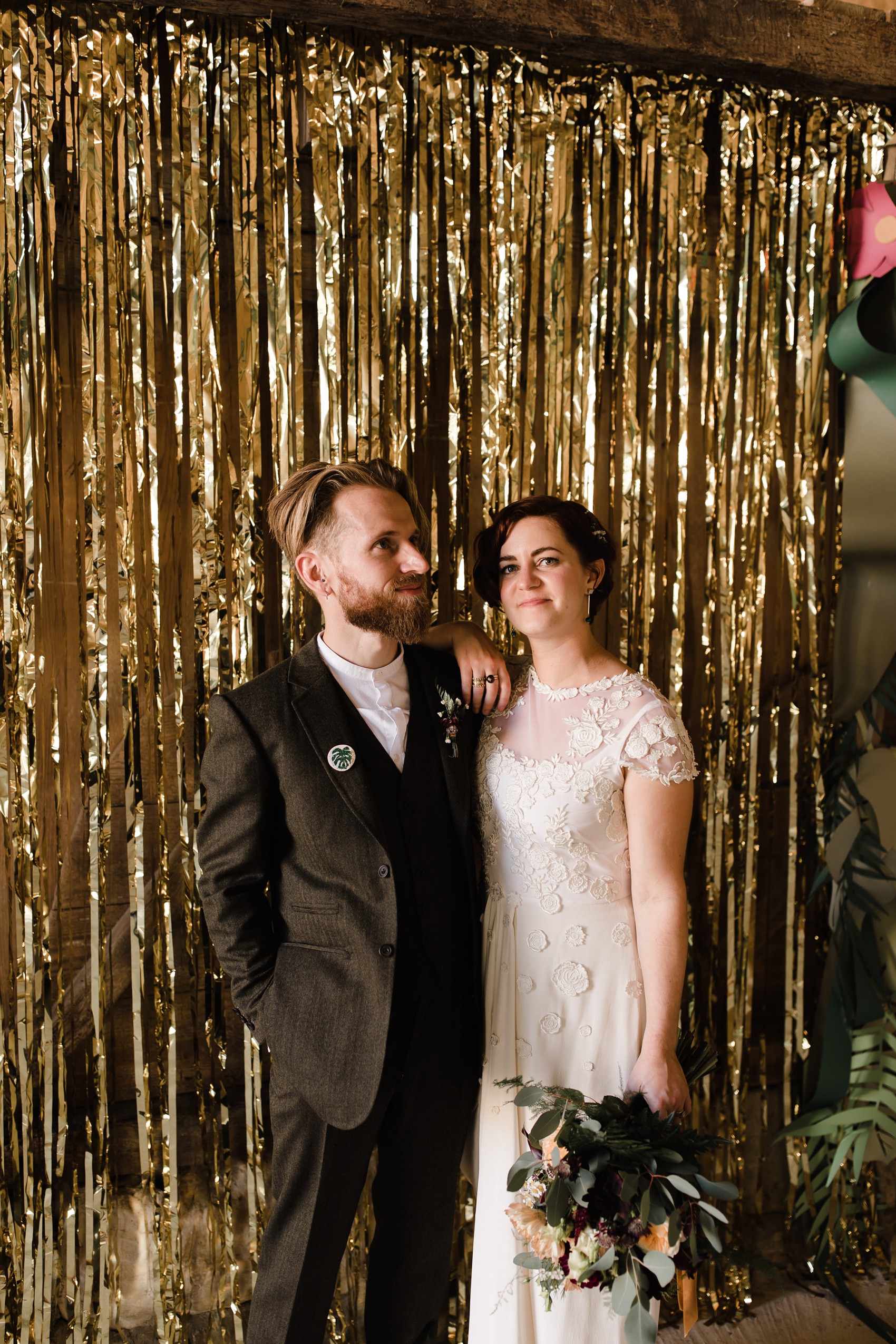 After dark, Holly changed into the perfect party outfit – beaded shorts and the sparkliest of silver fringed jackets from Topshop Boutique.
"It felt perfectly me, and I was over the moon. I got to live out my sparkly disco bride fantasies after all!"
"With the amazing help of many friends the day before the wedding, we decked the barn from the rafters with the paper garlands, strings of festoon lighting, mirror balls and a gold Mylar curtain behind the DJ booth. It was like a sexy French disco jungle."
To get the party properly started, Holly and Jack's first dance was to Earth, Wind and Fire's brilliant song, September.
"The French sunshine, all the people we love, a stunning, leisurely dinner with wine and some dancing tunes. What more could one want?! Sometimes keeping it simple is best. There was a special guest DJ, Flat Eric, in the evening (i.e. Spotify playlists to start with before my own DJ set!)."
"There was also a point after dinner when the sun was setting and we had been off taking photos with Lee. We came back to to table and took a second to look at everyone enjoying themselves, hear the music and soak up the atmosphere. It's such a good memory from the day."
Words of Wedded Wisdom
"Use Instagram hashtags to find suppliers. We found some of our best people through Instagram, and it's a great way to see a portfolio of work."
"We had a no phones policy during the service only, so people weren't distracted. What was really nice was that very few people then used their phones during the day at all. People played games, chatted ate and drank with not a phone in sight."
"Plan together. Everyone commented on how much our wedding was so much a day about us as individuals as well as as a couple. There were elements which were clearly very me, and elements which were more Jack, but we were both equally involved with every aspect of planning. Divide up the tasks by things that you're most interested in, or where your skills lie, and insist that suppliers include you both in email correspondence."
"Make use of online planning tools! Set up a wedding website, especially for weddings abroad – not only is this a great resource for your guests but it saves you time answering questions and sending out hundreds of emails. Use Doodle Poll to send out details of events you need numbers for or answers to, and all the responses will return to one email address for safekeeping. Trello is also another great website, where you can make collaborative online lists and planning notes so that everything is easily accessible in one place."
"Make a weekend of it. If you can stretch your wedding out, then do! It doesn't need to be several big parties, but a quiet beer the night before, or Sunday lunch or a BBQ the next day gives you more time to spend with the people you love. It all goes so quickly, and if you're worried about the dreaded wedding blues, this is probably a good way to stave it off."
"Be clever with your budget and spend what you feel comfortable with. At the end of the day, it's still just a day. Try not to obsess over having everything, and cut budget in areas that you can find alternatives for/compromise on, so that you can spend on the things that are really important to you, or save for your future."
"Do what you can without jeopardising your sanity. It's very easy to get carried away with all the details and although the personal touches are great and totally worth it, obsessing over finding the right shades of paper or hand making millions of origami cranes for example is only going to burn you out. In a similar vein, trust people."
"I am a self confessed control freak, and needing to delegate on the morning of the wedding to get everything ready was so hard for me. I left myself less than 2 hours to get ready for the ceremony, but once I was forced upstairs, had some music on and was getting into that wedded mood, I instantly felt more relaxed and was so grateful everyone downstairs was working hard to get everything just right. I really do have the most wonderful bunch of friends."
Holly and Jack, what else can I say but wow, and (of course) a massive thank you to you both. This has been a complete joy! Huge thanks also go to Lee Garland for his super images, too.
With love,
Laura