Today I'm thrilled to be sharing a completely captivating and glamorous Italian villa wedding.
And not only that, a gorgeous bride wearing a showstopping creation from Sanyukta Shrestha, who is a designer we just adore here, and whose commitment to environmental sustainability, and a fair and ethical approach is brilliant.
This is the wedding of Fleur and Edward, who were married at the Villa di Maiano, near Florence, Italy, on the 6 October 2018. The day may have been a rainy one, but this only made things more beautiful, with dramatic clouds and mist-shrouded hills acting as a moody backdrop for the elegance inside the villa.
Images by Blush By B
Supporting the couple in bringing their vision to life was Jill Romanelli, from Tuscan Wedding.
Sanyukta Shrestha's ethos spoke to Fleur, and drew her to visit Sanyukta's Behuli Boutique in Fulham, where she decided on a glorious bespoke dress, made from hemp fabric, with an exquisite off-the-shoulder, wrap style bodice.
"My dress was incredible – I have never felt better in my life, which is exactly how your wedding dress should make you feel! One of the main reasons I bought my dress from Sanyukta were the Fairtrade, organic fabrics. I loved the feeling of being able to empower other women by purchasing my dress through Behuli and I have never felt better in the fabric – it was so soft, and so stunning."
"As a plus-size bride, I was nervous when I first arrived at the Behuli atelier, that any of her gorgeous silk creations would fit me, but Sanyukta made me feel so comfortable, and very quickly put me at ease! My dress idea came to life with her design flair, and within seconds of her pinning me in, and a few quick adjustments, I knew I had found the perfect dress that completely represented me." 
"My dress was made out of the hemp fabric, which shone so beautifully (I'm sure the hypoallergenic qualities were helping to calm me down on the day)! I absolutely loved going in for my fittings, and the team were professional and a delight to visit. The service I received was unbelievable from start to finish. My wedding day was absolutely perfect, and a lot of that is thanks to the Sanyukta Shrestha team."
With classically elegant hair and make-up by Pamela Leti, Fleur wore a simple, long veil, also by Sanyukta Shrestha, a pair of sparkling crystal and pearl embellished shoes by Sophia Webster, and for jewellery, dramatic rhinestone chandelier earrings by Christie Nicolaides.
Fleur's bridesmaids wore an assortment of stylish black gowns from Ghost London, and the sweet flowergirls wore tulle dresses embellished with sequins, and crowns of olive branches in their hair.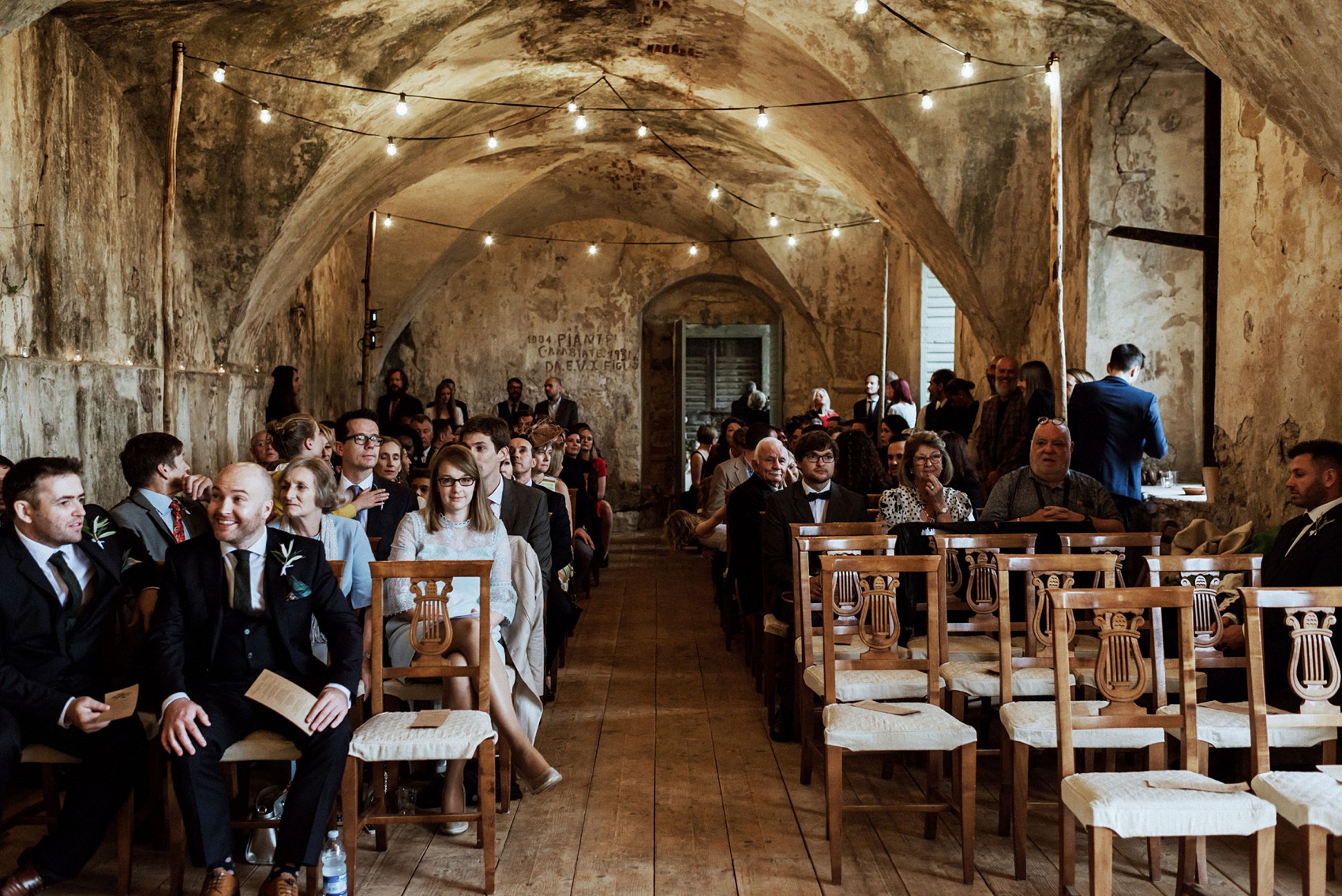 The original plan was to hold the wedding ceremony outside, but as the weather turned, plans were made to move indoors, to the villa's lemon house, with its warm, weathered walls and vaulted ceiling strung with festoon lights.
Fleur made her way down the aisle, carrying a pretty bouquet by Viola Malva, which included wonderful, delicate blue tinged hydrangea blooms, alongside roses, lisianthus and a variety of other beautifully texture blooms and foliage.
The heartfelt ceremony was conducted by a close friend of the couple, and Fleur and Edward happily exchanged their vows surrounded by their loved ones.
Edward wore a fantastic bespoke blue suit from Edit Suits, together with a blush pink tie, bright, printed pocket square, and classic brogues by Loake.
There were post-ceremony drinks on the villa's terrace, and the chance for some incredible shots with the misty Tuscan hills in the background.
Fleur and Edward's photographer, Blush By B, has delivered a breathtaking collection of images for us all to enjoy here – sensitively evoking the atmosphere and emotion of the day.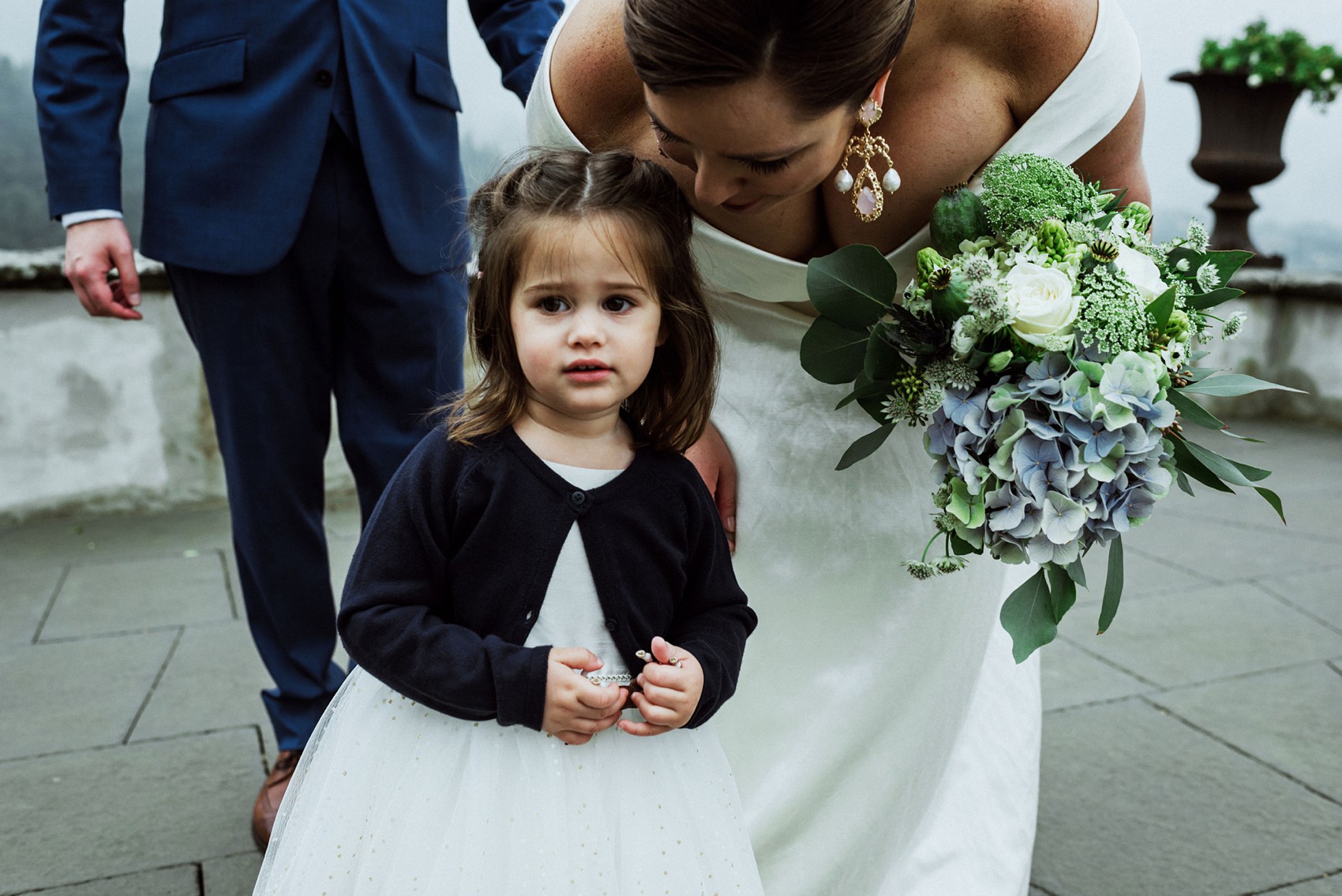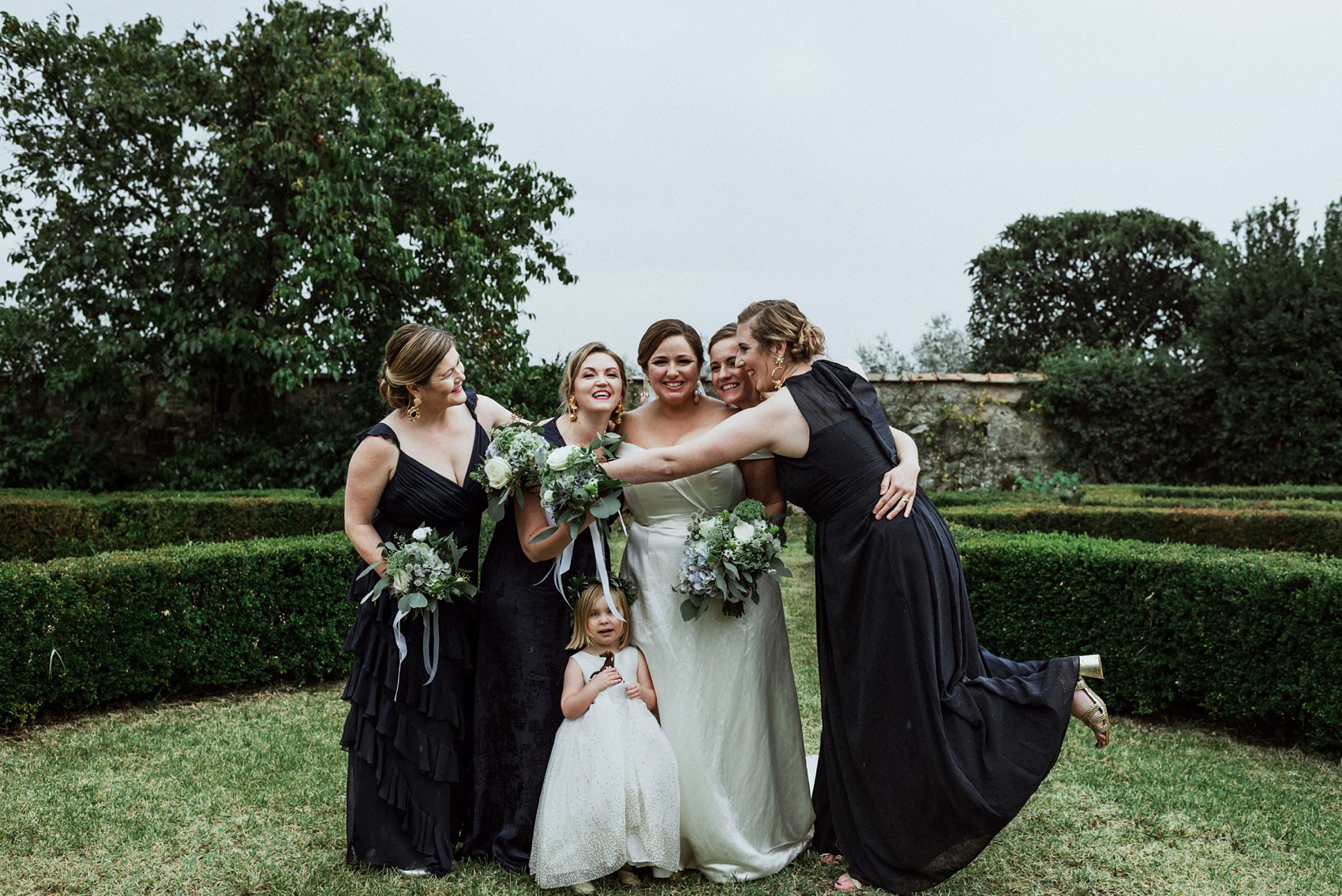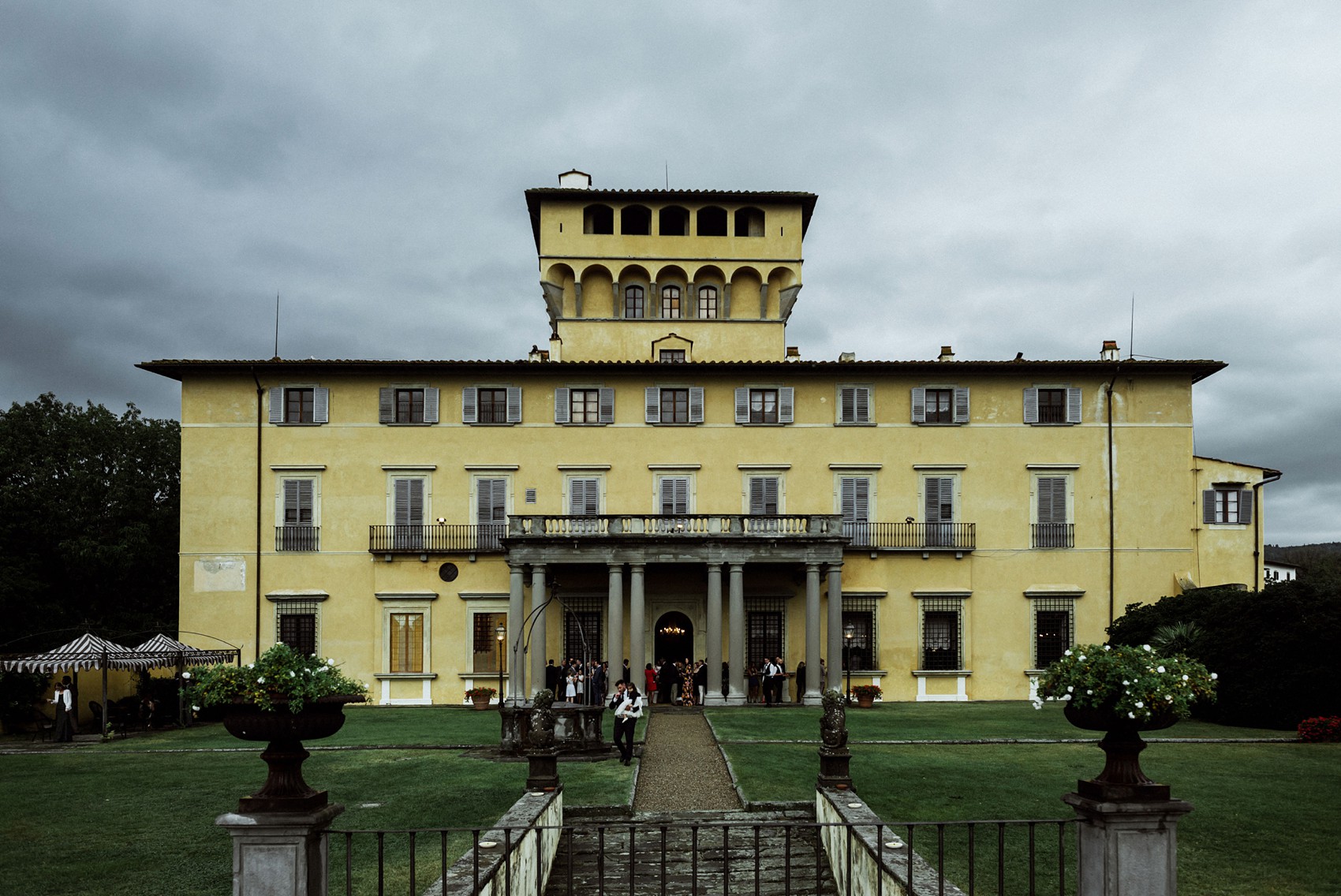 As with the ceremony, the wet weather altered the original plans for an outdoor dinner, so tables were laid in the ballroom instead, complete with an enormous fireplace and historic wall tapestries.
The tables were beautifully dressed, by Jill, from Tuscan Wedding, with long garlands of greenery and white roses, hurricane jars filled with candles, and elegant glassware. Rustic and pretty kraft paper stationery was designed and made by Jill.
Dinner was a joyous affair, with food by Golden Catering of Italy, who cooked a feast of cacio e pepe and pasta al pomodoro, followed by beef tagliata, salad and potatoes.
Dessert was the delicious traditional Italian wedding cake, millefoglie, by Pasticceria Giorgio, and decorated with fresh berries and roses by Jill, from Tuscan Wedding.
With the last crumbs of cake eaten, speeches and toasts, everyone made their way to the dancefloor, for music from Alma Project, which was Fleur and Edward's favourite part of the day.
"When the saxophonist came out after dinner and ordered us all to the dancefloor – this was our favourite part of the day! We had a DJ combined with a live saxophonist and drummer, and it was the best money we spent. The whole room was jumping, and when they played our favourite song, it was like there was no-one else in the room."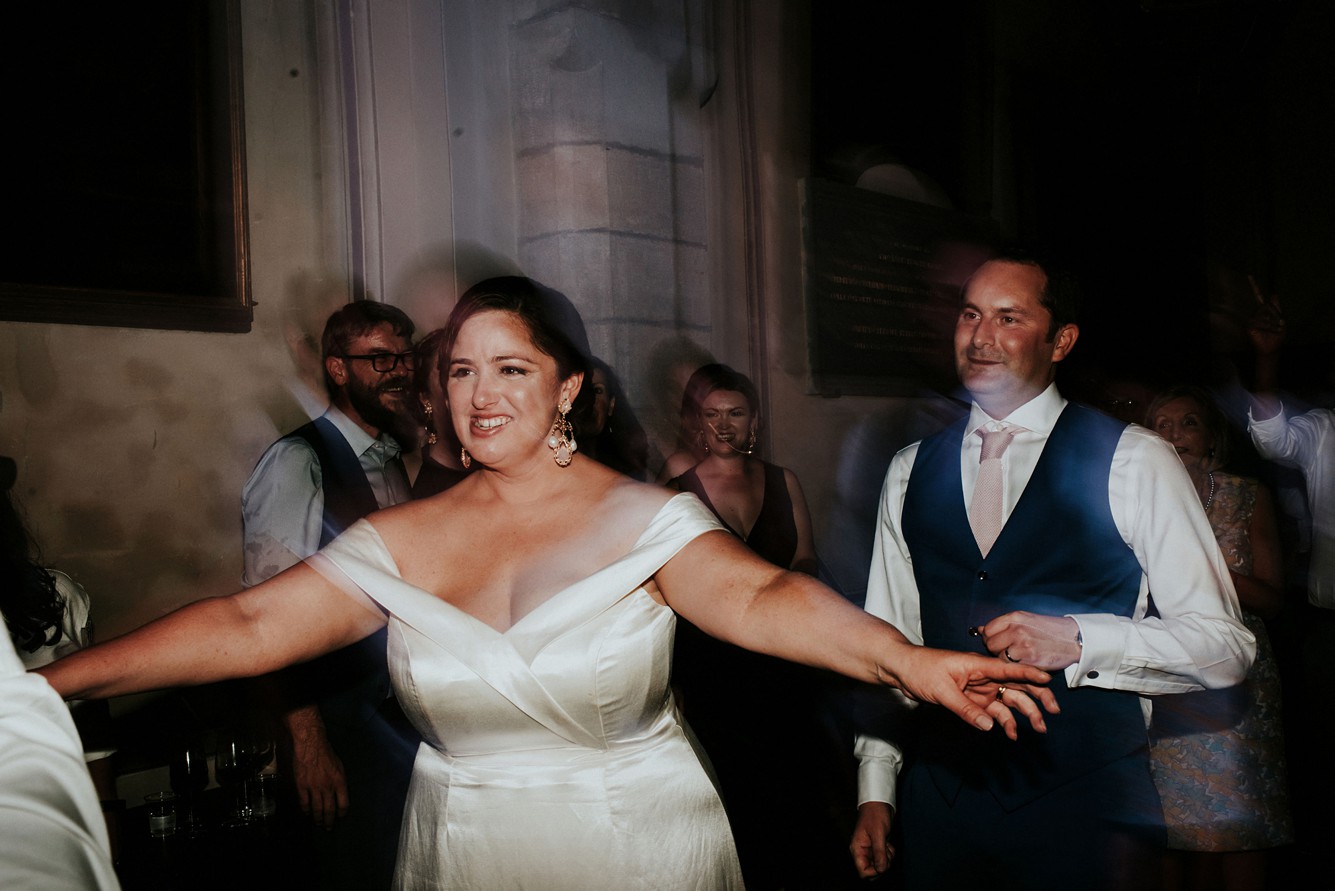 Words of Wedded Wisdom
"Go to Behuli Boutique and see Sanyukta Shrestha! The story of women's empowerment and working with the Nepalese Ashram also really spoke to me, and I was delighted that by purchasing my wedding gown through Behuli, I would also be supporting sustainability and women's equality."
"Fast fashion is so crippling to the environment and by design, wedding dresses are something that you generally only wear once, which is such a shame when so much effort goes into them! I'm actually getting my dress re-designed now into a new style so that I can wear it again and again!"
Fleur and Edward, what an elegant, glamorous treat this has been. Thank you so much, and many congratulations, too. It's lovely to know that Fleur had such an excellent and inspiring experience with Sanyukta Shrestha, and you can see more of this designer's incredible work across our pages, here.
Until next time!
With love,
Laura