The wonderful Lake District has some of the most spectacular, jaw-dropping landscape in the country, and is much more than a beautiful backdrop for today's celebration.
Our couple were inspired by the Lakes, and by nature, and wove these enchanting elements all the way through their day. Meet Sian, who is a stay-at-home mum to two daughters, aged 2 and 4, and Andy, who runs the family business – a waste recycling facility.  This lovely couple were married on the 28 April at the Lingholm Estate near Keswick, with a ceremony held inside the beautiful Victorian Gothic Revival house.
Images by Damian Brandon Photography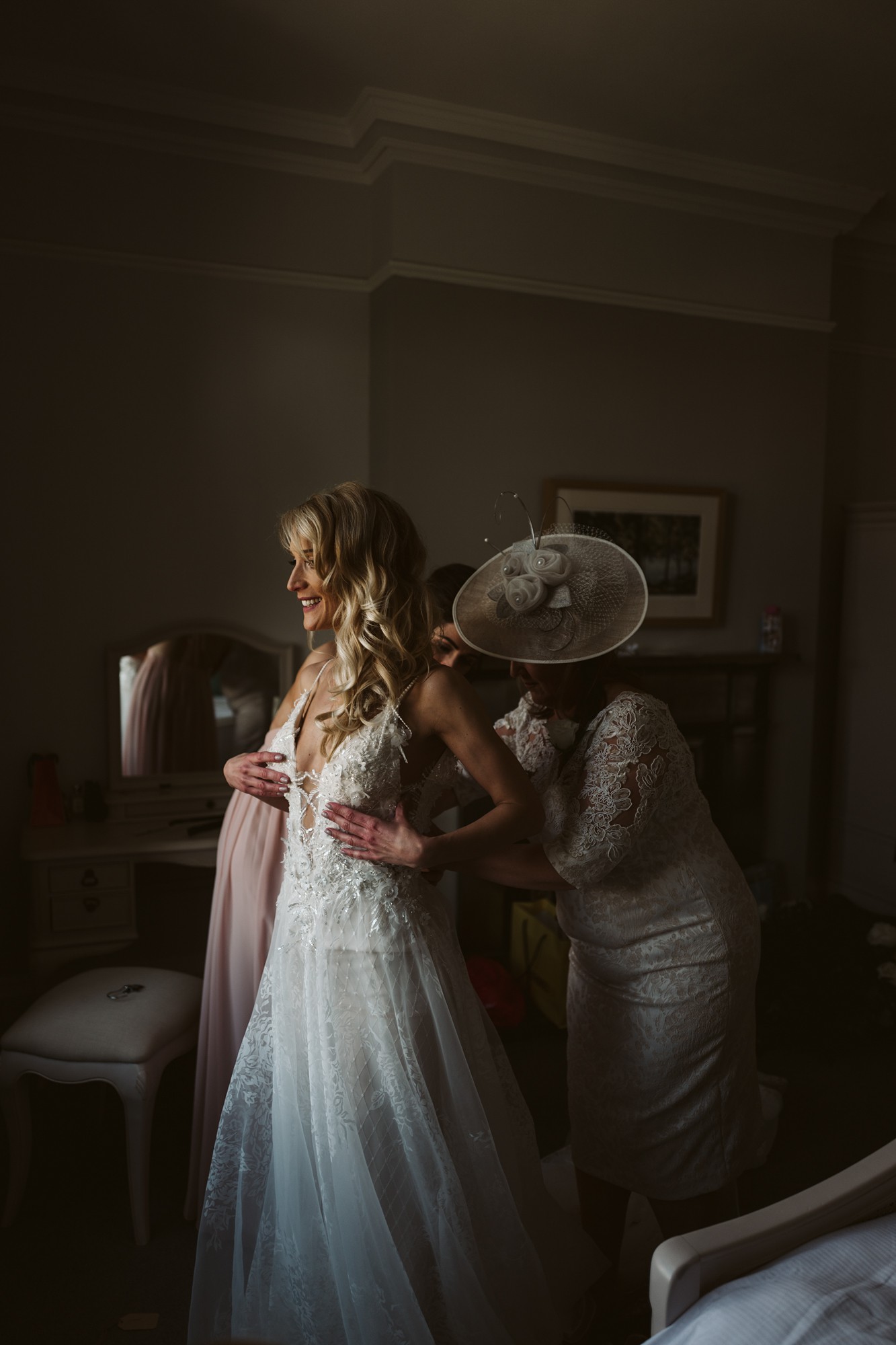 This was followed by a tipi reception overlooking the shores of Derwentwater, with a giant tipi hired from Tipi Unique.
"I knew it was going to be in the Lakes. It felt so right for us, and I had been looking at tipi weddings on Love My Dress and other editorials for a long time, and had completely fallen for them! Since having our first daughter, Ivy, in 2014, we spent a lot of weekends in the Lakes. It was an escape, completely surrounded by nature and with minimal phone signal!"Sian was an ethereal, romantic vision in her Riki Dalal dress, chosen at The White Gallery in Ramsbottom, Lancashire, with delicate floral embellishment over the bodice, and a beautiful, translucent, printed over-skirt, with a long train.
"It's completely different to what I had in mind. I was so sure about what I wanted until I tried this one on. It was completely different to anything I had seen by any other designer. I loved the back, and I loved the barely-there-ness of the whole top half of the dress!"
How delightful do Sian's six flowergirls look in their ballet-inspired outfits? They wore dresses with pink wrap style tops and sashes, and ivory tulle skirts from The White Gallery, which were perfect for twirling and dancing, as they so beautifully demonstrated!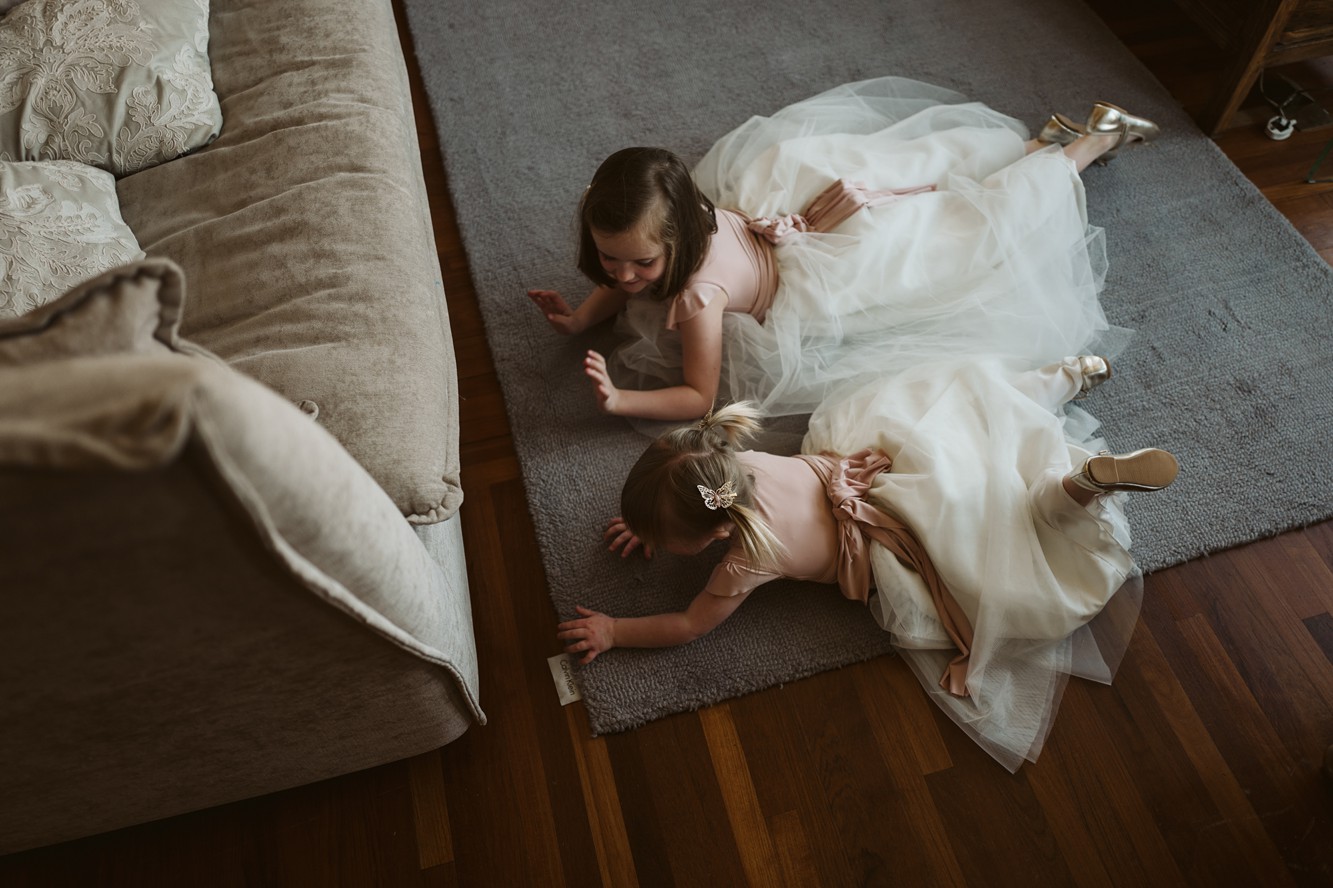 "My perfume was Jo Malone's Velvet Rose & Oud with Peony & Blush Suede. I love the Peony & Blush Suede, and its floral notes, but it was just a touch too sweet for me. By combining it with the Velvet Rose & Oud I felt it made it a sexier fragrance, for me."
"I love Jo Malone perfumes and scent combining – I have a scent that reminds me of each of my daughters. I love the idea of building on the scents to create memories, and using them together in the home."
With her fairy queen dress, Sian wore shoes by Carvela, a diamond tennis bracelet from Carat London, and a pair of Tiffany & Co. earrings as her 'something borrowed.'
Sian's beautiful hair and make-up looks were created by Clare Ardern at Harry Jon Hair and Make-up Artist.
"I modelled for a bridal shop in the past, and Clare did my hair and make-up then, so I knew years ago she would be working her magic on me for my wedding! For the bridesmaids, Clare did hair, and Polly from Makeup By Polly  did all their make-up."
In her hair, Sian wore a diamond comb by Chanel, and a long, elegant tulle veil by Bride Sew Beautiful.
"I wasn't going to have a veil at all, but when I met Maxine for my final dress fitting, we realised the dress needed a veil. She was amazing and managed to make me one with days to spare, and even delivered it to me."
Sian carried a gorgeous bouquet of velvety-soft white peonies, together with lots of lovely, trailing ivy, eucalyptus and other greenery, made by Sarah at The Petal Shop Floral Design.
"I wanted to bring the outside in – I wanted loads of greens like a forest, but also peonies (who doesn't love peonies?) Sarah is great, and I knew when I was I was just talking to her about my wedding vision she completely understood what I wanted to achieve."
In 2013, the couple had been together for ten years, and Andy proposed to Sian on a weekend break to London.
"It was perfect timing, as I had quit my job as a regional manager and was contemplating what to do next. I started looking at weddings and getting ideas when we decided to have a baby, and the wedding was put on hold."
"Then another pregnancy put the wedding to the back of my mind again! It took us five years to get from engagement to the aisle, and we wouldn't change a thing. Having our daughters as flowergirls was perfect in every way."
Together with her father, Sian walked down the aisle to meet Andy, and chose the Ed Sheeran song, Perfect, as her entrance music.
"Andy and I first met when I worked part-time in a petrol station, and he bought petrol! If I could insert a laughing face emoji here I would! Sometimes when he came in we would seem to get on really well, other times he acted like I wasn't there."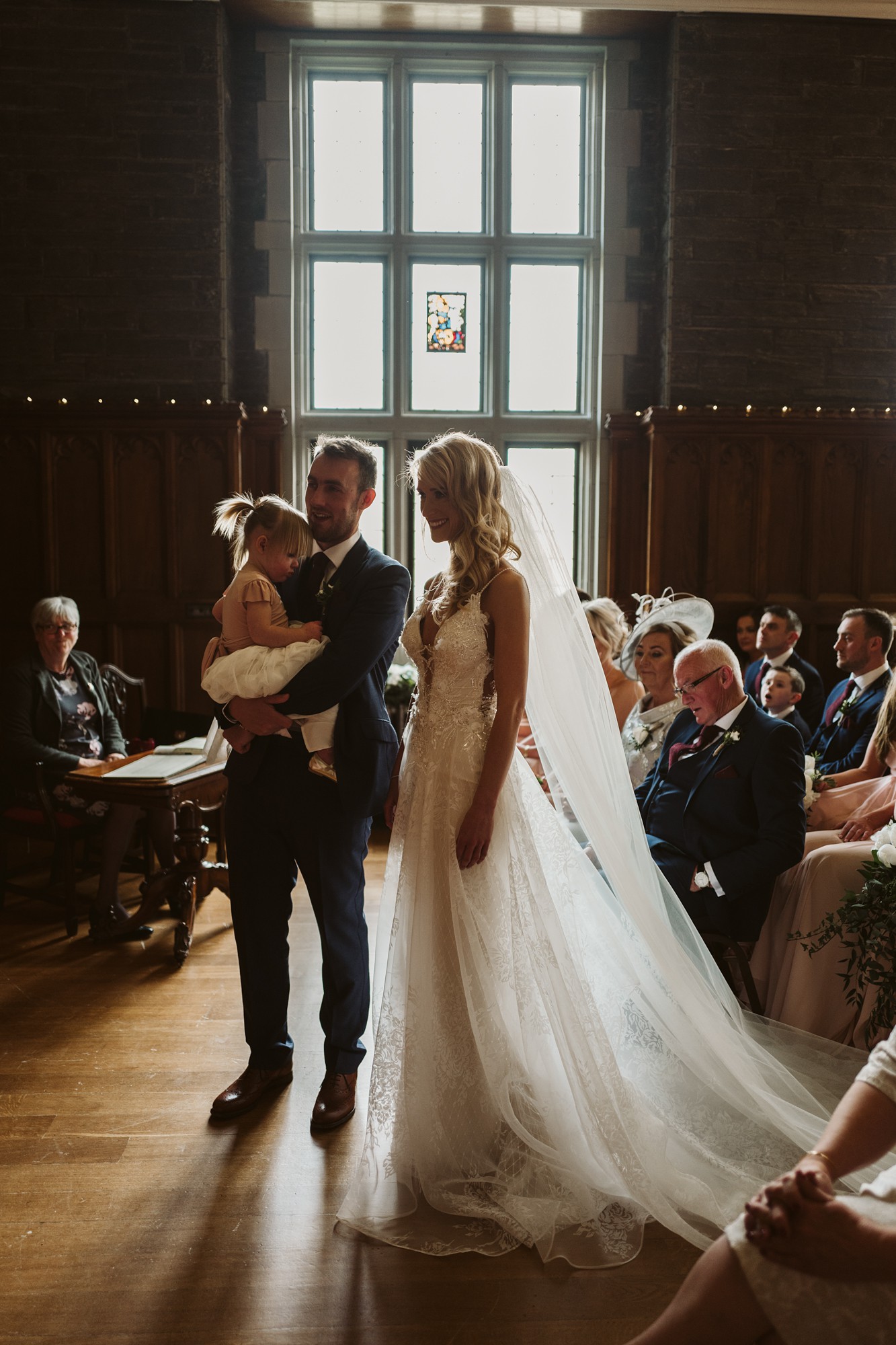 "I finally plucked up the courage to ask him about it and he said he was a twin! I gave him my number and he called to ask me out. We bought a house two to three years later. We were still young, so marriage and babies weren't on the cards for us yet, we were focusing on our careers (I'd moved into retail) and another house move."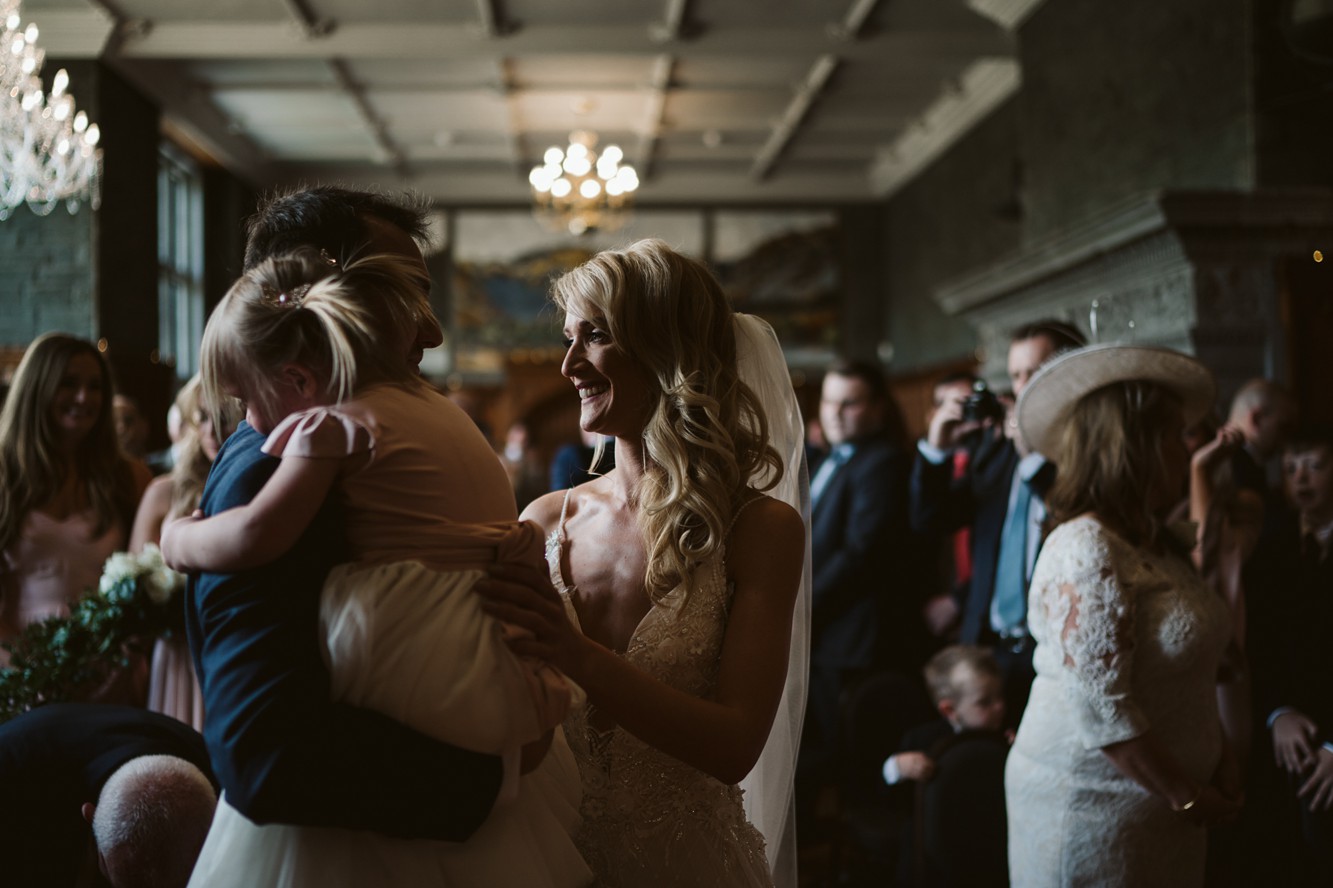 "We stayed traditional with our vows, and didn't add anything, as neither of us love the limelight, so wanted to keep it simple. I couldn't even do that right and still said 'I do' at the wrong time!"
As Sian and Andy said their vows to each other, they also gave each other rings, too. Sian's engagement ring had been designed and made by Paul Granelli, and to go with this, she chose to wear her grandmother's wedding band (who had been married for 54 happy years). Andy chose a ring from David M. Robinson in Altrincham.
"One of my closest friends read an extract from Captain Corelli's Mandolin by Louis de Bernieres. Neither of us have actually read the book, but the reading felt right for us given how long we had been together."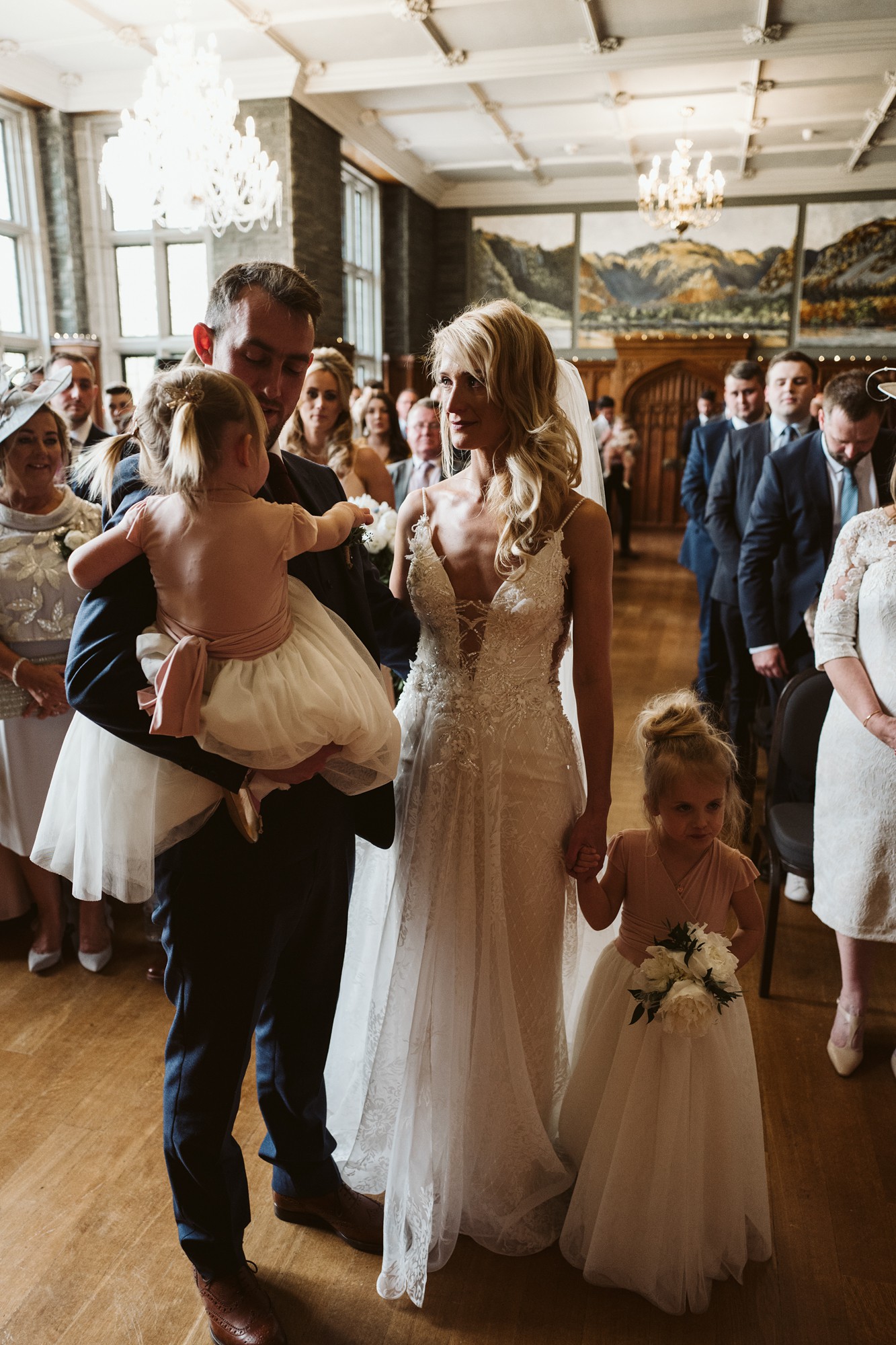 "The ceremony was the bit I was least looking forward to, but it was really special, so funny and couldn't have been more 'us'. My youngest daughter didn't want to leave my side, I was nearly carrying her down the aisle with me, but when it was time to head down my bridesmaid, and now sister-in-law literally grabbed her and went."
"When I went through the door to walk down the aisle, Martha was on her knees at Andy's feet, arms in the air to be picked up! I'm not even sure if Andy saw me coming till I was next to him! Then I said 'I do' at the wrong time and couldn't stop laughing. It definitely lifted the mood and gave everyone a laugh!"
Andy wore a smart, blue three-piece suit from Reiss, which he wore with a white shirt, and a burgundy tie and pocket square. Andy also wore shoes from Paul Smith, and a watch by Tag Heuer.
After the ceremony, drinks were enjoyed outside on Lingholm's terrace, with live music from Gillan Edgar (AKA, Reckless Gent).
For their reception, a wonderful giant tipi by Tipi Unique was constructed by the shores of Derwentwater, and the styling inside perfectly evoked the feelings of nature, enchantment and escapism that Sian and Andy wanted.
"It felt like very precious time switching off from everyday life, and just enjoying being a new family. For this reason I started looking for venues in the Lakes, and I stumbled across a new venue, The Lingholm Estate, on one internet search."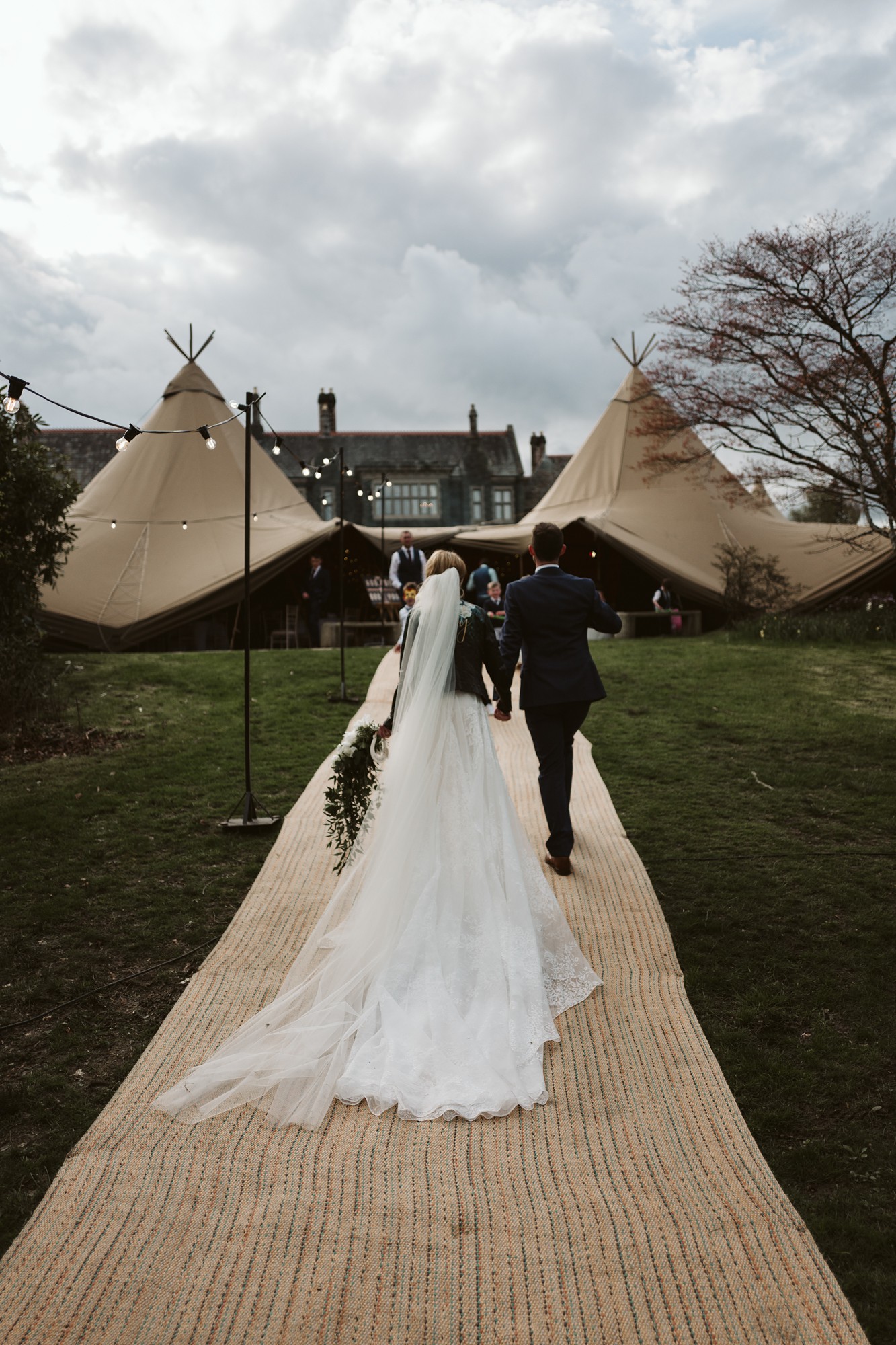 Beautiful stationery, including a table plan with copper foil accents, was made by Andy's mum, Valerie, who creates stationery as a hobby for family and friends.
Favours were bottles of locally distilled gin (some elderflower, and some rhubarb flavour) from The Lakes Distillery.
"I really wanted to feel like we were getting married in the middle of nowhere, surrounded by nature. I kept thinking of  A Midsummer Night's Dream, and a forest with loads of fairylights. If you could guarantee the UK weather, we definitely would have got married outside, so I wanted to bring the outside inside instead."
Table centrepieces were tall vases filled with sinuous willow branches, surrounded by long, trailing garlands of greenery, filled with pine cones and branches, and dotted with twinkling tealights – created by florist Sarah from The Petal Shop Floral Design.
"Karen at Tipi Unique offered everything you could possibly imagine for the perfect décor, too. We had a fire pit, crates to fill with flip flops, fairy wings and wands, superhero masks (there were around 20 kids under 10!) as well as sweet troughs, mirror balls, fairylights, festoon lighting, a matted walkway, beer troughs and gin tables."
The delicious wedding feast was made by Fell & Dales Catering, followed up by a wedding cake in the shape of a chocolate brownie tower, courtesy of Lakeland Brownie.
"I used to make chocolate brownies for fun, and for a short time I even had a go at supplying a café in the Northern Quarter in Manchester, so it felt right that this is what we had for our wedding cake."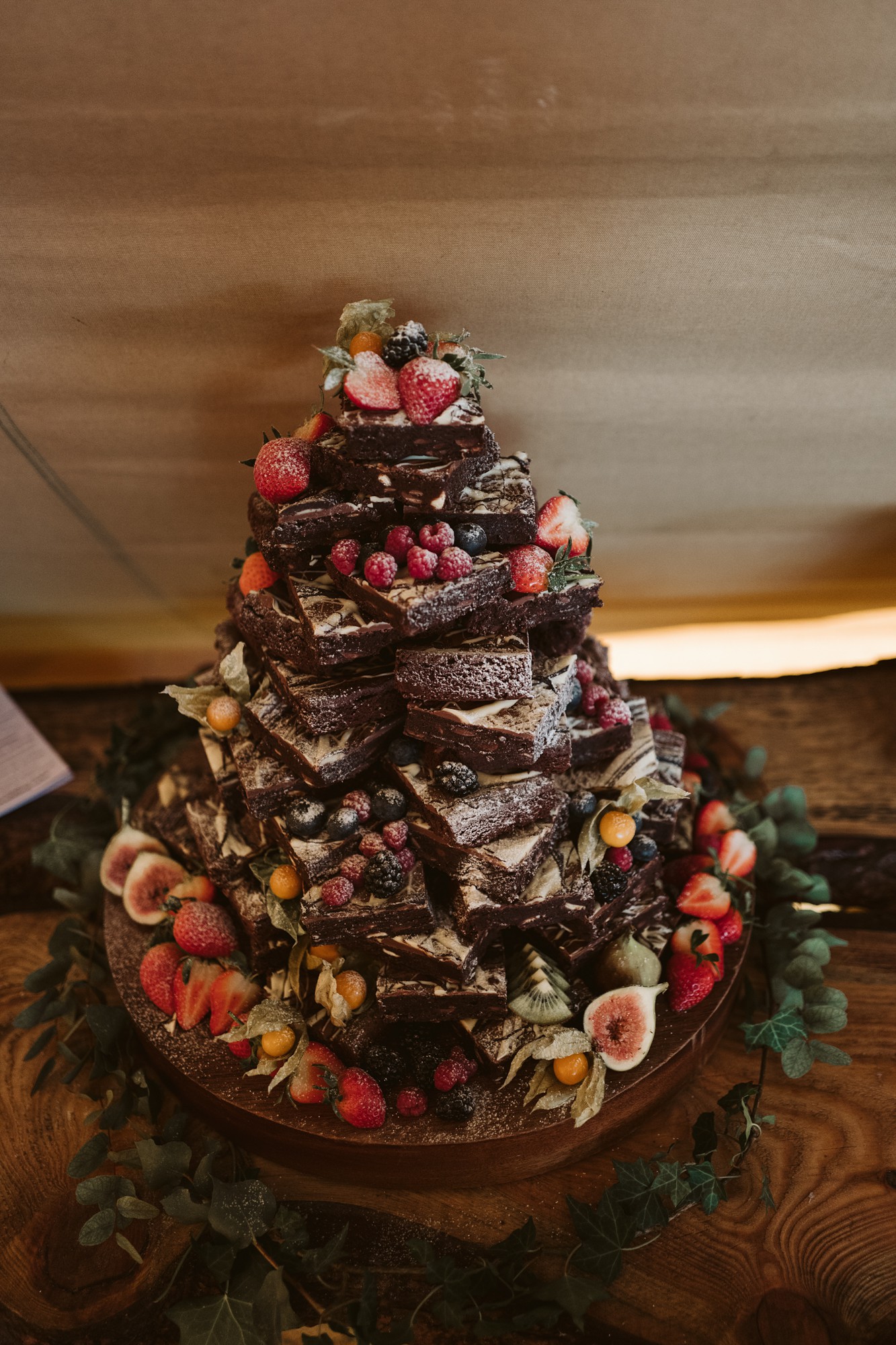 There to capture all of those lovely moments was photographer Damian Brandon, whose lovely work we've featured before on our pages.
"Damo is simply incredible! Neither Andy or I are naturals in front of the camera, and the idea of having someone tell us where to stand and how to pose didn't fill us with joy! We were recommended Damo by a family friend who works in the wedding industry, and as soon as I saw his pictures I knew we had found our photographer."
"His pictures are different and beautiful, and he captures the emotions of the day, not just a moment in it. He was so much fun, it felt like our friend was capturing the day. You either didn't know he was there taking your photo, or you felt so completely at ease you didn't mind. We both have so much love for this guy!"
The bridesmaids wore pastel pink maxi dresses in two different designs by TH & TH – the 'Edie' and the 'Olympia.'
"These ladies are amazing! I had eight bridesmaids – they were simply beautiful and the ladies at TH & TH were so good with any enquiries we had."
With their dresses, the bridesmaids wore their own shoes, together with hair accessories from Accessorize, and bracelets from Astrid & Miyu.
"I bought my bridesmaids bracelets for being simply amazing, not only in the run up to the wedding, but my entire life! The girls wearing the 'Edie' dress had a necklace each from Accessorize, and my maids wearing the 'Olympia' dress wore small diamante studs also from Accessorize. I gifted my mini bridesmaids and flowergirls a necklace with their initial and birthstone from Bloom Boutique at Not On The High Street."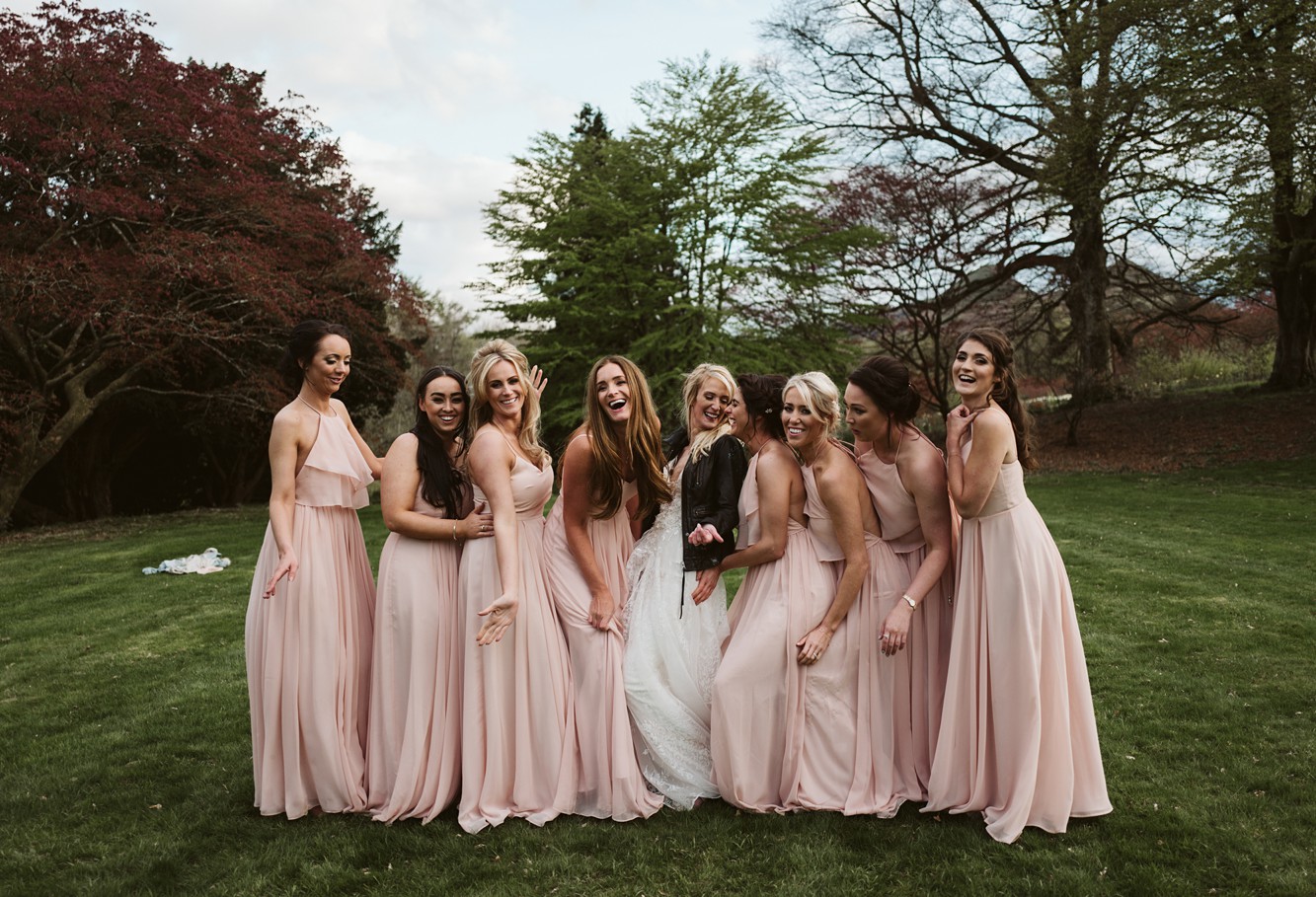 Sian and Andy took to the dancefloor for their first married dance together, and they song they chose was the brilliant, You Make Loving Fun, by Fleetwood Mac.
"I took Fleetwood Mac's Rumours album from my mum's collection when were moving into our first house, and we played it all the time. Any song we hear from this album takes us back to that exciting time when we were just starting out on our own brand new chapter. It was amazing to use a song from the album to mark the beginning of another new chapter together. 12 years later and we love it just as much."
This was just the beginning of a night of entertainment, with DJ Adam, and Sax Every Weekend, booked through Scene My Event, and photobooth fun from Giraffe Monkey.
This was just the beginning of a night of entertainment, with DJ Adam, and Sax Every Weekend, booked through Scene My Event, and photobooth fun from Giraffe Monkey.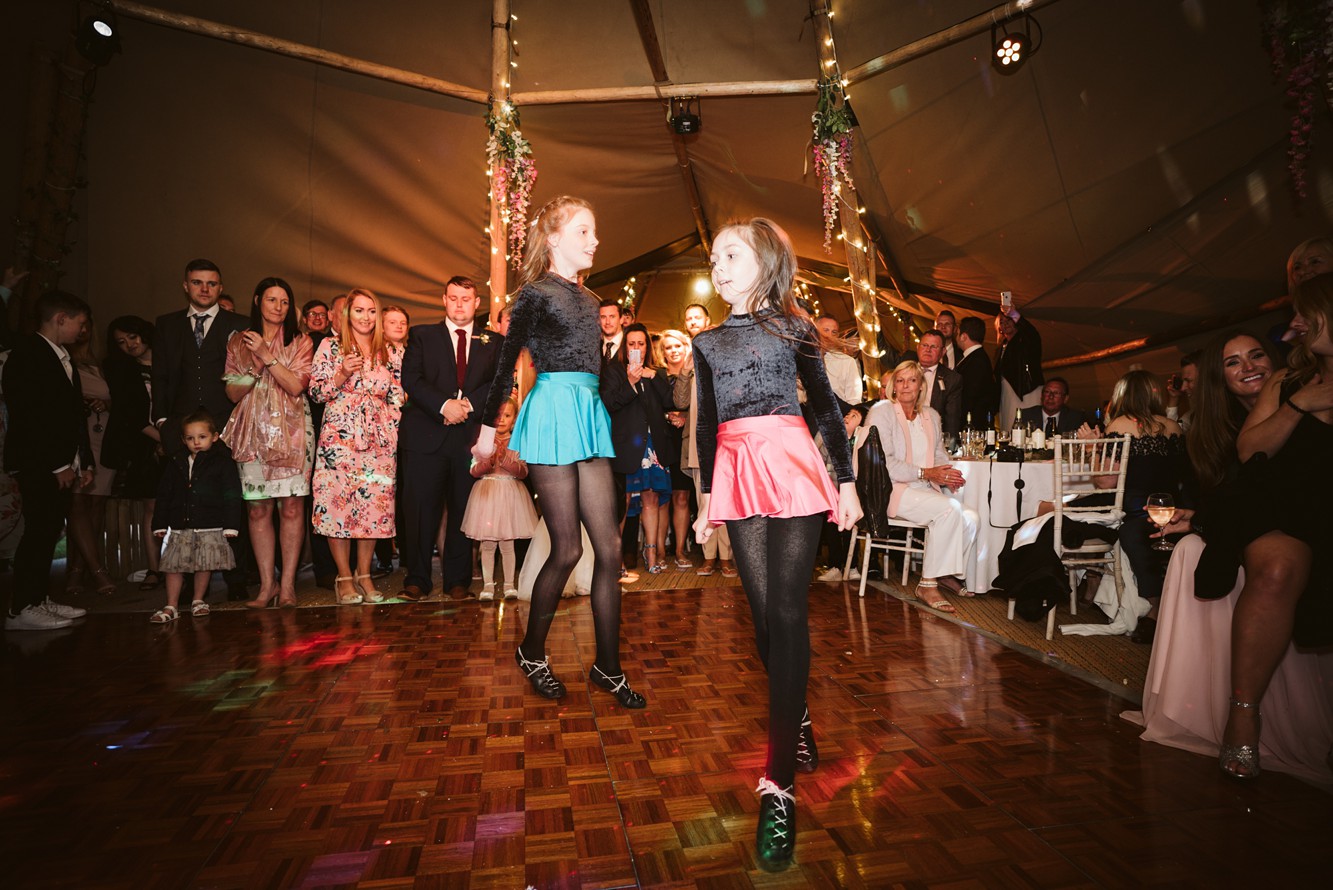 As the day came to a close, and evening fell over the lake, marshmallows were toasted over the fire pit, and speeches enjoyed.
Words of Wedded Wisdom
"On reflection, if I knew then what I know now, I definitely would've got a wedding planner. I've never been an organised person, but always thought I'd enjoy doing everything myself for our wedding – it's planning a big party after all, what's not to enjoy? I have so much to thank all our suppliers for, because I seriously felt like I winged the whole thing. They made it what it was."
"Don't sweat the small stuff, it really doesn't matter. I'd always maintained that as long as Andy and I were married by the end of the day, and as many of our favourite people were there as possible, then it would have been a good day. It was everything and more."
Sian and Andy, thank you so much. What a beautiful venue in a spectacular part of the world. Huge thanks also go to Damian Brandon for capturing the whole day so beautifully.
Until next time!
With love,
Laura