Some of you may have noticed that over the past few months, we've been doing as much as we can to support wedding businesses we believe are making sincere efforts to be more sustainable and ethically responsible.
One such business is the gorgeous Rolling In Roses, a small British indie label that provides a genuine alternative to luxury, mainstream and high street bridal fashion brands. I'm going to introduce you to this brilliant little business and designer Hayley's brand new collection of ethical wedding dresses in a short moment.
First, I feel compelled to highlight, if only briefly, how critically important it is that we all do as much as possible to minimise our personal impact on the environment. The disaster that is unfolding over in the Brazilian rainforest currently highlights the importance of this more than ever. Our earth is the midst of a potentially irreversible environmental crisis right now. Potentially irreversible.
Our climate has become destabilised leading to devastating environmental impact worldwide. Our wildlife, soil quality, crops, insect and sea life are all under threat and our waters are so polluted that plastic particles have this month been discovered falling in the snow in some of the most remote areas of the North Pole. It's gone beyond just 'frightening' – we're now at the extreme end of the scale in a state of environmental emergency. We all have a responsibility to act, immediately.
Whilst I intend for this article to inspire and uplift you, and indeed composed it with hope and reassurance that we're supporting amazing, responsible businesses who want to make a difference – I also want to use this space to implore all of you to consider how choices you make in planning your own wedding can help reduce impact on the environment. Ask your suppliers what they are doing to help reduce their environmental impact. Find out about your dress or chosen attire – is it being produced ethically? Do you know who made it or how it was made? Consider the waste impact of your wedding – is there anything you can do to reduce this?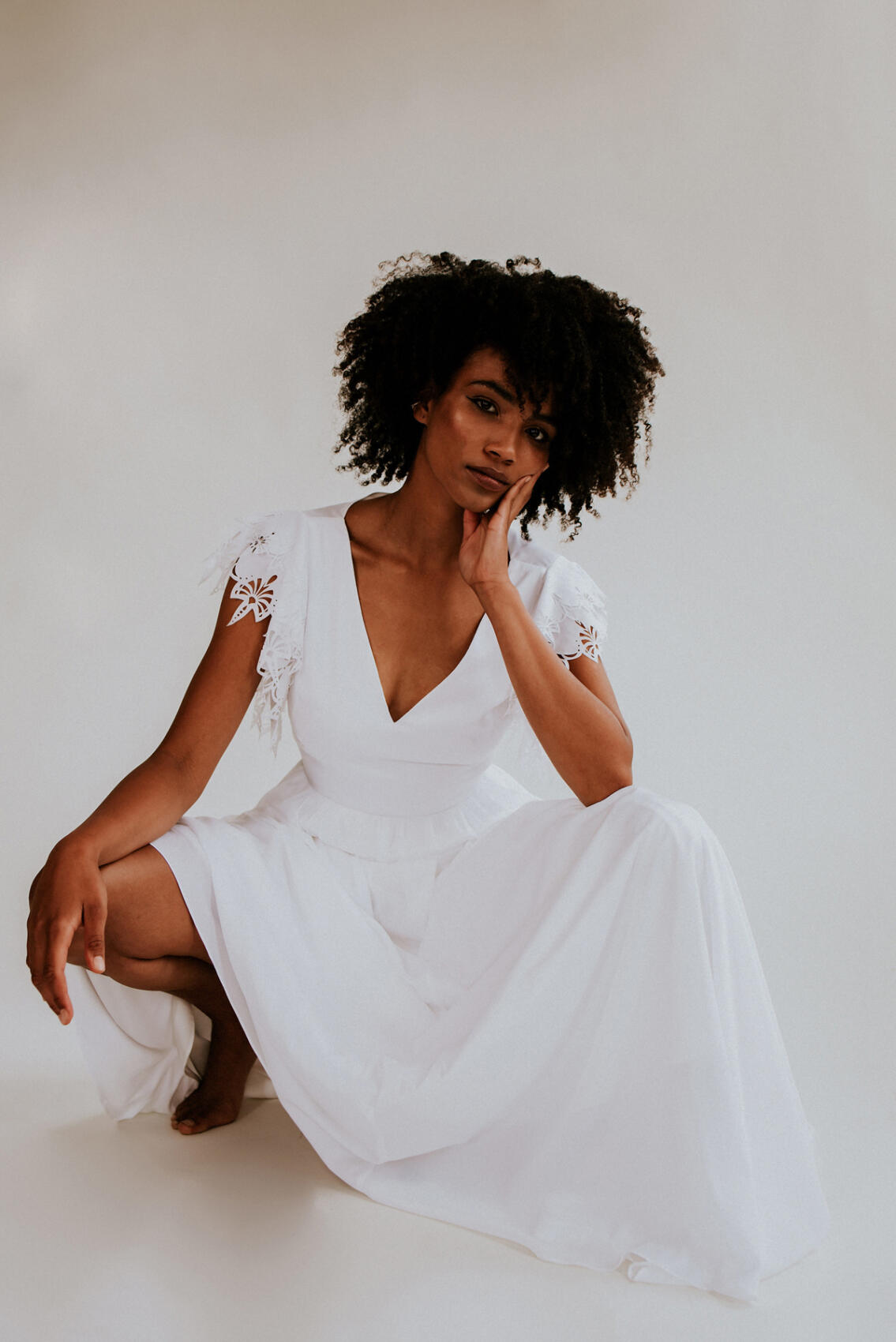 We'll be exploring all of this in more detail in the coming weeks and months. Today, we want to put the spotlight on a brand that sets a brilliant example in sustainability.
Rolling In Roses founder Hayley Claire Neil has taken such a huge and heartfelt stride towards creating a sustainable and ethical collection of bridal fashion as possible. 'Sappho' is Hayley's 4th collection of bridalwear and it is her most environmentally friendly too – a glorious collection of gowns and wonderfully stylish separates that are made individually to order at Hayley's York based atelier.
Plunging V necklines and contemporary crew necks, statement backs and a delicious selection of sleeves are all a feature – though Hayley's small-scale, artisan-style production means that her clients can customise their gown to their heart's content.
In creating these pieces, Hayley has utilised chemical-free peace silk and a luxe vegan alternative to silk made from orange-fibre (super sustainable because it's made from the waste by-products of the citrus industry) in the construction of these very special gowns.
There are also fabrics made from organic rose fibre petals and a super-soft lightweight crepe made entirely from recycled bottles. Yes, you did just read that.
As with her previous collections, Sappho gowns are also wonderfully comfortable to wear. There's no unbearable boning or tonnes of tulle creating unnatural structure – you'll just feel fabulous in gowns that combine practicality, comfort and cool, customisable glamour.
These dresses are very, very special – and you'll find this out for yourself the moment you slip into one.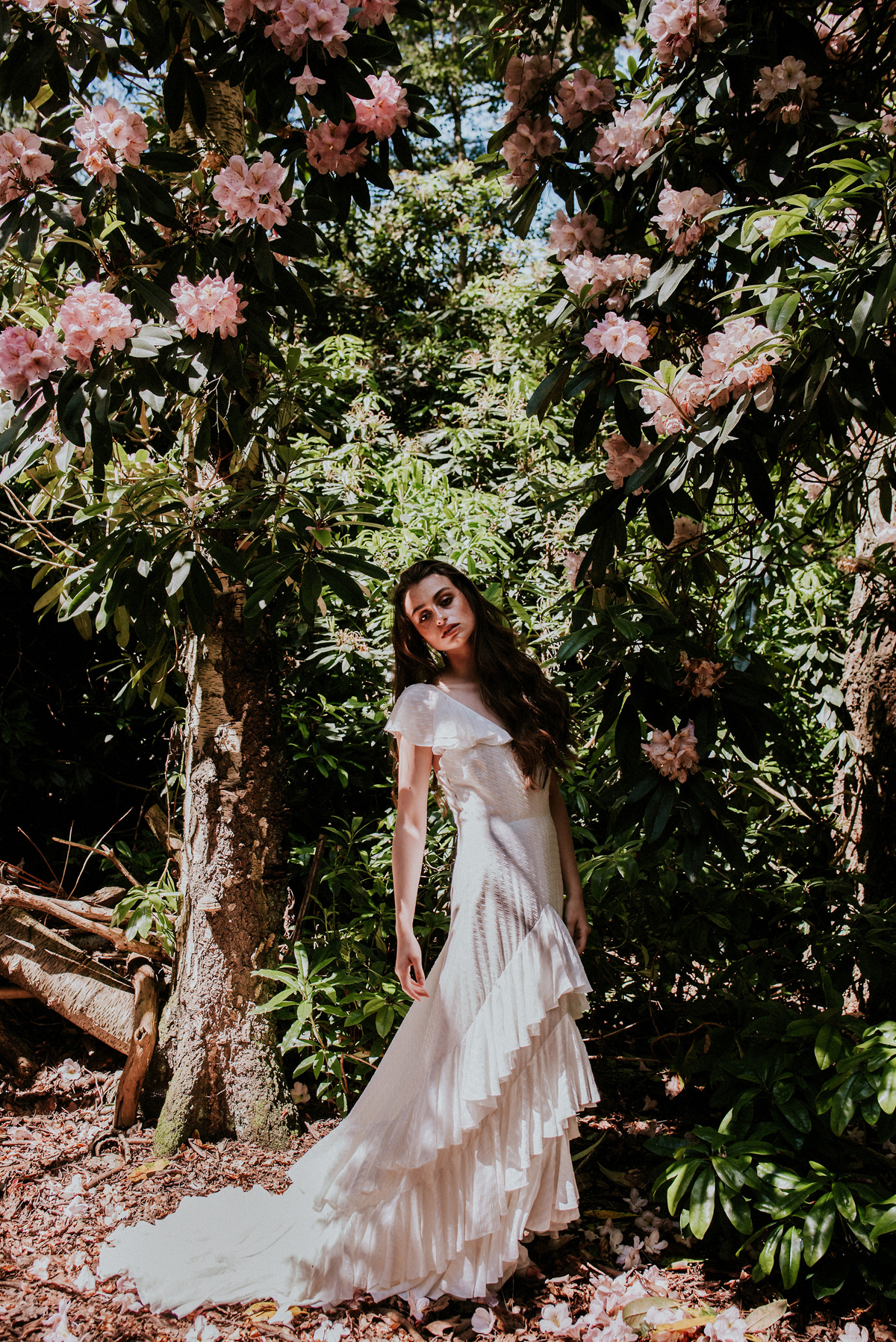 Designer Hayley took the name for her company from an early Patti Smith poem and Patti is, to Hayley, an ultimate female icon; wild and fierce and utterly romantic.
Working from her atelier in York, Hayley's bridal boutique Glory Days is a must-visit for those in the North (or willing to travel for a special day out in this incredibly beautiful and historical city).
"We make all the dresses here in York, I design them then draft the patterns and develop the samples, making changes and tweaking the pattern as I go. The beauty of bridal design is that I'm able to spend time on more couture methods and hand-finishes. All the Rolling In Roses gowns are made in the workroom so all the dressmaking and fittings happen in the same place."
"For the new collection, I've drawn inspiration from the Greek poet Sappho. She was a fiercely passionate woman and she comes across as a very cool character, very astute but lots of fun. Her personality just seemed like a good representation of what Rolling In Roses is all about – light-hearted and fun but romantic and passionate too."
In the new collection, there are 20 stunning pieces – 7 dresses, 4 skirts, 6 tops, 1 pair of palazzo pants and 1 unmissable sequined jumpsuit. This is also the most ethical and sustainable collection from Rolling In Roses yet and Hayley is thrilled:
"It's been incredibly hard to find eco-friendly fabrics so I"m absolutely flipping delighted about the ones I"ve found. I've always been adamant that the dresses should be ethically made here in England, and I've always run the company as sustainably as possible – our seamstresses are paid more than the national living wage and we recycle all our fabric off-cuts. We even use paper table instead of sticky tape on our patterns and use eco-friendly loo roll in the ladies' room!"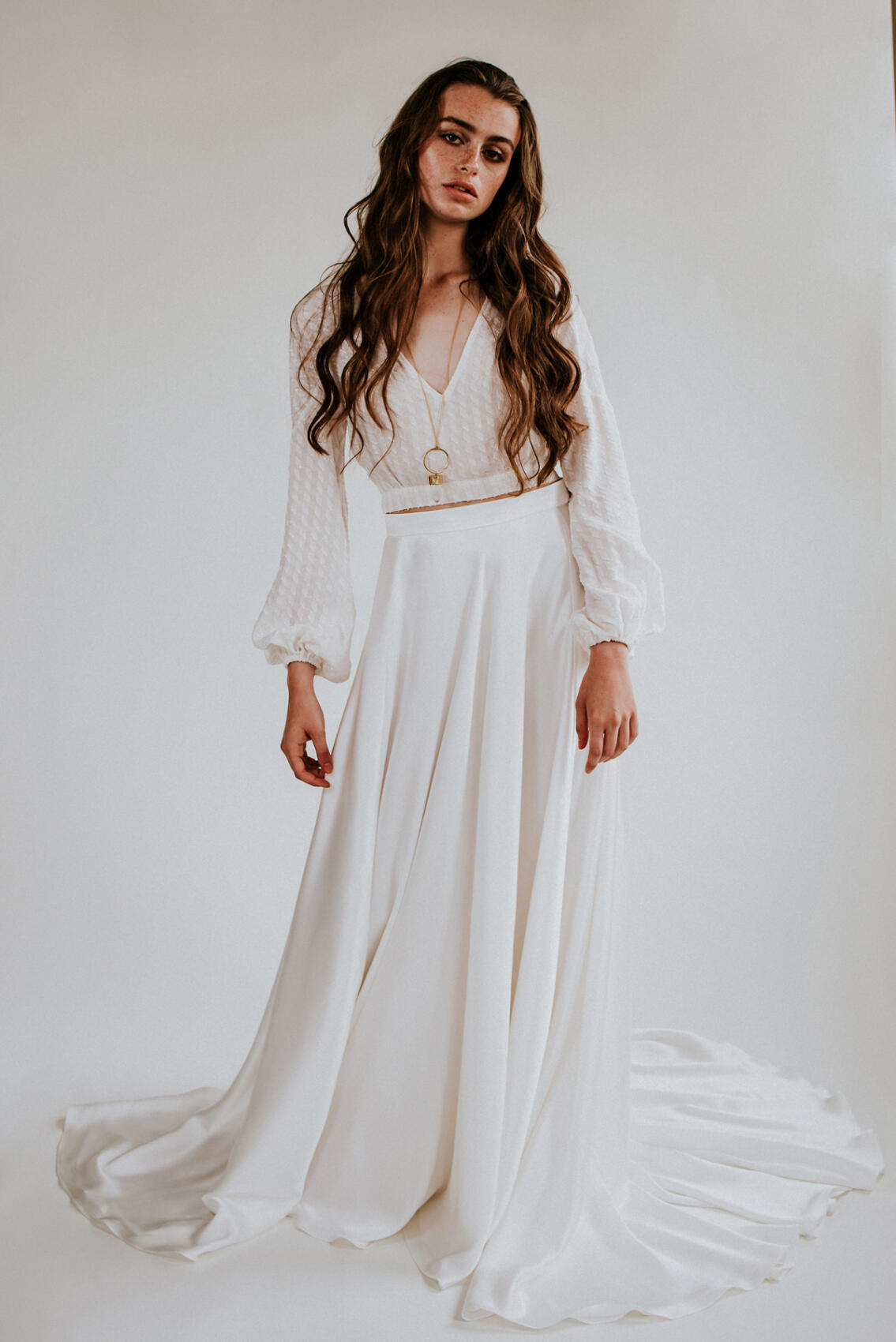 "I just think that we're lucky to be living in a country where we have the luxury of making informed choices about the things we buy. If I was buying a wedding dress in 2019 I wouldn't want the whole experience to be tainted by wondering if the production of it had negatively impacted the environment, so it's lovely to be able to offer brides a dress that is pure and clean and innocent, so to speak."
"One of the silk suppliers I'm using for this collection produces organic peace silk, and he took over an old silk farm in India which had been so intensively farmed that the chemicals had left the ground totally decimated. But after a few years of making the silk organically the neighbouring villages are now able to grow crops alongside it again, how amazing is that?!"
It is absolutely amazing as is the service that you'll receive at the boutique. It's just about as chilled out as it's possible to be. There's no hard sell, no rush, no hurry and no pressure to choose your dress and put down a deposit. The initial consultations are all carried out by Hayley or by her assistant Ellis and as they make the dresses, you'll receive oodles of expert advice on fit, alterations and even the customisation options that are available. In short, it's utter bliss.
Eco-friendly and sustainable fabrics, cool designs, exquisite handmade gowns and a bridal service that's second to none – Rolling In Roses has it all.
To find out more about the new Sappho collection, just visit the website. Hayley also puts together a playlist that goes with the mood of each collection so listen to the Sappho collection's playlist here and enjoy.
Love,
Annabel x